The World of Travel in my House
|
As you travel the world you buy things as you like to bring memories into your house. I don't have that much, I thought…
I don't buy that much, mostly because you have to carry it with you all the way. But when I start to look around there are many things from abroad in my house.
What I would like to have is a huge Buddha shrine in my backyard.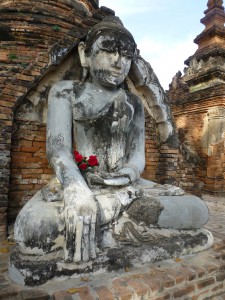 How great would this statue look in my backyard?? It's impossible…I know. I saw this one in Inwa (Ava)  Myanmar. I love the flower!!
Well, in order to have such a great statue I would have to ship it..  because I would like to have one that is at least a meter high, at least!!  And I haven't done that yet!! But it is high on my wishlist!!
In the meantime I've got the greatest Buddha shipped from India to my house. Not for the garden but on my great Indian closet, bought in Holland 🙂 But the Buddha statue is my best souvenir untill now. (2015)
Buddha statue,  made in Ladakh/Leh, India
How do I use my pictures as memories of my travels.
I print pictures of my travels and make them into a wallpiece. I love to see them all around me, reminds me of the best times in my live 🙂 Every day I look at them and feel happy about those times!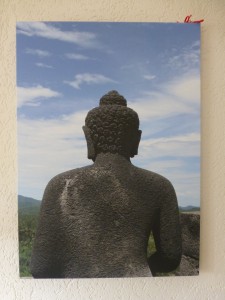 This one is from Java. A buddha on the Borobudur. I love how you watch the world with this statue!! And when you look closely you see a red bracelet on top of this wallpiece. I got that bracelet in Cambodia at the Angkor when I donated something at a Buddha statue.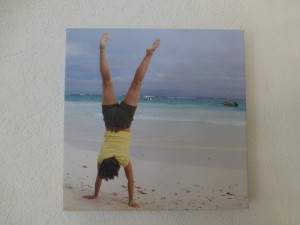 This one is from a beach in Tulum, Mexico. Just enjoying some beachtime 🙂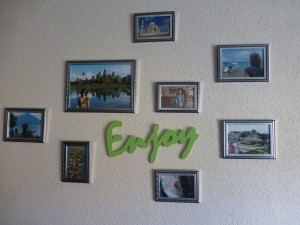 I also made a wall with the word ENJOY in between several pictures from all around the world.
I can change those pictures when I get new ones!!
Last year I went to Marrakech with my brother and I bought a great plafoniere. They have a great specific kind of decoration style in Morocco I really love it. My brother had already such a great lamp above his dinertable, now I do have one in my livingroom. Great!! It give really nice atmosphere because of all the small holes where light shines through.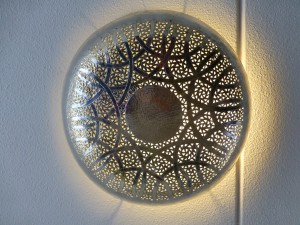 I also bought a great cloth. It is a real big one. I drape it on my table or on my couch. I also have one bought in Guatemala and that's the one on the picture. They give my room so much colour and warmth, I love that!!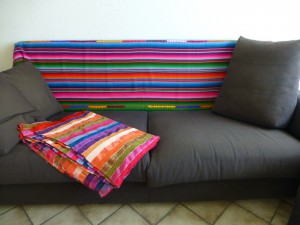 The one an the back of the couch is from Guatemala ofcourse, the one from Morocco lies in front.
In Myanmar I bought a small statue of a turtle. On that travel I did some volunteering with a project called: Juara Turtle Project on Tioman, Malaysia. To help save the turtles from extinction. So it is a combination of both, my travel in Myanmar and my volunteering. Love the statue, was made by hand on the lake of Inle.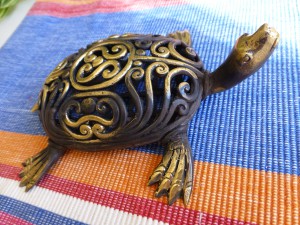 On my wall I have a great head of a buddha. It is not bought in a Asian land but in Spain! I just saw the head and wanted it!! Still is a great memory on that trip with my friend Elena 🙂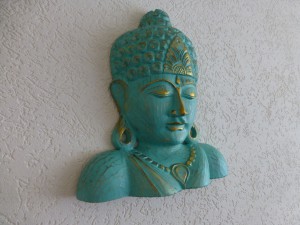 From India I've got some a statues and a piece of fabric I turned into a wallpiece. One of the small statues is an elephant. I really love elephants, I have put that statue in front of a picture that resembles India for me. I'm talking to a girl on the street, behind me you see a Tata bus and a cow eating carbage. In front of the Elephant statue is a coin from Thailand (Baht).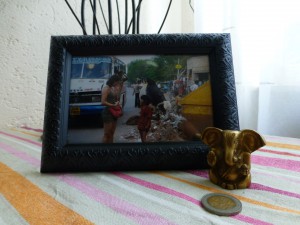 The piece of fabric shows an elephant too. It is all in blue and white, we found it on the streets of New Delhi. A man sold pieces he painted himself. I love this one!!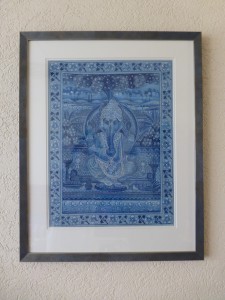 In my garden I have a poster on the sidewall. It is from Vietnam, Mui Ne. Standing in the Sand Dunes, it has great memories for me!! I went there on a trip with Greg, who I saw on my last trip again, accidently, in Indonesia!! And some other great guys! We had so much fun running down those dunes!!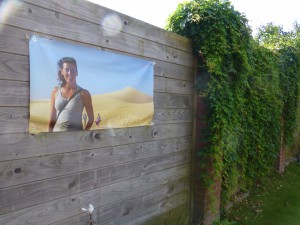 I also have something with shells, stones, pieces of wood and pits of plants or trees, I have saved them my whole life. All over my house you can find stones from everywhere around the world. Haven't written on them from where they are so I don't know it anymore. But the nicest ones are from Mexico, they are in one place. I'll keep them away from the others….they are special to me. That trip, Mexico and Guatemala, made me into a backpacker I guess. After that trip I started to travel every year more and more.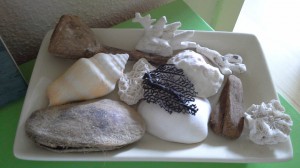 Both are from Mexico…mostly the beach of Playa Del Carmen 🙂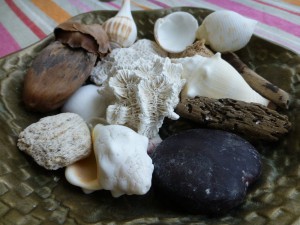 What kind of souvenirs do you keep in your house?
Do you look at them on a daily bases?