Cave Zonnegrot in Mount Sint Pieter, Maastricht
|
The Zonnegrot Caves once were more then 20.000 passages underground.
When you book a tour a proffesional guide takes you underground in the passages where you see names and drawings on the walls.  Made by people working daily in the Zonnegrot and some as old as up to a hundred years. Blockbreakers that worked in the cave as well as artists have left their tracks with some very interesting, and sometimes very old, captions and paintings on the passage walls. The guide makes sure you won't get lost in this labyrinth which holds 80 km of human digged passages. It once has been more then 230 km of underground passages. For centuries the people of Maastricht and their valuables has found this Zonnegrot as a safe haven to go to in times of war. (Information of Kennislink)
Als je deze blog in het Nederlands wil lezen klik dan hier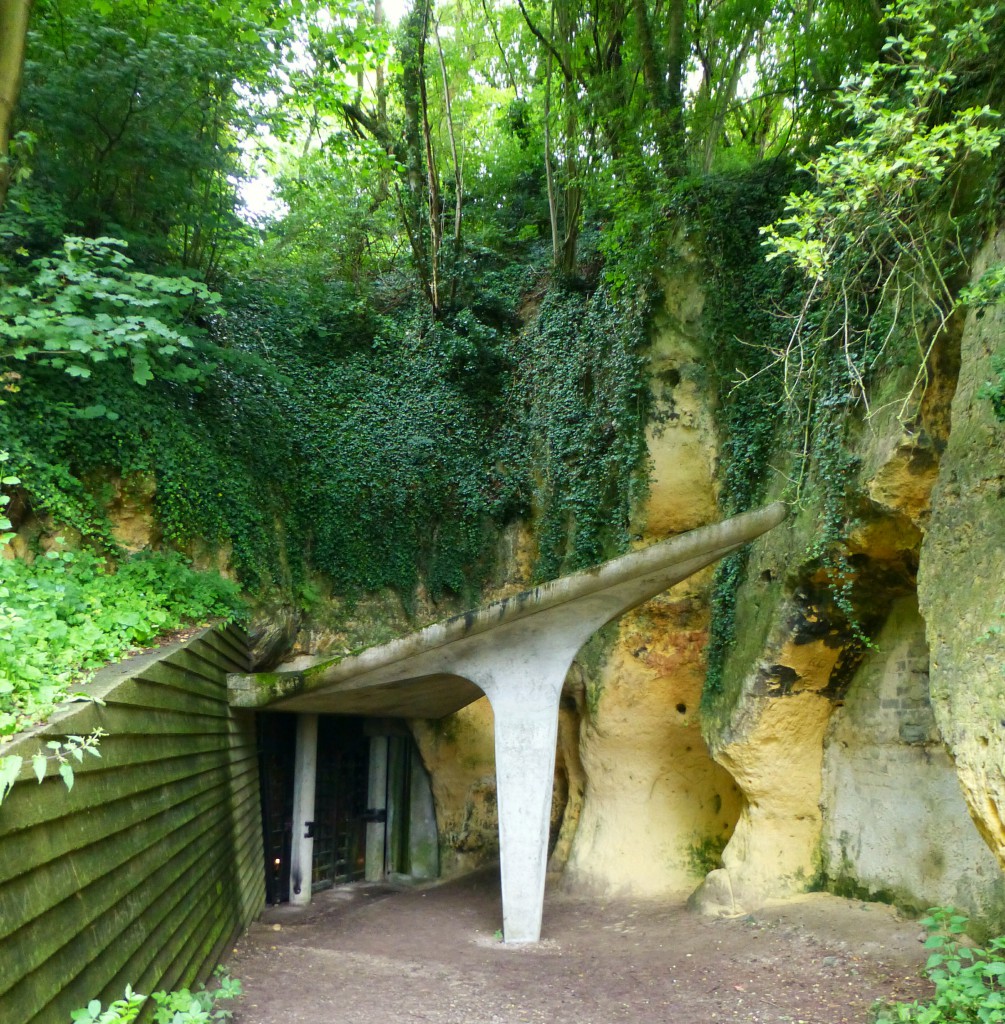 Entrance of the cave
Some lamps were divided among us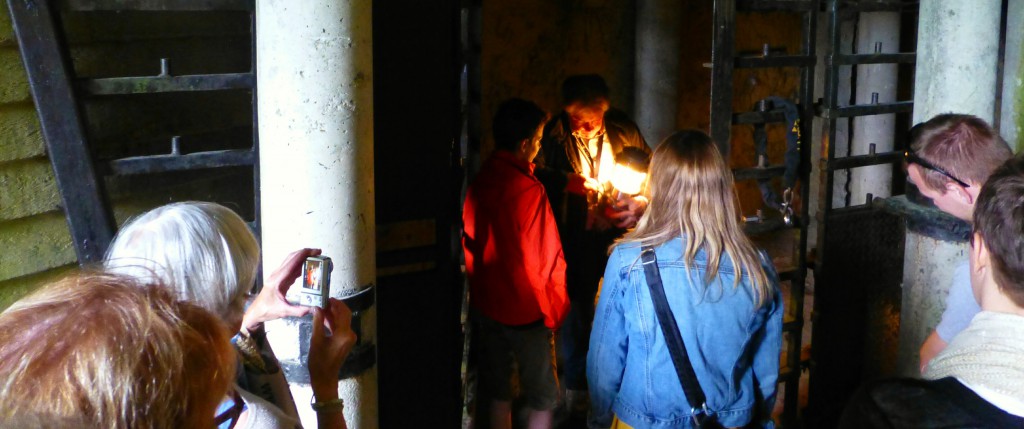 Going into Cave Zonnegrot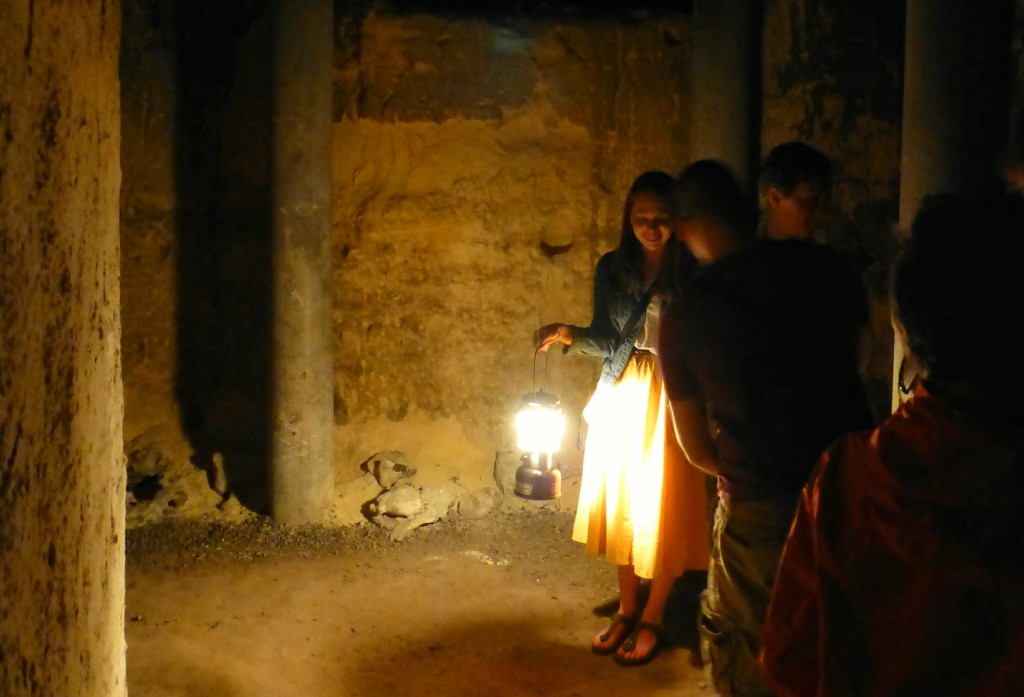 Walking in those old passages gave me a strange feeling. Knowing so many people worked there, seeking room for safety in times of dispair. But also many encounters between people, man and women, boy and girls..all kinds. You can see this on all the wall paintings from making advertisement for companies to loveletters and great art images.
I loved seeing all those great paintings!!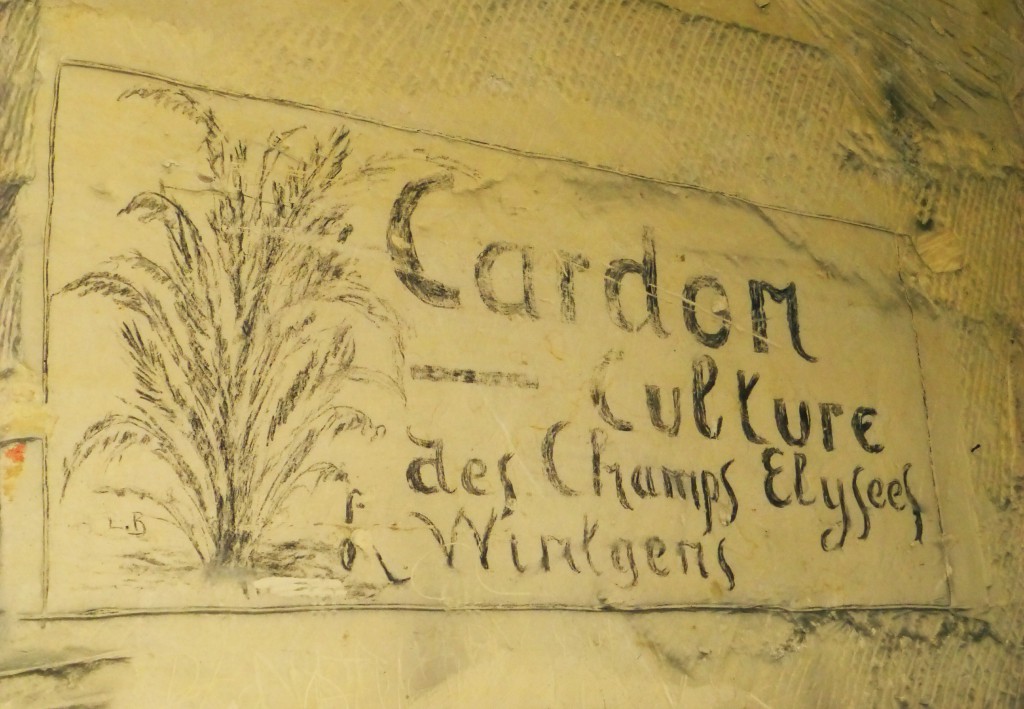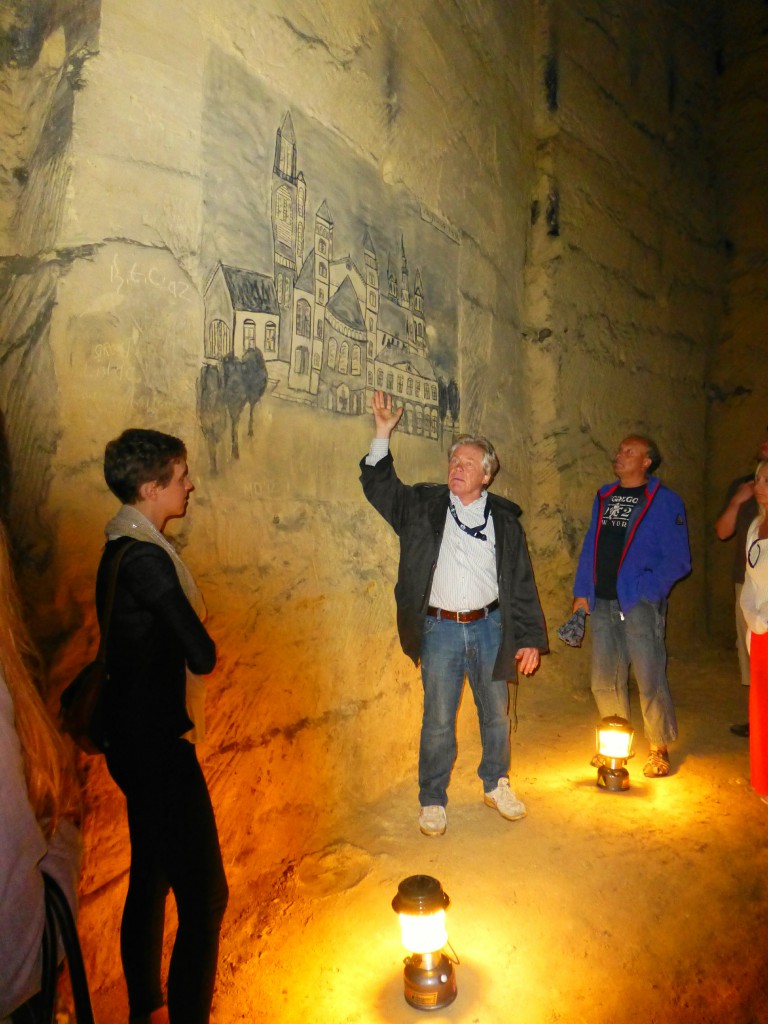 Getting some explaining from the guide about the wallpaintings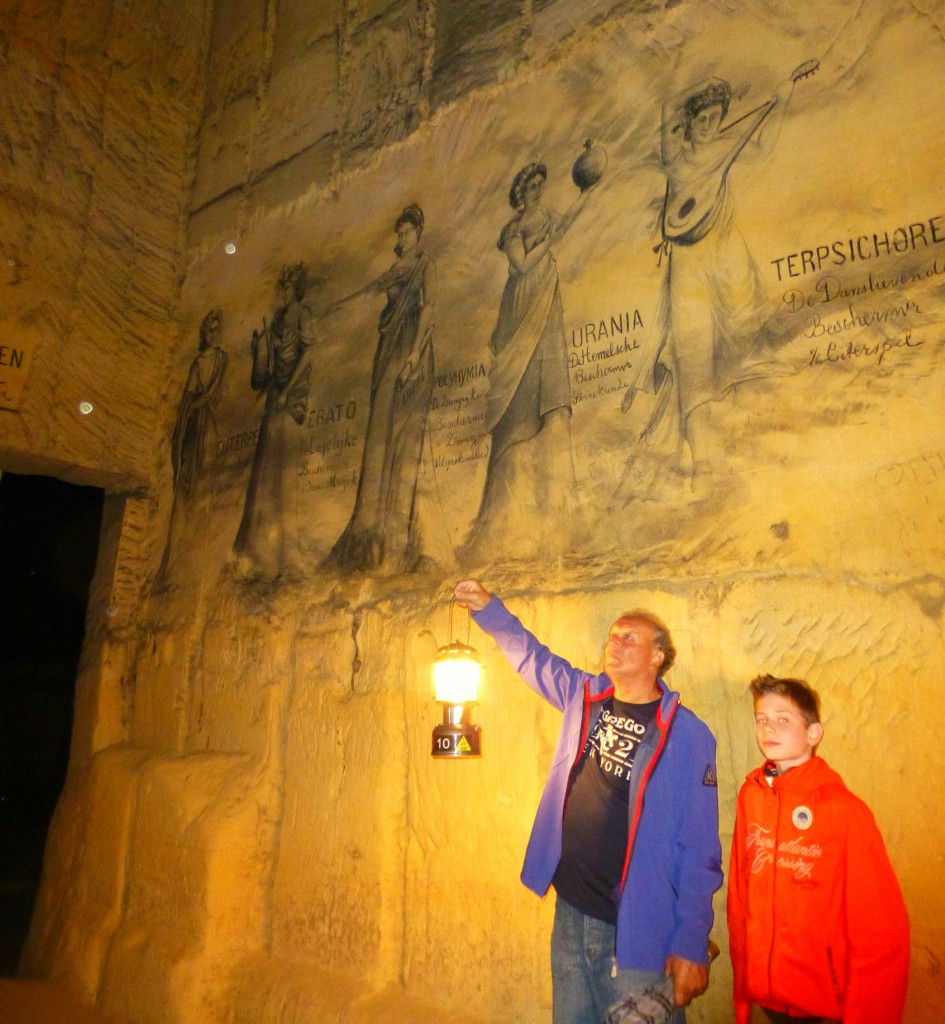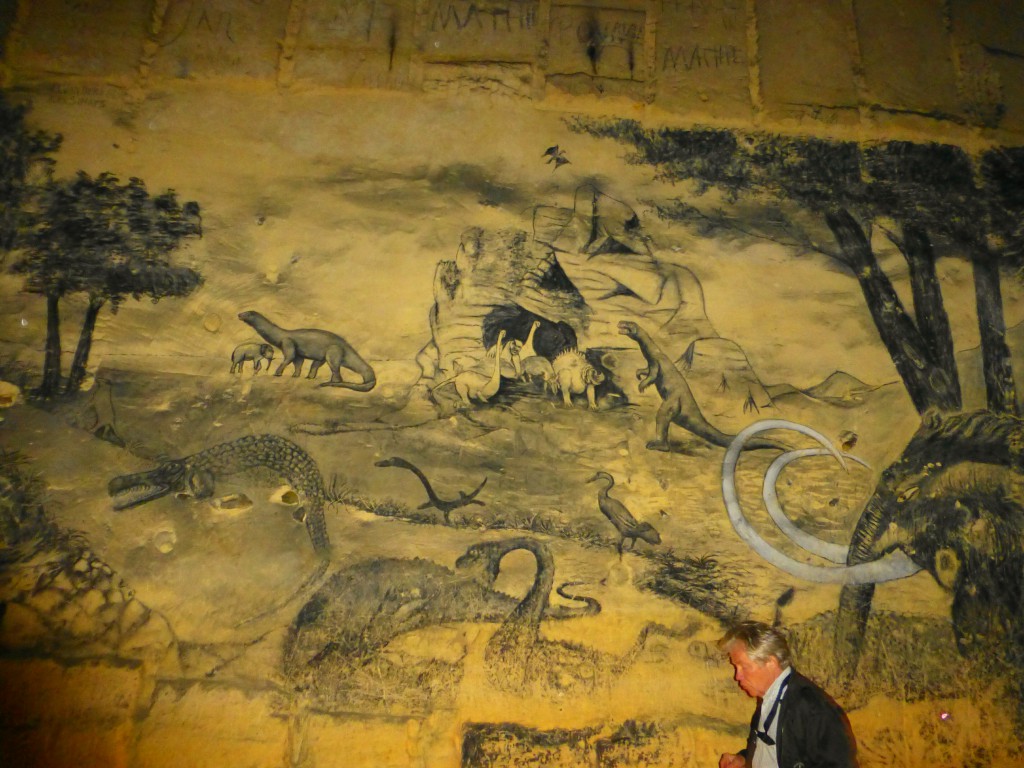 Cave Zonnegrot in Maastricht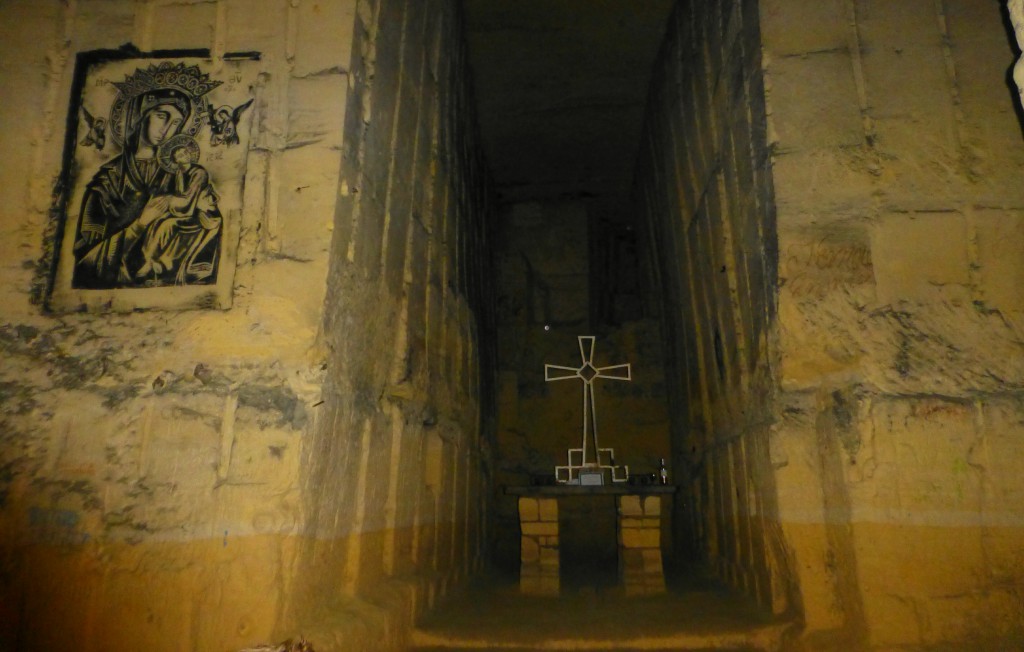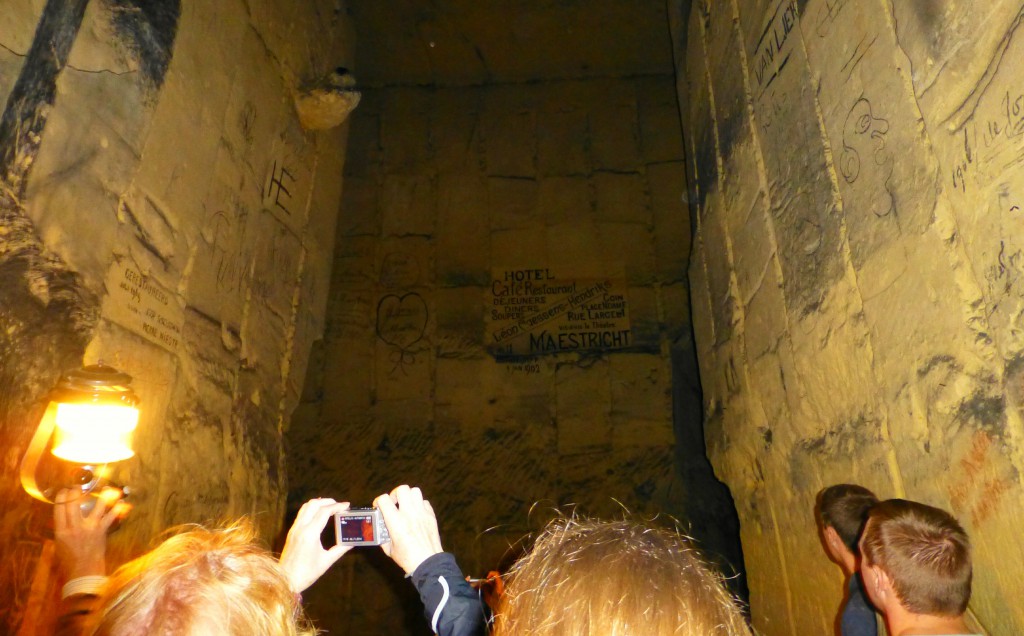 And then there was newer art in colour from a later period in time.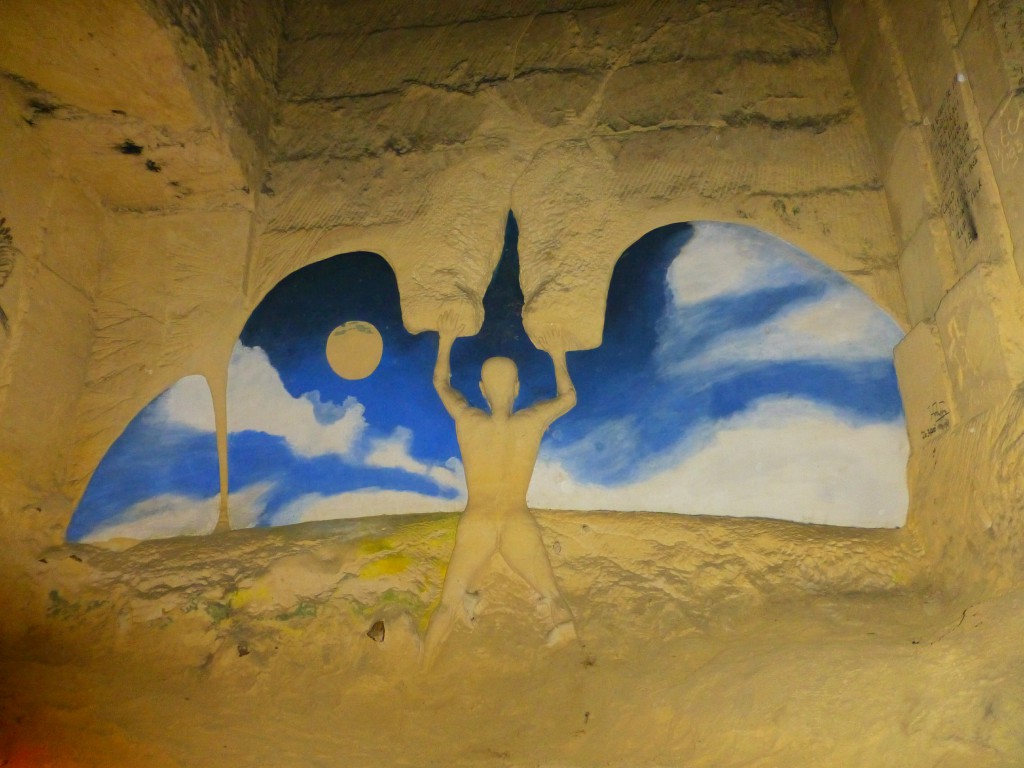 Beautiful art in Cave Zonnegrot in Maastricht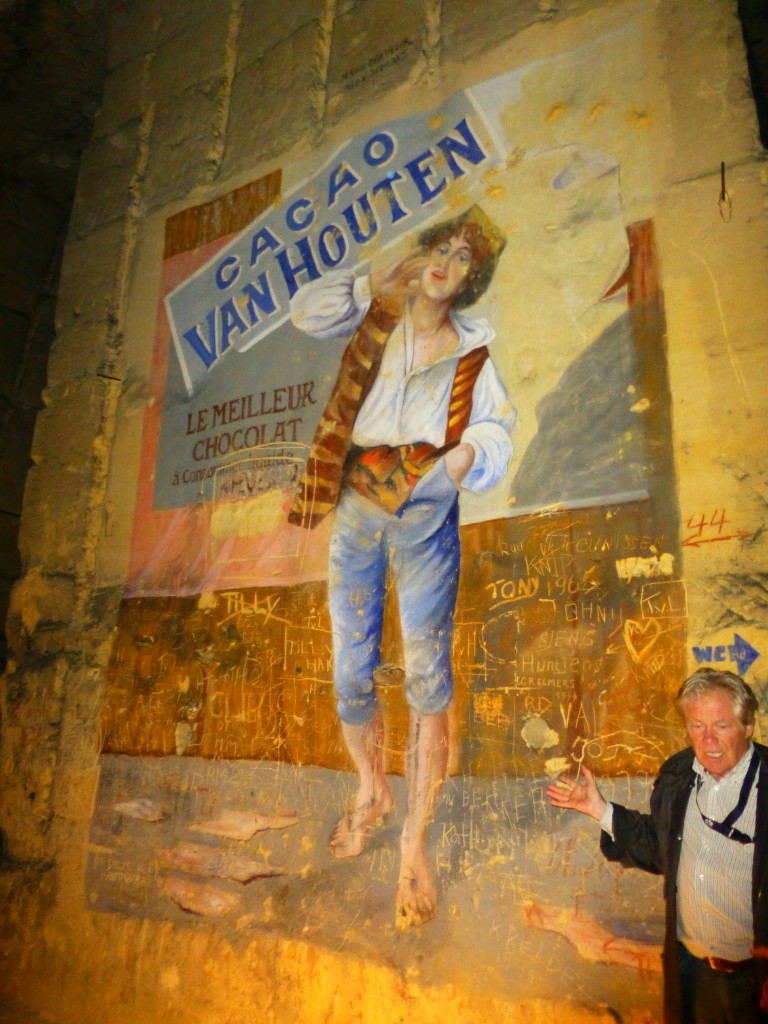 Because there is no sun in the cave all the drawings will stay in perfect state. Even the colour of so many years ago seams as if it was painted yesterday! Isn't that beautiful?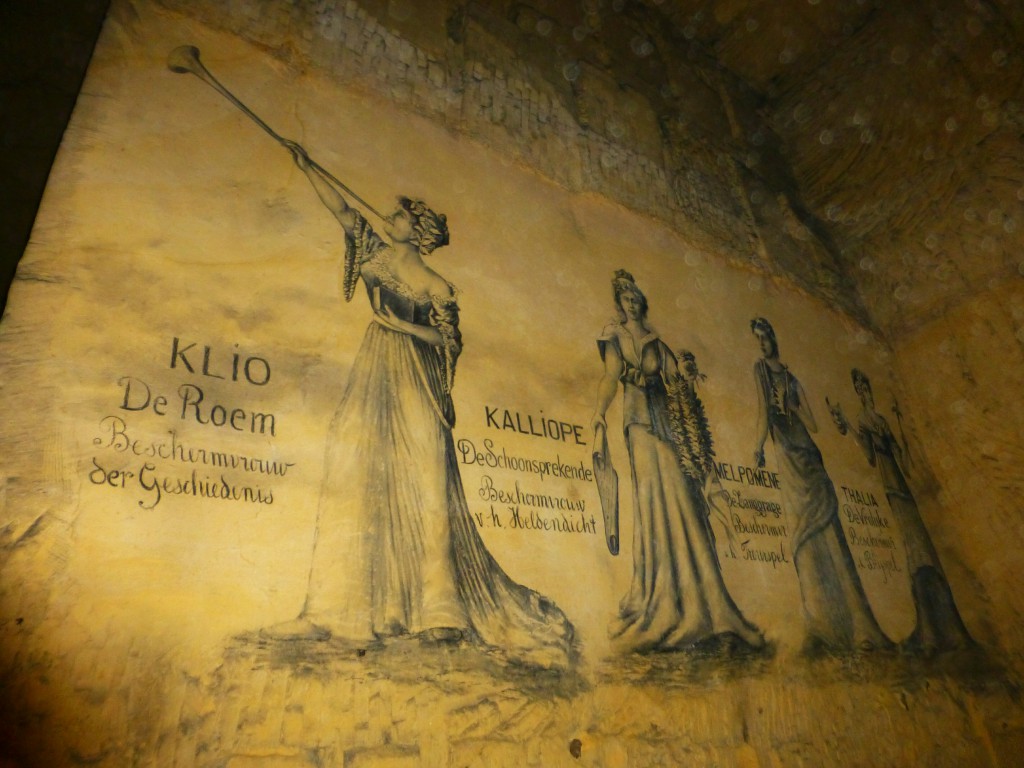 There is a constant temperature of 9 or 10 degrees Celsius. So when you visit the Zonnegrot take a sweater or something to wear with you. It can be cold even though it is summer. Two of the many passages of Mount St. Pieter are open for public.
On the ceiling you see black dots…those were from the lamps that were shifted when they got out blocks of sandstone. Leaving behind a black burned place.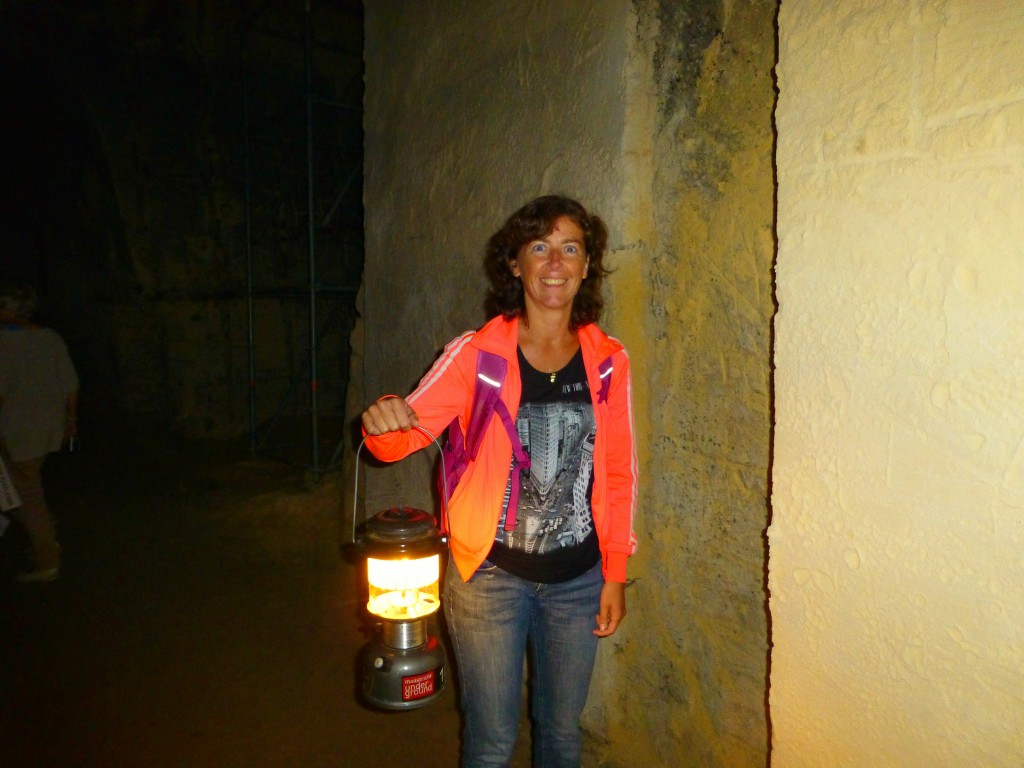 Yes, I carried a lamp too of course
Visiting Cave Zonnegrot in Maastricht
Since 1974 is Mount St. Pieter a protected nature reserve, it holds 133ha. The Nature Reserve preserves the caves of Mount St Pieter since 1995, since 2009 also the Fort St Pieter that is build on top. This particular landscape near the city of Maastricht is for a greater part protected within the Nature Reserve.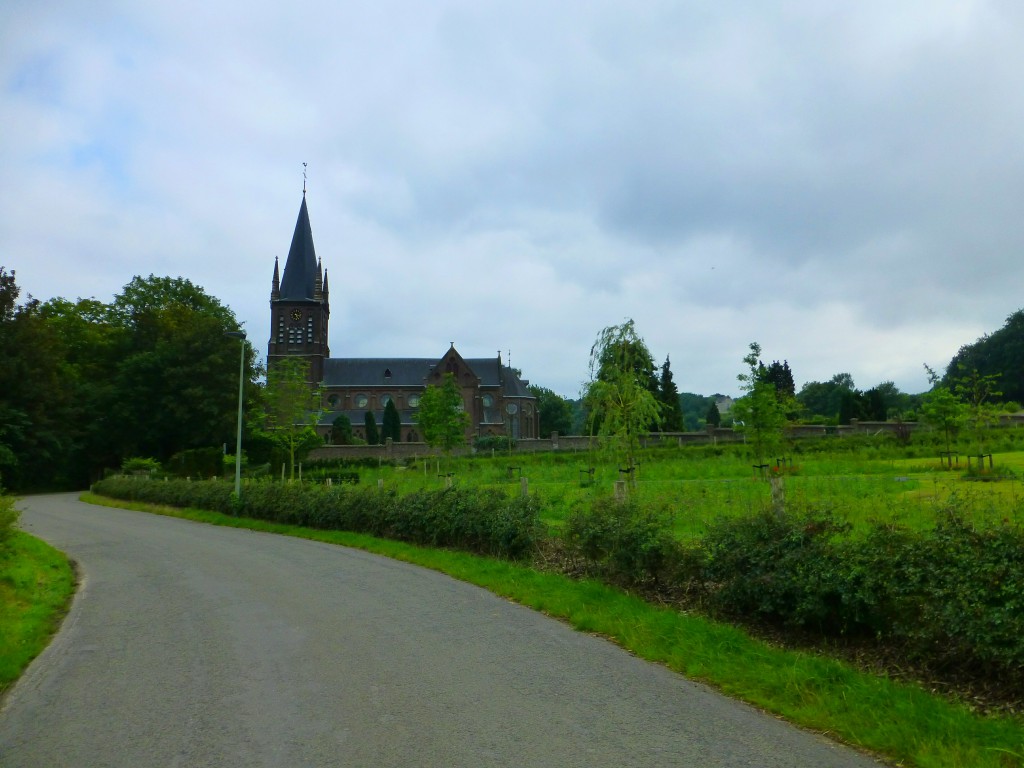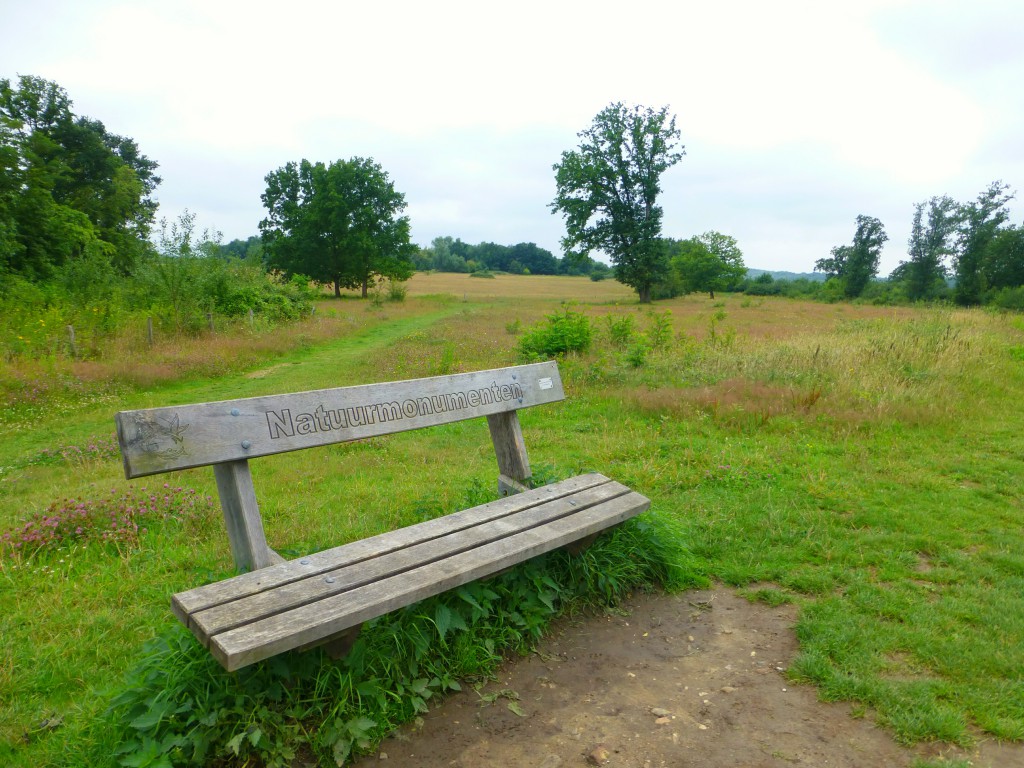 Information:
When you want to visit by bicycle from the city, that's possible. That's exactly what I did! It was a nice journey to cycling and you get to see a part of Maastricht and its surrounding you will never visit otherwise. On my way to the entrance of the cave and came by the Fort and gave it a short visit and walk in the nature reserve where you get a great view over a part of Maastricht. The Fort was being renovated when I visited it.
You can also take a boat from the citycentre of Maastricht to the Zonnenberg Cave, it departs several times during the day, depends on the season. The boat with the tour in the cave takes around 3 hrs. You'll see some of the cityhighlights also, like the St. Servaasbrigde.
Visit VVV Maastricht for more information
Fort Sint Pieter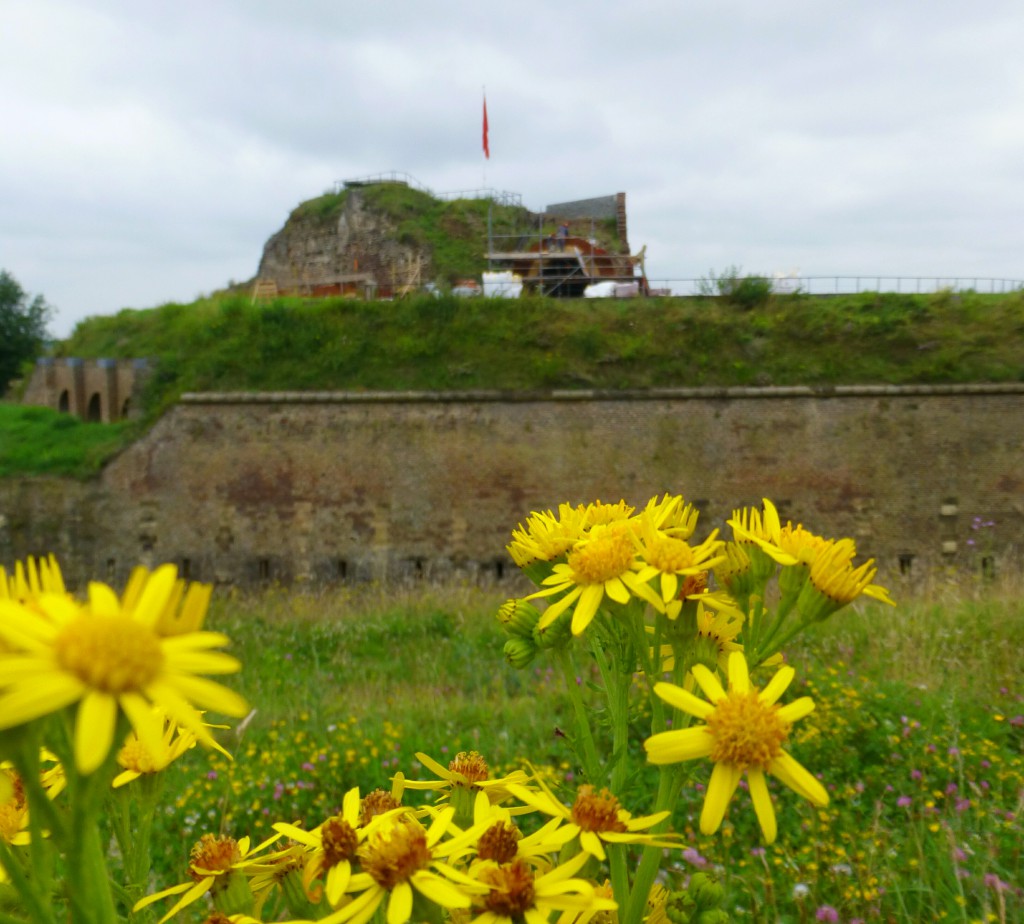 The Great Surrounding area
Cave Zonnegrot in Maastricht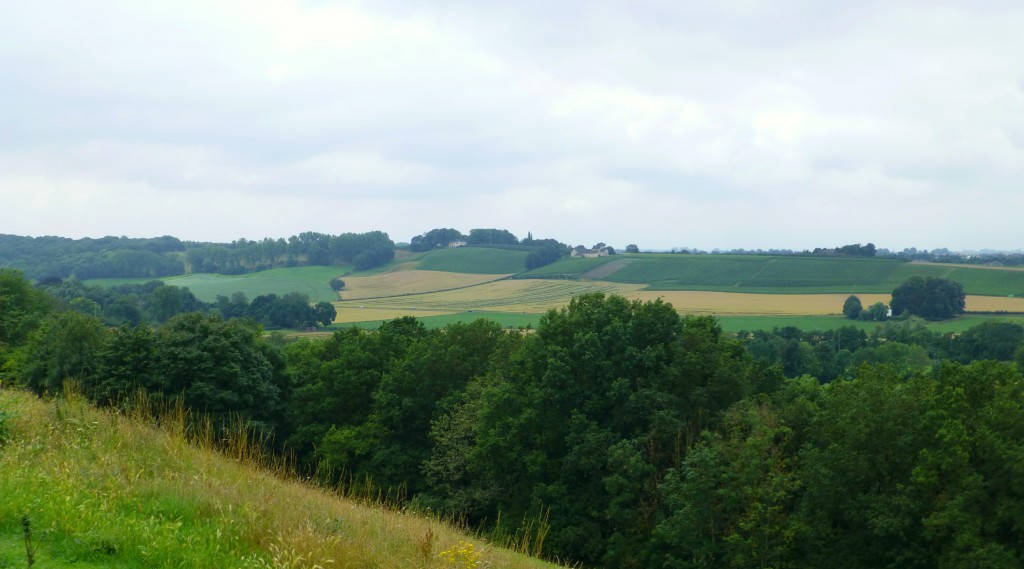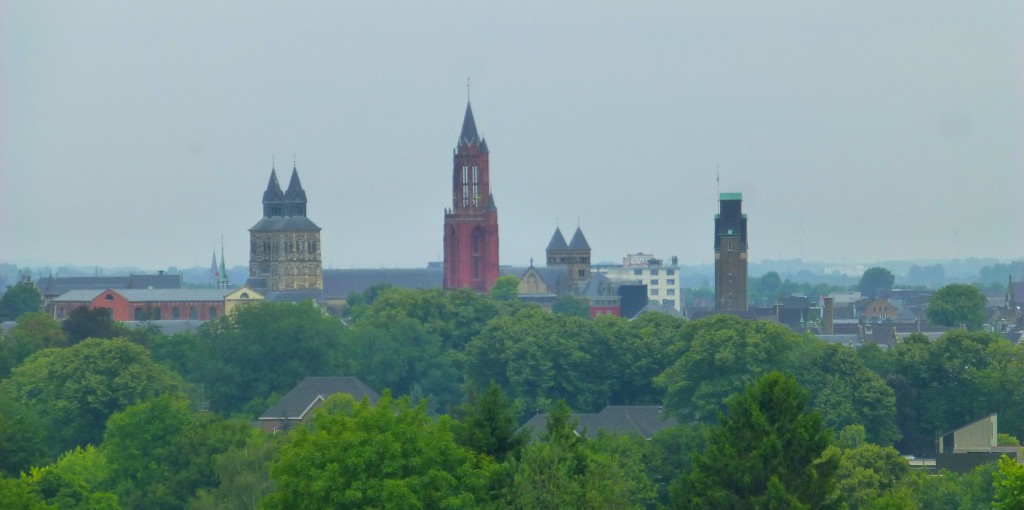 View on Maastricht from Fort St. Pieter
Read also : Maastricht, A Rich Cultural City, The Casemates and Citywall of Maastricht