The men of Rajasthan – India
|
All through the province of Rajasthan in India I came upon some wonderful men. The men of this part of the world sometimes look amazing. There are men of all kinds of religions so when you see the streets of India you will see the differce image of those influences. From a big beard to a man with a nice red spot between the eyes. Also the turban that they wear are carefully twisted on their head an art I do admire.
I saw this man while on a tour in the desert near Jodhpur. We were at a small village where he and his family lived. He showed us how he traditionally used opium. When you look at his eyes you can see he has a glazy look and has some red eyes. He was also giggling and laughing the whole time, I wonder how many groups he already showed his traditionally way of using opium 🙂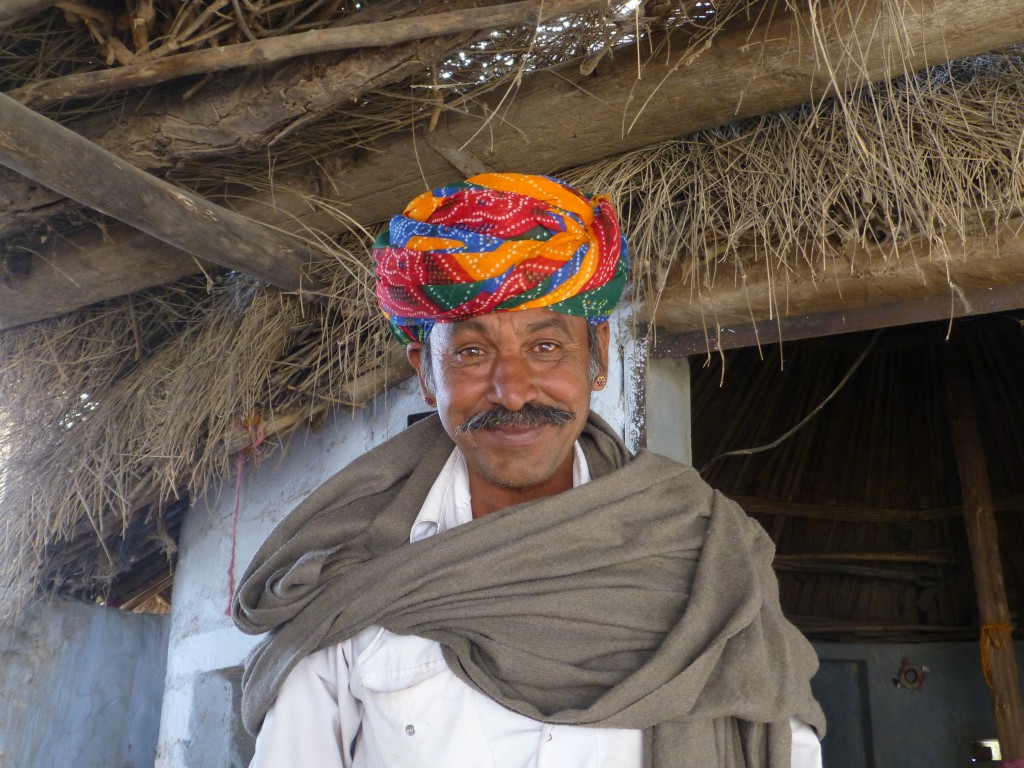 The men of Rajasthan – India
In a  small village near Jodhpur I saw this man sitting next to the street. I got the feeling that he would be sitting there the whole day. He probably doesn't work anymore, guessing his age. That is just the gutfeeling I got when I looked at him. At the moment of making the picture he showed his yellow teeth what gave me this great shot!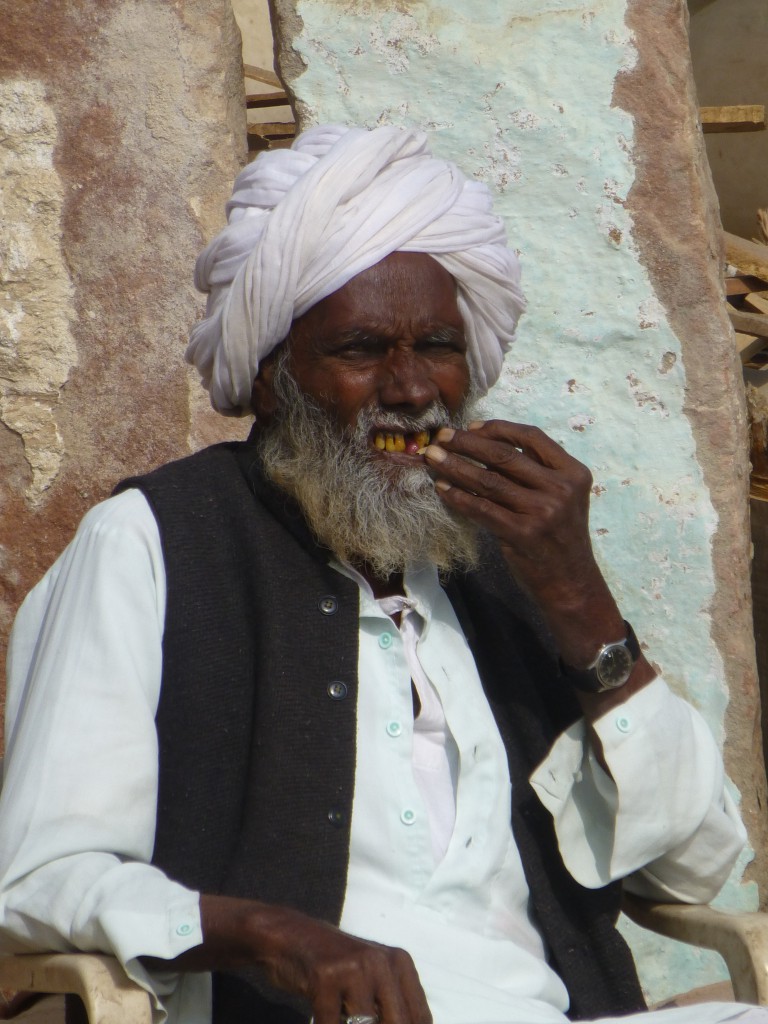 At the great fort of Menangargh in Jodhpur I saw this man smoking his waterpipe. He saw I wanted to make a picture and posed for it. That's how I got this  great picture!! It looks like a relaxing hobby. It wouldn't be mine but to see him sitting there, calm and easy sucking his pipe and talking to his fellow waterpipe-smokers must be soothing.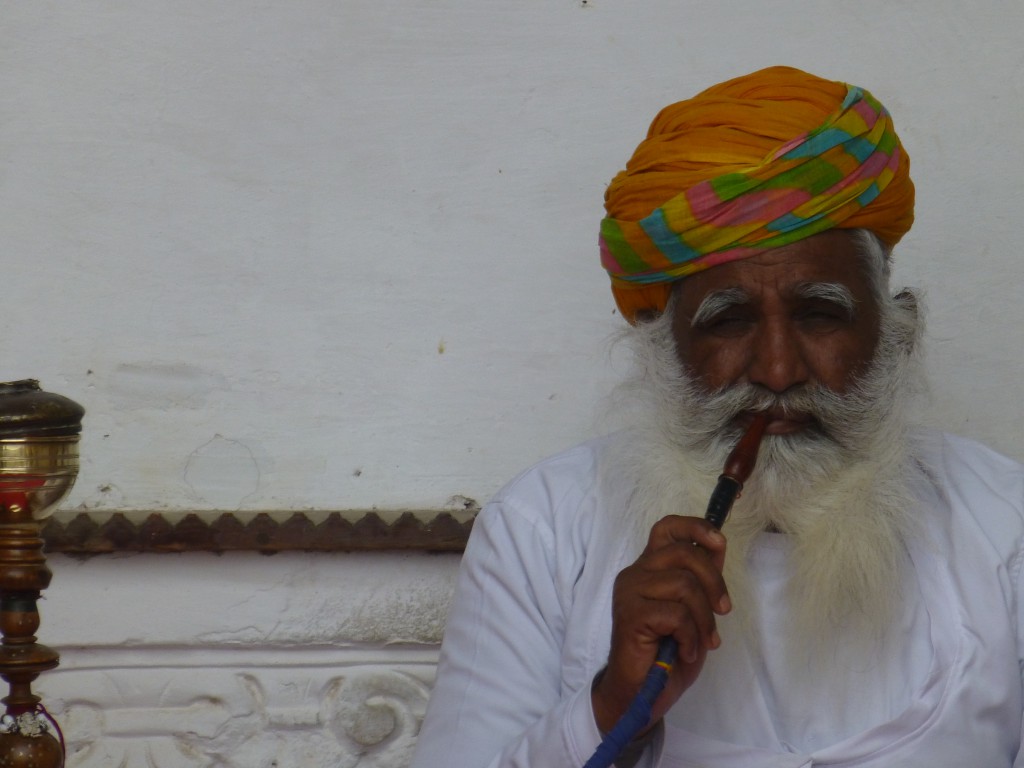 And I met this man, he is a healing master. He took my hands in his hands and pinched me at certain places. According to those places he could tell me if I had problems. He told me about my neck and lowerback, those are  two problems I had for a long time. He also told some other things that I couldn't confirm. I still  was impressed, he could tell which leg was bad.. All this by pressing certain points on my hands. His appearance was also very typical, fits the picture I got from such a healer. I led him work my posture and he wringed my neck and back.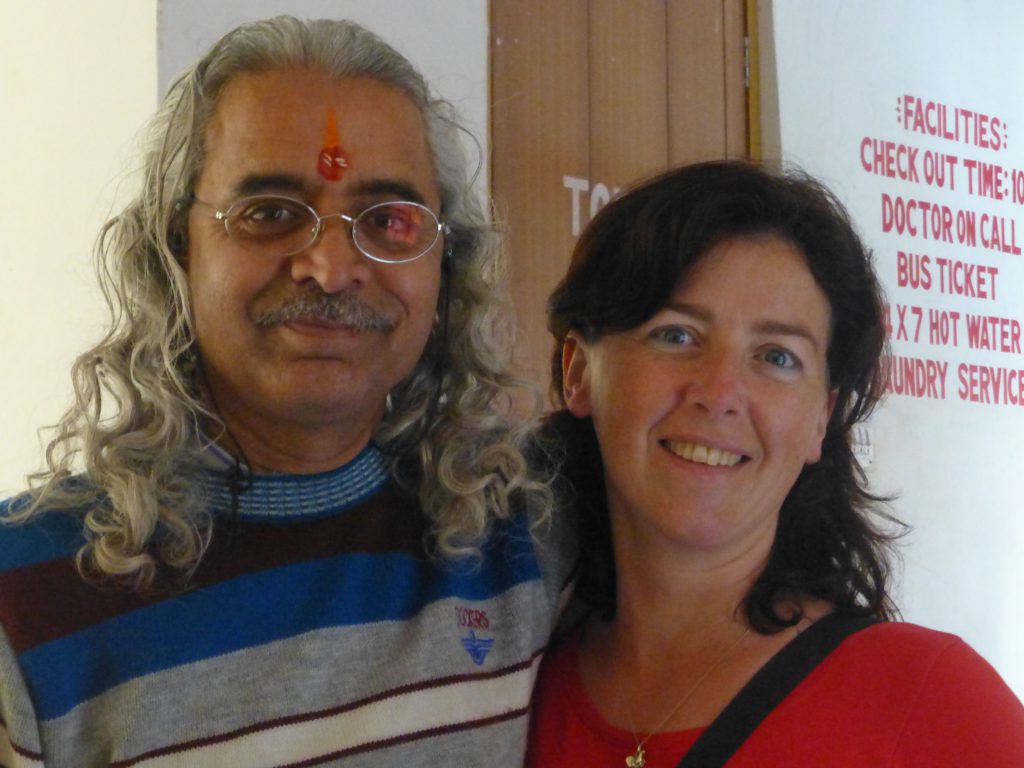 And then you have the great and impressive Saddhu's with their long beard and turban they wear and most of them have a long walkingstick with them to lean upon. Whenever I say a Saddhu walking the streets I always will stand still to look at him. I find them very impressive. I was told that they haven't got any possesions and they live of what other people give them. I had seen them already in my previous travel to India but that was in summertime and looked a bit different. They didn't had on that many clothes, now in wintertime they had on clothes to keep warm in this cold weather. Still I find them very impressive to see.
At this Bahai temple in Delhi I saw this Saddhu.  He was sitting on the square near the entrance. He didn't mind me taking this picture and looked at me. I had seen him walking before he sat down. He also had a long walkingstick with him and was walking in a calm and steady way over the square to search for the perfect spot to sit down.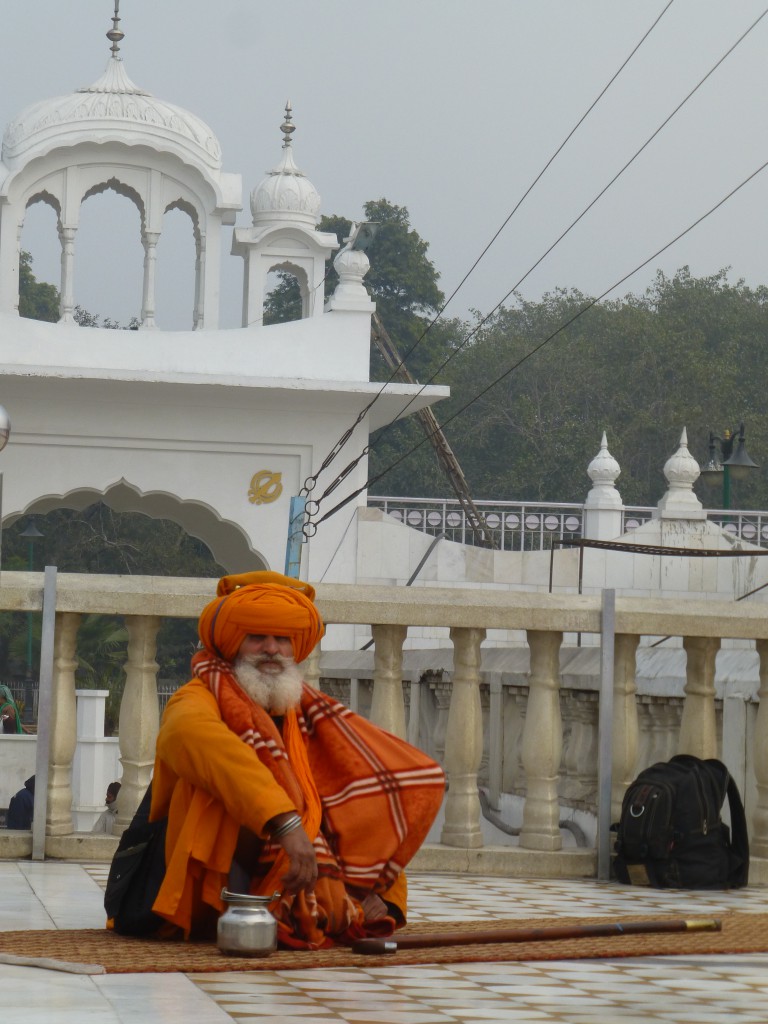 In Jodhpur I was busy booking a tour when all of a sudden this Saddhu stood in front of me. He wanted me to take a picture. Well, you don't have to say that again to me 🙂 He was looking great, in his hands he had a copper pot and he was burning incense and had some small offerings in it. After posing for my picture he held out his hand to get a small fee for his posing for my picture. Ah well, there was a small boy walking with him and I gave him a small fee and the boy some coins. De eyes of the little boy turned bright and he was surprised  to get something. when they walked away the boy turned around a couple of times and I got some great and thankfull smiles of him 🙂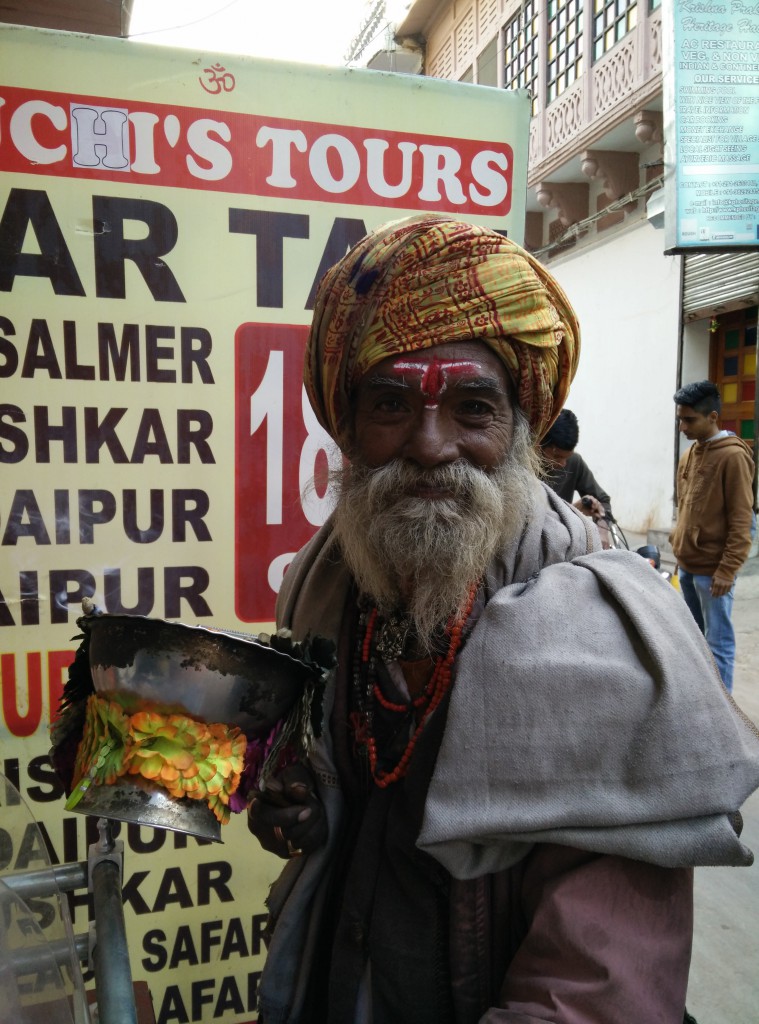 The men of Rajasthan – India
At the entrance of a temple I saw this Saddhu. He was sitting at the place where you should take off your shoes before entering the temple. He would take care of my shoes he gestured. Well….if nobody would take care of them they would be there also when I came back.  I had to put them there, this is an easy way to earn some money. Well, I had my mind made up also. When I came back I took a nice picture of him, with his approval ofcourse. He had taken good care of my shoes…they were still there 😉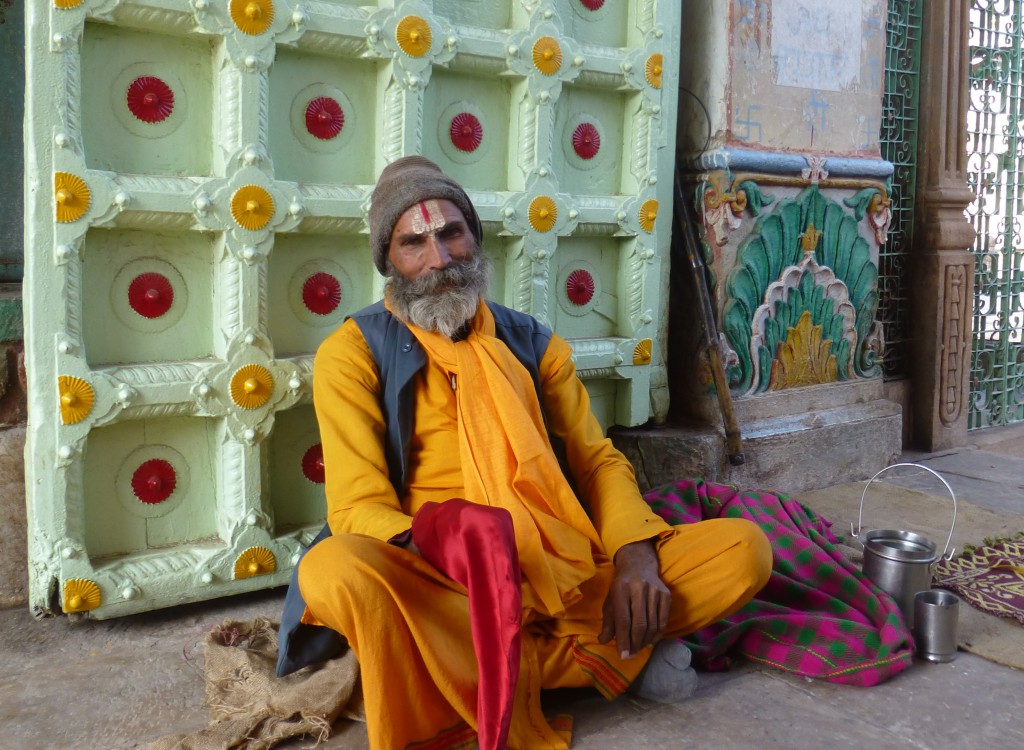 And I've got this picture of a Saddhu posing for it with me 🙂 It's taken near the Hawa Mahal in Jaipur on my first travel to India in 2009!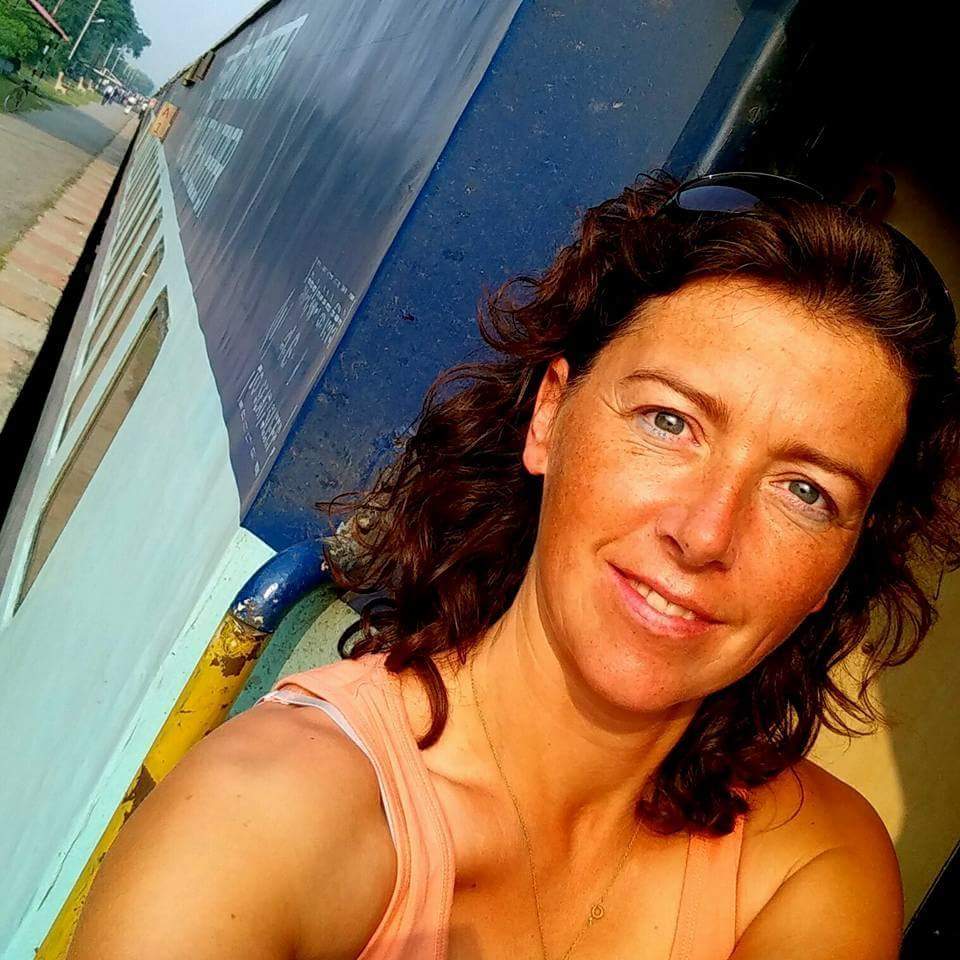 Jacomijn is a police officer from The Netherlands who loves to show you how to travel the world Safe, Healthy and Active!! Safe and Healthy Travel is a MUST!