My visit at Jaipur, capital of Rajasthan – India
In 2009 I went to the city Jaipur in India. On our way there we saw the traffic, the busy and colourful traffic. This caught my eye…they want you to blow the horn as much as you want 🙂 I think that is in the whole of Asia only here they paint it on the back of the truck!!
The first day I was there it rained. The streets were wet and therefore dirty. Not a nice idea when you see people, especially men ofcourse, peeing on the side of the streets and you walk there on your flipflops 🙂 I heard people afterworth saying that it was a blessing we got rain. At this time there is a drought in India so they were very happy to have some water falling down the sky.
Sunset after the first day, love the elephant on the intersection!!
The streets of Jaipur
I really love Jaipur, also called the pink city. Like the name says most buildings in the city have a pinkish colour. Gives the city a very sweet sight. 
Lucky, our taxi driver
First night there we met our taxidriver for the rest of the stay. Taxi as in tuktuk ofcourse. He told us to remember his name, Lucky Krishna, and that he will drive us the next day again. He brought us to the restaurant where we wanted to eat and waited outside 🙂
Hawa Mahal
Next day we went to the Hawa Mahal. That is the Windy palace. It gets his name of all the small windows. And in ancient times when the princesses couldn't go walking on the streets they would be standing behind these windows and could watch the streets without being seen themselves. And in the heat of summer it would be a nice windy spot to be!
I was in front of the Hawa Mahal and saw a man all dressed in Orange. And that being the colour of Holland 🙂 , I asked him to pose with me for a picture. And ofcourse he did after taking some money 😉
We also went to the Amber Fort, it is just outside the city of Jaipur. There we had an elephant ride up to the Fort.
Amber Fort, also called Amer Fort, is known for its artistic style, blending both Hindu and Rajput elements. With its large ramparts, series of gates and cobbled paths, the Fort overlooks the Maota Lake, at its forefront.
At Amber Fort you can go up on the back of an elephant
View on Amber Fort
I really loved my visit at Jaipur!
And I am planning to go back to India again. Do love the people, the country and the food!!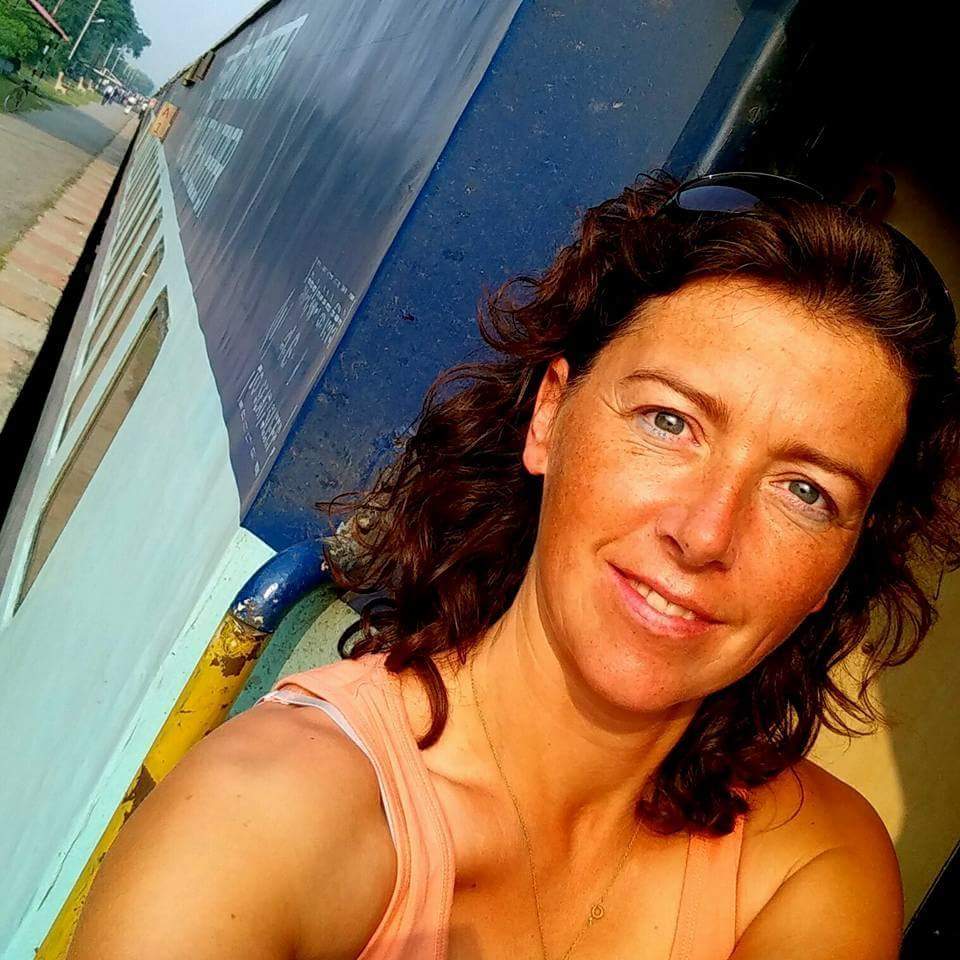 Jacomijn is een politieagent uit Nederland die jou graag laat zien hoe je veilig, actief en gezond de wereld kan over reizen. Safe and Healthy travel is a MUST