Nighttrain from Agra to Varanasi, India
|
I was in India for a two weeks holiday! I went there not as a backpacker but I had everything organized upfront. I was with a friend and she wasn't one to travel without knowing where to sleep and where to go.
The Great Taj Mahal, Agra
We went ofcourse to the great Taj Mahal. I thought that was a great  experience. You can not capture the feeling you get when you stand in front  of  the Taj, or when you walk around it. Very impressive!!!
Central hall of the train station
Marudhar express, the train we took to Varanasi
From Agra we went with a night train to Varanasi. We were brought there by taxi, the chauffeur showed us in which cabin we were. The ticket we had was for a cabin with sleeping bunks ofcourse. 
We met a couple from Canada,  a man from Iran and a British man. We slept with 6 persons in the same corner.  When the train went off we got a stock of linnen.  
The whole evening we talked with the other tourists. The couple from Canada told us where they lived. They were teachers and traveled every year in there holiday from school.  They lived in a very remote part of Canada. They lived in the middle of the forest. In between the wildlife. They showed us some great pictures!!
The man from Iran told us that he had studied and now was a traveling around the world. Once he goes back to his country he wanted to go study some more. He was a smart guy, he studied something to work in a laboratory.
The man from England was also traveling a couple of months of the year. He had a good job and could go away for that long. He loved to travel. I liked him and talked for a long time with him. We went also to the channel of the train, the doors were open and we hang out of the train and took some really nice pictures from everything we saw along the way. Also from eachother, hanging out the train 🙂
Around 23.00 hours most people wanted to go to sleep and the 2 banks turned into the 6 bunks. Three on each side above eachother. I made my bed with the linnen we got. It was enough to also laying on it and having a nice blanket to lay under. The airconditioning was also working like hell….as always! So the blanket was really necessary!
I really  slept well.  Didn't expect that but it was a good bed,  big enough to move and turn around.
The train had stopped a couple of times at night. I don't know why but we took a couple of hours longer than planned. I didn't mind because we would be early otherwise and I had slept well.
It was quiet and good. I actually woke up and felt good!
The man from England asked me if I came with him to the channel to take pictures again from the surroundings, the landscape of India. India waking up. In the landscape you could see the colourfull cloting of the women. That looks so great. All the nice colours the wear. We saw women washing clothes in small rivers or at community  waterplaces.
The nighttrain is something I can recommend to anybody. It saves a night in a hotel and it was really comfortable and good to meet other travelers!!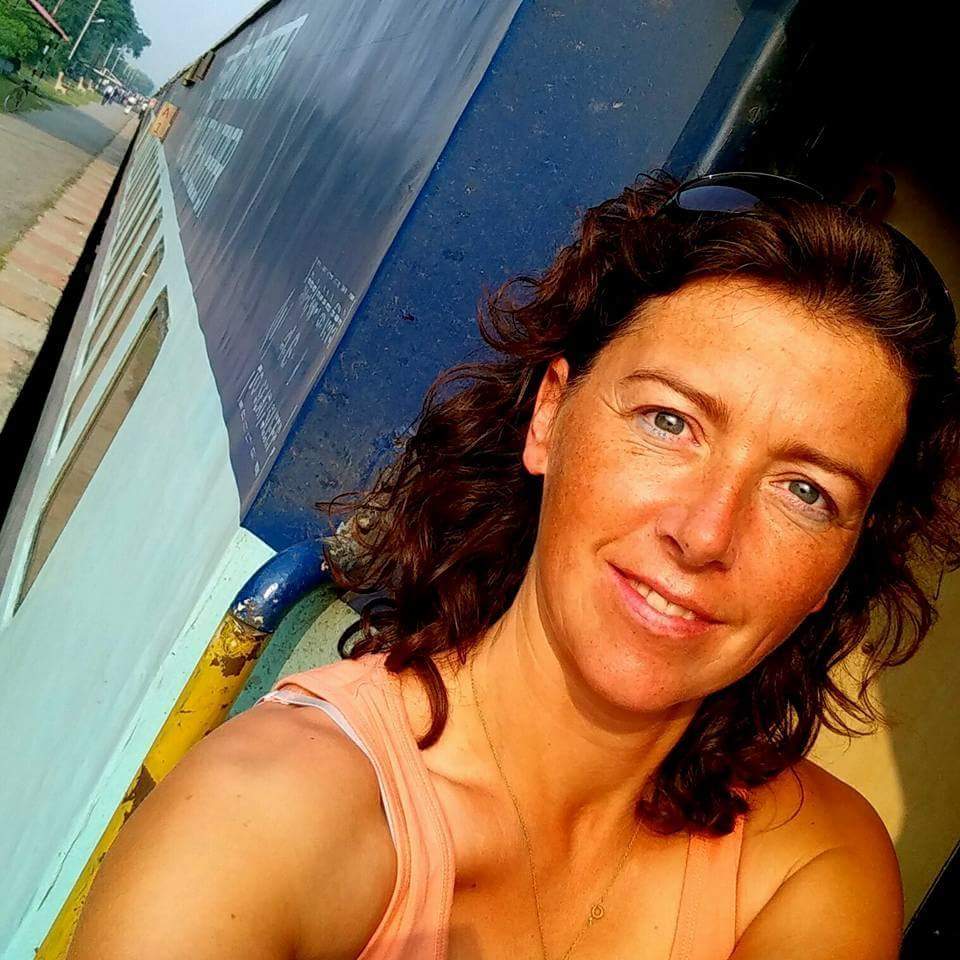 Jacomijn is a police officer from The Netherlands who loves to show you how to travel the world Safe, Healthy and Active!! Safe and Healthy Travel is a MUST!