TBEX
Last week I went to this conferention TBEX in Lloret de Mar. I loved it, learned so much from all the other travelbloggers. There were more then 800 bloggers and I can totally imagine why! TBEX stands for Travel Blogger EXchange and so it is all about exchanging your experienxe with other bloggers.
Als je deze blog in het Nederlands wil lezen klik dan hier
My Niche
It was my first time and I am so glad I  decided to go! I got so much tips and tricks from several other bloggers. Talking to the other bloggers made me realise what my niche was. And looking back it is such an obvious one, It is so strange I didn't saw it myself. To really tell a story that people would like to read and will come back for you need to have a specific angle to a story. Well, mine has to be about safety of course. As some of you might know, I am a police officer in my daily life. My view on that will have a different level then probably most people that maybe not even given such isseus a second thougt. I see the street and situations different then most people. I agree totally!
My experiences as a solotraveler
As a female solotraveler I made several longer travels by now. These travels were from 1 month up till 3 months at a time exploring this great world.
I visited many Asian countries such as Myanmar, Indonesia, the Philippines, Cambodia and Laos for instance. In European countries I also enjoyed several solo trips and I traveled through South Africa for a month. I have traveled for 8 to 9 months in the last 3 years. So I think I do have some experience by now if I'm talking about solo travel.
Safe / Not being Safe
I have never had a really bad experience in those months. Never had the feeling of being unsafe at an certain situation. Maybe this has to do with my background as I am a police officer. Talking to fellow travelers there are always stories about situations where they felt unsafe or were uncertain about there safety. Most of them are well traveled and not the kind of person I expected this with. And still they encounter these kind of situations.
Police officer
Because of this I am planning to turn my blog into one that tells a lot about safety issues while traveling. I willl obviously do this from the female solotraveler's view. But my work experience will effect the way I see the world and how I interact with that world. 10 years ago I started to work at the National Police. I do work in a uniform and will respond to the so called 911 calls. That means I will go to scenes of a neighbourly dispute, a traffic accident, an arrested shoplifter or your worst nightmare a murder or manslaughter.
New Start
To make a good and new start I will get a new blog. I need also a new name for that new blog so goodbye to LocalizeJ
And welcome to a new start with the essence words : Safe / Health / Travel / Solo / Female
Sportive
Yes…you read it right. Health is also a part of that new blog! If you know a little bit about me you know I love to sport and being active.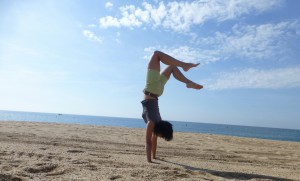 If I'm at home I'll try to train on a daily bases, I'll practise Yoga, Mountainbiken and running. On the road this will obviously be less but I choose active and sportive trips to explore the area!
Besides sport being good for you it is important for you to be at eas with yourself and have a positive glow to the outside world. It also has a positive effect on your safety and that's why the two words are in one sentence.
**  Safe and Healthy  **
Start of a New Blog
My new blog will take some time. I'm not certain on excatly how it has to look like. Will I put all my old blogs on it too? Am I going to rewrite them?? Till then I will post my blogs here but the focus will already be Safe and Healthy 🙂
Facebook
I did already make a Facebookpage. I wanted to emerge it into my old one but it seems to be impossible if you've got more then 200 likes and the name is not the same… If you would like to join me in my new adventure like Safe and Healthy Travel on Facebook.
I'm very excited about this and wouldlike to hear your thought about it, if you have any tips?
I would love to hear from you!