Canyoning in Dalat, Vietnam
|
As I traveled through Vietnam I enjoyed all kinds of trips. But scared as I was to get hurt and still needed to travel for a long time I took this trip in almost de last week of my two months travel. And I'm very happy that I finally did!!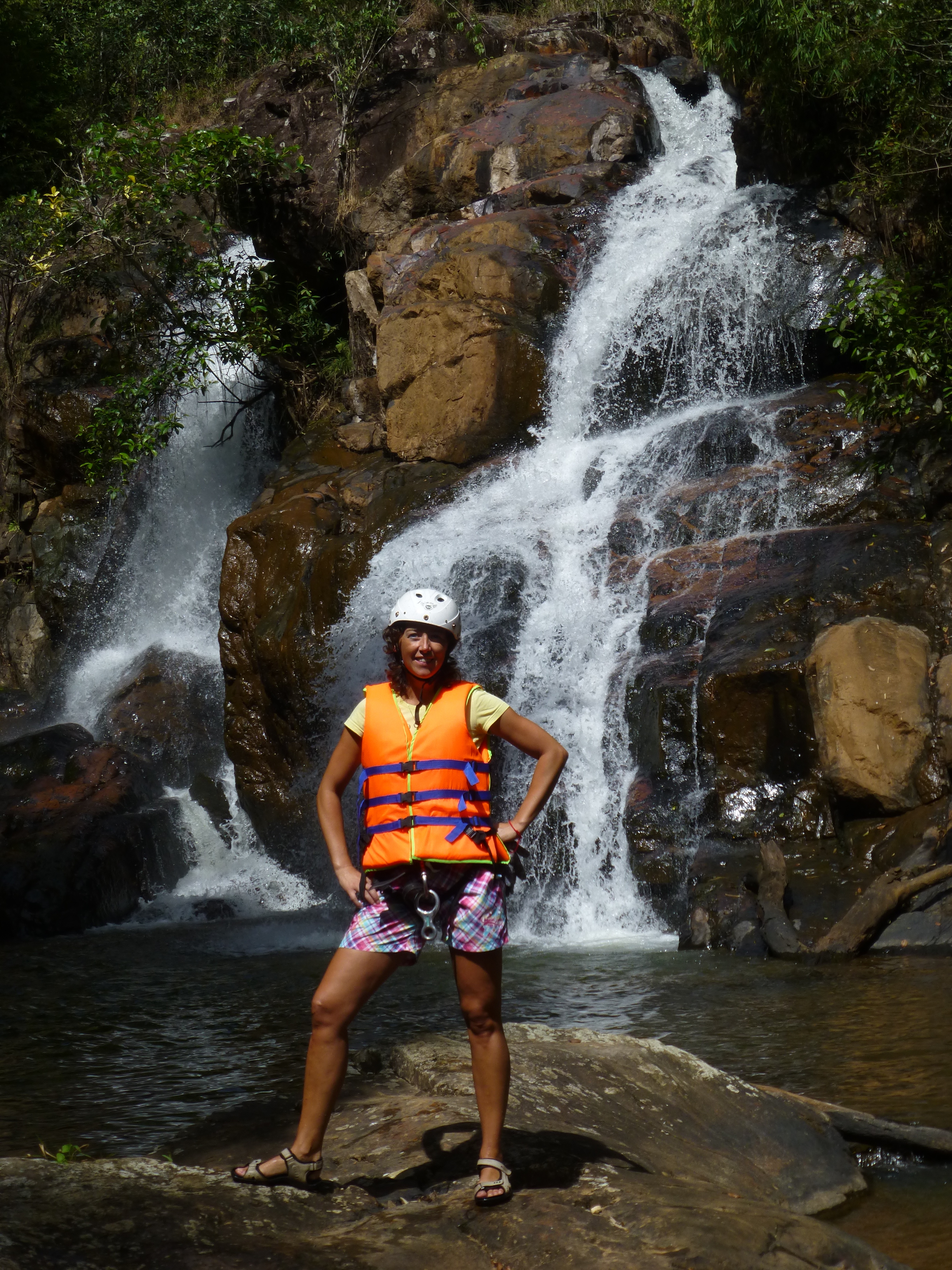 The town of Da L

ạt, Vietnam

I went to Dalat up in the hills of Vietnam. Đà L
a
t is the capitol of the province Lâm Đ
ồ
ng and is located in the highlands of Vietnam. The city has an altitude of 1500 metres above sealevel. 
Đà L
ạ
t has many tourists because of the cooler climate and its surroundings. Da
L
ạ
t is known for her wine, flowers and vegetables. A tourist attraction is the cableway in the mountains around Da L
a
t, Vietnam.

The streets of Dalat, Vietnam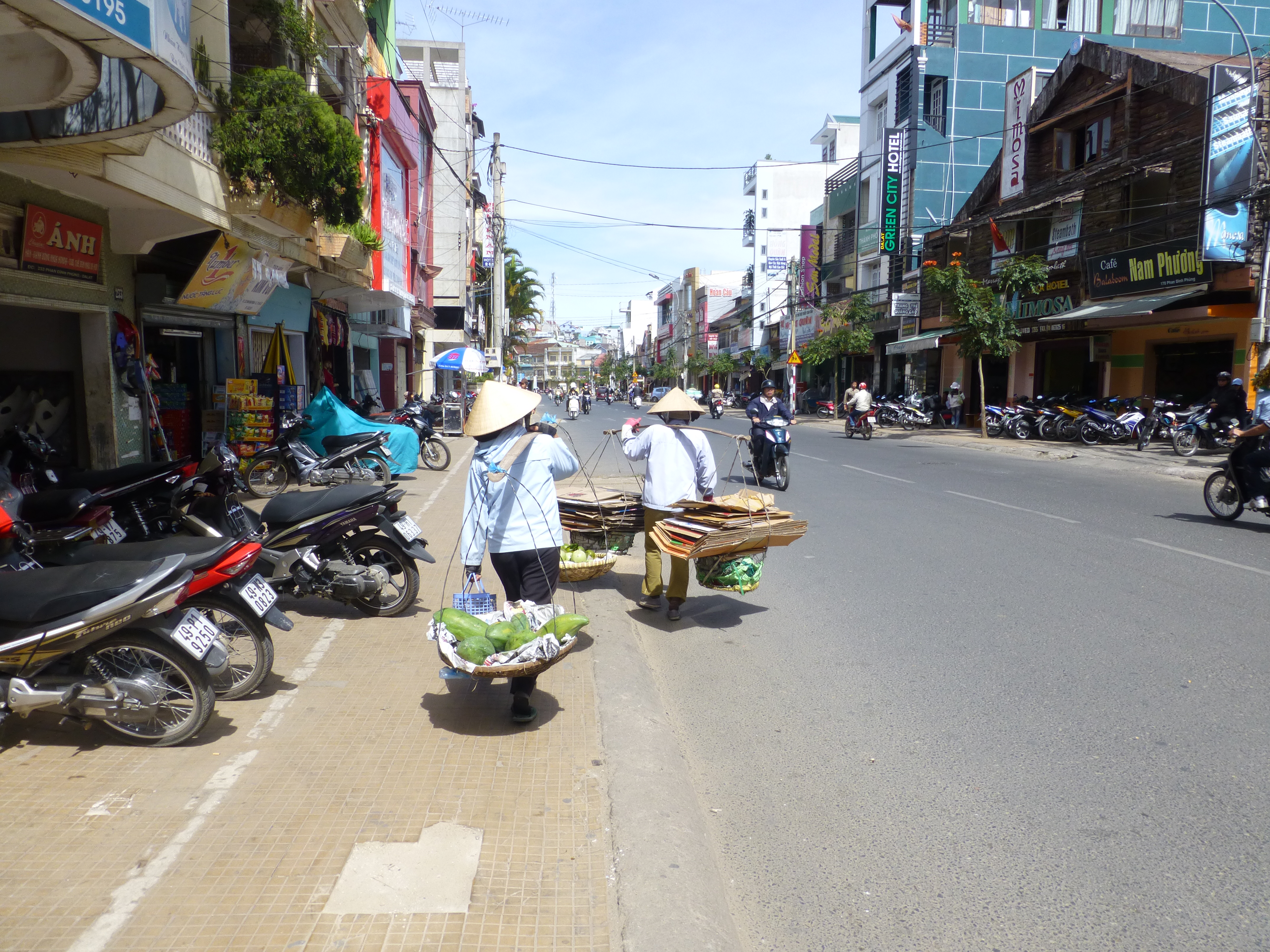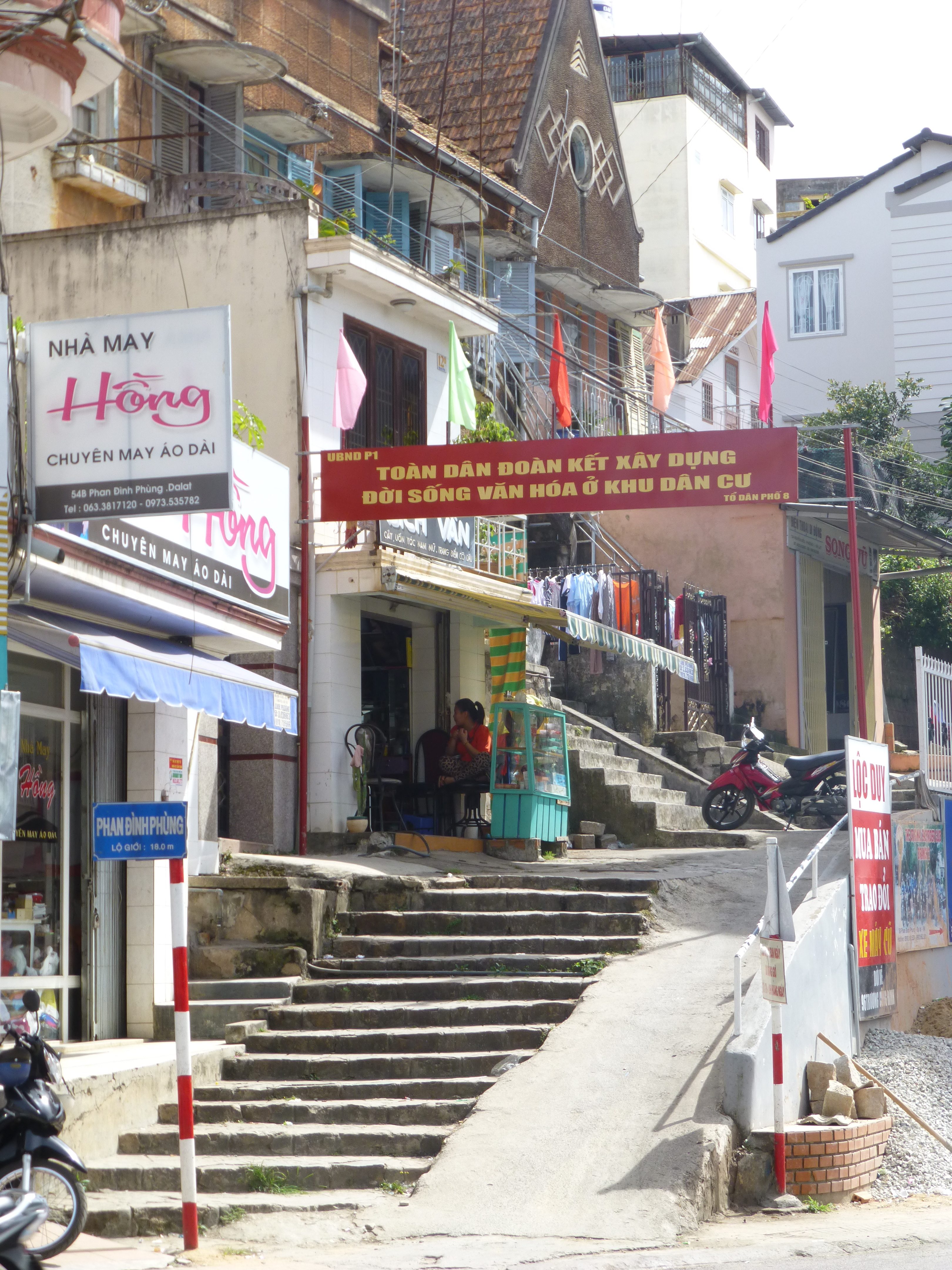 It is a nice little town
. The centre of the city has some nice shops and restaurants. When you go down to the lake you'll enter a market. It is quite big and has an outside area and inside part. I got some great healthy sweets there, great for the busdrive again the next day to Na Thrang.
Booking a trip for the day – Dalat, Vietnam

That night I booked a trip. My travelagency in Ho Chi Minh City had adviced me to do a trip in the area of Dalat
. Because of the winefields and flowers. I went to the agency next door to my cheap guesthouse and saw that they offered Canyoning. They had some great pictures from people having fun sliding down a waterfall and descending on a rope down a waterfall. It looked great!
They told me that during the day the temperature was good for this kind of a trip. So I booked!!!
Later that night I went to the market place on Hoa Binh square.  Nice and busy with locals. There were also tourists but not that much as in other cities where I was in Vietnam. Many locals eat at this market and did there shopping in the part that was indoor.
I walked to the Xuan Huong lake  and had a nice kumquat tea at the Blue Lake Restaurant.  The taste is very strong and tasty. I warmed myself on the cup of the tea.
The next morning I was early at the travelagency. I was eager to start. I sat down at the door and waited in the sun.The totalcount of the group was 6, so  a nice small group.
I needed to wear gymshoes or open sandals. Because of the waterfalls you would loose your shoes or flipflops.
Canyoning in Dalat, Vietnam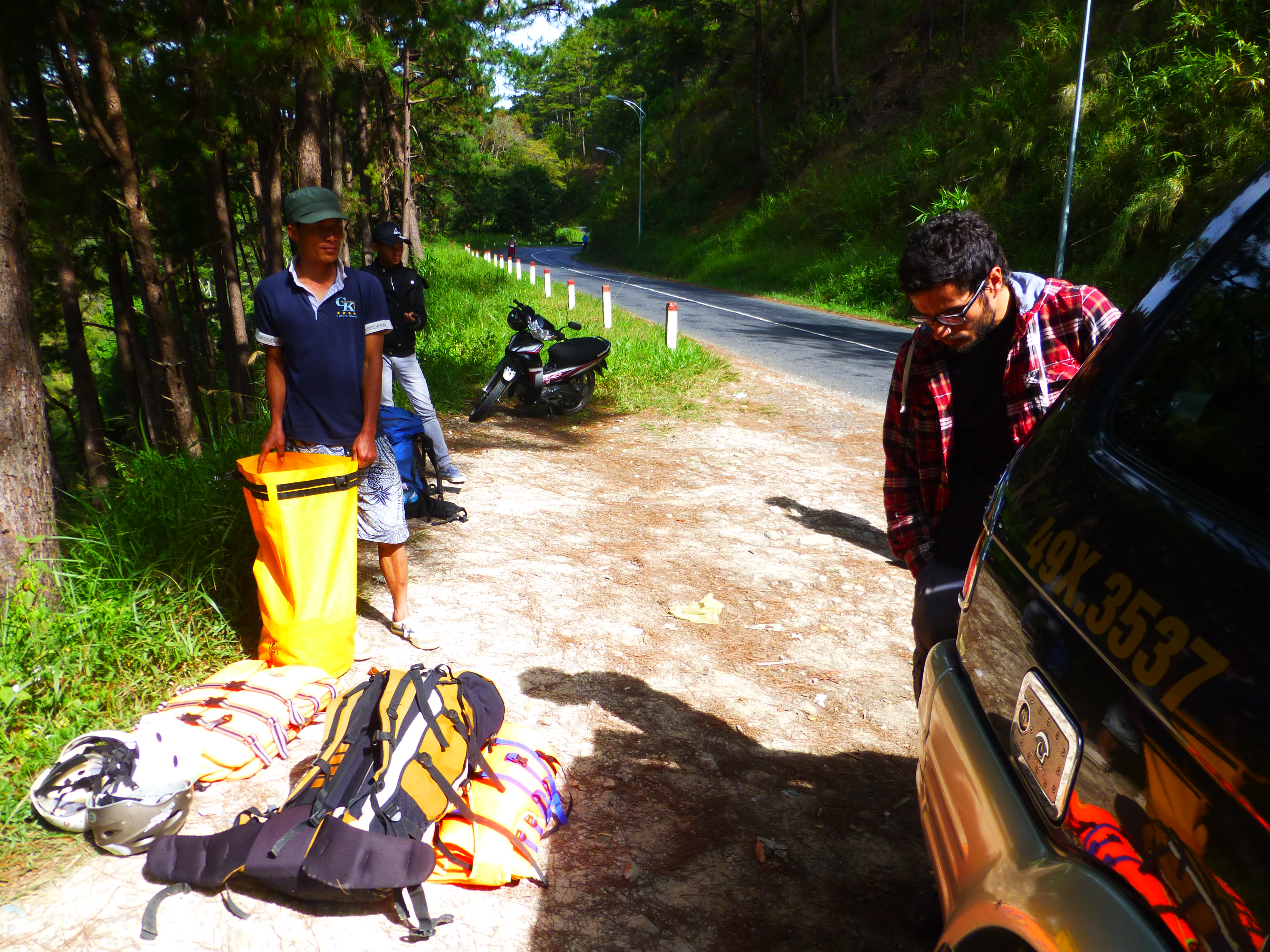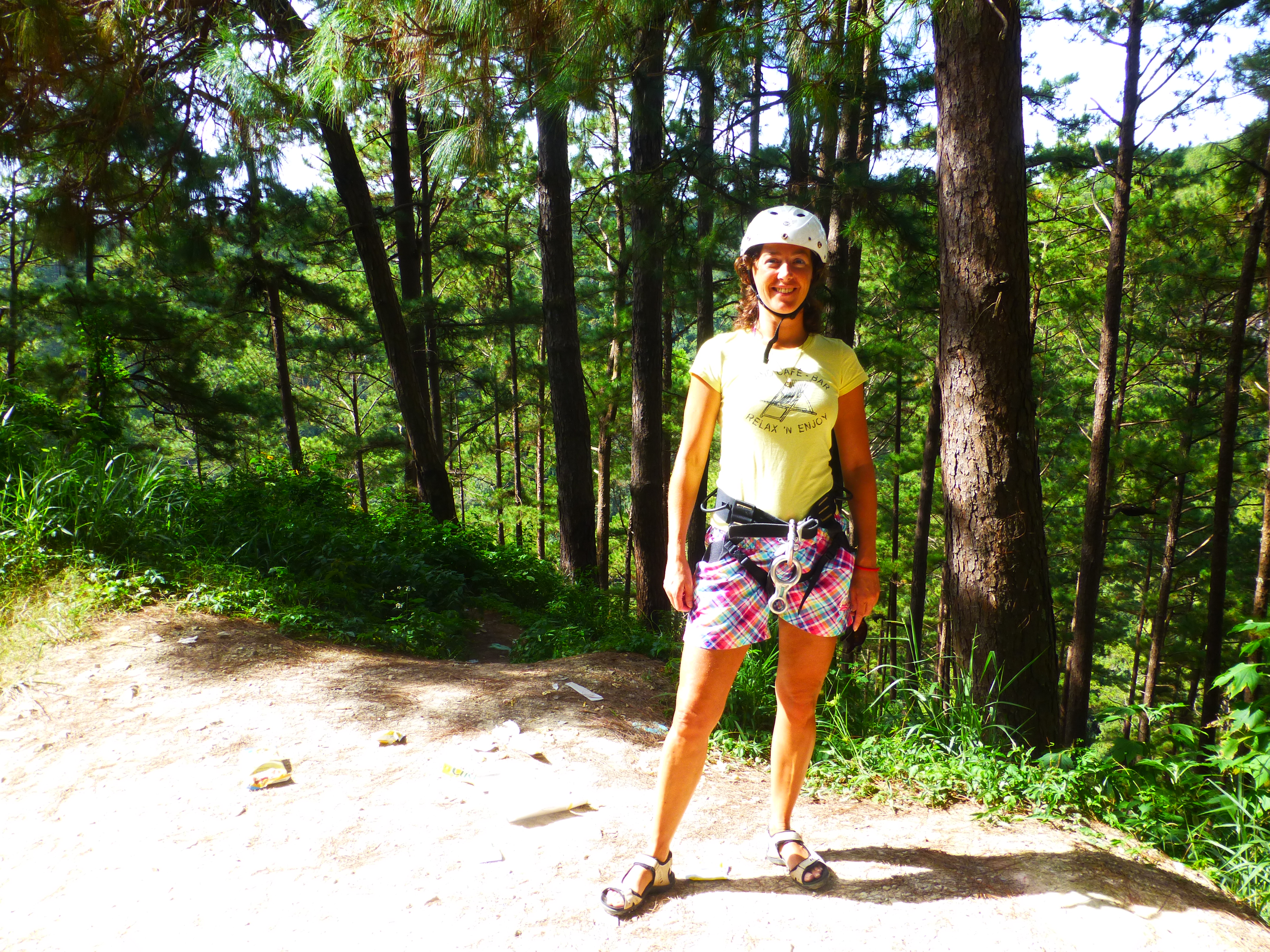 Safety Issues – Canyoning in Dalat

They teach you how you need to secure yourself to the rope. The showed us some knots and told us what to use and when. First we did a short descent from a hill, after that first one you had the feeling in your body and felt safe with the leaders of that day. It all was very professional. I did some declining at home and they used the same technices and ropes so that felt good!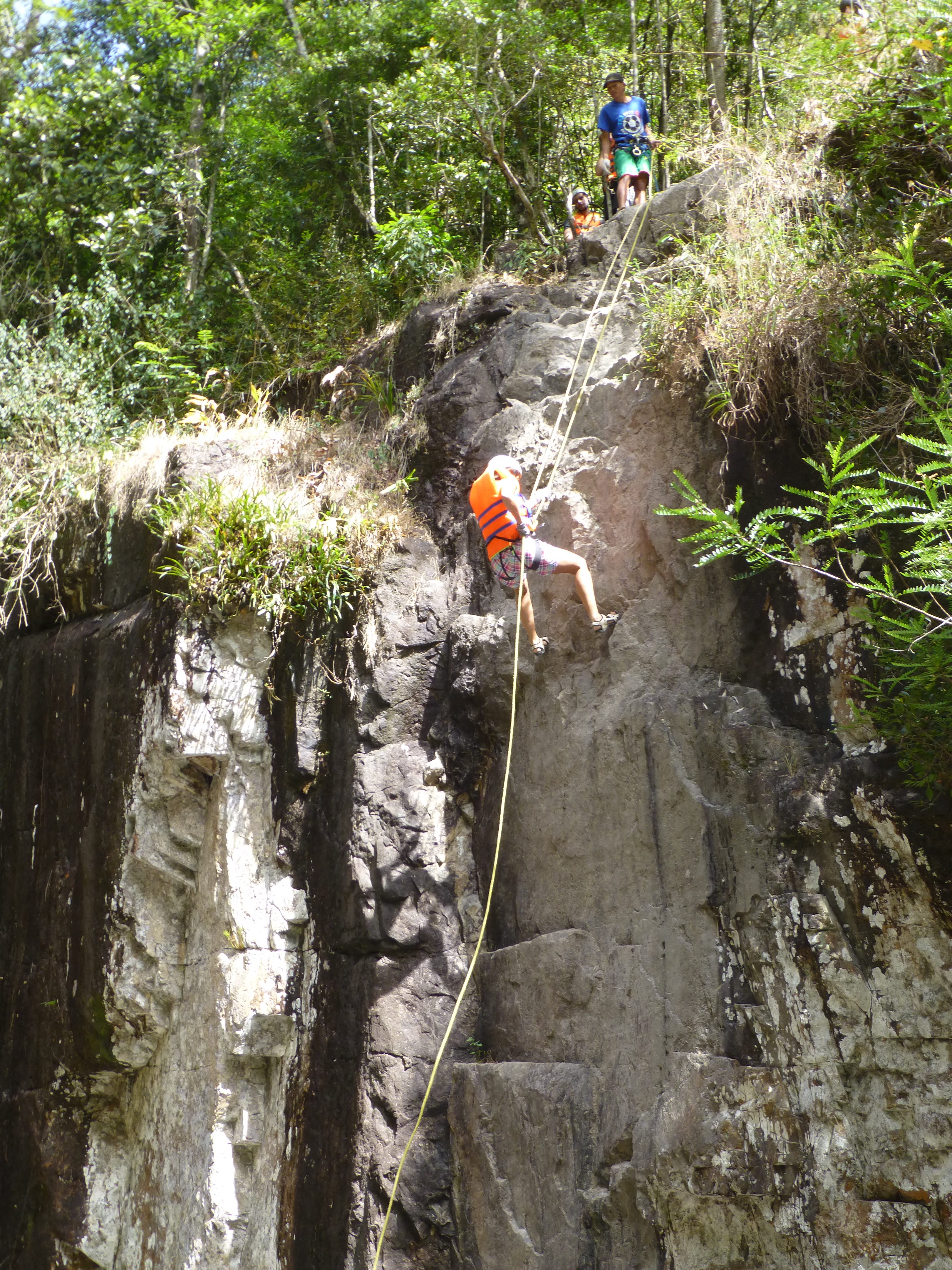 The instructors were two men. Those were the first real sportive vietnamese men I saw that, in my eyes, were actractive. They had muscles and were manly. That is not something I couldn't say about most men in Asia 🙂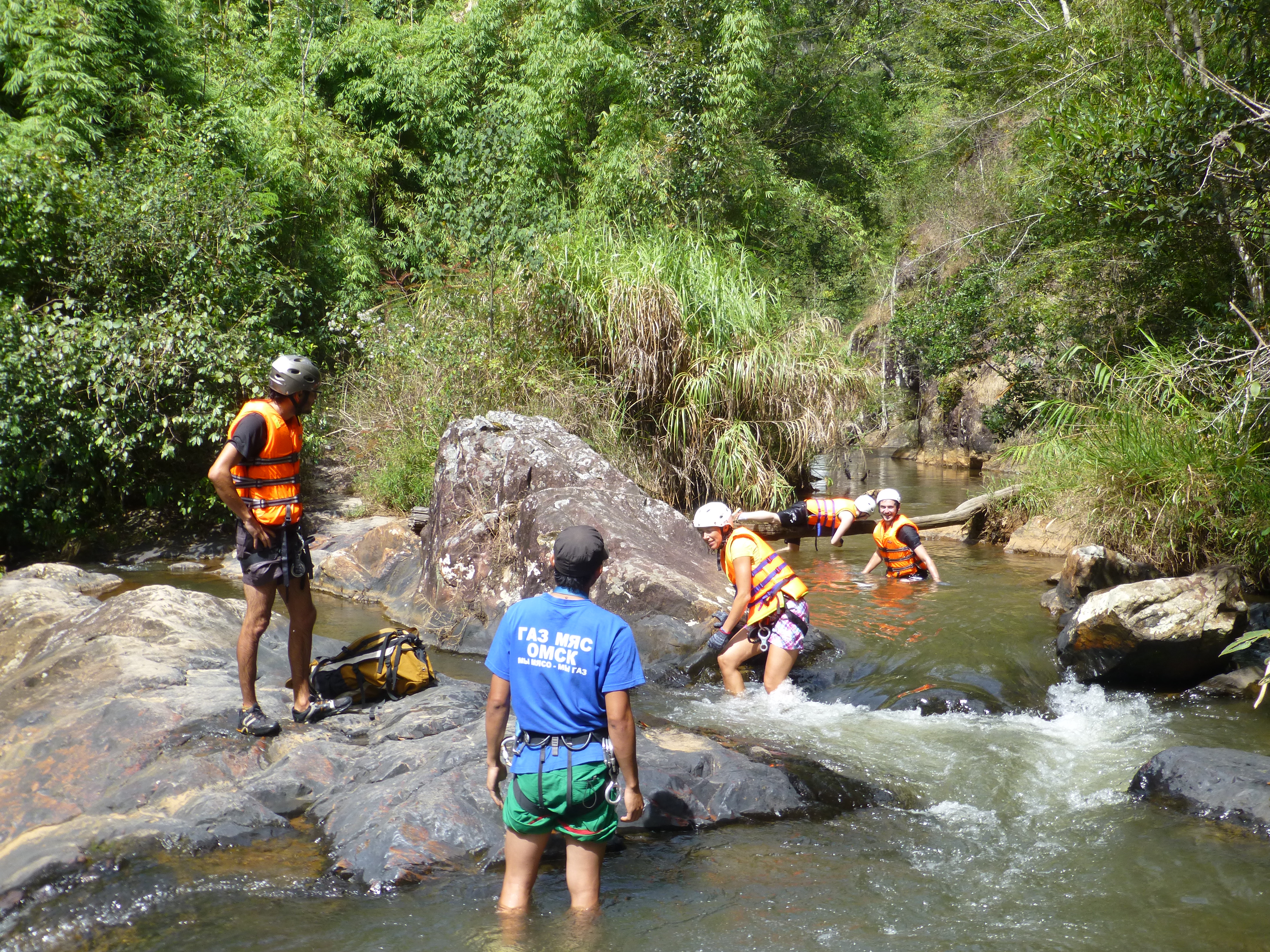 From the one place to another hiking through the beautiful landscape
Sliding down
Canyoning Dalat

We had to hike a couple of miles before we got  to the first place. We went to a waterfall where you could slide down. The rock was smooth and you could slide down easily. The instructors of couse had figured out that it would be nice to go down a couple of times. The first time feet first, the second time you needed to go head first!! And the last time was with another person. We had a great time overthere!!!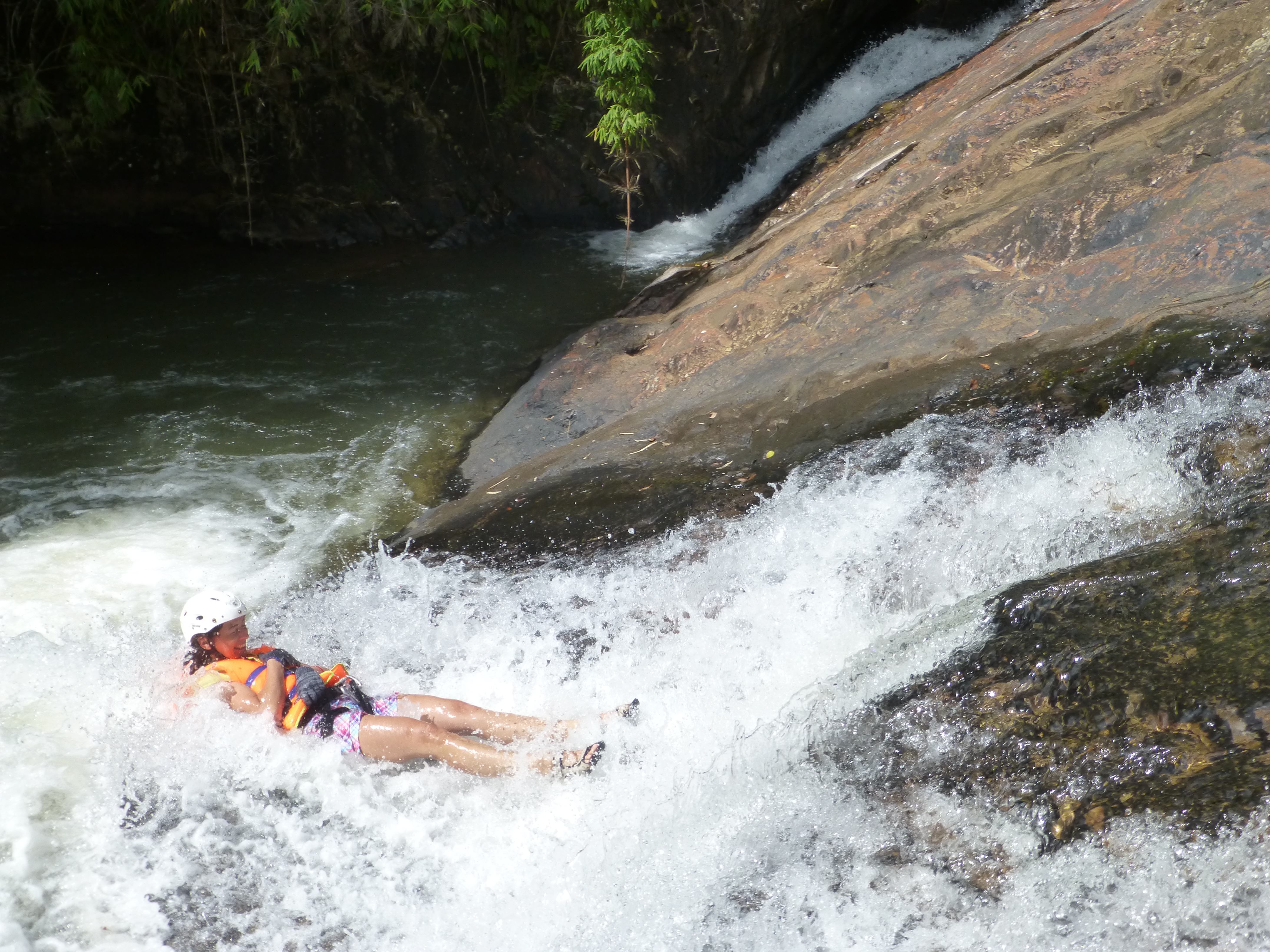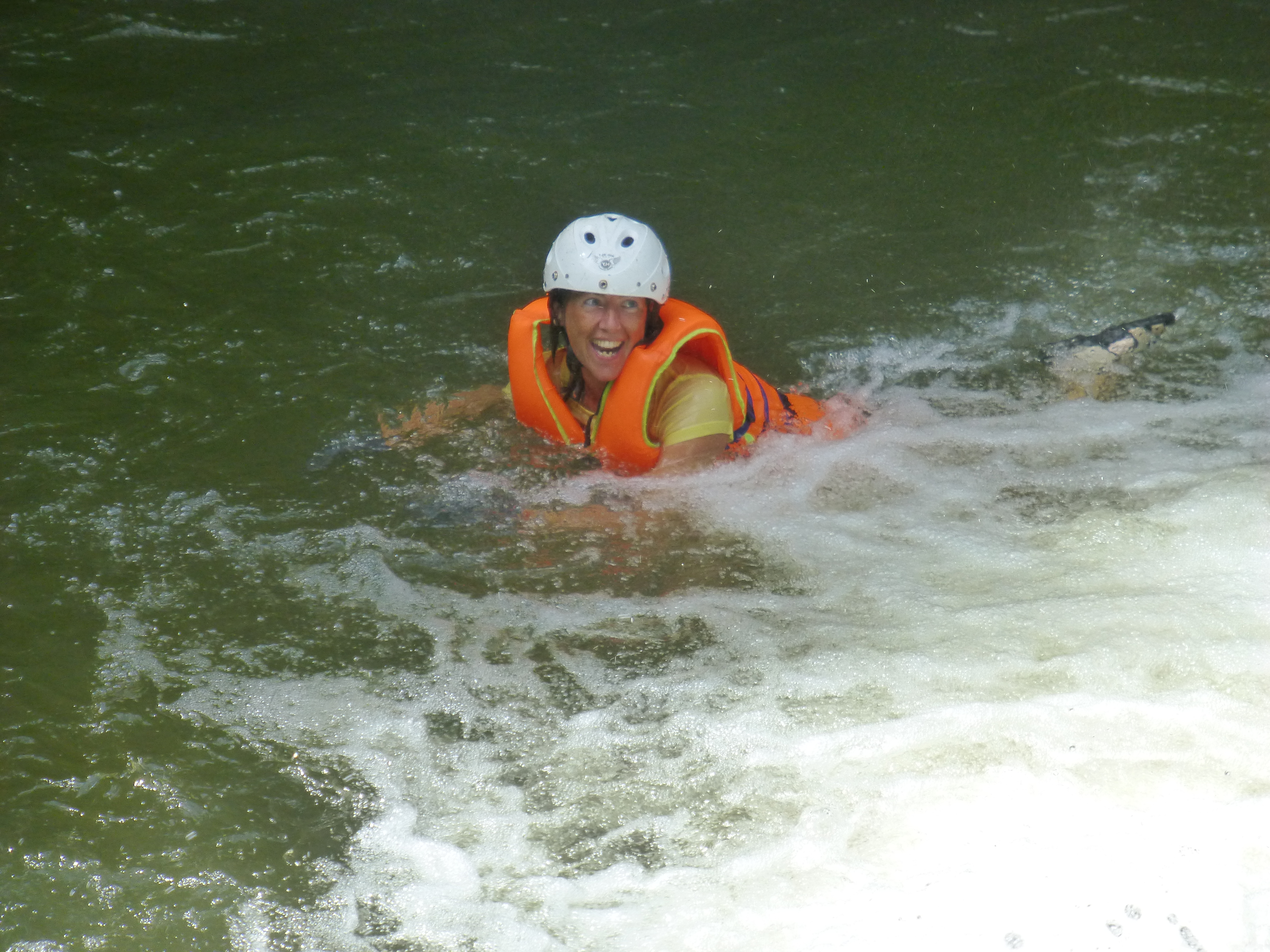 It was fun time in the water – Dalat, Vietnam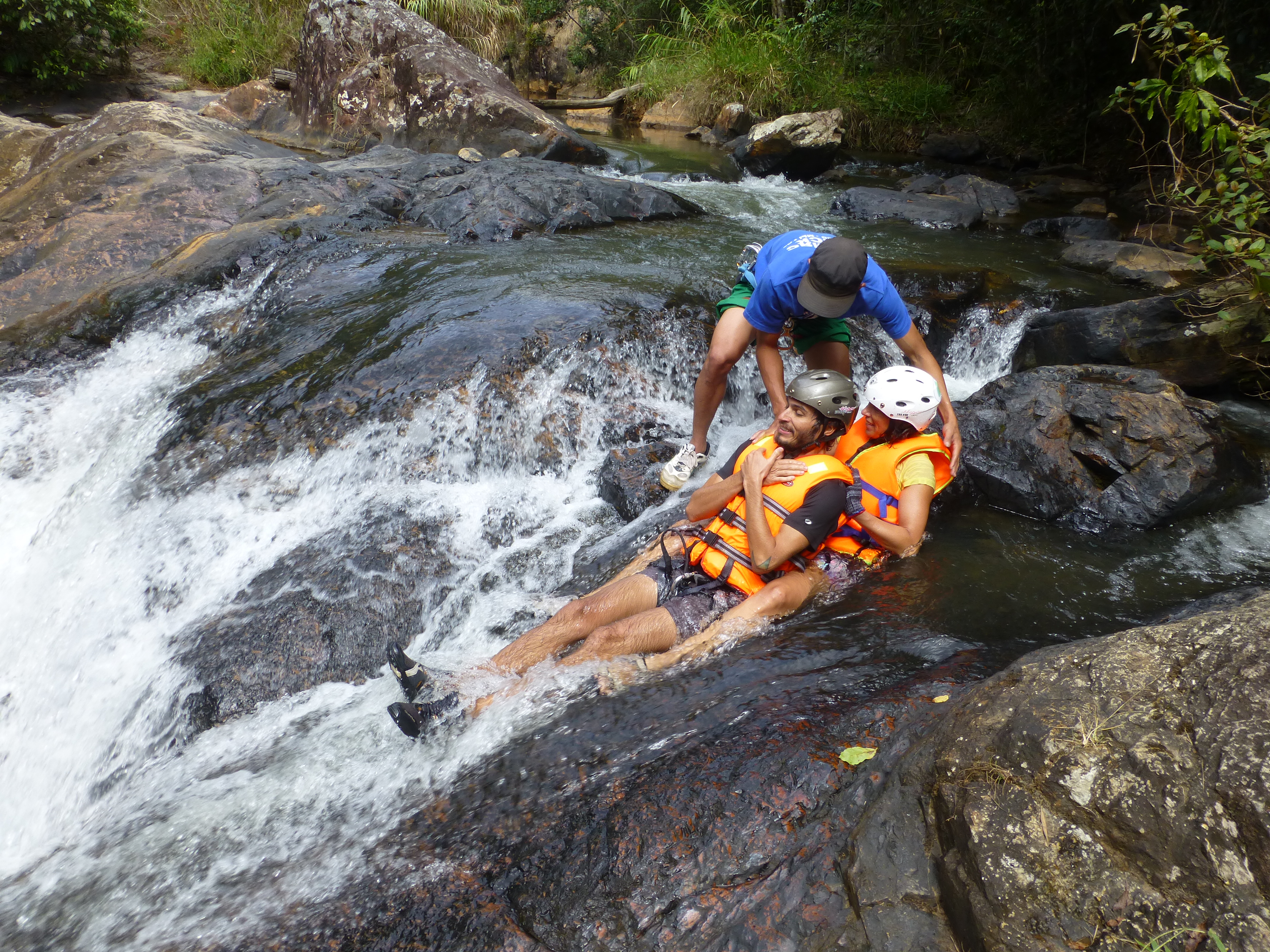 With a Spanish guy going down the waterfall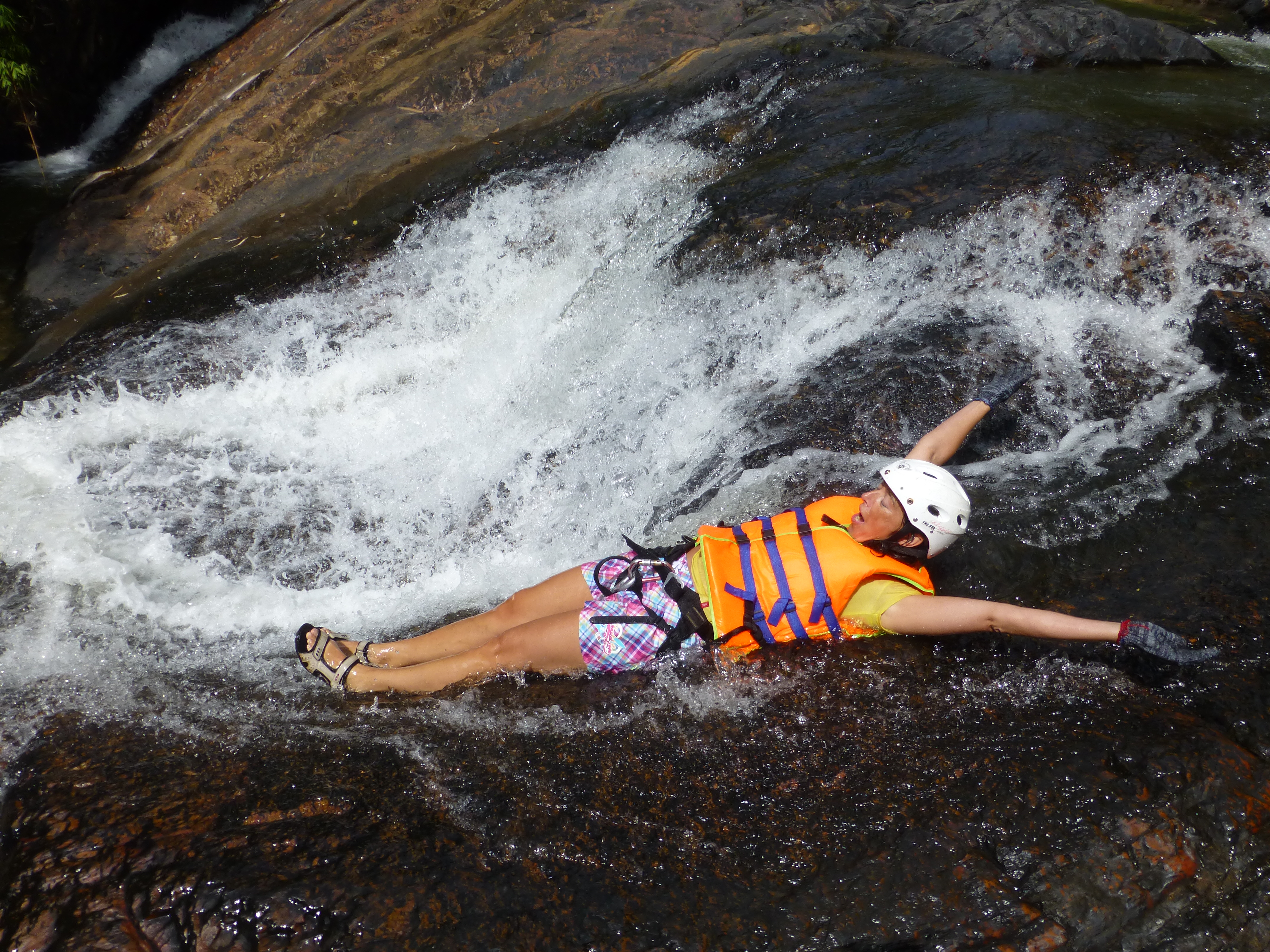 In between we had a lunch at a waterfall side. They really provide a good and healthy/fresh lunch! The weather was real nice, as cold as it was the nigt before as nice it was during the day. The sun warmed us good and dried us up quickly after every dip in the water.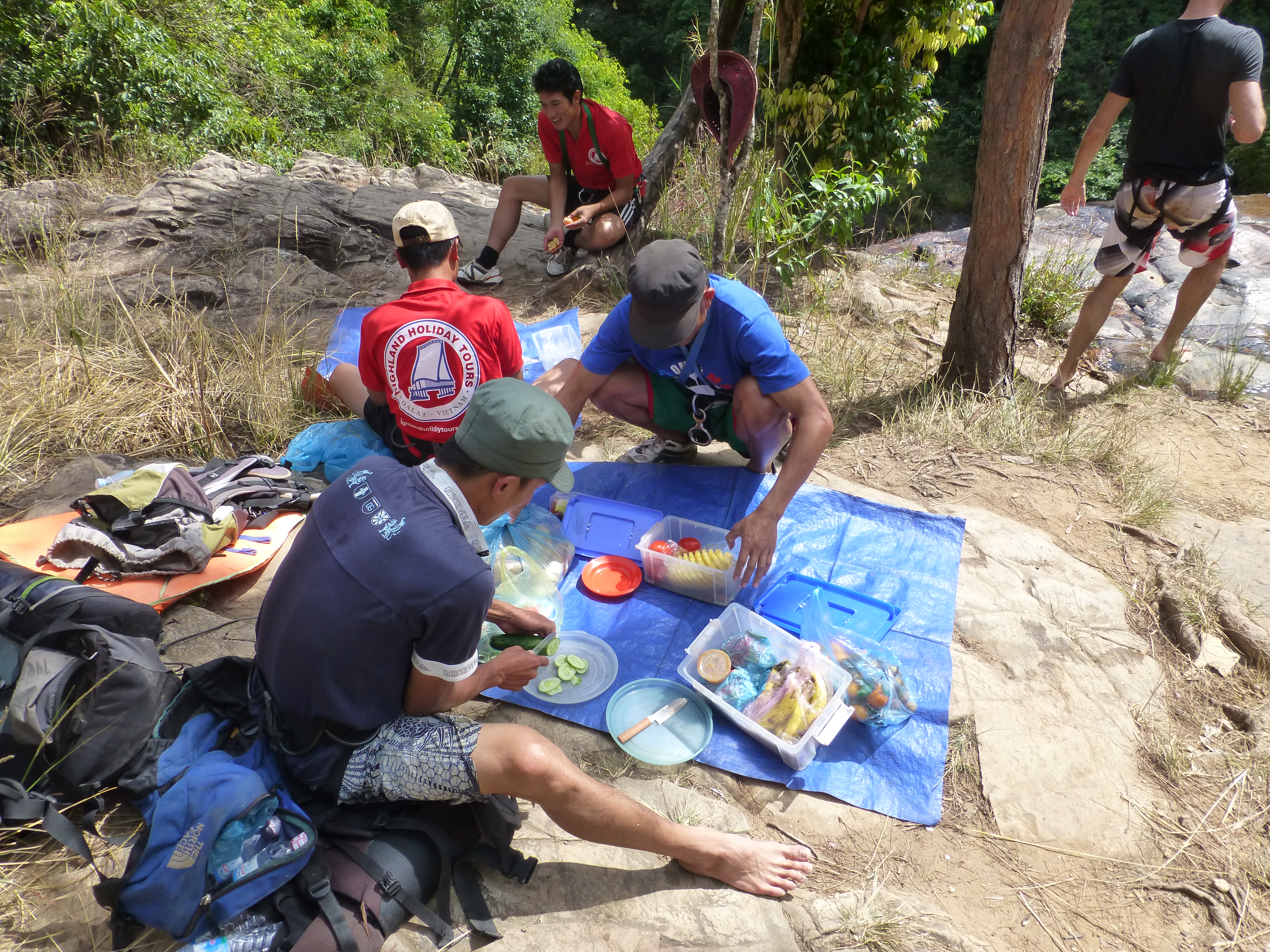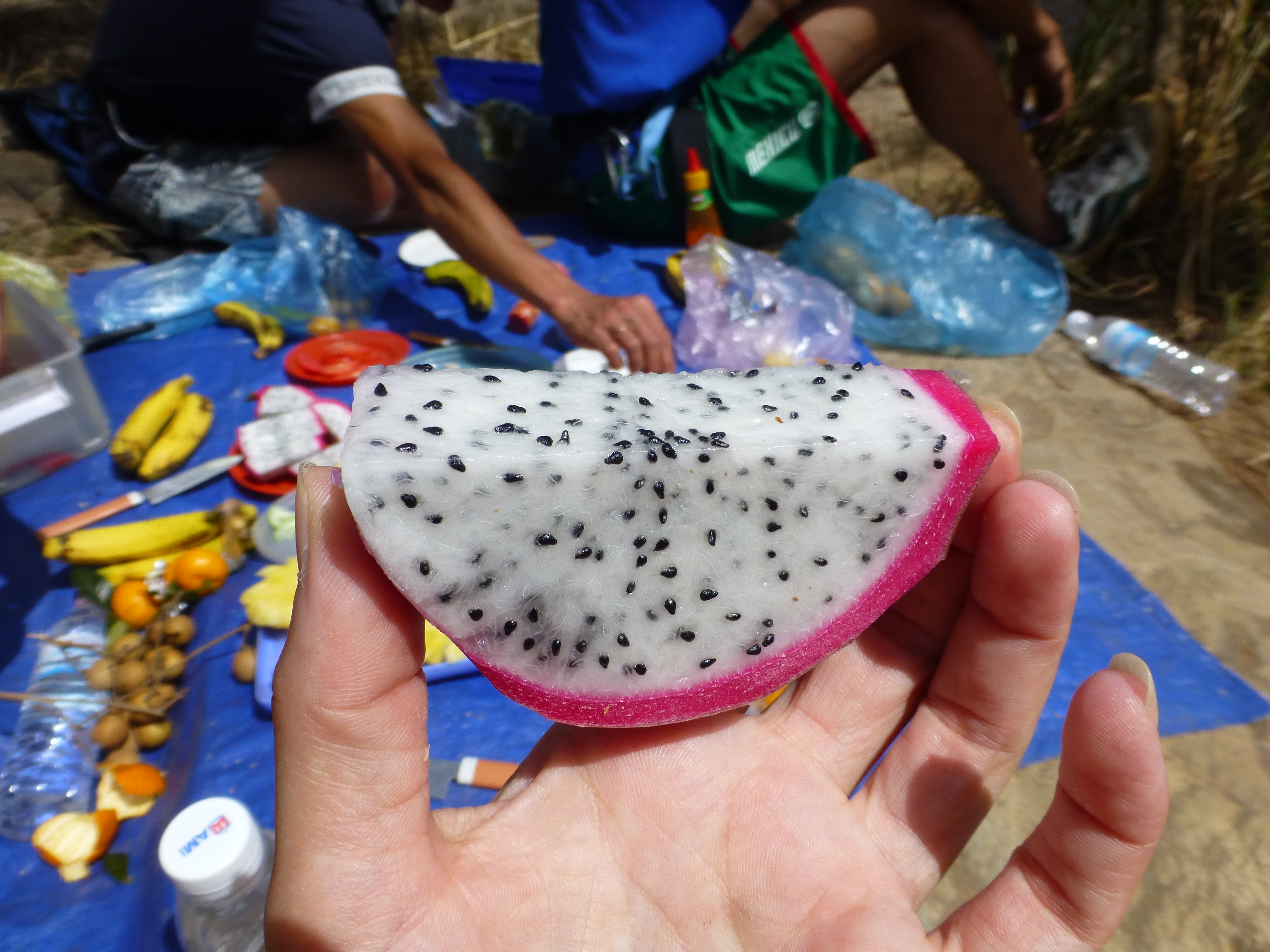 Descending the Waterfall
Dalat, Vietnam

After that we came at a waterfall. They explained that we will be descending  into the water. At the end of the rope we had to let go and swim to the side. I loved it. At first you are kneedeep in water but when you go lower the waterfall start to splash in your face. At some point you can not see anything, just descend. And all of a sudden you hear the instructor screaming that you need to  let go!!! And then you fall in the river and need to swim. Because you can not see how deep you are going to fall it is really scared!!! I loved it!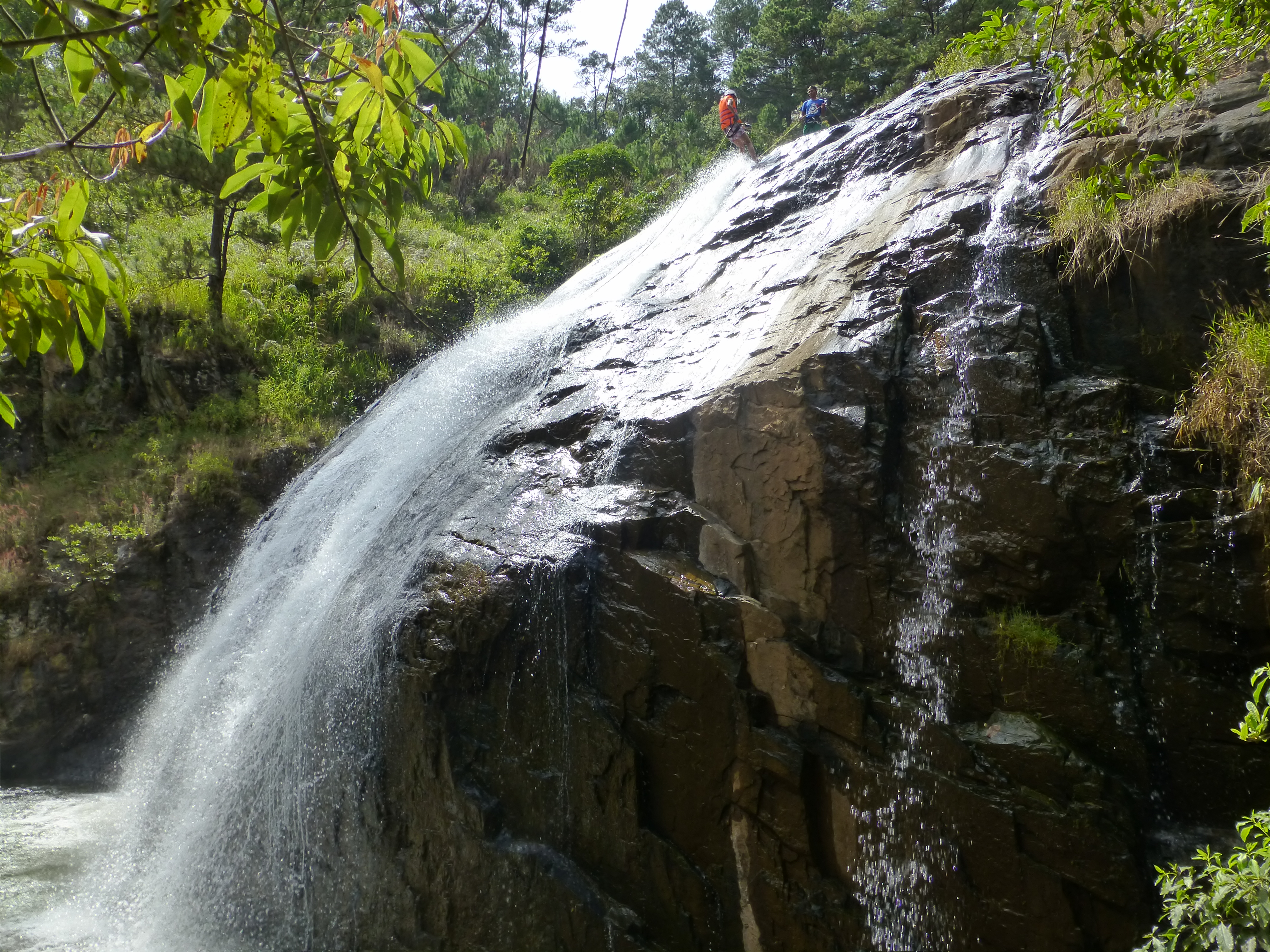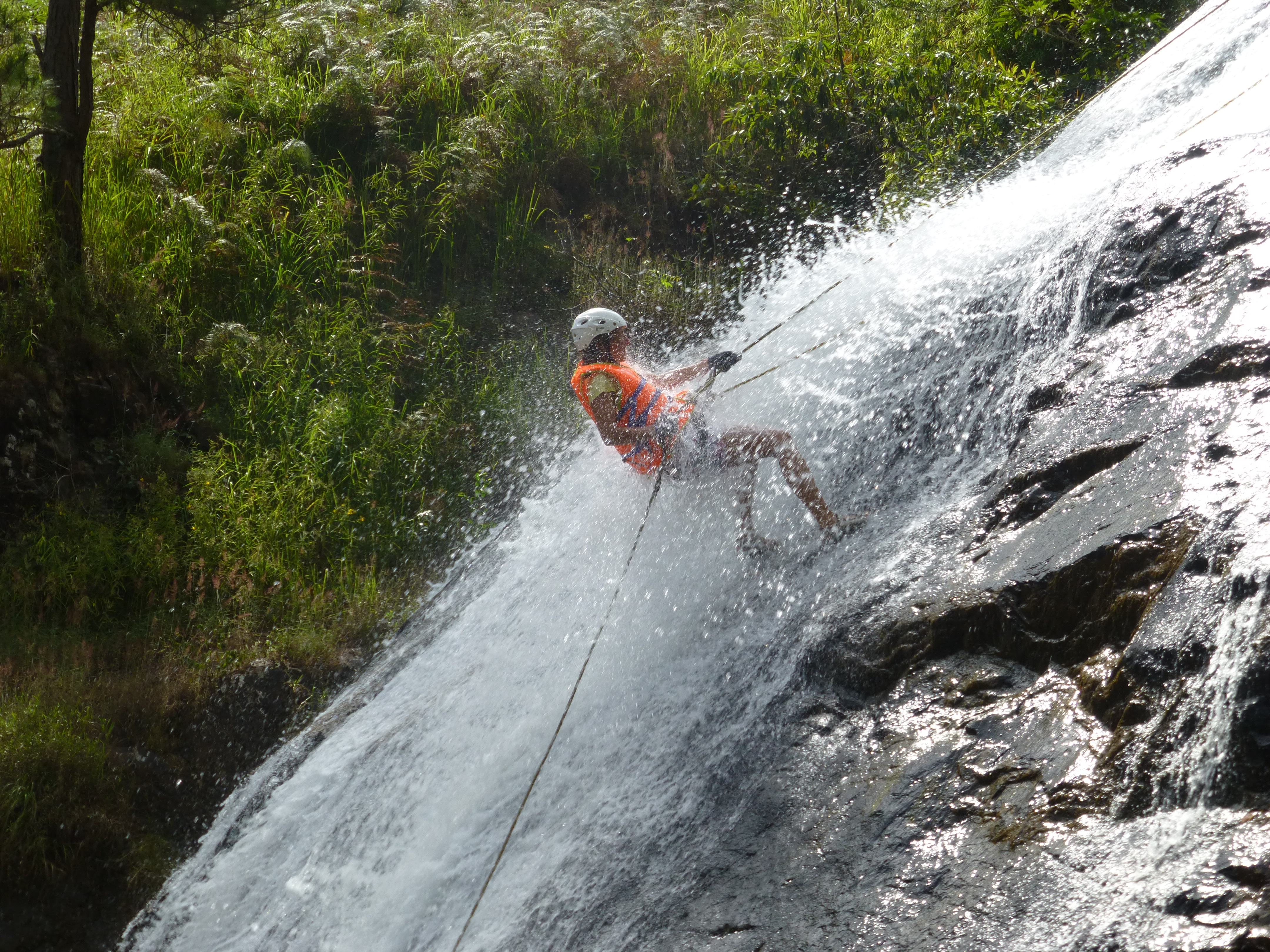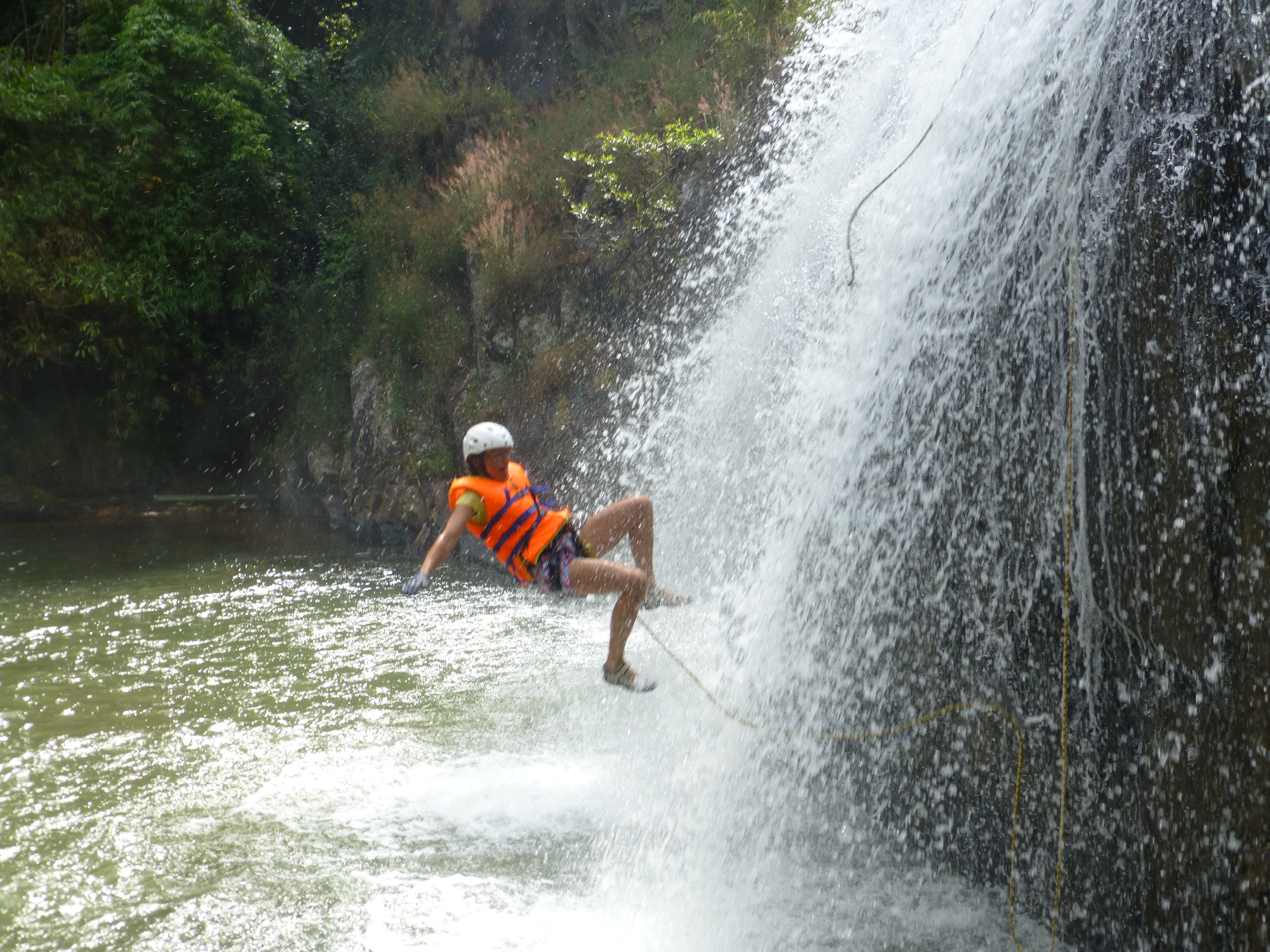 The Washing Machine – Dalat

The last waterfall they had named the washingmachine. We had to descend and  it was that steep that you hang in the ropes at a certain point. And when you came to the water the rocks where so close to eachother that the water was turning and twisting you around. That was a challenge to swim to the side. I went down that one also two times.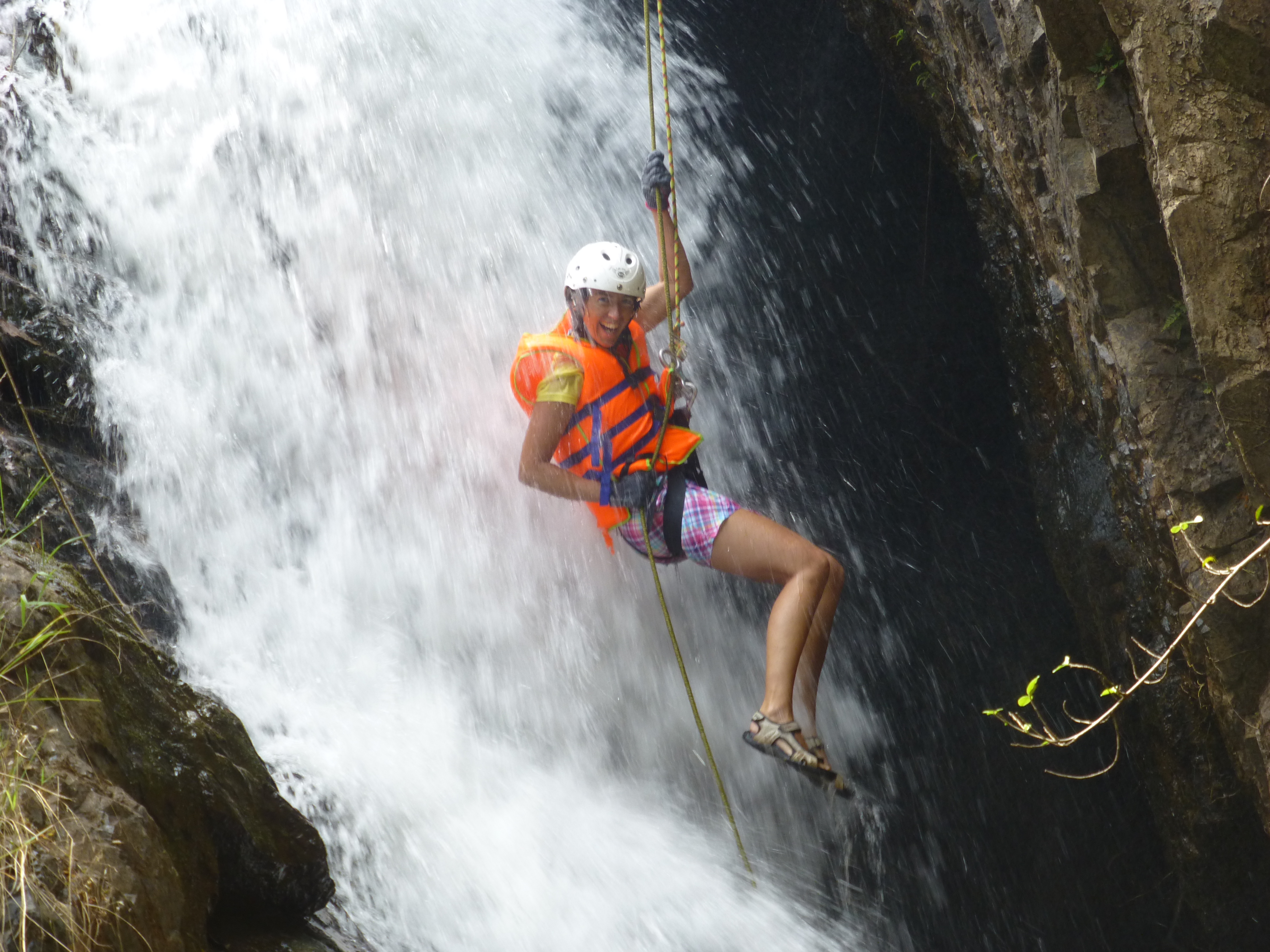 The last one was a jump from a rock, from 6 metres high. I hadn't done that before but I did it!!! And I jumped for a second time also!!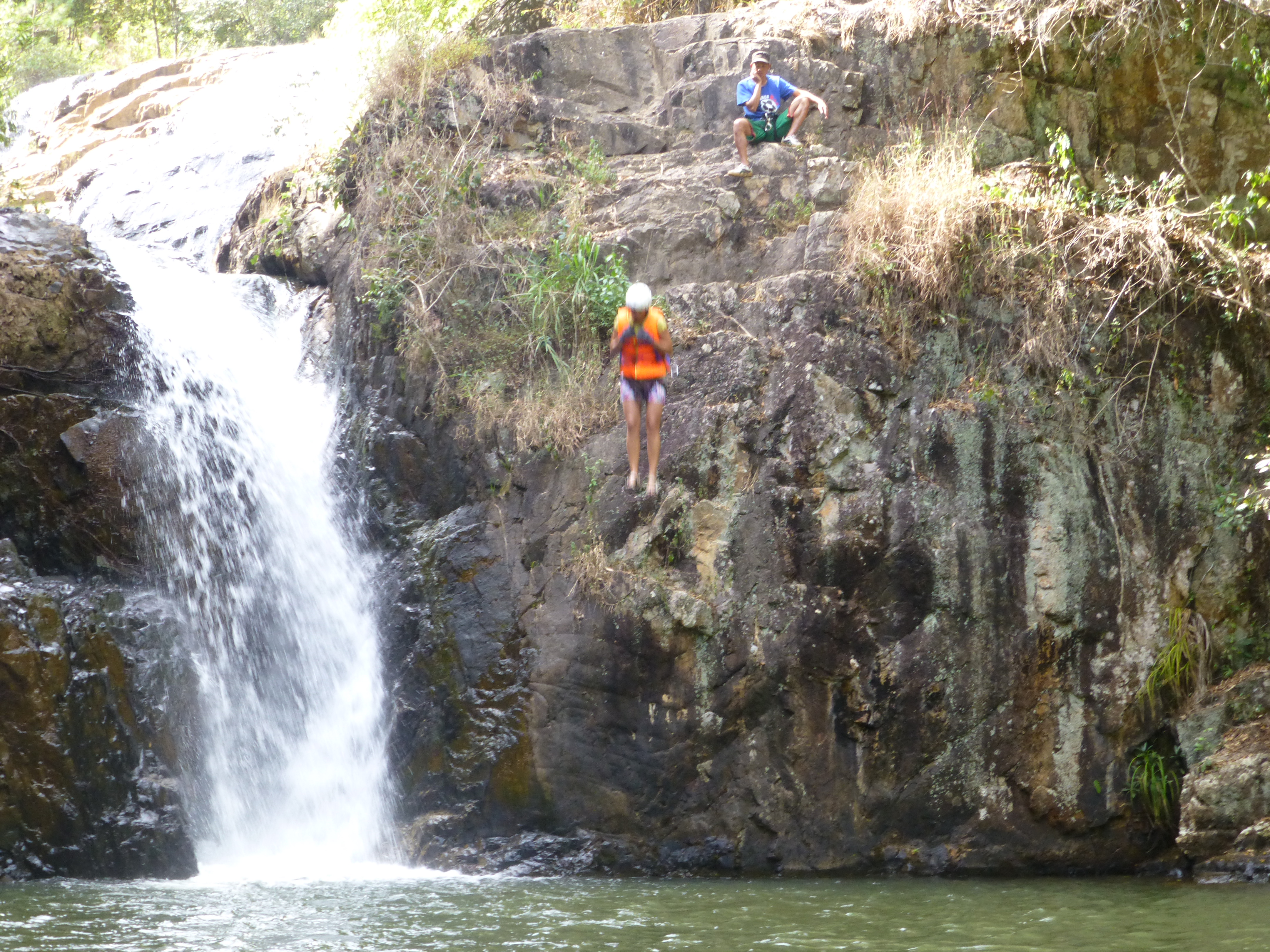 It was such a good day, we had such a good time in the group. Almost everybody in the group had crossed a limit what he or she thought would never to do!! A real good day!!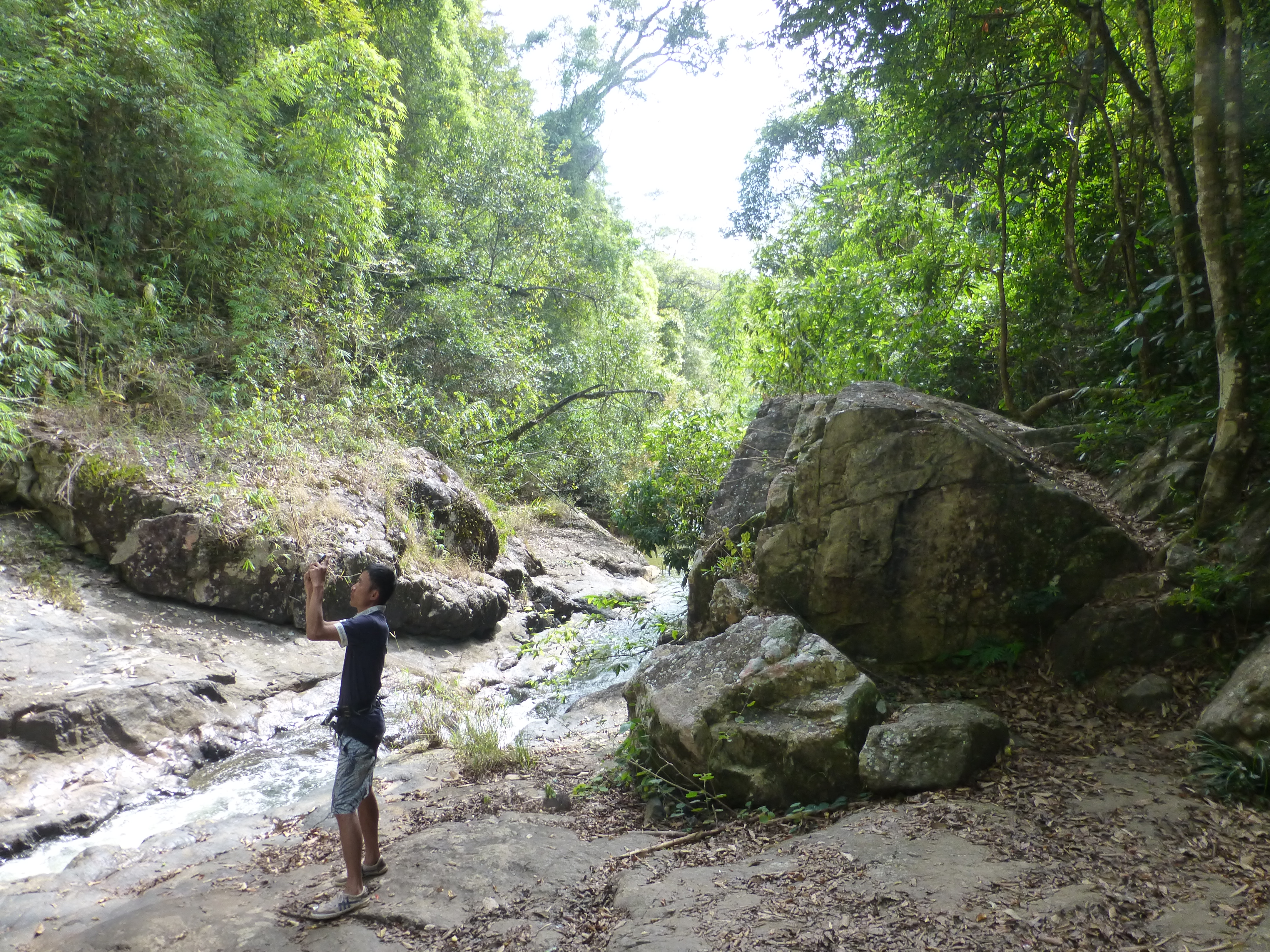 And thank you guys for making all these great pictures!!
Places to remember in

Dalat

, Vietnam

I stayed in the Peace Hotel (Hoa Binh). I think I payed like 10 euro for a night. I was a good hotel, clean and I got a simple breakfast with it. It's busy with backpackers in the morning who slept there but also a lot that only come for the pancakes they serve. I saw everybody eating pancakes 🙂
I booked my trip near this hotel. At the other side of the street and going up hill are a lot of agencies. This was the first to enter and I am very happy with them. Small group so you got enough attention when needed. The place I booked this trip is called Green Adventour!
Do you want to read more about my adventures in Vietnam?
Cookingclass at the Red Bridge in Hoi An
The Fairy Stream and Sand Dunes at Mui  Ne
Early Morning Activities at Hoan Kiem Lake – Hanoi
Or visit my Vietnam Page
—