Places you NEED to visit in Porto – Portugal
|
The places you NEED to visit in Porto!! And there are a lot of great, old buildings and wonderful spots so prepare yourself to be wanting back to this great, colourful city.
The city is known for its wine: Porto You have probably heard of that…or tasted it! Next to that it's the second biggest city of Portugal. And did you know that the city's name originally was Portucale? The name of the country has its origin here. Did you knew this? For me it was a first time to hear that.
I went to Porto just after finishing the great Camino Frances, I booked a trainticket and enjoyed some great relaxing time in Porto. I really loved the atmosphere of the city. Just sitting down on the embankment near the river Douro. I had the song you hear them playing on the background running through my head for a long time still 🙂  I really loved this moment of my newly post-camino life.
Voor de Nederlandse versie van Wat je zeker niet mag missen in Porto – Portugal
Places you NEED to visit in Porto
—
The district Ribeira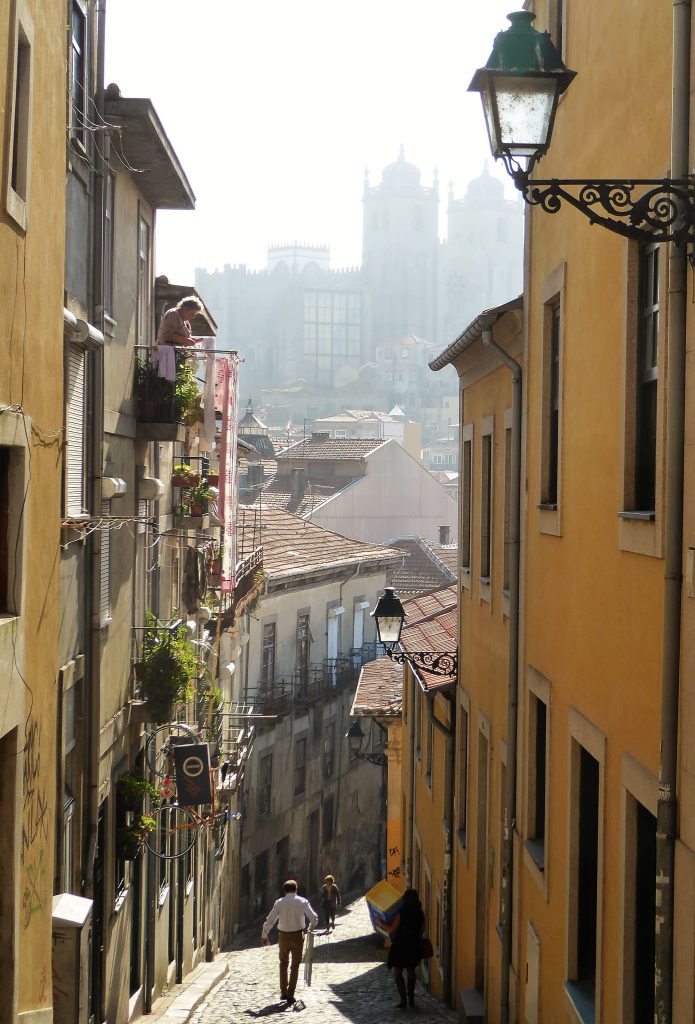 Do you see that lady on her balcony too?
She was just their doing her laundry 🙂
I love those everyday scenes!!
Walking on I saw this district better, Ribeira. It has that great local feeling to it. A lot of the traditional buildings, houses and a lot of great little shops! Walking through those small narrow streets was great and is certainly something you should do! Do not only walk the bigger shoppingstreets but take those narrow streets to the side to get that local view!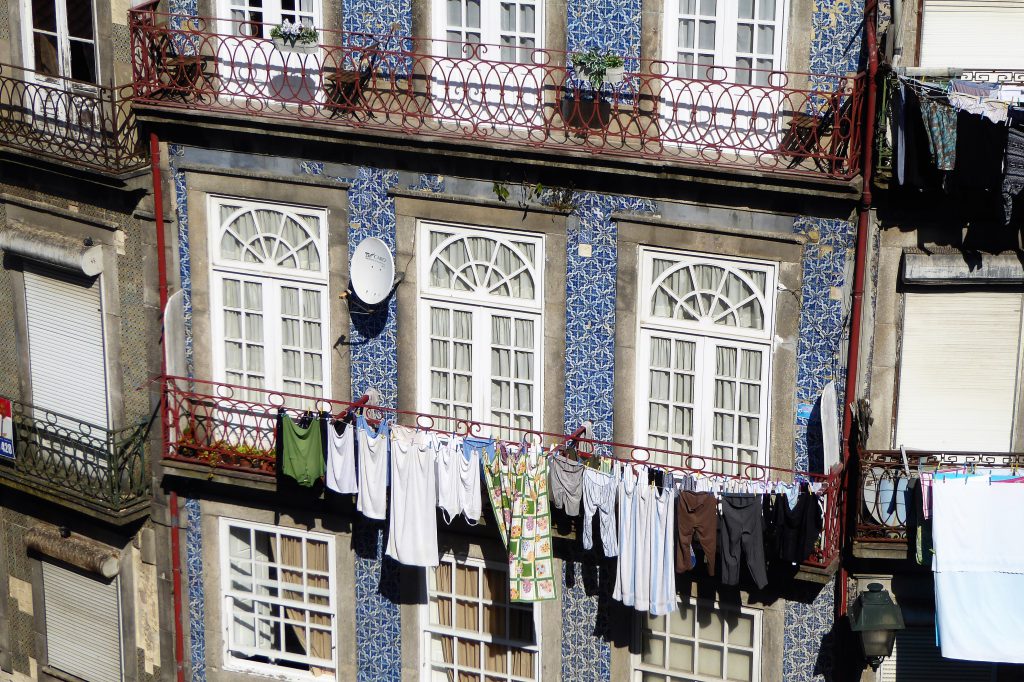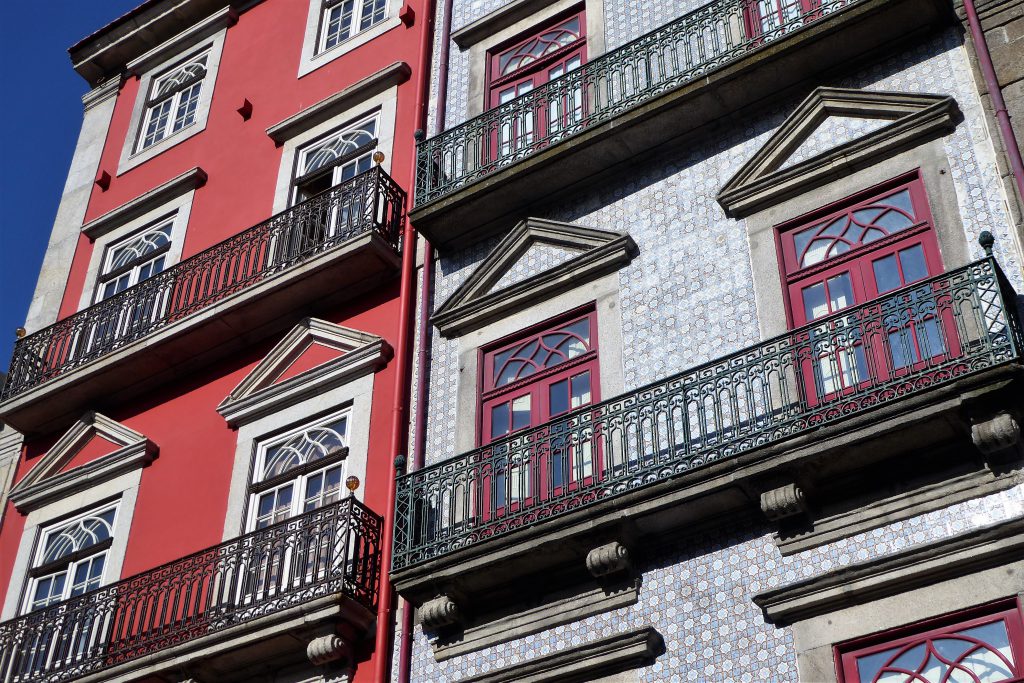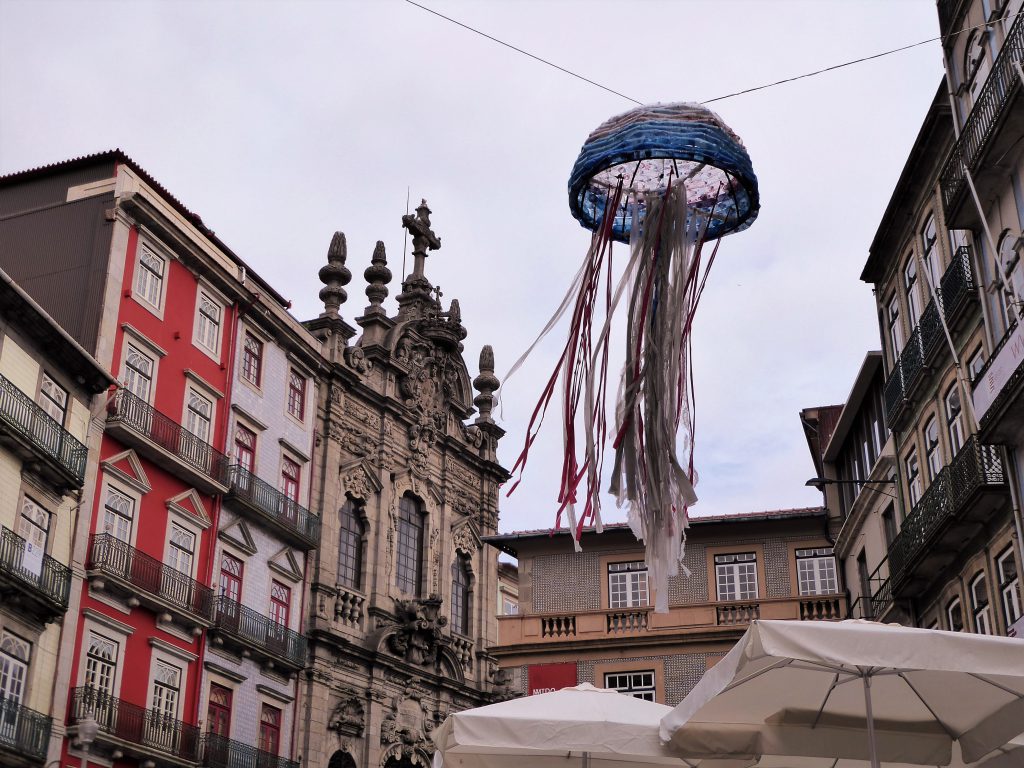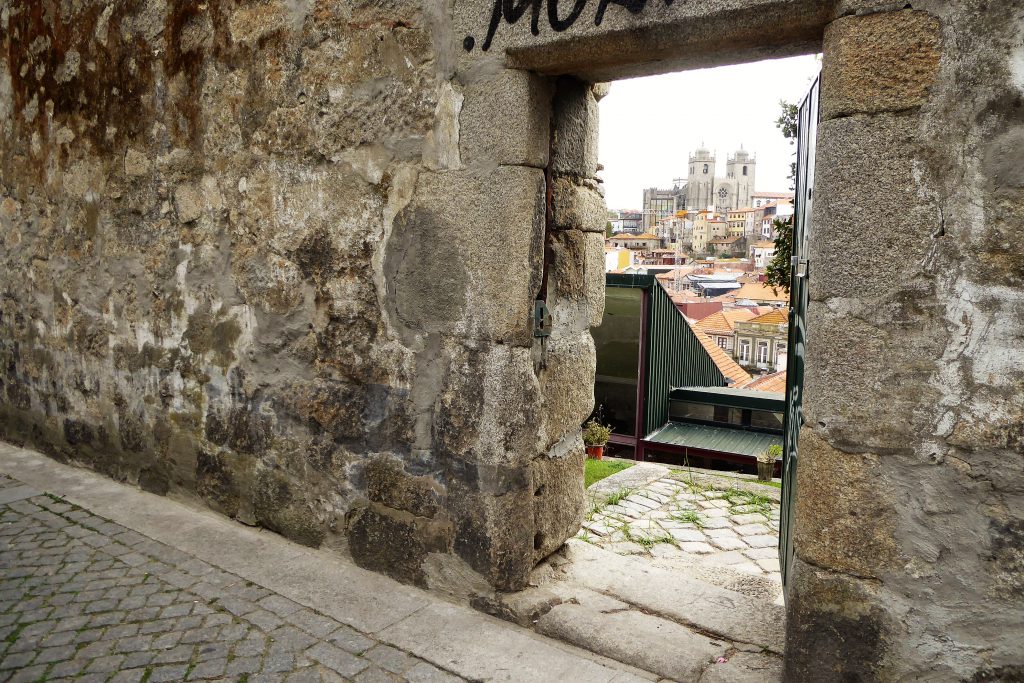 You want to see these great spots too? These are the once I love the most!!
Places you NEED to visit in Porto
—
Clerigos Tower
Already a couple of times I saw this great old tower. I even sat down in front of it to eat a nice local deli called Pastel de Bacalhau.  I will tell later about this deli.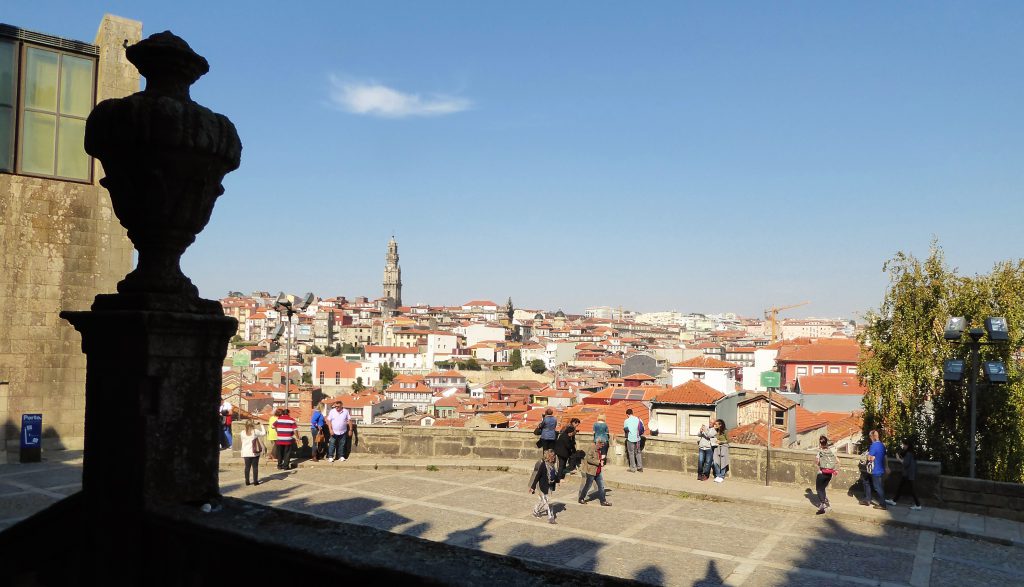 In the distant you see the Clerigos Tower.
This pic was taken from Cathedral Se / Cathedral of Porto
When I was looking at the tower I suddenly realised that I needed to go up. People were entering the tower and ofcourse, this would be a great spot to take a panorama picture of the city! I love those spots and was a bit surprised that I didn't realise this earlier..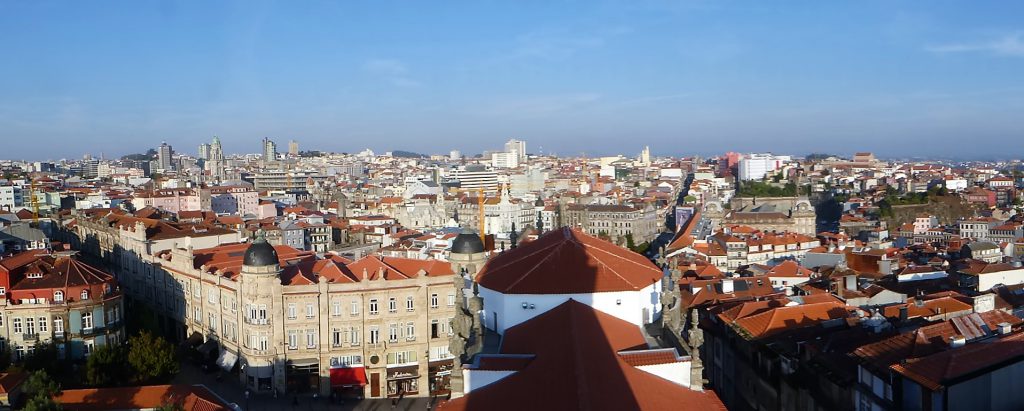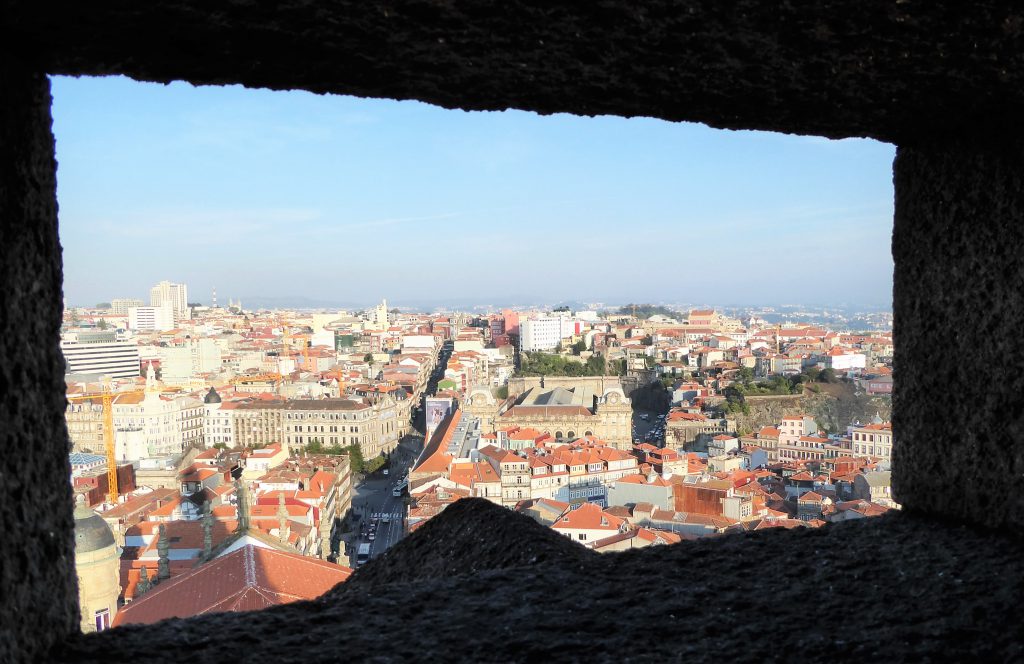 The old church behind the tower is a great church still, a lot of decoration and statues. The building underneath the tower is a museum and interesting to walk through and see the history of Porto and the church itself.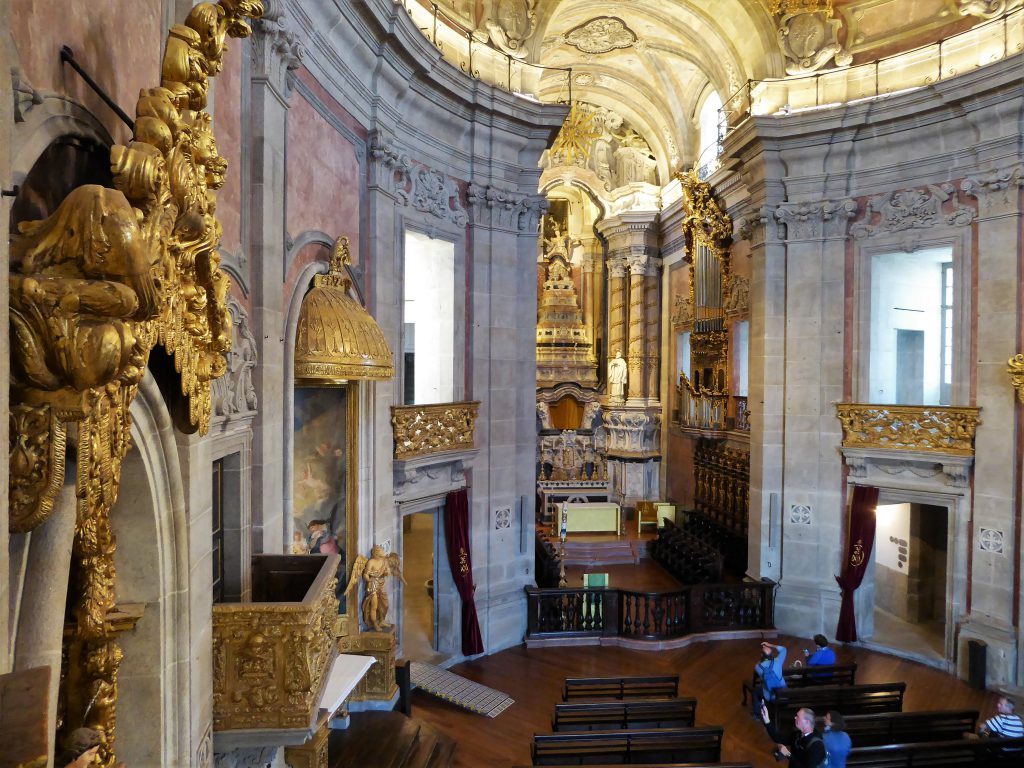 What you need to try, just because it is a local famous dish!!
The pastel de Bacalhau
So I sat down in front of the Clerigos Tower and ordered a Pastel de Bacalhau. It is a crispy fried ball of potato. Inside are some herbs and spices and cod. The Portuguese name for Cod is Bacalhau. I really liked the shop, when you are waiting in line…which you probably will because it was busy every time I passed, you have got a lot to see. They have displayed the history of it and there are old machines and you can see them making the pastels too.  So even if you don't want to try the pastel it is worth a visit.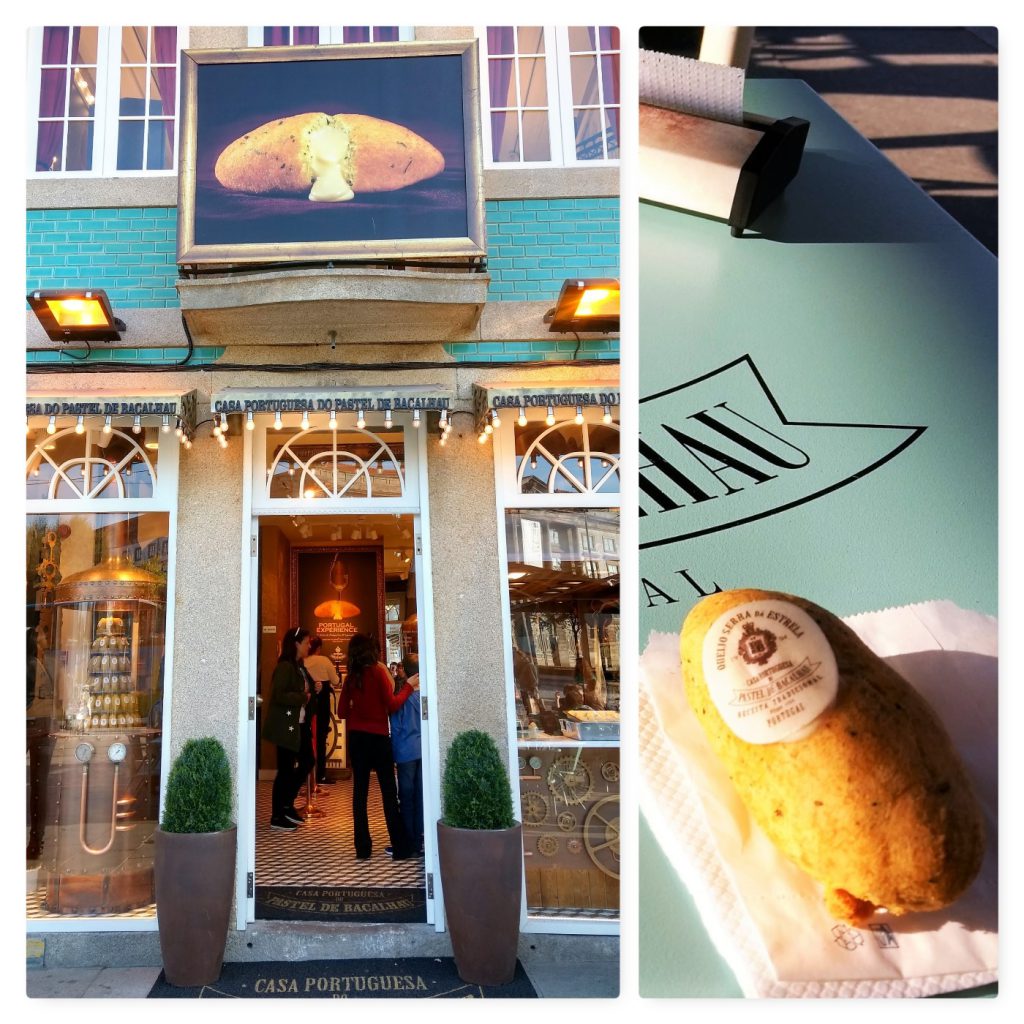 Places you NEED to visit in Porto
—
Kathedraal Se / Cathedral ofPorto
If you walk up the city from the Dom Luis I brigde you enter some nice stairways and great views!! How about that view through that old window over the river Douro?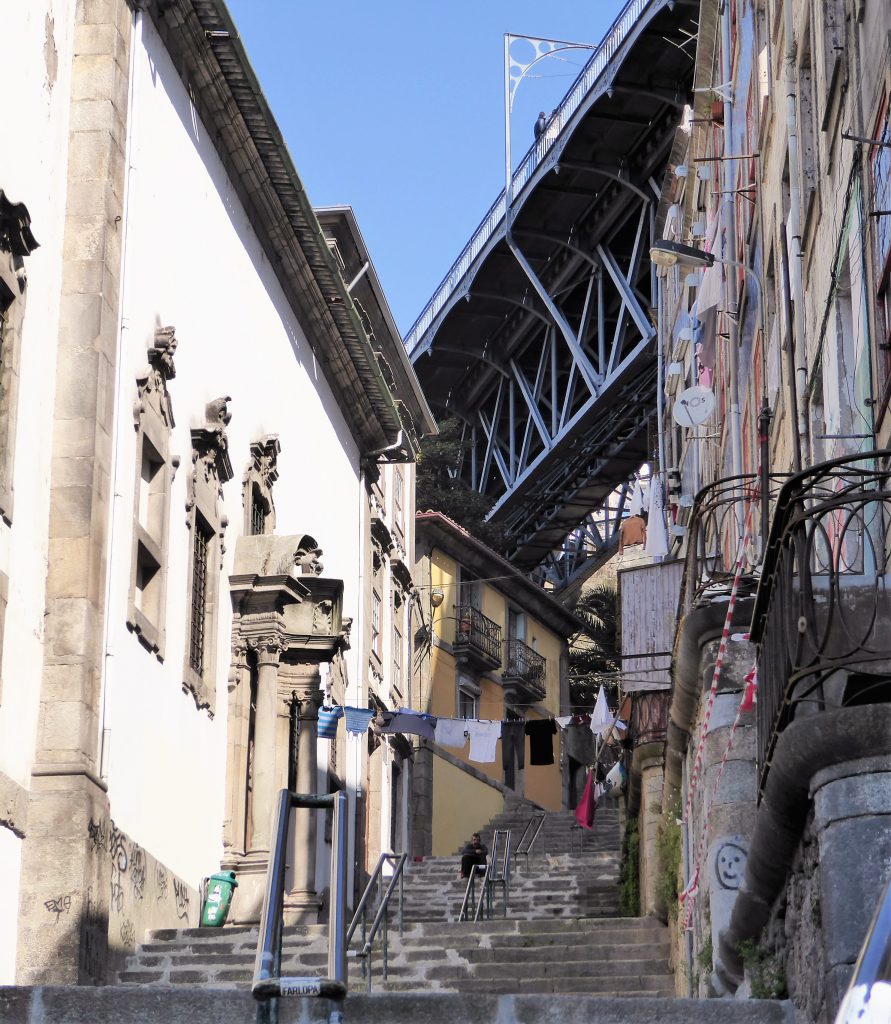 I loved walking underneath that laundry 😉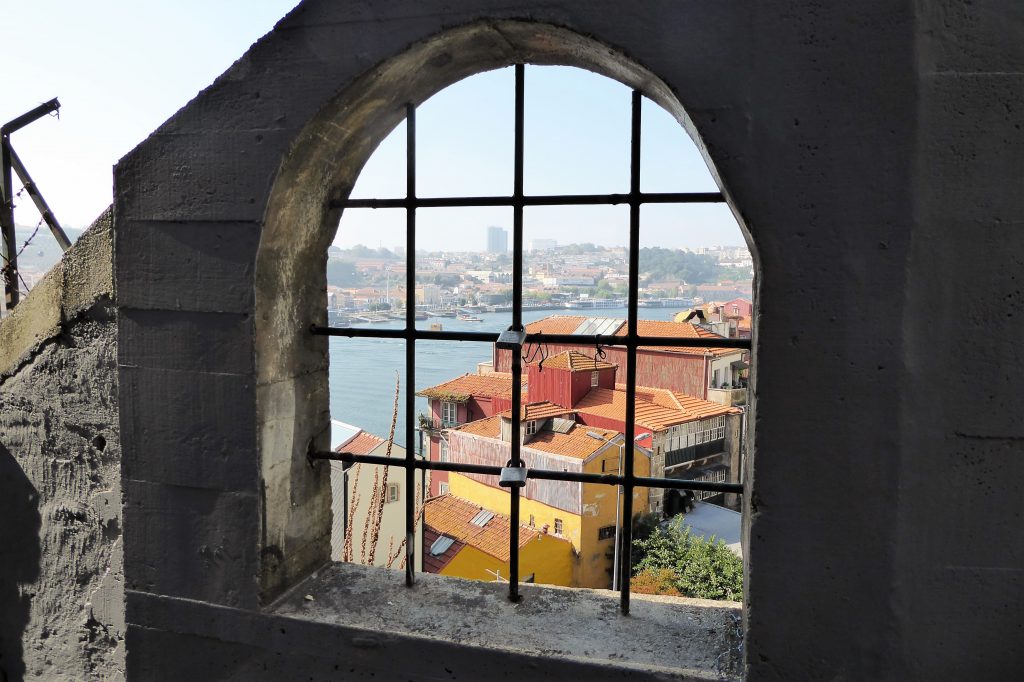 And because of this it is so worth to take the stairs!!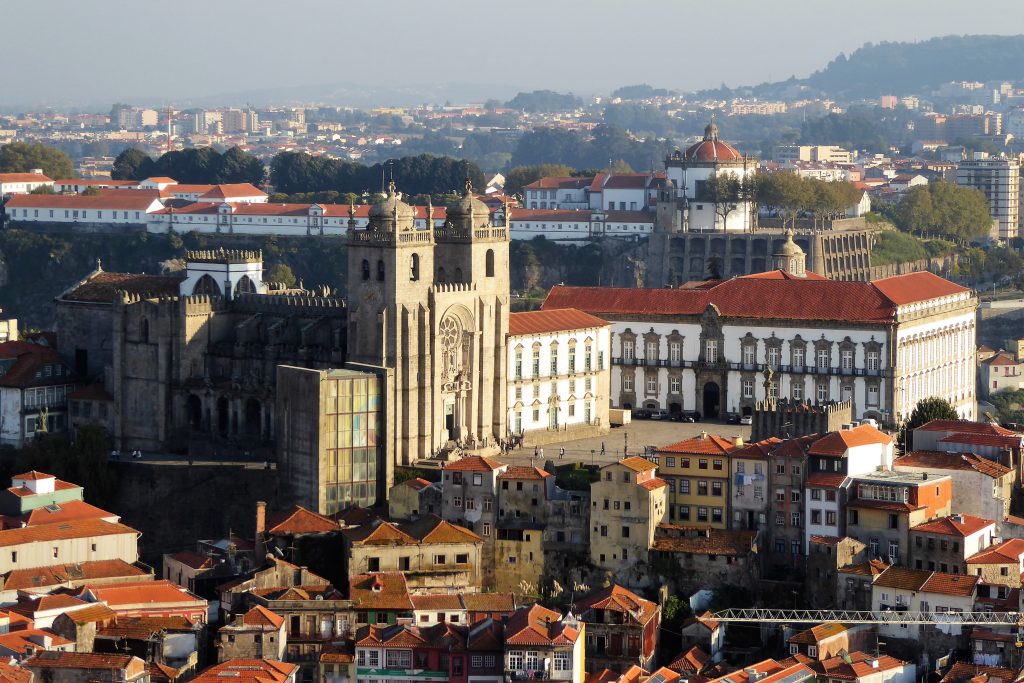 My pictures shows me that I enjoyed the view a lot more then the cathedral itself…I hardly made a picture of it. I did walk around in the cathedral and saw some great statues but because of bad lights I can not share a nice picture here. The picture above I took standing on the Clerigos Tower and you see the Cathedral standing as a proud building!!
I had just finished the Camino as I mentioned before and after this visit to the cathedral I all of sudden saw the familiar yellow arrows again. The Pilgrim in me just started to follow them again…just out of habit.. Been doing that for the last 35 days and it felt so safe and easy to just follow them again.. Isn't that just great?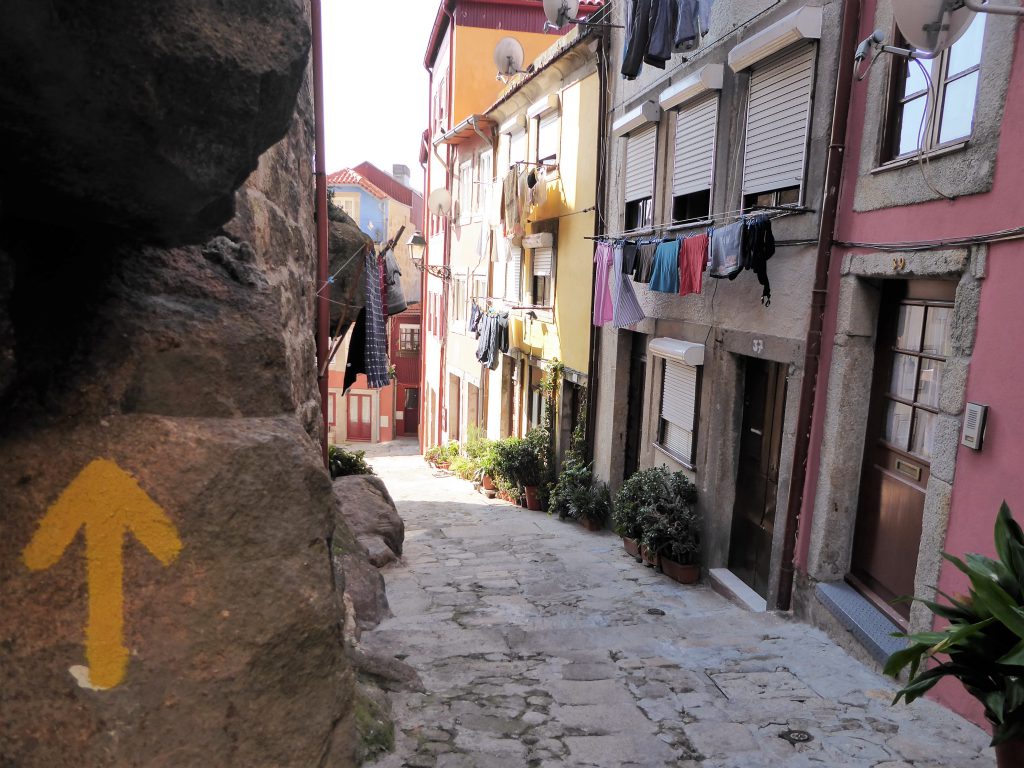 The Yellow Camino Arrow!!
—
Places you NEED to visit in Porto
—
Trainstation Sao Bento
All through the city you see the famous Azulejos. It gives this city this great vibe!! I maybe loved that the most of this great city. Such great buildings with that great bleu colour on the outside. There are a lot of churches and other historical buildings like that. But the most beautiful one is the trainstation of Sao Bento. Most buildings show it on the outside but not this one.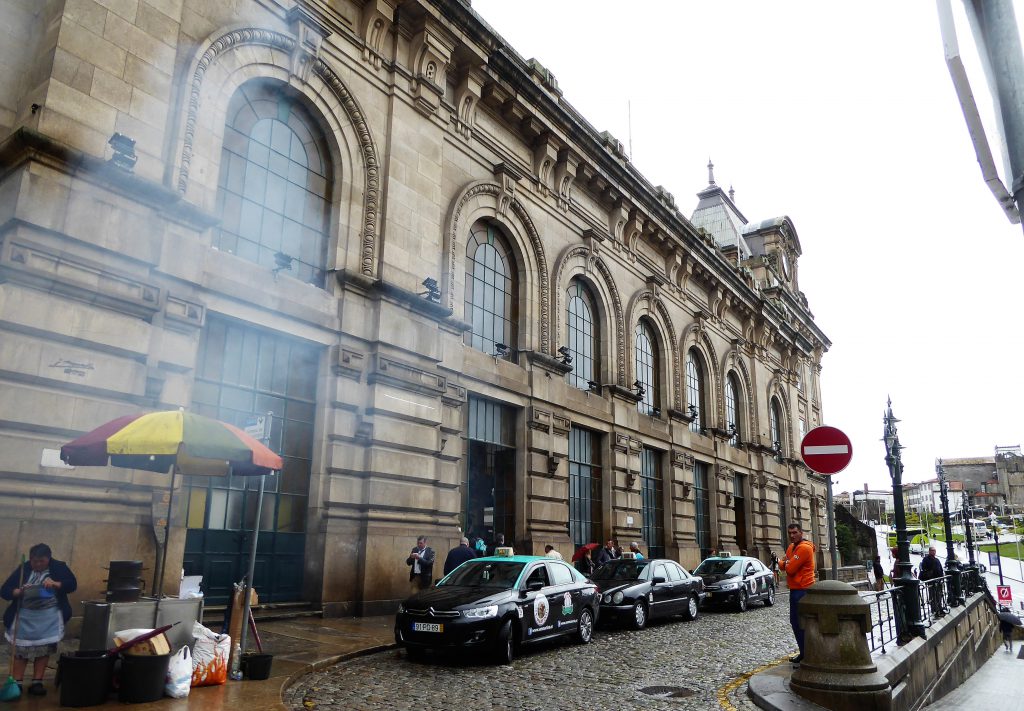 The big station hall is totally tiled with those great blue tiles that shows a lot of old stories. You can stand here for a long time and see new images and figures. Later that week I left to Lisbon by train from this trainstation.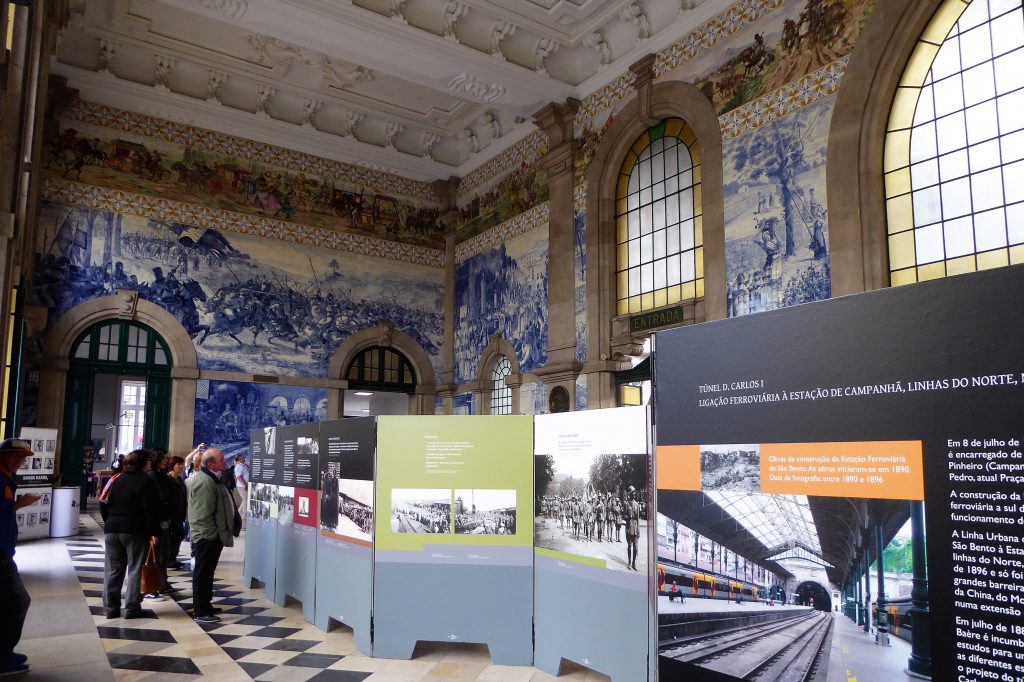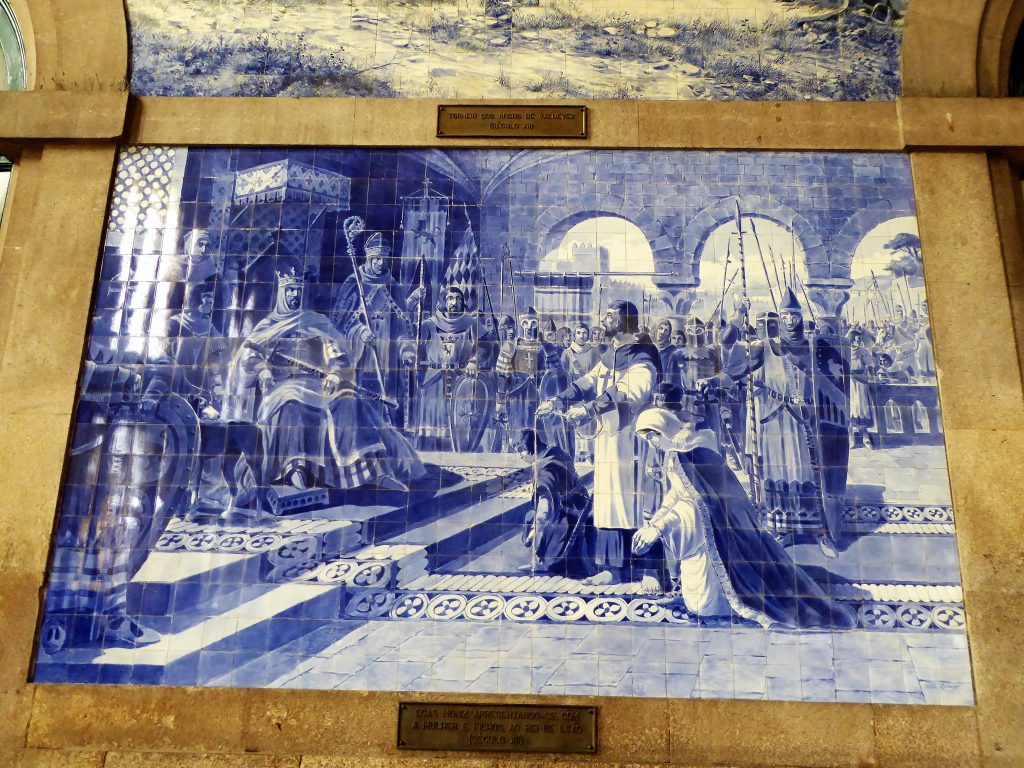 Places you NEED to visit in Porto
—
Dom Luis I bridge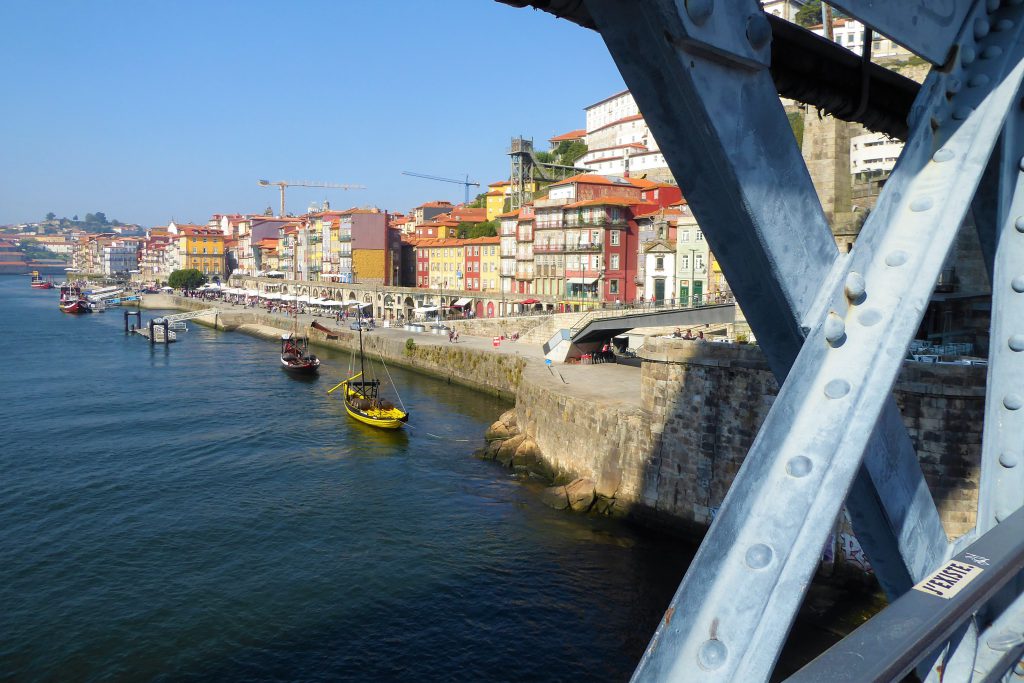 In that small video in this post you see that great brigds.. The Dom Luis I Brigde. Almost where ever you are you see one of those brigdes at the river Douro. This is the most famous one….and the most beautiful one too if you ask me!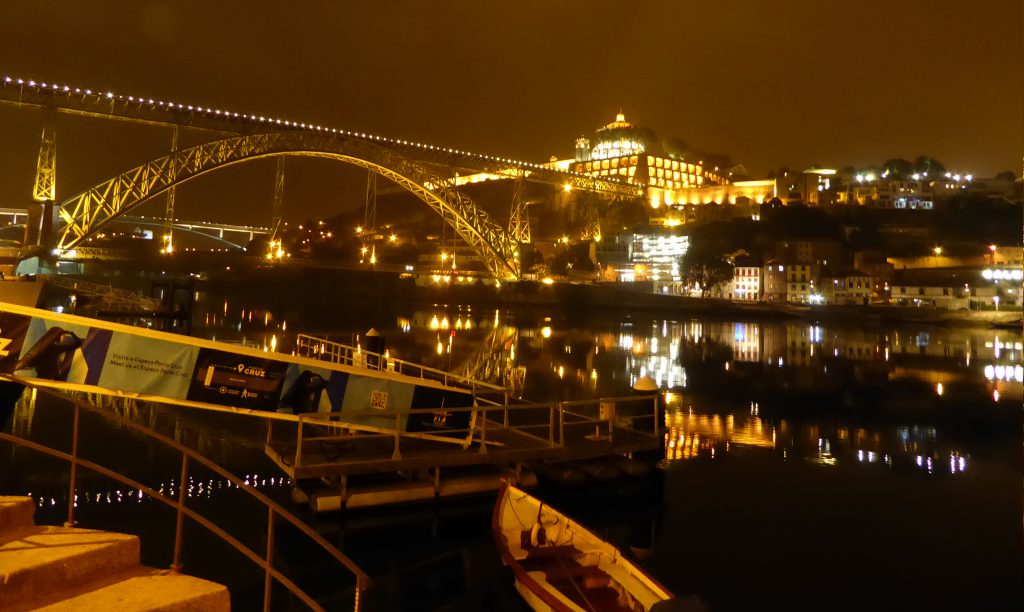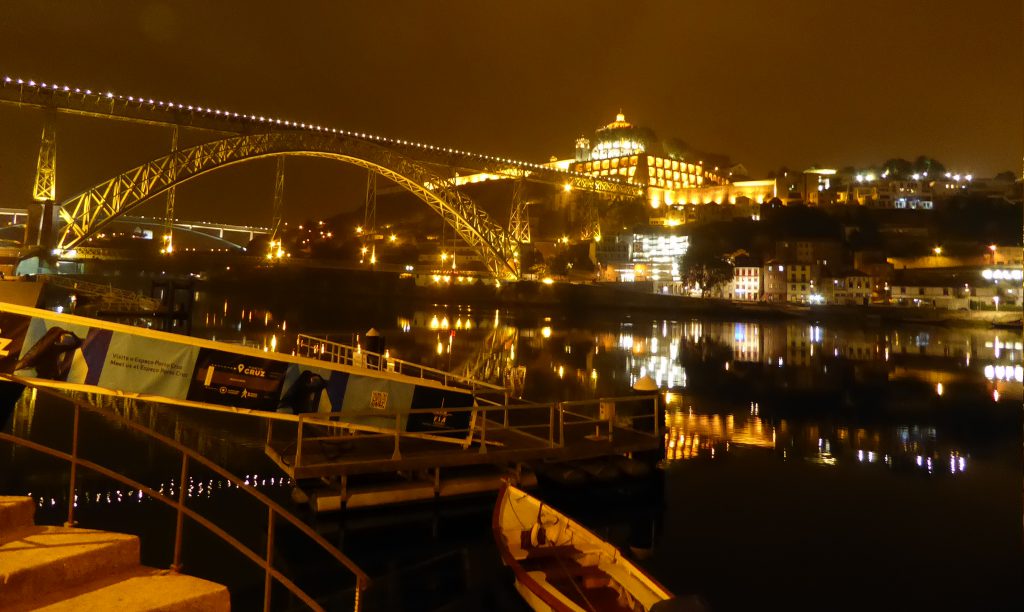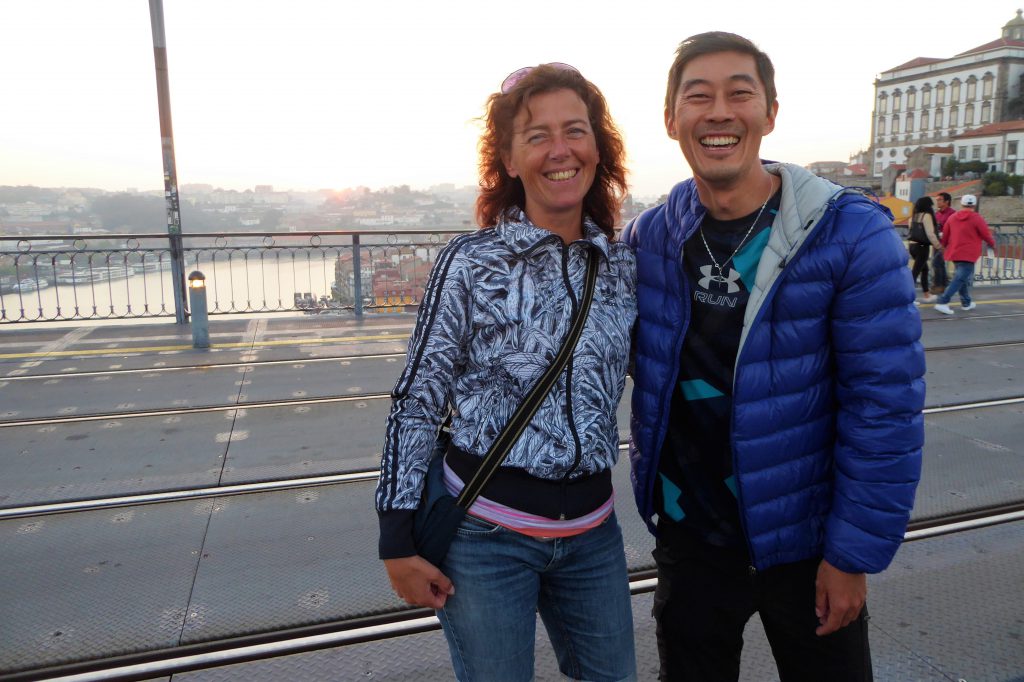 And when I was looking for the sunset on this great bridge all of a sudden the Brazilian Fernando walked into my frame!! How great is that? I walked with him and Ignasi on my last day while entering the great city of Santiago de Compostela!! I didn't know he went to Porto 🙂 We had a great dinner together on the shores of Douro that night!!
If you are in Portugal you probably also visit Lisbon. See these tips about the perfect itinerary to explore the Portuguese capital: Lisbon in a day!
Places you can not miss in Porto
bookshop Lello
But this one I did miss…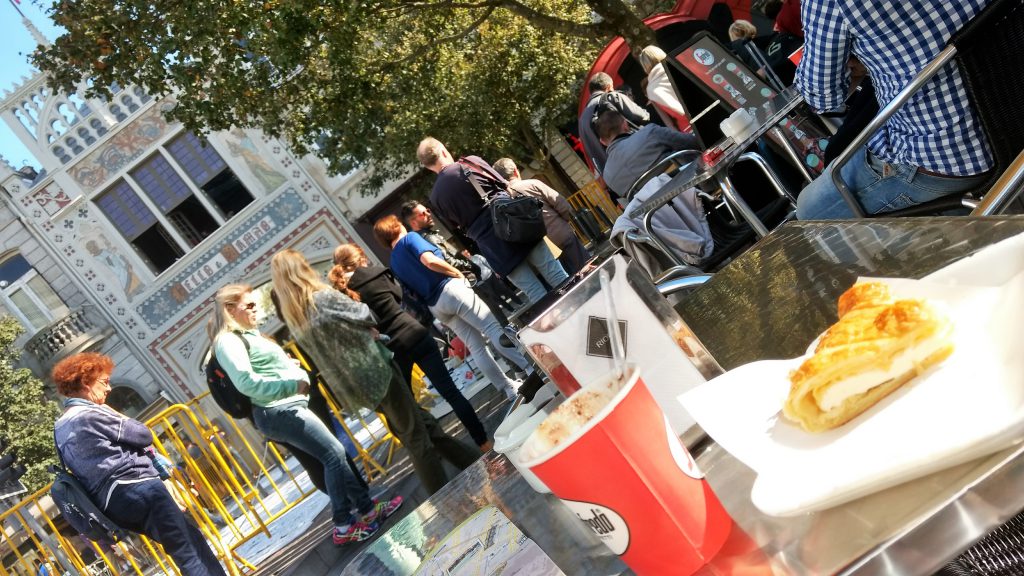 I had a room in the pension just around the corner called Pension Franca. Great spot and cheap and fairly nice..and it had good internet 🙂 The people were really nice and helpfull too! My breakfast that first day was in front of the bookshop Lello. I didn't know it yet though.. The next day when I knew what the building, shop, was the line in front of it was even longer… I chosed not to go but do regret that!!
Just google it and be amazed by the beauty of that interior!
—
Did you like this postt?
Please share it on Facebook or Twitter too!!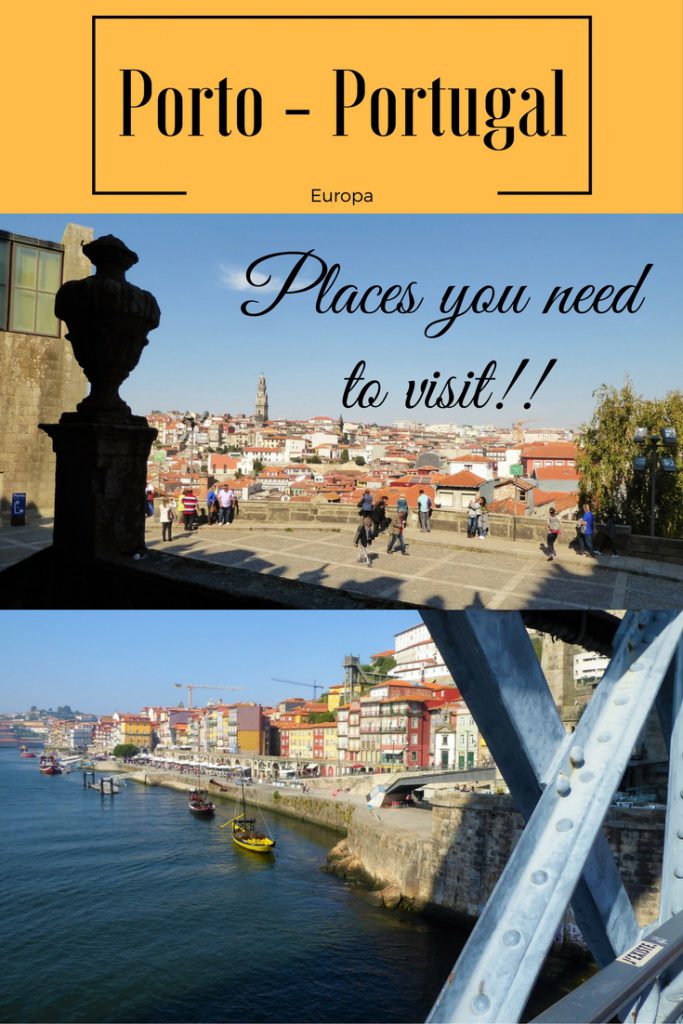 Would you also like to see my post on Best Spots for Best Views on Porto?
—
Or read about that time that I went Floating in the Dead Sea – Israel
Or when I went Horsebackriding in the Topes de Collantes – Cuba
Spotting Whales in Hermanus Bay – South Africa
Or about Cycling the Kattegattleden in Sweden
—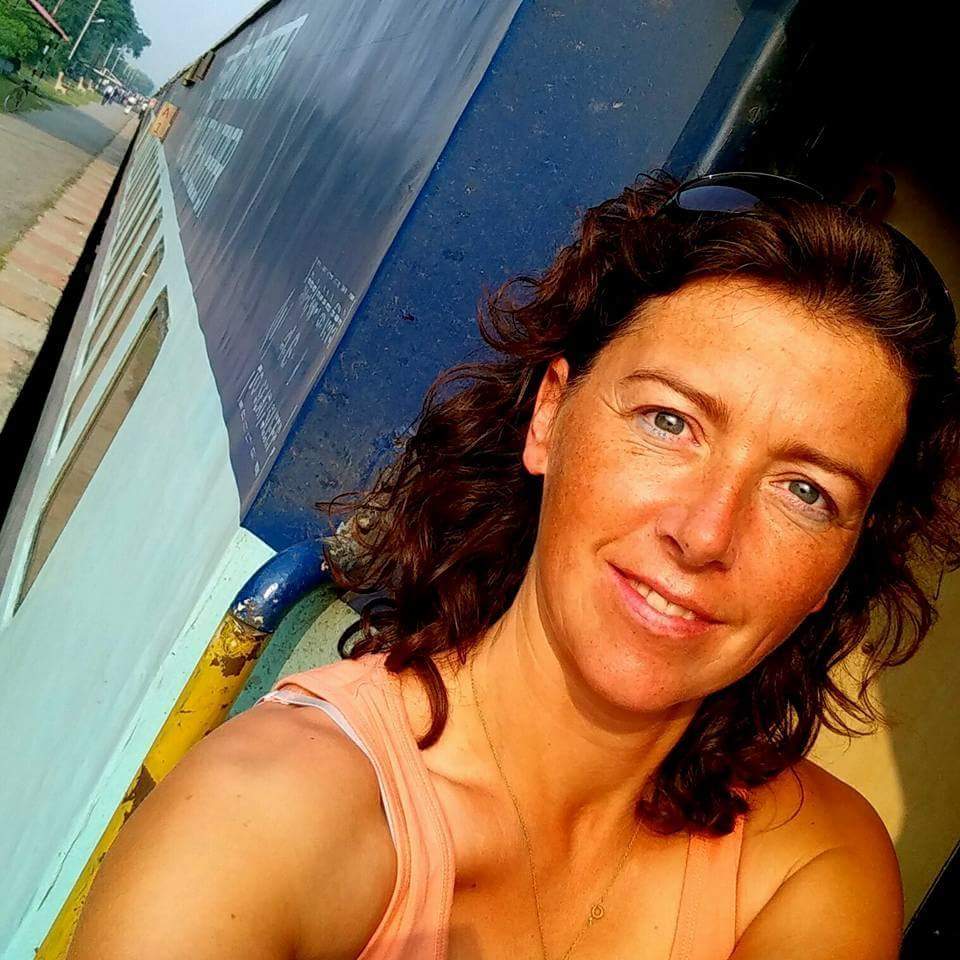 Jacomijn is een politieagent uit Nederland die jou graag laat zien hoe je veilig, actief en gezond de wereld kan over reizen. Safe and Healthy travel is a MUST