The Turtles at Juara, Tioman Island – Malaysia
|
So I finally got an email about the turtle nest I sponsored!!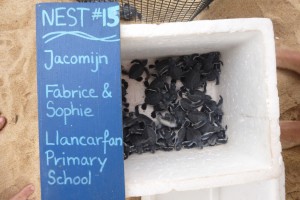 This post is also available in Dutch.
When I volunteered at the Juara Turtle Project I wanted to sponsor a nest also. This is one of their income sources to finance the Project. Your name and email will be written down and when the nest will hatch you will get the information about it and the pictures!! Really nice! The time I was there I hadn't see any turtles because of the nesting season was just starting and I didn't had the luck to have found one on my nightwalks and early morningwalks. So today I saw an email with the results of the nest.
The Turtles hatched!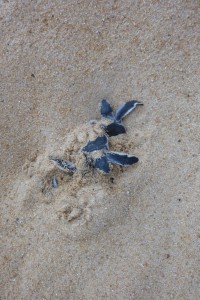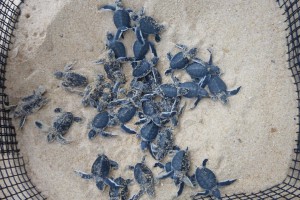 101 Green Turtles back to the Ocean
It was sponsored by Fabrice & Sophie, the Llancarfan Primary School and me 🙂 It was nest number 15 of this year. The date that they collected the eggs was the 17th of may and the date that the nest hatched was the 12th of july. They found 130 eggs and 101 eggs has hatched.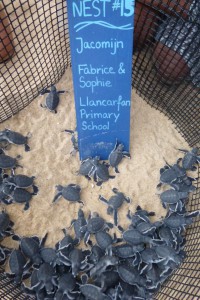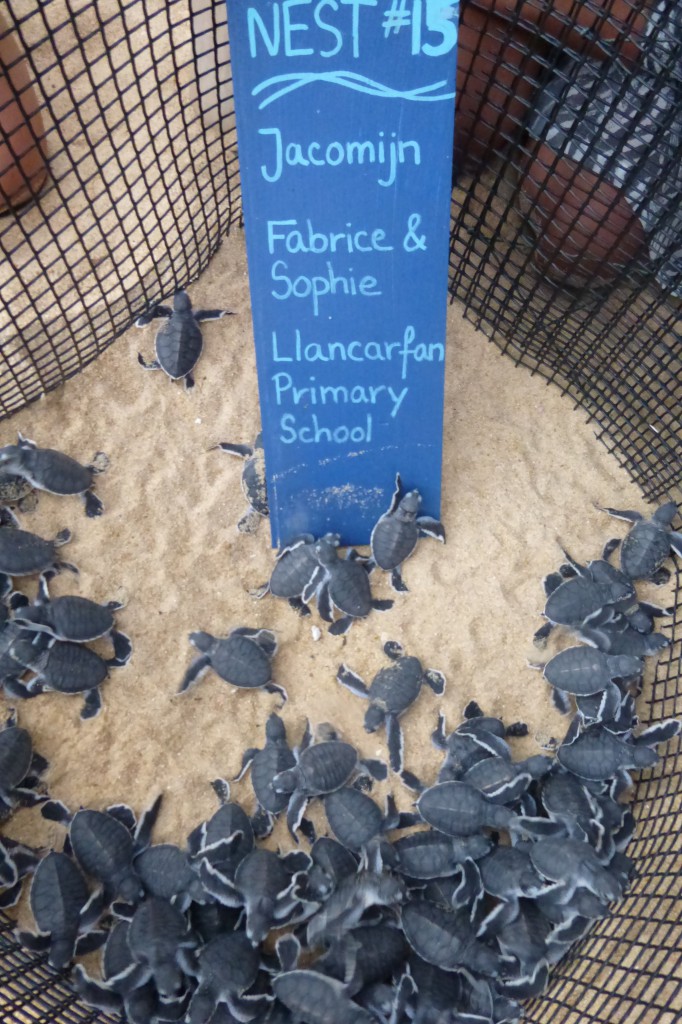 Isn't that great!!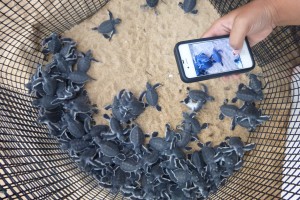 The mother of these eggs they call Elaine. She is a Green Turtle. She has been on this beach a couple of times. In 2012 she laid 9 nests. Normally a turtle will come to land and lay nest, after a couple of days up to two weeks she will come back and again lay a nest. Green Turtle Elaine is consistent in laying nests every 10-12 days. My sponsored nest was her first of this year. At the time of the mail I got they expected her to come again for another nest. Isn't that wonderful?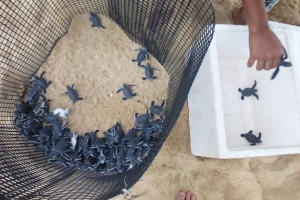 A Green Turtle comes to land every two to four years to lay nests. A nest will contain 100 up to 150 eggs or sometimes even more. In the year that she is furtile she will produce an enormous number of eggs.  The nest I sponsored was found on Mentawak beach and so also released on that same beach. Because the female turtles will come back in 20 to 25 years to lay there eggs at the same beach they were borned this is important to do so. The male turtles will never come back ashore in their entire life. They will release the turtles early morning because normally the turtles will go in the night or early morning to the sea also.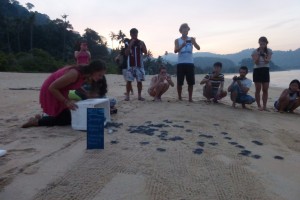 The light will be above sea because of the stars and the open sight and that's how they know where to go. Their instinct will let them go to the light. Finally in the open water they will swim for up to a week into the sea and find a good feedingground. They then will eat small vegetables and small jellyfish and hopefully survive to grow bigger and have a better change on surviving in the big ocean!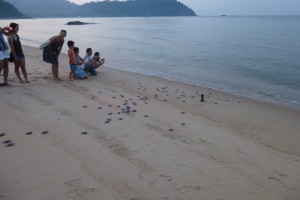 Click here for the site of Juara Turtle Project on Tioman Island for more information
See here my previous post on my week volunteering on the Project
My Sponsored Nest! The Turtles at Juara, Tioman Island – Malaysia #Travel #Helping #Nature https://t.co/fmwU0pabOT pic.twitter.com/GquduzUPza

— Safe Healthy Travel (@Safe_H_Travel) November 9, 2015