Bagan – A Magical Place! Myanmar
|
I was in Bagan, a magical place in Myanmar…suddenly it all seemed surreal. Hundreds of temples and stupas scattered in the landscape. Everywhere I looked around I saw them appear like little turrets on the horizon. It really is a magical place and I think everyone should see this miracle!
Bagan, also called Pagan, is the former capital of Myanmar and dates back to the year 849.

You can imagine that there are thus incredibly old historical temples to be found. Bagan has the most temples, stupas and pagodas in the world. You can find about 2000 of them in a small area and many of them date from the 11th to the 13th century!
Bagan – A Magical Place! Myanmar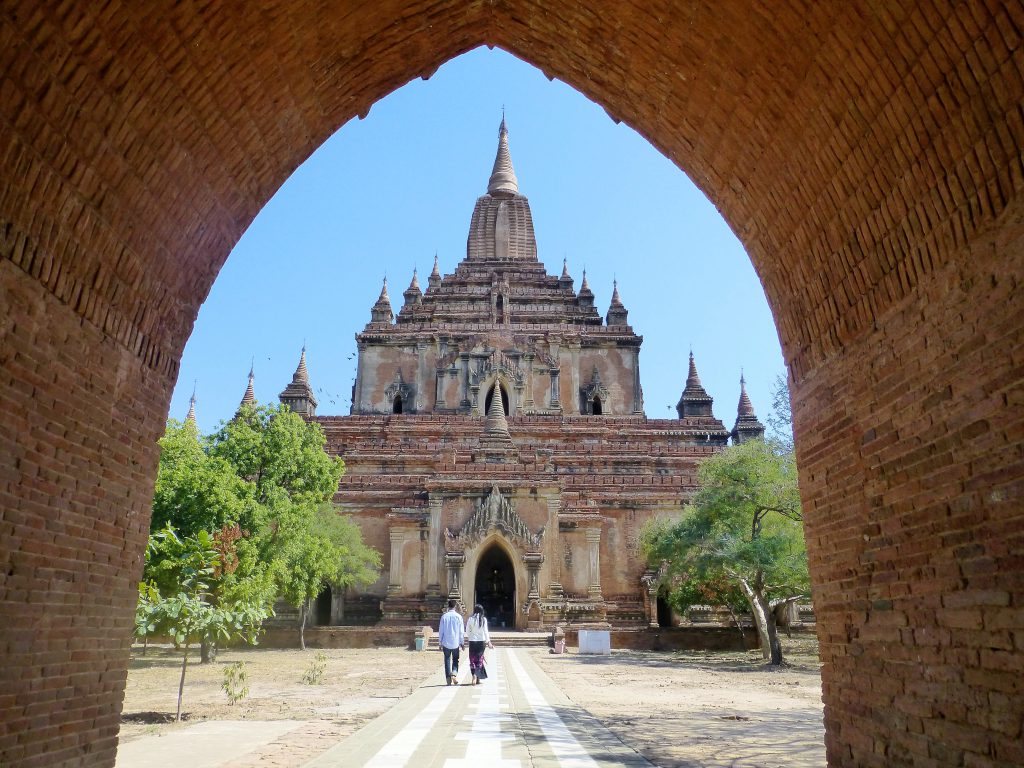 I came to the magical Bagan by bus from Pyay. In the middle of the night (01.30) I arrived in New Bagan. The bus driver let me get off the bus and there I stood together with two French fellow tourists on the side of a deserted road. It felt as if I stepped into an old western movie. The road was wide and completely empty, the buildings on the side of the road were closed with large wooden or iron doors. The moon gave us enough light that night but I didn't see any signs of life.
Yet suddenly a boy walked up to me and asked me where I wanted to go. I had booked a hotel and so I gave him that address. I actually expected to arrive somewhere in the morning, so much for the good preparation 🙂 The hotel I had booked was in Old Bagan and so I jumped on the back of the scooter with this boy. I didn't feel like haggling and I paid 8,000 Kyat for the ride.
It didn't take long before we drove into the pitch dark landscape of the magical Bagan on our way to Old Bagan.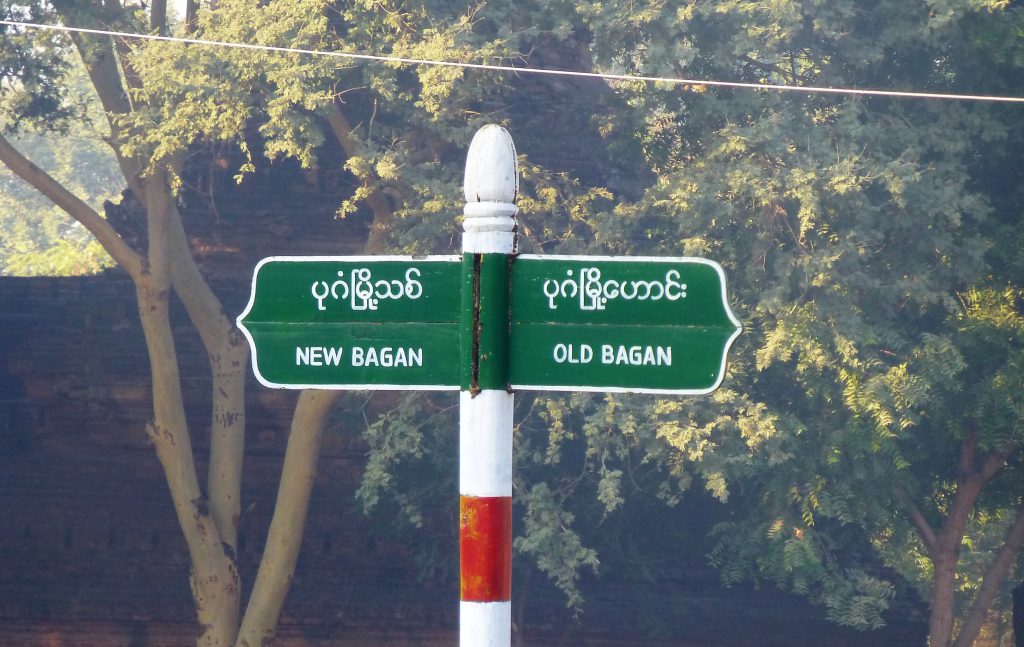 It didn't take long before I saw some light in the landscape we were passing by. When I realized what I saw I felt completely happy… It were the illuminated temples along the road! I already saw the first old temples and stupas! I felt so happy at that magical moment in the pitch dark on that scooter with the big backpack on my back! I had been looking forward to this moment for so long and now they were there, within reach, in the dark landscape of Bagan, a magical place around this earth!
My visit was already successful!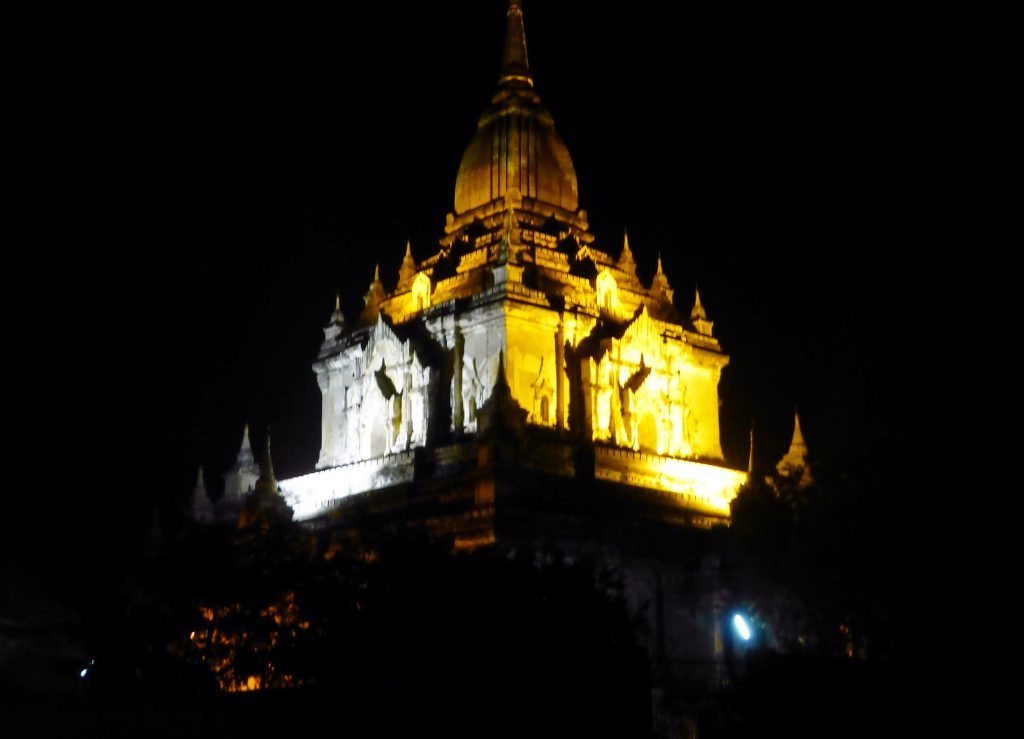 When I arrived at the hotel I couldn't enter a room of course, but they had a place for me in the lobby on the couch. I was fast asleep until I heard about 5 people in the lobby. They took a bus to a nice place to admire the sunrise. Some of them went with a hot air balloon!
I was instantly awake and did not think for a moment. Quickly I started to walk and looked around me as soon as I was off the hotel grounds. Right next to the road I saw a temple I couldn't enter yet and I saw some stupas … they weren't high enough to get a nice view. I walked on and I became totally happy with this landscape full of temples! What a unique sight!
Unique & Authentic
Bagan – A magical place!
My first sunrise in Bagan
I climbed on a temple but I couldn't look far and as the sun wasn't rising yet I decided to walk on. Walking on a dusty road hoping to get somewhere… twice it was a dead end road. Then I decided to walk on the paved main road first and look around me. Soon a man with a horse and carriage spoke to me and asked where I wanted to go. He gave me directions to find a large temple and soon I walked on.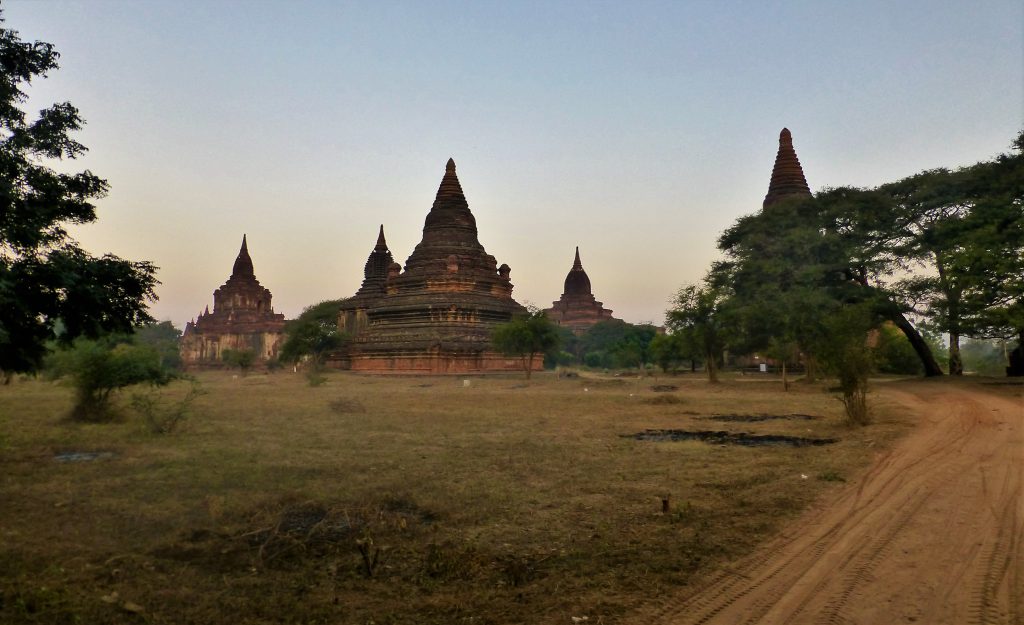 At the big junction I went left and I started to see the sun as a big orange ball far away on the horizon. I started to walk a bit faster and about a km further up I saw a big, high temple. I also saw that there were many people standing on it. When I arrived there I could still stand in line with the row of people and I slowly I saw the sun appear on the horizon.
It was really great! I stood there, with my sleepy head, enjoying that place intensly! I had been looking forward to this moment for months. It felt really magical! I started taking pictures and at one point I felt like I had been looking with my mouth open for a while now 🙂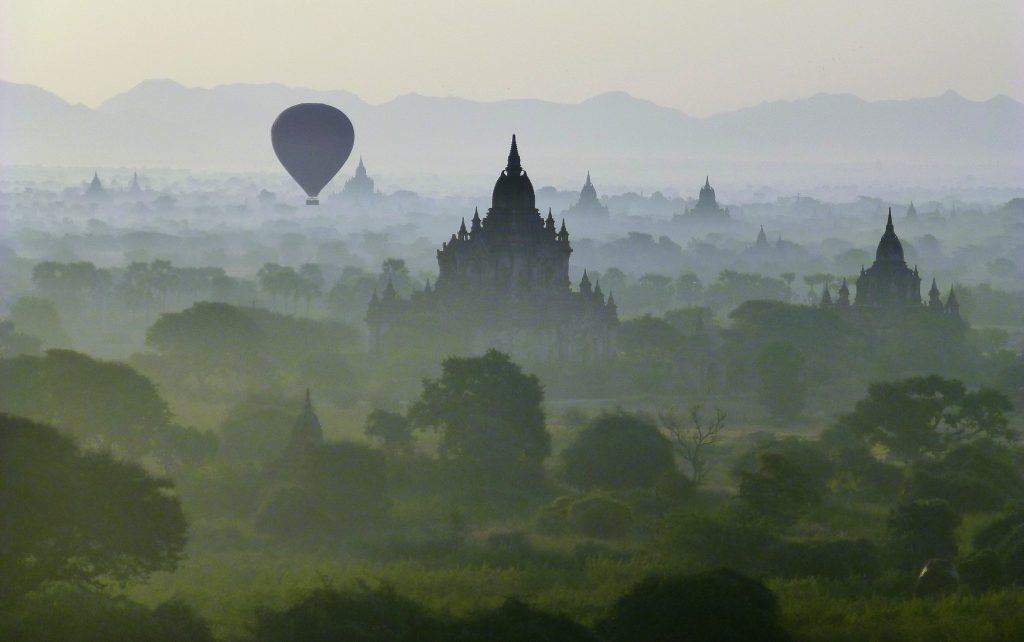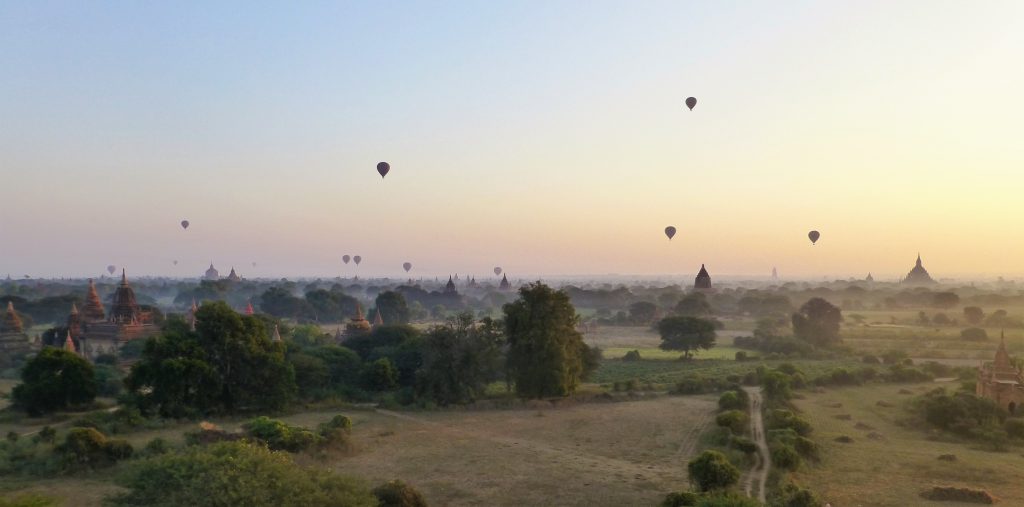 Bagan A Magical Place in this World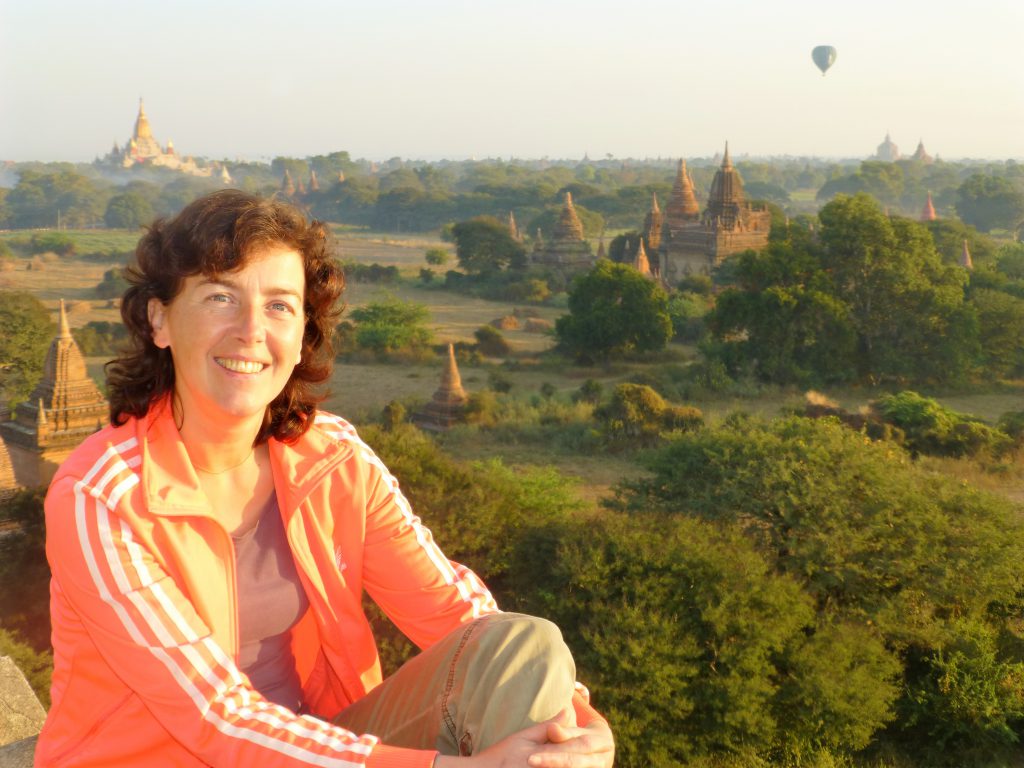 The rest of the day I decided to rent a bike and cycle around. I saw beautiful, old temples and lots of stupas. Some of them were closed and not accessible but most of them were free to enter and some of them were really in a perfect condition!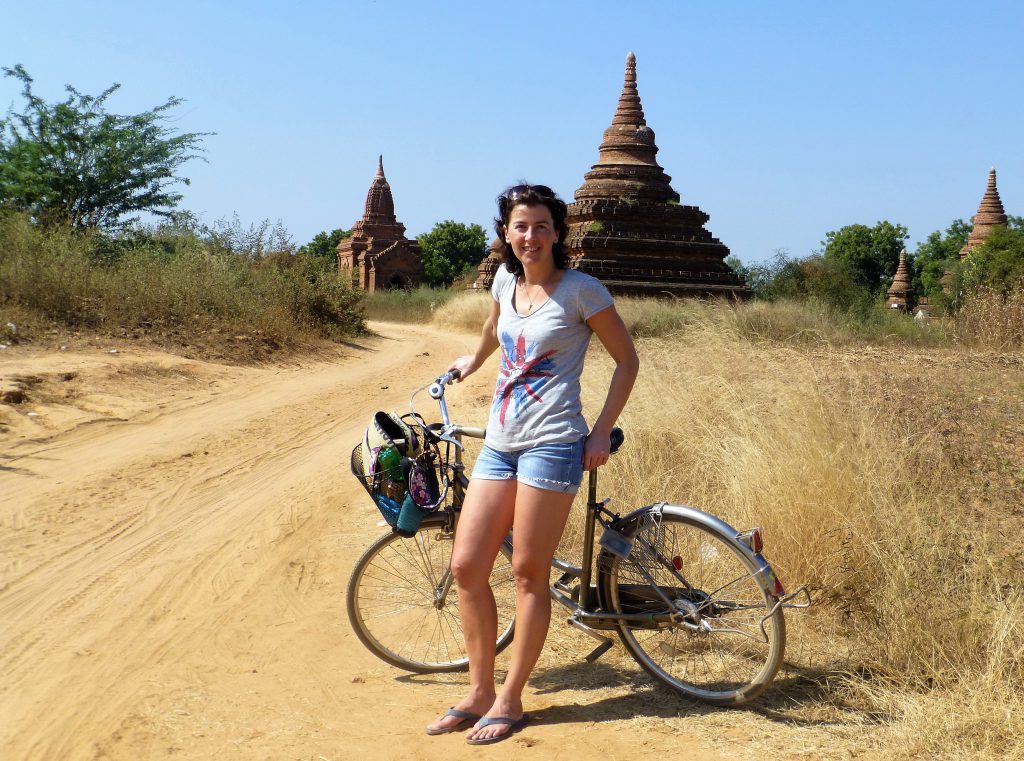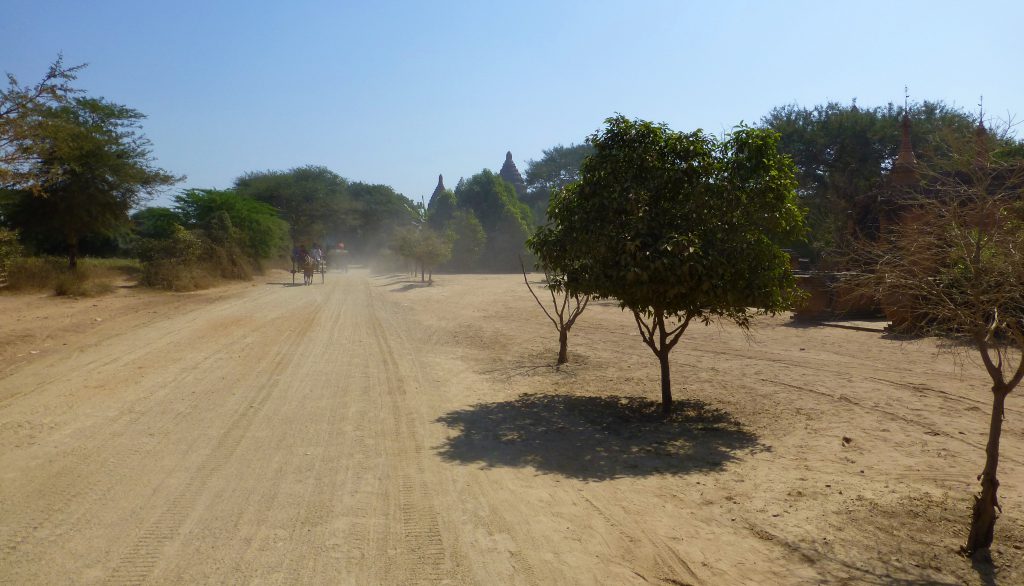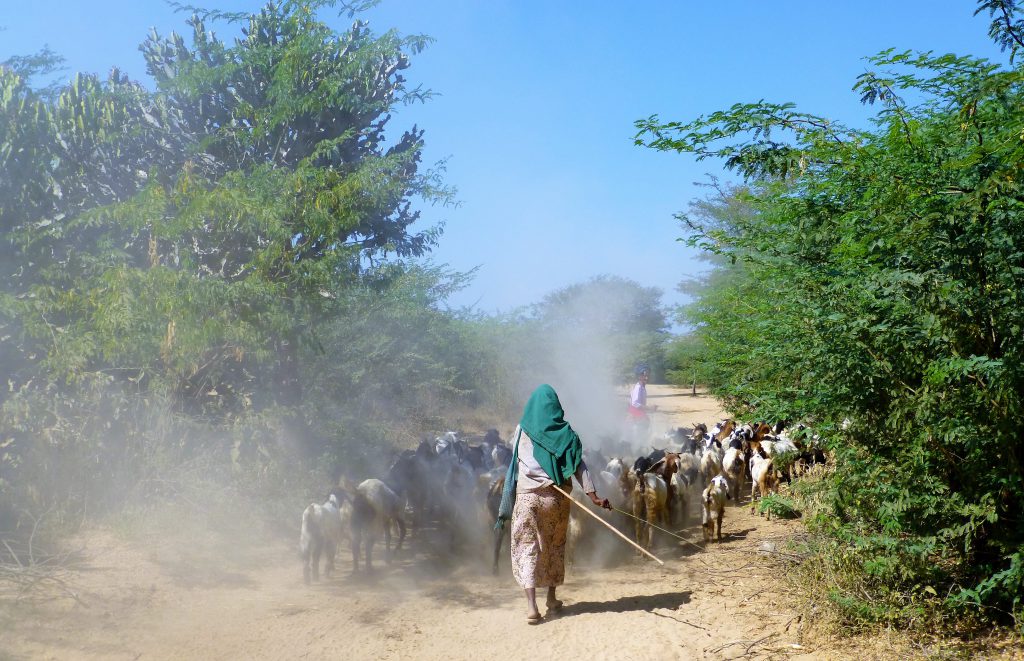 In the evening I was looking for a place to admire another magical sunset over this landscape of temples, stupas and pagodas.
I started to walk and looked for a temple where I wouldn't sit with the crowd. At a certain moment a boy came walking next to me and indicated that he knew a beautiful temple where we could sit quietly and enjoy the sunset. He took me to a small stupa where we could climb on. We went inside and through a narrow passage we came to a staircase that led us upstairs. There was nobody there yet and I loved it!
Moments later a German tourist arrived with a local 🙂 But that was all. Together we enjoyed a great sunset!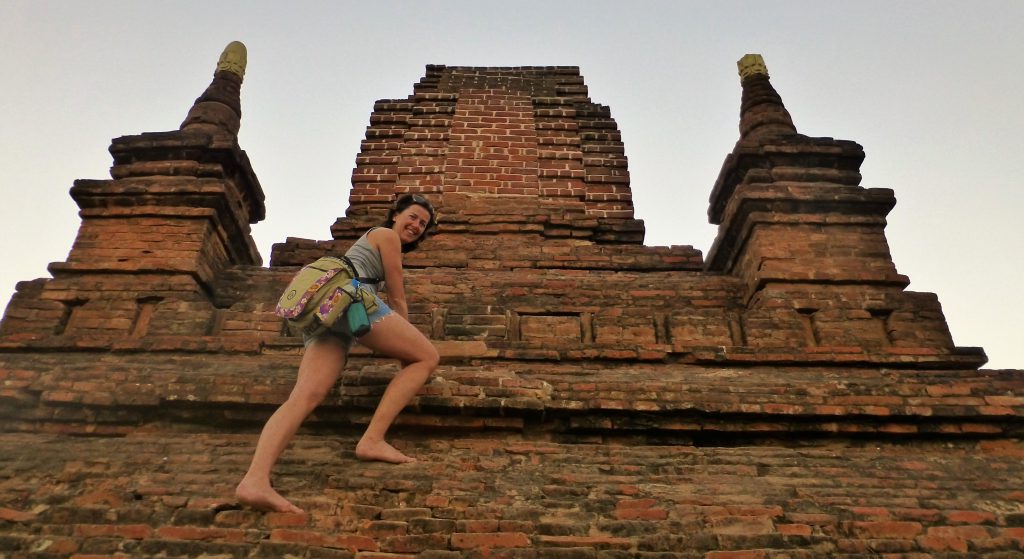 I think this was really the most amazing place to end my first day in magical Bagan!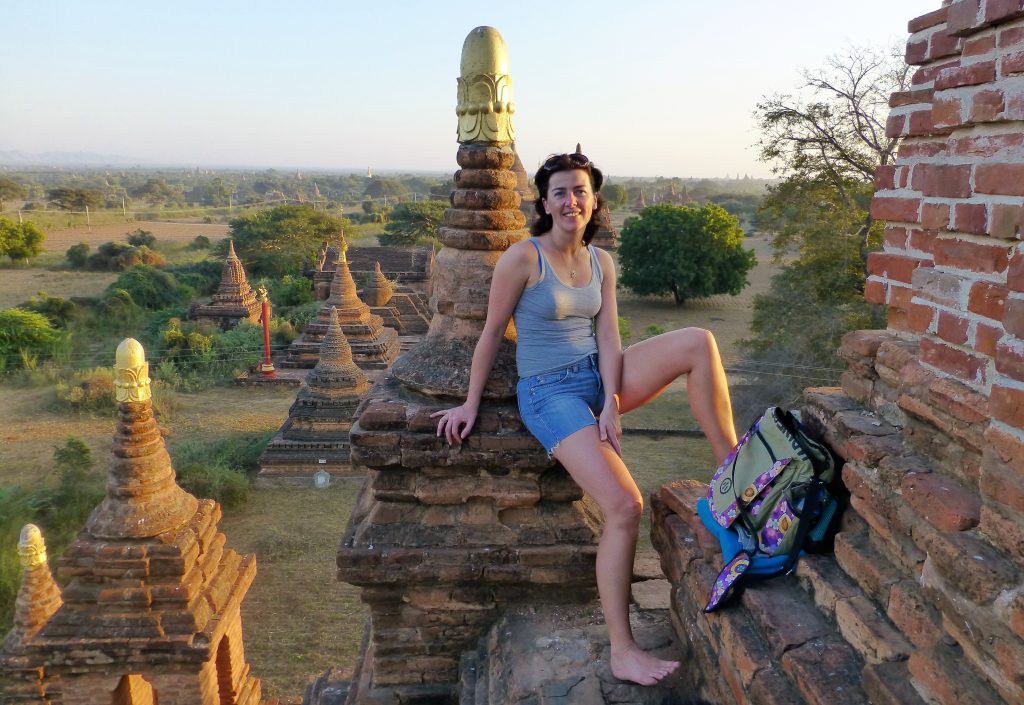 We had the temple all to ourselves and sat in the setting sun enjoying this magical view!!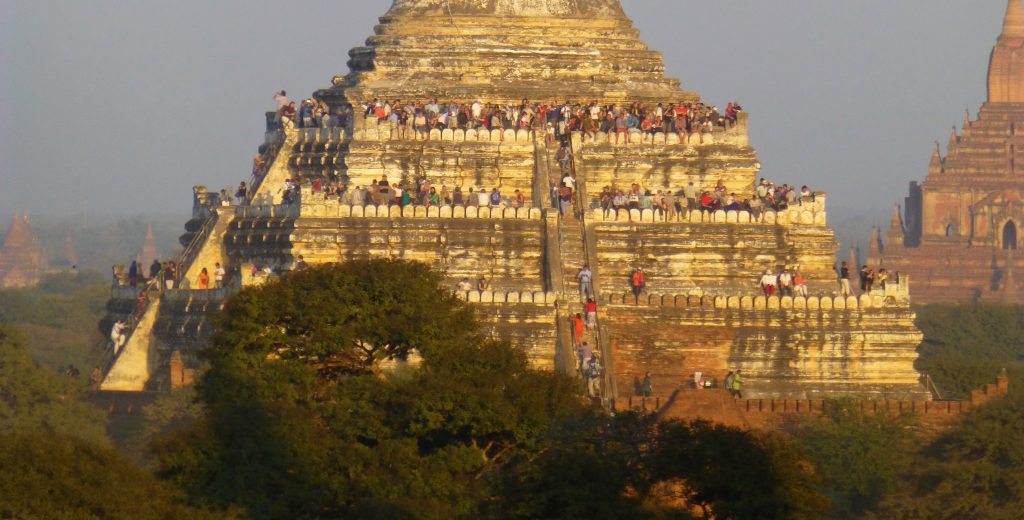 Since a few years it is no longer allowed to climb on the ancient temples. I fully understand that of course, that can never be good for those buildings. And I must honestly say that it felt strange to climb that temple as well.

Still, I am secretly happy with the experience I have….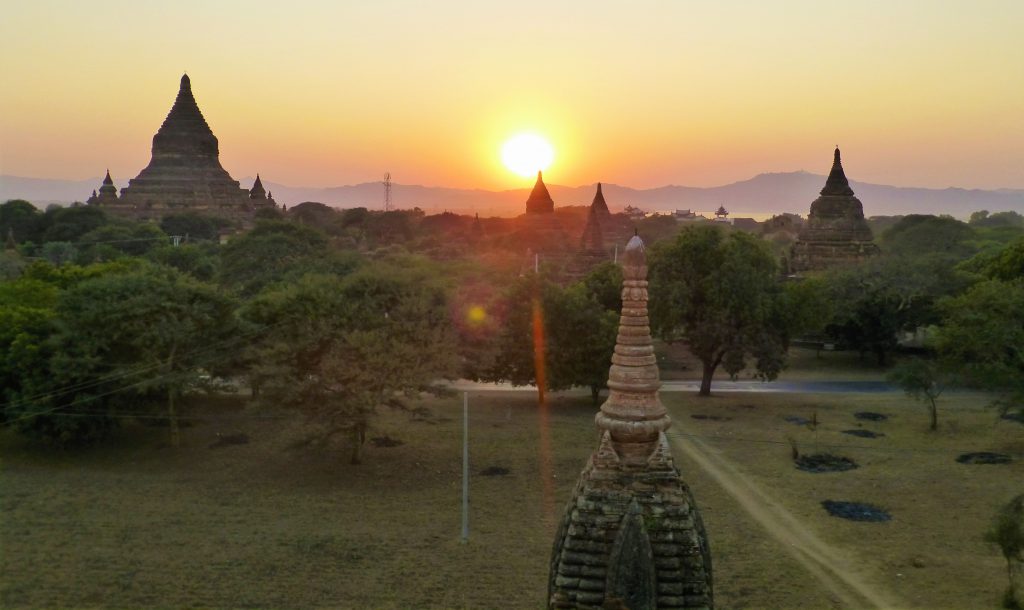 The next day of course I went for the sunset again. This time I looked for a different place and of course I enjoyed it again… But that first time can never be equalled.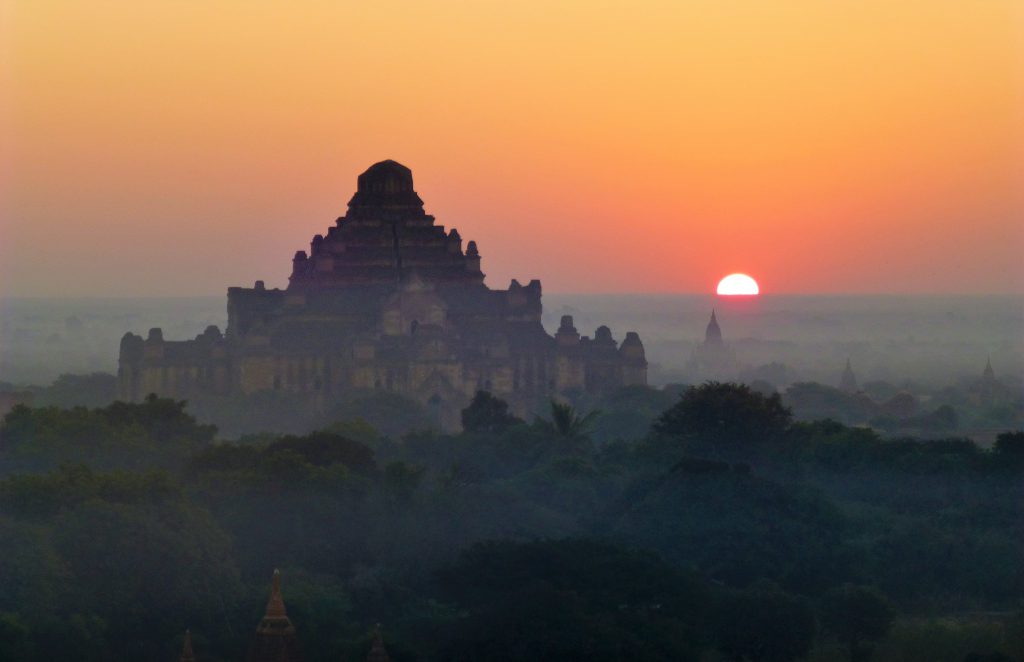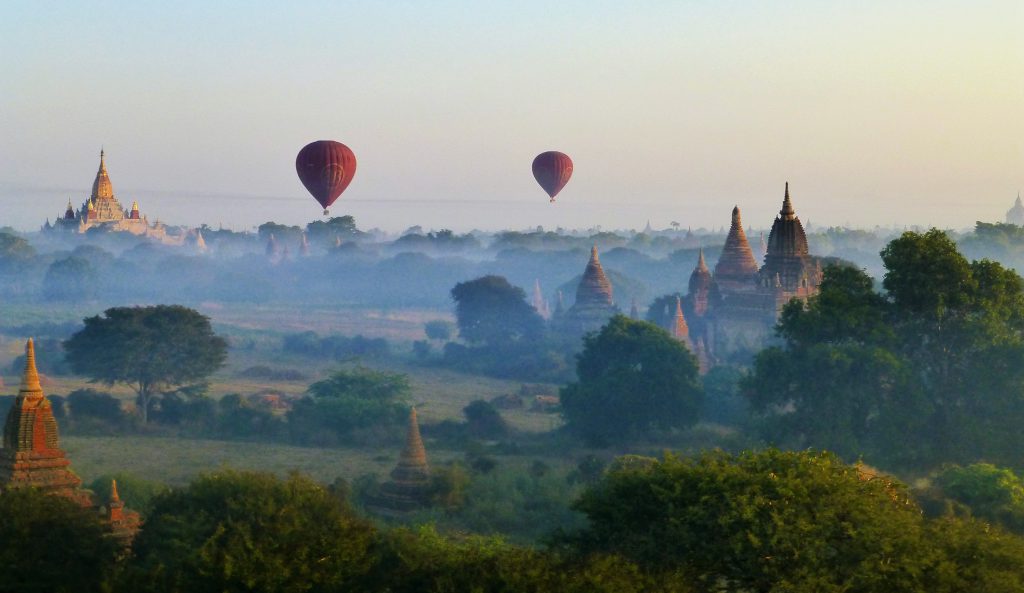 The only ticket you have to buy is a permit, it costs about 15 dollars. I arrived in the middle of the night and I haven't been able to buy a ticket like that anywhere. I didn't hear about it until later, and during my visit, I wasn't asked for anything. Of course it is good to buy the permit because the money is used for the renovation and maintenance of this magical area.
During my second day I rented an electric bike and was able to make my round a bit bigger in the area. I was also there for a third day and I spent it in a car so I could visit even the most remote temples.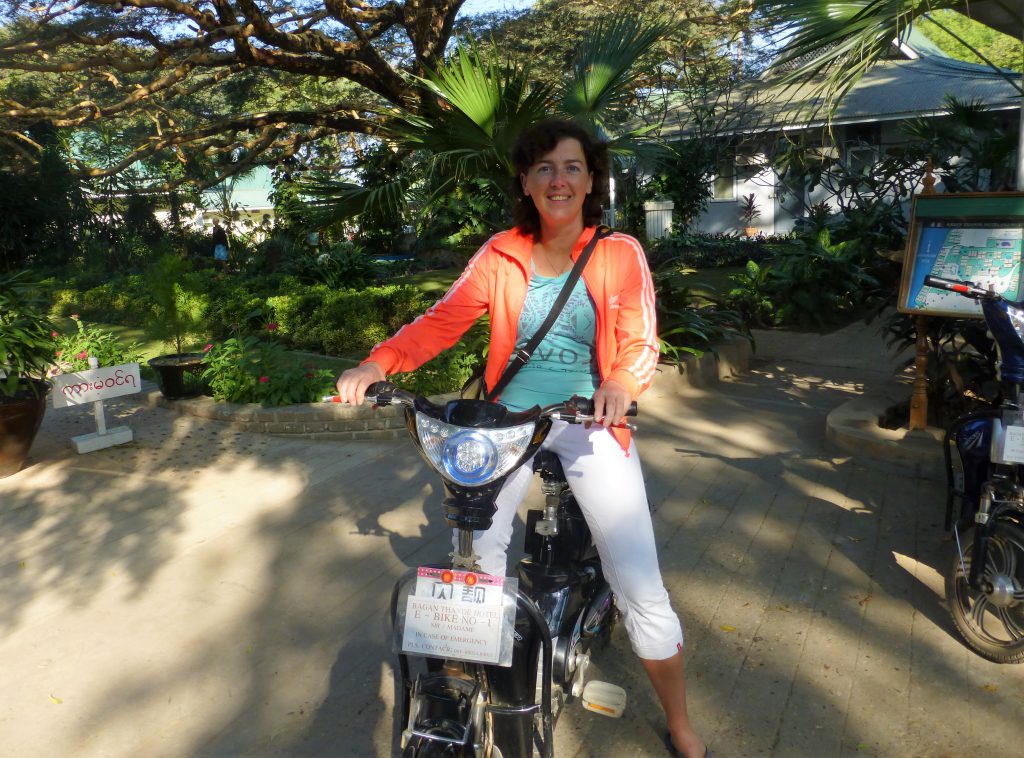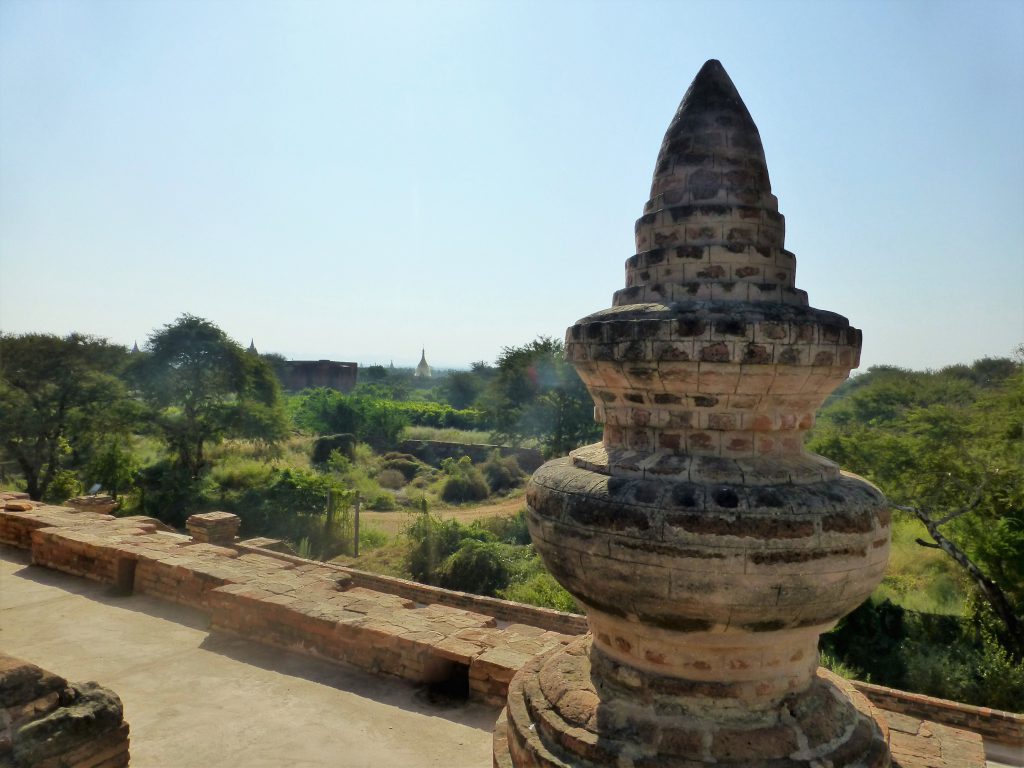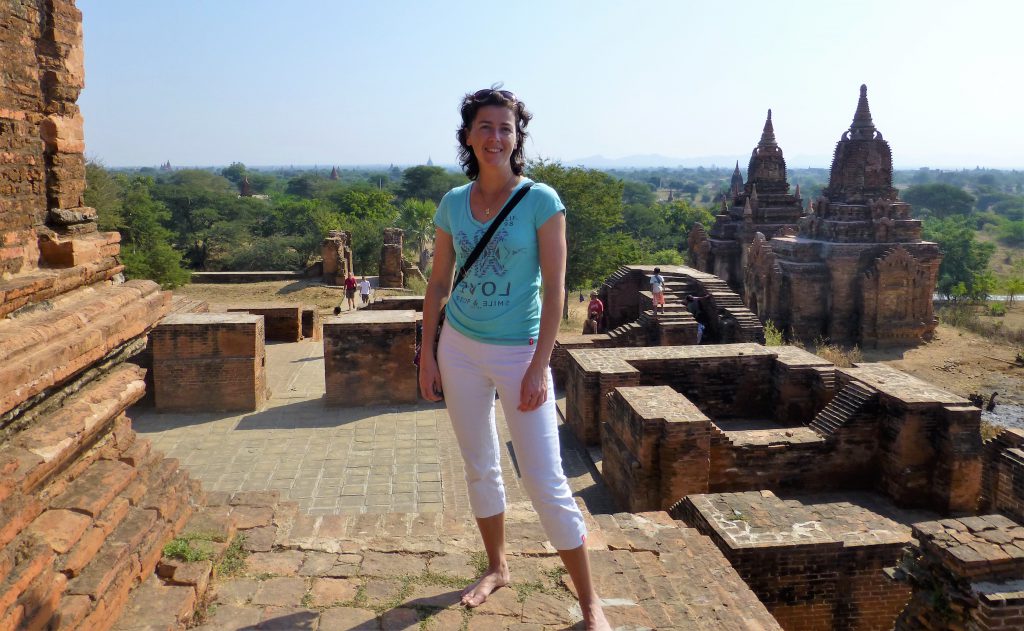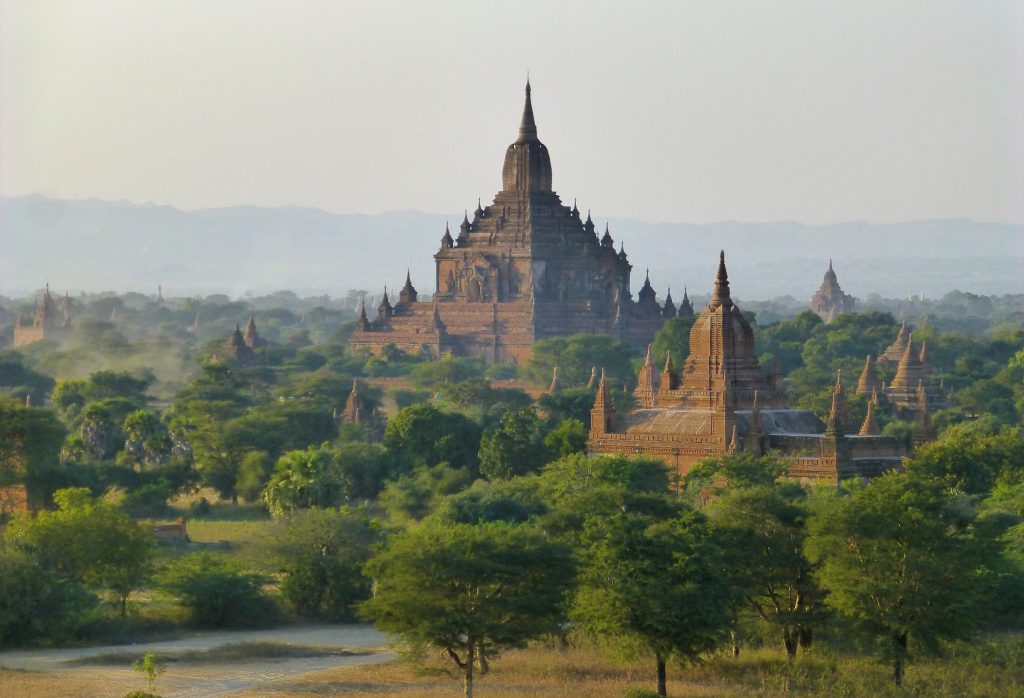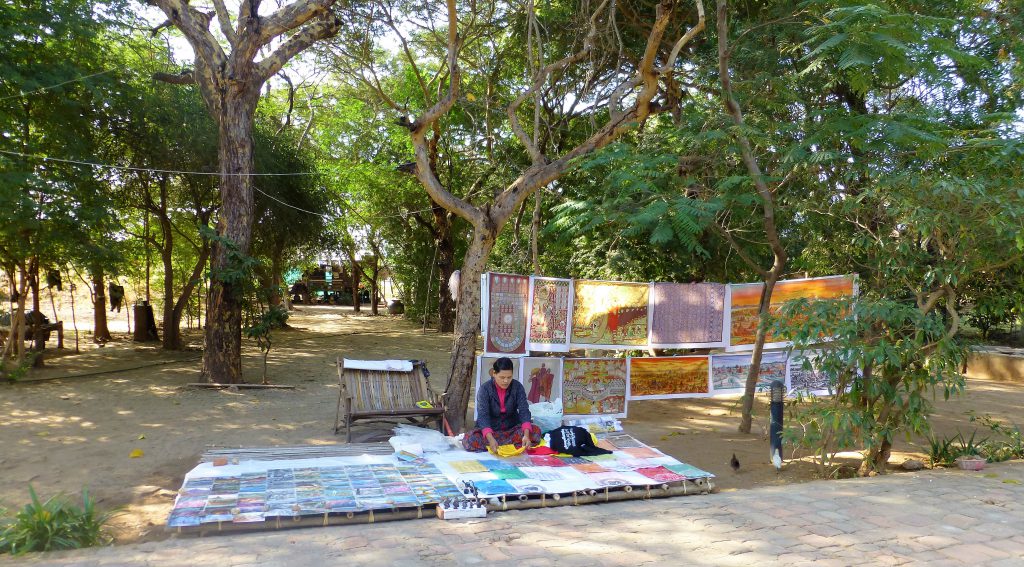 Where tourists come you can of course buy souvenirs. Everywhere along the side of the road near the larger temples there were women and men with their merchandise. You really don't have to look for them.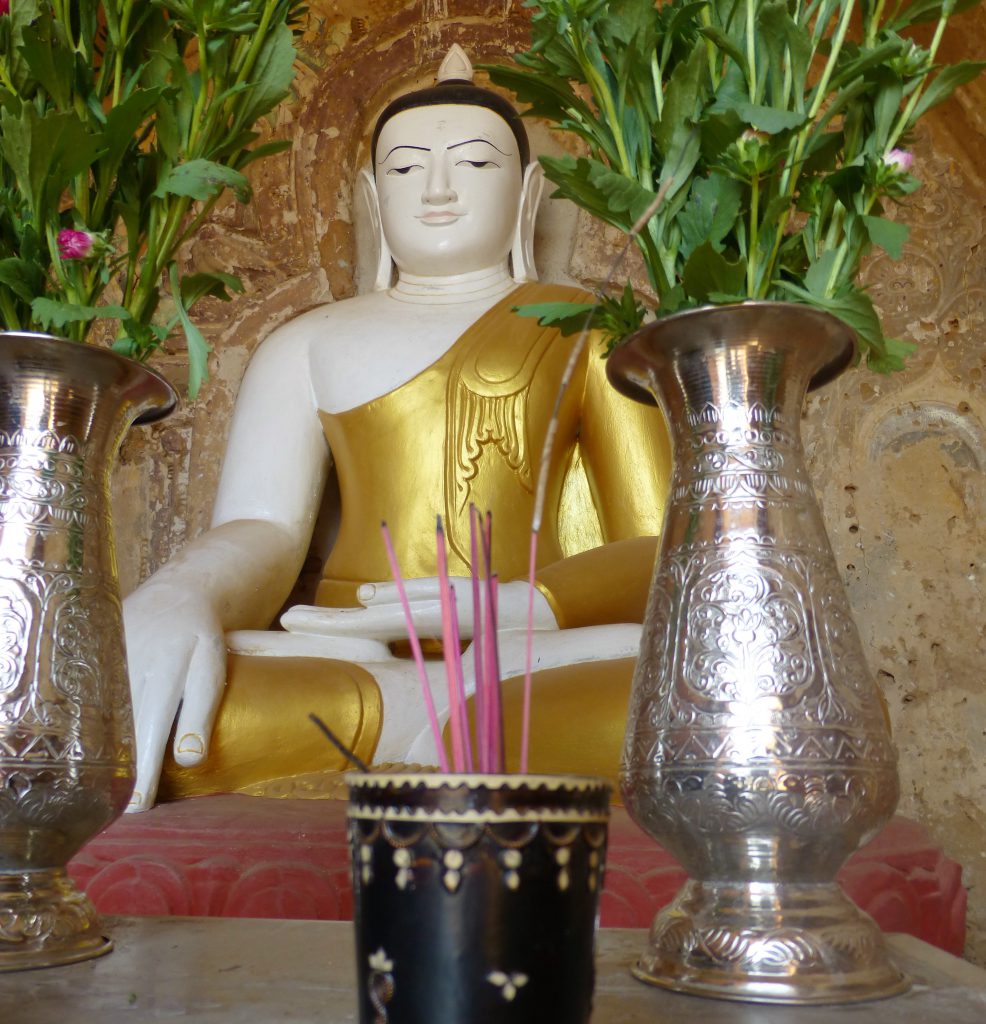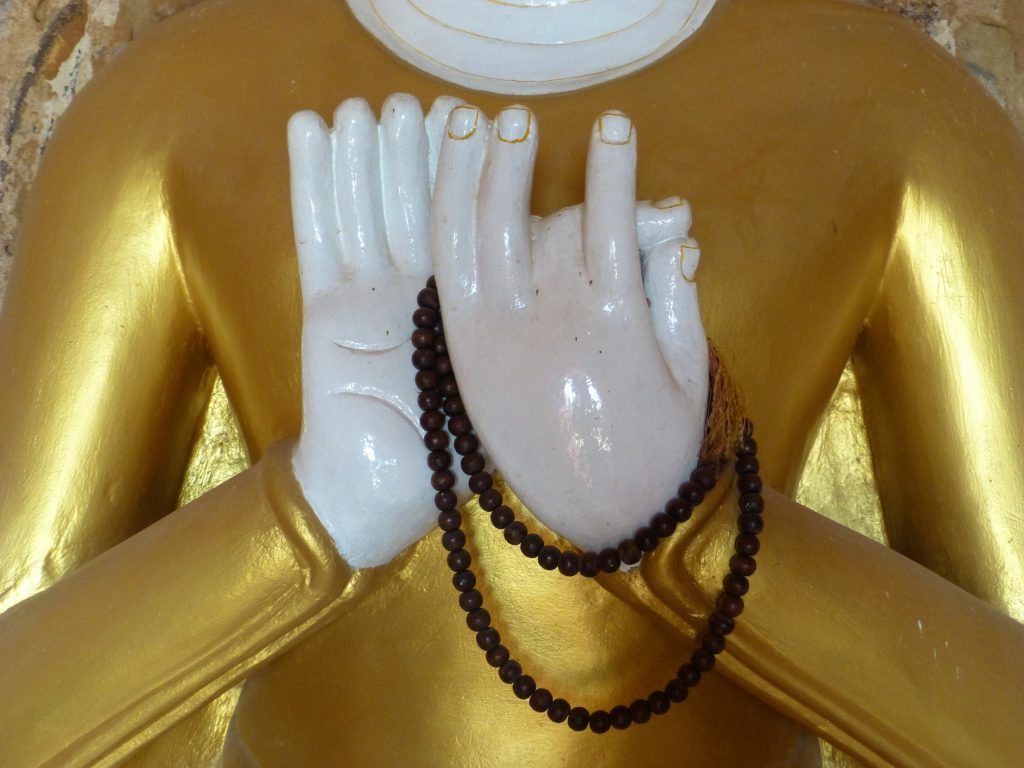 Most temples are still in use today. So the citizens of Bagan come here to pray and to make sacrifices. All the scents that pass by are great!
The scent of incense hangs everywhere and brings you into wonderful oriental atmospheres!
Do you like that smell too?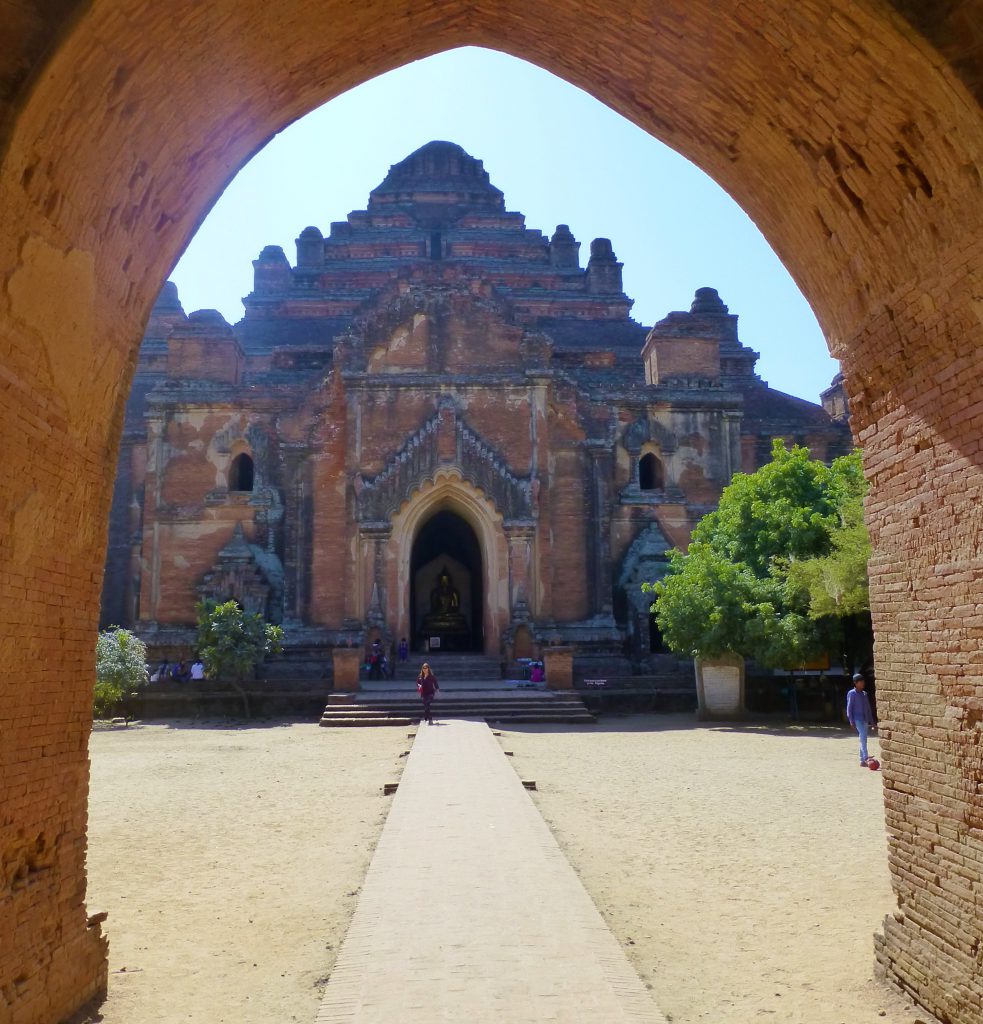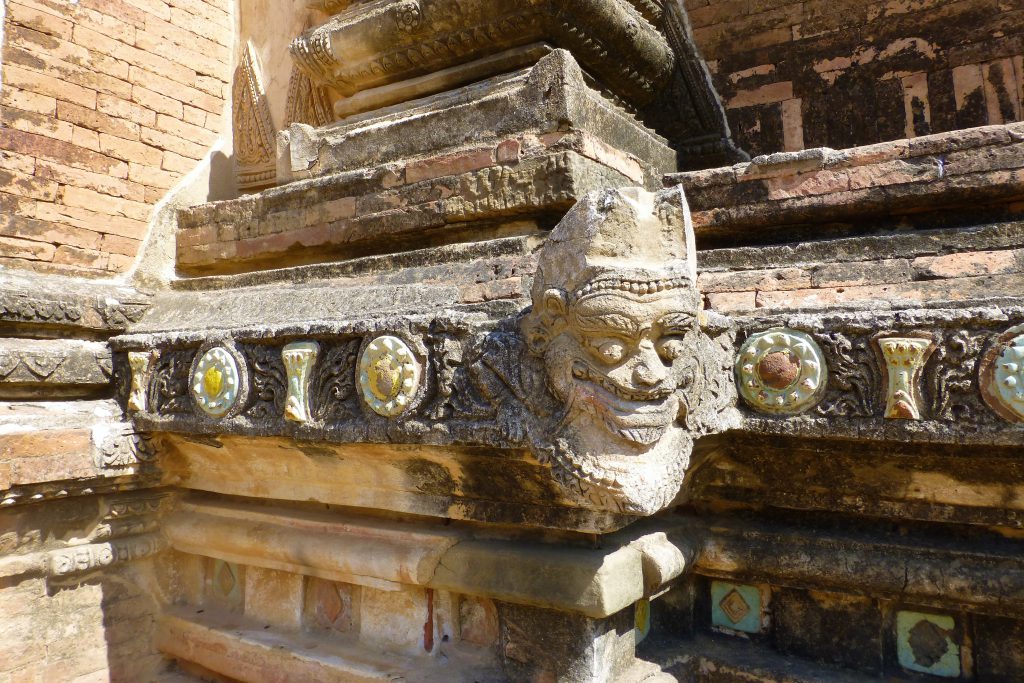 There are a number of temples / pagodas that are really unique and in very good condition. These are of course also the best known and the most visited. If you are in Bagan you should definitely put these on your list.
Famous Temples of Magical Bagan
The four most famous pagodas are: Dhu = Dhammayan (The thickest), Nyan = Thabinnyu (The Omniscient), Anu = Ananda (The most sculptural ), Thakho = Shwezigon (The most powerful)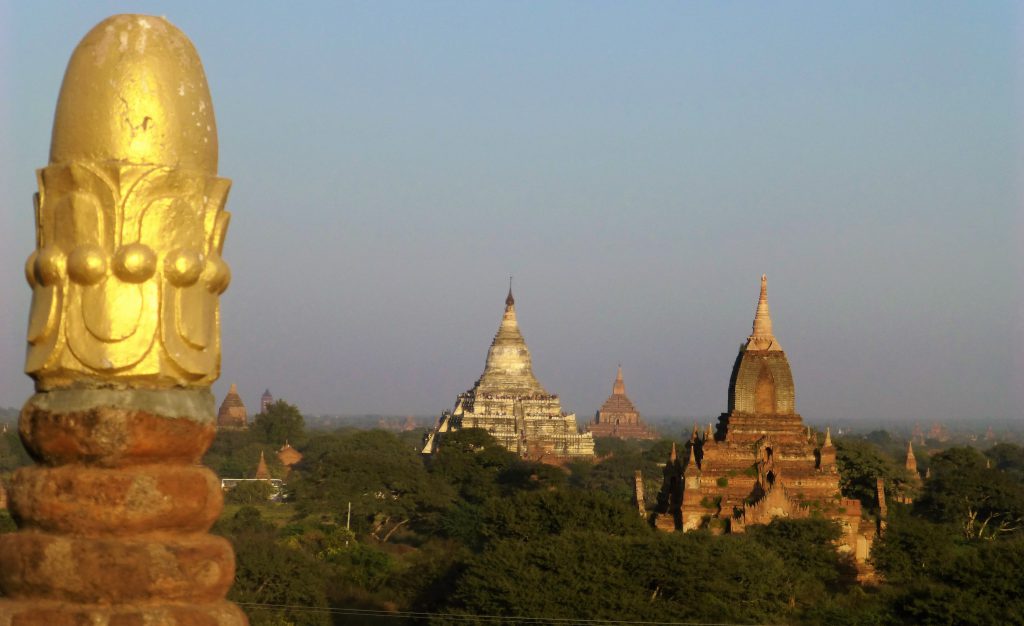 I didn't visited them all, I left it all up to where I went and what was on my path. That's why I enjoyed the area as a whole.
 Dhammayan Gyi = The Thickest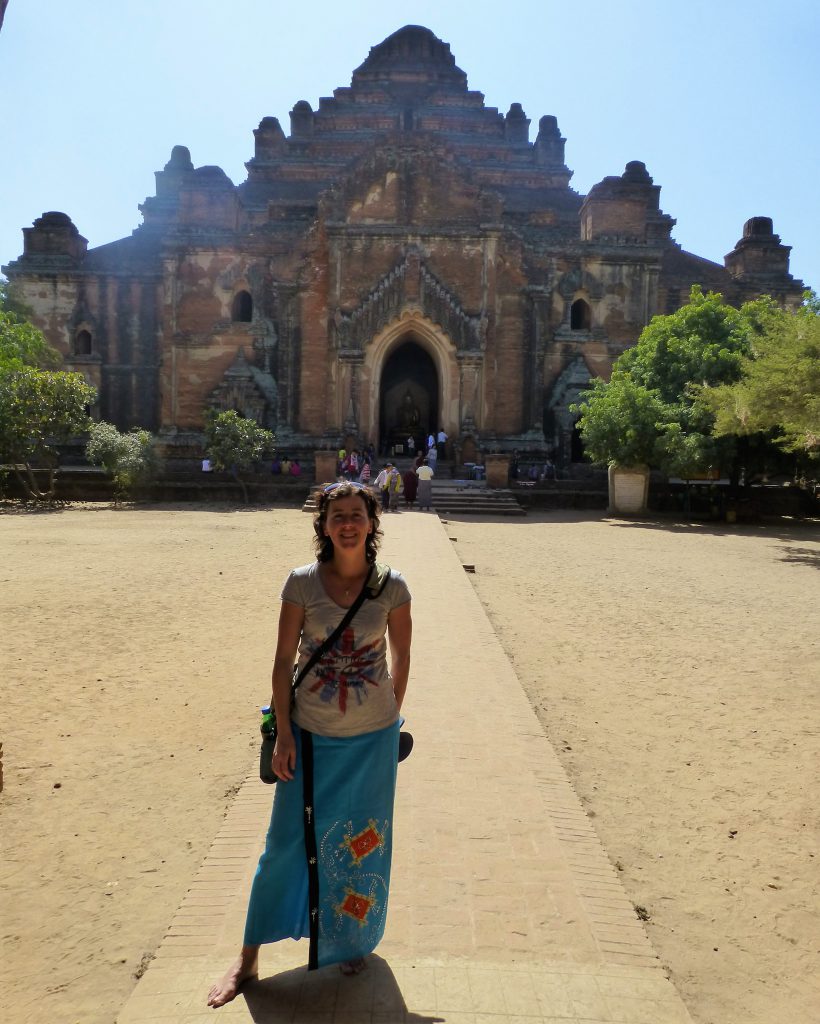 Ananda = Most Sculptural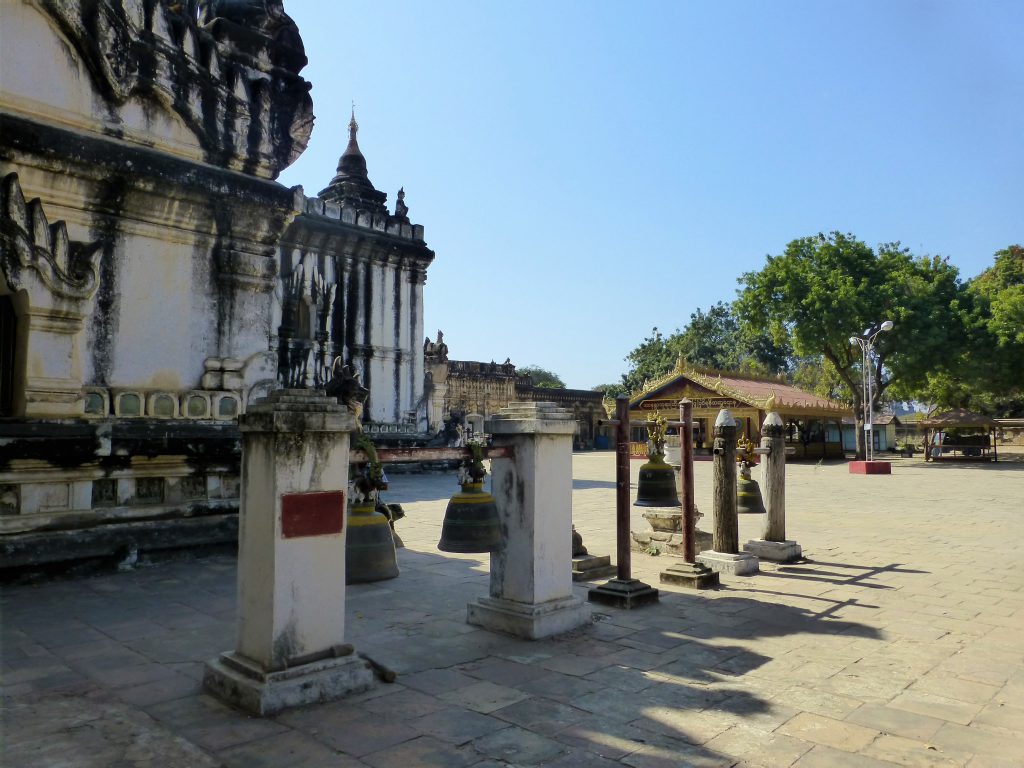 Thabinnyu = The Omniscent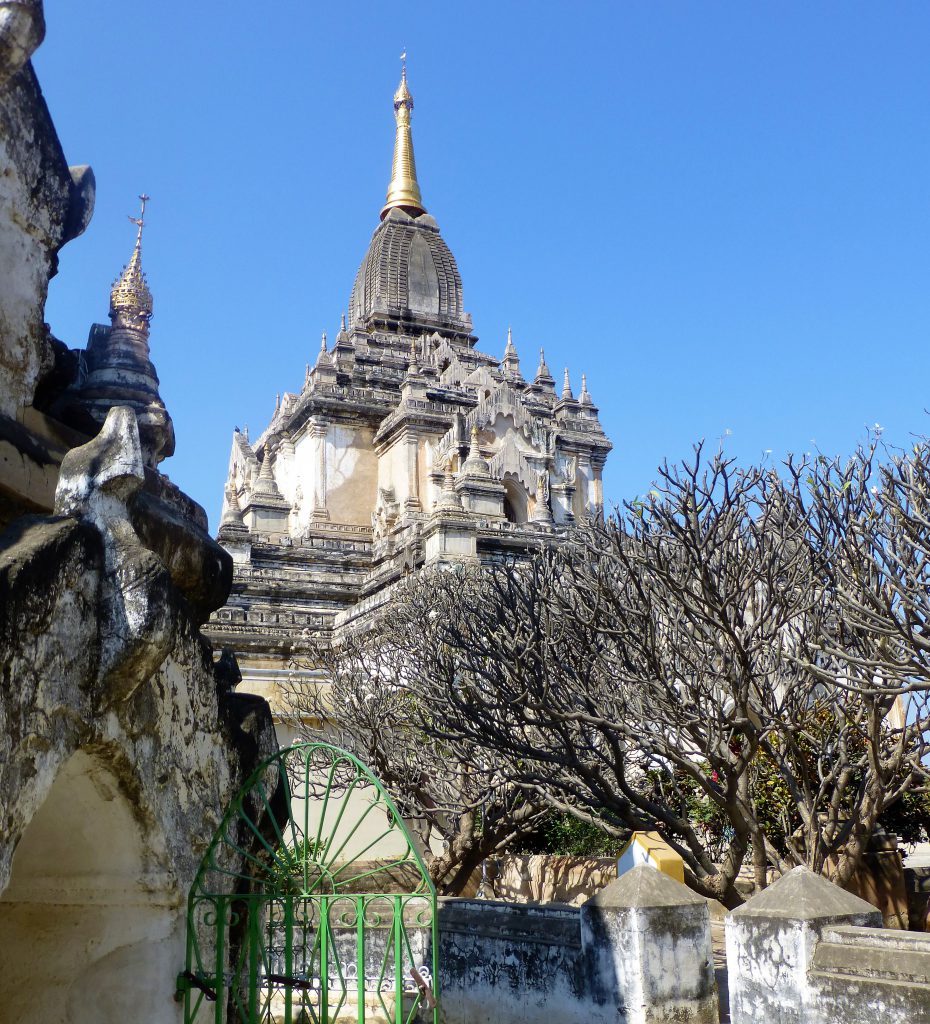 The last one I did not visit, this one is just outside the magical Bagan and is called Shwezigon = Most Powerful. It's always good to have a reason to return, right?
Mt Popa and the village Minnanthu
What I did visit outside Bagan was Mount Popa. I loved being outside, away from most tourists and just walking around in the life of the Burmese. I can recommend this daytrip to you as well.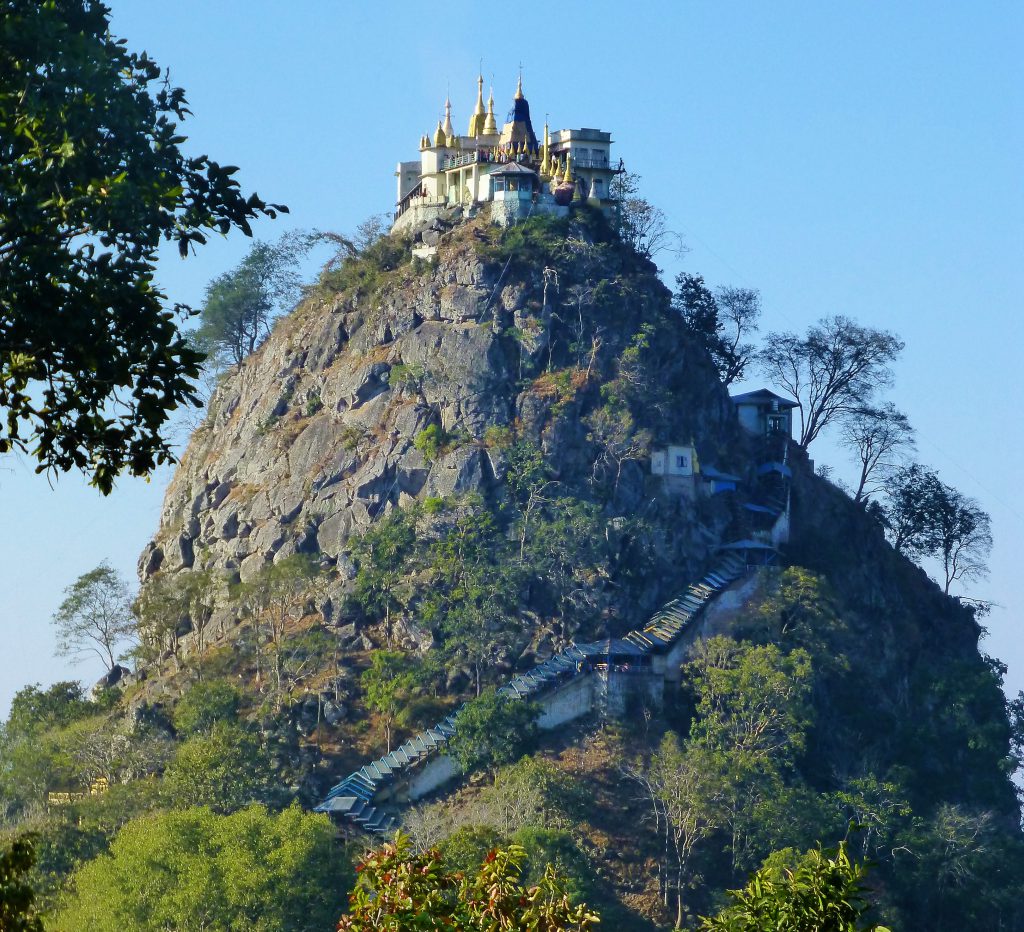 Of course I did this on the day I rented a car 🙂
We also visited a village in the area: Minnanthu. It is there that I saw the woman below with the humongous cigar! Isn't she great? We were also invited in the village to have a look in their workshops where they made fabrics and where these were of course also sold.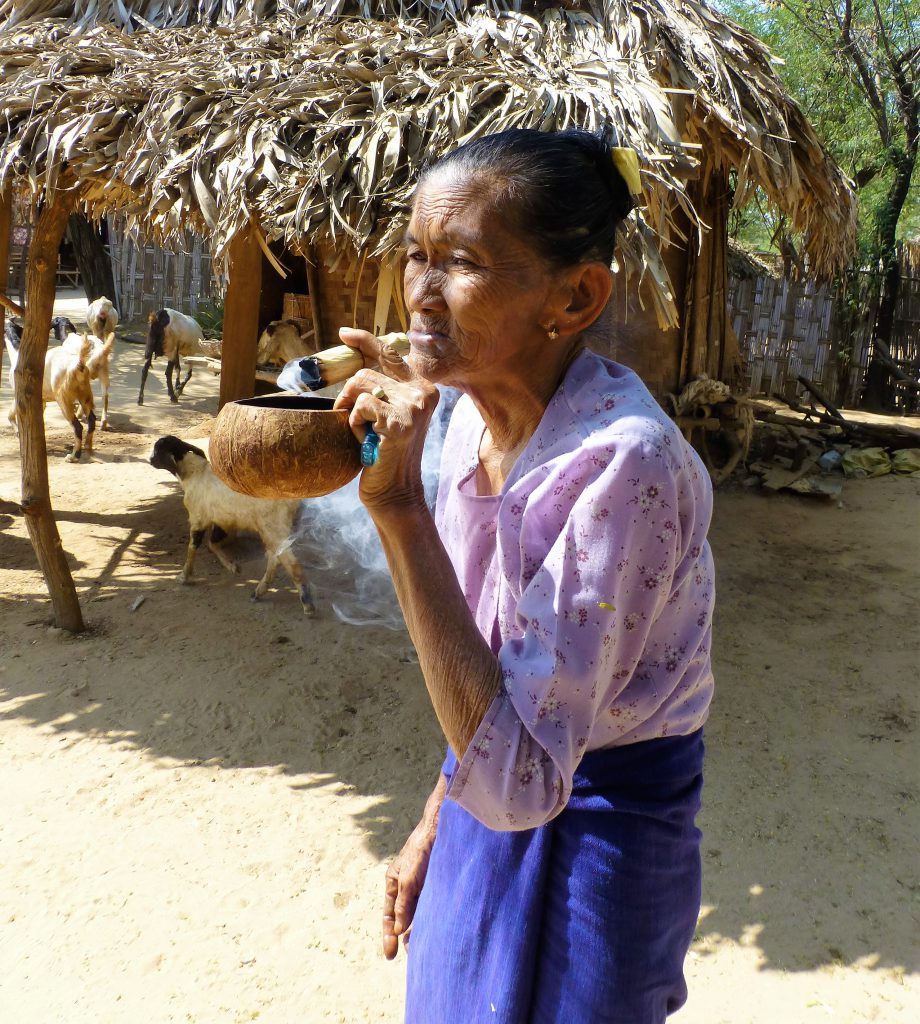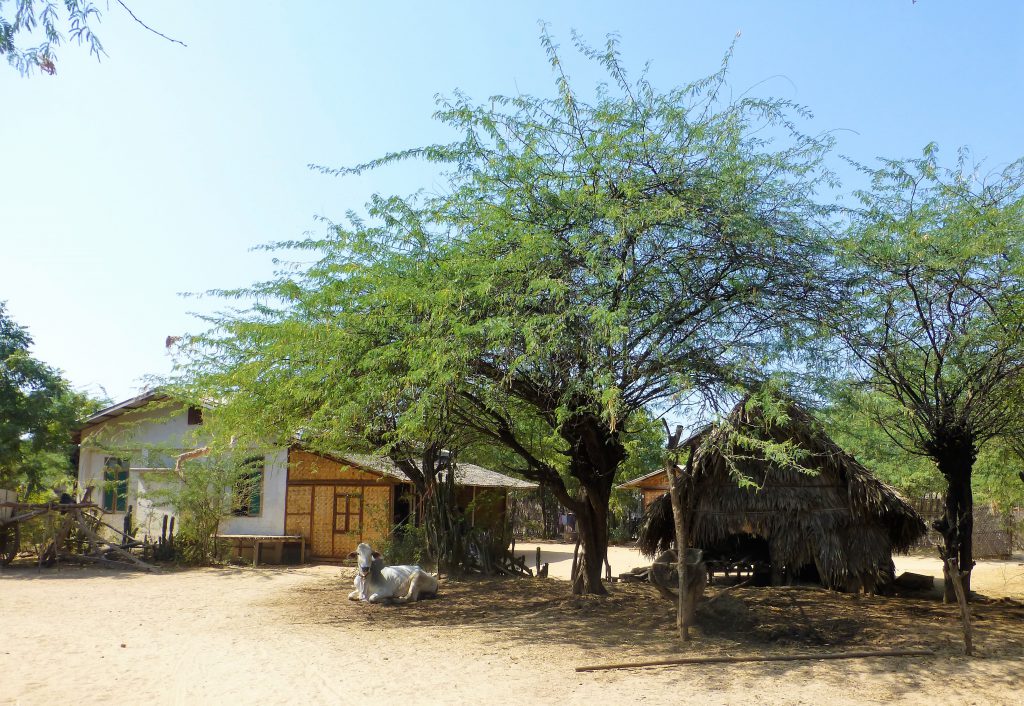 Are you planning on visiting this magical place?
Share it for other and pin it for yourself!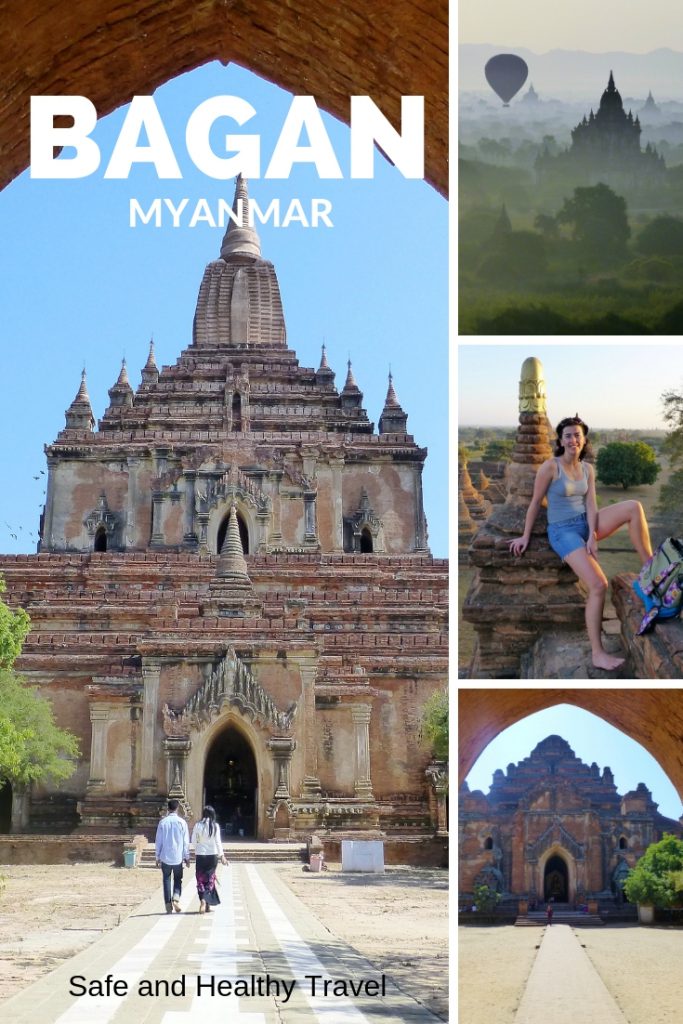 Want to read more about my travel through Myanmar?
The Famous U Bein Bridge – Amapura
The Famous Legrowers of Inle Lake
2 day & 1 night trekking near Hsipaw
Or can I inspire you to go to India?
I hope you enjoy the world as much as I do!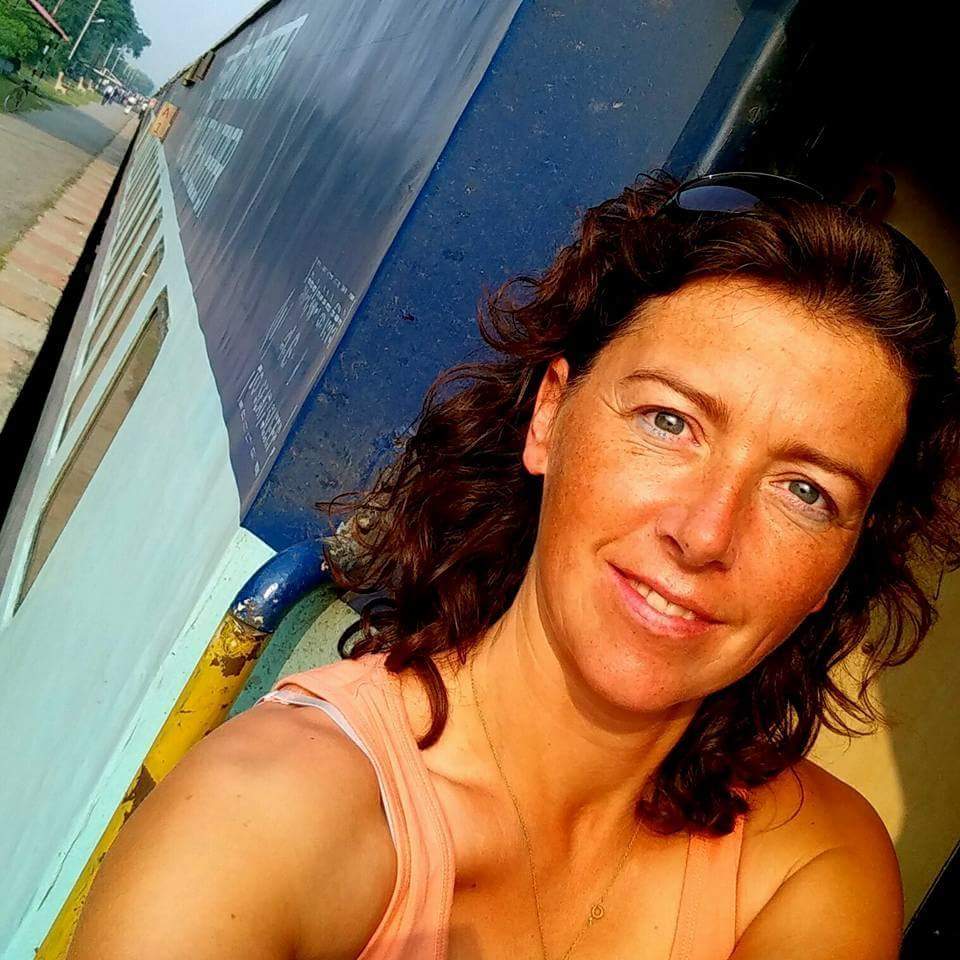 Jacomijn is een politieagent uit Nederland die jou graag laat zien hoe je veilig, actief en gezond de wereld kan over reizen. Safe and Healthy travel is a MUST