Bagan, Myanmar! What a great place!
|
Being in Bagan, Myanmar…it all seems unreal. There are hundreds of temples and stupa's in the countryside. Everywhere you look you see them piling up against the horizon. It is just magical!! You have to visit this place at least once in your lifetime!
Bagan, also called Pagan, is a former capital of Myanmar and was founded in as early as 849.  So because of that you can imagine there are some really old historical temples! Bagan has the most temples, stupas and ruines of them in the world. Around 2000 are there to see and visit and most of them date back to 11th and 13th century.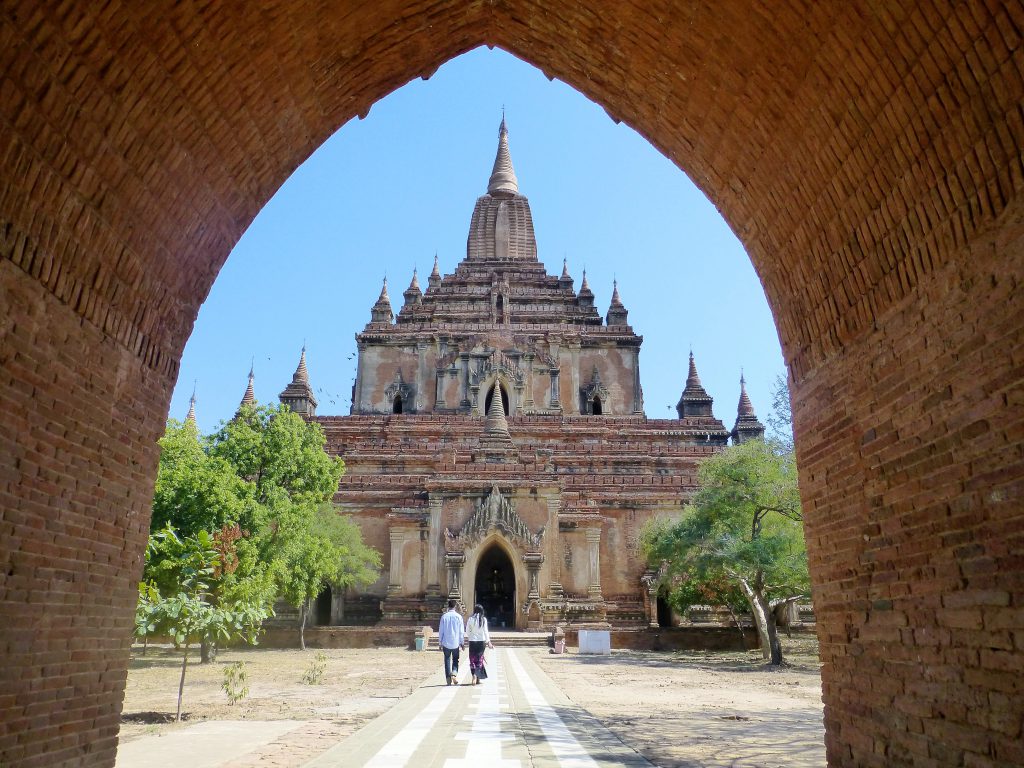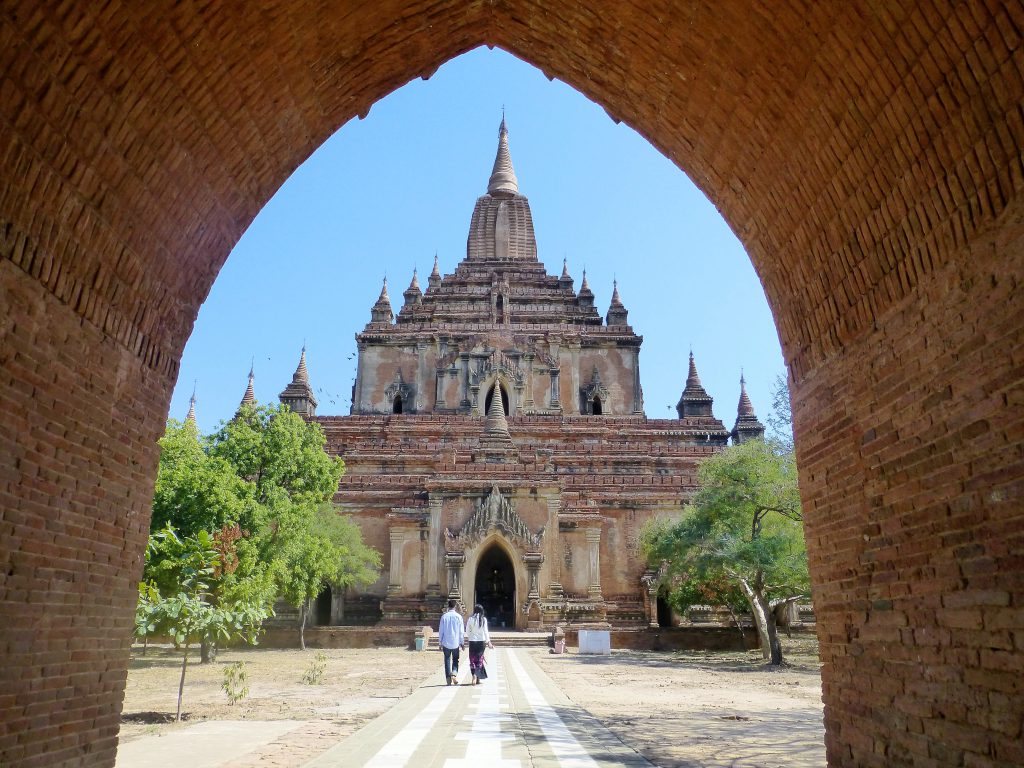 I went with a bus to Bagan from Pyay. I arrived in New Bagan at 01.30 in the middle of the night. The bus just dropped me and my French co-tourists on the side of the road. I felt like I stepped into an old western movie. It was a long, wide sandy-like road and dead quiet. The houses were shutdown with iron and wooden fences. There was enough light from the moon and stars to see it all.
Some guy walked up to me and asked where I wanted to go. I did had a hotel booked allready, but it was for the next day. I thought the bus would take a lot longer and was going to be in Bagan the next morning. Still, I was going to that hotel, The Thande Hotel  in Old  Bagan. He wanted to bring me, costed me 8.000 Kyat, it was a long drive he told me. We were in New Bagan at that time. I got on the scooter and we went off into the dark world outside New Bagan.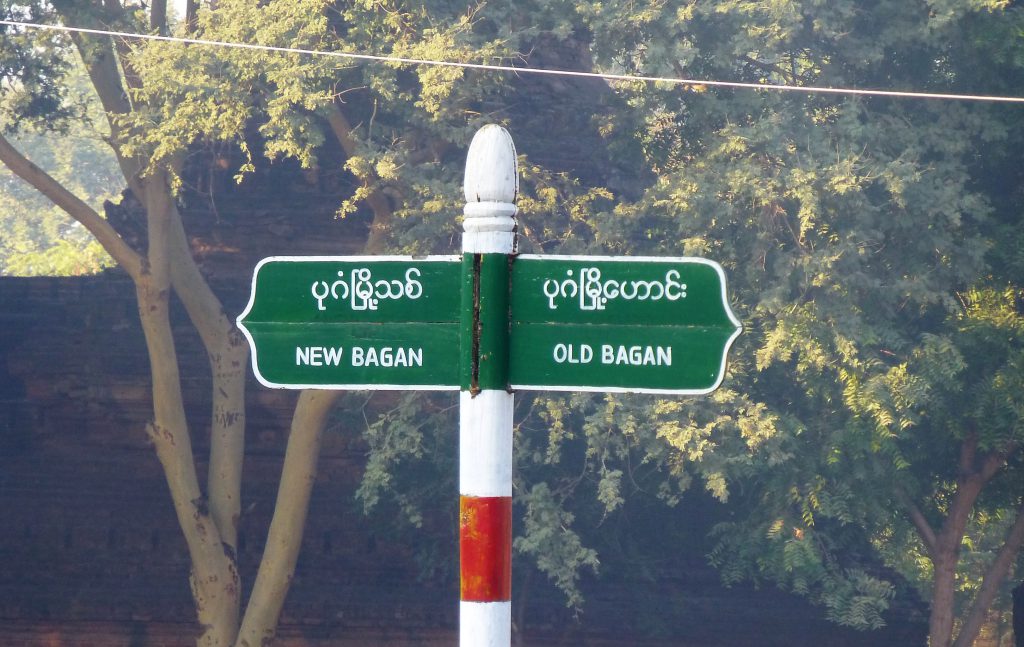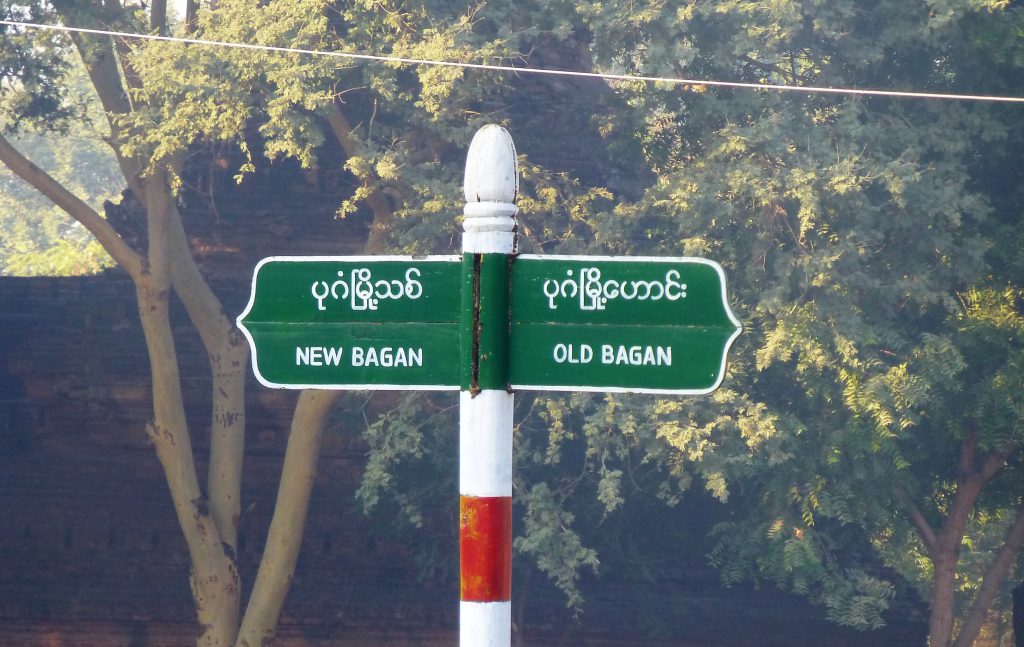 It didn't took much time before I saw some light in the landscape we were zooming by. It was a lighted stupa or temple.  It was such a great feeling to allready see them while it was dark and night. I was trying to see more but it was too dark. Along the way I saw some 5 temples. They were all enlighted and gave my drive to the hotel such a great feeling. I was looking forward to seeing them for a long time and I wasn't disappointed, not even during the nighttime.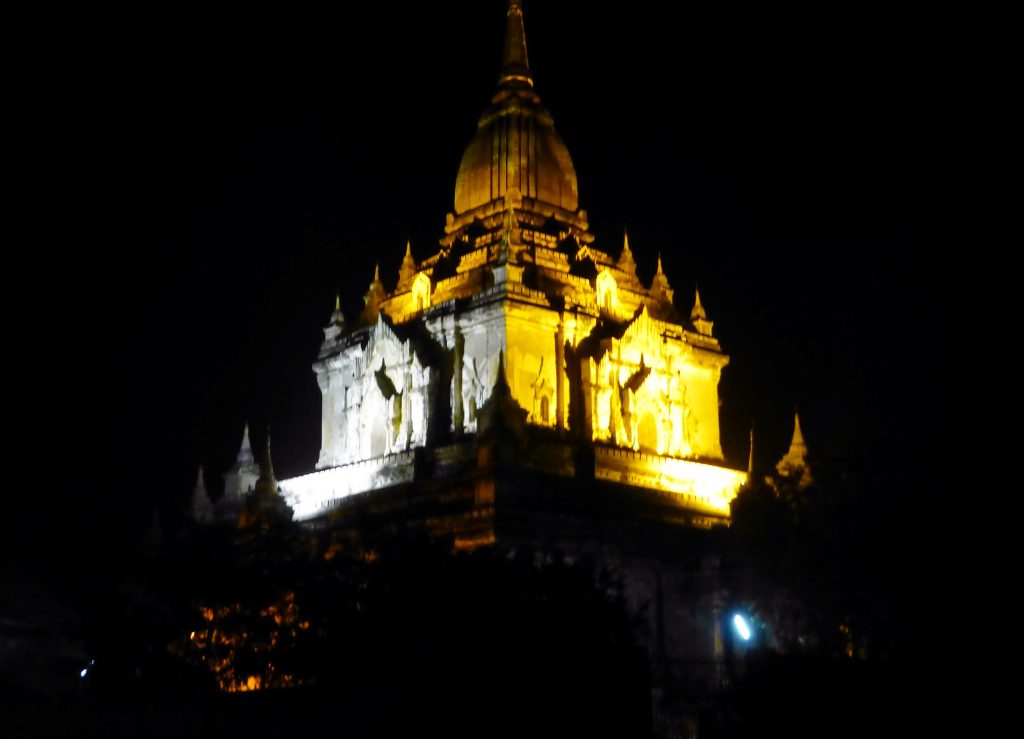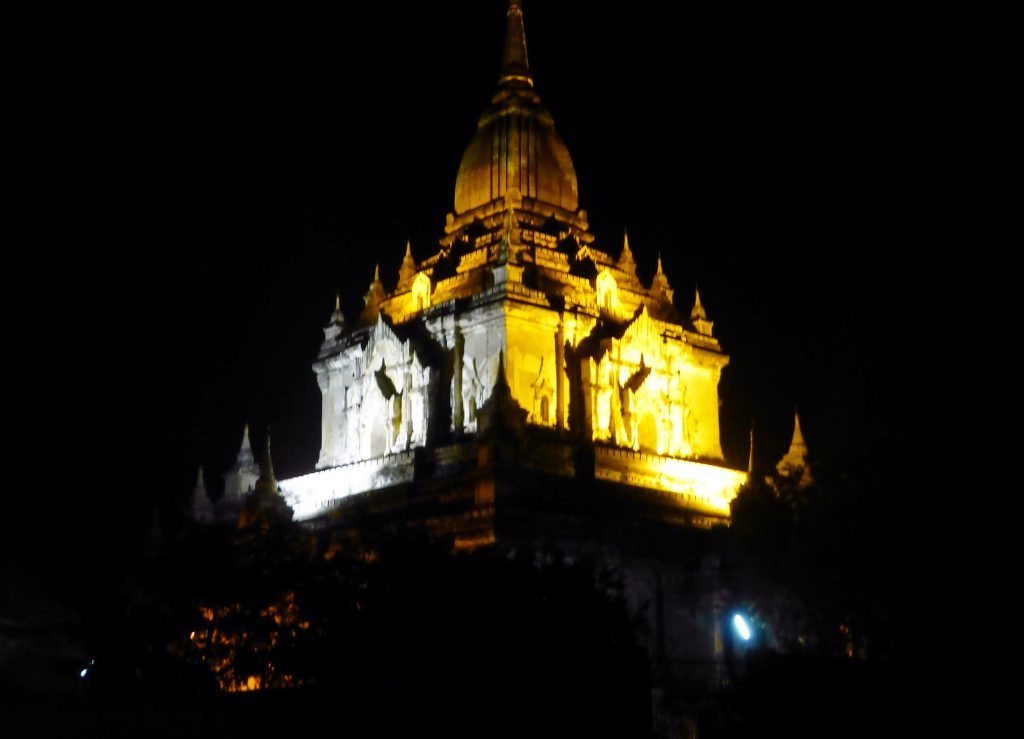 I couldn't get into a room ofcourse but I could sleep in the lobby, so I fell asleep on the couch there. At 5 o'clock it started to get busy with tourist going for the sunrise. Some with airballoons, I saw those on the pictures. Others were going with a bus to a big temple.
I was wide awake and went out to walk in hope of getting some view somewhere. At first I was walking and saw a temple I could go on top. The view was great. For the first time I saw multiple temples in the landscape. What a strange sight, nowhere in the world you can find something like this!
Unique!
But I couldn't see far so I tried to go to the next big temple I saw. I walked on the sandy road but two times it had a deadend. I went back to the mainroad and started to walk, after a couple of minutes a man on a  horsecarriage asked me if I wanted to see the sunrise and if he should take me. I said I wanted to walk but didn't know where to get a nice view. He pointed me the direction I was allready walking and said there would be a  big temple.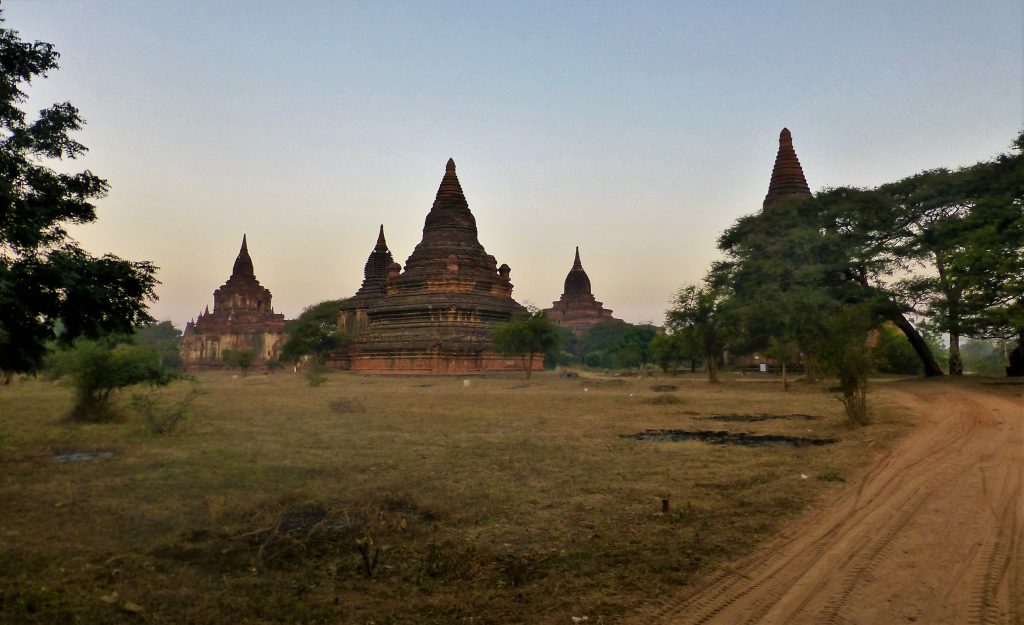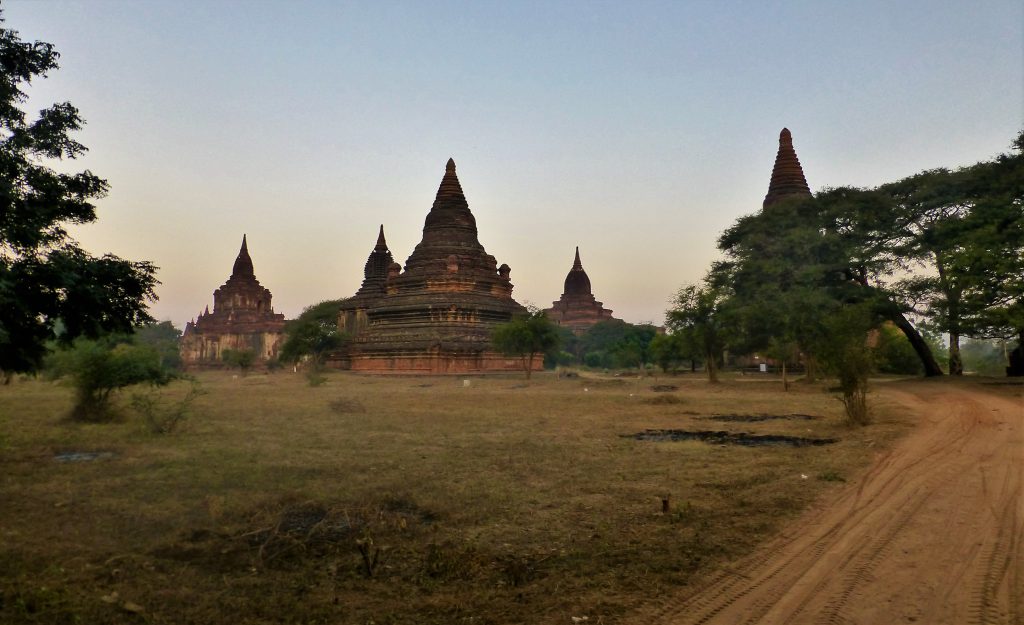 At a big intersection I went left, I allready so the sun, as a big orange ball, rising on the horizon. And after a km I saw the big temple, it was a white temple. I saw many people standing on it. I walked as fast as I could to get  a climp of the sunrise. When I got up it was the best!!! I shot great pictures!! Nice ones with the airballoons in them. I got my picture taken by another tourist. It was great, I so loved being there at that moment!!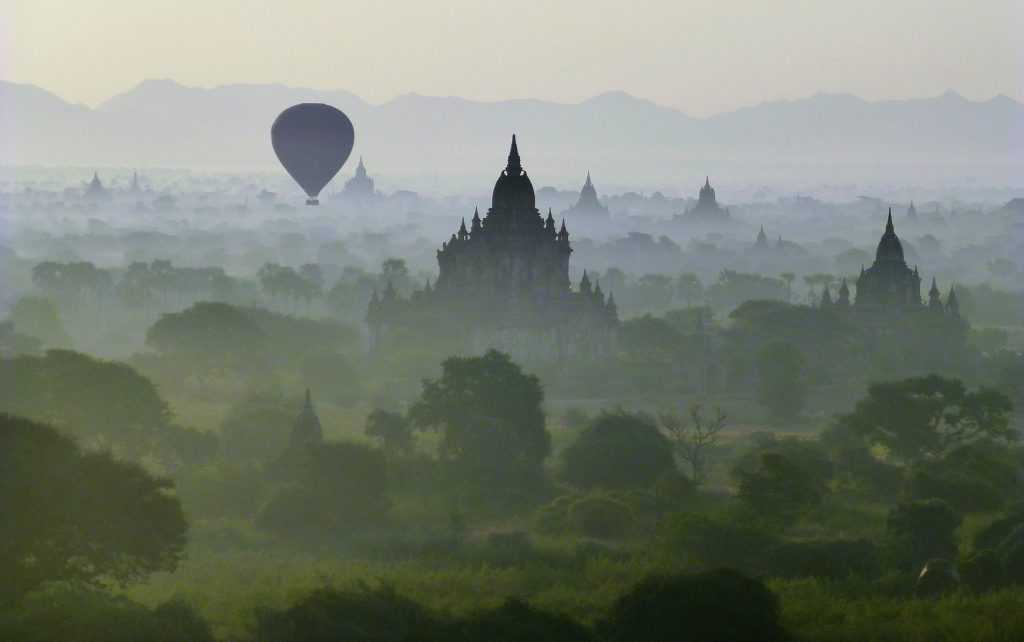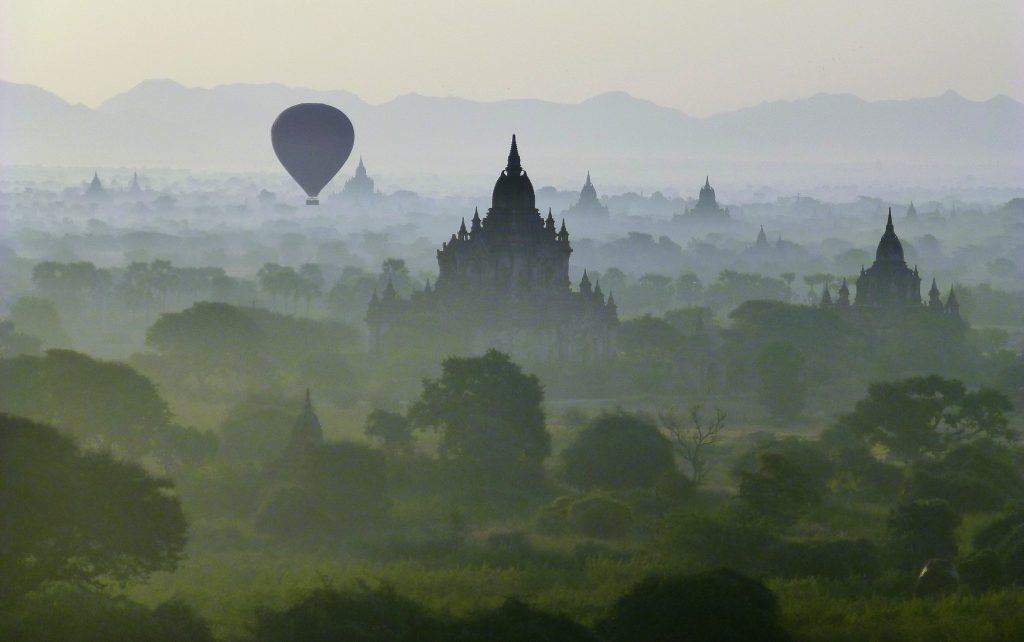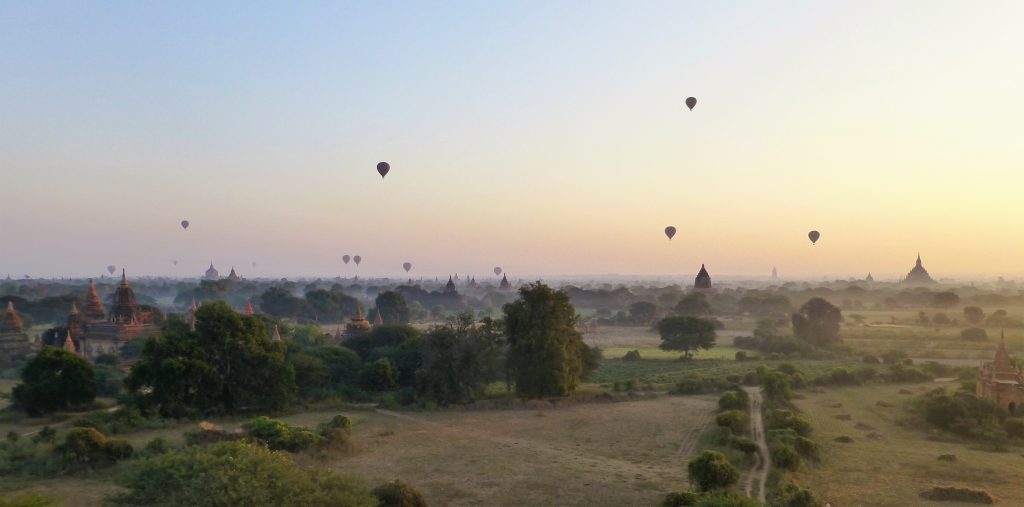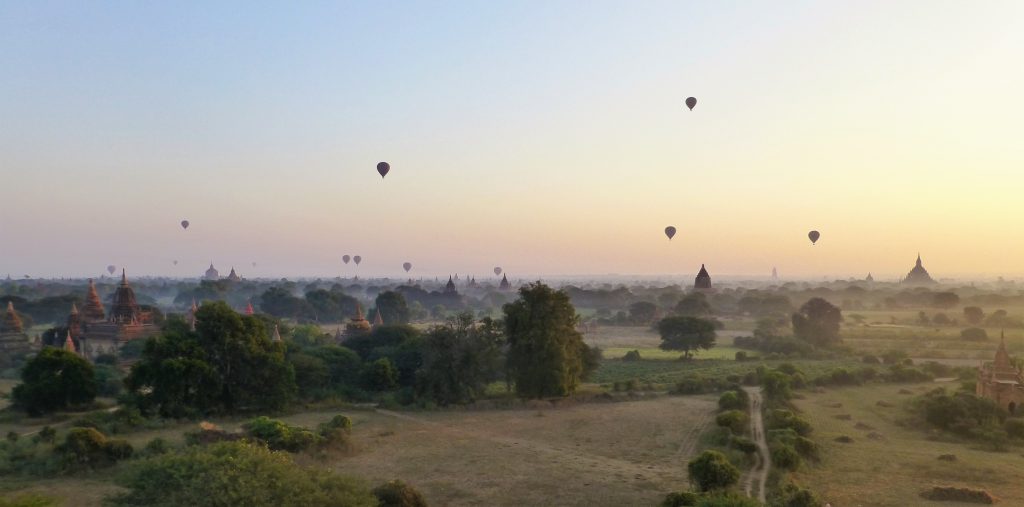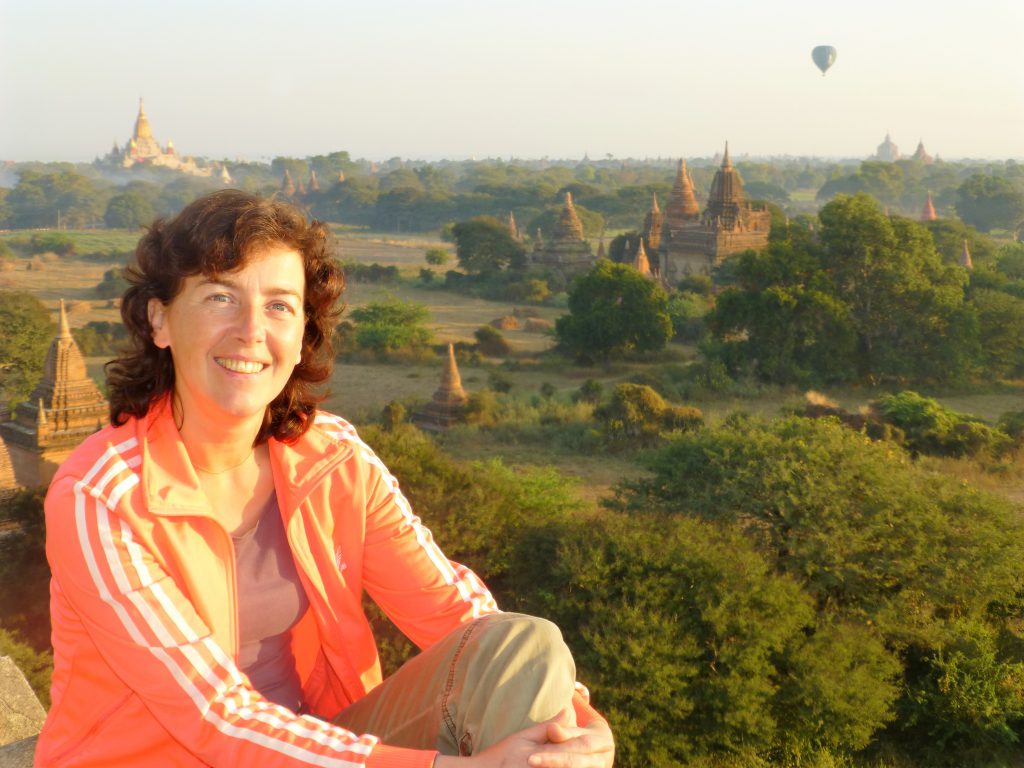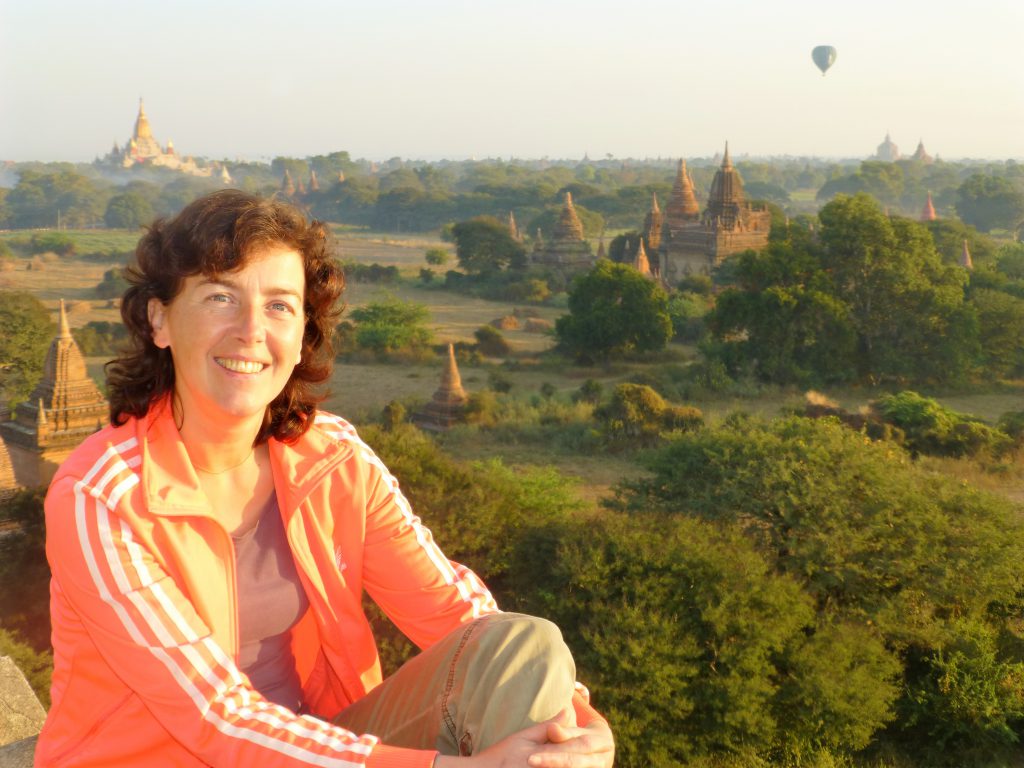 The rest of that first day I rented a bicycle and cycled around for the day. I saw so many great stupa's and temples. Some of the were closed but much are open for visiting but not for going up. There are only a couple open for entering the upper area and overlooking at the great landscape.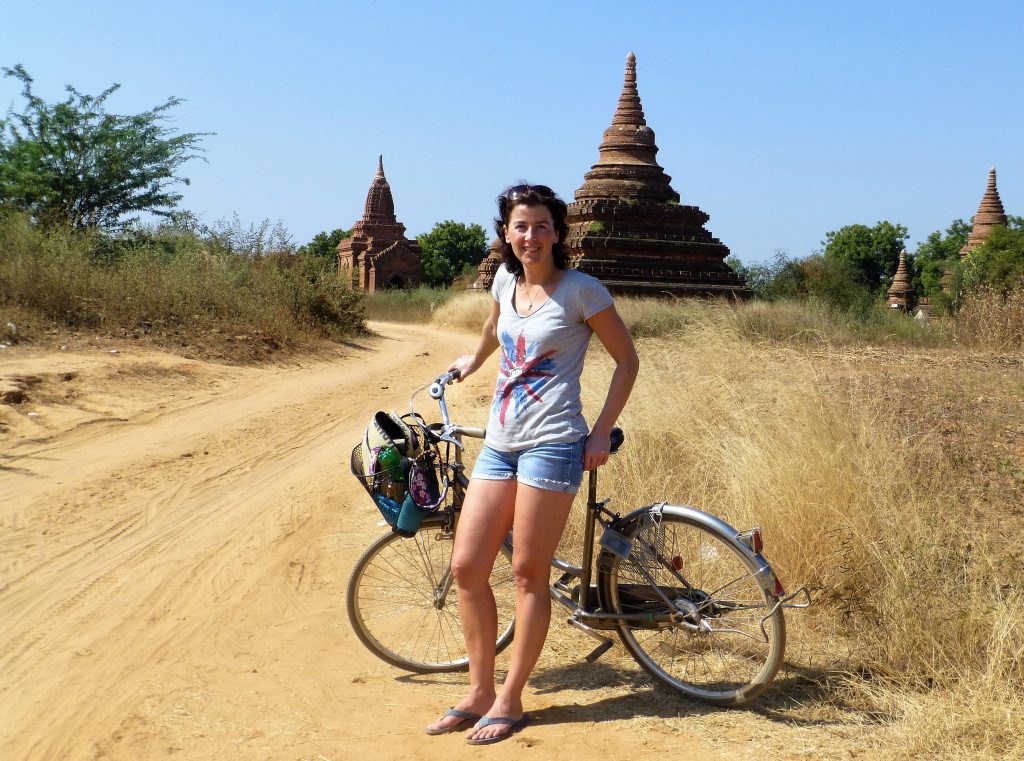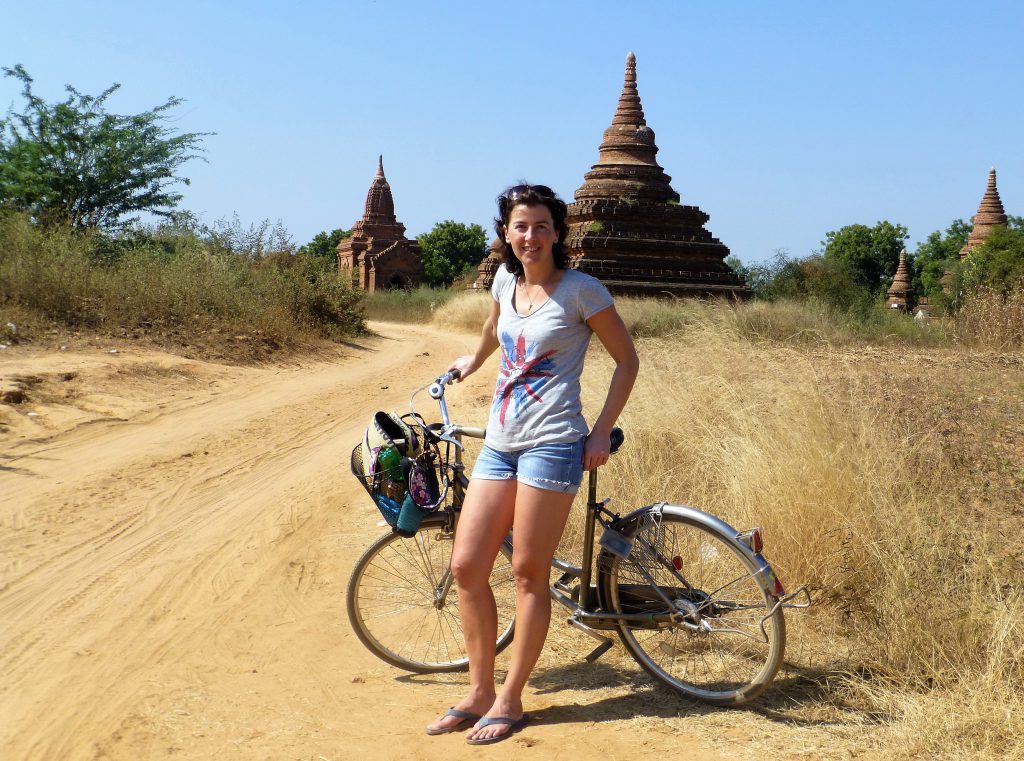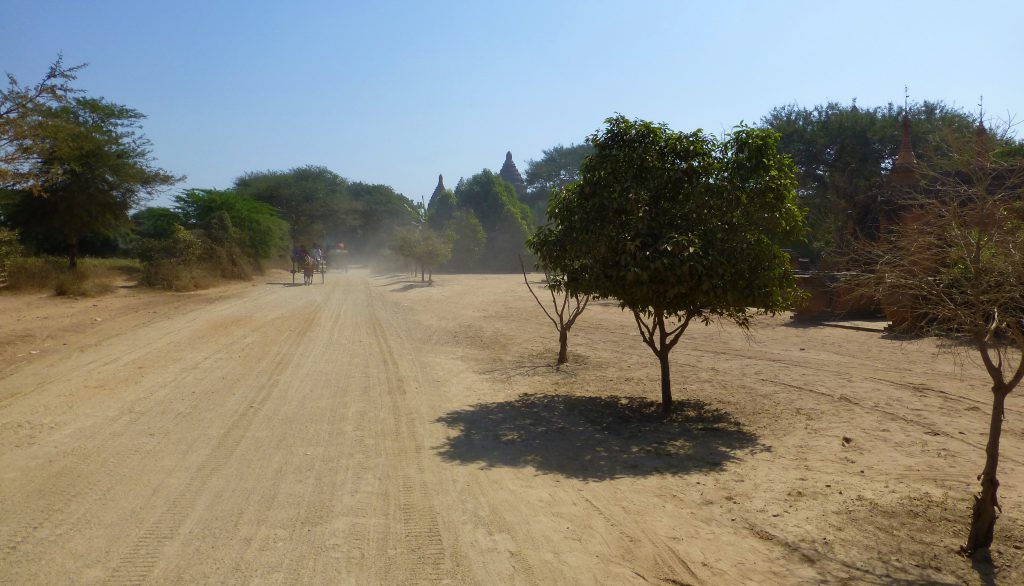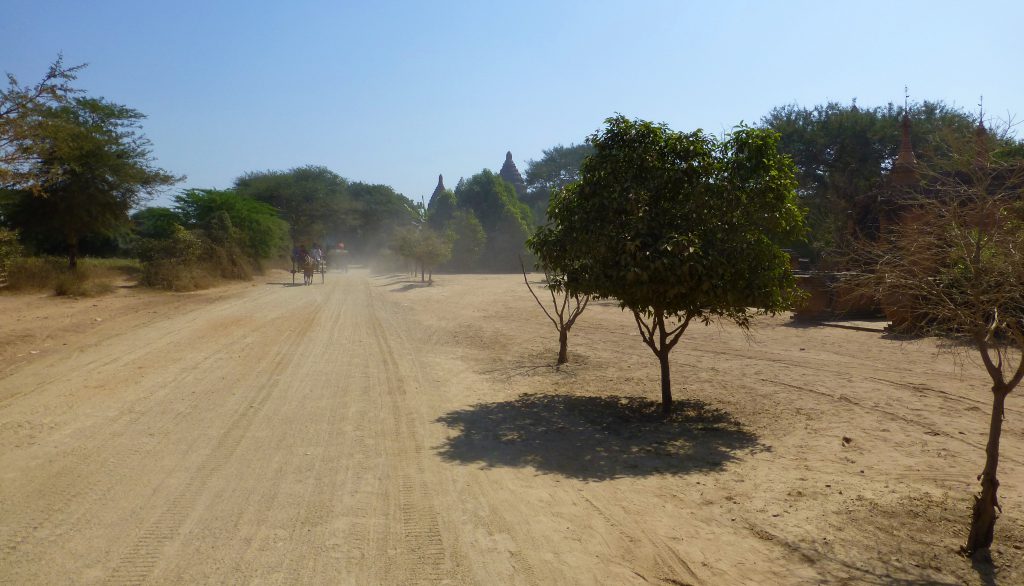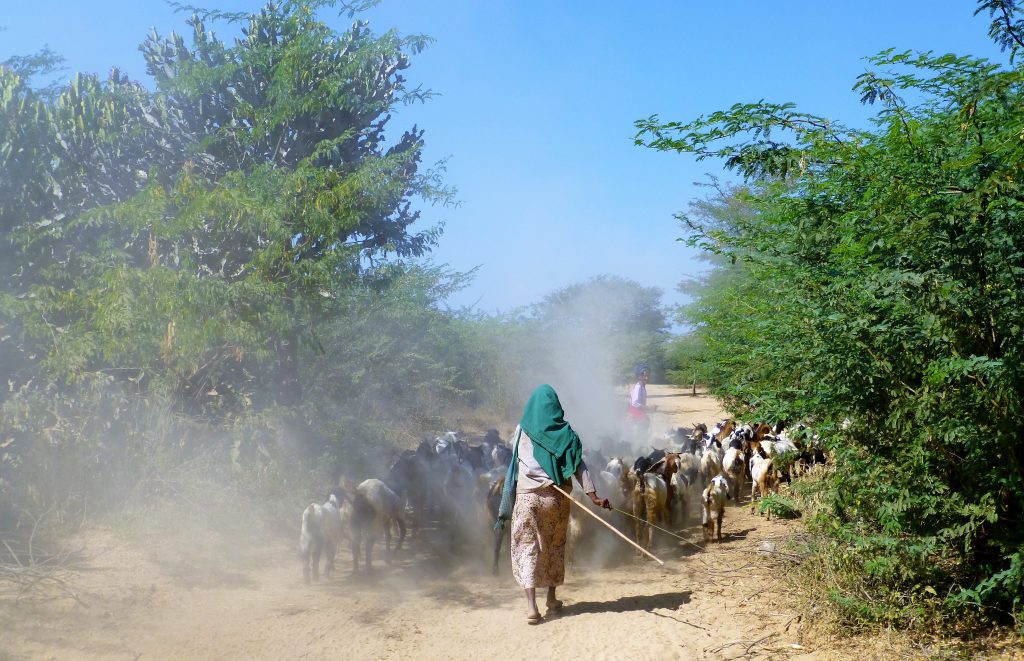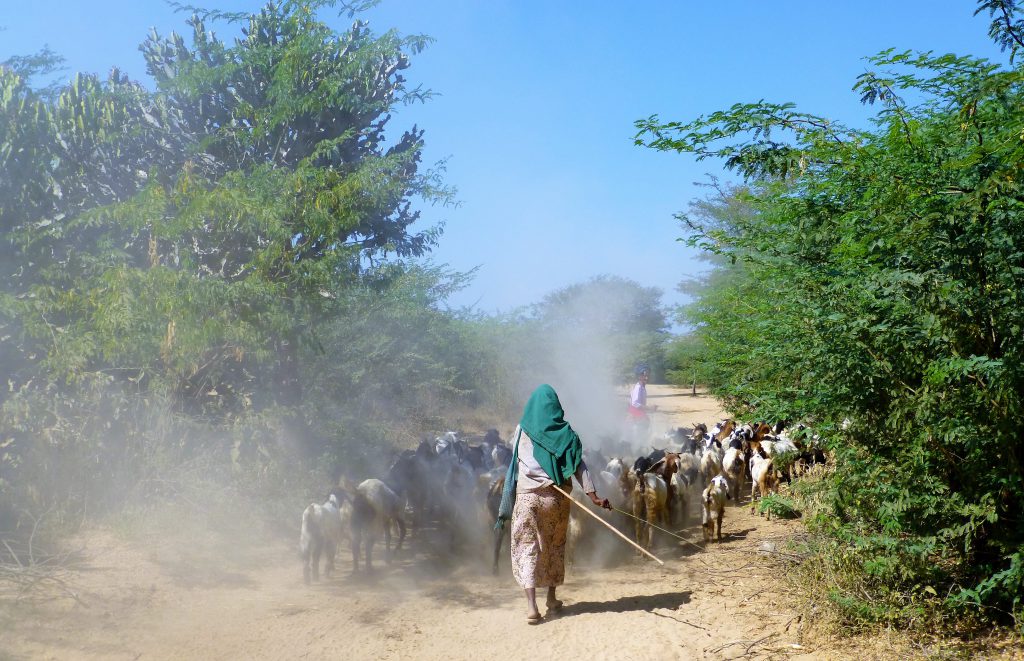 That evening I was looking for a spot to see the sunset. Must be just as amazing as the sunrise right? Walking around some man started to talk with me and he ofcourse had a great spot for me to see the sunrise. He took me to a smaller stupa and we climbed on it. A couple of minutes later this German tourist came also with another man who obviously told him to go here 🙂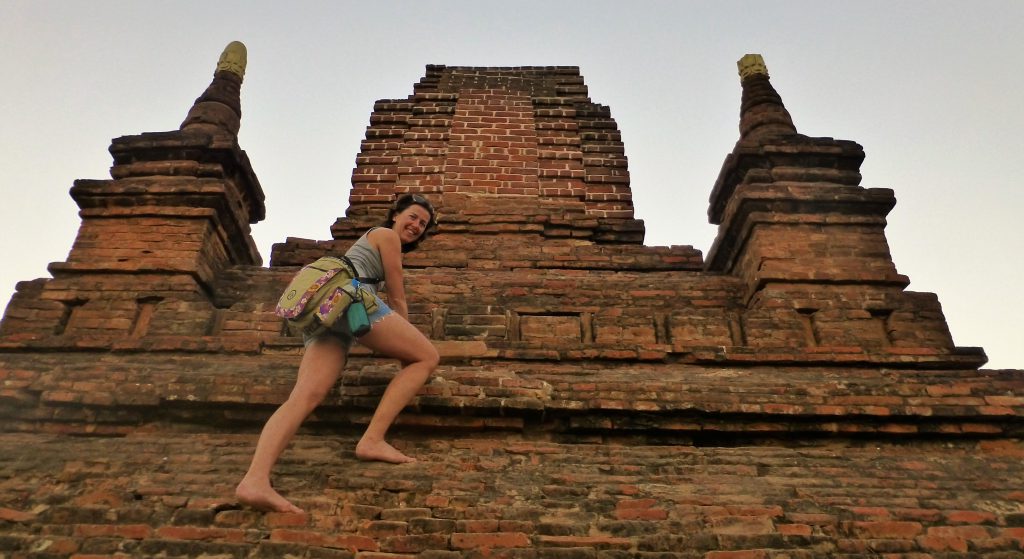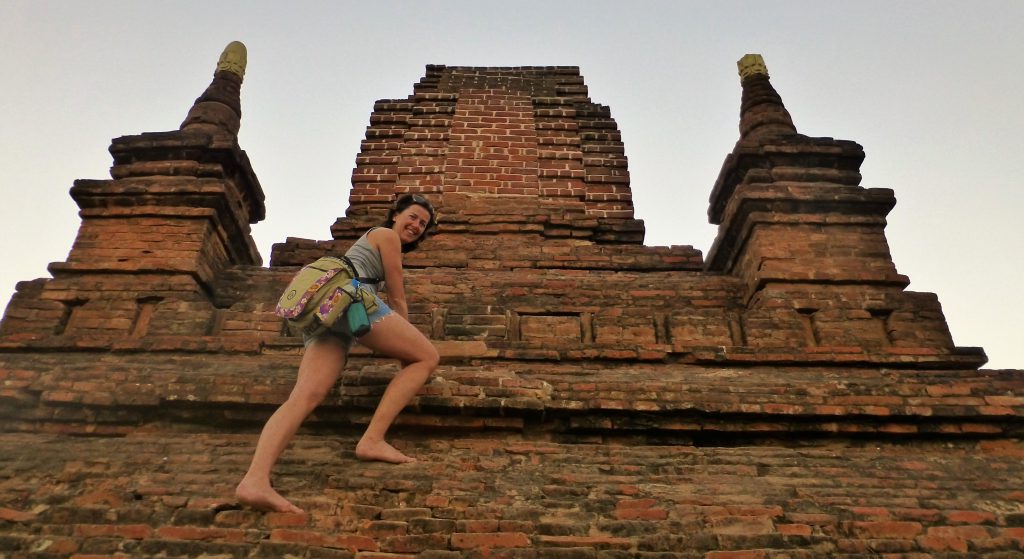 I think this defenitely was the best and most relaxed place to see the sunset!!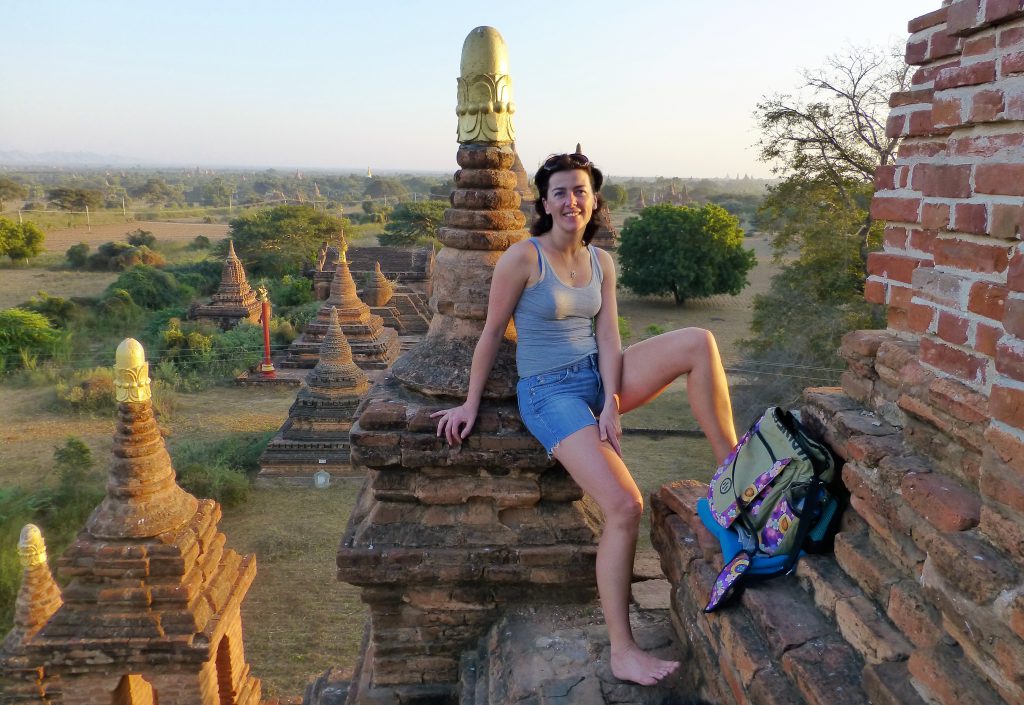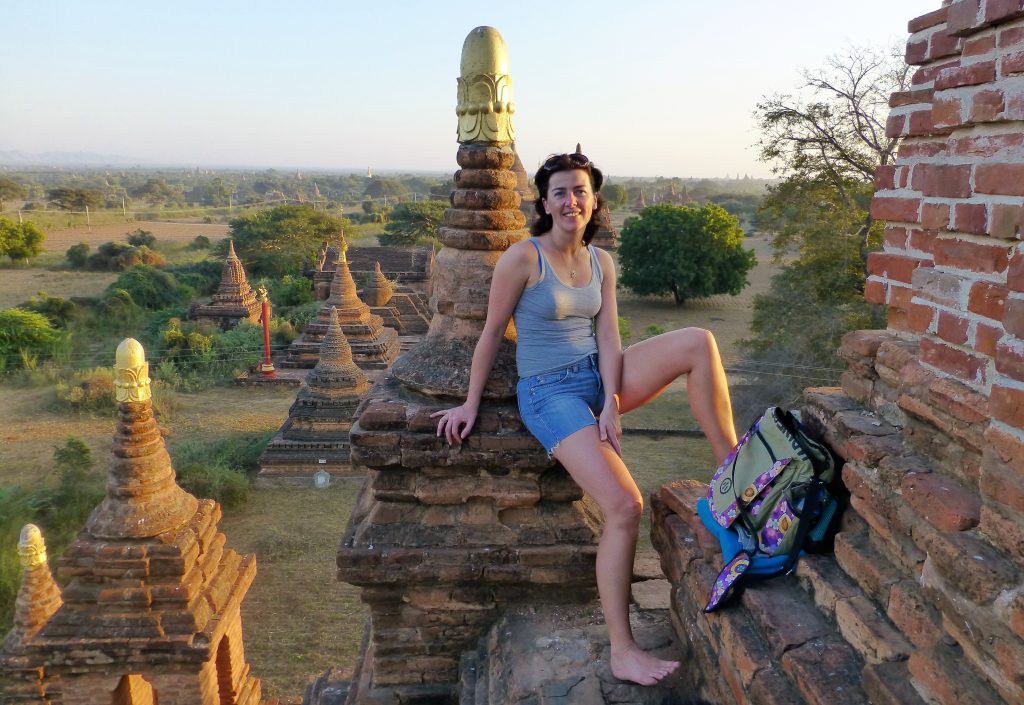 We had the place to ourselfs and had a great view!!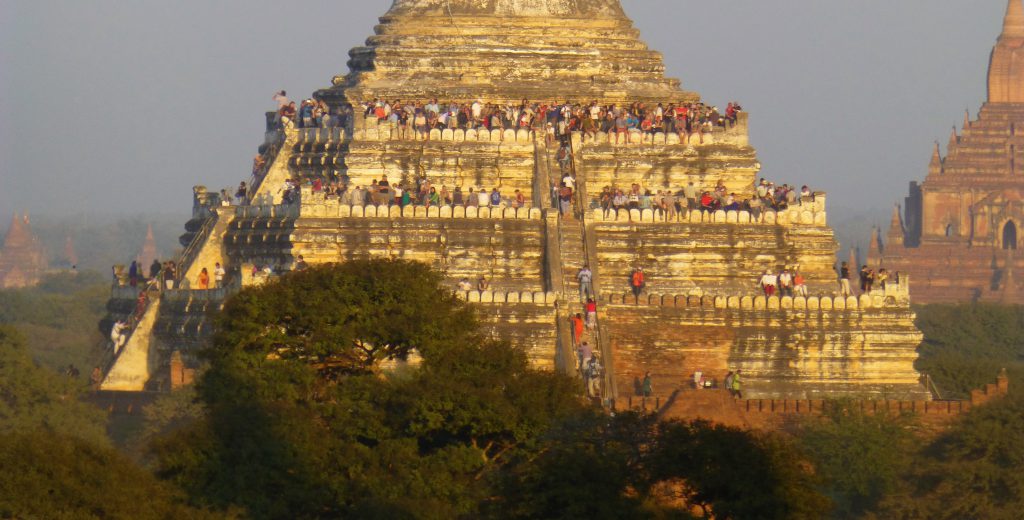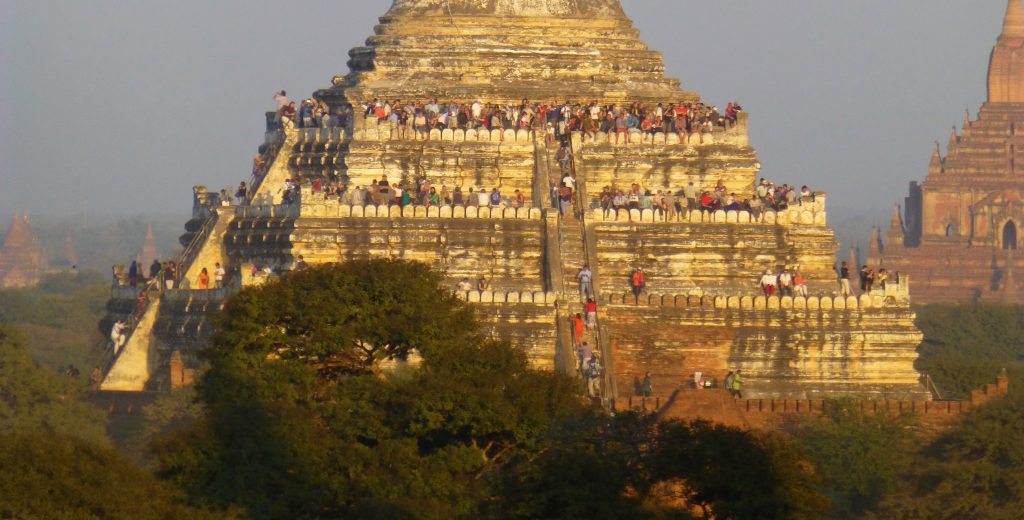 It is not allowed anymore to climb all the stupas and pagodes. Good for the future! It already felt strange when I climbed up there…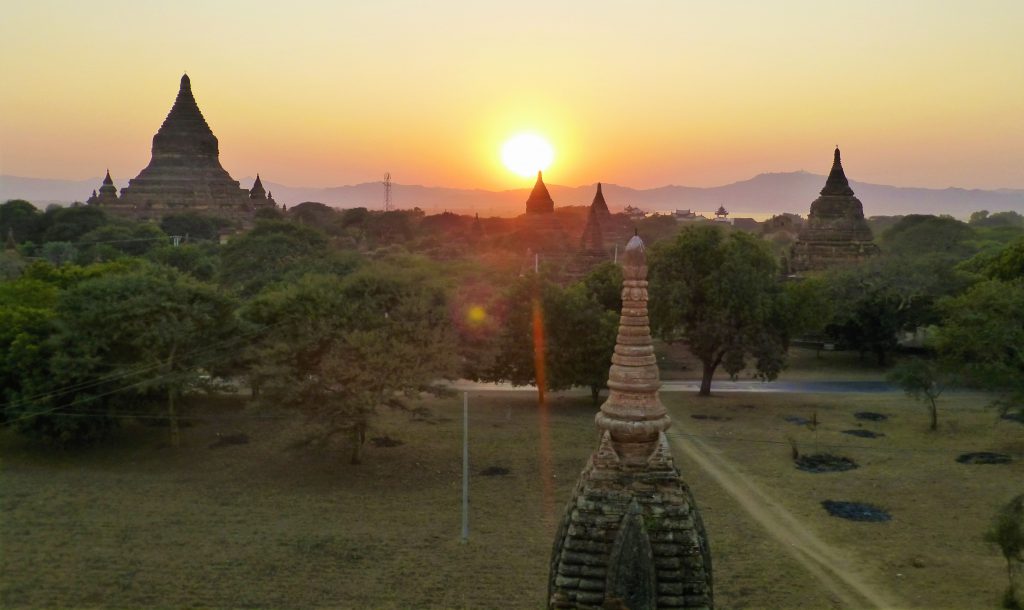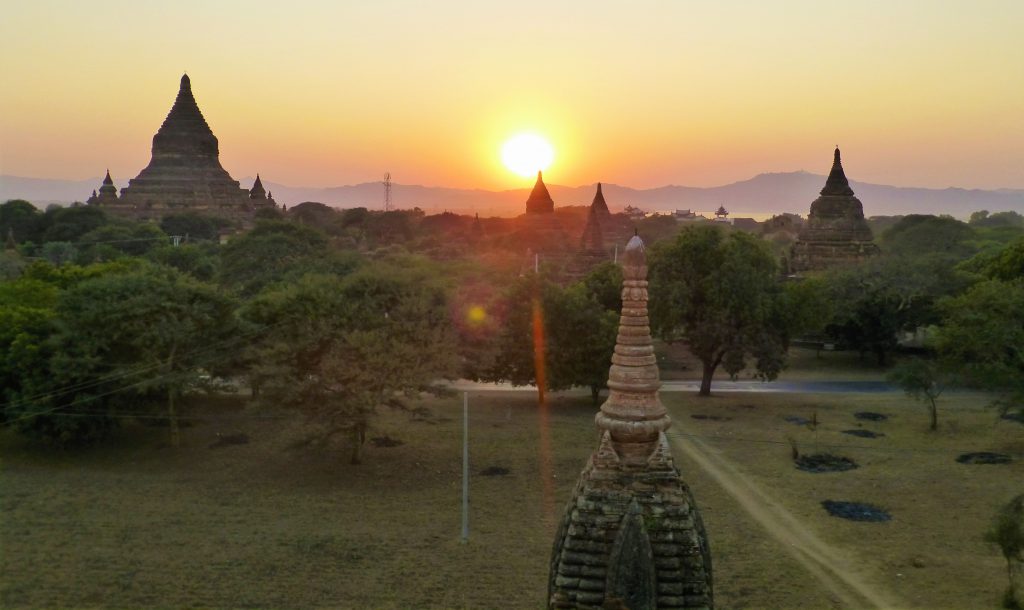 Next day I went again for the sunrise. I wanted to see it for the start, so I walked there again. Well, I must say, it was great but the first time still was the best!!!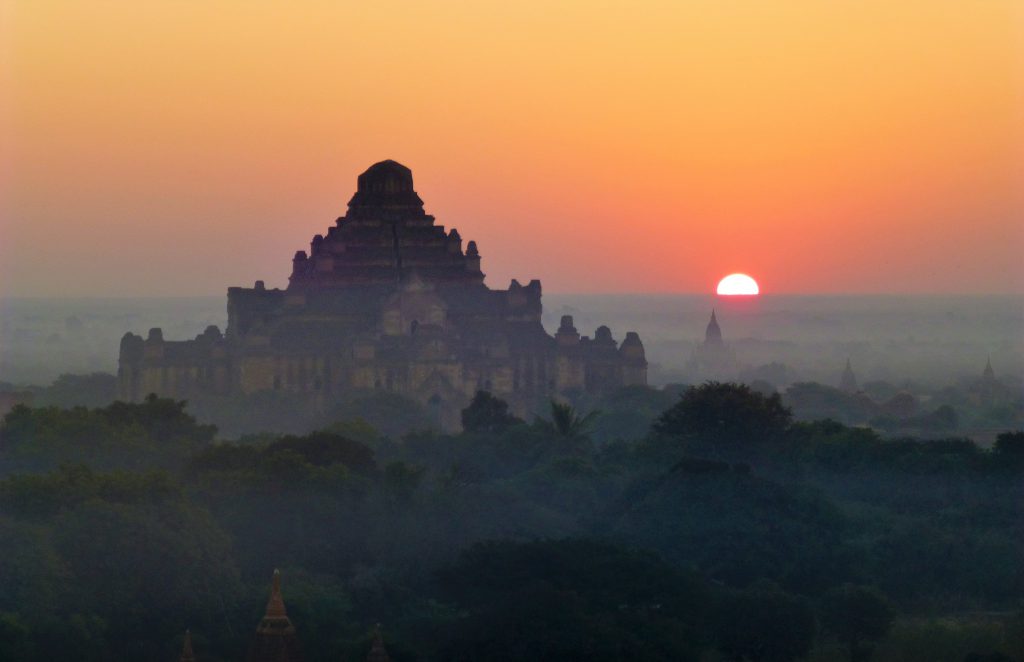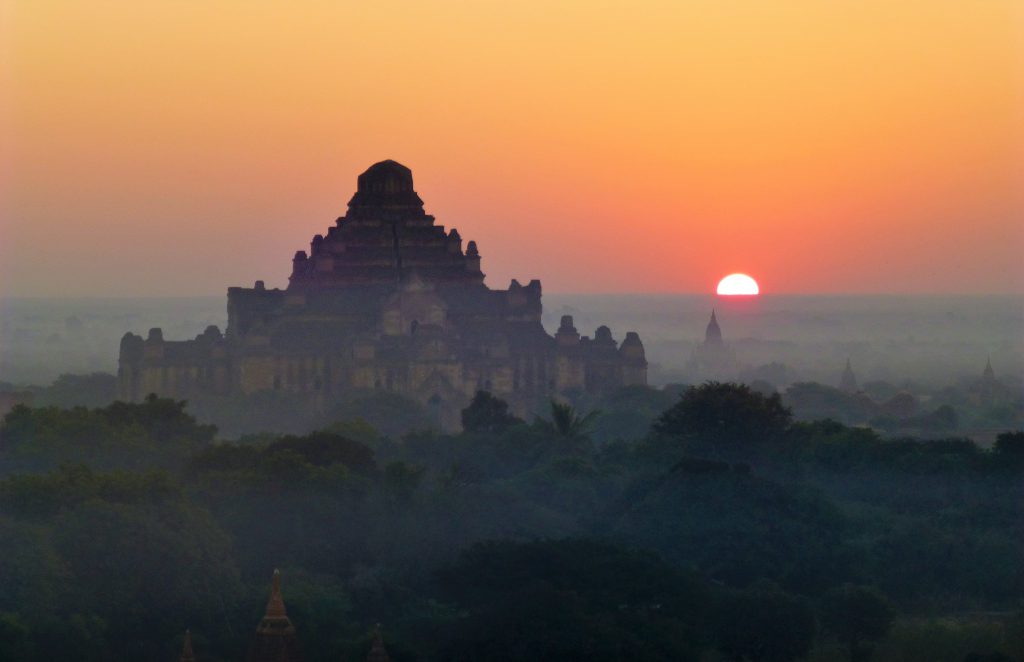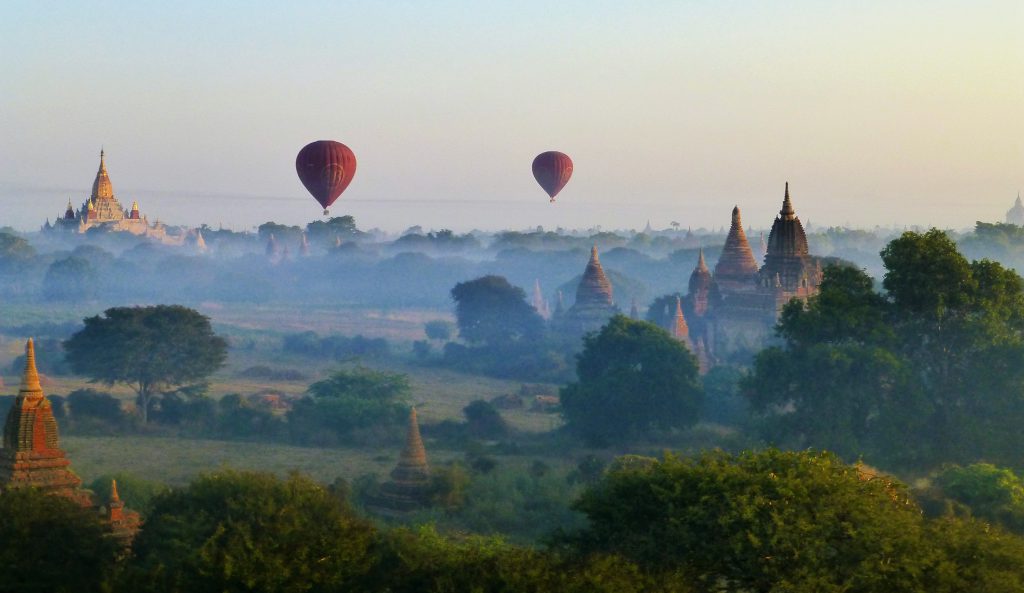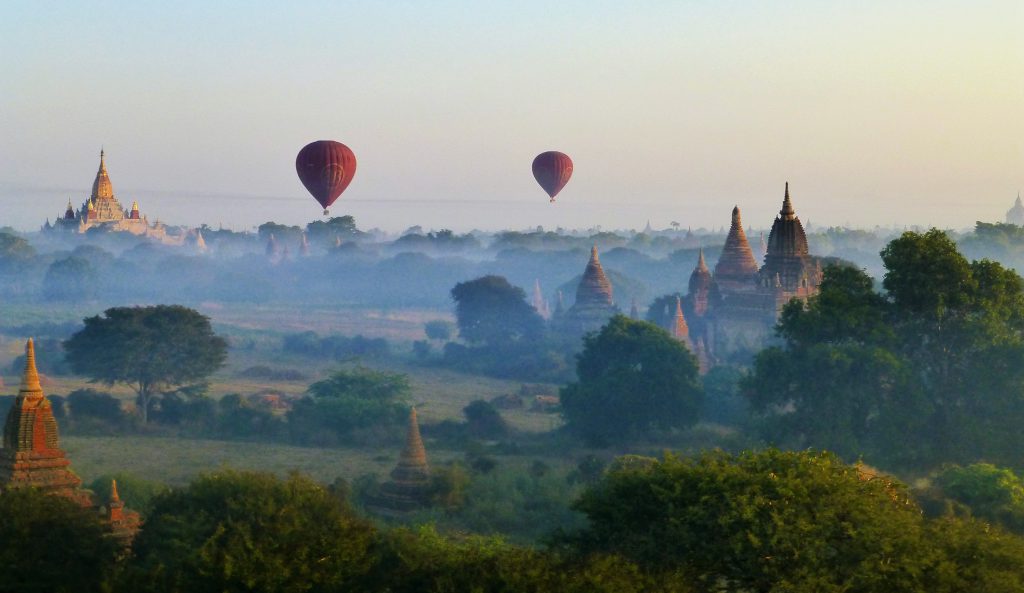 The only ticket you have to buy to see the temples and stupa's is a fee of  15 dollar. I just heard that on my last day here from a guy at my hotel. I hadn't bought it, I didn't saw anything were I even could do that. And nobody even told me about it. He came by air and couldn't leave the airport if he didn't pay it he told. He also told that he had shown the ticket to someone at a temple who had asked for it. Luckely nobody asked me….. When they had I hope I could've bought a ticket at that person.
On my second day around this beautiful place I hired a electric bike. On my third day I went by car to get to more remote temples and places of interest.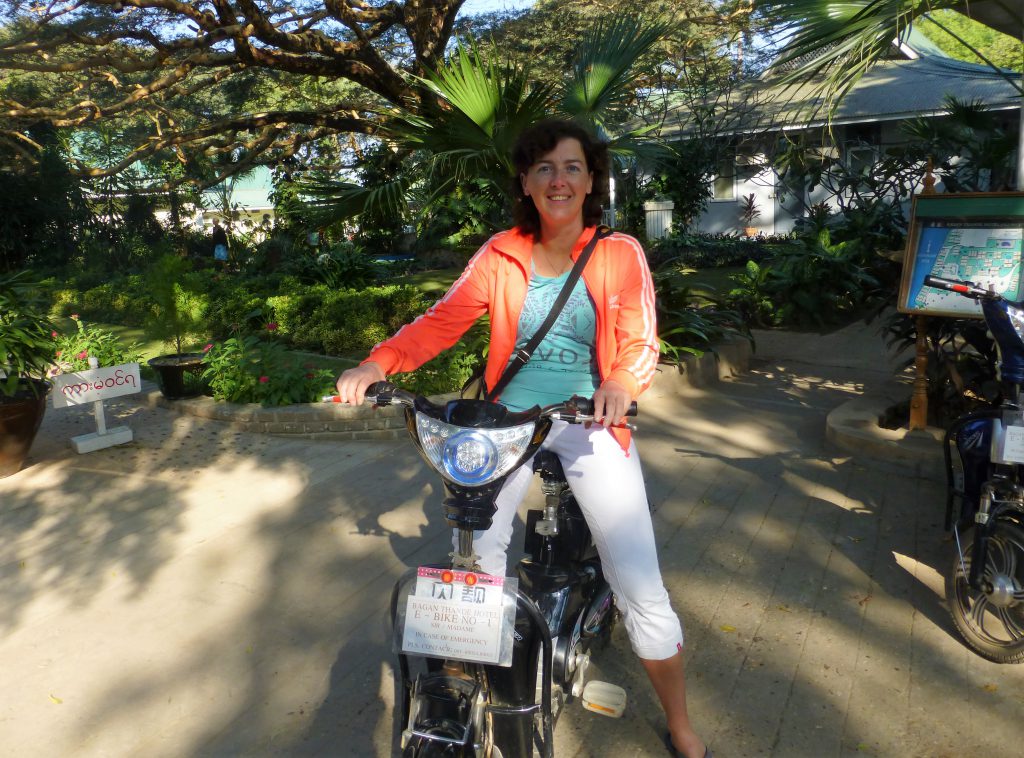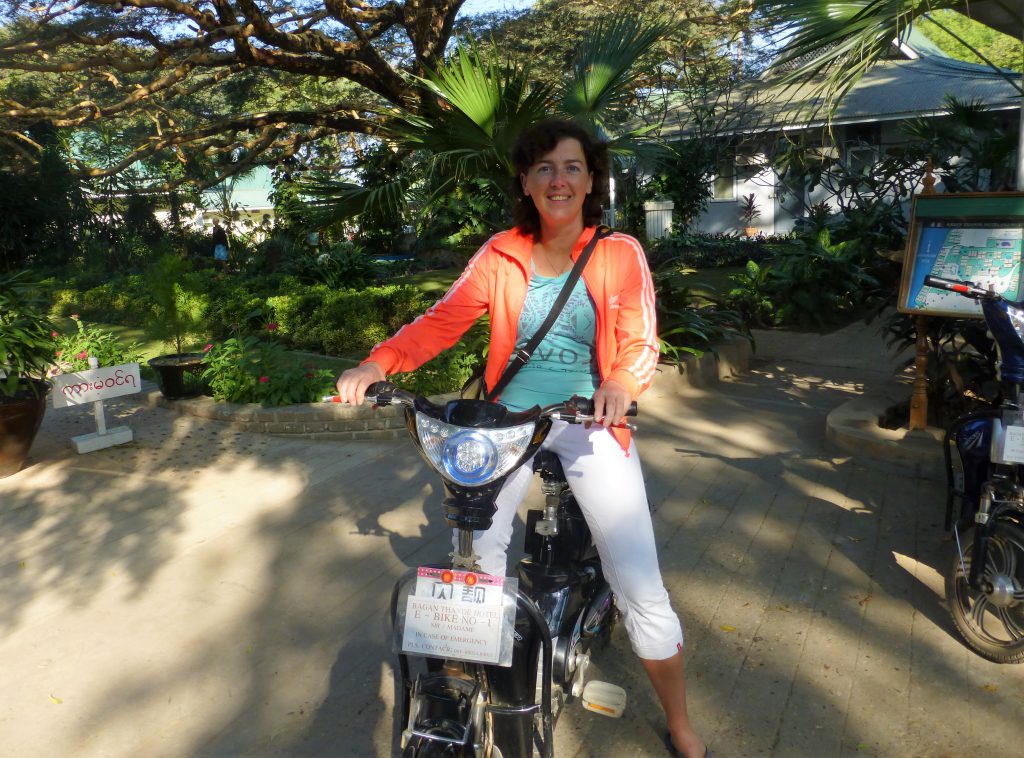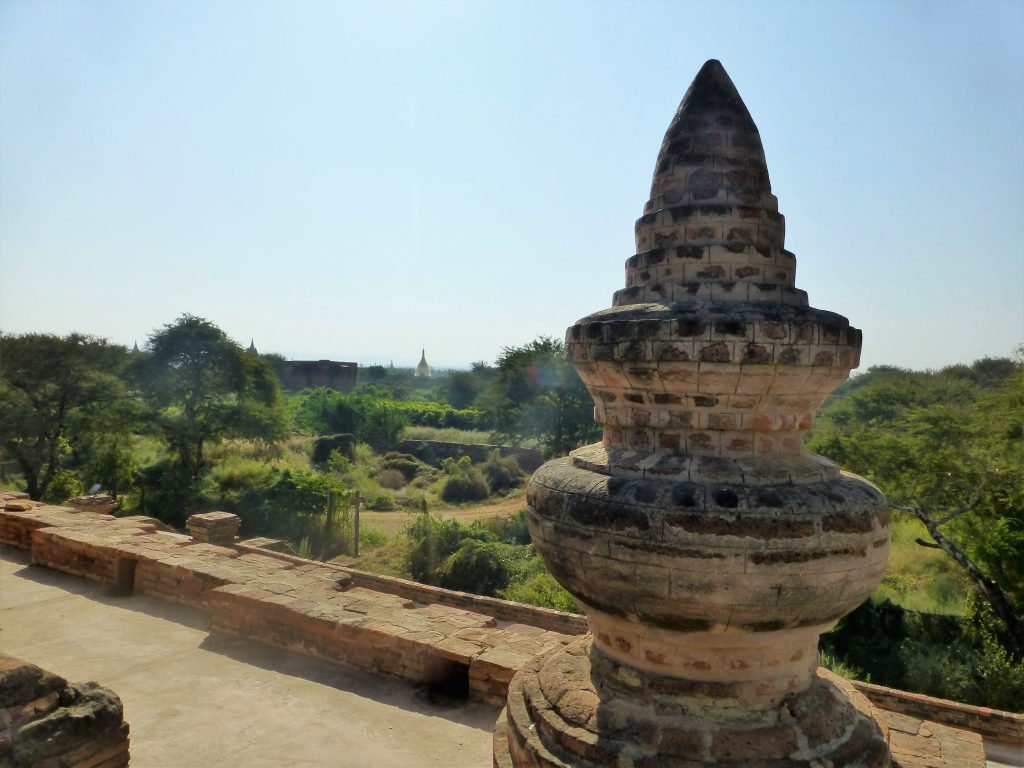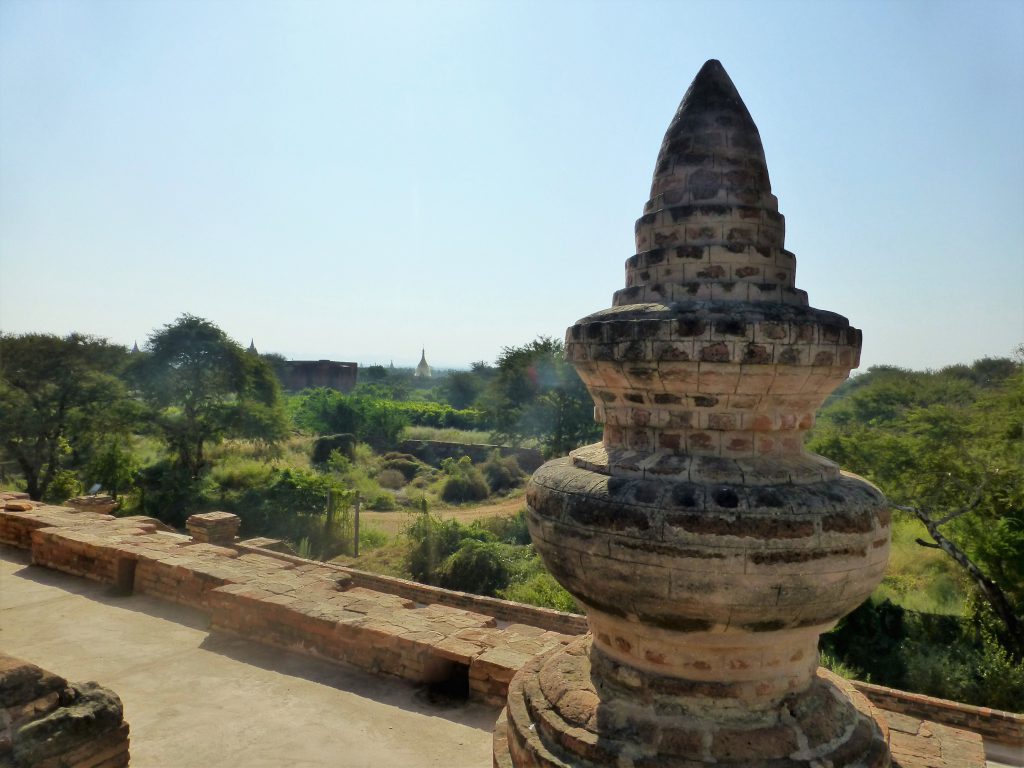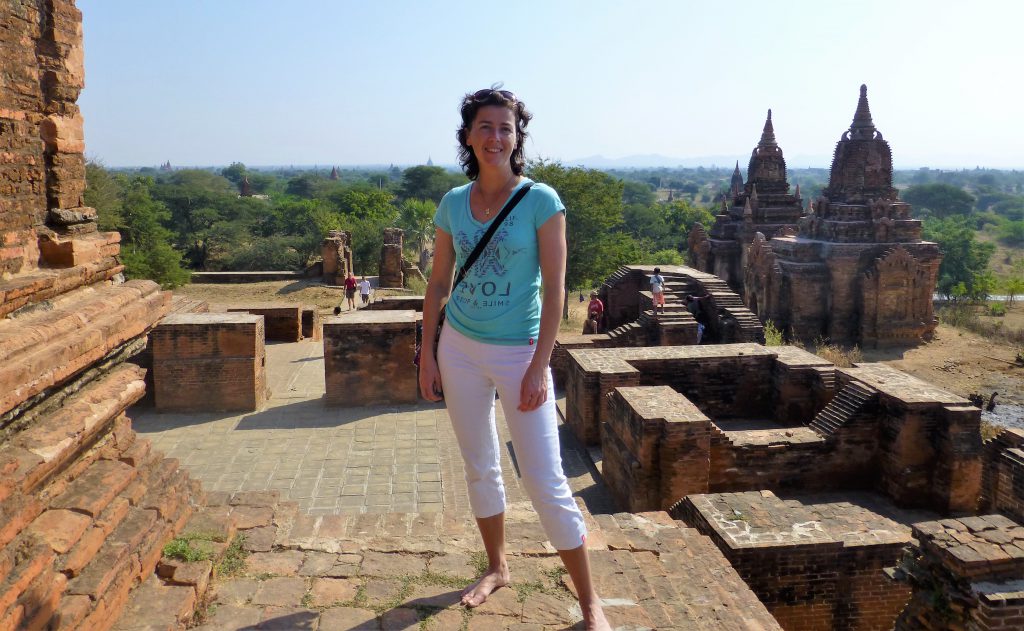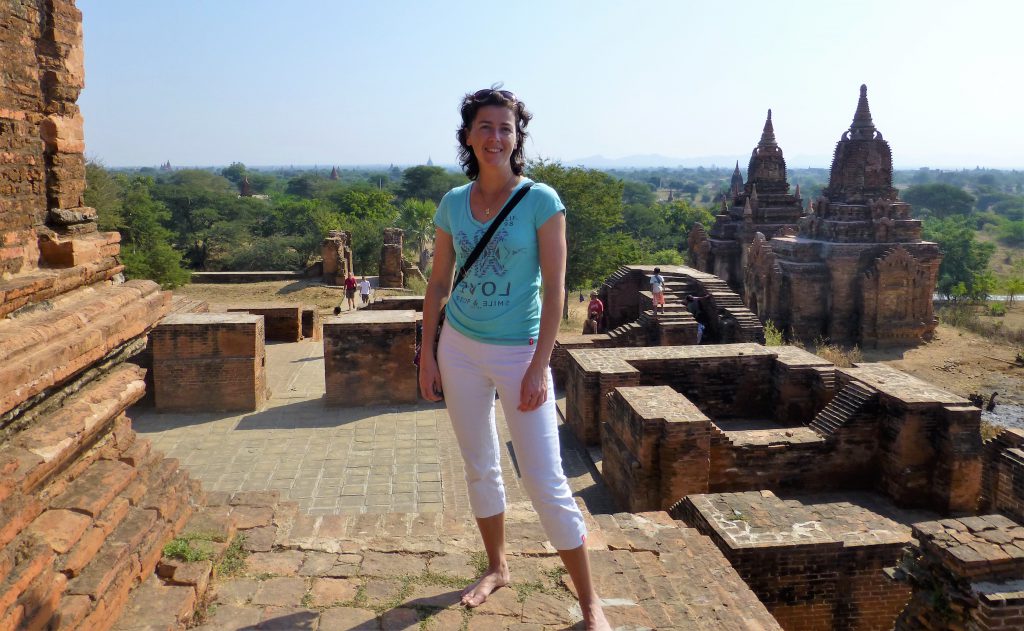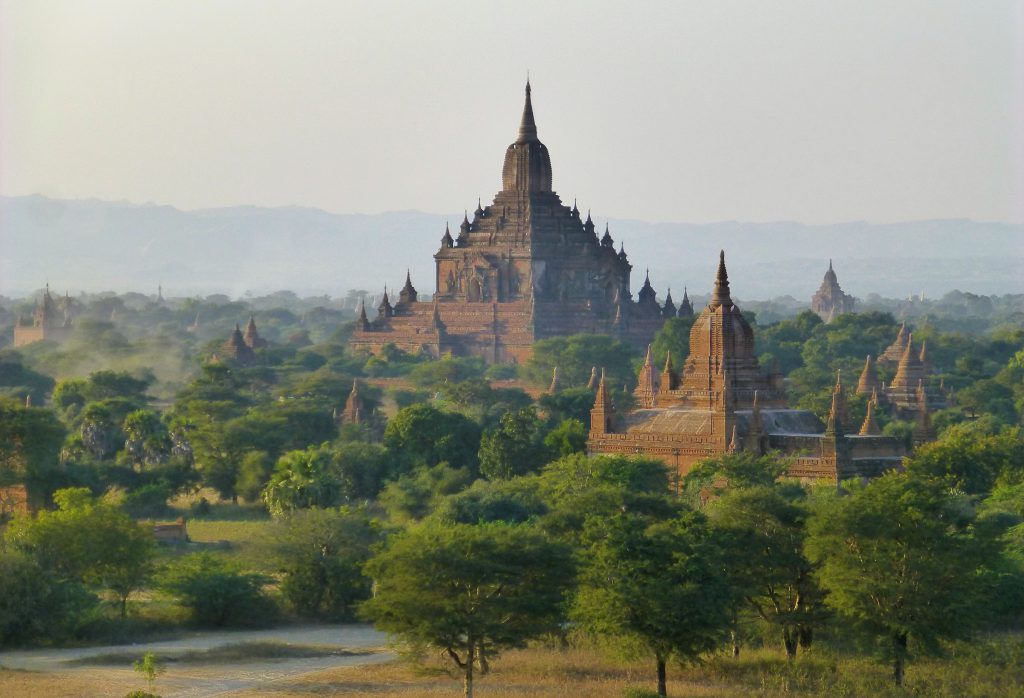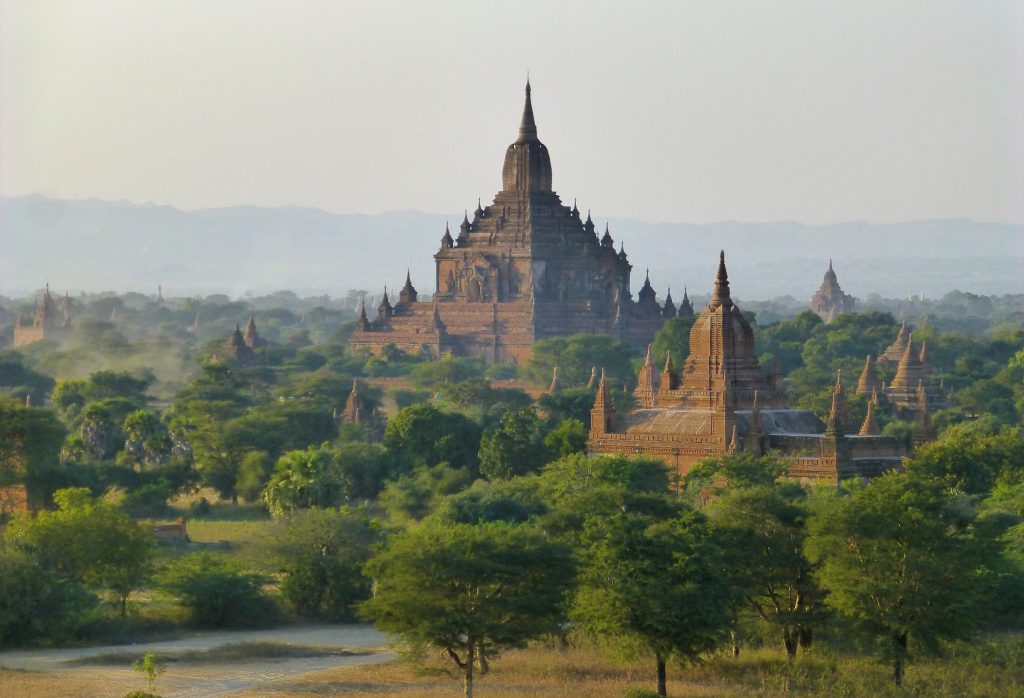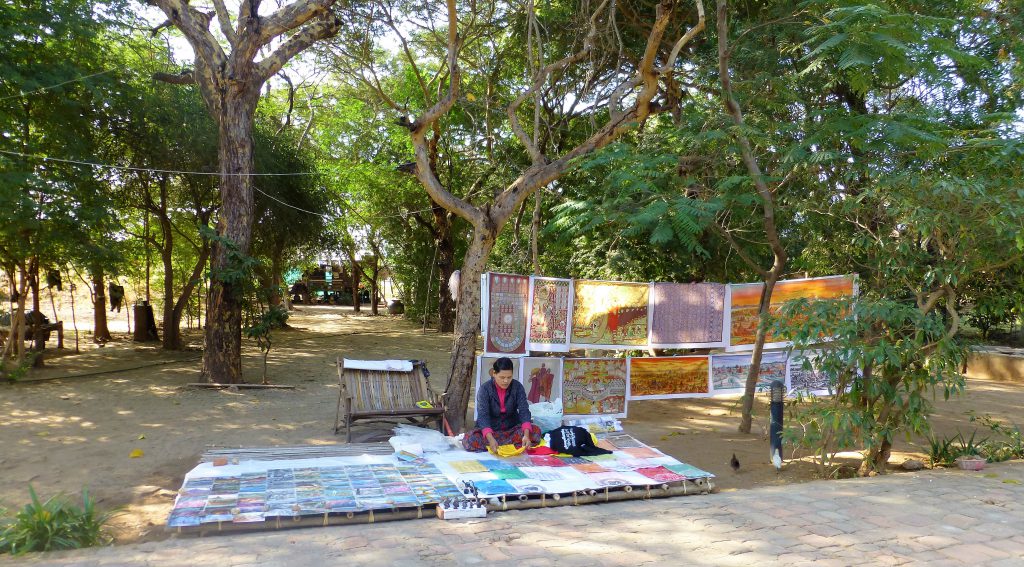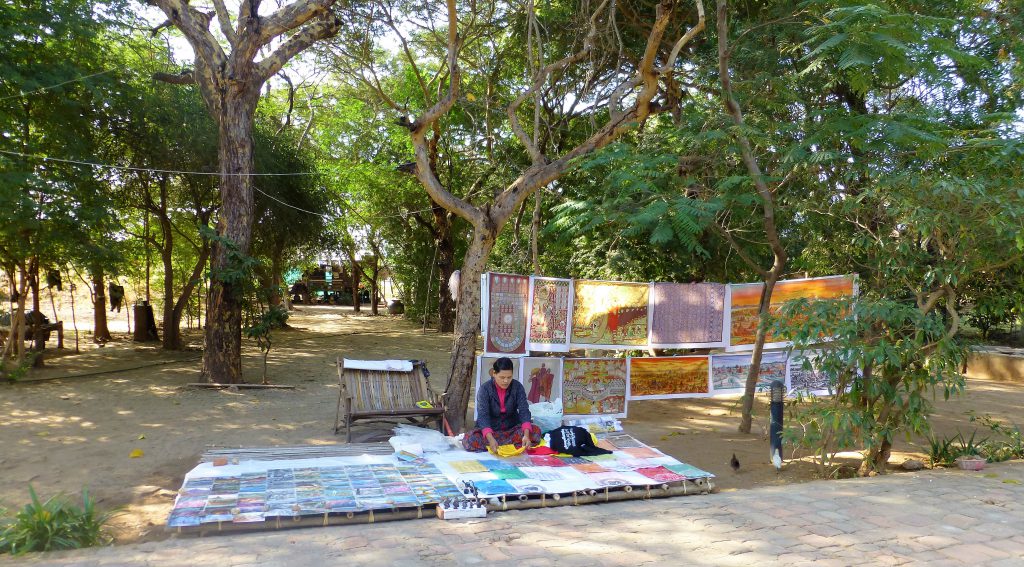 Where tourists are you can buy local specialties. So every where along the roads to and from the temples you can buy souvenirs. You don't need to go look for them, everything will pass you!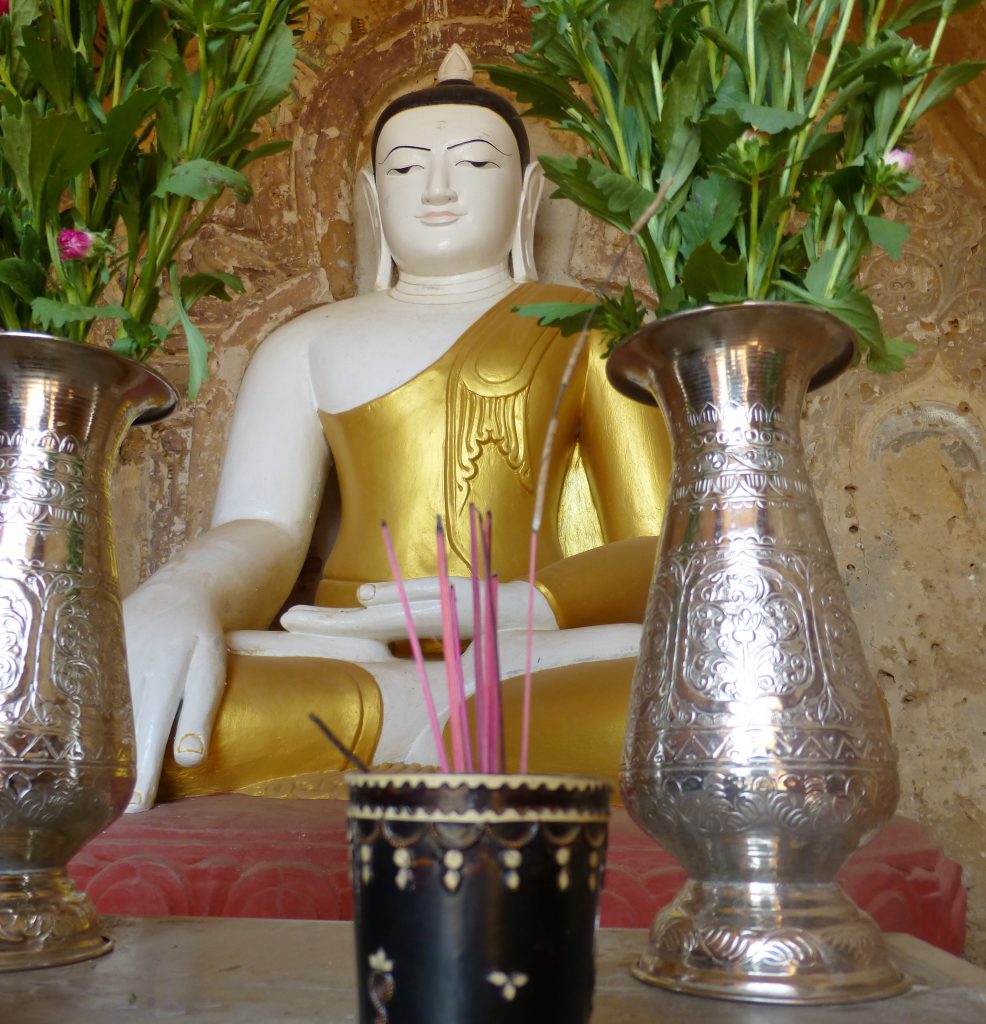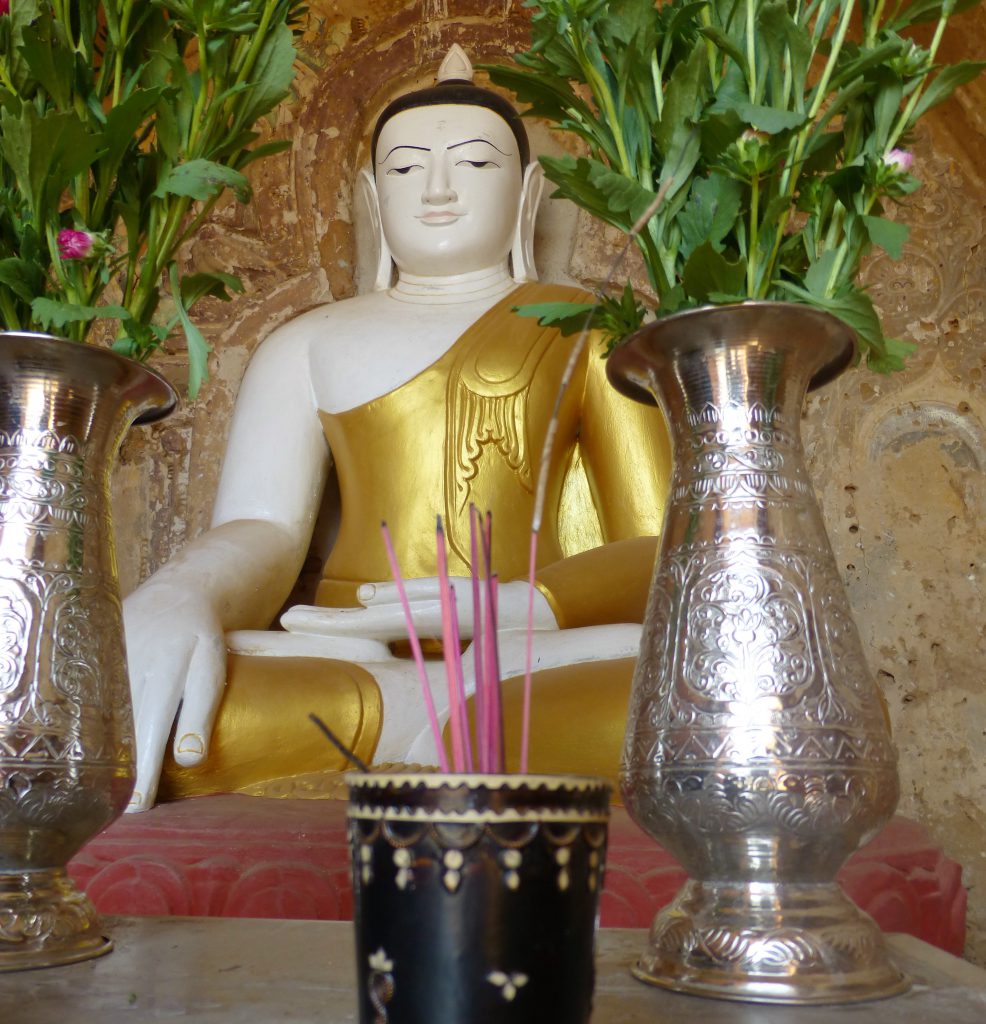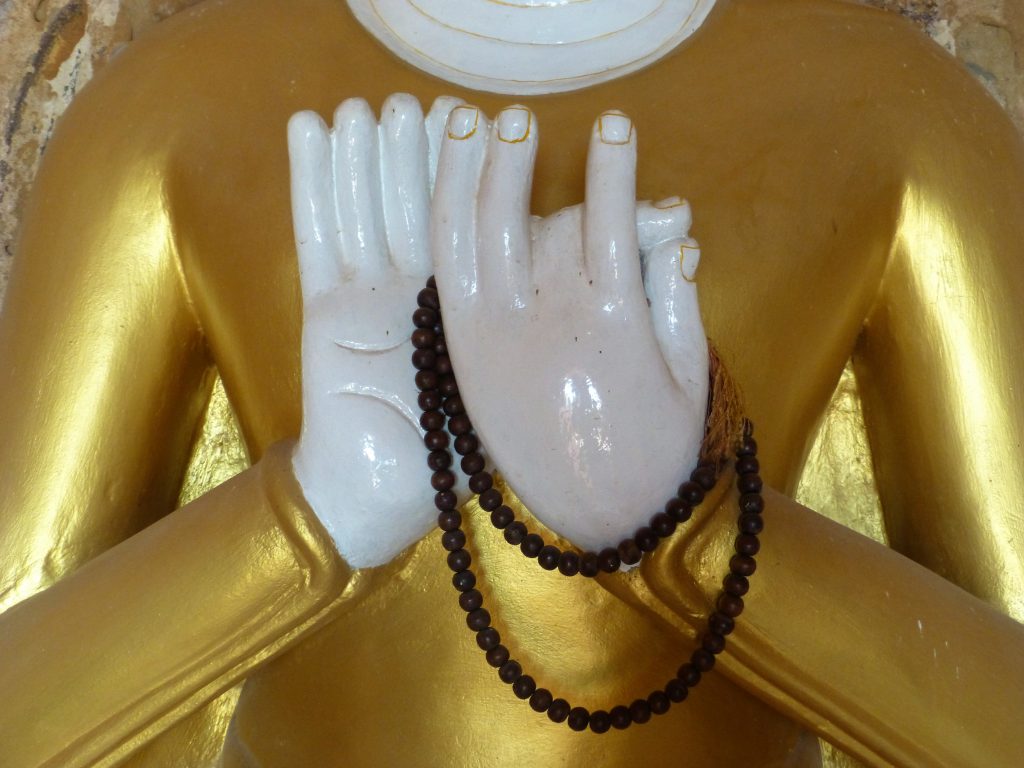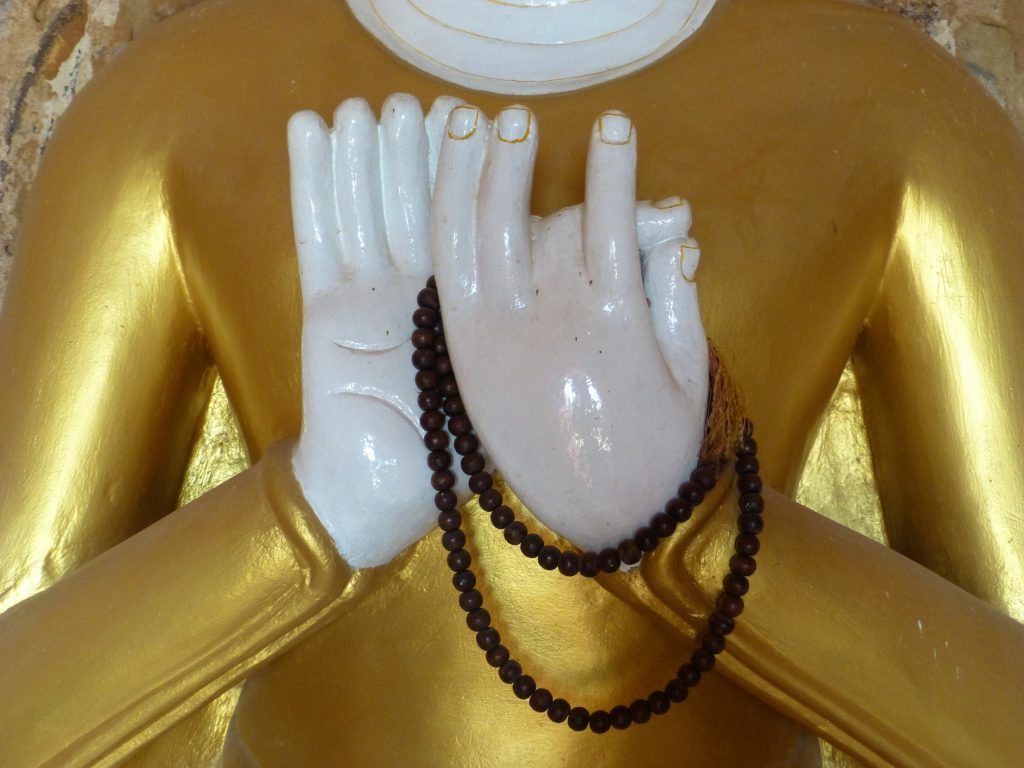 Most temples are still in use as temples and so you will see a lot of Myanmar citizins in here praying. Lots of flowers will be offered and the scent of incense will colour the ambiance!
Do you like that smell?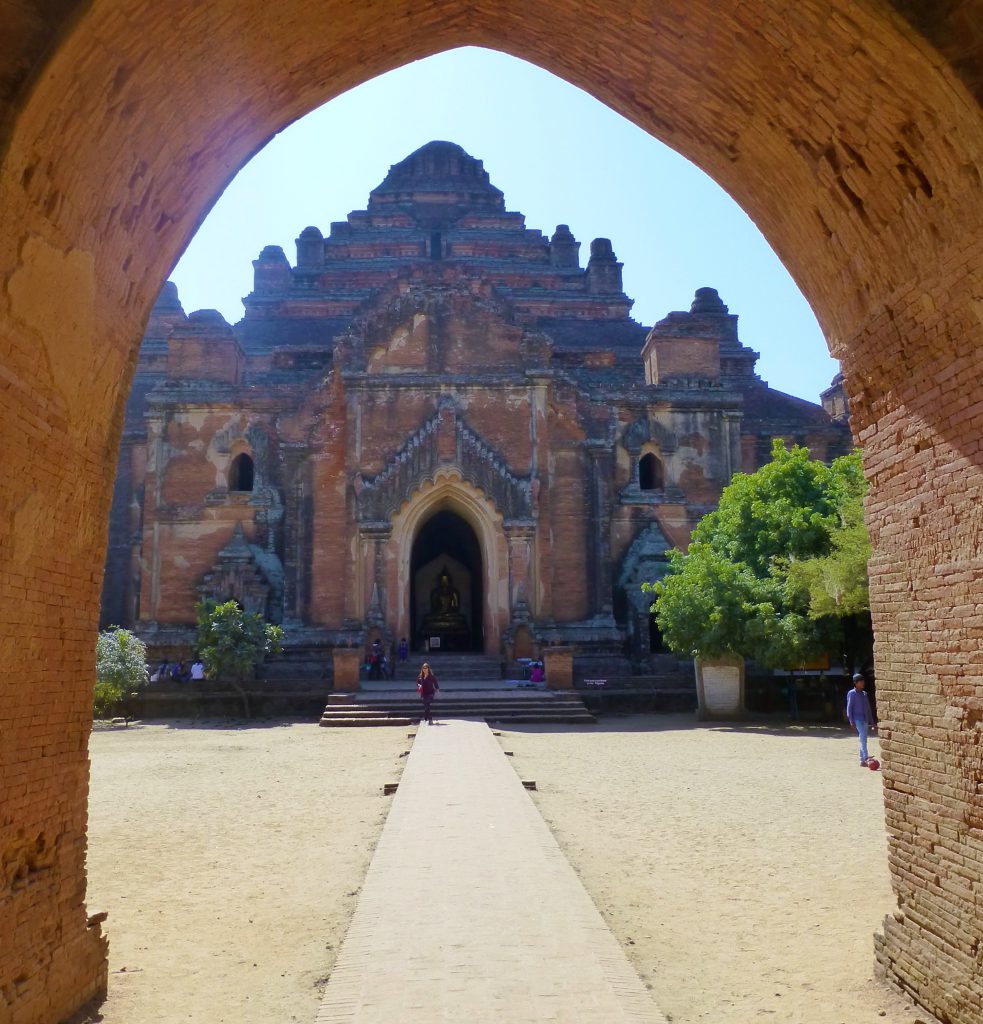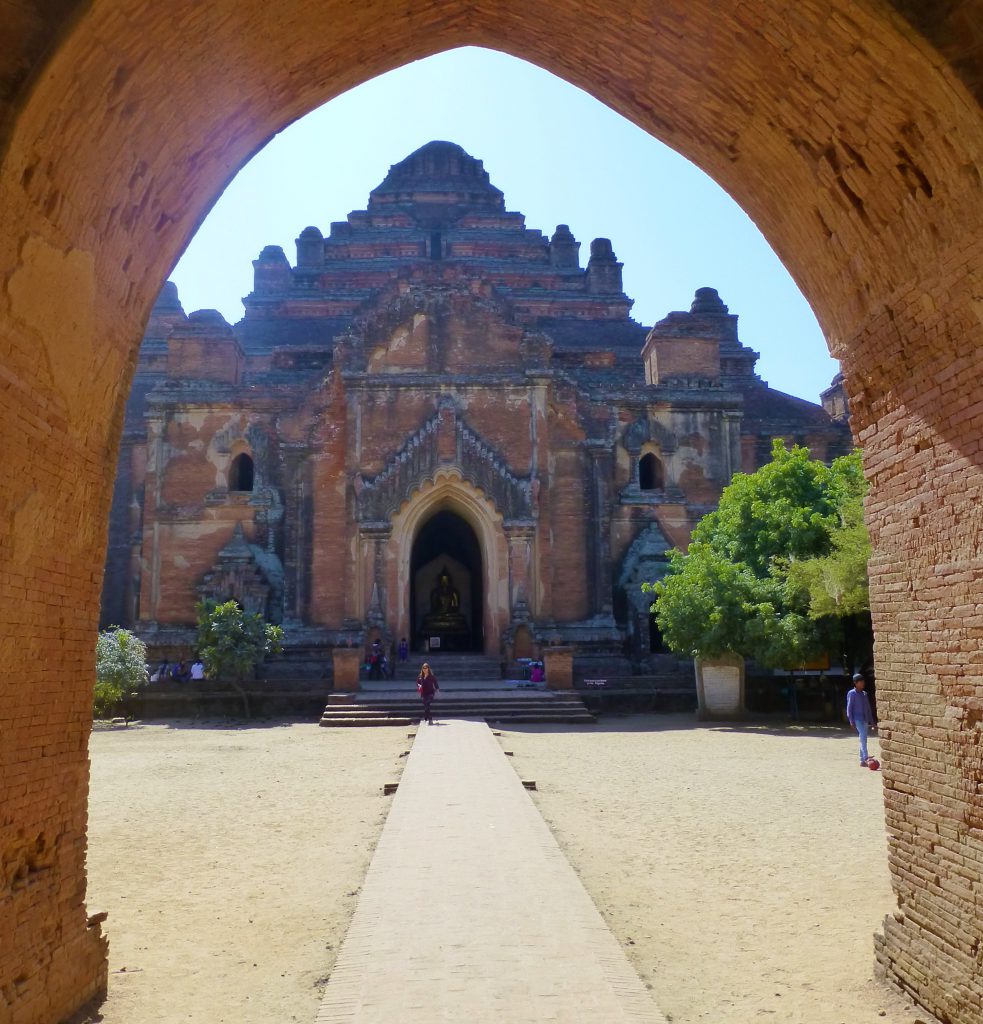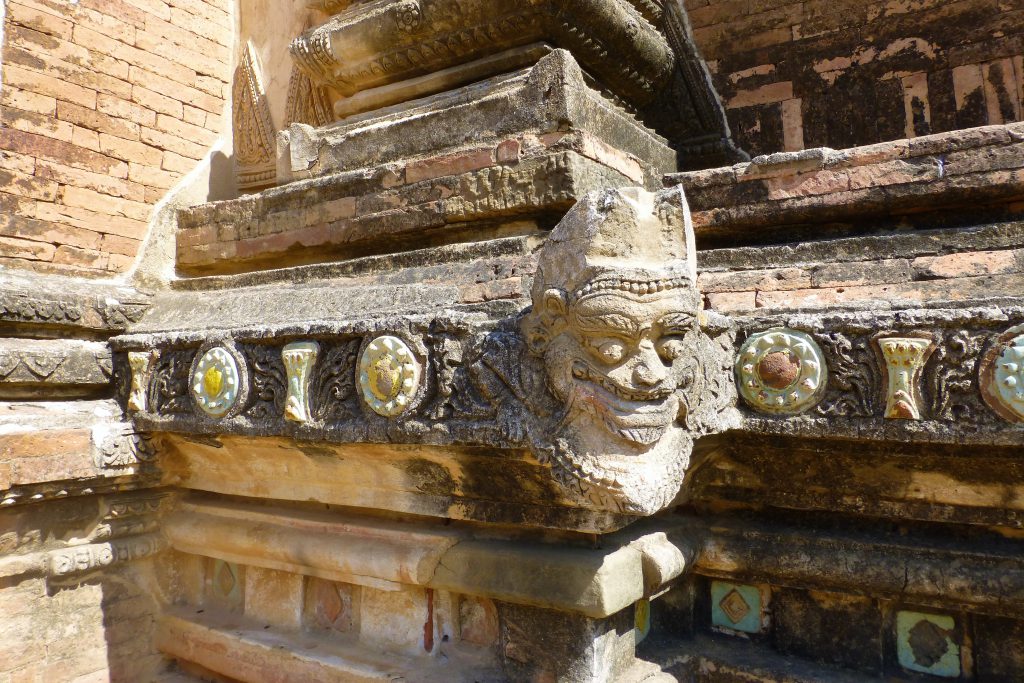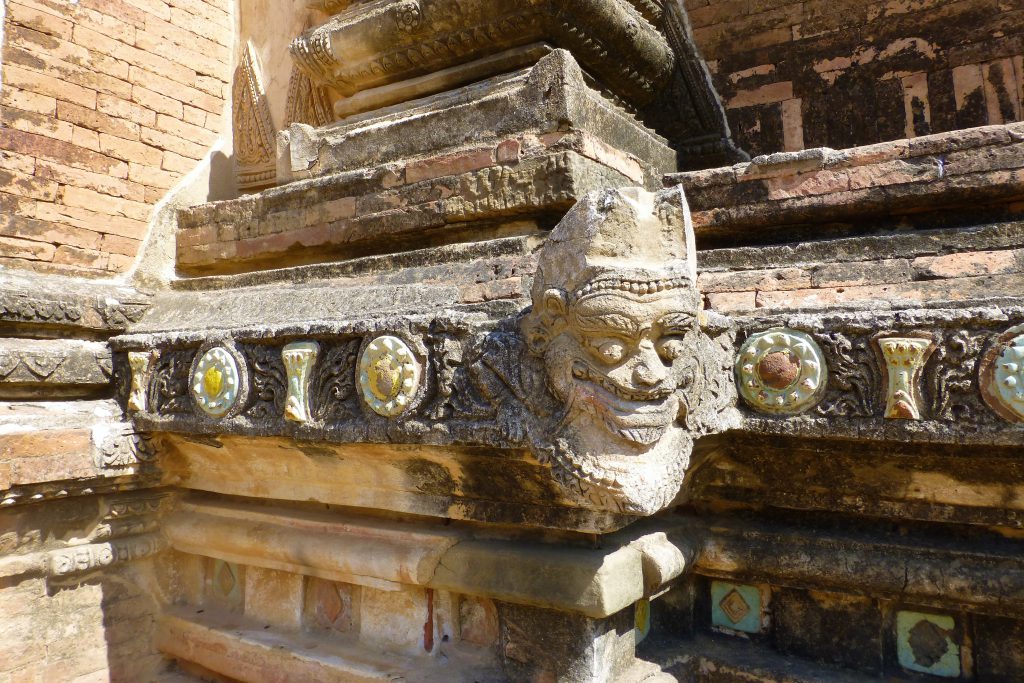 There are some pagodas that really stand out. These are ofcourse more famous then the other, smaller ones and less spectacular decorated. Still they are beautiful and lots of work has been done on them. But the four most famous pagodas are: Dhu = Dhammayan (The thickest), Nyan = Thabinnyu (The Omniscient), Anu = Ananda (The most sculptural ), Thakho = Shwezigon (The most powerful)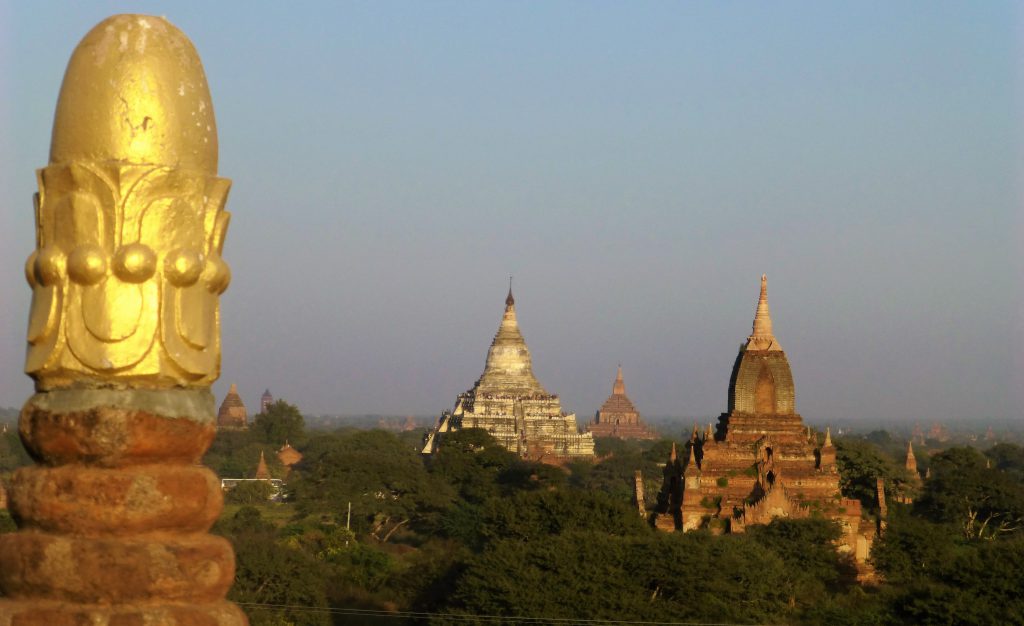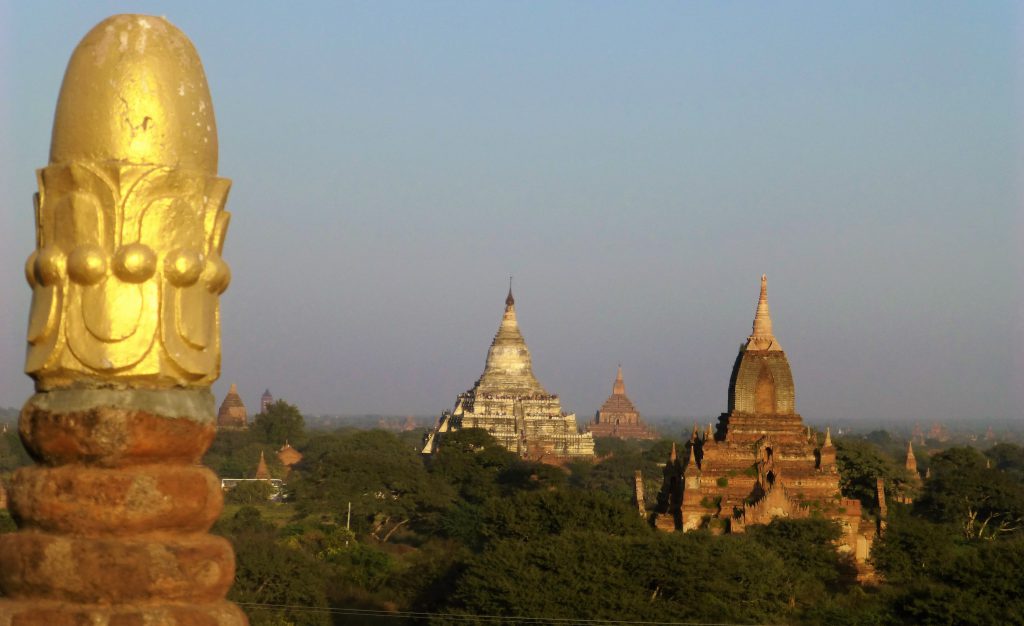 I haven't visited all 4 and because my photography was not aimed on sharing blogs I can't find the best pics to show you how the temples look like 🙂 But if you visit you will recognize the detail!!
 Dhammayan Gyi is the thickets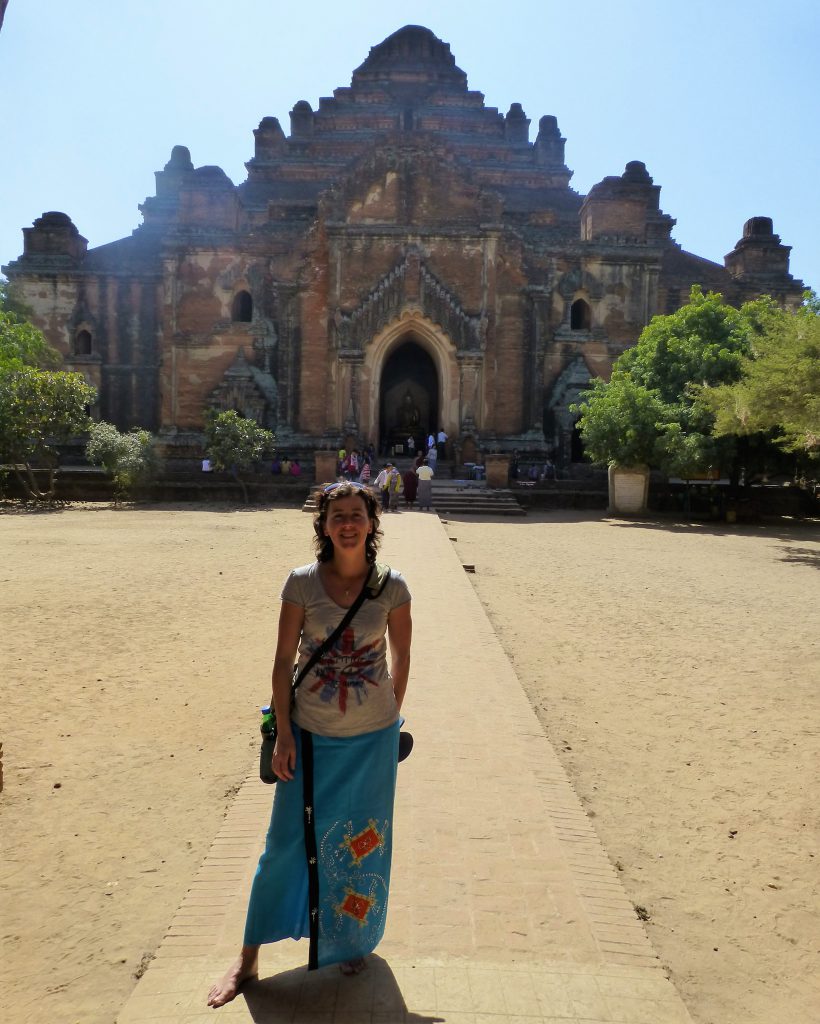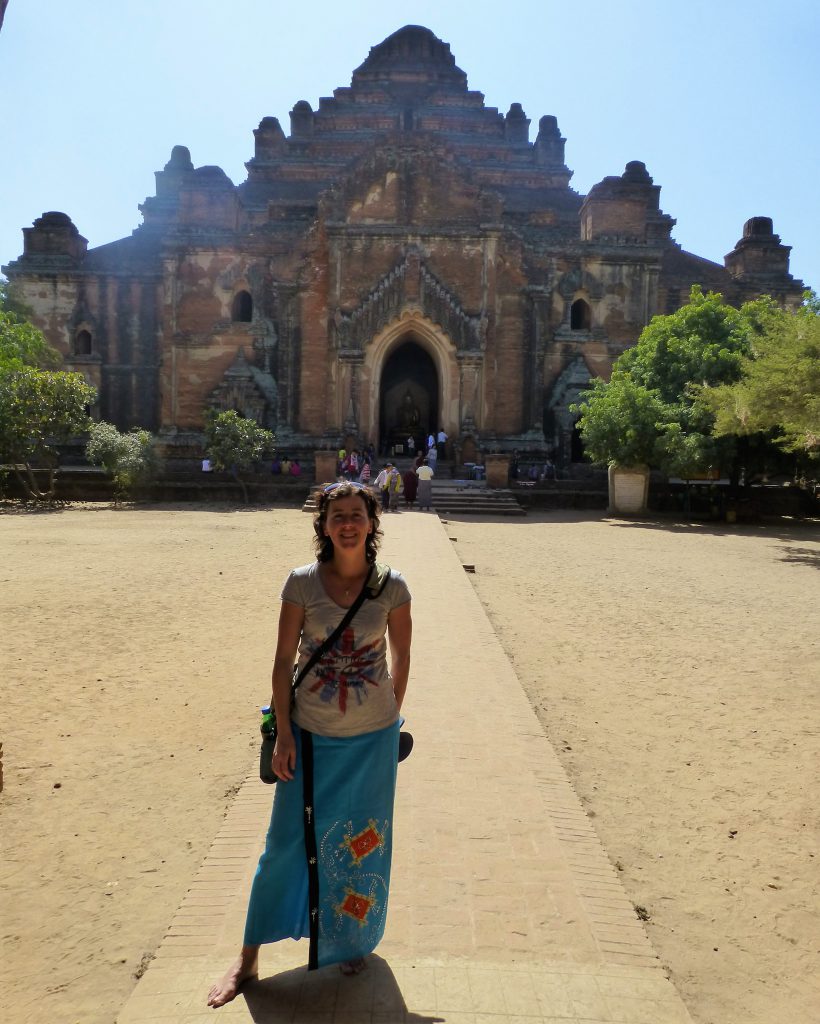 Ananda: the Most Sculptural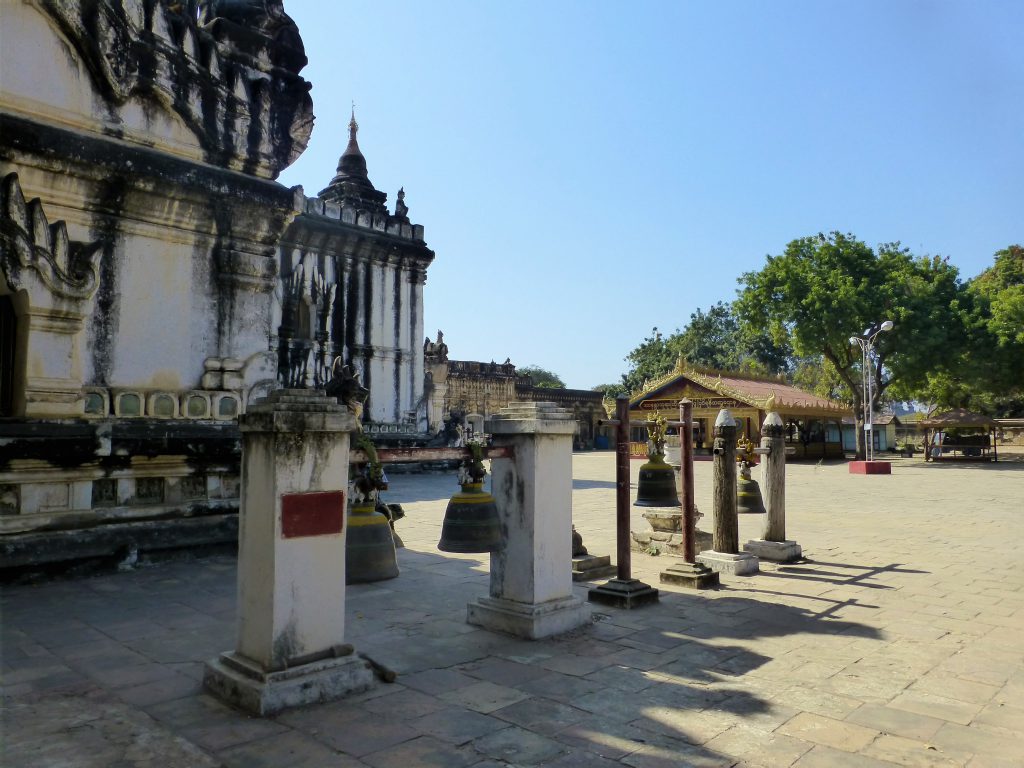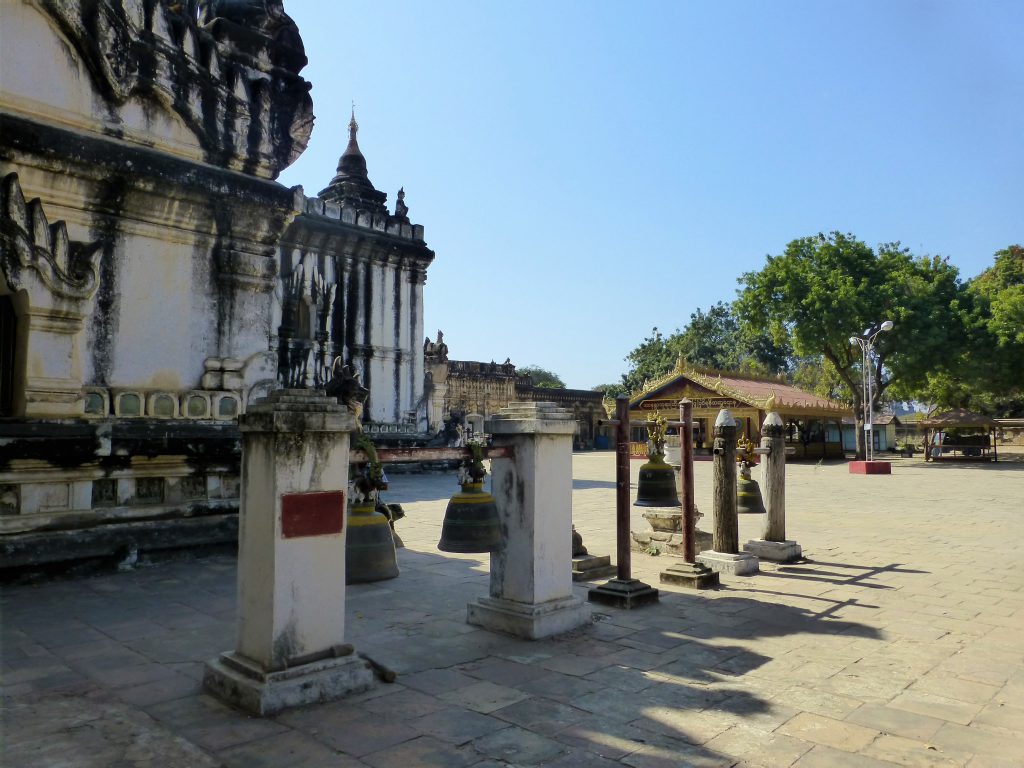 Thabinnyu: The Omniscent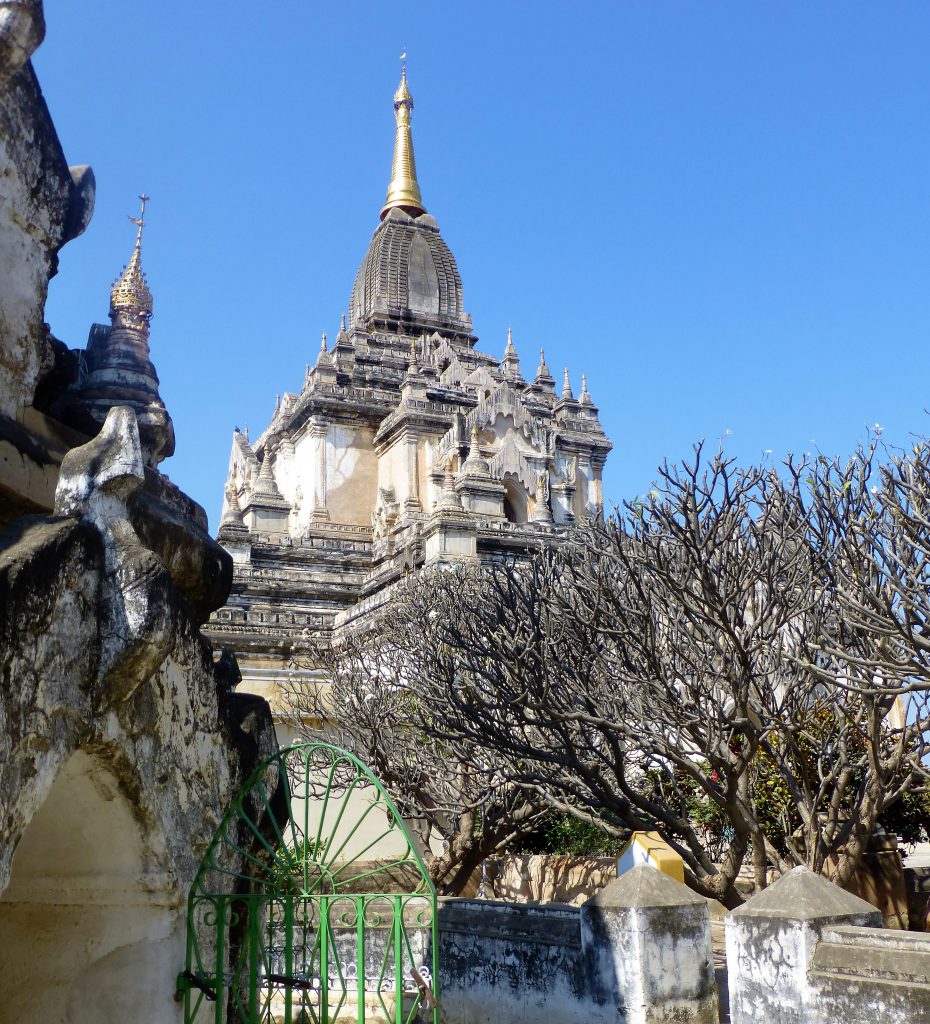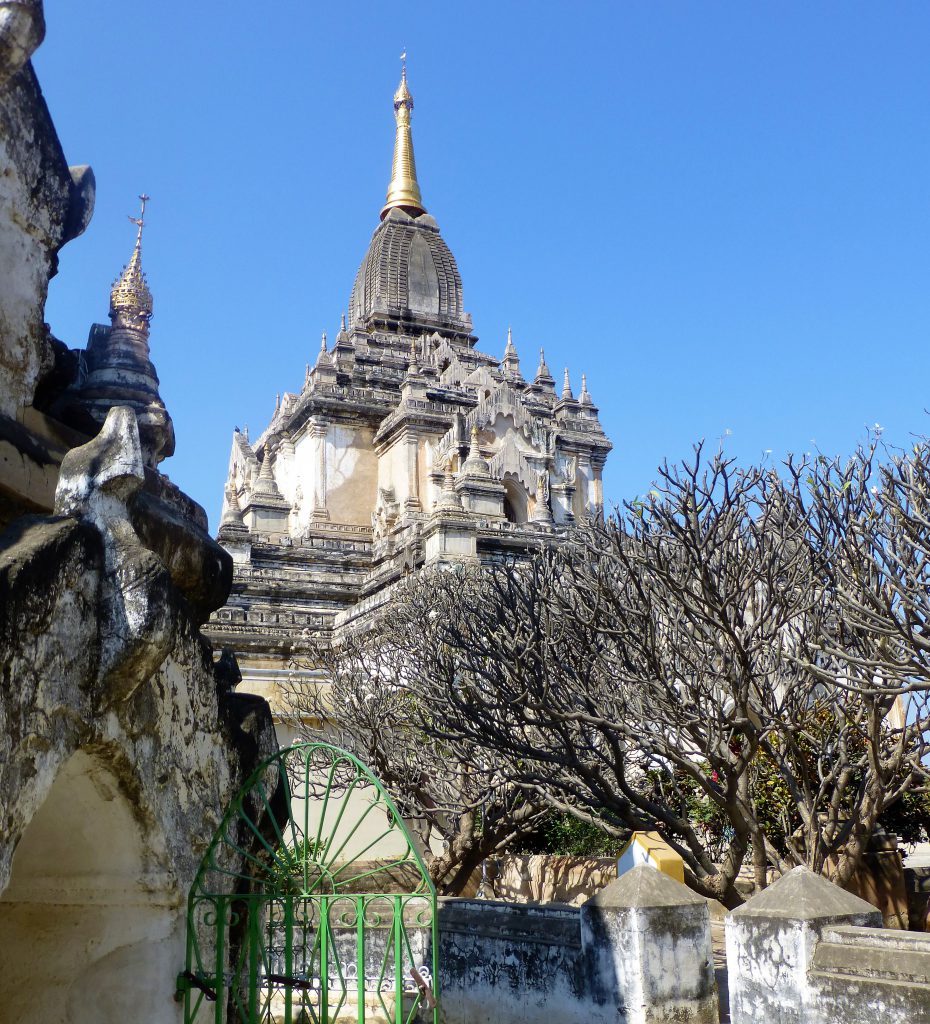 And the last one I haven't visited. This one is just outside Bagan and calledShwezigon, the most powerful.
What I did visit outside Bagan is Mount Popa. I loved walking up after a couple of days cycling. I can recommend this visit.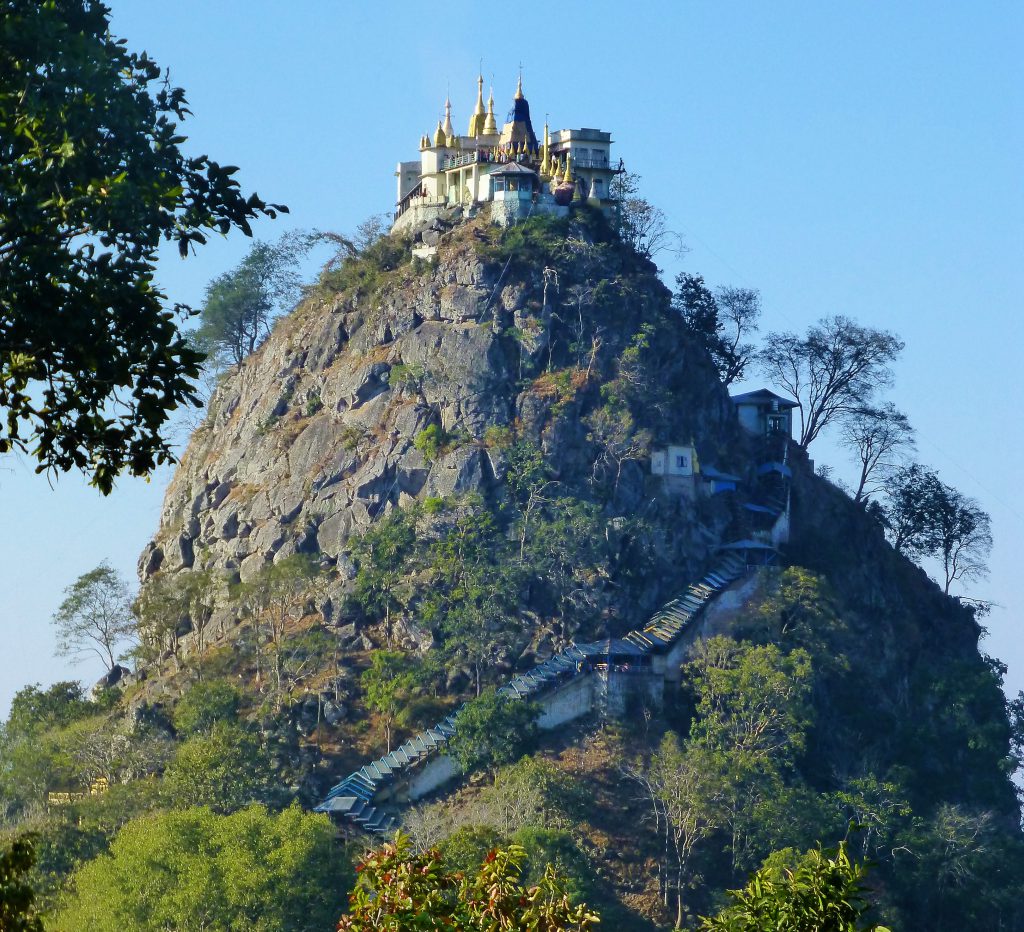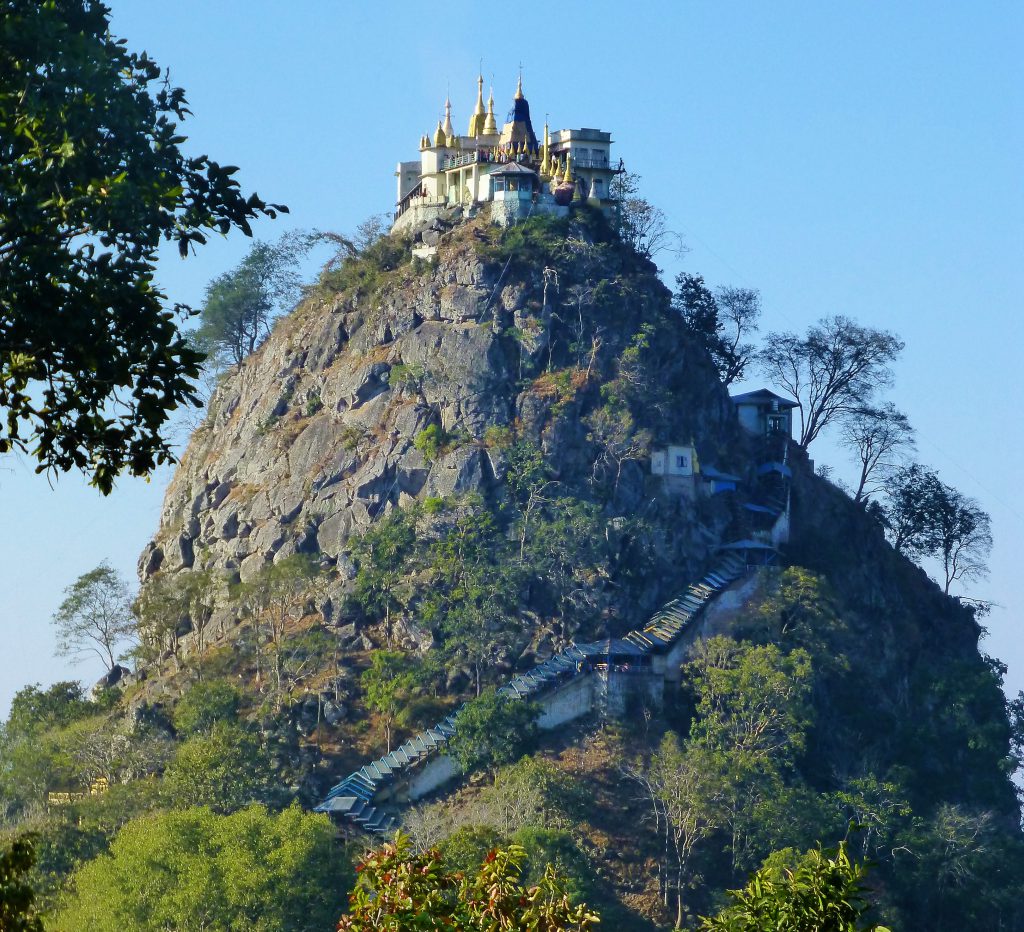 I did this obviously on the day that I had a car.
We also visited the village Minnanthu. It is there that I saw the beautiful lady smoking that big sigar. Do you see that she is carrying the ashtray also?We were invited in to see the craftmenship and also to see the items they were selling ofcourse.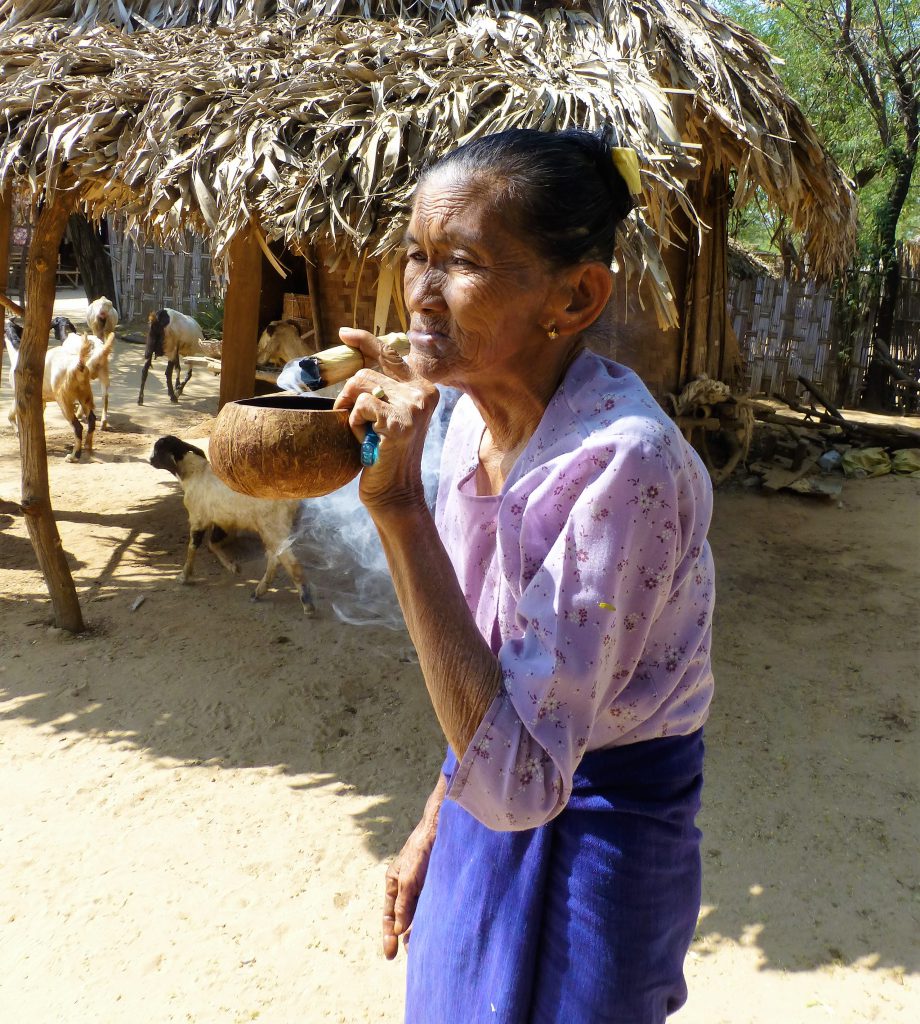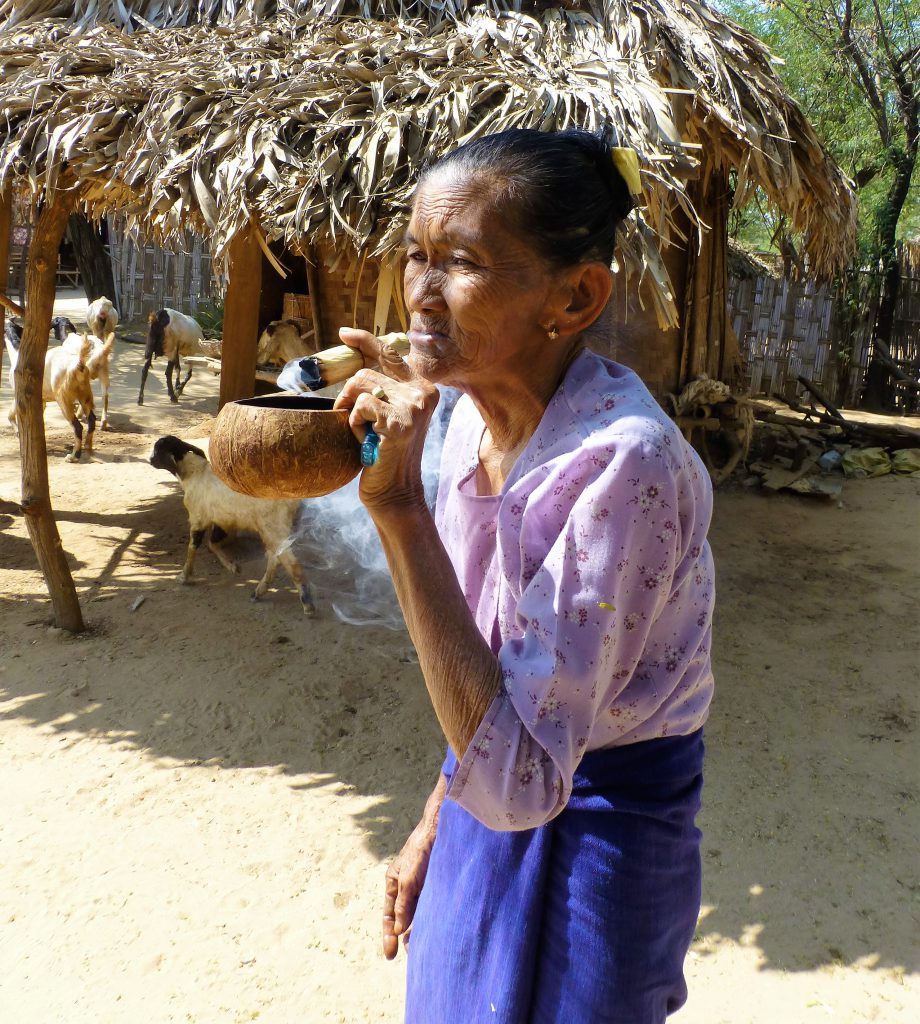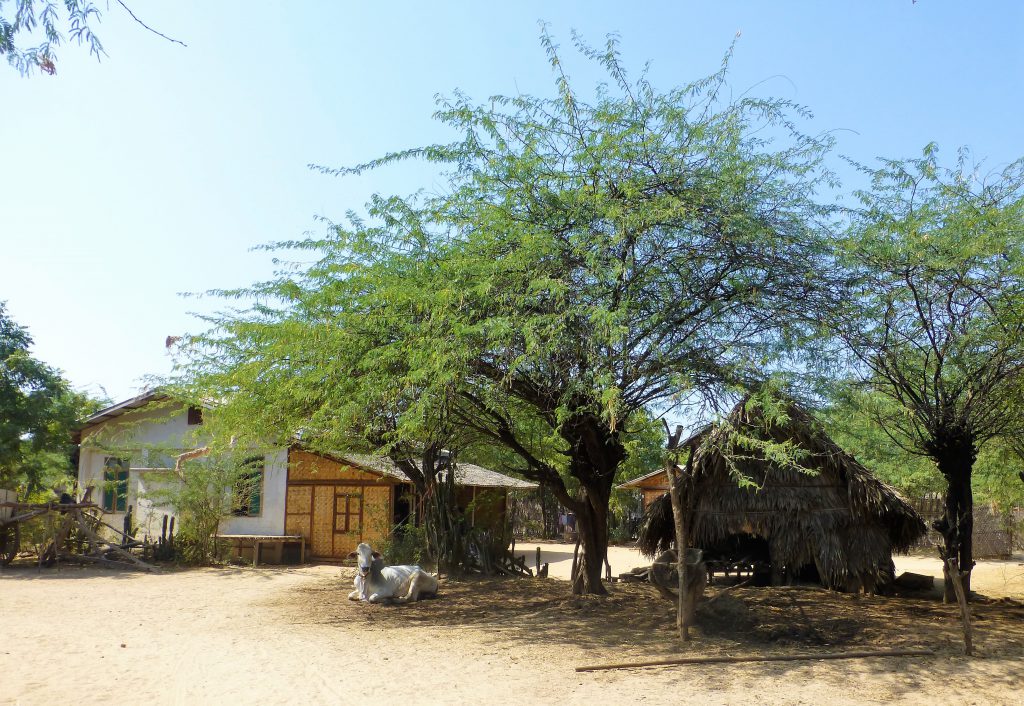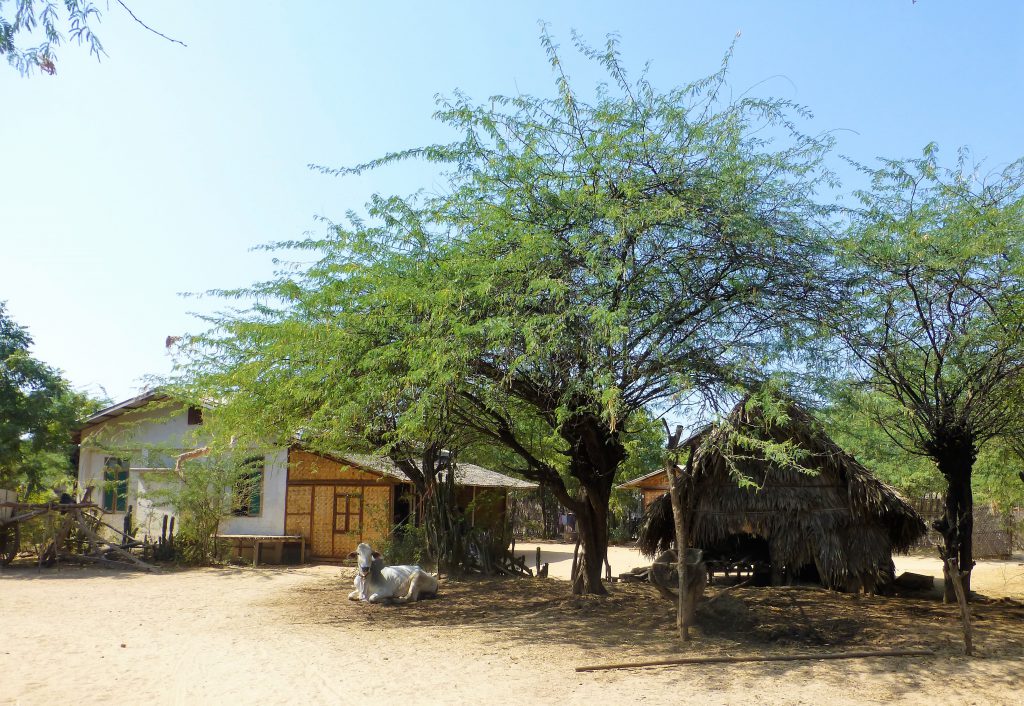 Are you planning on visiting this magical place?
Share it for other and pin it for yourself!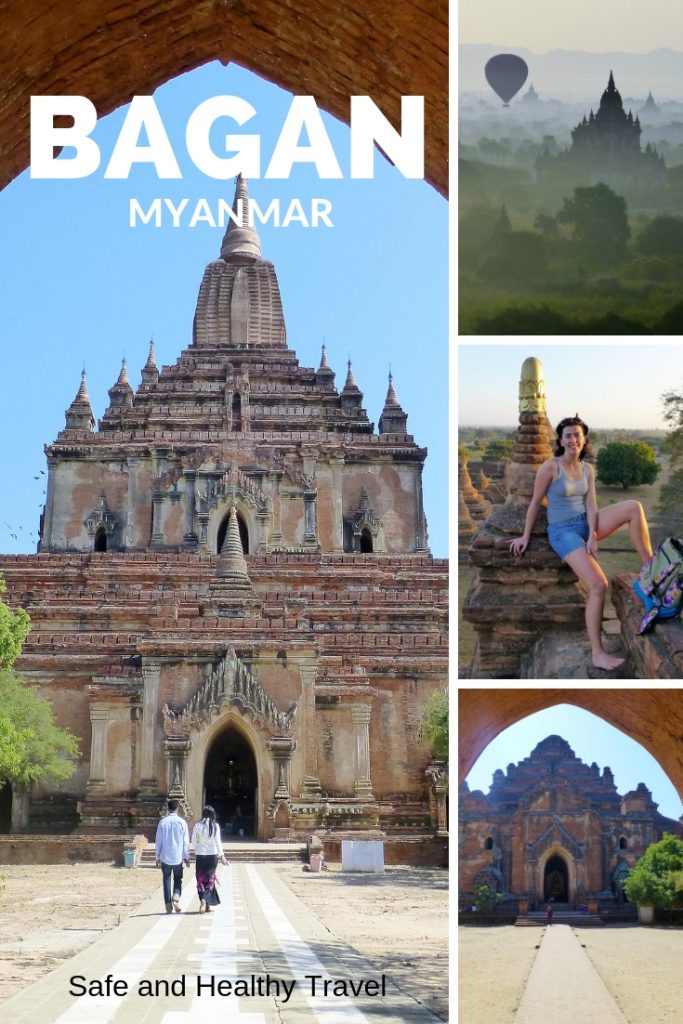 Want to read more about my travel through Myanmar?
The Famous U Bein Bridge – Amapura
The Famous Legrowers of Inle Lake
2 day & 1 night trekking near Hsipaw
Or can I inspire you to go to India?
I hope you enjoy the world as much as I do!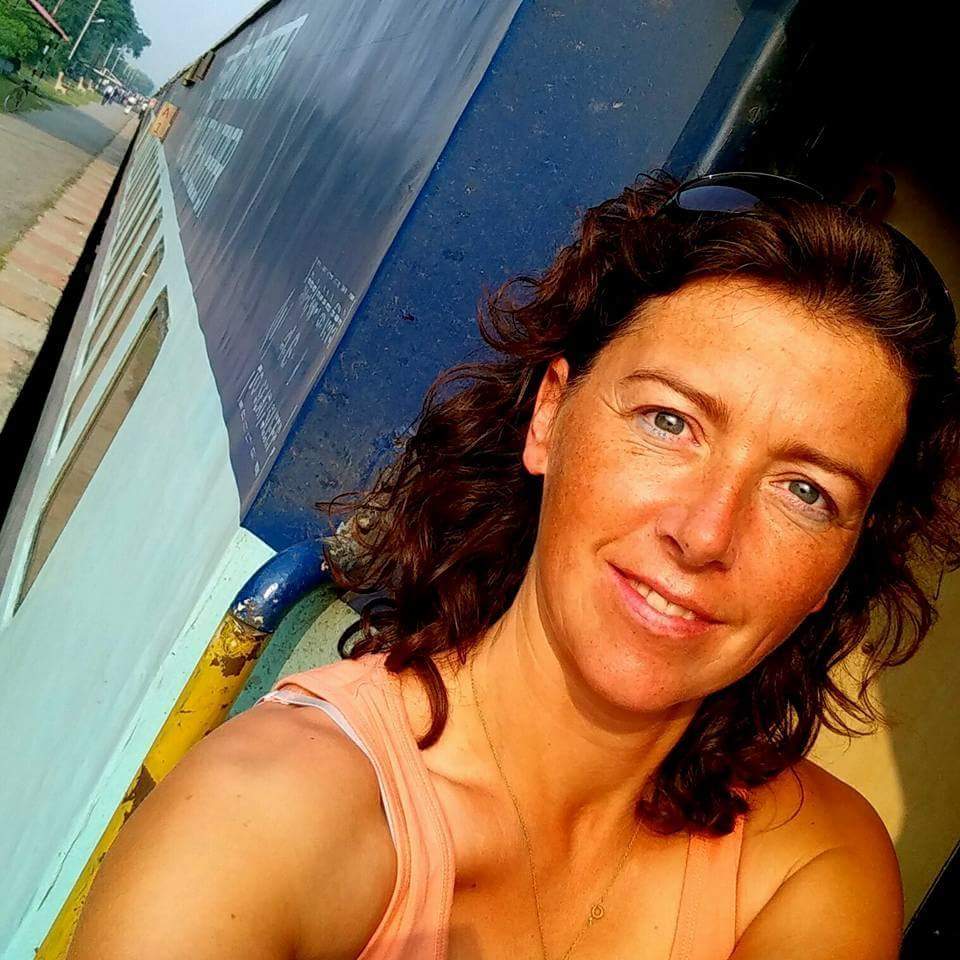 Jacomijn is a police officer from The Netherlands who loves to show you how to travel the world Safe, Healthy and Active!! Safe and Healthy Travel is a MUST!