3 days in the Kota Kinabatangan Jungle, Borneo
|
Being on the island of Borneo – Malaysia I wanted to go to the jungle ofcourse! For me that is a given!! When I went to Sumatra I had to visit the Jungle too and I have the best memories still!
I want to explore all kinds of local activities and when you go search for activities on Sabah, part of Borneo, you'll find a lot of jungle trips! I got in contact with Tanjung Bulat Jungle Camp and they offered a 3 day and 2 night River Cruise trip on the Kinabatangan River that really was my kind of deal!!
Voor de Nederlandse versie van: 3 dagen in de jungle van Kota Kinabatangan
Tanjung Bulat Jungle Camp
Oxbow Lake – Kinabatangan River
Kota Kinabatangan – Sabah – Borneo – Malaysia
The camp is situated next to Oxbow Lake in the middle of the jungle. It is a basic camp with all the necessities like toilets, cold shower, dorm room and private rooms and a great view during breakfast/lunch/dinner over Oxbow Lake!!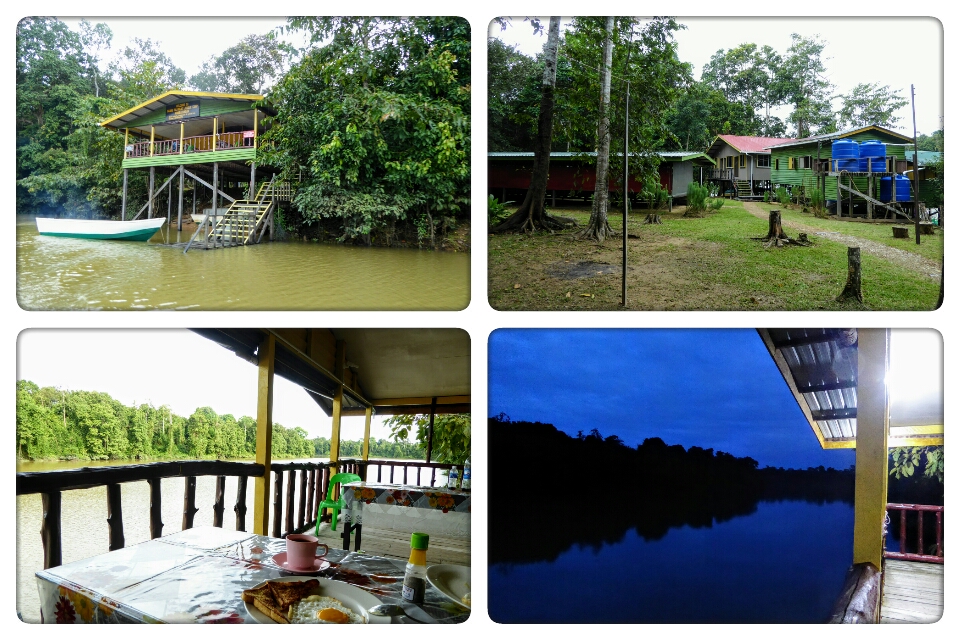 At the moment of my booking I was the only one so I got a private tour! Afiq, my guide, picked me up at my hotel in Sepilok and brought me to the camp by car and the last part ofcourse by boat. What a luxury! And it was the last luxury for the upcoming days because we were heading for the Jungle!!
While cruising that first time over the river Kinabatangan to the camp I was eager to see some wildlife.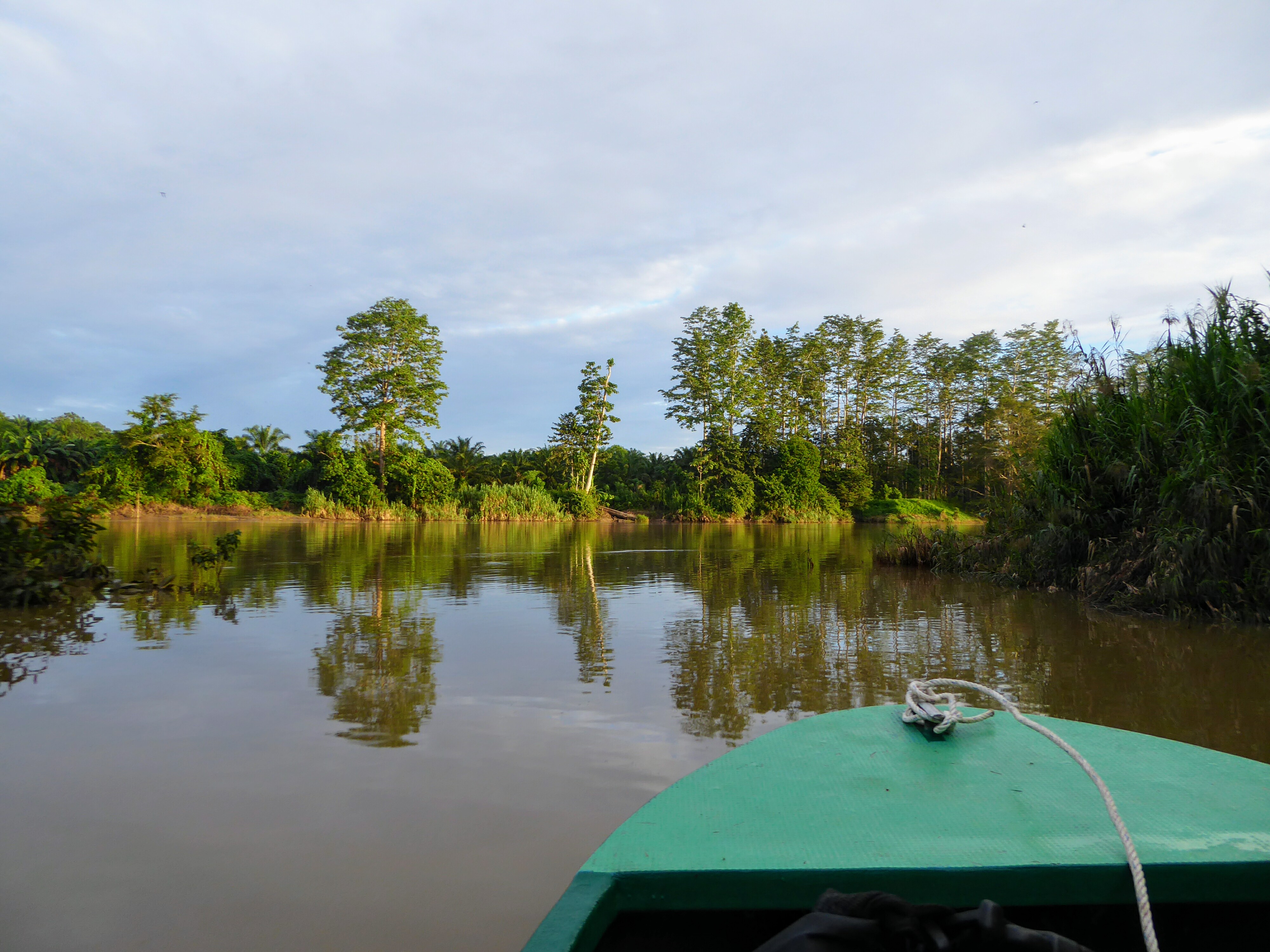 1st sight within half an hour
The Famous Proboscis Monkey
It didn't took long before the first Proboscis monkey was visible high in the treetops! First I saw something moving…then they saw us too and they started to jump from tree to tree!! I loved seeing them jumping, without fear up high in those trees!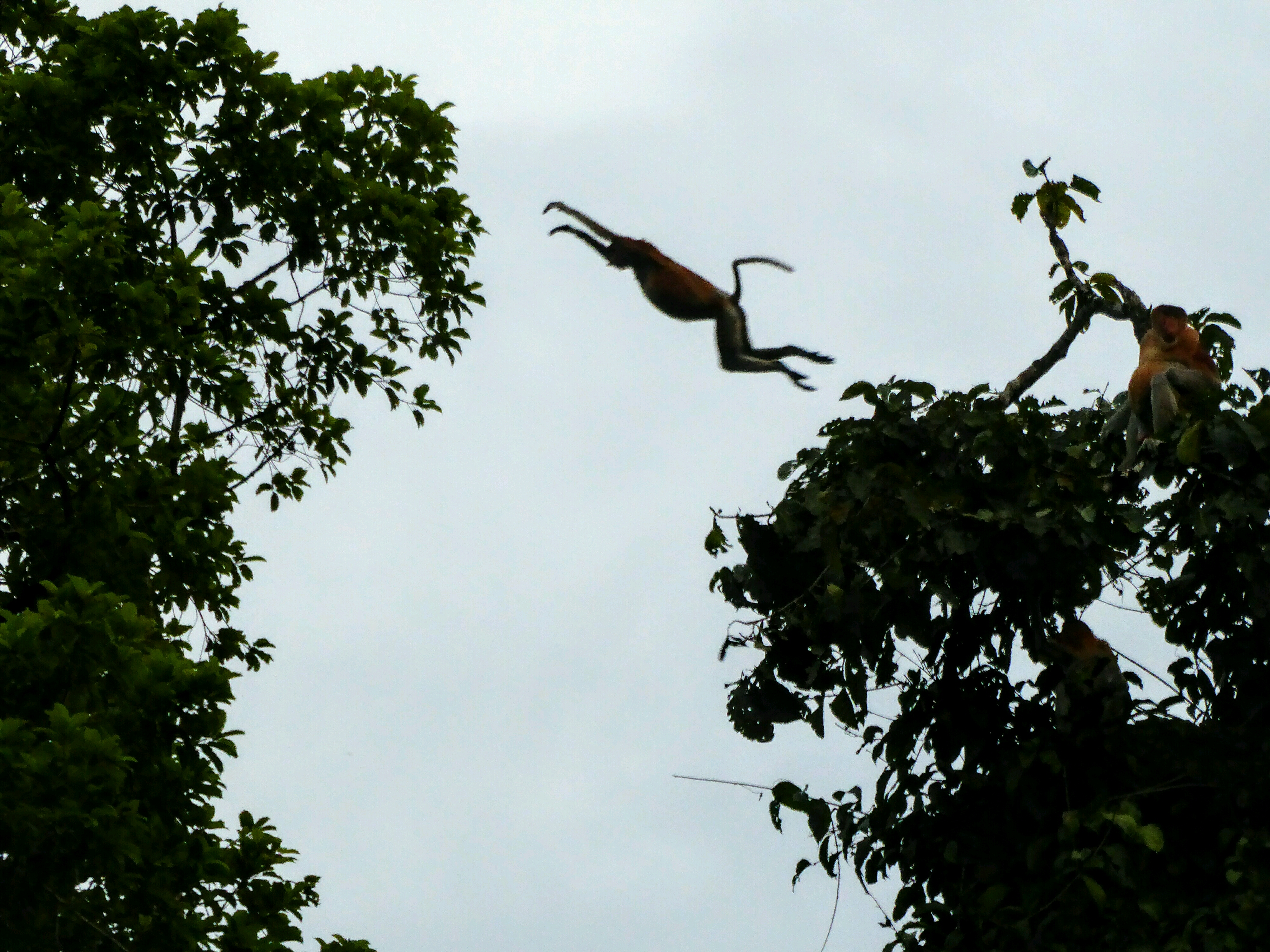 Mostly you'll see one…and another one…and another.. That's because they live together as a family! And that was the case this first sight also. They were jumping all over the place!! I made a short clip of them!
I loved seeing them!
They are so strange with their big noses!!
After a while we went on to go to the camp. Getting there I got my private room and as a welcome they had made Pisang Goreng and coffee!!
There was a short briefing on what to expect of this trip, what to do and see. How things work in the camp and what they expected of me.. Just to enjoy myself 🙂
River Cruises – River Kinabatangan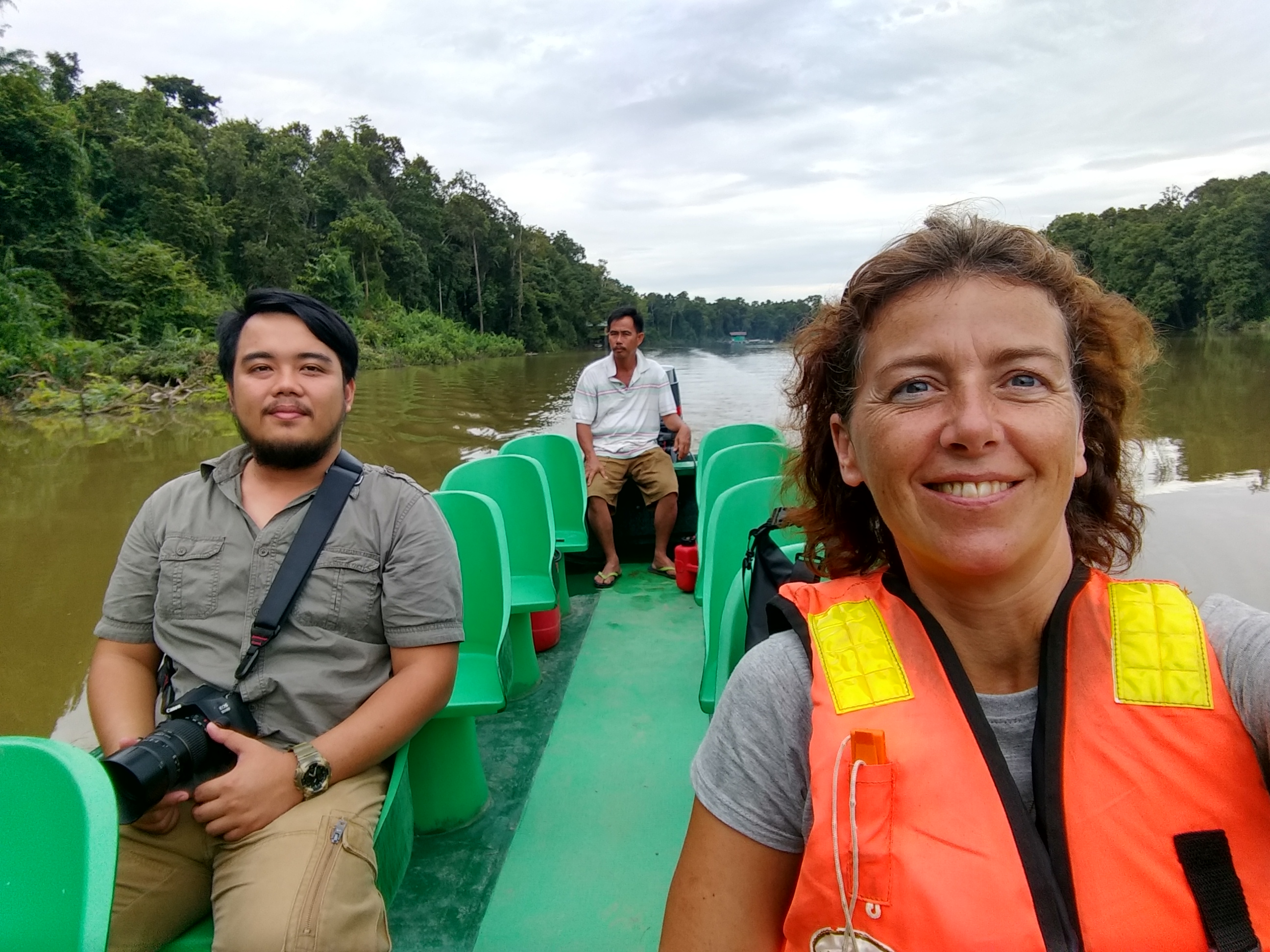 Afiq, Malik and me cruising the Kinabatangan River
That first afternoon we had a cruise and we went again for some monkeys and looking for birds along the river. We saw a lot of Proboscis again. I love seeing them so I didn't mind stopping for them again and again. Trying to get some good shots… It is hard to get them on the picture when they are sitting high in the trees. And they are not posing for the picture ofcourse 🙂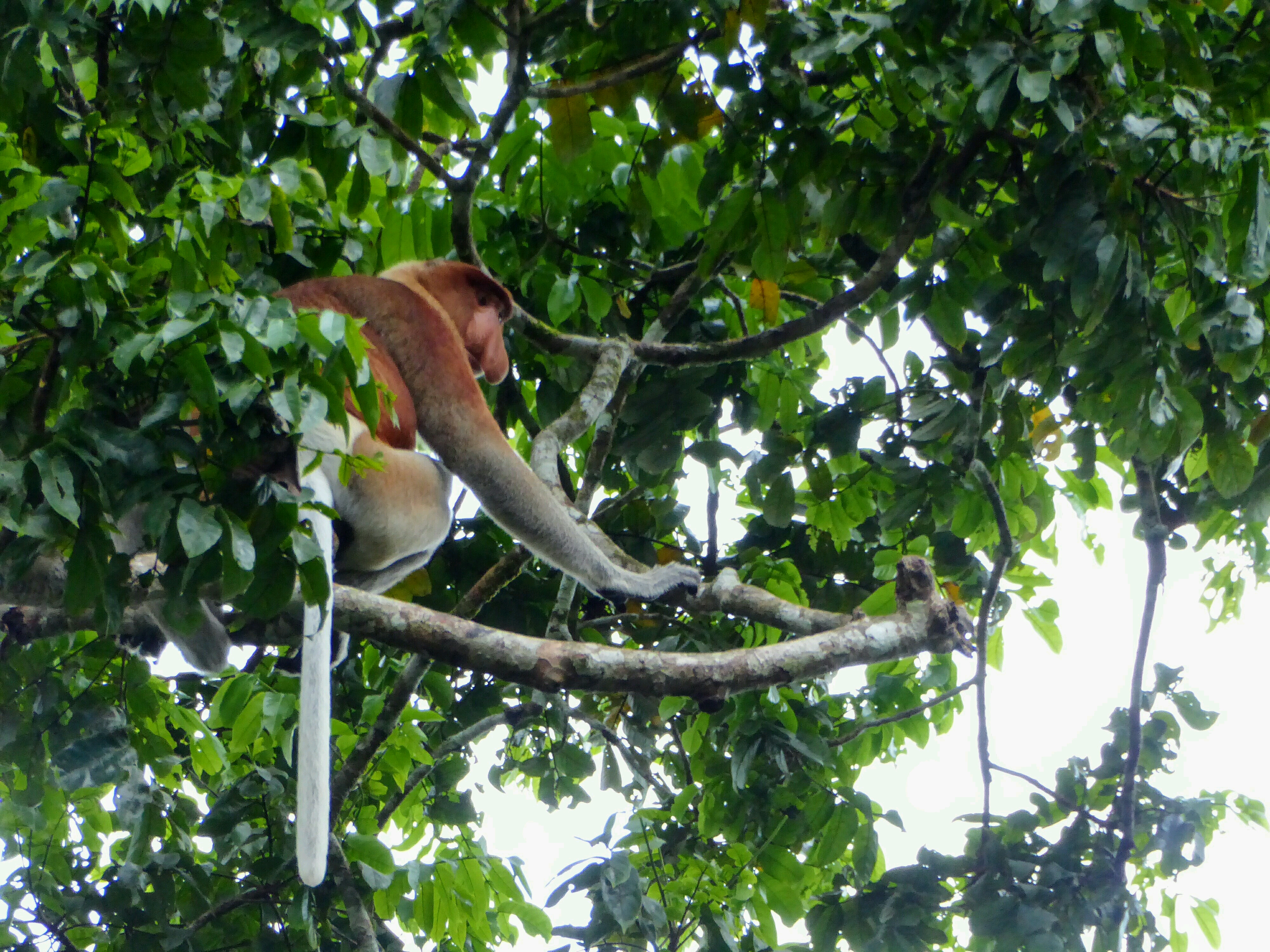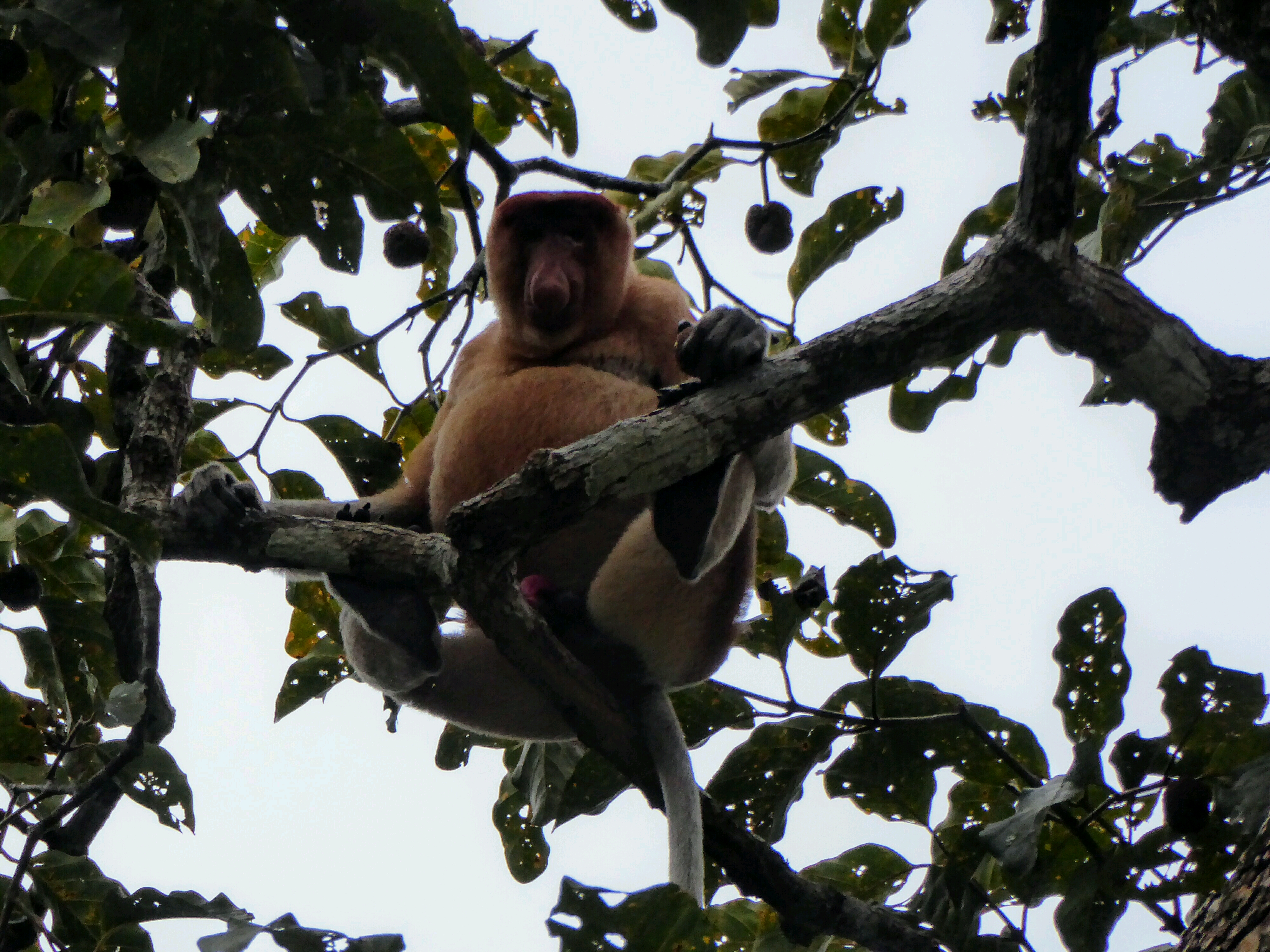 We saw a lot birds too! I especially liked the Stork Billed Kingfisher!! I saw it flying all over the place and couldn't get it on the picture. They are just too quick…and they disappeared in the jungle. Not as the common kingfisher sitting on the riverside, above water and showing themself in full colour.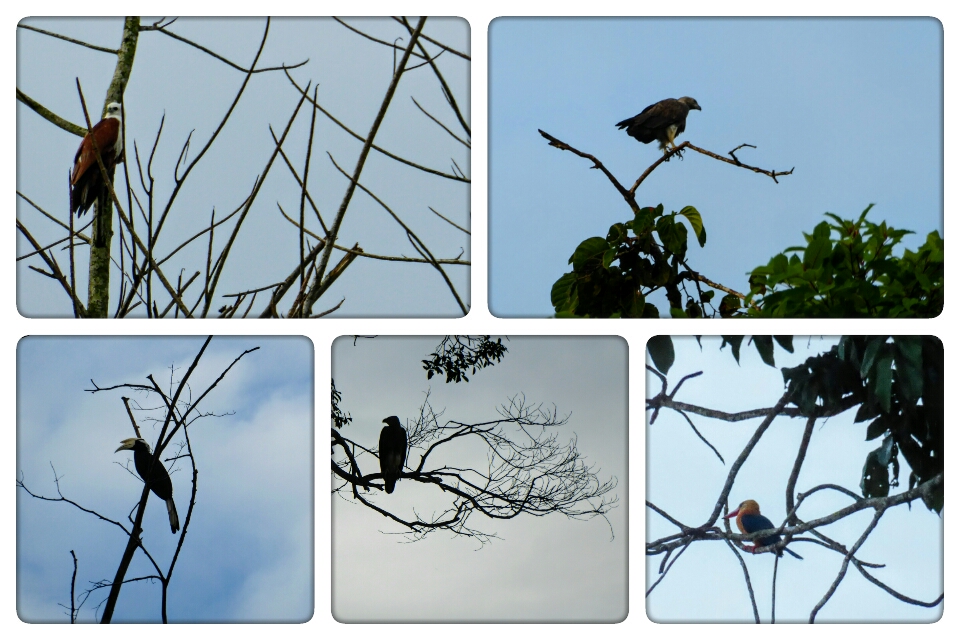 We also saw the Snake Bird, Hornbill, Fish Eagle, Brahmani Kite and more!!
We also saw those sweet leave monkeys, Langurs. They are very shy and so hard to spot. I can not find a picture of them. I'm sure I tried…but missed them appearently 🙂 These were grey and you can spot some other colours of them too!
Spotting animals and birds on the river cruises  – Kinabatangan
We also spotted a stork sitting high in the tree. Well I thought it was a great cruise of around an hour! It started to get dark and we went back for dinner to the Tanjung Bulat Jungle Camp. Just when I entered the camp a flying fox came flying by!! Also an owl showed himself flying over the water of Oxbow lake! Isn't that great?
That first evening we also did a night cruise. We were looking for birds that were sleeping in the trees. They tend to just sit and don't fly away when you set a light on them. And…if we are lucky we maybe could spot a crocodile.
** Warning **
NO SWIMMING in the Kinabatangan River
And yes, that crocodile was the first spot. Not even that far from the camp but it disappeared under water as quickly as we saw it. Exciting to know that they were swimming close to the camp. Afiq told me that it is prohibited to swim in the lake because of this. Yes, I can imagine!! I wouldn't risk it! I'll just take the cold 'shower' in the bucket bathroom they have in the camp!!
The Common Kingfisher from up close!!
After this we saw a small common kingfisher sitting on a branche above the water. We turned the boat and tried to get closer. The bird didn't move and just sat there, exactly what Afiq had told me earlier. We came closer and closer. I was sitting in the front of the boat and I saw myself getting closer and was snapping pics and all of a sudden I was sitting under the bird. I saw this really small bird sitting above me…the tail was so tiny, the bird too was so tiny!! It was sitting there with its eyes open…deadquiet… So strange.. So beautiful those colours, the long beak… It was so impressive!!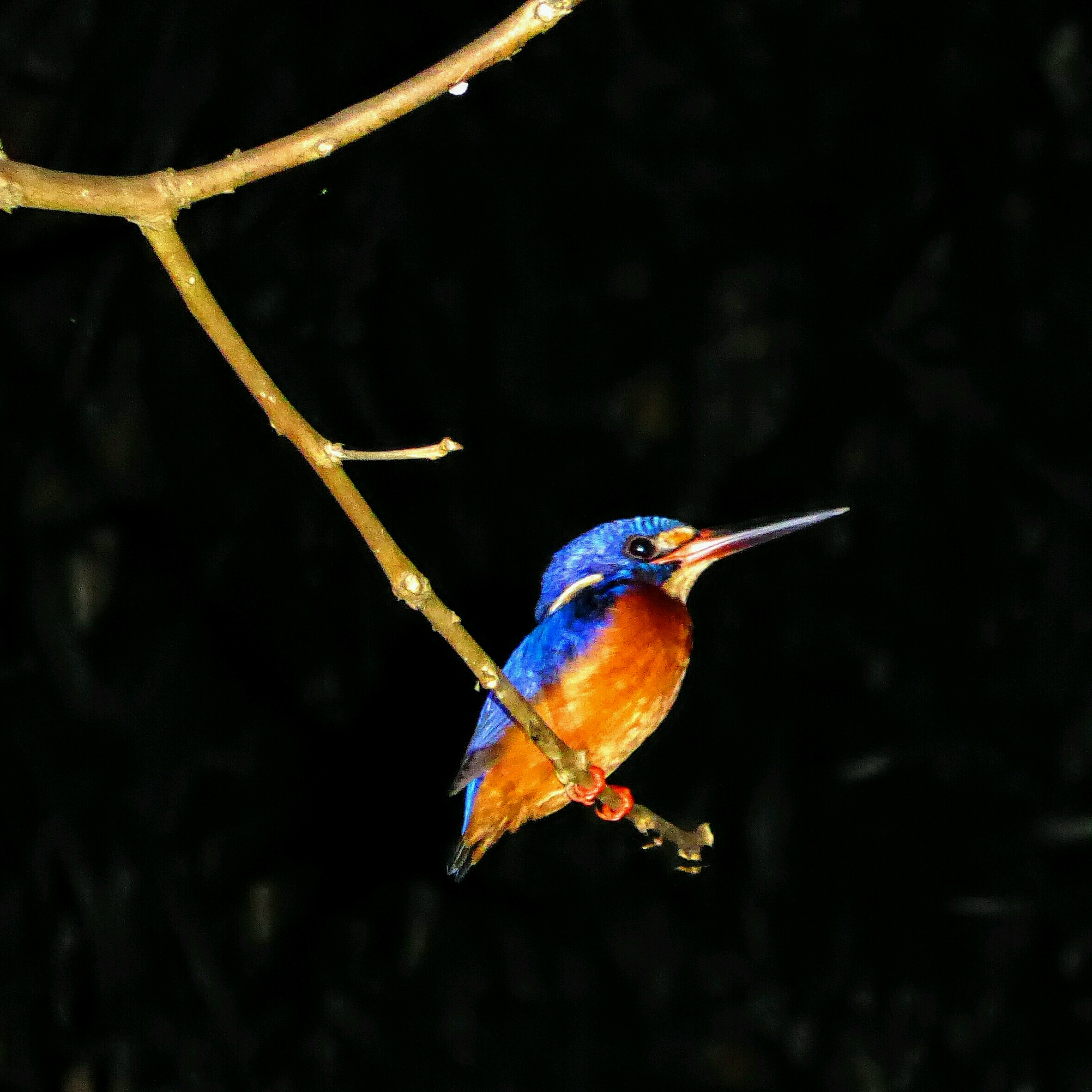 Isn't it a wonderful bird?? I love those colours!!
Close Encounter with the Crocodile – Kinabatangan
Was it too close even??
On the nightcruise our steerman Malik saw something… I saw him looking back so I watched too. In a splitsecond I saw the head of a crocodile sinking into the black water near the jungle shore. He saw me watching and turned the boat.. maybe it will come up again.
It took a while so we went closer to the shore, closer to the jungletrees. And yes, there it was. Lying in between the trees and watching us! We all went to the tip of the boat to watch it. Malik was the first and got hold of a tree and pulled us even closer. I was standing behind him and holding him to watch the scene also. Next to him was my guide, Afiq, with a good camera to make a picture!! Wonderful!!
We saw the crocodile slowly moving.. He turned and was totally facing us now. It was a great sight! I looked into those cold eyes and saw the whole of his jaw and nose out of the water facing us. It was a great sight!! It was mysterious…in the dark jungle .. we were all deadquiet…the jungle too..
All of a sudden the crocodile started to move!! It moved towards us, really quickly too!! I immediatly went back into the boat and sat down on the first row … I don't know why, I could have gone further away 🙂  It was all to quick to really realise what was going on. I heard a noise out of the crocs mouth  … I also heard leaves of the jungle trees knispering because something was going on in front of our boat. The two men standing in front of me were moving … One hold on to the other and going back in the boat and trying to move the boat back onto the river!! We were all jumpy and nervously laughing ..
My heart was pounding…I felt it in my throat… The crocodile had make a surprise attack towards the boat and went underwater to dissapear into the black night!!
Oh My God!!
We went a bit too close for what could've been a great picture!! Nobody had snapped a good picture… Afiq had one…that was from some leaves when he was hurrying back into the boat 🙂
We talked about this ofcourse the whole evening….the next day it came up multiple times….and I will never forget this 🙂

This must be the same crocodile…
Do you see him? On the left in the water 🙂
I spotted this one the next day at almost the same spot 🙂
Sleeping in the Tanjung Bulat Jungle Camp
That  night I had a good sleep. I had a private room….as I was the only guest also at this time 🙂 But there are ofcourse other oppurtunities in the camp. My room had two beds and was clean and comfortable.
The other option is to go in the dorm room.. Well room?? It is a outside building and it is closed by curtains. Reminded me on the jungle camp I was in on Sumatra (Bukit Lawang) We slept on the floor there… this one was a lot more luxurious! In the hotsummer weather this will be really nice. There is no electricity at night so don't think that the private rooms are cooler 🙂 Remember…you're in the jungle!!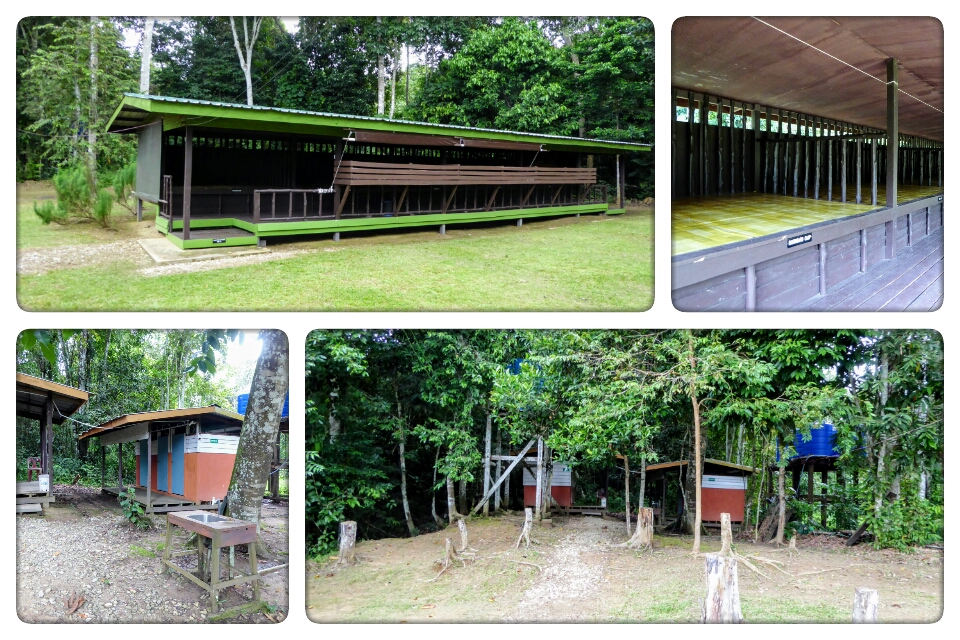 Morning Boat Cruise – Kinabatangan
Again we saw those beautiful Kingfishers!! I really love those tiny birds! But here they have the bigger once too. So hard to catch…but Afiq got one in full flight!!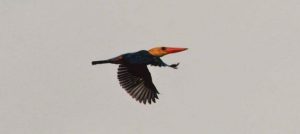 Stork Billed Kingfisher
I really like to try to get a picture of them…only my camera is not good for it unfortunately. Maybe I have to think about that…new camera??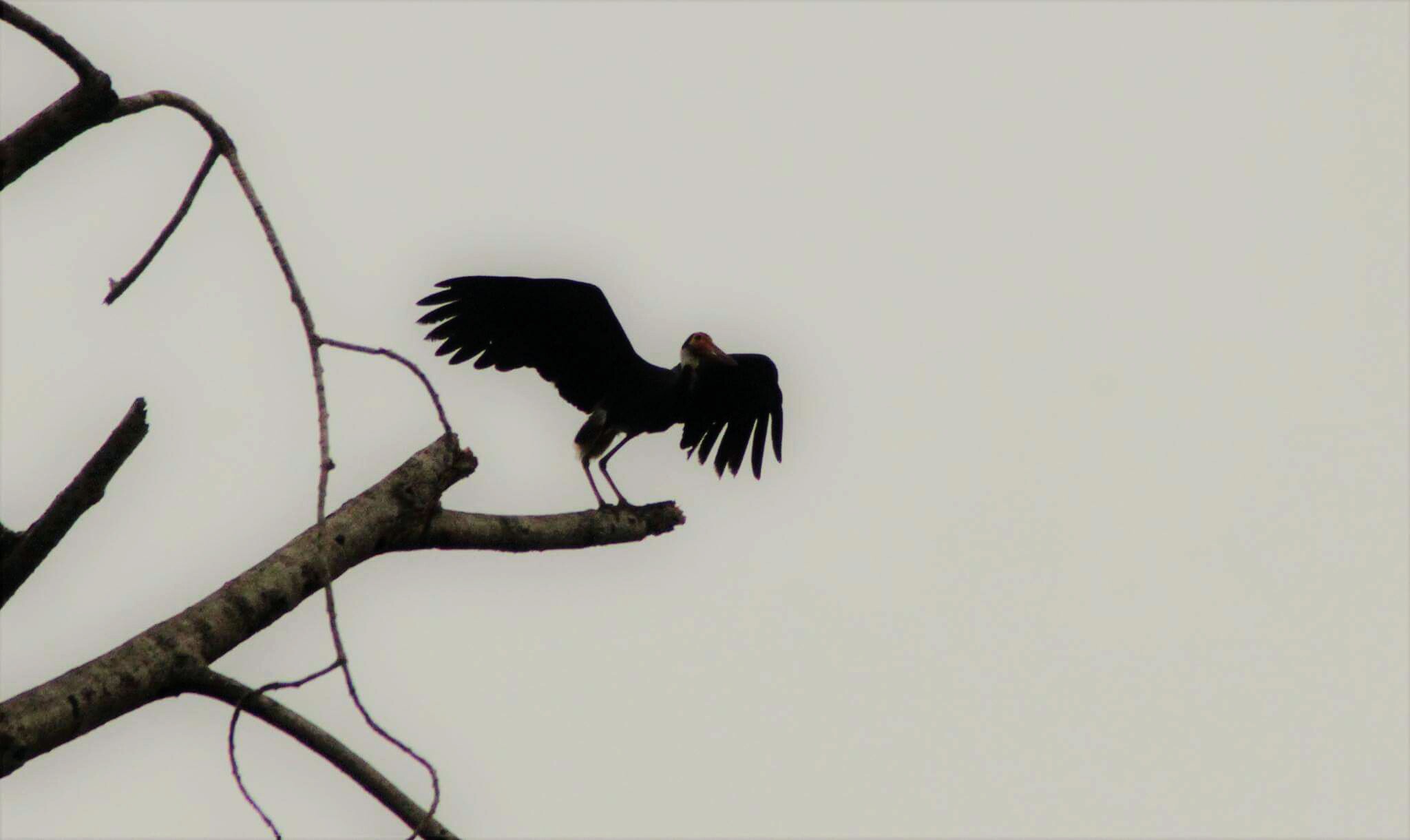 Storm Stork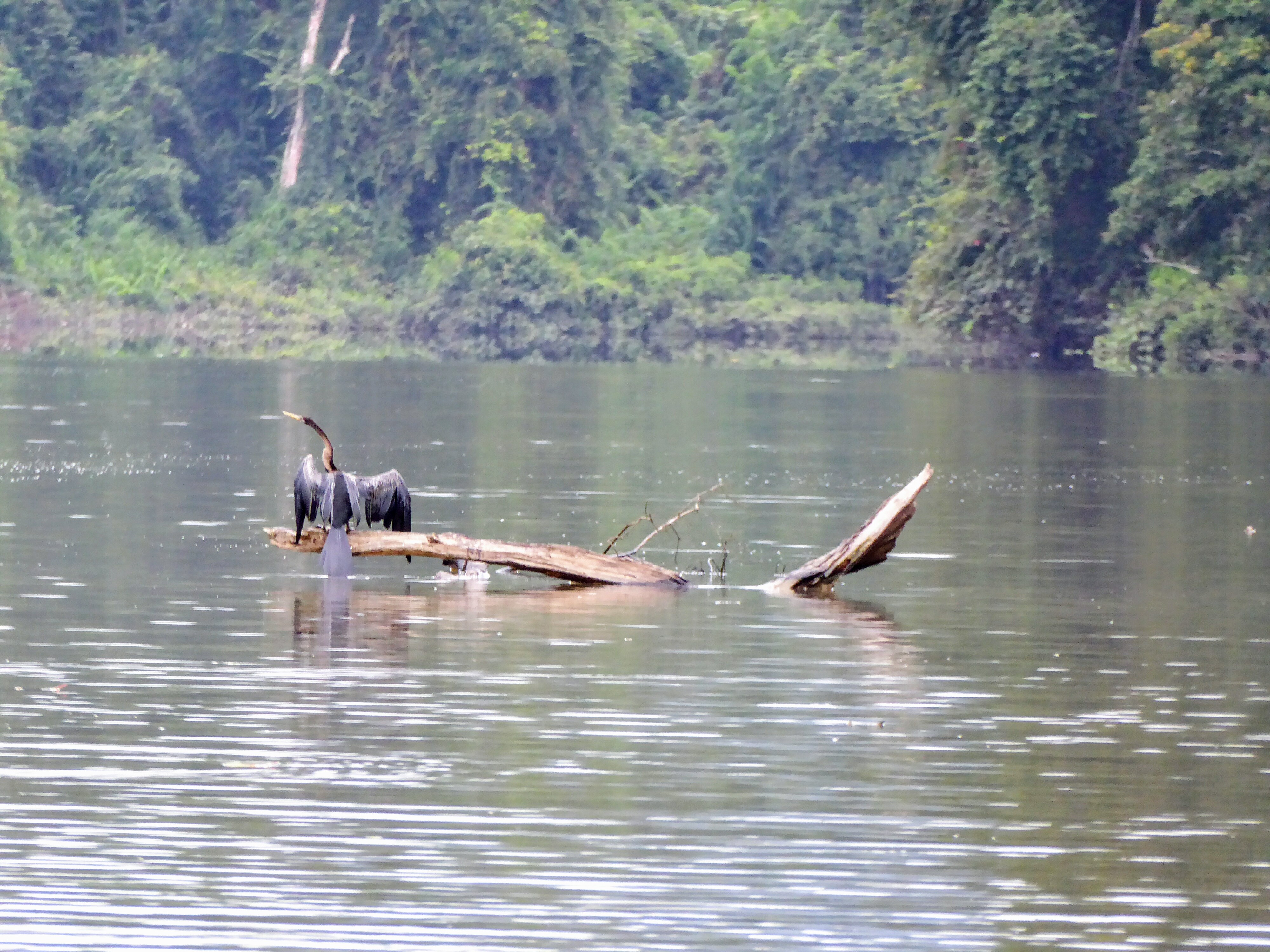 Snake bird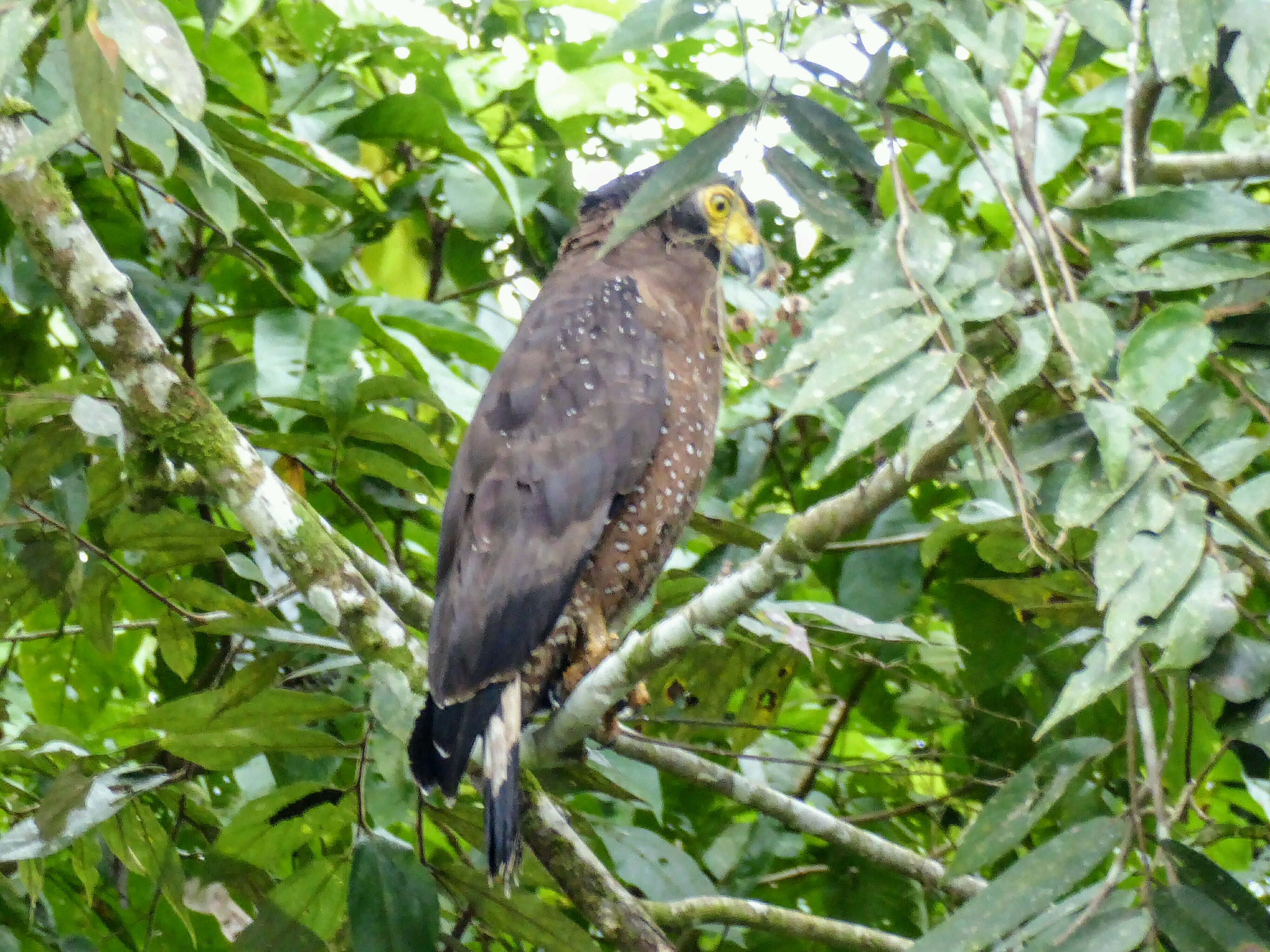 And we spotted the leaf monkeys!! This time the brown ones!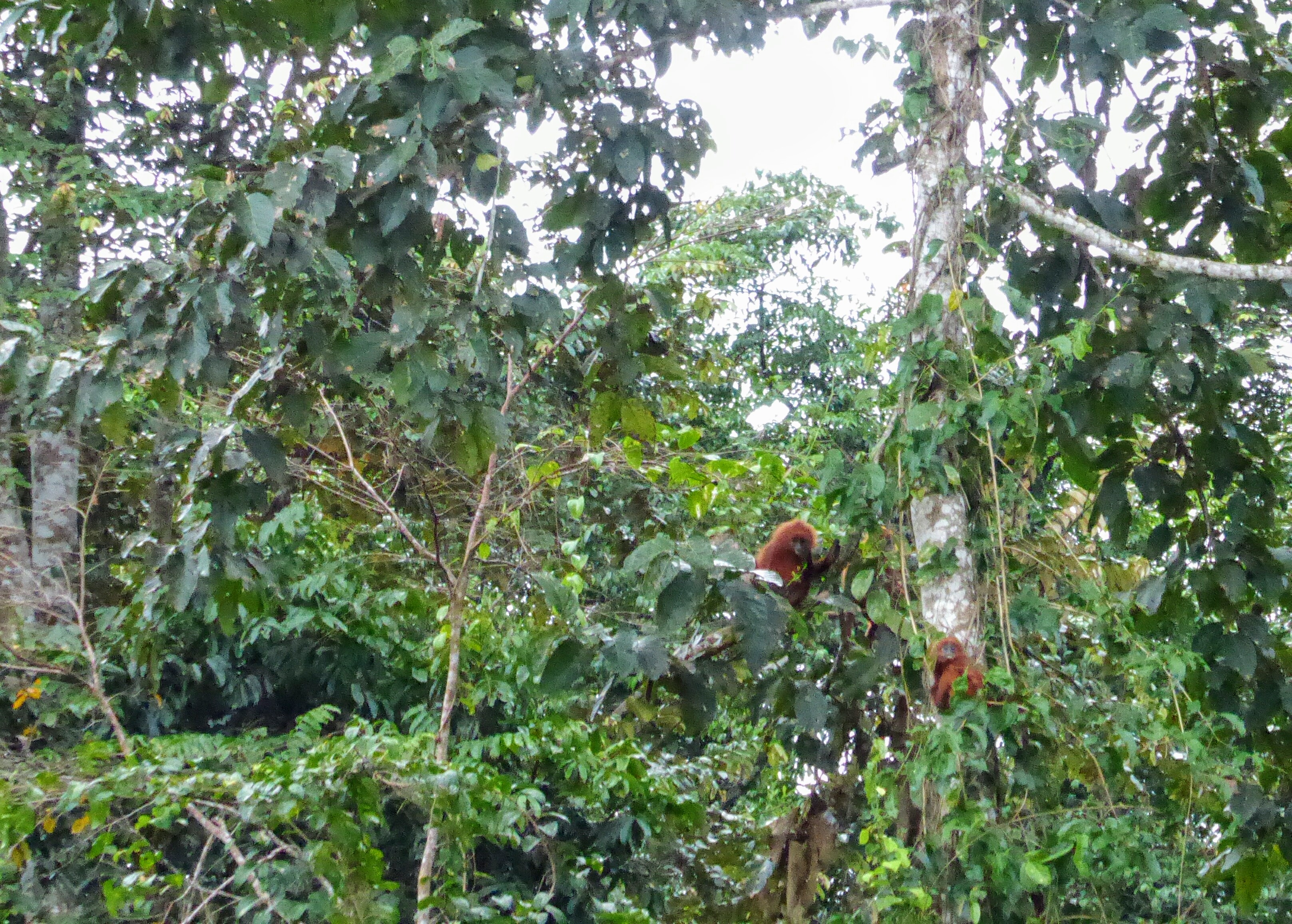 After the morning cruise I had a great breakfast in the restaurant with view over Oxbow lake. The proboscis monkeys were waking up also and in front of me jumping high in the trees!! Ofcourse during the following clip they were quiet 🙂
Could this moment be even better??
Kinabatangan Jungle Cruise
I had the morning to myself and walked around the camp. Looking for animals ofcourse!! Also sitting on the terrace…hoping to see that crocodile again 🙂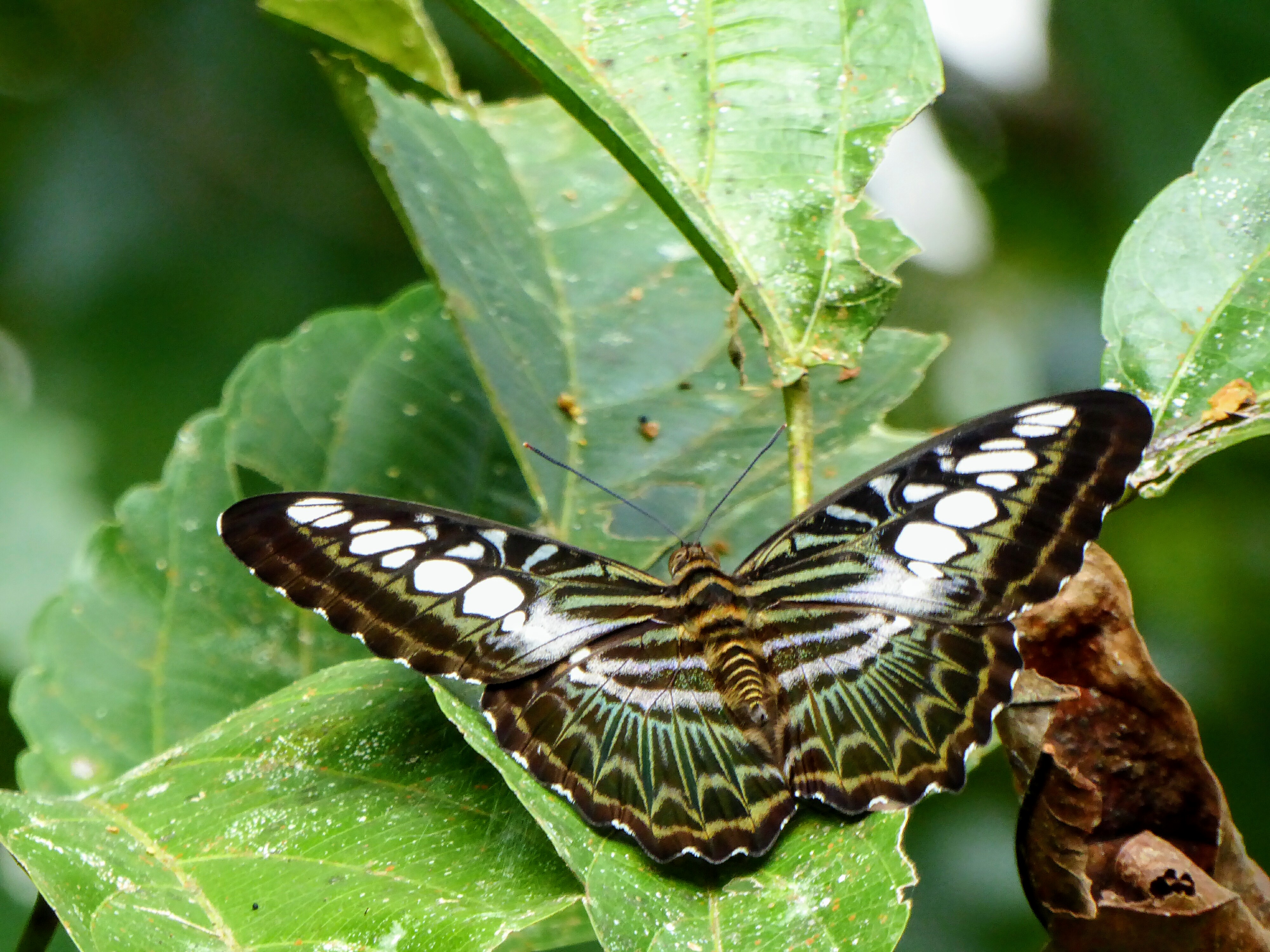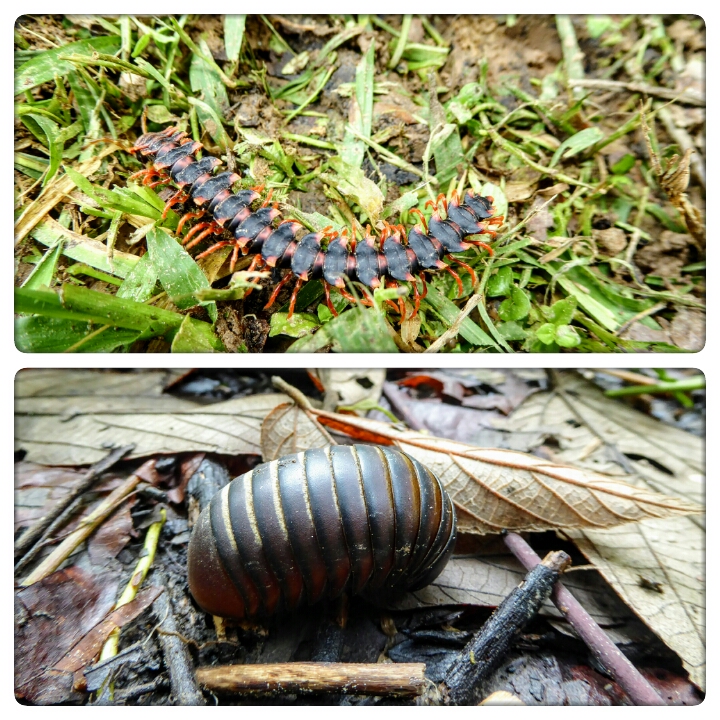 Just before lunch we had a short jungle trekking. We just walked out of the camp into the jungle. There were a lot of trees planted by Tanjung Bulat Jungle Camp themself.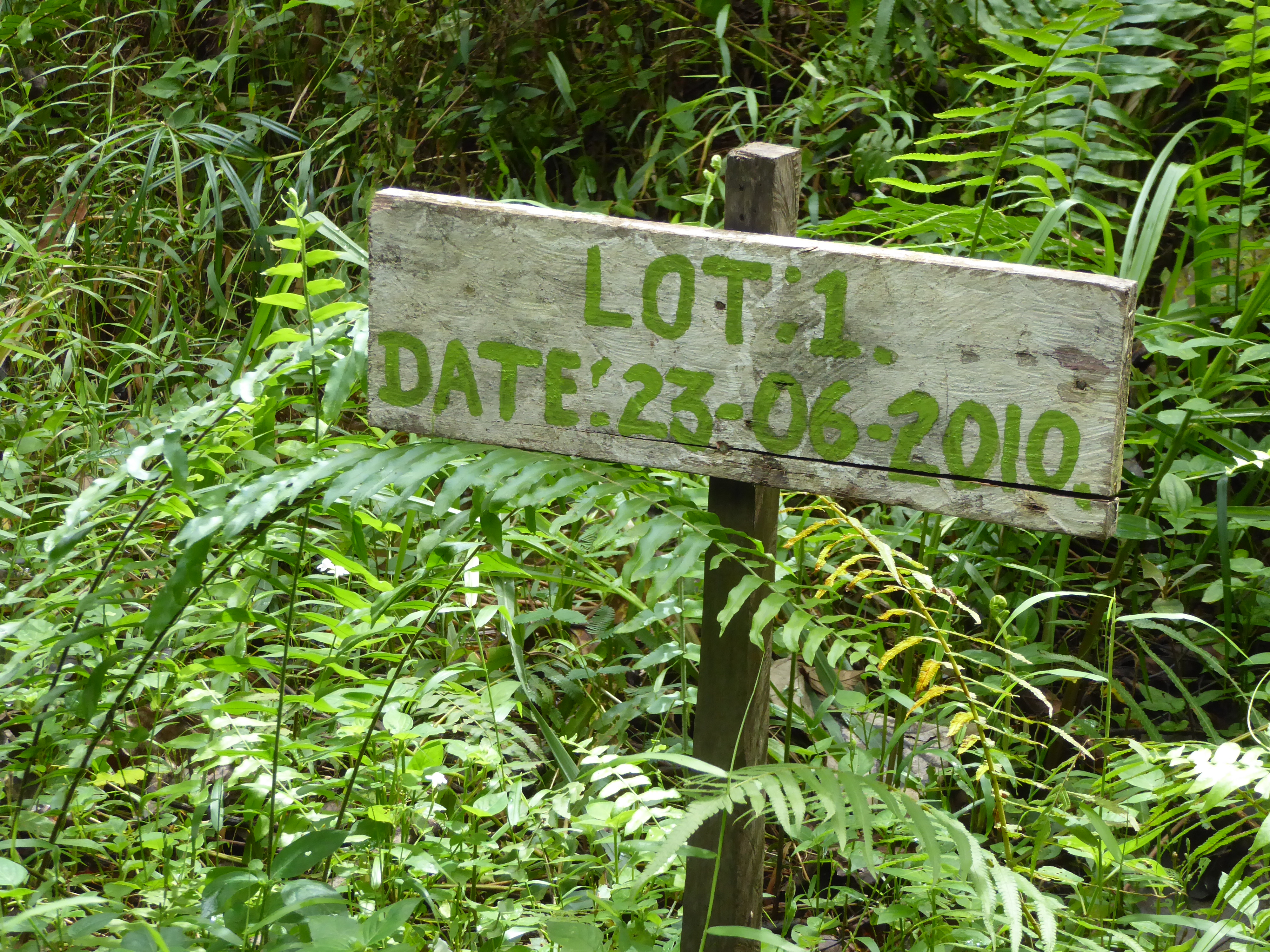 Ecotourism
Tanjung Bulat Jungle Camp – Kinabatangan
There had been cut down a lot in the last centuries and they worked also on changing that. The owner of the camp had been playing here as a child and when he came back as an adult he saw the devastation for the palmoil plantation but also the illegal hunting for fish and other animals. He started to replant trees and started to educate local people. And because he wanted to share this beautiful place with others he build this Jungle Camp!
After a delicious lunch I needed a shower. It was warm enough to go and get a cold shower 🙂 It was the bucket style shower and after a couple of years traveling in Asia I know how to handle it 🙂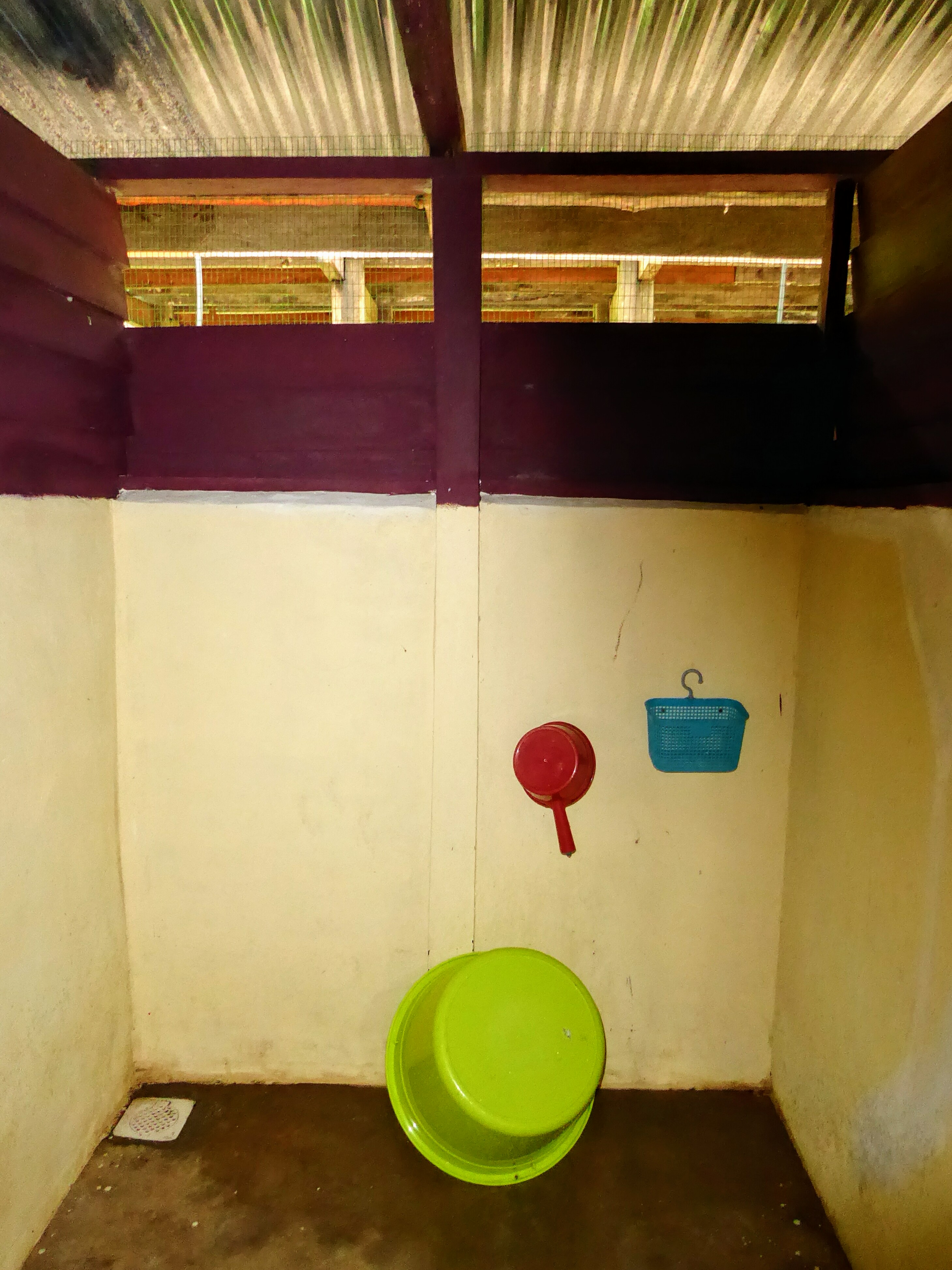 Behind the bucket there is a water tap to fill the bucket 🙂
Nice and refreshing shower in the hot jungle!!
Just when I was ready and got out of the shower I saw Afiq standing in the jungle and he was quit exciting. I didn't understand what he was saying but hurried to get into my flipflops and went into the jungle. Then I saw it!! An Orang Oetan!!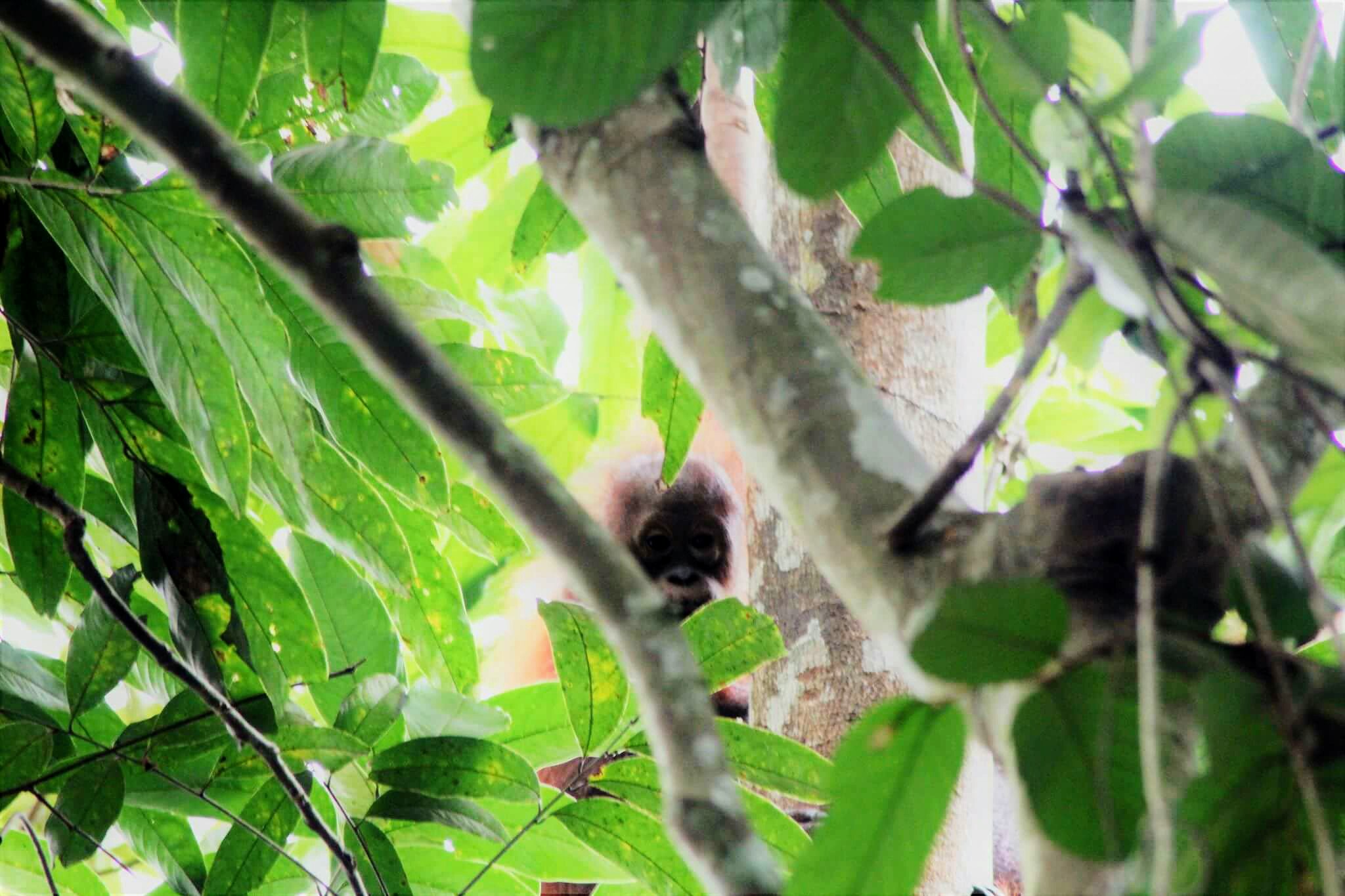 This was the first time I saw a really wild one.. Not one that was reintroduced back into the wild… No.. this mother with her baby was scared. She pouted her mouth and made a noise. She started to move away from us. She was scared and didn't know what to think of us. She had to protect her baby!! We went out of the jungle to give her space to move away slowly. I didn't want her to go to quickly and maybe slip.. She really looked frightened by us.
I was so happy!! This felt so special!!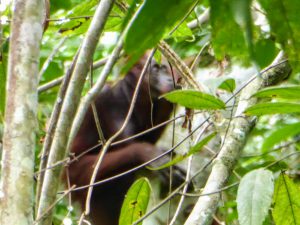 Such bad picture… But this was the best sighting EVER!!
After a half an hour I did peaked again at that spot next to the camp and yes, she was still there!! A bit higher and when she saw me too started to move again. I snapped this picture and went away again.
I really loved this moment!
In the afternoon we made another cruise on the river Kinabatangan and saw again a lot of Proboscis and birds. I can cruise this lake and river for hours!! The scenery is just wonderful! Birds flying over and monkeys jumping around in the trees!!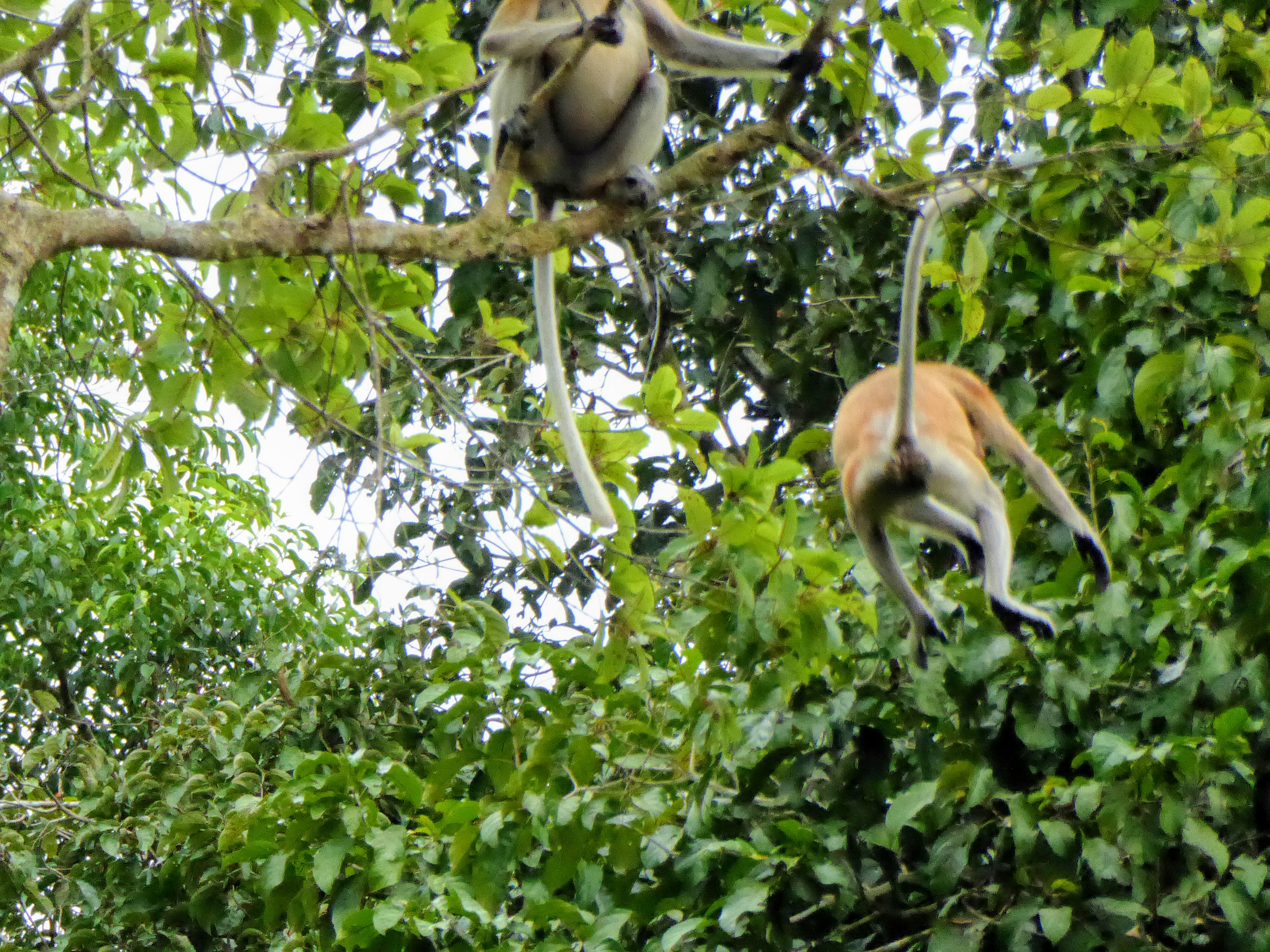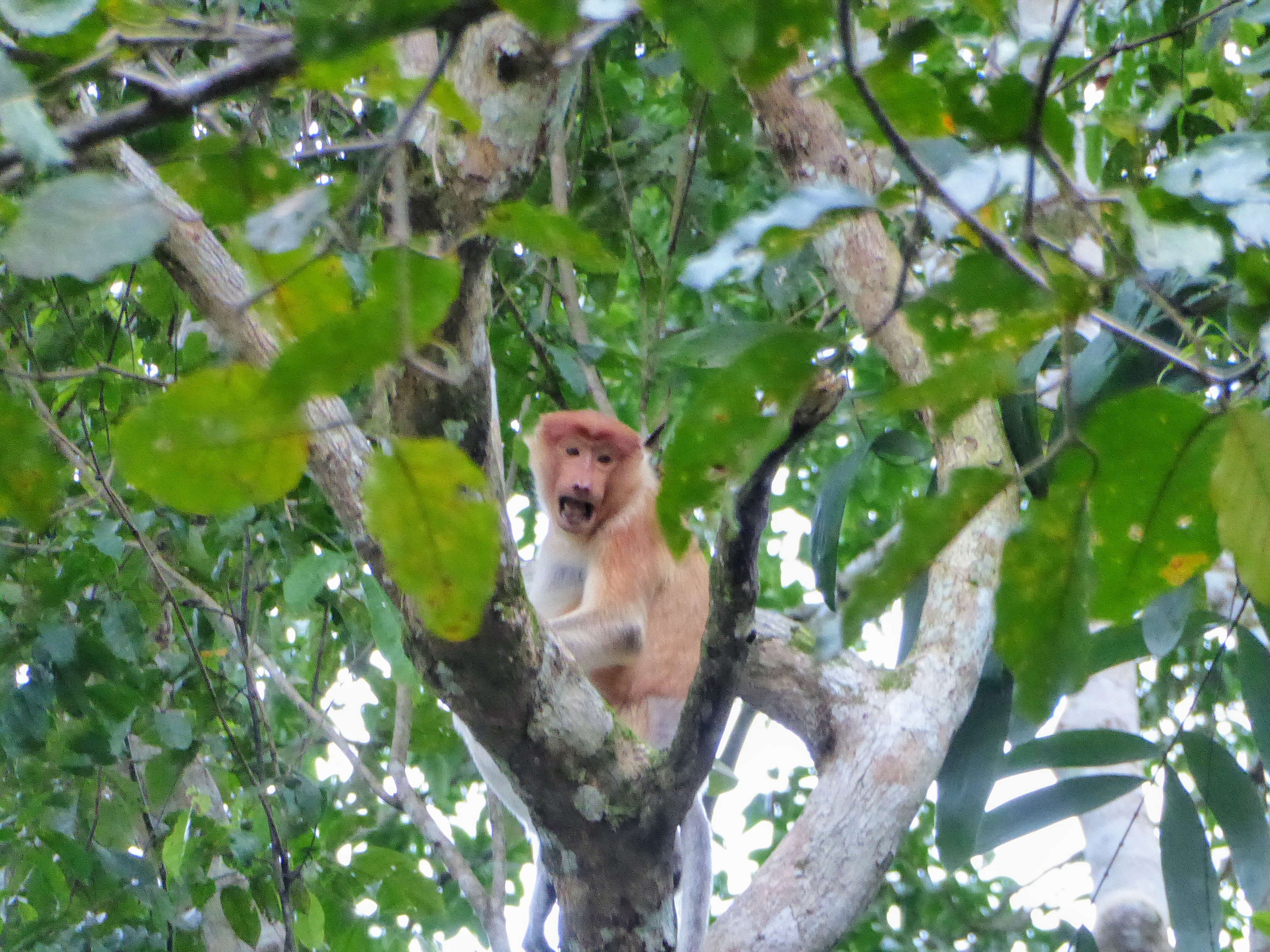 I really need to think about getting a better camera for these kind of trips!! 🙂
After dinner we went for a night walk! We went searching for birds and maybe some other reptiles along the way. I love to spot animals.. wether it is day or night! I love the adventure of it! And we did spot some birds…a tiny, baby horn frog and a spider 🙂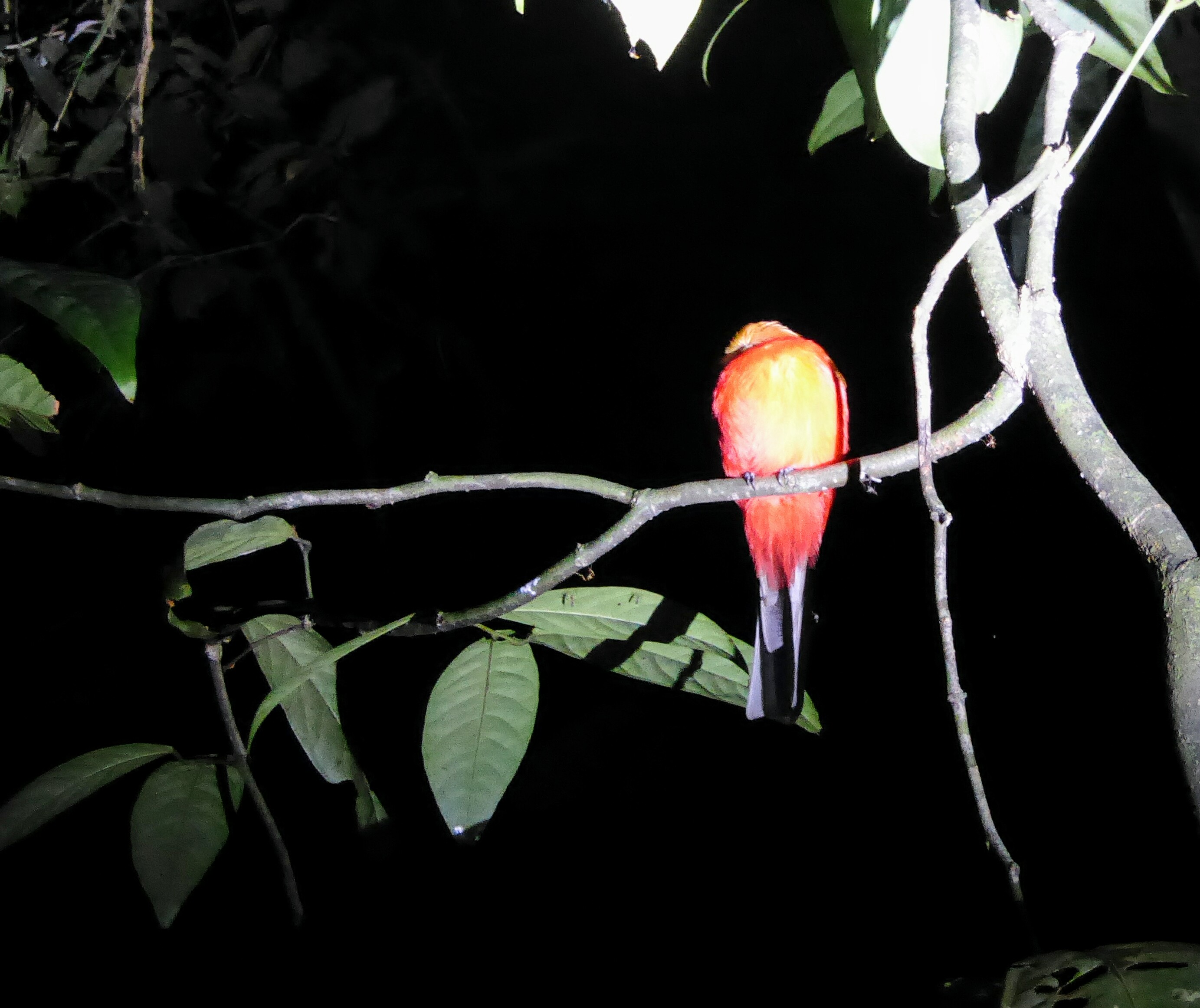 Scarlet-rumped Trogon (male)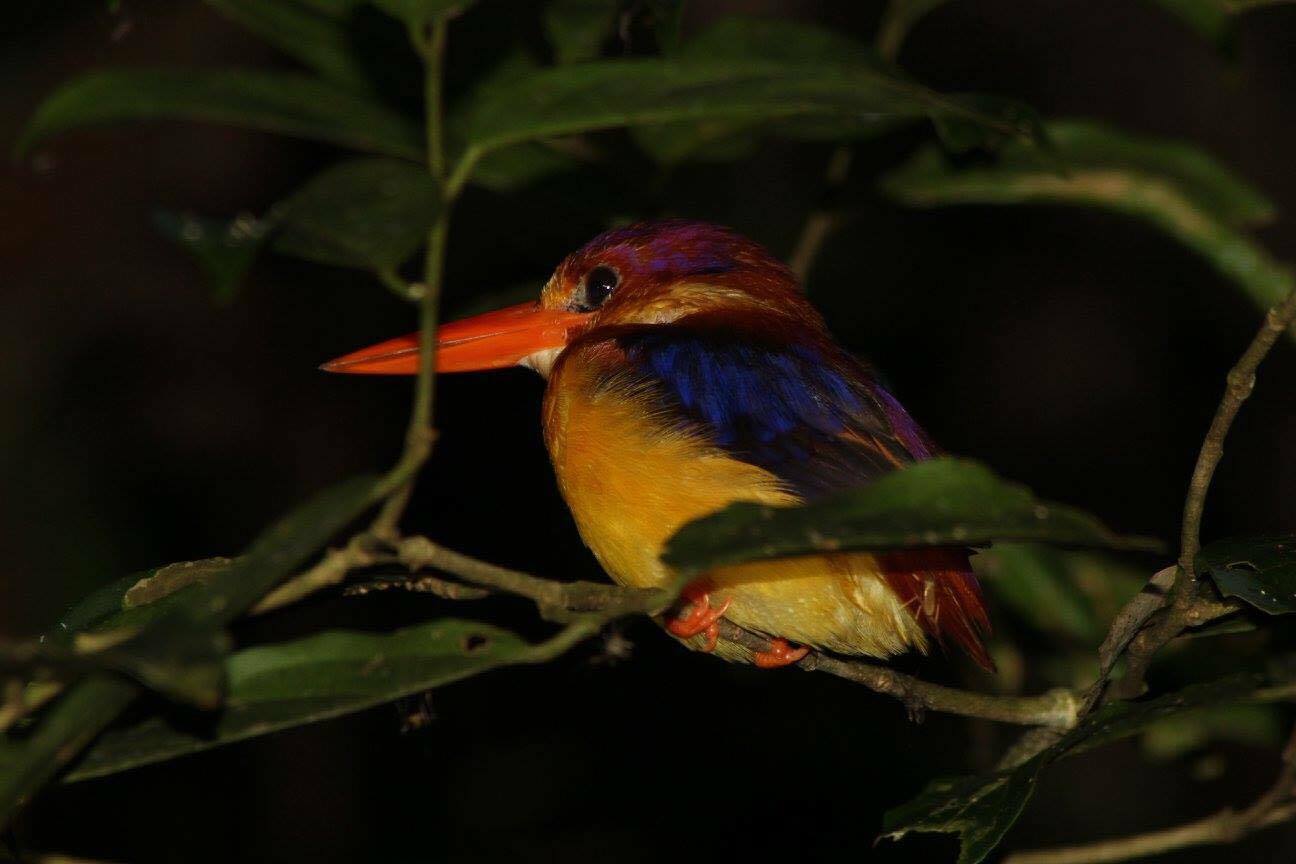 Black Backed Kingfisher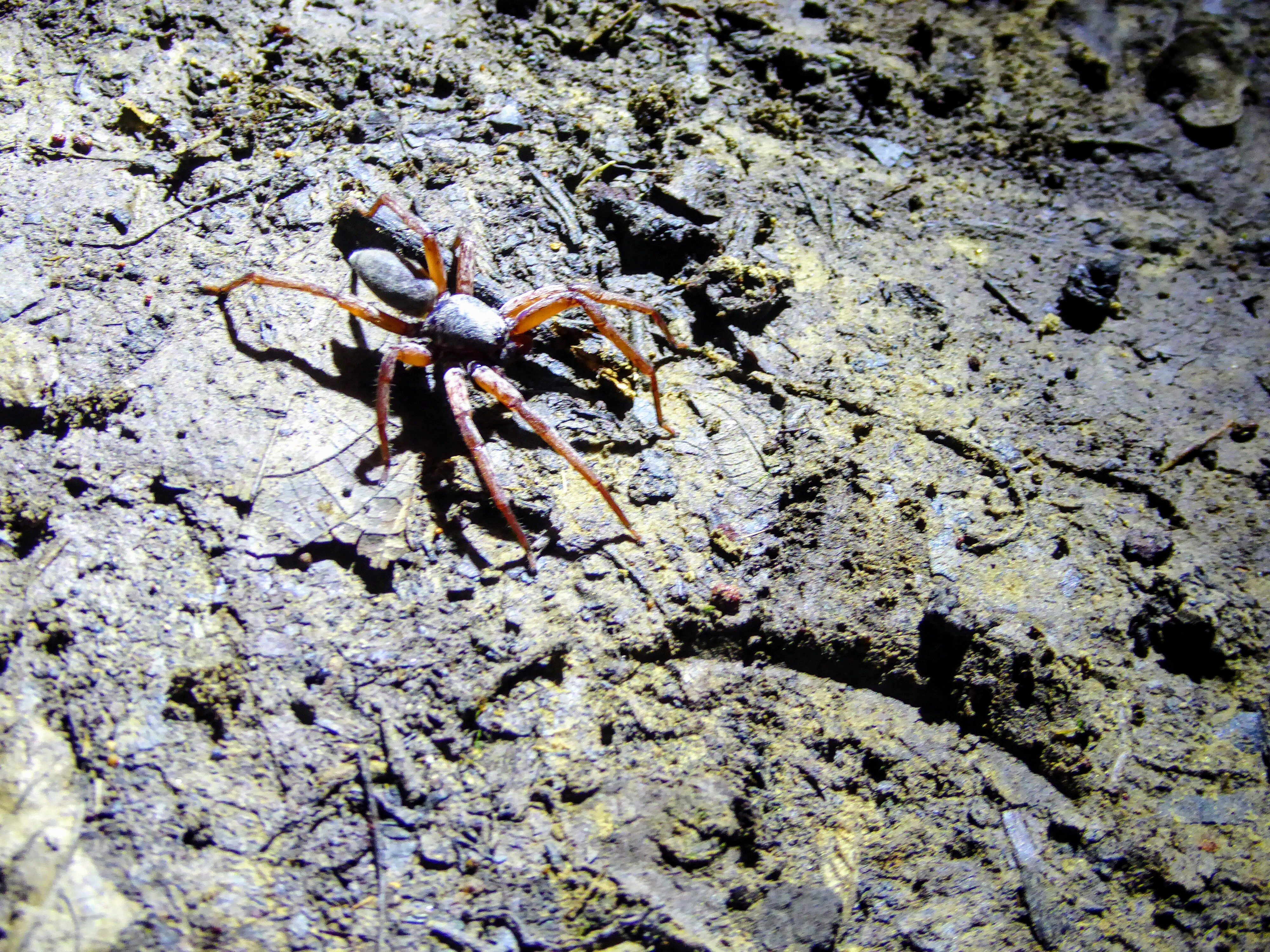 It was bigger then it seems on this picture 🙂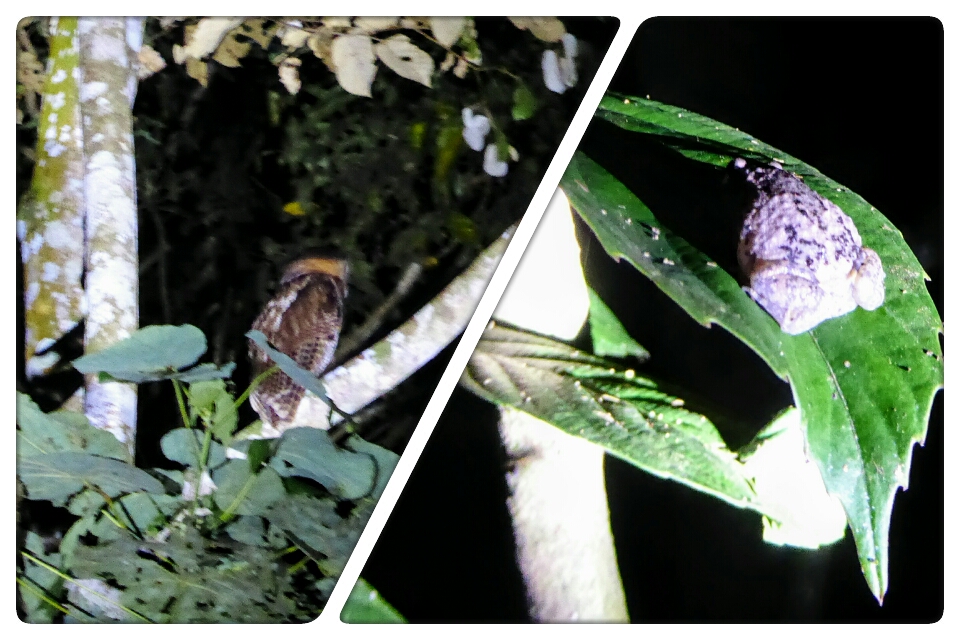 Buffy Fishy Owl – Hornfrog (baby)
Next day was the last day and still a breakfast to enjoy the scenery and then off to civilization again!
Contact Information for this Jungle Adventure!!
Visit the website of Tanjung Bulat Jungle Camp for more information and other options.
Read this blog about my trip from my guide Afiq
If you want to connect on Facebook with them:
And Thank you to Afiq for sharing some pictures with me!!
Getting there:
Only way is by boat from the small village Bukit Garam. If it's dry season you have to walk a part and get in another boat. The walk is not far, around 500 metres but you will have to carry your bag ofcourse through that part of the jungle.
This is not for your concern because they will arrange to pick you up from the busstop coming from Sepilok or Sandakan. You can always arrange something else with them ofcourse!!
Imagine yourself sitting in that frontseat and seeing the jungle passing by!!
—-
Pin to remember this trip!!
Share it to inspire others too!!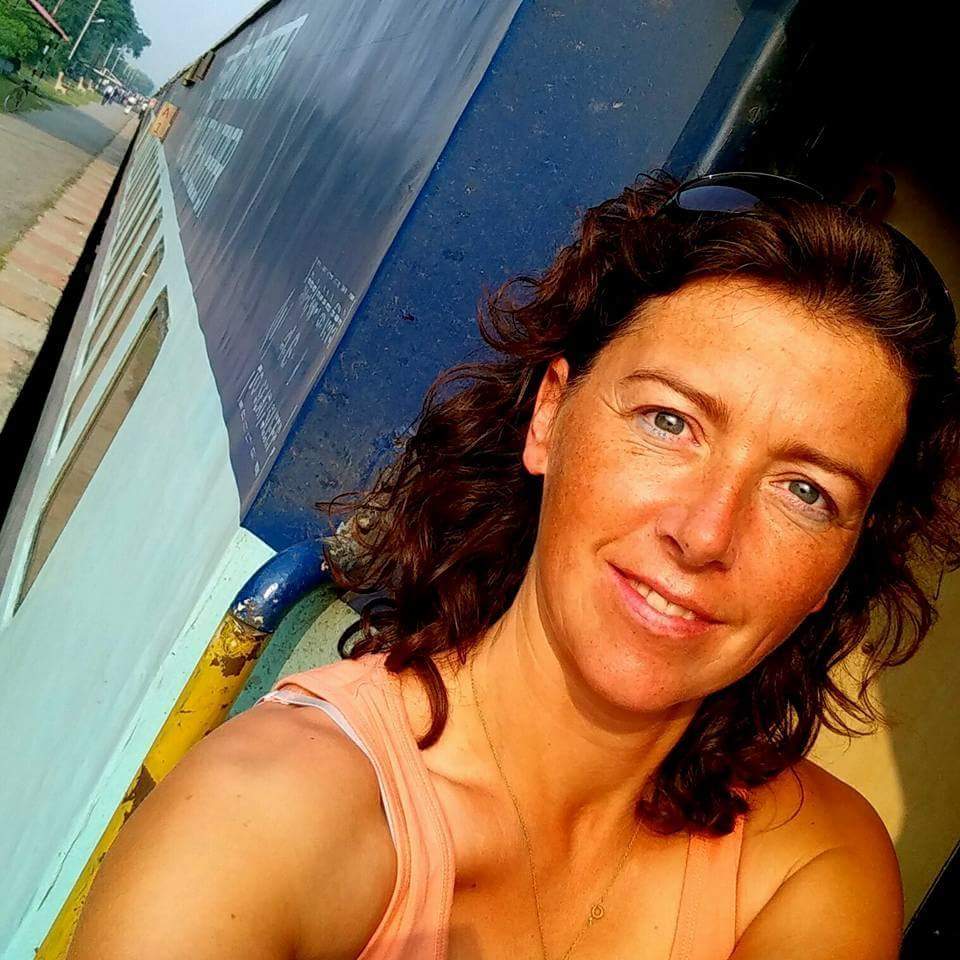 Jacomijn is een politieagent uit Nederland die jou graag laat zien hoe je veilig, actief en gezond de wereld kan over reizen. Safe and Healthy travel is a MUST