How to use the local buses on Ibiza or you can hitchhike!
|
May 2013 I was on Ibiza. I was there for 6 days and wanted to visit every village on the Island. The first day I asked in my hotel how I could travel the best way on the Island. They told me to get the local buses on Ibiza. They showed me how to get a ticket and where the busstation was, they had an easy citymap for me.
I found it very easily, my hotel (Maritimo) was not that far from the citycentre. My hotel was in the street were also the Bar of the Hells Angels is located, called The Other Place. That is at Playa, or how they call it on Ibiza Platja Figueretas, on the Calle de Ramon Muntaner.
That first morning I walked to the busstation. A man wanted to help me, I saw that he was drinking beer. He asked me where I wanted to go and he showed me at which counter I could get my ticket.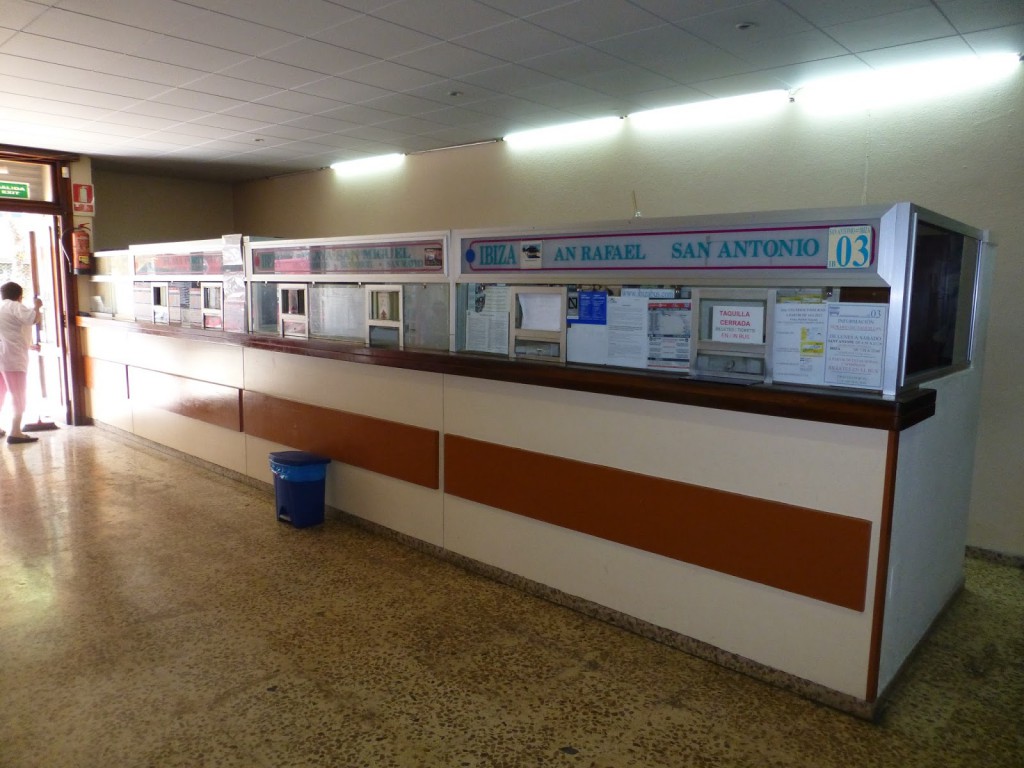 How to use the local buses on Ibiza or you can hitchhike!
I saw the man doing that with everybody who came at the busstation. It was like 9.30 in the morning but he was allready loaded…haha! And that whole week I saw him there, early morning, drinking beer, helping everybody. He was having fun with all the tourists.
The tickets costs between 2 and 4 euro. It is really cheap. When you need to step onto another bus you have to buy the ticket at the that station. But still you wouldn't pay more than 5 euro to get to the other side of the island.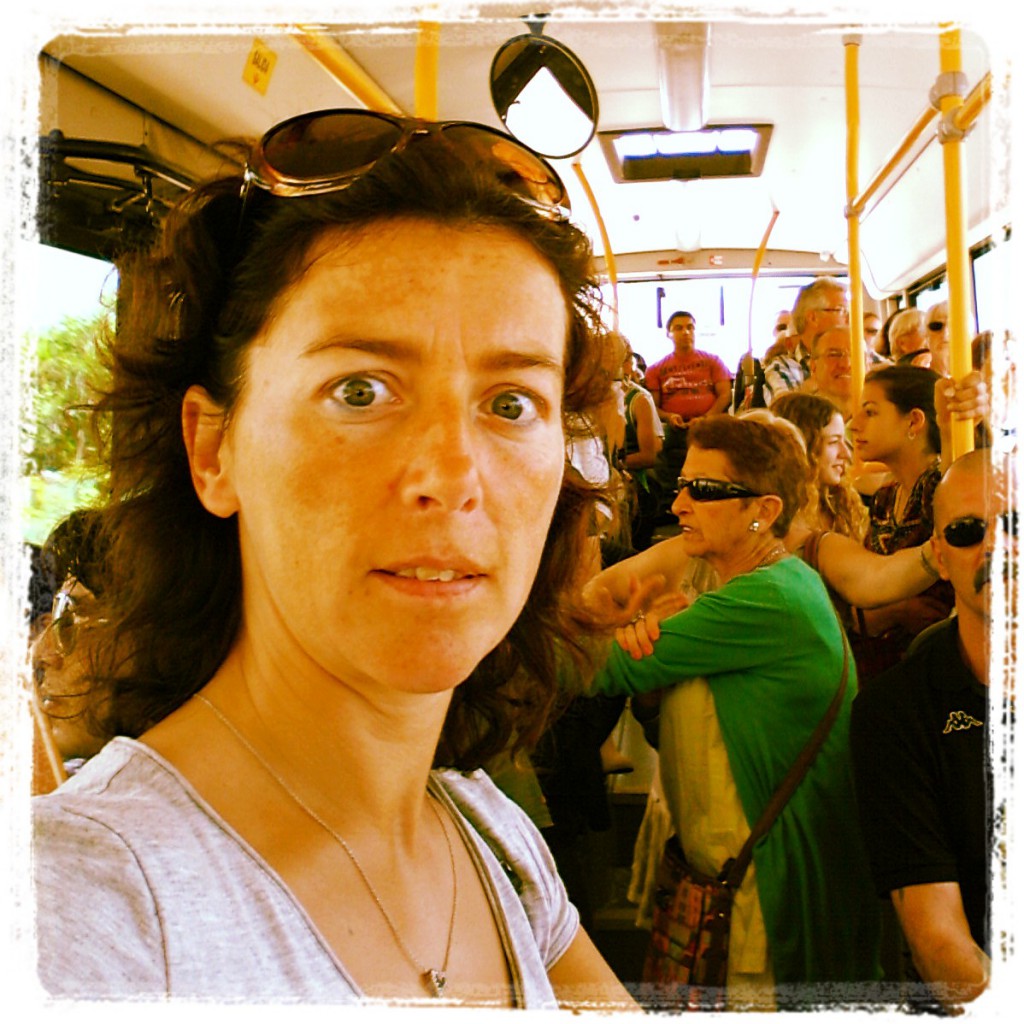 So that first day I went to Santa Eulalia and then on another bus to san Carles, because it was saturday and there was a big hippiemarket 'Las Dalia' I should see. I walked around there,watched all the goods which were really expensive but also very nice. I drank something there and went back to Santa Eulalia. There I went to the sea and ate a good sandwich at the Playa. From there I took the bus back to Ibiza City.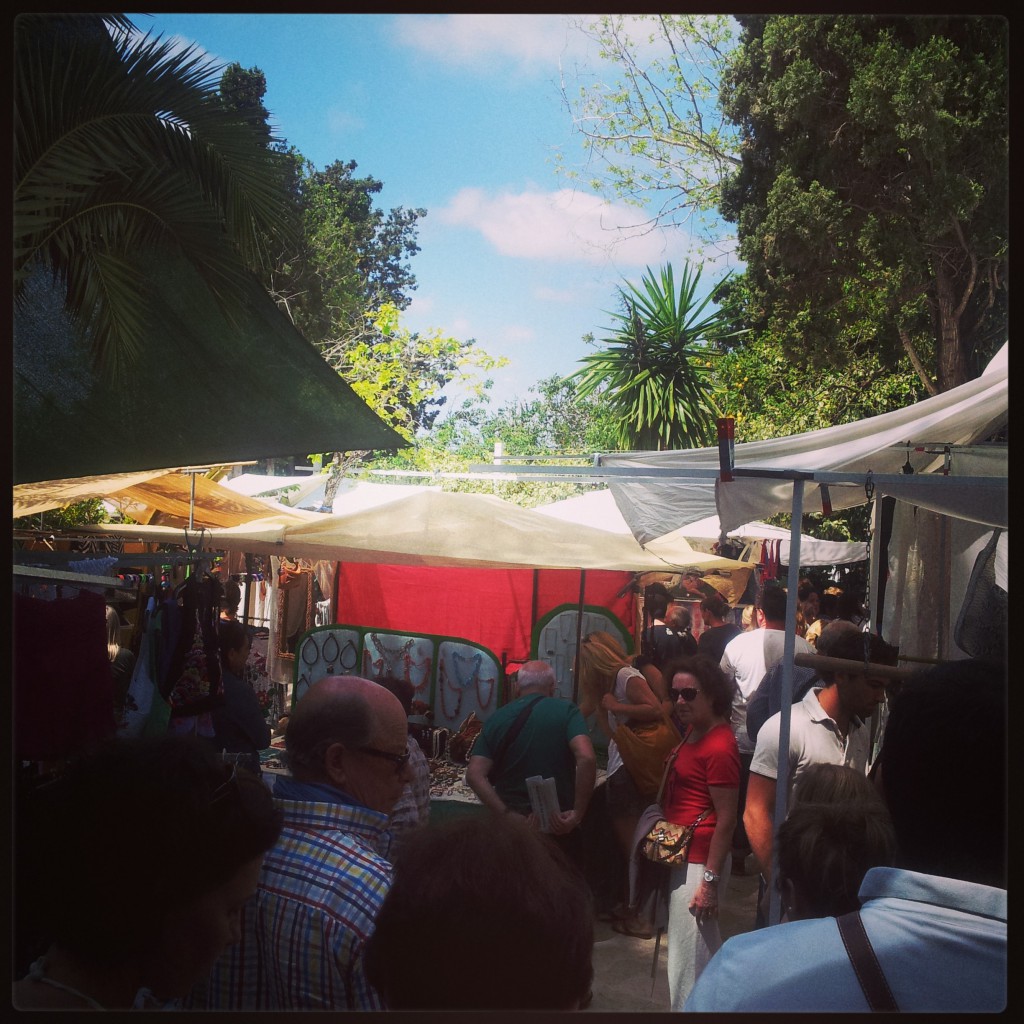 Next day I went again with the bus, this time to Sant Antoni de Portmany. Again I saw the man, drinking his beer. I bought my ticket and within 10 minutes the bus arrived and I went off. It went real good.  In Sant Antoni de Portmany is the Egg of Columbus which I wanted to see ofcourse.
It was Sunday so most of the shops were closed. It was quiet in the centre, the streets are up an hill and I walked through the centre. It is a nice village and I think in the summer a very busy one. The weather was good so I enjoyed a walk on the boulevard. I saw many restaurants and bars down there. I ate a delicious pancake with Nutella and banana. I really enjoyed that, ever since i make those at home too!!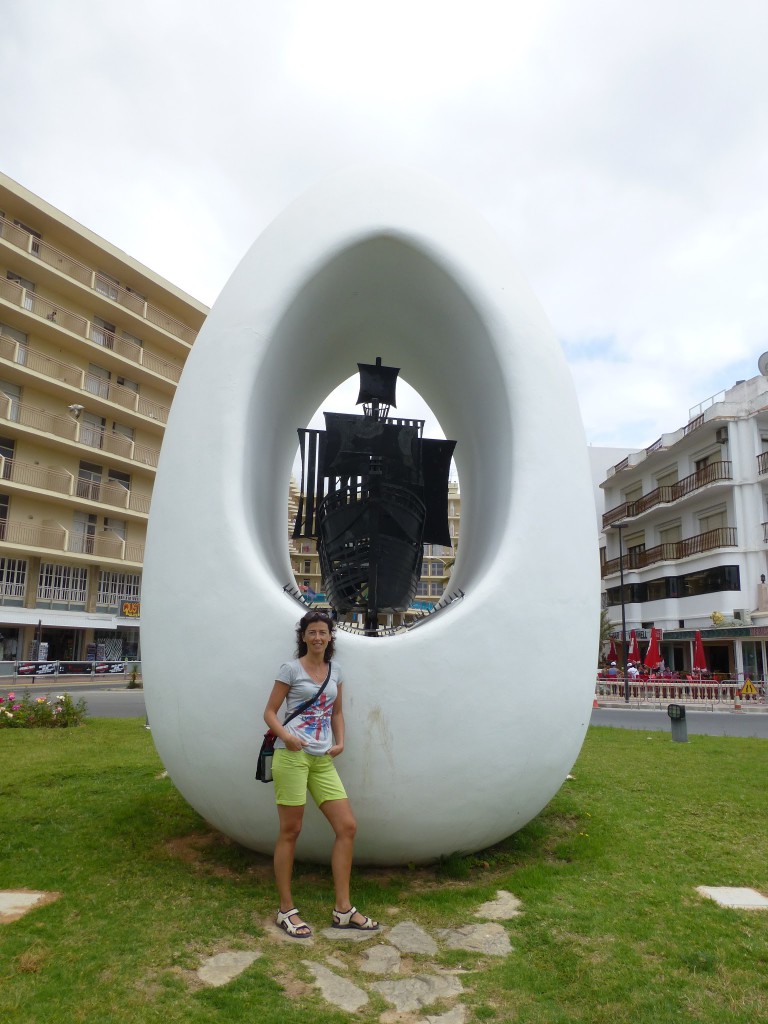 Egg of Columbo
In the evening I always did a cocktail at the Hells Angels bar, The Other Place. They have a nice terrace where you can lounge and the WIFI internet was good! All day through, even when they are closed. My hotel didn't provide WIFI, you had to pay for it by the hour and then use it in the lounge. Totally not relaxed and so not 2013….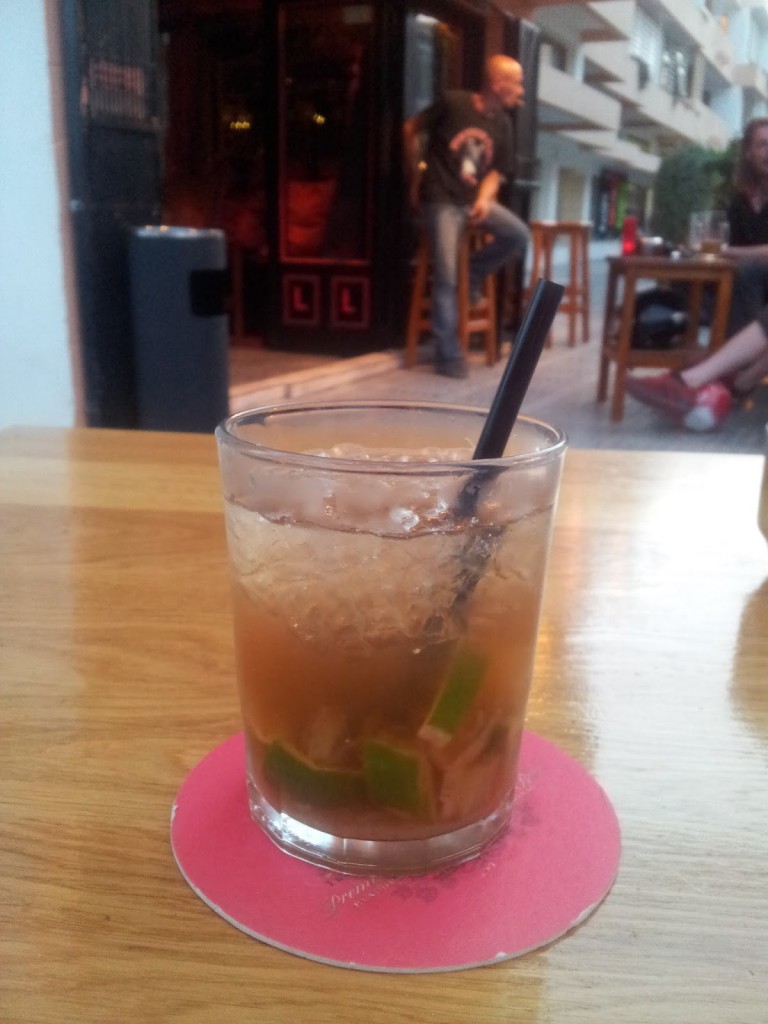 Using the Local Buses on Ibiza!
On monday I went to San Miquel. Again took the bus. The bus went there in one ride. I came there and went to the cave I wanted to see. The sun wasn't there yet so afterworths I'd go to the beach. The cave Can Marca should be nice. There is water in there and in de pictures it really looked surreal….well when I was there. I turned out to be not that big a cave.
We went through it and they had made a waterfall they could turn on. And there was a lightshow on that waterfall. And then we came at the three waterpools which they made with light turn green….which shows of on every picture. It was a big turn off for me. Ah well, you have such an experience in every country or everywhere…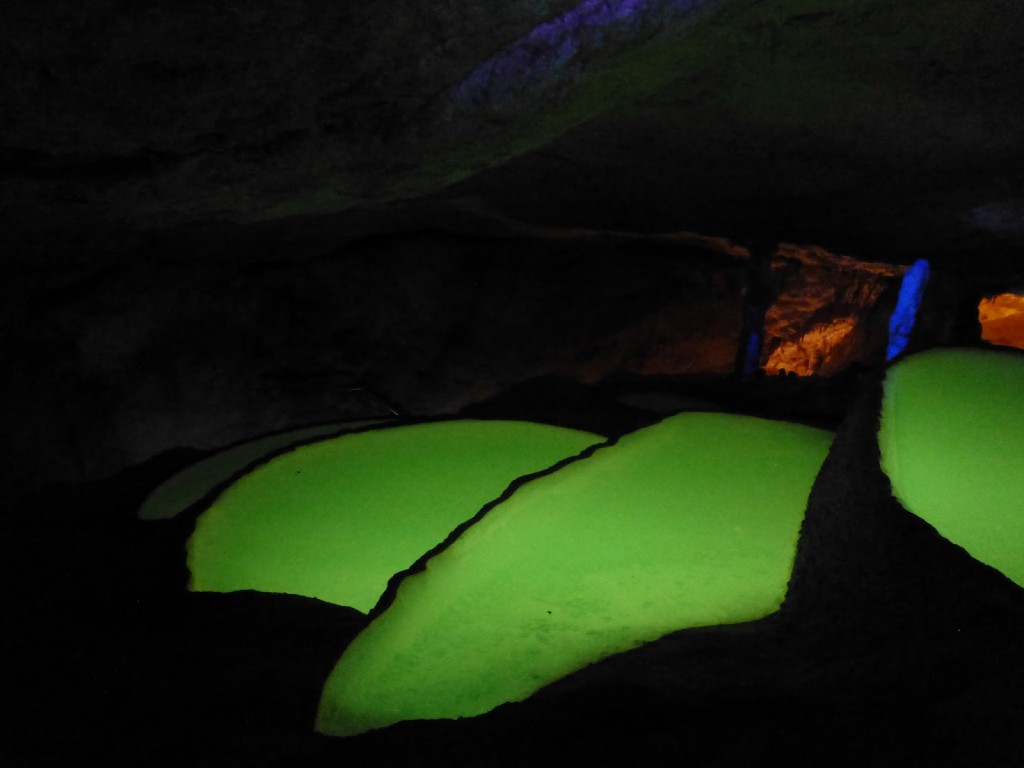 After that I wanted to lay down on the beach. The sun wasn't quit there yet. I had some naanbread from the restaurant Kathmandu2 from the night before and I ate that.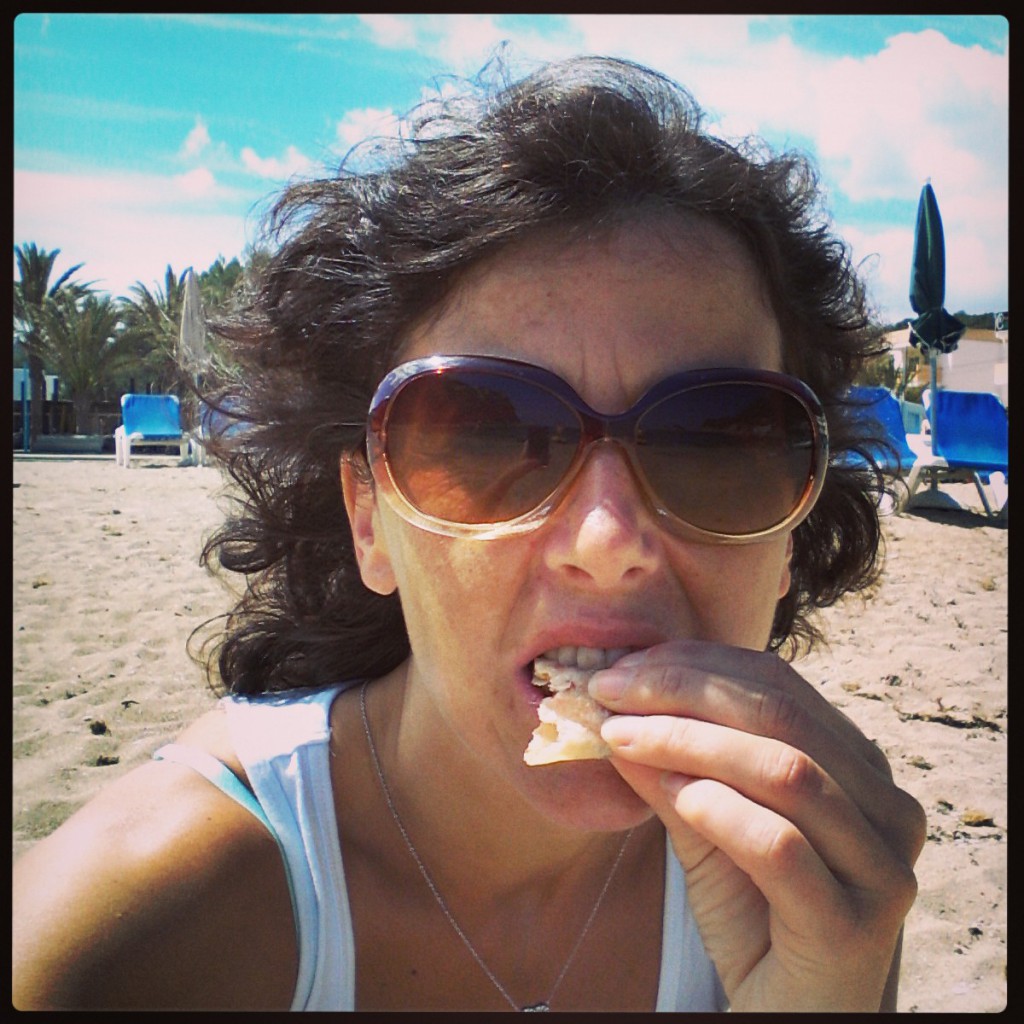 And at some point I just wanted to go back to Playa Figueritas. Wanted to lay down at the pool from the neighbourhotel, they didn't mind and mine hadn't one 🙂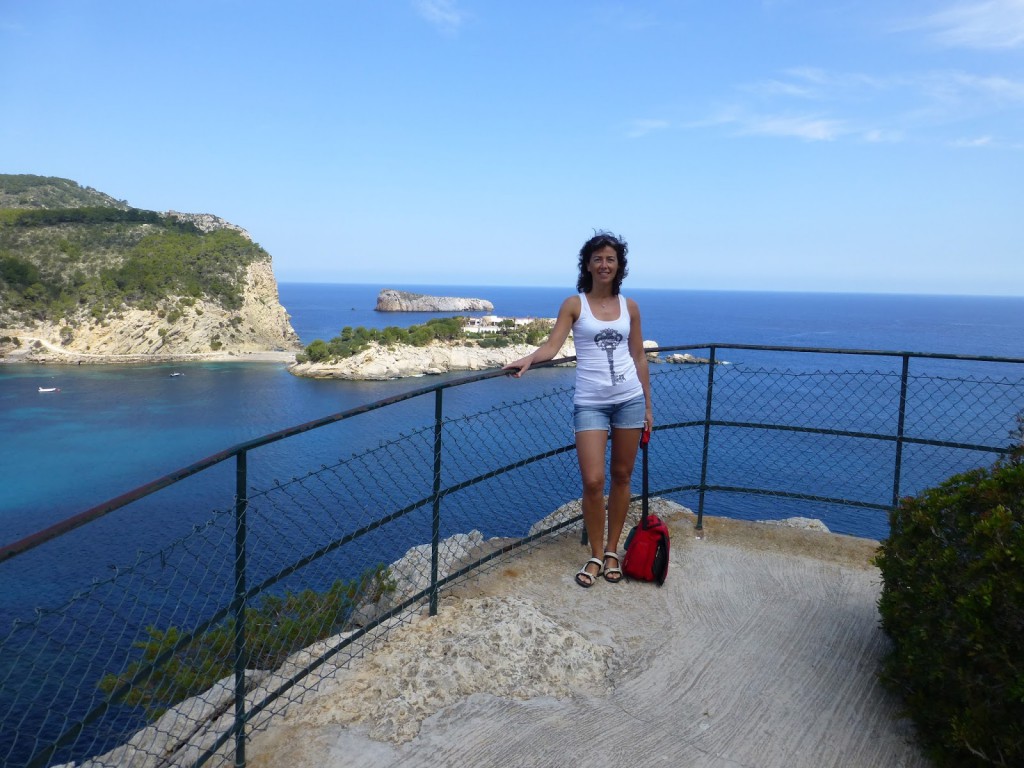 View at Bay from Cave Can Marca
When I came to the busstop for the local buses on Ibiza I saw that there wouldn't be a bus untill 5 oclock…..so I had to wait the whole afternoon. I saw a touristagency and I went there to ask what to do. The woman said I should go hitchhiking. Wasn't a problem, was happening a lot and it was the only way, or a taxi, to get to the other side of the island.
How to use the local buses on Ibiza or you can hitchhike!
So that is what I did. It really felt strange to put up that thumb again after so many years. Last time would be in the 80's or beginning of the 90's 🙂 The first couple of cars didn't stop but then there came a small Fiat 500 and they stopped. In there was a couple from France. They were real nice. He was a cyclist and she was here to teach Yoga. She was here for a couple of months and her husband was here for a couple of weeks. They were going to drive around to check out the roads for him, to see if he could bike around there. They brought me to the first village.
So that went really well!!
After that village I walked for about a km, I think. At some point there where lots of cars stopping because there was a school. It was outside the village, along the road, the footpath was about to end and at that moment a car stopped and the backdoor opened.
The man who was driving was still talking to his compagnon and that man made sure that I good sit in the pack by replacing a box to the other side of the bench. It was some kind of truck with not that big of a seat in the back. It was good. They would take me to Santa Gertrudis. I would be half way back…but when we got there they told me that they were enjoying the drive and would bring me all the way back to Ibiza city!!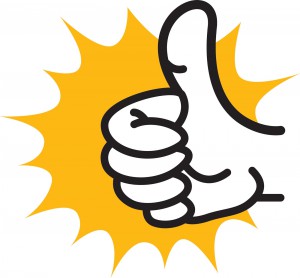 I heard them talking, the driver was living in Ibiza and the other guy was visiting from Great Britain.

They asked me where I stayed in Ibiza and dropped me off near Figueritas at the McDonalds!!!

Within the hour I was back where I wanted to be….FOR FREE!!!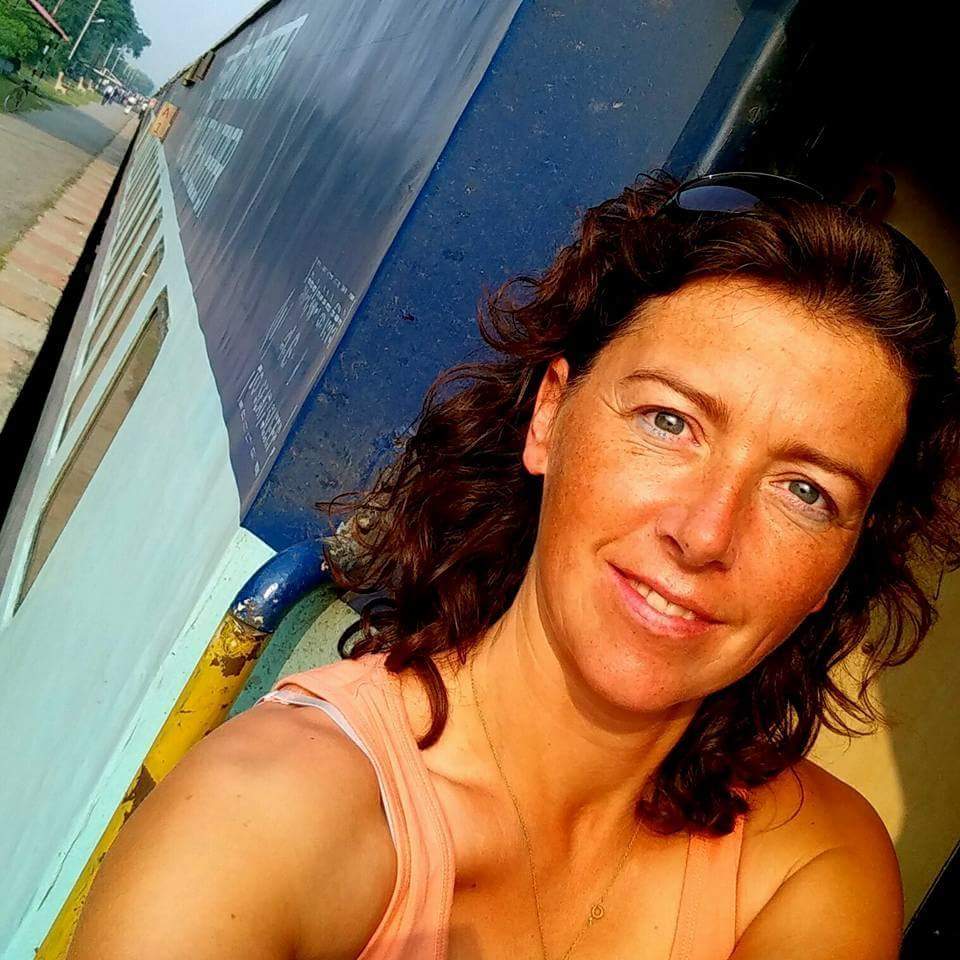 Jacomijn is een politieagent uit Nederland die jou graag laat zien hoe je veilig, actief en gezond de wereld kan over reizen. Safe and Healthy travel is a MUST