hotel/hostel/botel Rygerfjord – Stockholm
You want to stay in the city centre too but most of the time you pay the top of the bill! Or you stay in a place you expect to see rats roam the place at night 🙂 I stayed at Rygerfjord in Stockholm! At first was a bit sceptic and was expecting the worst…
But it was great!!!
Rygerfjord – Stockholm – Sweden
Voor de Nederlandse versie van Hotel/Hostel Rygerfjord in Stockholm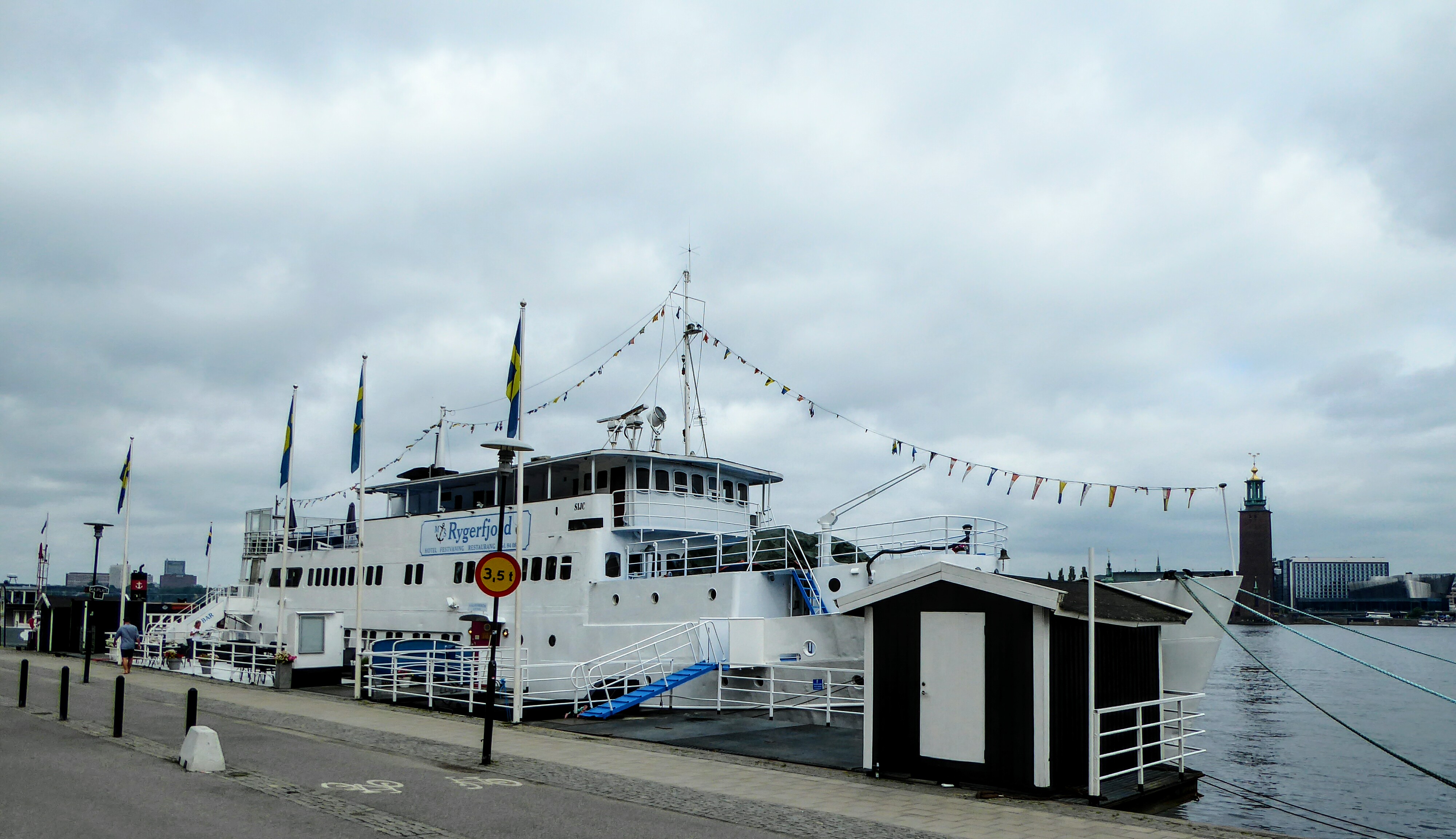 I was looking for an affortable hotel in the centre of Stockholm. At first I had another great one on Sodermalm but it was at least an half an hour walking to get to Slussen. Where you can get the brigde to get to Gamla Stan. I wanted to be closer to the centre. Then I found the botels on Söder Mälarstrand and I am really positive about this place and part of the city! It feels like your outside the city but have the view of one sitting on first row!!
Where can I find Rygerfjord – Stockholm
The island Sodermalm of Stockholm is the biggest island and a great one to explore by walking! On the Soder Malarstrand side of the island you have the view over Lake Mälaren, on the Stockholms Stadhus and other beautiful buildings.
The skyline is just wonderful!
It is just a beautiful brigde away from the famous and historic important citycentre of Gamla Stan. Also the more modern part of Stockholm Normalm and Ostermalm is only a 20 minute walk away. You'll find some of the larger shops and global known shops here. But also here are such beautiful historical buildings!
The Concept of Rygerfjord
Is it a Hotel / Hostel / Botel ??
Rygerfjord has three boats and you have the choice in private rooms and dorms. I had a private room on the third boat with a great view on the water. And a view on the opposite side on the Stadhus. How could this not be great??
Facilities on board
The boat has two floors and on each floor there are several toilets and showers. Some showers has a toilet in them and are complete bathrooms. On the second floor there was a kitchen fully equiped to use with enough room for at least 10 people to sit down at seperate tables. With good weather you can sit outside on the tip of the boat. I really liked that!!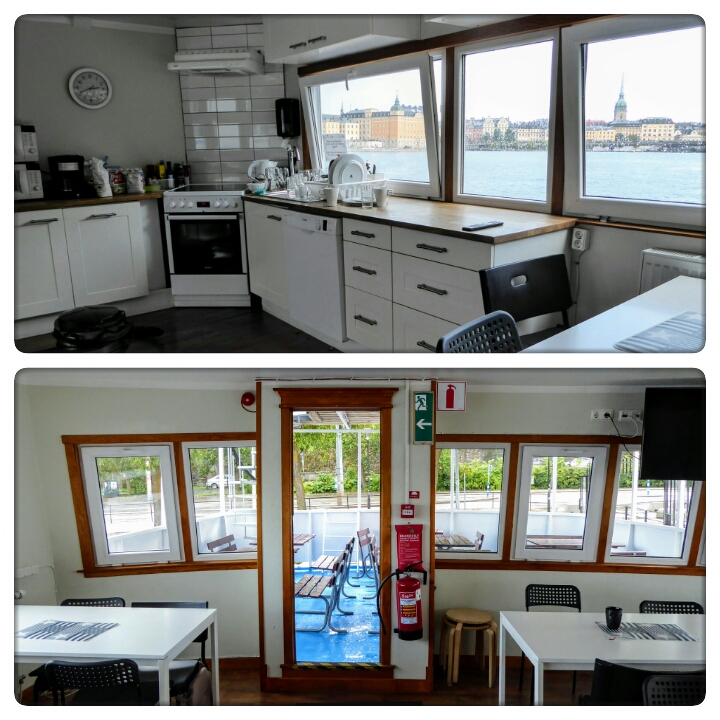 Do you see the great view you  have while cooking your dinner?
Three boats?
The first boat has the reception on board plus the restaurant. I didn't have my breakfast included but did use their breakfast bar on this boat. You can sit inside, on vastland in front of the boat or on top with that great view again!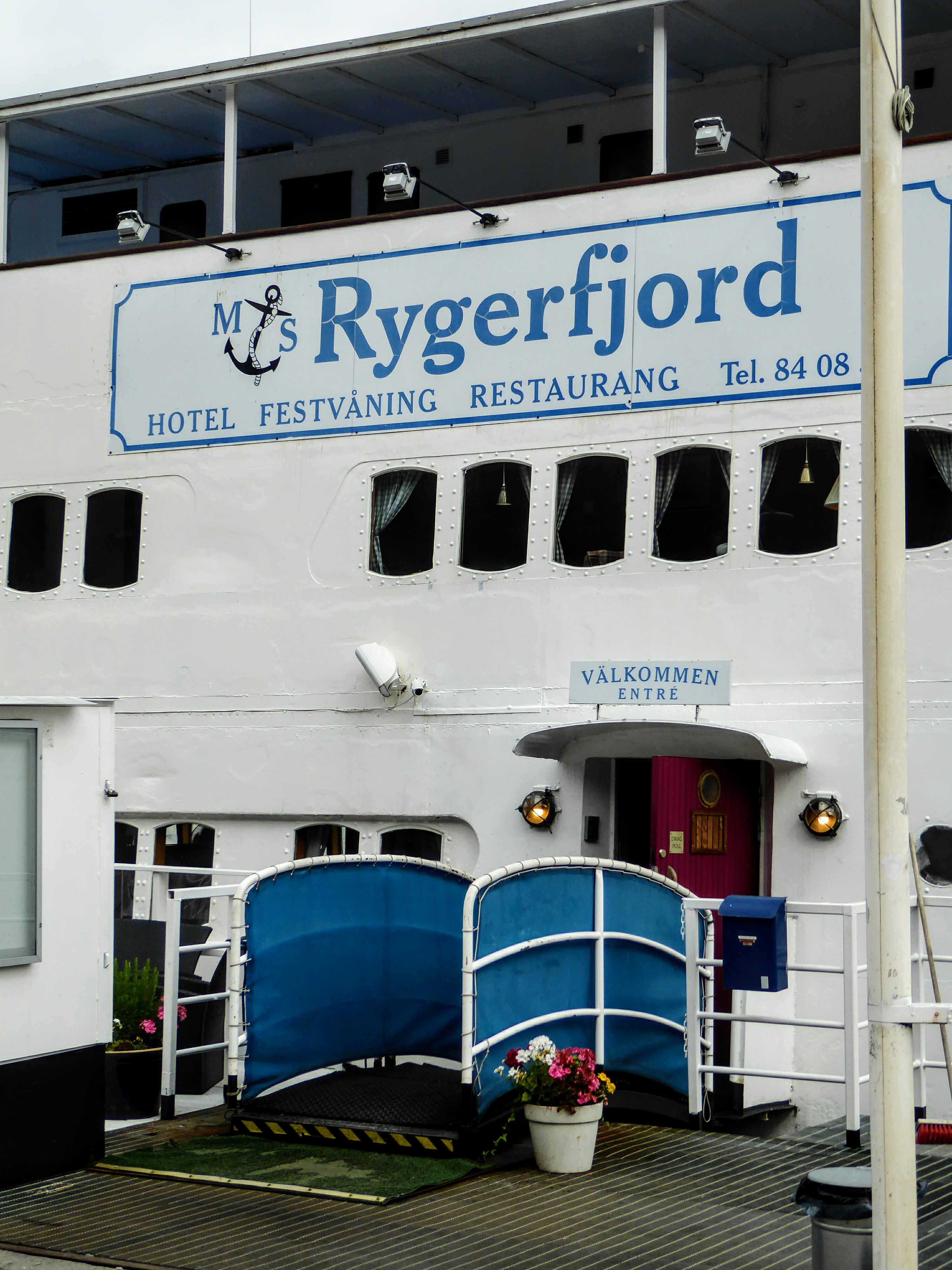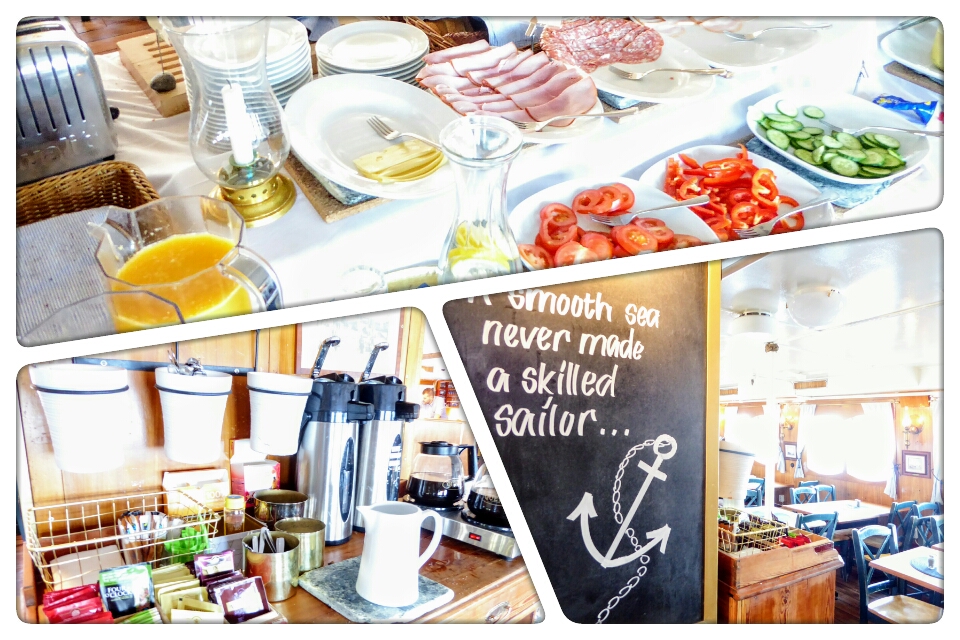 That first boat lies horizontal along the harbour but the second and third boat are only connected with the nose to the harbour. In between the boats lies a platform that forms a terrace. You can sit there and relax ofcourse. It could use some more tables as there were only three.  But they had enough place for a whole family.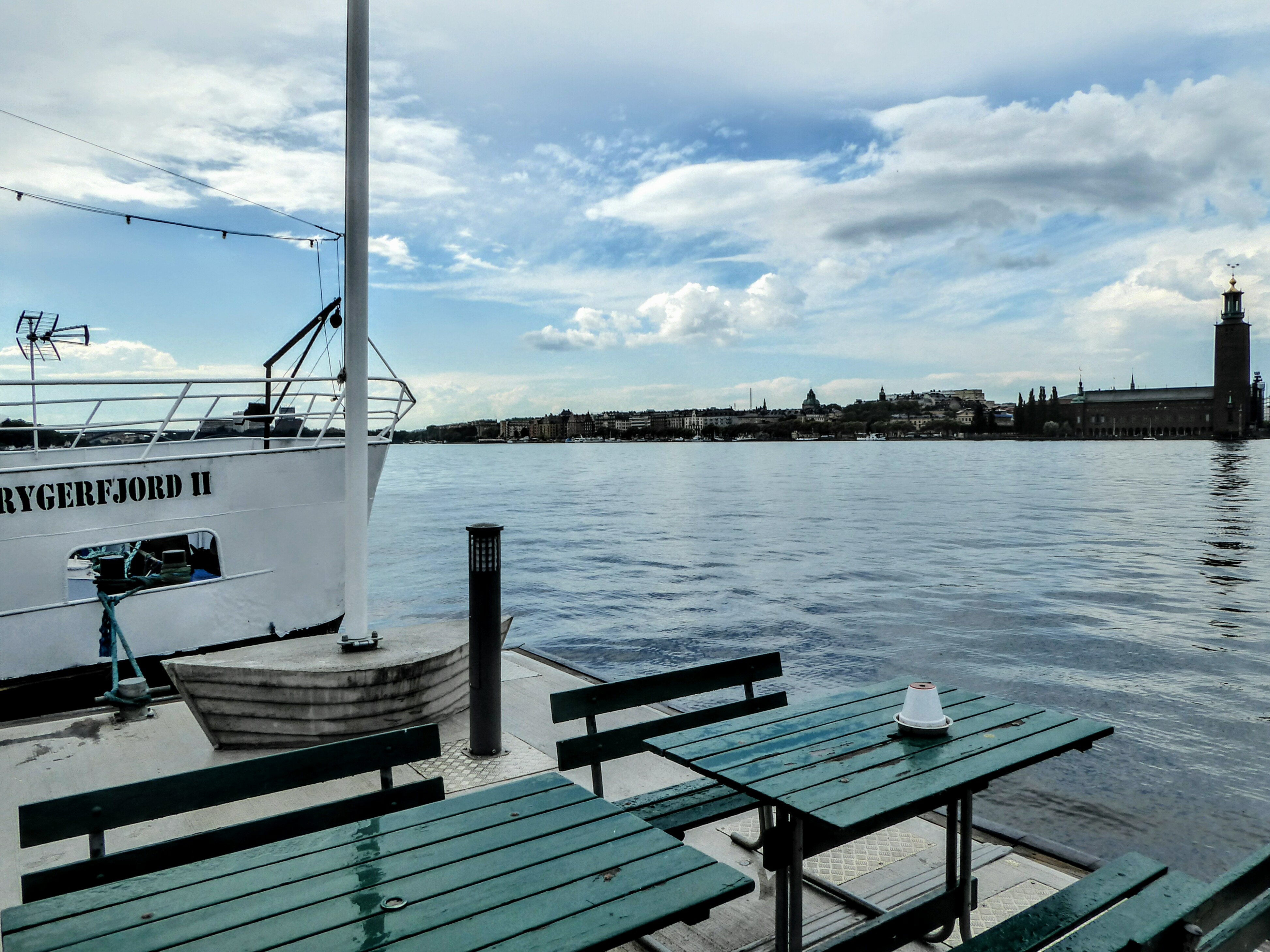 Safety?
The shore is connected to the two boats with a gate and a path over the water. This gate is closed at night. There was a pincode nessecary to enter so that felt safe too! The pincode changed every couple of days which I found out when it was changed on my second day. But the chance of strangers or old guests coming in is really small.
I think this was important because the reception is a boat length (50 mtr) away this felt good.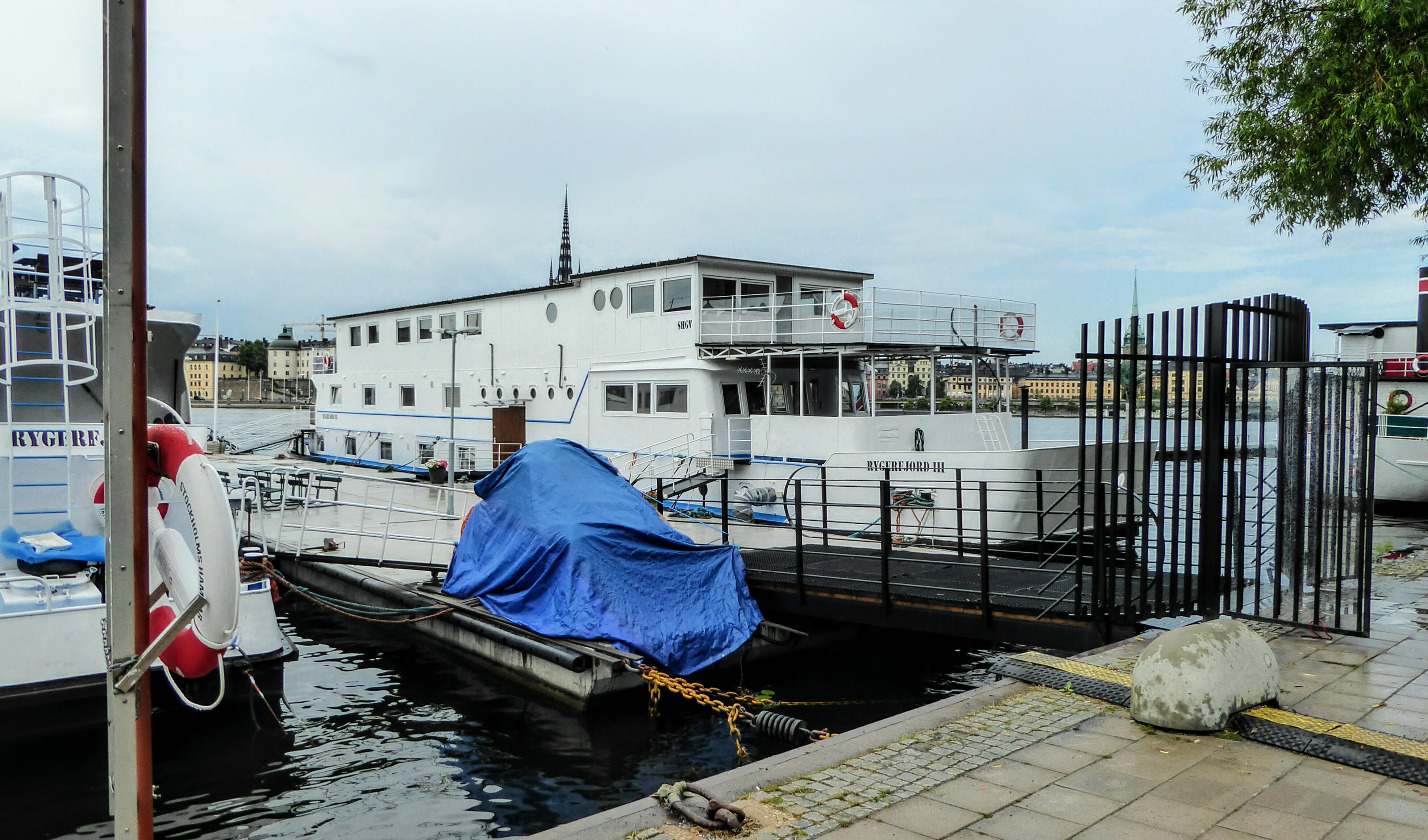 My room – Rygerfjord
I had booked a singleroom. The room had two beds, a bunk bed but the lower one, which I used was bigger. So I could sit down without hitting my head to the upper one!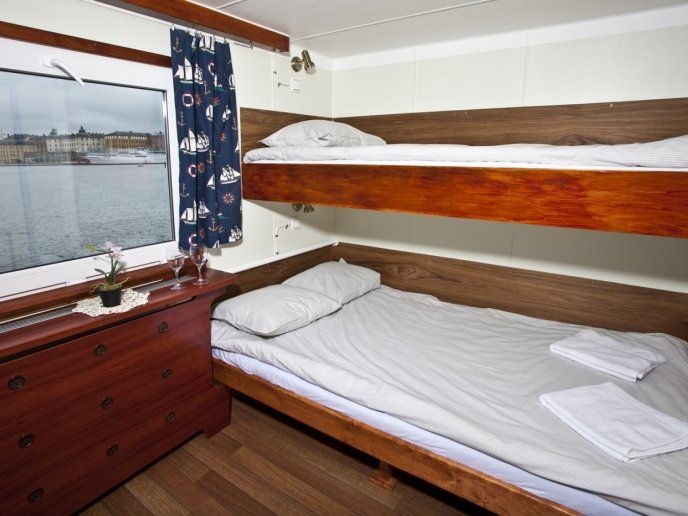 This picture is found on the internet.. I forgot to make a picture from my room but it was almost the same. I had a real table and a chair next to  my bed. Also on the other side there was a lot of room to hang your clothes and a big mirror next to it!
My room also had a window that showed me the best view ever!! I could see that great Stadhus and the brigde connecting Sodermalm to Gamla Stan. The window could be cleaner….couldn't make any nice pictures… But I can imagine that they don't do that every month 🙂
Internet / WiFi
On all the boats was WiFi and the connection was good. Really important for me to really enjoy my stay. Especially in my room 🙂 and I had good WiFi in the room too!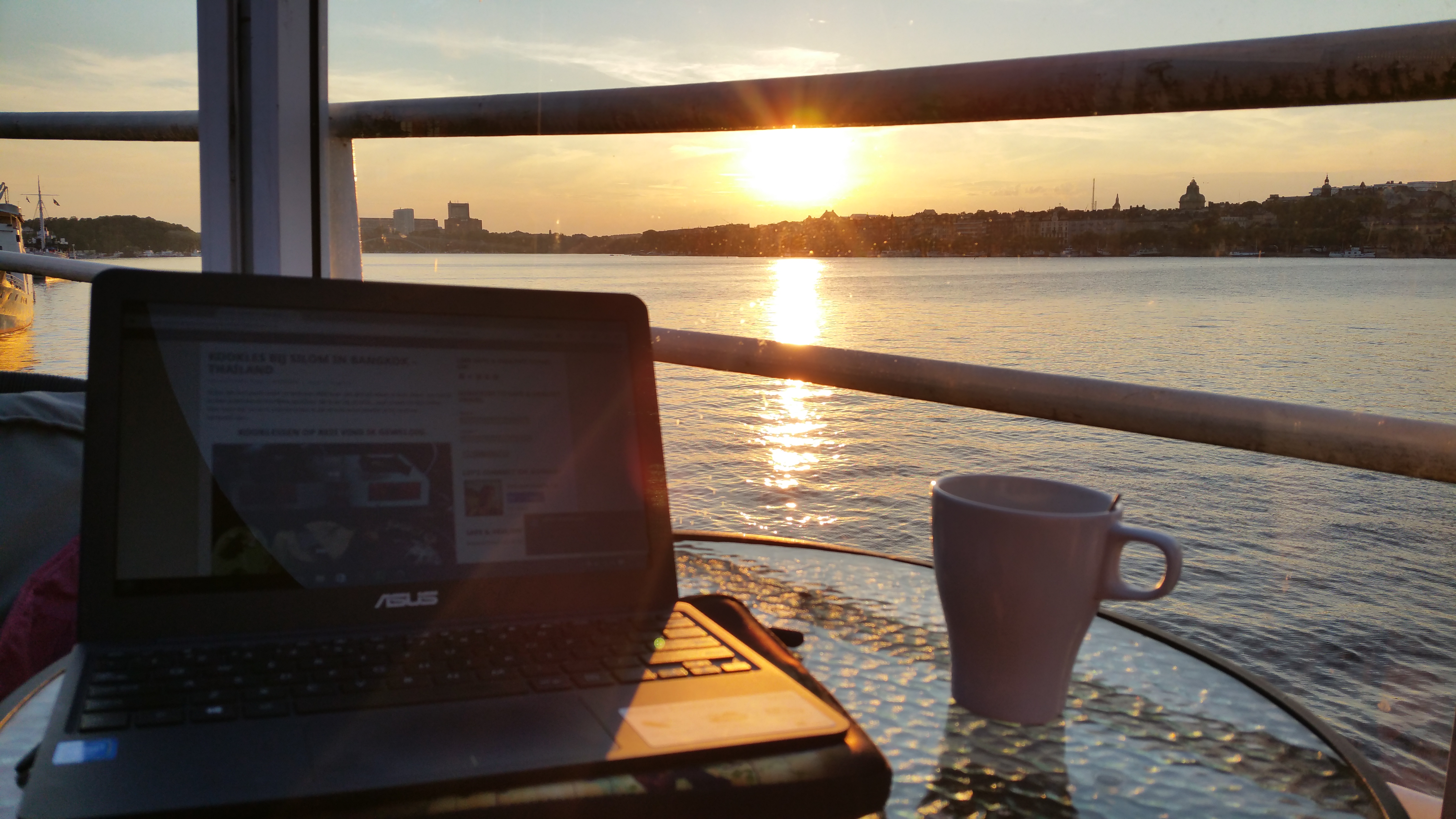 And on the main boat at the top, blogging with a nice cup of coffee and a killer view!!
Public Transport
The metrostation Slussen is a 10 minutes walk, at the bridge you go up on the Sodermalm side. From there you can take the red or green line metro. If you choose T-Centralen (Central Station) you get to the centre of Stockholm from which you can go anywhere.
Getting there:
If you come from the airport you need to take the Arlanda Express that will bring you to T-Centralen and from there you take the metro to Slussen. Just a short walk to the hotel is left.
Rented Car to park
If you have your own rented car with you there is not a problem too. There is a municipal car park on the other side of the street.
A great evening stroll – Söder Mälarstrand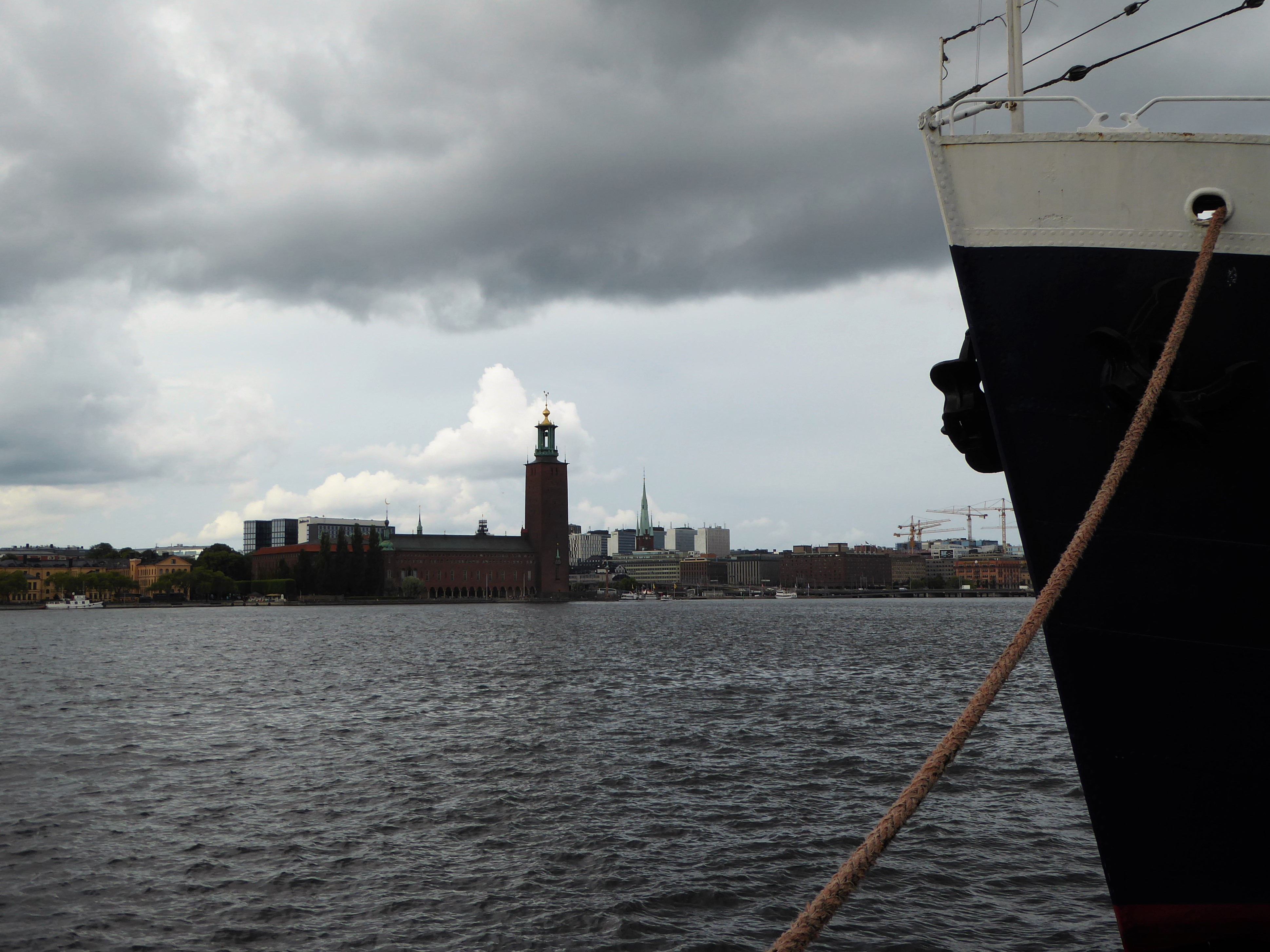 There are a lot of botels lying on shore here. Some of them have parties and have great restaurants! If you want to spend a whole evening here I can imagine you have a great time!
I walked all the way to the end at it was a nice stroll and if you know me you know what I did 🙂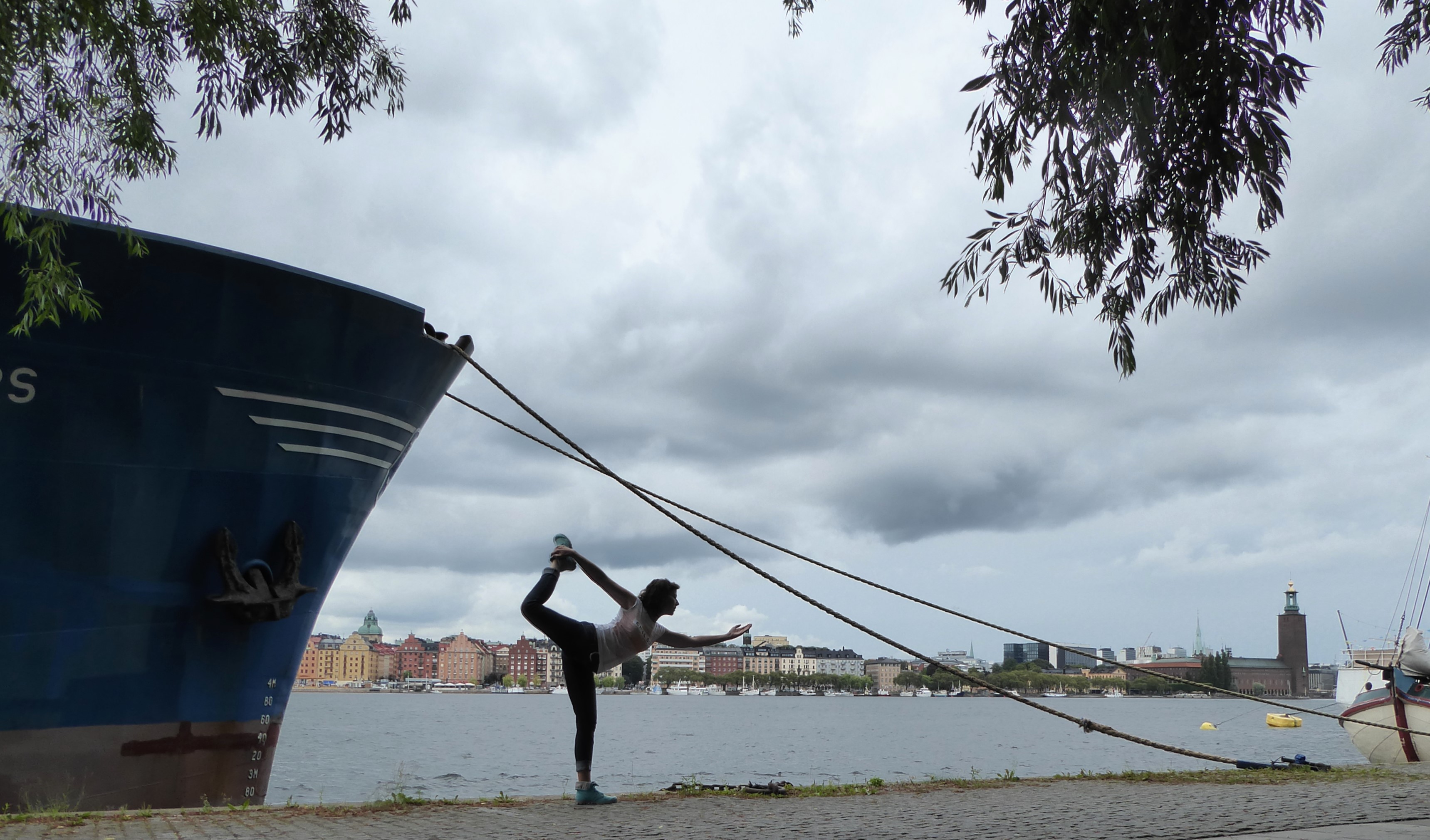 —
Safe this great location  on Pinterest or share it with others on the social media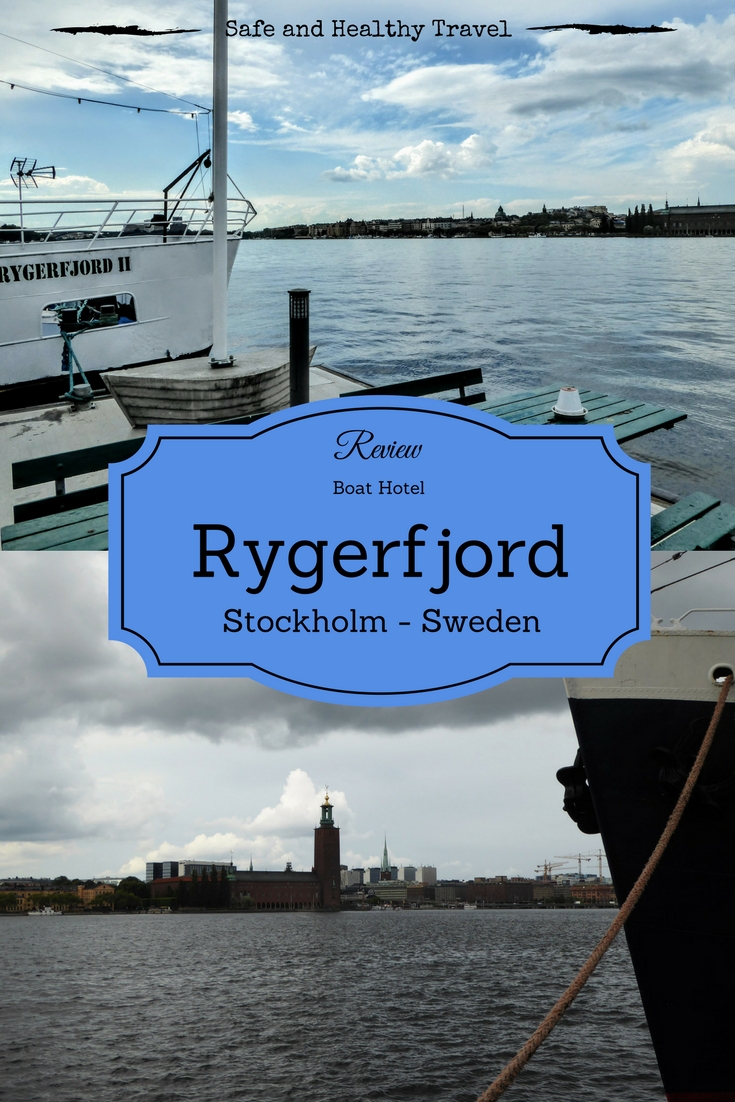 Read more reviews?
The Accomodations I used in Iceland
My Favorite: Sukhumvit 12 Bangkok Hotels & Suites
Read more on what to do in Sweden too
Cycling along the West Coast of Sweden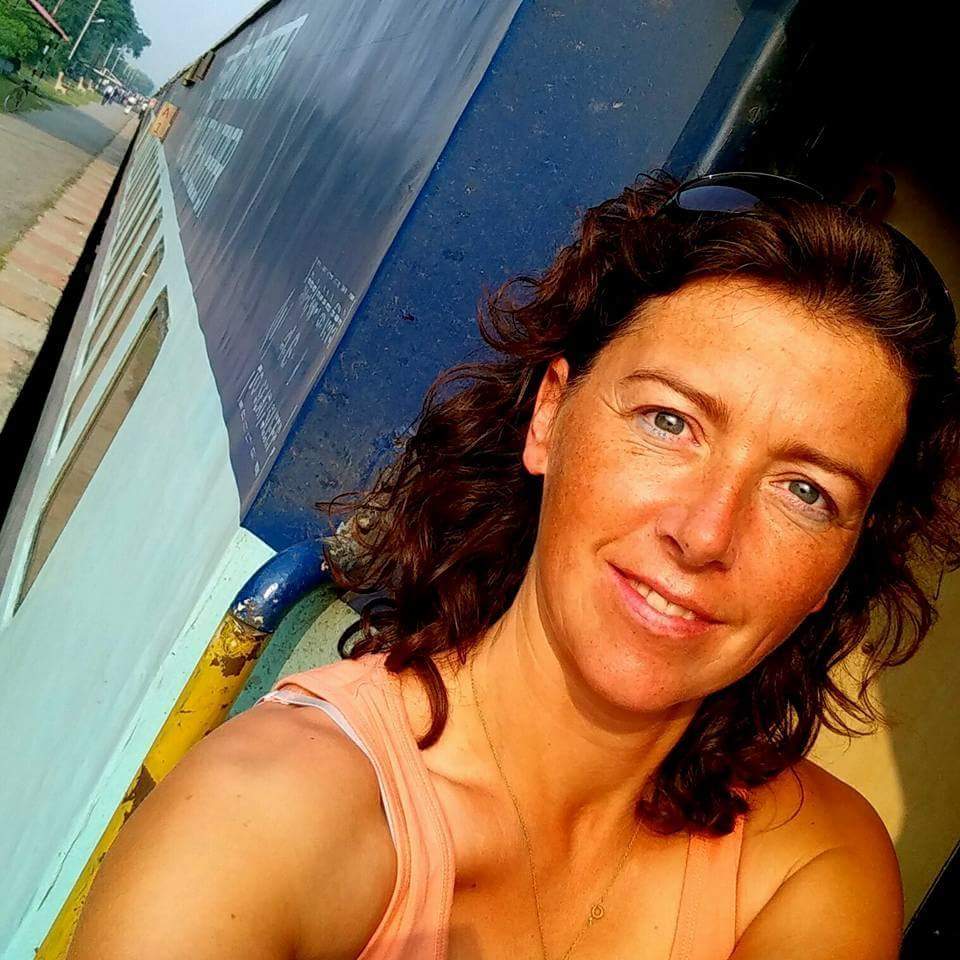 Jacomijn is een politieagent uit Nederland die jou graag laat zien hoe je veilig, actief en gezond de wereld kan over reizen. Safe and Healthy travel is a MUST