Sailing weekend in Friesland – Netherlands
|
I was invited to go sailing for some days in the Dutch province of Friesland. And if you know me a little bit you know I accept that with both hands!! My colleague who asked me knew that too 🙂
The plan he made was: his boat was in the small town of Akkrum so we would start there on friday. We would sail to the Wijde Ee, a big lake to sail properly and along side that lake we could spend the night also.
I was totally happy with that!

Sounds like a great plan!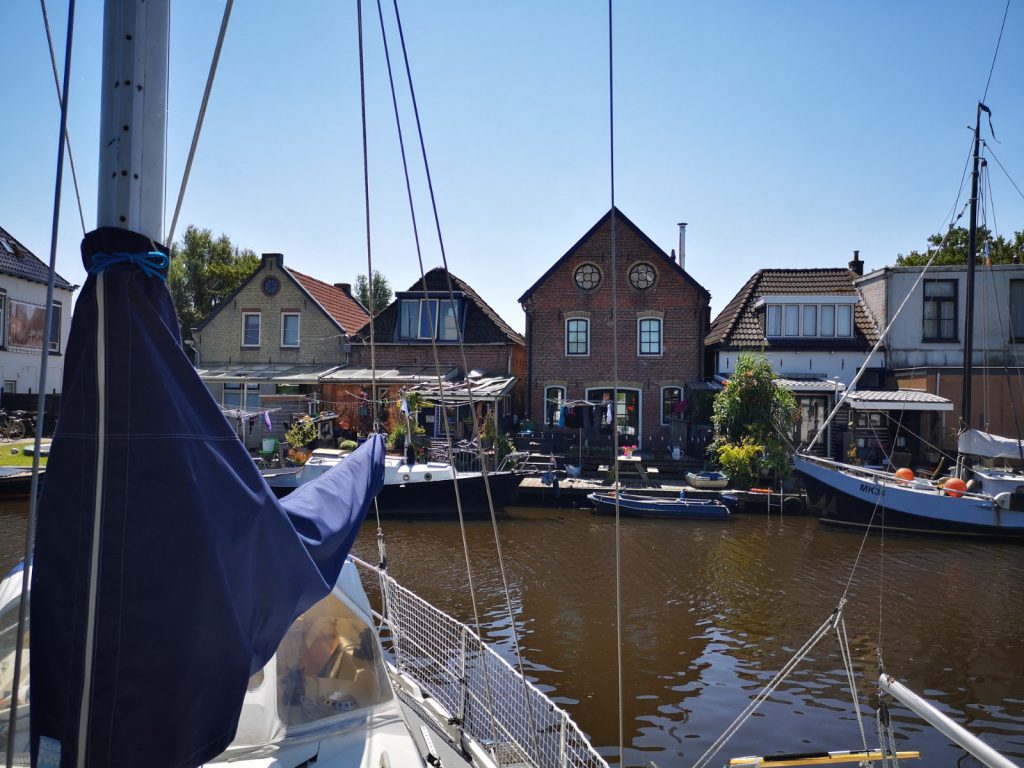 We did our last groceries in Akkrum, settled us on board. We had enough to drink and eat to be on the water for the rest of the weekend!
We started to sail to the lake but had to cross a bridge and a aquaduct.. Do you know that? To cross the bridge we called the supervisor who opened it for us. And just after that we sailed over the highway!!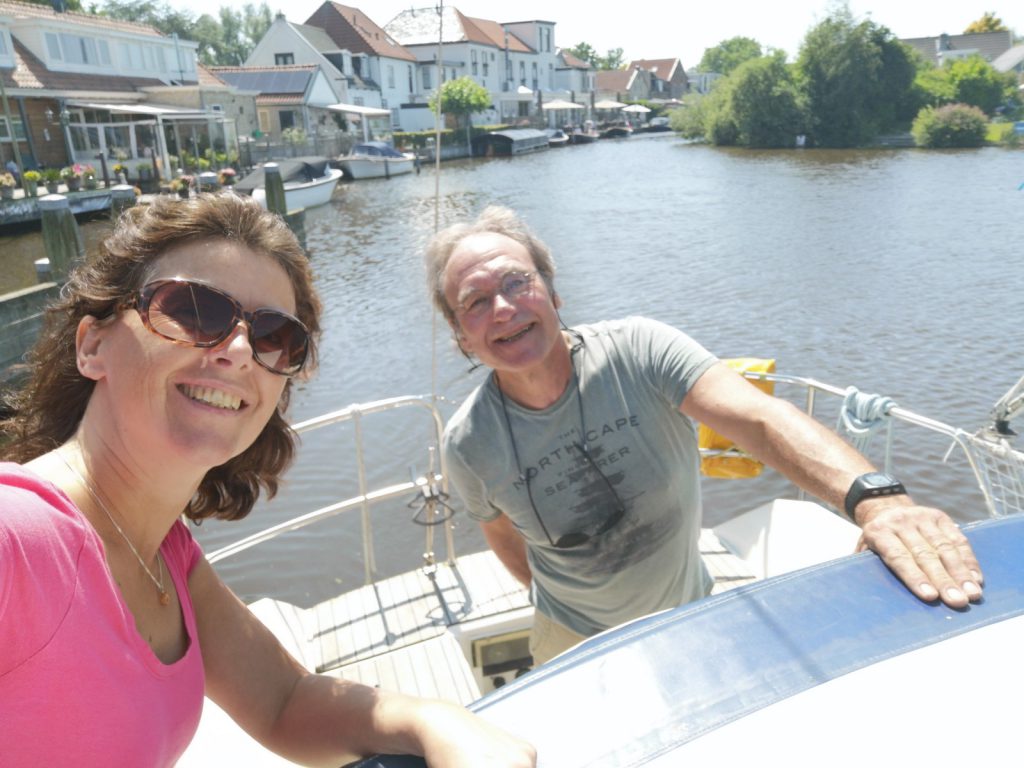 Do you have aquaducts in your country too? I know them because I drive my car underneath the water but never before I was in the boat going over the road!!
Have you done this?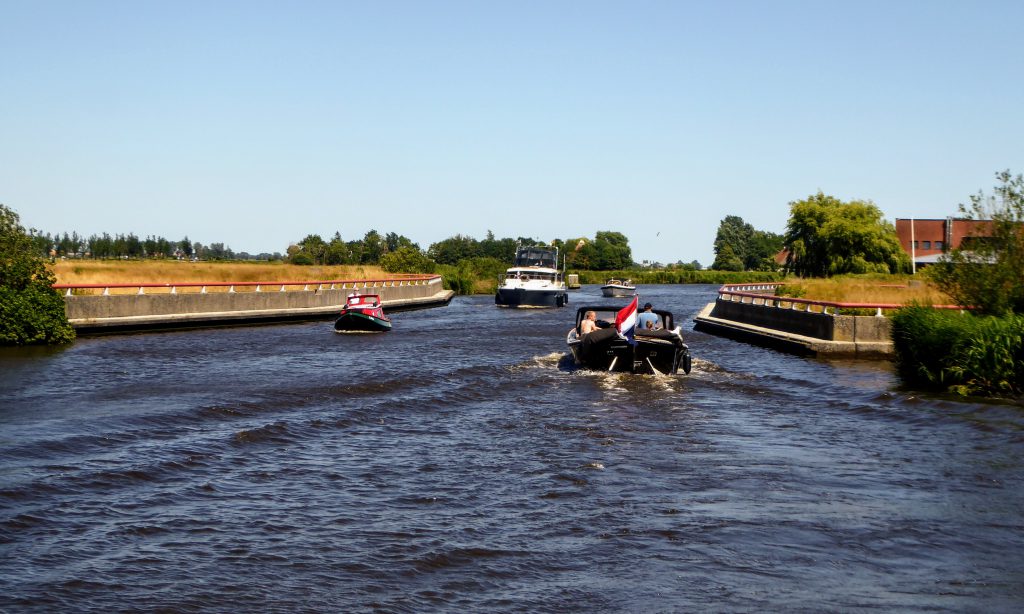 Sailing over an aquaduct in Friesland
In The Netherlands we know our way with water!!!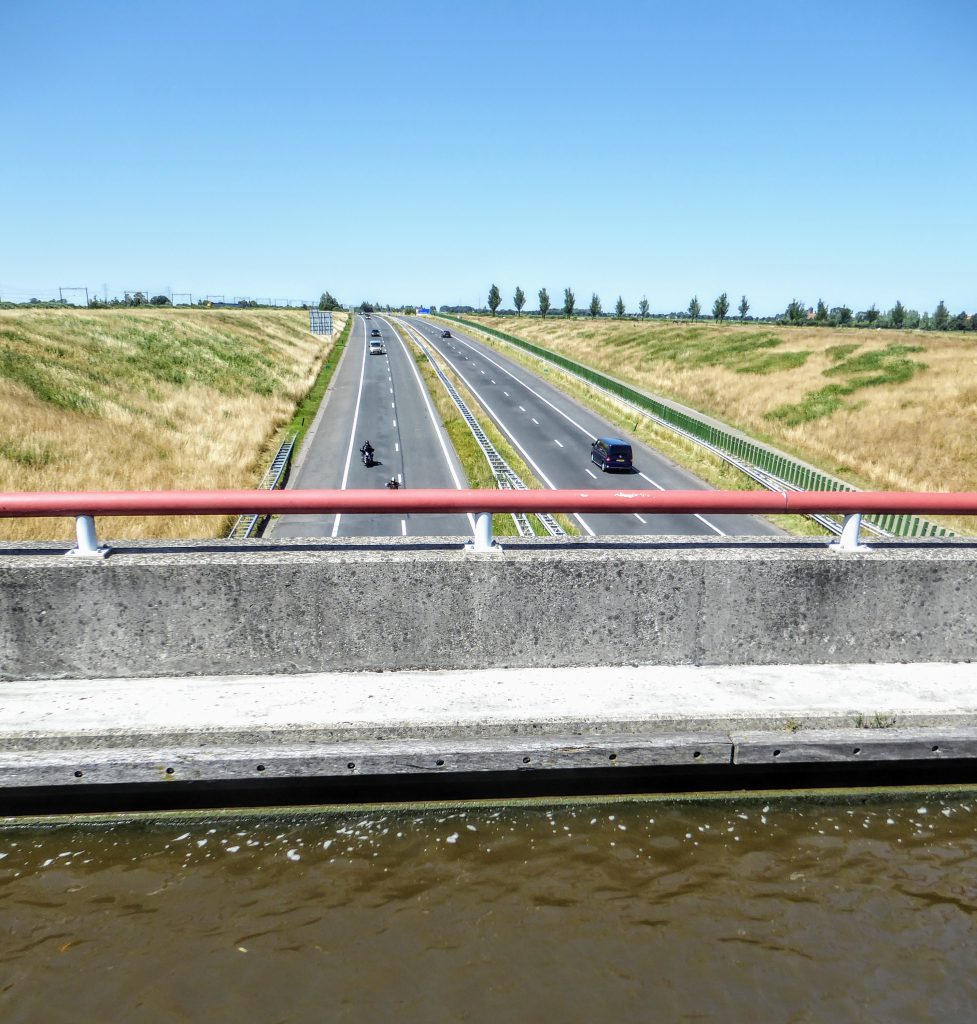 And then we came to open water! My colleague Bert explained how the canvas needed to be positioned to go sailing. Soon we were at the lake Wijde Ee en started to sail. There was a enough wind to get some speed so we went off to a great weekend!!
The next day the wind would be tougher, force 4 or even force 5…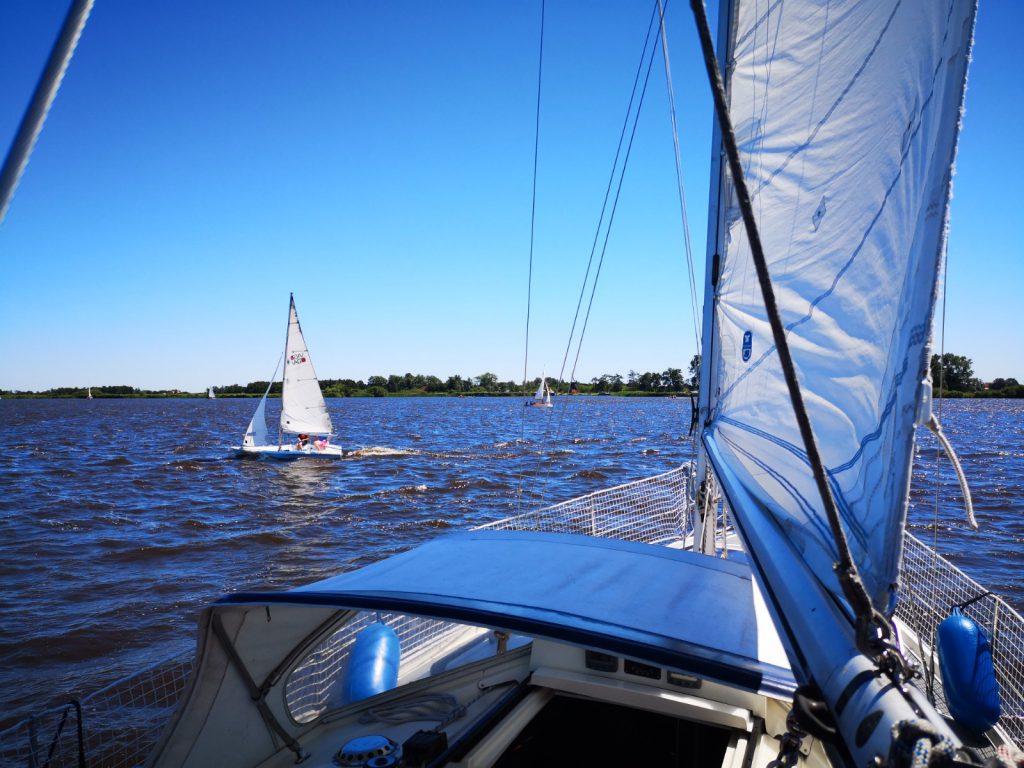 And lets be honoust…
That last day we skipped sailing, we didn't put the canvas up and sailed by motor… I couldn't help that much and Bert, my colleague wasn't that confident yet to do it by himself. If you need to explain someone that does not know the jargon and does not know what to do at all… And with winds blowing that hard you need to act quickly, immediatly…
We didn't want to risk anything…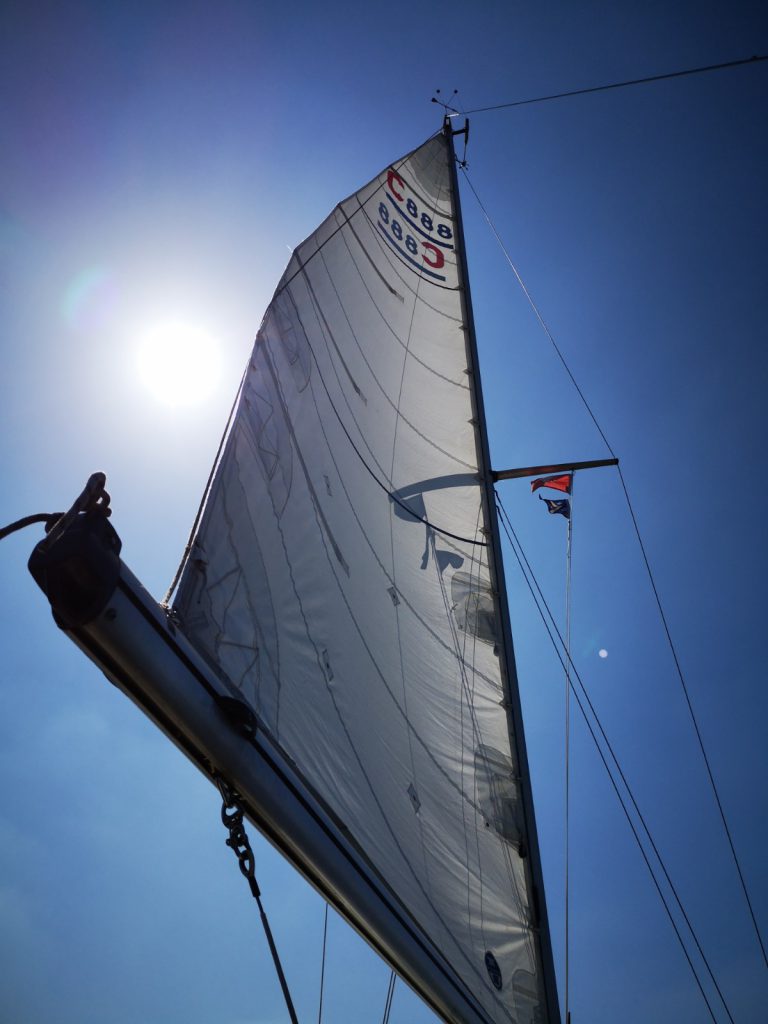 It is hard working that sailing, ever done it? Having the wind in your canvas on the one side and going to the other side can cause a heavy blow to the ship.  If you have don't keep your attention to the sailing the canvas can pass your head with tremendous force.
I don't konw the proffesional jargon and so it was good that Bert immediatly started to teach me the different words and techniques that comes with those.
I heard Bert saying lots of things and I remembered some but to use them in English is too hard for me. I did find a site that gives some explanation about it. If you want to go sailing it is a good idea to go google about it.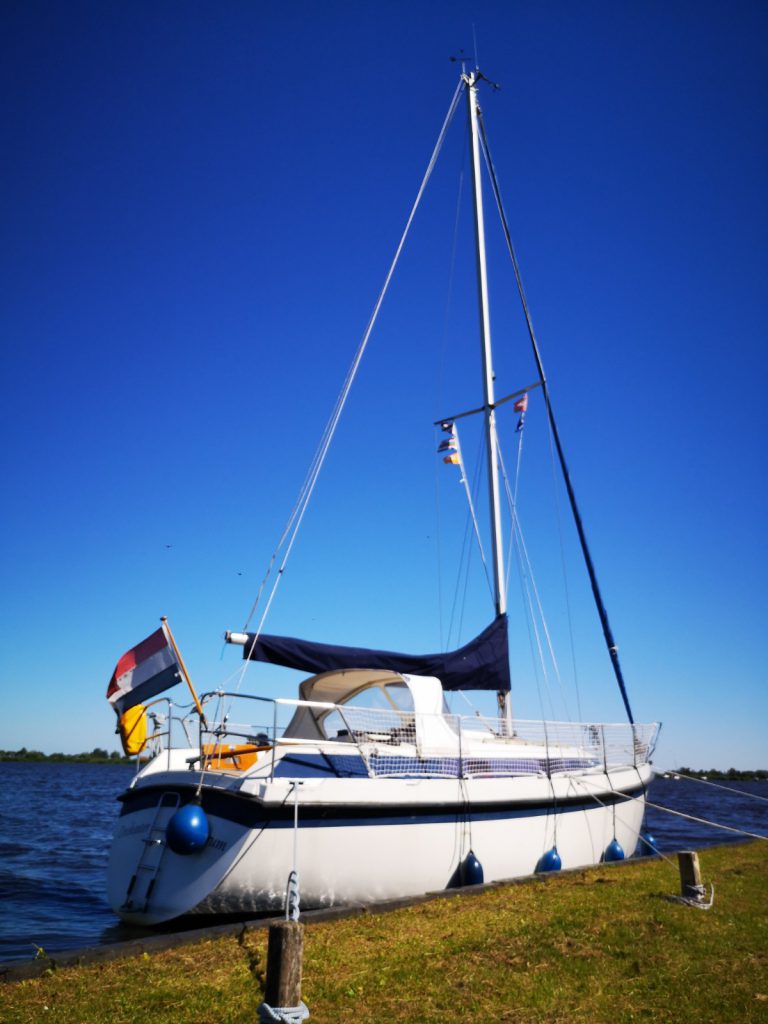 I loved our weekend on the waters of Friesland. The weather was great, no rain and sun all the way into the late evening. The temperature was great to be out in nature!!
Sailing weekend in Friesland – Netherlands
Did you know that:
You can go anchor your boat anywhere along the side of the lake and stay there for the night. You can just go camping.. well sleeping in your boat ofcourse but its kind a like camping. You can do that for up to 3 days in one spot.
How cool is that?
It reminds me of scandinavian countries!! I used the allemansratten in Sweden to go camping in nature!!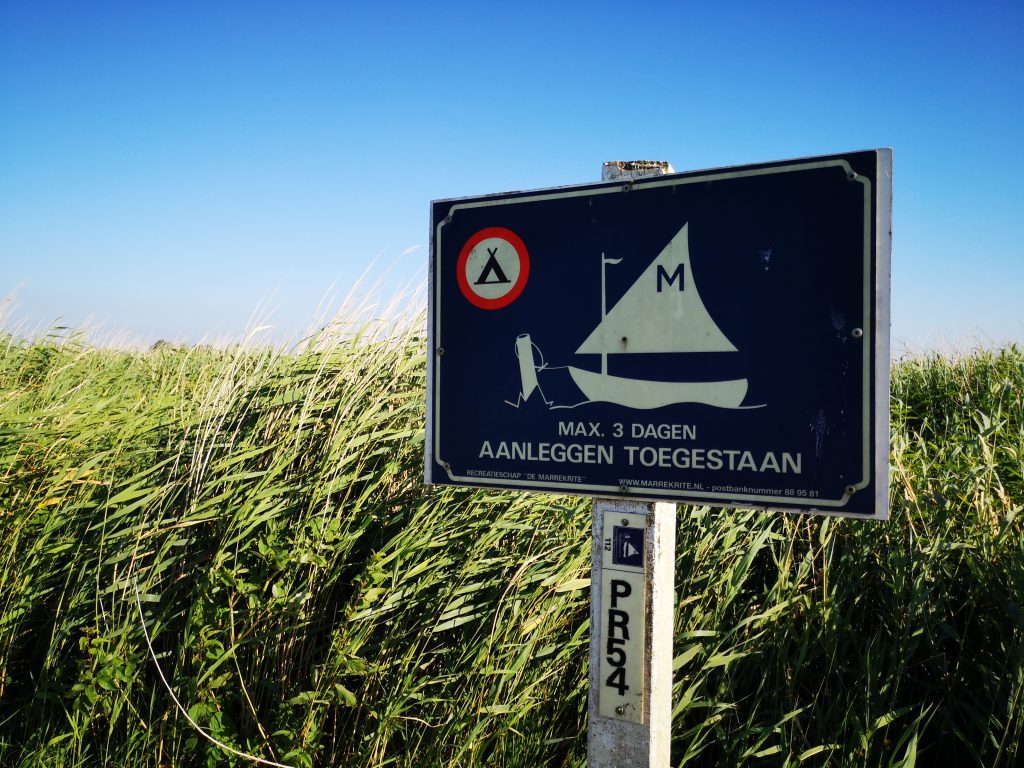 There are a lot of jetties just for that purpose in the nature park. On our second night we were on a little island in the big lake and there was a nice walking path around the island. I really love the hospitality of Friesland!!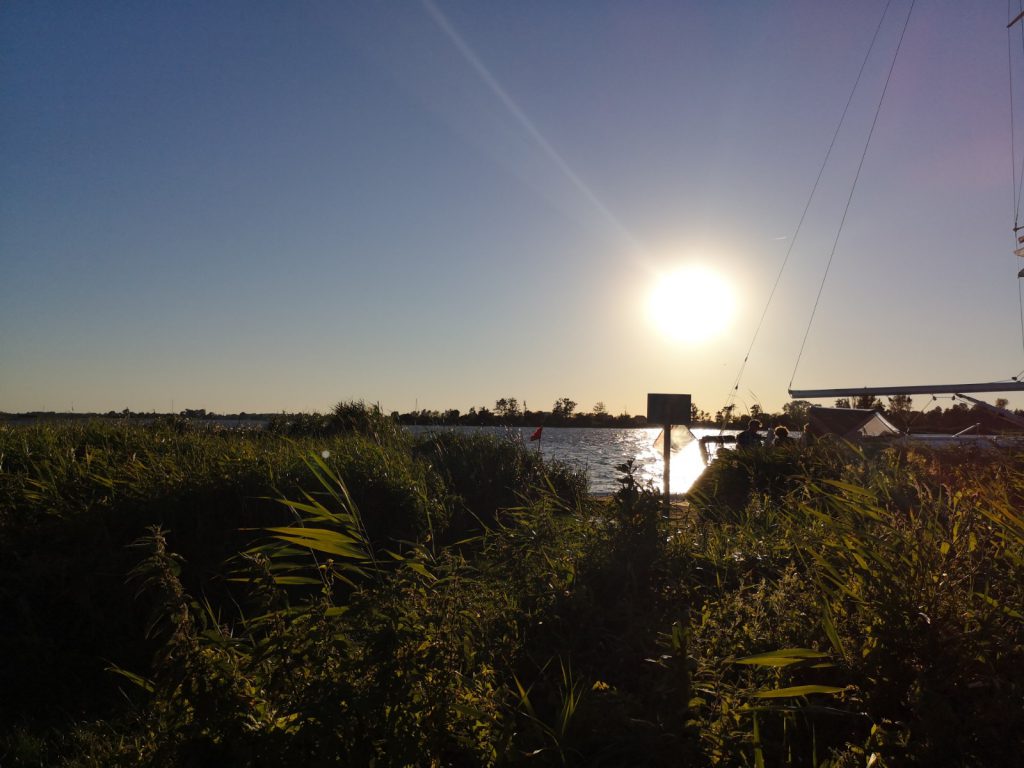 This area is just next to the national park called Alde Feanen. I can assure you that if you like nature you can enjoy yourself for a couple of days here. Go hiking, rent a bike of go sailing!!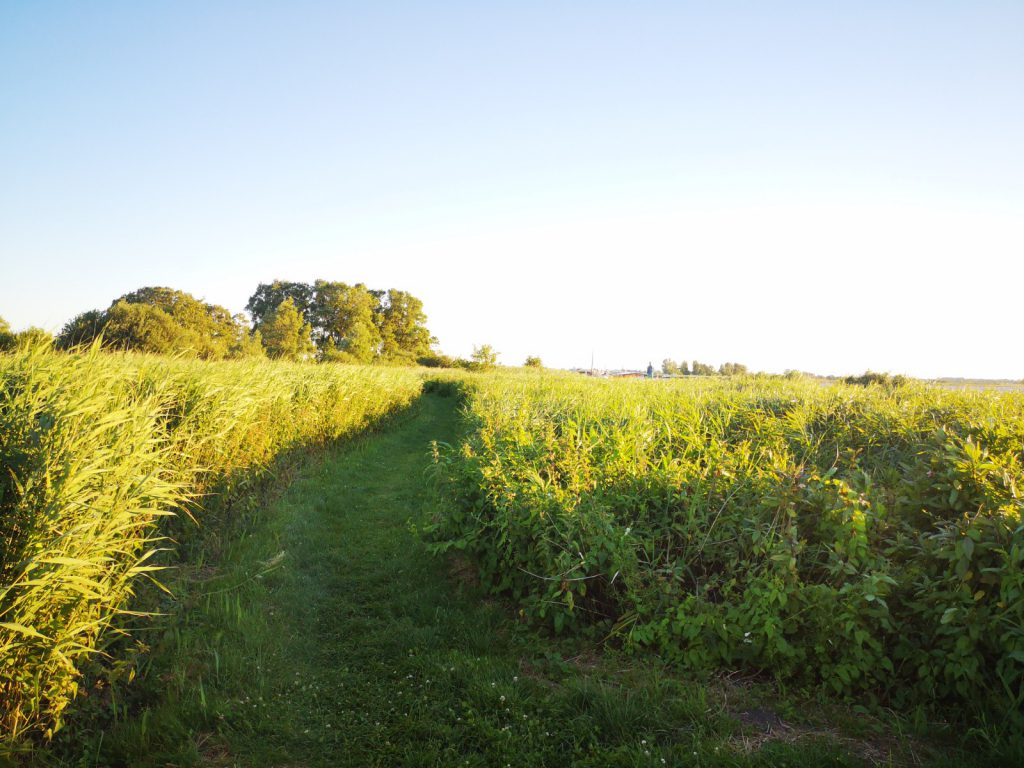 You are in nature so you need to take your garbage ofcourse. You need to leave the place as you find it. Shouldn't have to say that right?
Don't leave a footprint….only make memories right?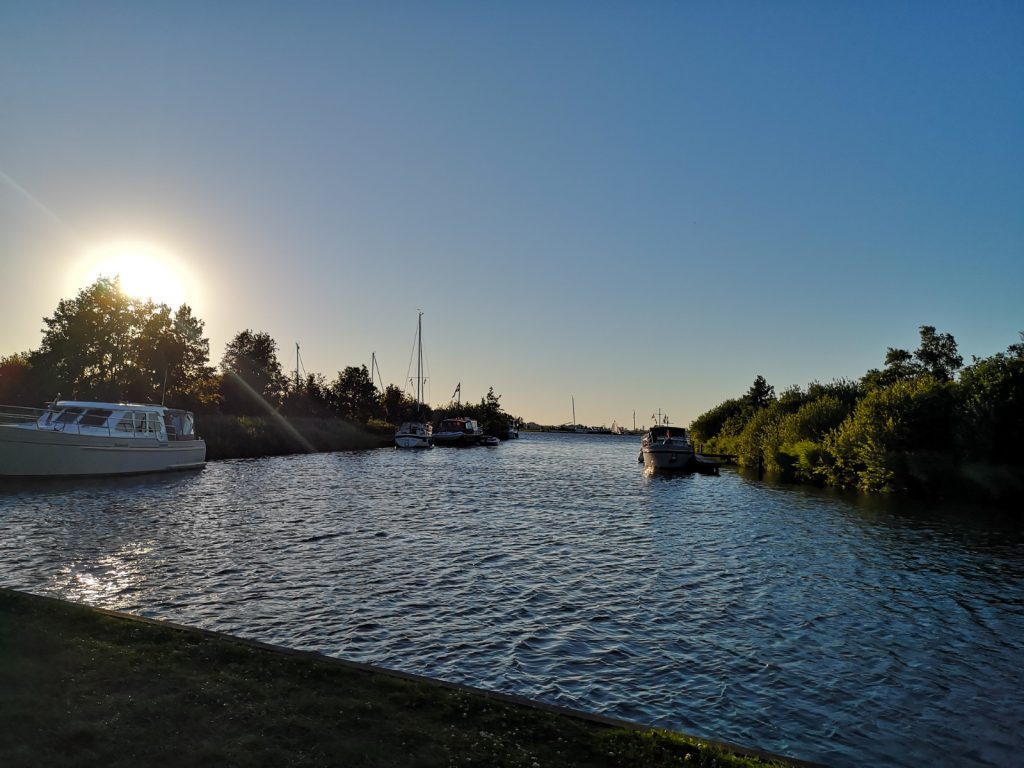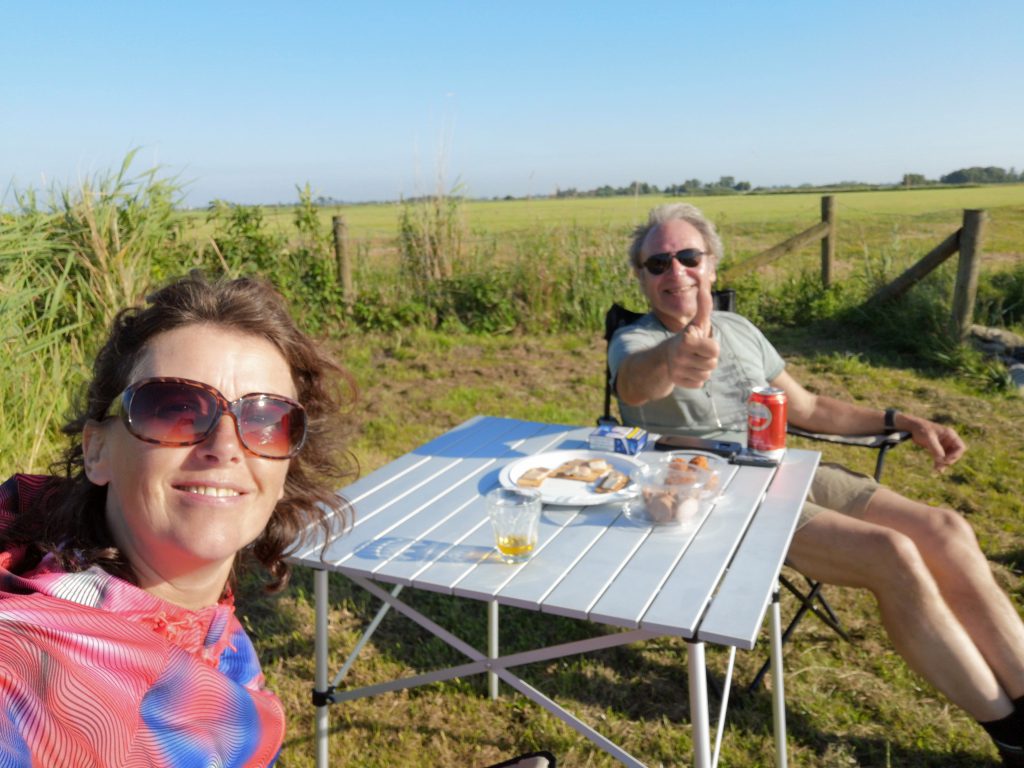 I really want to thank my colleague Bert! It was a great adventure and a good weekend talking!! It learned a lot as a first time sailor 🙂 But most of all we had a great time!!
This was the great sunset that first evening!!
Where in Friesland were we?
I included a map of the province of Friesland, which is in the upper left side of The Netherlands. You see the place called Akkrum on the lower left side of the map. Do you see the highway? The yellow line.. We went over that river 🙂 We also went to Grou, you'll see that next to the Pik Lake a bit higher. So thenyoull see the parts of water we sailed this weekend. The nature park Alde Feanen is the green part I mentioned earlier.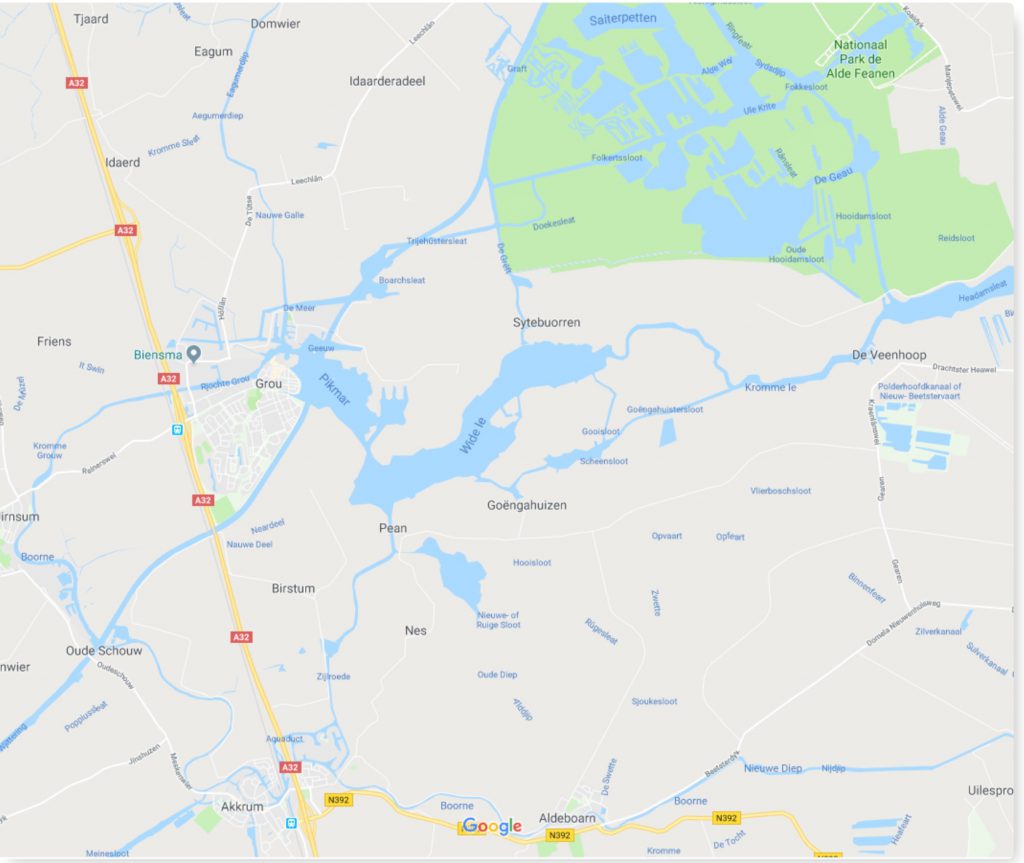 Have you ever sailed?
And did you do that in The Netherlands?
I would love it if you would share this post on your social media!!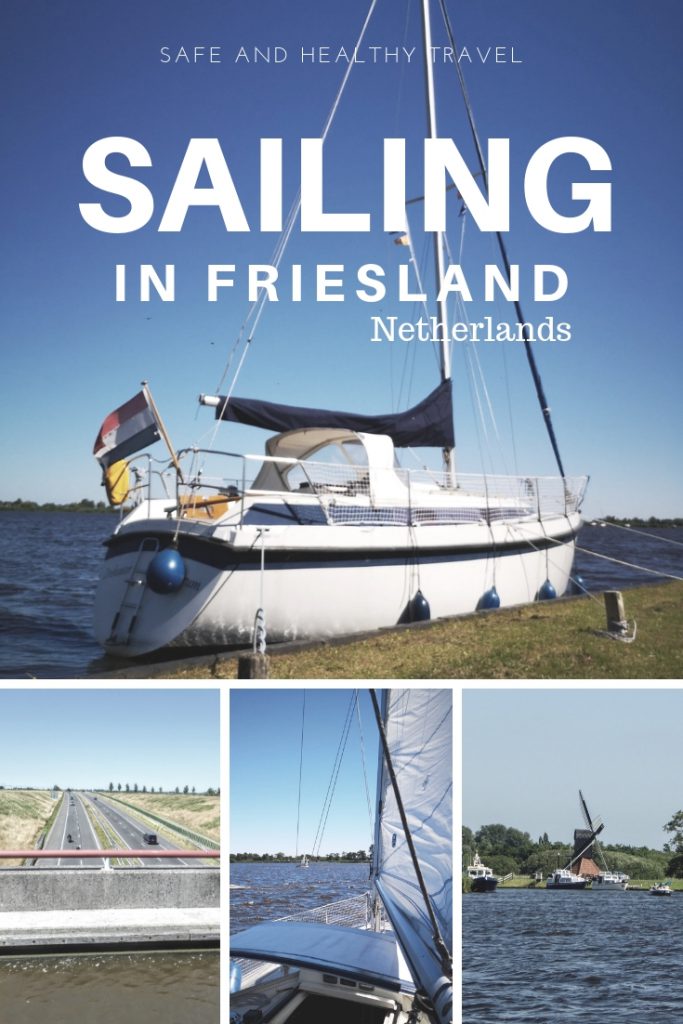 Want to read some more tips on travel in The Netherlands??
10 Things you Need to Know about The Netherlands
Visit the Starshaped Fortresses of The Netherlands
Also visit Kinderdijk!! Just like in the Postcards
In search for the Prehistoric Dolmens – Drenthe
Intertidal Walk through the Waddensea
Or visit the famous city of Volendam!
I hope you love this world as much as I do!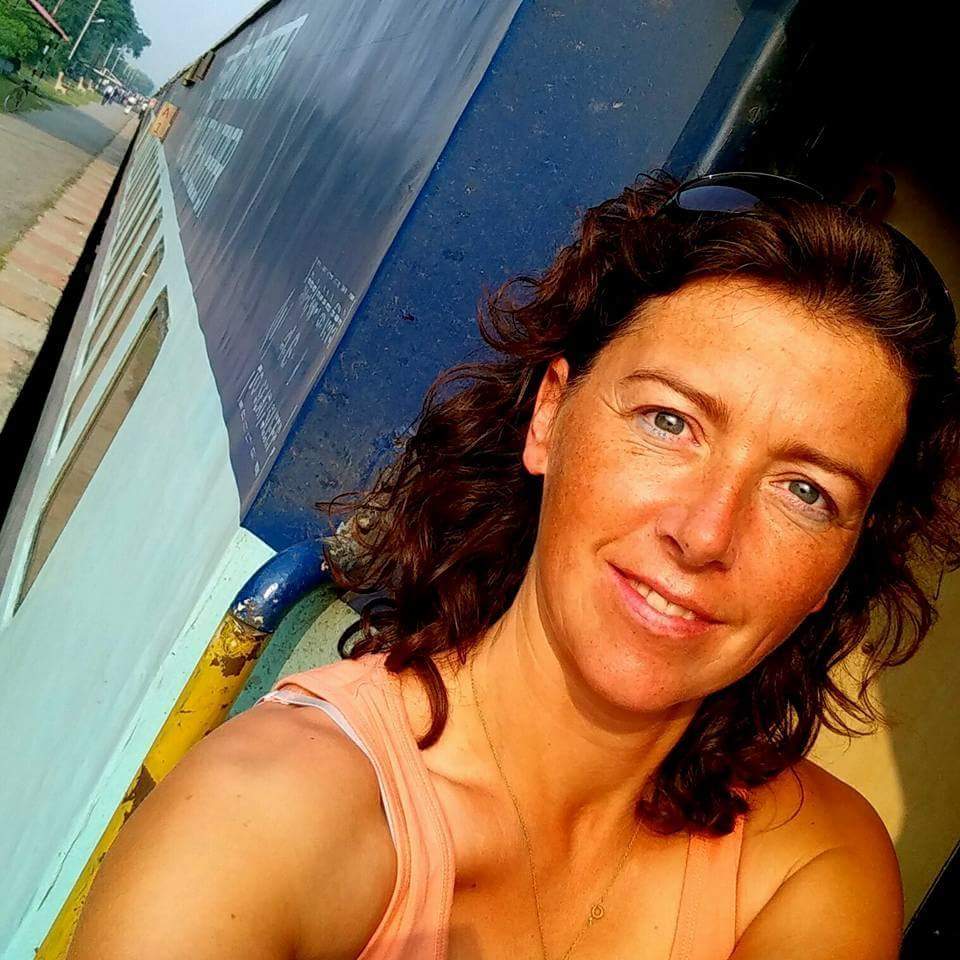 Jacomijn is een politieagent uit Nederland die jou graag laat zien hoe je veilig, actief en gezond de wereld kan over reizen. Safe and Healthy travel is a MUST