Traveltag: Top 5 Favorite Accommodations
|
I was nominated to give my Top 5 Favorite Accommodations.
When I think of myself and my travels I always say that I'm a flashpacker. I do like some luxury when I'm traveling. But if I look  at my top 5 favorite accommodations I have my best memories on the ones  that aren't that chique and expensive.
You hear it a lot: The best memories are made when you leave your comfort zone. Well, for me this proofs that again 🙂
Top 5 Favorite Accommodations
Hotels, resorts or hostels
Don't think that I don't sleep in more expensive hotels or resorts because I defenitely do. After some days exploring and making great memories I want to clean up and repack in a hotel or resort. I especially love the differents you see and experience. You see both sides of the story. Always good to get a broader picture of a place or country you visit.
But when traveling without a real plan it is the best thing to go to cheaper hotels or hostels because there are the oppurtunities. They know what kind of trip you like or if you want something else…They know that too. They can arrange anything for you at a good price.
If you stay in expensive hotels they can't arrange trips for you. They mostly have clients that already have arranged everything so they only know how to pamper you. And that is the reason you need to go to those hotels! You need to make a clear choice in this.
For instance in Bukittinggi – Sumatra, Indonesia I stayed at the The Hills, an expensive hotel in town. I really loved my stay and enjoyed the swimmingpool but to book any trips in the area I went to hotel The Orchid. They offered so much! They had a small travelagency located in the main hall  and with them I explored the area on the back of a motorcycle for a couple of days.
So here is my
Top 5 Favorite Accommodations
A Tented Camp near Kruger Park, South Africa
When I was South Africa I searched the internet for a trip which I could afford. Safaris are so expensive!! I found one for 4 days and 3 nights. Two of those night were in a tent!! I loved the experience!
The tent was luxurious and had a real bed and a porch! One morning I heard something walking besides my tent and when I opened it I saw a Nyala walking by. Can you imagine that!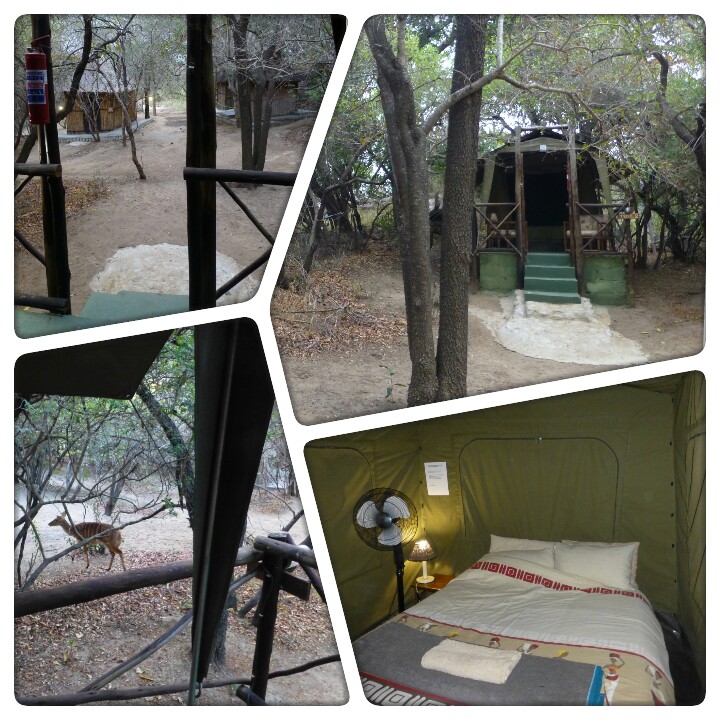 Top 5 Favorite Accommodations
—
Sleeping in the Jungle, Sumatra – Indonesia
When I was in Sumatra, Bukit Lawang, I booked a trip for 2 days in the jungle. I wanted to see the Orang Oetan! I didn't know where we were going to sleep but after a day walking we got to our night camp! It was just a tent….well not even a tent. It was more a shed made out of plastic and was put on a higher ground.
There  was just plastic on the ground and a thin matress to sleep on.  We had a lot of fun during diner that night and I had a great night in the jungle!!

Top 5 Favorite Accommodations
—
A  Beach Bungelow on the Island Koh Rong Samloem – Cambodia
I was at Sihanoukville and that felt way too crowded. I don't like beaches that are full with tourists, especially young backpackers that are only there to party. Drink alcohol and have fun, at least, that's what they still think of as having fun 🙂
So I booked a trip to Koh Rong Samloem and stayed in a beach bungelow on a semi deserted island. They only thing near the bungelows was a restaurant and other then that the part of the island where I was, was empty!! I so loved the experience!!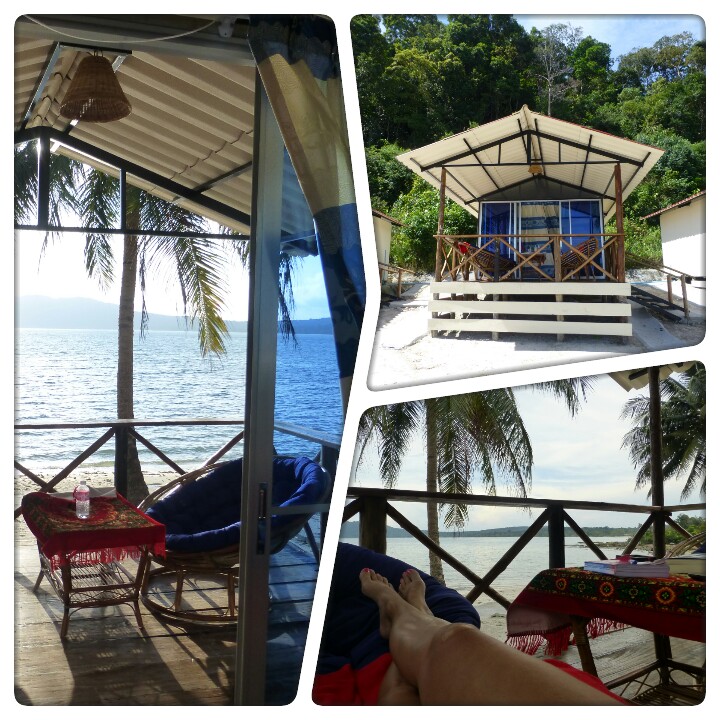 Top 5 Favorite Accommodations
Sleeping at Locals, Hsipaw – Myanmar
I went to Hsipaw to go hiking in that area. I heard a lot about it and wanted that too ofcourse!!  I booked a trip for 2  days and 1 night. The night would be spend at a local residence. We came in that remote village after walking for around 7 hours and we sat down at the local supermarket.  After a couple of minutes it became clear that this was the family where we would stay for the night. They had a wooden/bamboo hut in the garden where two ladies and I would sleep.
The men were put in another buidling where also an elderly women slept. We were send to the local well/watertap to wash, which was used by the whole village. And we could use their own toilet…which was a shed in the garden. I really loved the whole experience!! And I did have a good night sleep!

Top 5 Favorite Accommodations
—
Sleeping in Trains, Busses and Boats around Asia
While traveling you will have several different places where you sleep. It will not always give you a good night sleep but will give you great memories!
– I have slept in a row of at least 30 tourist on a  boat!! It was a great experience and I did get a good night sleep after all!
– I have slept in trains in India, great to see the local life  just passing by!!
– I have slept in busses in Asia, especially the ones in Vietnam are really good!! Real sleeperbusses You get to meet a lot of people from which you can learn a lot!!
– And yes, I have also slept at airports 🙂
Top 5 Favorite Accommodations
It all has its charms!! Maybe you don't realise that at that moment but when looking back…. Love those memories!!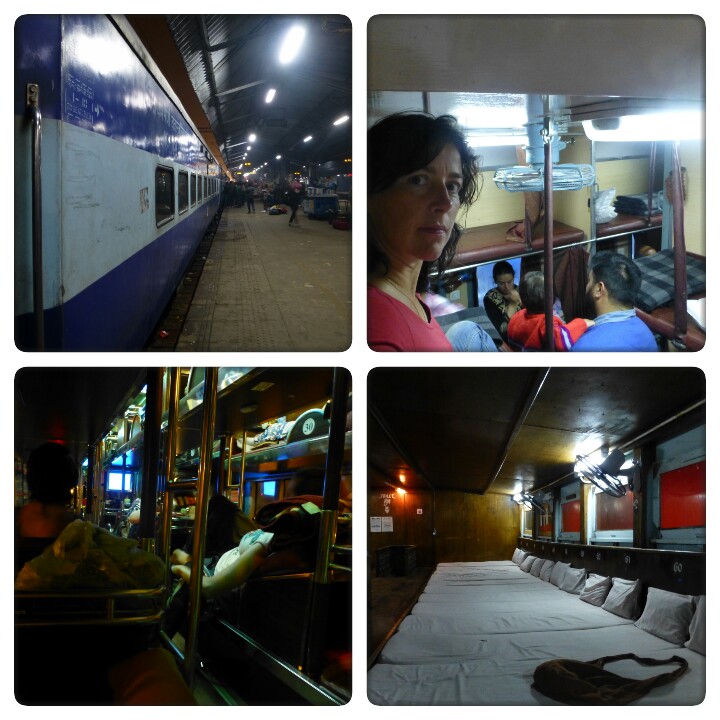 Nominations
I was nominated by My Footprints, thank you so much for that! It is always great to reminisce about great and wonderful memories and reshare some of your best moments!!
I ofcourse will also nominate some bloggers I met online or in real life. Hoping they will take the challenge and share some of their greatest accomodations!! Would love to read those!! Maybe that will give me some inspiration on future travels!!
Here they are
Aysha Griffin of Inhabit Your Dreams
I really think you are an amazing woman! Loved that we did some Yoga poses on the beach of Lloret de Mar, Spain! From the USA and lived in multiple countries alle over this great world, now in France and exploring Europe! You must have some great stories to tell!
Andrea Jernejcic of Adventurous Journeys Travel Blog
Loved to meet you at TBEX, you're as Adventurous as I am and love that in your stories. You're an enthusiastic girl and I'm always a fan of that 🙂 Very curious on your greatest memories of accomodations.
Agness Walewinder of eTramping
You are an ongoing swirl of energy and I love that about  you. Keeping up several blogs and still manage to get get your thesis done. Learning a lot about the Dutch because you chose The Netherlands to go study, thank you 🙂 and still maintaining your travelspirit to the max!! Hope you take this challenge too!
Rachel Heller of Rachel's Ruminations
We met at TBEX too and we learn from eachothers translations. I really appriciate that, it gives my blogs a better international view of course!! You just have been on a multiple country travel so you must have had some great accomodations again to write about!!
Alexandra Maas of Alles Annie
We met online and never met in person.. There was a small chance we might meet in Myanmar but we missed. Maybe I'll come visit you in the great city of Granada one day for a citytrip!! You did what was good for you!! Respect that a lot! Hope you take this challenge and look back on your travels and share some great memories with us!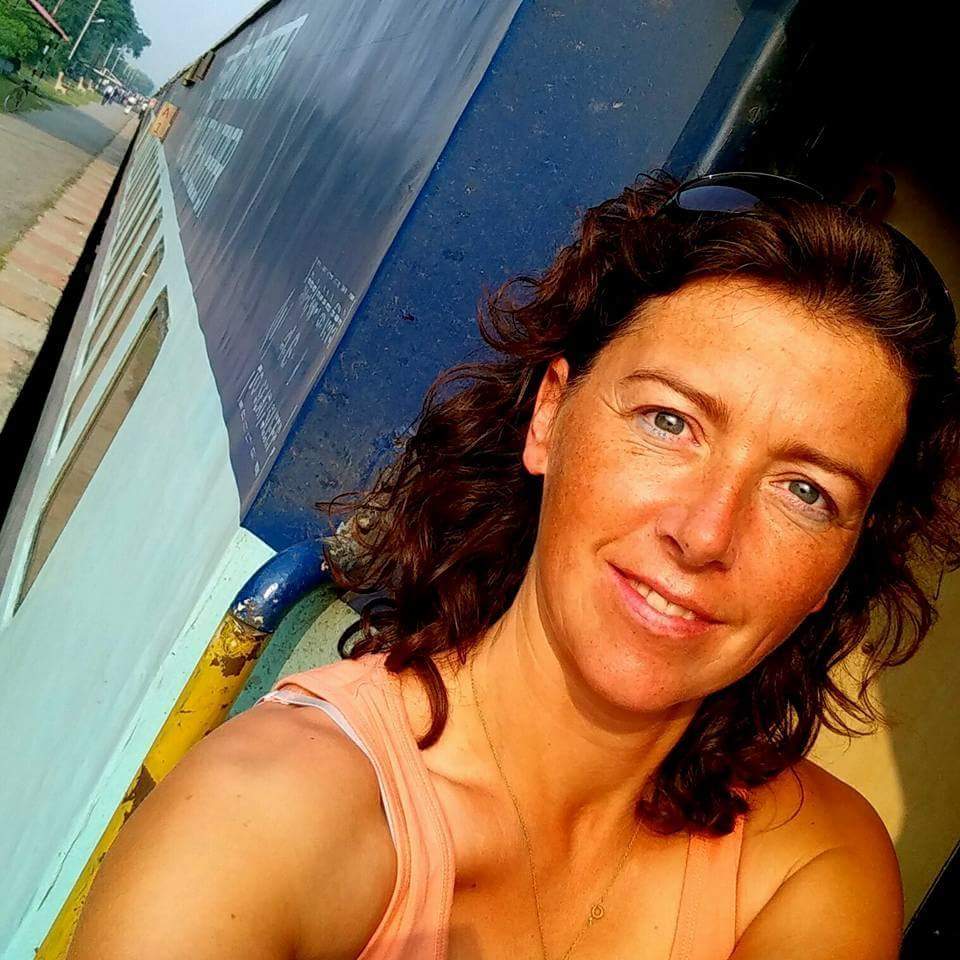 Jacomijn is een politieagent uit Nederland die jou graag laat zien hoe je veilig, actief en gezond de wereld kan over reizen. Safe and Healthy travel is a MUST