Tikam: The Brahmani Priest in Pushkar – India
|
After spending 3 weeks in the Ashram of Swamiji in Pushkar for the 200RYT Yoga Course, I was now on the side of the sacred lake in the heart of Pushkar.
I was ready to say goodbye to some grief that was hidden very deep. I had been working towards it for several days and the last meditations in the yoga course had been filled by the mantra on only convincing myself.
The first day off in Pushkar I had decided to do something else. I went to a temple outside Pushkar, visited Aloo Baba and had lunch at the street musician Ram' hut 15 minutes drive outside Pushkar.
For a moment it looked like I was trying to not think about it anymore and just to let it go. You tend to forget your good intentions as soon as you are 'outside' again. I know it from my Vipassana days. And many other times I plan to change things at home, but as soon as you're back in the pattern of working and living at home, you soon forget it and do everything the way you used to do… Walk the easy beaten path in your brain again …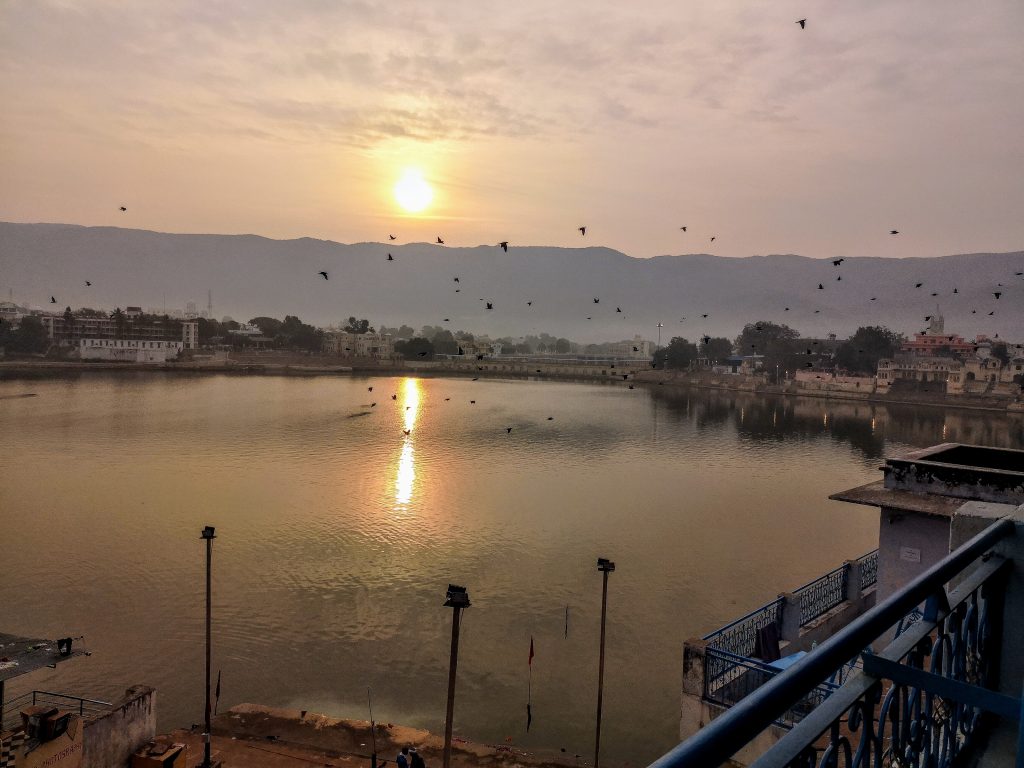 I decided not to let it fade so quickly this time and went this morning to meditate on one of the many ghats near the sacred lake of Pushkar. In this way I could prepare myself for the fact that I then went to buy flowers for sacrifice and then would symbolically sacrifice it in the lake in order to give force to my intention. I meditated there for 45 minutes with the recurring words in my head, I'm going to forgive myself for how I reacted to a situation so many years ago and I'm not going to blame the other one anymore.
Brahmani Priest in Pushkar
I found out a few days before that I can't just forgive the other person. I could understand it, I understood that it went the way it did and I didn't want to let it control my life anymore. The way to do that was to forgive myself for how I had reacted to the situation. This had had many consequences for the rest of my life. The fact that I am happy with who I am and what my life looks like now is also worth a lot. I would not have been the current me without that situation.
So in my meditation I kept on paving the way in my brain that I forgave myself… That I didn't blame the other person anymore…. That I am happy with who I am and that my life is good. That I now make decisions with the right intentions and often no longer do so with a wrong background... Out of revenge… Out of anger, out of balloriness… Rebellion… And you name it…
I took full responsibility for the now and for saying goodbye to the former self…. Part of which I had already said goodbye to in the past years…. But never completely. The last bit of sadness, a bit of longing for recognition, also hatred and revenge had to go now. I found it difficult and struggled with it in my head. At one point in my meditation I was startled by a dog that smelled on my hand…
Tikam: The Brahmani Priest in Pushkar – India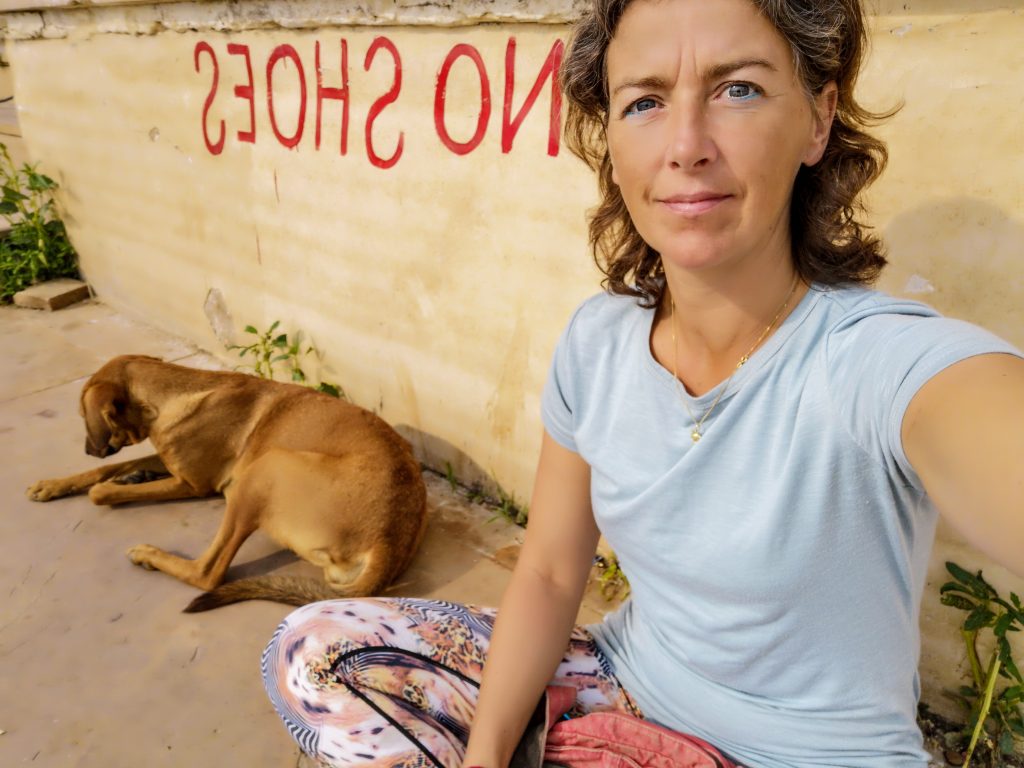 I looked around me and saw people doing puja next to me and immersing themselves 3 times in the holy lake. A little later, when a holy cow wanted to pass by, I decided it was time to get up and buy the orange Marigold flowers in the busy shopping street that runs behind the ghats.
I walked upstairs and wanted 2 flowers. Swamiji (my Yoga Guru) told me not to sacrifice too much in the lake, so many people already do that and we have to keep it clean. Yet the flower man gave me 5 and I paid with a dirty note of 10 Indian Rupees. I walked back down the white marble stairs to the ghats to the holy lake of Pushkar. I already felt that someone was walking with me.
The man, a priest, asked me if I wanted the puja from him. Puja are the hindu rituals you see along the lake to make a sacrifice. I indicated that I didn't want a puja but that I came with a different goal today. The priest started to explain that the lake is sacred and that you have to make puja here with a different sacrifice than the flowers I had bought. He was a Brahmani priest and could do that for me. I had already walked here a few times and told several men that I didn't want this. Telling this priest as well, but he kept following me.
Sitting down and looking at the lake with the Marigold flowers in my hands. I had to hold them in my right hand, the Brahmani priest said. Okay, I followed that advice. I didn't talk to the Brahmani priest any further, hoping he would leave me alone. Internally, I was imagining how I was going to do this.
Swamiji had told me to sacrifice the flowers and to say in my head that I wanted to be free from this suffering. I wanted to do it right and thus have the right formulation in my head. The Brahmani priest was still standing next to me. He asked me again if I wanted his puja after all. I indicated that I came here to sacrifice these flowers because I wanted to leave something from my past behind me. I quietly hoped that this would be enough for the Brahmani Priest to finally leave me alone.
It turned out to be idyllic hope when he went on exactly with the words that I just said. He indicated that it is very good to leave things from the past behind. You shouldn't keep walking around with something for too long. You have to live now and be happy and free now. When the Brahmani Priest said that something broke inside of me…. At that moment he was kneeling next to me on the same step…. He saw the tear popping up in my eye and then, to make matters worse, he told me to let go of my tears.
He added:
It is good, it has to come out…
We sat still for about 10 minutes next to each other and when my tears dried up the Brahmani Priest suggested to get some Massala chai for us so we could have a cup of tea. It seems to be a solution for everything in India 🙂
I accepted his offer and while he got the Massala chai in the busy shopping street I walked to the sacred lake. I knelt down on the last step and sat with my hands in which the 5 orange Marigold flowers were still above the water.
Slowly I dropped them in the water with the text in my mind that I didn't blame myself anymore and that I understood the other. I was still looking at the flowers when I heard them next to me:
Good!

Now we have some chai!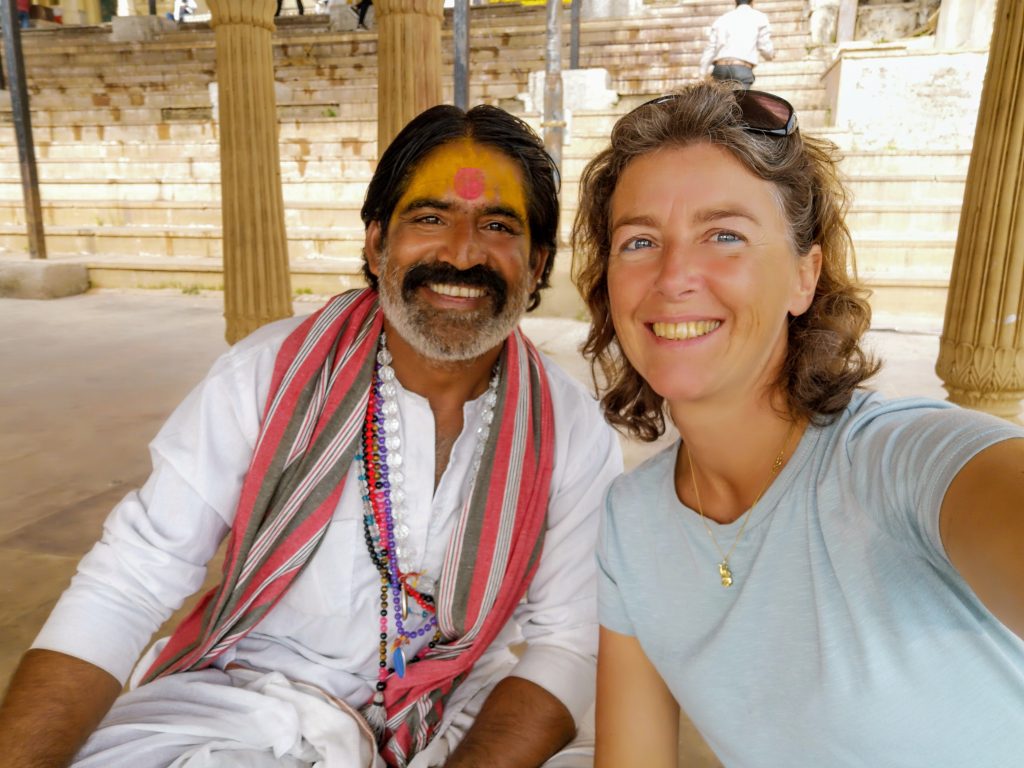 Tikam: The Brahmani Priest in Pushkar – India
While enjoying a cup of Massala chai and both half a kachori (fried potato dish) Tikam, the Brahmani priest, told me that he had also had a lot of grief. His wife had died of an illness at a young age. This was already 17 years ago and he was left behind with 2 young daughters. He had had had a hard time for a while but at a certain moment he decided that he would leave it behind him and enjoy life again.
That's what I had to do now.
I had left the flowers in the water and now I had to start enjoying again.
I smiled and the Brahmani priest said that the world would rather see me this way than how he had just seen me on the side of the sacred lake 🙏
Tikam the Brahmani priest
Will you share this post for others?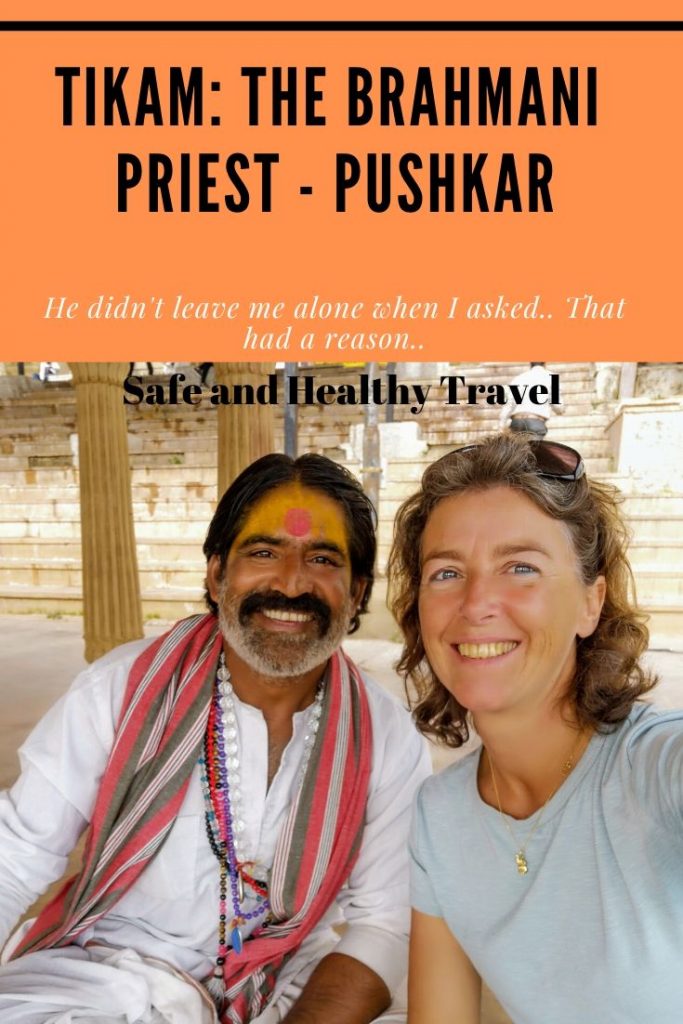 Want to read more inspiration?
Extra Dimension on your Travels – Safe Contact with Locals
Lessons I learned before – Vipassana
How my travels changed.. Feeling lost in this beautiful world
Or will you be a pilgrim for some time to get closer to yourself?
I hope you love this world as much as I do!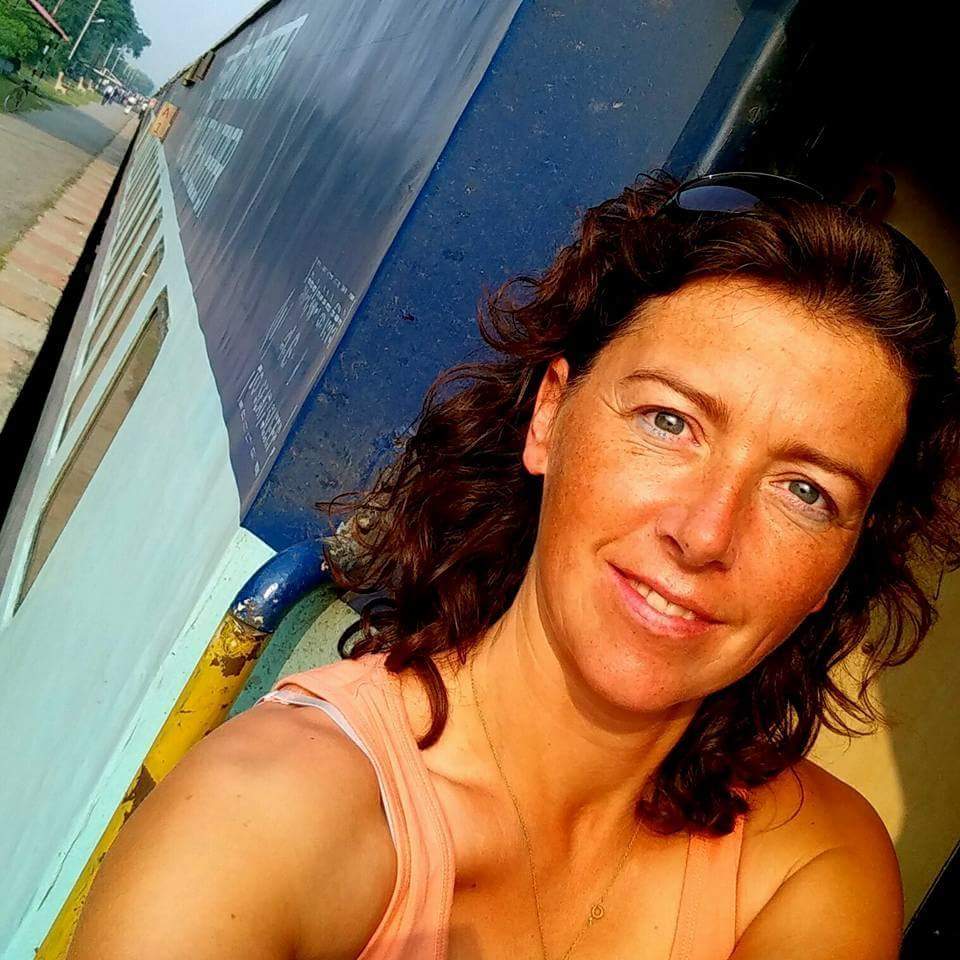 Jacomijn is een politieagent uit Nederland die jou graag laat zien hoe je veilig, actief en gezond de wereld kan over reizen. Safe and Healthy travel is a MUST