5 Highlights of Jaipur – Rajasthan
|
Jaipur is the  capital of the Rajasthan State of India and is a 4 hour drive away from Delhi. I went to Jaipur for the second time and still would love to back! If you once go to India you will never get enough of the busy and bustling life on the streets.
Jaipur is called the Pink City and when you enter the city this shows immediatly. Many buildings and the citywalls are pink because of the Terra colour of the stone. It is seen in almost every street and gives the city a sweet feeling and a soft charactre.
The city has a lot to offer but only being there for 1 day gave me the time to visit these 5 highlights!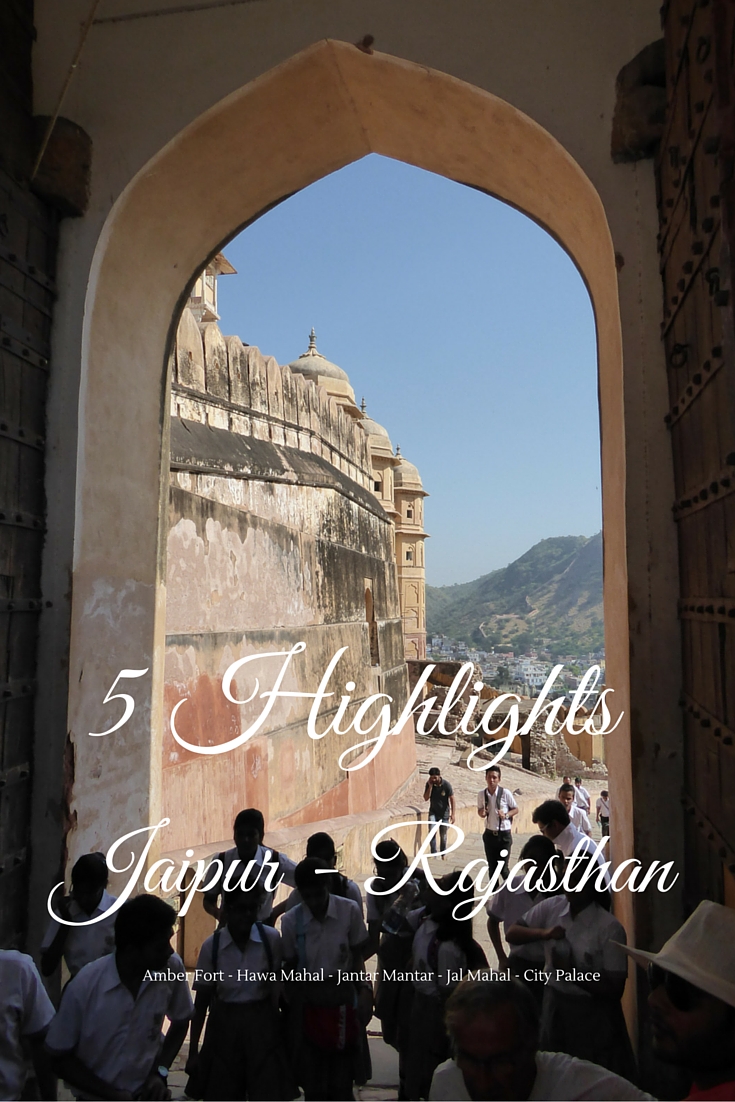 Jaipur, the Famous Pink City of Rajasthan
Amber Fort
We went to Amber Fort first thing in the morning. It is a great fort that is build just outside the city. Just before we got to the entrance we stopped to get a great view of the fort, one of the benefits of having a driver!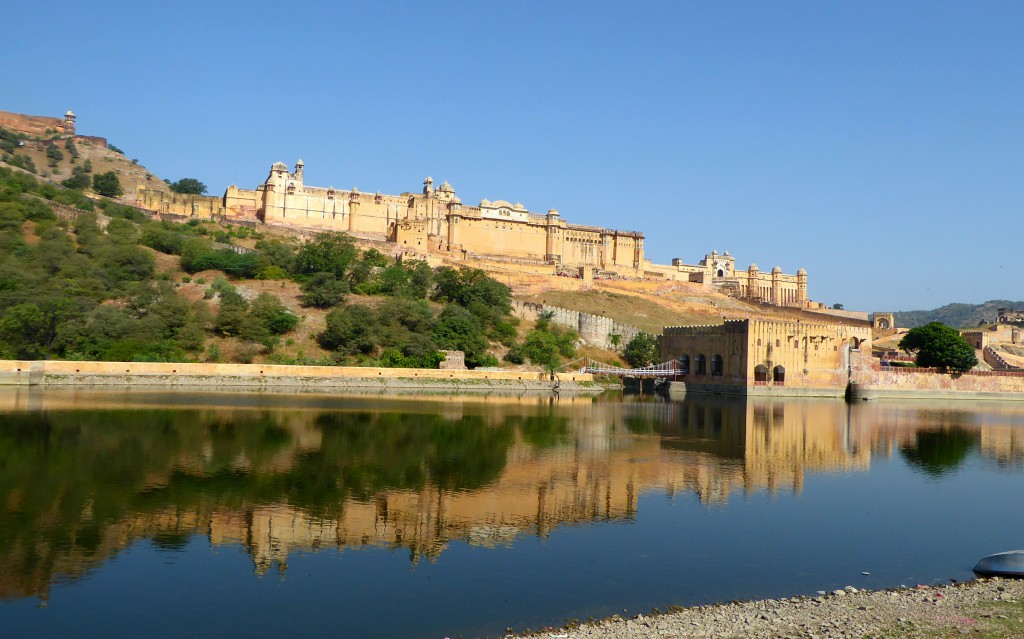 You can go up to the fort with an elephant. I do see a lot of tourist still doing this. I really think that we, as tourist, should not do that anymore! The elephants should not be kept for this purpose and walk up there all day. Last year I pledged to not sit on a elephant again in my life. I couldn't find a link in English to plegde this…but please, think about this and take a stand.
We went up walking and stayed in the fort for at least 2,5 hours. We wandered around all the great squares, rooms and palaces. Everything is made of marmer, white or terra colour. Everywhere you look you'll see magnificent decorations or you have wonderful views out the windows!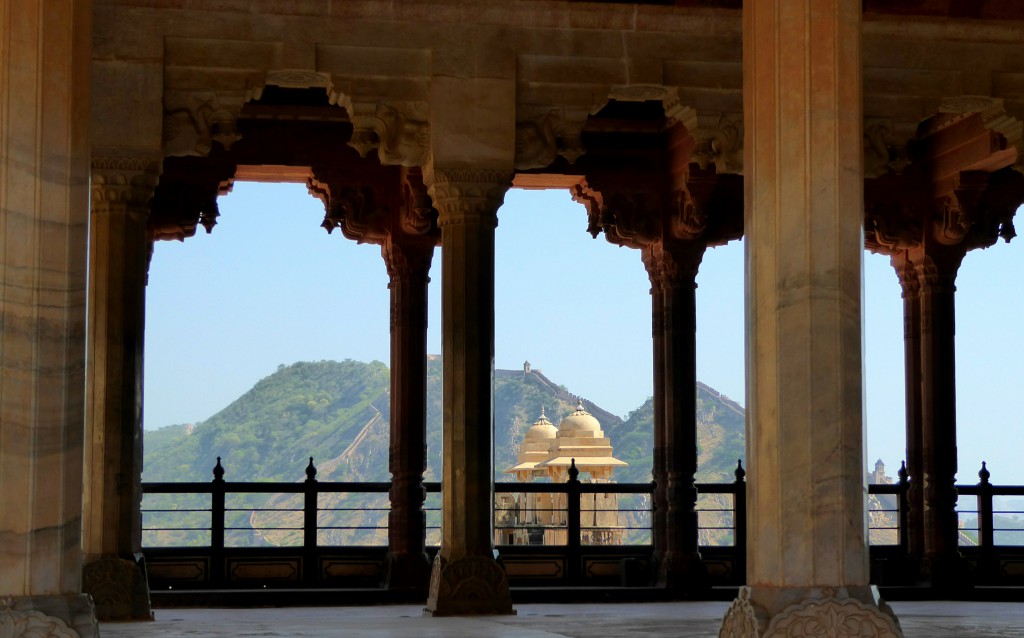 Look at the mountainrange you see in the distance. There is a wall that reminds me a lot of the Chinese Wall. But this one is 'only' 11km long..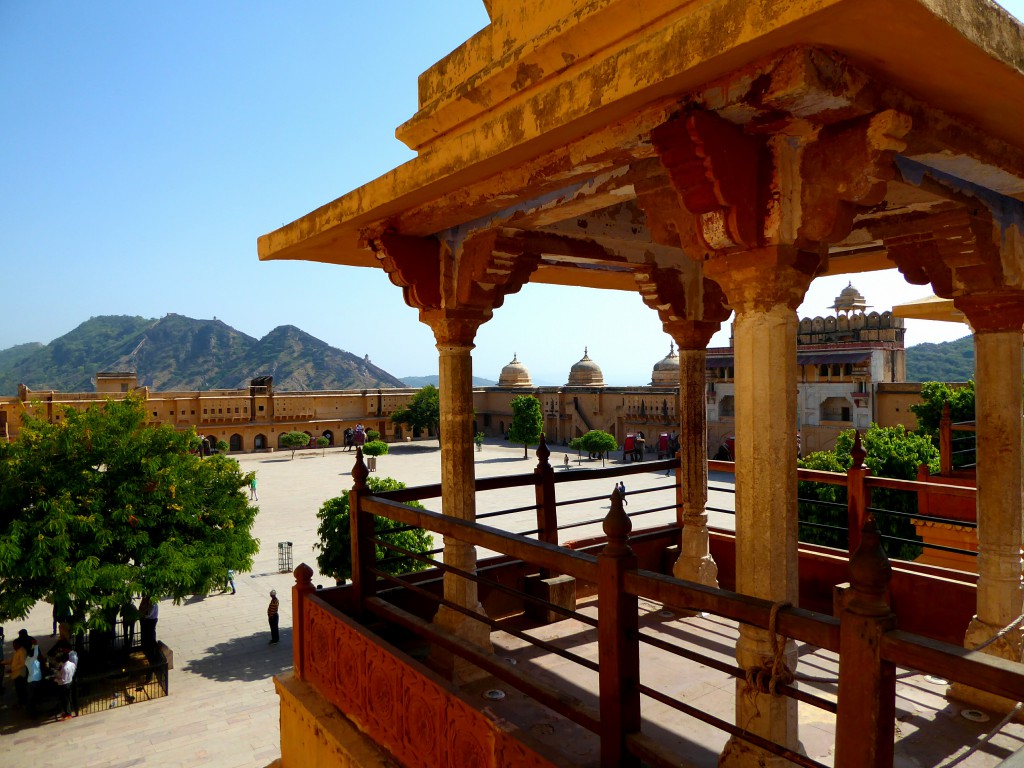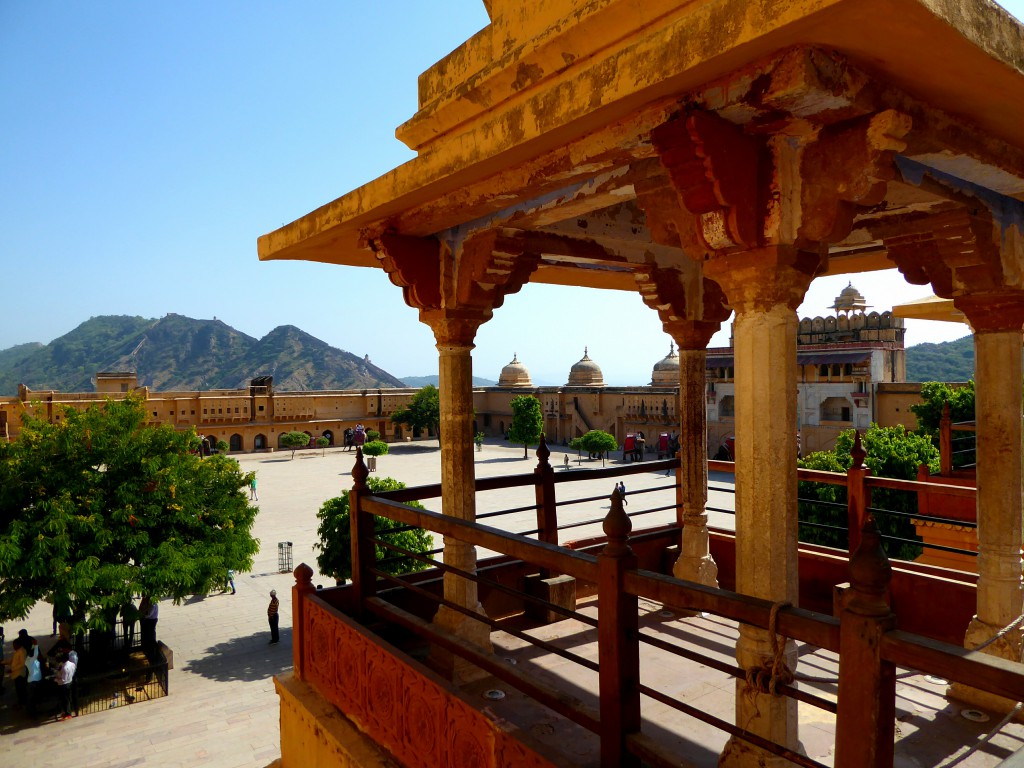 Hawa Mahal
The Palace of Winds. It is really an amazing building. At first it looks like just a high wall. This wall was build so the Royal ladies had a private space to observe the street activities without being seen from the street. It can be very hot in India and the windows are open and the cool wind blows through it!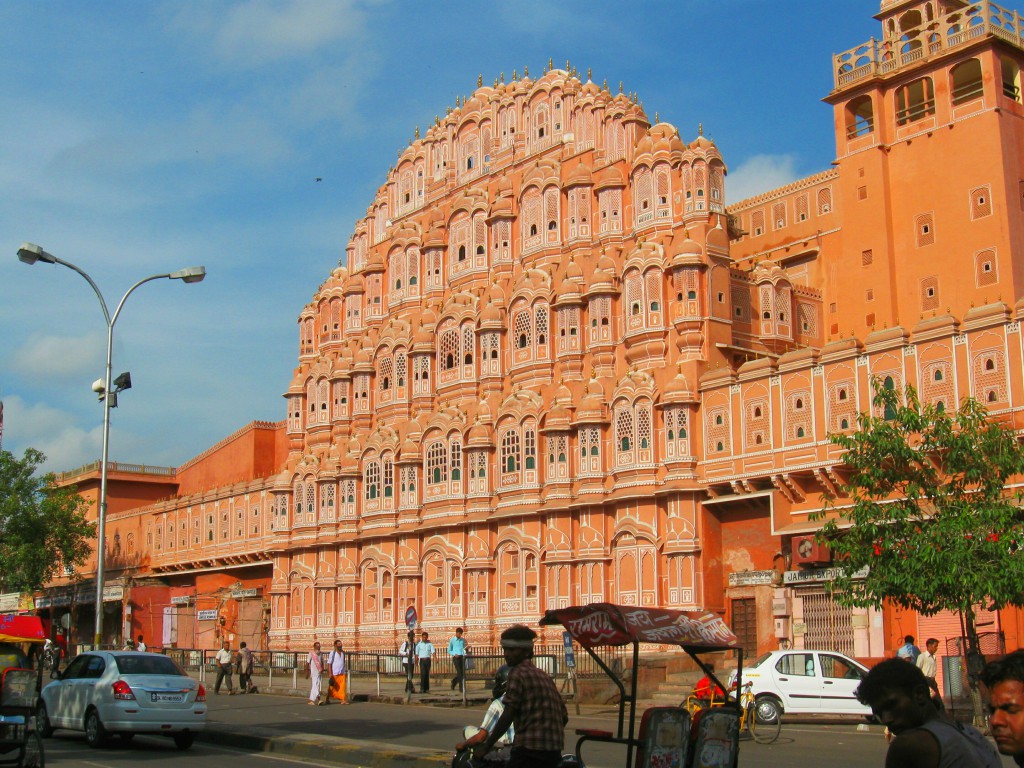 Picture taken in 2009 with a bright blue sky
Just as I was at Amber Fort 6 years ago I visited the Hawa Mahal also. I got a great picture hanging in my house as a memory about that visit. My Orange Friend and me!!
I didn't went in that time so now I did! There is a whole building behind the high wall. You need to walk a bit to get there, we went through some small streets and alleys. I just love that! It is just the charm of the cities in India the scenes you see in every corner!
 When I entered this building I saw a fountain, going up the stairs to go up and from there you got a great view on this square and its surroundings. This building has got that great pink colour again and is wonderfully decorated.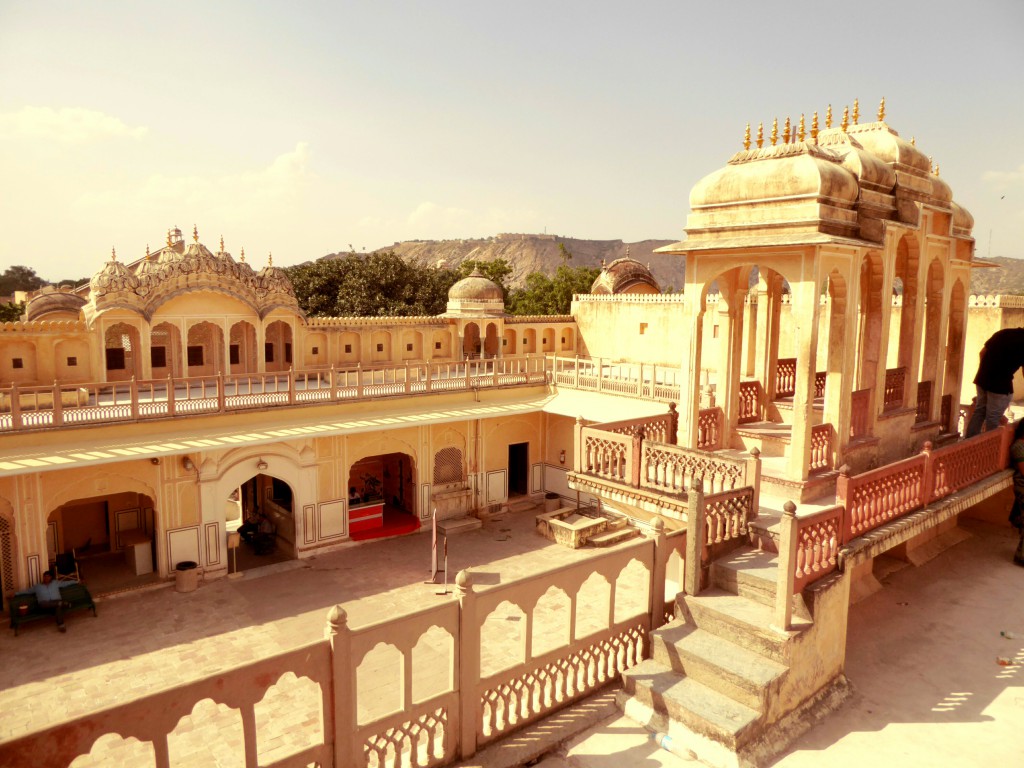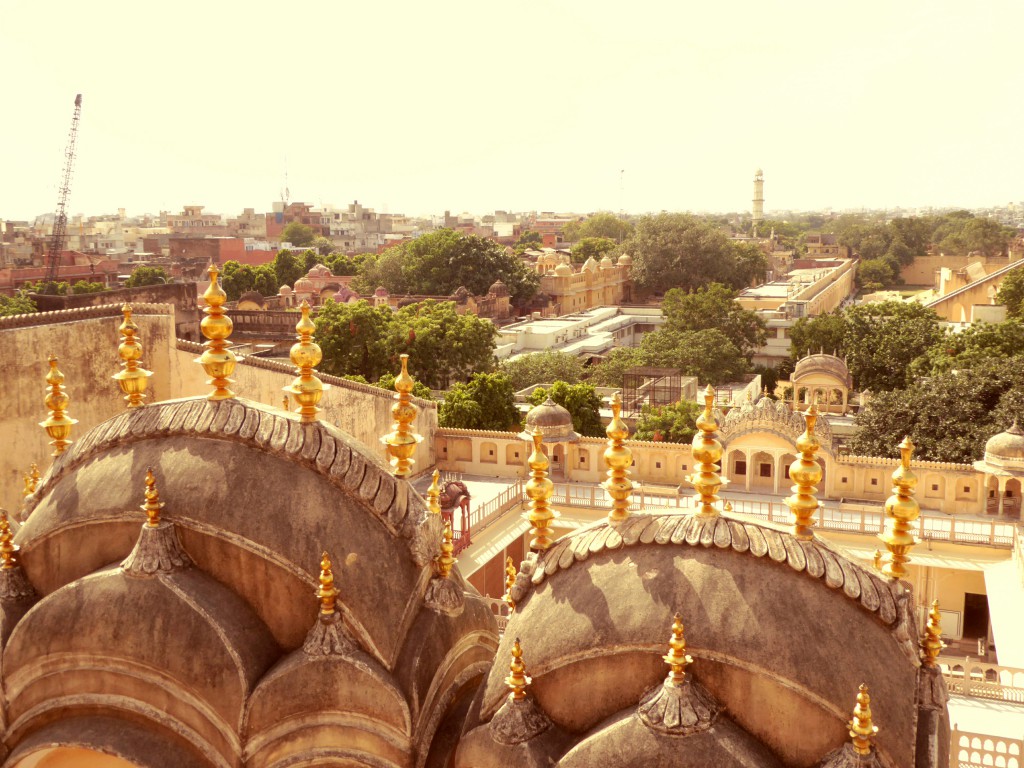 From this position I had already the Jantar Mantar in sight. When you look in the right upperside of this picture..
Jantar Mantar
This Astrological wonder is build in the early 18 century. It contains 20 observation instruments. When I looked at this area I got this feeling like they're artistic buildings. As if I was looking to a modern art square.  Walking here I felt small, seeing how long ago this was build to an exact precision is hard to believe. The time is still accurate to the second with correction of winter and summer time. The planets were read so well in those days…how much wiser are we now on that area??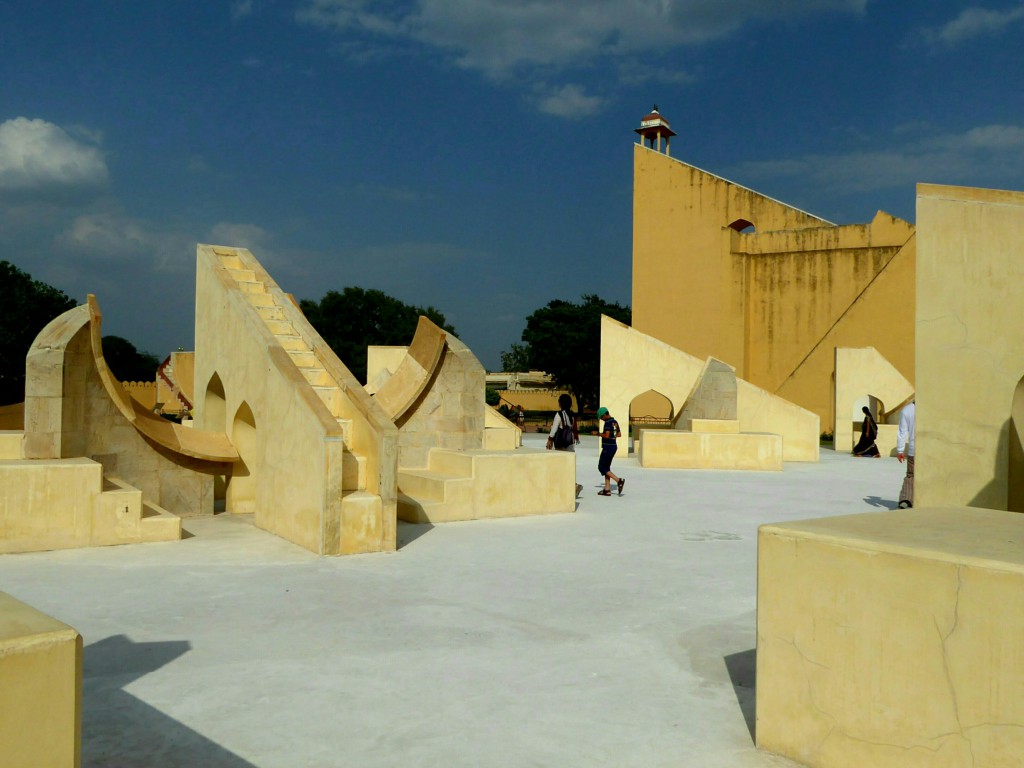 Jal Mahal
The Water Palace, it is build in an artificial lake called the Man Sagar Lake. This palace is also in the great pink colour and build in the Rajput an Mughal style. The palace is a 5 story high building but because 4 of them are below water level you only see a 'small' one story palace.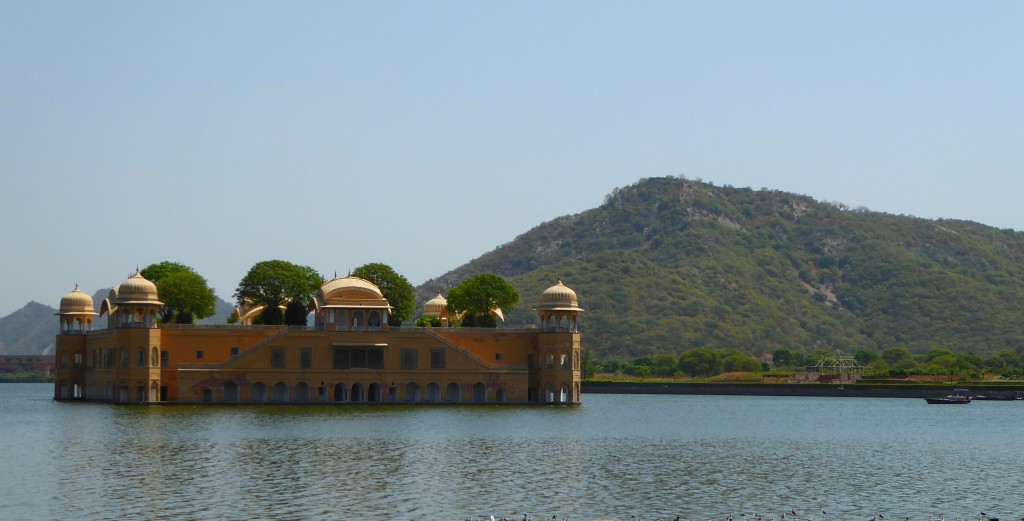 They are working hard on making this lake and the palace nice and clean. Till recently the sewege flowed undrained into this lake. This has changed and the lake will get cleaner. The palace will be renovated and get hotels, art galleries and shops in it. I also heard that they want to get some water sports amd recreation activities on the lake. Now it is a quiet lake but that has to change in the near future.
City Palace
I haven't visited the Palace this time but 76 years ago I was here. This palace is a fusion of different architectural styles. The colour Pink is yet again the dominant colour. It is a complex of different palaces and you can easily spend an afternoon here wandering around the courtyards and watching the beautiful decorated rooms.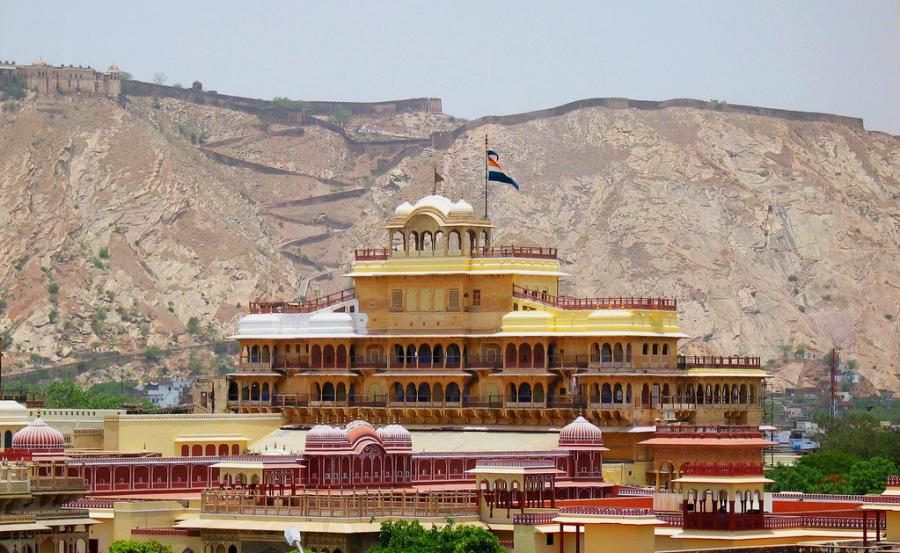 Photocredits: http://edyoucatives.com
Because we took time for lunch, shopping a bit and needed to go early to the trainstation to go with the nighttrain to Varanasi we didn't had the time to visit the Palace but otherwise you will certainly have time for that.
Time and Transportation 
We had a private car and driver this day. This is a common way of traveling in India. We had this driver and car for a couple of days and were very flexible. You can easily change your activities when something else comes on your way. I think it is a great way to travel like this.
I arranged this driver and car through a local agency. You can arrange this too if you want and email to syedmirakshahcarrental@yahoo.in for more information. If you arrange your trips and hotels local you'll save money. But you get other hotels, more local and really great decorated ones if you arrange with Latif from Syed Mirak Shah Car Rental.
Visit the 5 Highlights of #Jaipur and be Amazed of the Beauty of #Rajasthan @Safe_H_Travel https://t.co/Xxl8ypi6qU pic.twitter.com/7mLYKDcdkg

— Safe Healthy Travel © (@Safe_H_Travel) November 15, 2015
Other great spots you need to visit in india:
My Five Hightlights of New Delhi
Dive into the streetfood of Mumbai
Visiting the Periyar Tiger Reserve
Going too Local at a Cookingclass in Varanasi
For all the stories of India go to my India page
Or can I inspire you to go diving?
I hope you enjoy this world as much as I do!!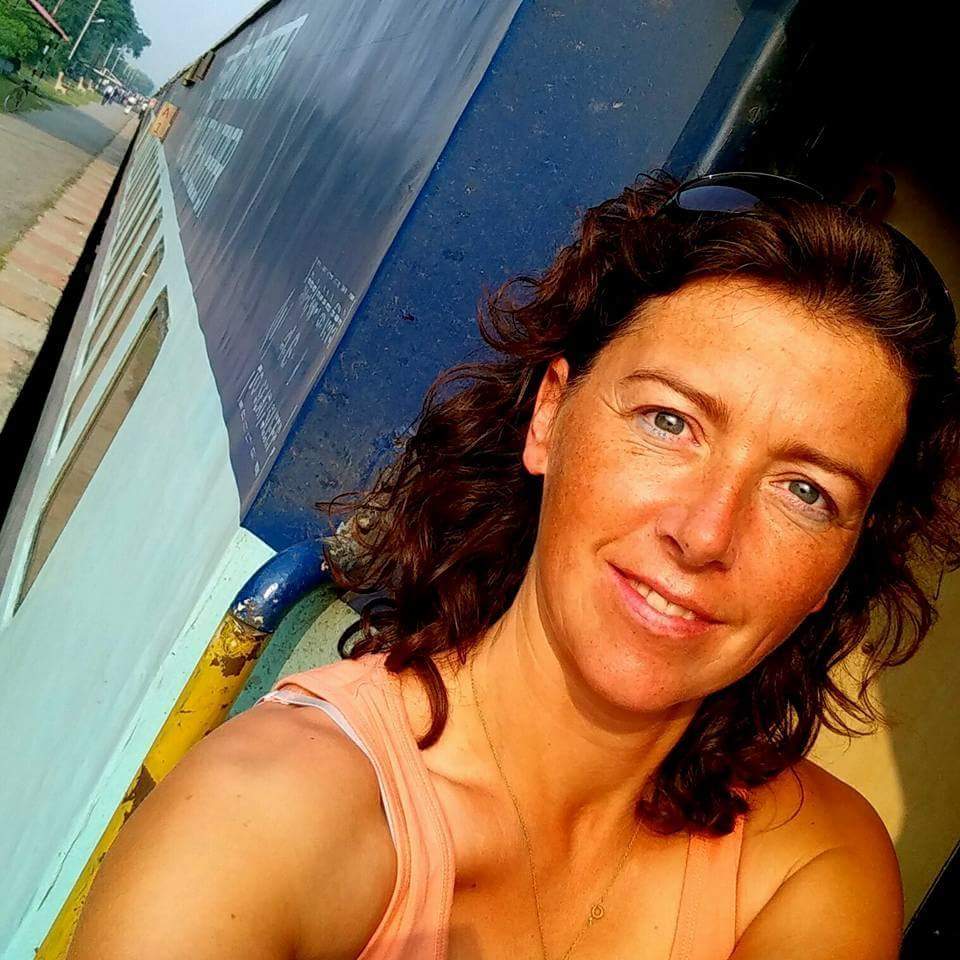 Jacomijn is een politieagent uit Nederland die jou graag laat zien hoe je veilig, actief en gezond de wereld kan over reizen. Safe and Healthy travel is a MUST