Visiting Angkor Wat, Cambodia – Siem Reap
|
When you go to Cambodia you can not ignore the Angkor. I think you really have to go because it is such a big part of the history of Cambodia and a ofcourse a world famous site.
I went in for 3 days and that was exactly what I needed to really explore the whole place. But how I loved my visit and seeing that ancient old history!
While I was visiting Angkor I stayed in a really good hotel, The Frangipani Villa Hotel.  It was the first time in over a month traveling that I took an expensive hotel 🙂 I wasn't feeling well when I came from Laos. That was because I took a couple of long busrides (12 and 20  hours)  and I didn't drink enough water and was dehydrated. In the hotel I was treated well and got better!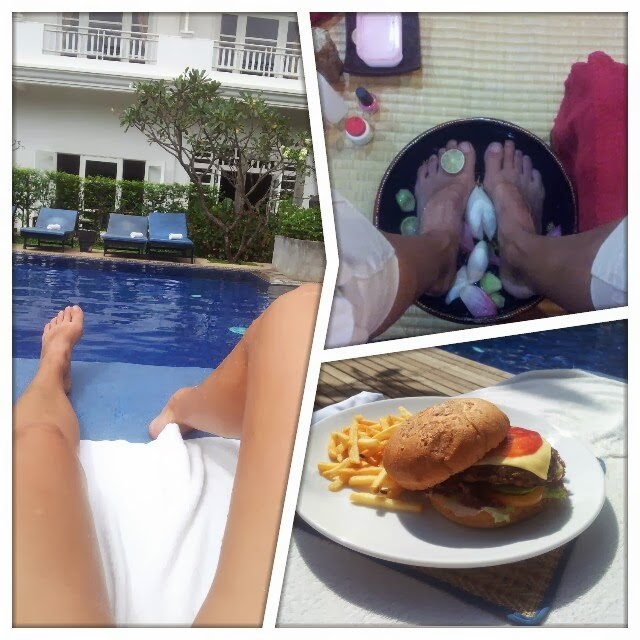 Really enjoying the pool, the Spa and a burger 🙂
Visiting Angkor Wat, Cambodia – Siem Reap
Angkor is one of the most important archaeological sites in South-East Asia. Stretching over 400 km2, including forested area, Angkor Archaeological Park contains the magnificent remains of the different capitals of the Khmer Empire, from 9th to the 15th century. They include the famous Temple of Angkor Wat and, at Angkor Thom, the Bayon Temple with its countless sculptural decorations. UNESCO has set up a wide-ranging programme to safeguard this symbolic site and its surroundings.  (Source: UNESCO)
Angkor is Khmer for "Holy City"
It is famous for its many temples and for having two regions together, Hinduism and Buddhism.
Unfortunately the two weren't always peacefully combined and therefore there are so many Buddha and Hindu statues beheaded. When you go there you can buy a day ticket, two days ticket or a three days ticket. The last one is good for 5 days. I went two days with a guide and a nice group. They were from Portugal, Mexico, England and Germany.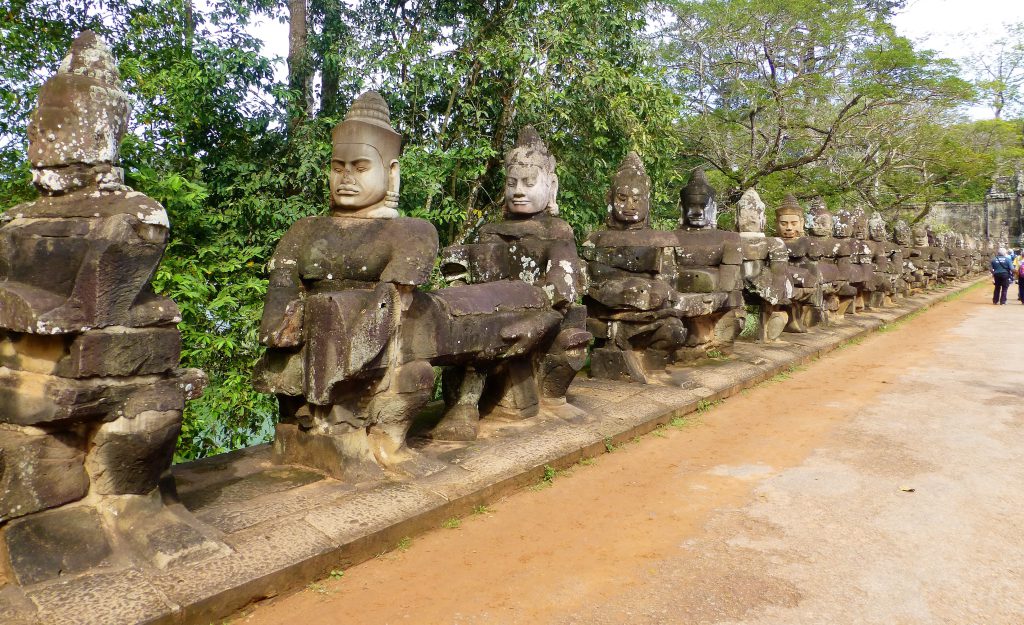 First day we went threw the gate of Angkor Thom. That was our first encounter with the area. Before you enter the gate there are several heads, twenty or more, on each site of the road. They are there to protect the city inside the gate, explained the guide.
Visiting Angkor Wat, Cambodia – Siem Reap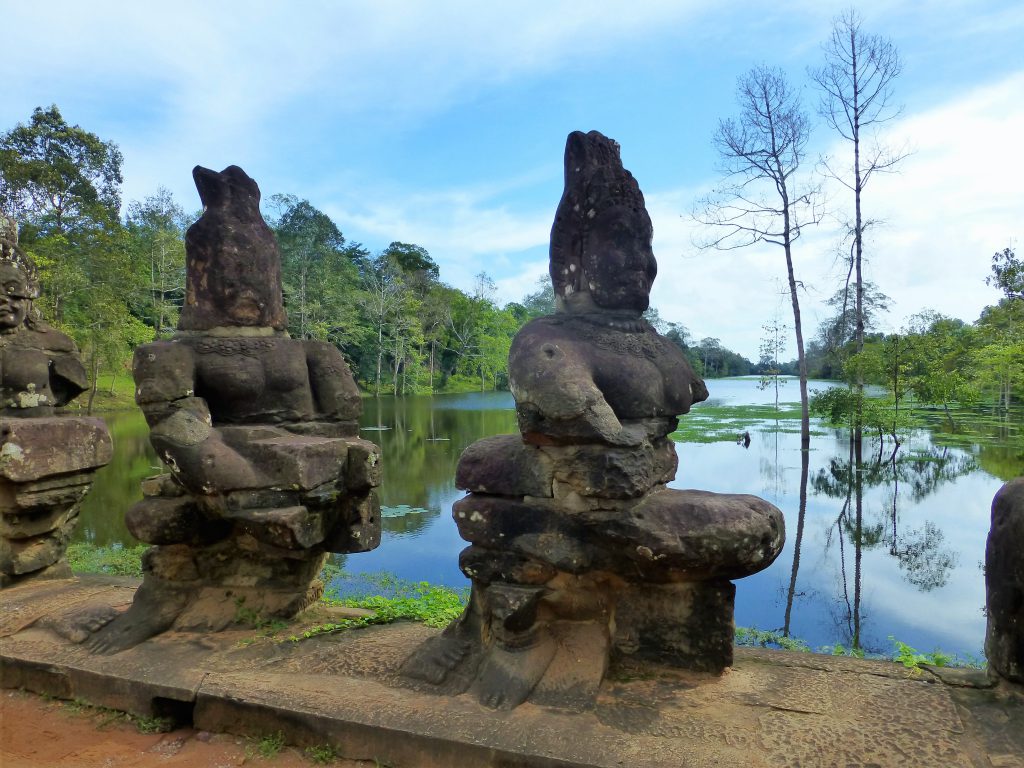 Inside are the oldest temples, like Bayon, Baphuon. Also the terrace of the elephants and the terrace of the leper king can be seen there. We did saw every famous temple and terrace, I don't even know all the names anymore. It were too many places 🙂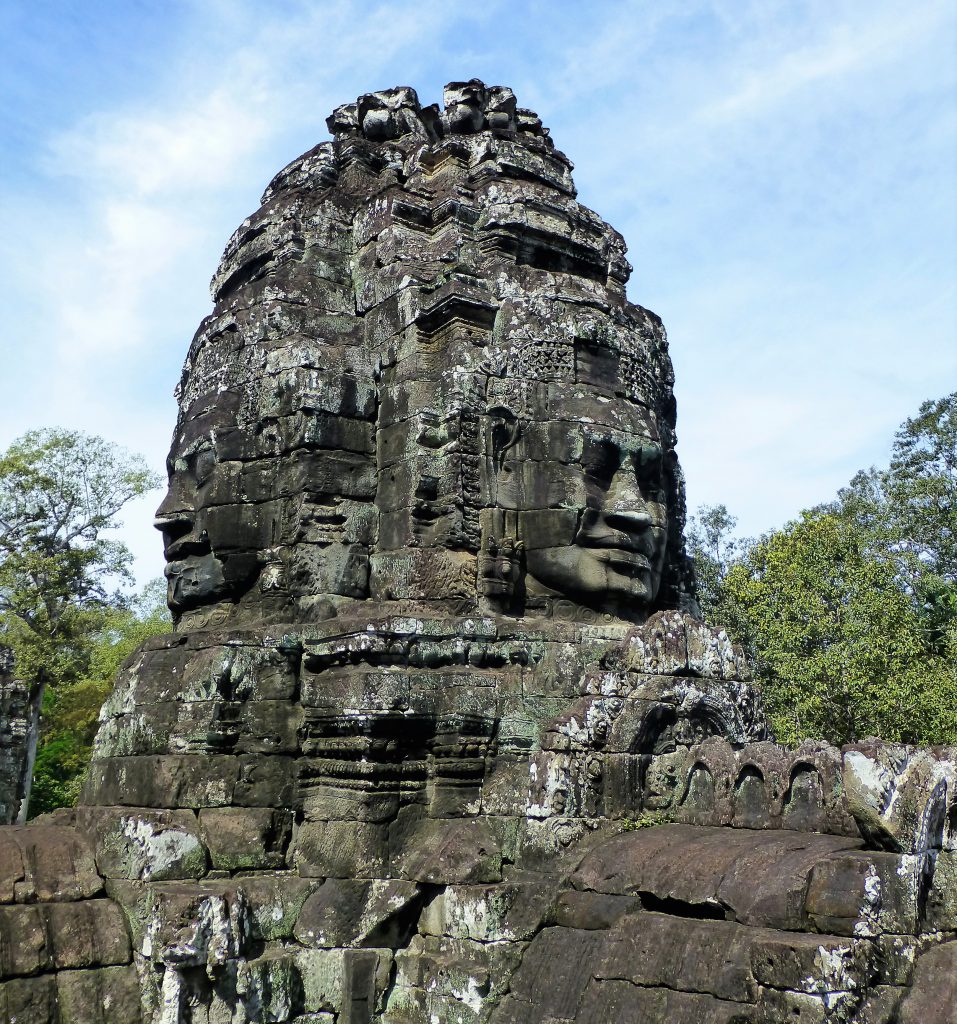 Bayon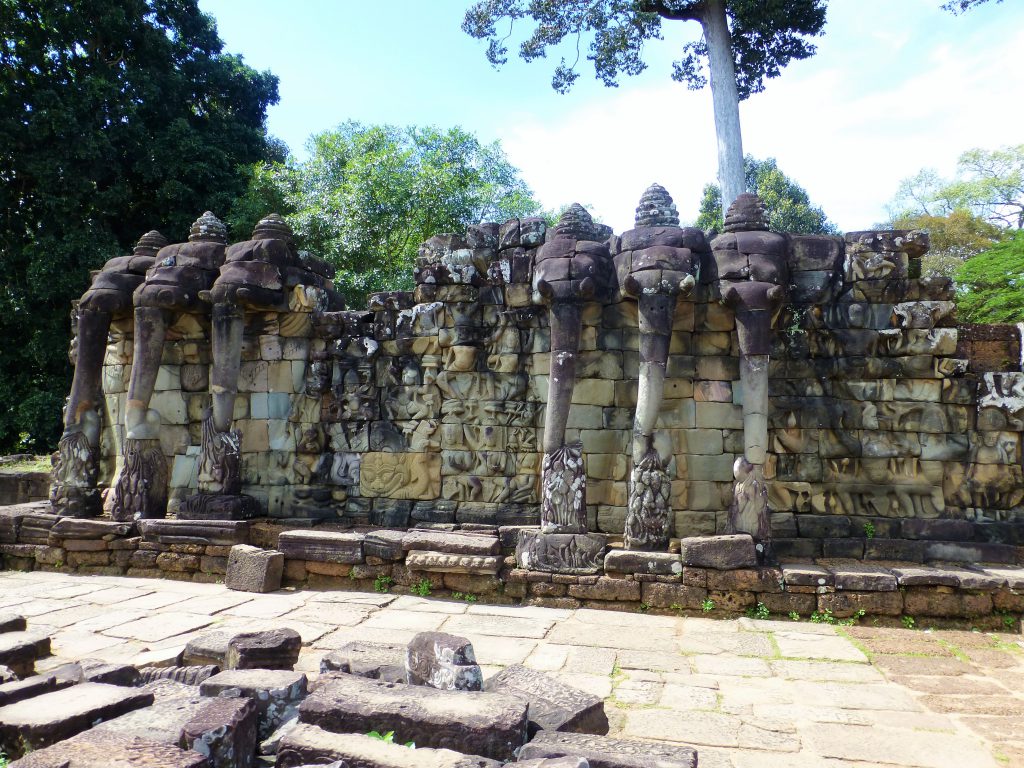 Terrace of elephants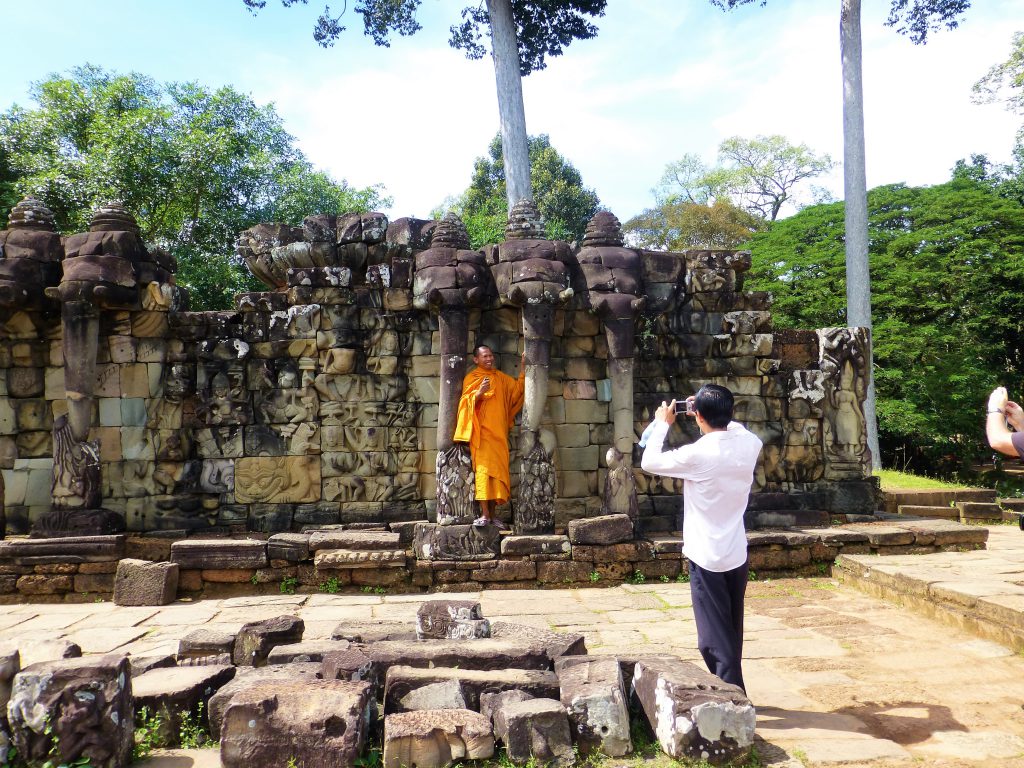 Yes, monks can be tourists too!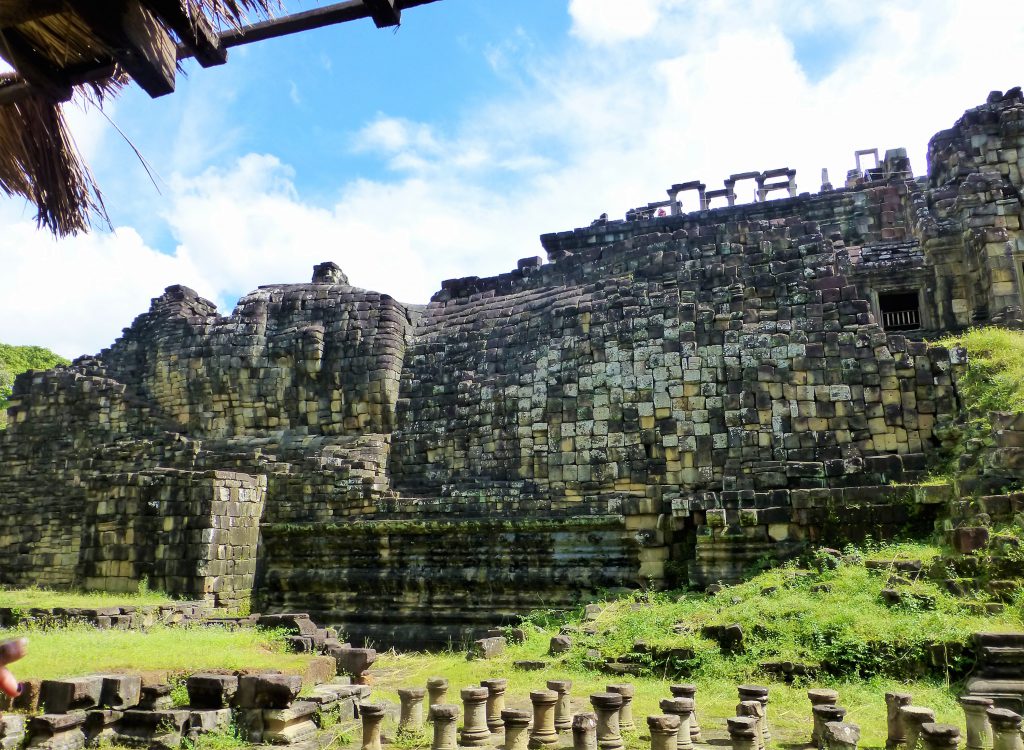 If you look good you'll see a huge lying Buddha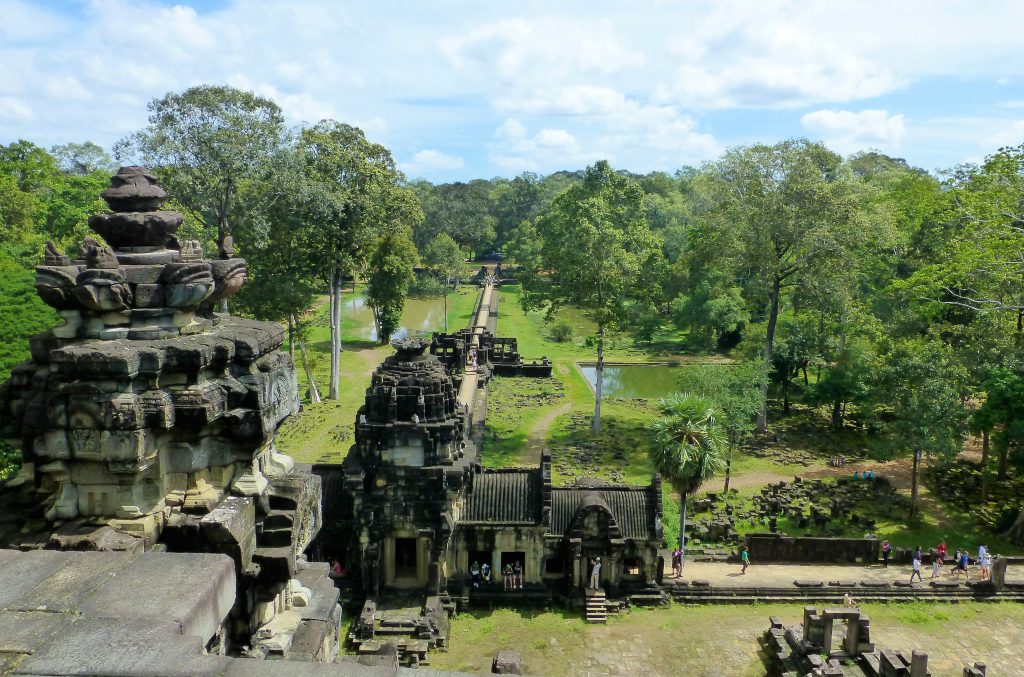 Visiting Angkor Wat, Cambodia – Siem Reap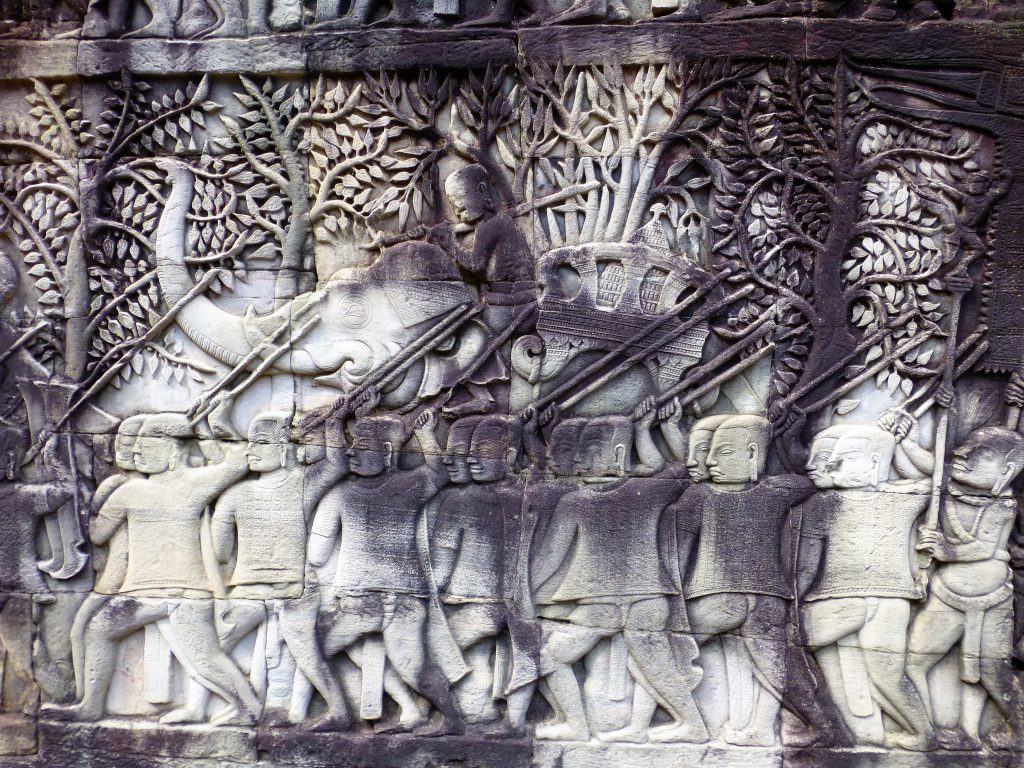 Great detail on the walls
The one I do remember by name is ofcourse Ta Phrom!! That is because of the movie Tomb Raider that is filmed there. Everybody knows that temple because of the trees which are grown in and over the temple. What a great temple. When you walk there you feel so small! The trees are so big! Only the roots of the trees are bigger than my waist. They grow over the walls and temples to keep the trees standing high.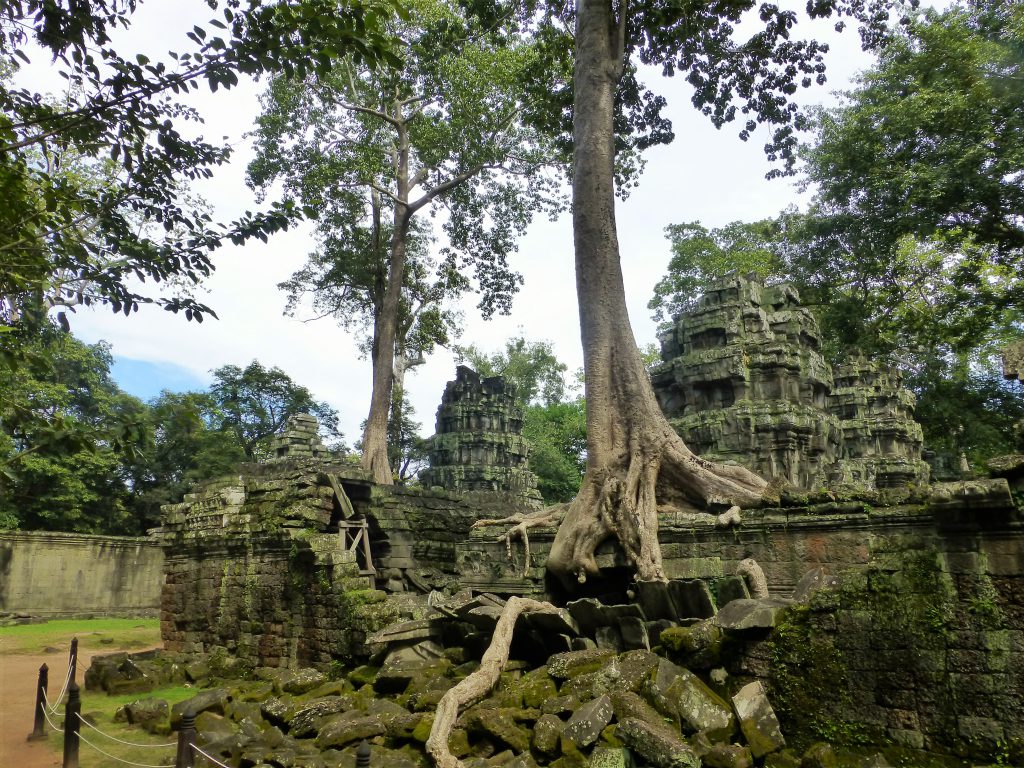 The
spung
trees at Ta Phrom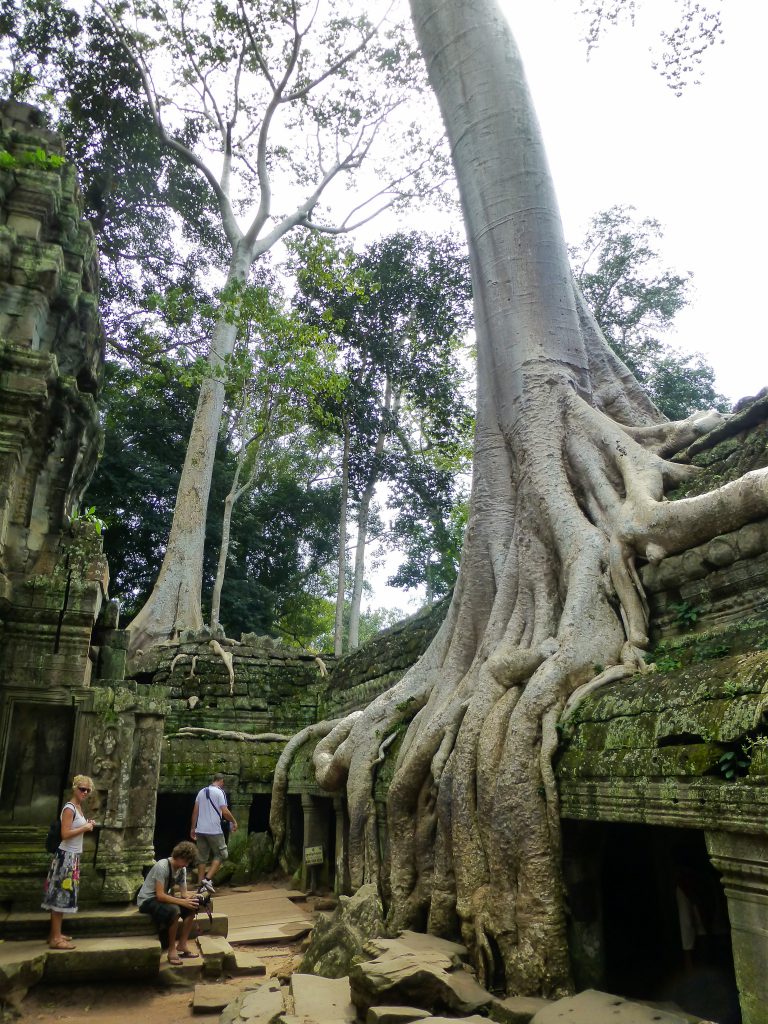 Ta Phrom
Visiting Angkor Wat, Cambodia – Siem Reap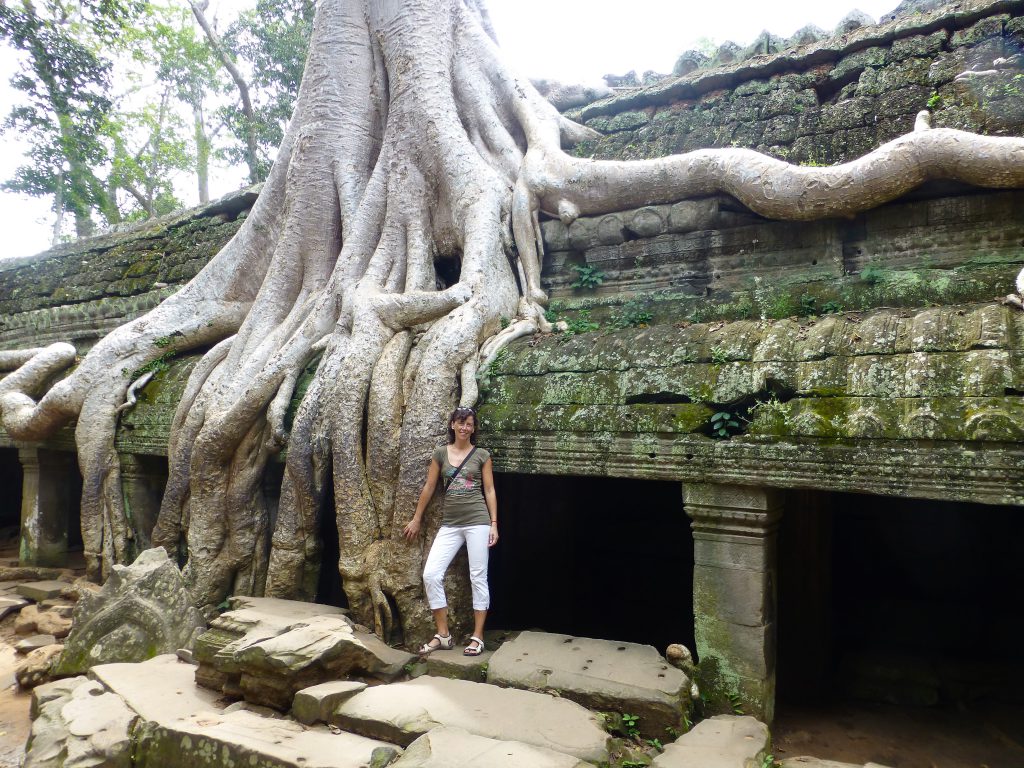 I felt really small under that big spung tree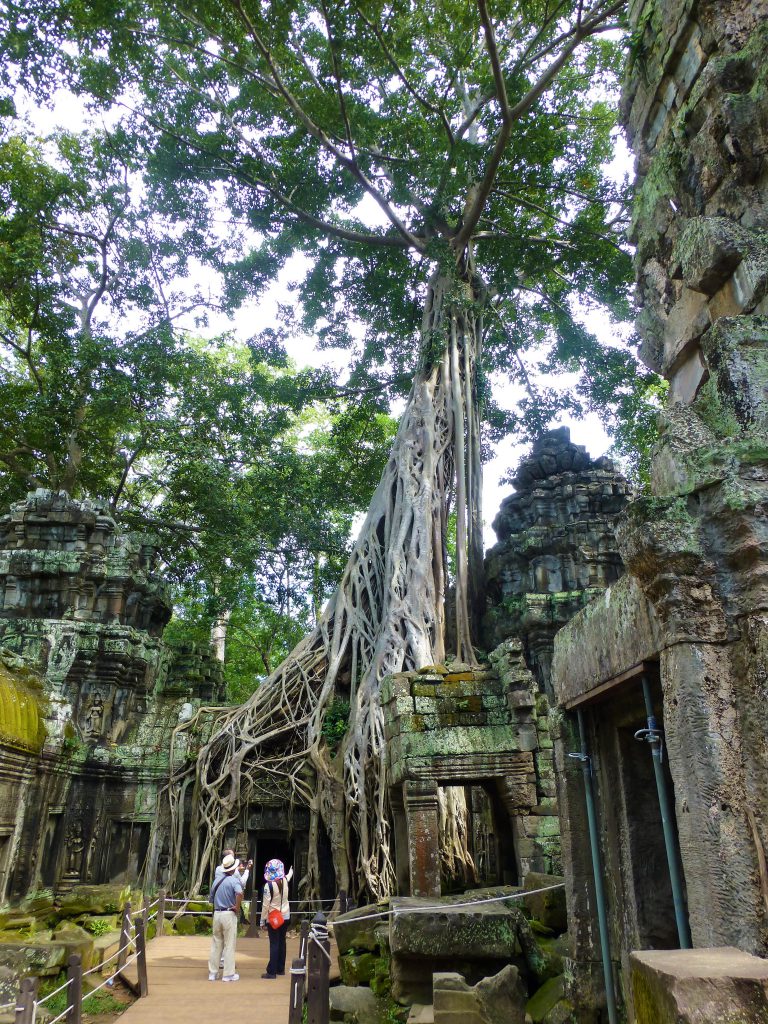 At all temples there were great Buddha statues where you could make an offer. The statues are mostly dressed in a orange cloth. You see that everywhere in Asia. I really like that. I did burn some incense at a statue and there I got my red braided bracelet, I did wear that around my wrist the rest of my journey.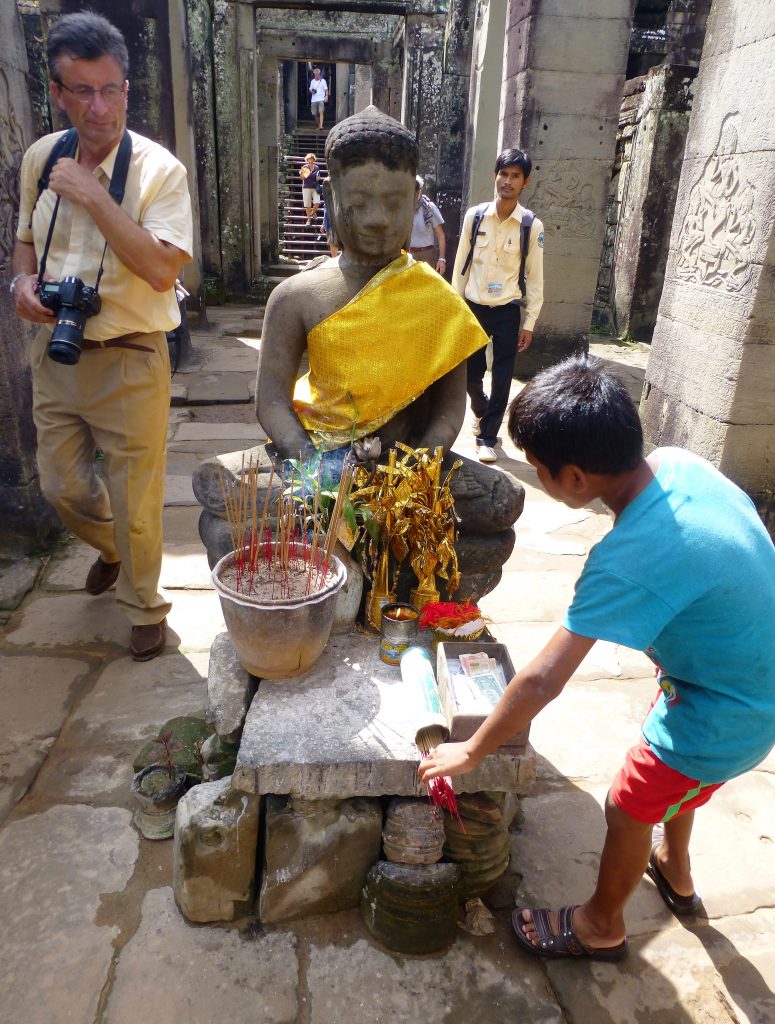 From this boy I got my red braided bracelet 🙂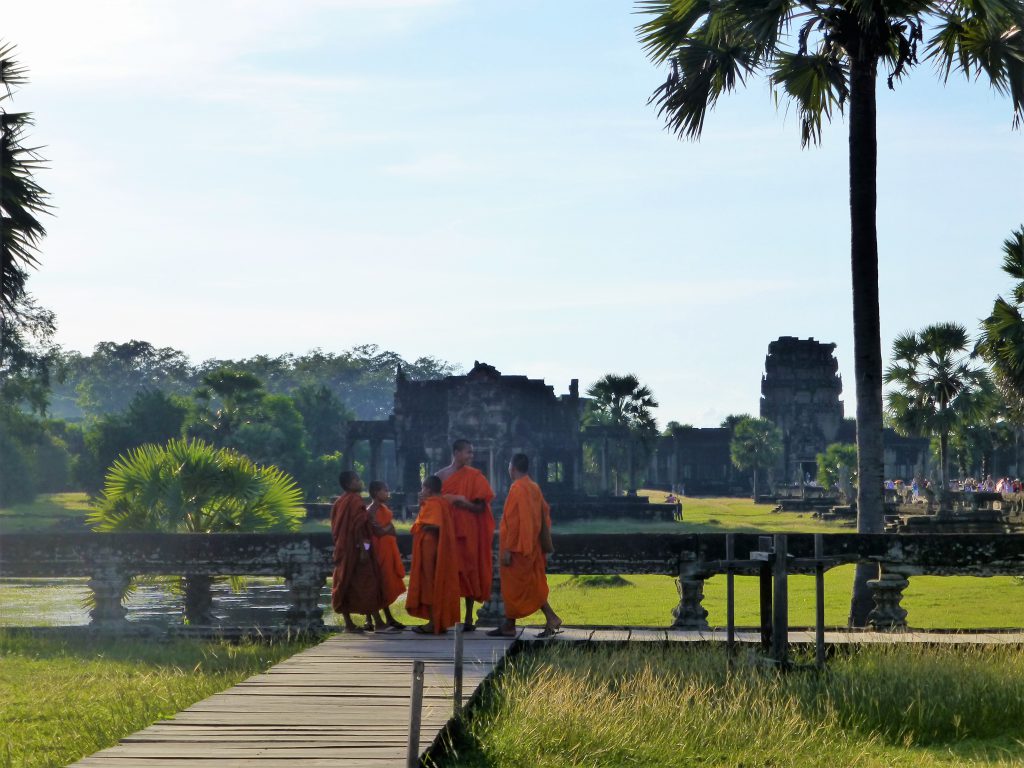 At the end of the morning we had a great lunch together.
After we went to 'the main attraction'!!

Angkor Wat
It has a long road to it with water on both sides. I really loved to see the famous Angkor Wat. I had a picture taken at a nice point from which you could see the reflection from the Wat in the water. The guide maked sure that everybody in our group had a picture taken at that spot. It is very touristic to do but lets be honest it is my best picture from me and the whole Angkor Wat!!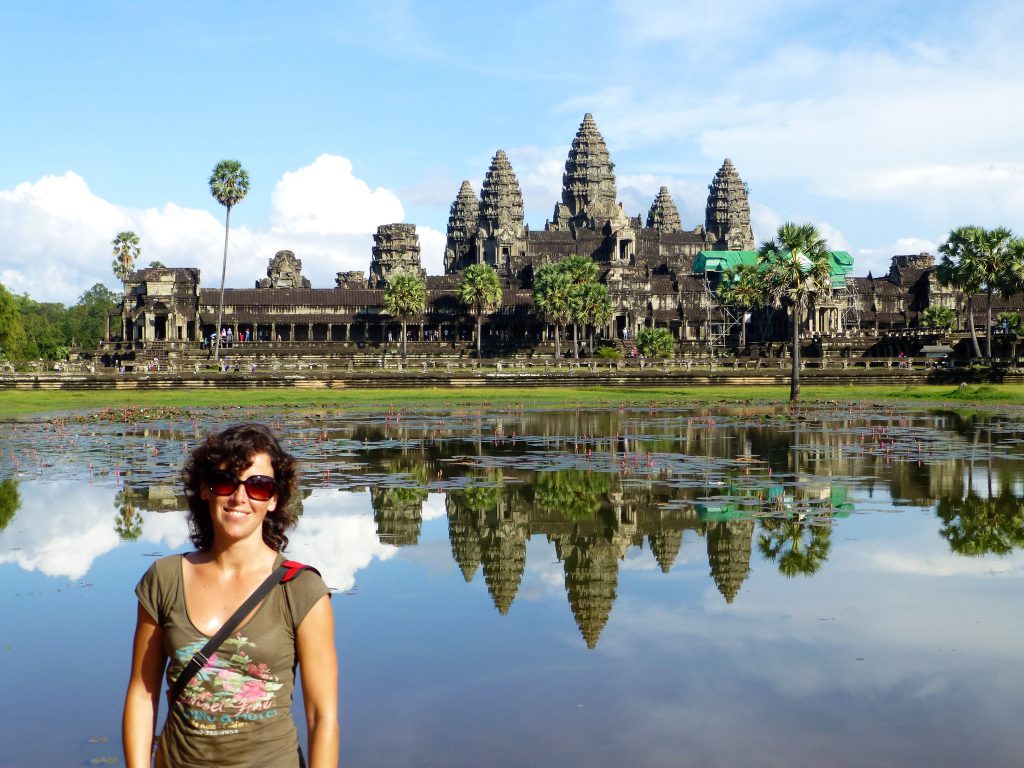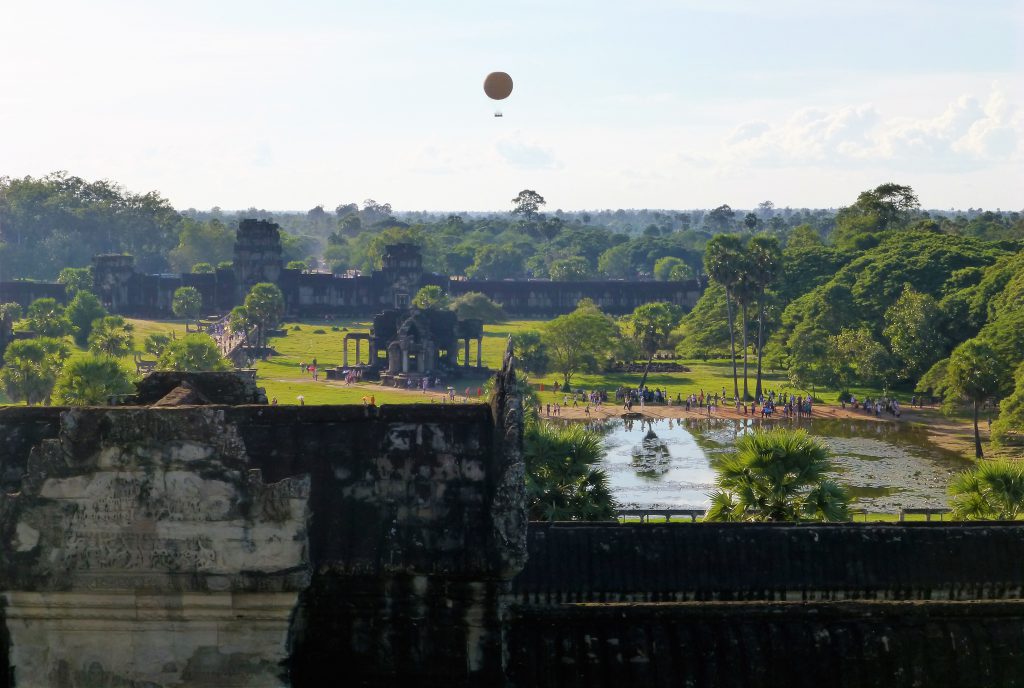 View over the entrace of Angkor Wat. You'll see the water on the right where the other picture is taken…and where you see lots of tourists standing
Do you see the hot airballoon hanging in front of Angkor Wat. You probably get great pictures from inside the balloon. But it really costs a great amount of money and the balloon is tied to a rope so you don't get above the site. I think it is great when you got lots of money to spend…but I didn't went for it. It will cost a lot plus the time you are busy waiting in line and getting up there could be spend better walking in and around the temples!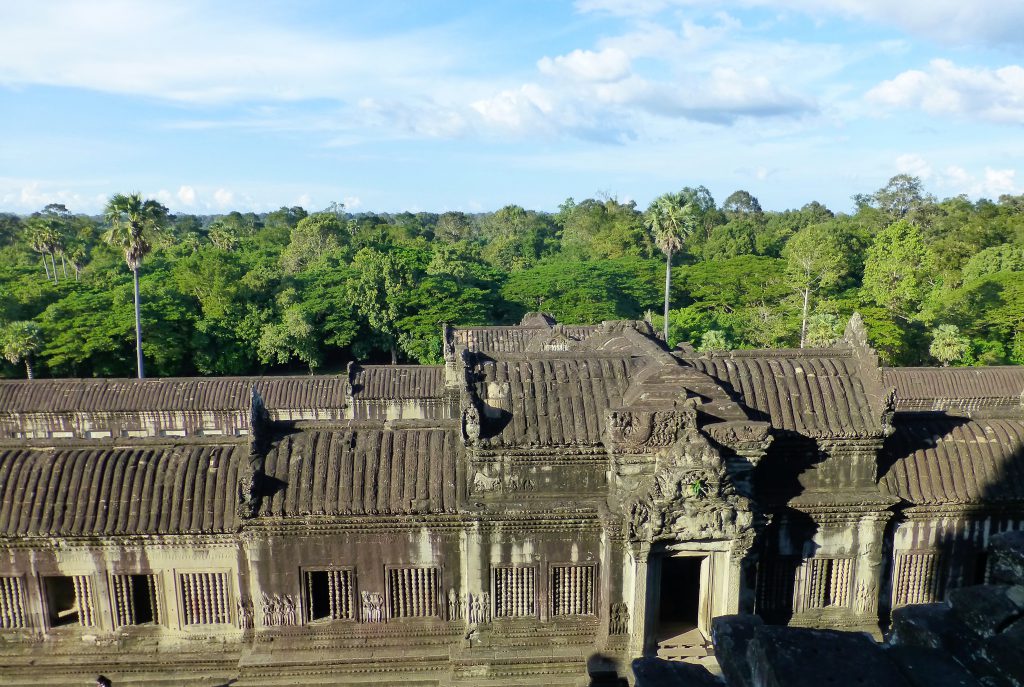 View from Angkor Wat over the forest surrounding the site
As there always monkeys near tourists, there was a naughty one here. It stool a bottle of water of the Mexican guy in my company! 🙂 The monkey got the bottle and showed us his teeth. He made a screaming sound with that. The mexican guy just let him keep it! I would probably do the same…even though it was really hot. 40+ degrees! These days were the hottest in my travel through Cambodia.
Visiting Angkor Wat, Cambodia – Siem Reap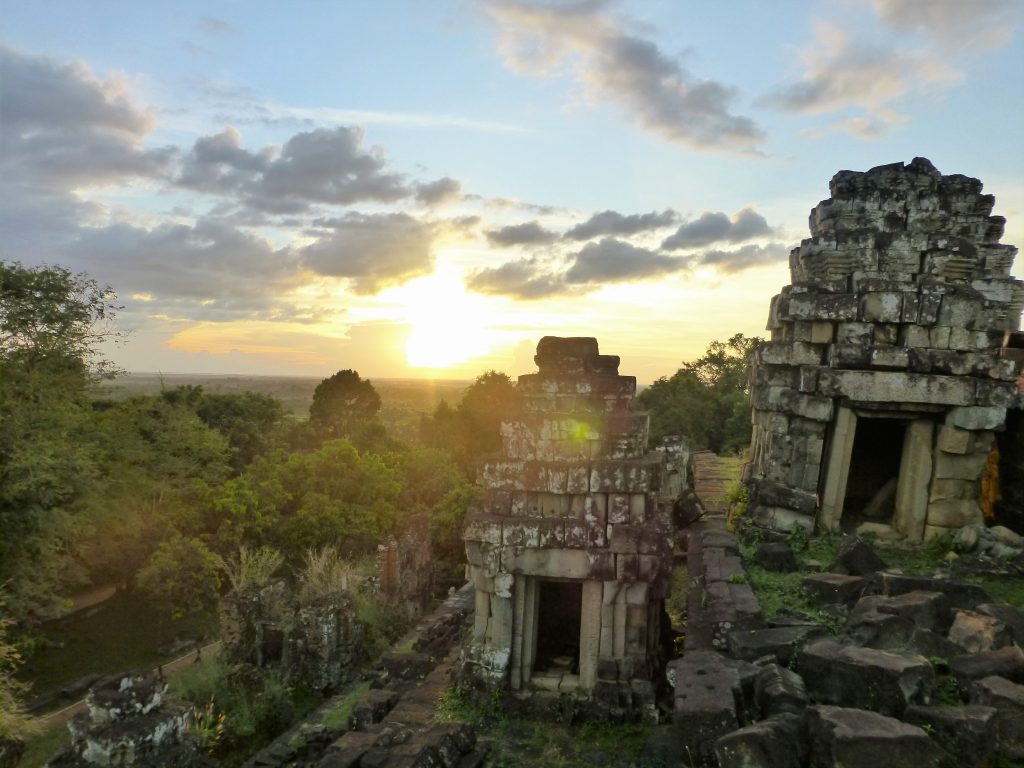 The first day was closed with a beautiful sunset at Phnom Bakheng!!

We were told by the guide that it would be a great sunset and he was paying attention at his watch all afternoon. He really wanted us to see it at that point. When we got there we walked up the hill, it didn't look that busy untill we got at the last corner… There were already a lot of people standing there, waiting to go up the last stairs. So we got in line and waited. We saw the sun sinking lower and lower….some of us didn't think we would make it up in time and got out of the line to see it somewhere else.
Every minute people went down the last stairs that were up there long enough and probably didn't came for the sunset. At that point people got the permission to go up again. And just at the last minute they let us go up in a crowd, there was enough space for us to get a nice spot! I did make a couple of really nice shots!! I was really happy that I took the change and waited!!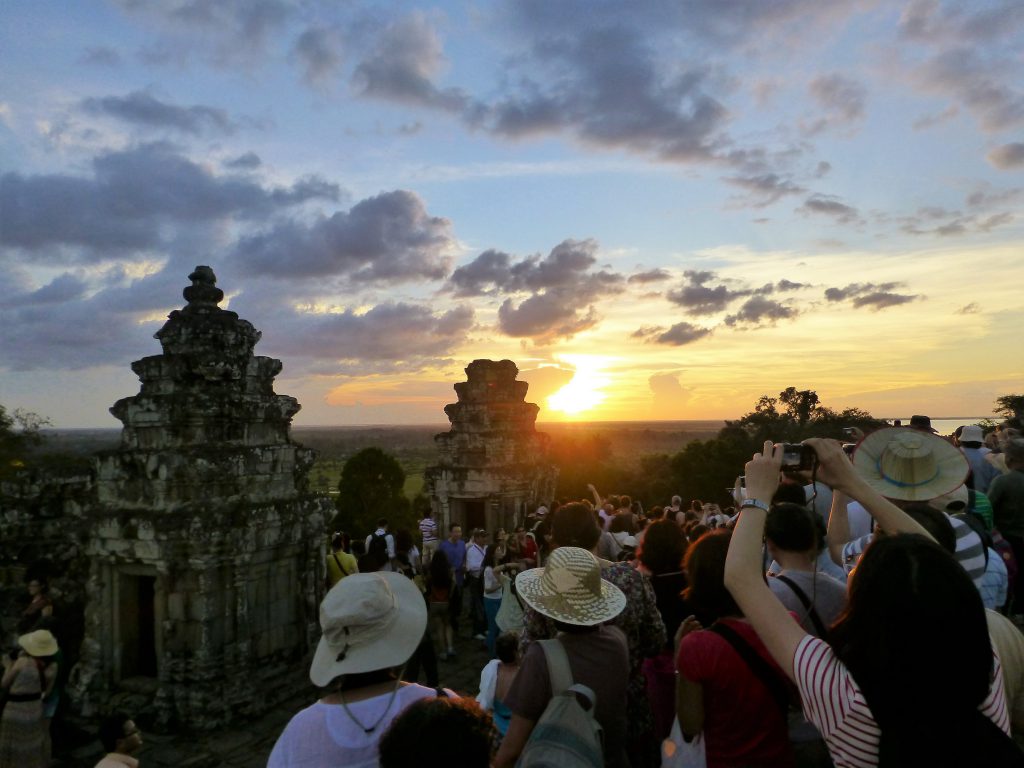 It was great! The view was astonishing!!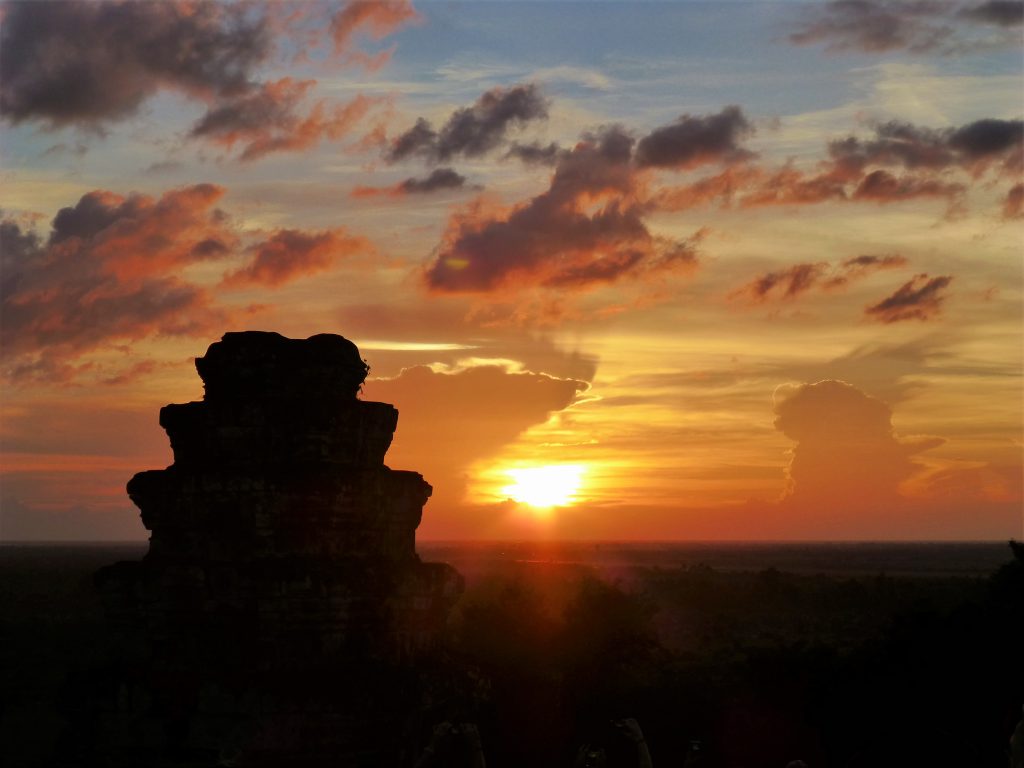 Sunset – Cambodia – Siem Reap
Tips:
Do take at least one day with a guide to get to those spot you might not find by yourself
Do take the 3 days ticket, you'll need those to really explore the area
Take lots of water wandering the temples..it can get hot in there
Where comfortable shoes and bring a sarong or scarf to cover yourself out of respect or against the sun
Did you like this trip?
Do share it on your social media for me!!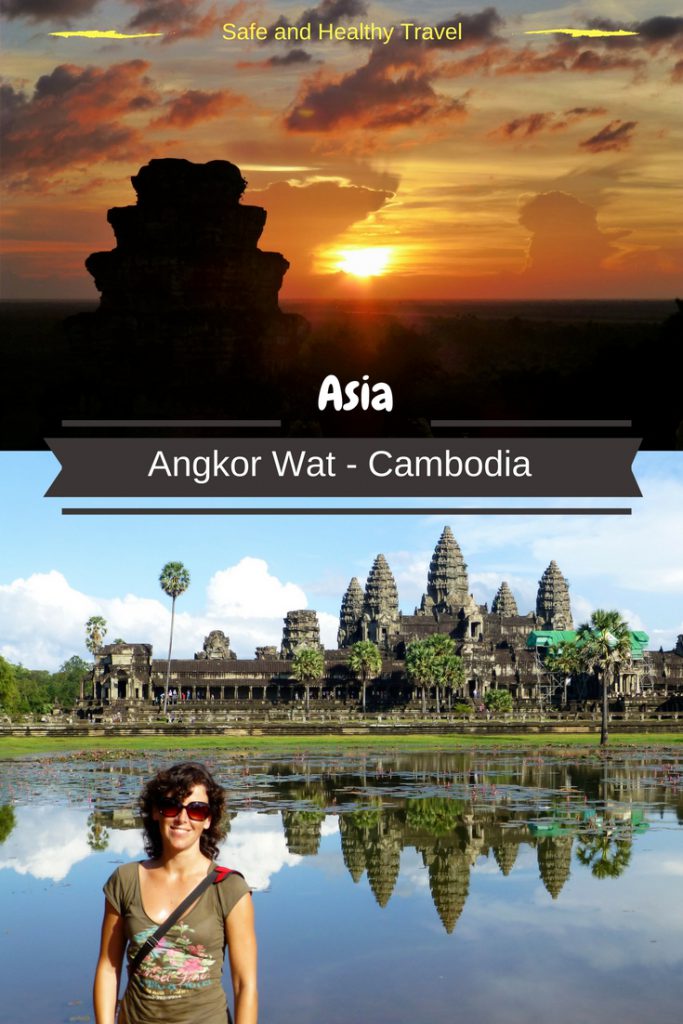 Want to read some more about Cambodia?
The Horrors of the Khmer Rouge, Phnom Penh
My Visit at Freedom Island on Koh Rong Samloem
Or can I inpsire you to go hiking in The Philippines?
I hope you love this world as much as I do!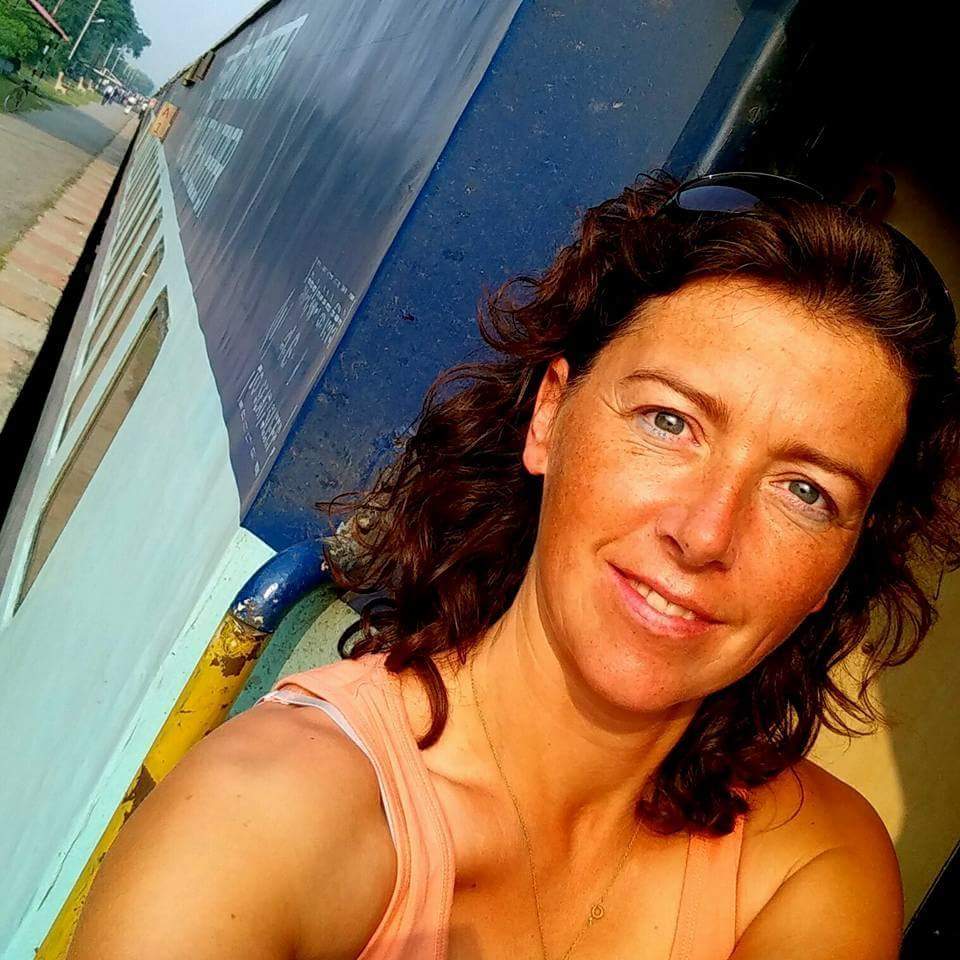 Jacomijn is een politieagent uit Nederland die jou graag laat zien hoe je veilig, actief en gezond de wereld kan over reizen. Safe and Healthy travel is a MUST