Freedom Island Bungelow – Spending a day on Koh Rong Samloem, Cambodia
|
When I was in Cambodia I wanted to go to the beach and relax for a couple of days! I made the best choice with Freedom Island Bungelow! Traveling for over a month allready I hadn't seen the sea or a beach yet. I was so ready for some relaxing at a beautiful beach and spending a day on Koh Rong Samloem.
Sihanoukville – Cambodia
To get out of the busy scene of Sihanoukville I booked a trip to the island of Koh Rong Samloem and that was the best thing to do for me. I had the best time on the island at Freedom Island Bungelow.
Before I left someone had given me a card of a very nice hotel I should visit once I was in Sihanoukville. So I went there, hotel New Seaview Villa, and booked a room. I could rent that room for only one day.
I had a big room and the hotel had a very nice restaurant as well.It was located at the road which led to the beach so it was busy and while I was eating, there was a lot to see walking to and from the beach.  After lunch I wanted to the Serendepity beach relax at the beach. Dressed in bikini, with my towel and a nice book I walked to the beach. Once I got there I saw rows and rows of chairs and beds where I could lie down. Between those beds were just enough room to walk buy.
The beach wasn't clean. It was mass-tourism….. Hmm…that was not what I had expected.
Seredipity Beach – Sihanoukville
I lay down and every 5 minutes there was somebody standing at my chair to hand me a flyer. Most of them about happy hours, drinking time at what bar and some were about trips to dive do watersports or trips to drink at a couple islands of cambodia and party on the boat in between.
I think you might already see where I am going.. Most of the tourist were young and were there to have a party and drink lots of alcohol. Well, I'm not that kind of girl….woman anymore… 🙂
Booking a Freedom Island Bungelow
Koh Rong Samloem

So, because I couldn't book more than 1 night at New Seaview Villa but more so because of the beach I wanted to leave. I was thinking about going to Vietnam and go to an island but when I was looking in flyers I saw trips to the islands Koh Rong, Koh Dek, Koh Kaong and Koh Rong Samloem.
The first agency I went to was booked for a couple of nights, that one went to Koh Rong. The next one had a bungelow on the island of Koh Rong Samloem and had one free for me! I immediatly booked!! Unfortunately just for 1 night, if I knew upfront how much I liked it on the island I would've try to book somewhere for 2 or 3 nights.
My Visit at 'Freedom Island Bungelow'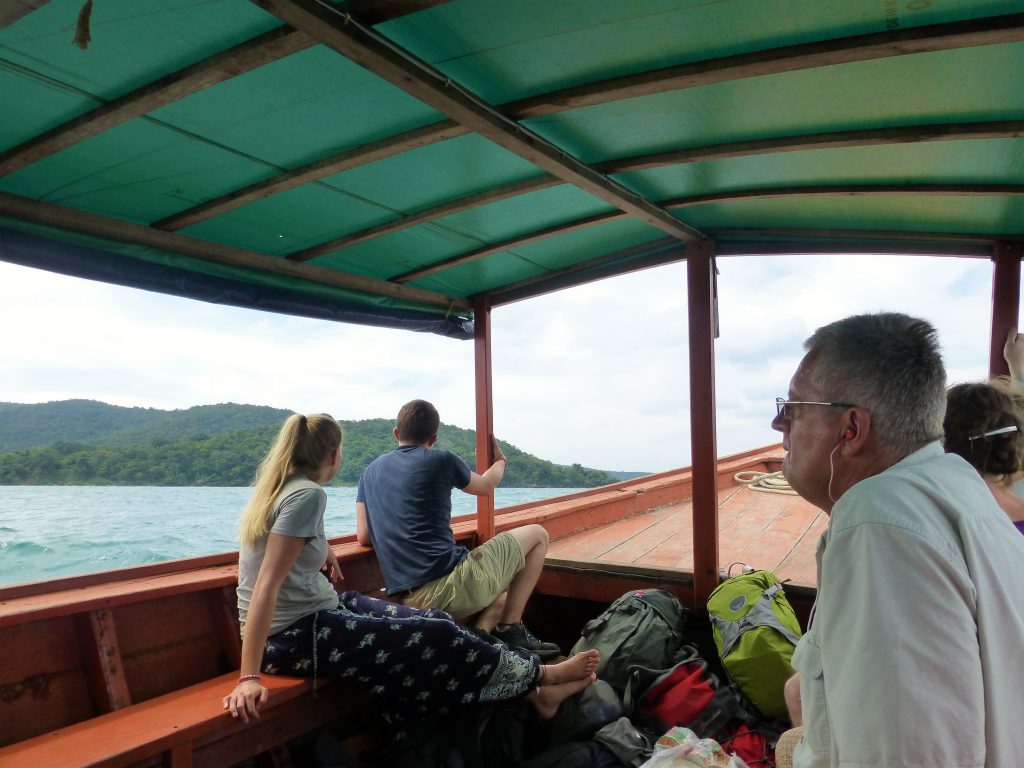 Going to the Island of Koh Rong Samloem

I went with a boat, with a couple from Germany and a couple from Denmark and from some other countries in Europe.. The trip lasted more then an hour on the boat, already really relaxed. First we went to Koh Rong and another Island, after that our Island, Koh Rong Samloem.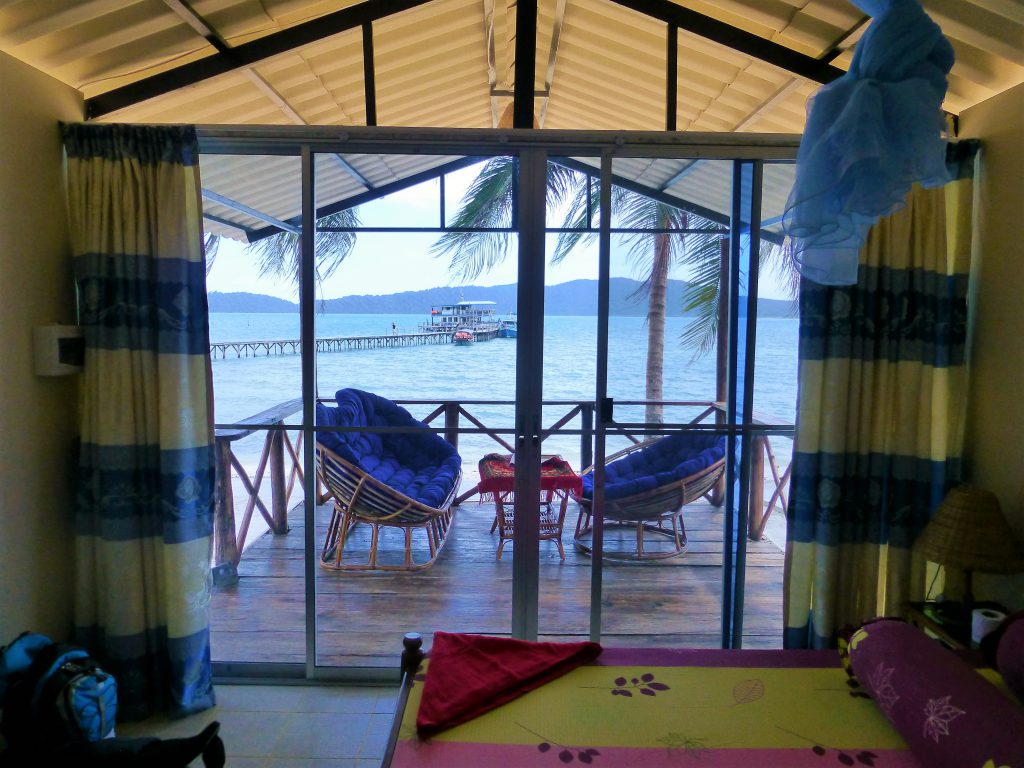 My great Freedom Island Bungelow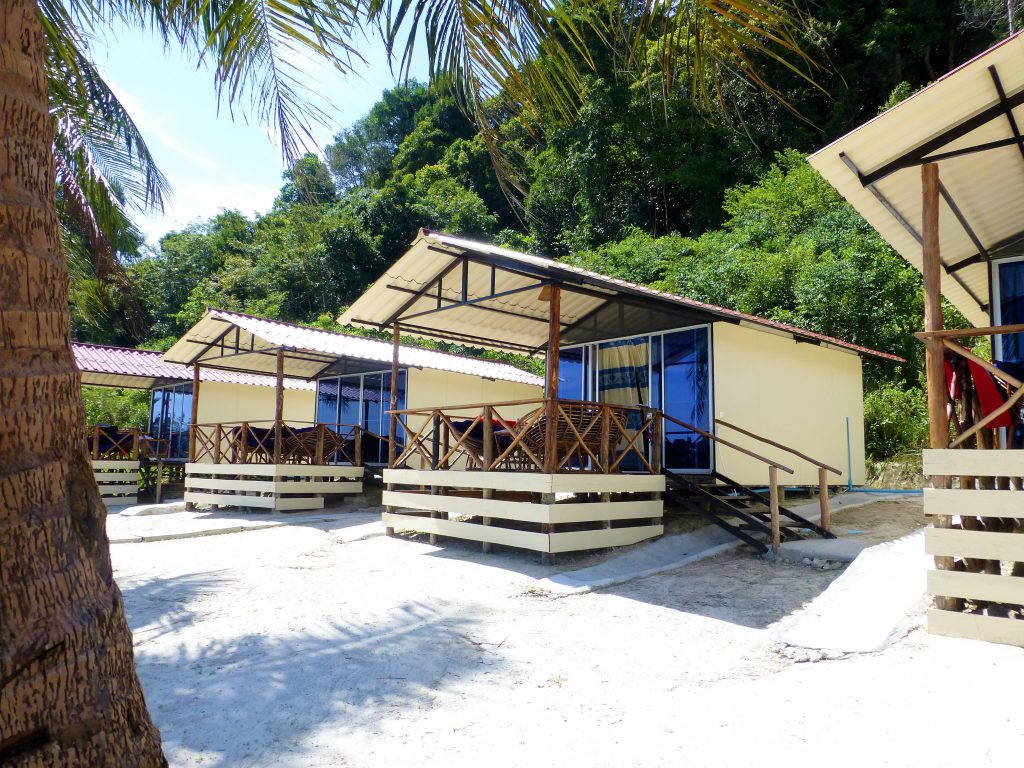 My bungalow on the beach of Koh Rong Samloem

I really love the bungelow at Freedom Island Bungelow. The beach on my side of the island wasn't that clean but my view and balcony on my bungelow was great! The stream in the ocean was at my side of the island and came directly from Cambodia…so all the dirt what was thrown in the sea came at shore here.
I went walking to the bay next to ours, there was a short jungle path which was hardened. The path wasn't ready yet so after 150 meters I walked a small path in the jungle. It was a nice walk. The bungelows in the other bay weren't half as pretty as ours. The beach was better so I took a dive there and walked for a couple of km's.
In our bay was a restaurant, the owner was a German guy, Stefan. He had welcomed us and gave us the key for the bungelows. I wasn't prepared enough because I should have taken water with me, and something to eat and what so ever.
My visit at 'Freedom Island Bungelow'
Koh Rong Samloem, Cambodia
There was no shop on the island. You could buy cans of sprite/coke and some other small items at the restaurant. There were 8 bungelows in our bay, 4 on each side of the restaurant. There was also a swimmingpool but it was more a pond than a pool. I didn't swim there. I did see some people swim there, more for cooling down I quess..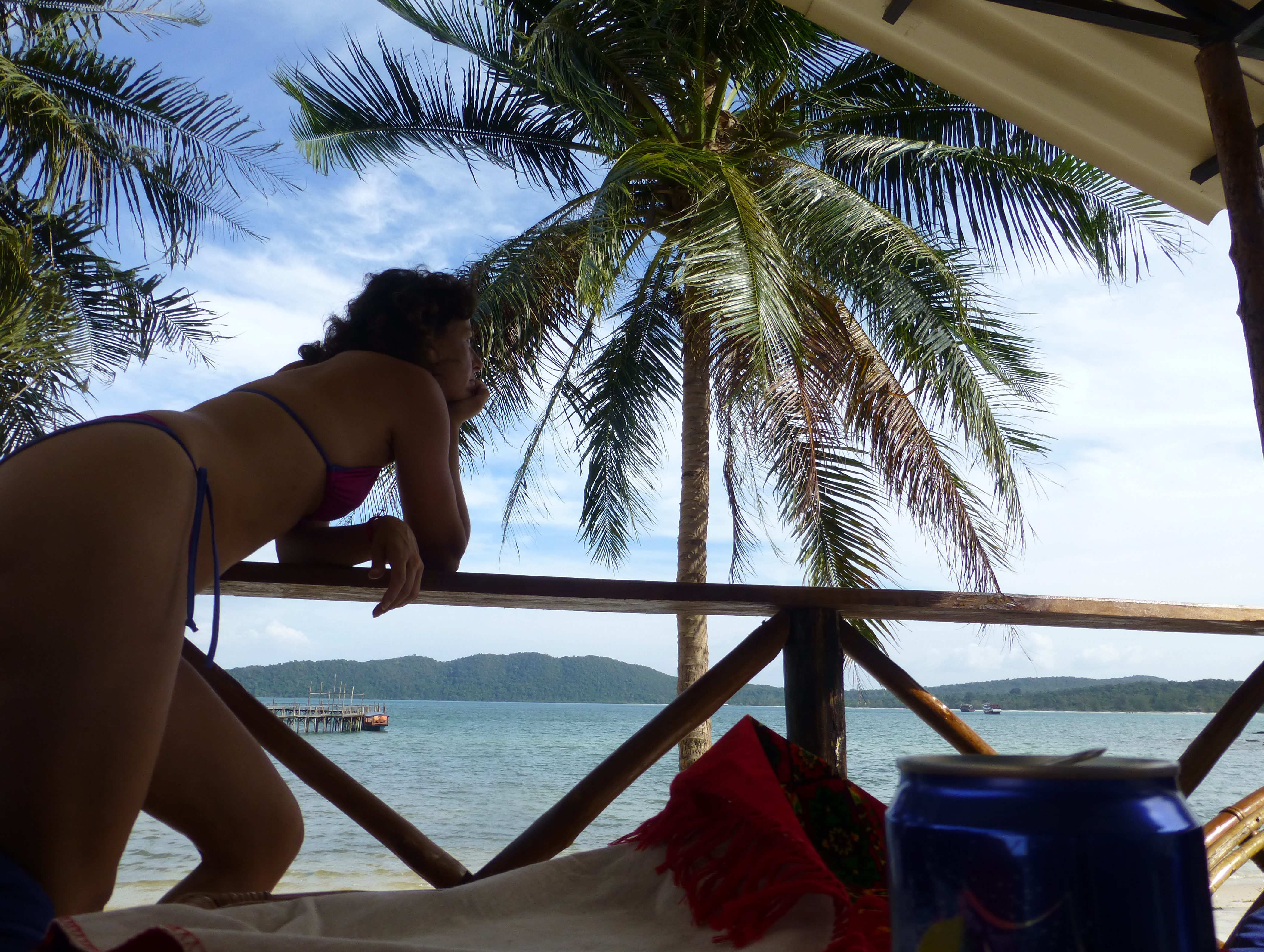 The evenings at Koh Rong Samloem
Stefan, the German owner told me that evening at dinner that from that other bay you could go onto a path that went straight over the island and get to a beach which was real clean. It was a hike over the island that would take me 45 minutes. I desided to go there early morning because I would leave that next day in the afternoon.
That evening I was reading on my balcony, looked over the ocean and enjoyed my time there very much. Around 23.00 hours the electricity was turned off and I went to bed. It was warm but I slept well,hearing the waves is really nice! My bungelow was almost 10 meters off the shore.
My Visit at 'Freedom Island Bungelow'
That next morning I had breakfast at the restaurant and took an extra bread for the afternoon or maybe for half way the morning, bought a can of sprite and started walking to the other side.
Would you like to enjoy some time on this great island too?
The Jungle path across the island
A Walk on the Island of Koh Rong Samloem

After a while, on the other bay I saw a path which went straight into the forest. This must be the path so I started walking into that forest. The path went slowly up the island. It was really all the way in to the forest so unfortunately I didn't get a nice view over the ocean and maybe to Cambodia. But I did like the walk a lot. On top of the island was a meadow, there was a shed but no house or any living creature to be found. I hadn't seen another person for the whole walk which was allready taken me an half an hour. I walked on. And after some 15 minutes I saw some little houses and after that I saw the great lightblue sea!!!
White beach and clean, great!!!
My Visit at 'Freedom Island Bungelow'
I was early so I had the beach and the sea to myself!! I really enjoyed it. Lay down to sunbath, went swimming in that clean, see till your toes seawater. Walked over the beach and looked for seashells….still a hobby of mine 🙂 After a while there were other people coming, from the other side of the island and from the bungelows at this beach.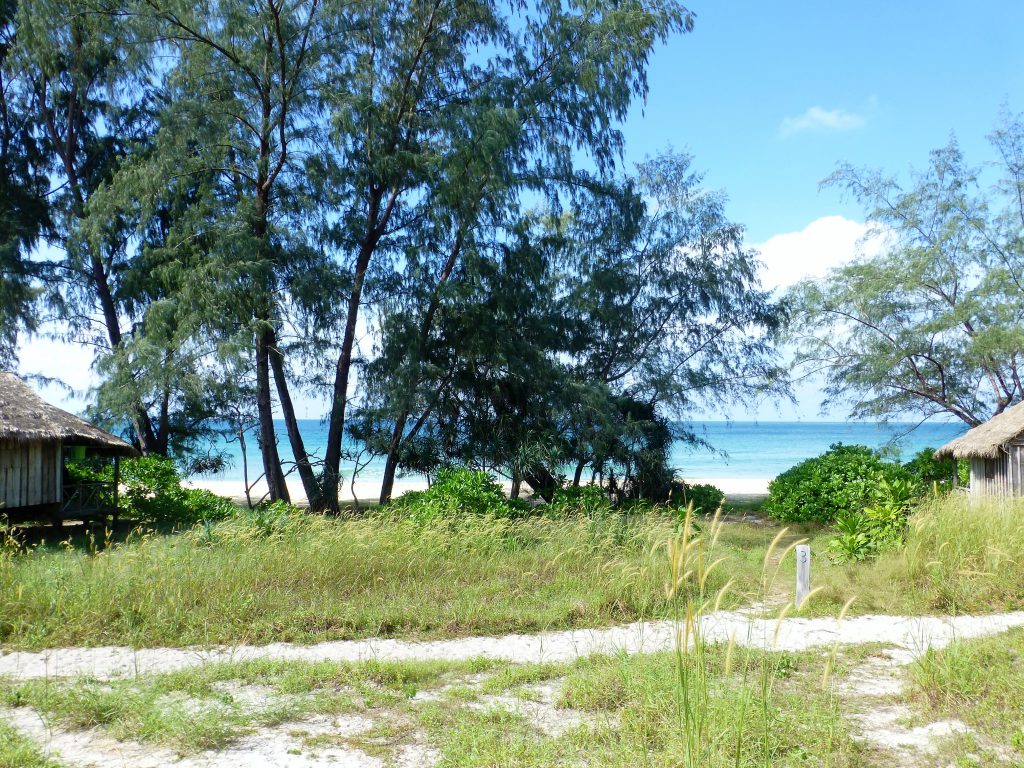 Beach on the other side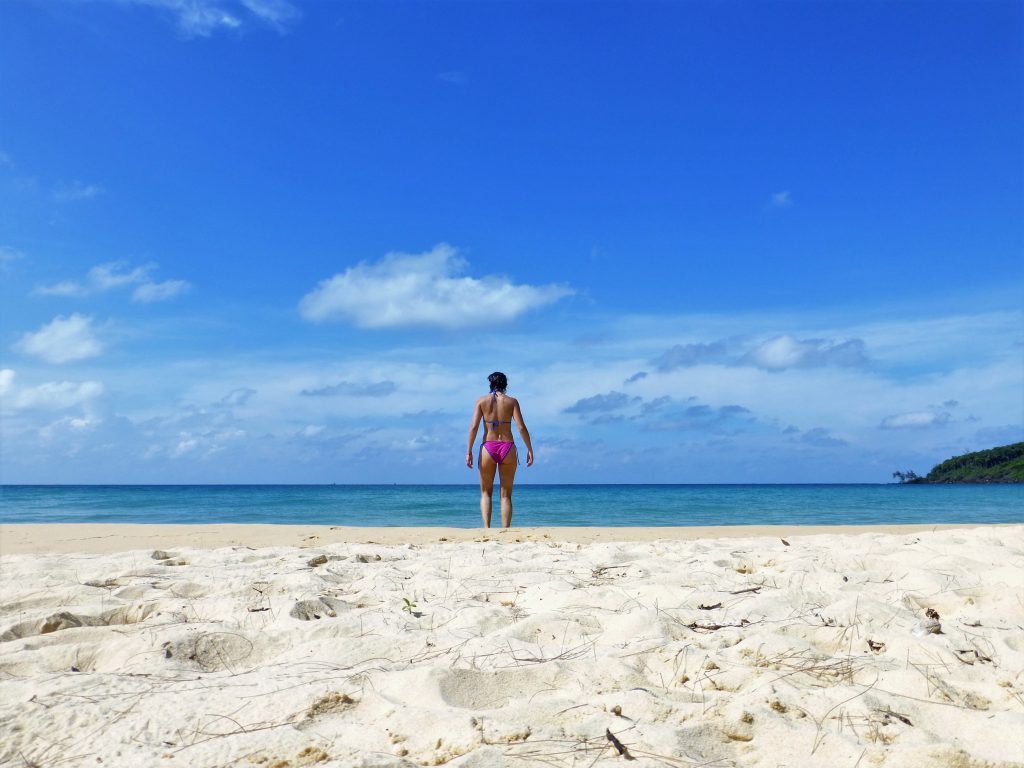 Having this great beach all to myself!
It was great walking on that beach, bearfoot on the white soft sand. But when I wanted to go for a swim I saw a snake swimming there!! Aaah.. It was great to see….but so far for me going swimming in there 🙂 Probably you will not see that… I was lucky…or onlucky…how you want to see it 🙂
It was really getting warm after a while so I went walking back to my side of the island. Use the nice shower in my bungelow and enjoy my balcony for the last time.
Going back already of the island of Koh Rong Samloem
The help from the restaurant came to me early that afternoon to help me with my backpack. We had to go to get the boat from the other bay. Unfortunately I was the only one to leave allready from Freedom. Wishing I could stay but the next customer was coming already. I had to say goodbye already to this great spot in paradise!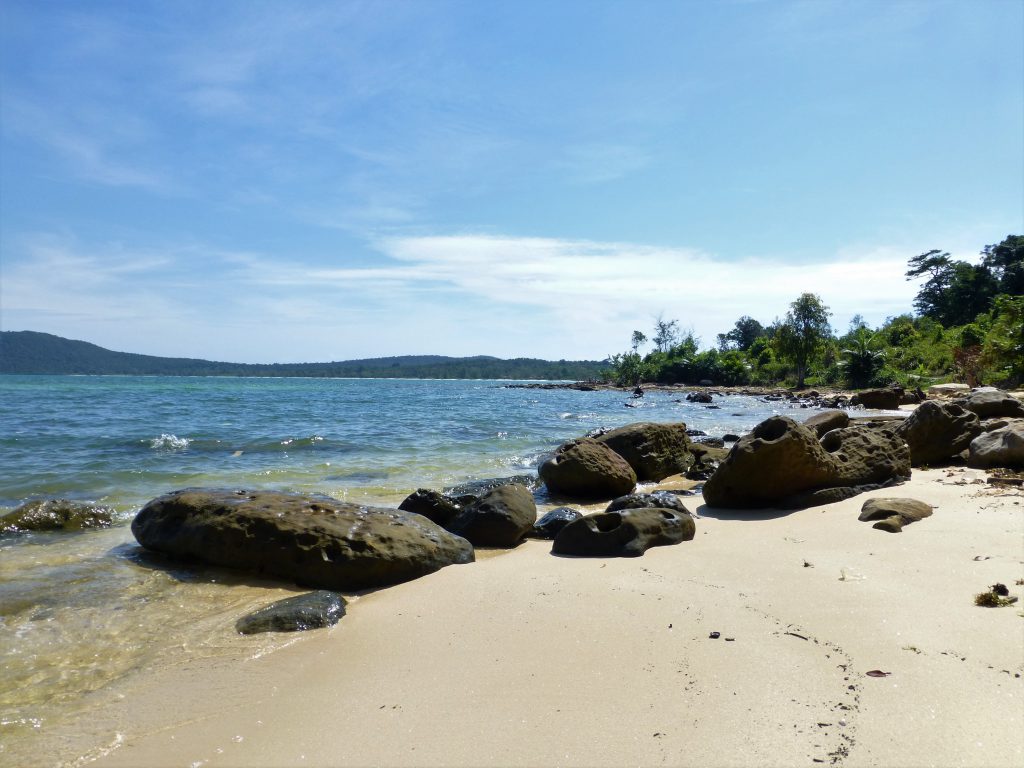 The beach in front of my bungelow

So we walked that jungle path to the other bay and there was the boat off shore. We had to walk to the boat because there was no pier at this bay. We went in the water kneedeep so my backpack was still dry once I was on the boat. The relaxed way back to Cambodia started. It was a nice boat, relaxed people and quiet. They had a day tour from island to island and had been swimming and drinking 🙂 that's why they were that quiet I quess.
My Visit at 'Freedom Island Bungelow'
Most of them were burned from of the sun and looked tired, they quickly went quiet all and I could enjoy our way back to the mainland.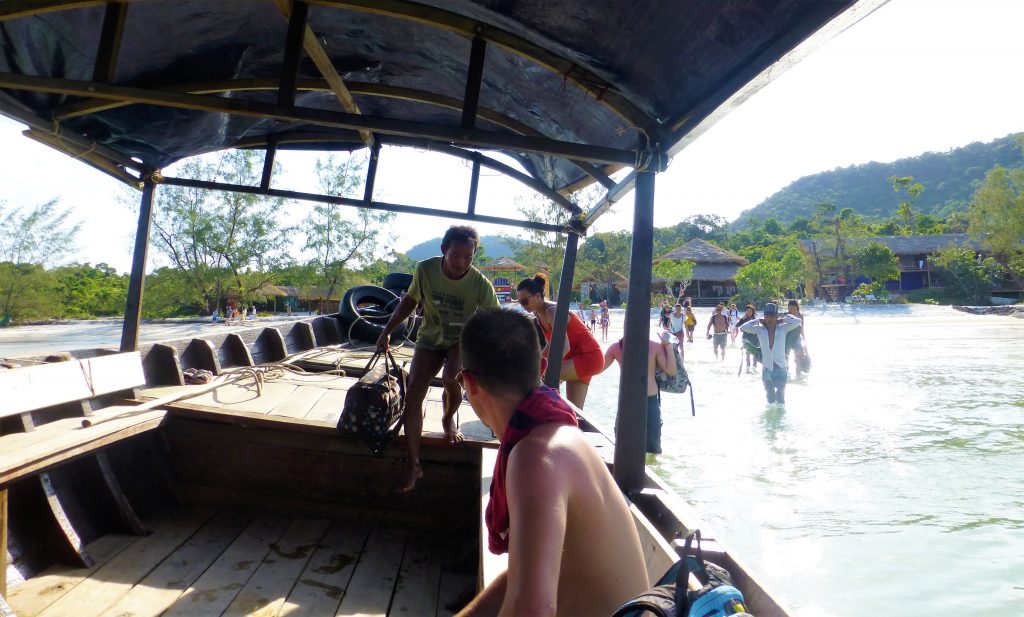 Getting on the boat to go back
I had a super day at the island of Koh Rong Samloem.
Wished I had taken an extra day or two there!!!
Tip:
Book at least 2 nights here
Take some drinks and some food for the evenings or afternoons with you. You can buy some but it is only so much
Take your book to read on your balcony
Did you like this trip?
Share it on your social media!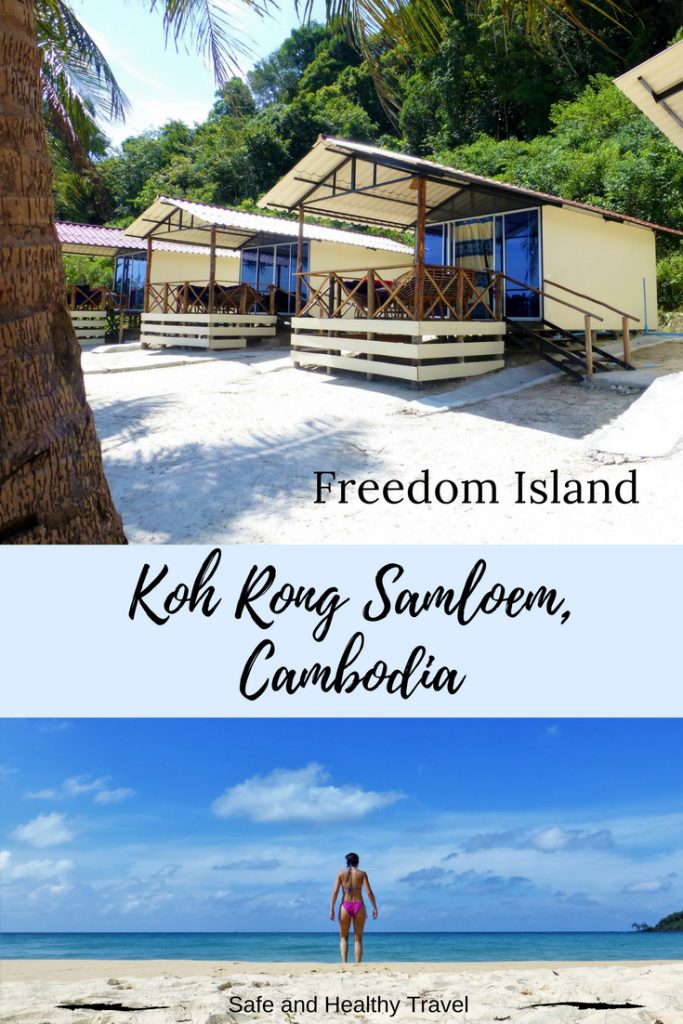 Want to read some more about Cambodia?
The Horrors of the Khmer Rouge…
Or looking for a 2 week itinerary for Sumatra?
Or can I inspire you to go take a dive?
I hope you love this world as much as I do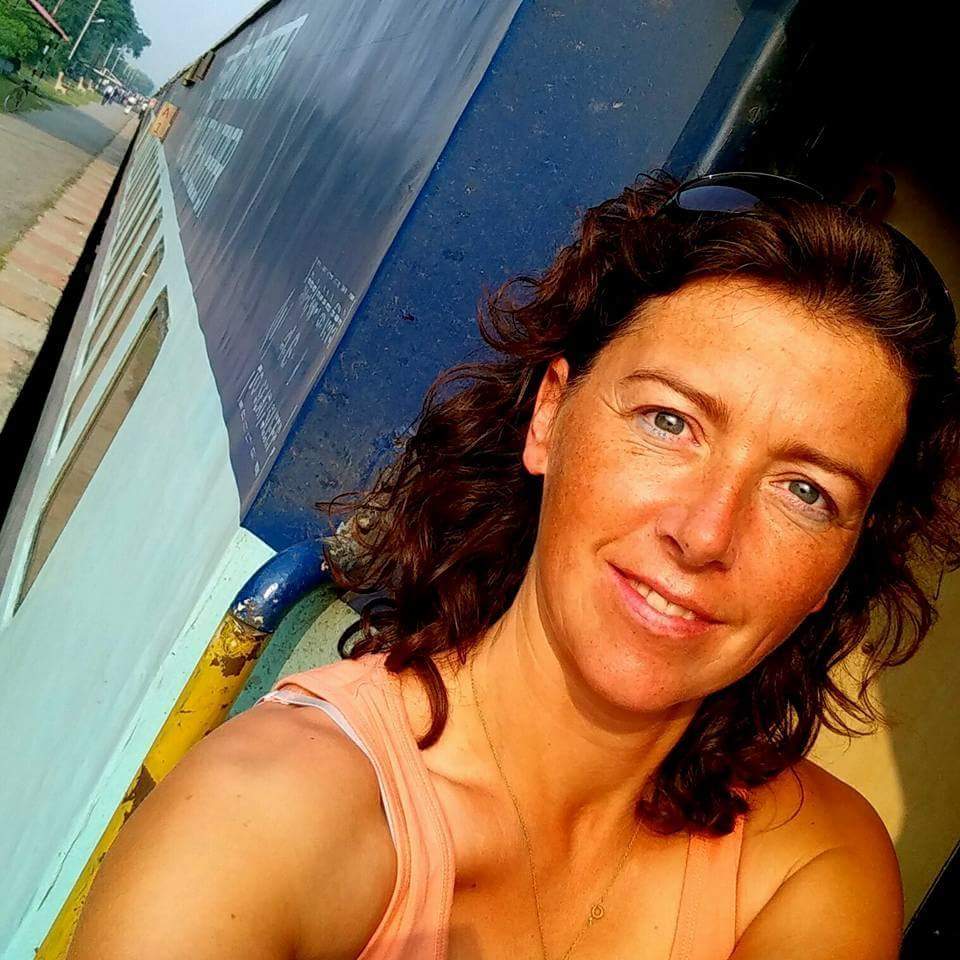 Jacomijn is een politieagent uit Nederland die jou graag laat zien hoe je veilig, actief en gezond de wereld kan over reizen. Safe and Healthy travel is a MUST