Exploring the Temples of Ayutthaya by bike – Thailand
|
Exploring the Temples of Ayutthaya by bike! I had been on my so-called list for a long time, but every time it didn't happen. Every time I went to other destinations and ignored Thailand. This long journey I was suddenly in Thailand and booked a train ticket from Bangkok to Khao Yai NP with a stop in Ayutthaya to finally see those many temples of Ayutthaya by bike!
Did you know that Ayutthaya was founded around 1350 and was the second Siamese capital of Thailand. Ayutthaya grew from the 14th to the 18th century into one of the largest, most cosmopolitan urban areas in the world and was a centre of global diplomacy and trade. Ayutthaya was strategically a great place because it is situated between 3 rivers and therefore actually a kind of island. And what also connects to the Gulf of Thailand.

Source: Unesco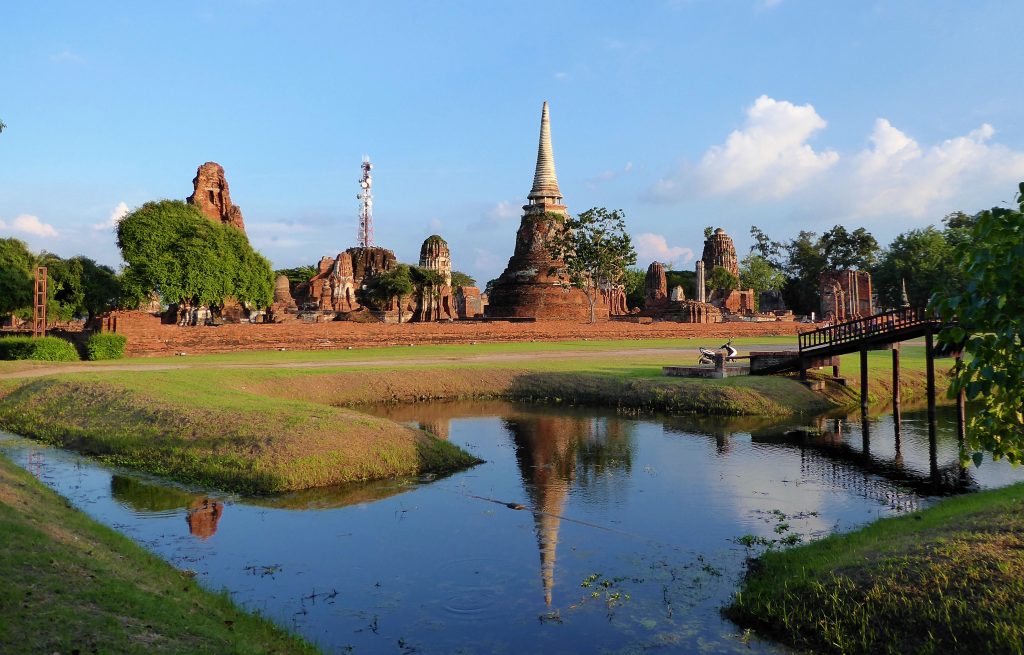 Ayutthaya by Bike – Thailand
In 2005 I had been here before but as is the case with most tours that are organized, you don't have much time to walk around on your own. And so to discover for yourself the area where you are. And that is exactly what I wanted! I want to see more, experience more! Later I saw that here is the famous Buddha head between the trees… Then, of course, I really wanted to go back!
No matter how cliché…
I really wanted to see that special piece of earth!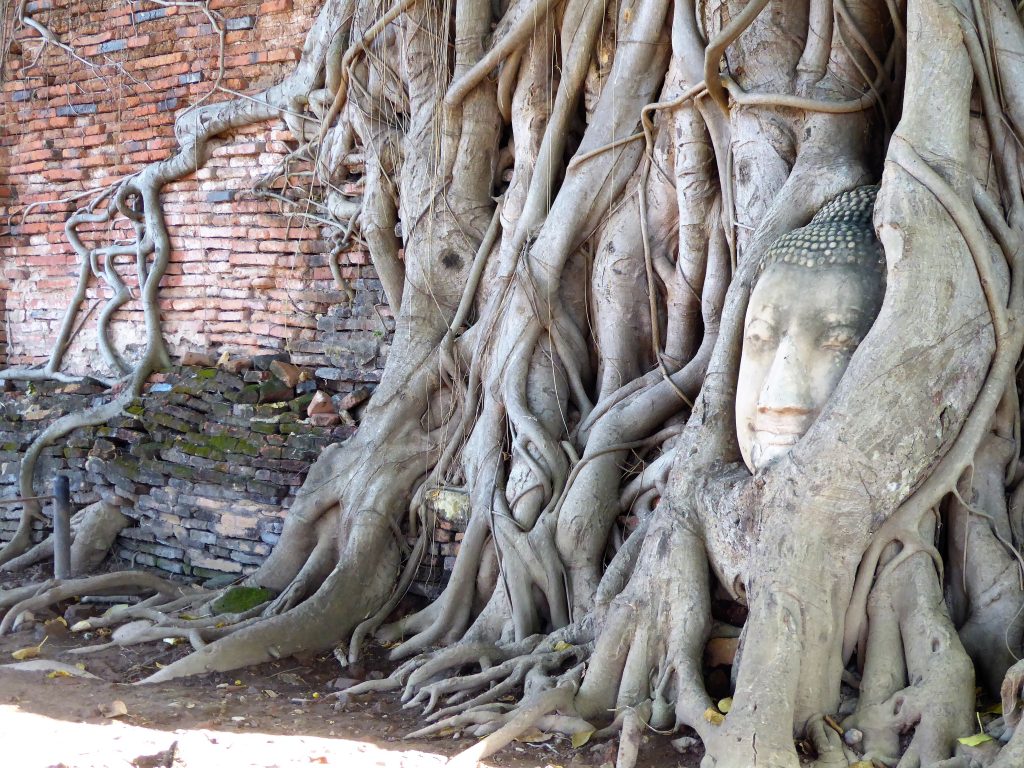 I took a cheap hostel and had a nice bed of my own behind a curtain so you felt like you had a small room of your own. It was clean and cozy, all the ingredients for a good stay!
With them I could rent a bike and that next day I went out to explore! I got on my bike after breakfast and had a map at hand to find the most beautiful and largest temples.
Exploring the temples of Ayutthaya by Bike!
What temples did I visit?
Wat Maha That
Also called Monastery of the Great Relic. Where can you find these? At the corner of Chikun Road and Naresuan Road. For if you're going as straight for your goal as I am, hihi!
And there I was right at the 'highlight' of what I wanted to see. The head of a Buddha statue fused into a tree. I had thought that it would actually be quite large, but it wasn't. It is small and taken up low to the ground in the tree.
Very strange to see, but as with many things on your list, achieving your goal doesn't give you the greatest satisfaction. Being here, having the freedom to stand here long or short and then just doing a cup of cappuccino at my leisure to enjoy the moment…

That's what makes solo traveling so much fun for me!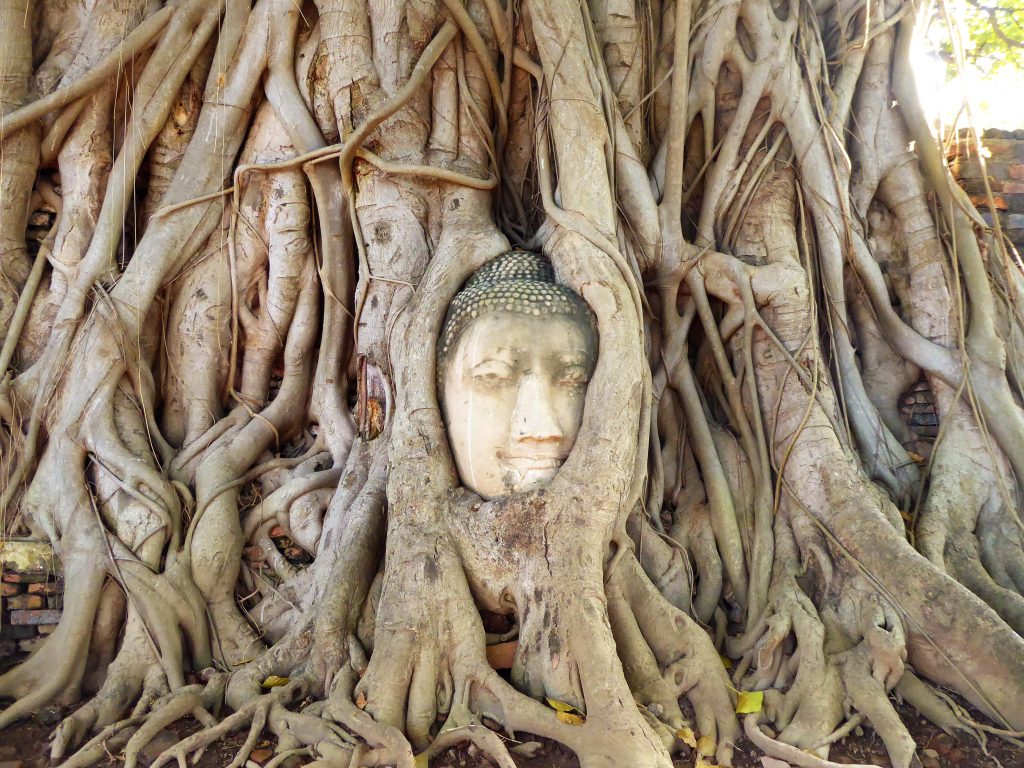 This is one of the most important monasteries or temples of Ayutthaya. This was not only because of the special relic of Buddha, some are from Angkor Wat – Cambodia (due to an attack in 1431), but also because it was close to the royal palace.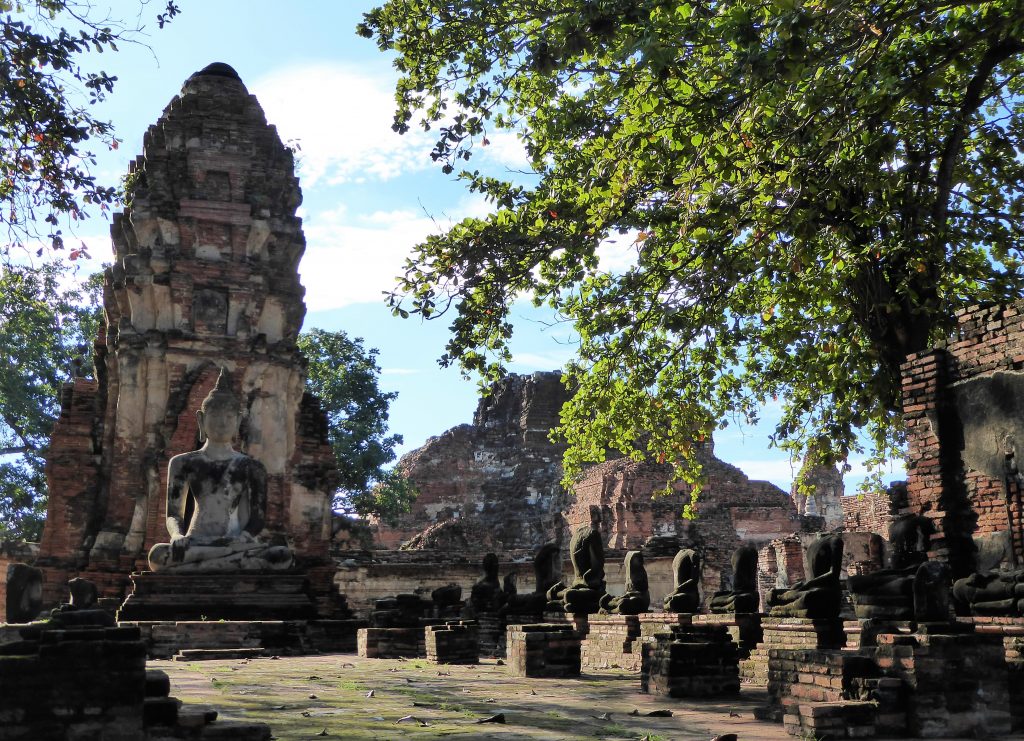 Wat Tummickarat
I walked across the grounds here and entered the temple for a moment. Soon I got a bracelet from a monk who walked there, of course for a small contribution.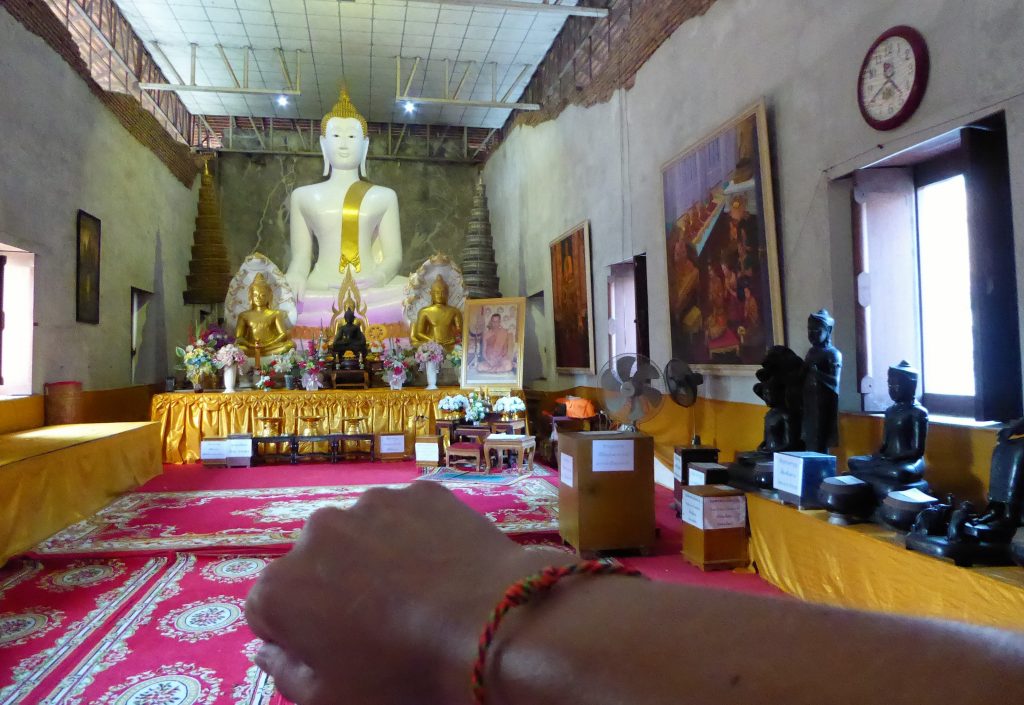 At each temple you can quietly walk around and explore the area. All complexes have had several buildings and one is better preserved than the other. In the background of the next picture you can see that there are also new buildings behind or next to it.
Can you imagine having this view from your balcony?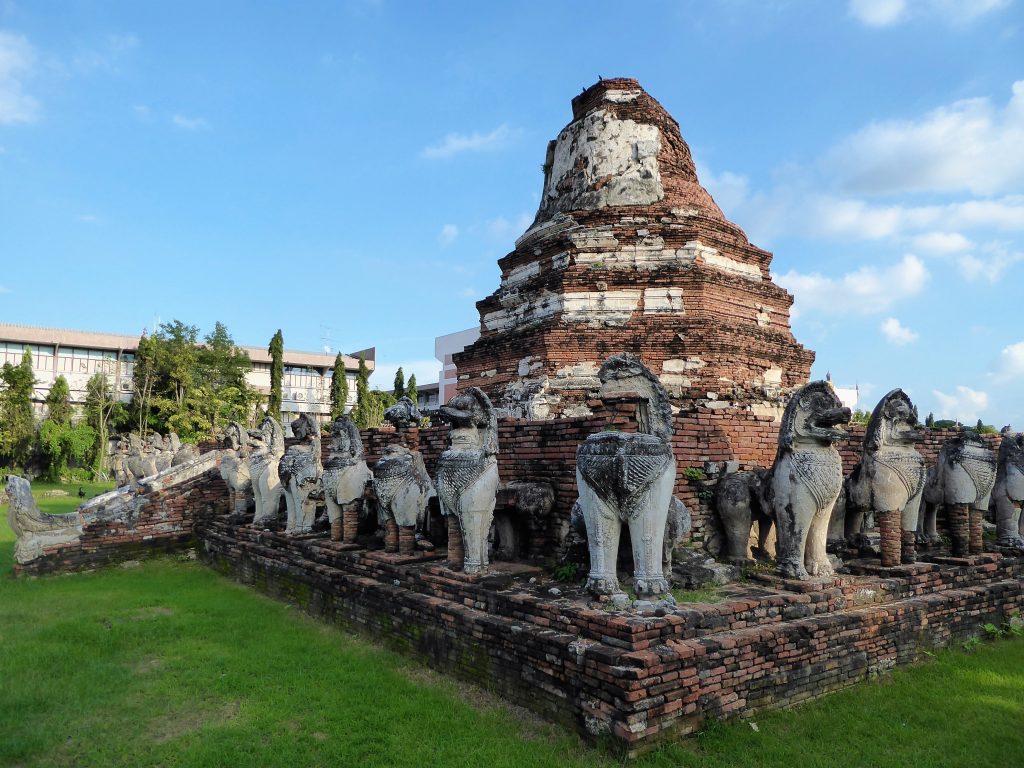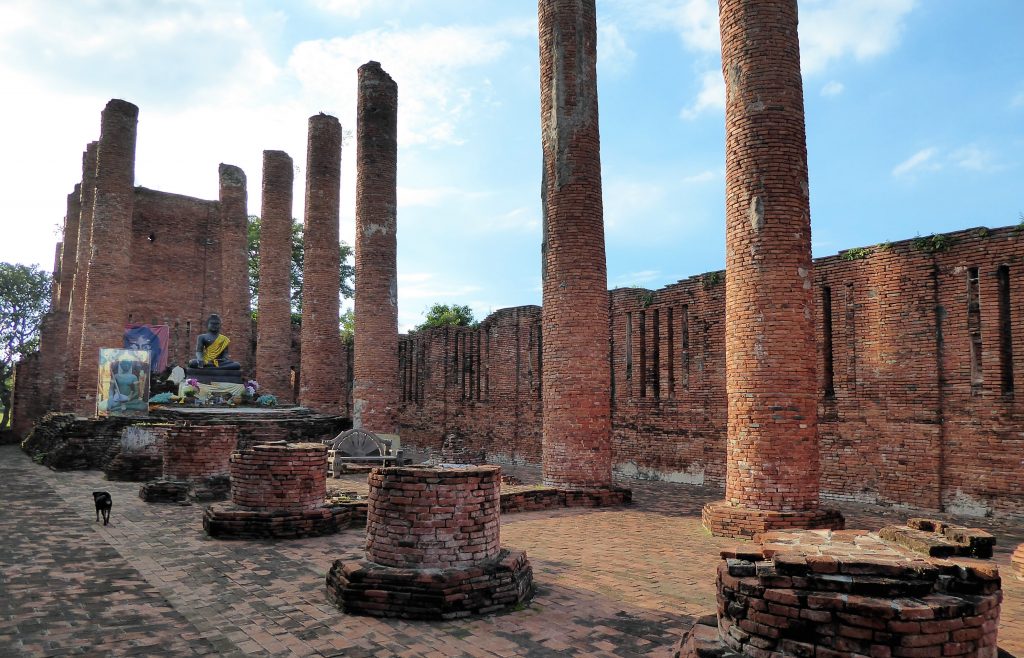 Wat Phra Ram
Also a huge complex where you can walk around and over even. If you walk on the terraces around the high dome or stupa you also have a beautiful view of the surroundings!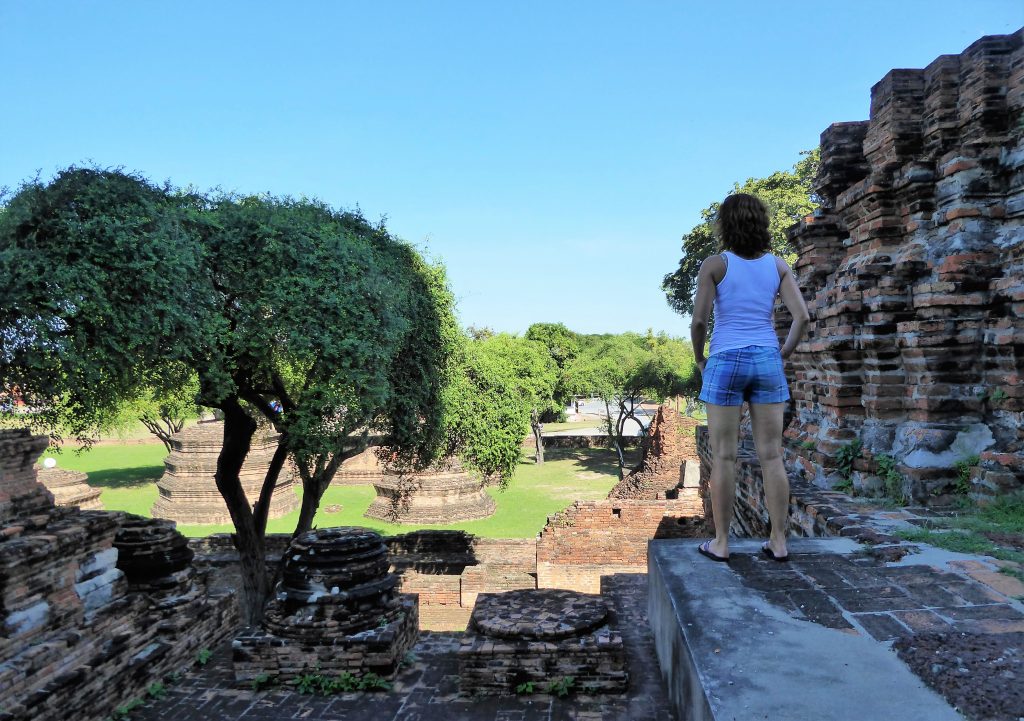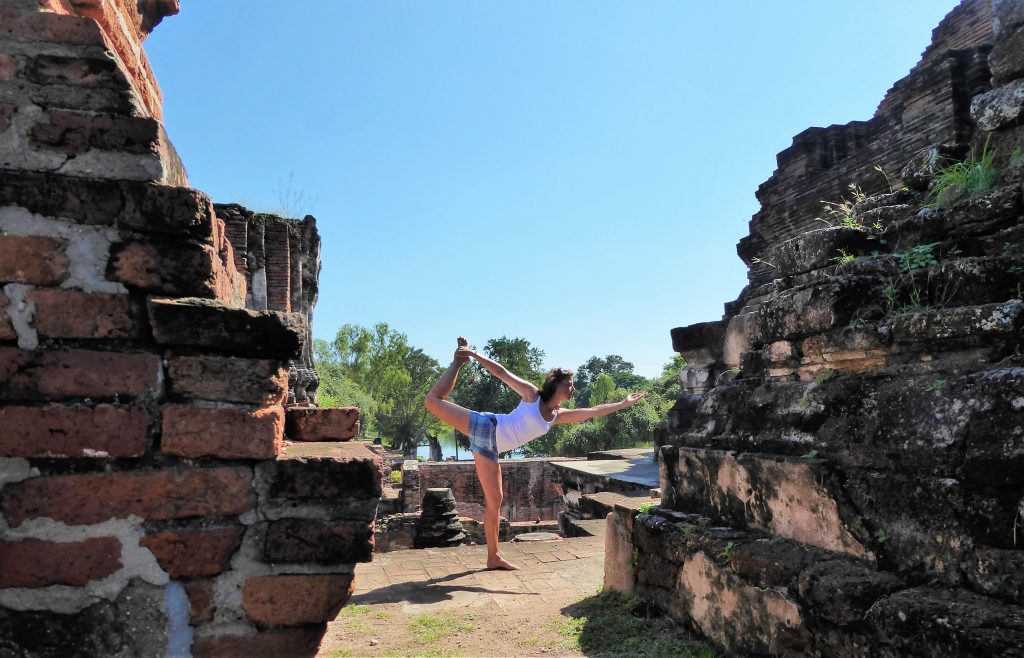 I was still early at this temple and since it was still so quiet I dared to do a yoga pose!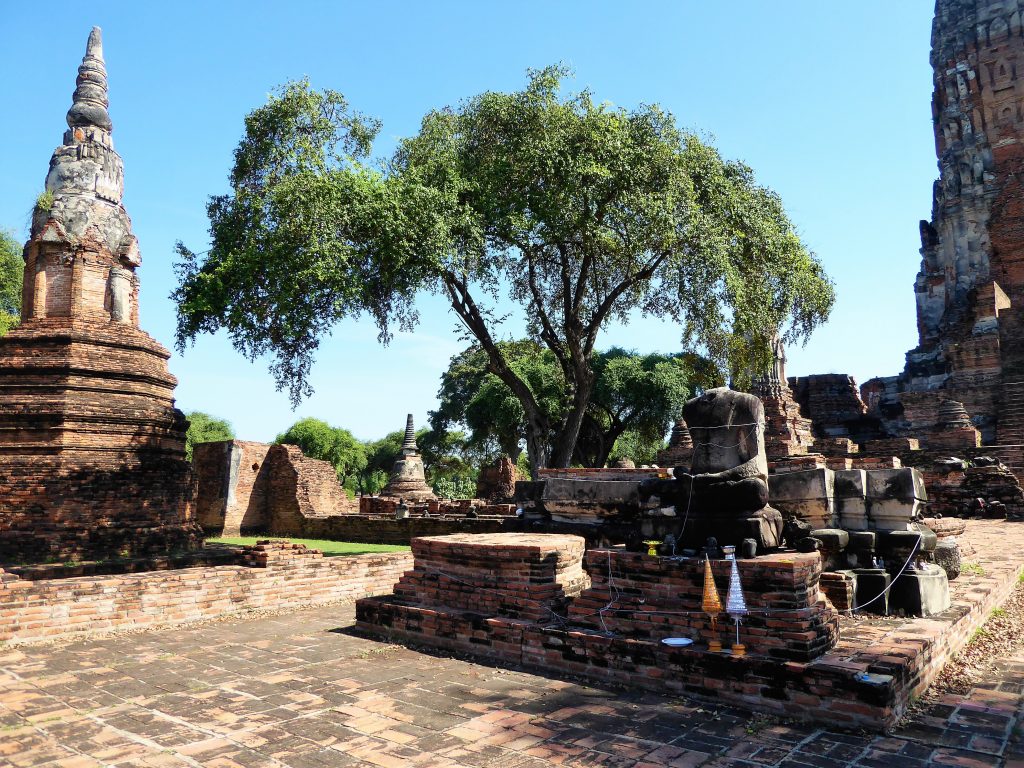 Wat Phra Si Sanphet
This temple complex distinguishes itself from the others because there are 3 large stupas, called chedi's, standing there. In these chedi's are the remains of the royal family from the 14th – 15th century. Once this was the most beautiful and important temple, it was part of the royal palace.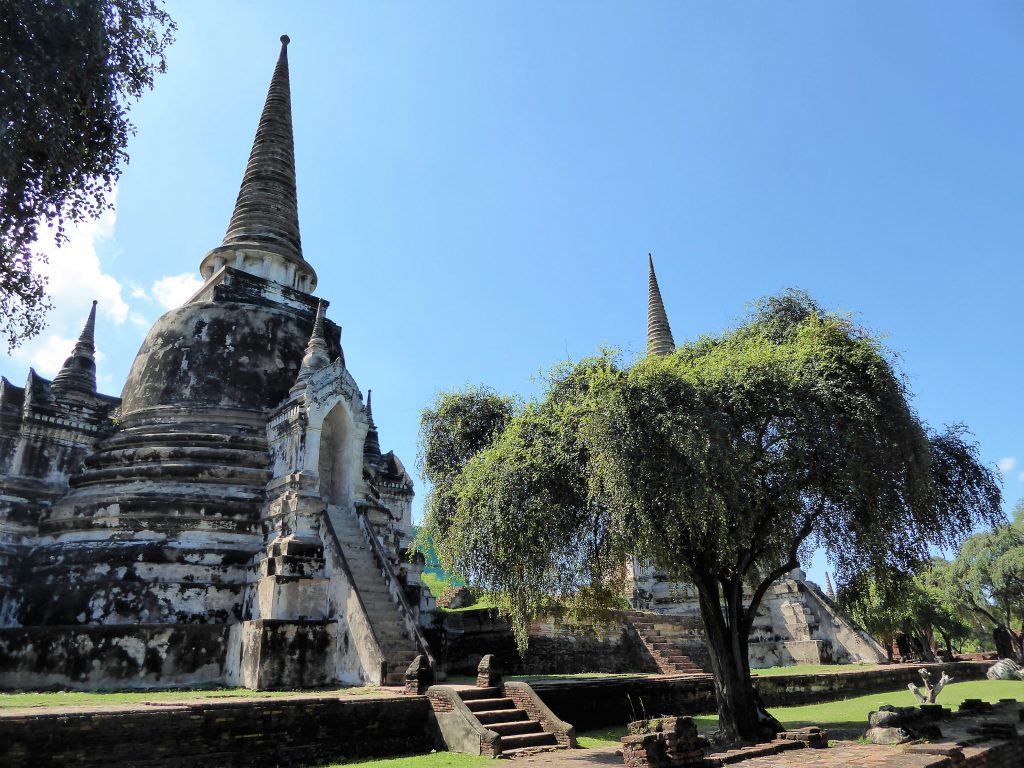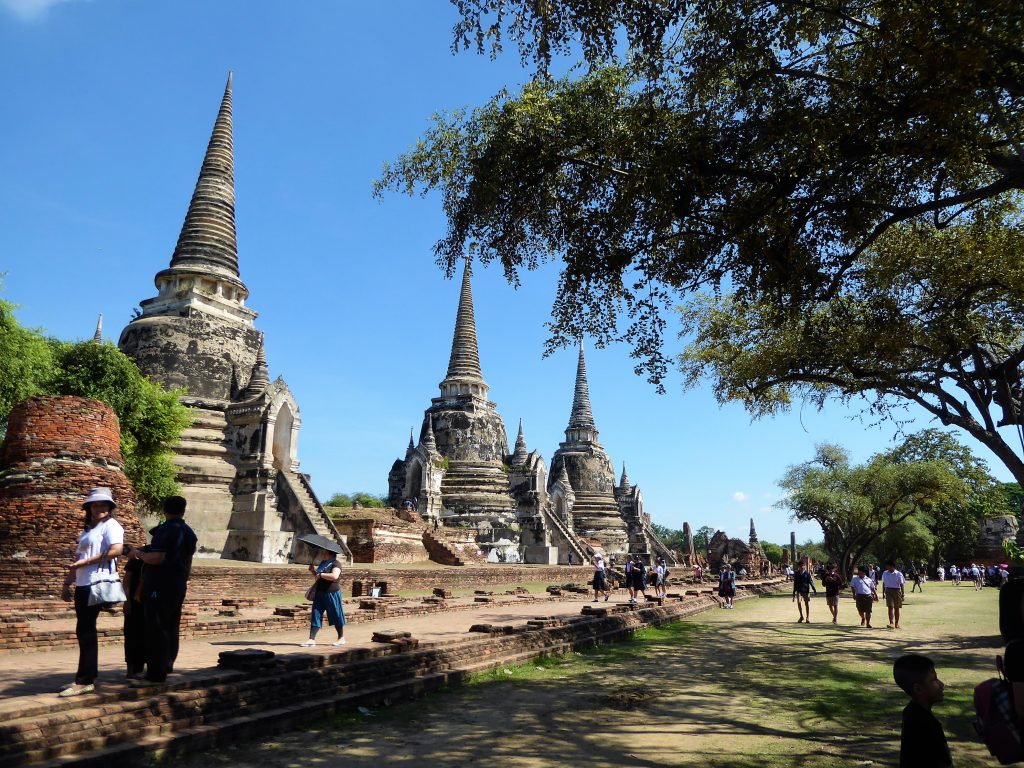 Exploring the temples of Ayutthaya by Bike – Thailand
Wat Worachettharam
Everywhere you find the most beautiful offerings at the Buddha statues. If you just take pictures of them you will get super colorful and beautiful pictures. Also the statues themselves are nicely decorated with the orange robes. It is quite a job! The images are sometimes really meters high!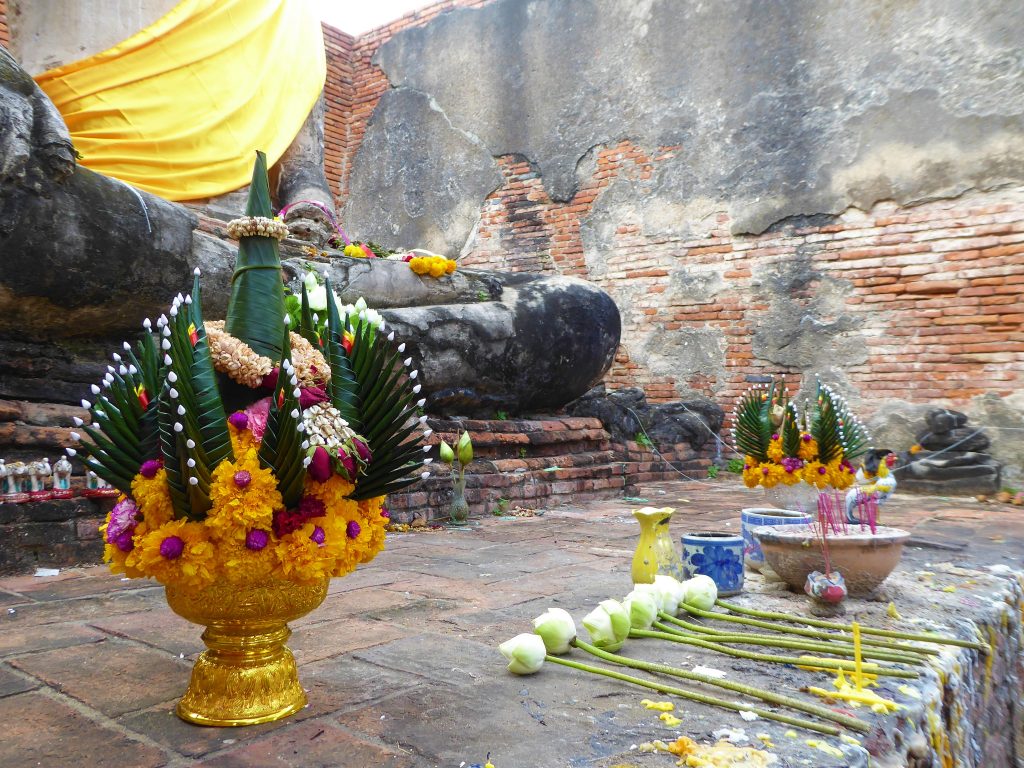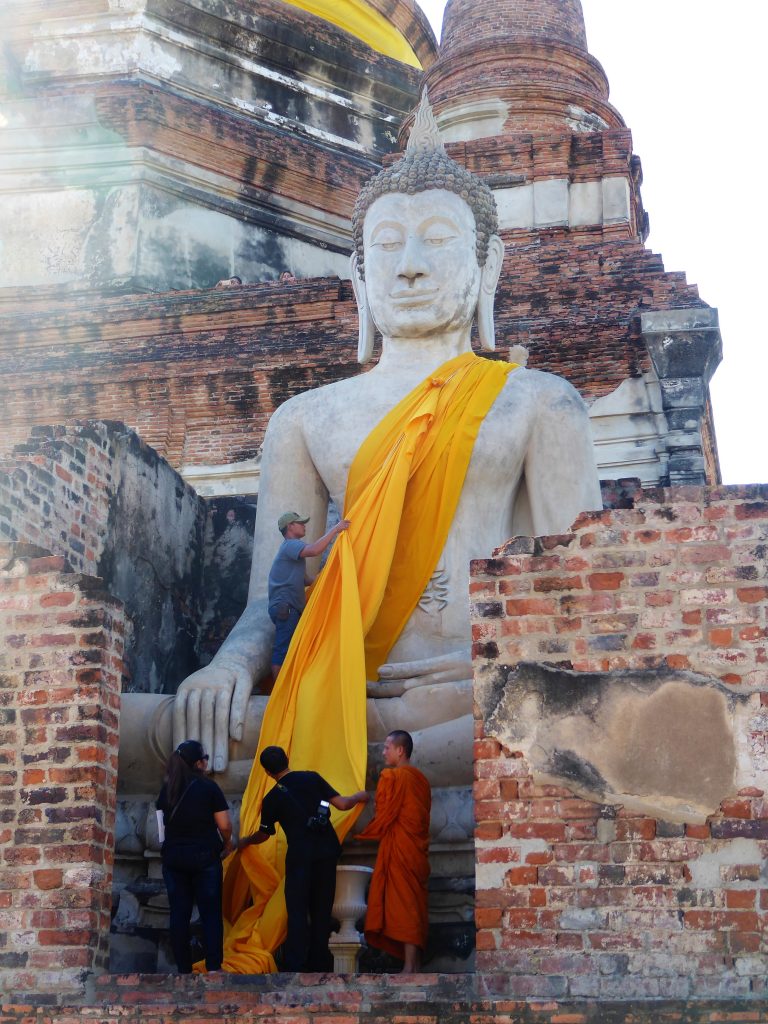 Wat Lokaya Sutha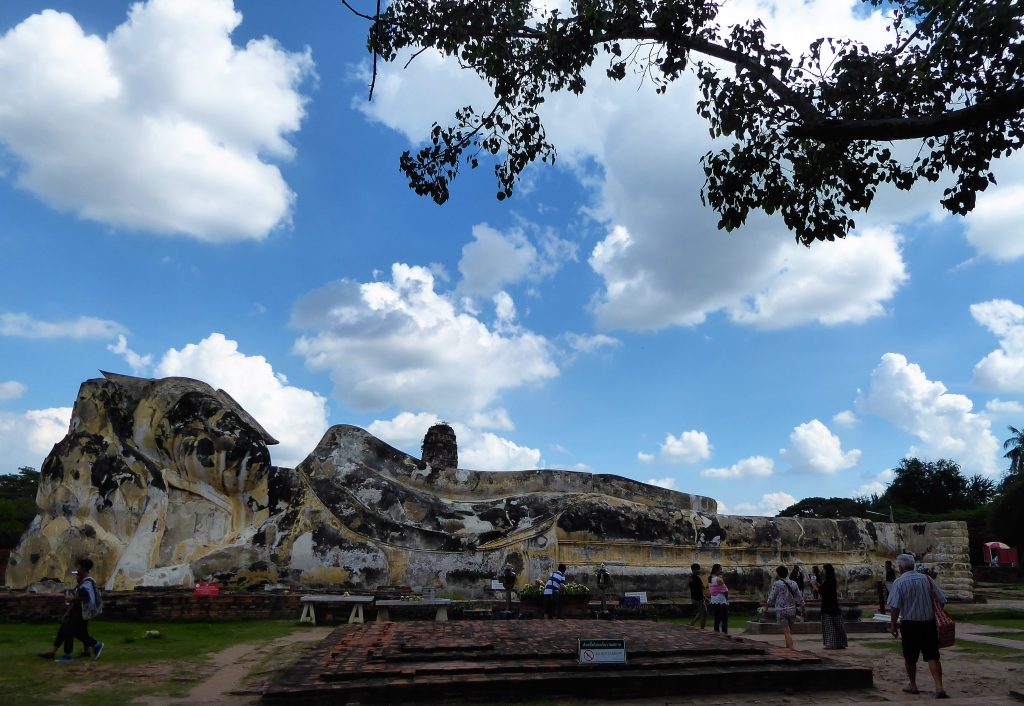 These last two temples Wat Worachettharam and reclining Buddha statue Wat Lokaya Sutha were a bit further from the 'inhabited' world and I liked cycling here. A bit less crowded and a bit more the feeling of cycling in the natural landscape of Thailand. Of course it is crowded at the temples because there are whole coaches dropping tourists 🙂
Wat Yai Chai Monkhong
This is the only temple I visited that was a bit cycling in the other direction. And again outside the center. This temple is situated outside the city limits of the rivers. I found it worthwhile to go here but I can recommend crossing the river with a ferry.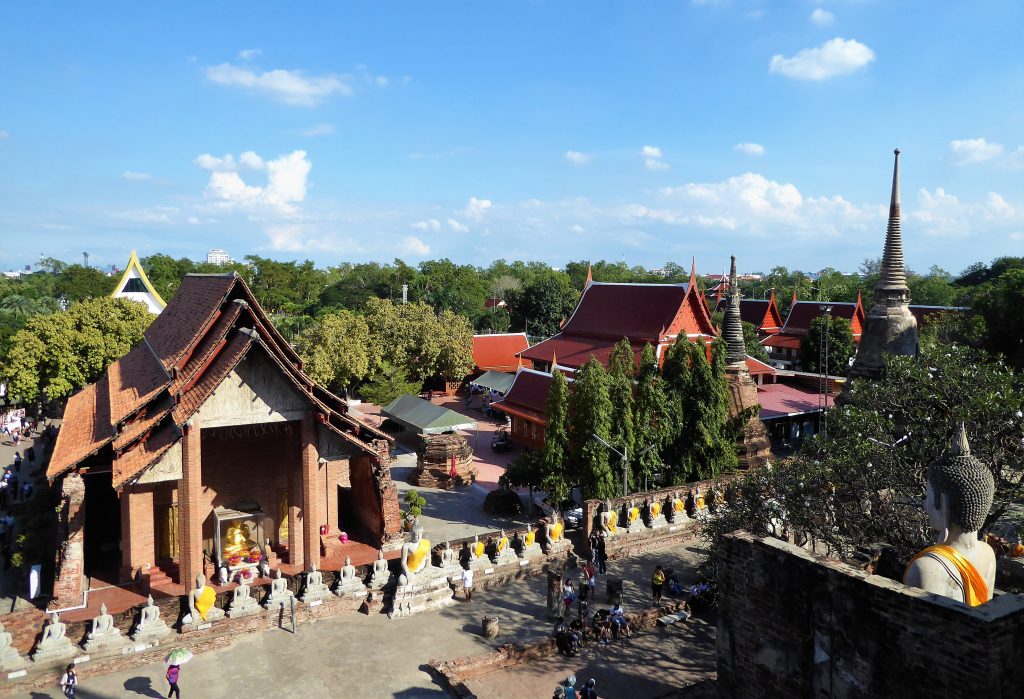 The temple complex was nice to visit and there is a whole museum so you can see how it was. Once upstairs I had a nice view over the surroundings but also over the dozens of Buddha statues around this temple.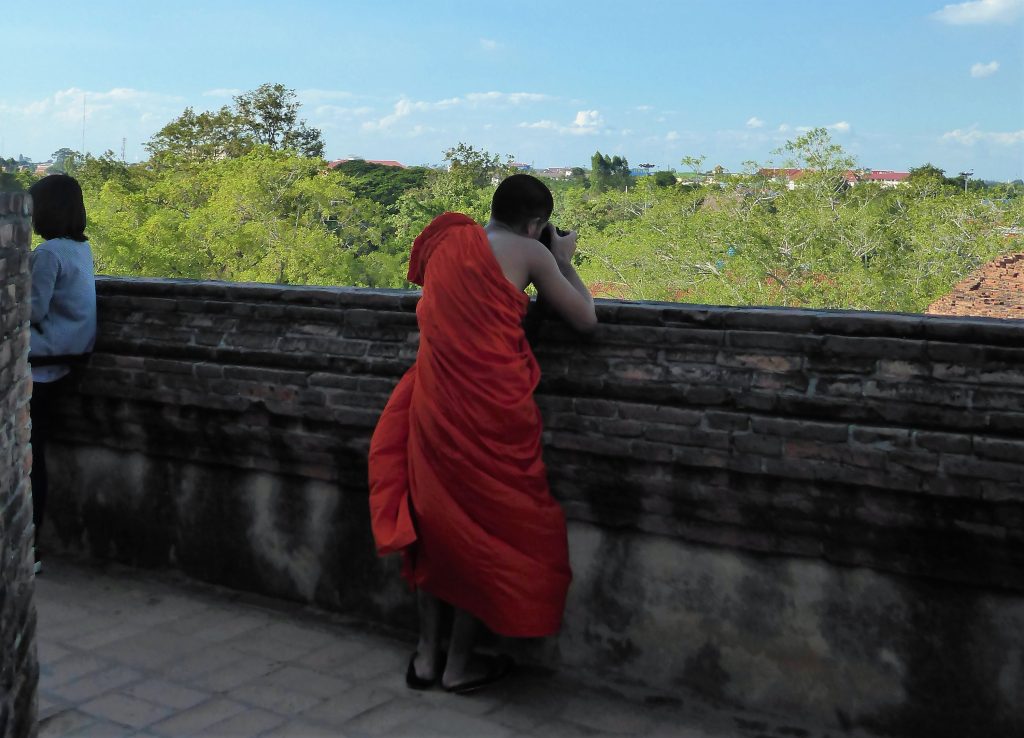 Like this monk, I also enjoyed the view and the fresh breeze 🙂
Jazz The World Heritage
Very coincidentally I was there during this big event which was held in Rama Public Park. I do like Jazz and spent the evening wandering around and enjoying the music!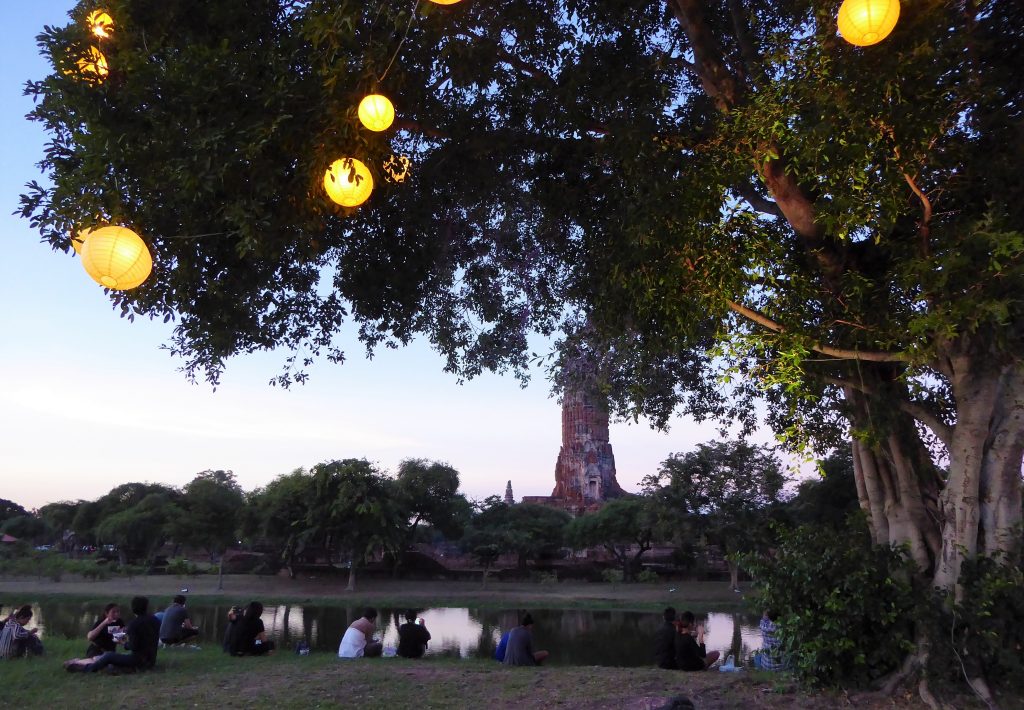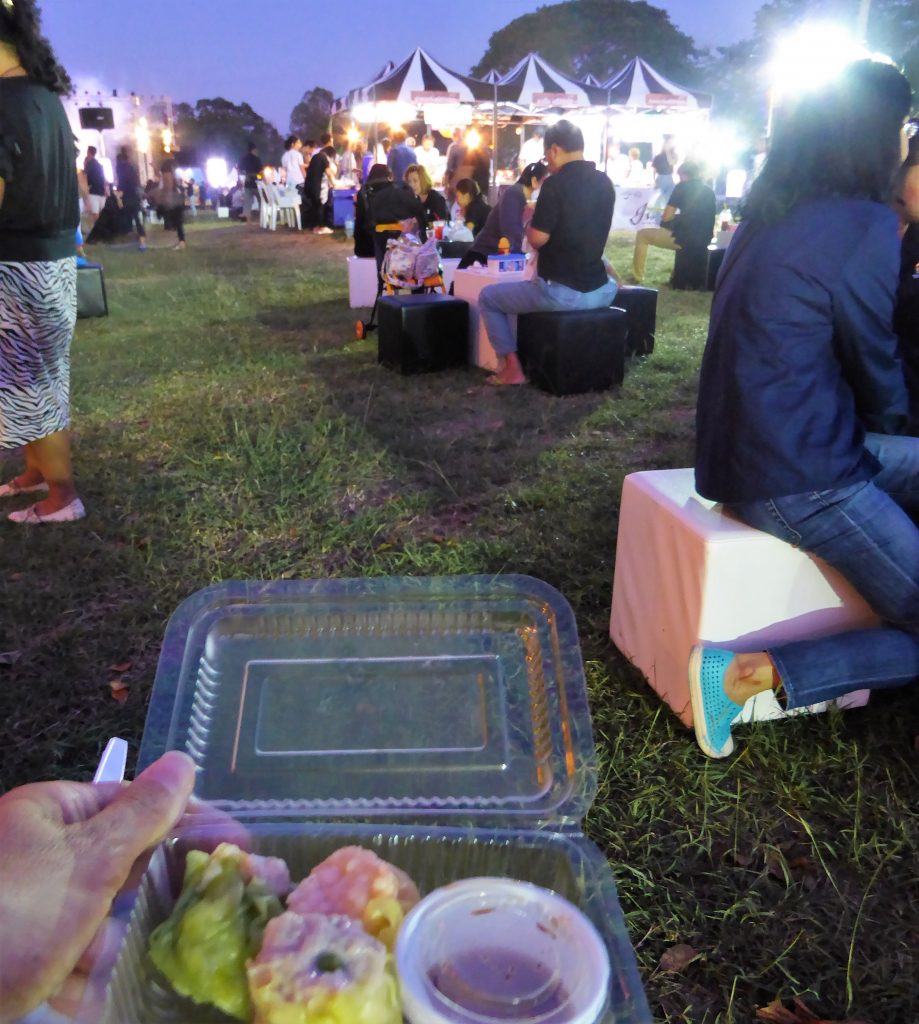 While enjoying a bite, of course!
Is it safe to explore Ayutthaya by Bike?
In most of Ayutthaya they are used to a lot of cyclists / tourists and traffic is quiet. The roads are often quite wide and you have enough space on the side to cycle quietly and possibly stop for a while to take in the surroundings.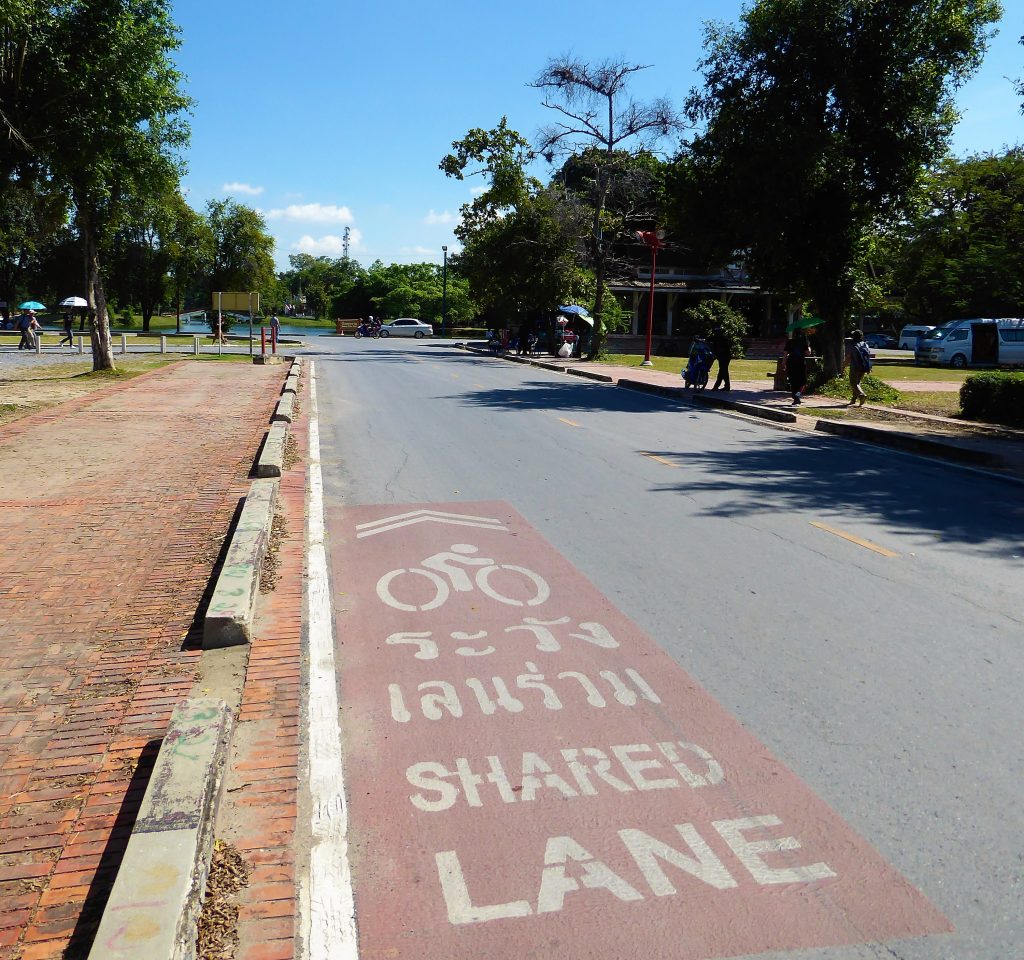 There is also enough on the side of the road so the rest of the traffic has to drive slowly and vigilantly. So in the main temple area of Ayutthaya I think it is very safe to explore Ayutthaya by bike!. Ofcourse you always need to be cautious while being in traffic and crossing streets.
Is it safe to explore Ayutthaya by Bike?
I can't recommend doing What Yai Chai Monkhong by bike because you just have to cross the big Preedee -Thamrong bridge. I'd already started on it and turning around is not an option, I think. Because then I'd go against traffic. By paying close attention I came over safe and sound of course. But I think if you ask around you can easily take the ferry to the other side and then cycle on to this beautiful temple which is worthwhile.
The way you move in traffic is of course slightly different than in western countries. In Western Countries we assume that everyone sticks to the rules and in Asia it's just the other way around. You have to assume that someone can always come from a corner that you don't expect, so to speak. This also means that people generally pay much better attention in traffic. Where we are sometimes distracted and seem to drive a bit on autopilot, this is not possible in Asia.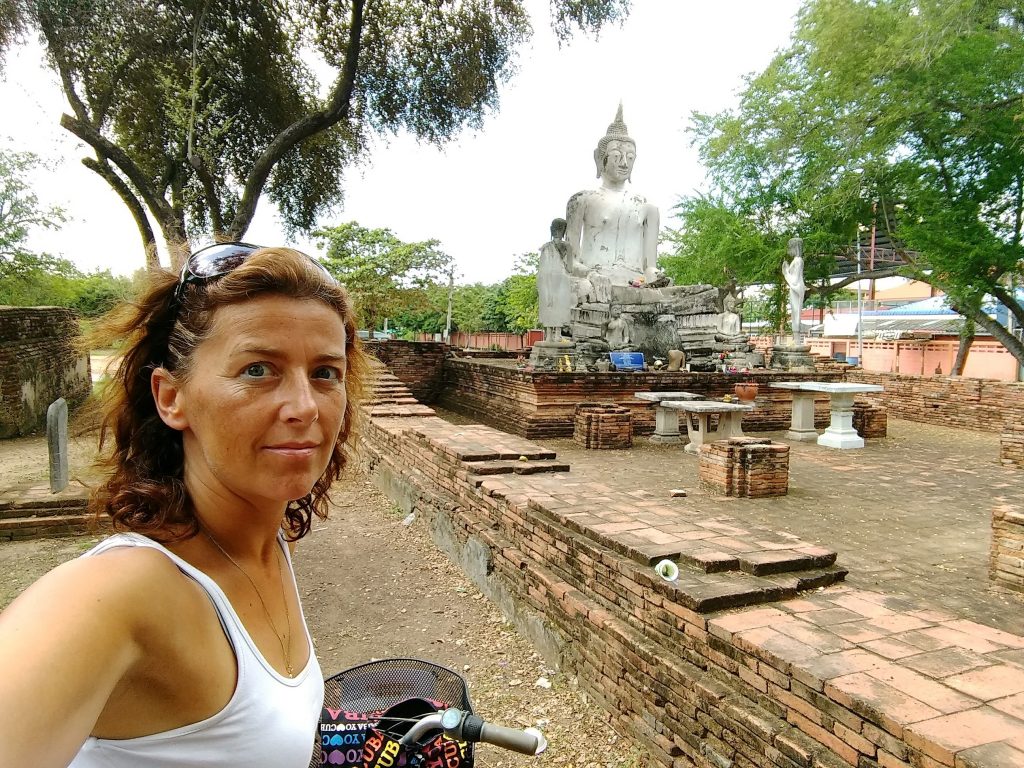 It was great exploring the temples of Ayutthaya by bike!
Do you like that too?
Where staying & eating?
Sleepaholic hostel
This hostel is on Naresuan Road. A road where there is a lot to do and where you can find good food and do all kinds of shopping. As a base to explore the temples of Ayutthaya by bike, this is a wonderful spot. You pay at most 6 to 10 euros for a bunk bed in a dorm or you pay 15 to 20 euros for your own room. Not bad, right?
I don't see a single picture of the hostel… I do see that I was working on the visa for India and at the hostel they helped me a lot with that by copying documents. Shortly after this visit I went for the first time to do the 10 days Vipassana in Chennai – Tamil Nadu – India.
Eating and shopping in Ayutthaya
Naresuan Road
So Sleepaholic Hostel is on this street and I shopped, had lunch and dined a lot at the many restaurants and shops. From the seven eleven to coffees and the most local restaurants.
I can recommend this street as a starting point 🙂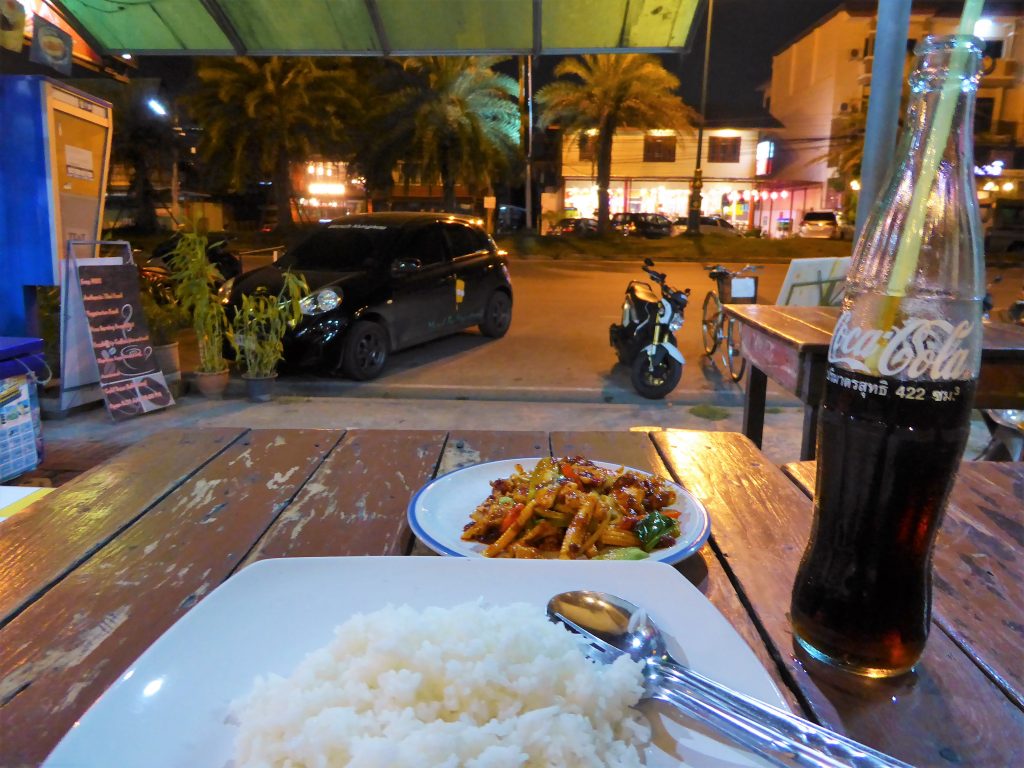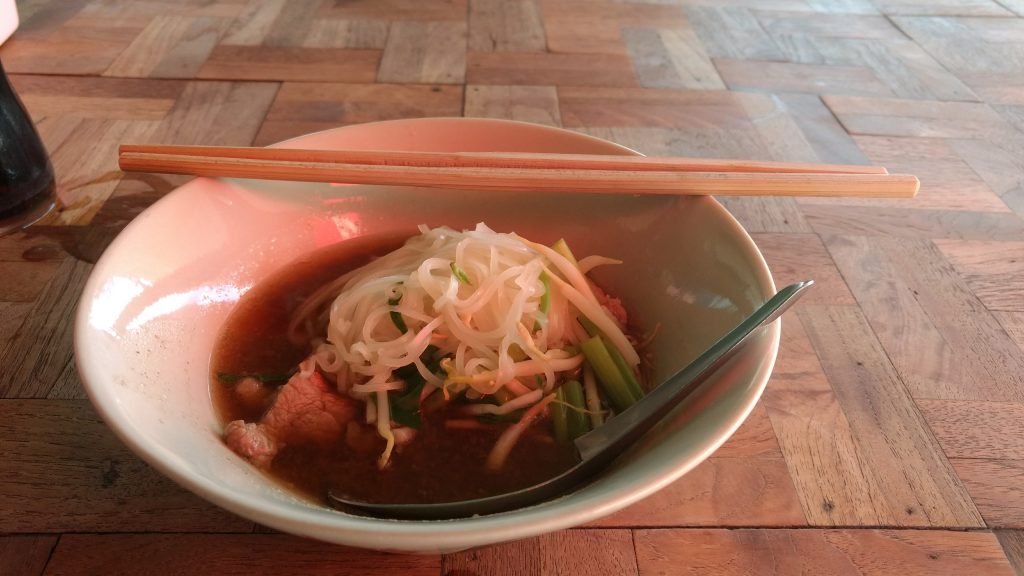 And this noodlessoup was really great! I really can't find what it's called in English or NL… but on this site I do come across pictures of the terrace where I sat and enjoyed this great noodlessoup!
Bang Lan Night Market
For the many different dishes but also the sweet delicacies of Thailand you really have to go here! It is a very long evening market and you can enjoy yourself there for at least an hour or so!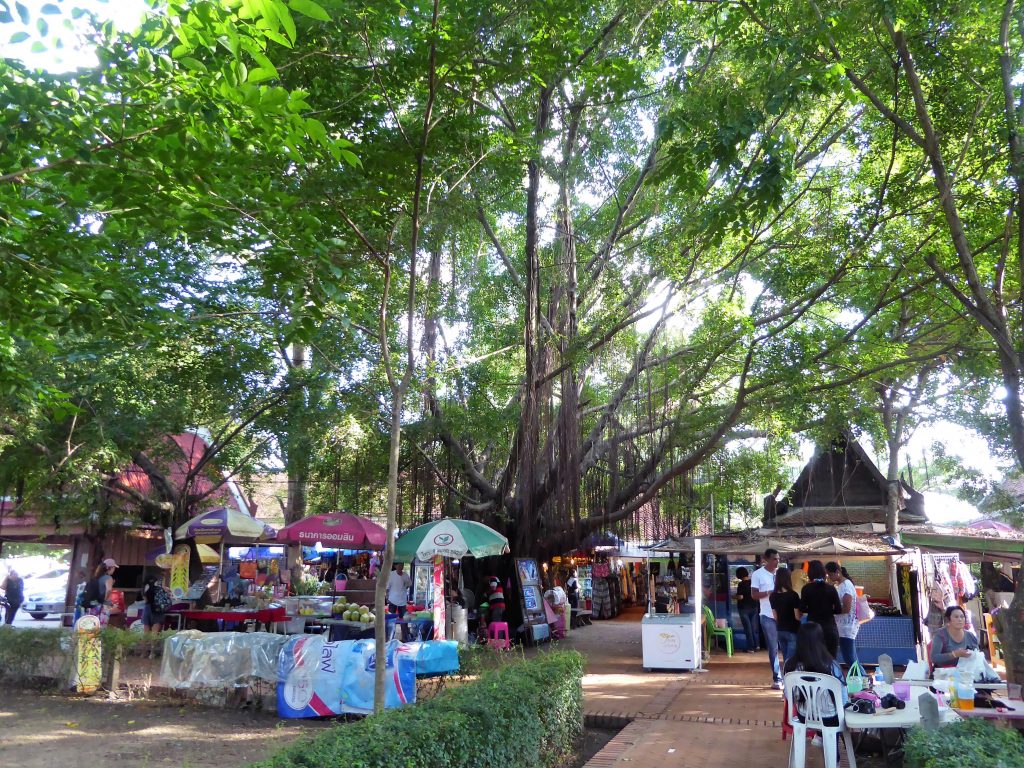 Chao Phrom Market
Are you looking for a souvenir or do you just want a snack? Then walk across this market! You can find everything and it's always a fun activity for your evening!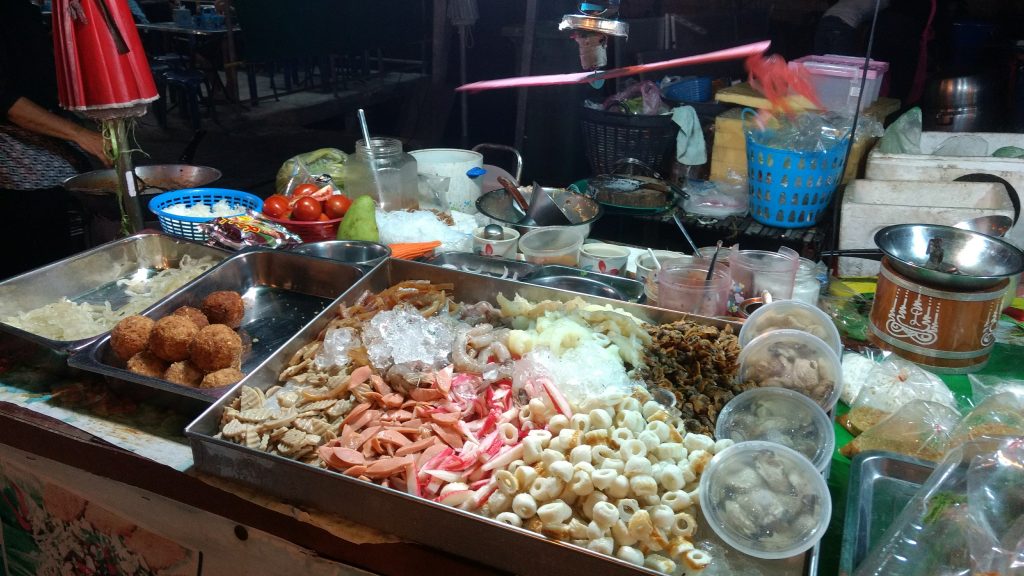 Or buy your souvenirs at one of the temples…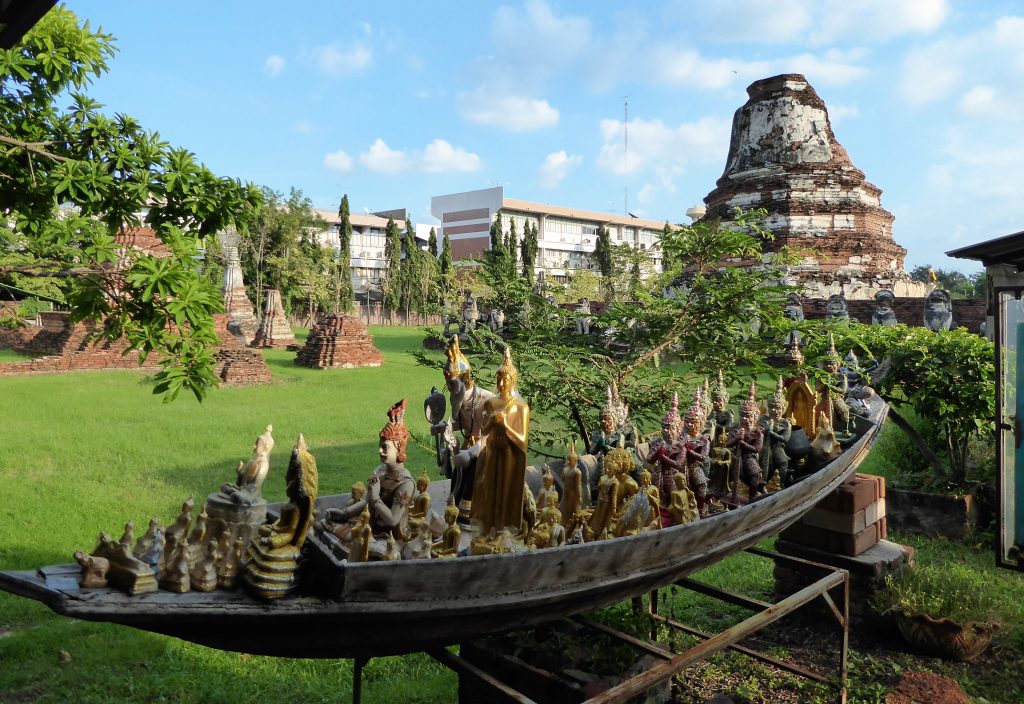 You can also buy souvenirs at the temples 🙂
Explore the temples of Ayutthaya by Bike – Thailand
What you defenitely NOT should do!
When I was here, at the end of 2016, I saw it happen on several spots. Tourists taking a ride on the back of an elephant for fun. I can't imagine that this will make you happy. Don't you think at all about what the animal has to go through for the 10 minutes of 'fun' you're having? I hope you will think about it and skip these tourist attractions in the hope that it won't pay off for the people behind this business and they will focus on other, more responsible things.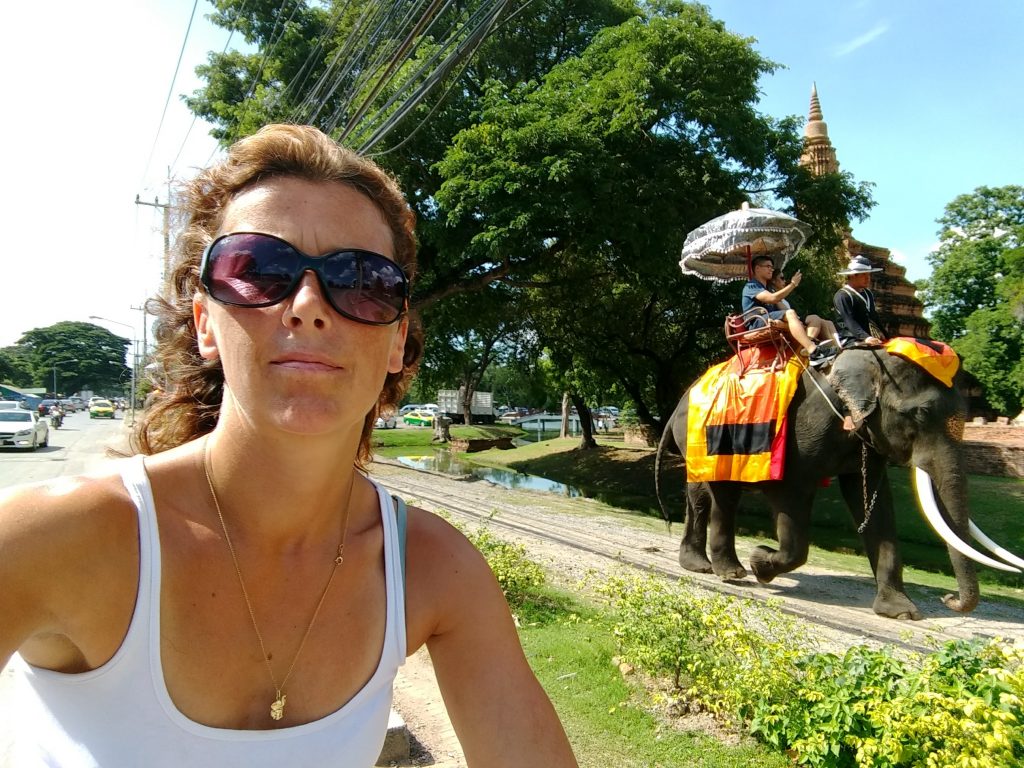 Surely you're a healthy cyclist too and you don't cooperate in this awful industry?
I hope you will also go cycling between the temples of Ayutthaya
and have as nice a day as I had there!
Did you like this tip?
Then share it!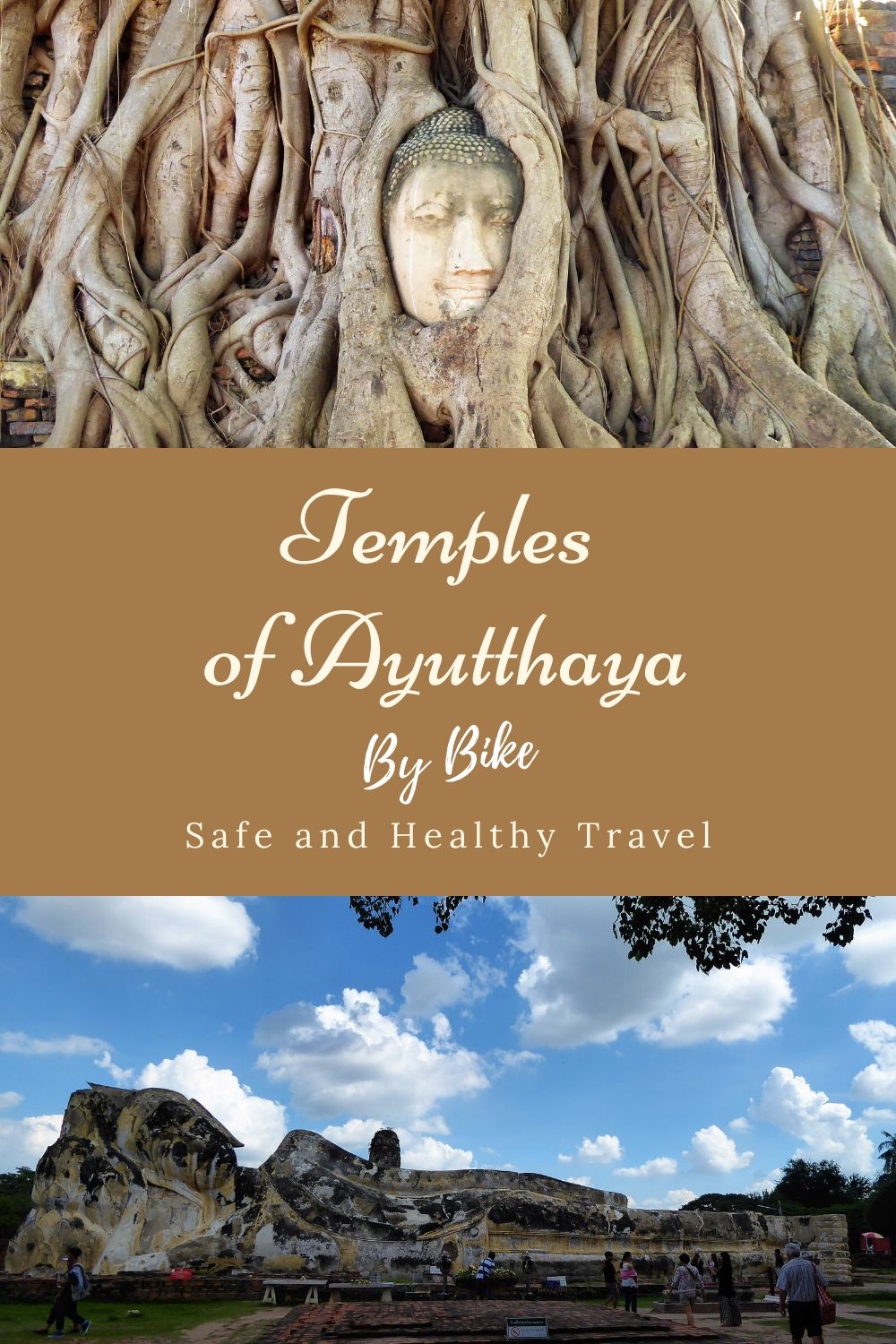 Want to read more about Thailand?
3 days exploring Khao Yai National Park
Cookingclass at Silom Cookingschool – Bangkok
Open Water Diving Course – Koh Tao
It was getting uncomfortable at Baiyoke Tower… #metoo
Do you give your travels that extra dimension?
I hope you love this world as much as I do!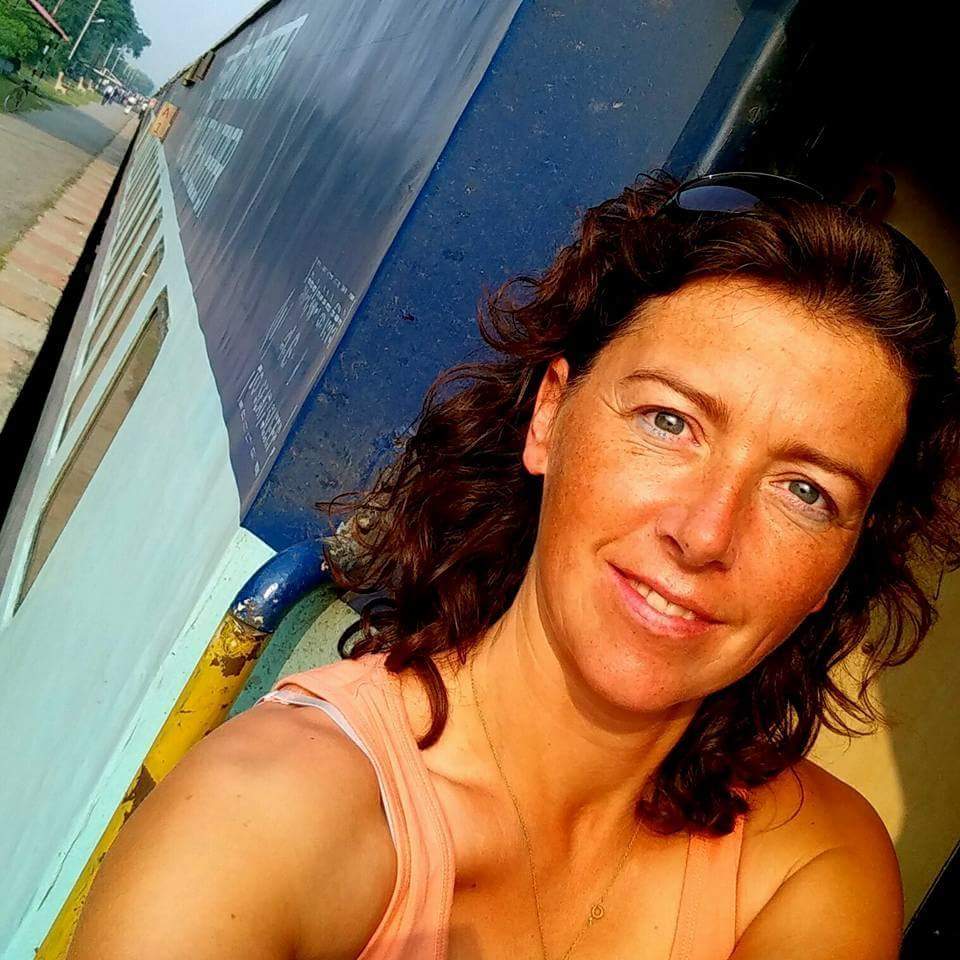 Jacomijn is een politieagent uit Nederland die jou graag laat zien hoe je veilig, actief en gezond de wereld kan over reizen. Safe and Healthy travel is a MUST