Before I start my exercise I often don't feel like it. Trying to make some excuses to not go . . But I do because I know afterwards I'm happy that I did and feel good about it!
Early morning Yoga on the beach of Lloret de Mar, Spain
Als je deze blog in het Nederlands wil lezen, klik dan hier
That sporting gives you a good feeling has something to do with a substance called endorphin, it is produced by your body while you sport. It is a small, white substance called peptide hormones, in your body. These will give you that great feeling after sporting. They can also make you feel less pain in your body, it some kind of morphine produced by your body. Endorphin will be produced after physical practise on a higher level. If you would run long enough you will start feeling like your on a high of some kind.
There are of course so many reasons to think of why sporting is good! Being fit and healthy and staying so is something you always need to work on. When you're young you are rapid and playful and will act like that. If you get older you tend to be less playful and therefor use your body differently. You'll get less flexible because you're not practising all kinds of movements anymore. At first because you will get older but also because you will not climb trees, jump over the puddles and other strange movements with your body.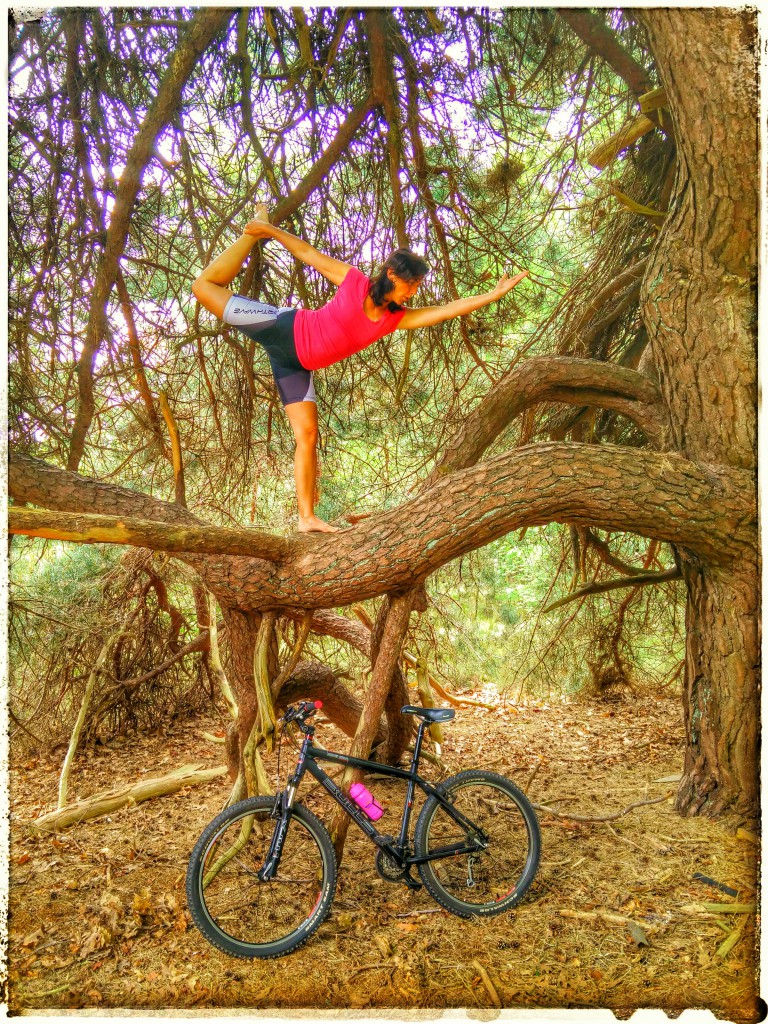 Combining Treeclimbing, Mountainbiking and Yoga 😉
Why I do Yoga
That is one reason because I started to do Yoga. I want my body to stay fit and healthy and flexible. 25 years ago I had an traffic accident where i got out really good. I was frontally hit by a car and had 2 heavily bruised legs, a concussion and a big wound on my knee. After the accident a vertebra in my neck was shifted appearently. That was never seen by the doctor. A couple of years ago my neck started to heart a lot, the muscles were all hard and stiff and it finally produced a migraine attack. A chiropractor looked at my neck and saw within minutes what the problem was. For years my neck hurted but I never thought it had anything to do with the accident.
Ever since I know about my neck I get sportmassages to keep it open. This helps a lot but also for the rest of my body! And since a couple of months I practise Yoga. This is great for the body!! I really like this!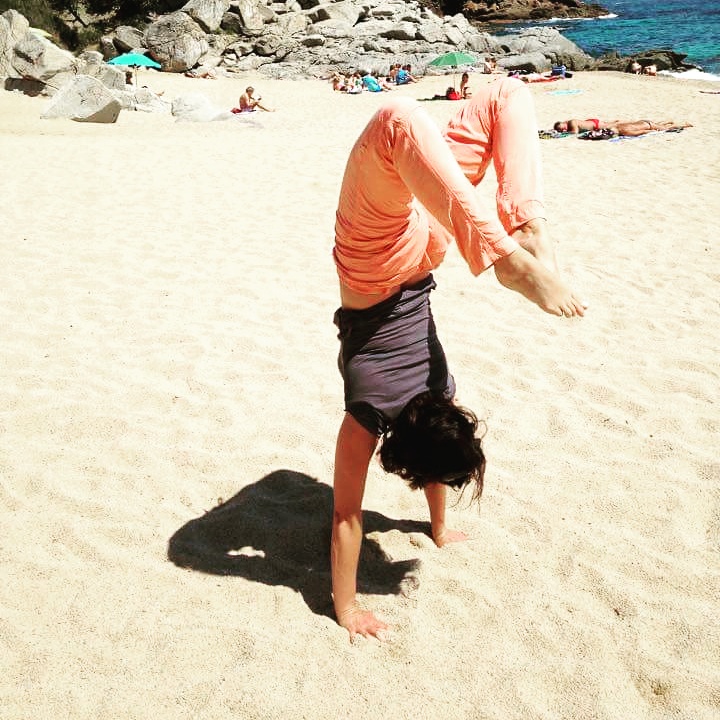 With Yoga you keep your body young. Especially my neck and back are getting enough practise, I feel it loosen up again. I'm so happy with that! It is such a big reason for me to practise daily. Last year I had stated that I wanted to do a headstand. But when it didn't work as soon enough my motivation just stopped.
But when I visited Cochin, India, this year I met Sunil. He gave me a tip on how to do the headstand. When I got home and try what Sunil told me it worked right away. That gave me the motivation again to state that I want to do a stabile handstand for a couple of seconds….at least.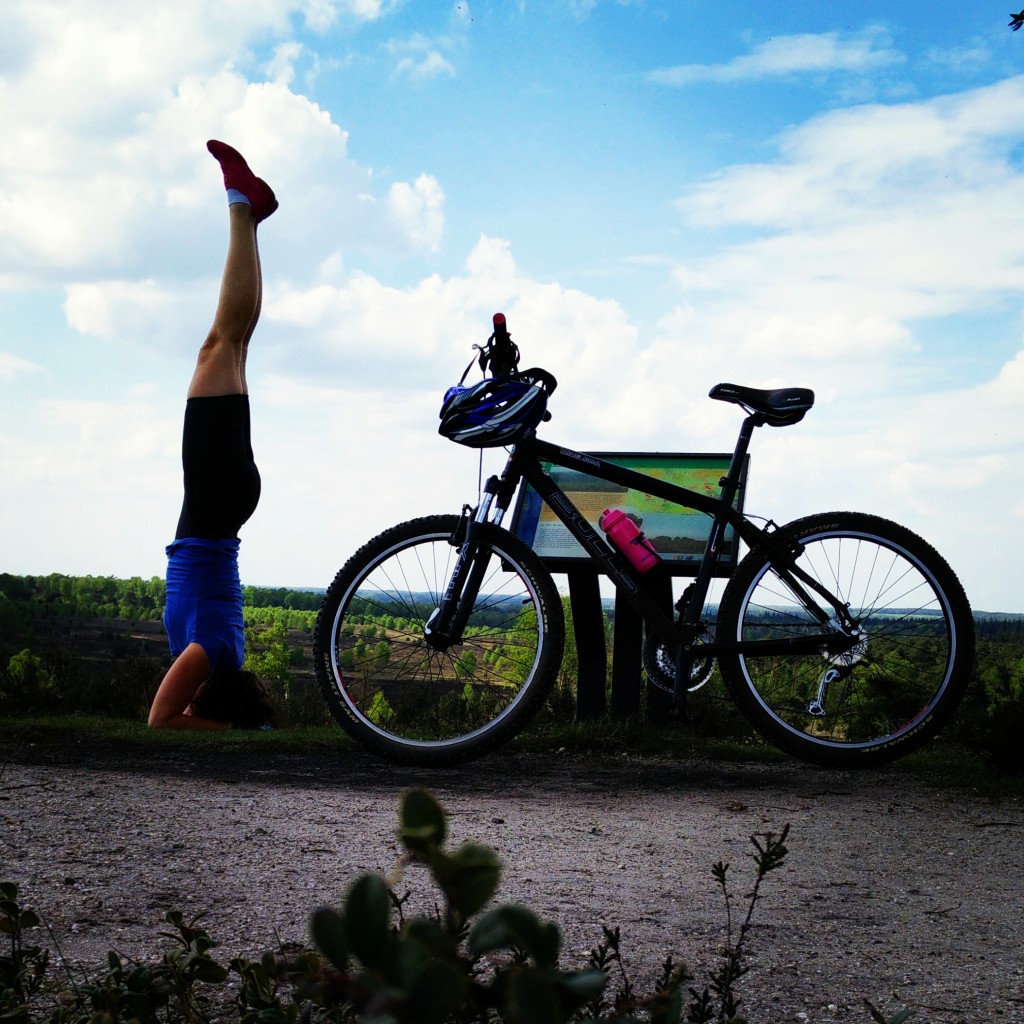 So every day I practise a handstand, every day standing upside down 🙂
And while your at it…doing some other poses. I joined a challenge on Instagram earlier this year, that helped me a lot with learning some new poses. From there I went to You Tube and saw some tips and tricks there and so on.
I turned my attic into a sportingroom and I use it a lot. I can do almost everything I want, I bought some things that help  me build strength and flexibility. Untill now it goes good! I'm happy with the improvement I get and more on how my neck is doing. I always feel my neck, every day. But i do feel the pain getting less and my flexibility for moving my neck gets better also and less painful. How great is that?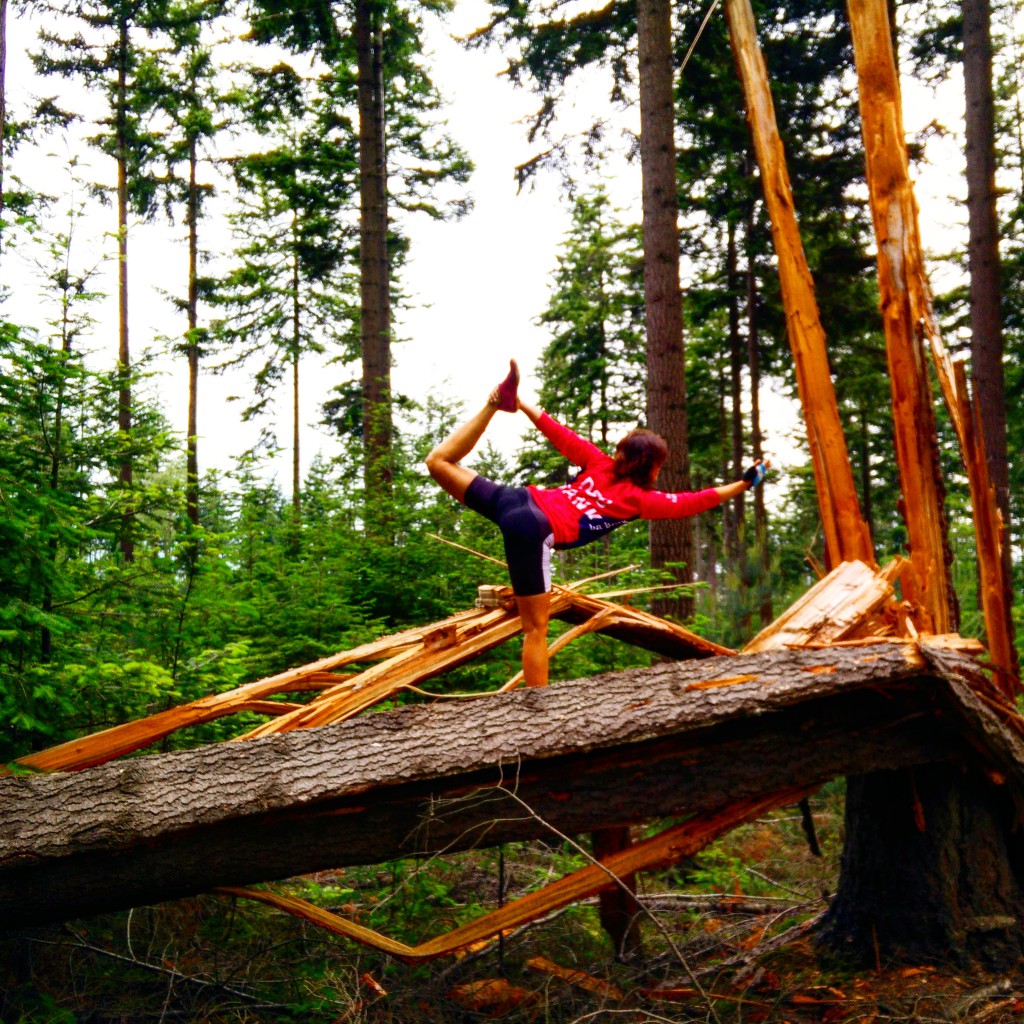 I also like to sport outside too. So today I went on my mountainbike and biked some 30 km's. Love to be in the nature. And what I started to do lately is making some pictures with a yoga pose in a tree or at a nice view 🙂 I live in Holland near a nature reserve called: Sallandse Heuvelrug. So I've got a great backyard to sport in 🙂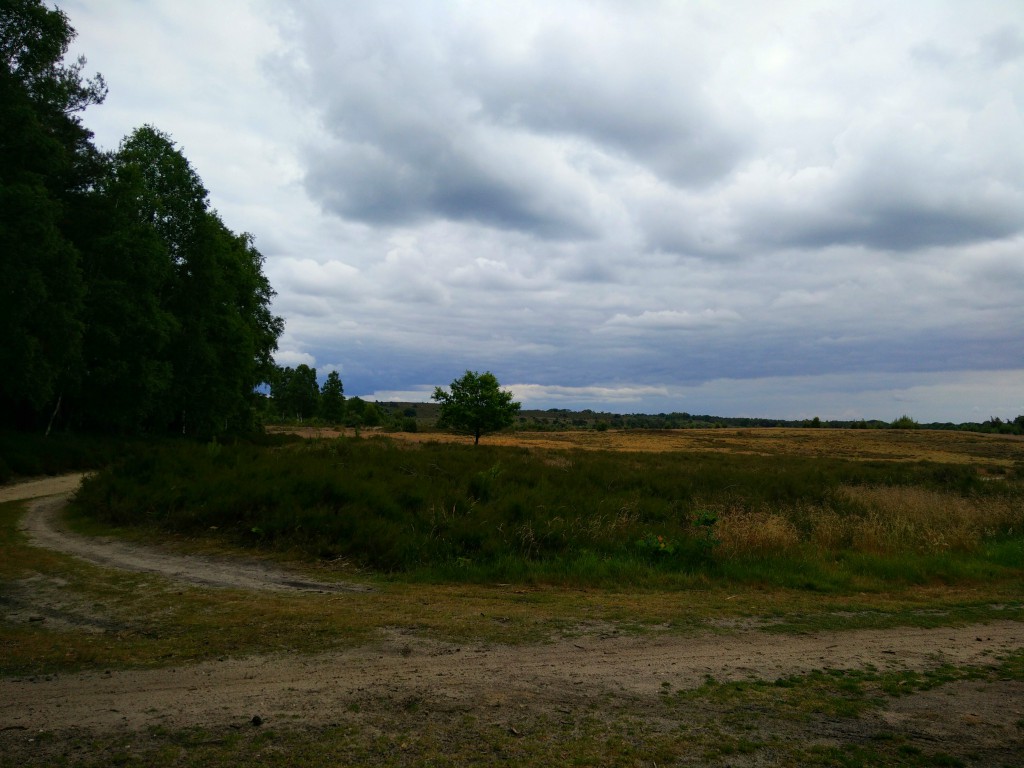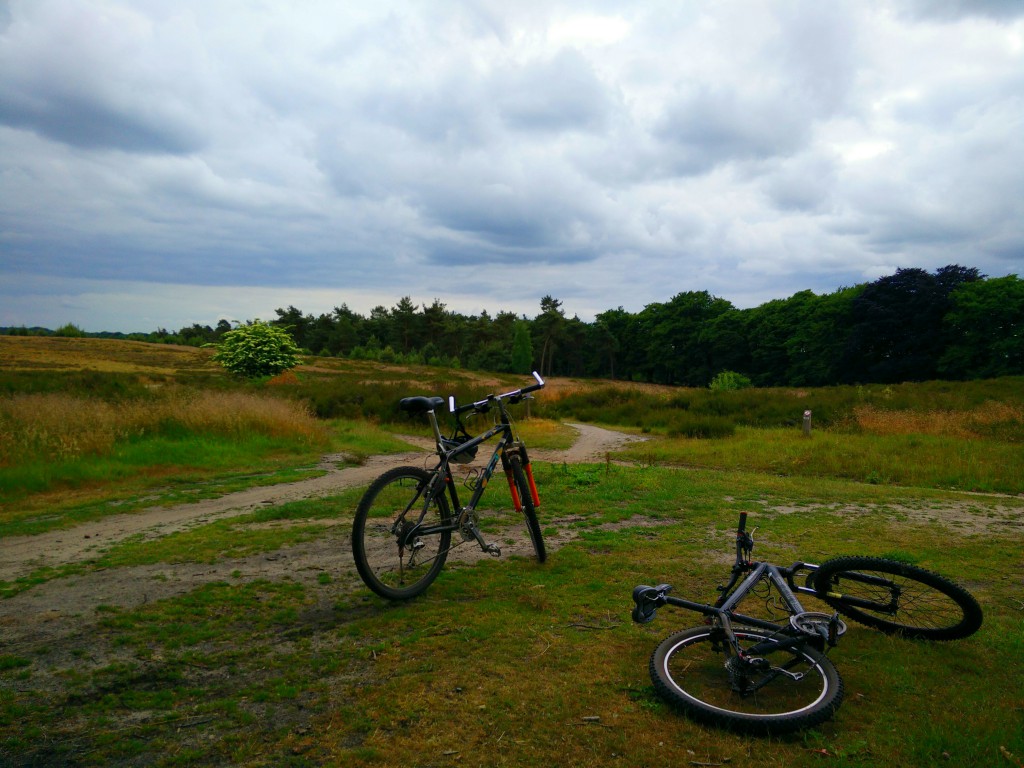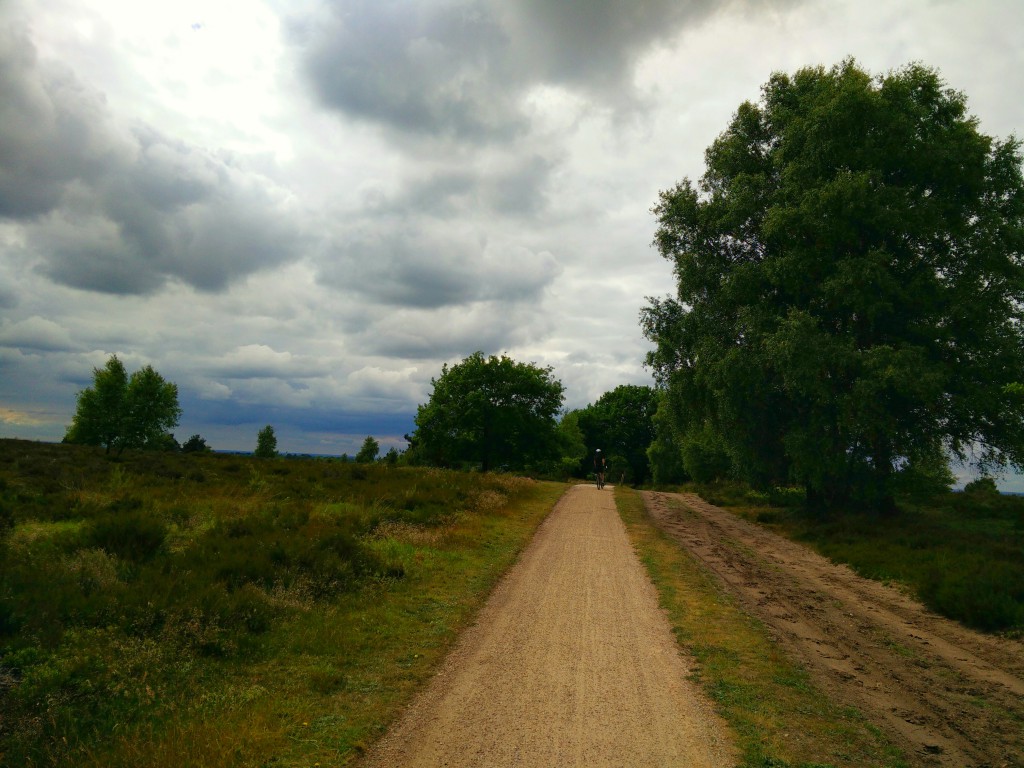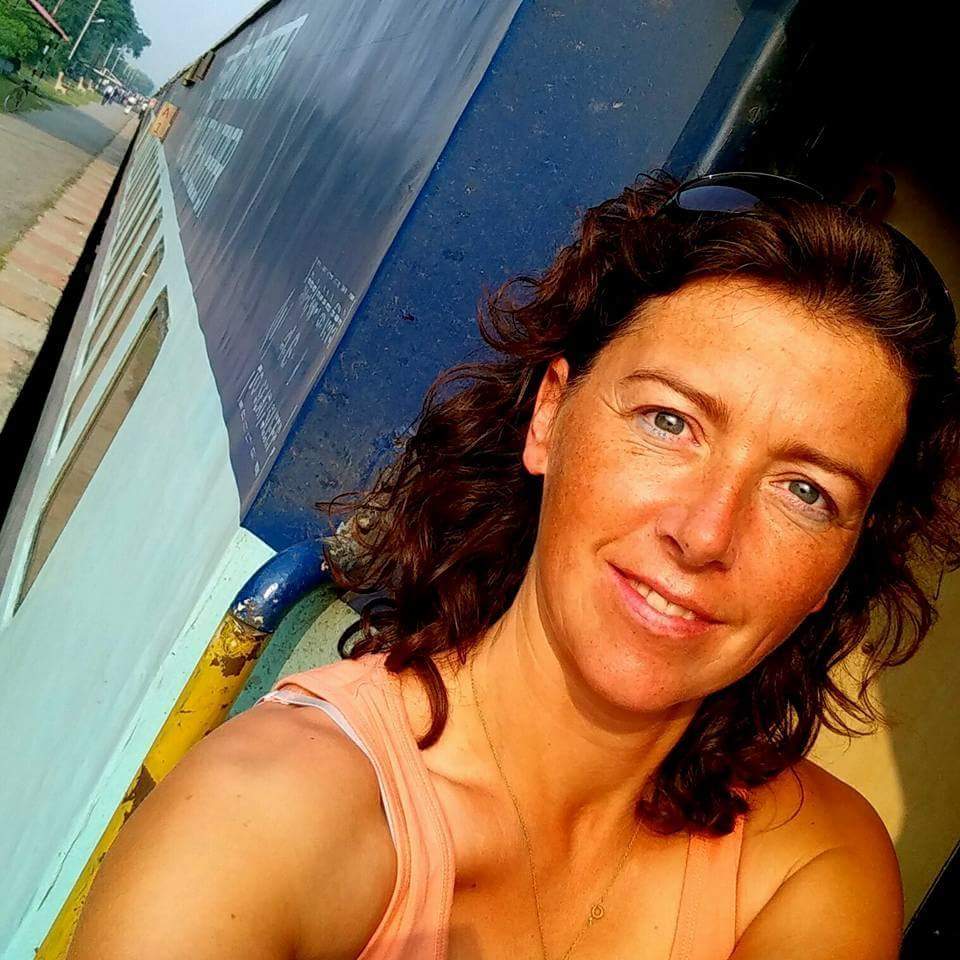 Jacomijn is een politieagent uit Nederland die jou graag laat zien hoe je veilig, actief en gezond de wereld kan over reizen. Safe and Healthy travel is a MUST