8 days hiking on the Alpe Adria Trail – Austria
I was also looking for a travel challenge in 2020. As a matter of fact, all my set challenges didn't go through … Everyone experienced the same problem in 2020 due to corona of course! But fortunately we were allowed to travel in Europe in the summer and I could go to Austria. I went hiking for 8 days on the Long Distance Hike Alpe Adria Trial!
What a super challenge!
After all, I had never hiked in the Alps before!!!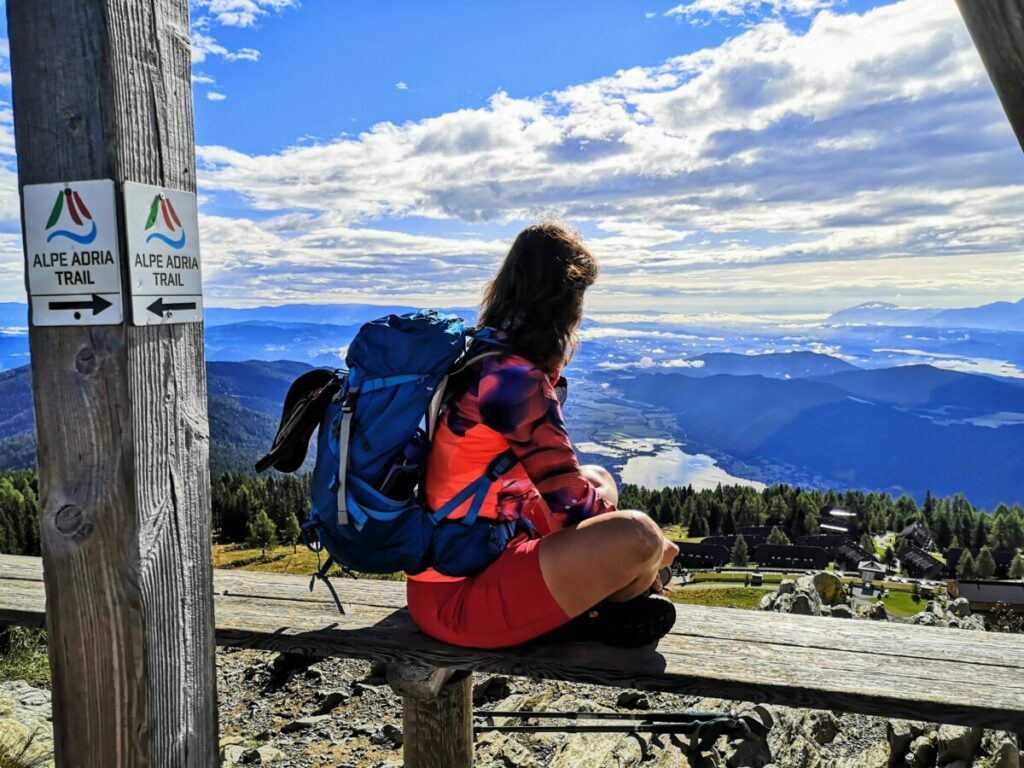 So in August I left by train for Austria. After a long day of travel I was in Spital an der Drau where I had booked an overnight stay. The next day I traveled on to Seeboden. There I had two wonderful days at the Miltstätter See before starting 8 days on the Alpe Adria Trail. See for more info
I very deliberately chose to travel by train in order to have less impact on the environment. I must say that traveling by train was very nice but the changes are quite stressful. Also the fact that the trip takes at least 2x as long I find a little less but what I regret most …. I paid almost 200 euros in total for the outward and return journeys.
Long Distance Hike Alpe Adria Trail
Stages 12 to 19
Stage 12 : Seeboden – Miltstätter Alpe 20.7km
That first day was a real challenge I had read. So I had prepared myself for a tough day of climbing and scrambling. Always good to do that mentally because afterwards the day turned out better than expected. The climb was a treat, I enjoyed all the views and had a delicious lunch along the way. This stage had several nice breaks and I loved it.
The weather was great and I fully enjoyed my freedom in the Austrian Alps. At one point I even had a tiny bit of rain which made me see a rainbow. How beautiful can you get on your first day on the Alpe Adria Trail.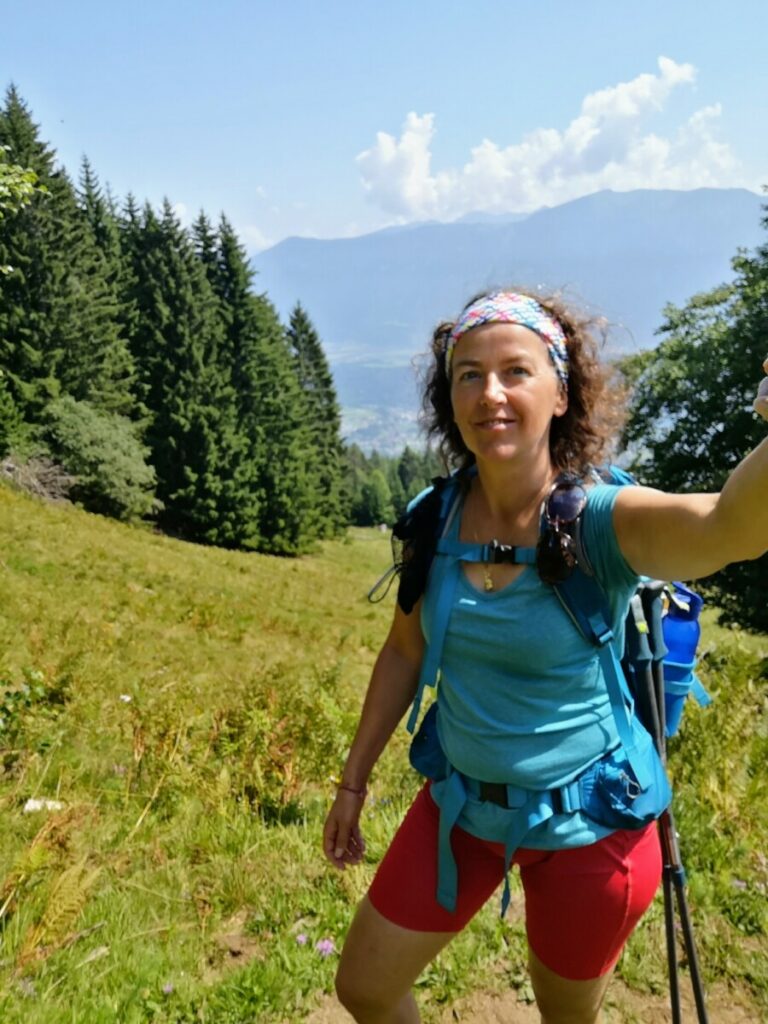 Check more about stage 12
Stage 13 : Miltstätter Alpe – Dobriach 22.8 km
The next morning I started right away with a couple which I would see more often and the Austrian lady which I also would see more often on other stages. It already started to feel a bit like the camino which I actually long for again. After half a km walking quite close to each other I lost them and thought I was alone on the world…eh on the Austrian Alps! I had the most amazing views on both sides. The beginning of this day already gives you quite a climb.
After the Garnet Gate and the descent to Lammersdorfer hut where I enjoyed my lunch it became quieter on the trail again. This section has a lot of day hikers. The path meandered wonderfully through the area and I loved it! Because I was so in my element I lost a piece of the path….with a detour and the help of the Alpe Adria Trail app I quickly ended up on the right path again.
Hiking in Austria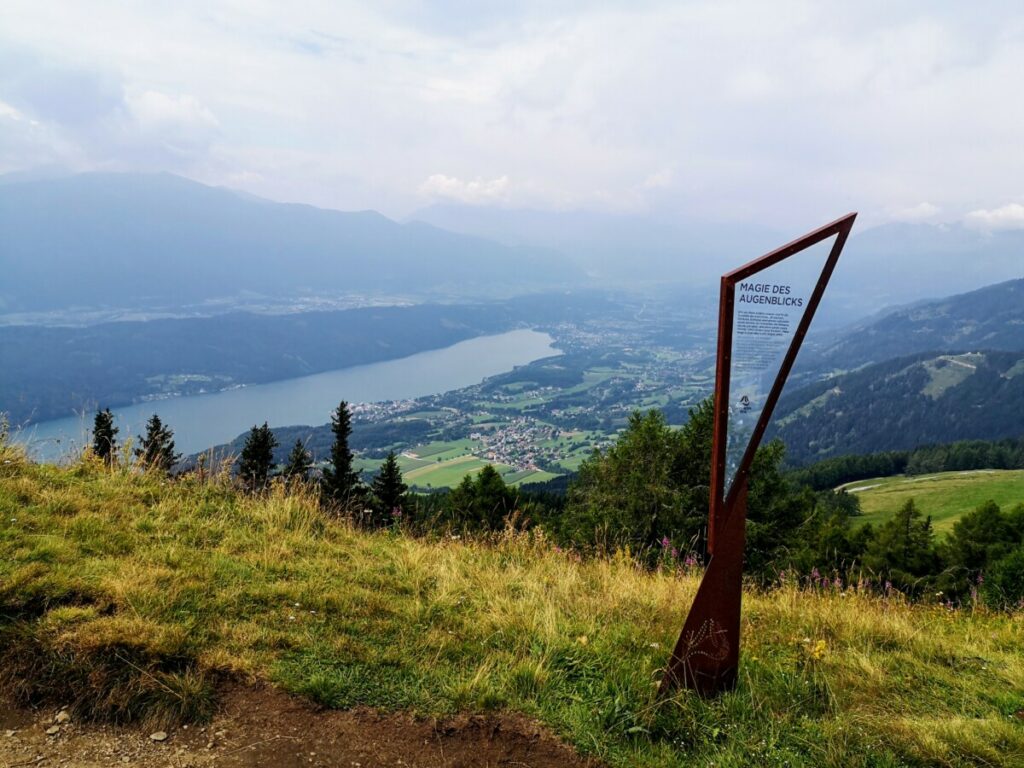 This day's long descent did bring on a pain in my knee. I was very afraid that night that I would suffer from that for the rest of the hike.
Check more about stage 13
Stage 14 : Dobriach – Langalmtal 16.8 km
After a good night's sleep, I was able to start painlessly on stage 14 of the Long Distance Hike Alpe Adria Trail. That made me so happy! I resolved to take some more breaks and thus give that knee some more rest. After a few km I met the couple..I walked wrong, I had misjudged an arrow and because in the beginning of this stage several paths run towards Radentheim you can read an arrow wrong. I decided to walk with them and with that my intention to take more breaks went up in smoke.
Until the lunch break we walked with only a short drink break. It went super and their pace was slightly slower than mine so my knee held up well. At Aichholzerhutte I decided to take a long break and as they continued I ordered another cappuccino and Almdudler. I enjoyed the view and the sun!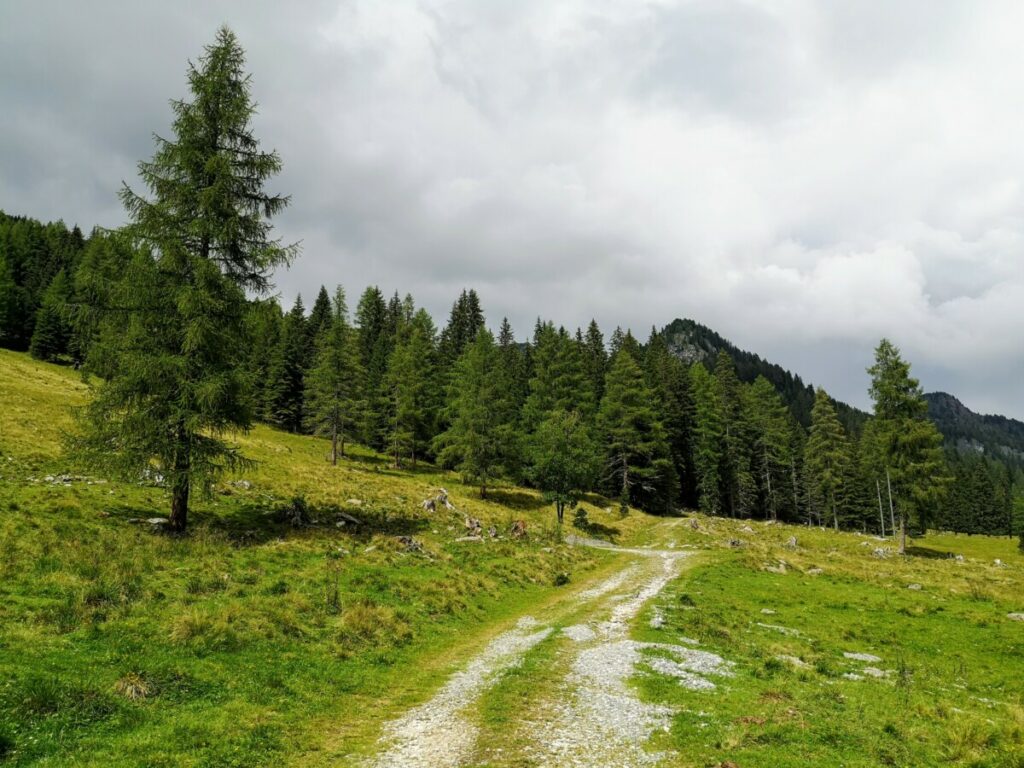 Check more of stage 14
8 days Hiking in the Austrian Alps
Stage 15 :  Langalmtal – Falkerthaus 14.7 km
During this hike I did not encounter anything that sold any food or drink…. I found this to be the most beautiful hike in terms of challenge and views! I went through a remote part of the Alps and got to climb, descend and walk across vast alpine meadows. Really super!
In terms of difficulty and agility for hiking, this was also the most challenging day. During one particular stretch you walk over boulders, then a narrow path with quite a steep descend next to you…. So yes your concentration and agility are definitely needed on this stage!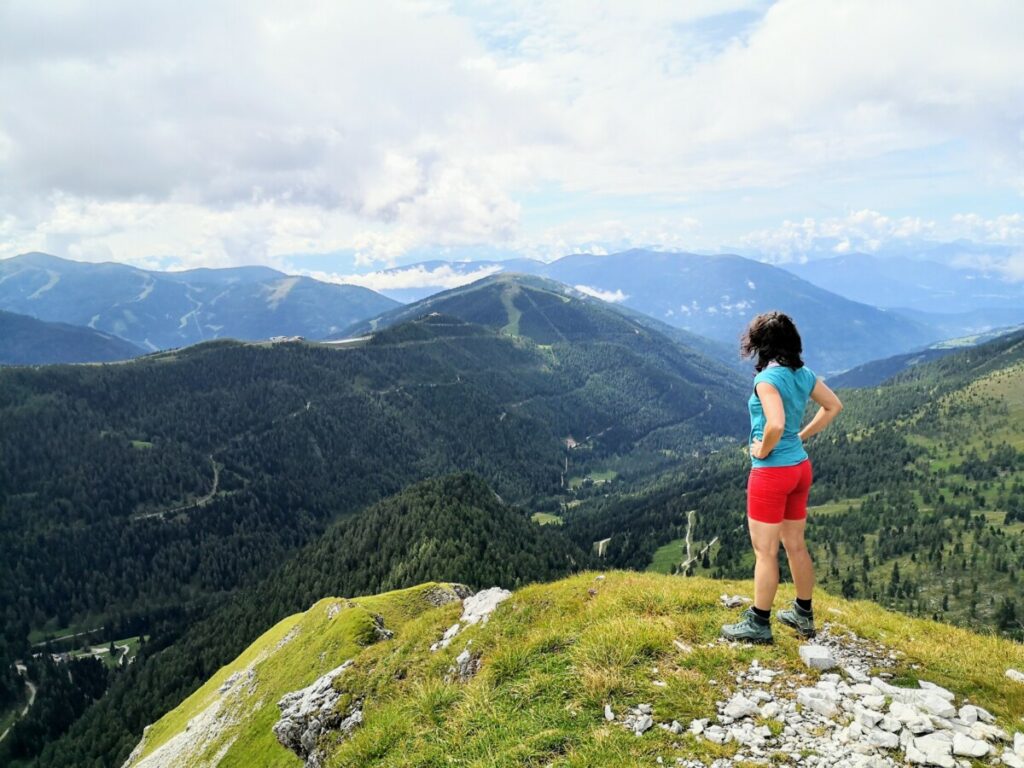 At the end you come to walk in the Nockberge Bioshphere Park and so there you encounter more dayhikers and more paths crisscross. So keep your attention to the signs so that you take the right turns. There are more paths because it is obviously a unique area and so great to be allowed to walk! When I was at the hotel I ordered a delicious cheesecake as a reward!
Check more on stage 15
Stage 16 : Falkerthaus – Bad Kleinkirchheim 18.7 km
In Falkerthaus I met the Austrian again who was walking with full packs. In the morning I met her after a few km and we walked together for a while. The problem then is that you do not quite look at the directions anymore and together we walked up a mountain where the path was really impossible to explore. We walked up the narrow terraces that the cows use, which means big steps and an uneven surface. A little later we crawled under a barbed wire to end up on a path again. A good workout so early in the morning.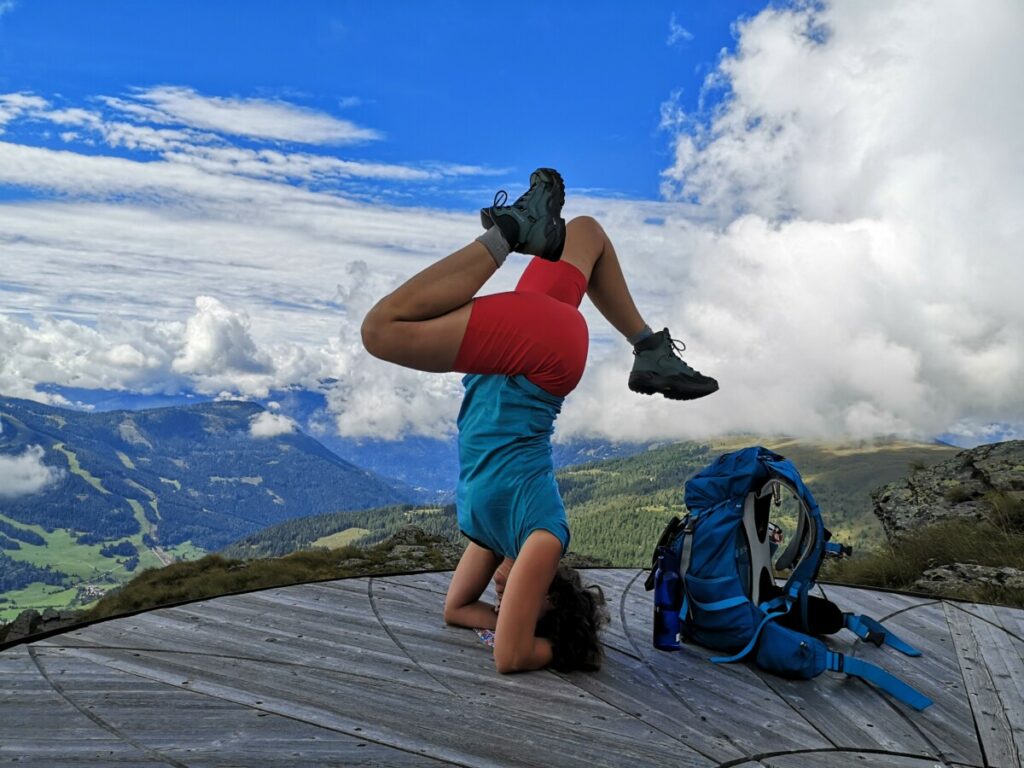 Yoga on the Trail
After this I came to walk on a beautiful alpine meadow, lots of sun and cool views. At a highest point it was quite cold and so I walked on quickly to arrive shortly thereafter at a great spot where I did the headstand. I love the pictures I get of them and so I will keep doing this.
After a descent I came to walk through a valley where I had a view on several villages. What a wonderful country and area! For me the first time in Austria and I enjoyed nature and culture! Just before the end of this day I passed through a village where I ate a delicious pasta on the terrace. This was the last stage of the booked trip but I wasn't done with this Long Distance Hike the Alpe Adria Trail yet and booked a B&B in Arriach for the next day! I decided to walk some extra stages of the Alpe Adria Trail!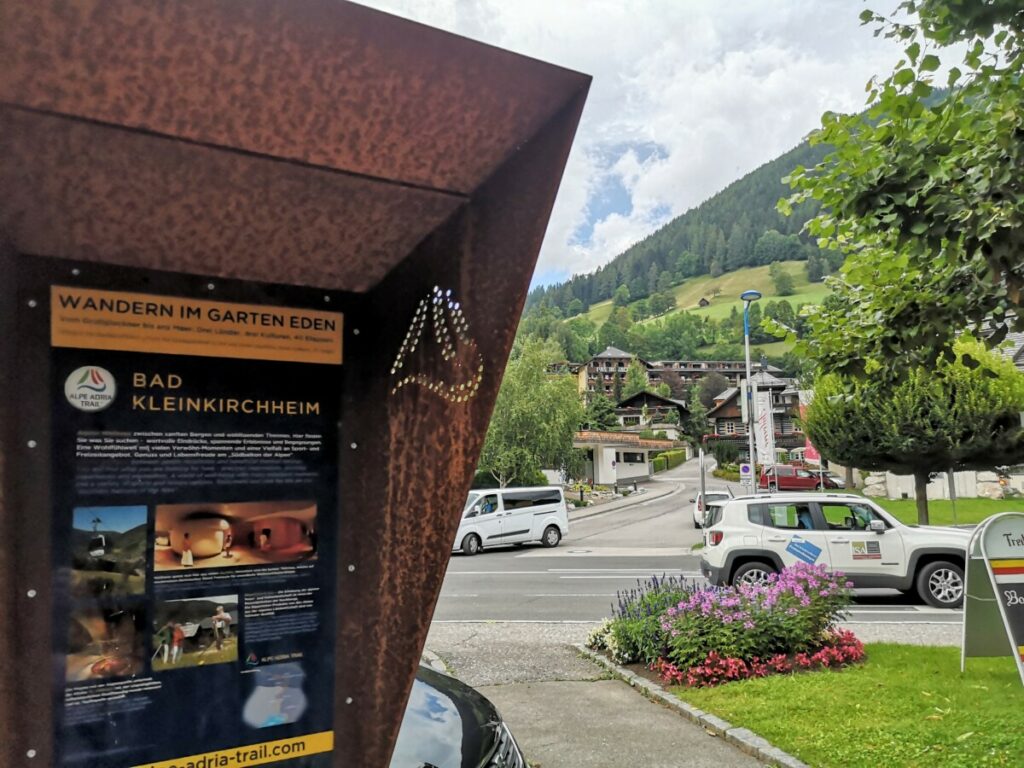 Check more on stage 16
Stage 17 Bad Kleinkirchheim – Arriach 18.1 km
After a wonderful night in a luxury hotel with a pool, I was able to continue on my own on the Alpe Adria Trail. I was now walking without the support of a travel agency and had booked the accommodation myself and was planning to stay a few more days. I thoroughly enjoyed the surroundings, the weather and the freedom!
It was a good climb up to finally arrive in a ski area where many dayhikers came up by lift. For that reason I could enjoy lunch on a terrace. It was a lot cooler and when I walked further I put on my coat to enjoy the highest point of the day. Wollaner Nock at 2145 meters with fog and wind is different than in the sun out of the wind 🙂
It can get cold in the Austrian Alps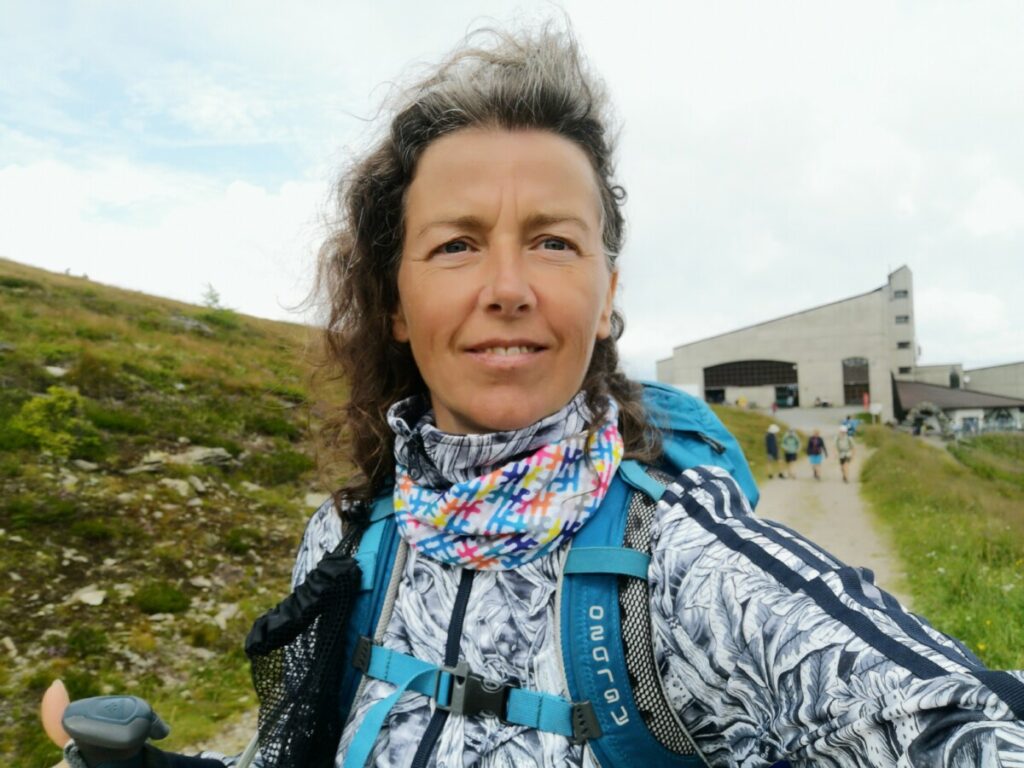 And you get there just as quickly as you descend and walk in the woods. Jacket off again and fully enjoying the sun and the views of the valleys that the Austrian Alps offer you. Eventually I came out of the woods to walk on the asphalt roads in the valley and that was just a little longer than I thought, another 4 or 5 km along farms and houses in rural Austria.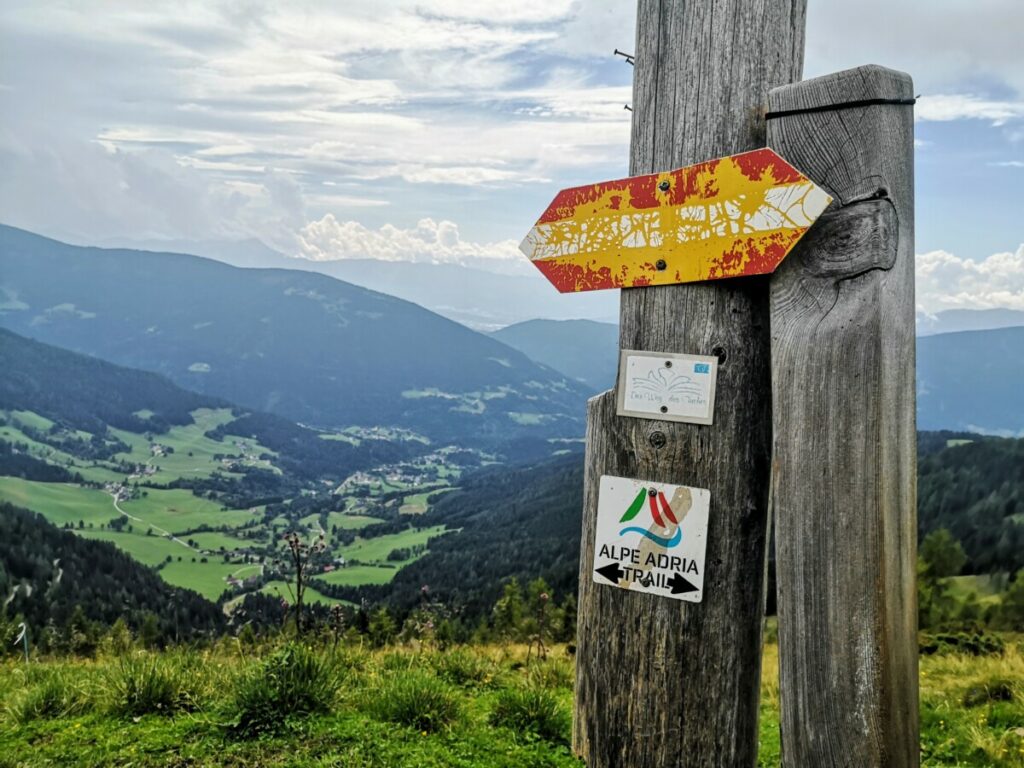 Check more on stage 17
8 days hiking on the Alpe Adria Trail – Austria
Stage 18 Arriach – Gerlitzen Alpe 15.1 km
After a wonderful night in the Bed & Breakfast right along the route on the outskirts of Arriach, I continued on. A little bit on the asphalt road and then into the forest to go up. And a big climb too of at least an hour! Some wide forest roads brought me finally on the beautiful paths on alpine meadows and through forests. Another great piece of hiking this day on the Alpe Adria Trail.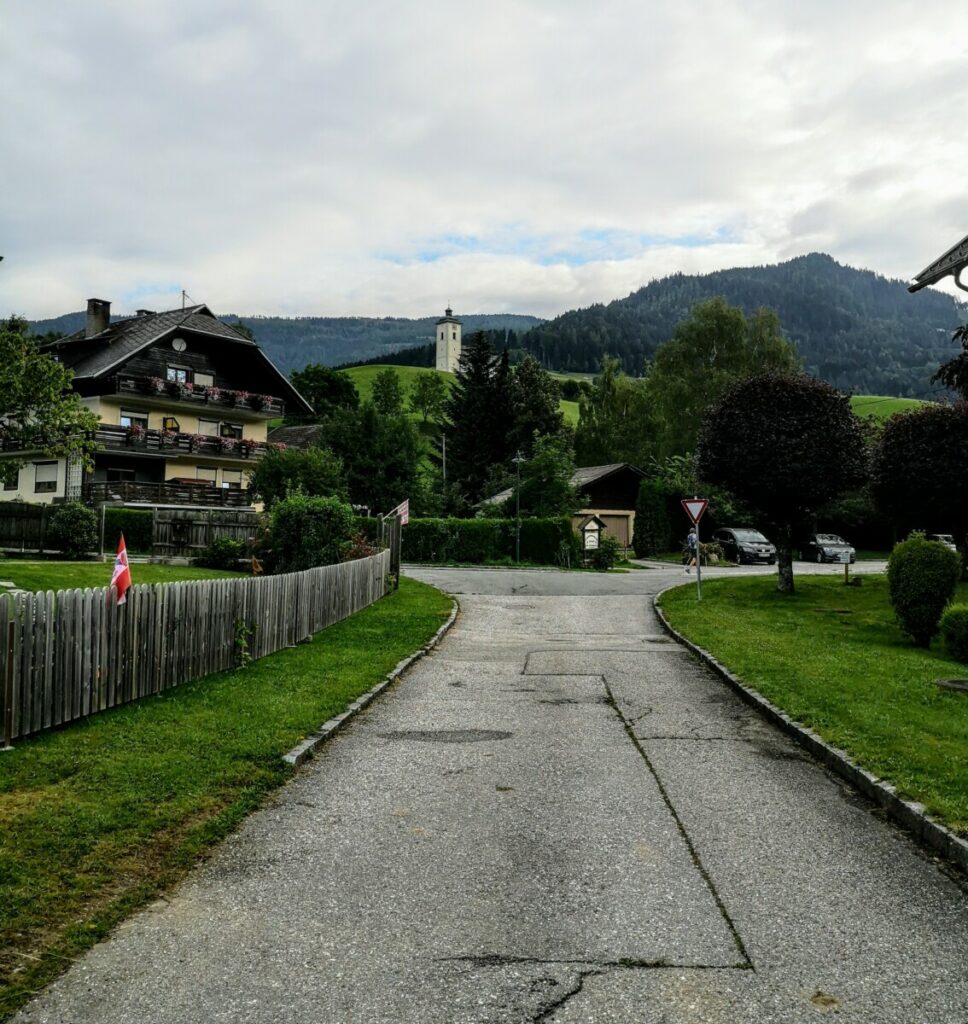 This was also the first day I had rain on the Alpe Adria Trail. I had had some rain in the evening before but this day I had a huge downpour during my lunch. So also a perfect time…. I just sat there a little longer and had an extra cappuccino. I had a lovely time sitting outside and later even inside by the fireplace which was soon lit. How nice!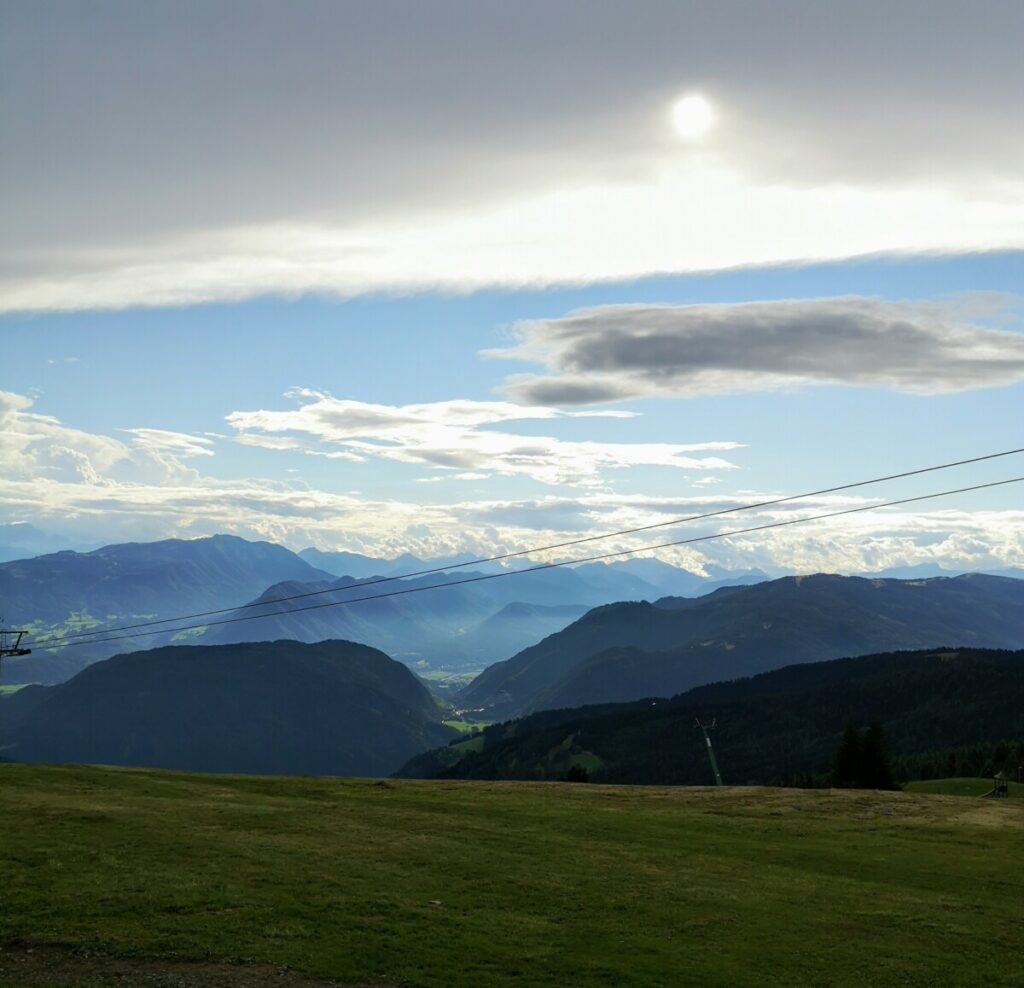 Check more of stage 18
Hiking part of the Alpe Adria Trail
Stage 19 Gerlitzen Alpe – Ossiach 16 km
Gerlitzen Alpe is a ski resort even on a summer day. The apres ski vibe is all over the place. I had made a nice walk in the evening and now I walked down the other side of the mountain through a beautiful piece.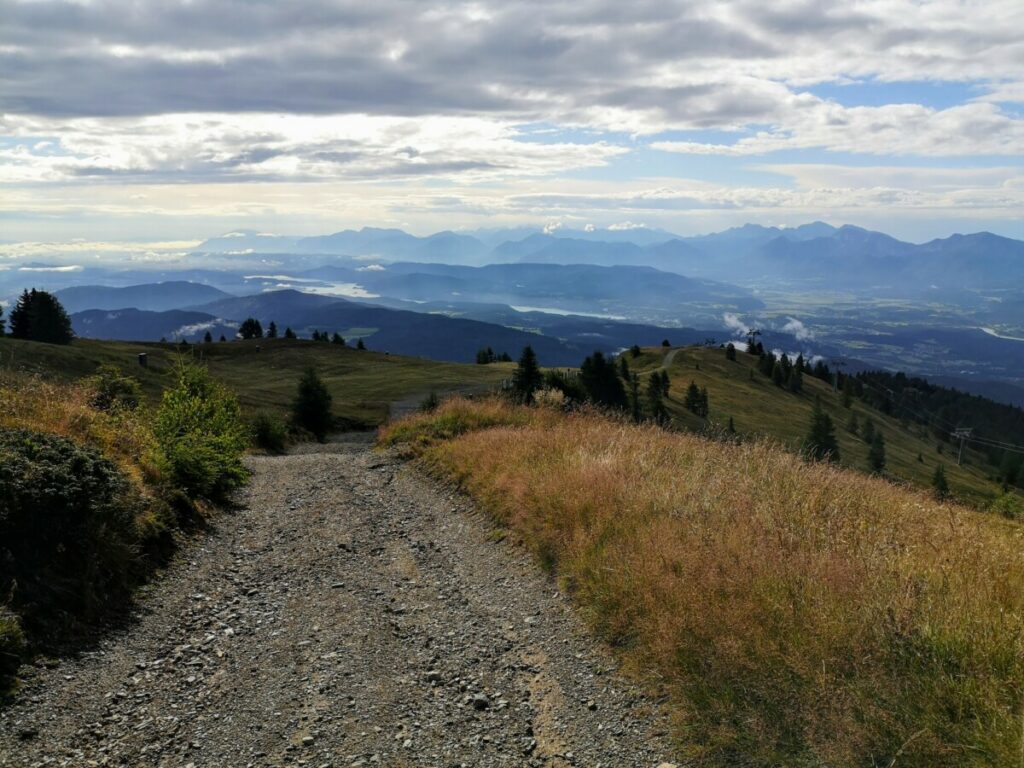 It was my last day and I was enjoying the area too much and not paying attention and so for the second time on this route I walked wrong. I had all the time and didn't mind at all, an extra bit of descent and ascent in this great Alpine area.
When I finally came out of the forest I got a great panoramic view of Ossiacher See. After this I went to Salzburg and so my walk stopped at the station of Steindorf am Ossiacher See and I did not walk the last kilometers of this stage. I console myself with the thought that I will definitely come here again to do the rest of this amazing long distance hike as well.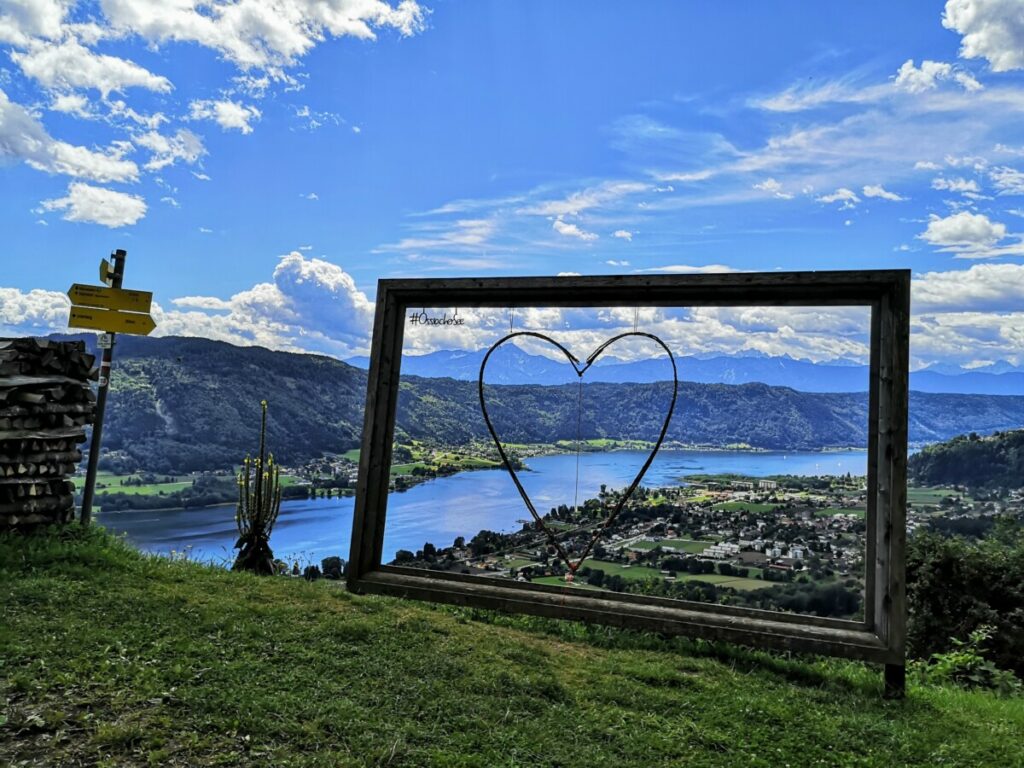 You just got to love this view!
Check more of stage 19
I spent 8 wonderful days on the Long Distance Hike the Alpe Adria Trail. I was completely detached from the hectic of everyday life and really felt that carefree pilgrim again. Do not think too far ahead, see the world slowly pass you by and live in the here and now!
Ask yourself how Meaningful your Journey is when you walk several days in a row? You can organize your thoughts, you allow your body to relax through exertion, your sight becomes wide again and you come back to yourself. If you ask me, everyone should definitely do this once….or more often 🙂
Do also read this blog for Mindful Walking inspiration
Did you like these stages and would you like to do them too?
Then save this blog by pinning or sharing it.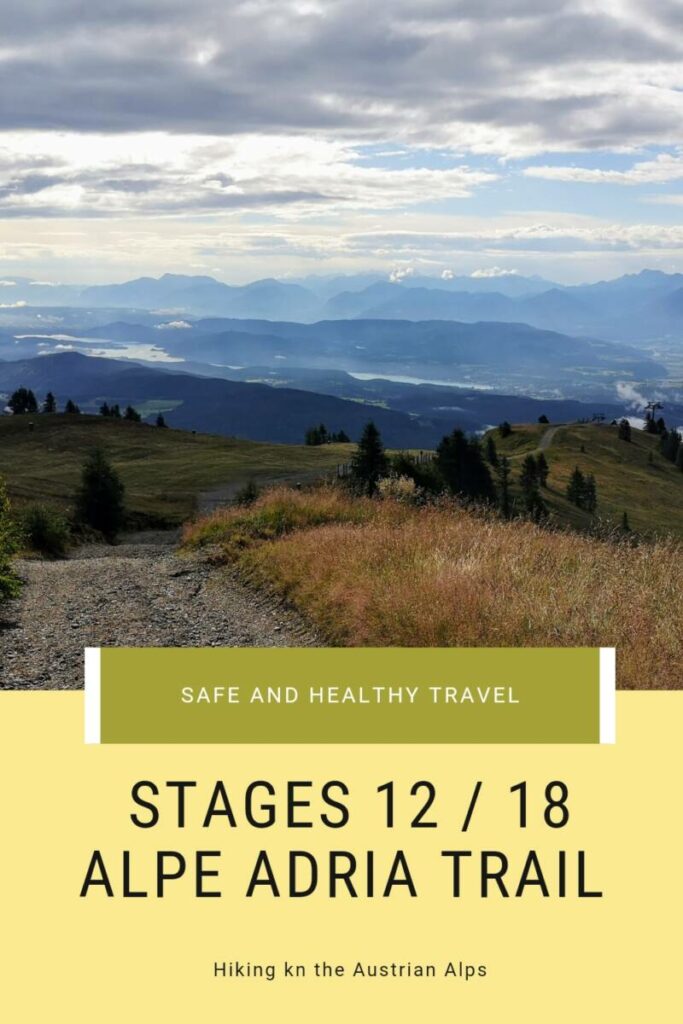 More Meaningful Hiking Inspiration?
Hiking in the Footsteps of Krishnamurti –  Ommen, The Netherlands
3 Days on the Lee Trail – Luxembourg
Pilgrim Path St Olavsleden in Norway
Hiking along the river IJssel – Hanzestedenpad – Netherlands
Or hike the longest long distance path from The Netherlands – Kustpad
Hiking the Dutch Coastal path 2 – Long distance hiking path in The Netherlands
I hope you enjoy this world as much as I do!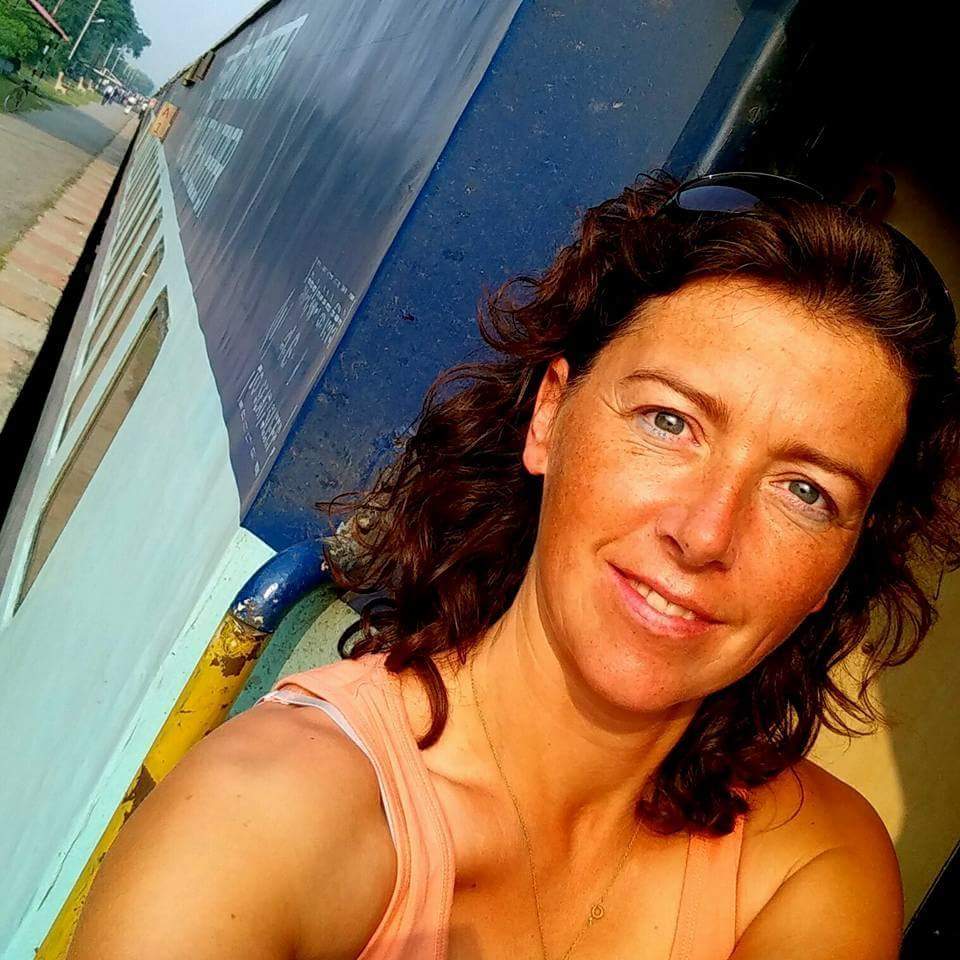 Jacomijn is een politieagent uit Nederland die jou graag laat zien hoe je veilig, actief en gezond de wereld kan over reizen. Safe and Healthy travel is a MUST