Hiking in Germany – The Hermannshoehen Hiking Trail
|
It had been a while since I did some Hiking in Germany. The last time I did a part of the Top Trail hiking route Rheinsteig and that made me really happy! I loved the views I was getting over the Rhein. And also this time I experienced that hiking in Germany made me really happy so I need to plan some  more time in Germany or for that matter Europe! The hills we get in Germany are a dream for us Dutchies 🙂 They are a nice challenge during the hike!
This time I went hiking on the Famous Hiking Trail Hermannshoehen in the Teutoburgforest. This hiking trail starts just over the border with The Netherlands and is a 50K drive from Enschede. For us, in the eatern part of The Netherlands it is reachable within the hour!!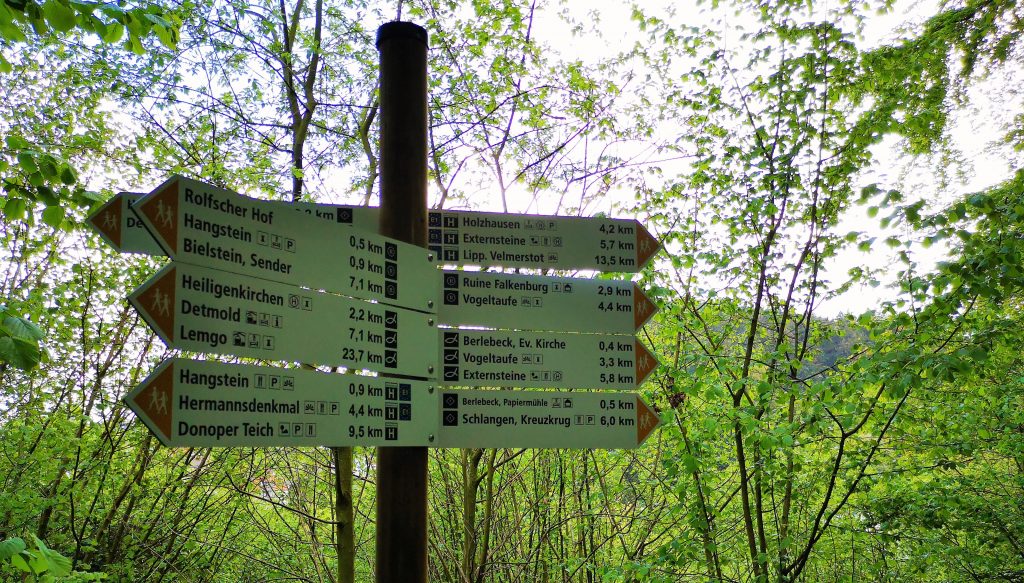 The Top Trail hiking trail Hermannshöhen or in English reffered to as Hermann Heights (Hermannshoehen) starts in Rheine and goes through the Teutoburgforest to Obersmarsberg. If you would walk the whole hiking trail you will get to 226K.

The trail is devided into 13 day treks of each around 16K to 20K. For an average hiker this is a nice distance for hiking in Germany in a mountainous area. On the way you'll get to see some of the best spots for nature and history!!

The Hermannsweg and Eggeweg together are the hiking trail Hermanns Heights (Hermannshoehen). The Hermannsweg is 160K and the Eggeweg is a hiking trail of another 70K!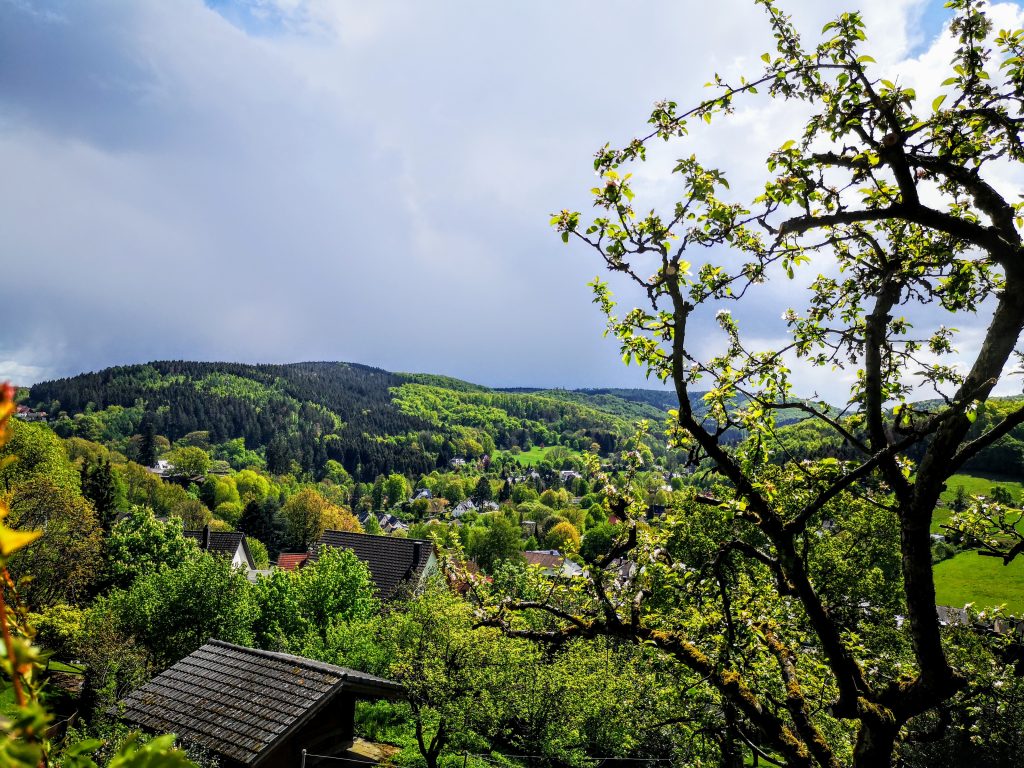 If you decide that it is not enough and you want to hike more in the great Teutoburgforest you should look at this site: Teutoschleifen. They have an extra 7 hiking trails in this great area from around 6.5 to 13K each. These are also nice to hike as a family!
Preparing my trip – Hiking Trail Hermannshoehen
I had a long weekend off, 3 days, friday, saturdy and sunday to spend. For me it is enough to start thinking on what to do with those days and Germany is not far for me and so easy to go to! I had put the Externsteine on my List of Things to Visit in 2019 so the decision wasn't hard and this trail was the solution! I went on a solo hiking trip in Germany!
The stages 7, 8 and 9 of the Hermannhoehen (Hermann Heights) were easily choosen as they lead me along the great Externsteine.
And it was great to find out that Bielefeld was my startingpoint. I could easily drive there and park my car in the parking garage Parkplatz Altstadt-Carre. I paid 6 euro a day for this parking and so on sunday I had to pay 18 euros!
Accommodations along the trail

Accommodations along the Hermannshoehen are easy to book. You can go search yourself ofcourse but I also saw on the site of Hermannshoehen (only German and Dutch –  so let google translate it for you) that they suggest some hotels or lodges that are on the trail or just next to it. The best thing about their suggestions is that they are used to hikers and know what you like after a long day hiking. I was picked up from the trail on my first day and they brought me back the next by the Berkenkamp family.
How great is that?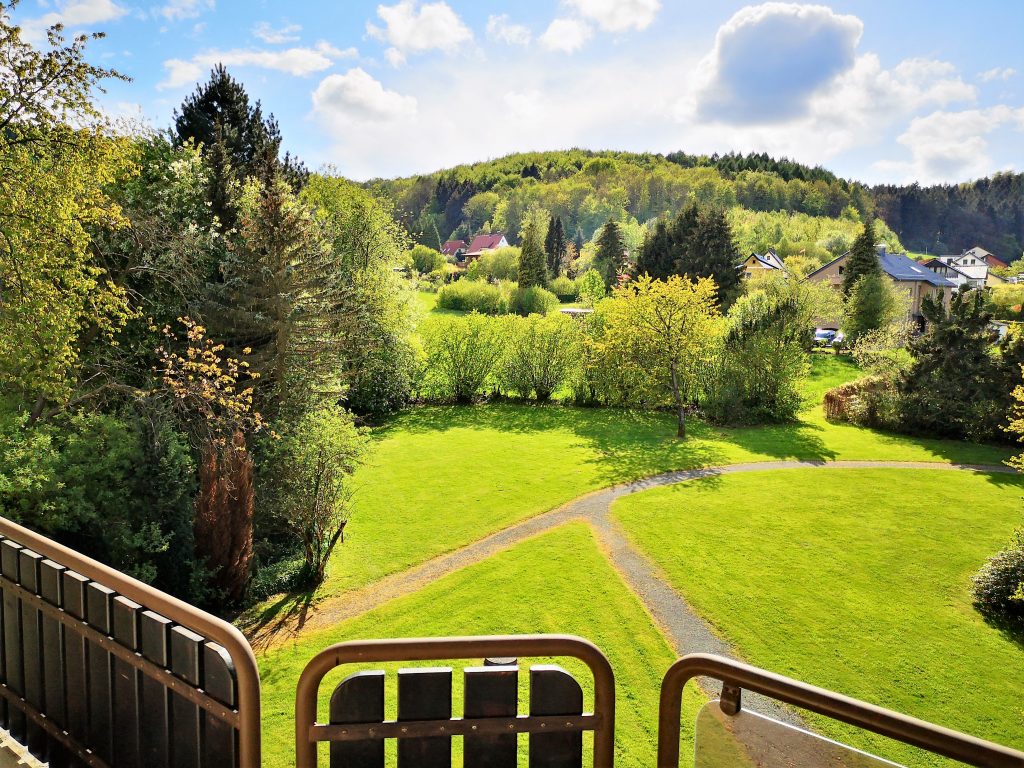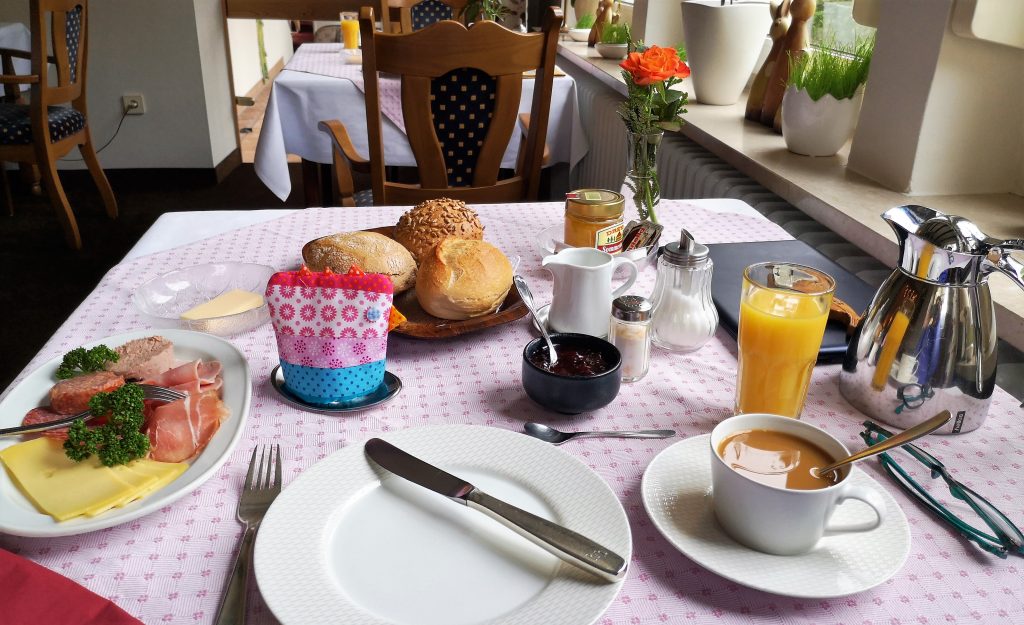 Packinglist  for 3 days – Hermannshoehen
– What did I needed on my 3 days hiking?
I took my 36 liter backpack. It is the Osprey backpack for women. This one I used on my camino of 35 days too and fitted perfectly on my back. It is big enough to fit everything but still small enough to be easy in use.
This bag comes with a raincover.
– What was in my 36 lt backpack for women?
Because the forecast predicted a lot of rain and even thunder I took clothes for cold and spring weather with me. In the 'mountains' weather can change quickly to you need to take that into account when packing your bag.
I took 2 long hiking pants with me. I always wear the brightly colourd yoga pants and they are my hiking pants. They are easy, small and really comfortable.
I had two shirts without sleeves but are a bit longer. So they go over the hips and so prevent my back from cold wind.
And I had a shirt with sleeves and a sweater with me. I also took my sweather that also works as thermo clothes. It is a sweater that is really comfortable and also suitable for wintersports.
The Hermannshoehen Hiking Trail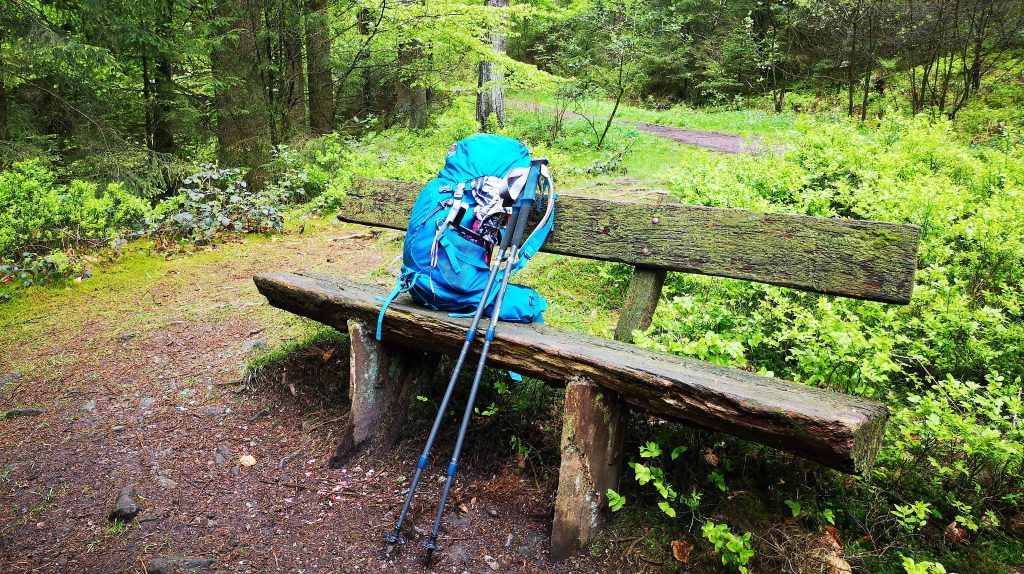 I also brought my windjacket, windshell and a sports jacket. The windjacket could fit underneath the two others. So if it gets a bit warmer I can wear them apart from eachother. I also took my sports jacket but in hindsight I could've left that one at home. And I also brought my rainjacket.
And ofcourse I brought a shirt for nights and some underwear.
I always use a laundrybag as a toilet bag. It is small and has enough volume for my toothbrush, toothpaste, bodylotion (100ml), small tube of facial creme, Lush shampoo bar and a small hairbrush.
To wear in the evenings in the hotel I brought a thin sweatpants and some loafers to give my feet some rest. Also a good one to harden your callus on your foot and toes for protection again.
I also brought my sunglasses, a buffy, the tripod for my phone and a small laptop.
Hiking in Germany
The Hermann Heights Hiking Trail
And then it was time.
I started to hike on the Hermann Heights and the weather was great!!
For me a reason to get instantly happy!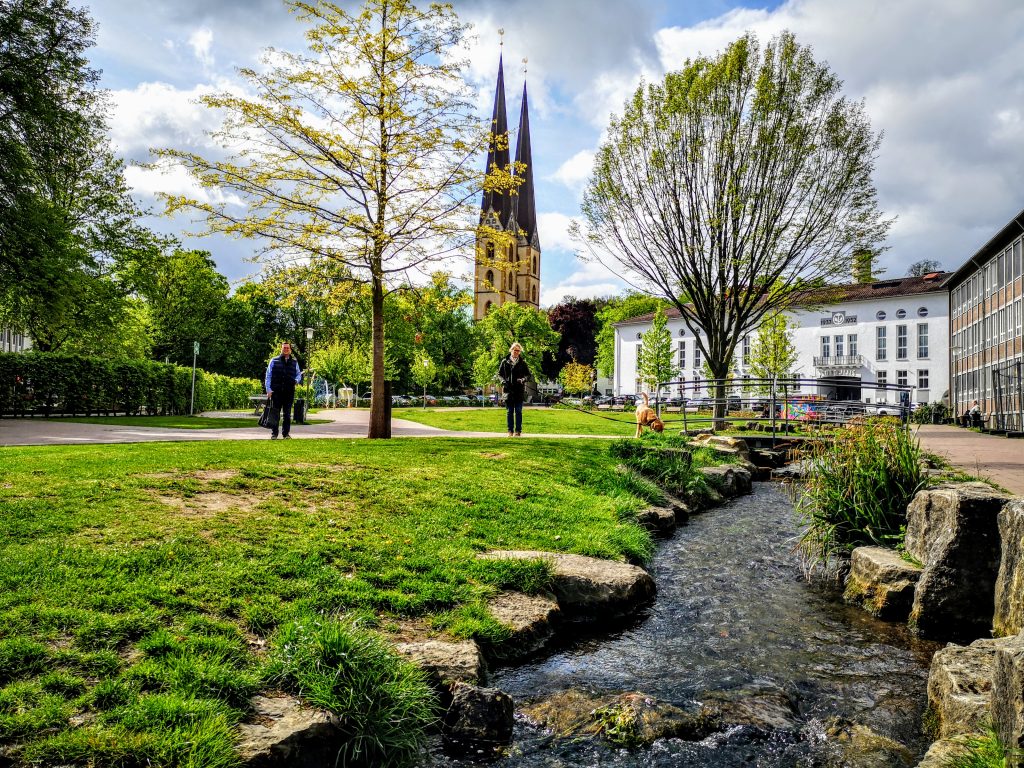 Day 1 Bielefeld – Bienenschmidt 20K
I started my hiking trail Hermannshoehen in the Teutoburgforest in the city of Bielefeld. I drove there in almost 2 hours from my house and parked the car in the heart of the centre. I bought myself a cup of coffee on the Alte Market (old market square) and started my adventure on the Hermannsweg.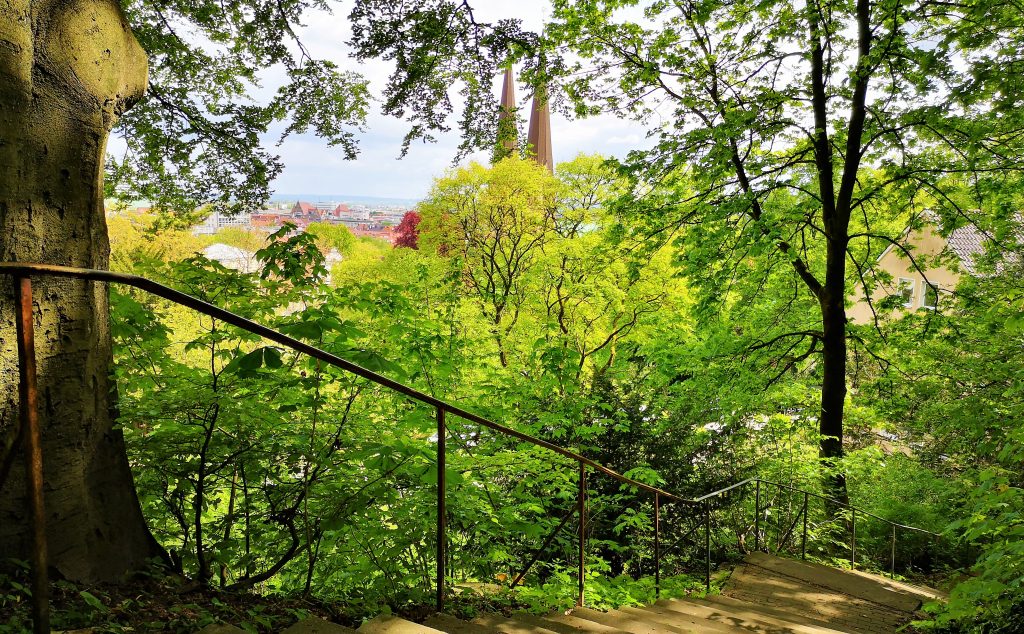 I started the trail at castle Sparrenburg where I first saw the sign, the black H. First I explored the castle a bit and went up the tower to get a great view over Bielefeld!
If you want to go up you need to buy a coin at the infocentre at the entrance of the castle.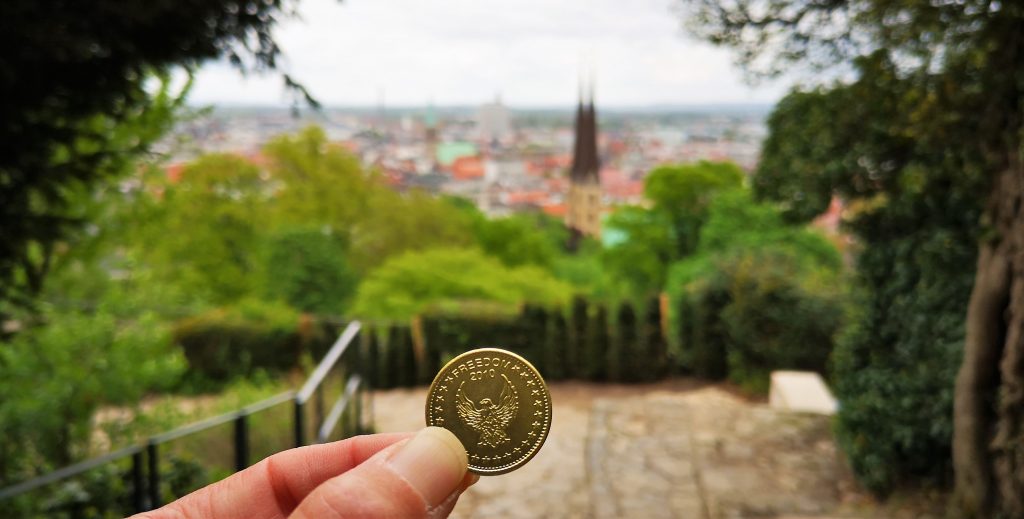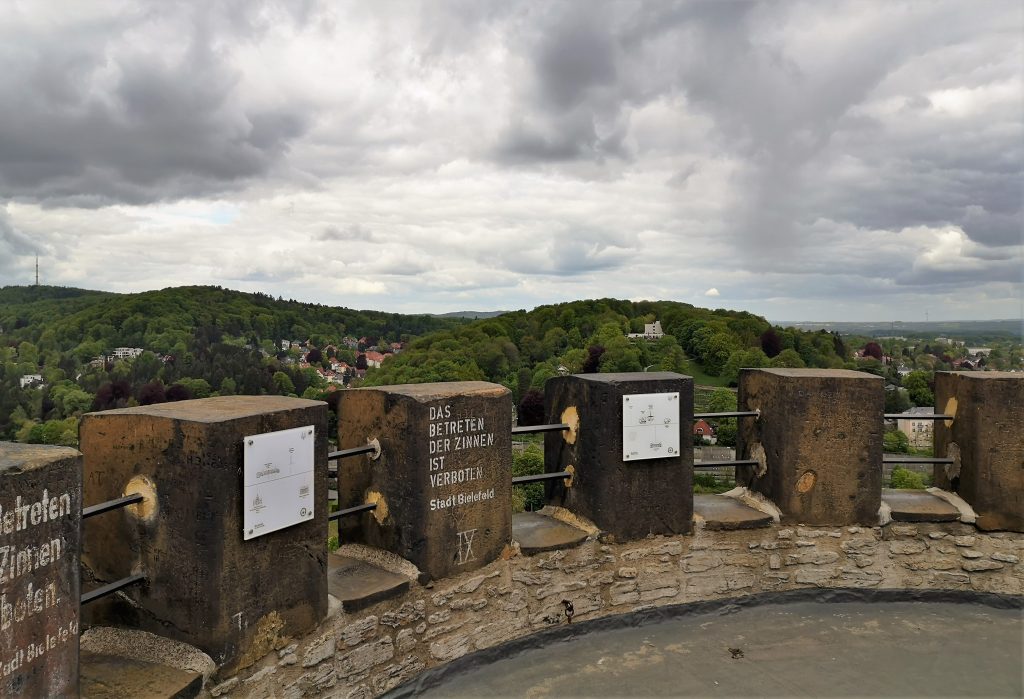 Soon after I left Sparrenburg and Bielefeld I saw the signs that would lead me along this hiking trail for the upcoming 3 days. Along this route are a lot of other signs for different trails so don't be attracted by them and just follow the black H on a white background.
The H off
Hermanns Heights

Hermannshoehen
 Hermannsweg

I went solo hiking in Germany and loved the mountainous landscape of the Teutoburgforest. I have to admit that I started to follow the wrong signs and made a detour of about 5K so for me this day ended with a 25K hike!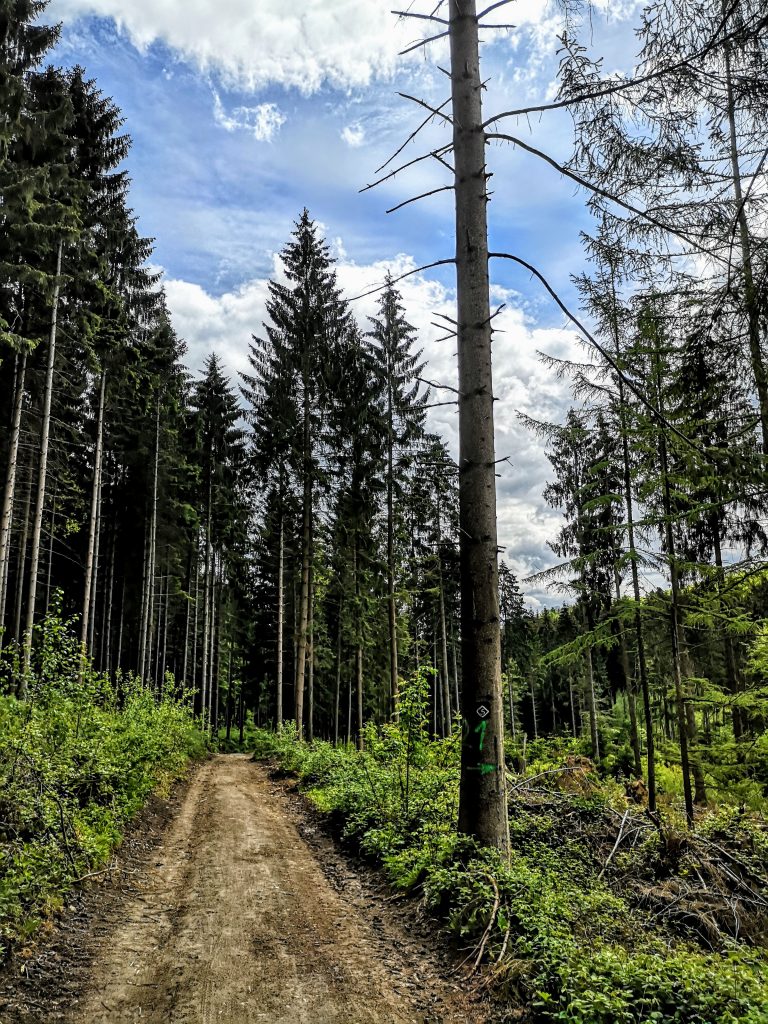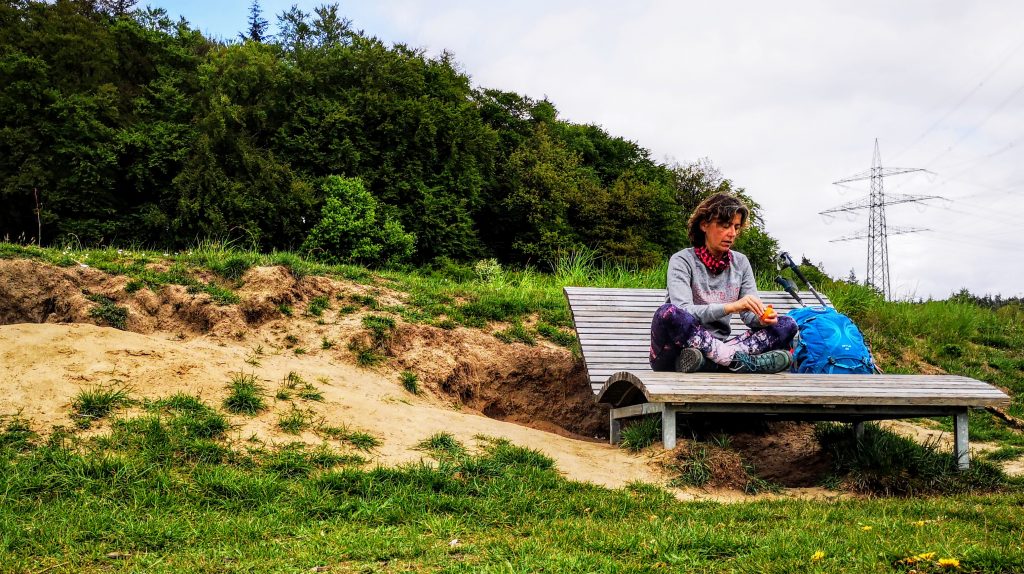 I love hiking in Germany in Spring, they have the best benches along the routes and the greatest path through the forest. I brought some fruit and water and was totally selfsupporting and loved spending some hours in nature. I came through the lovely village of Oerlinghausen too just before my endpoint of that day: Bienenschmidt.
What a great village!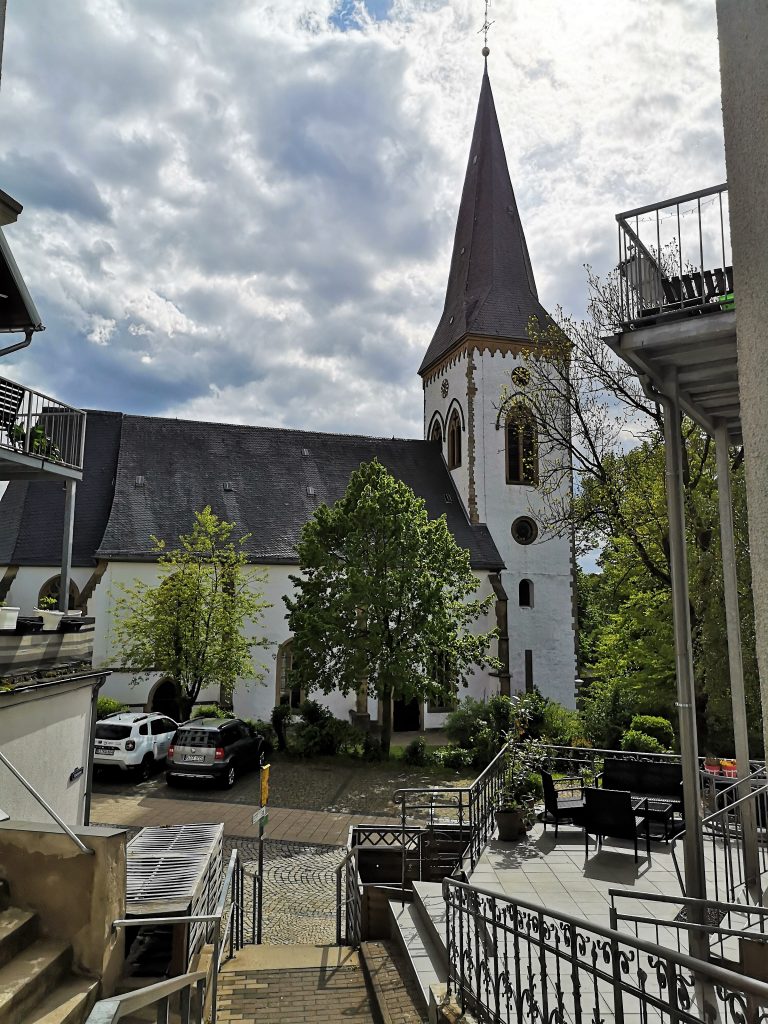 At Bienenschmidt, what used to be a blacksmith and a bee keeper, sir Berkenkamp told me when he picked me up. My first night I stayed at Haus Berkenkamp. Because they are a bit of the route they picked me up and brought me back to the hiking trail the next day
How great is that?
Day 2 Rethlager Quell to Horn 17K
The next morning I really enjoyed a German breakfast at Haus Berkenkamp. Really German with a great old fashioned egg warmer over my boiled egg. Loved it!!
Together with 5 other guests they drove me to Rethlager Quell to start my hiking trail on the Hermann Heights this day. As the name tells you soon I found a well on my leftside. The sun was shining through the green young spring leaves and it seemed to become a great spring day again even though the forecast said differently. I was hiking through the forest and heard the birds singing their early morning song.!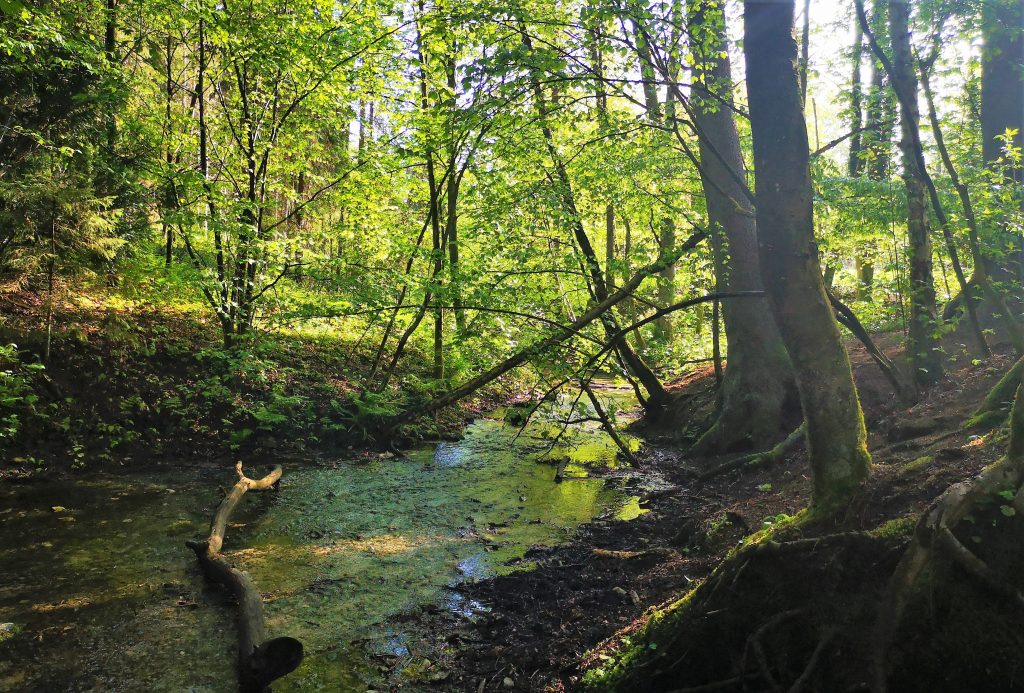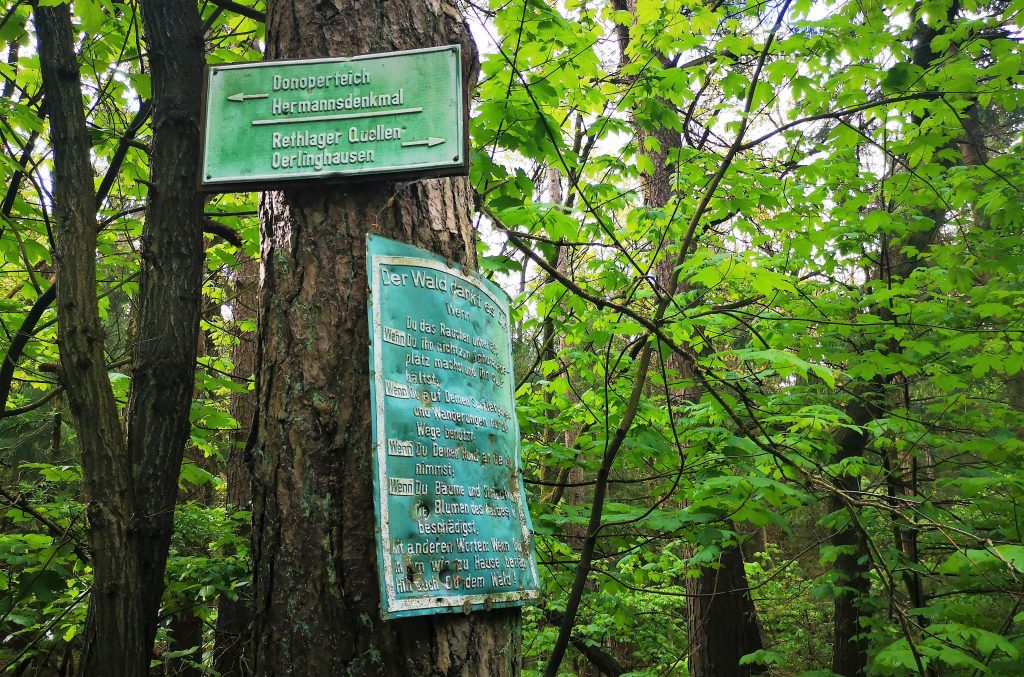 Spring is the best time to hike in nature!

The bird were busy and the sounds of that are just the best in the morning!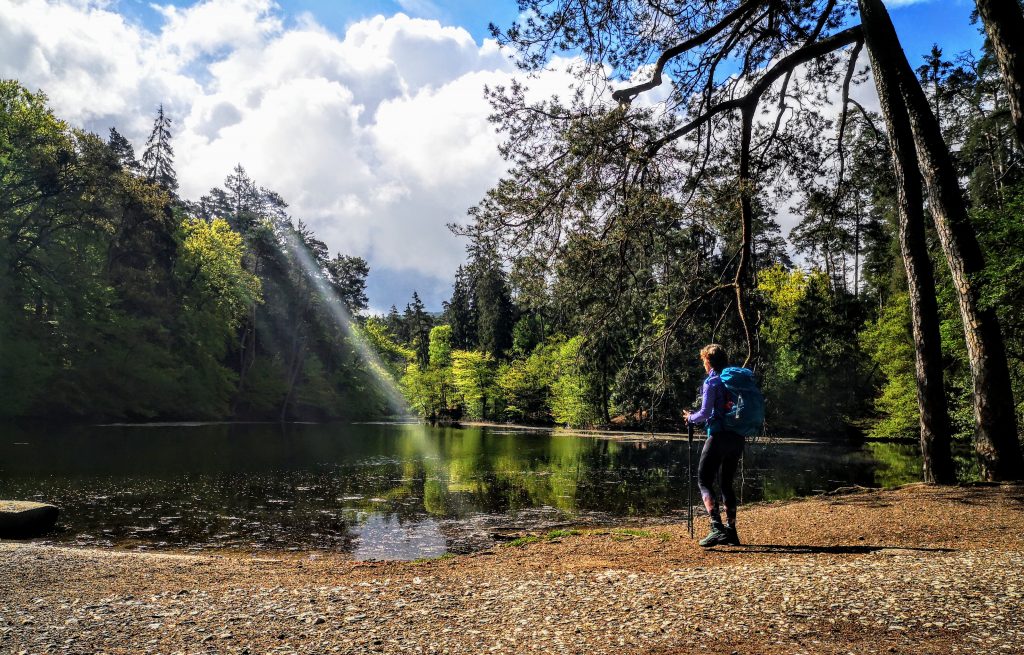 For now I was hiking to the famous Hermannsdenkmal. The one responsible for the name of this hiking trail the Hermann Heights (Hermannshoehen) as you might have noticed already. It is the highlight of this day. Literally and figuratively for that matter! The statue of Hermann is over 53 metres hight and the mountain where it is build on is about 400 metres altitude.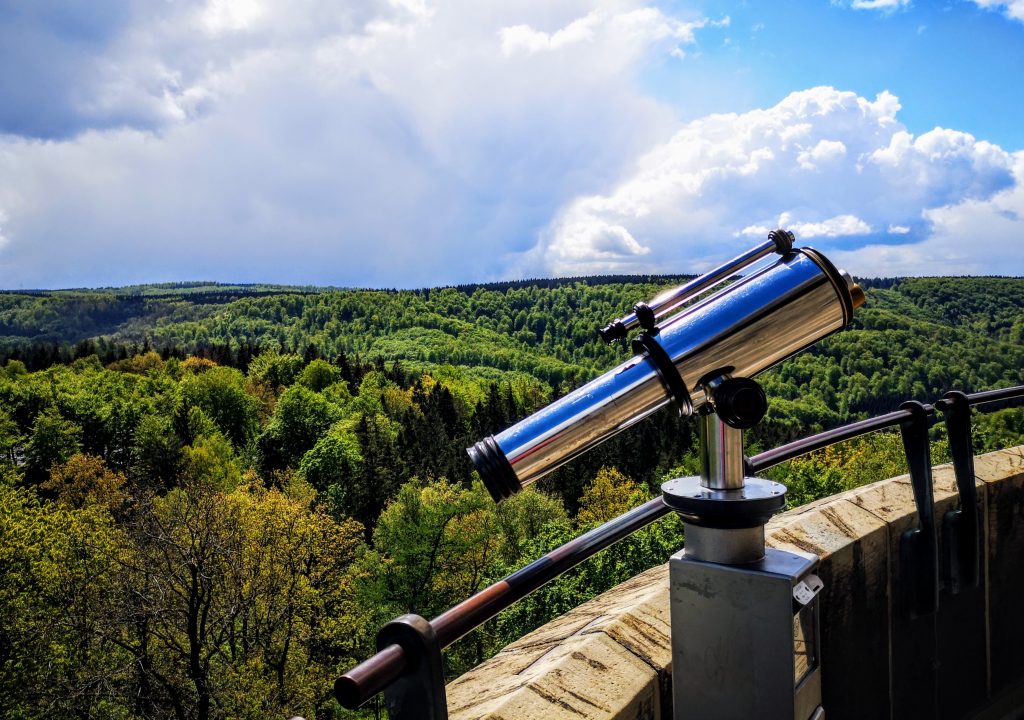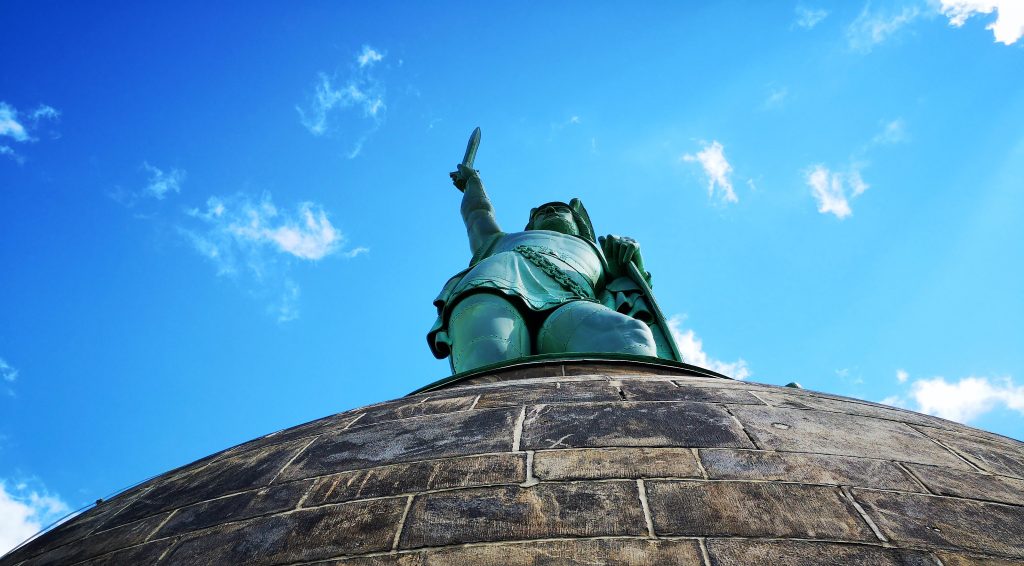 I won't get any higher today!!
The statue of Hermannsdenkmal is just outside of Hiddesen and represents Hermann der Cherusker. Hermann was the leader of the German troops in the ninth century after christ. During the battle of Teuteburgforest he defeated the Roman legions.

In 1838 they started building this statue of 53 metres high. After working on it for 37 years in 1875 it was open for public!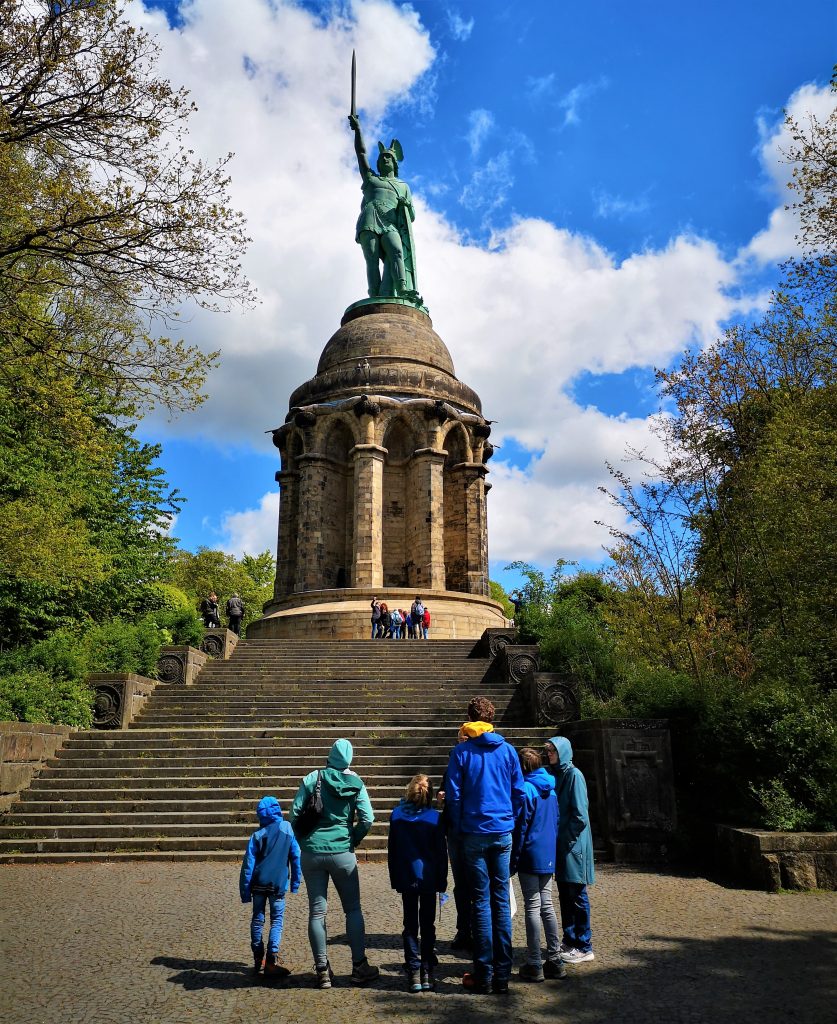 Some K's later I enter Berlebeck and join the Falconry (Adlerwarte). They have 2 shows a day in which they show what birds of prey can do. If something makes me happy it will be free animals in their own space… So I have to admit that it made me really sad to see all those big beautiful birds sitting in the park.. I wanted to go away instantly 🙁
I really dislike this!
Soon the show started and multiple eagles were flying around. Within seconds some were away for hundreds of metres. Flying high in the sky and they seemed happy!! It is good to show people what these birds are capable of and get the attention to wildlife…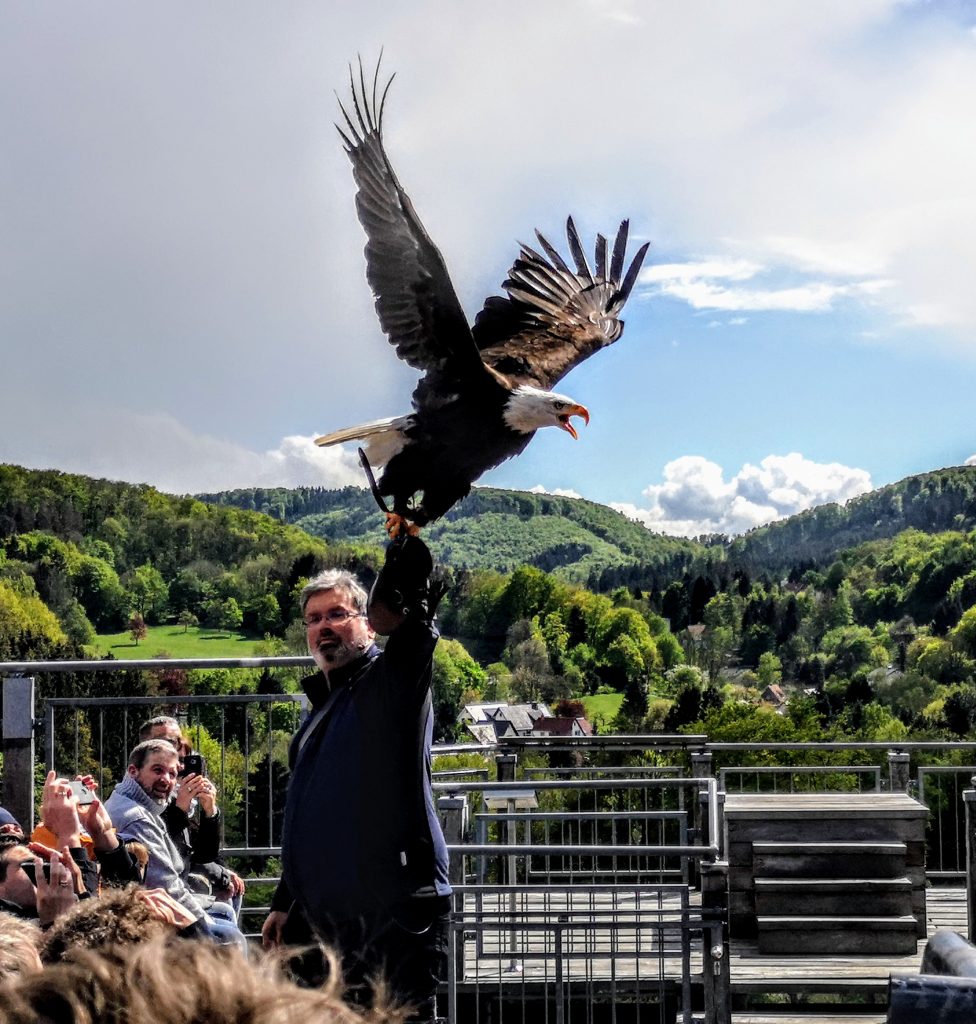 Adlerwarte – Hermannshoehen Hiking Trail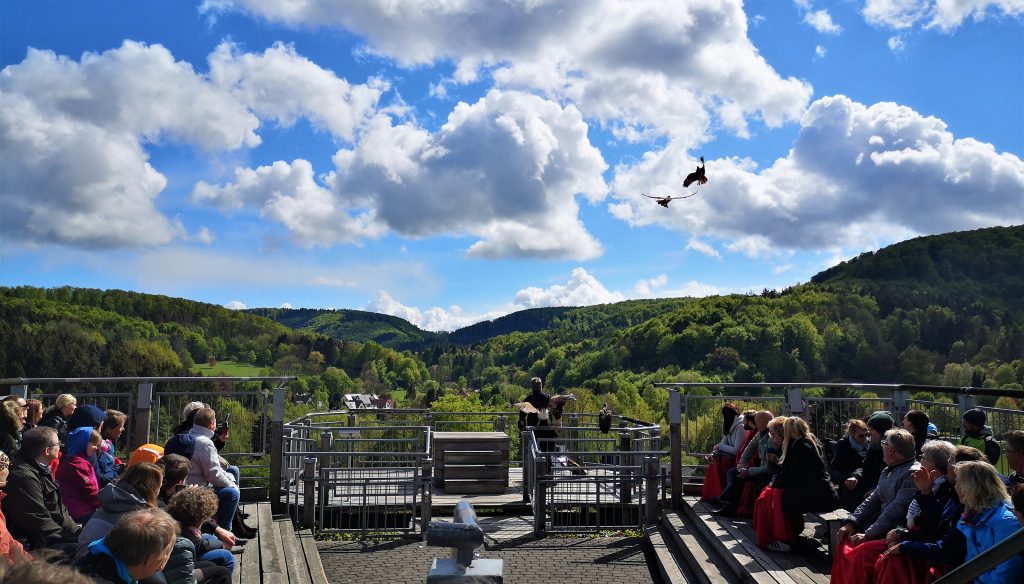 I started hiking agin on the hiking trail Hermann Heights and got along some of the greatest panoramas over valleys and forests of the Teutoburgforest. It wouldn't take long before the trail got me along the hotel where I would spend the night. The Ringhotel Waldhotel Barenstein.
But when I saw the sign of the hiking trail Hermannshoehen that Externsteine was only 1.3K away I couldn't resist it. I was there a couple of years ago and that was the reason I started this hike… I quickly checked in and started that last bit of the trail to the Externsteine.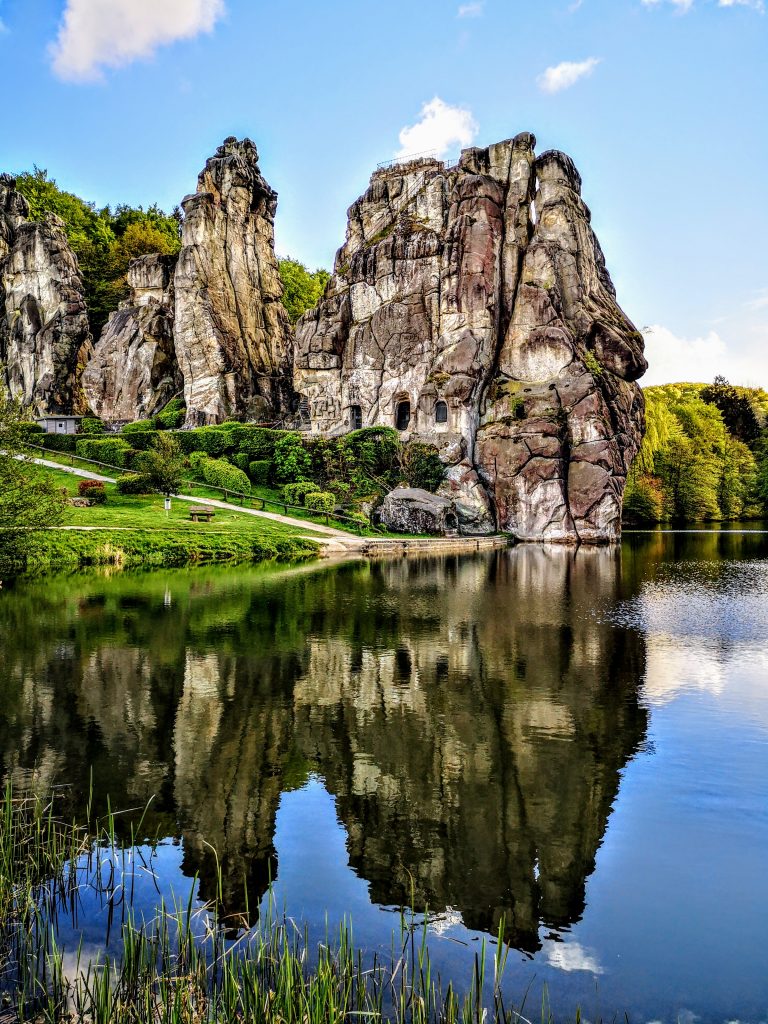 This was why I choose the Hermann Heights trail!
So today I walked 20K because I went on to the Externsteine in Horn -Bad Meinberg.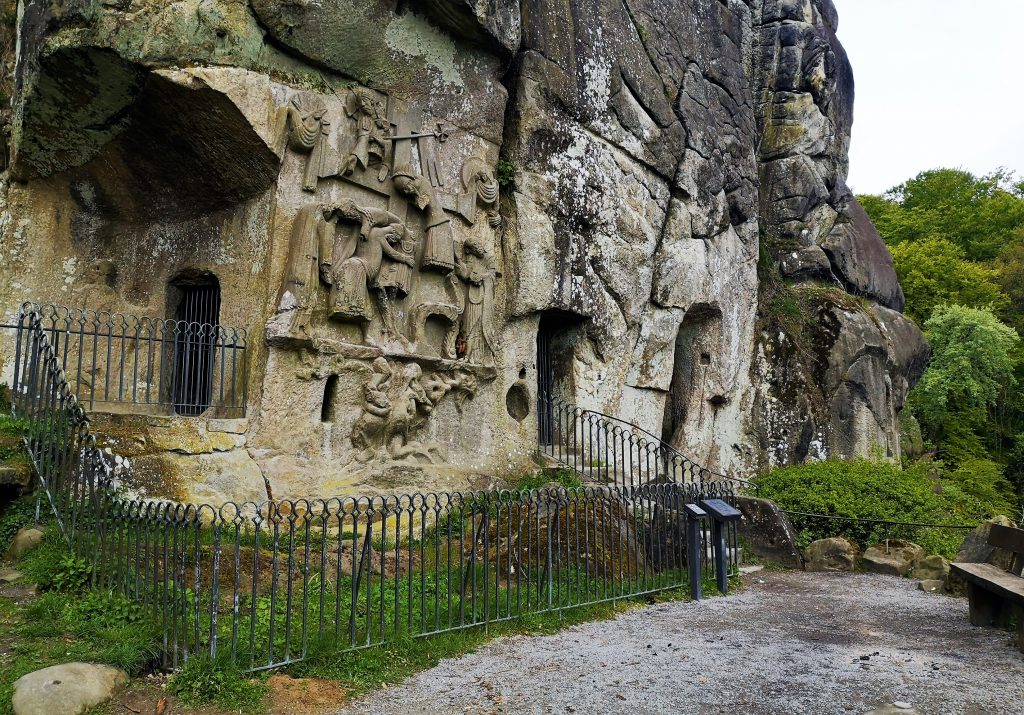 When I came back on day 3 I saw a candle burning in this area. On the ground before this shrine I saw the remainders of a fire. It is a religious site and if you see these things it seems that untill today people are coming here to pray or make offers.
Day 3 Horn to Leopoldstal 11.5K
After a great breakfast I started on my last trekking day on the great hiking trail Hermannshoehen. I was so happy that I chose to go to the Externsteine on the previous day because it was clouded and I would have never gotten that great reflections picture I took yesterday!
I climbed it and ofcourse enjoyed the panoramic view on top and then went on into the Teutoburgforest where the wind doesn't make me that cold 🙂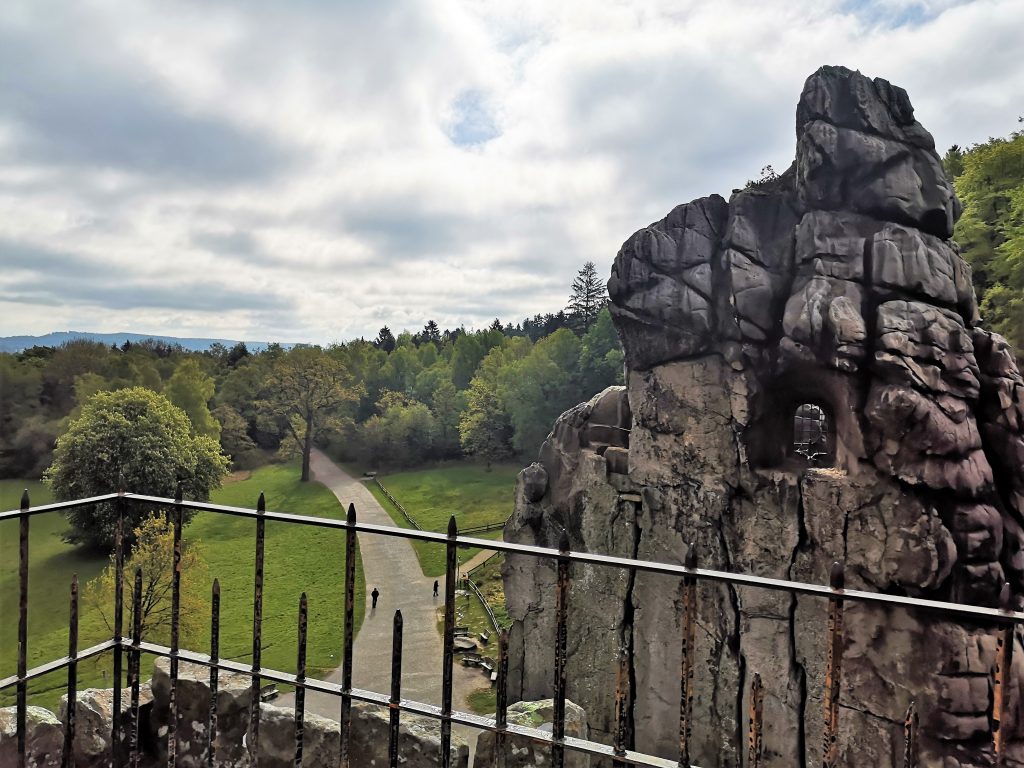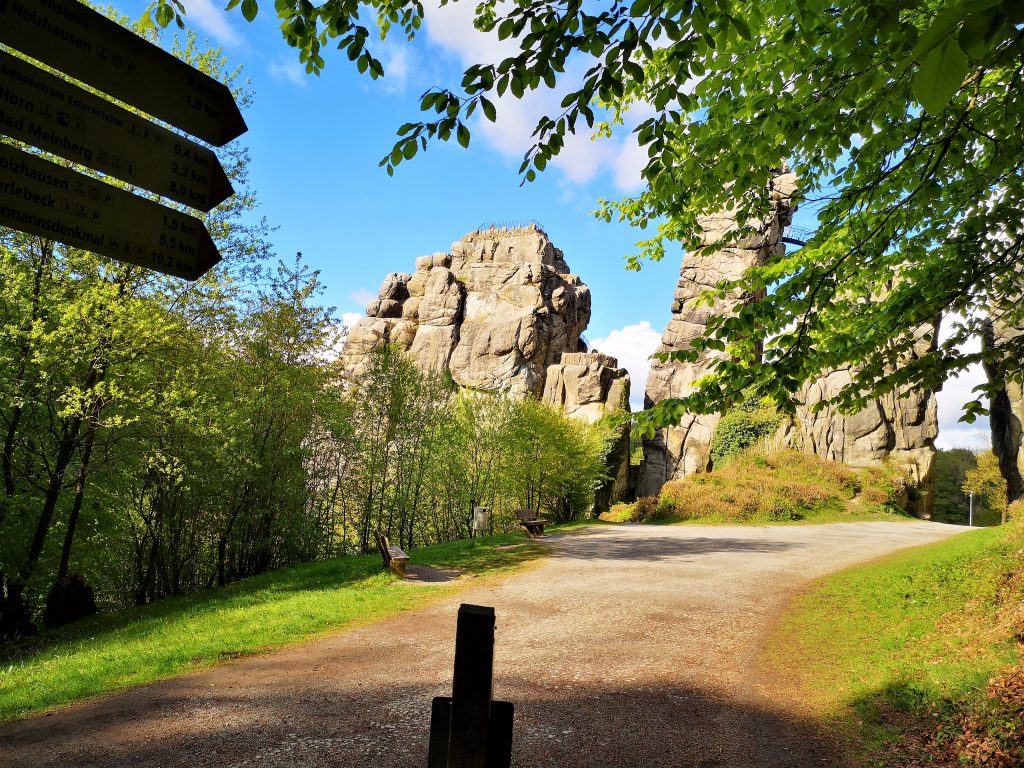 I soon came at a part on top of the mountain that was covered with heath. And again I saw those great benches to lie down on and enjoy the great view. I used them a couple of times for a small break. I can really recommend using them for a couple of minutes to relax and soak in the moment! I just started hiking today so for now I only used them as a standard for my smartphone to take a picture. It was early and I could use some exercise.
The sun came out to play and so did I!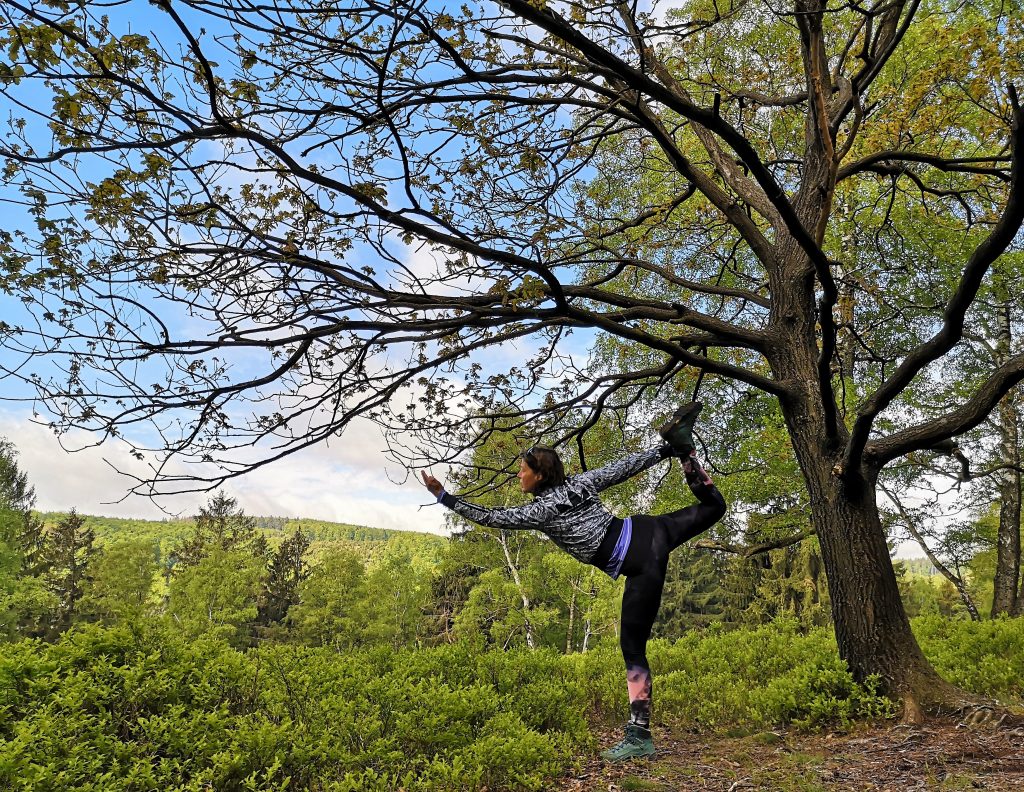 Soon after the hiking trail Hermannsweg turned into the Eggeweg. This Eggeweg is also a long distance hiking path. The Eggeweg and Hermannsweg together are the Hiking Trail Hermannshoehen. The Eggeweg is signaled with the white X on a black background.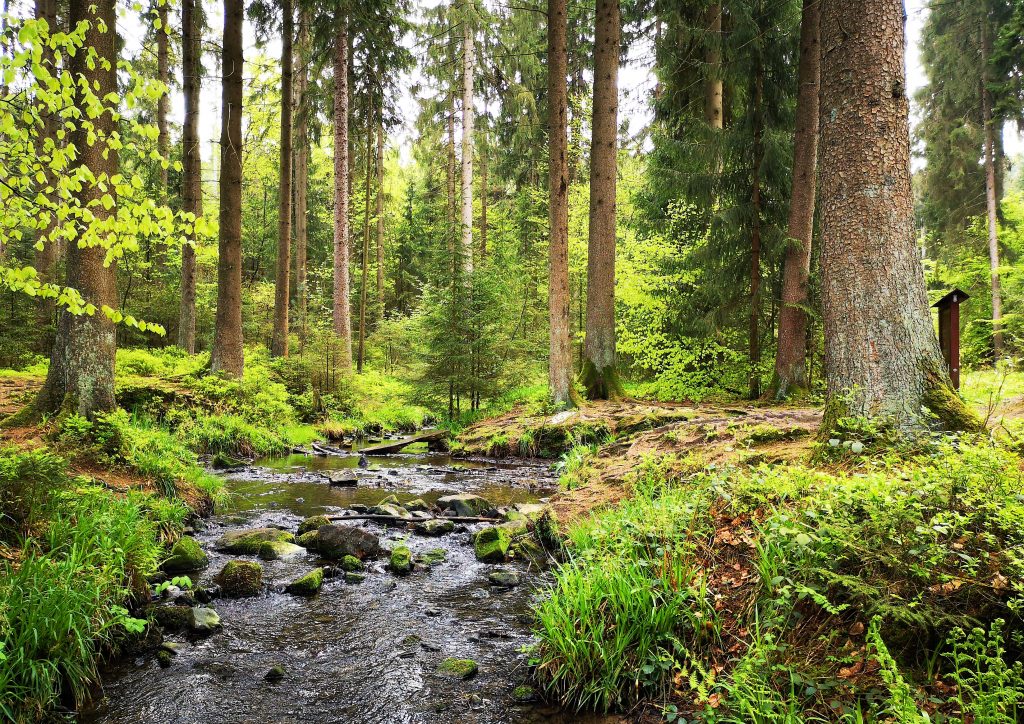 I got into the southern part of the Teutoburgforest and was hiking in thet Silberbachtal.I really liked this part, I was walking alongside this stream. I passed from one side to the other some times and really was in a different part of the forest then the days before.
There were some parts with a bit of challenge in them. That made me really happy! It is a different kind of forest because of the humidity. There is a lot of mos showing and that gives it a bit of a mysterious sight. This forest is totally different then the prevrious two days.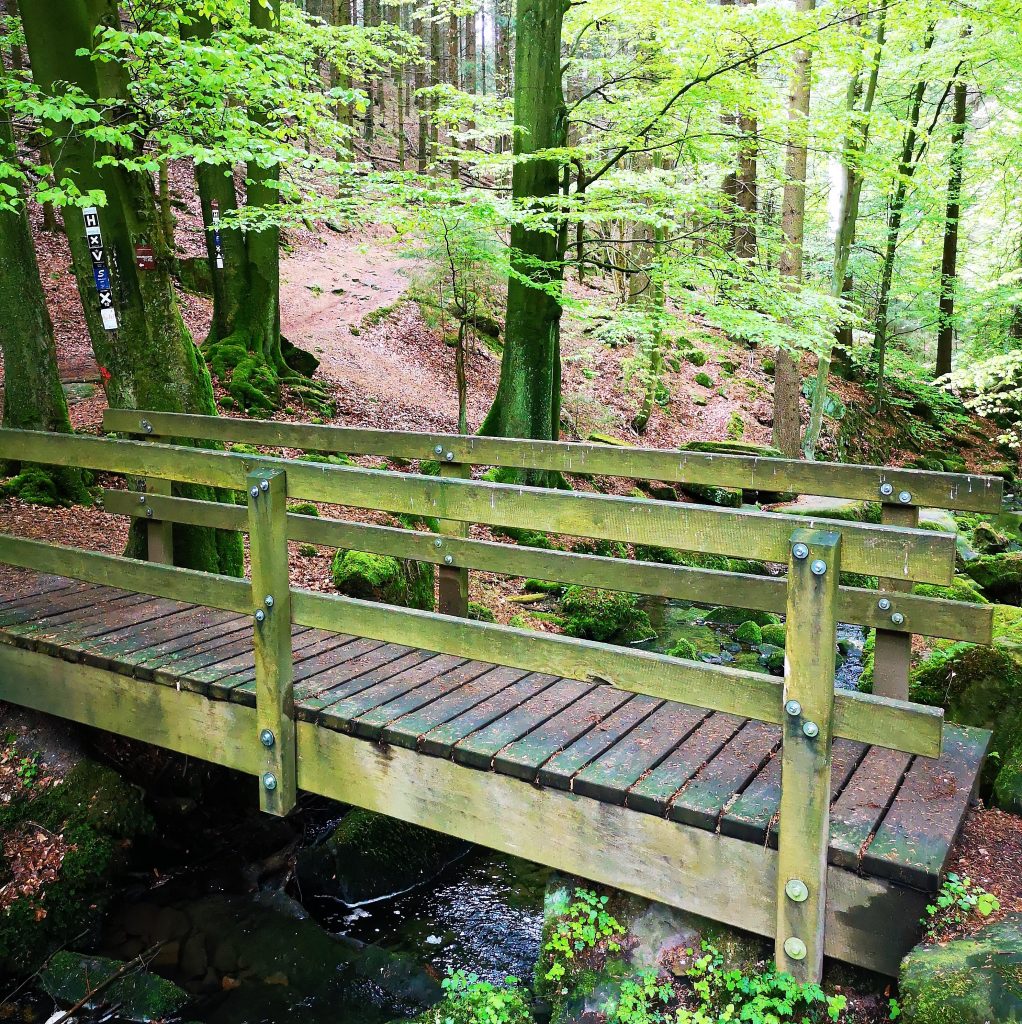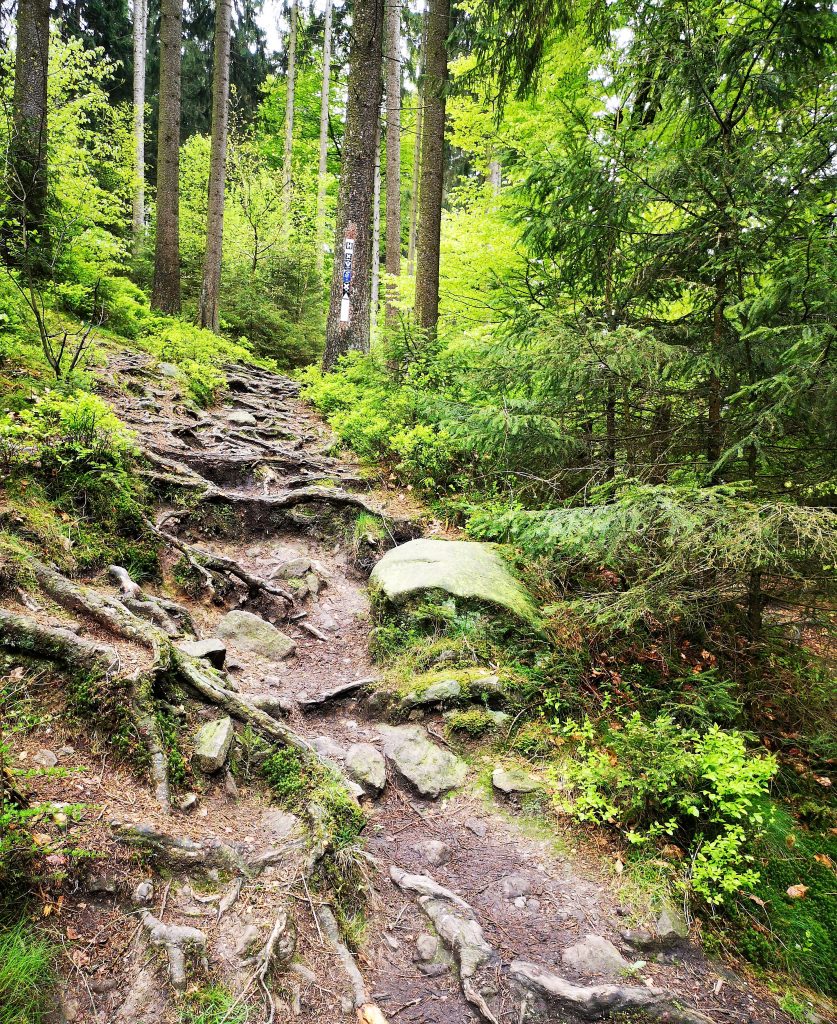 After a steep and short ascent I got on the heath meadow on my way to the Lippsche Velmerstot. I really liked spendin time here. I did stumble upon those great benches again and this time I happily used them for a rest.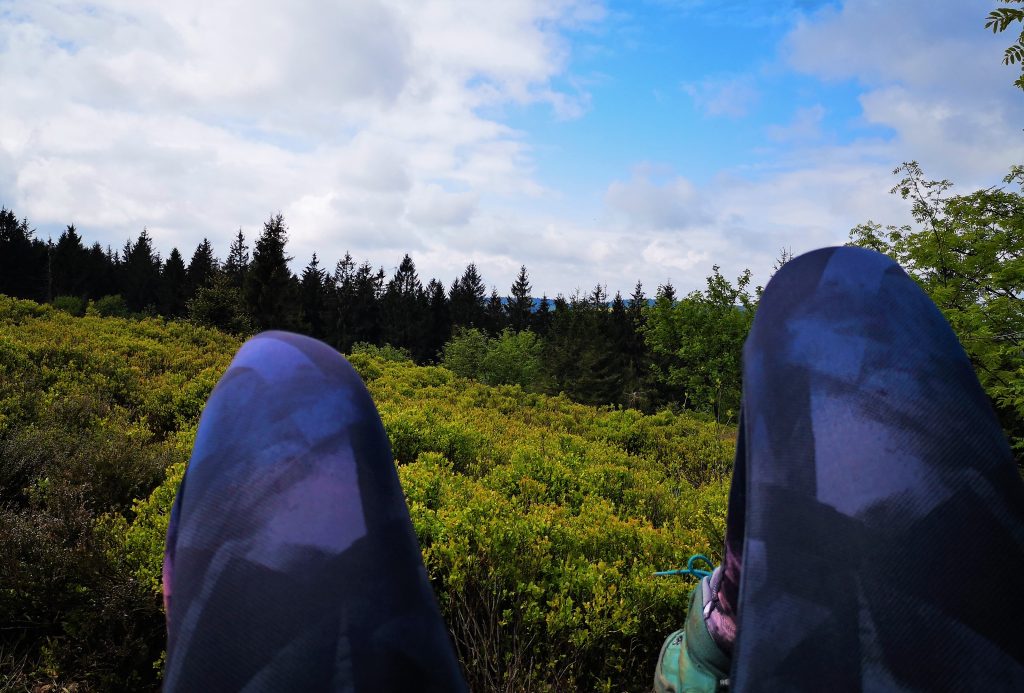 And walking on I soon  got to the highlight of this day!
The great Velmerstot is on an altitude of 441 metres!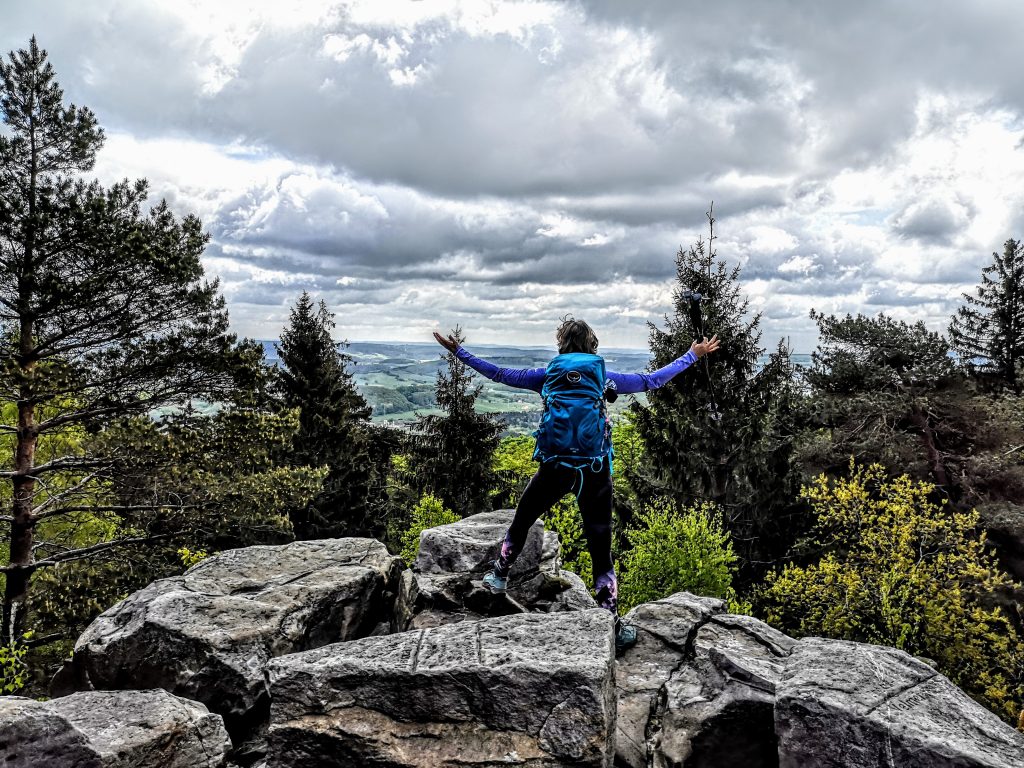 This is the most northern mountain and also one of the highest of the Egge mountains. This is the Lippische Velmerstot and you also have the Preusische Velmerstot and this one is 23 metres higher!
This was also the end of my great hike in the Teutoburgforest before descending to the trainstation of Leopoldstal. There I took the train back to Bielefeld. And because they are working on building bridges there was a detour and I had to take the bus for a part of the journey. Within the hour I was back in Bielefeld.
Tip: In Germany you need to have some cash money as you can not pay by card everywhere. I had some places where I couldn't pay by card. For instance in the train for my ticket and also some food at the Adlerwarte.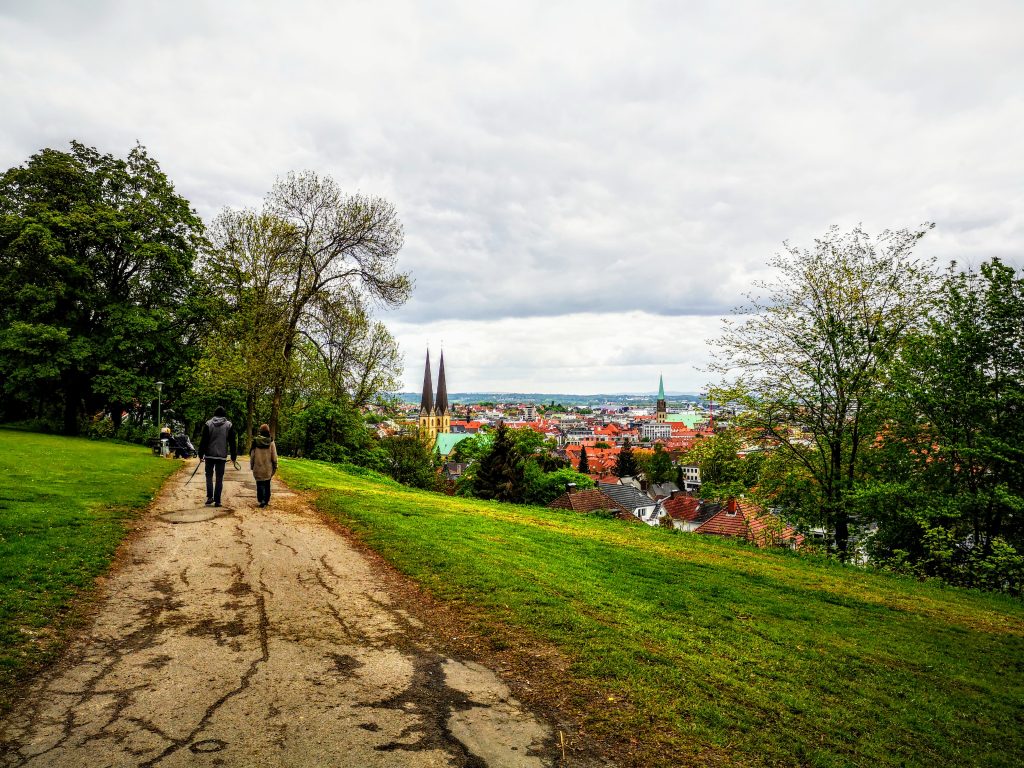 Have you ever done a multiple day hiking trek? After these 3 days I was totally in my hiking rithm and was kind of sad to stop already. I love this way of slow travel.
Being Active and Healthy while Exploring your surrounding
Do you want to read about some other long distance treks?
Hiking the Rheinsteig -Germany
The first 200 K of the Camino Frances
2 day & 1 night Trekking near Hsipaw – Myanmar
Poon Hill Trek 8 days / 7 nights – Nepal
And I also have some tips for you!!
Hiking with trekkingpoles or without?
Totall Workout and more Safety because of the Trekkingpoles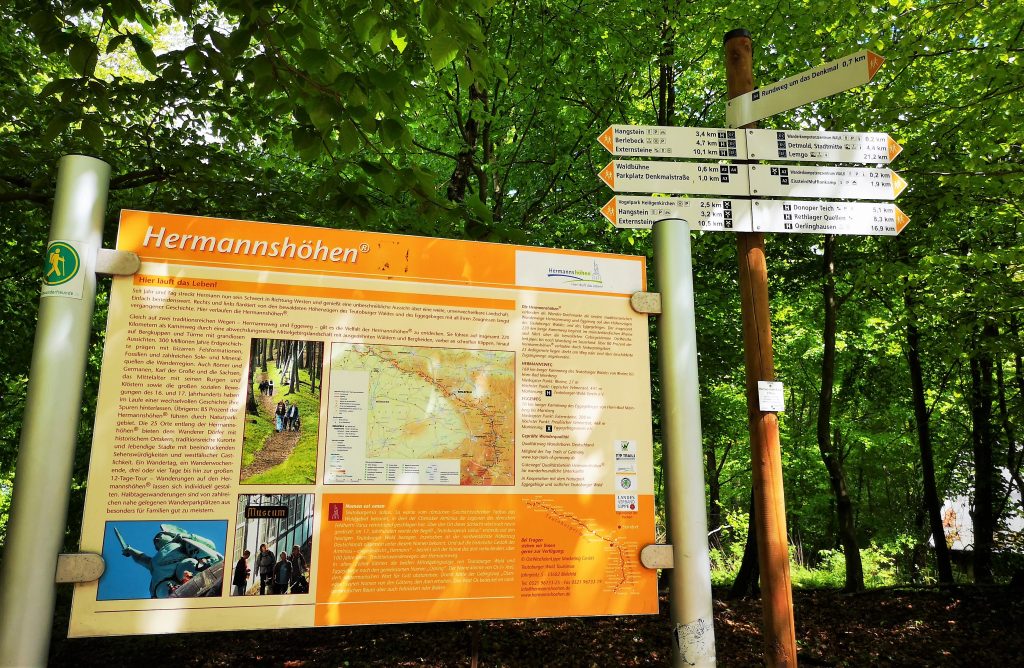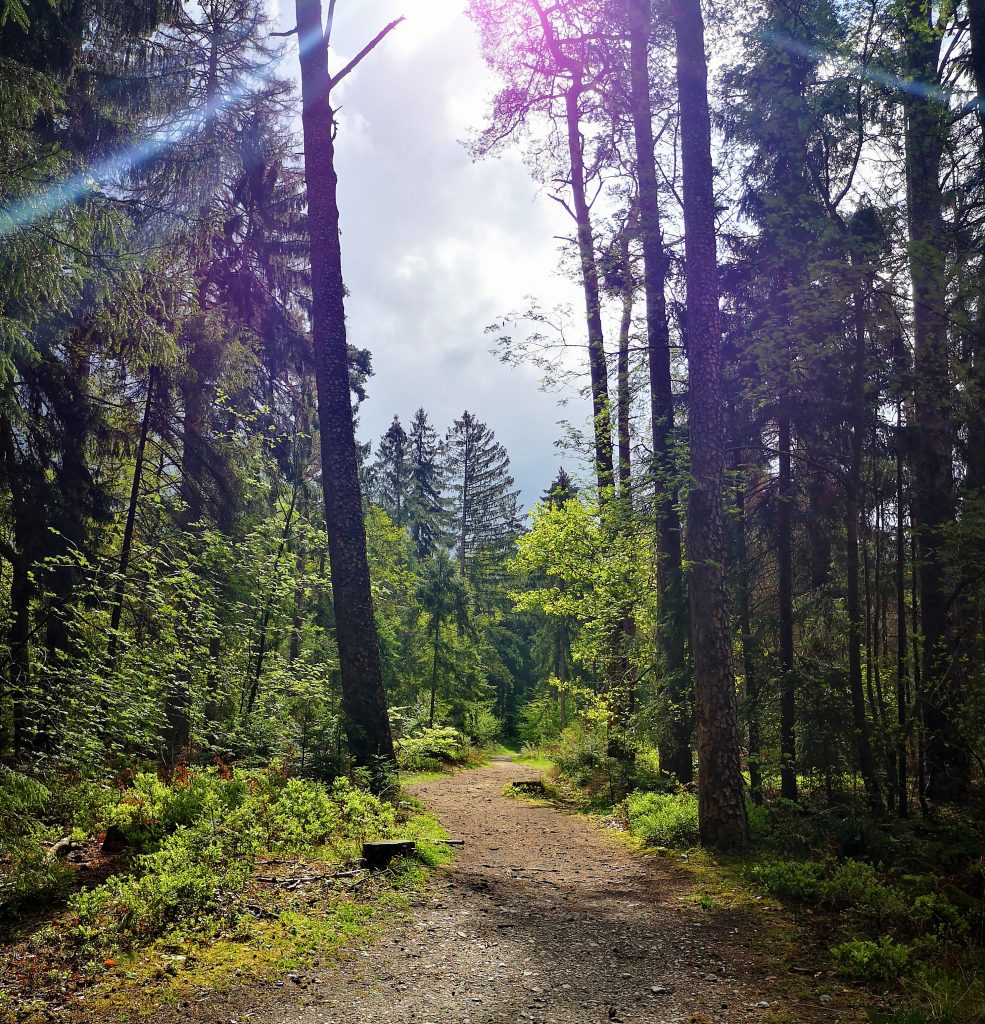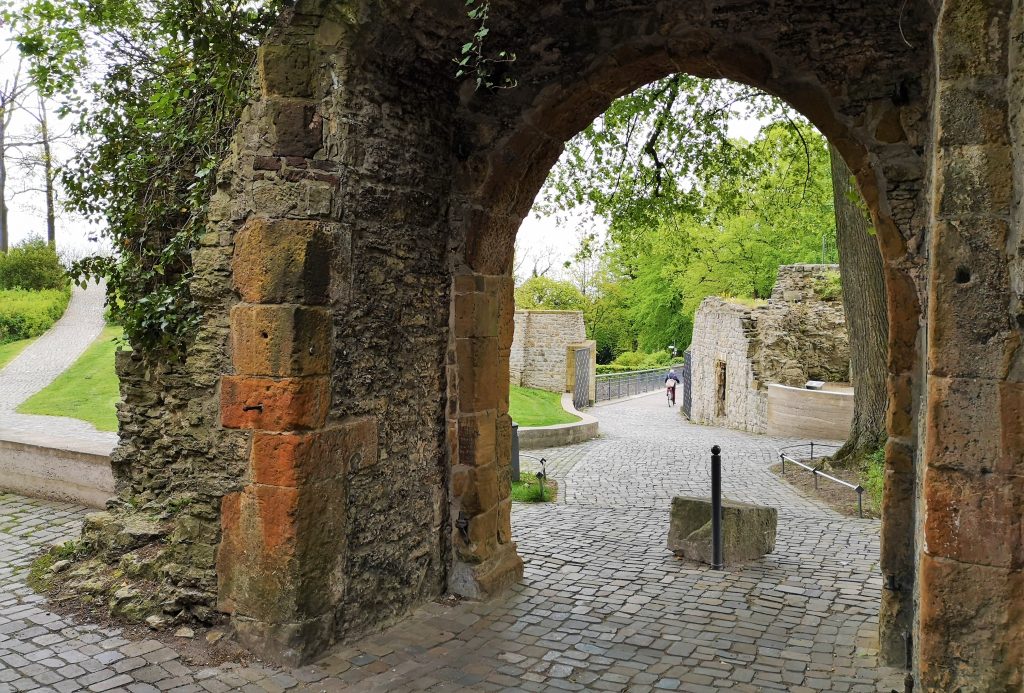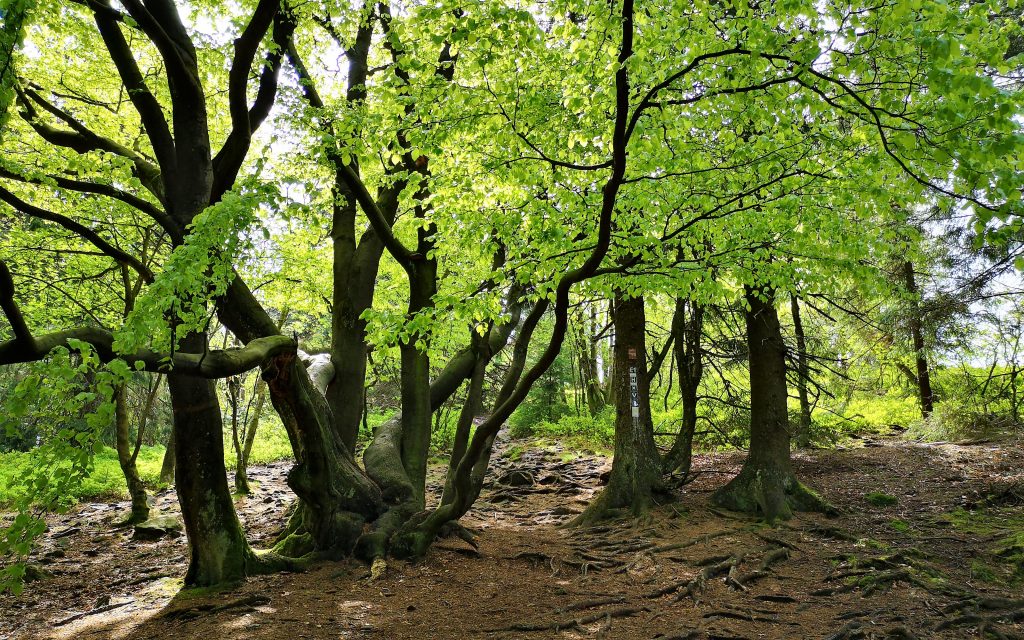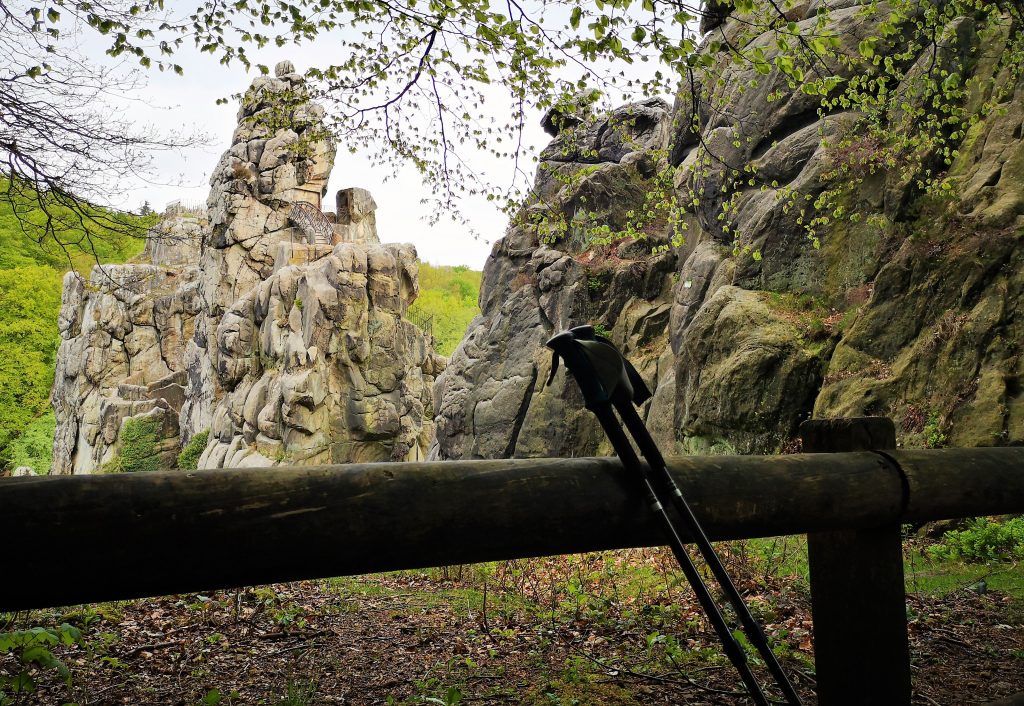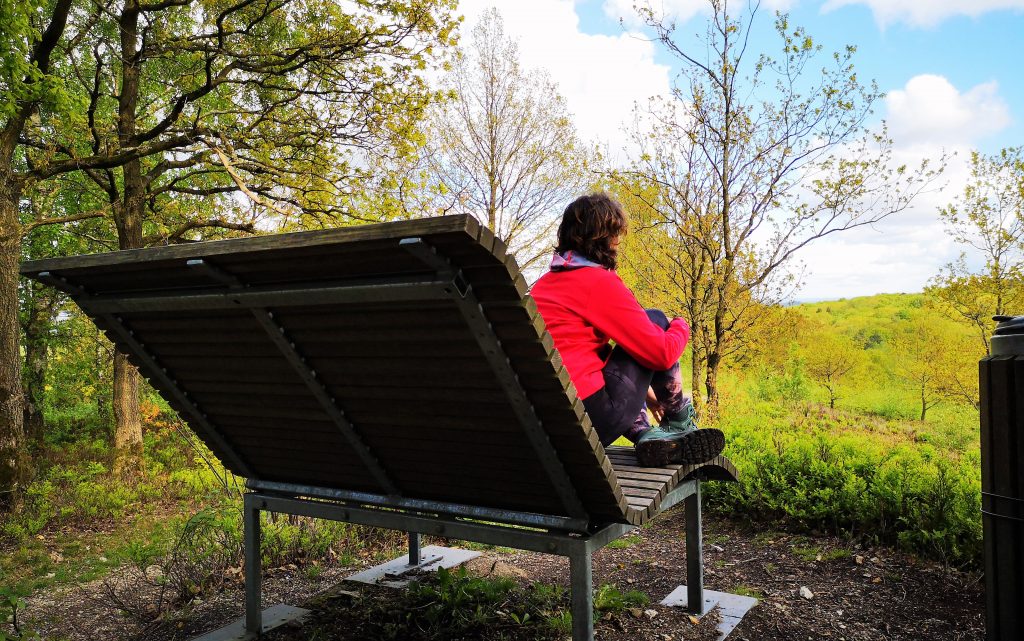 Did you like this hike? Will you do it too?
Pin this blog on one of your boards!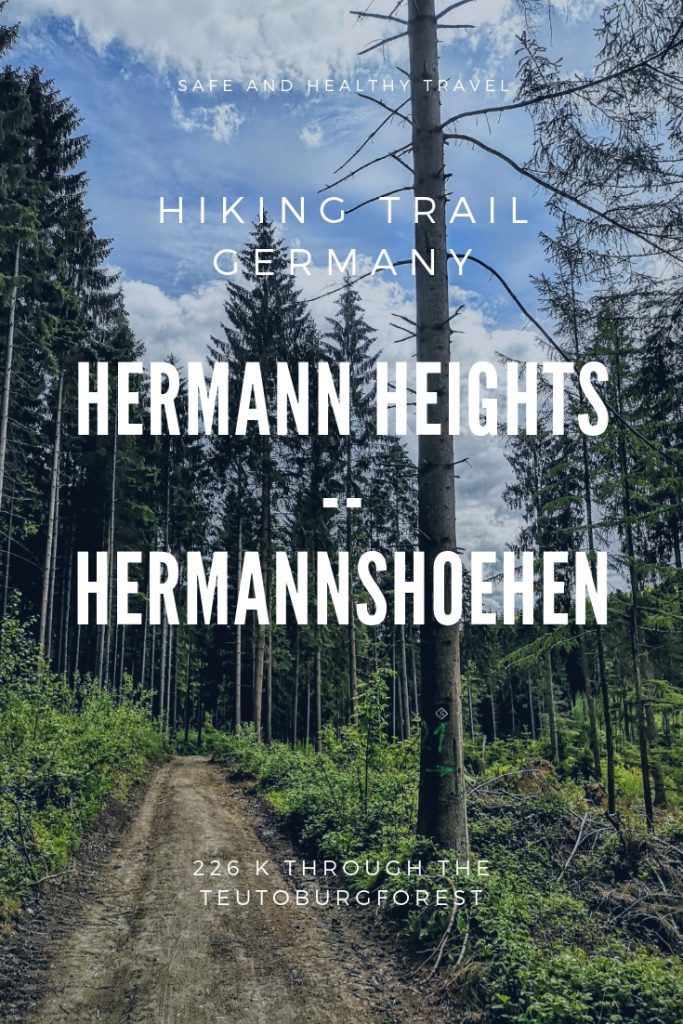 If you share it on your social media you'ld make me happy!!
My bubble is not that big on the world wide web 🙂
And then this last tip!
How about a roadtrip into the Eifel?
I hope you love this world as much as I do!!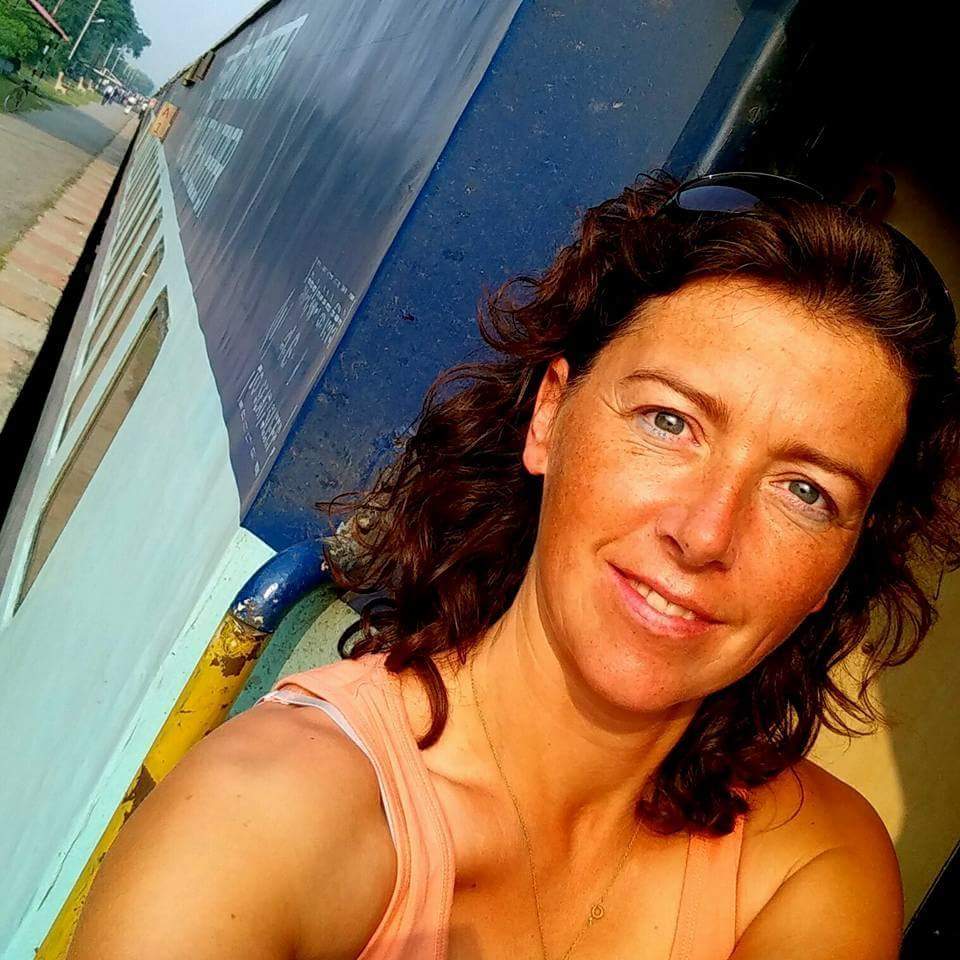 Jacomijn is een politieagent uit Nederland die jou graag laat zien hoe je veilig, actief en gezond de wereld kan over reizen. Safe and Healthy travel is a MUST