Going up to Kannan Devan Tea Factory, Kerala India
|
´We started to drive and he told me to sit straight because of the steep holes in the road. The 4 wheel drive I was sitting in wasn't new to say at least. The seat had cracks in it and I could feel the iron carcas of it beneath me.´
Visiting the century old teaplantations is a must when you go to Kerala, Gods Own Country. And if you see the views you get you  know why! We went up with a 4 wheel drive and I loved the adventure that came with that!!
Als je deze post in het Nederlands wil lezen klik dan hier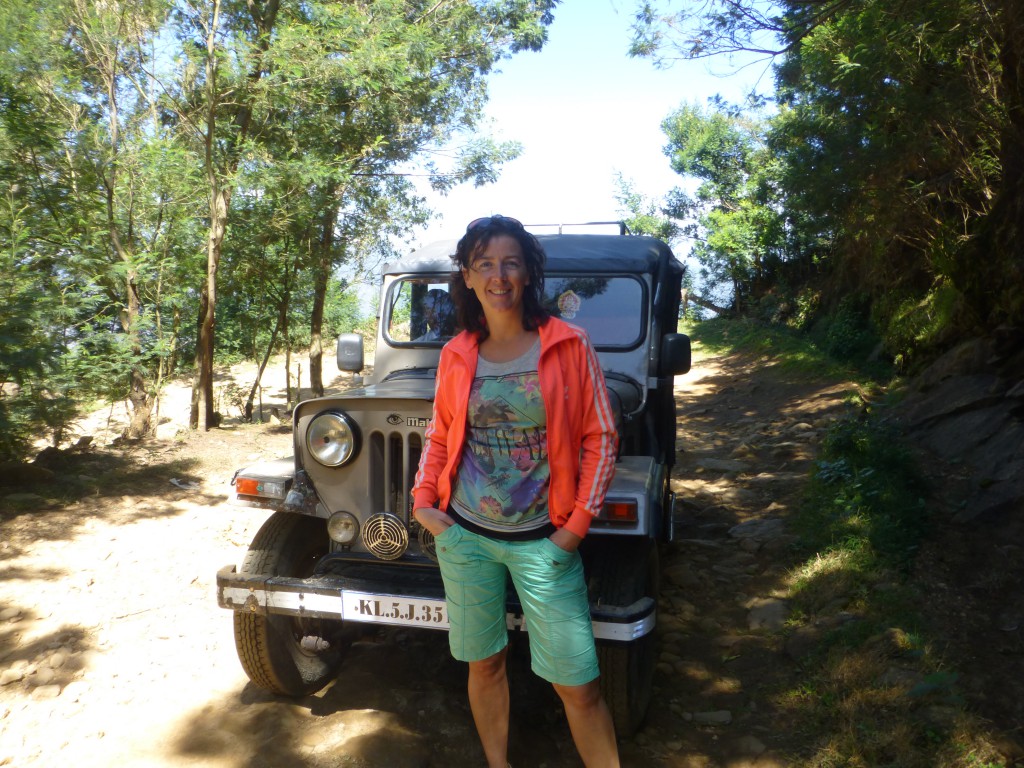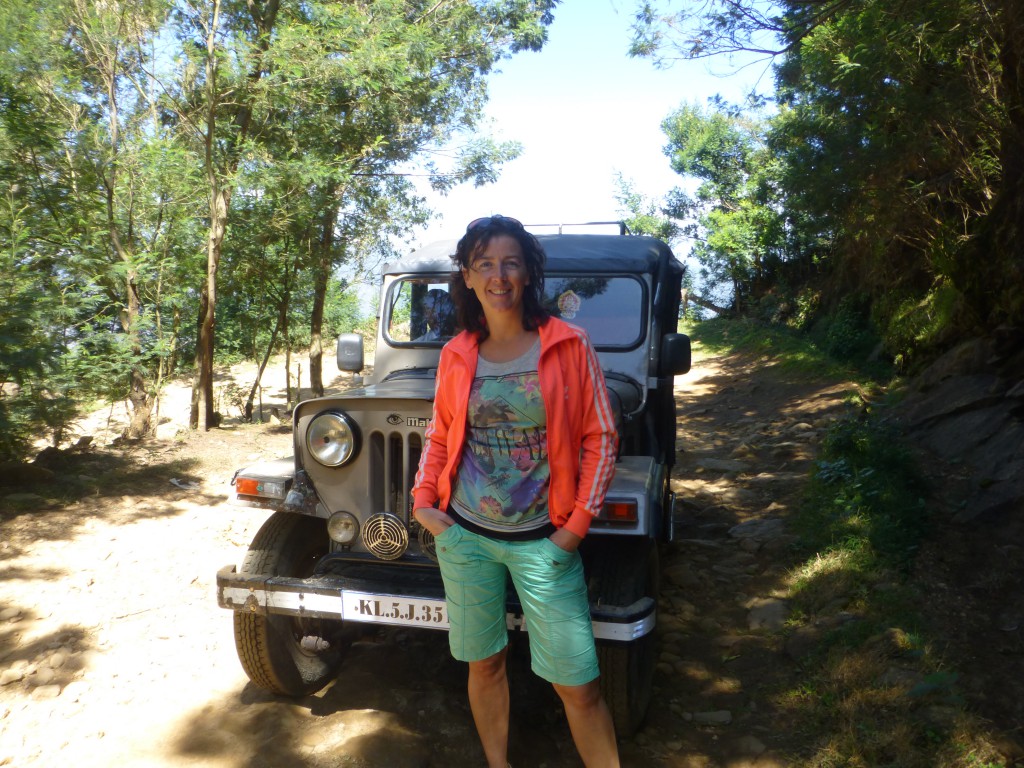 The Kannan Devan Tea plantations of Munnar are a great sight. When you enter this area you will see the glowing landscape with the tea plants on them like little bulbs. They are all flat on top and are situated nicely against the hills. It gives a great view! There are some trees in between and at first I thought it was for shade, but they told me that the trees has insects on them that are good for the tea, or the other way around. It keeps insects away from the tea. I can't remember which and searched for it on the internet but couldn't find an answer.
The Wonderful Ancient Tea Plantations – Kannan Devan Tea Factory
Some of these plantations date back to the beginning of 1900's. The British came here and started to develop tea plantations. They started to grow tea for the British Royal Family. At most of these plantations are signs with the dates and information. The oldest one I saw dated back to 1902.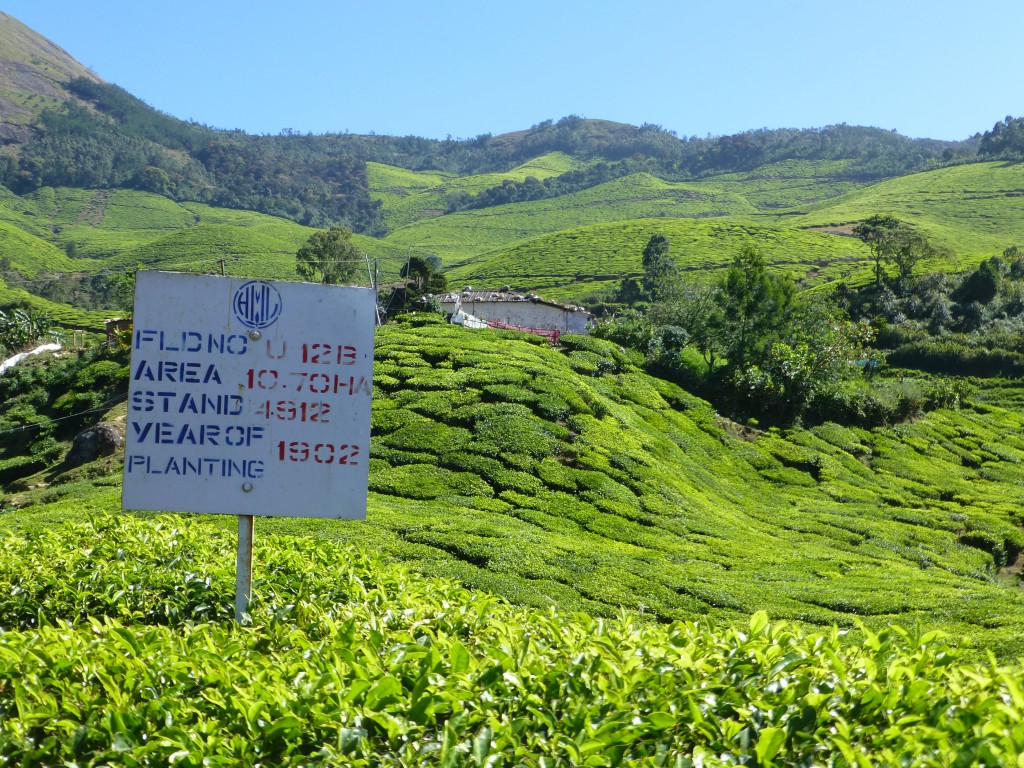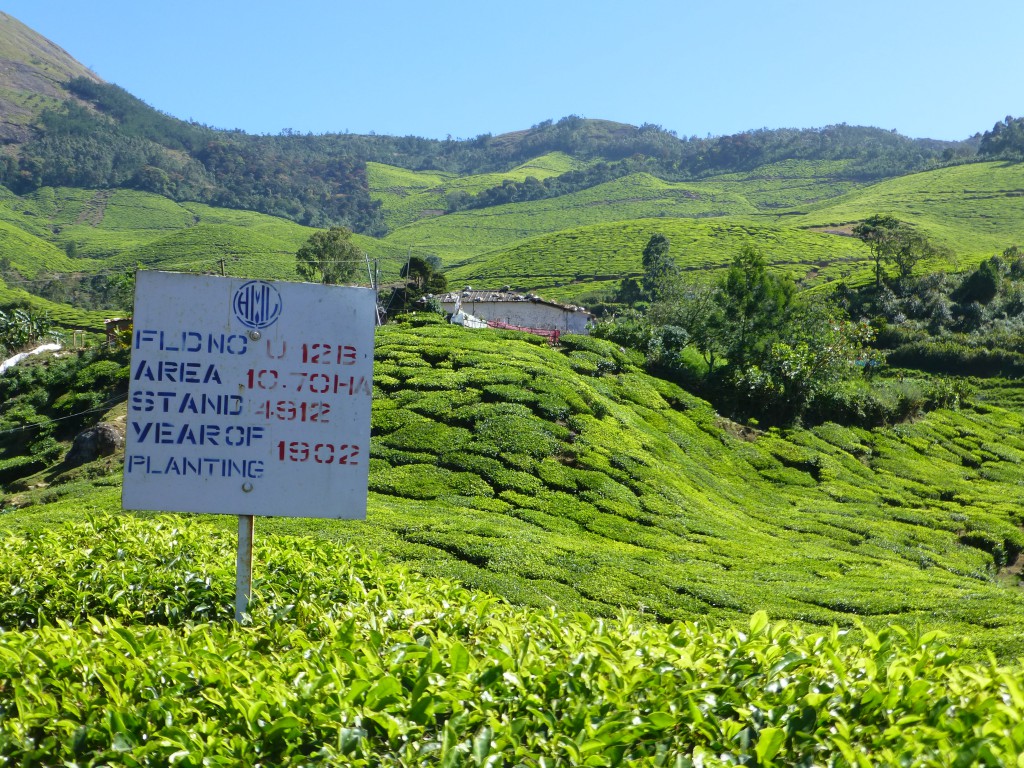 Going up by 4 – wheel drive – Kannan Devan Tea Plantations
We were on our way to the museum, Kannan Devan, on top of this hill. My own driver, Jankar, told me it was going to be a great and challenging drive up there. He wouldn't be driving himself this time but hired a 4-wheel-drive to get us up there. He told me that the road going up the hill was horrible.
I sat down in this 4-wheel-drive to go up to the famous old tea factory and museum up the hill. It was a long new drive my chauffeur told me. He was laughing, I didn't really get why.
We started to drive and he told me to sit straight because of the steep holes in the road. The 4-wheel drive I was sitting in wasn't new, to say at least. The seat had cracks in it and I could feel the iron carcass of it beneath me. The road curved through the ancient old plantations and the views we had were magnificent!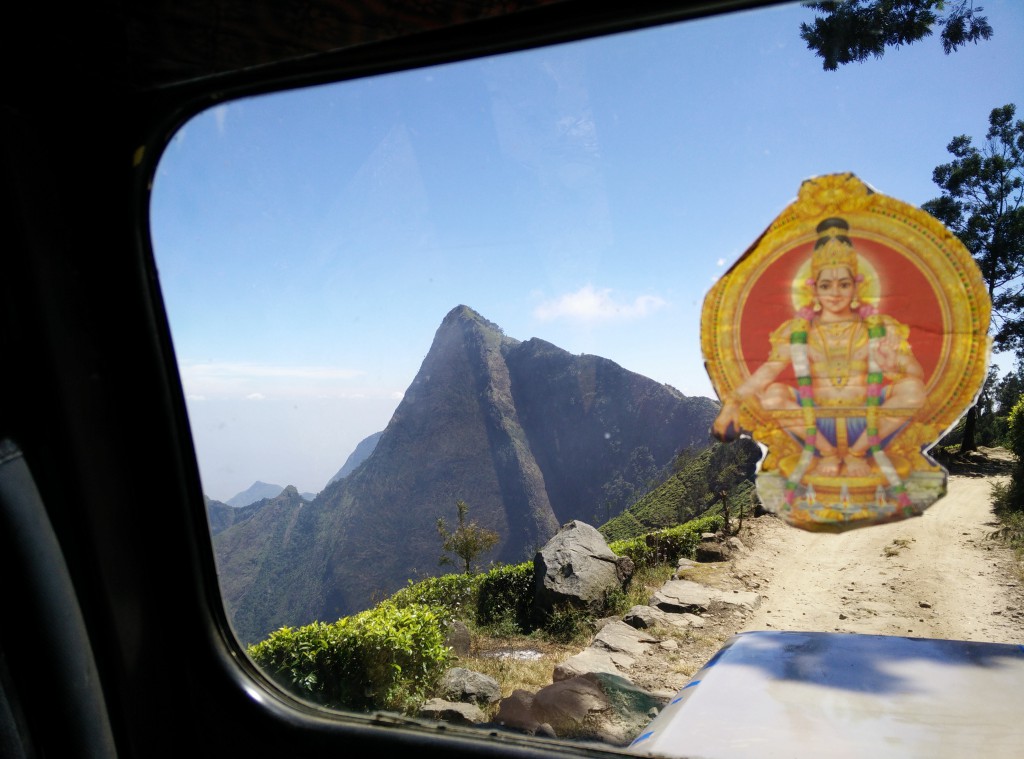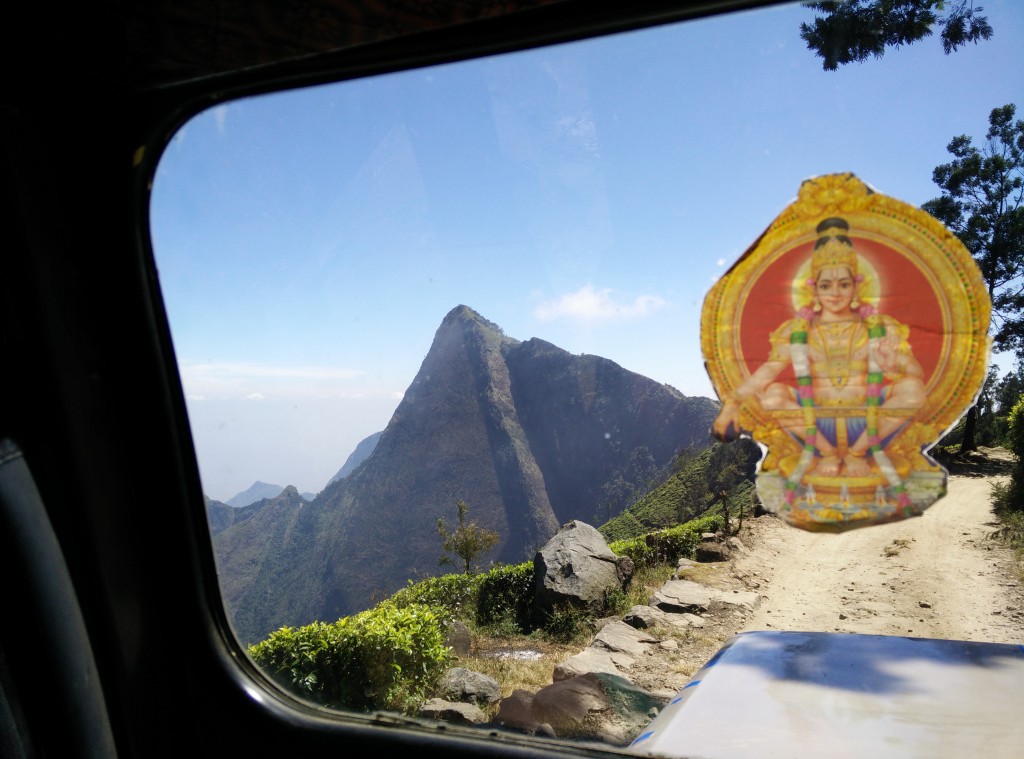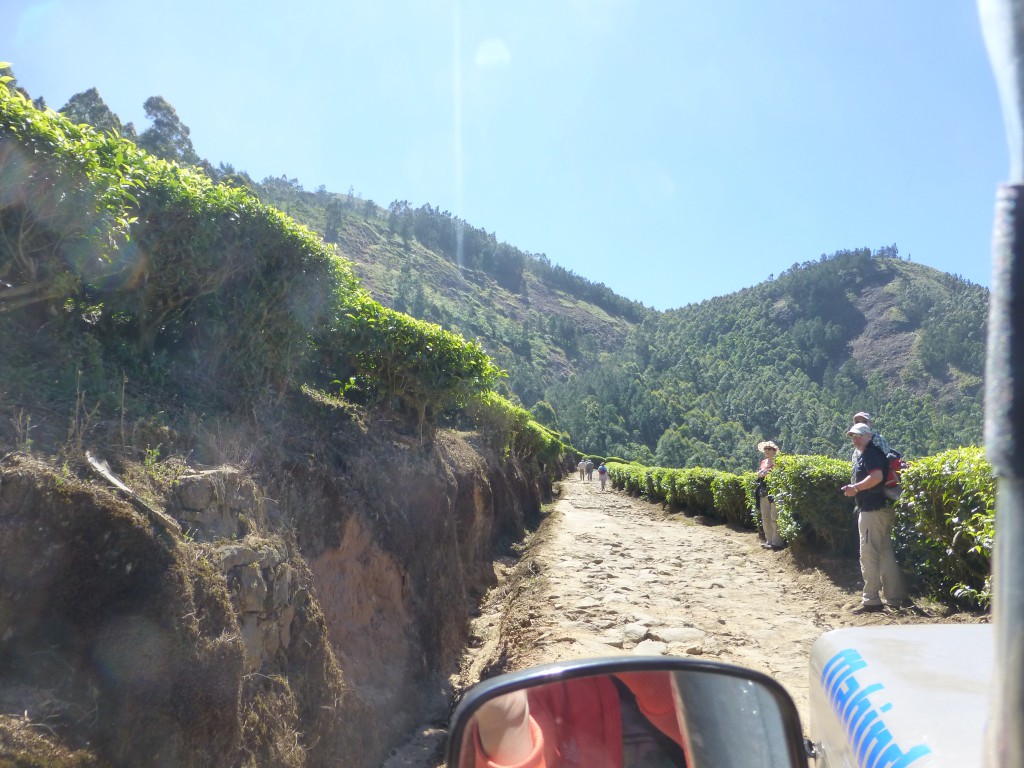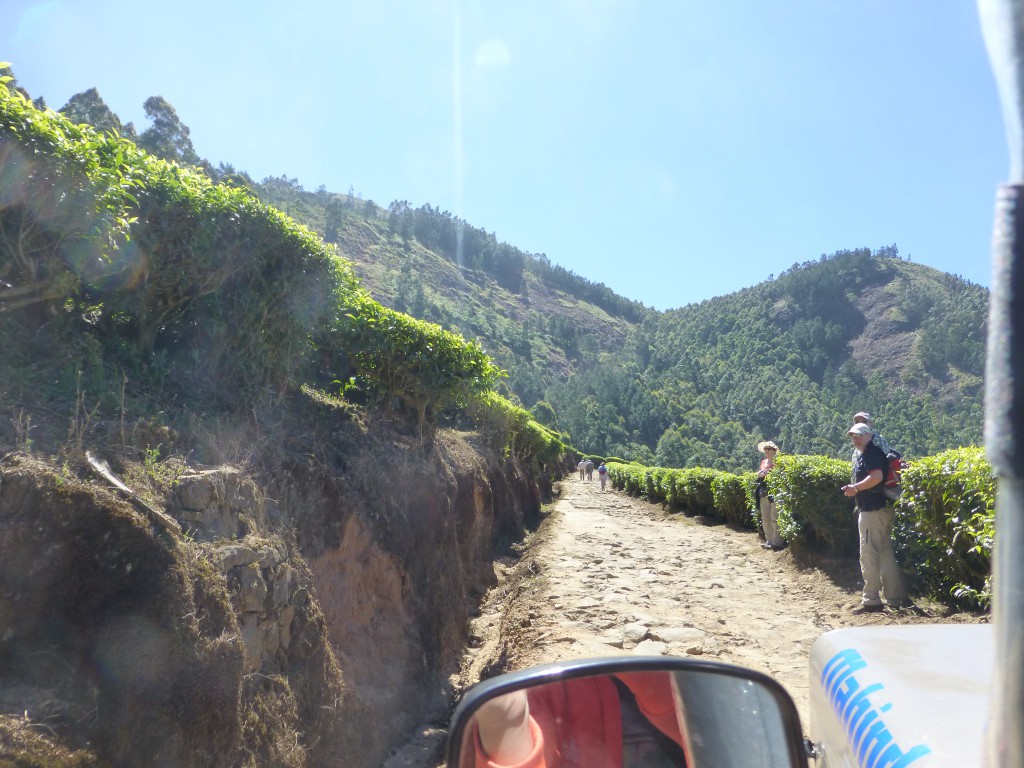 My driver didn't drive fast; he couldn't. There were so many holes in this road!! And some of them were deep! Sometimes I even got lifted of my chair! Now I knew why we didn't go by car but with the old 4-wheel drive. I also saw him smiling again when he looked at me while we bumped into yet another hole in the road heading up to the museum.
We had several stops on our way up to enjoy the great views over the plantations. We saw tourists walking up the read, also on mopeds or, just like us, in 4-wheel-drives. It is really touristic and I can totally imagine why! It is such a great area!!


The Kannan Devan Tea Factory – Kerala
Finally up, after at least an hour's drive, I had a great cup of tea! And I visited the museum, of course. They show you how they used to dry the leafs and grind them for consumption. It's great to see, I got the feeling that they still use those old British machines. The tour is simple and they can not speak any good English. The tour is quick but shows you everything. You just have time to snap some pictures.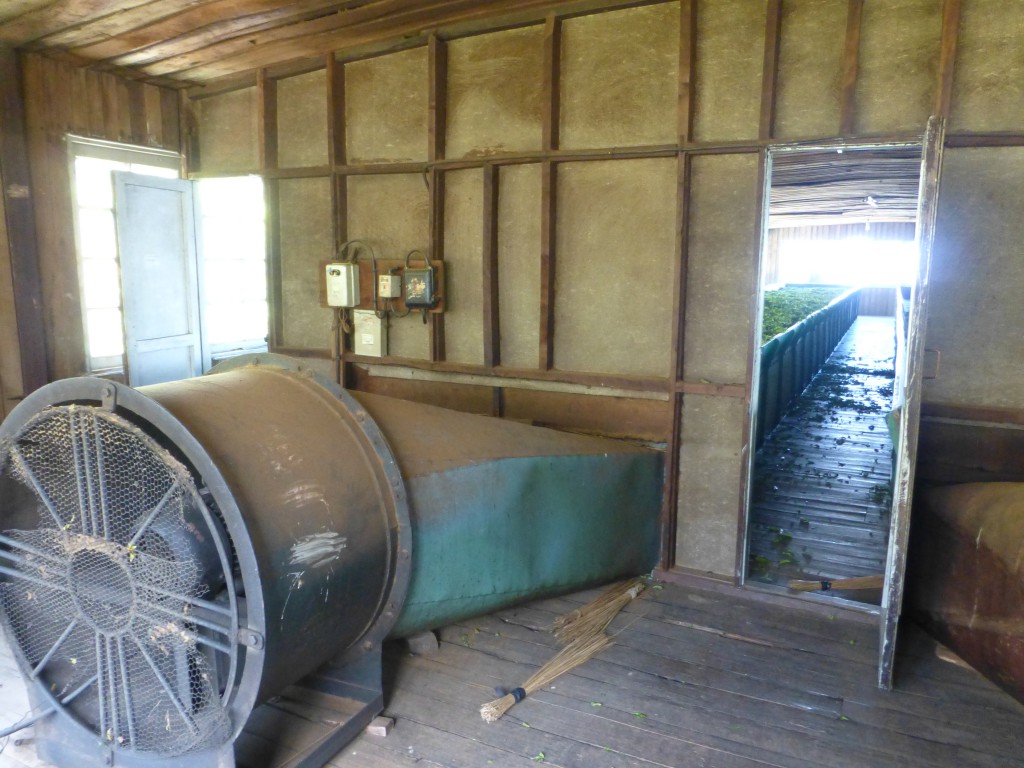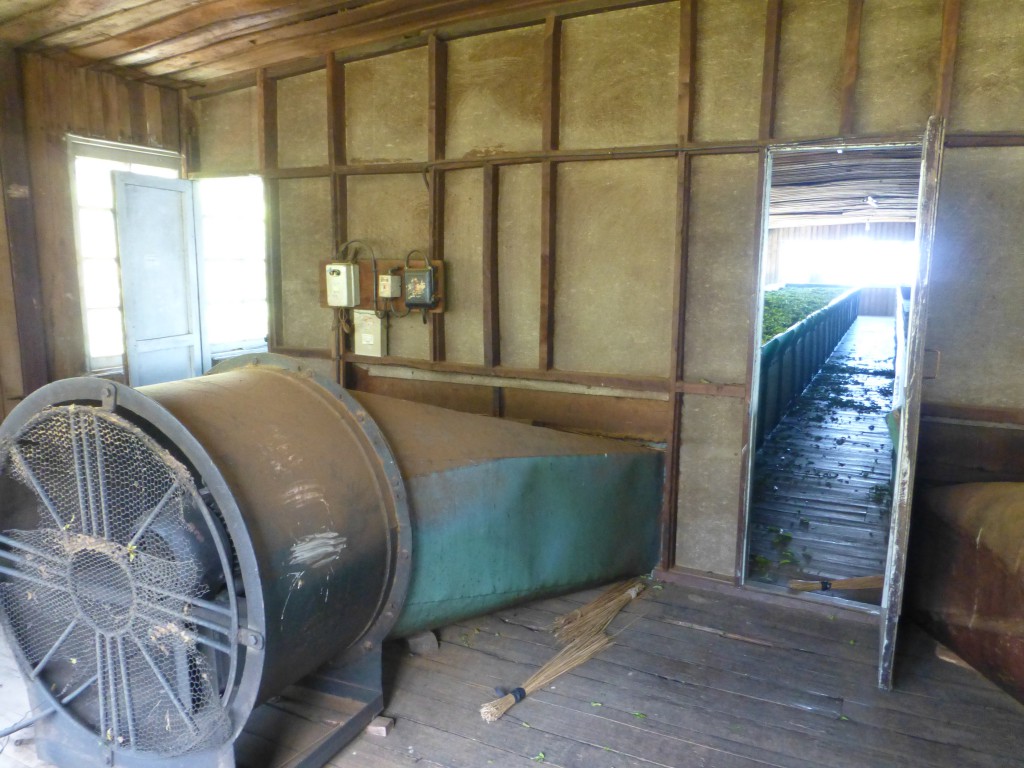 Blowing warm air underneath the fresh, green tea leafs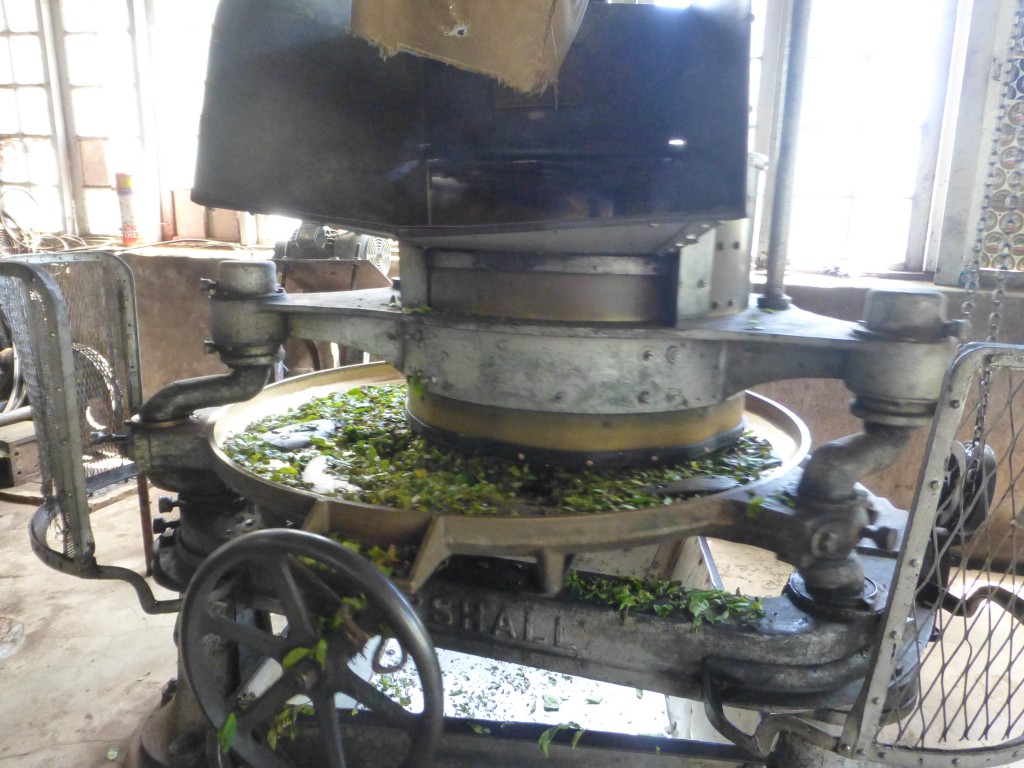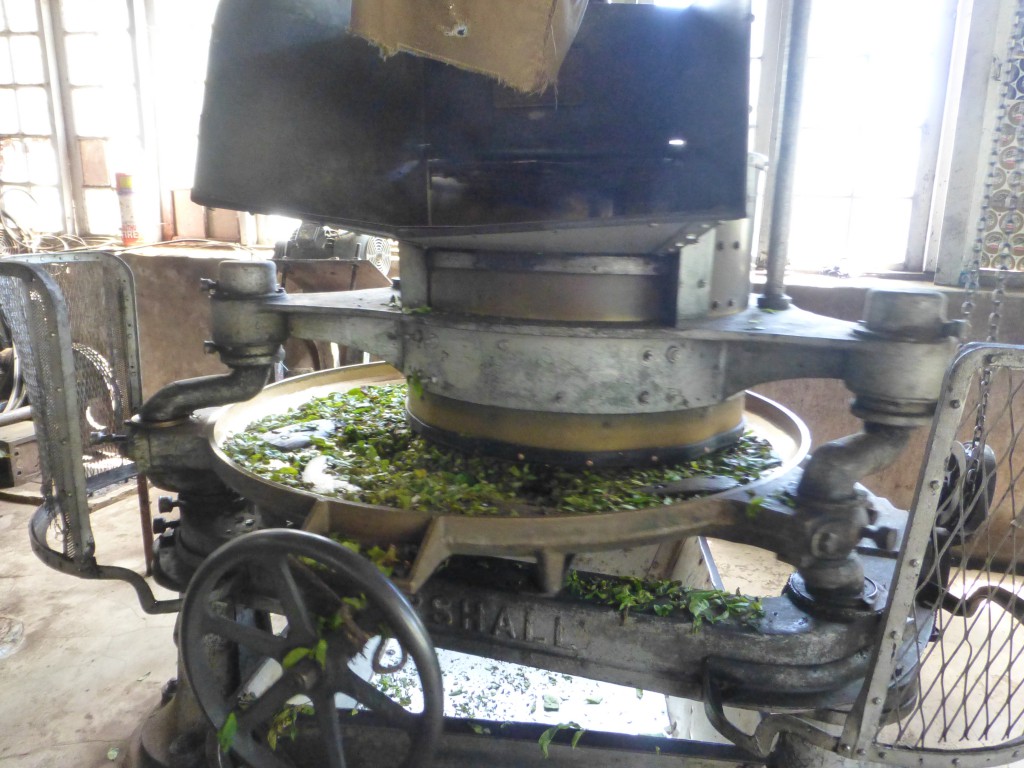 Machine that grinds the tea leafs
Colourful dressed working women – Kannan Devan Tea Plantations
On our way back, we came around the corner and I saw all kinds of colors on the side of the road. It was lots of bags filled with the tea leaves. To earn a bit of a pay they need to pick lots of tea leaves. On many spots along the road, I saw places where they weigh the harvest and set the price. You can recognize those spots on the hooks on poles. They hang the harvest on it for weighting.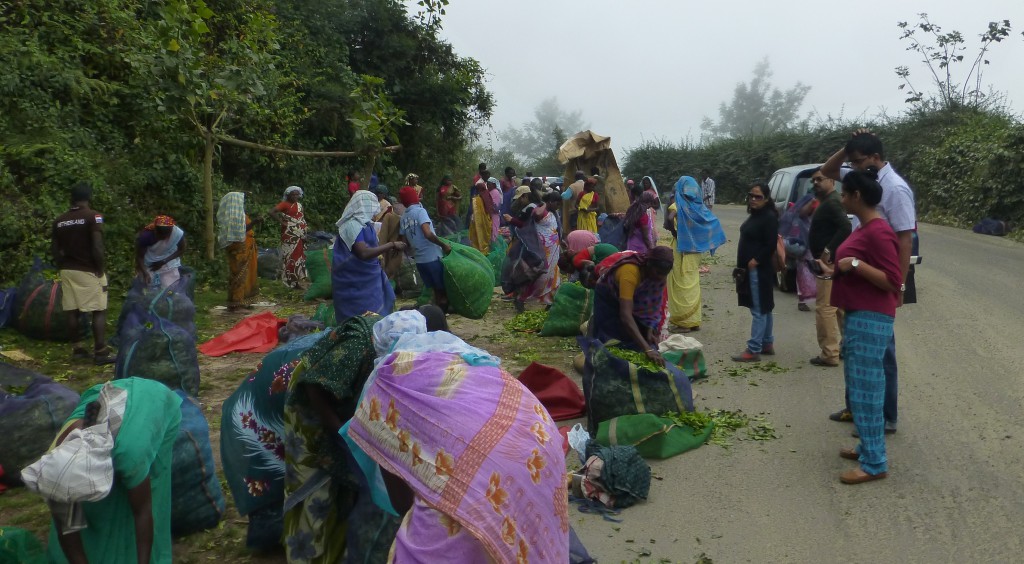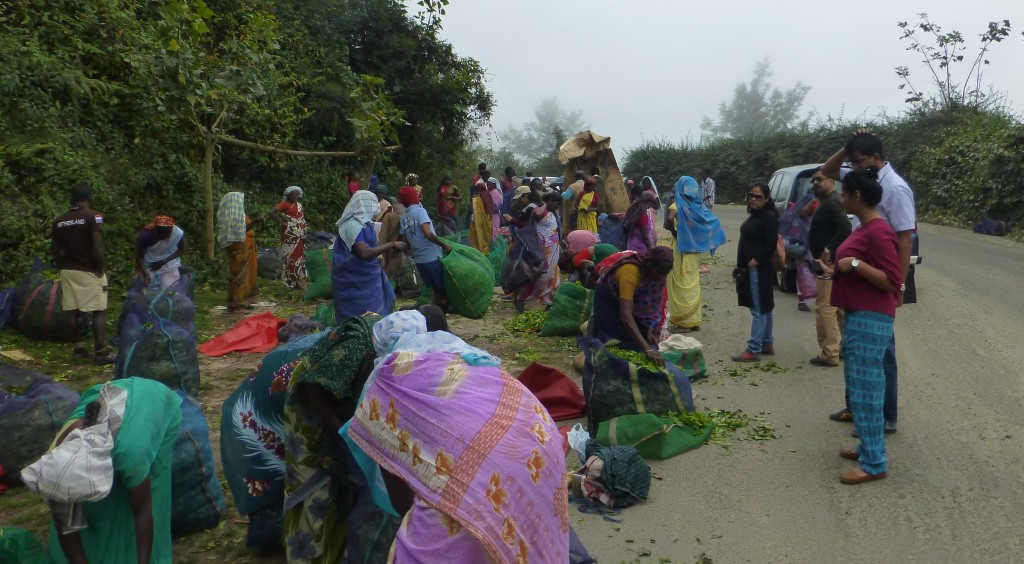 What a great colourful scene!!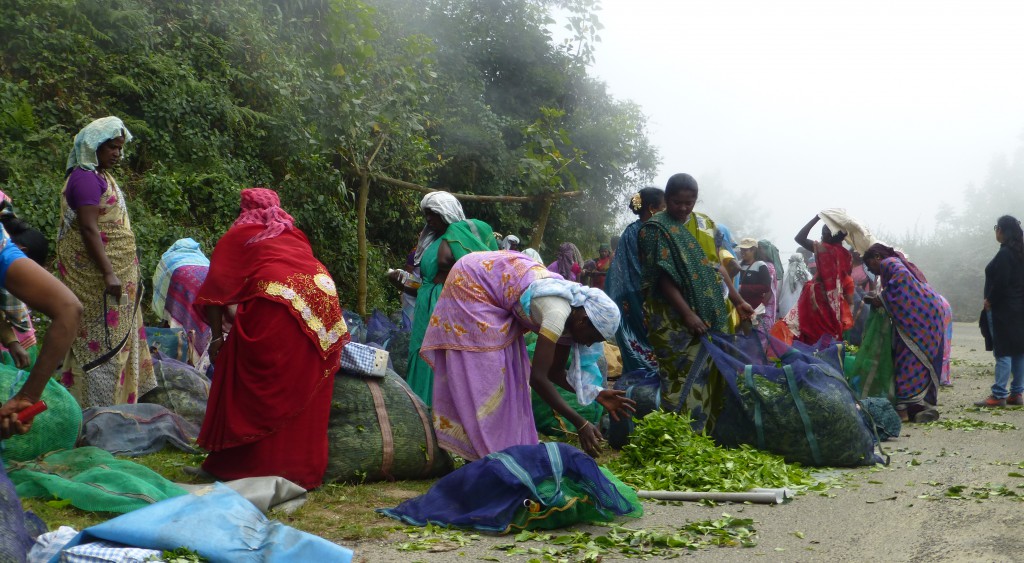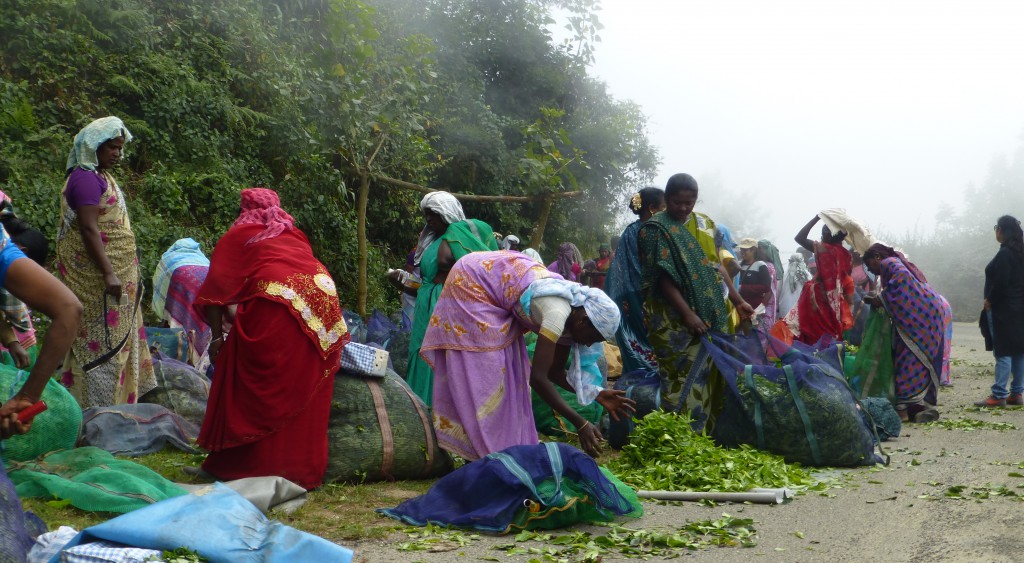 If you liked this trip, share it!!

Some more adventures of India?
Sunrise at the Taj Mahal, Agra
Dive into the Streetfood Culture of Mumbai
Donating to schools in Khajuraho
Going too Local at a Cookingclass – Varanasi
Srinagar and the Gorgeous Dal Lake, Kashmir
Or can I inspire you to go Canyoning?
I hope you love this world as much as I do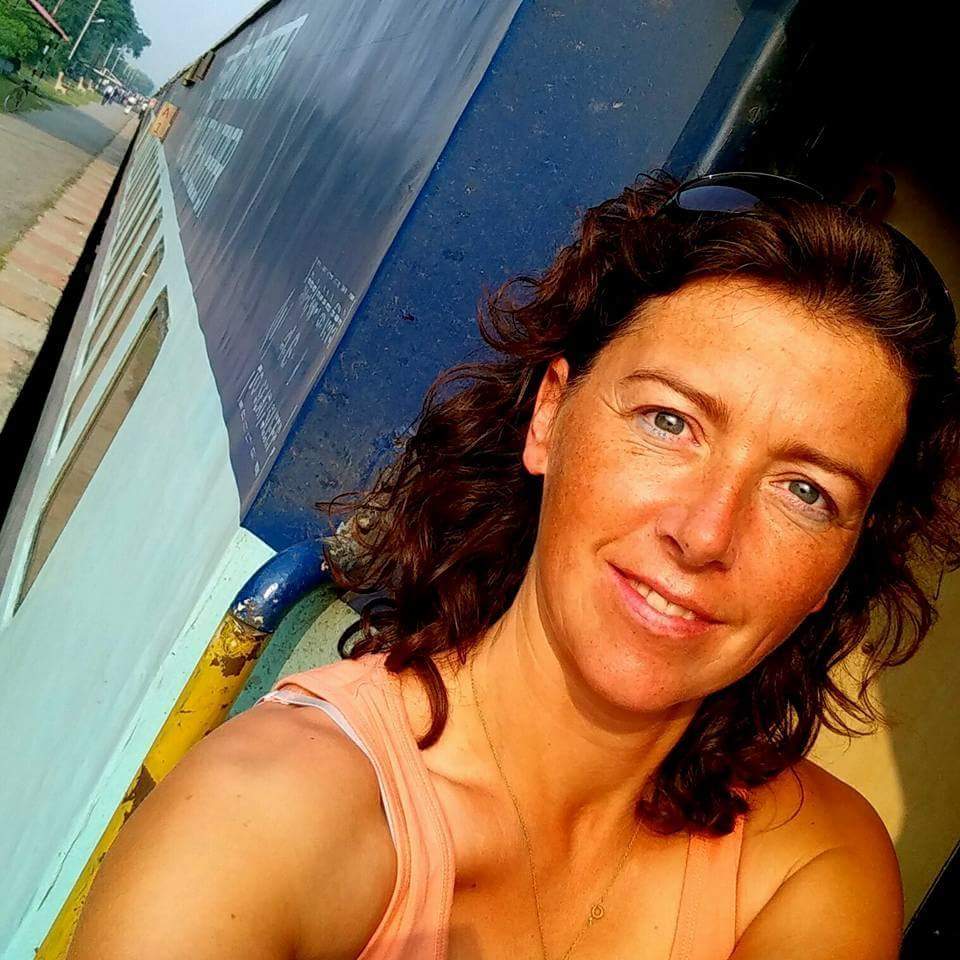 Jacomijn is een politieagent uit Nederland die jou graag laat zien hoe je veilig, actief en gezond de wereld kan over reizen. Safe and Healthy travel is a MUST