Poon Hill Trek – Nepal (8 days/7nights)
|
It was on the top of my bucketlist for some time already!! A multiple day trek in Nepal!! A trekking into the Real Mountains! And finally in march of 2019 it happened! I went to Nepal to go do the Vipassana Meditation course for the third time… Once I was there I had to go into the Himalayas also and do the extended Poon Hill trek of at least a week!
I went with a colleaque and the first question was ofcourse:
What Nepal Trekking suites us best?
We soon decided to book the Poon Hill Trek. A trekking in Nepal that covers a small piece of the Annapurna Circuit. I love culture and nature and in this trek both of those aspects were fully covered. Most of the itineraries that you will find on the poon hill trek will have less days then this one. We extended the trip with some days to fully enjoy the Himalayas and the villages.
If you are looking for a Easy Trekking in Nepal or a Trekking for Beginners in the Himalaya this is your fit! It will bring you into the great Himalaya, gives you the best views and offers a great trekking route.
We left Pokhara that first day.
The weather was great so it felt like we were on top on the world.
If felt great being there!!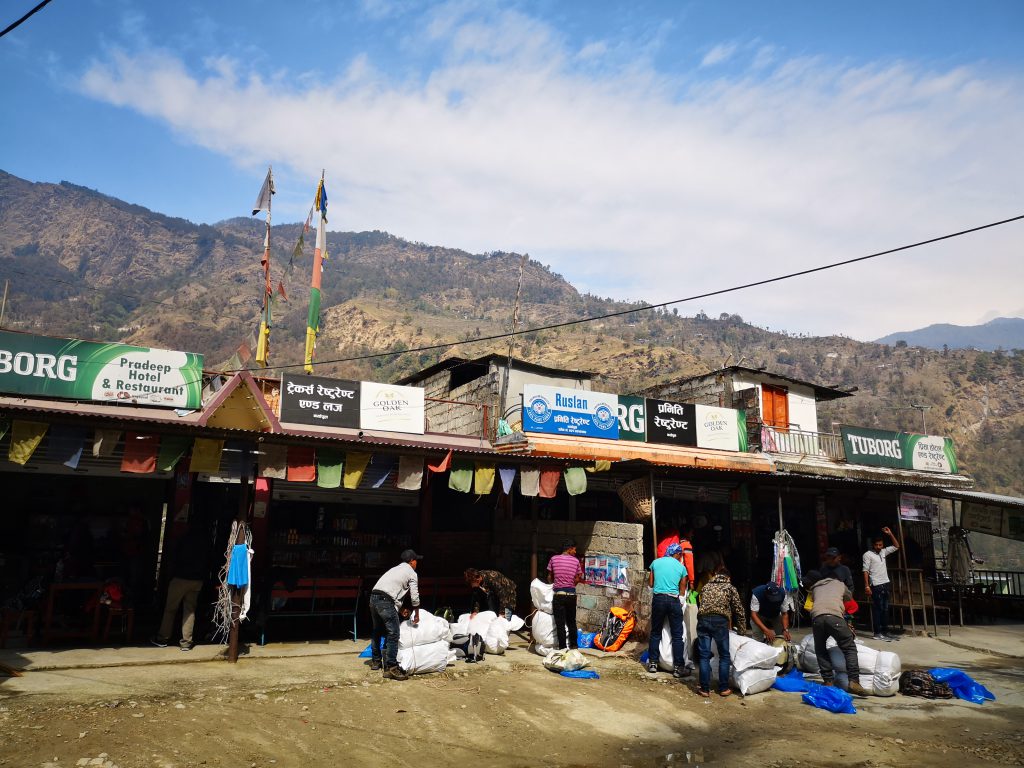 We went to Naya Pul by jeep, where we started our Poon Hill Trek. If you still want to buy some last minute things as cookies or water you can do that here. And a last stop to the toilet and off you go into the mountains!
We hiked off with a small daypack on our back and in the company of a guide and porter that carried our big backpack.
Our porter had to carry my big backpack of 65 lt and two sleepingbags. We both put our clothes and stuff we thought we needed in that one backpack so it was easier to carry for our porter. You don't need that much ofcourse! As our guide told us time and time again, mountain clean is different than city clean. You can wear your shirt 2 days… And my experience is that you don't even need to carry a big sleepingbag .. If you take your sheet sleepingbag it is good also.
Every teahouse had thick blankets to lie under. And I carried my small hot water bottle to keep me warm at nights or in the evening when it cooled down quickly.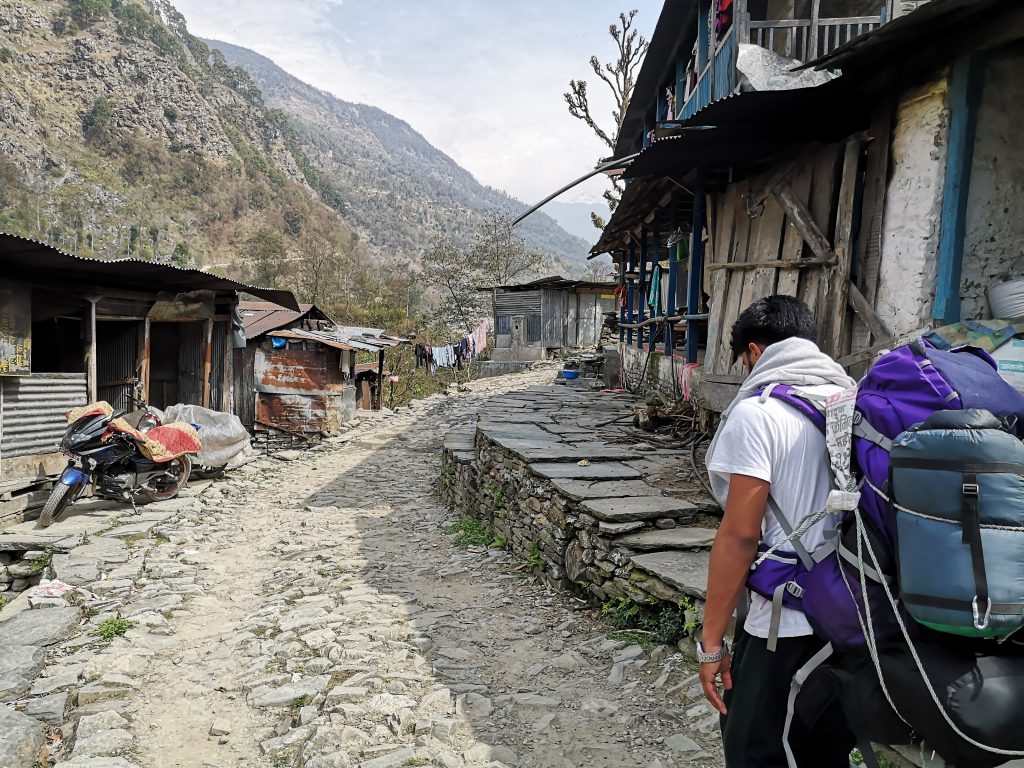 Day 1: Naya Pul – Ulleri (5 hrs)
Our first day on the Poon Hill Trek goes from Naya Pul to Ulleri. Naya Pul is at 1070 altitude and our endpoint today Ulleri at 2100 metres. It was a tough day with the best panorama views. We climbed for 3 hours to get to Ulleri today.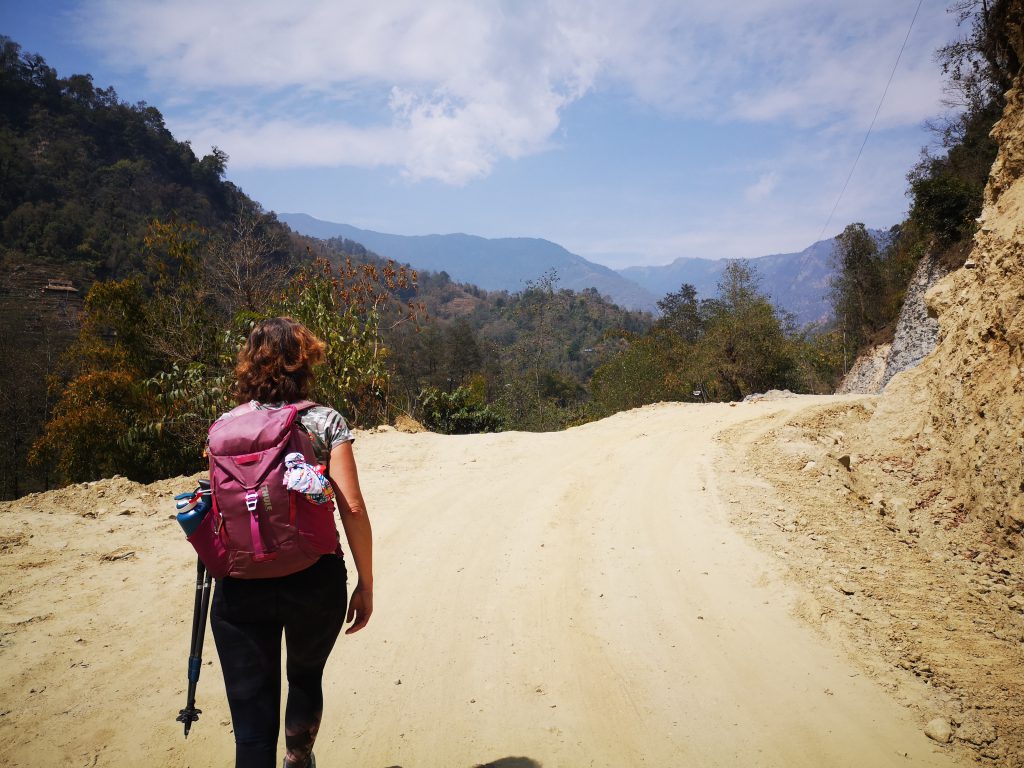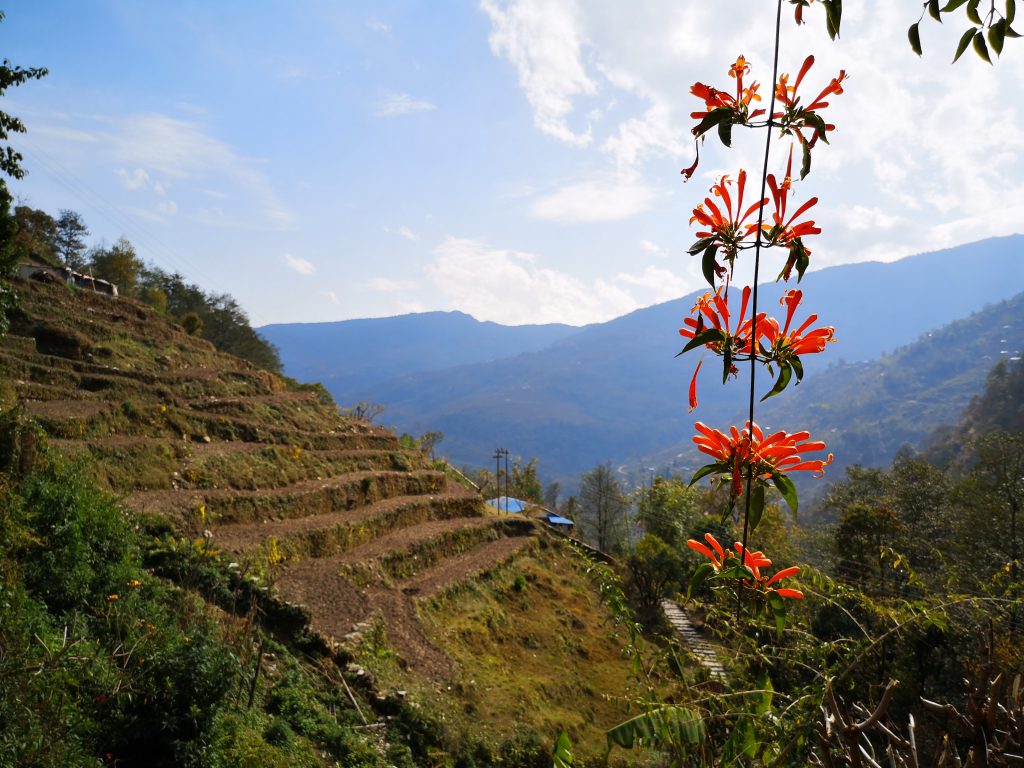 We checked in and enjoyed a well deserved hot shower and started to enjoy our view from the rooftop terrace. It started to rain and thunder but we were dry and warm inside. I had a great chai and we ordered our Nepali food!!
We climbed this day over 1000 metres!
In Ulleri we stayed at teahouse Kamala.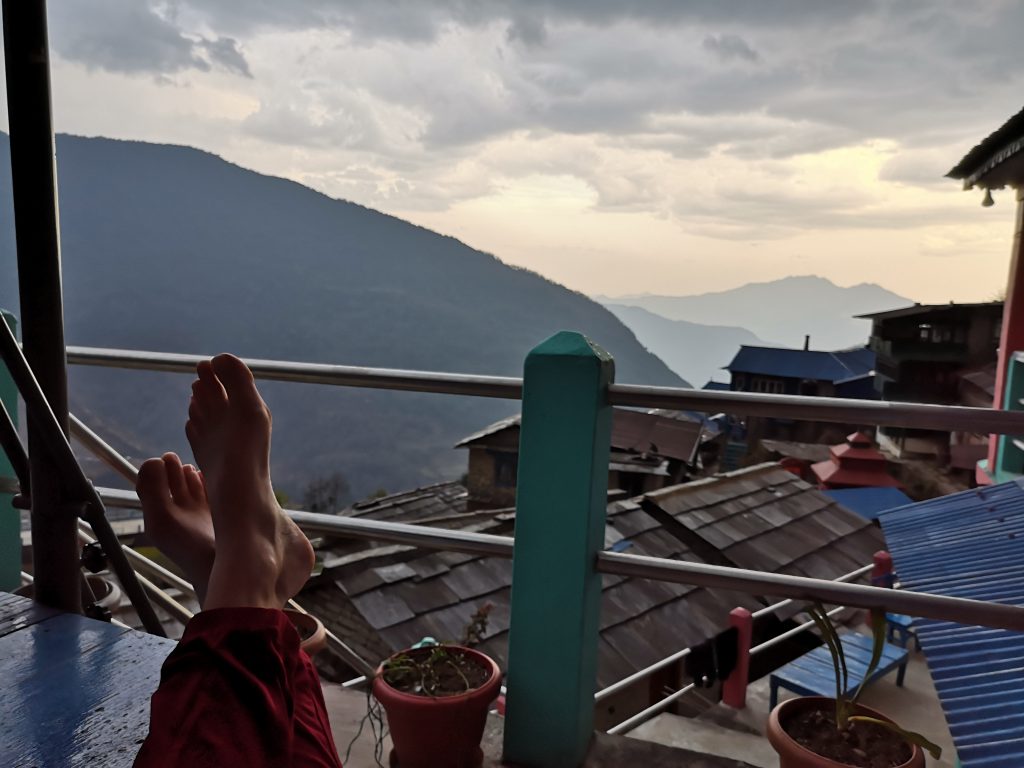 Day 2: Ulleri – Ghorepani (5 hrs)
The next day we went to Ghorepani. And again we were treated with the best views!! I loved it and it felt great walking in this landscape I was looking forward to for over a year!!
And yes..
when I am in love with my surroundings I want to make a yoga picture 🙂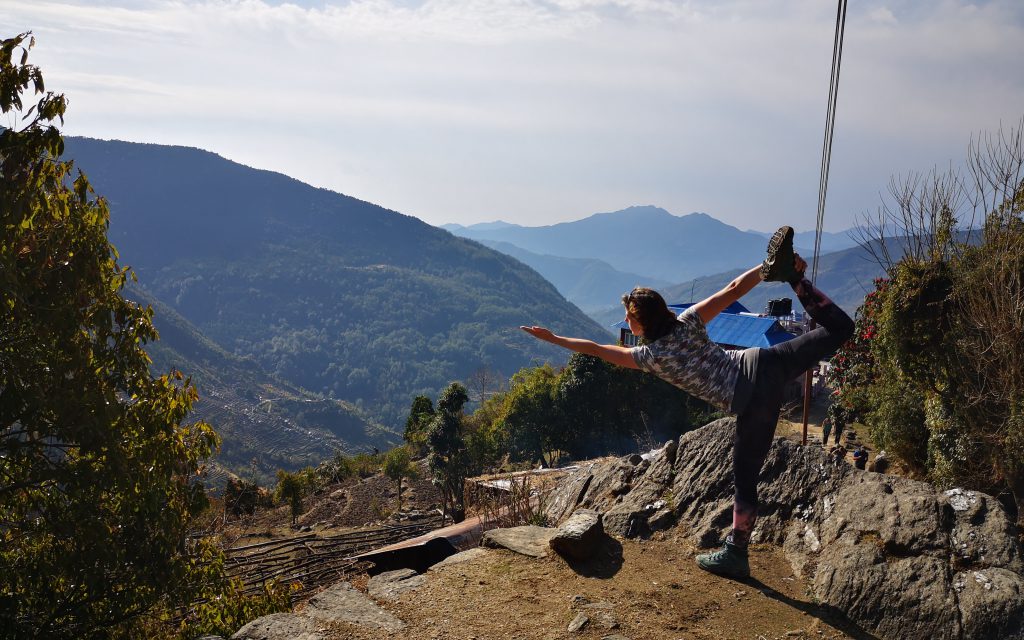 I had all the time to enjoy the surroundings and to fully realise where I was hiking!

Sometimes you have that realisation looking back.. But the more I travel the more I am aware of my surroundings at the moment that I am in it.

So happy about that!!
We slowly went up .. Every time we had a short break we were overtaken by the same people. I had that experience already when walking the camino too. It doesn't matter how quickly you go, during breaks they will get pass you again.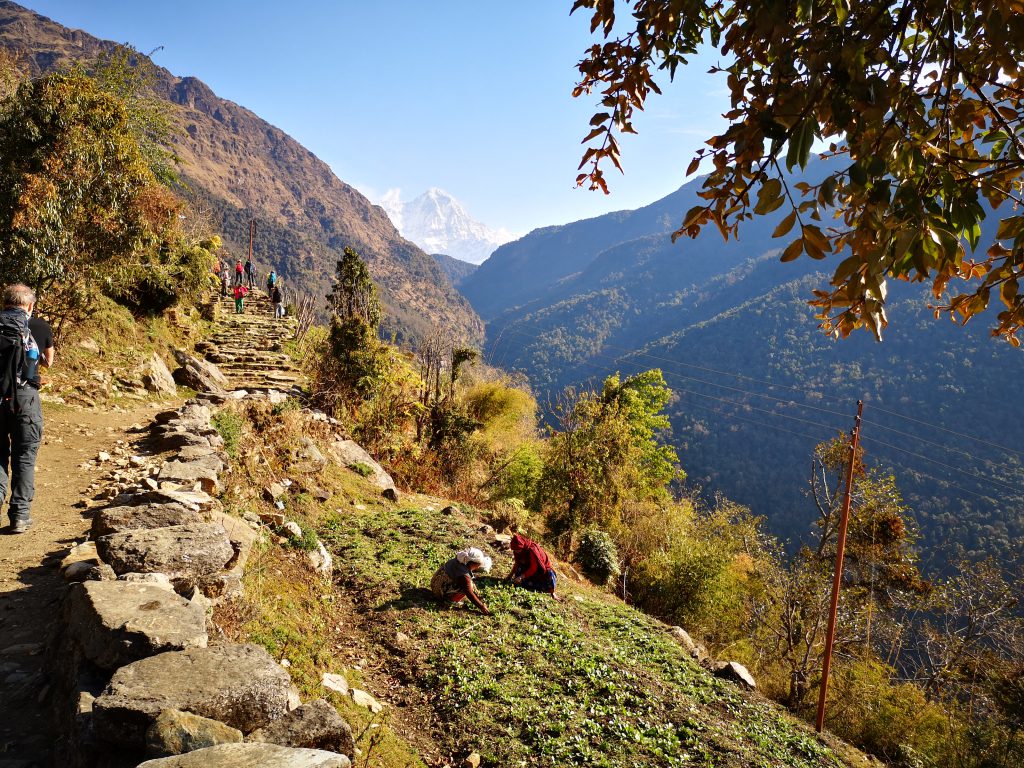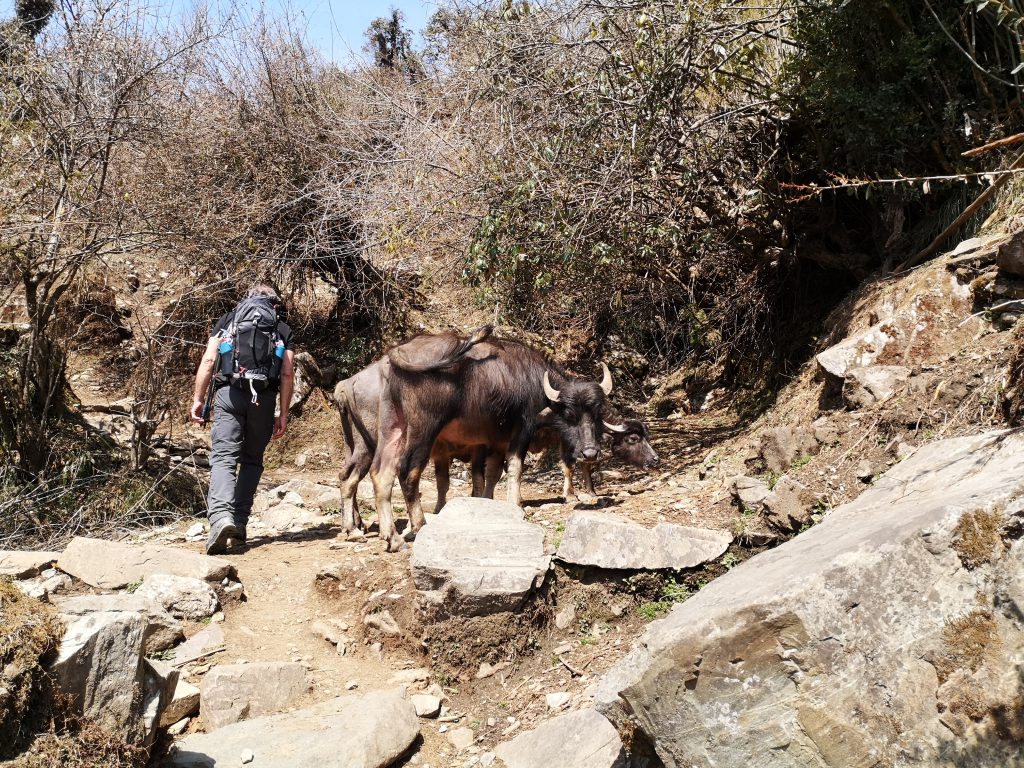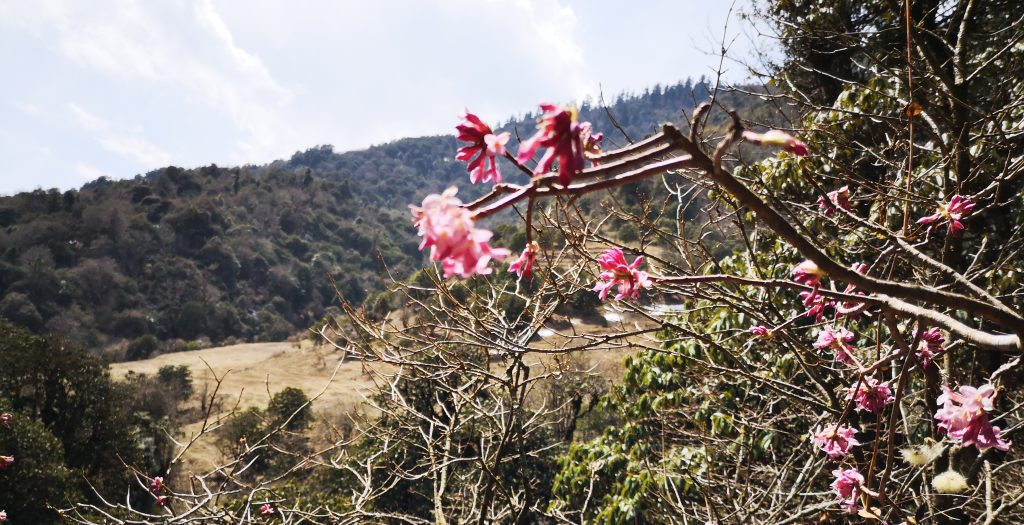 Just before Ghorepani there is the official checkpoint to go into the Annapurna Region. The area you bought a permit for. They will register who goes in the region, with who, which guide, and how big your company is. Also when you leave this region they will register that.
This is obviously good for numbers and tourism… How many people do visit this region.. But also with emergencies they know where you should be, with whom you are walking and how many days you wanted to be in the region.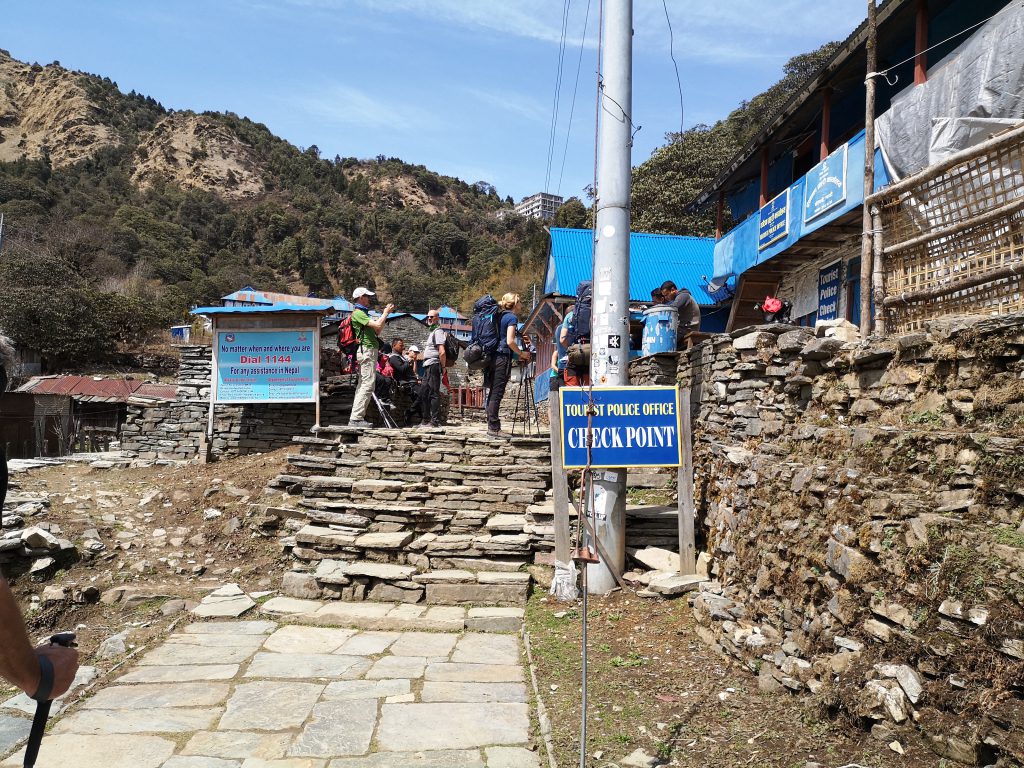 We climbed from 2100 metres to 2850 metres.
A bit less then the previous day 🙂
In Ghorepani we stayed at teahouse Dhaulagiri
Day 3: Ghorepani – Tadapani (4 hrs)
Highlight of this trip : Poon Hill Sunrise
On day 3 we had the highlight of the Poon Hill Trek!! The sunrise at Poon Hill and so we had to get up really early to walk that last part up the hill. We left around 5 o'clock in the morning. Ghorepani is at 2874 and the top of Poon Hill is at 3210 metres.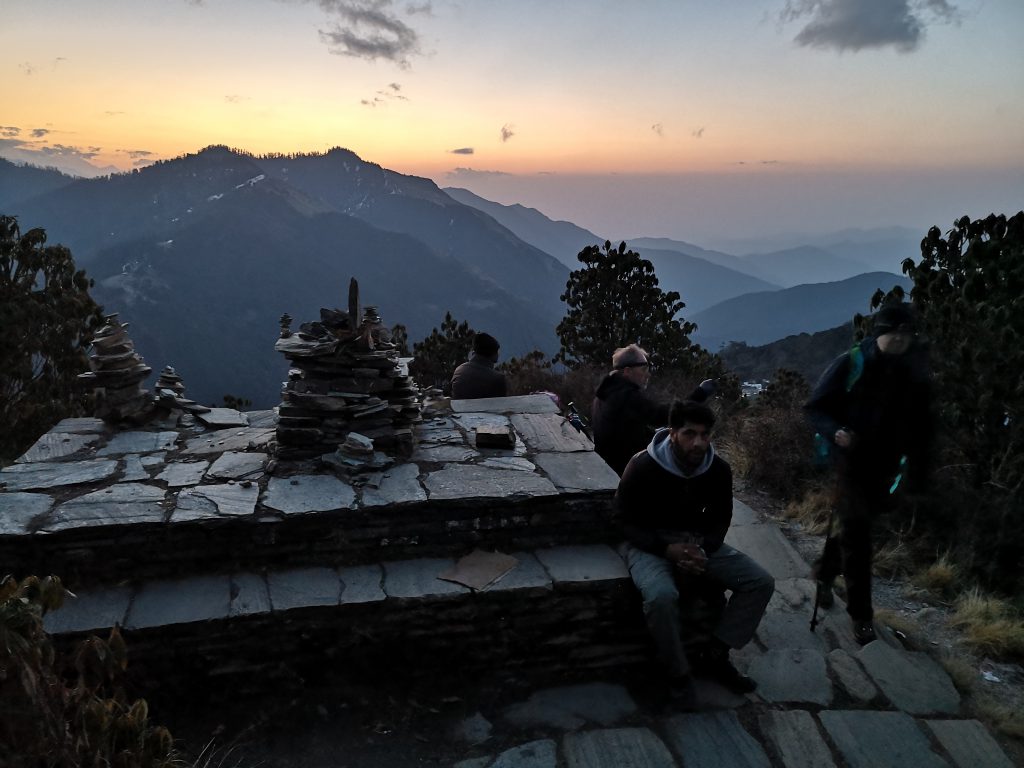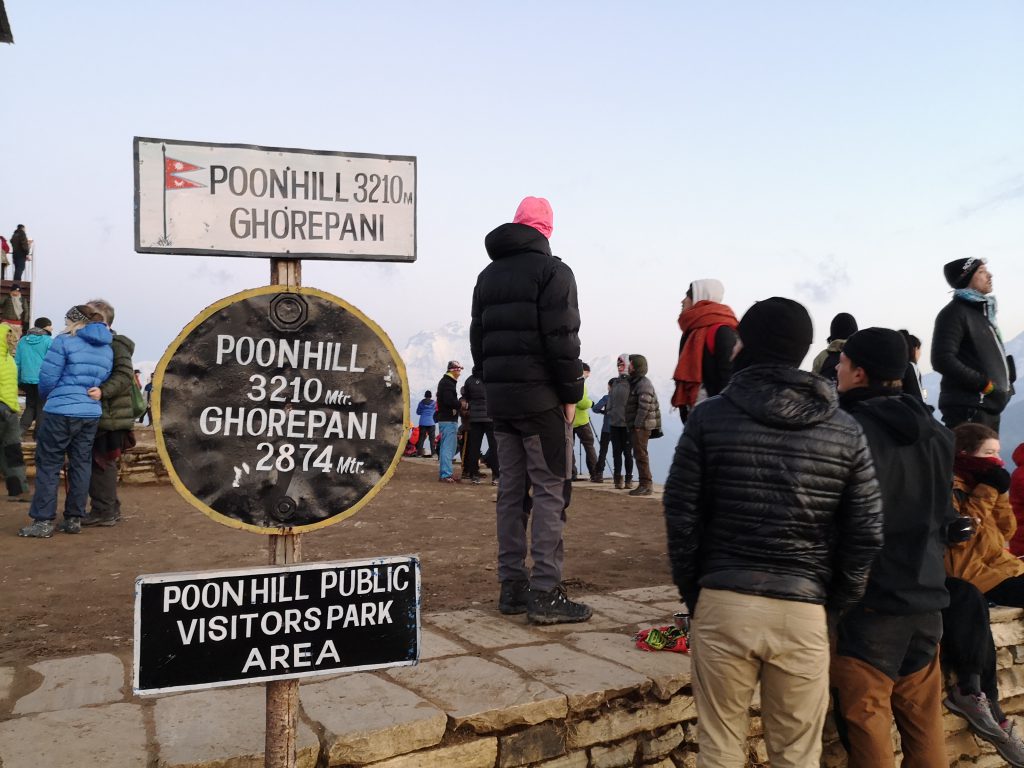 Whe started hiking when it still was dark but your eyes quickly get used to the darkness and I felt that I hardly needed a light to see where I was walking. I only needed it when walking under the trees to see where the stone steps were.
Ofcourse a light is useful on this trip. It can be in the teahouses if you are on a room with more hikers and you need a light when the rest is fast a sleep. Or if a light switch is at the door and your bed is not 🙂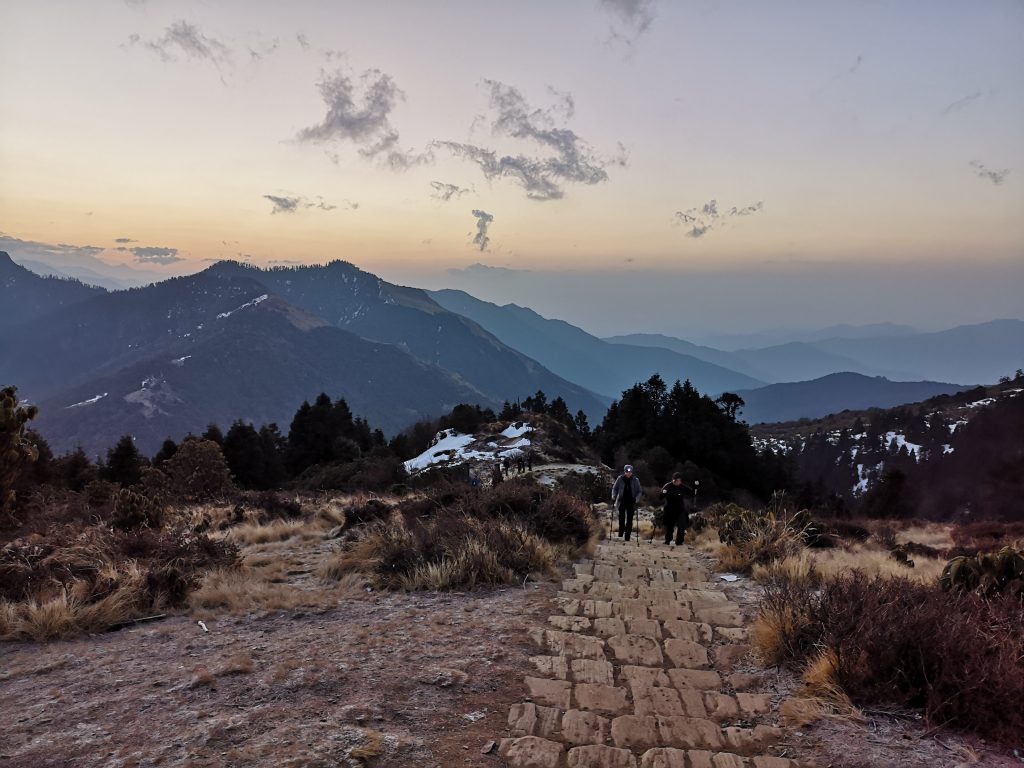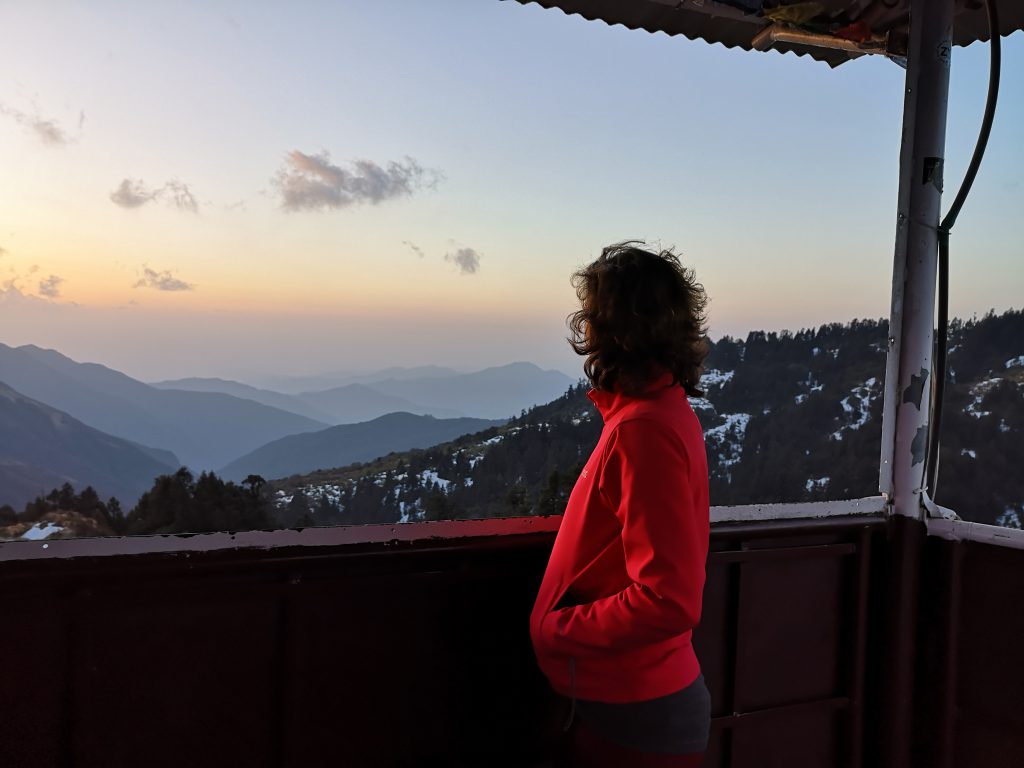 After this wonderful sunrise we had our breakfast in the teahouse and started our trek through the forest to reach a great viewingpoint. After that point we went into the forest again, it was still really snowy and the stream next to us was giving the whole scene an extra dimension. It was kind of slippery because of the snow so we had to walk slowly and be carefull not to slip and slide..
Nice challenge!!
Because we extended the original Poon Hill Trek you wont find the next days in the normal itineraries for the Poon Hill Trek. Do know that everything is possible and they will extend it and walk you through the great landscape of Nepal as long as you want!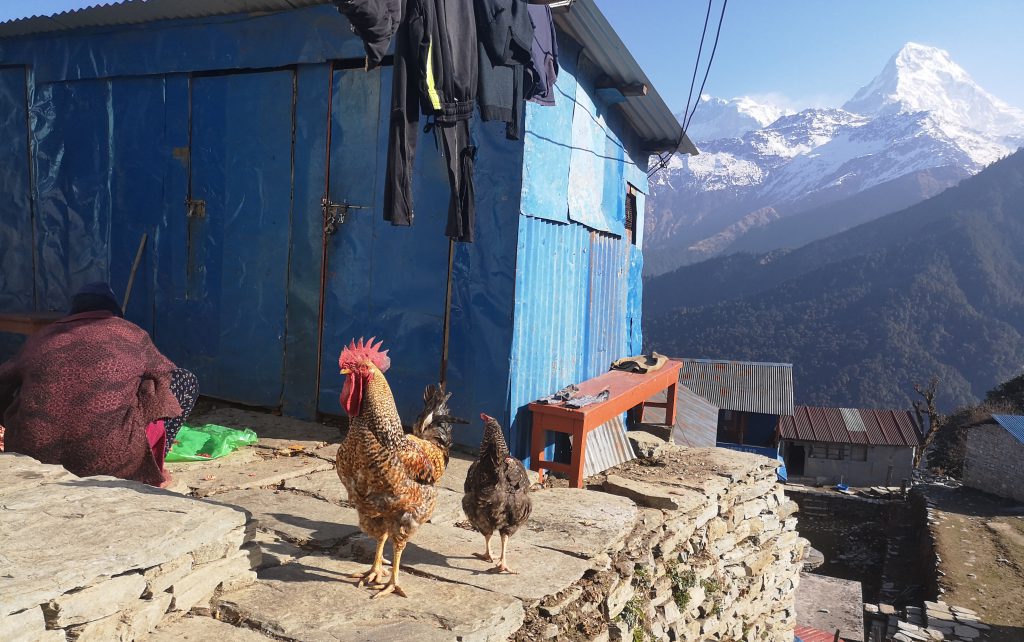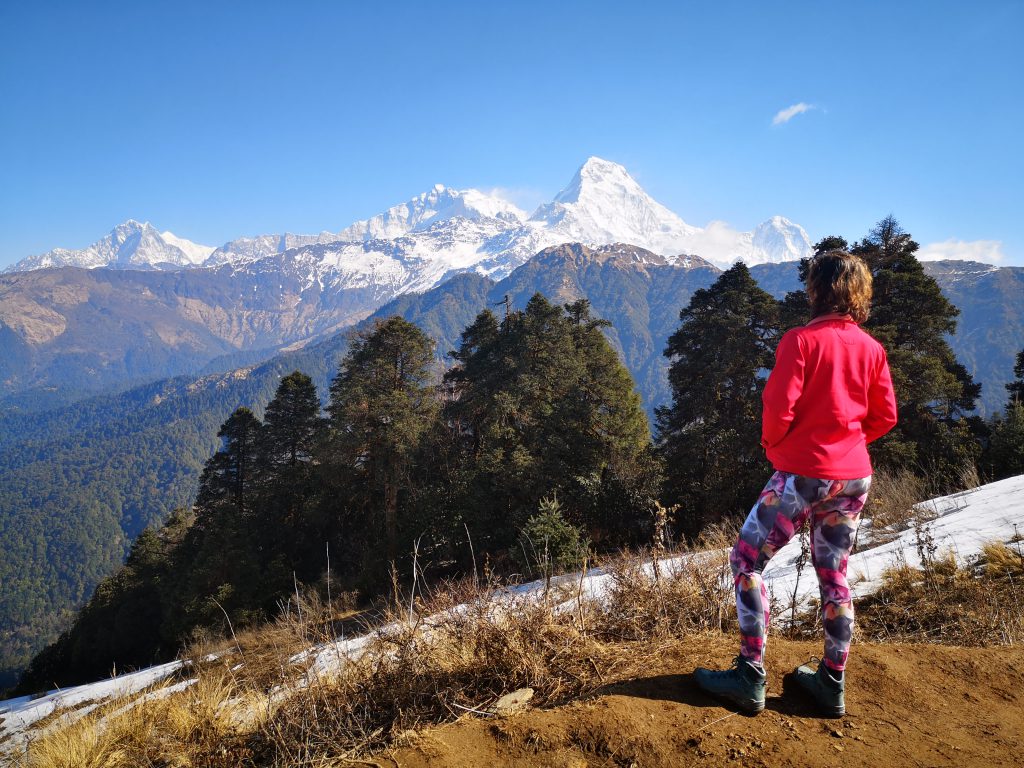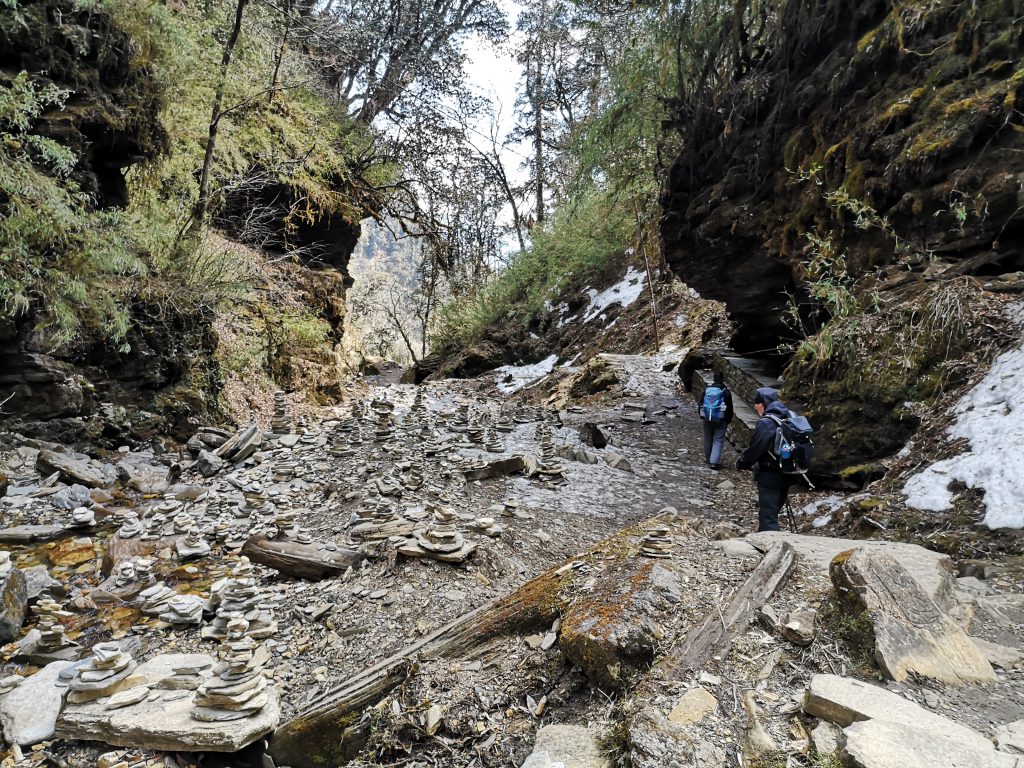 This day we went from 2874 metres from Ghorepani to 2630 metres in Tadapani, but remember that we did the morning trek also to Poon Hill at 3210 metres! The area is great with lots of ascending and descending parts. It still isn't a hike I can do in The Netherlands 🙂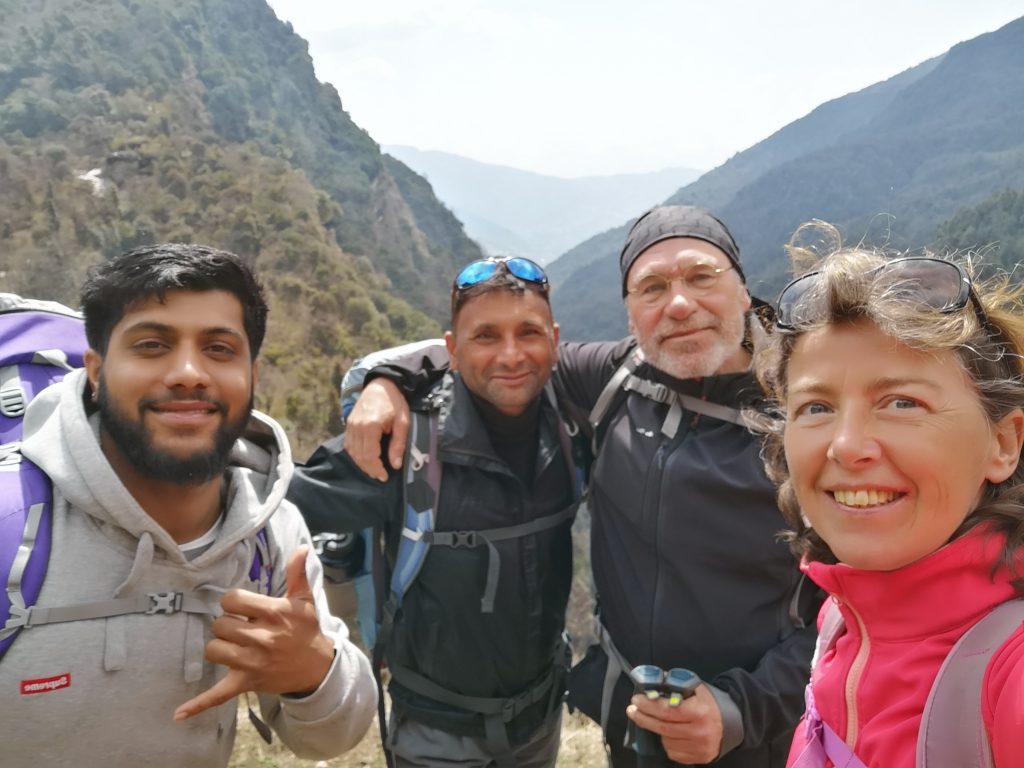 We  had a good time the four of us!!
In Tadapani we stayed in teahouse Panorama View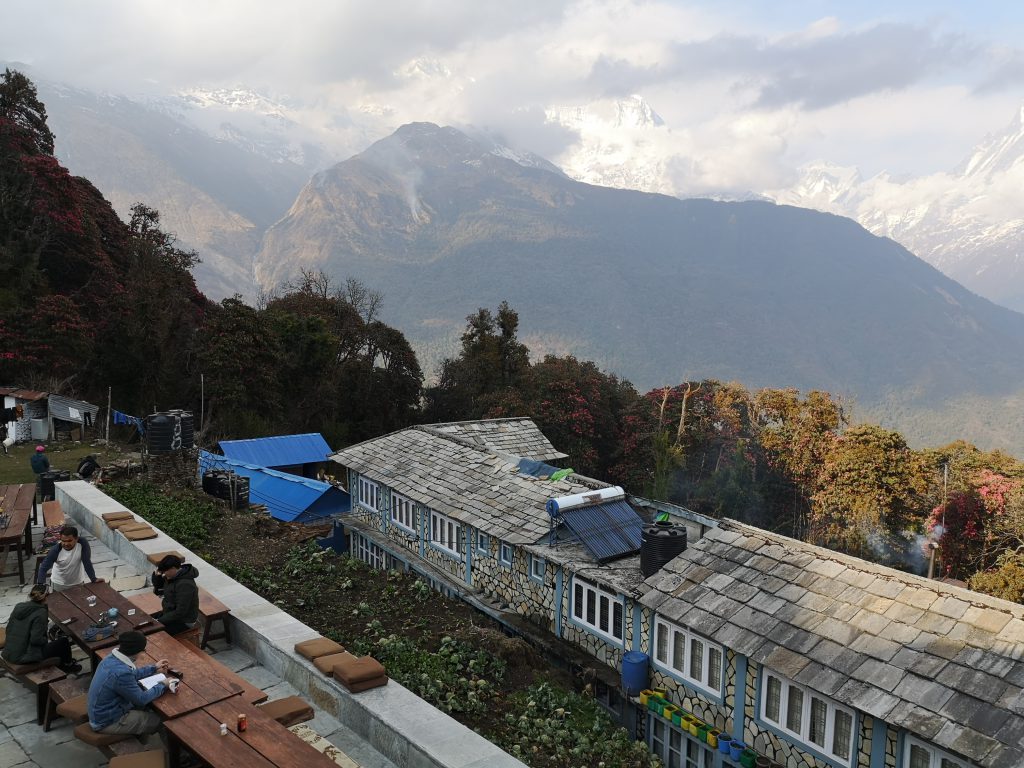 Day 4: Tadapani – Ghandruk ( 3.5 hrs)
Again we started a great trekking day on the Poon Hill Trek. We started through the forest and later that day we even hiked through teaplantations. The weather was just the best and spring started to heat up while we were walking here. We felt it in the evening.. It wasn't as cold as it was before.
I really loved getting out of the higher mountains and trekking into the daily lives of local Nepali people.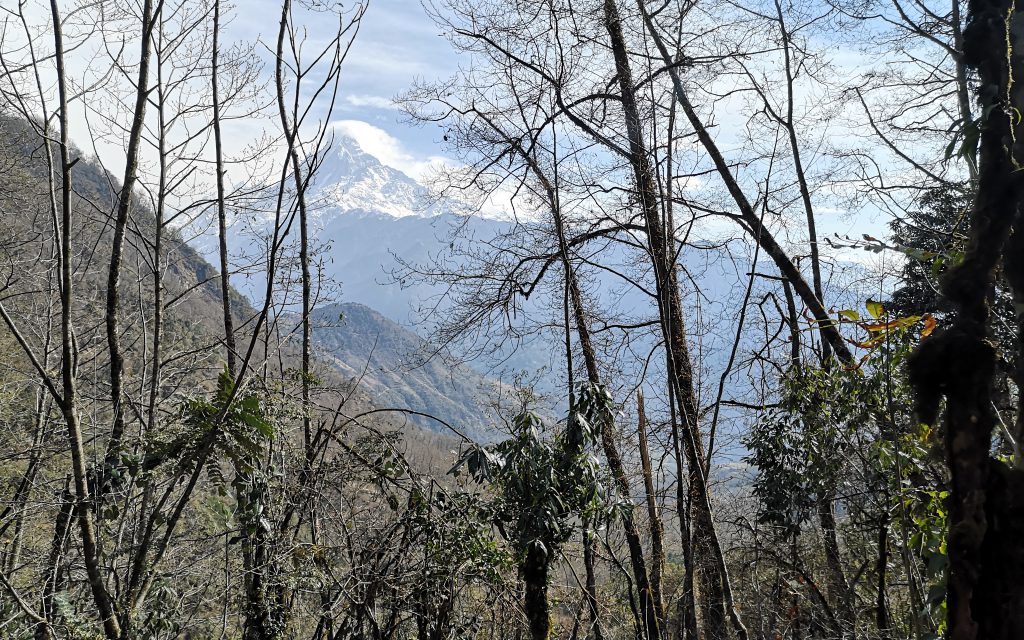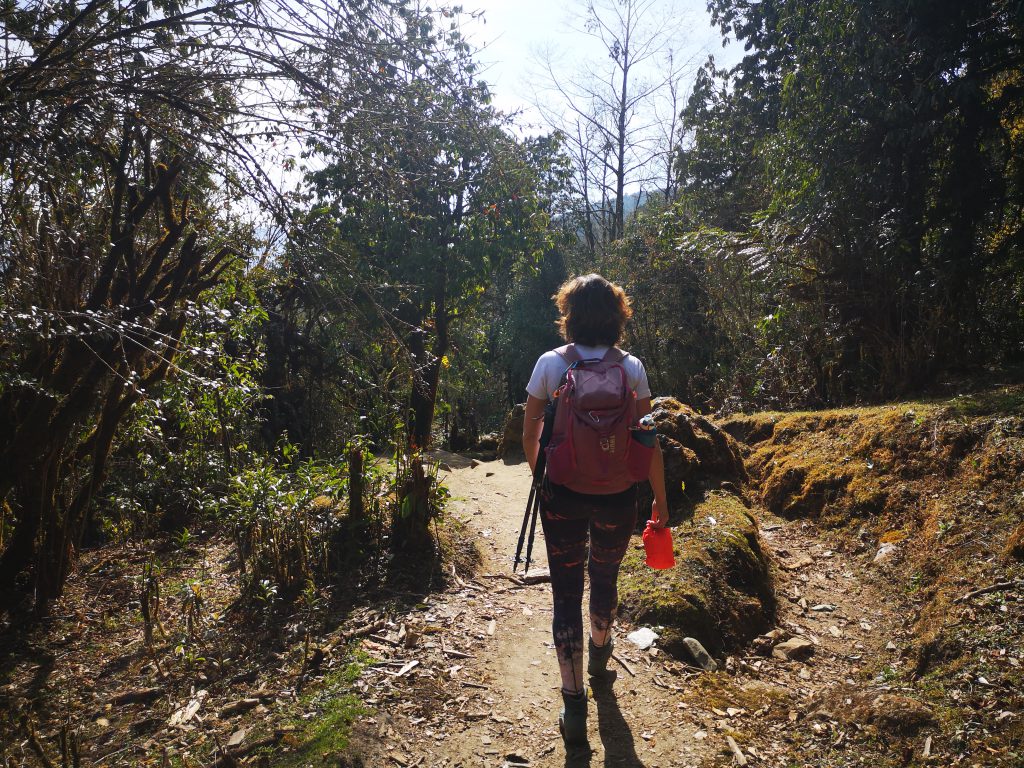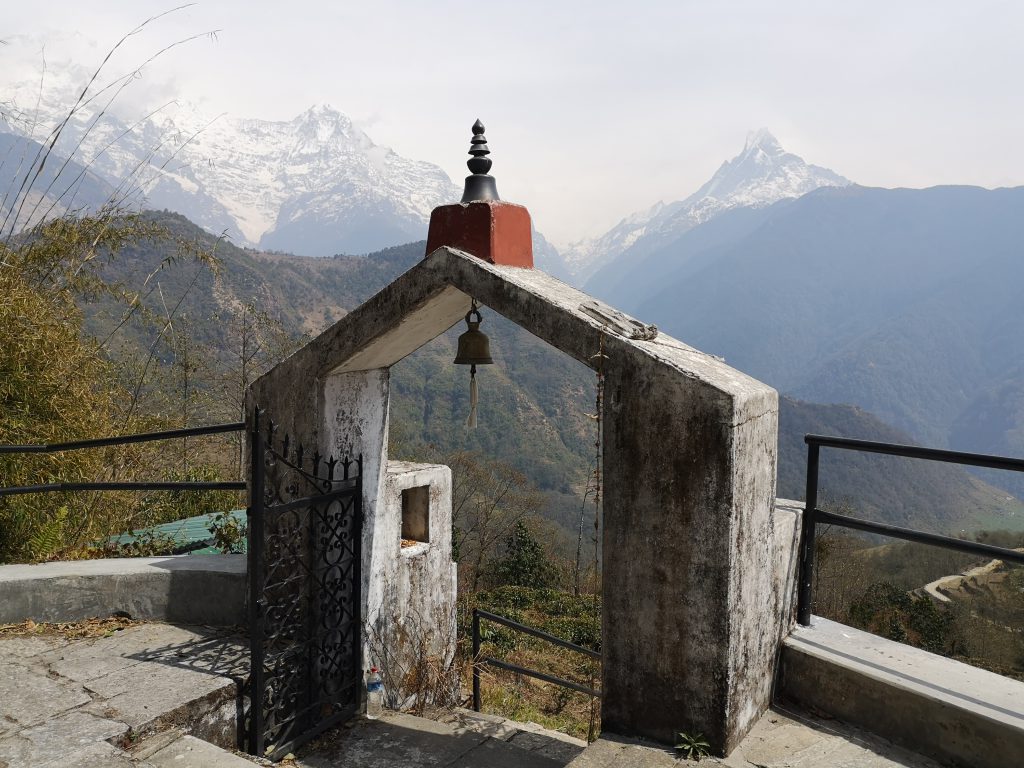 In Ghandruk we started to explore the little town. There is the old Ghandruk and also the new area. From our teahouse we had the best view over the old town. In the new area there are lots of hotels for the many tourists that pass here every day.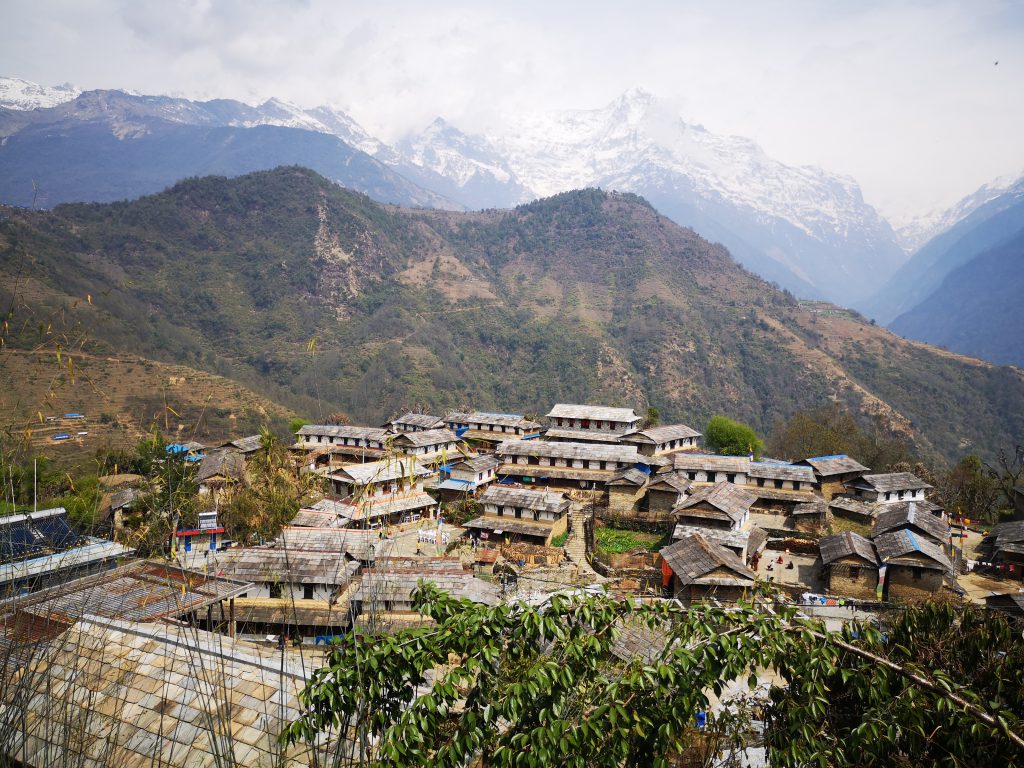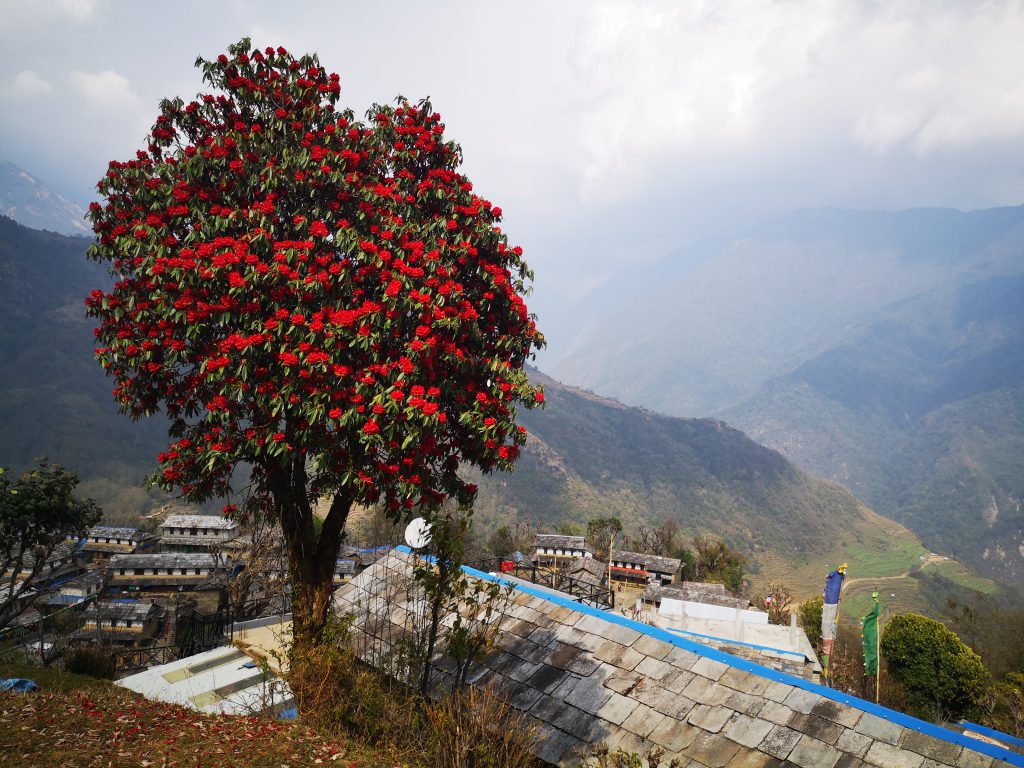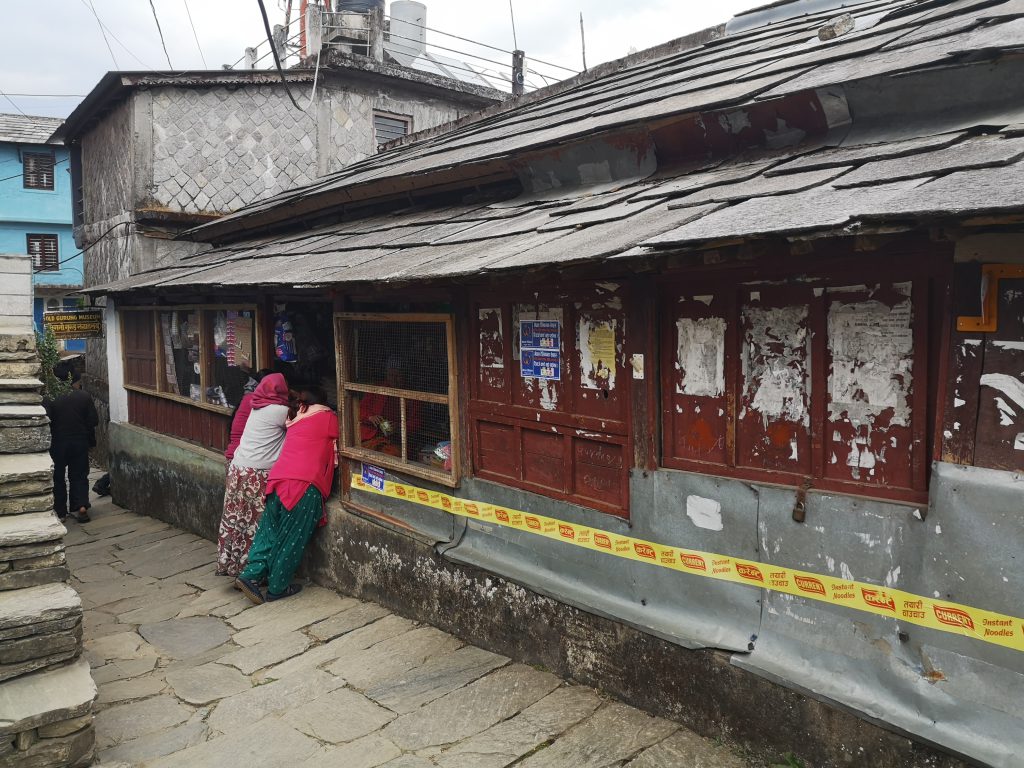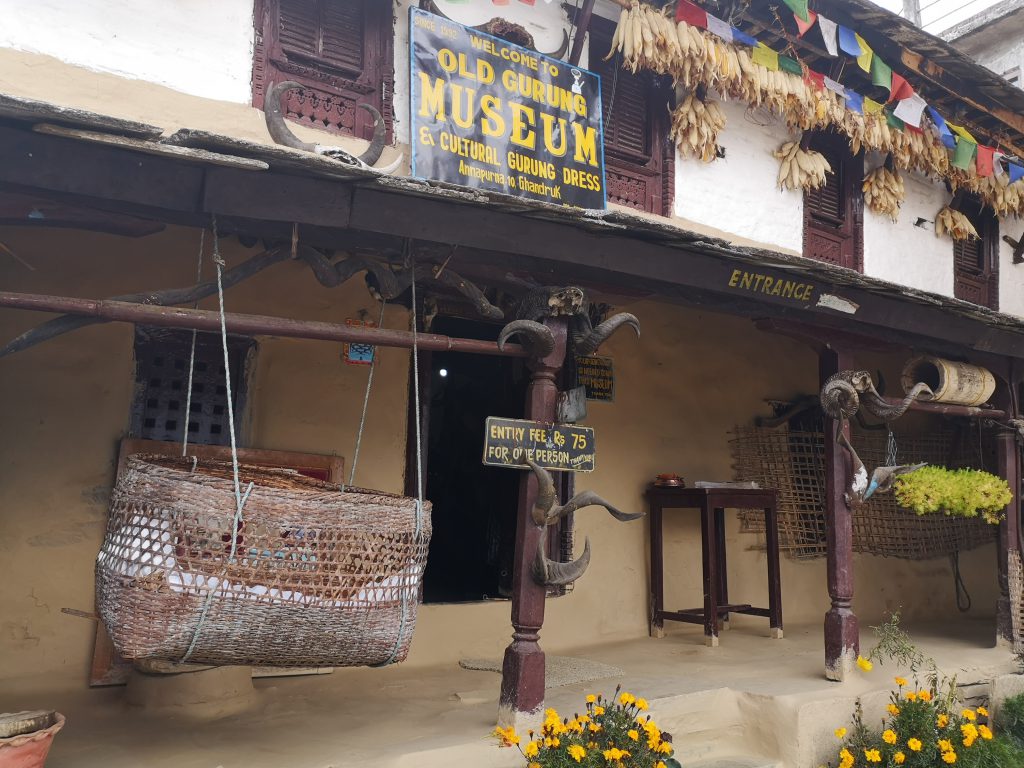 We visited the museum which showed us the daily life of the Nepali people. It is just a small museum but does give you an idea how people do their daily activities as working the fields and such. They're still using old artifacts as a matter of fact.
This day we went from 2630 metres to 3149 metres.
In Ghandruk verbleven wij in theehuis Excellent View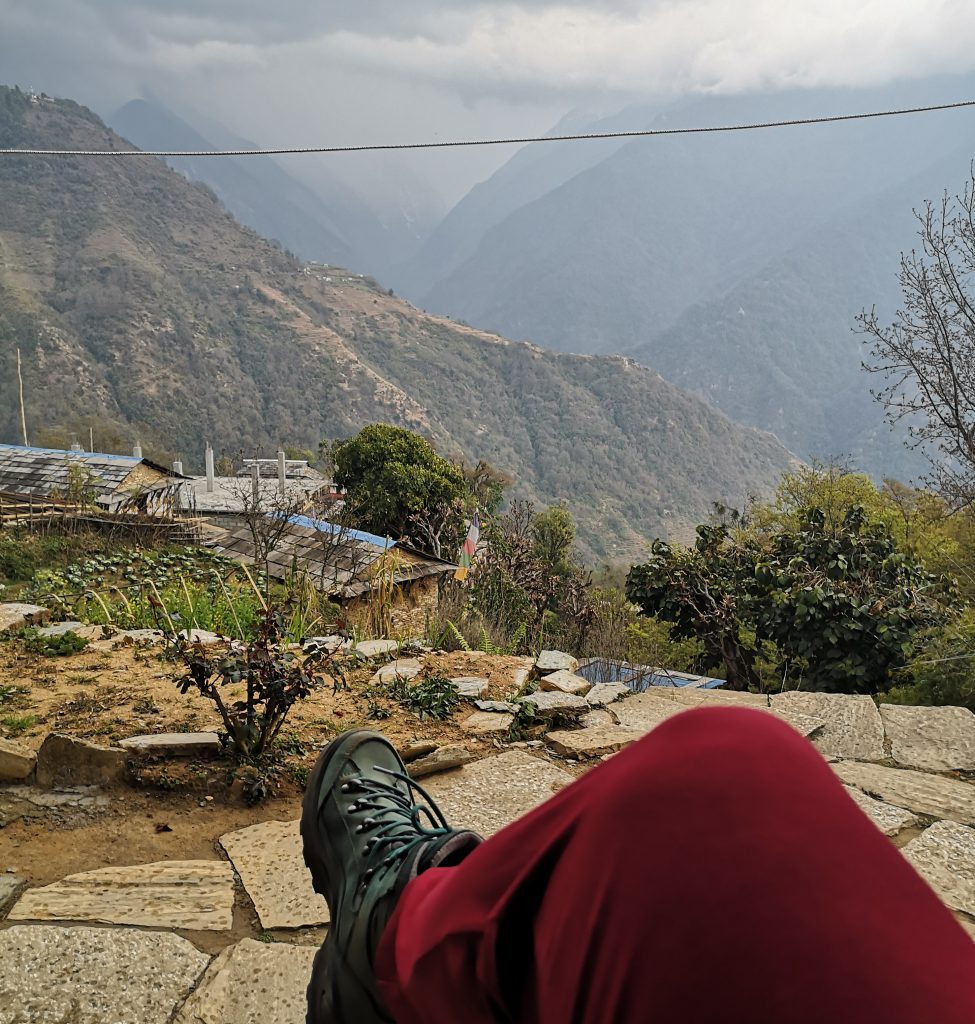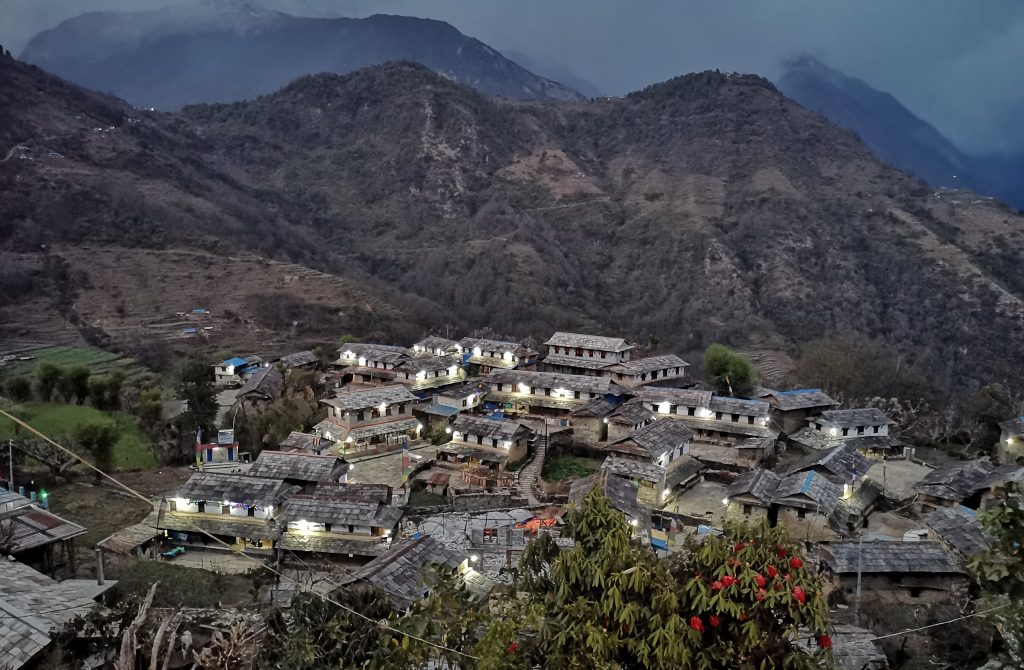 Day 5: Ghandruk – Kaski (Jhinu hotspring) (3 hrs)
From this day on we go a different route then most of the Poon Hill treks. We wanted to stay longer in the great Himalayas and the Annapurna region so we extended it a couple of days. This way we could hike more and see some other villages.
So this next day gave us again that great view on all those huge mountains and we walked pass a lot of local houses and agriculture. This is different then how we are used to see that in our flat country The Netherlands. We have no hills at all and here they hardly have any flat areas 🙂
Because of that football isn't that widely spread… We saw a lot of volleybal courts. You don't need that much space to play that sport and the ball doesn't go that wide 🙂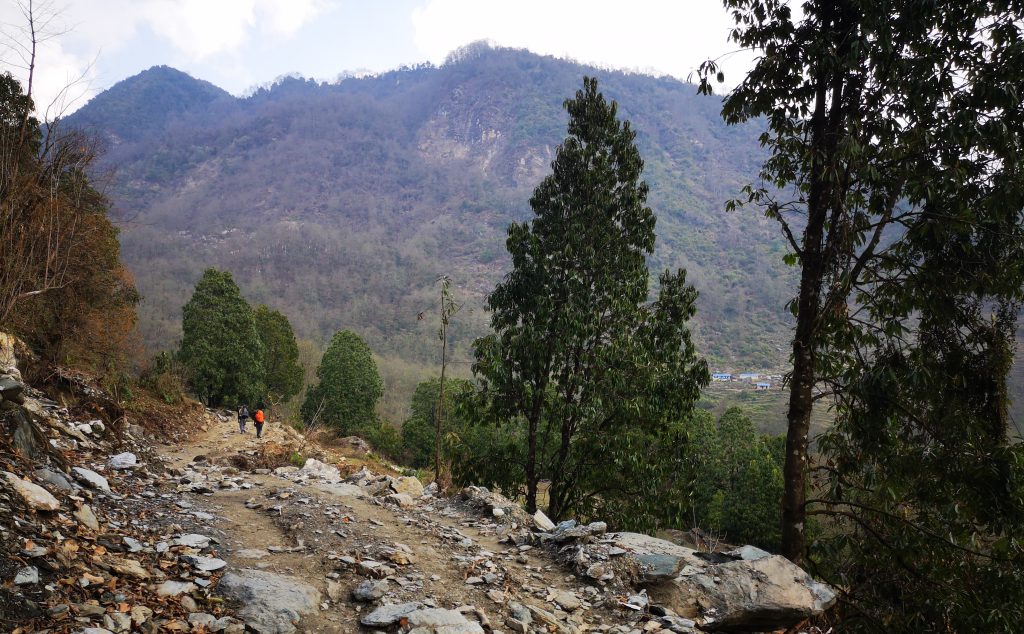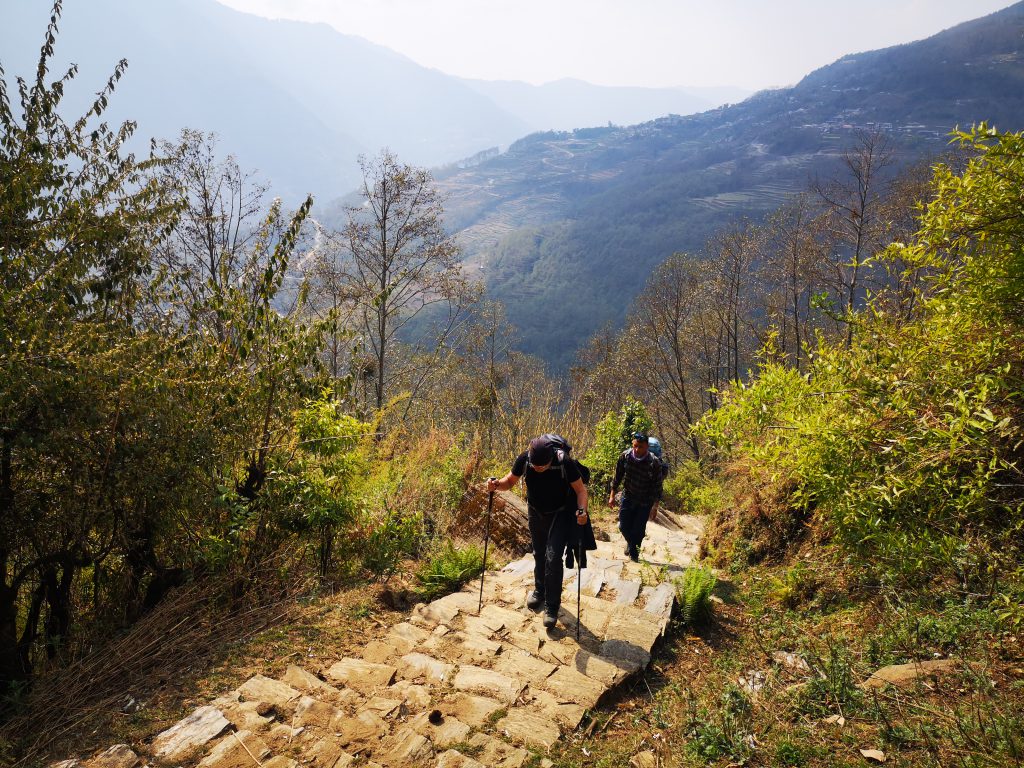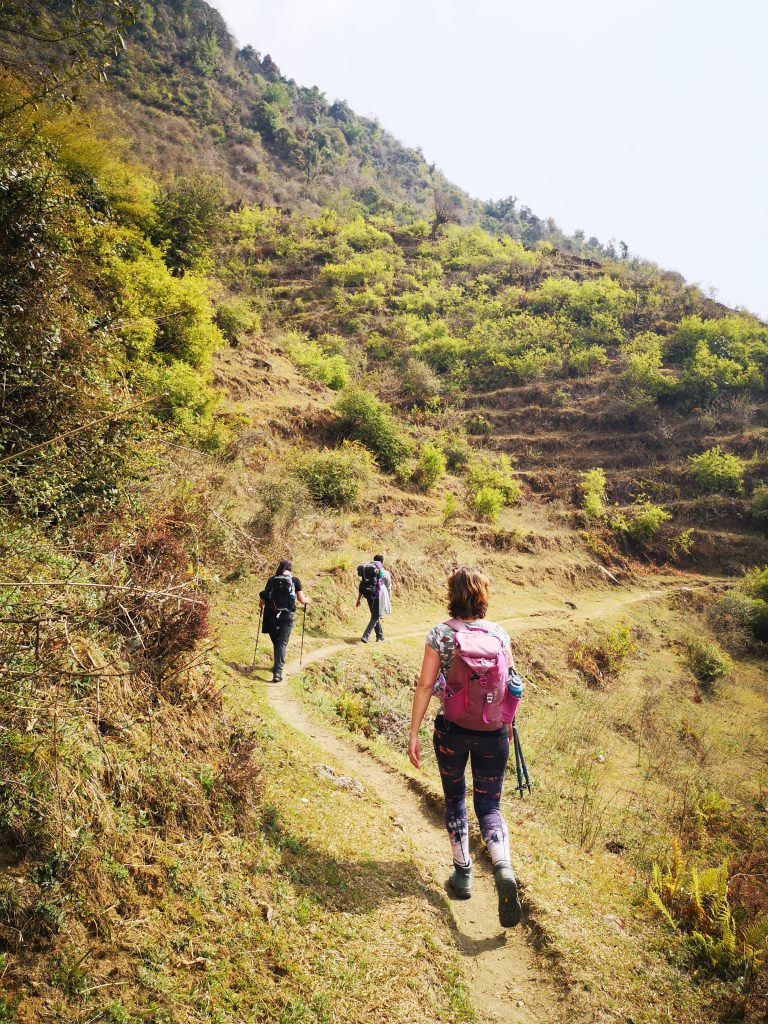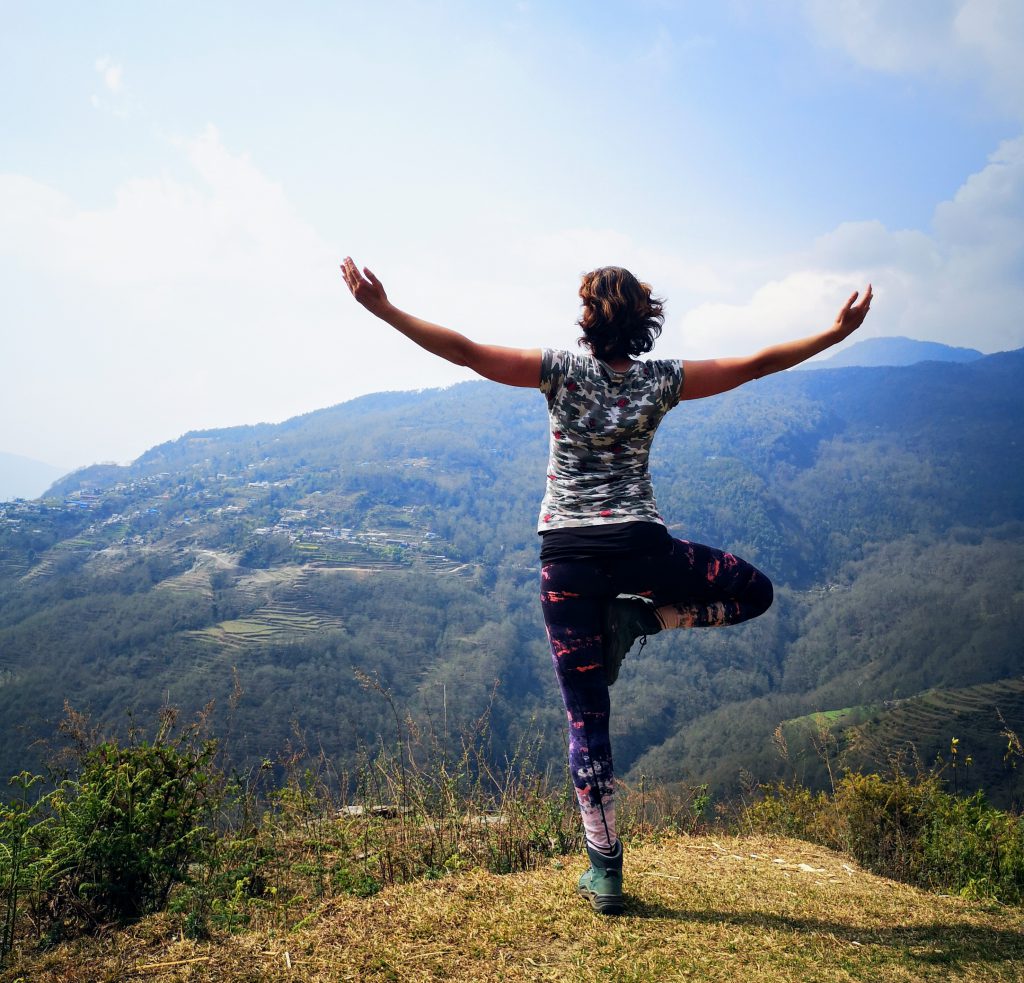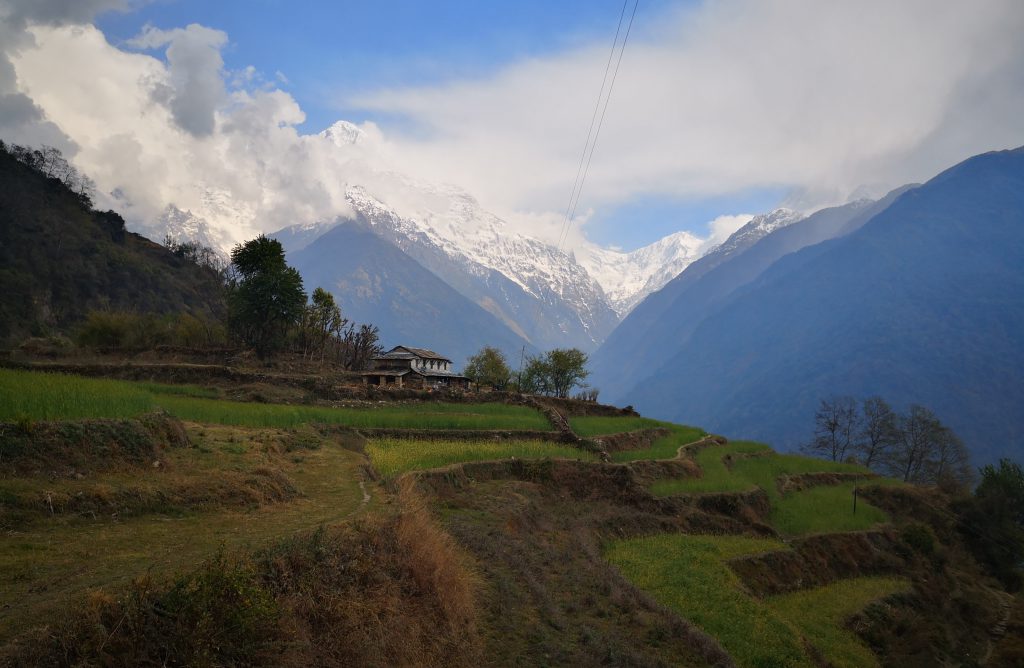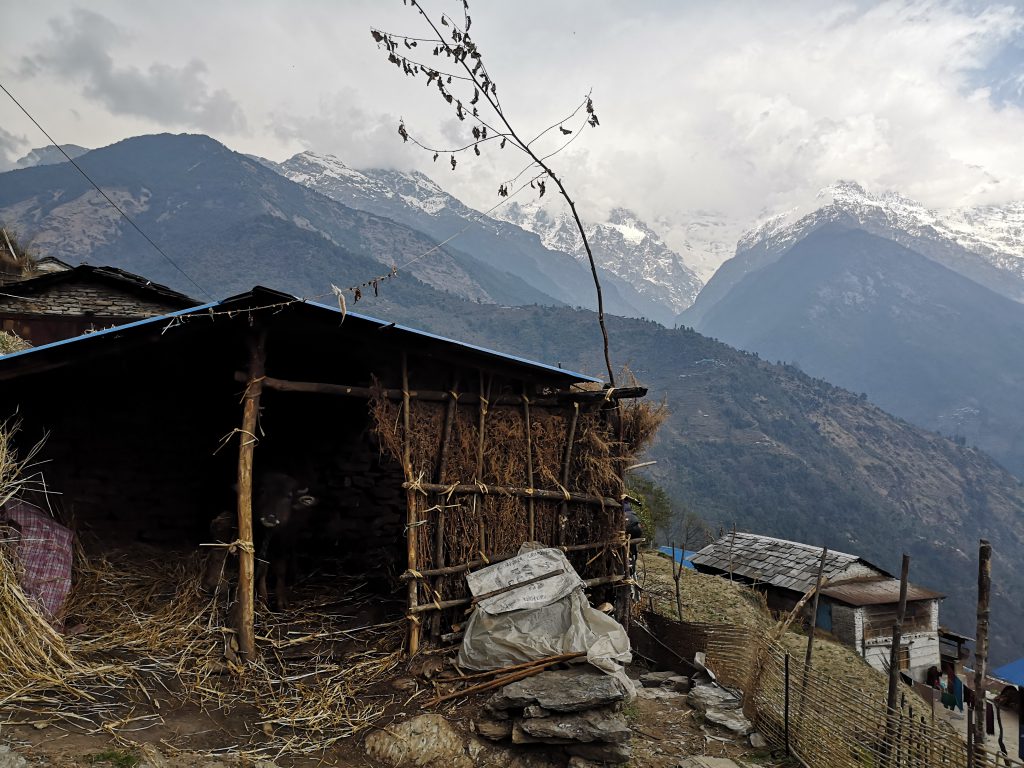 We also came by this new suspension bridge of 287 metres!! After that we had our last climb to the village of Kaski.

This suspension brigde saves you an hour hiking through the valley. I have to say that I wouldn't have mind walking that hour in this area!! But for the locals I am very happy 🙂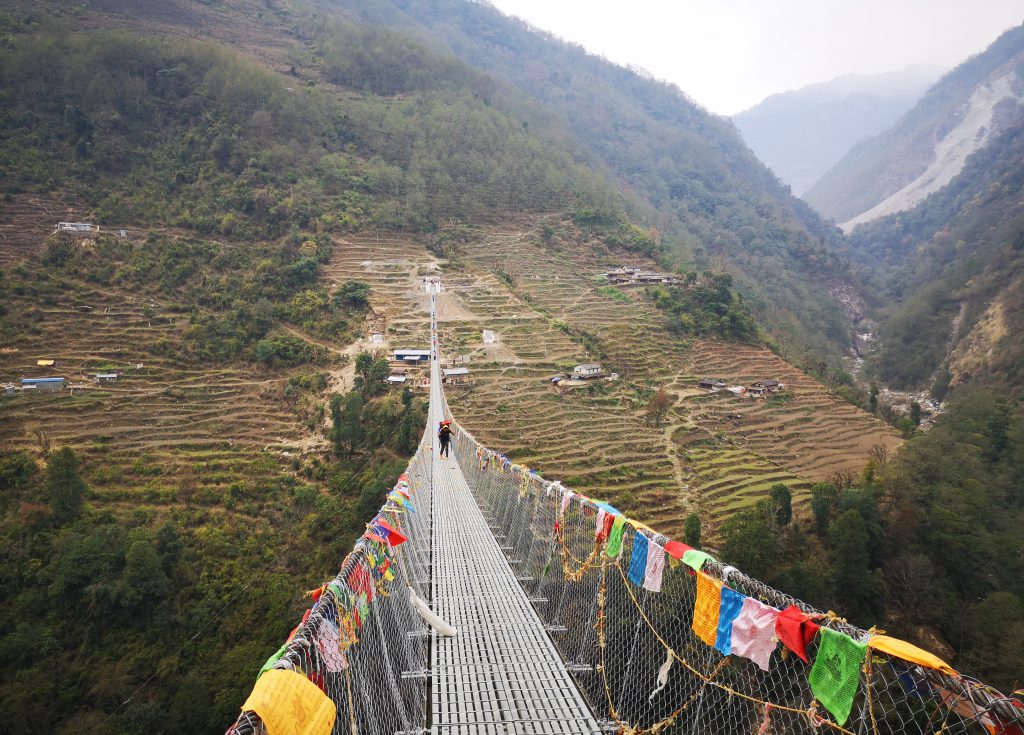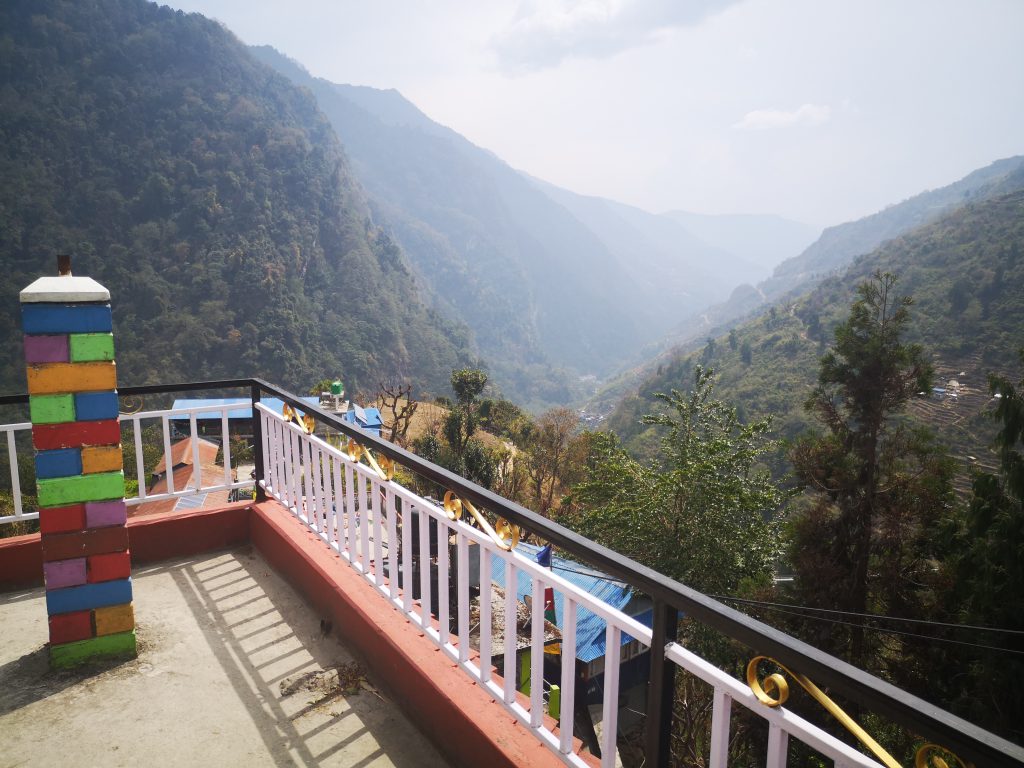 From Kaski we would go down again later that day to the Jhinu Spring. I have to say that it was really relaxing to lie down in the middle of the jungle and enjoying the surrounding. But the water isn't that hot as you might aspect if you hear the word hotspring… It is body temperature and so it feels luke warm after a while.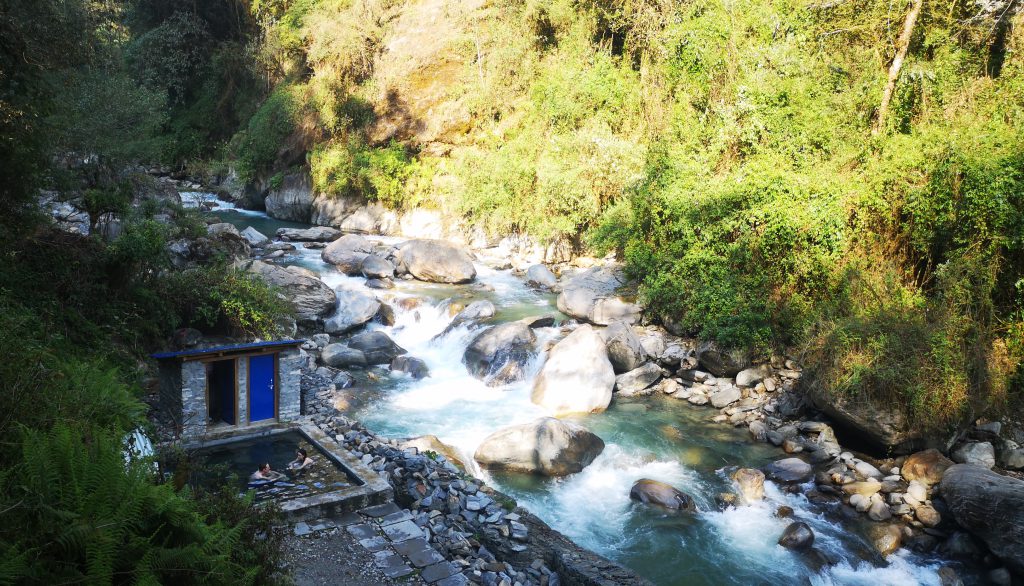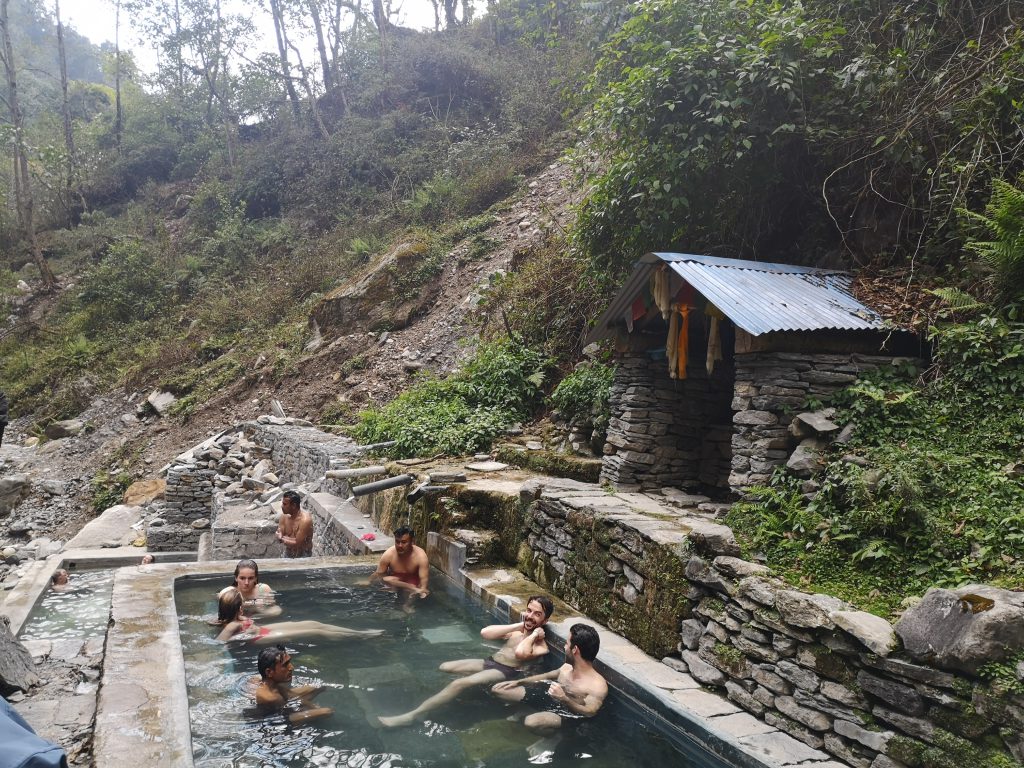 But enjoying the nature and all its sounds is just great!!
This day we went from 3149 metres altitude to 1735 metres.
In Kaski we stayed at the teahouse Ever Green
Dagy 6: Kaski- Landruk (3 hrs)
We started our day by hiking back to the long suspension brigde to go left after that and not up as we did yesterday. Now we started to follow the Modi River to our next destination. This river gaves us some new beautiful views into the landscape. I enjoyed them every day and they were different every day again!!
There were only two days left….was already on my mind with some sadness…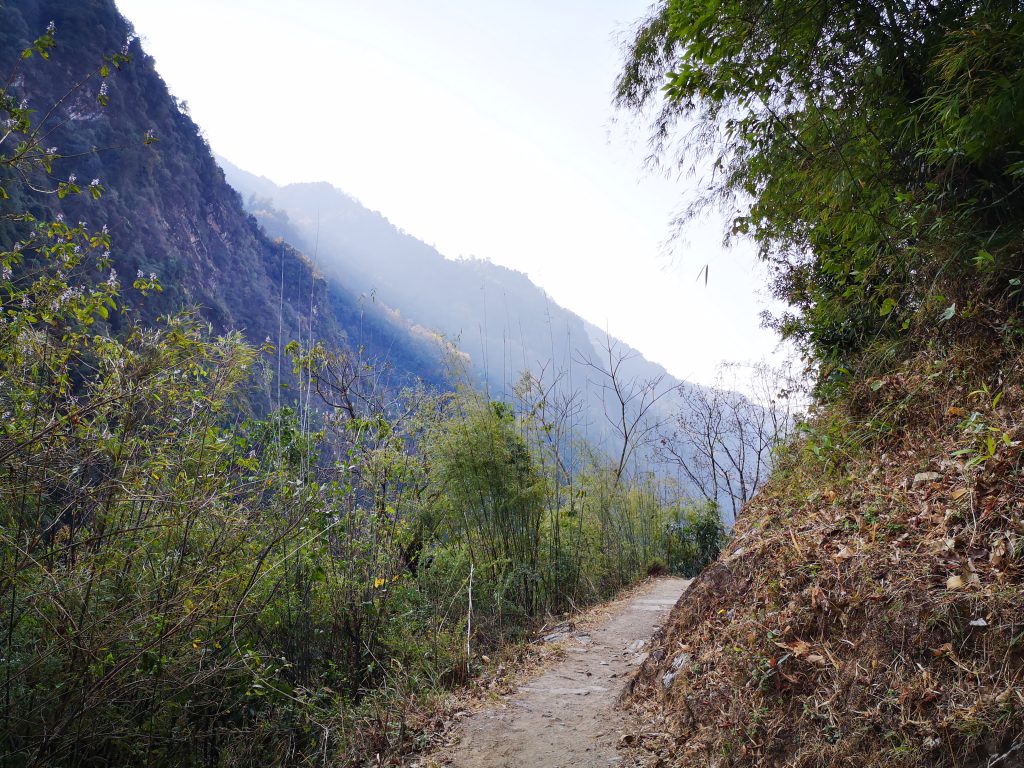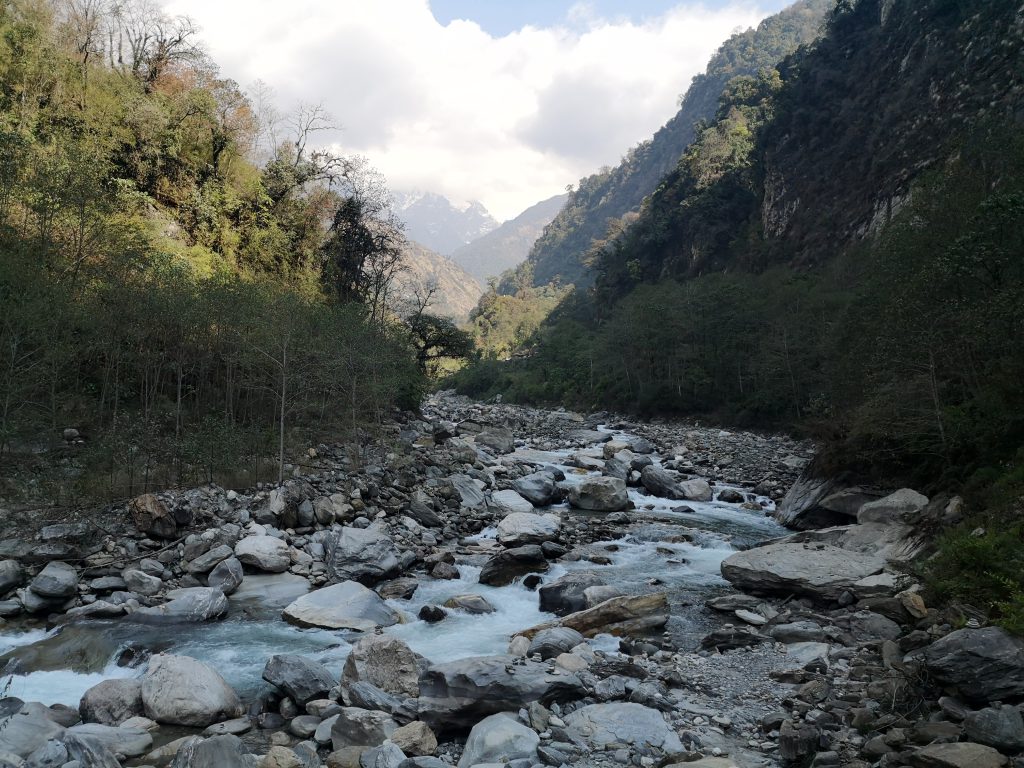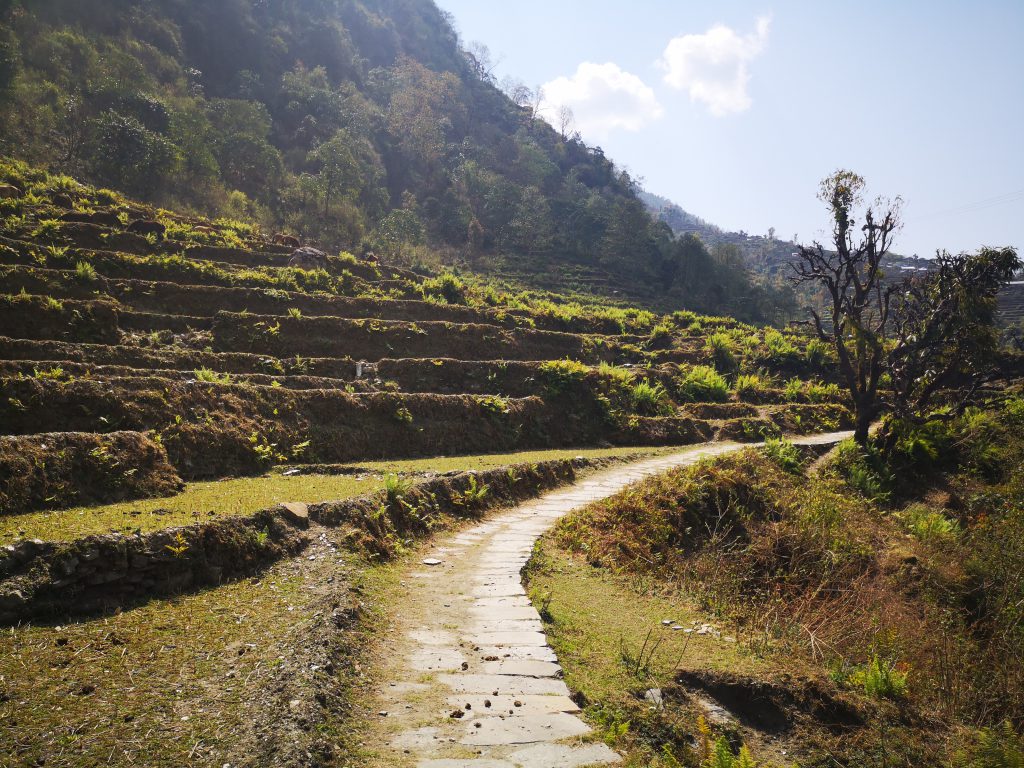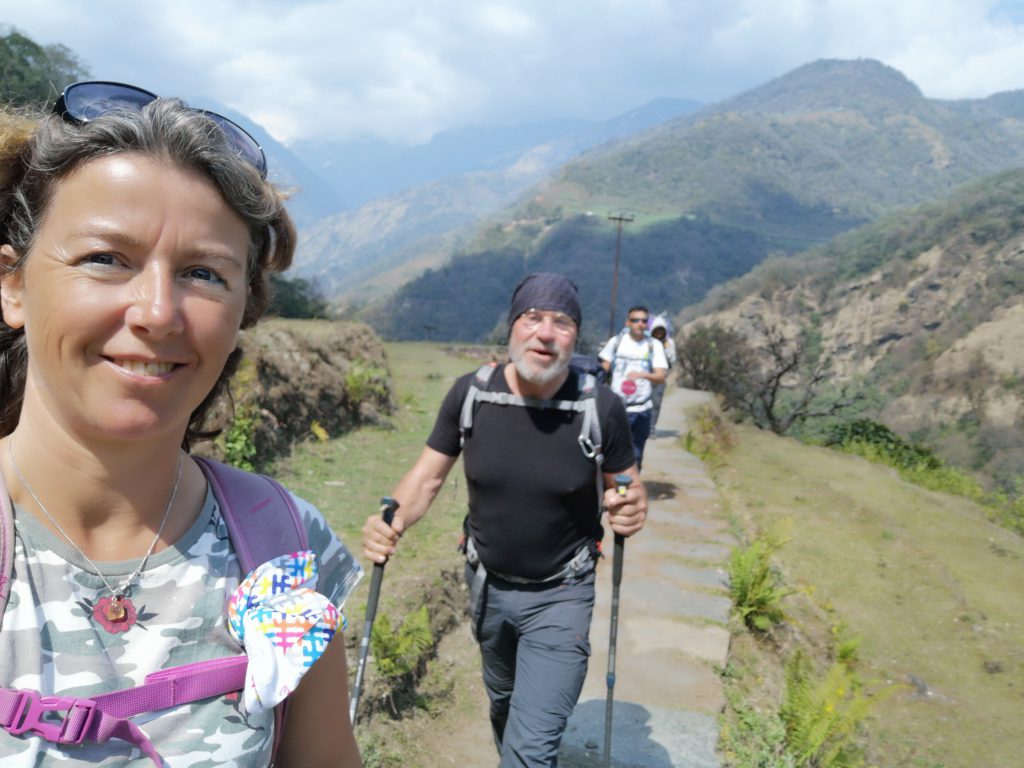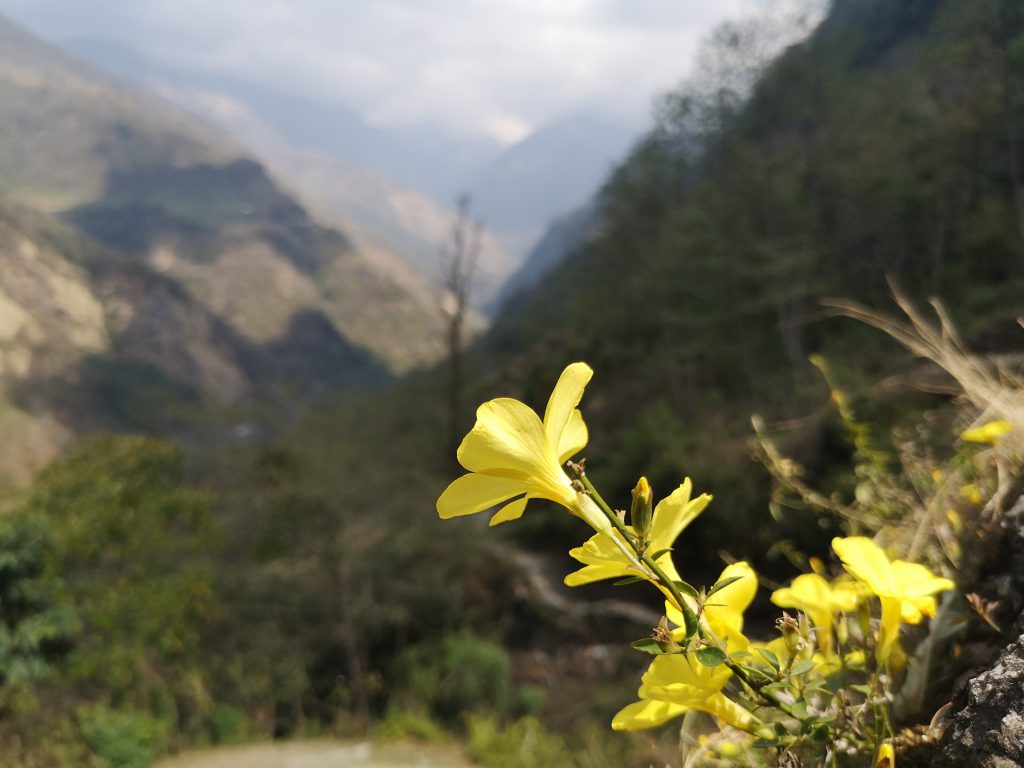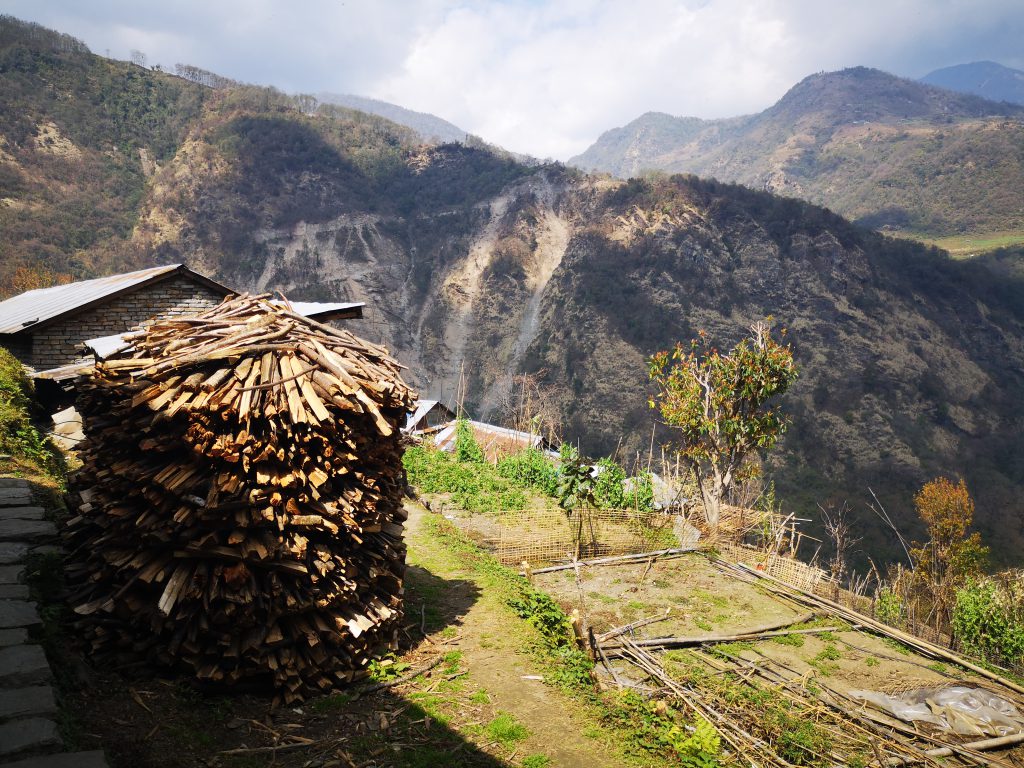 At the end of yet another beautiful day we were at Landruk. Washing our clothes, drinking some chai and exploring the village. We saw children who were also curious about us. The first thing they do is holding their hand up in asking for chocolat. Well…that is what they learn from the tourists appearently but you know what?
When you go play with them they like that even more!!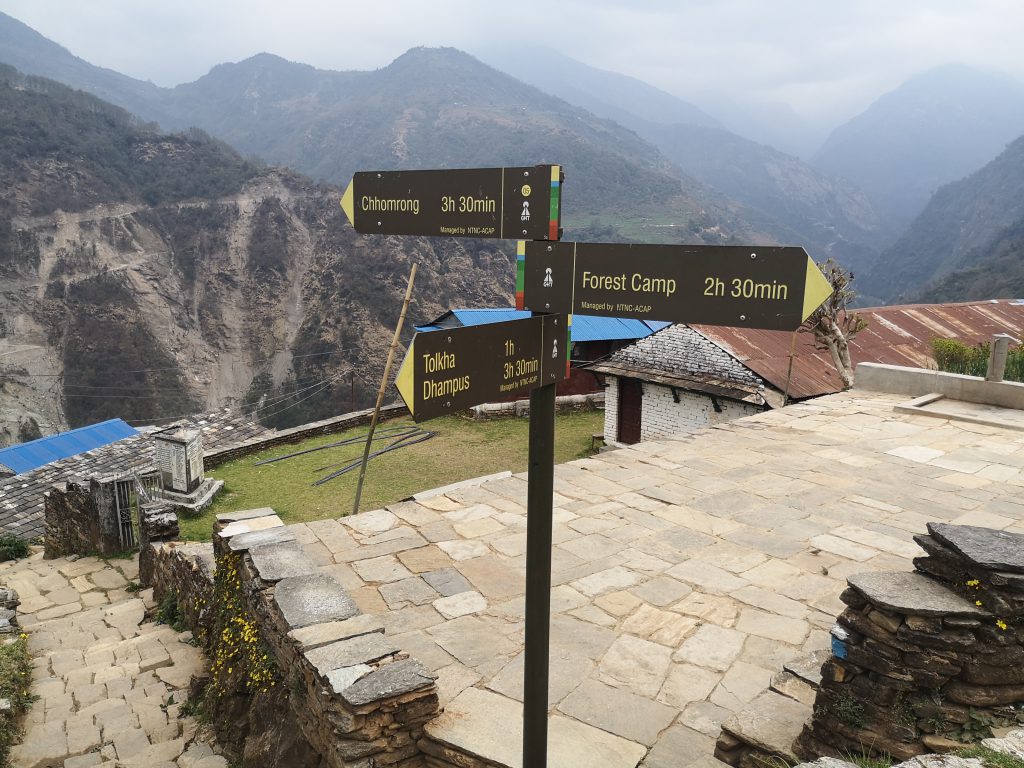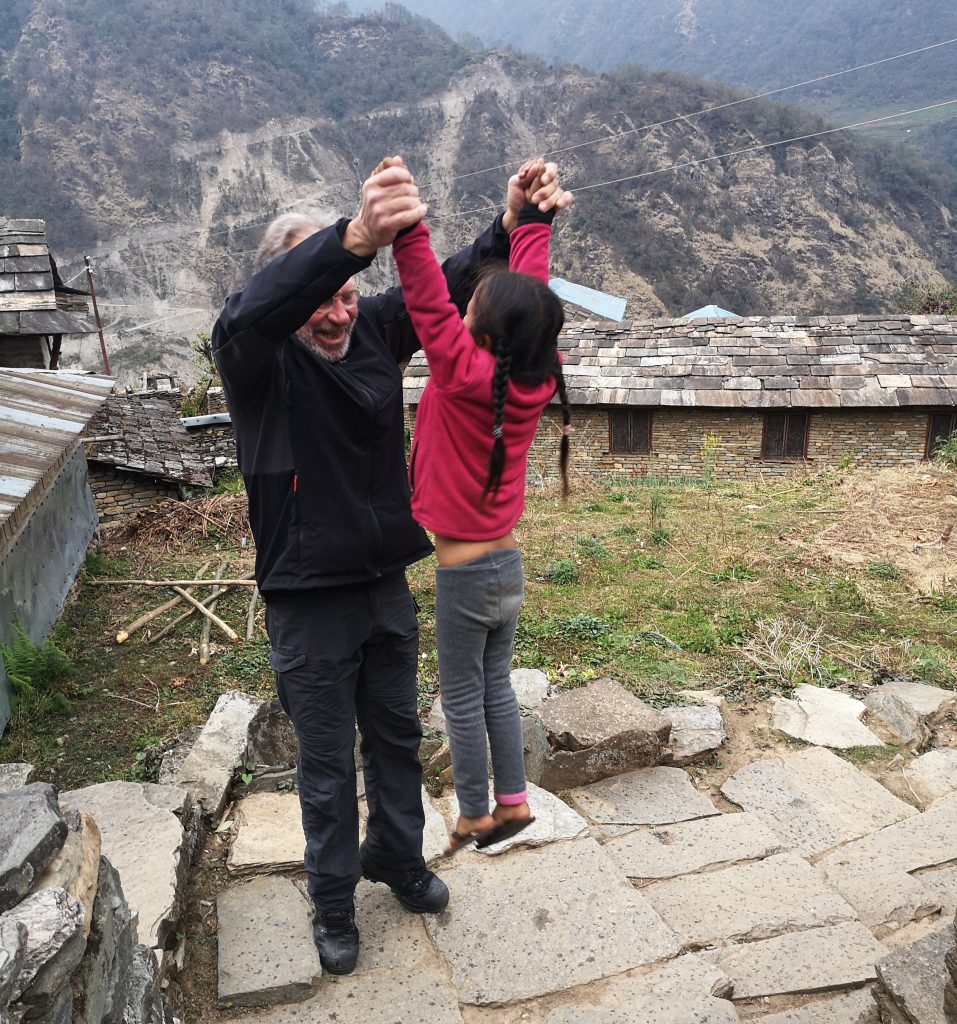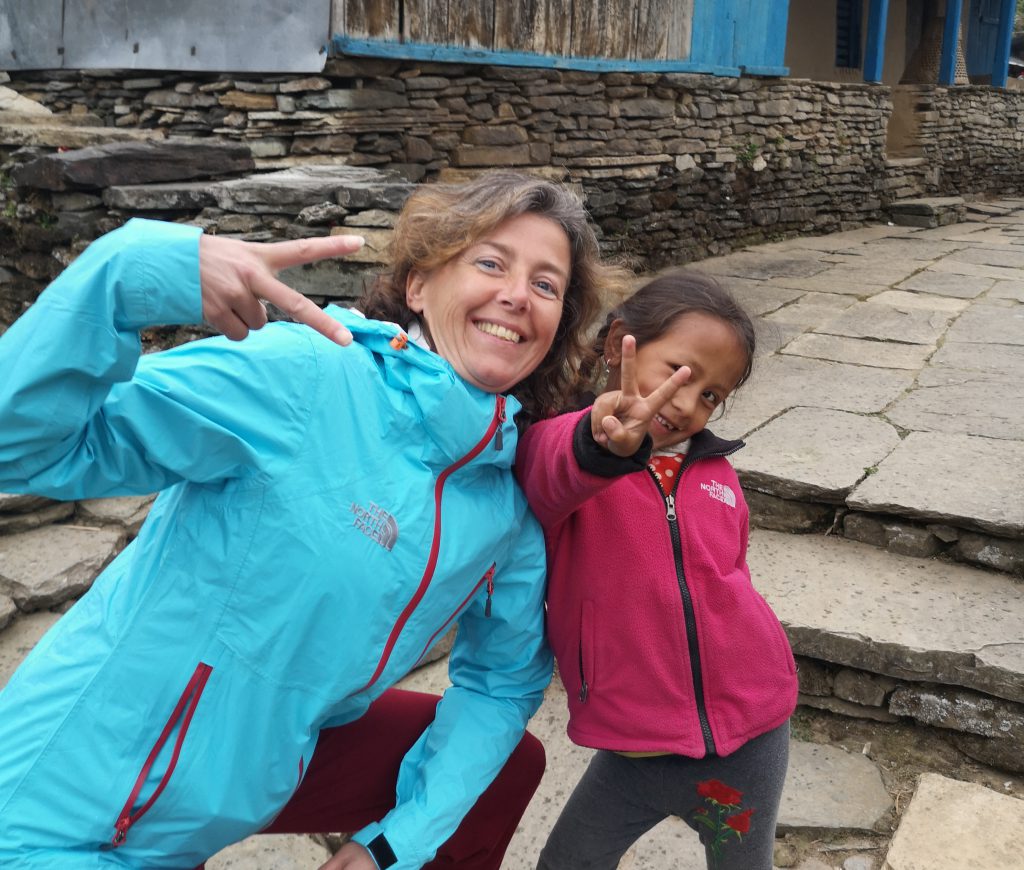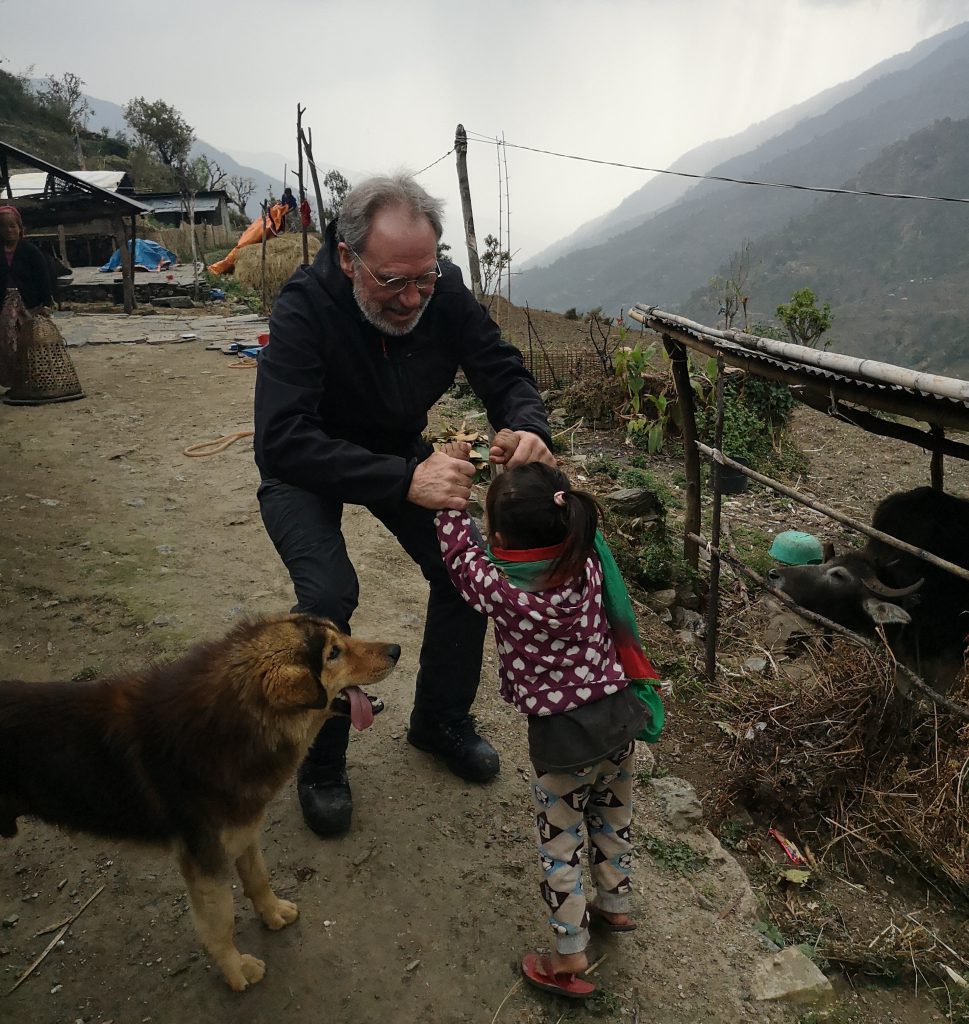 This day in altitude was not impressive. From Kaski at 1735 metres to Landruk at 1628 metres.
In Landruk we stayed at the teahouse Captain Laligurans
Day 7: Landruk – Dhampus (3.5 hrs)
Our last full day on the trek, in the mountains… We started trekking and enjoying the views to the max. Also this day was not long for trekking and so we took our time.
In the morning I ordered a chai in the sun on a terrace with a great view and also lunch is on the way. I wanted to stay hiking as long as possible and enjoying the mountain vibes!!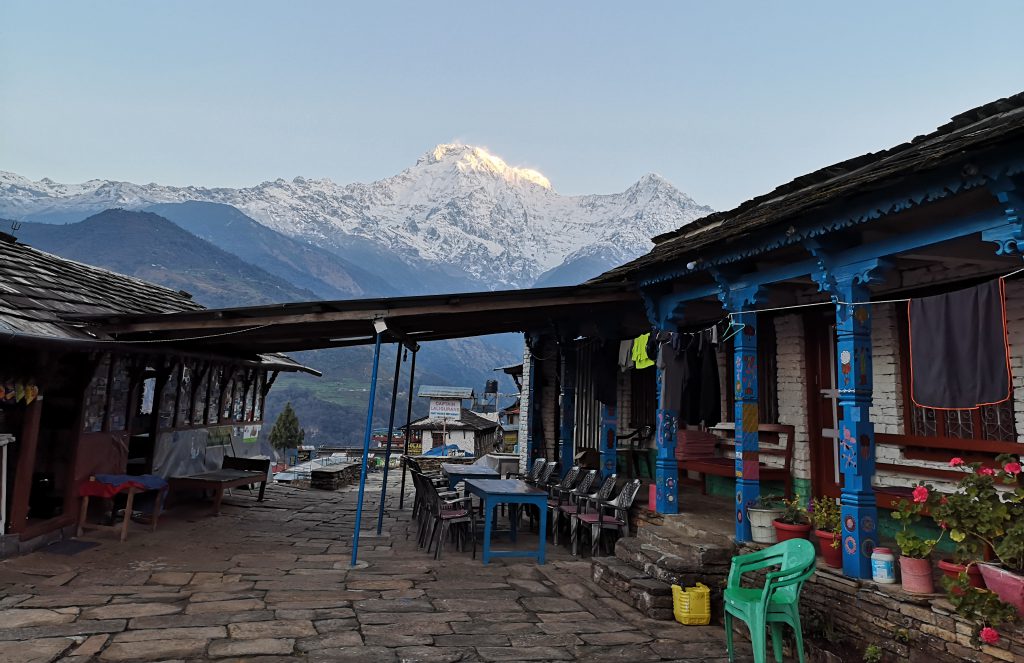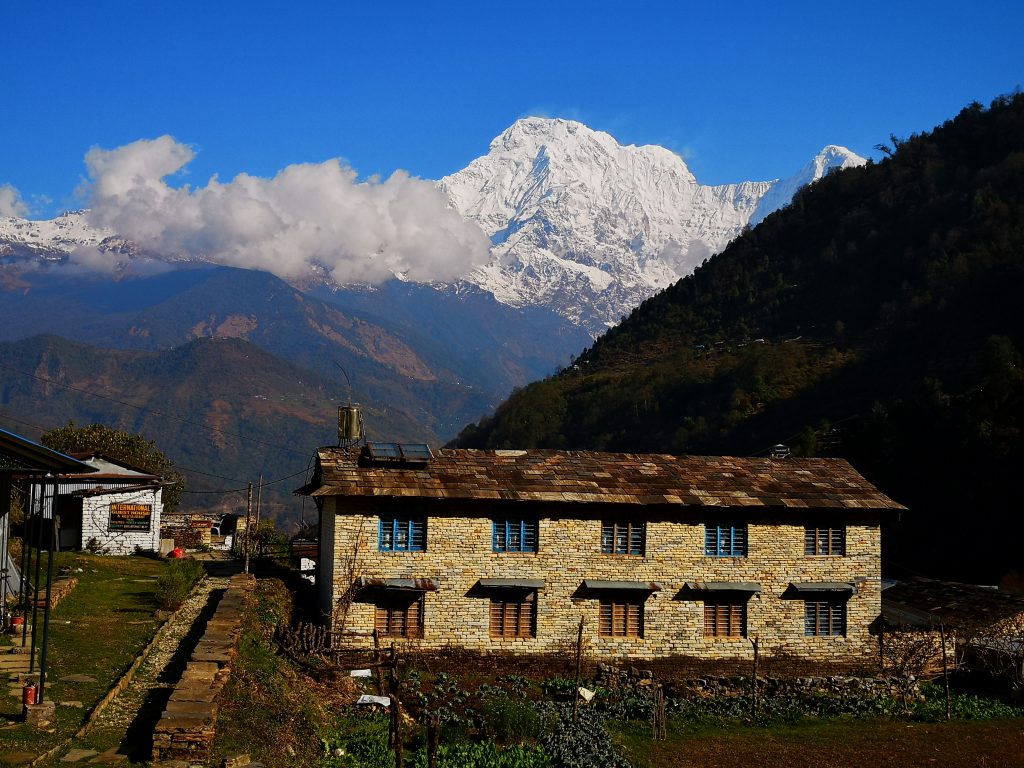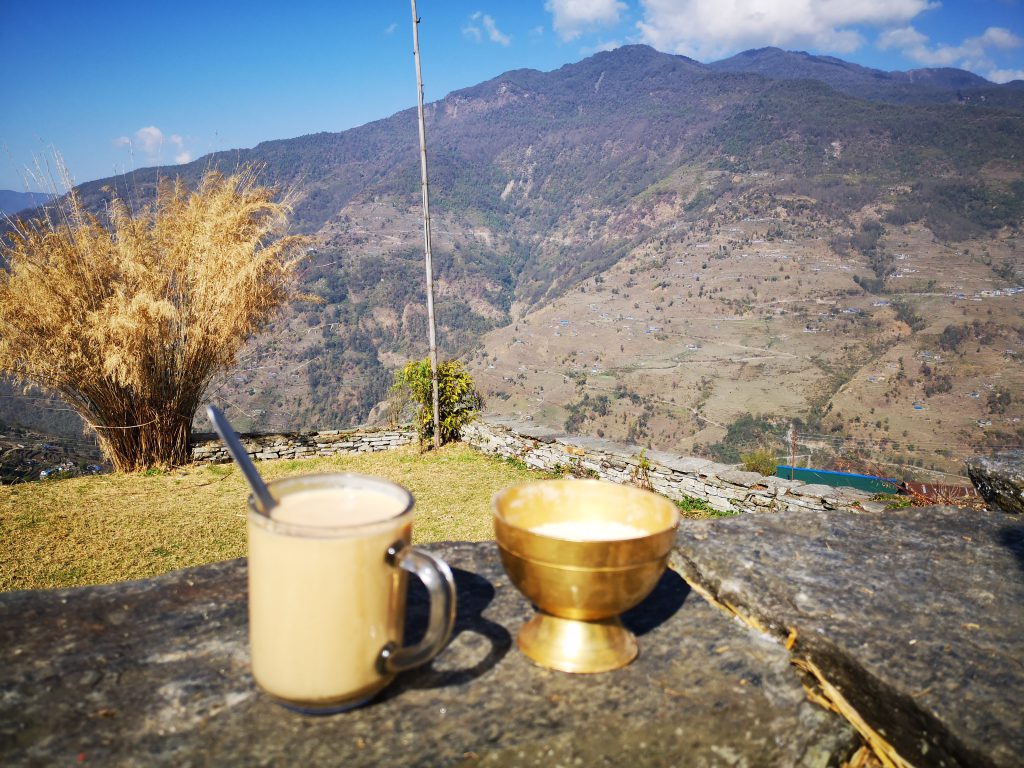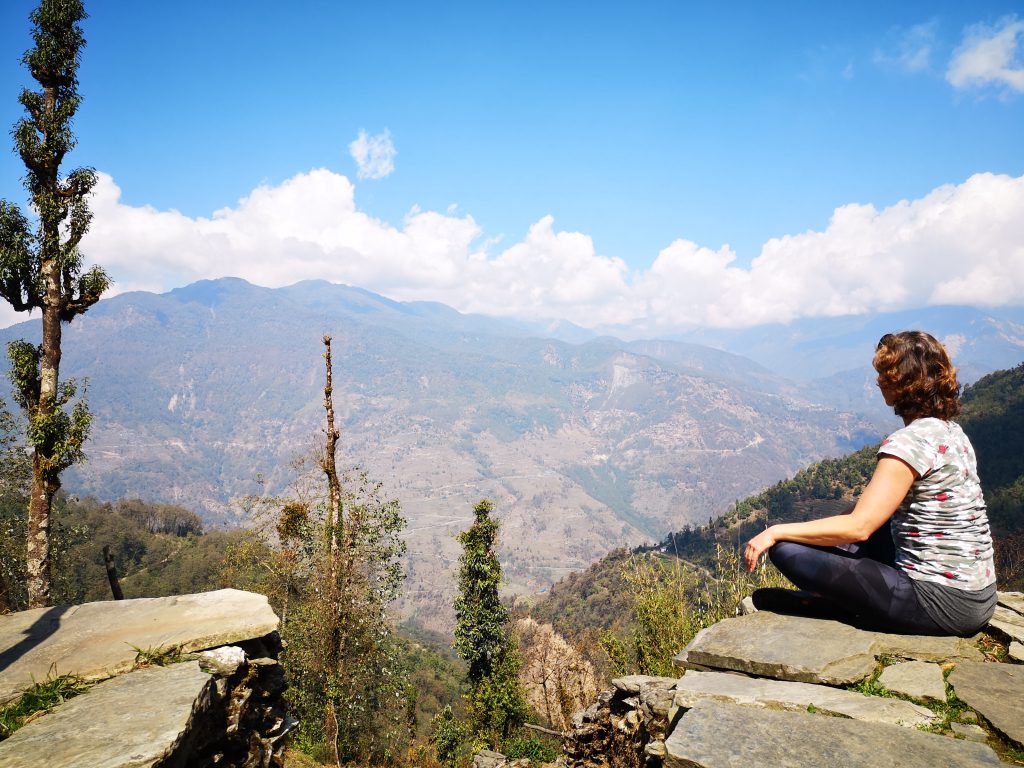 When we are almost at our last destination we encountered some Holi celebrating guys!! I loved it and was pleasantly suprised!! Never before was I in India when Holi was celebrated… Still not India but I was really close! I suddenly was part of the celebration and loved it! I can almost tick it of my huge travel bucketlist 🙂
Ofcourse I wanted some colours on my face too! They asked permission to do that and I heard of Hom, our guide, that it is forbidden to do that without permission. Sounds really descent!!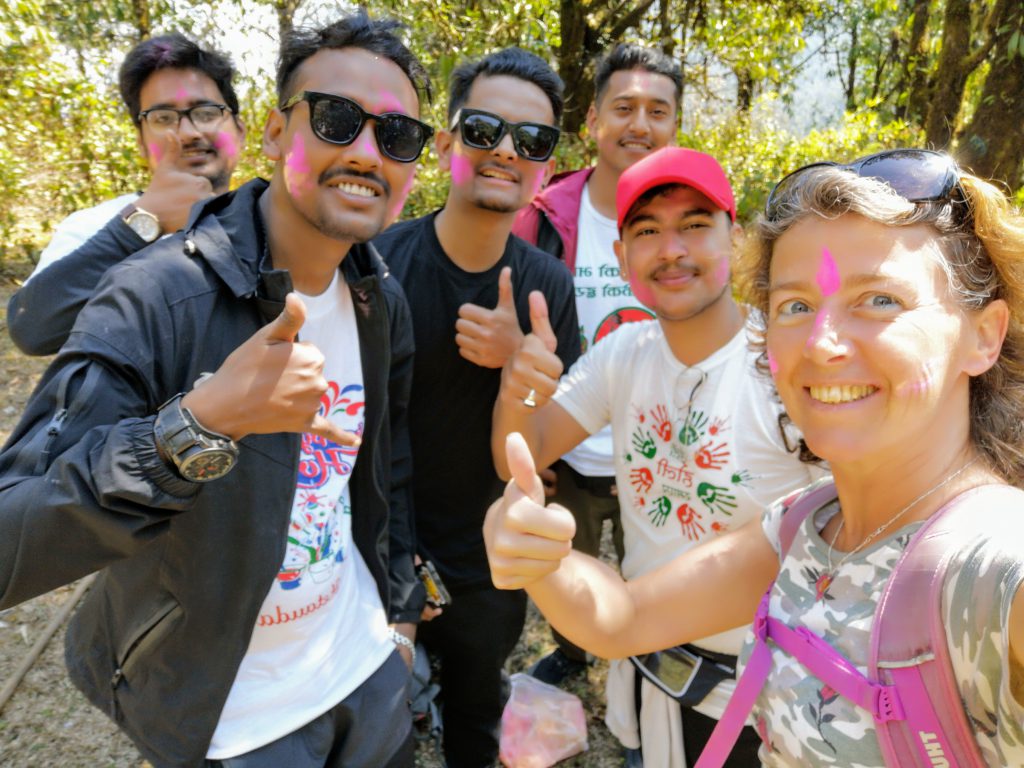 Well… It was different when I entered a village and some younger boys are celebrating and had just painted some other girls red… They painted my cheeks red within seconds and without asking… And when I wanted to make a selfie with some small girls they couldn't help theirselves too ofcourse!!
Loving the moment!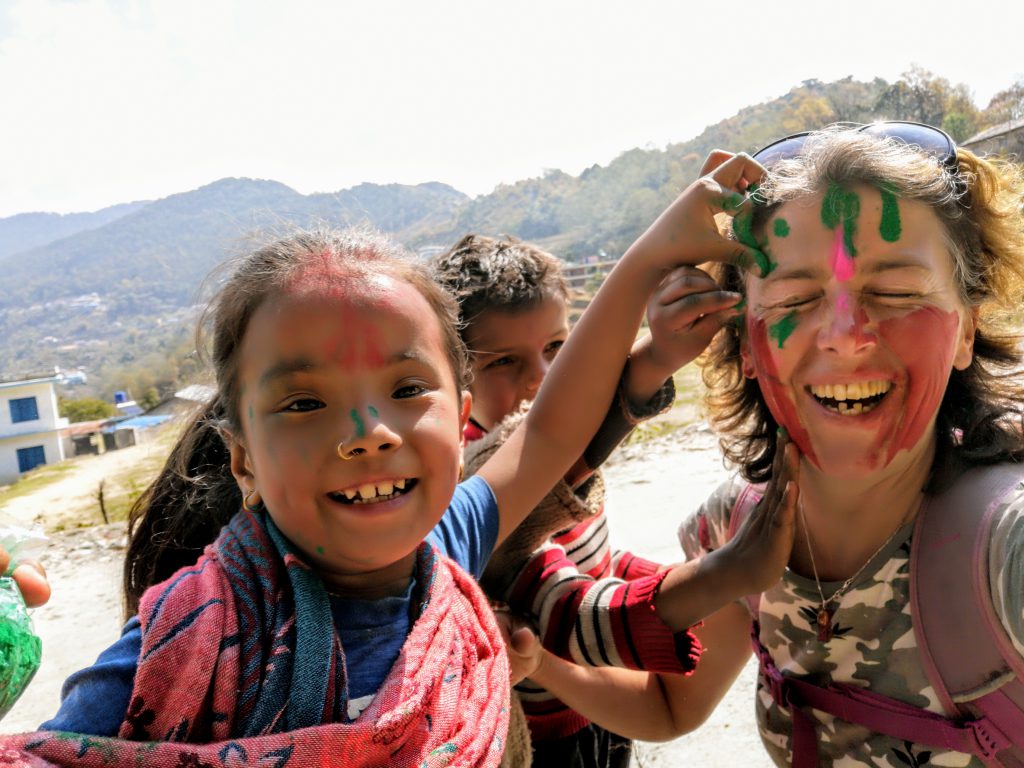 We entered the village of Dhampus just after and after a shower and some relaxing we started to make a small hike here too. The weather was really threatening us but still the rain didn't hit us but it did treated us with some great skies!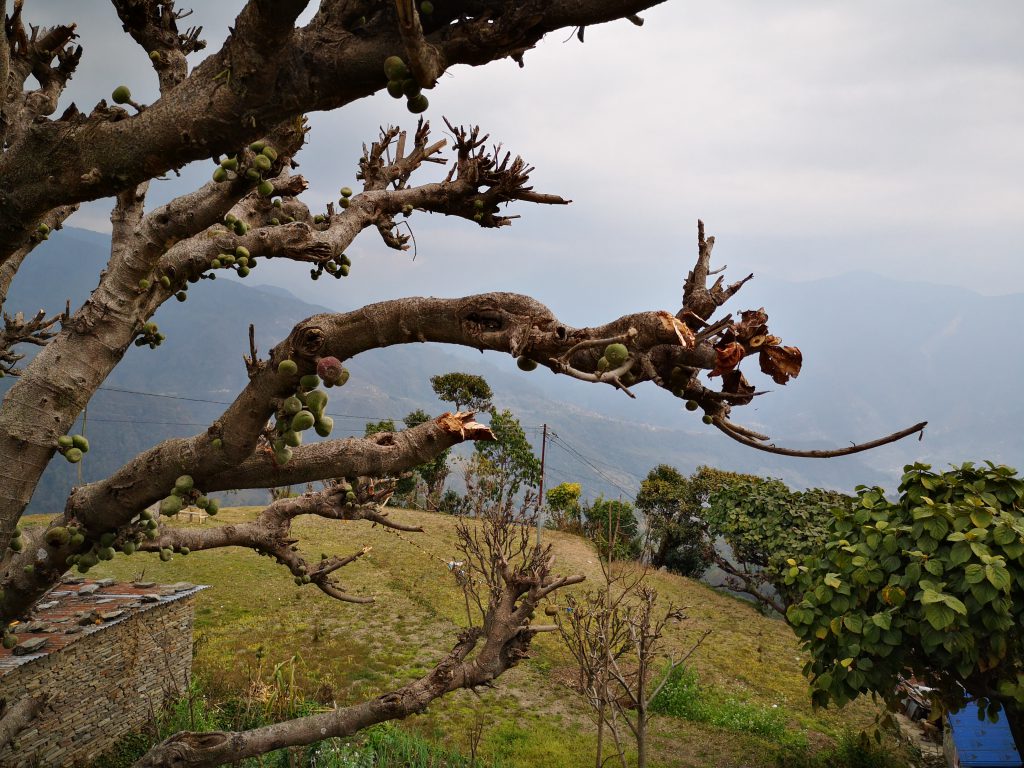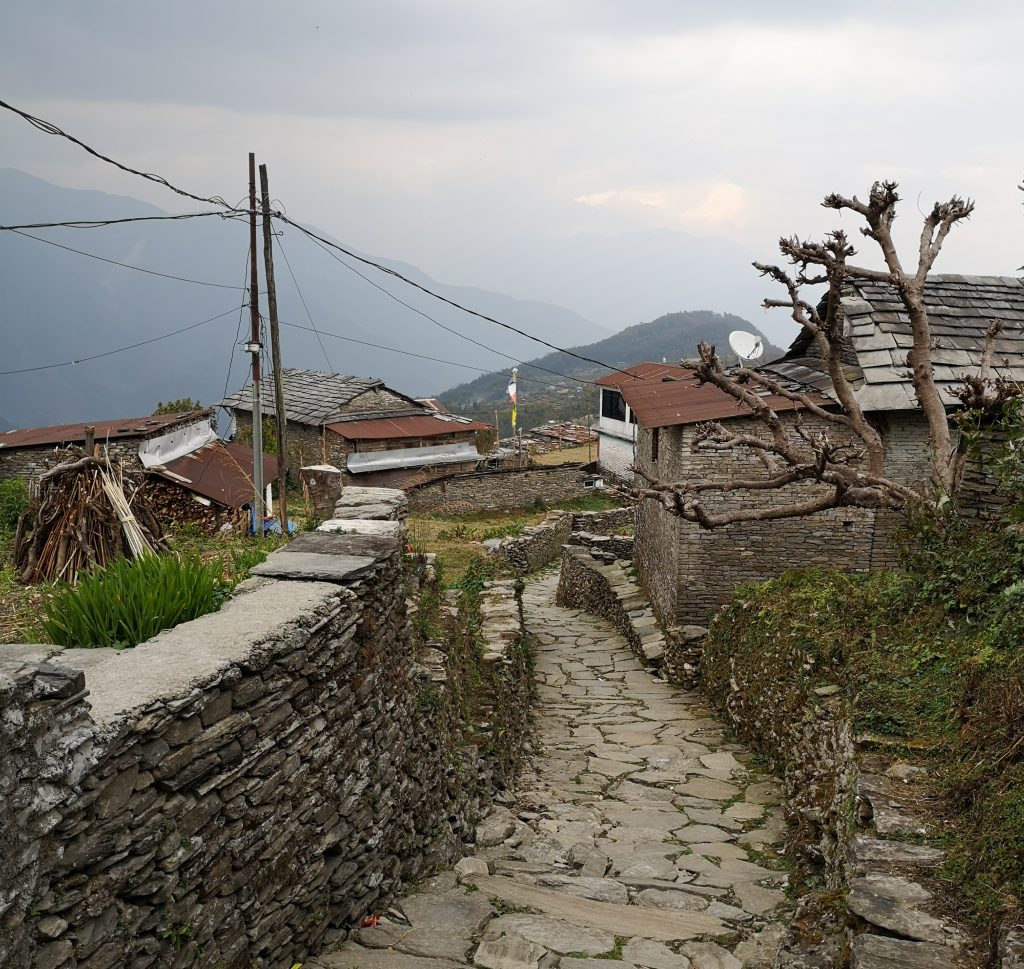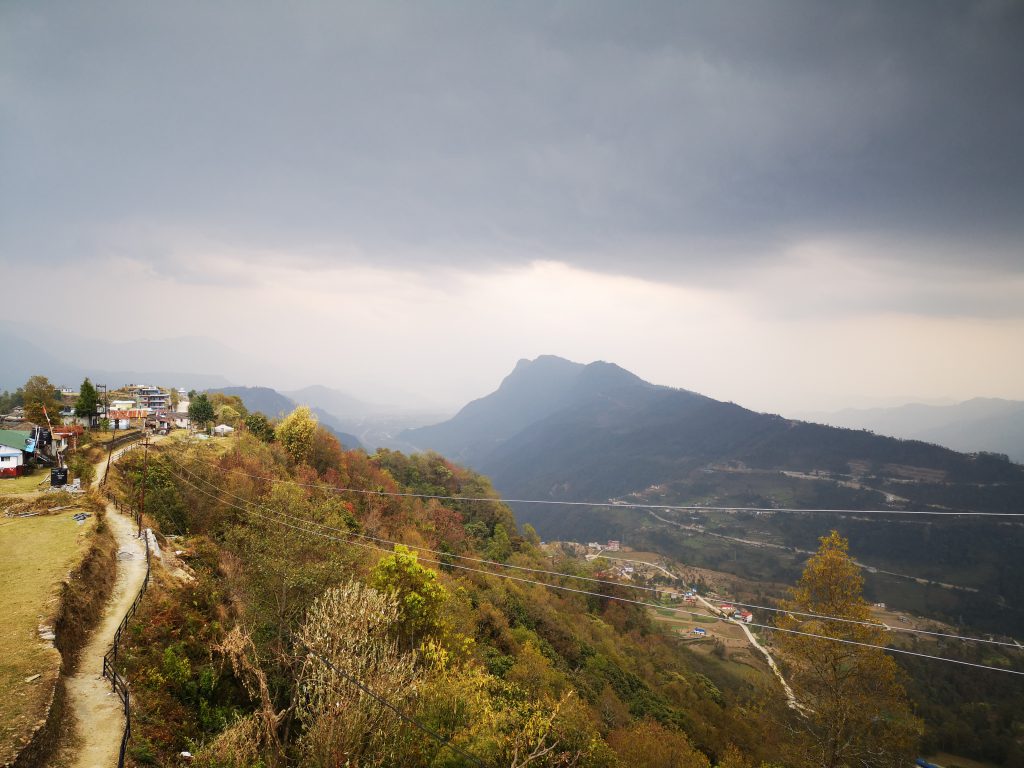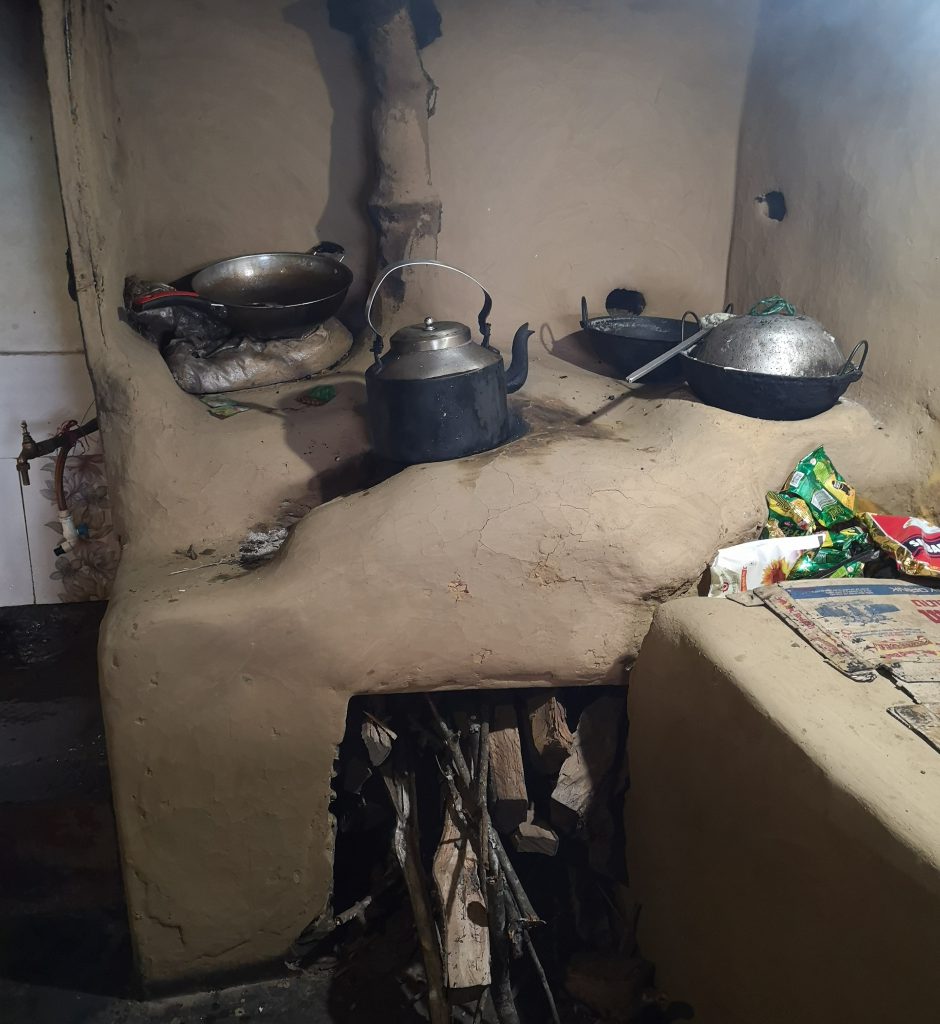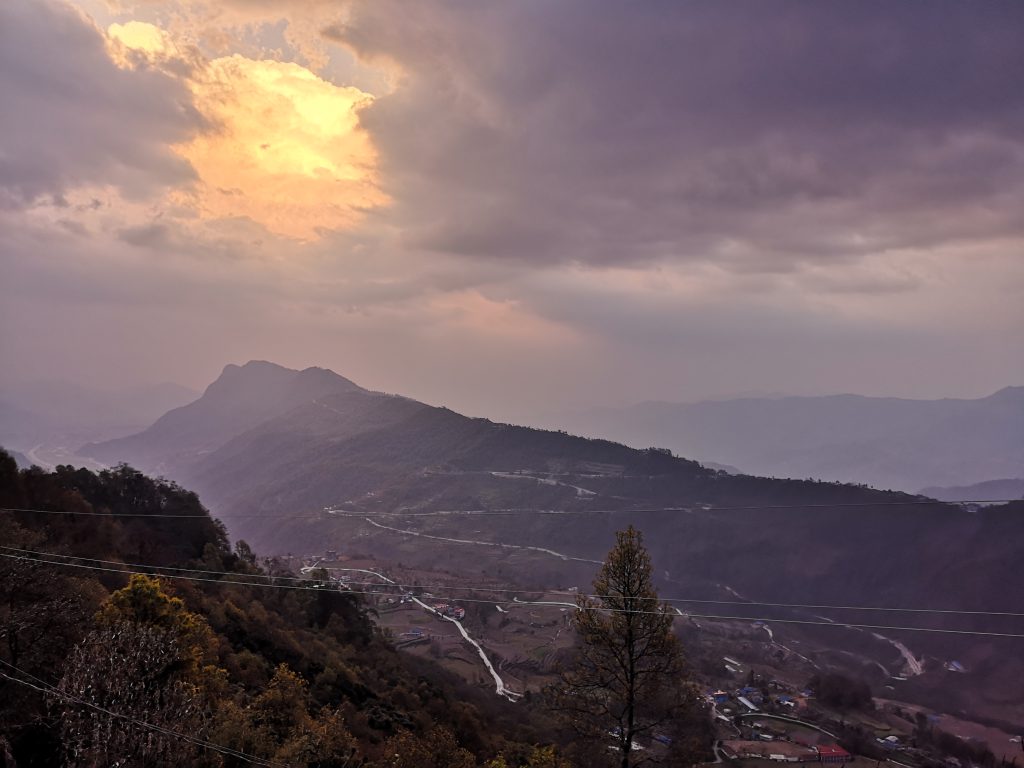 This day is in altitude almost the same as yesterday, Dhampus is at 1700 metres altitude.
In Dhampus we stayed at teahouse Anu
Day 8: Dhampus- Phedi
And then the last day had come and we only had to descent for about 1.5 hours. Stone steps down. But first we had breakfast with this great sunrise!!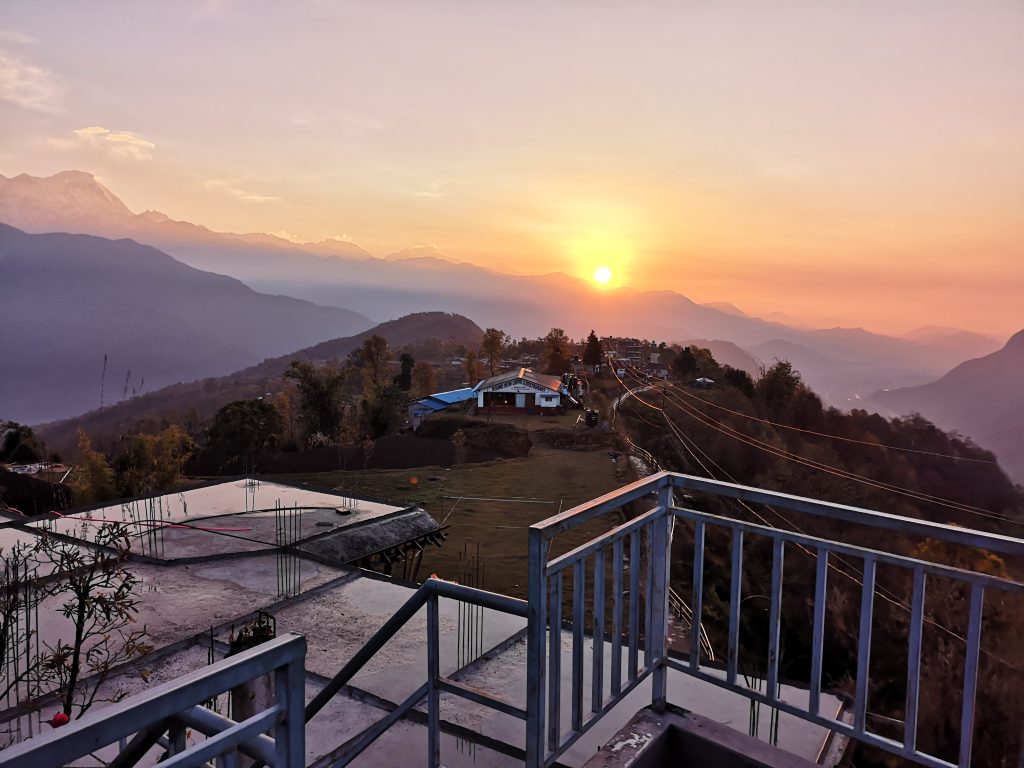 We saw the valley already, the valley from where we started 8 days ago. We saw the river we drove along on our way here. The river where they are building a good highway…
I don't want to go down yet… but… It wouldn't take long before we set foot out of the mountain area and are back in the world of hard working people and fast cars..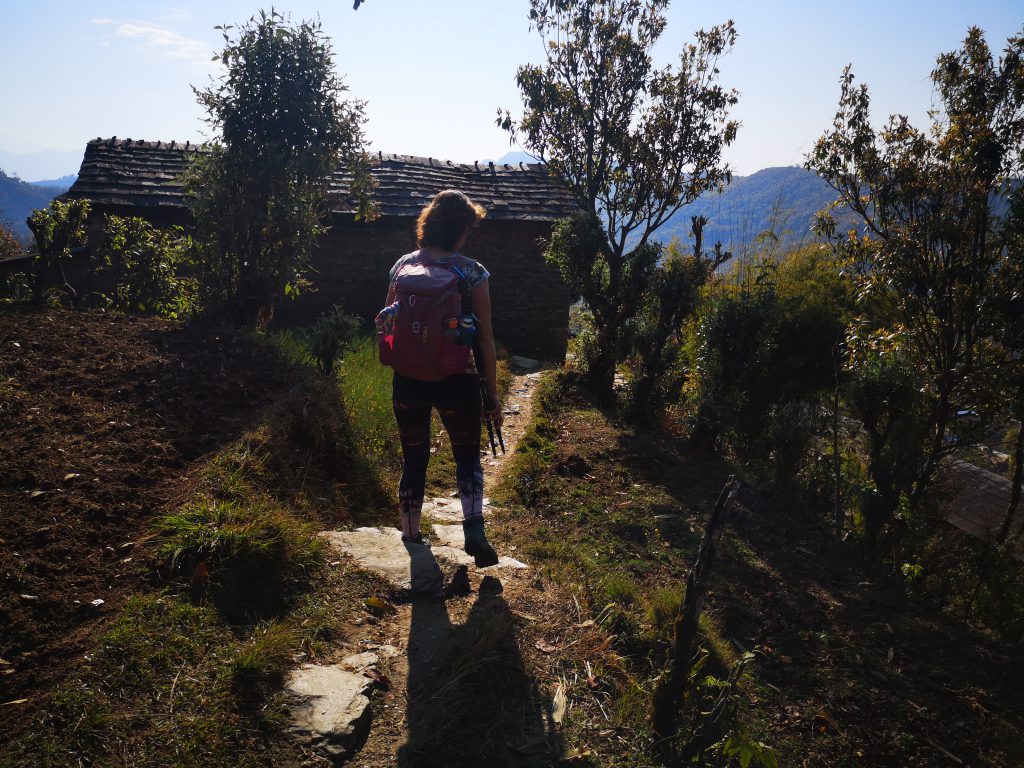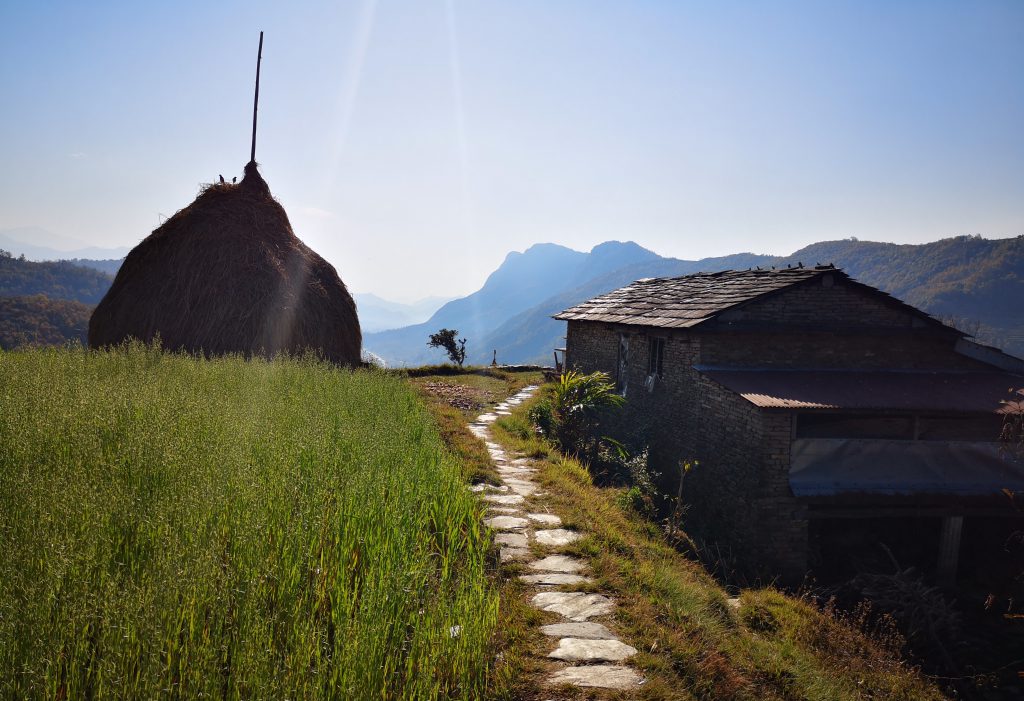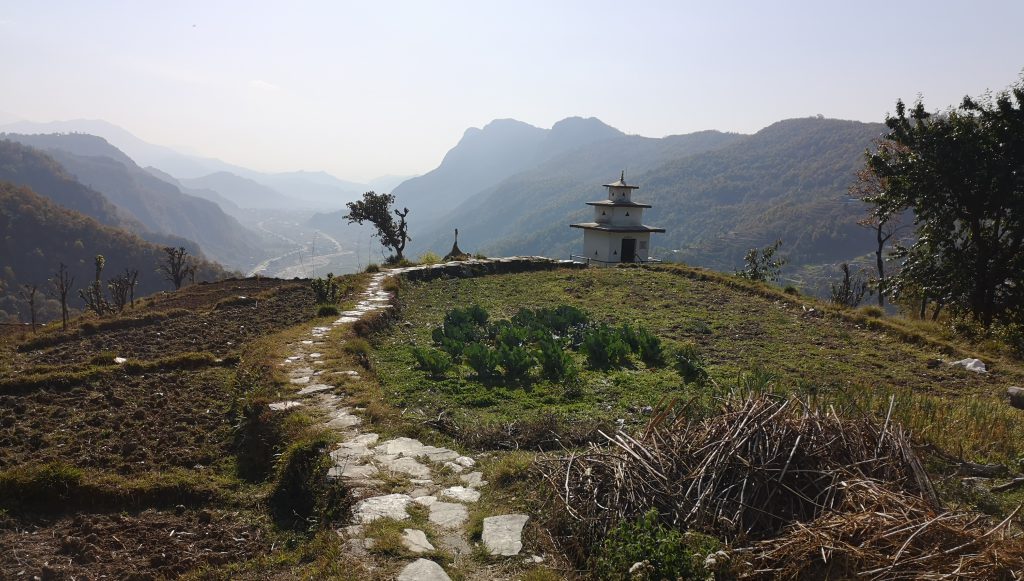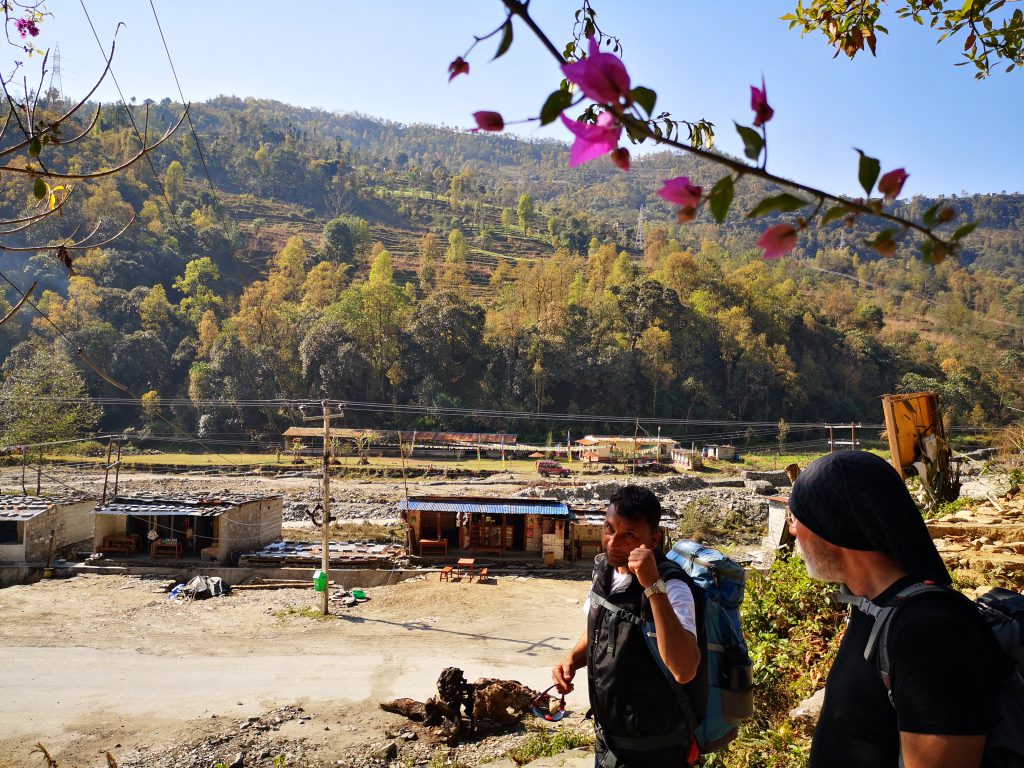 I really loved my days in the Himalayas. It was my first introduction with hiking in the Himalayas and I really want to go again. This hike was not too hard. I now know what I can do and I am confident in stepping back in for a next level. And I am eager to do that too. I'm really going back and do a trek with some more challenge for my mind and my body!
I can recommend this multiple day hike to everybody for a first introduction with the Himalayas in Nepal!
I can understand if you still have some questions about how and what of this journey and below I will try to answer as much as possible to make it easier for you to prepare your trip to Nepal!
How & What
Poon Hill Trek
To start with that in the first place, I think when planning a trek you really want to know if you are capable. This one was easy for me. The first two days were tough because it is mostly climbing up. Mostly walking stairs and getting used on the altitude. If you go slowly and just do it step by step it was easy. With my colleague it was different, he had no difficulties what so ever with any other day but the climbing got to his legs immediatly. If you have that problem too it can be difficult at some places in this route.
The first days are about 5 hours trekking and after that only 3 hours a day. So this is only trekking in the morning and the afternoon free for exploring and relaxing. And this also give you the opportunity to stop every where for a picture and you can extend it a bit by enjoying your lunch on the way too! It is an average of 8 to 12 K a day.
And ofcourse an extra stop for buying the great chai massala they serve everywhere!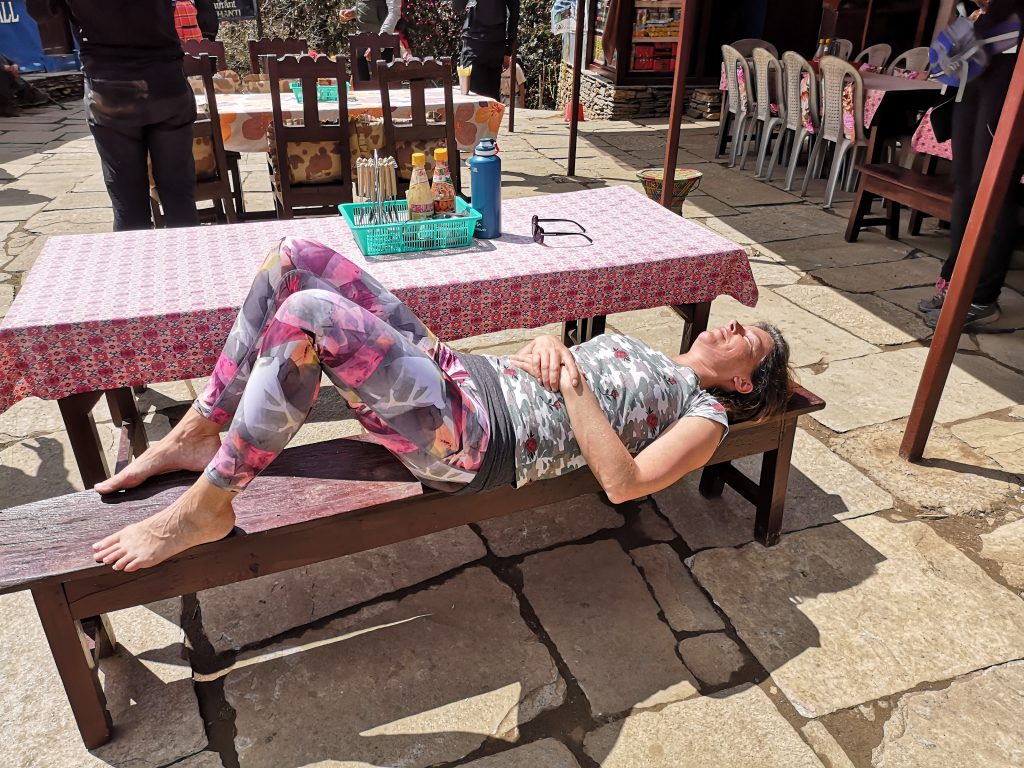 During the trek you use the so-called teahouses. You can compare these with lowbudget hotels or alberques I used on the Camino. You can rent a single room in them but they also have dorms. I liked using them, you easily meet other hikers and they offer you everything you need from food, drinks. You order your breakfast, lunch or dinner there and they probably have a nice spot for you to sit.
Do you  need some other things like toiletpaper or such… they offer that too. But you can also take a hike in the little village and find a local little shop that offers you those things too. Always good to sponsor those local shops too.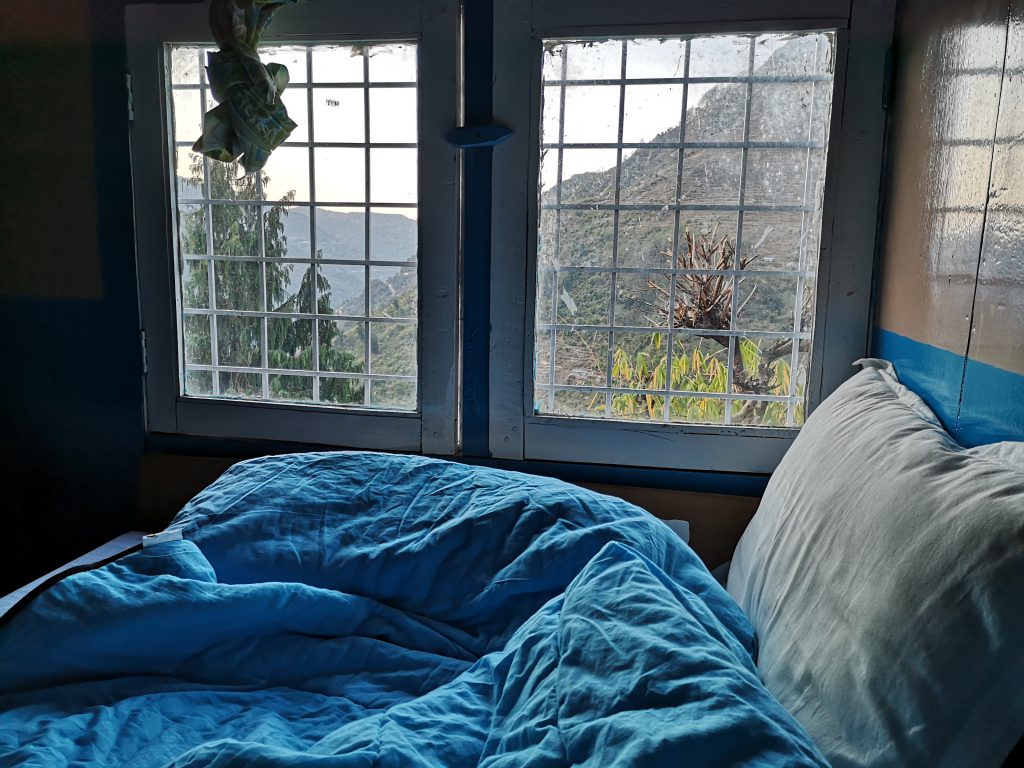 If you rent a private room you sometimes have a private shower and toilet too. This is not always the case. I did thought the toilets and showers were good. Don't expect too much while in the mountains and then you like it too! Our guide Hom told us: Everything is mountain fresh. That means you can use your clothes more then once because things are a bit different around here.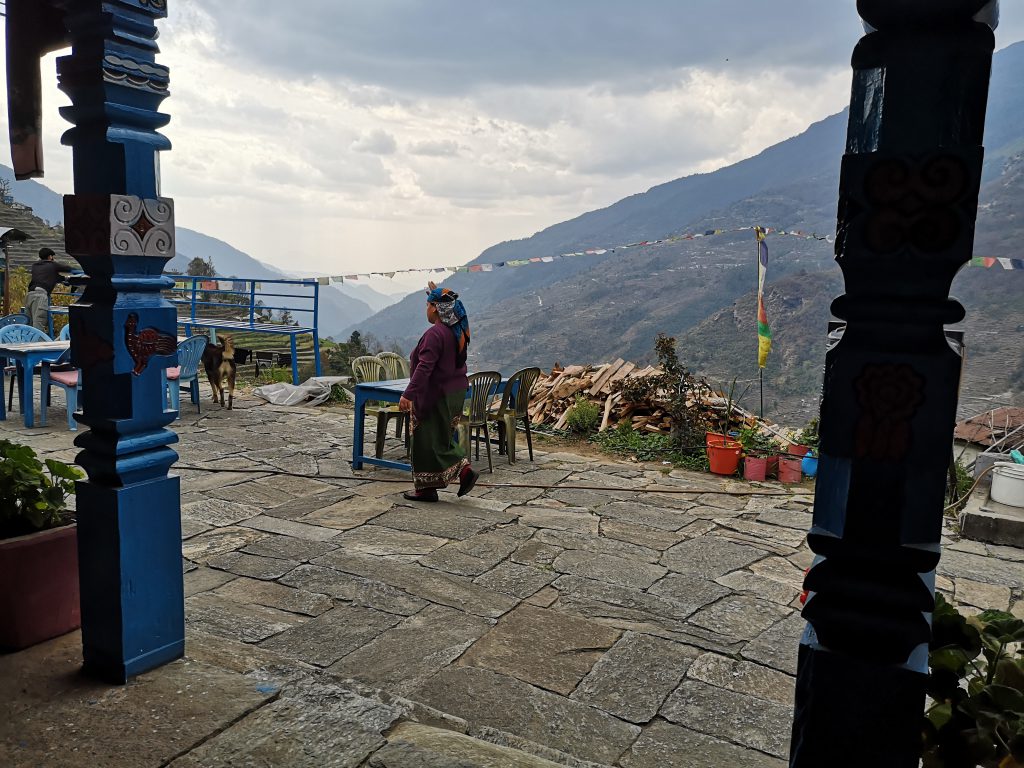 It can get cold quickly in the Himalaya in the evening. Because of that I brought a small waterbottle for a litre of hot water with me. I only used it twice this trek but I was really happy with those times. You can get some  hot teawater everywhere and they are happy to fill it for you. I really can recommend you to take such thing because if you are cold and lying in your sleepingbag or bed with cold feet is nasty!! It always takes me at least half an hour to an hour to get warm…
All items that are in the mountains needed to come from the lower country. So you will see donkeys walking up and down every day with all kinds of products. So this does mean that everything you buy in the mountains is more expensive because of this.
If you buy your dinner in the city for about 250 or 300 NPR you at least pay 4 to 500 NPR up in the mountains. This is something you need to take into account. You can not get any extra money once you are on the trek so you need to use the ATM in Pokhara to get the money you think you are going to spend.
They advice you to take around 20 dollar per day per person.
We did needed that. After 8 days on the trek we had 20 dollars left in our pocket so that is just 1 day food and drinks for 1 person.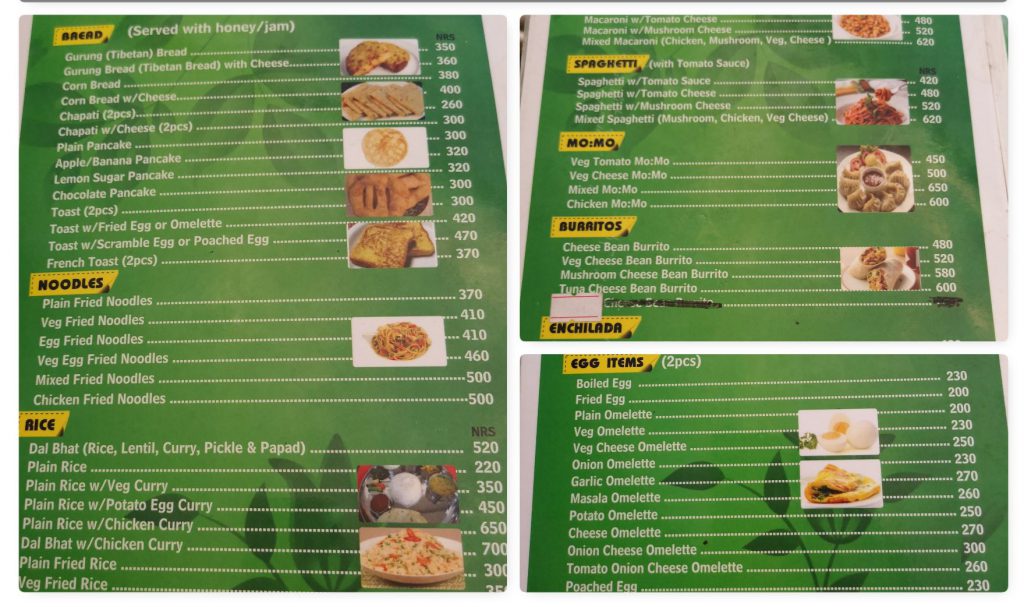 We always took a break in the morning for some coffee or chai. In the teahouse we also used some coffees or chai. I love the chai massala and every oppurtunity I got I ordered one. 🙂 With our dinner or lunch we got a bottle of coke or such.
Tip:

If you sometimes have trouble with local food while traveling….

Drink a bottle of coca cola every day while traveling!!

This stuff is really bad!! It is so bad that is kills everything in your stomach and intestines. So this also prevends you from getting diarrhea. I really hate softdrinks and will not drink much of it. But while travelling I do drink coca cola, it was a tip of my dad who travels a lot too and I never stopped doing that. Do use the brand coca cola as others haven't got the right formula for this matter.
Watersupply during the trek
We hardly paid anywere for the water. Sometimes they do ask a fee for a litre of water out of the big plastic containers and so good clean water for us to drink. They advice you to take at least 2 litres with you on the trek. Especially on altitude it is good to give you body the fluids it needs.
I walked with only one litre water.
Do make sure to hydrate enough!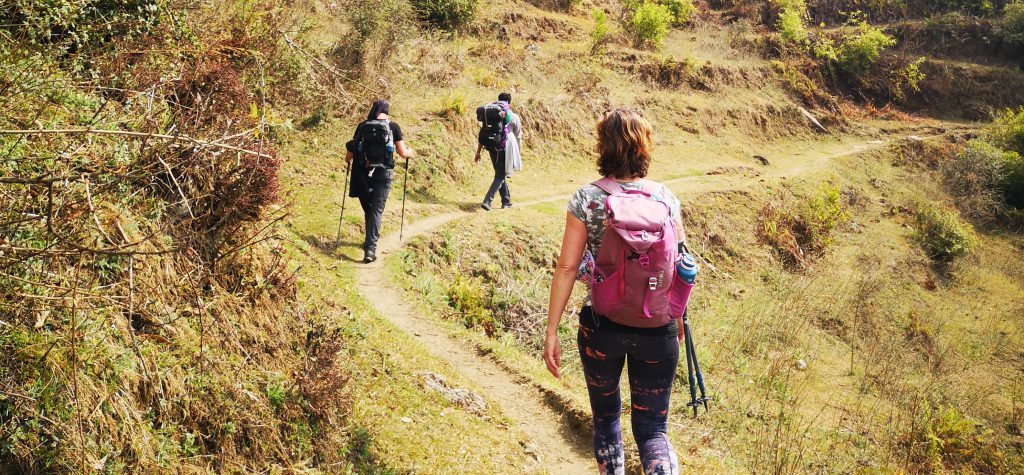 I have the experience that if I drink a lot of water and such in the evening I don't need that much during the day. So make sure to drink at least a litre in the evening. I especially like the fact that in the evening a toilet is near and during the day I can use them on our breaks.
We brought water purification drops, which was adviced to clear tapwater.We didn't use that as there was enough water supply to fill our bottles out of the big bleu containers they all have at the teahouses or restaurants. So if you take a bottle you can refill that is enough to get through this trek. Maybe if you go more up in the mountains this is different but on the Poon Hill trek and surroundings we didn't needed it.
—
I would love it if you would share this post for me so my bubble on the internet will grow wider 🙂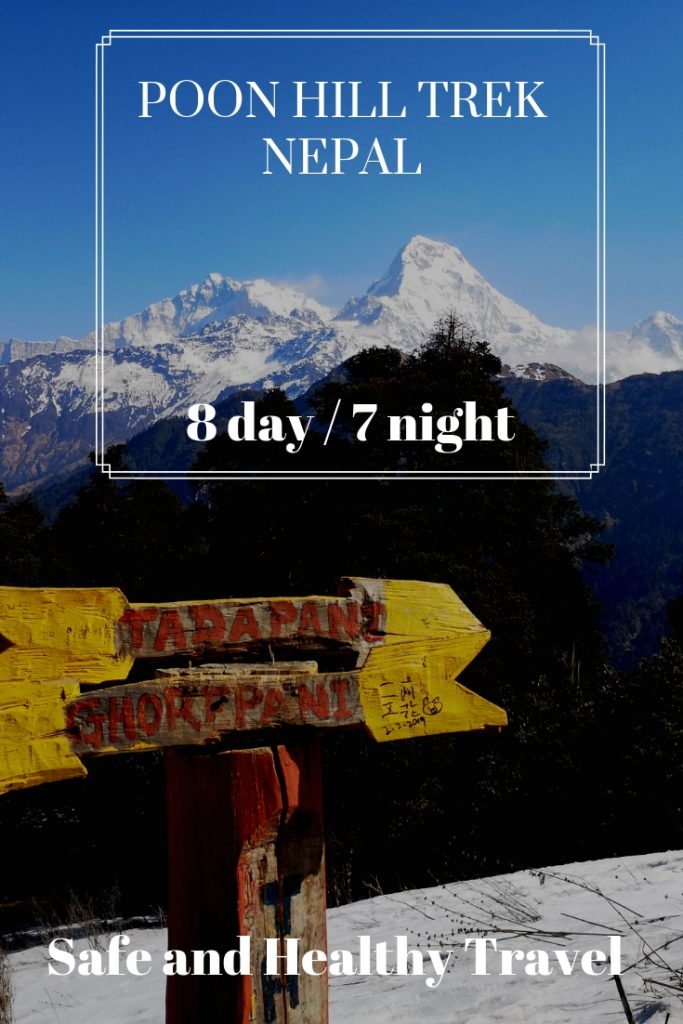 And to just enjoy it some more…
some more pictures from the beautiful Himalayas!!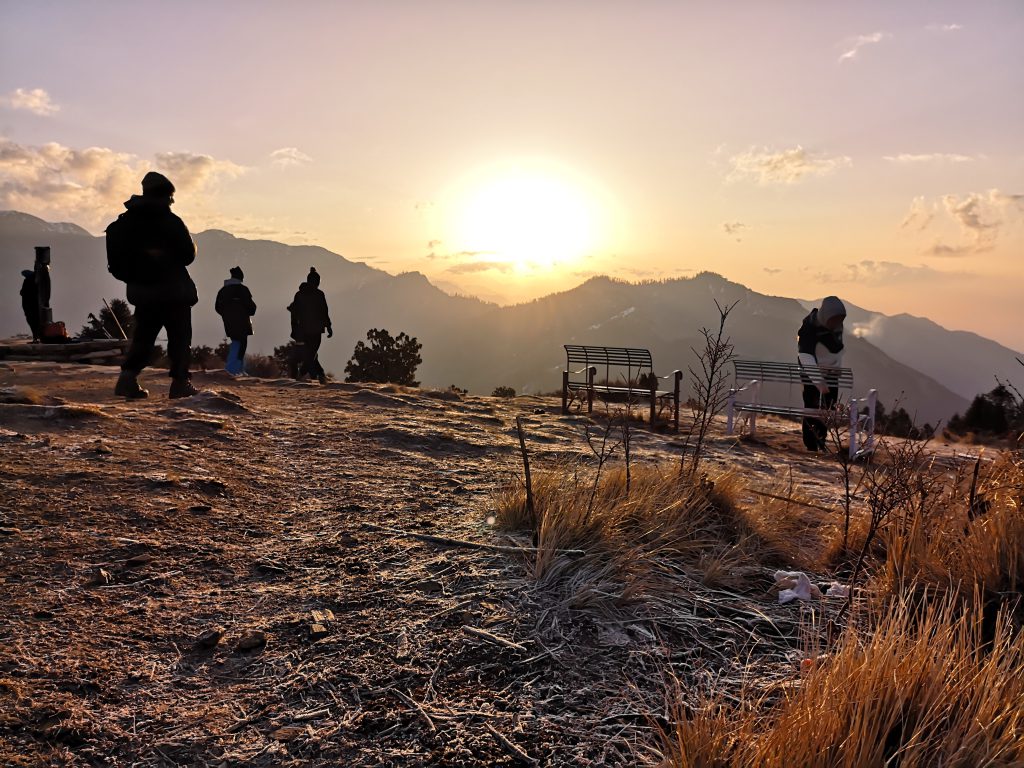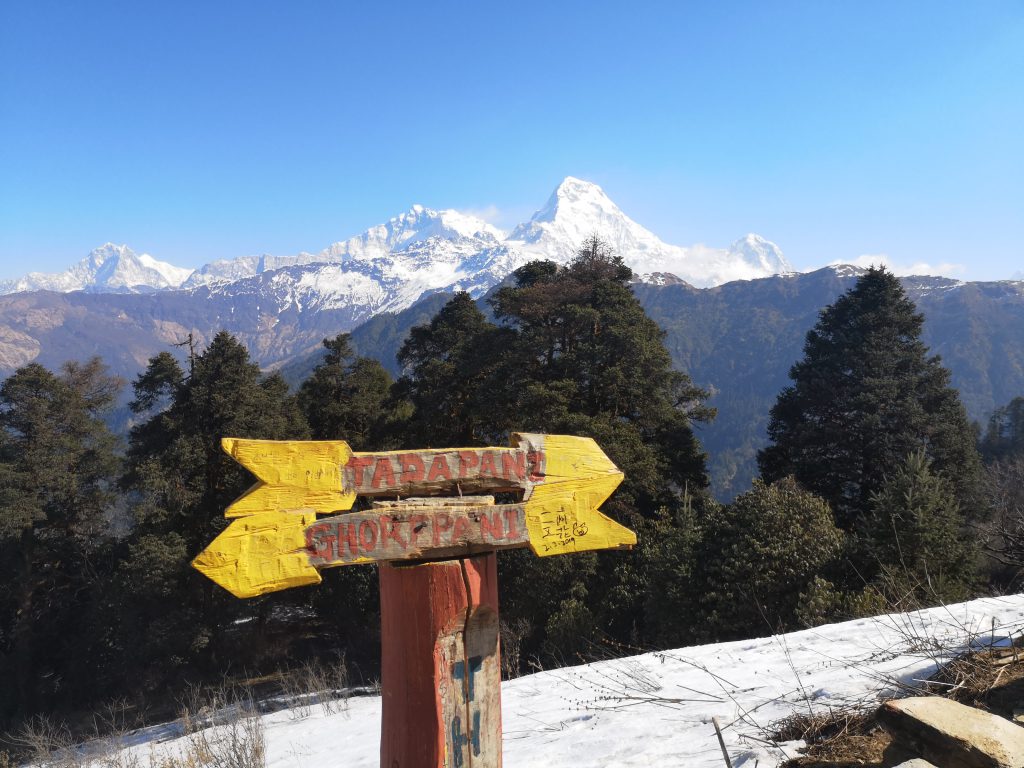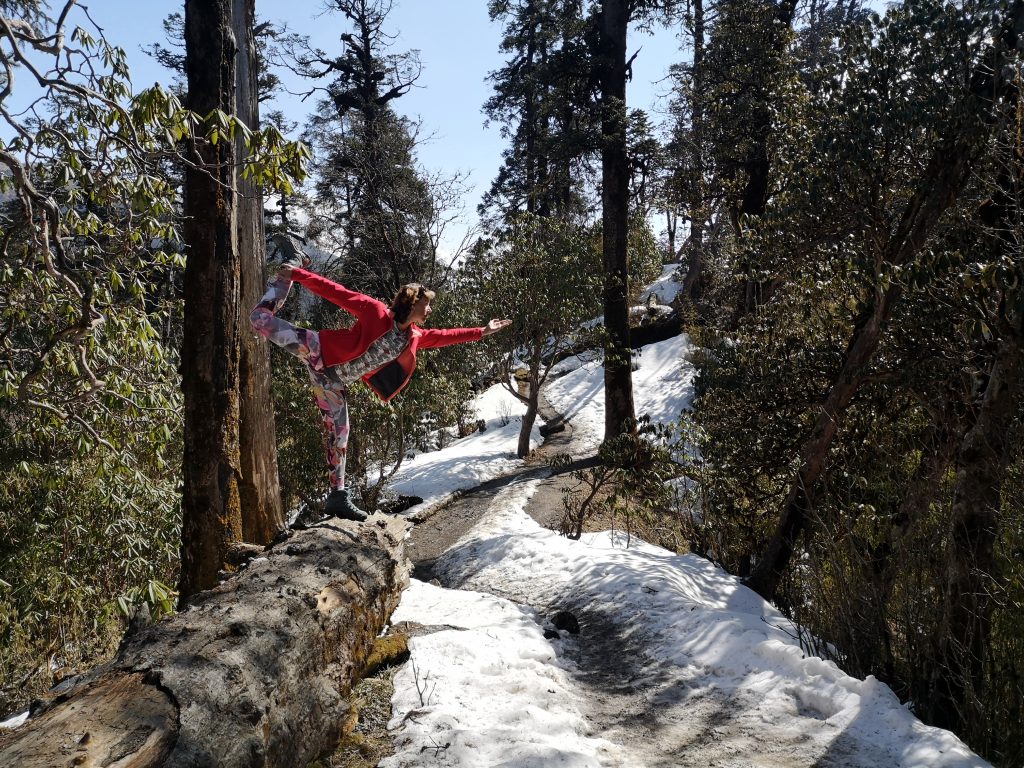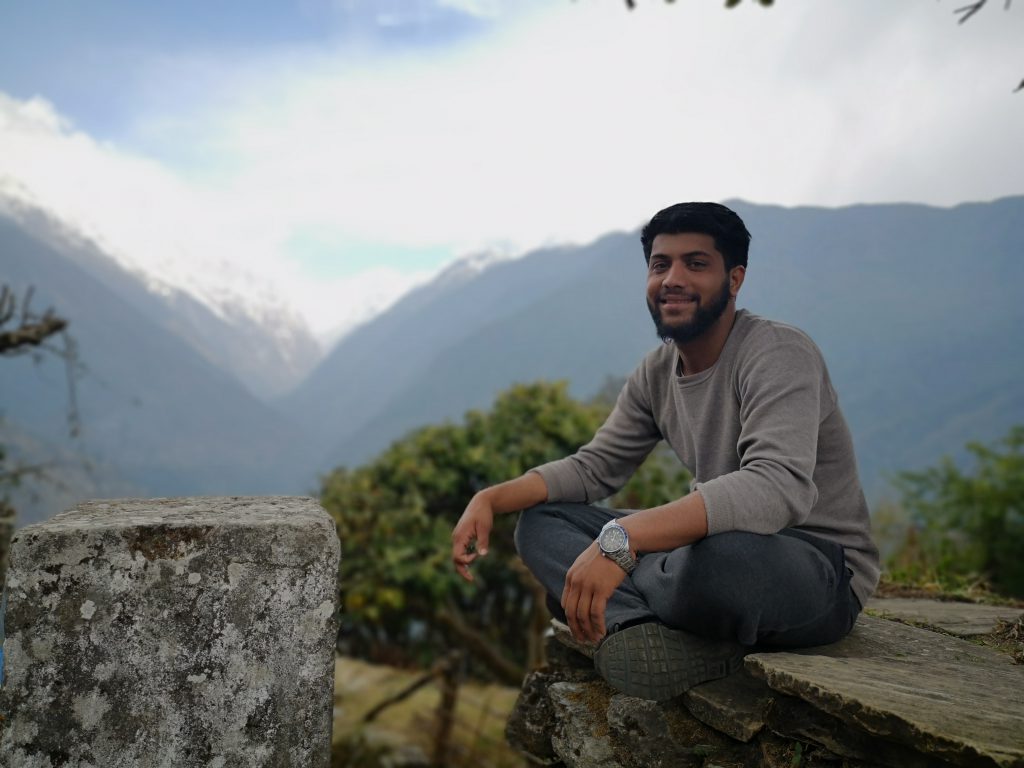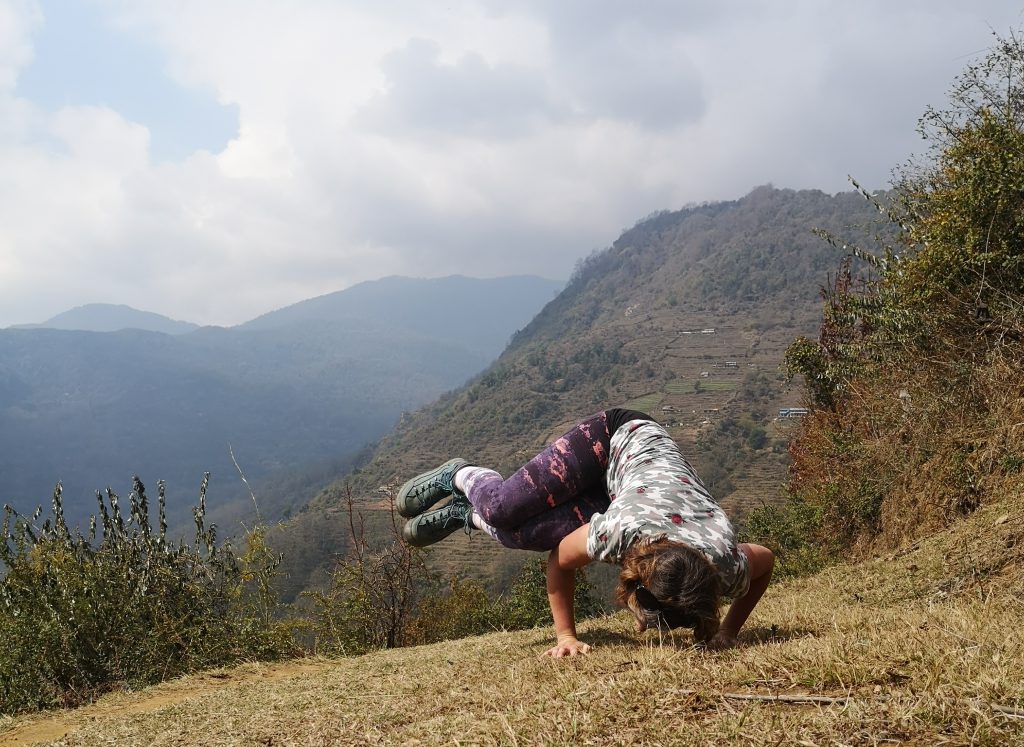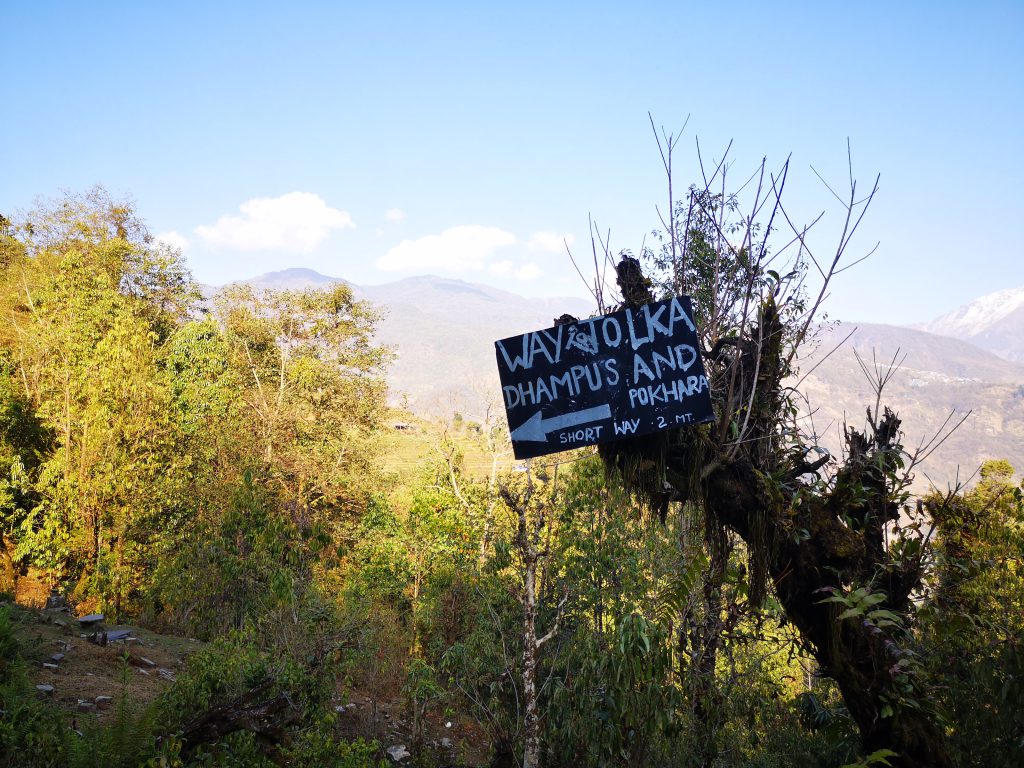 Do you also want to do a multiple day trek?
I do have some other tips for you!
I aso walked the Camino Frances in 35 days!!
Read about the first 200 K in Spain
Hiking the Rheinsteig – Germany
2 day hiking near Hsipaw – Myanmar
Or how about some great daytreks?
Hiking to the summit of Mt Pulag – Filipijnen
Climbing the Vesuvius at Ercolano – Napoli, Italy
Or how about this one?
Running up a mountain Medellin, Colombia!!
Climb up Cerro de Las Tres Cruces – Active Sunday in Medellin – Colombia
I hope you love this world as much as I do!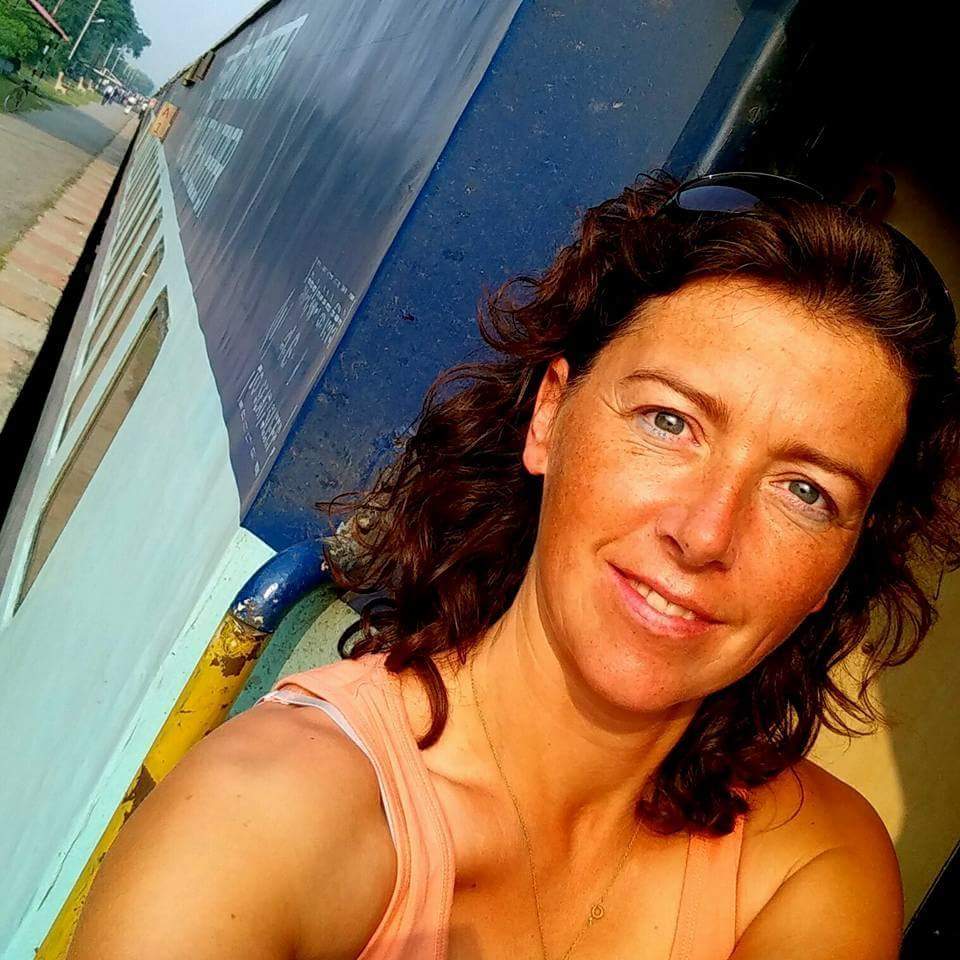 Jacomijn is een politieagent uit Nederland die jou graag laat zien hoe je veilig, actief en gezond de wereld kan over reizen. Safe and Healthy travel is a MUST