Packing List Camping Namibia – Travel Namibia by 4WD and rooftoptent
|
A packing list camping Namibia with rooftop tent and 4 wheel drive will definitely differ slightly from a backpacking trip. I was not really well prepared for a trip with 4 wheel drive and where you therefore camp. After a week and a half I did some shopping in Swakopmund. I bought a small towel there, a dishwashing brush and a mug that I liked better for my coffee 🙂
So I thought of making a packing list for camping in Namibia for you if you are going to travel through this amazing diverse country the way you do best in Africa, in a 4WD with rooftop tent! Of course you can backpack and travel around with public transport. Hostels you won't find everywhere…logdes are a bit more expensive…the bus certainly doesn't go everywhere…. So your own tent and transport I found a must on a tour in Namibia!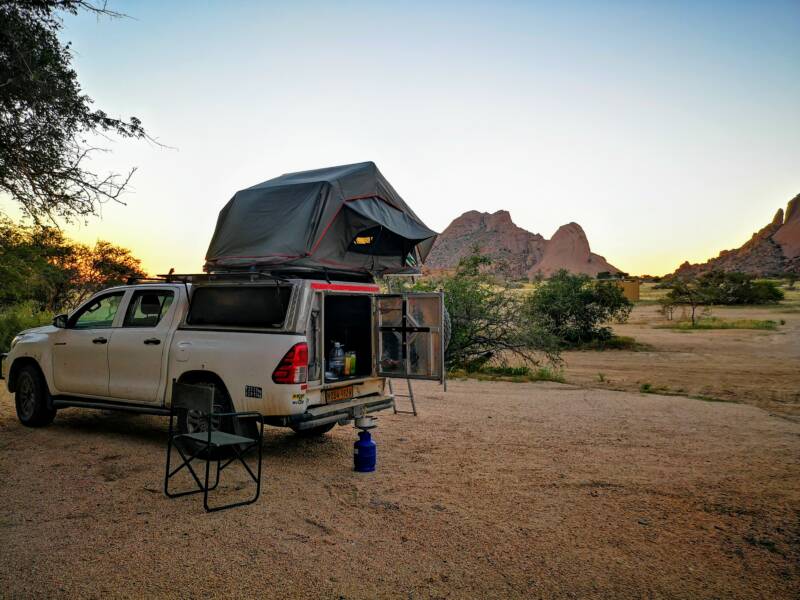 Packing List Camping Namibië
A 4WD does contain by far most of what you need for camping. So pots and pans you really don't need to drag along. The car I rented had 1 tent on the roof but you can travel with 2 or 4 in the same car and then you have a second tent on the roof and instead of 2 chairs you will get 4 chairs. The cutlery and crockery was already for 4 people. So I could have definitely skipped a day of doing the dishes 🙂
Most items you will fing in your 4WD + rooftop tent
but there are some items you need to bring yourself
To get started right away, it is a good idea to buy the following items during your first day in Windhoek or during your drive to your first night in your rooftop tent:
Towel
There was a tea towel included so you can certainly manage if you do not. In the package of the dishcloth I got was also a sponge with scouring part. You can of course wash your dishes with that (if you have bought dishwashing liquid) and that's what I did the first few days. I later bought a dishwashing brush and thus also a hand towel. A dishcloth might be handy too…. I used the sponge for this.
Table Cover
Preparing your food at the table, cutting your vegetables on the cutting board and laying everything out before it goes into the pan is nice on a clean table.  Your own table is clean and fine but often there is also a table or an area next to the braai where you can prepare your food. This is not always clean and not always easy to clean. A tablecloth is handy. I always have a sarong with me. Also this trip I have used it frequently. I have used it a lot as a tablecloth … but also to sit on and even to sleep under. A sarong for me is an item that is in my bag on every trip!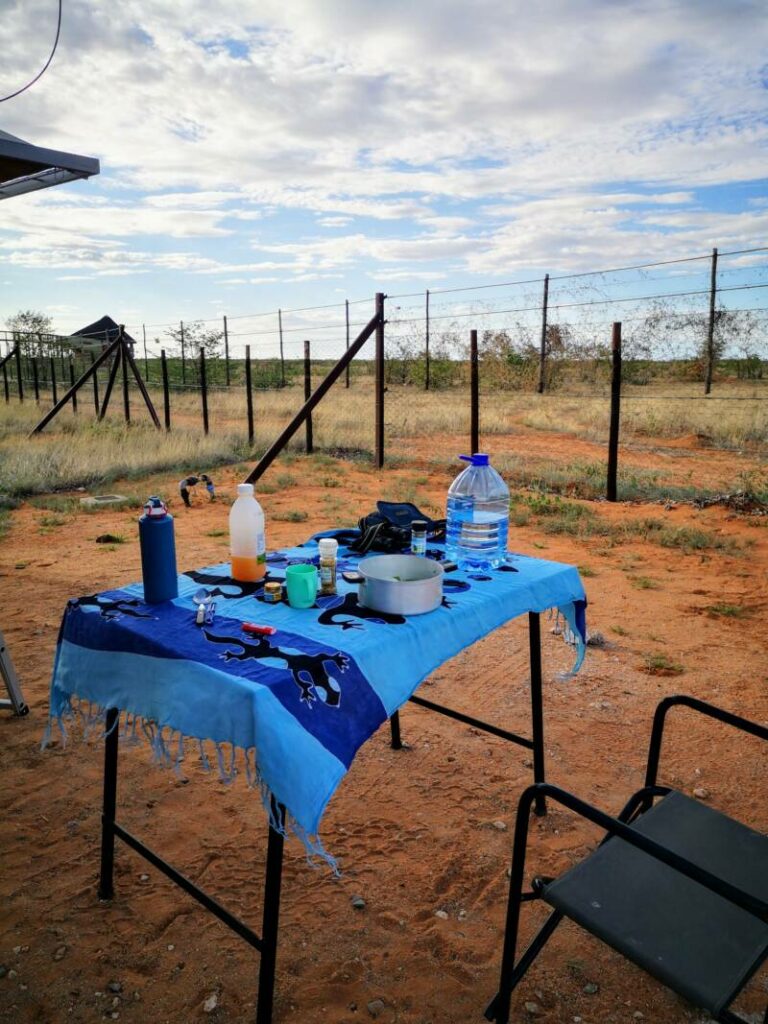 Detergent / Laundry & Dishwash
Detergent just mentioned but to do a wash, wash your clothes and tablecloth or towel it is must to have detergent. In the car there is a sink to do your dishes and it also serves very well to do your laundry in. I have used the elastic tensioners from the tent as a clothesline a number of times. So you don't necessarily have to take it with you. Although you can not hang a whole load but a shirt and pants is no problem. There are 4 of those elastic tensioners that do not serve when your tent is up. So if you are a bit handy you can hang up some laundry 🙂
Packing List Camping in Namibia with 4WD and rooftoptent
Thermos flask
I didn't have one with me but during the week in Etosha I would have loved to take some coffee with me on safari. Driving to a waterhole and standing there and waiting for game…while enjoying a cup of coffee. Of course, if you do instant coffee you can always use your hot water for a cup of tea or coffee. And then the thermos can serve for hot and cold water during other times of your trip.
Water bottle
During any trip, a water bottle should be on your packing list. In Namibia I bought 5 liter bottles of water and so I refilled my liter bottle from there every time. I cooked with this water and made coffee. I could do 2 to 3 days with the 5 liters but I often made sure I had a good supply. If you go into the desert you must ensure that you have enough water at all times. Yet this did not always go well for me. I was with the San on their campsite and only had about 2 liters of water…. I was glad that they sold 2-liter bottles of cola in a small supermarket… And alcohol, cigarettes, candy and soap. The first necessities of life so to speak…. haha!
Tip: These 5 liter bottles you can later fill with tap water and give away to the local tribes along the way. They drink the water namely. I got this tip from a friend and thought it was a great tip!
Storage Container
I still drink sugar in my coffee…. An open pack of sugar is not convenient in the car. So I quickly decided, I had to have a plastic storage container for the sugar. Of course, you don't want bugs in your car or the chance of it falling over if you drive too fast through a hole in the road and everything is covered in sugar. And no, I'm not going to buy sticks of sugar….
On my last day I stopped by the side of the road just before Windhoek where a woman was standing. I gave her a bag with my leftovers, cans of chakalaka and corn etc but also the plastic container with sugar and the mug I had bought for my coffee. I think when she emptied the bag it made her happy, like a little present. If she couldn't use it herself she could give it away to someone she knows would like it or could use it.
Shopping Bag
The shopping bag for when you get groceries for your food at the local supermarkets is also convenient, of course. They are not used to it and automatically hit 10 cents on the machine for a plastic bag at the checkout. Then when you indicate that you have your own bag with you they have to take it off the bill again. I also hope that someone else in the queue sees what happens and also considers that they do have a bag at home and decide to use it.
The ban on plastic has not yet reached Namibia…. During your trip, try to set a good example to the people who see you shopping…. Every little bit helps!
Packing List Camping in Namibia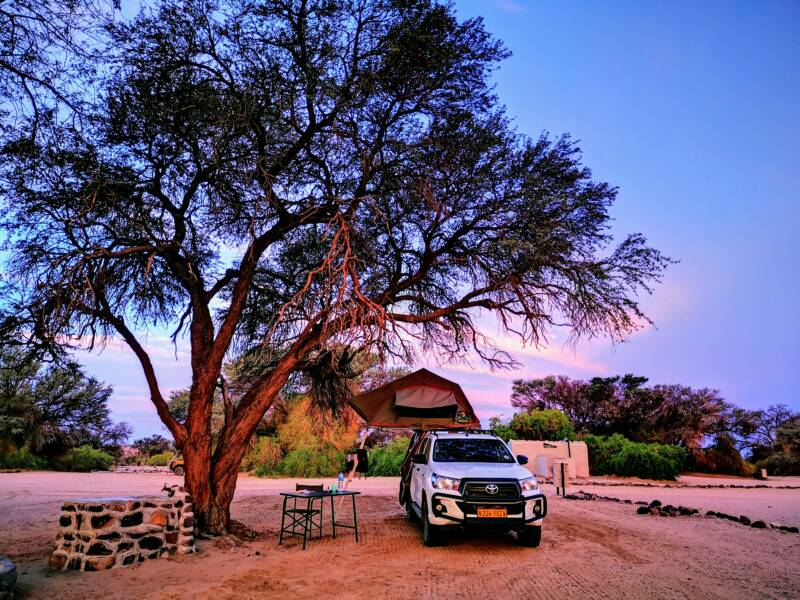 What else belongs on the packing list Camping in Namibia? If you go to Africa you will also go on safari and therefore need binoculars. And if you go camping you will have long evenings to sit outside and time to read books. So this calls for a custom packing list especially for camping in Namibia.
In Afrika ga je op Safari!
Binoculars
Binoculars are not to be missed of course when you go on safari. I used them to cover distances of course but also to see the small insects. Totally super!
Info book animals/birds/plants
In addition, you might also want to know what bird you see or what animal you spot with your binoculars in 1 of Namibia's national parks. I received a small booklet from the Explore Namibia travel agency with the most common birds and animals of Etosha and its surroundings. Super handy!!! Also for the rest of Namibia.
Lamp for the evenings
In my rented 4WD there was a light for the evenings. I could charge this lamp every day with solar energy which was ideal. The light was just powerful enough to read by in the tent. It is not a lamp you can walk around with and see where you put your feet. I also had a flashlight with me which I used several times.
Taking Pictures / Updating Social Media
During a trip I always take super many pictures and so I also have a phone (Huawei P20) with a memory of 126 gig. That this is sometimes still not enough with all the movies remains a fact. I also always have a small camera with me, the Panasonic Lumix, with extra SD cards. I think taking pictures is cool and I want to capture what I see but I refuse to carry around a whole bag of equipment. I can imagine that when you take more professional photographs you almost take a whole backpack on a trip to Africa to capture everything on safari as well as possible.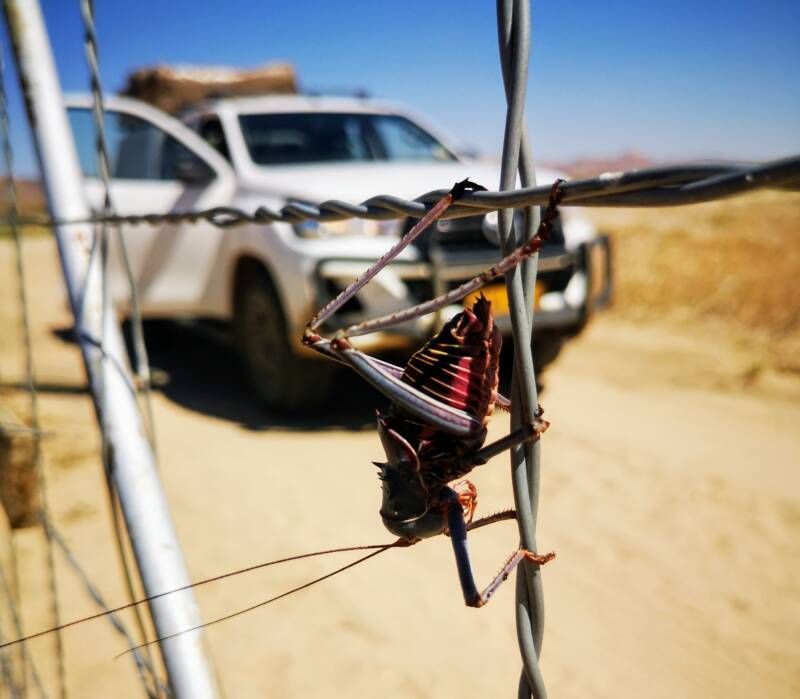 Roadtrip by 4WD & rooftoptent
In addition to the phone, I also carry a small laptop and a selfie stick that I can use as a tripod for my phone. It has a small bleutooth remote control and so I can take pictures of myself from several meters away. I also have my small laptop with me. I want to be able to surf the Internet, update my website and write down my experiences. In recent years I no longer do that on paper but on my phone or laptop.
To charge everything properly you need quite a few wires and plugs. To keep all wires and plugs together I always keep them in a folder. An extra battery for the camera and some SD cards are also in there.  As long as you can charge with USB then that is very handy in the car, there is of course a USB connection. After several hours of driving my phone was still not fully charged and so I also had an external battery with me. Unfortunately I forgot to bring it because I was charging it at a campsite and it was not in sight…
For Namibia, you will need the plug for socket type M. In some hotels they have dual sockets so you can use both but in many camping areas you will only find the Namibian one.
Packing List Roadtrip Africa
What else was in my backpack?
Books
I still carry paper books with me. If you read easily in English, at a hotel or resort you can easily exchange your book for another and so on. This trip I initially read the book The Book of Joy. This is the record of a week long conversation between the Dalai Lama and Desmond Tutu. Highly recommended! So after this I swapped books at hotels. I bought the book Solitaire by Ton van der Lee, in Solitaire…and this one I swapped on.
The basics
Wallet,Passport, Yellow booklet (with your vaccinations in it), Dive card Open Water (just in case), International driving license and NL driver's license, Bank card (pin outside Europe on) and credit card, random reader rabobank. Insurance cards, health and travel insurance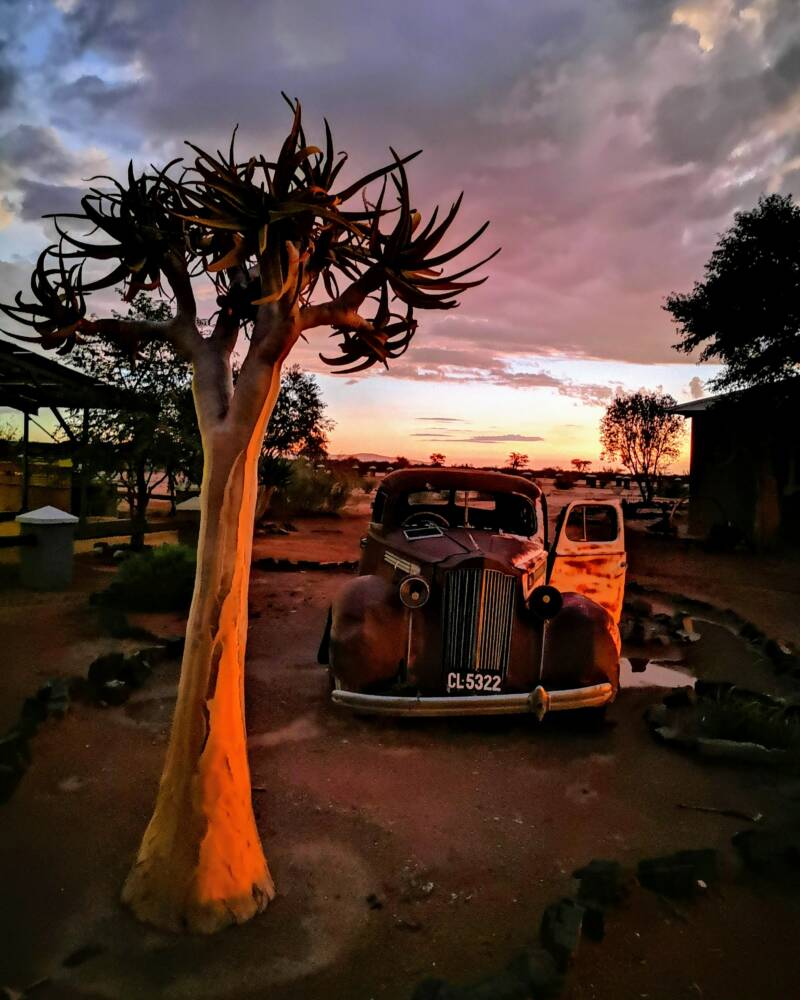 I had forgotten sunglasses and I bought them in Fish River Canyon at Canyon Roadhouse, a great hotel where I stayed for 3 nights. What a great place that was!!! (see photo above)

Shoes
I also took good walking shoes (against vermin and snakes good to do in Africa instead of sneakers) and of course slippers.

Clothes Africa Roadtrip
1 long jeans
2 long leggings
1 half leggings
1 short leggings
Shorts, goes with my bikini.
3 shirts short sleeve
1 shirt long sleeve
Trainingsjacket Adidas
Windjacket
1 sarong, used as blanket, scarf, tablecloth, towel etc
Nightgown: short sleeve
5 undergarments and 5x bra
5 socks
Sheet Sleeping Bag (used once, hotels & logdes are really clean and so is the tent!)
First aid travel kit with the normal contents such as plasters and bandages. In addition, painkillers and diclofinac (doctor's prescription for migraines), diarrhea inhibitors, malaria tablets, possibly as an emergency kit if you fall ill or use it all the time if you are in a red area.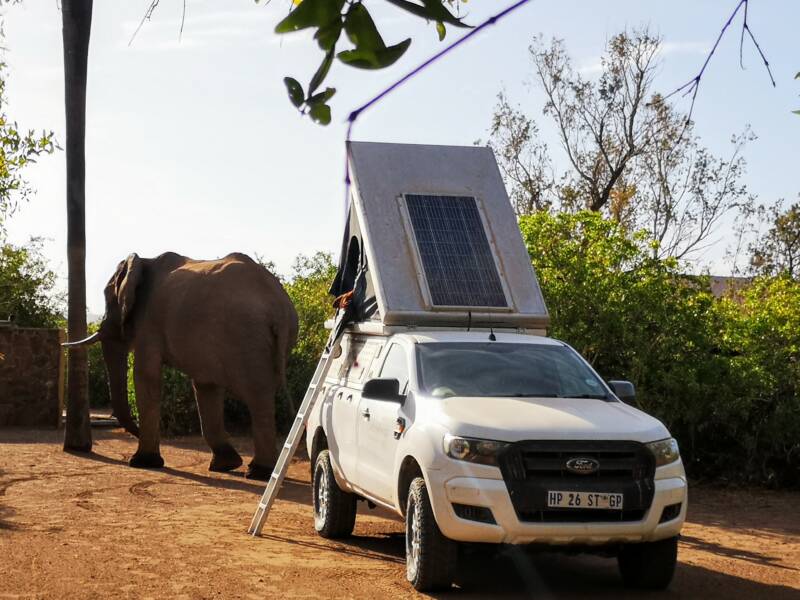 Packing List Toiletry 4WD Travel Africa
Content toiletries
As a toiletry bag, during backpacking and hiking trips I have a laundry bag, this is the smallest and can hold a lot. The laundry bag can be stuffed into all the nooks and crannies, it is as big as its content! But…this trip the wash bag could just lie in the car the whole trip and I found it convenient to take the Jack Wolfskin "Grand Board". It has lots of compartments and I like it even though it is very big!
Toothbrush, toothpaste, brushes and toothpicks
Hairbrush
2 cans with shampoo bar and conditioner bar
Bodylotion / face creme ( small package)
Sunscreen /after sun
Eyeliner
Nailclipper, file, nailbrush
Tigerbalm / small bottle teatree oil
Labello 2 x (my addiction)
CarePlus Anti Insect
Stock up on tampons and sanitary pads. Nothing trickier than not being able to find that. Is quite difficult in some countries and so I always bring enough for the whole trip.
This trip, in retrospect, I could have brought a real towel but I brought my quick-drying towel. This one is medium size and therefore large enough to dry me well and also to get my hair dry.

Extra's – Just because I like it!
What is nice to have with you I think are some candies. I'm not really a candy person but when you feel like something sweet you just want to have something in your bag. Especially on longer trips it is nice to have some of your own/familiar candy with you. I always have a bag of licorice with me. At home I hardly ever eat licorice but when traveling a licorice every now and then is really nice! During my trip through Namibia I had 1 bag of licorice with me and when I came home there were still 5 in it. After almost 10 weeks  …. but I can enjoy a licorice every now and then!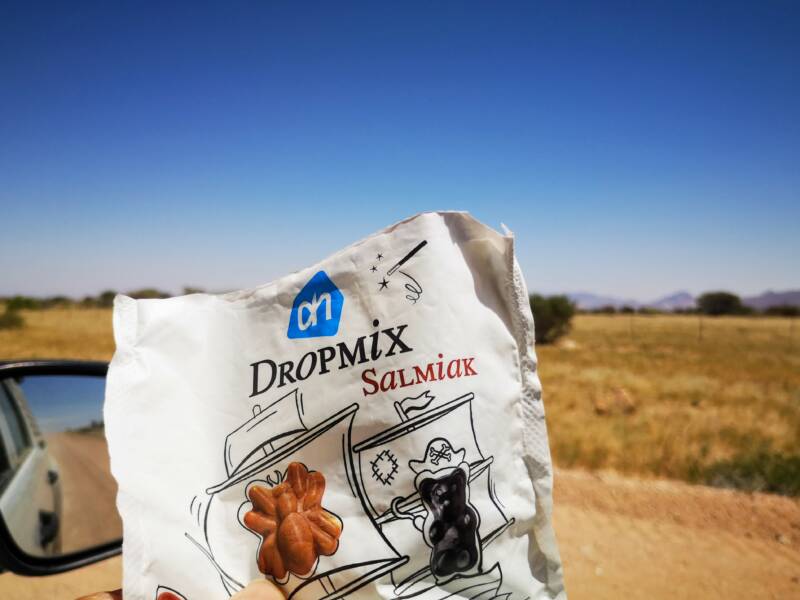 Also a tin with some candies like honey pastilles or Smintjes, I often have strawberry flavor 🙂 In both cans are 50 candies so I can use them for a long time. Usually they make it through a whole trip…and mine are often 2 to 3 months.
What is also very nice every now and then…. Making your own soup/broth in your hotel room. Whether it's a long day and you arrive late or you're just hanging around in your hostel. A familiar cup of soup is always nice!
Handy to have in your car during your road trip Namibia
Must haves in your4WD
Dried fruit
Water Supply (1 a 2 5lt flessen)
Crackers
Cheese spread of some kind
Cucumber
Cans for instance veggies, chakalaka, beans in tomatosauce, corn
Ketchup
Pasta
Some Cup a Soup/bouillon, tea / coffee
I often snacked from the bag of dried fruit on the road. So I also handed this out a lot to people along the road. The Himba's or San, they stand by the side of the road with a stand to sell something…. I always buy very little when traveling, especially long trips but it is nice to give some away. It is healthy and therefore responsible to give away and almost everyone likes it!

Packing List Camping in Namibia
Everything I had with me I have now shared with you in this packing list camping in Namibia. Did you expect anything else? Did you also travel by 4WD in Namibia and do you miss anything on this list? Let me know, I am very curious!!!
Did you find this packing list camping in Namibia interesting?
Then share it or save it!!!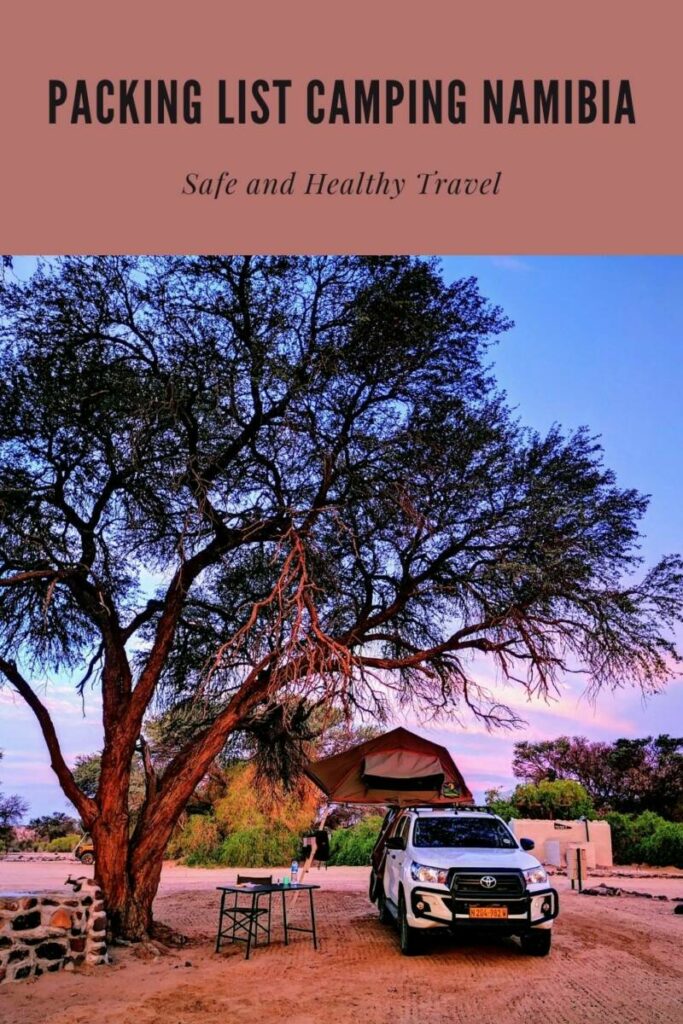 Looking for more inspiration for Africa Travel?
Natuur Erfgoed van Namibië
Complete Travel guide Fez – Morocco
3 day safari Masai Mara – Kenya
Safe on Safari – What are the Rules?
Wassu & Kuntaur – Going inlands – The Gambia in
Do also read these tips!
I hope you enjoy this beautiful world as much as I do!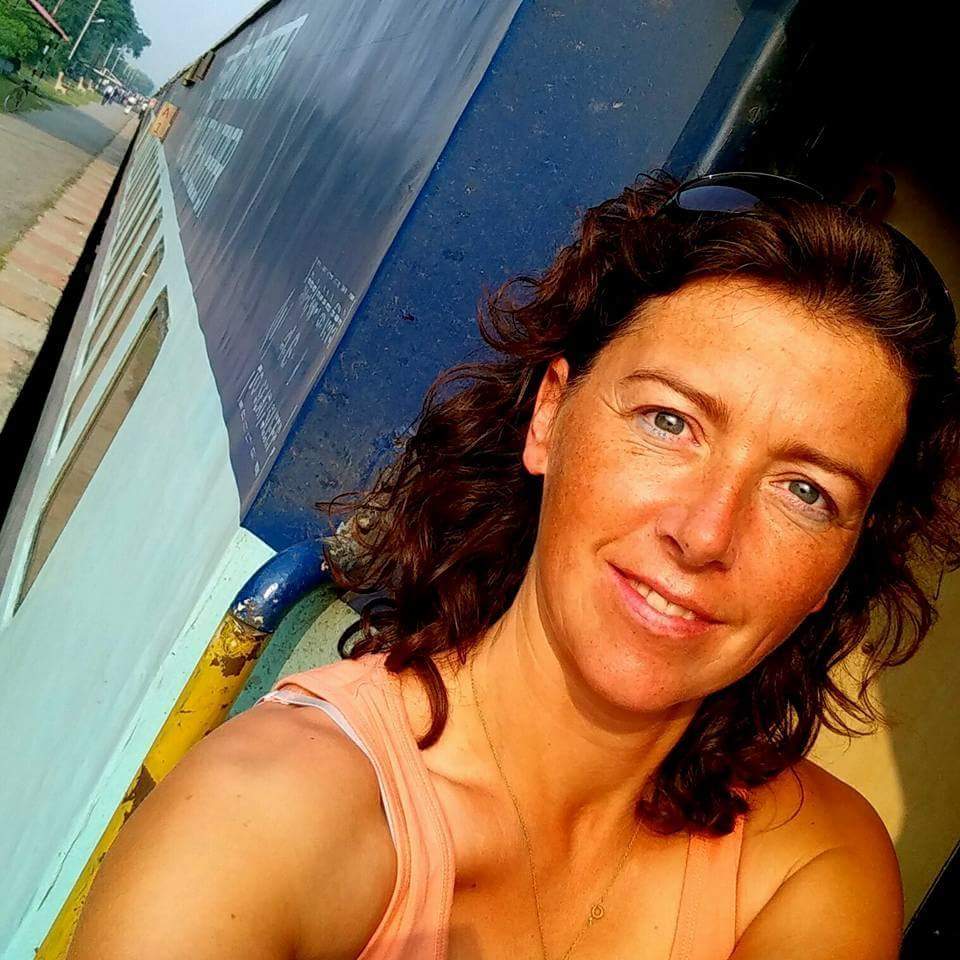 Jacomijn is een politieagent uit Nederland die jou graag laat zien hoe je veilig, actief en gezond de wereld kan over reizen. Safe and Healthy travel is a MUST