3 day Safari at the Masai Mara – Kenya
|
Visiting Kenya I had to go to the National Park of Masai Mara. That is a place you can not miss when in Kenya ofcourse! I was in the right season to see the wildebeest trek to the Mara River they told me. You probably know the documentary of National Geographic where the wildebeests try to cross the river Mara. Hundreds, if not thousands wildebeest that cross that river and where on the other side the crocodiles are waiting for their dinner.
It is horrible when a animal dies  ….
but it is spectacular to see ofcourse!
Nature is tough and animals need to eat…
But I rather not see it happening in front of me..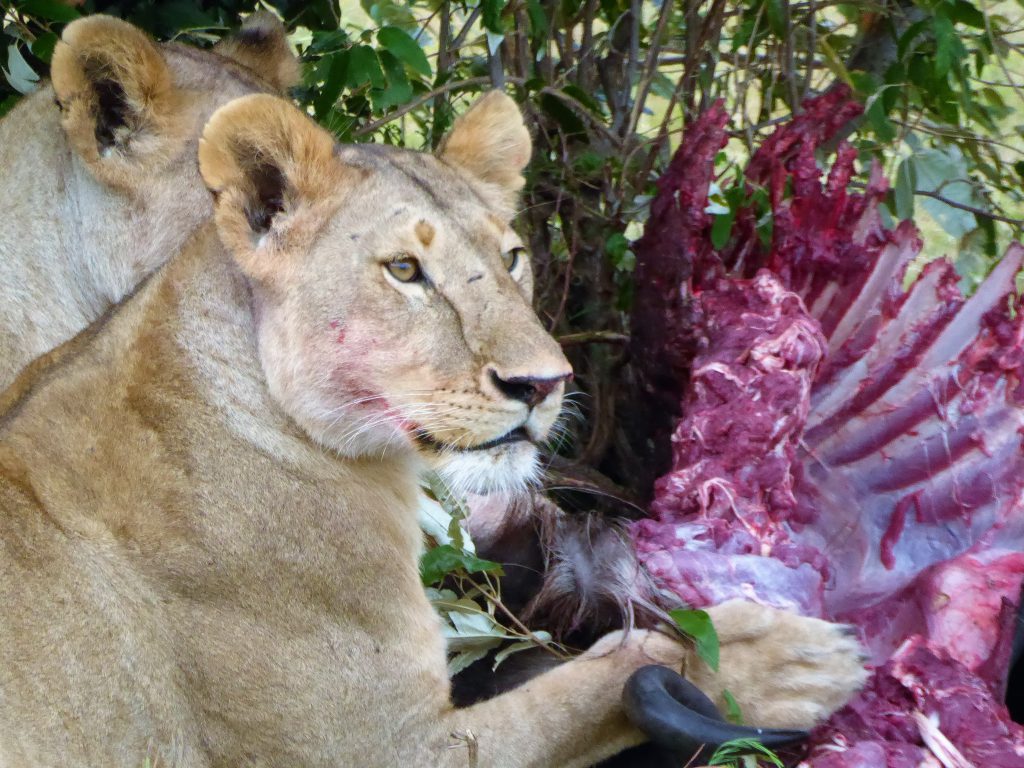 We saw lots of beautiful animals in these 3 days safari in the Masai Mara. I didn't expect to see so many in the national park, it has so much to offer! I did see preditors eating their prey. I loved seeing that though…
How did the programm look like?
Day 1 journey to Masai Mara and a night safari
Day 2 whole day in the Masai Mara
Day 3 visit to Masai village and back to Nairobi.
Day 1 of 3
On the way to the Masai Mara
I was picked up on day 1 at Wildebeest Eco Camp in Nairobi. After about 2 hours we were at an intersection  where we met the rest of the company. It where a Dutch man with his Argentinian wife, two young women from Sweden and a young women from England. Soon we were chatting away and having a good time together.
The journey to the Masai Mara takes you the whole day. Don't be sad because there is a lot to see outside. We came by this great stop where we had a good view on the great Rift Valley!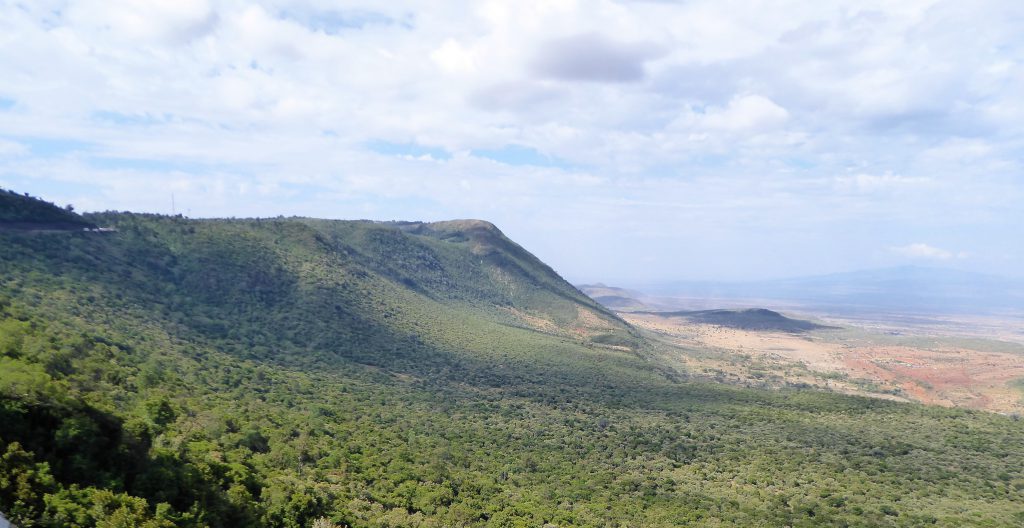 Did you know?

That the Rift Valley goes from Mozambique to the Red Sea and is 9600 K long!!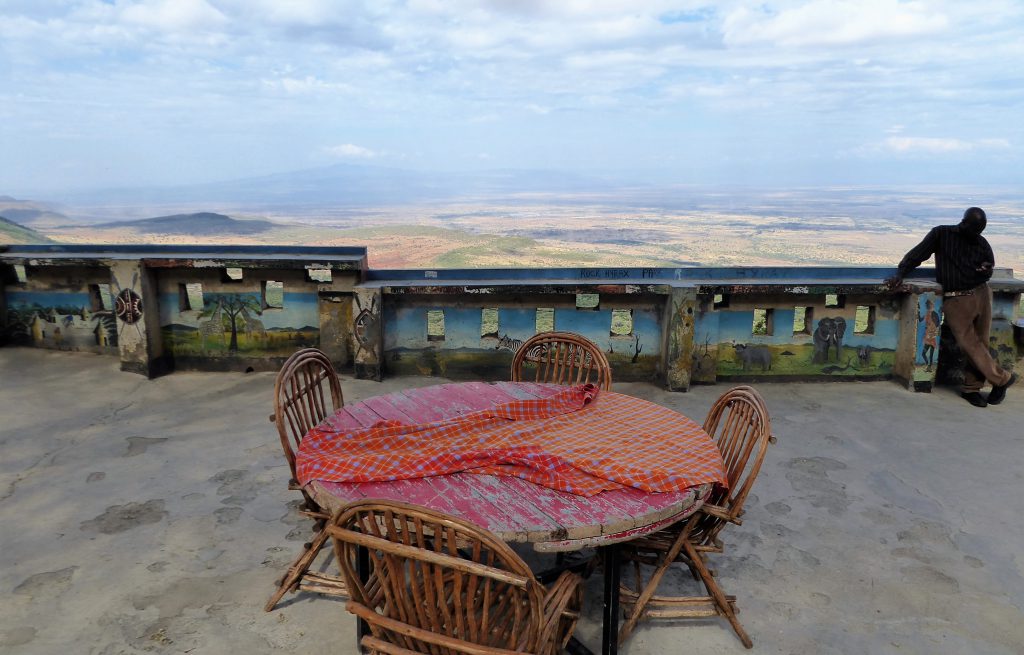 Around 5pm we were at the camp on the first day
We were in Lenchada Tourist Camp

In the area around Oloolamutia there are several camps and ofcourse one is more luxurious then the other and for what I paid Lenchada was a good pick.
After diner we went into the car, by now it was turned into a safari car so we could stand right up and look outside. The roof was up and we had free sight onto all the wildlife we were about to see!
It started to get dark but we could still see enough. It started with some wildebeests, zebras and giraffes. But soon the report came that they spotted a lion and his lioness further on in the park. We hurried there ofcourse!
I really think that is a big pro on travelling with a company. The driver/guide has contact with other guides in the park.

When someone spots a preditor they share the information. When you drive by yourself you need to be lucky to see it or to drive along with another car to a sighting.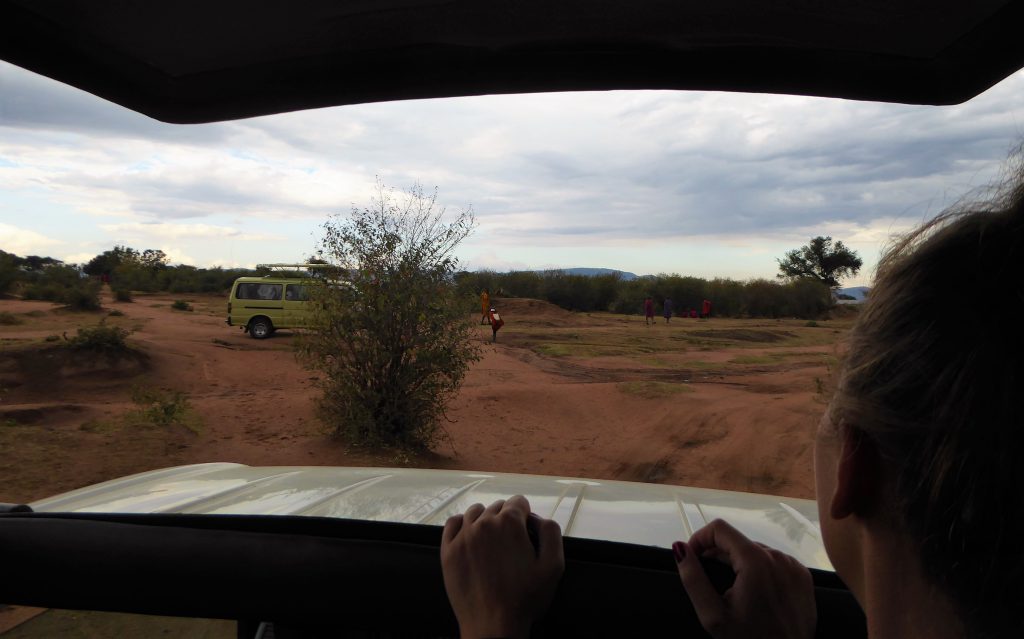 At the end of the afternoon driving along Oloolaimutia and into the national park Masai Mara. Do you see the road ahead of us? When going to the Masai Mara this is the condition of the road for a long time. They ofcourse call it a Kenyan masasge 🙂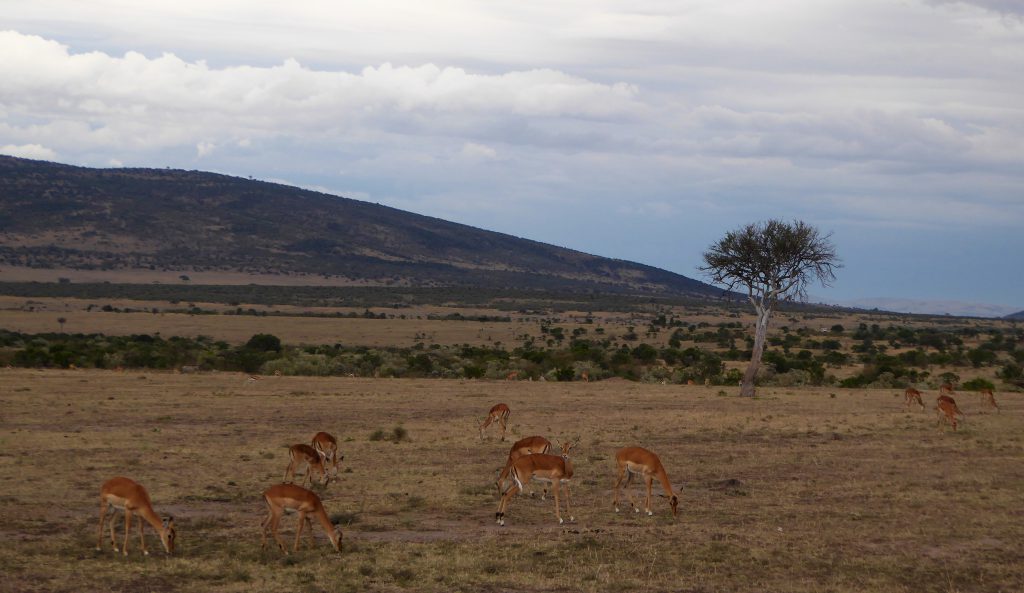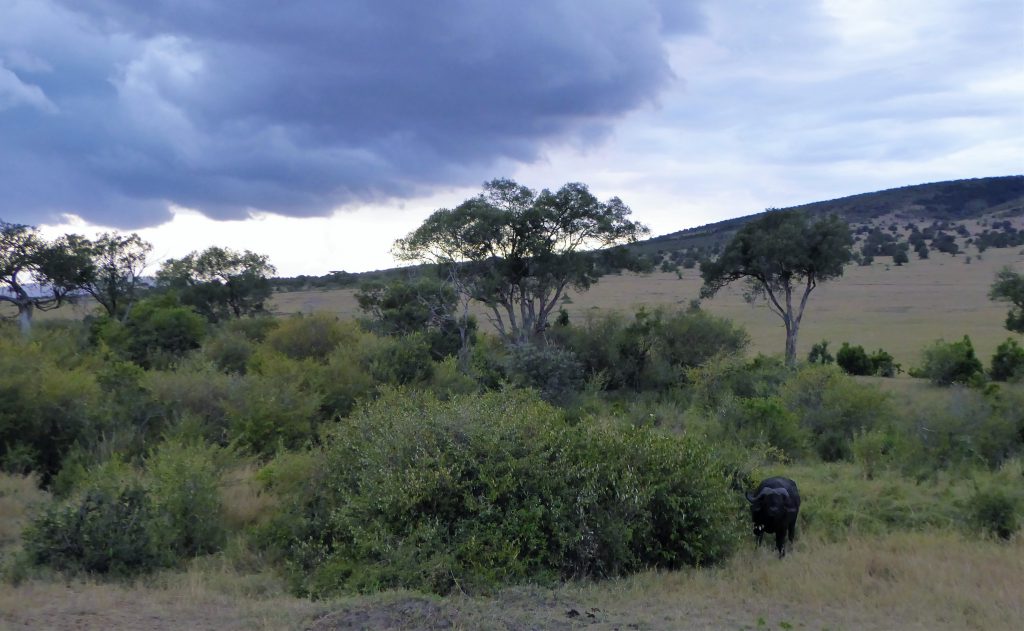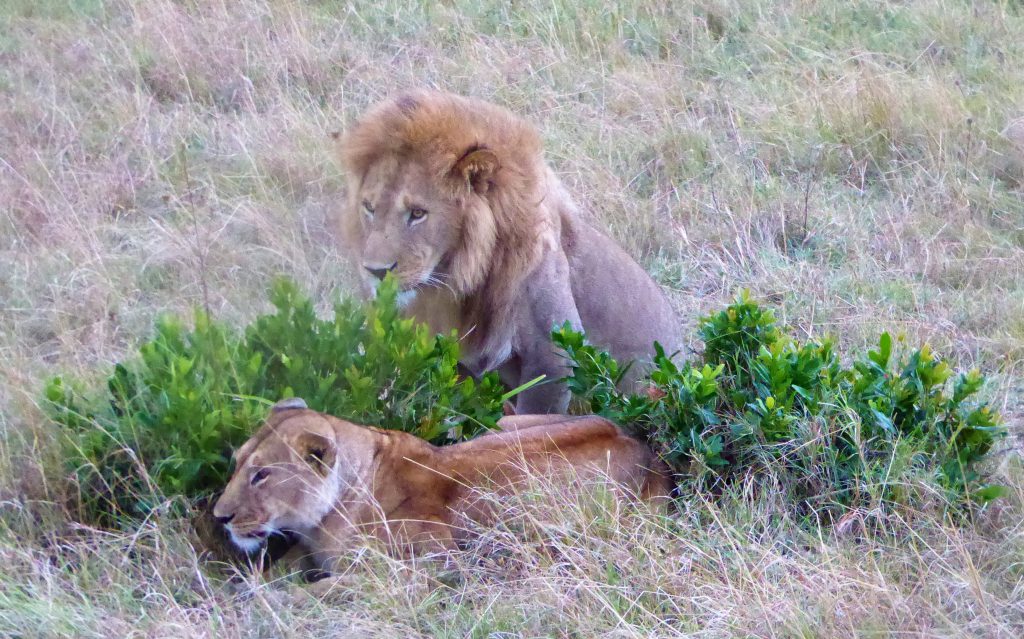 The honeymooners!!
Day 2 of 3
A whole day in the National Park Masai Mara
We were early at breakfast to go for a long day in the national park. Breakfast at Lenchada and they prepared lunchboxes for us to take away. This day in the park we really saw everything we wanted to see!!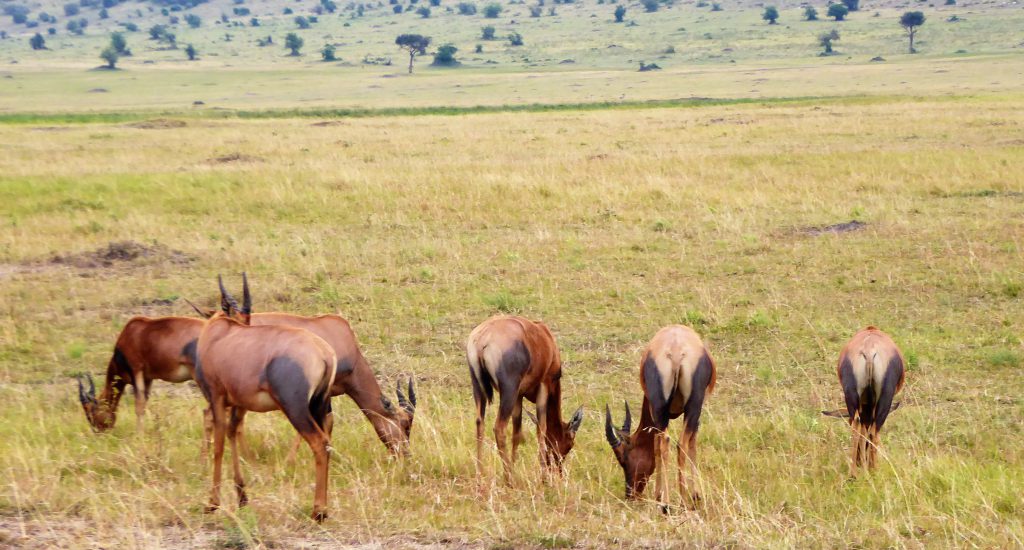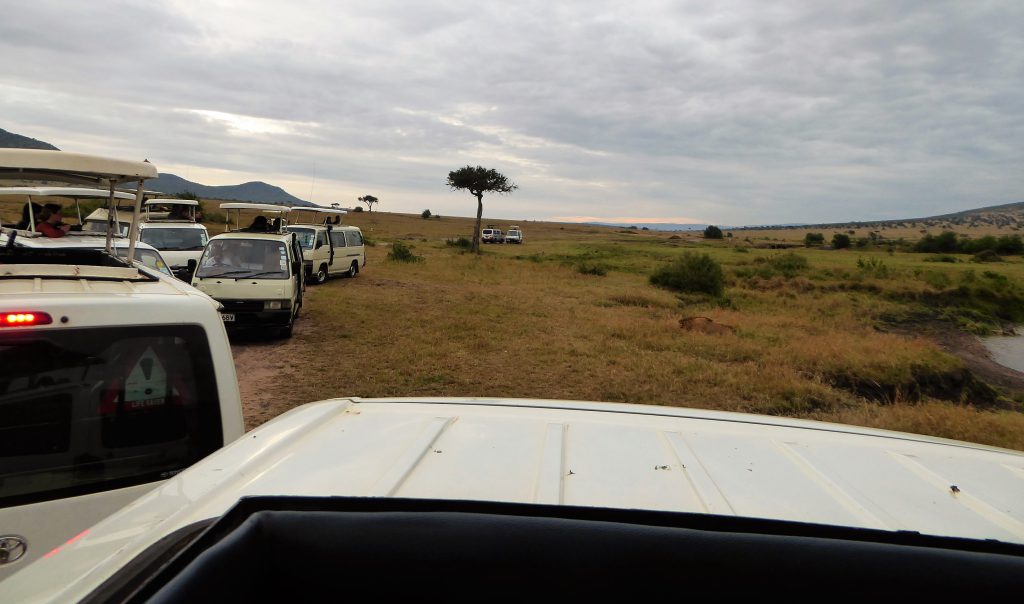 Do you see what we see? The jeeps are here for a reason!!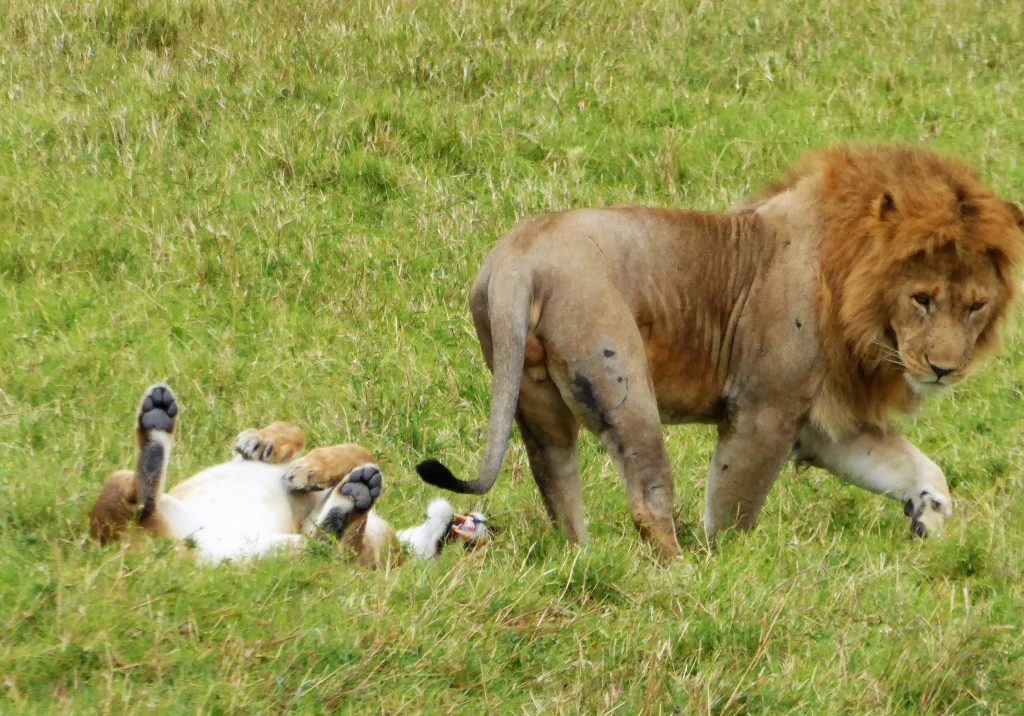 The honeymooners of yesterday were still here!! Check this clip at 1.20 minutes and you'll see what happened just before this picture 🙂
After looking at them for a while we went on exploring the park, there is more right? Soon we saw 3 cubs and their moms. They had prey and lay with that near a tree, eating it. The cubs stayed away from it and one of the moms tried to get them to eat.
Haha kids and eating right?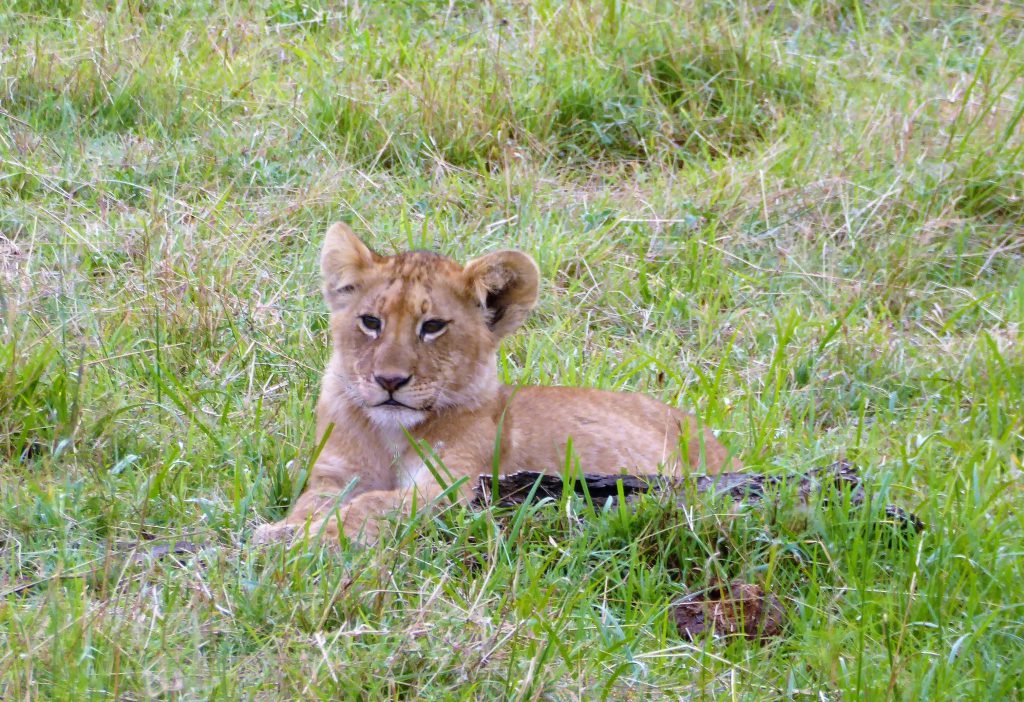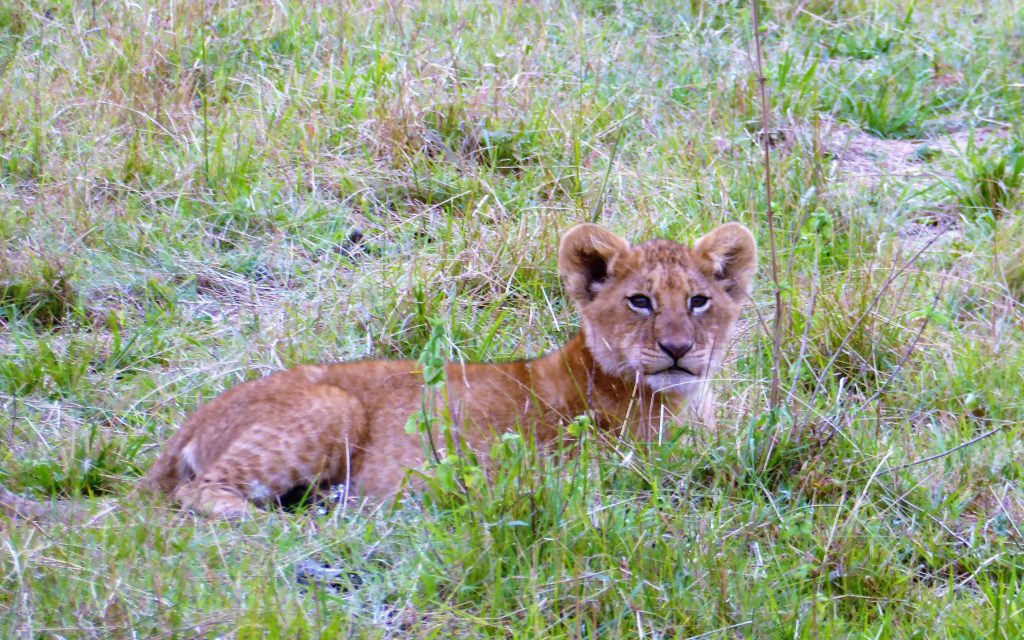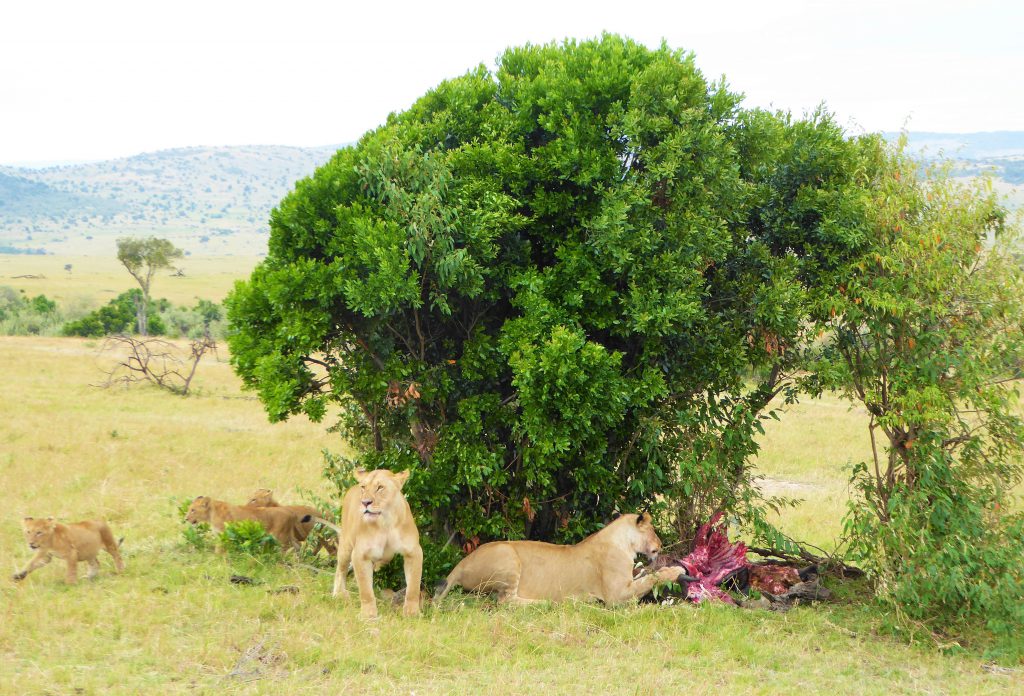 What a great sight!!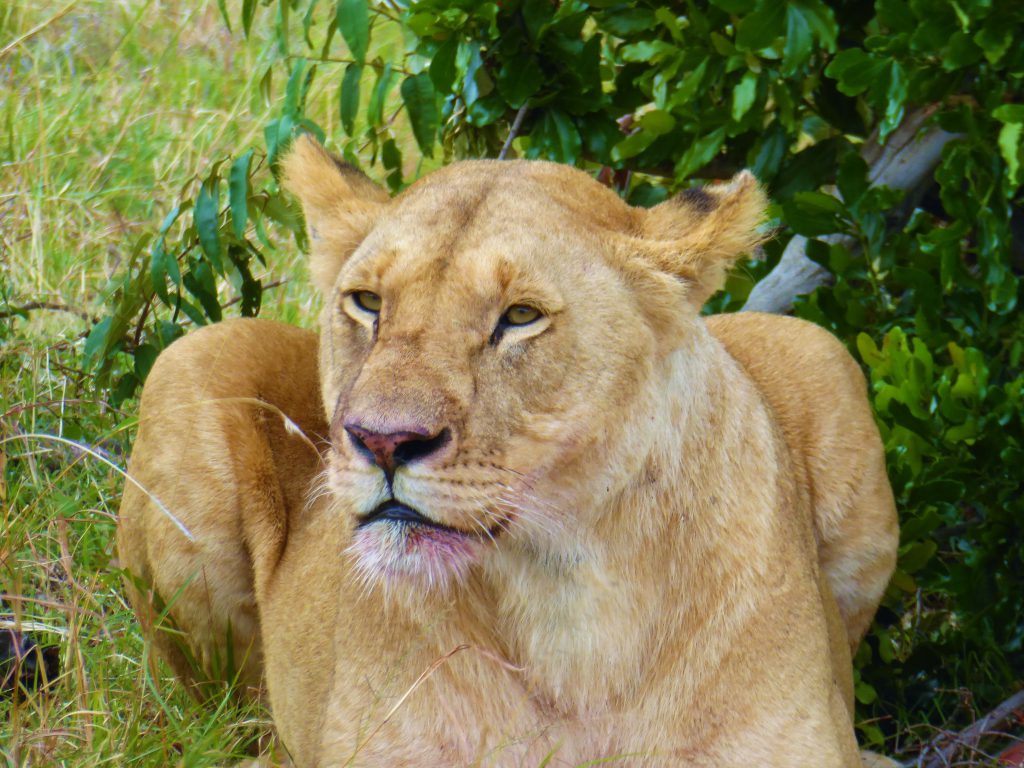 Going on we soon had a sighting of cheetahs. A couple of cheetahs!! We went to search for the right spot and when we were there it took a while before I really saw them all. They are perfectly camouflaged!!
How many cheetahs do you see on the picture?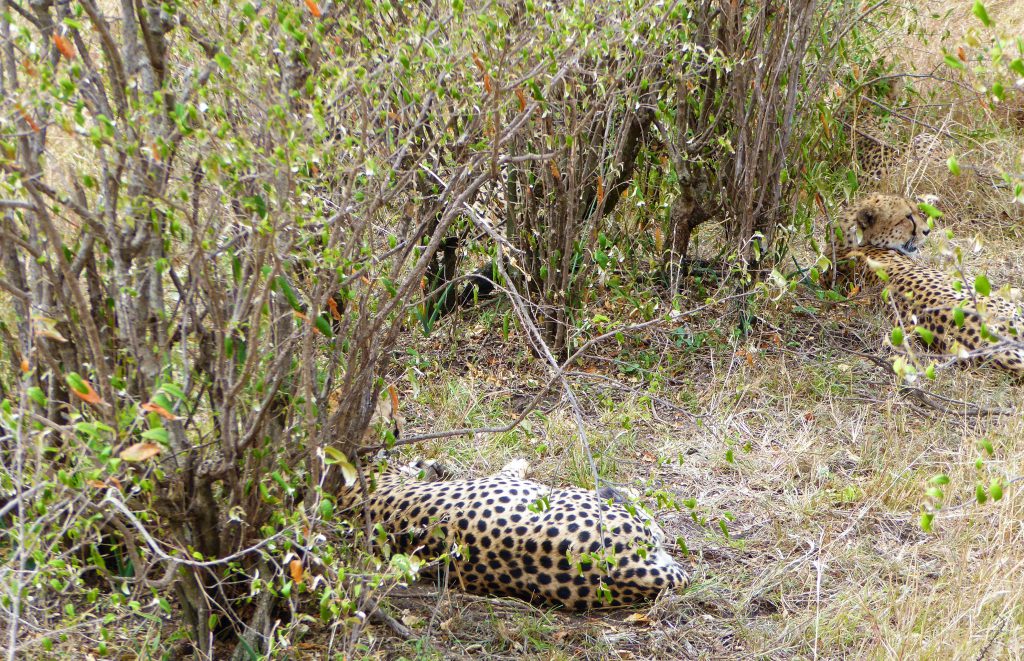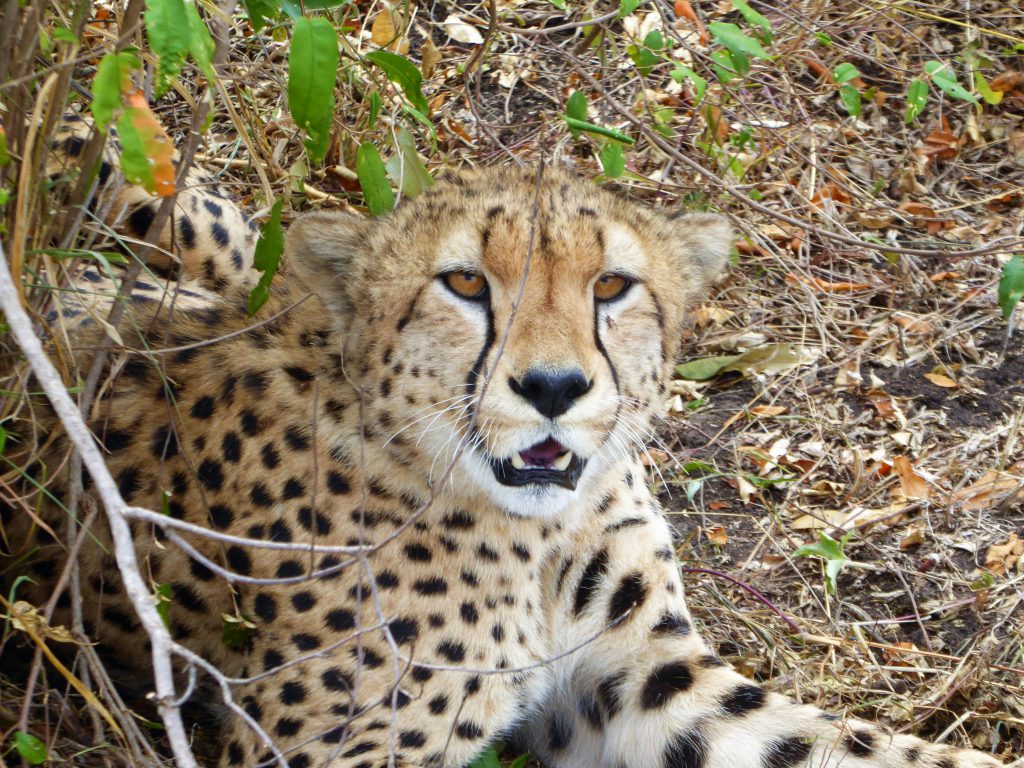 On the other picture… There are 4 out of the 5 cheetahs we saw at that time.
Did you spot them?
There is one thing that I didn't like…

You enter a sighting, a lion/cheetah or what ever. More jeeps will come and at a certain point they start to close in onto the animals. So strange!! One starts and ofcourse the other cars follow. If you hadn't had the chance to take a good picture you can take one from upclose. For the animals I really think this is bad!! I didn't see them being bothered in any way .. meaning that they are already used to all these jeeps coming so close 🙁
You don't want to influence them and with this behaviour you do, right?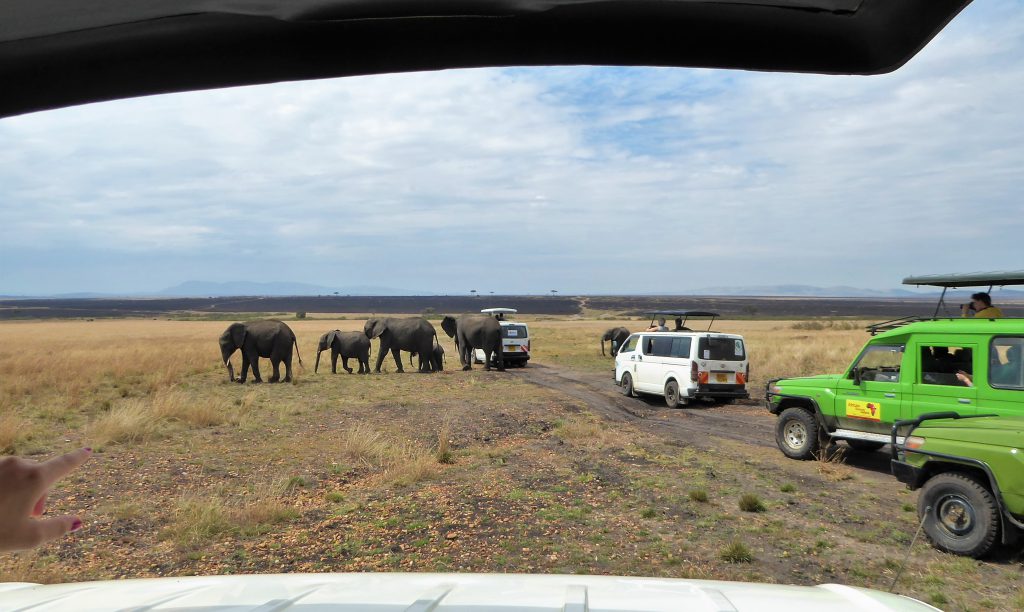 Sometimes you are not the one in command.. That happens too. But with most wild animals I do think we need to stay in a appropiate distance. If I want really good picture I need to get a better camera instead of going closer to the animal. Otherwise just enjoy the scenery in front of you life!!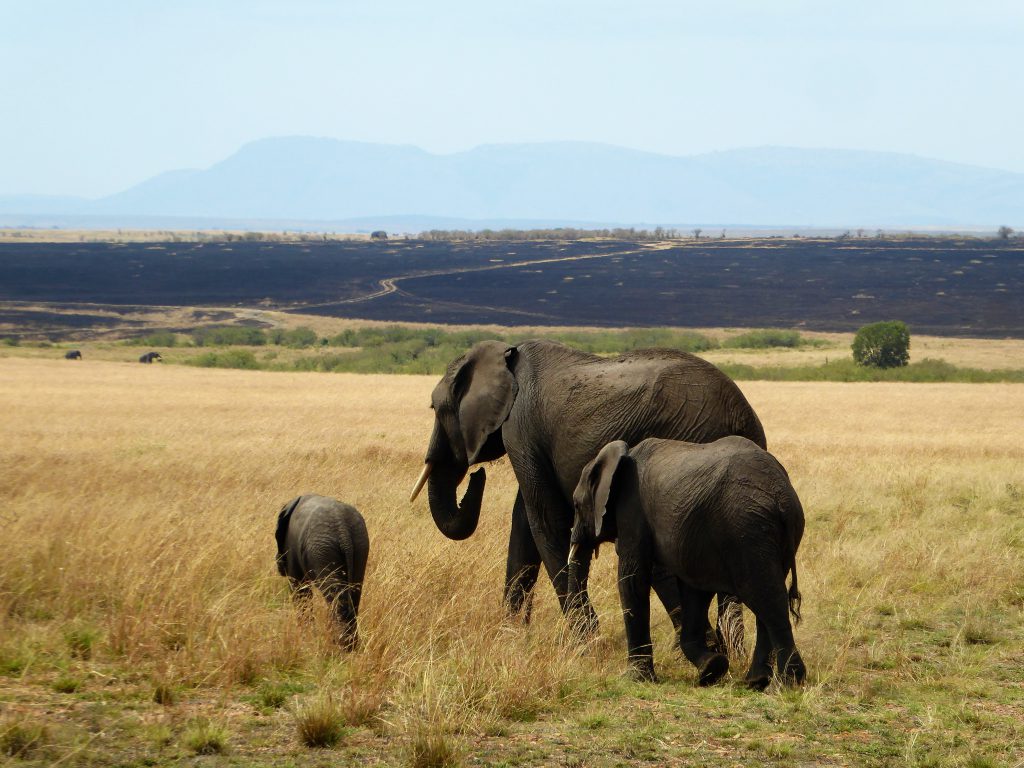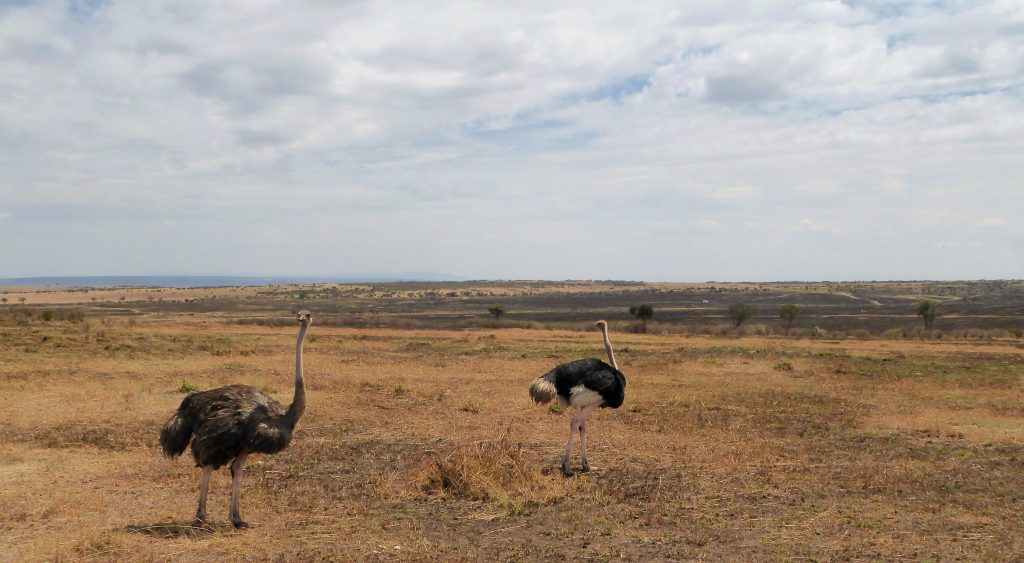 There are also a lot of small ostriches!!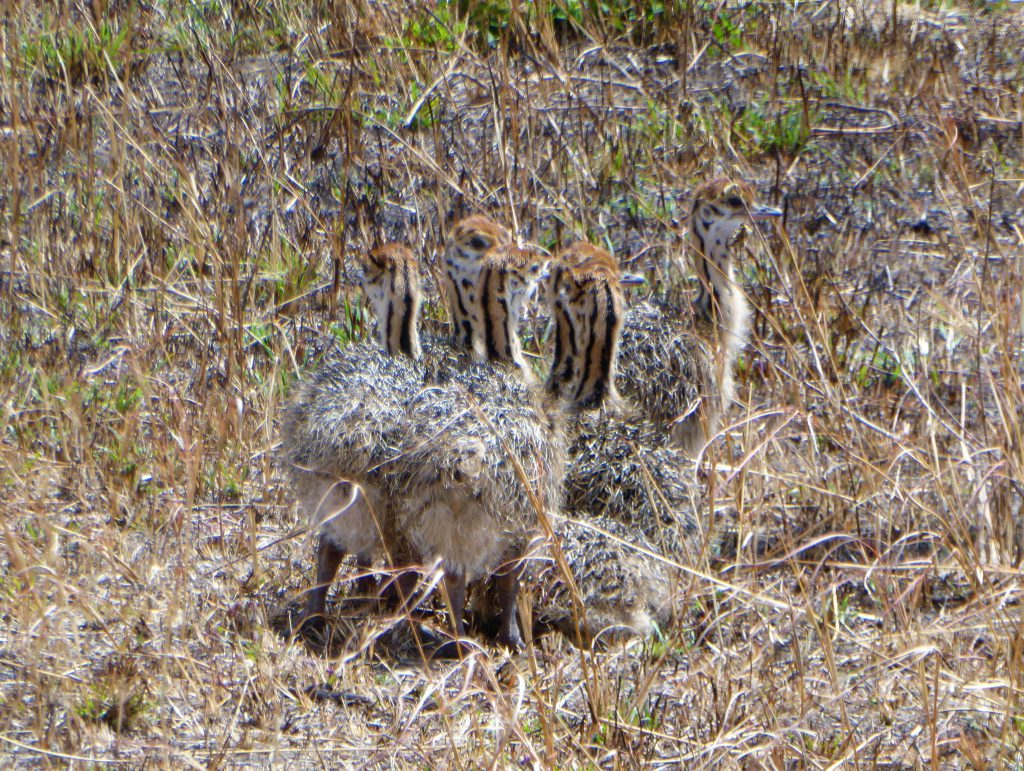 Well… if you see this you know what goes on right?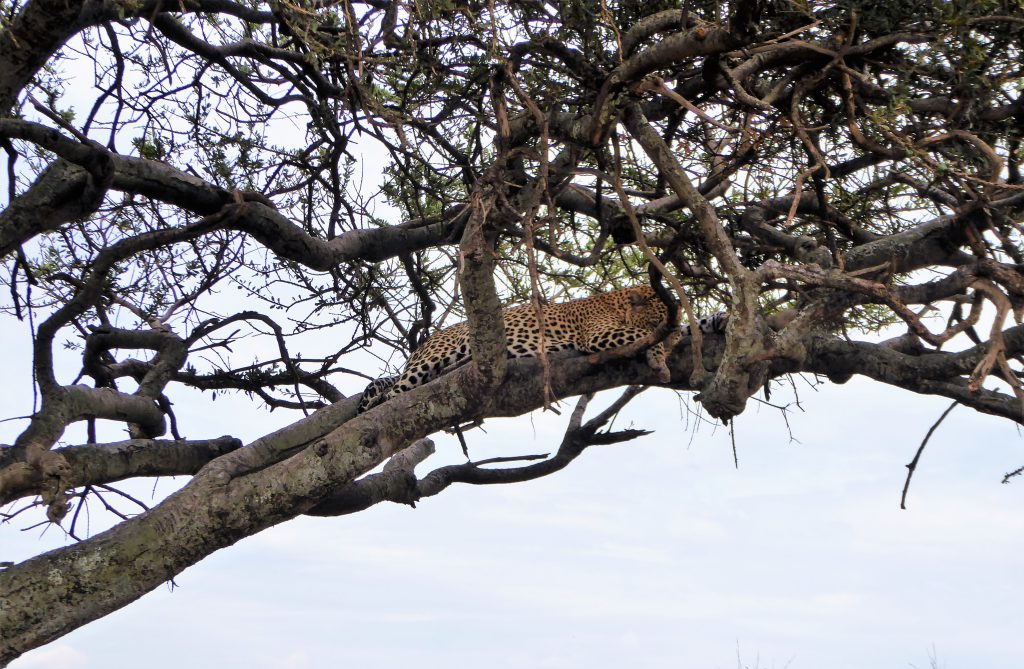 When we came closer we saw the great leopard lying on a branch
He had just been eating and was resting for the rest of the day!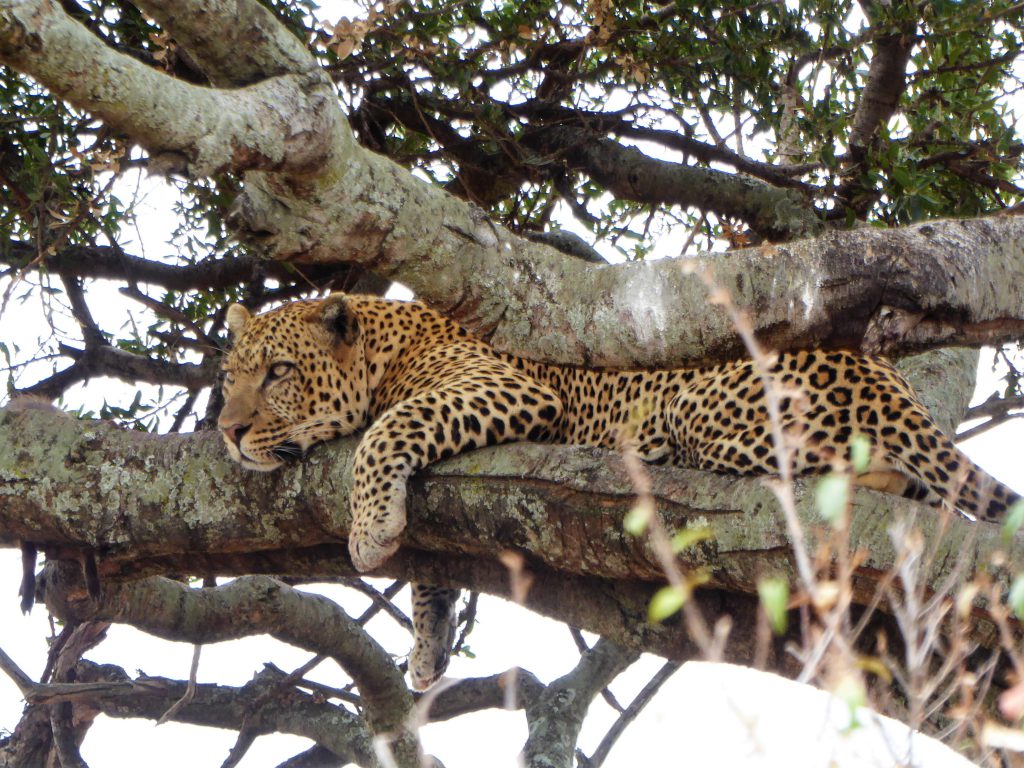 And if you are able to go out of the jeep for a moment I needed to do a yoga pose ofcourse.This was at the border of Tanzania and because I walked away from the crowd the question raised if I did this pose in Kenya or Tanzania 🙂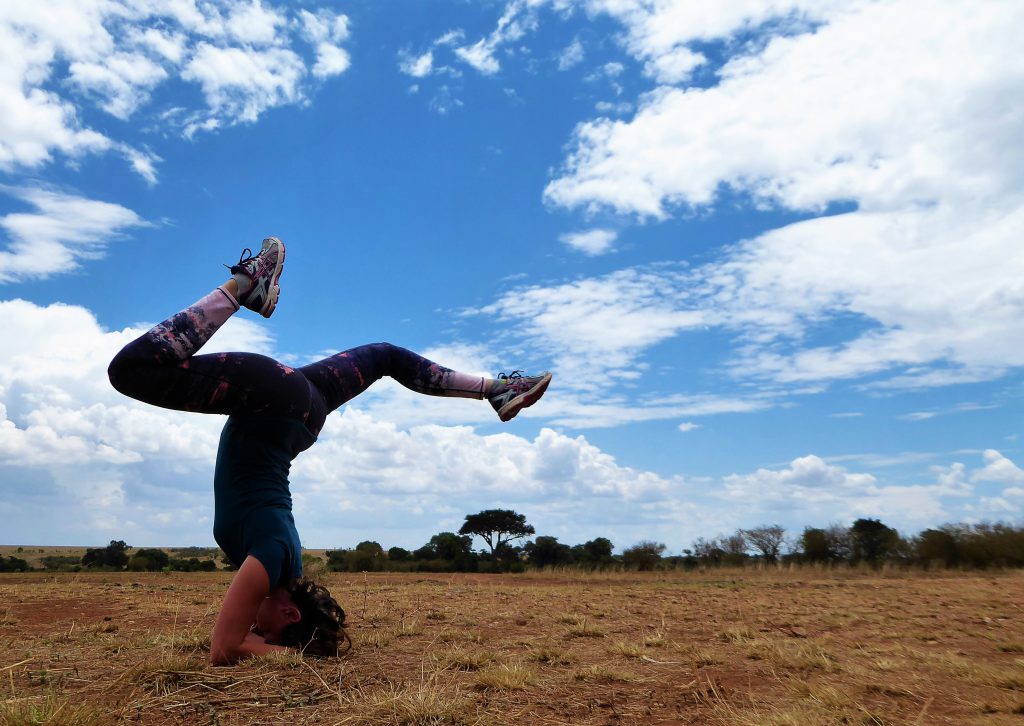 We also did a walk along the Mara River. So that river where the wildebeest do their trek into Tanzania. This year it was later then other years… There was still enough food in Kenya so the wildebeest stayed here.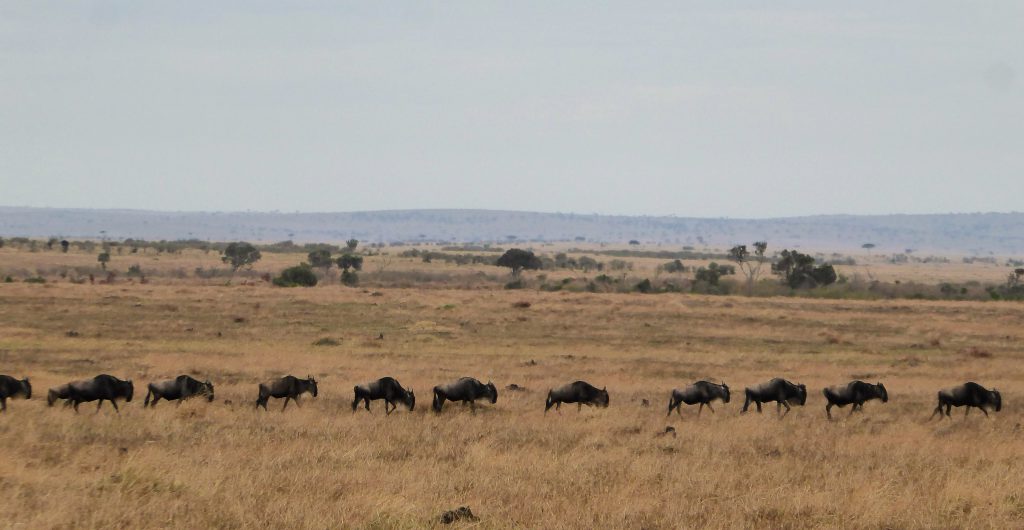 We did see lots of wildebeests going into that direction…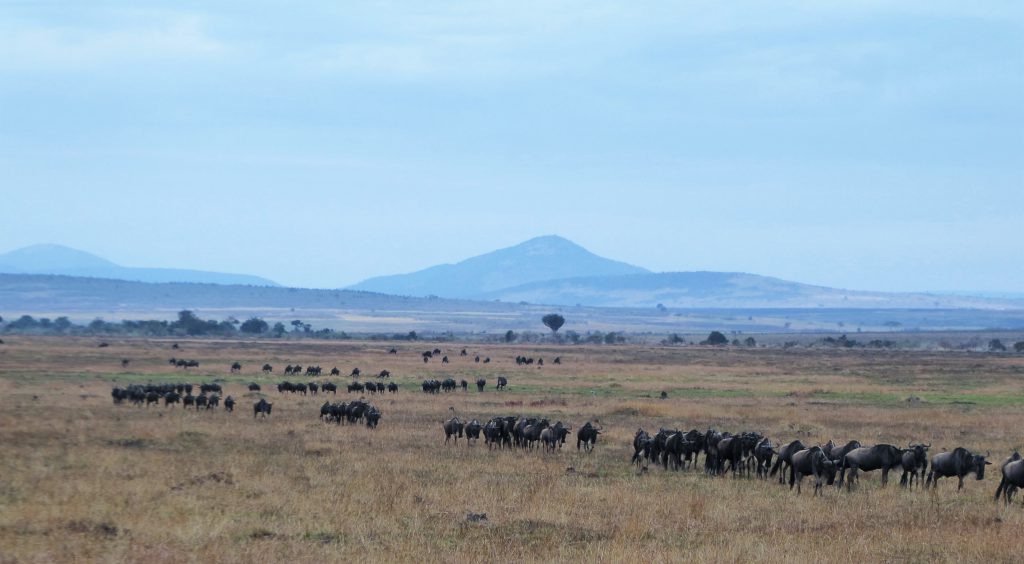 I really think that this is also got to do with global warming…

They say the change in seasons and weather conditions.
I loved seeing the river and the spot where the documentary was filmed. We had our lunch at the side and saw many crocodiles and rhinos in the water!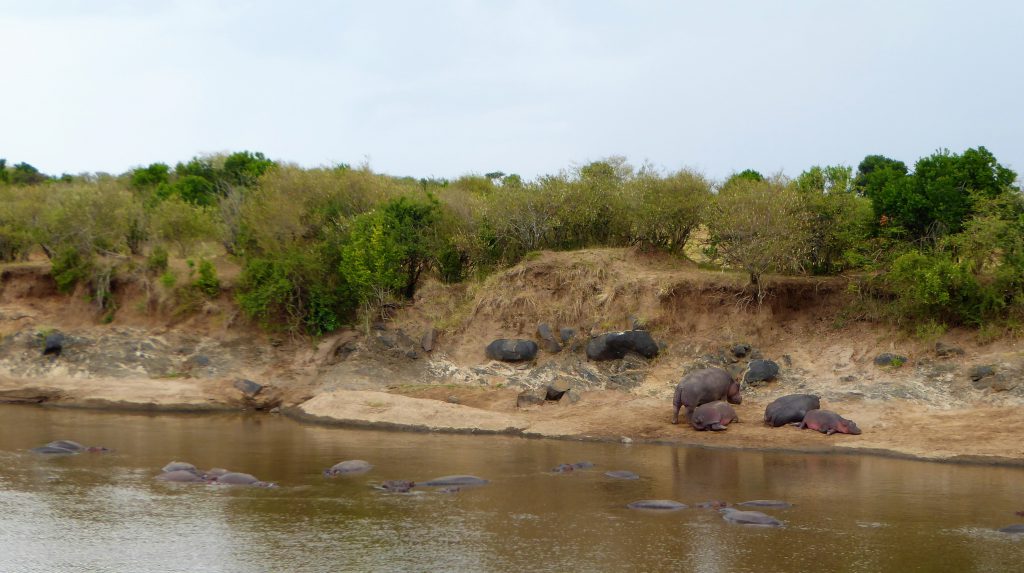 Did you know that when you go hike along this river you get an armed guard with you? The risk of wildlife coming out of the water…or from the vastland is too big.

So only go out for a walk if you have company of a guard!!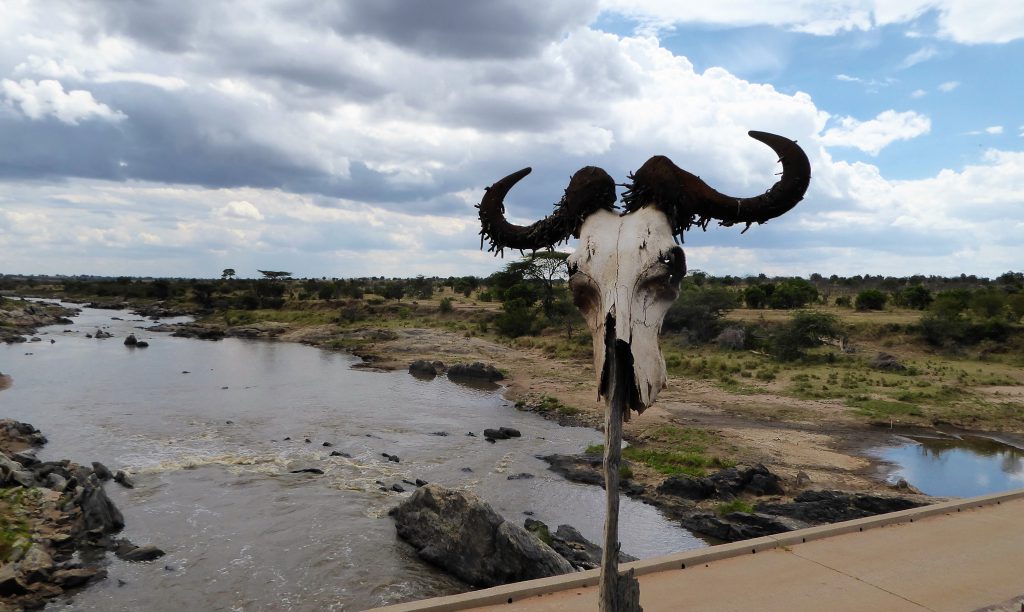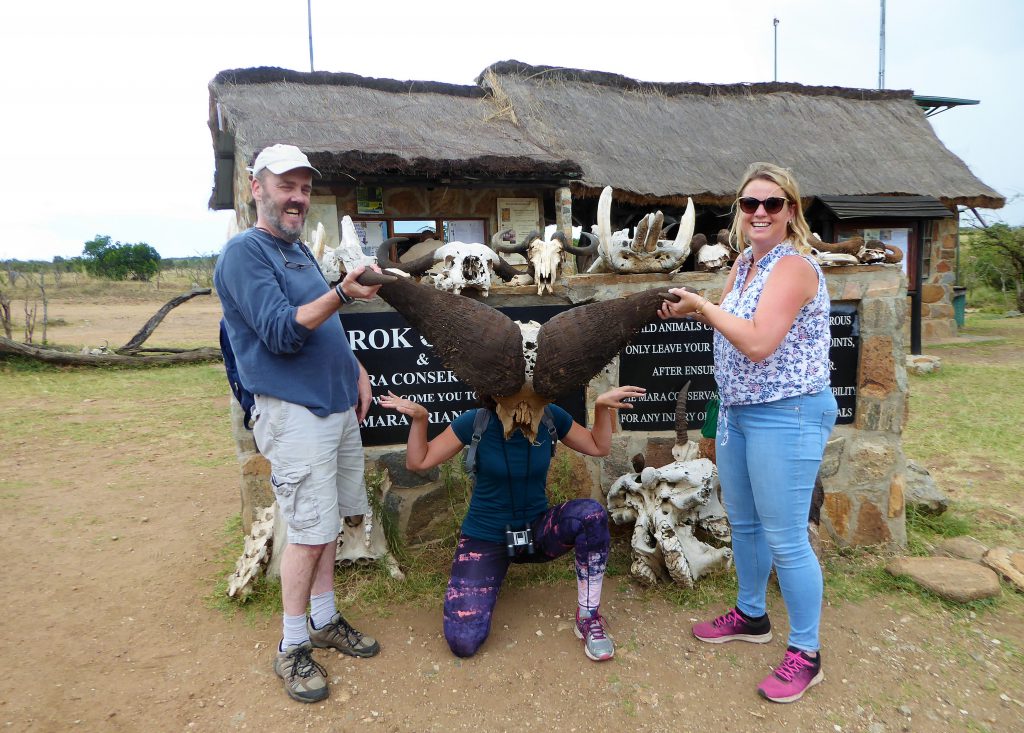 We were 11 hours in the park this day! Our driver did his utmost best to show us everything the park has to offer. At a certain point we had to use the bathroom…he looked for the best spot for us. Well .. he didn't went through all the posibilities. When we all were out of the car, men to the right en women to the left there was this other jeep that came to us.
We really had to go back into the jeep..
in the distance was a lioness eating her prey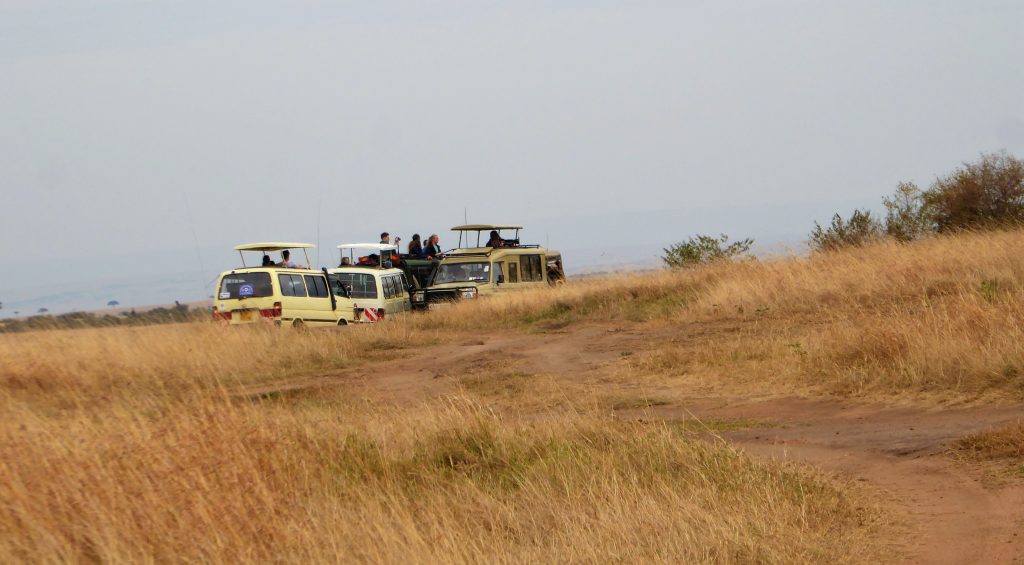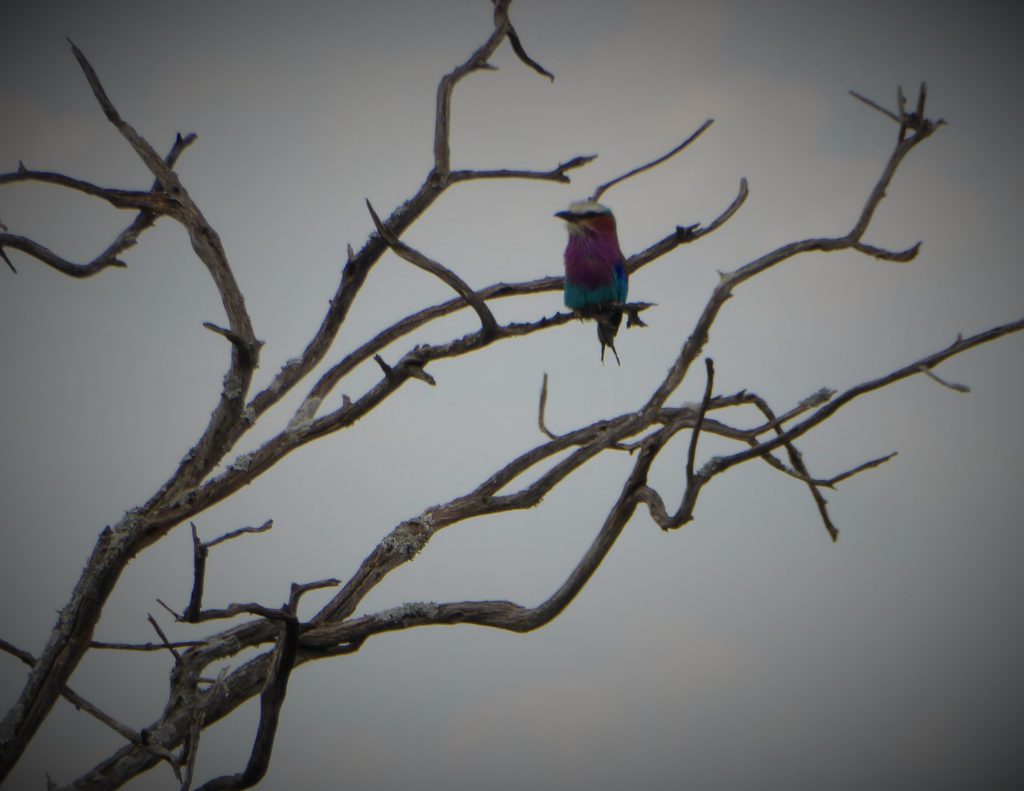 There are also birds ofcourse! These aren't the only ones we saw, but they are the only pictures that are good enough to show. At the Mara River we saw a big predator bird catching a bunny. The bunny was really smart at the beginning but didn't waited long enough and was caught when it came out again.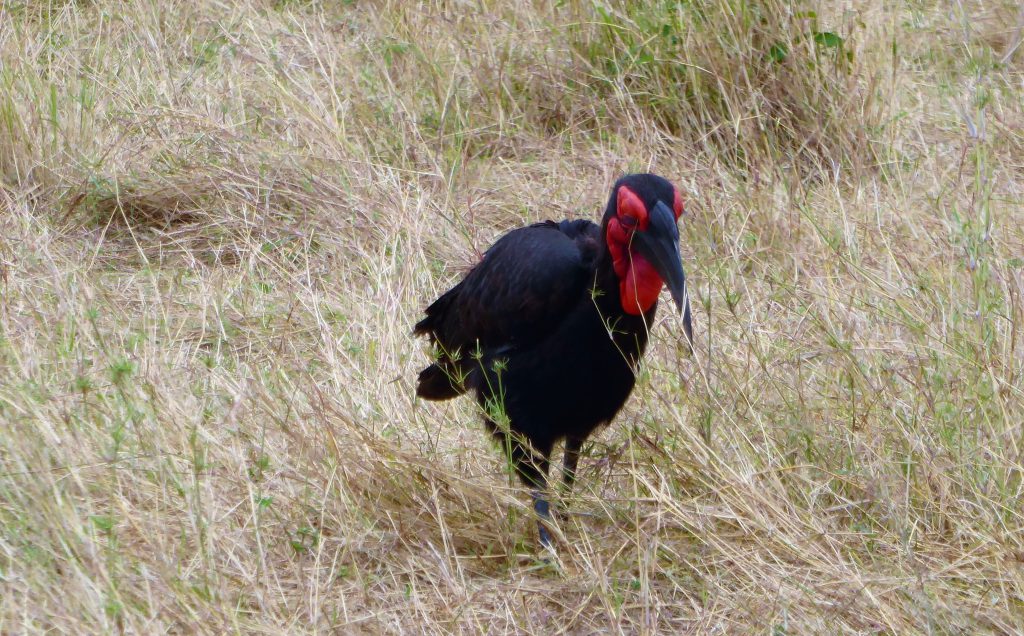 Day 3 of 3
Visiting the Masai at Oloolaimutia

Last day at Masai Mara already and we check out at Lenchada Tourist Camp. I really liked the camp and  it felt like a big family. In the centre of the camp they have a place for a bonfire and the Masai was there in the evening and night. They needed to guard the camp because of the fact that we are in the surrouding area of a national park and the animals don't keep that boundery. Especially at night they go out to hunt and look for food.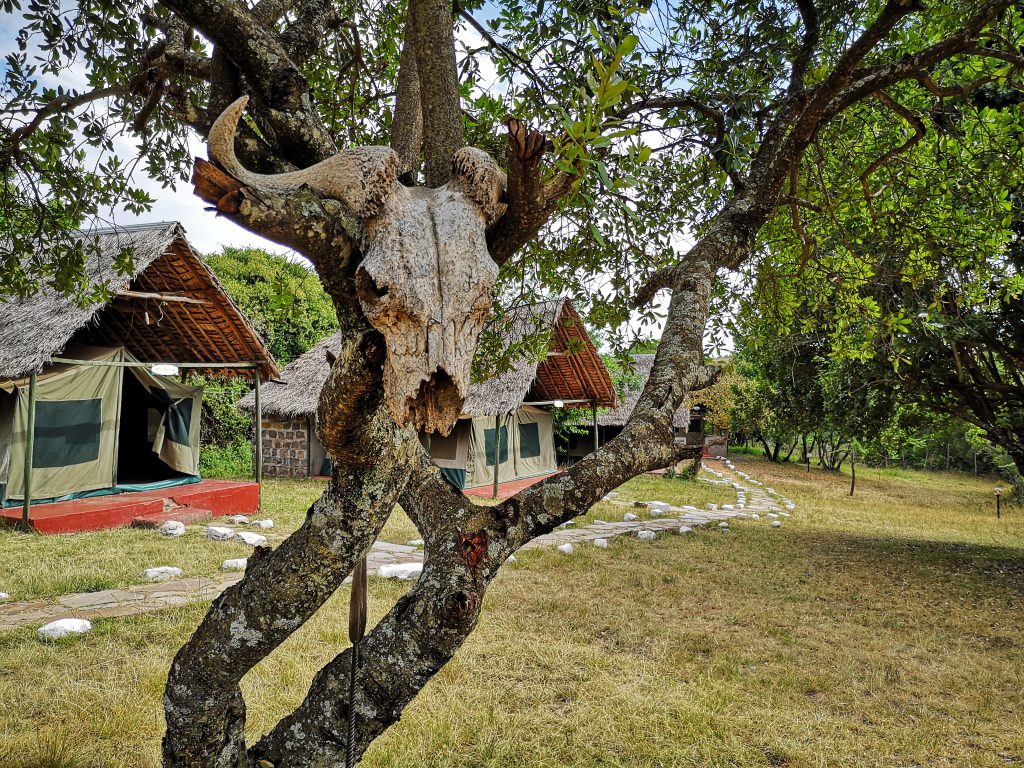 I had to laugh one morning when I walk pass them and at first didn't even saw them. Why? They were totally wrapped in a blanket, sleeping on the chairs… They didn't see me either 🙂
But … the idea is good! There is a guard and you feel safe! They did have a spear next to them and will definitely do their best to protect us!
The picture is really bad but you see them sitting and if you look good you see the spear also!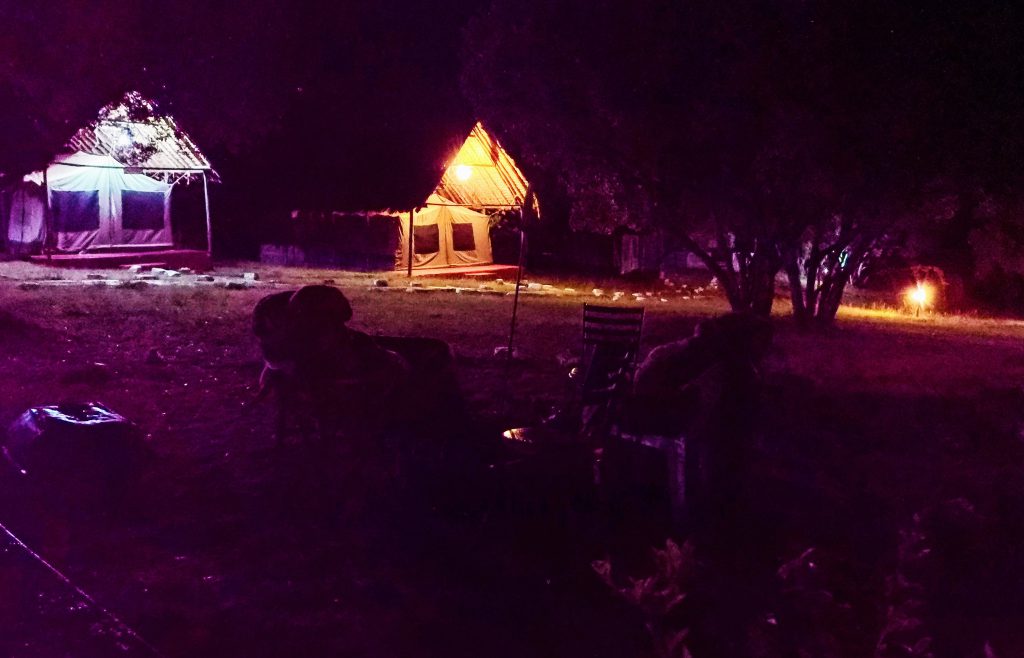 Visiting the Masai

After breakfast we went by foot to the village where these two Masai also lived: Oloolaimutia.
At the entrance of their village a lot of colourful men were waiting for us. They welcomed us and showed us their great dance….with the jumping we all know of the Masai!
I loved seeing the Masai doing their jumping!
Click the link for a YouTube clip and do subscribe to my channel 🙂
After this little show we all went in little groups and with several men into the village where they showed us their house and the way they still lived.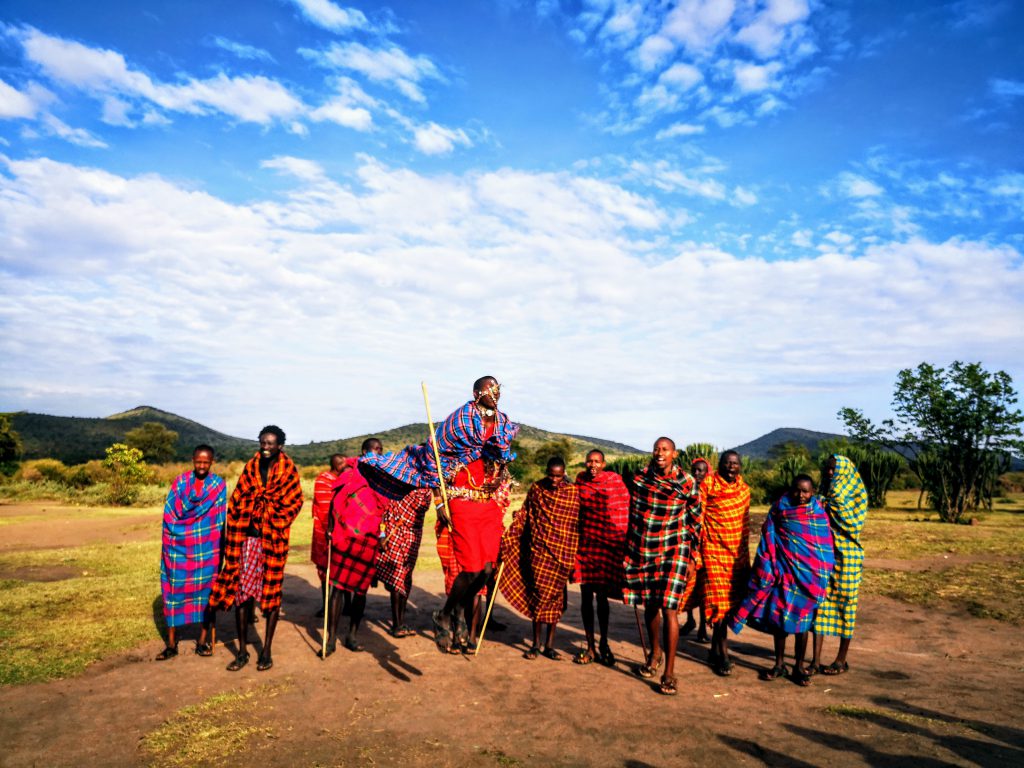 I shared a different blog about Visiting the impressive Masai
Check that blog for more great pictures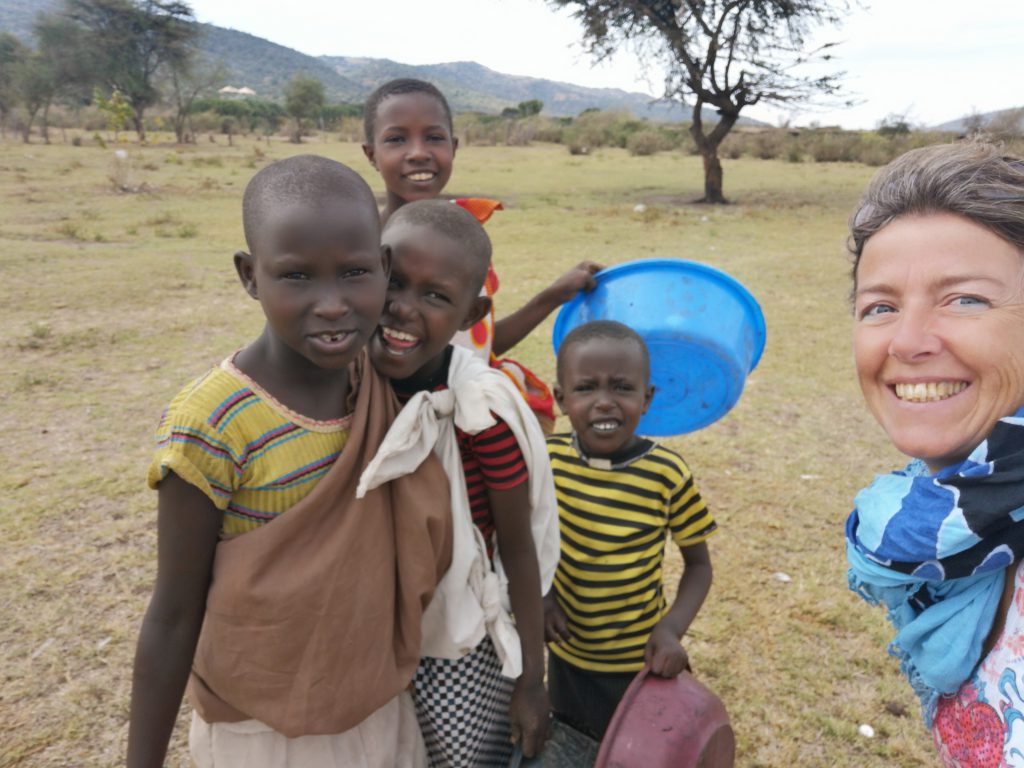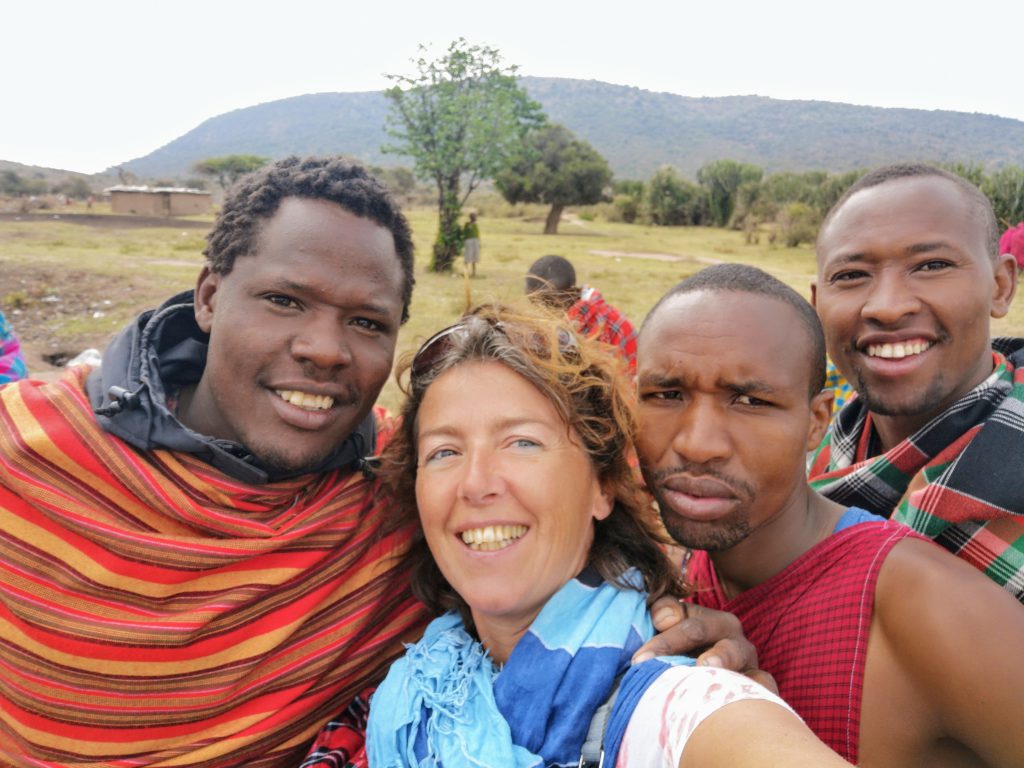 I love to take selfies and now is my excuse to share them here!!
The locals like them too and like this you get them looking into the camera!
After this visit we traveled back to Nairobi in a couple of hours where I had my stay booked at Wildebeest Eco Camp. I still had one night to spend before heading back to The Netherlands… My great adventure had come to an end in Kenya. I can recommend Wildebeest for your stay in Nairobi. It has a bed for every wallet, you can stay in a small tent, your own or rented, you can stay in a dorm room tent and they have the luxury tent with your own bathroom. I loved it here! (They also have a great garden with a swimmingpool!)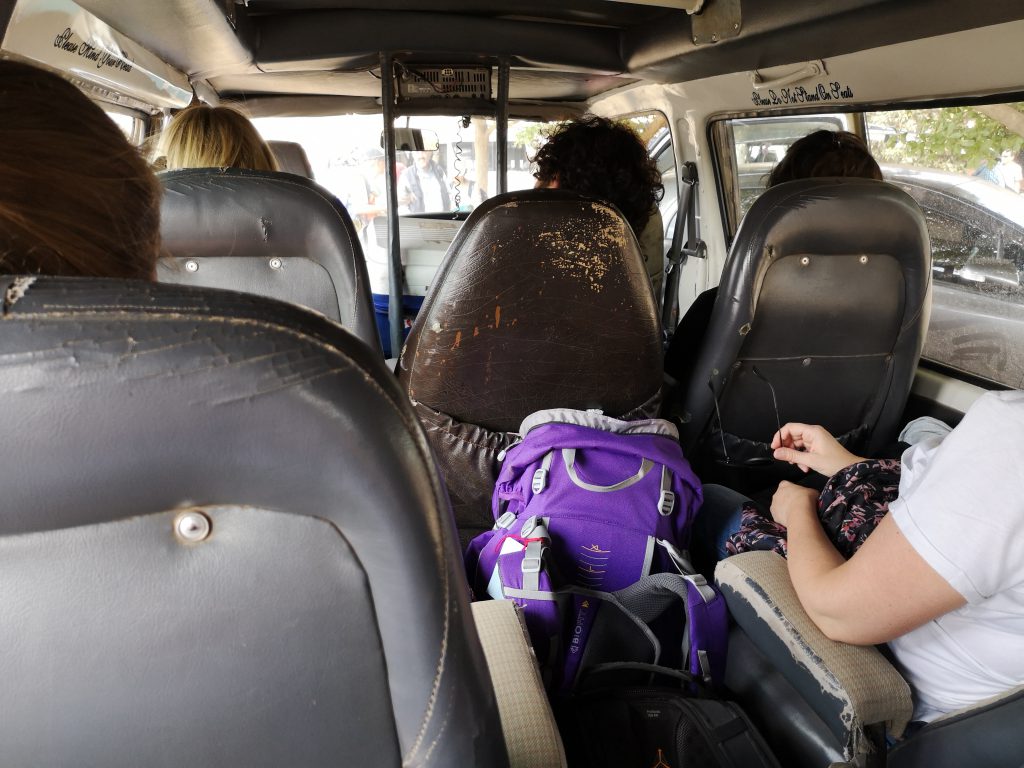 Costs & Days
This is a 3 day trip. The first day starts early in Naribi where you will be picked up at your hotel around 8 am. On day 3 they brought me there again just before dinner.
I paid around 300 euro for this trip. You can book the same trip at many different local travelagencies and I don't know exactly which one I used because I used my local contact from the volunteering at Tsavo NP I did before this trip. I did found the same trip for the same price at that time at Bonfire Adventures. I did see them driving every day I was at the Masai Mara. I only don't know which camp they used for their stay.
We were at Lenchada Camp and I did like it. It is not a new camp anymore so the bathroom is not totally as clean as it was before. Also the part from tent to showercabin had a gap, in summer maybe not that nice in case of mosquitos. The food was good and the whole day through you could get coffee and tea. I did like this place!
What's included? On day on it is only diner, day 2 all meals and on day 3 only breakfast. Coffee / tea and water.
Are you interested in this trip too?
Pin to save it or share it for others!!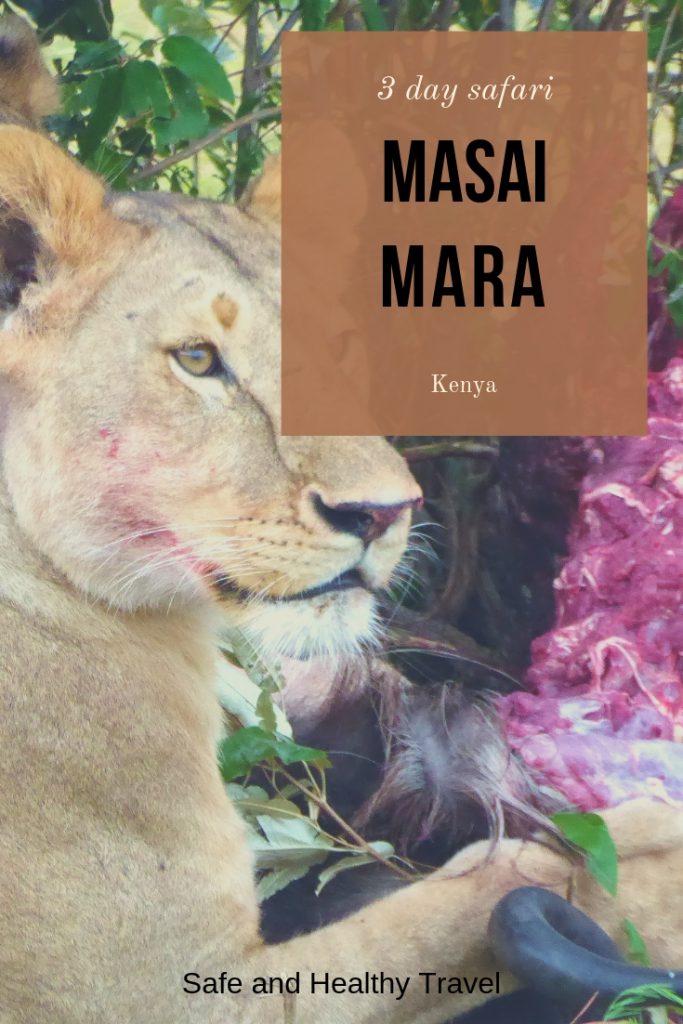 Would you like to read about my adventures while volunteering in the NP of Tsavo?
Read:  Volunteering at Tsavo East NP
Want to read more about Africa?
I visited Morocco to and took a 4 day trip into the desert!! Discover Morocco
I also visited Wassu & Kuntaur in The Gambia
En ging ik op de fiets naar de vis van Tanji
And what about South Africa where I hiked the Famous Knysna Heads
Or do you like a nice challenge? Go Surfing in The Gambia?
Hope you love this world as much as I do!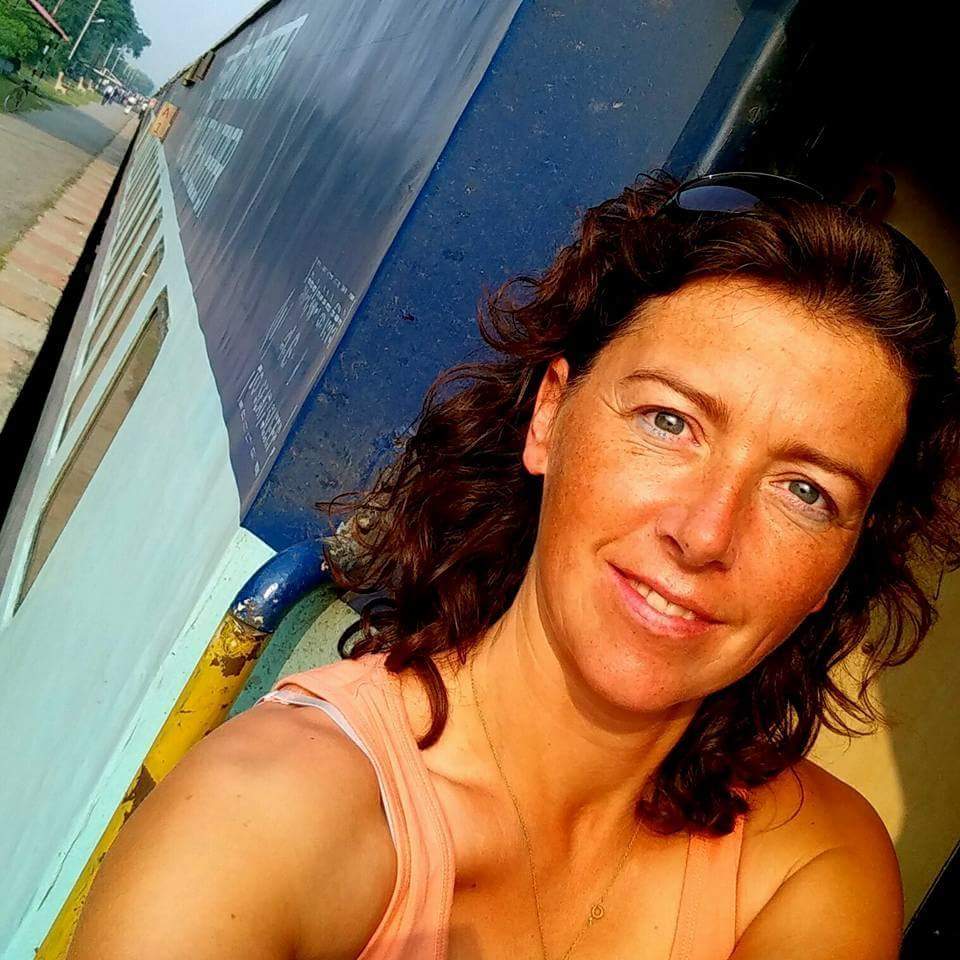 Jacomijn is een politieagent uit Nederland die jou graag laat zien hoe je veilig, actief en gezond de wereld kan over reizen. Safe and Healthy travel is a MUST