Travel Guide Fez – What to See in Fez, Morocco
|
One of the world famous royal cities in Morocco is the city of Fes. It is a city that you should definitely visit on a tour of the amazingly diverse country Morocco. Fes has a long history and therefore a very lively old town where you should definitely spend a few hours wandering around. This complete travel guide Fez is a must if you want to visit all the sights roayl Fes has to offer!
There are several tours that includes this city. If you book a tour of the royal cities of Morocco then you will definitely spend a few days in Fes. Totally super! I really love Morocco, it is only a few hours by plane from The Netherlands and you have ended up in a totally different world.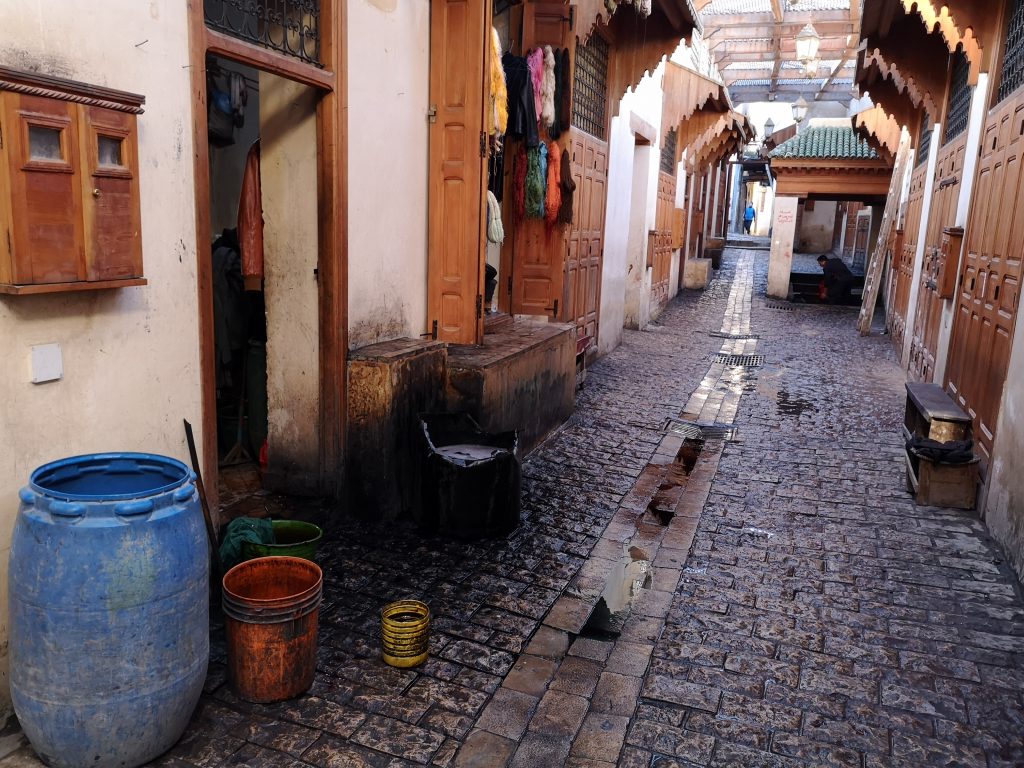 What highlight of Fez do you NEED to visit?

The Medina of Fez
The old Medina I was talking about, of course. For me this was definitely the number one attraction during my city trip in Fez. The small alleys and the beautiful deflections of the streets which, when the sun shines in them, lets you take great snapshots! Have a nice Moroccan cup of tea somewhere and walk on again!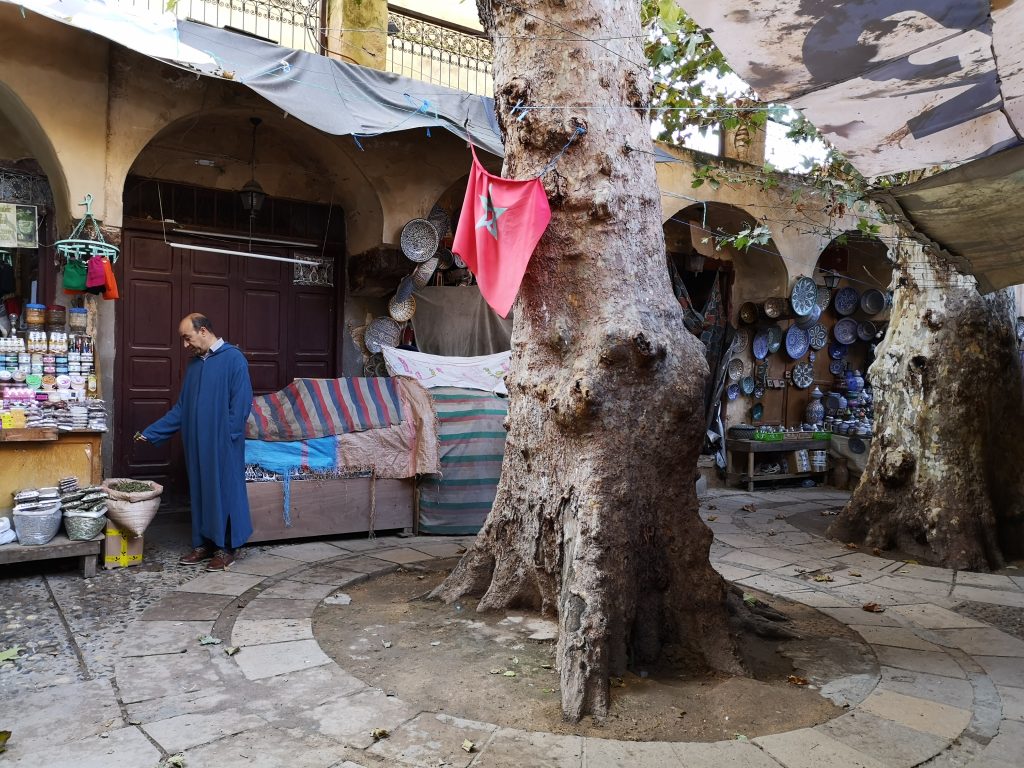 I was told that they used to have the first 'sewer system' here, but I seem to recall that they said the same thing in Marrakech.
Everything you need can be found in the old medina of Fes. You can't think of it like that: from fruit and herbs to clothes and your home decor 🙂
Also pay attention to the old gates that give access to this beautiful piece of old town. We had our riad Rcif close to the entrance gate below (with the same name Rcif) to the medina. We sat here for a while and let the Moroccan life pass us by…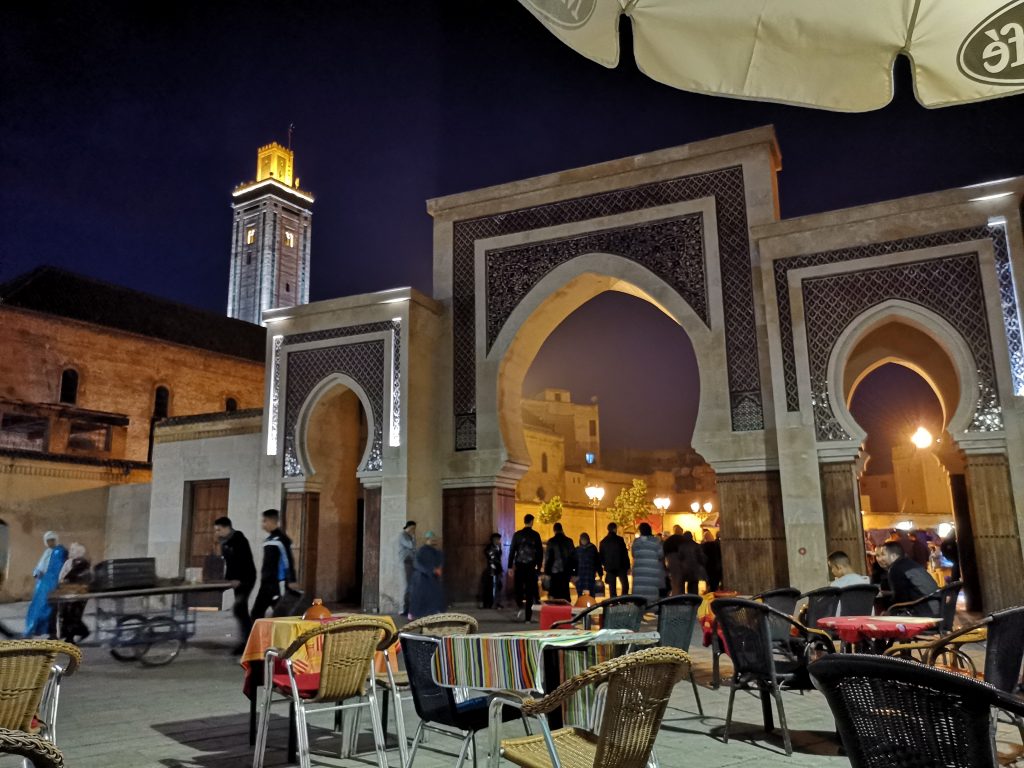 And see all the beautiful edits in the wall and all those colored tiles everywhere!
If you ask me you should book your hotel during your city trip Fes in this old neighborhood for an optimal stay in Fes! You can then walk around in those nice little streets until the dark hours and take in the feeling of the medina to the fullest.
In the old city, wandering through the medina, Fes you will find several old mosques. Some of them are definitely worth a visit.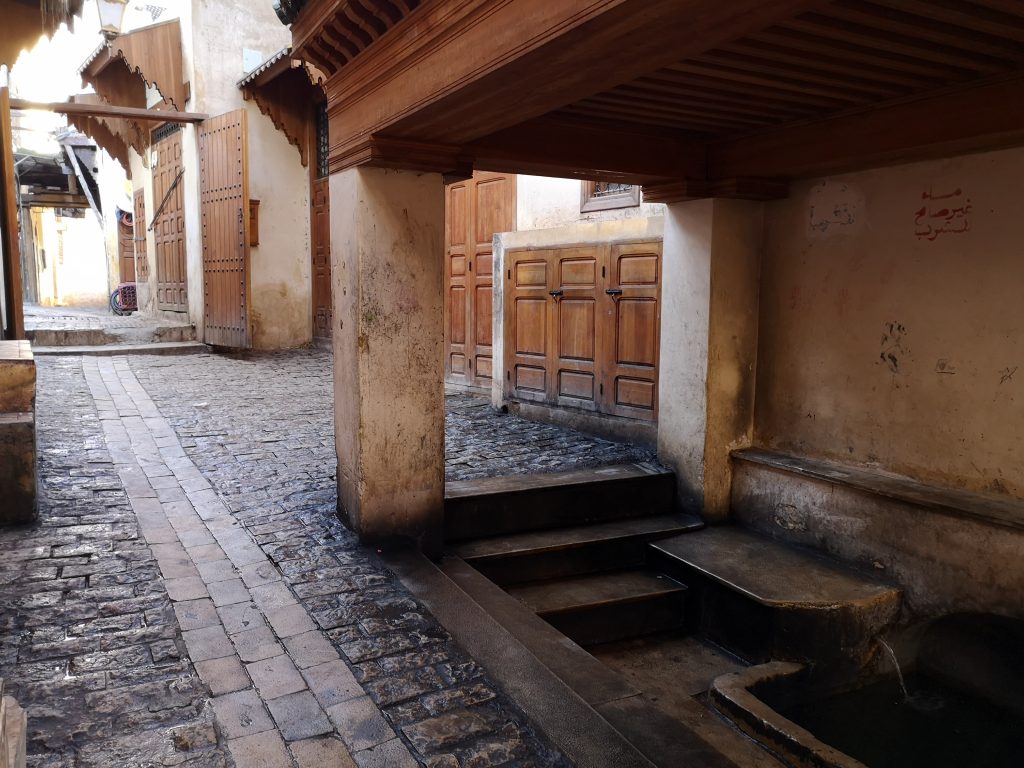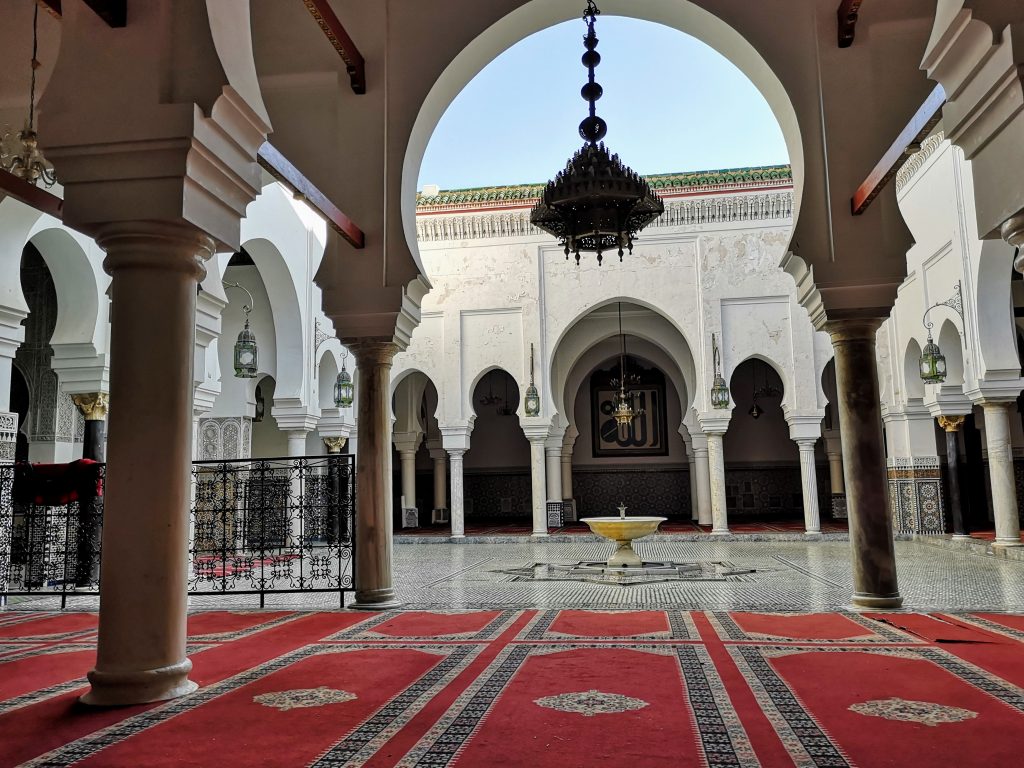 Our guide adviced us to visited this old school, Al Attarine Madrasa, in the medina. A super nice and well maintained building in which you should definitely walk around for a while.
This school is also an old library and houses many old books.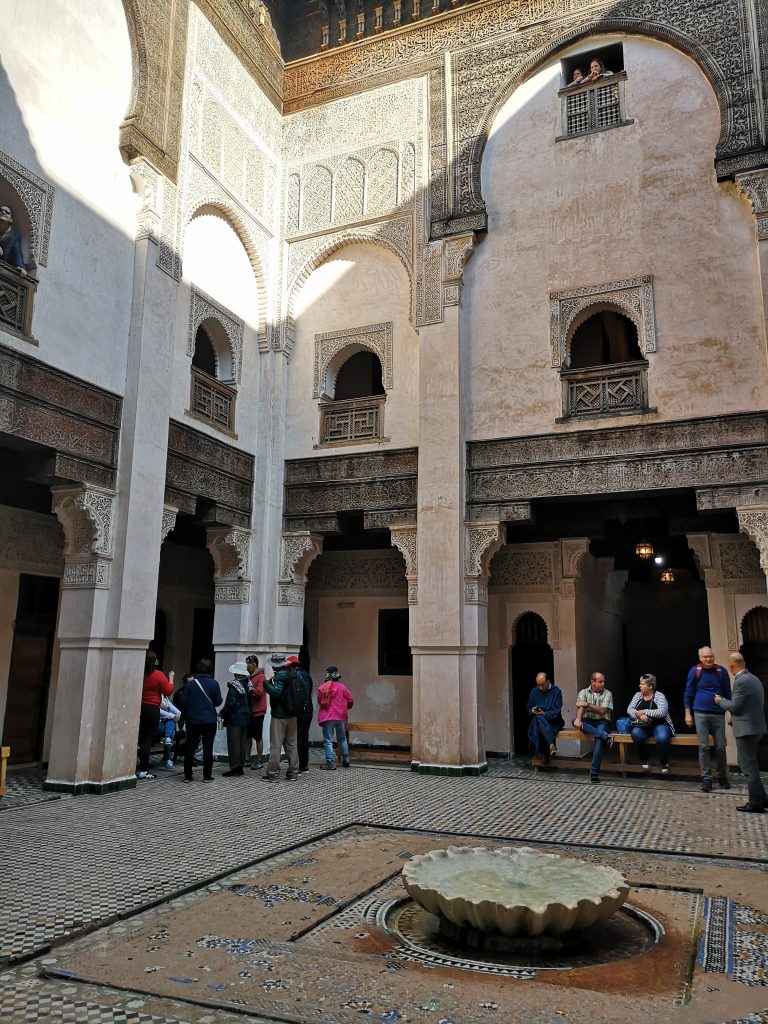 What to See in Fez, Morocco
Travel Guide Fez
The tannery
The leather dye area, the tannery, is a must visit, even though it stinks like hell and for that reason you can hardly be there… You really want to be here!
In Marrakech I walked next to the paint boxes and then it's 100 times worse… but here I stayed at the viewpoint and only enjoyed the view with a few leaves of fresh mint under my nose.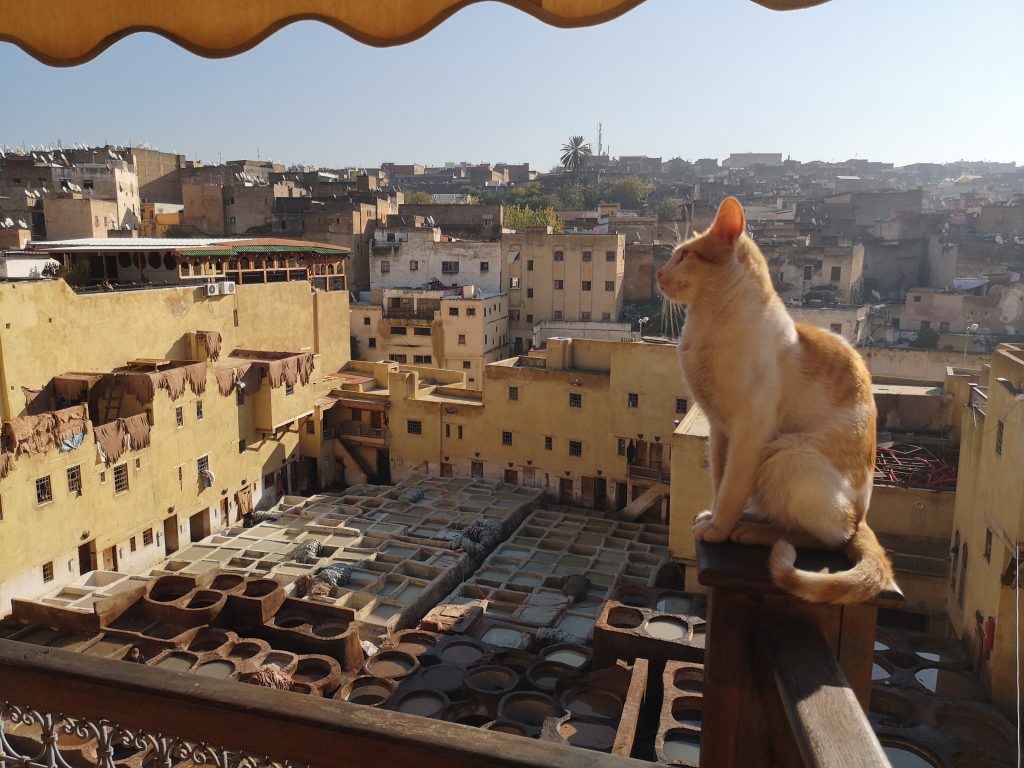 It's still a great sight to see. A glimpse into the distant past…
Palace Dar el-Makhzen
Let's get out of downtown Fes and get some more space around you. This palace is located in the district of Fés el-Jedid and is not open for visitors unfortunately, but the huge gate and the square in front of it are photogenic! So I can recommend you to make a short stop here.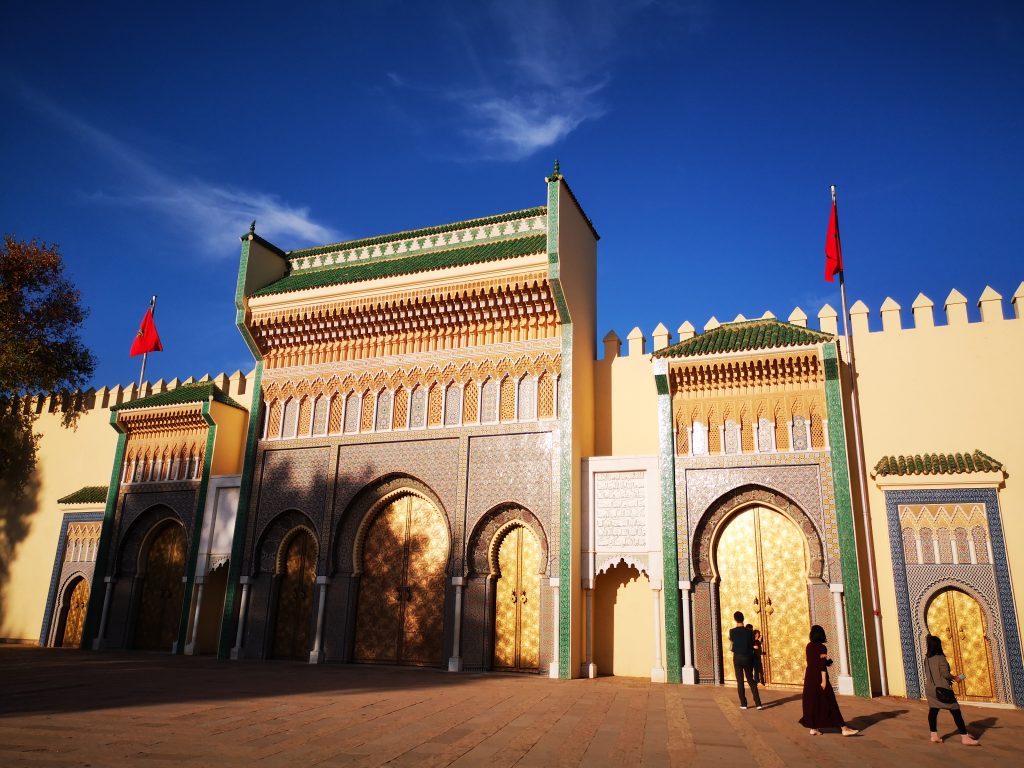 The Jewish district Mellah
From the palace you can walk through the Jewish quarter. Take a look at the many shops and the gold they sell there. Just the street scene alone is worth a short walk!
Borj Nord – Borj Sud
These are forts that are of course nice to visit. The forts have been placed there for strategic reasons and therefore also have a nice view over the city of Fes.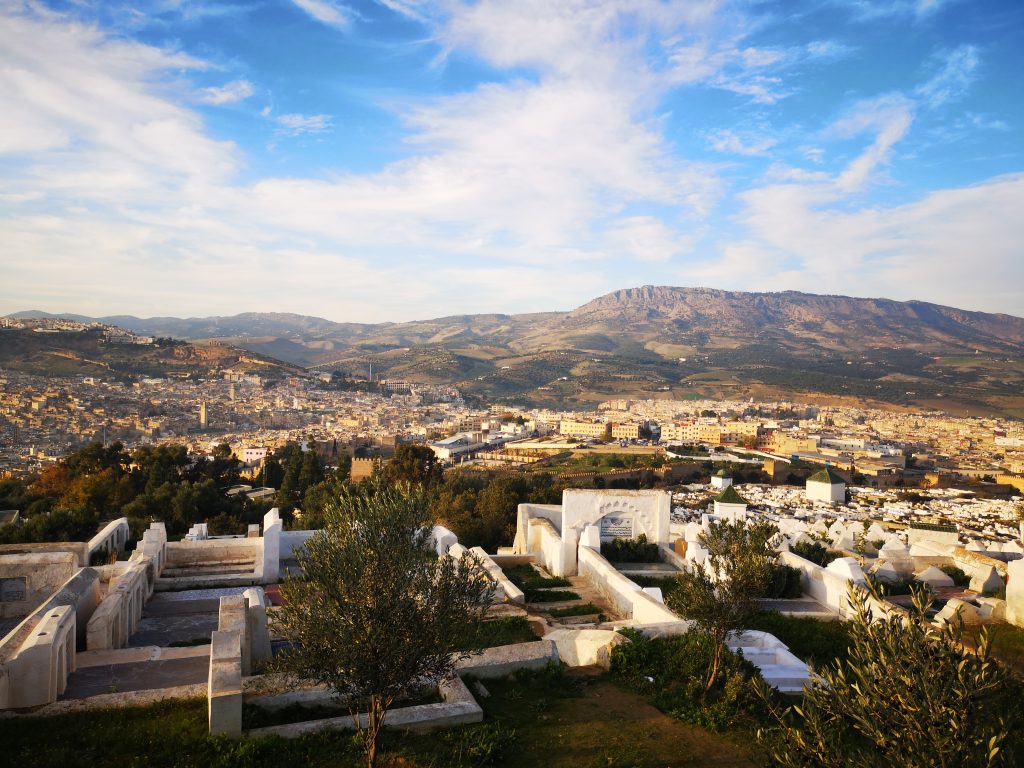 So if you are looking for a nice viewpoint over the city of Fez (especially the medina) during sunset, this is the place to be. I was at Borj Sud during the day, so on my first day in Fes I had a nice viewpoint over the city and I had a good idea of what the city looked like and where I was.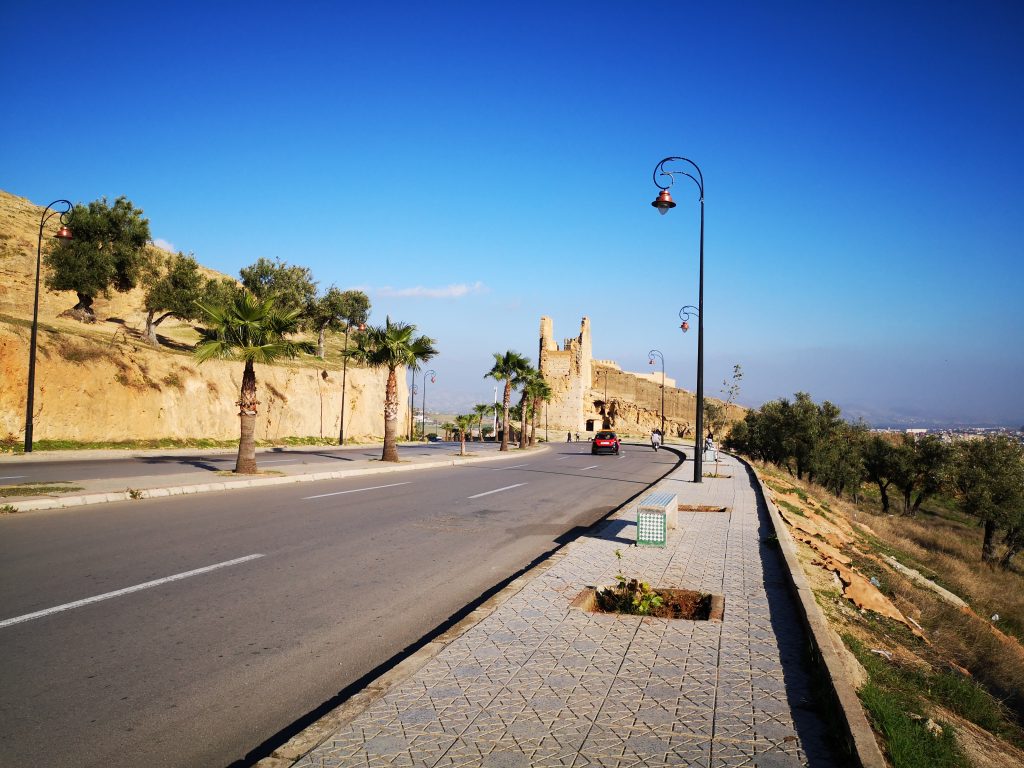 Later I happened to be walking, wandering actually, along Borj Nord. I can imagine that from that point you can also experience a beautiful sunset. I was both times not with a sunset there but I took this really colourful picture from the roof terrace of our riad!
Colours of the sunset – Medina Fez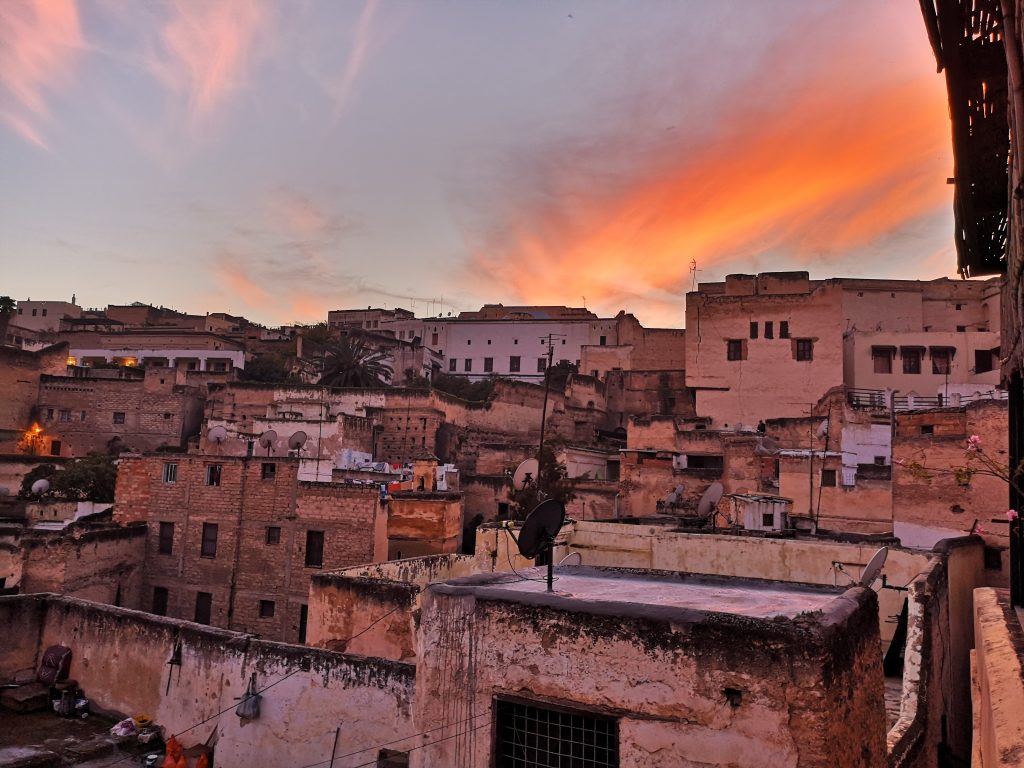 Travel Guide Fez
Culture & Craftmanship
If you book a city tour Fez you will probably also be taken to a workshop where they still work in an authentic way. Always nice to see and if you still need a souvenir this is the way to get something.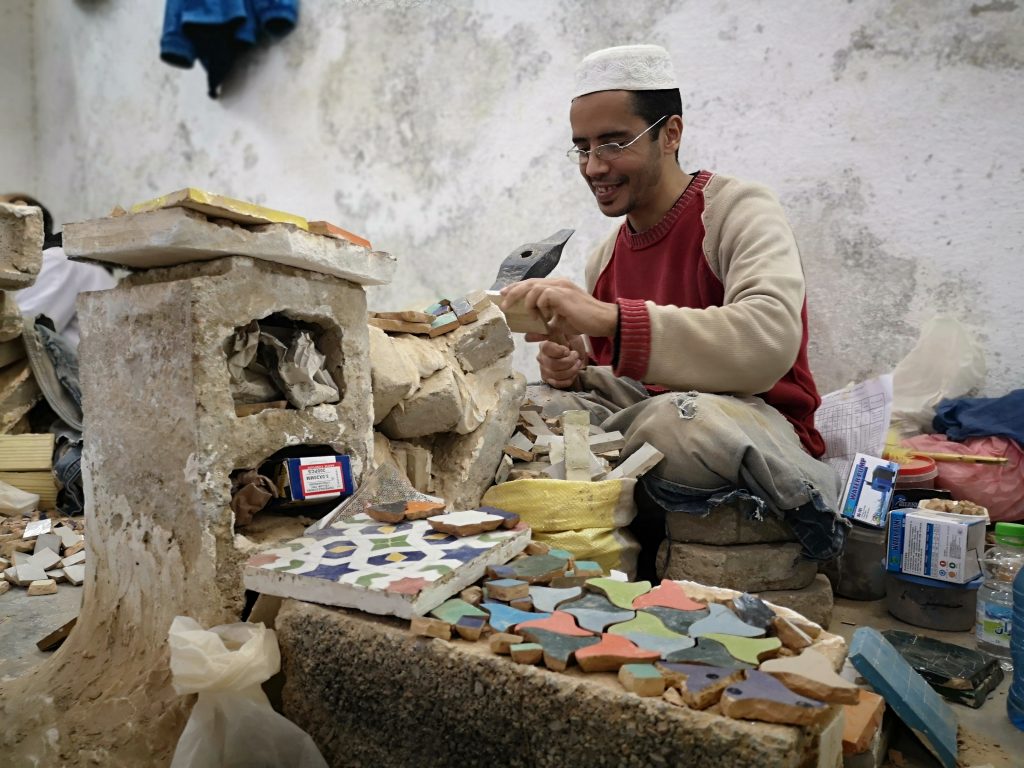 Extra tip:
Cooking class in Fez with Fez Cooking
I didn't get around to it but during my next visit I will definitely book a cooking class with Lahcen of Fez Cooking. He is located just next to the old medina and is easy to reach on foot. Learn some Moroccan dishes to create your holiday feeling at home as well.
Stay Fez
€€ Riad Rcif in the old medina
Great place you really need to find. It's in the small alleys of the medina but if you dive from the right direction you'll come across the signs for Rcif and follow them and you'll come out at this gem!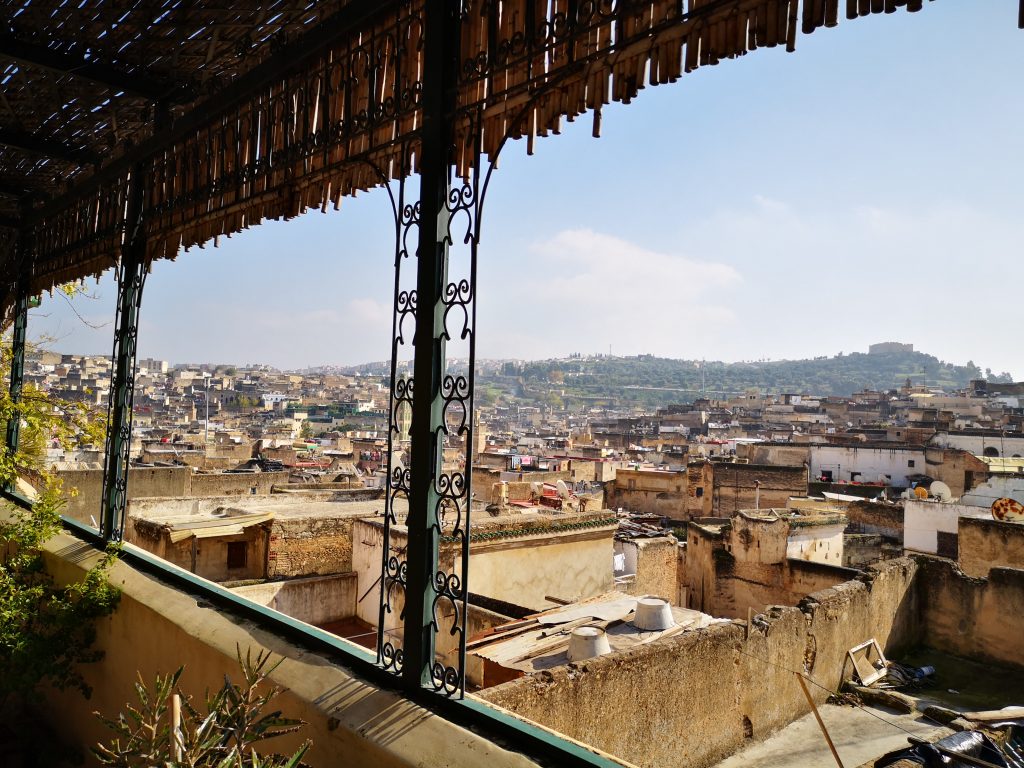 Roofterrace Riad Rcif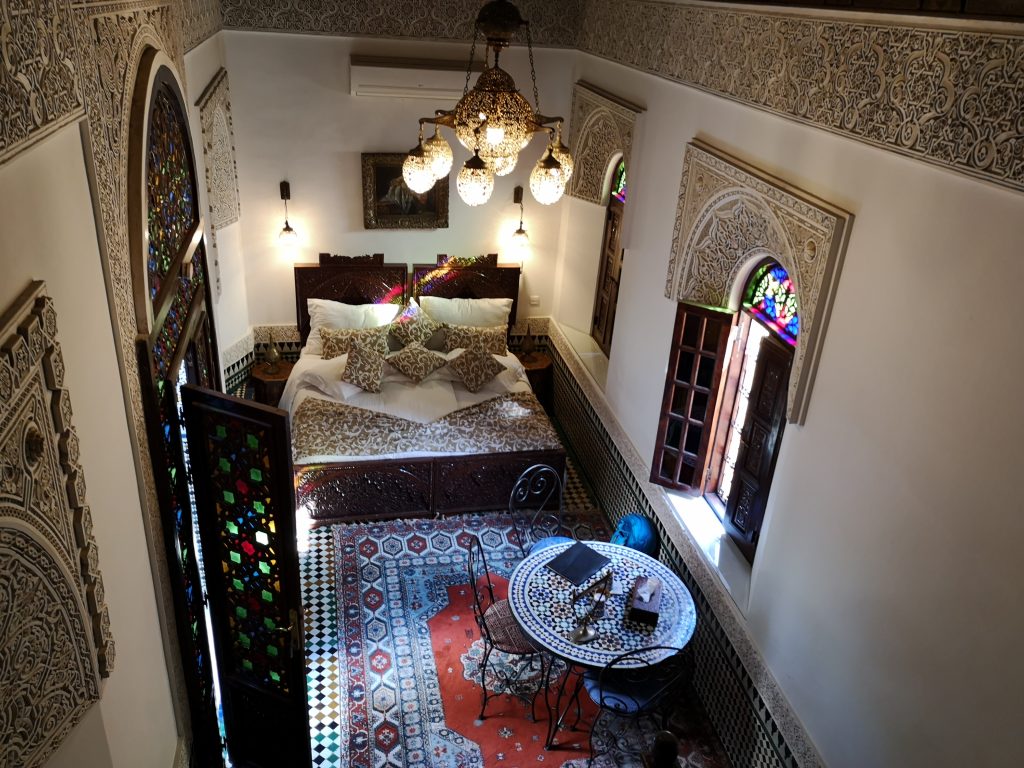 One of the great rooms of Rcif
Most rooms are big! So is this one. The place from where I took the picture was the entrance to our bathroom which also looked great!
€ Medina Social Club (hostel)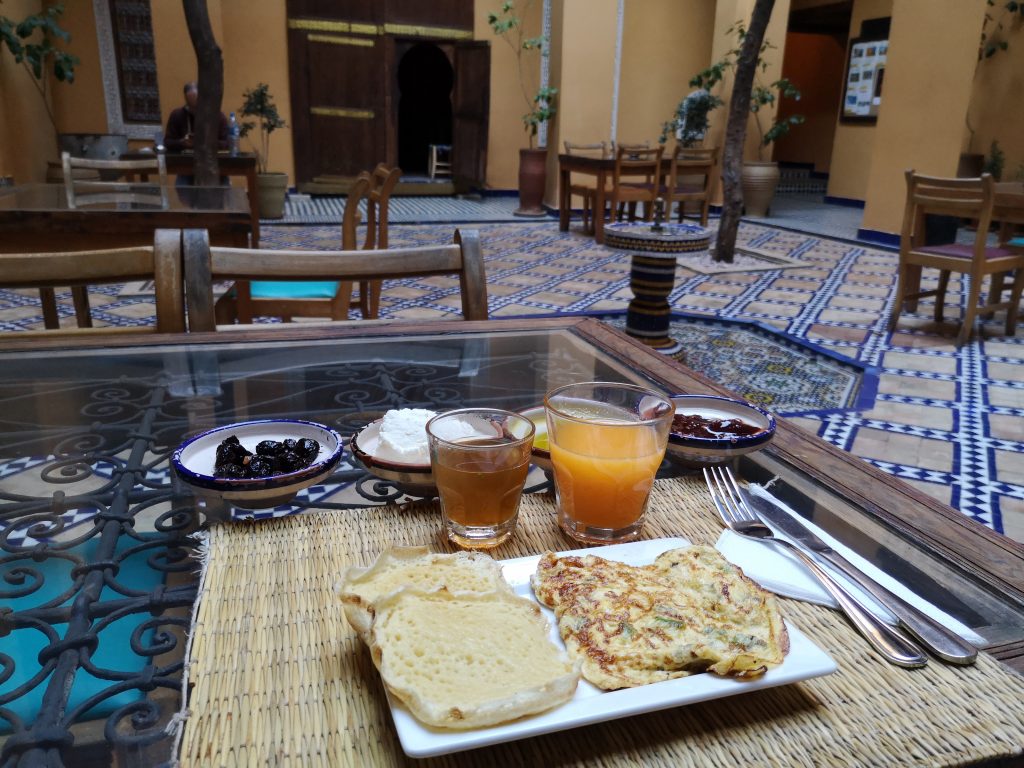 Also located in an old riad and therefore has beautiful rooms and a nice roof terrace. You can stay here in dorms but also book a solo room. I thought it was a nice location close to the medina!
Read this if you don't know if you want to book a riad or a hotel
Do you want to do that cooking class then this riad is very close to his cooking school.
Food in Fez
Dar Happiness
In the middle of the medina this restaurant is located in a great old riad. We enjoyed all the fresh salads and the delicious bread that was served with them. It is often crowded and that way you can tell that they serve good food 🙂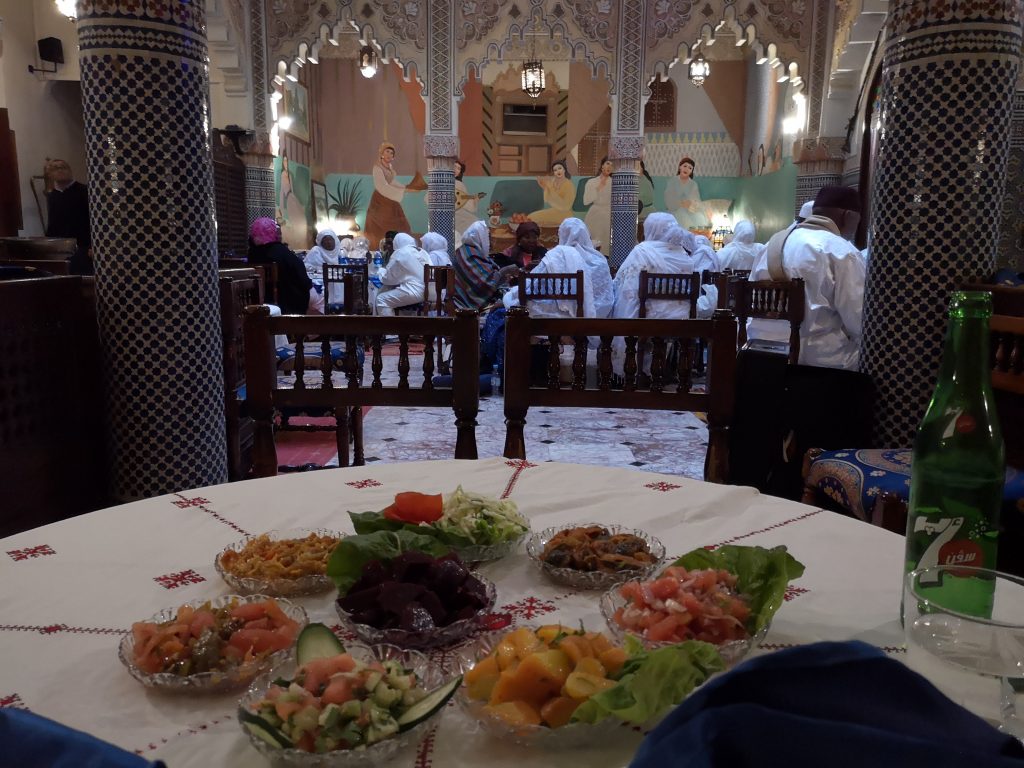 Le Tarbouche
A nice little restaurant in the medina which offers delicious dishes. And where I treated myself to a delicious dessert 🙂 And of course a fresh Moroccan mint tea!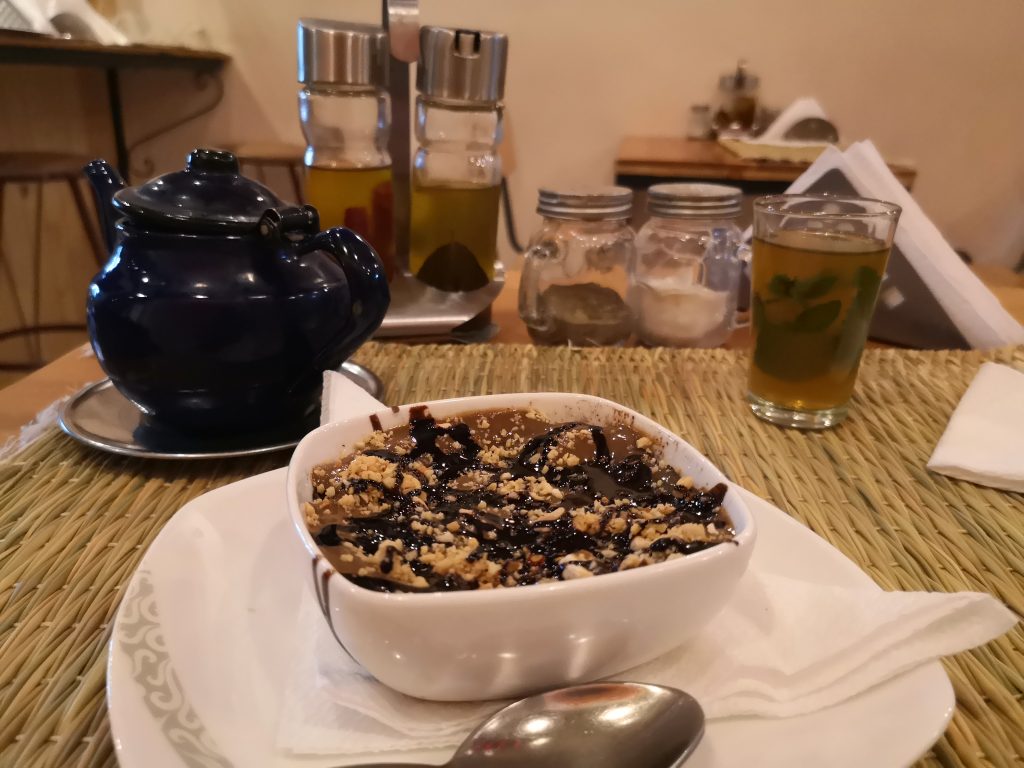 Or back in your Riad ..
Everywhere they prepare the delicious tajine for you. With lots of vegetables and couscous this remains a delicious dish.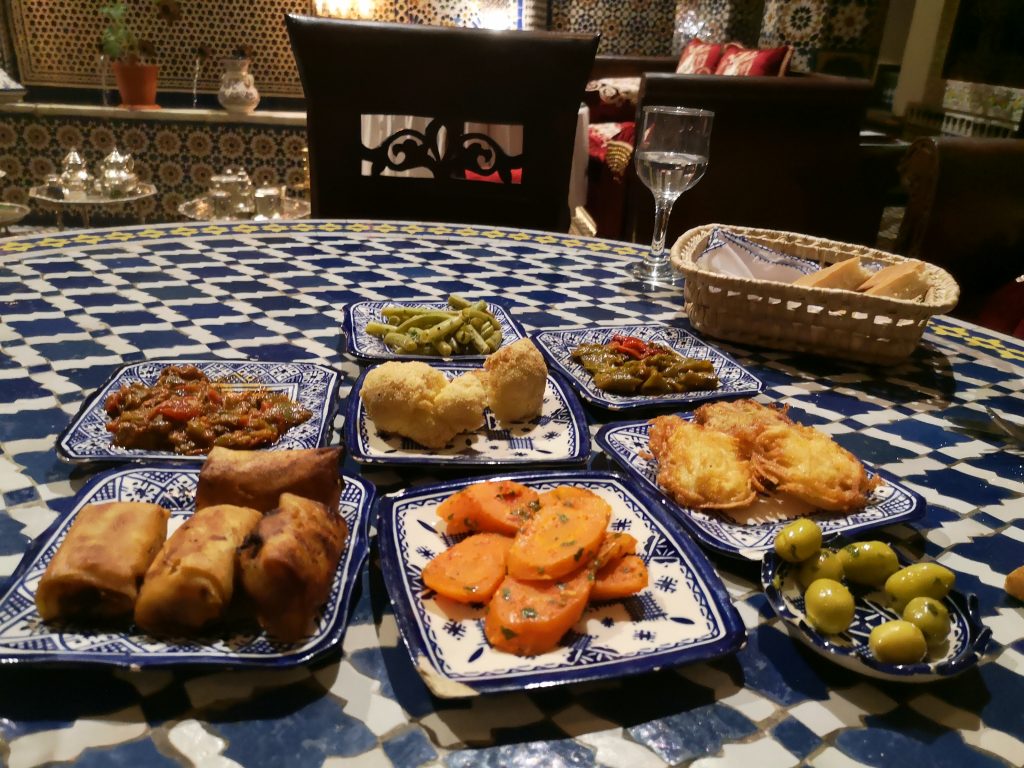 A cup of tea or coffee on the roof terrace at the gate Bab Bou Lejoud was a great idea on my last day. Nice view on the street and the gate and all the movements on the street itself and of course enjoy that winter sunshine!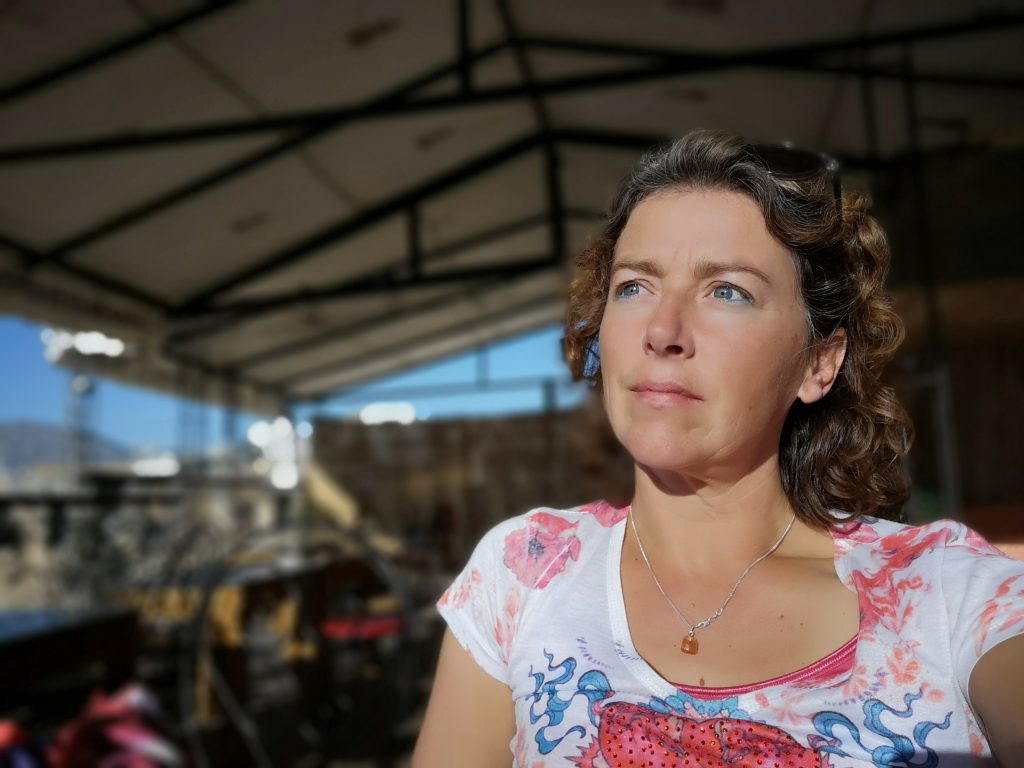 When to visit?
Of course, you can come here all year round. It does get warm in the summer and probably spring and autumn will be a bit more comfortable. My visit was in December and that is a great time to visit Morocco. Wonderfully warm and in the evening it still cools down. I certainly needed a thin summer jacket. In the desert it was even really hot… What I also liked is that most tourists come in another part of the year and so it wasn't very busy. Also nice 🙂
After this city trip, I went into the desert!
What a cool adventure that was!
Read more about Discovering Morocco in 4 days
Did you like these sights Fez?
Then share them for others!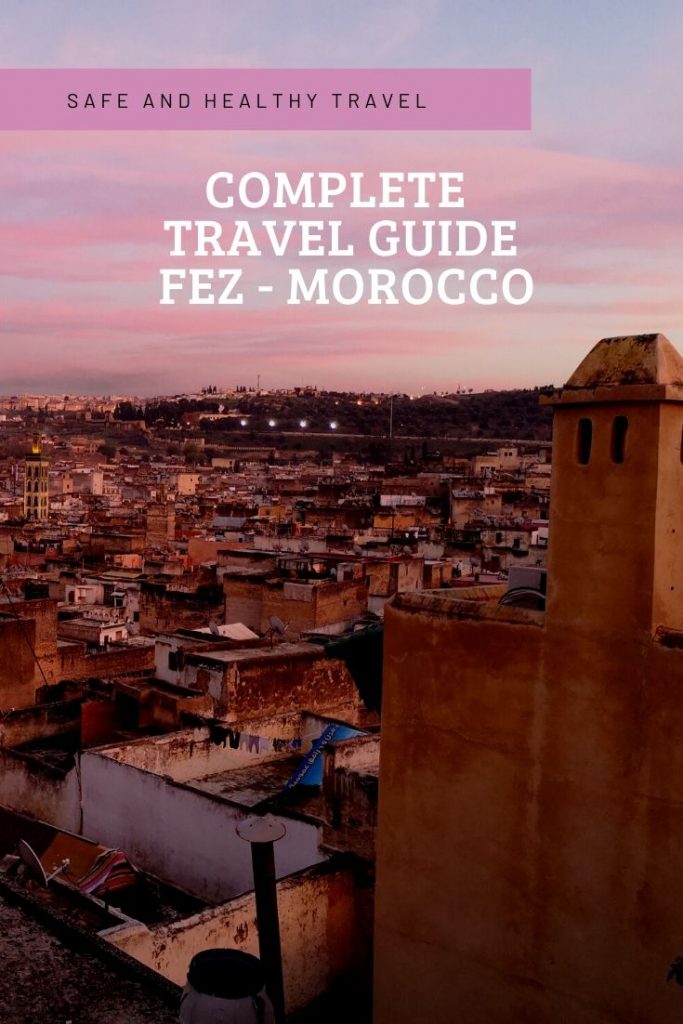 Want to read more African inspiration?
3 day Safari at Masai Mara – Kenya
Cycling to the Fish of Tanji – The Gambia
Safe Safari – What are the Rules?
Surfing in Kartong – The Gambia
Volunteering in Tsavo NP – Kenya
Or can I inspire you to go to South Africa? Then visit Hermanus Bay!
I hope you enjoy this world as much as I do!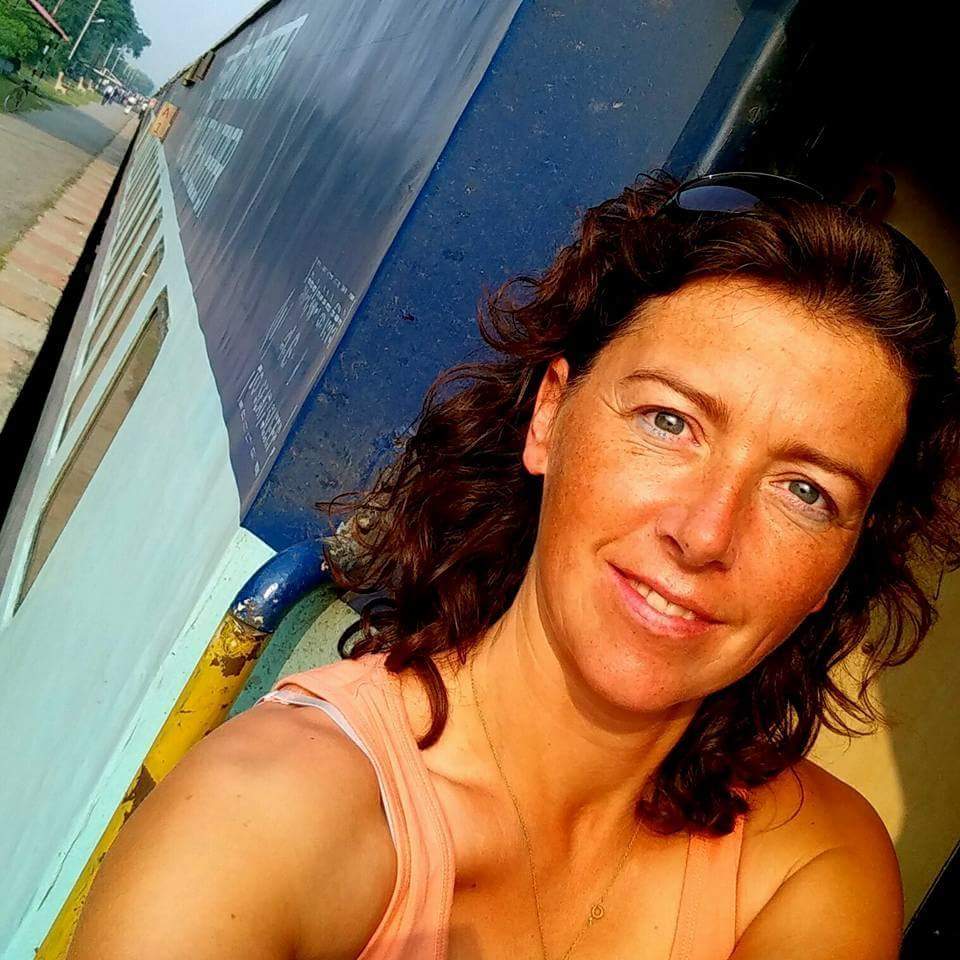 Jacomijn is een politieagent uit Nederland die jou graag laat zien hoe je veilig, actief en gezond de wereld kan over reizen. Safe and Healthy travel is a MUST