Prehistoric Dolmen – Drenthe, The Netherlands
|
Hunebed Centre Borger
I had read that the biggest and most beautiful prehistoric dolmen was to be seen in Borger. So my first stop was here. At this biggest Dolmen was a Centre build that teaches you everything you need to know about the origin of these structures/buildings. In Holland we call dolmens Hunebeds.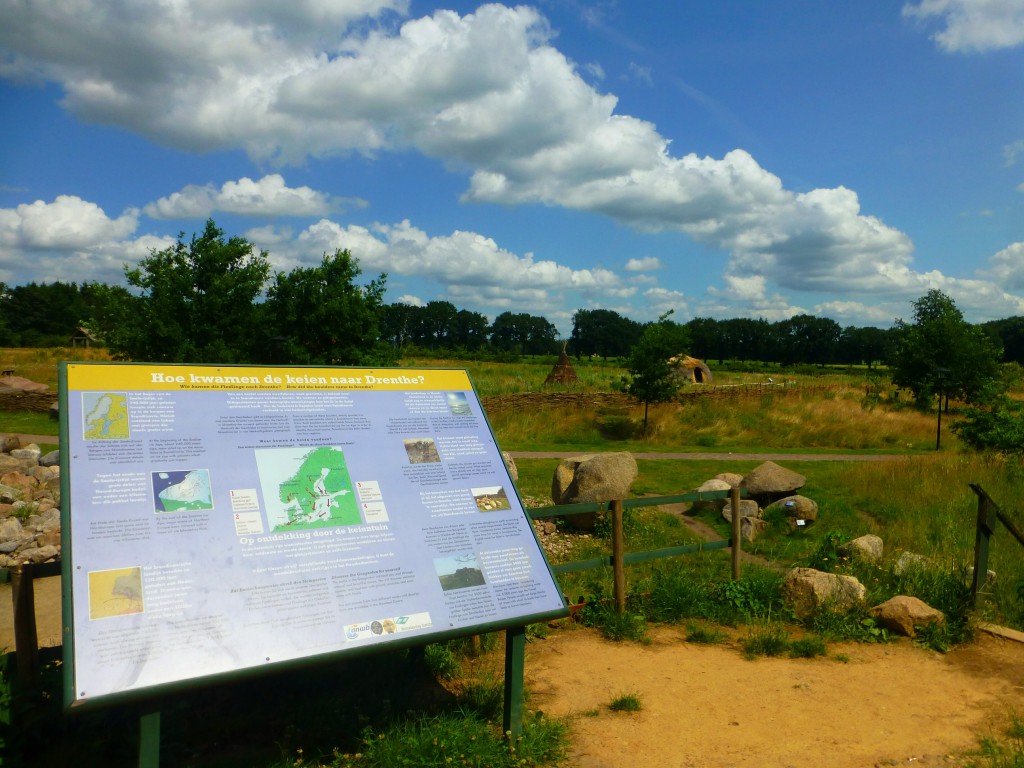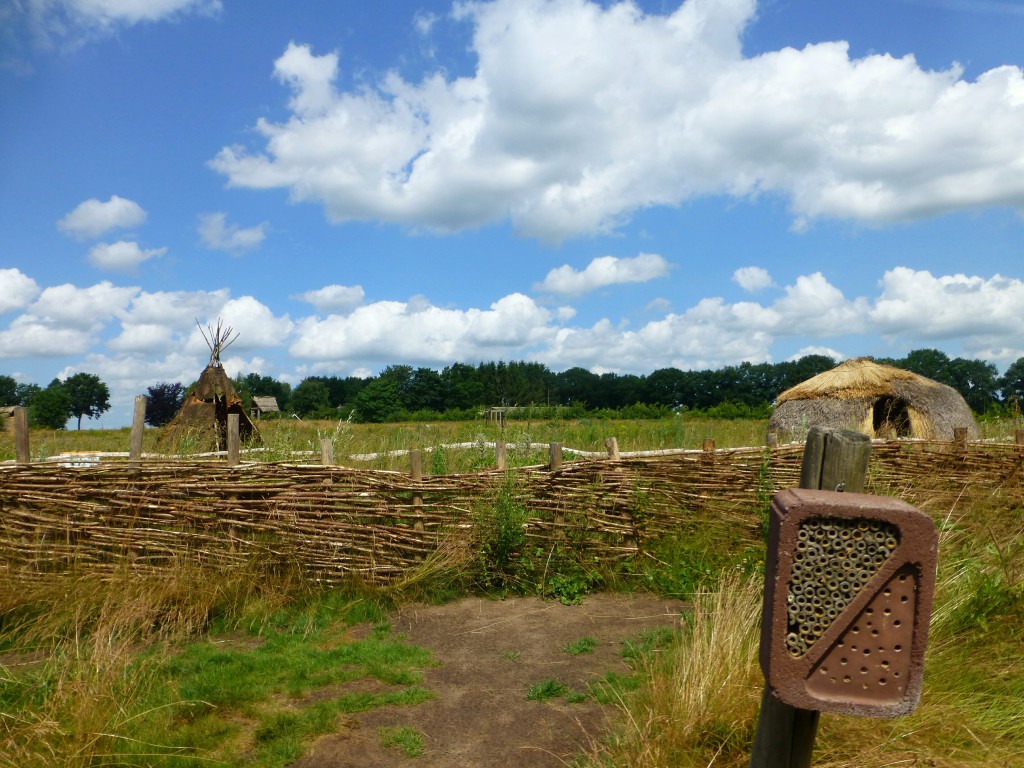 They have a stone garden that shows many stones that are taken with the ice to The Netherlands from Sweden, Norway and that region.
 Visiting the Prehistoric Dolmen of The Netherlands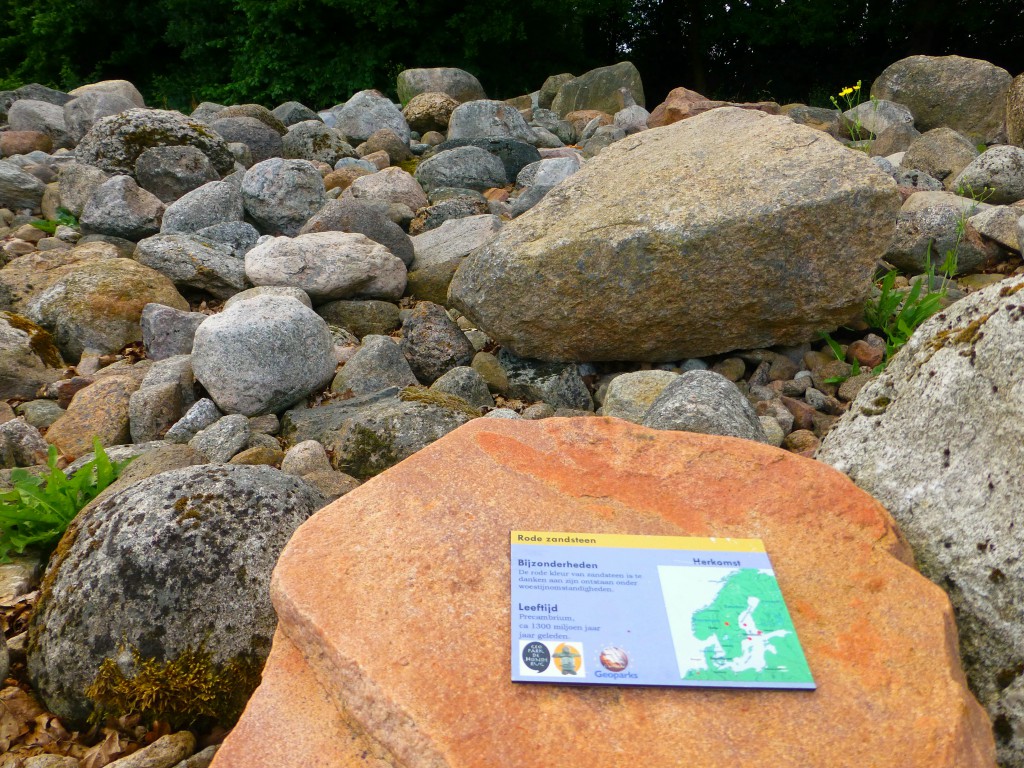 Walking through the Hunebed Centre, The Netherlands
When I came walking on the grounds of the Hunebed Centre I soon saw which way to go for the biggest and most beautiful kept hunebed. I saw beneath some really old oak trees a couple of really big stones. They were put in a row….just like I knew of the pictures I saw of Hunebeds. Standing in front of it I felt small,  because of its size but also because I knew how old is it.
For ages and ages this hunebed is here and so many people before me looked at it just as I did right now. What kind of rituals did they perform here? How did it look like? Dolmens are here since the early Neolithic period. That is around 5000 years ago! Between 3400 and 3200 befor Christ.. I can hardly imagine that!!
Can you imagine this is a Prehistoric Dolmen?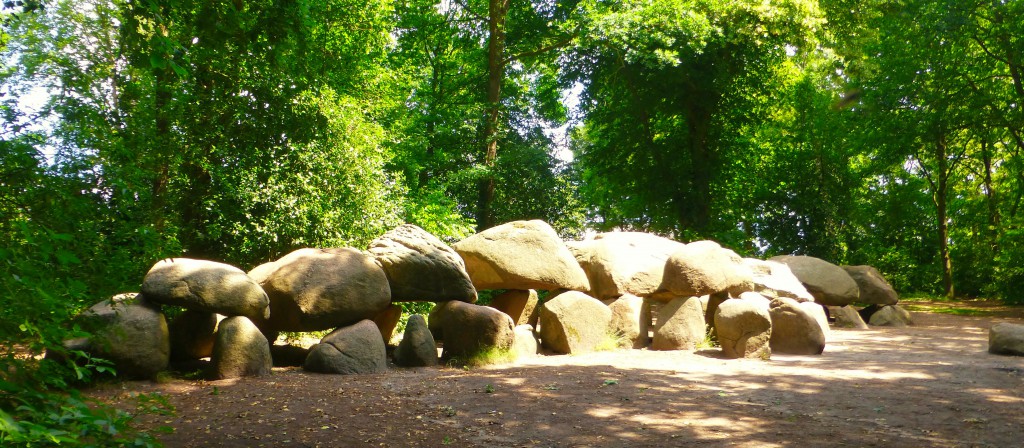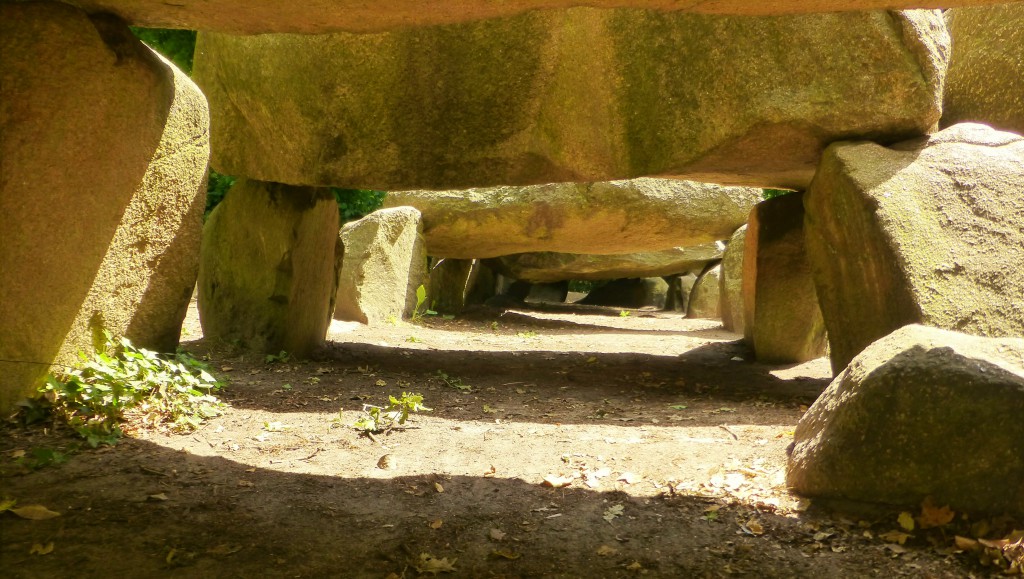 You see the open space underneath the stones, large enough to bury humans(above ground).  They'd find human remains here.
The Biggest Dolmen: D27

As a kid I visited one of these dolmens but I couldn't really remember vividly.. So I wrote down some names and thought of a route to visit some of these prehistoric dolmens in an afternoon. These dolmens are numbered and the biggest one is D27. What I really like about these prehistoric artefacts is that we can play on them and pose on them as you wish. You can not break them, they will hold entire families for great pictures! So yes….I posed in front of it when nobody was watching me!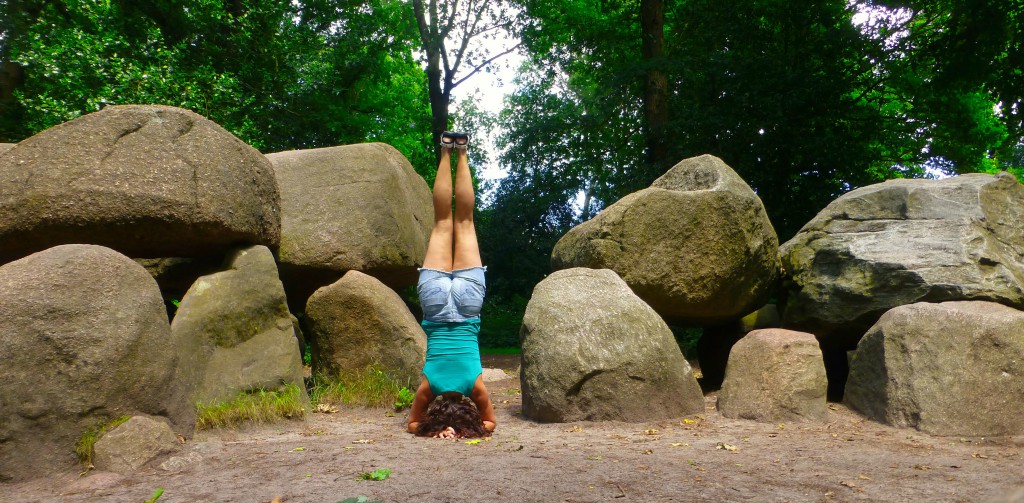 Facts:
Dolmen or Hunebed D27 is 23 metres in length and has 9 capstones.This biggest one has also a gate made of 4 gatestones and one capstone on its original place. This is one of not many dolmens where they found human remains.
Adress: Hunebedstraat 22, Borger. This is also the adress of the Hunebed Centre Borger.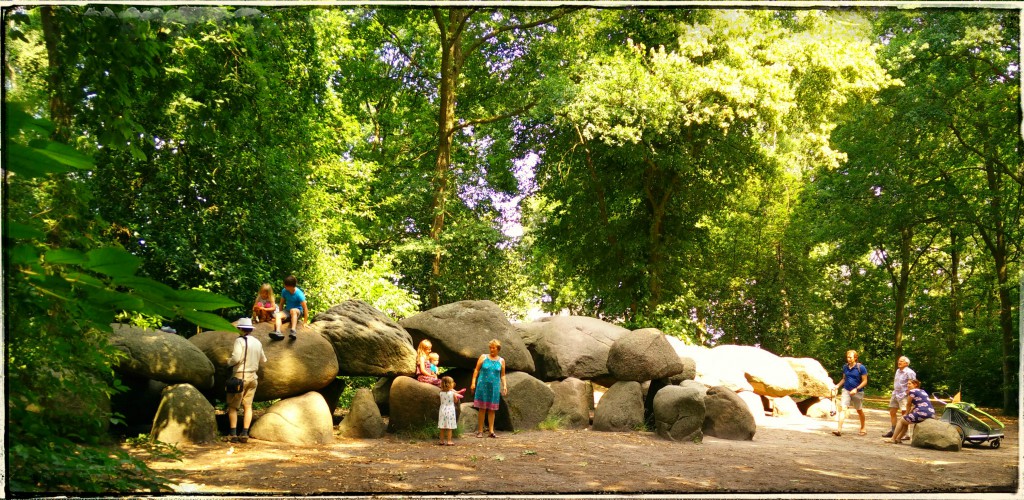 These Dolmens won't break or fall apart so you can pose on it with your whole family!!
The people that used to make these dolmens are called Funnelbeaker people. They are called this because the beakers they made were formed as a funnel. It still is a mystery how they managed to get those big stones in formation.
Going from one Dolmen to another you will go through lovely villages and get some great views on Dutch landscape.
Prehistoric Dolmen – Drenthe – The Netherlands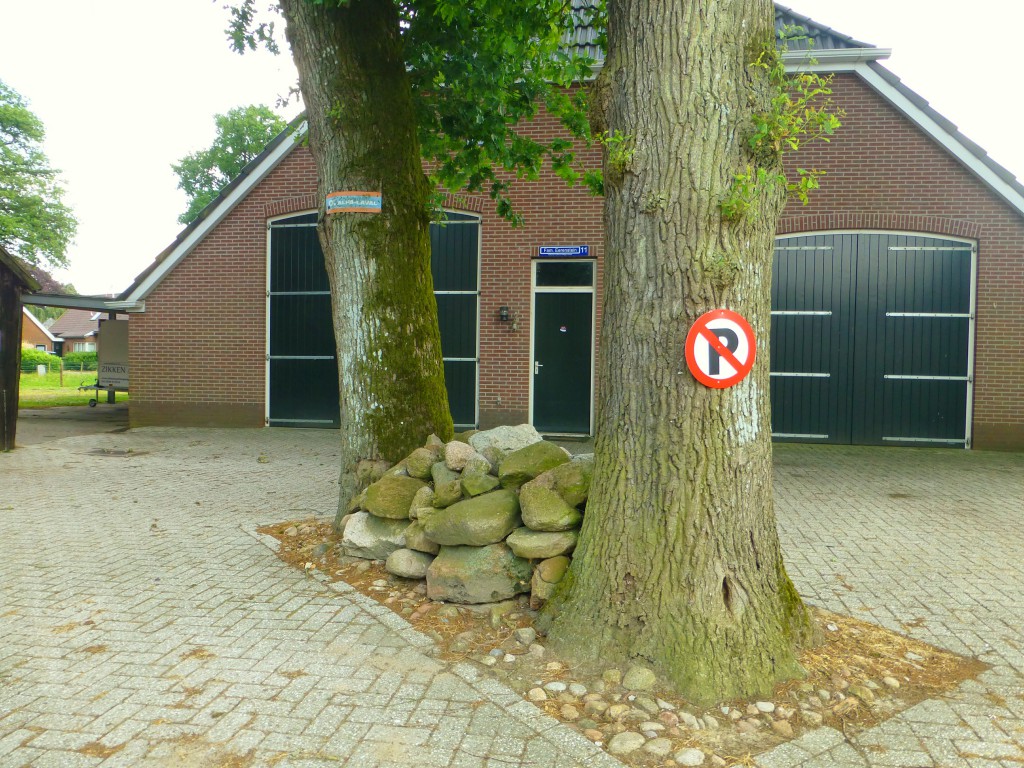 Stones are to be found everywhere!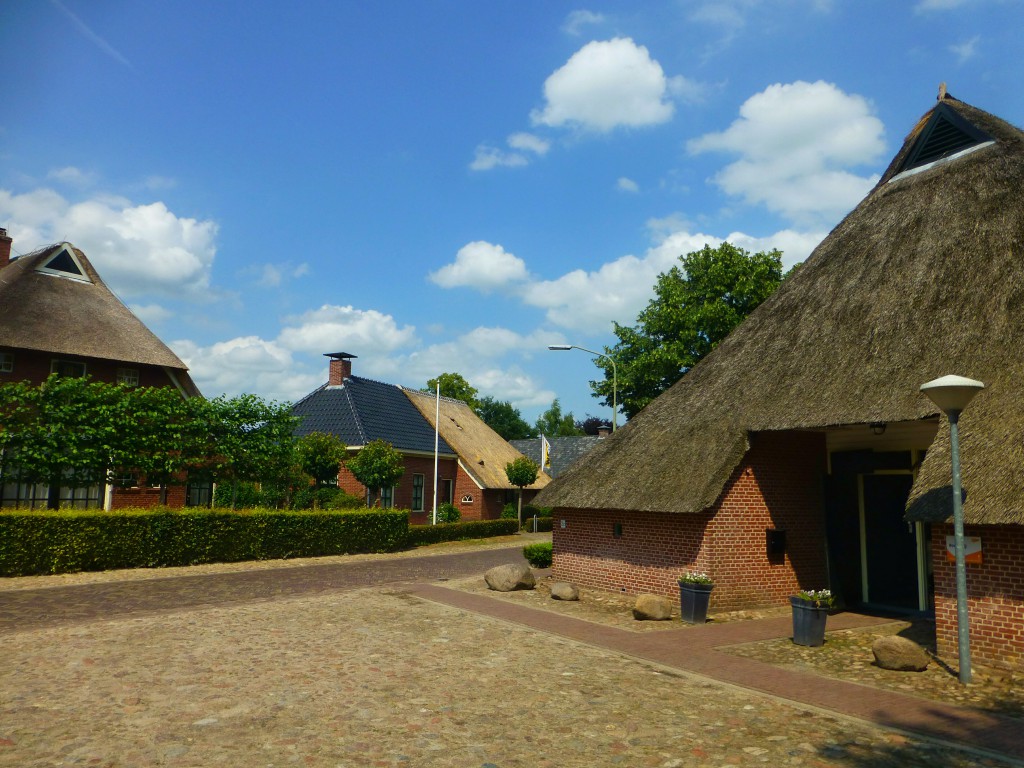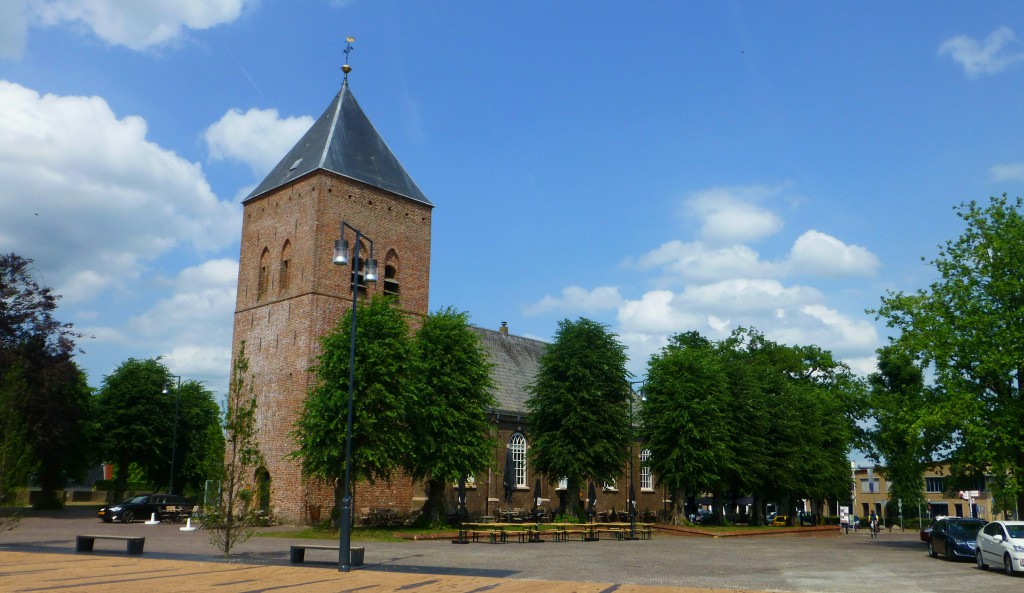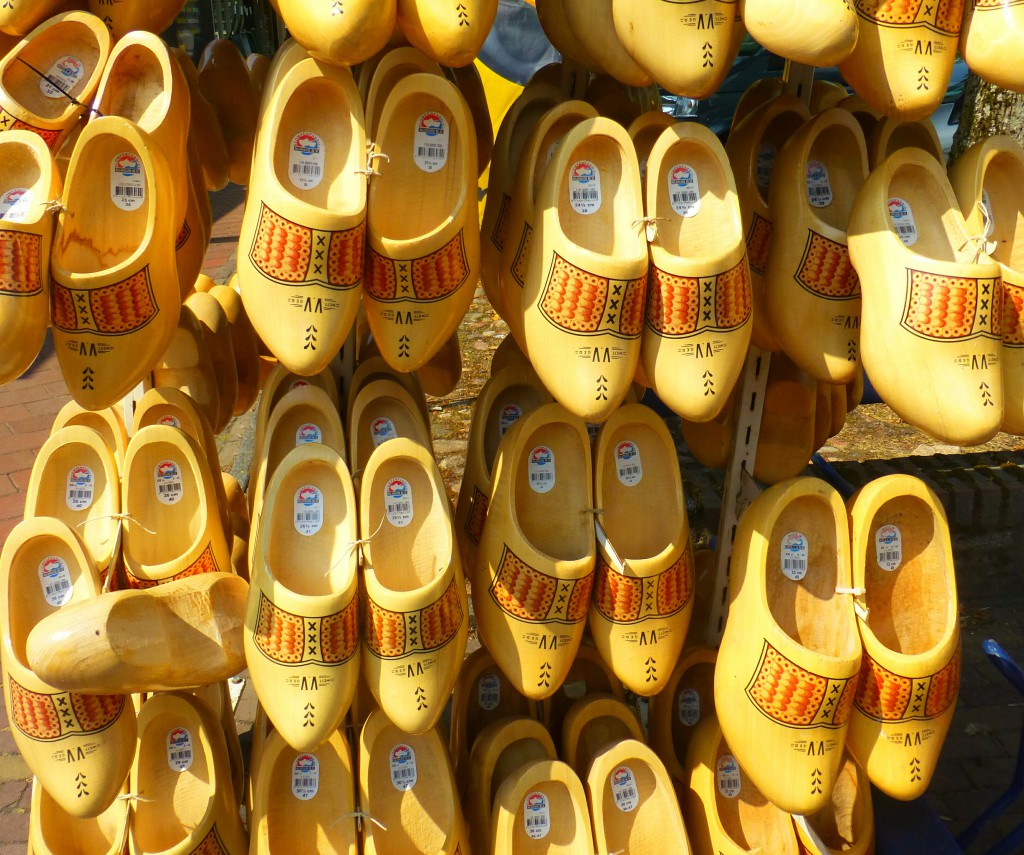 Of course you will see the famous Wooden Shoes also!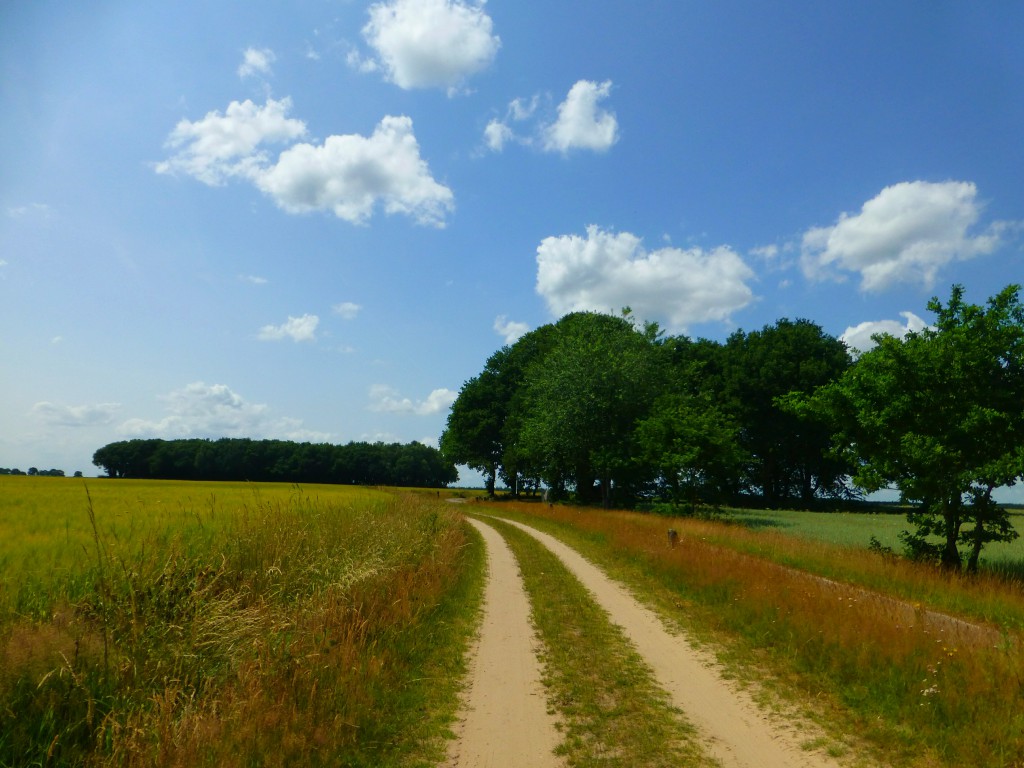 Five Dolmens in Bronneger (D21-25)
After getting some information at the centre and museum I went to search some dolmens in the area. They told me it was just a couple of km's walk to get to the neighbouring village where I could see 5 dolmens. These werenumbered D21 to D25 and were situated near the village of Bronneger. I found them really easy and if you like to walk a bit in the area I can recommend to take the walk.
I wanted to visit some other dolmens in the area and didn't had the whole afternoon so I took my car. The surroudings are really great for a walk, you'll see the undulating landscape and get some really nice views over the surrounding area.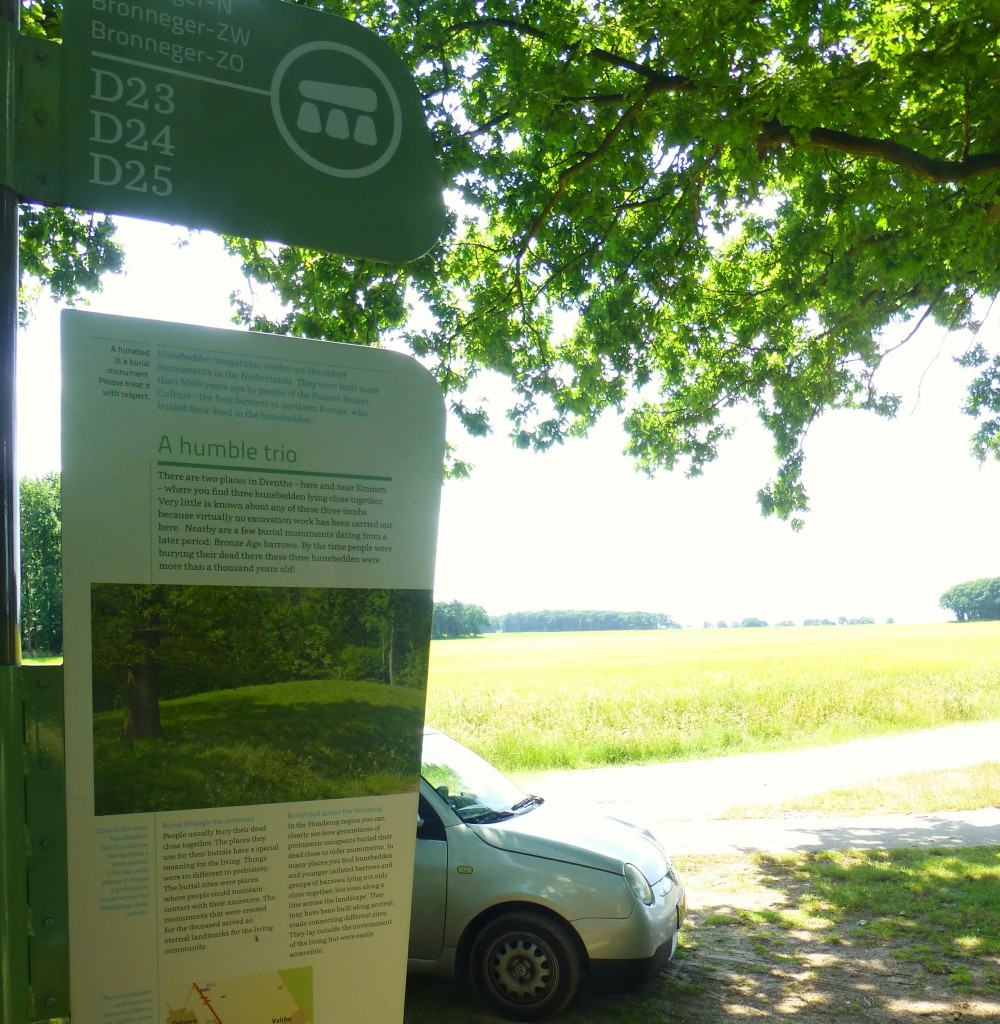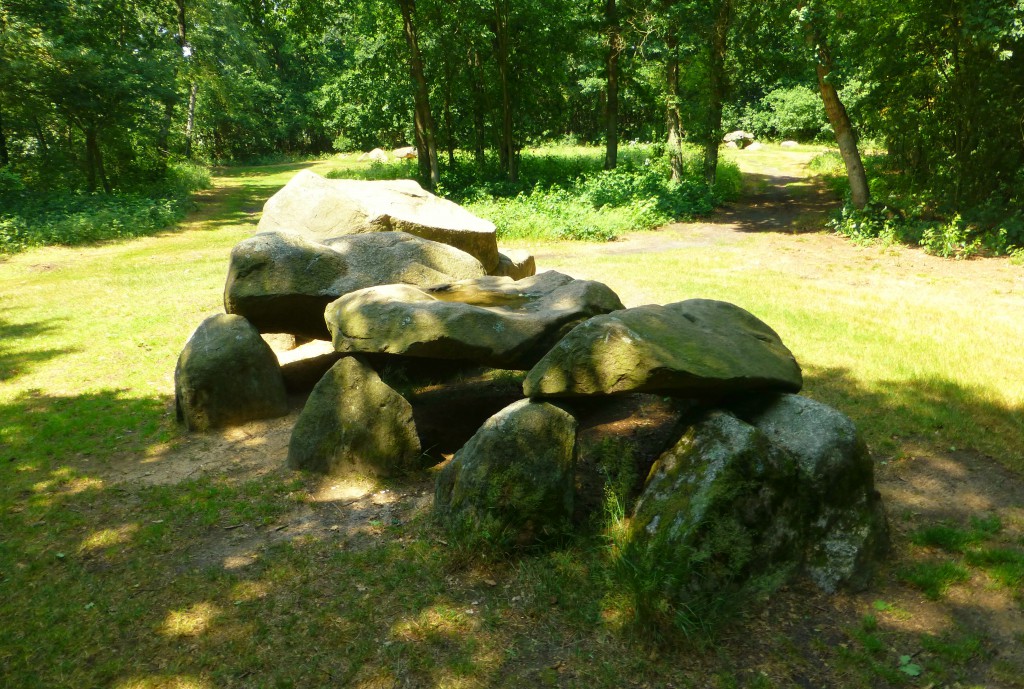 Prehistoric Dolmen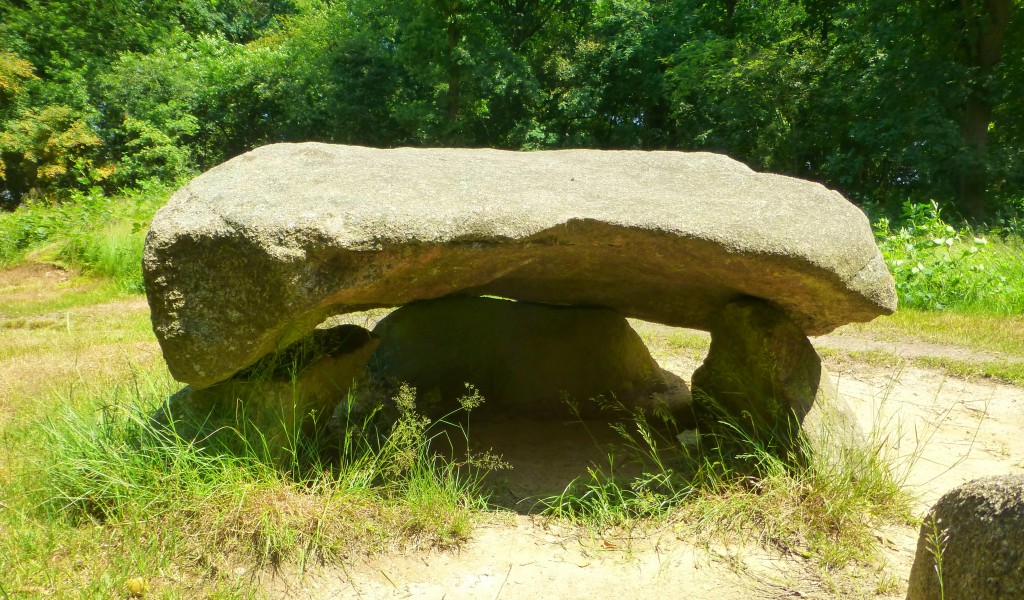 Perfect view on a capstone
I was alone at these dolmens and did make that picture standing on it!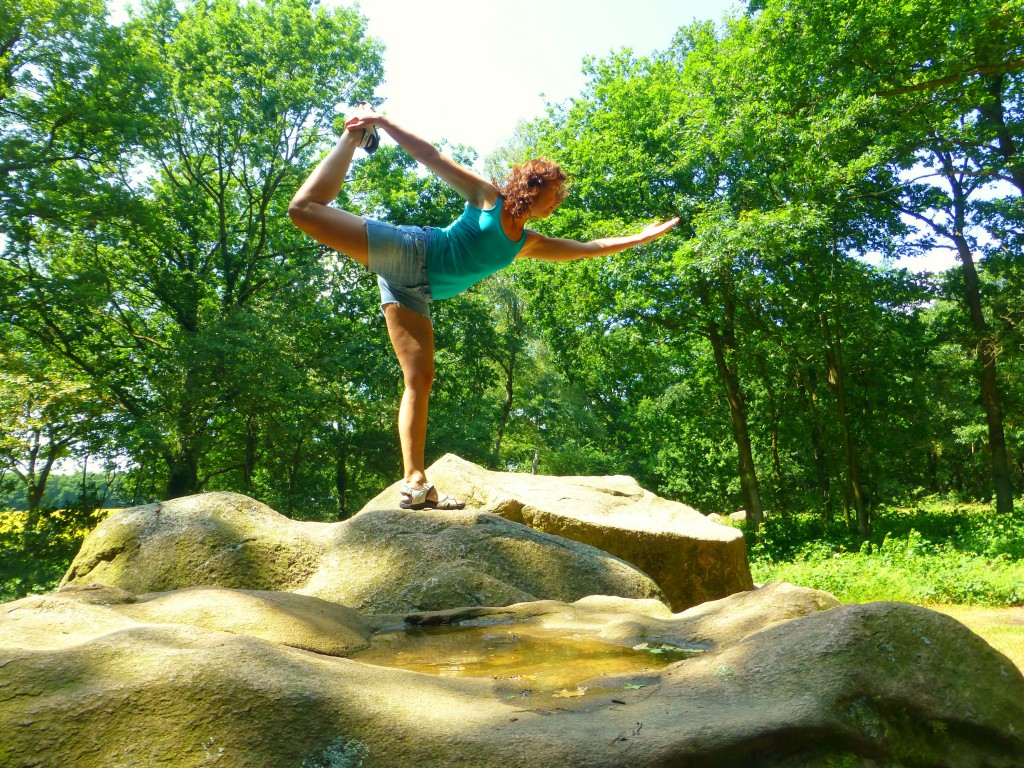 Doing a Yoga Pose on the Dolmen #Healthy
The forest near Exloo (D31)
Going further down the path back home I visited Exloo, number D31 it was. This one is also situated in the middle of the forest. There is no parking lot but a road will take you right to it and I saw other cars parked near the dolmens…So it doesn't seem to be a problem.
Before you arrive at this dolmen you see a gletsjer valley. I couldn't get that sloping view on my pictures but it looked great! Looking down that open part in between the forest, the grazing sheeps in that area just made a perfect landscape view!!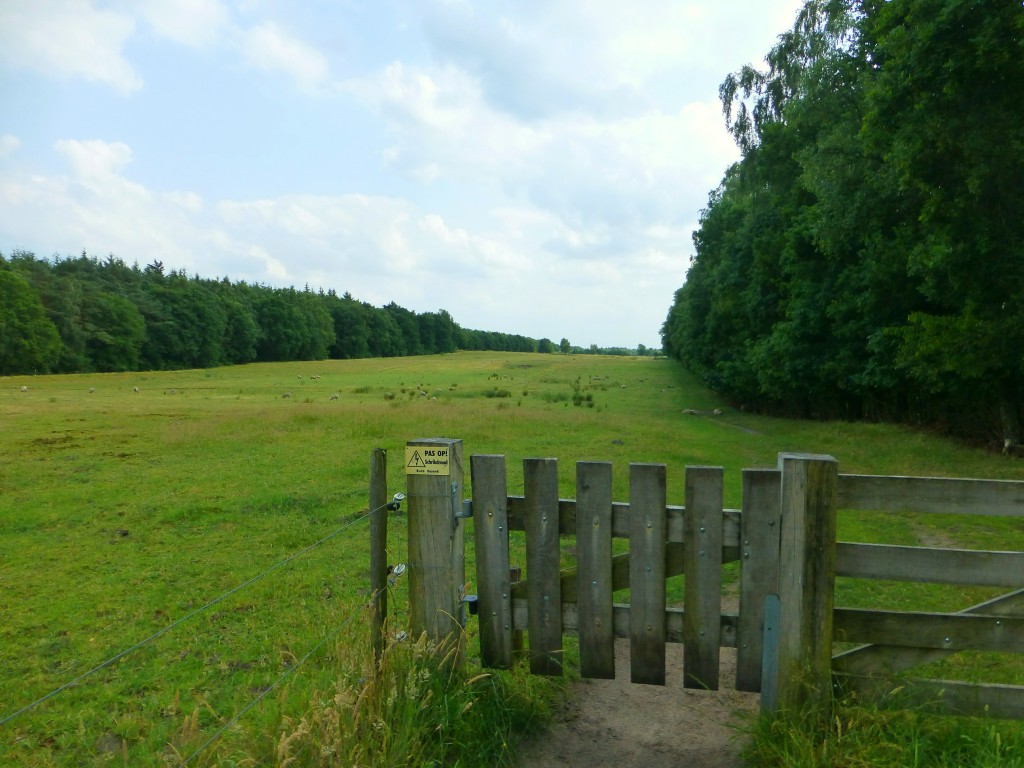 Visiting the Prehistoric Dolmen at Exloo
When you go on the road takes you into the forest and on your lefthand is an open space in the forest. On a small hill you see a some big stones lying. There is still one capstone but it has fallen of its place. On top of that small hill there is an open area and within that open space there is the dolmen. The whole place gives you a great image and feeling! They placed a bench near this place so you have a great view over the dolmen and its area so you can fully enjoy this place and its atmosphere.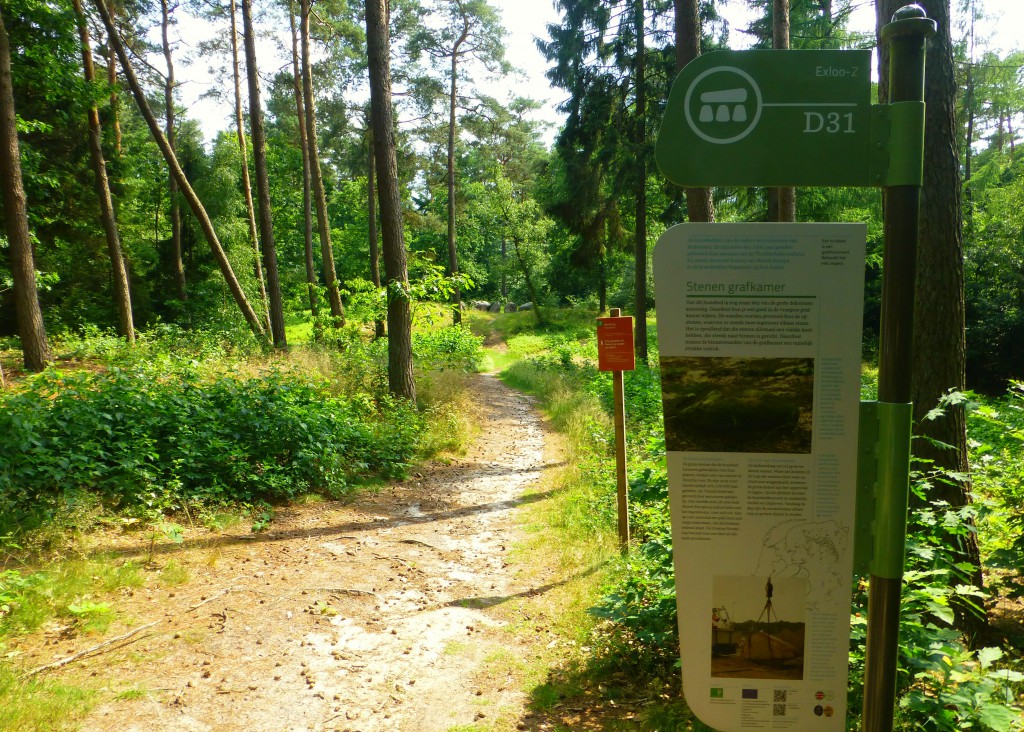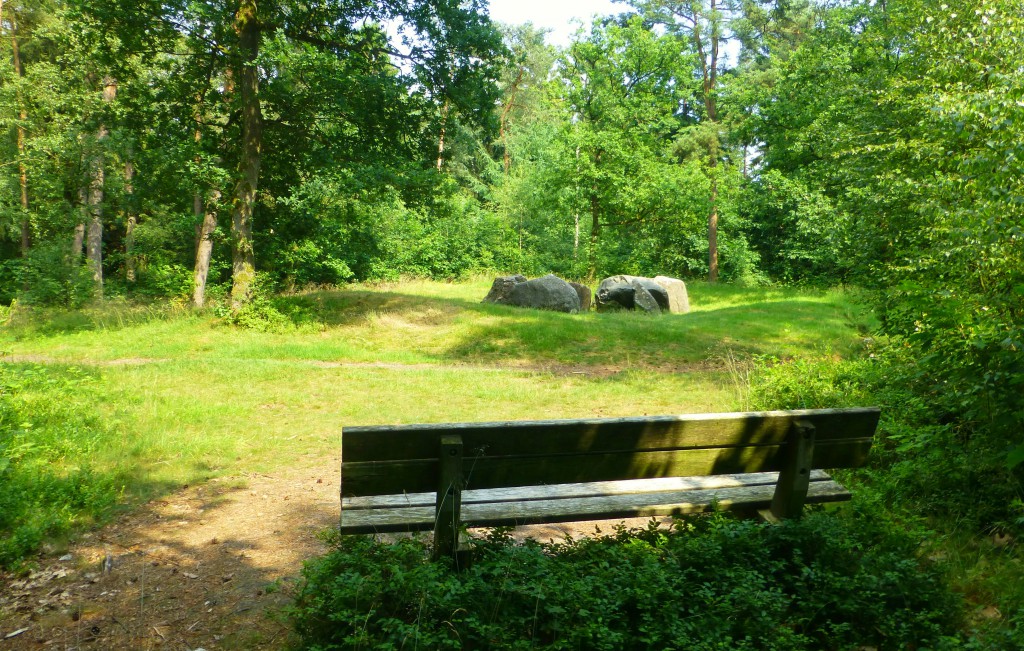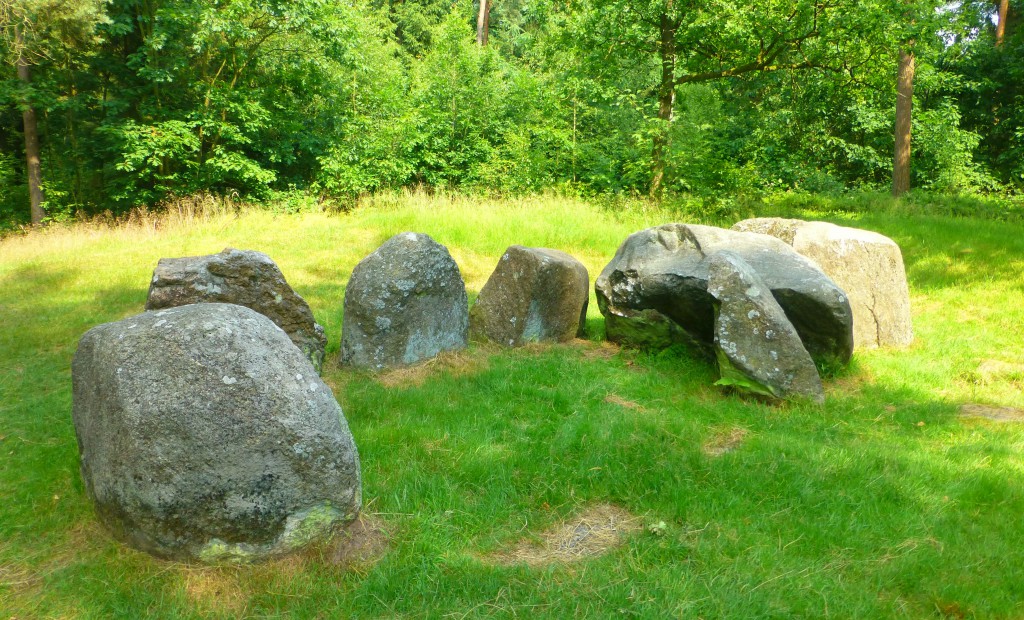 Just outside of Odoorn (D32)
At every Dolmen there is a sign, good situated so you can see it from the street. My navigation send me to all those roads but you can not see the dolmen from there so the signs are more then welcome! At this sign I also passed it before I realised there was a small road in between the meadows.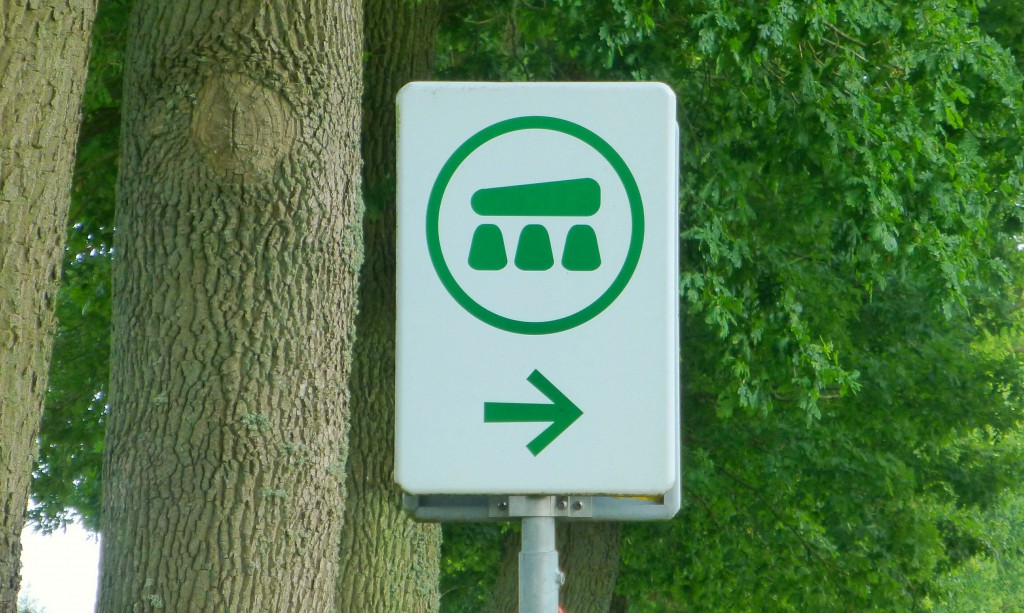 Sign to the prehistoric Dolmen
That was the path I needed to use to get to the dolmen. The path leaded to a small forest again. In that forest was again a open space and there was a small dolmen. There was still one capstone, rest of the dolmen had been collapsed.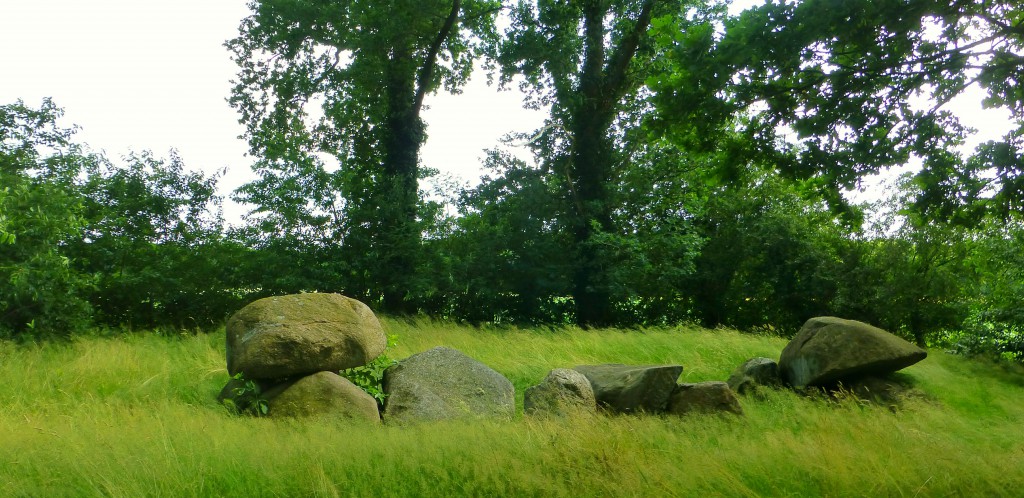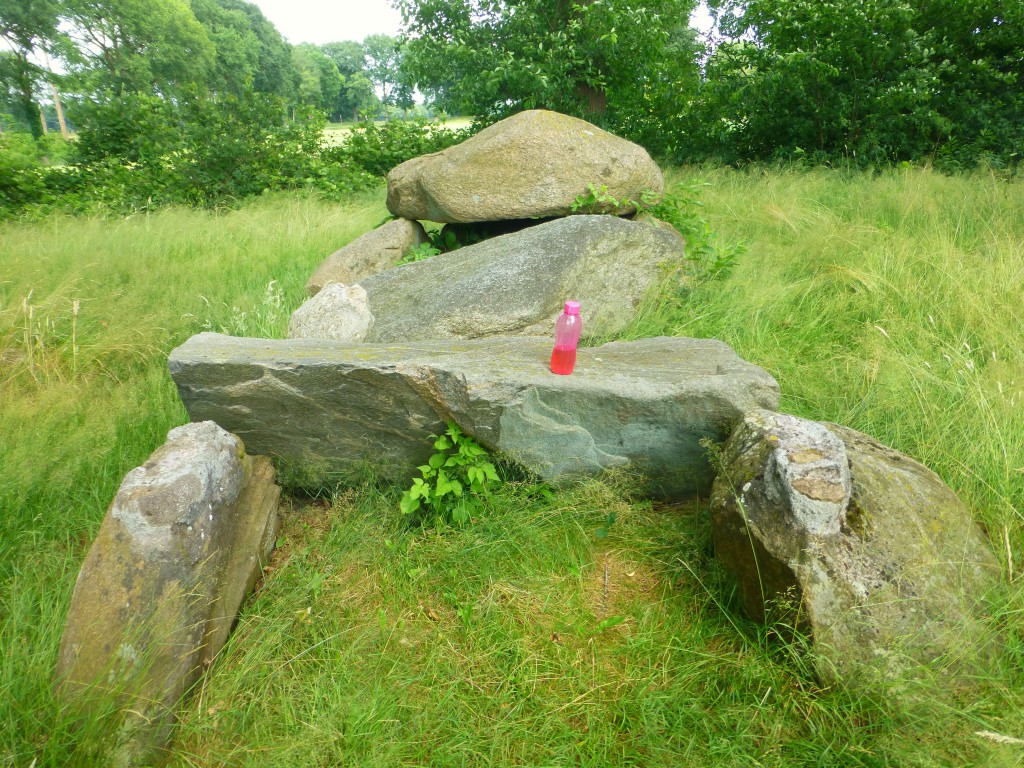 In a small forest near Valthe (D34)
Suddenly I saw the sign along the street for the dolmen. I parked my car on the other side of the street that seemed like some approach to a farm. This other road, leading to the dolmen, was not allowed for cars. You're allowed to cycle and walk in nature reserve area. I walked in between barley fields. That gives a great view when the wind blows over that field. I saw all those stems waving with the wind and colouring the field from all shades of green to light brown.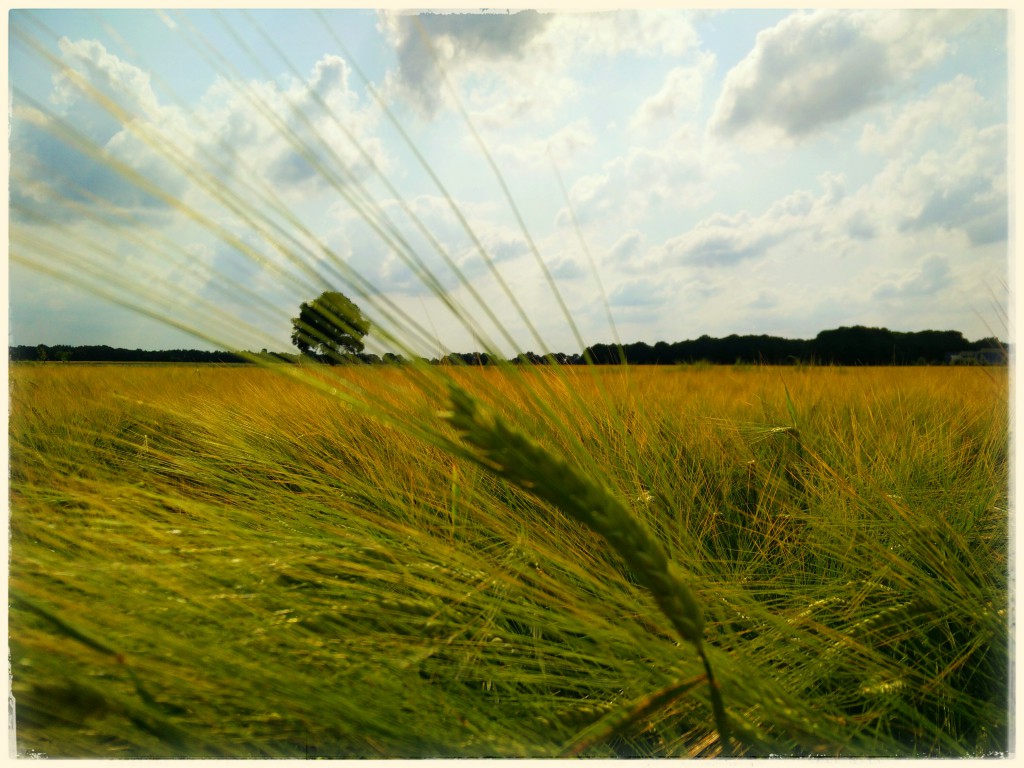 On my way to Prehistoric Dolmen D34
At the end of the path I saw a forest and within that forest I saw the smallest and baddest kept dolmen. It was more just a couple of big stones lying next to eachother.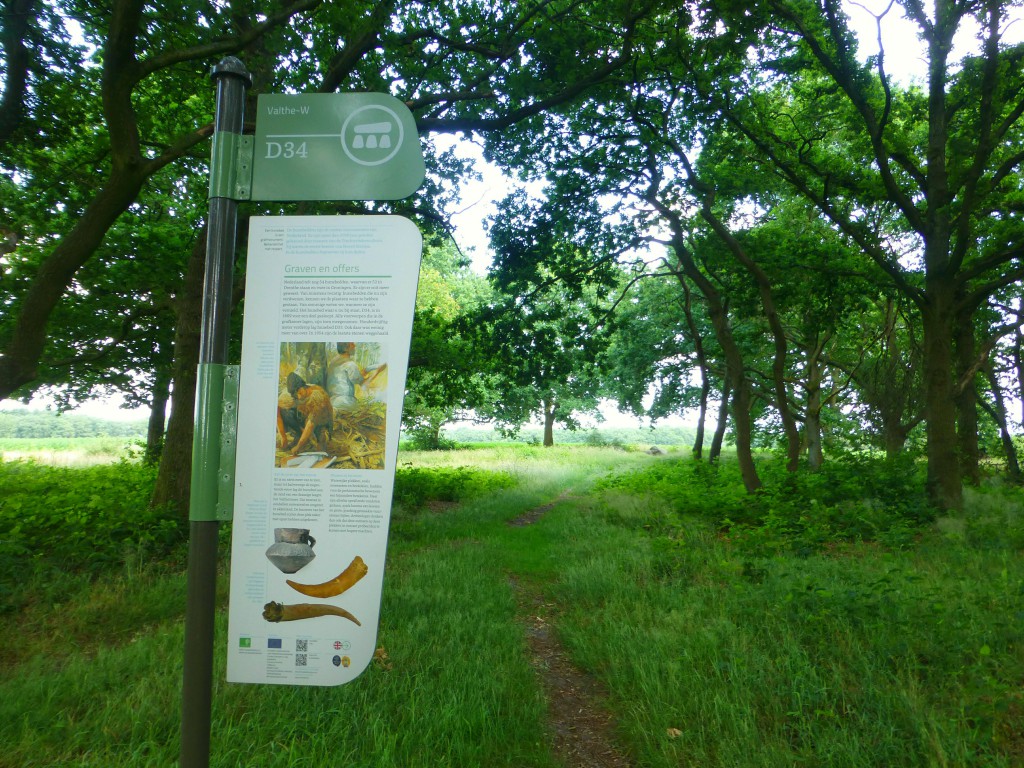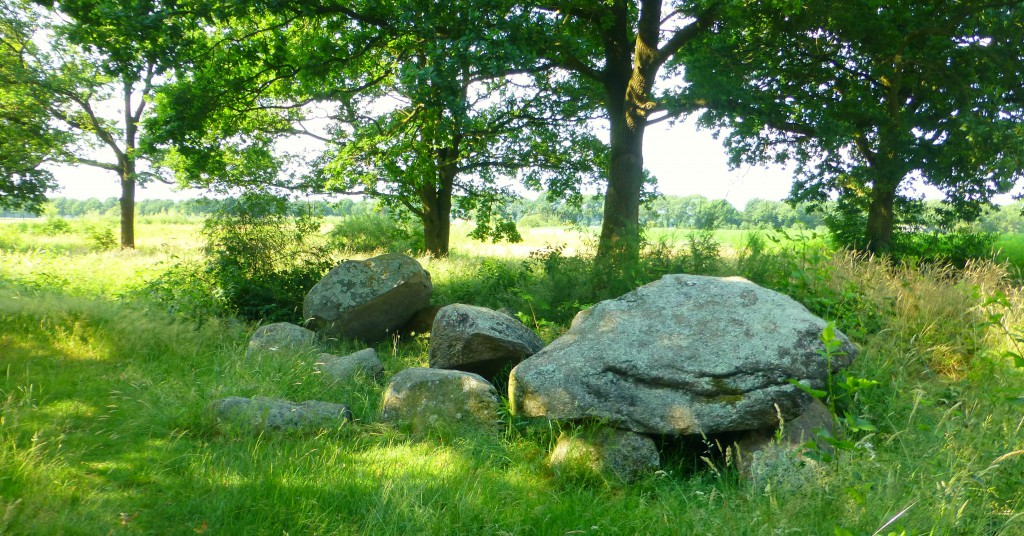 What I did see was the biggest land full of weed 🙂  Never had I seen such a big meadow filled with hemp.  They probably get cultivated here for fiber!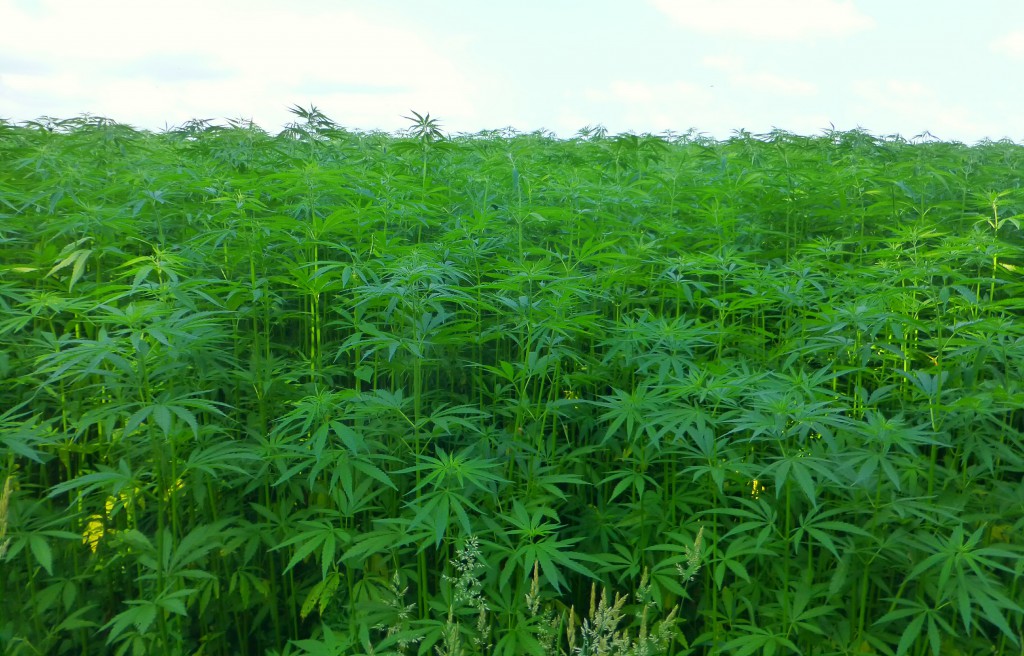 When you drive through the landscape you also see some other old phenomenon. They Grave Hills. After the period of the Dolmens they would bury their family in Grave Hills. I saw signs that told the history of that too.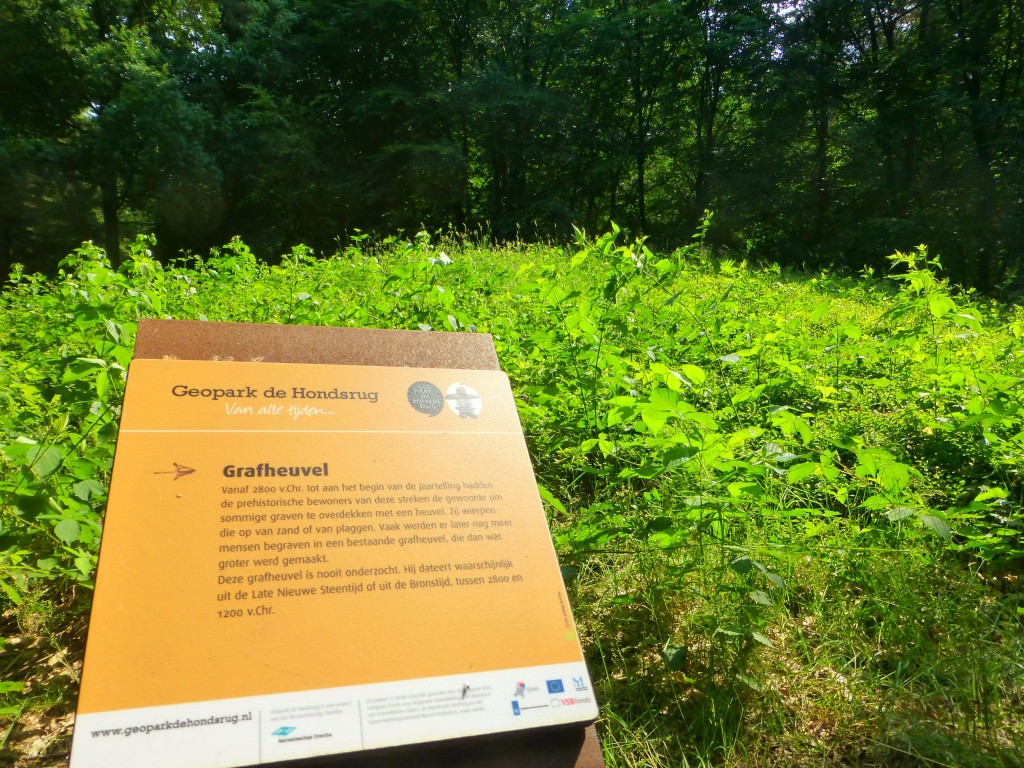 I saw several of these signs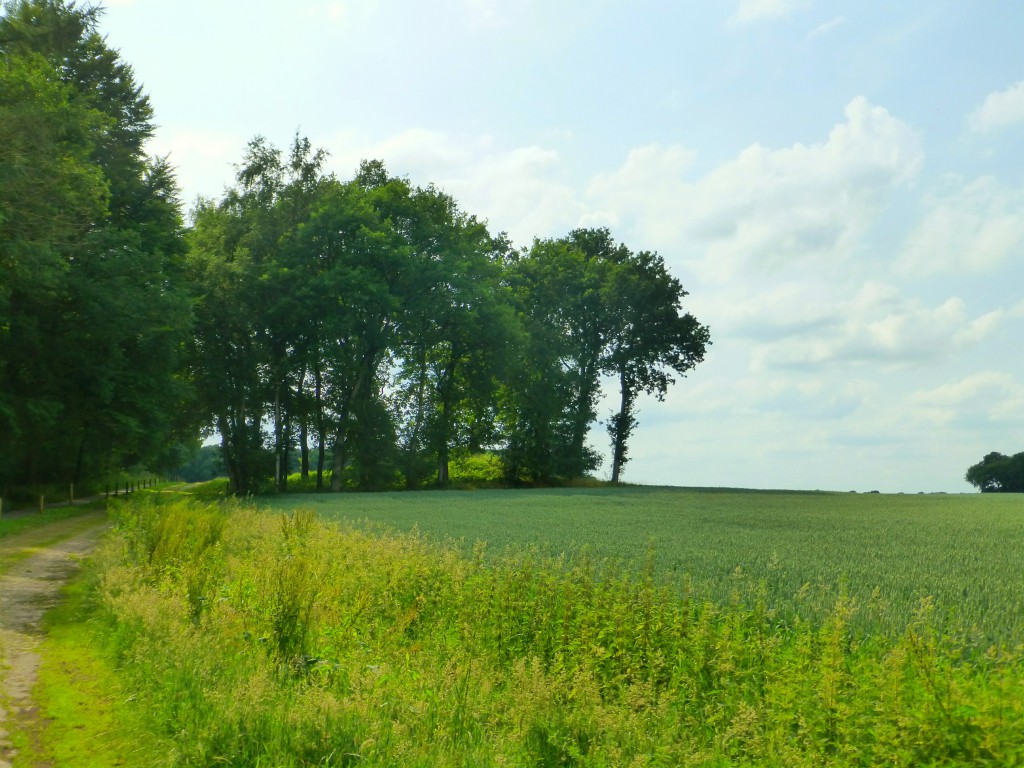 Within those trees is the Grave Hill. This hasn't been archeological searched.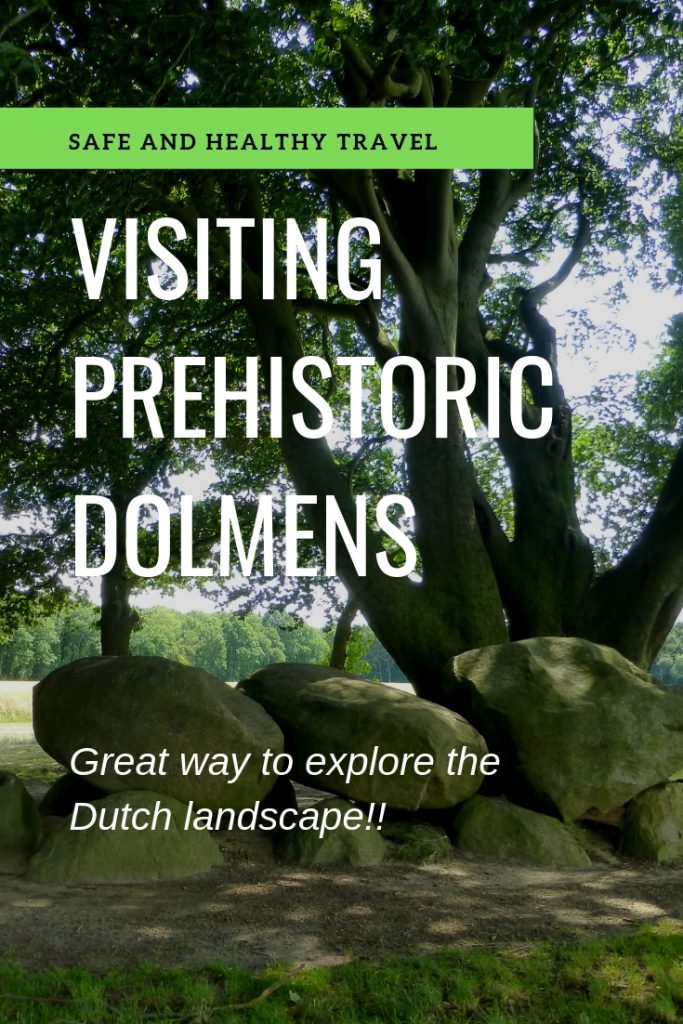 Do you want to read more about The Netherlands?
Read about the famous: Kinderdijk: Just Like in the Postcards
Or Cycling Along the Great Mills of Leiden
What did you think about Walking an Intertidal Walk through the Waddensea?
Or Three Ideas for Walking in Deventer
For more stories check here all my stories about The Netherlands
Can I inspire you to do some yoga?
I hope you enjoy this world as much as I do!!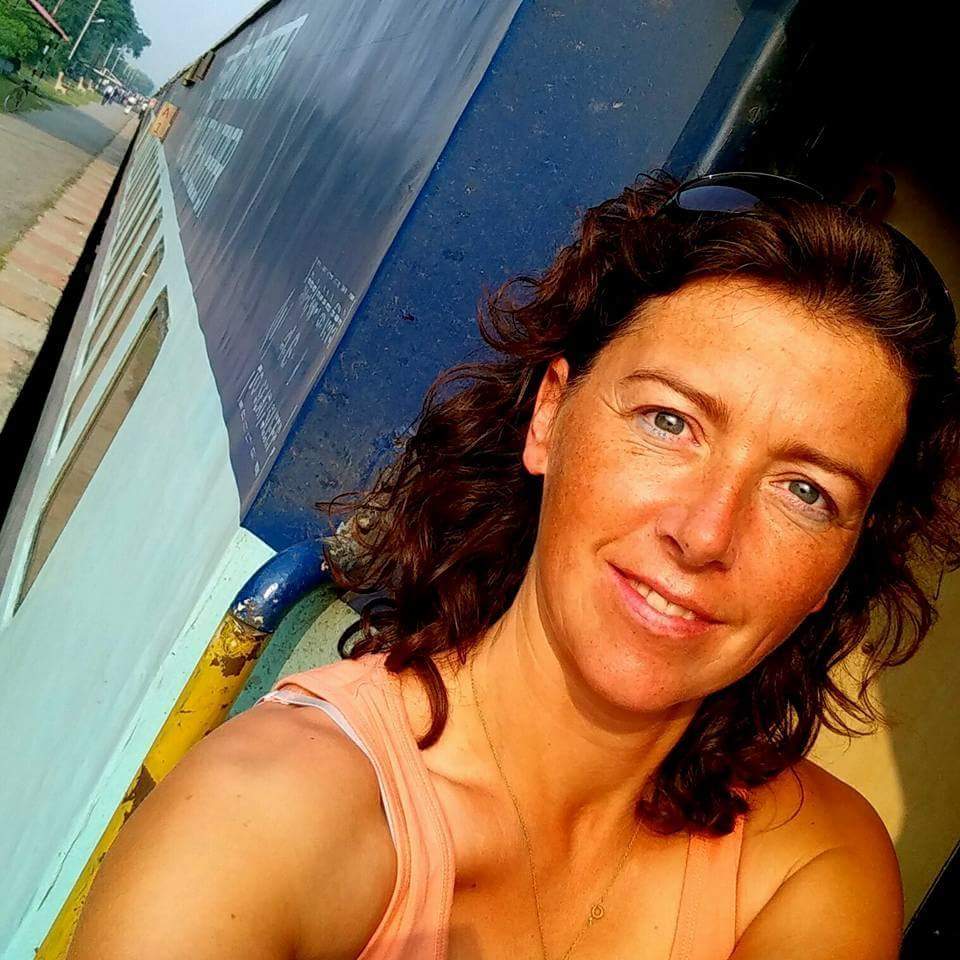 Jacomijn is een politieagent uit Nederland die jou graag laat zien hoe je veilig, actief en gezond de wereld kan over reizen. Safe and Healthy travel is a MUST