The Fishermen's Trail – Hiking along the coast in Portugal – Part 2
|
This trip is all about hiking along the coast in Portugal. This last part from this trip is hiking along the coast on the Fishermen's Trail. I started this trip by hiking on the Historical Way. I did 3 stages up to Porto Covo where I switched to the Fishermen's Trail, hiking along the Atlantic Ocean with its beautiful blue and blue-green hues. Truly amazing!
The Fishermen's Trail
Hiking along the coast in Portugal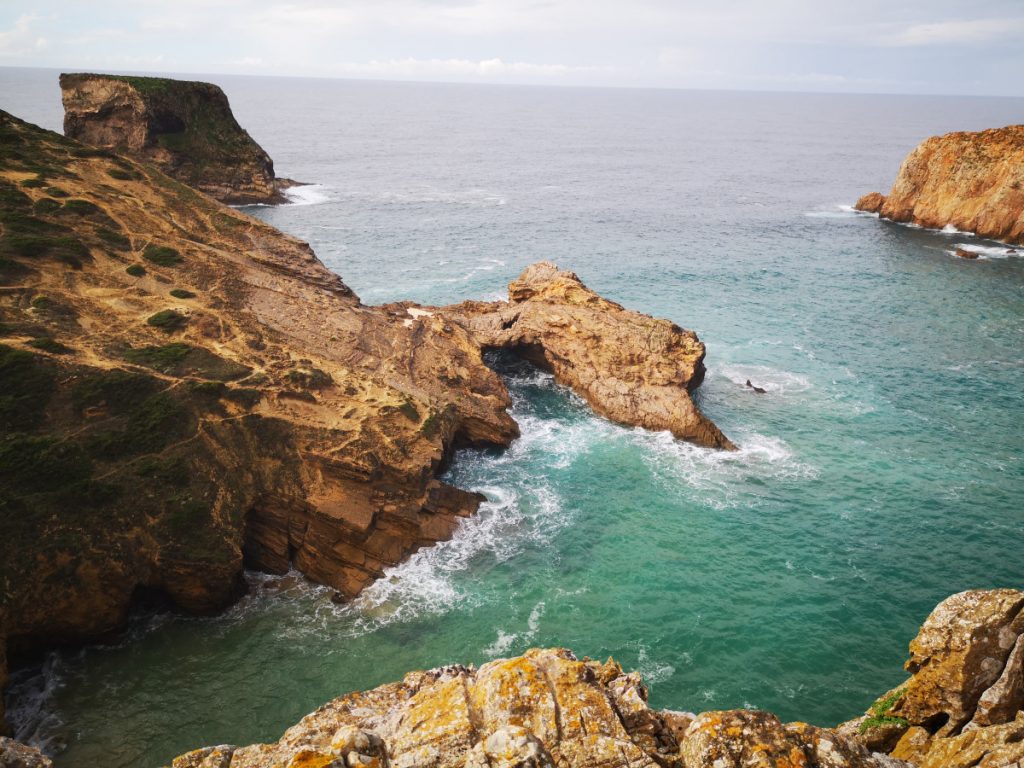 In this blog, I take you further into hiking along the coast of Portugal. I had stayed at the end of stage 5, in Odexeice. A nice little town just a little inland. The forecast for the next day was a lot of rain. When I was having dinner with the Brit, the Indian man and the German that evening, the German told Eva that she had decided to take an Uber in the morning to take her a bit further. She would then spend the afternoon walking, hiking the last 10 km of stage 8. So into Carrapateira… That seemed like a good idea.
Stage 8 – last 10 km to Carrapateira
After a coffee that morning with the Brit, who then went to Lisbon as his trip was over, and with the Indian guy who also spent his last day on the trail by going to the beach and catching the evening bus to Lagos, I got into an Uber with Eva. An electric one and it was driven by a Ukrainian 🙂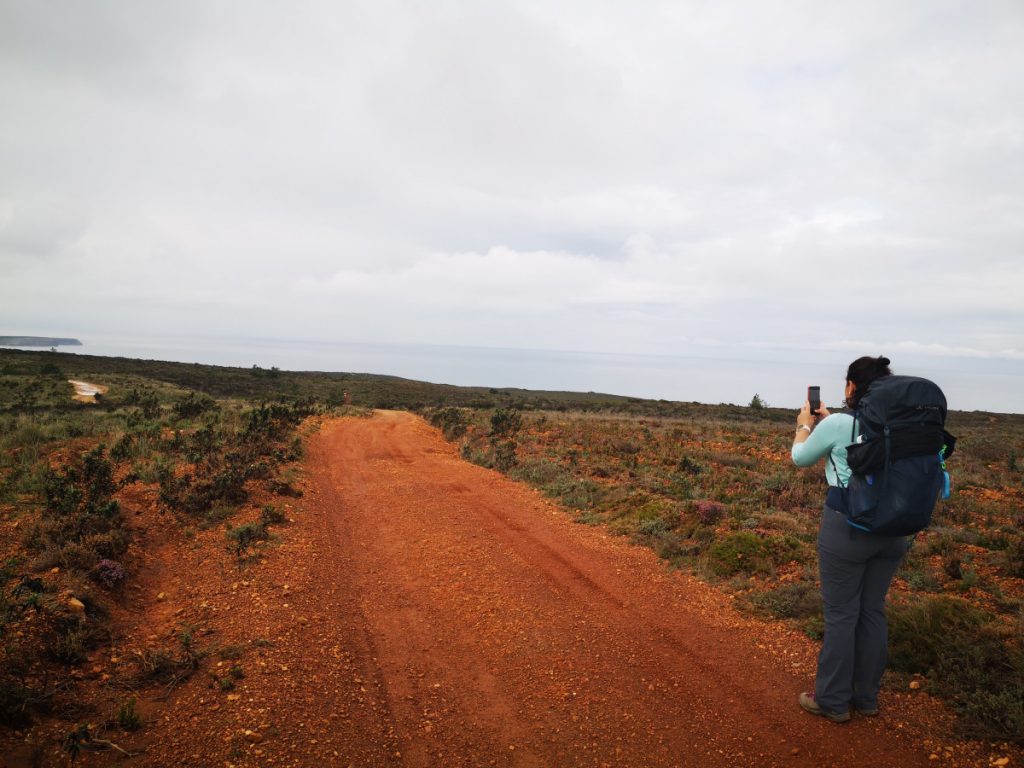 We got off at Monte Novo and our walk began. We walked together and the pace was fairly similar. That's nice, otherwise it is not good to hike together. It was long roads towards the coast, undulating with little of interest along the way. When we reached the coast, it started raining; we could see it hanging in the sky for a while. Before long, it was really pouring! We walked the stretch on the beach and were really soaked…. I could really feel it entering my shoes at one point…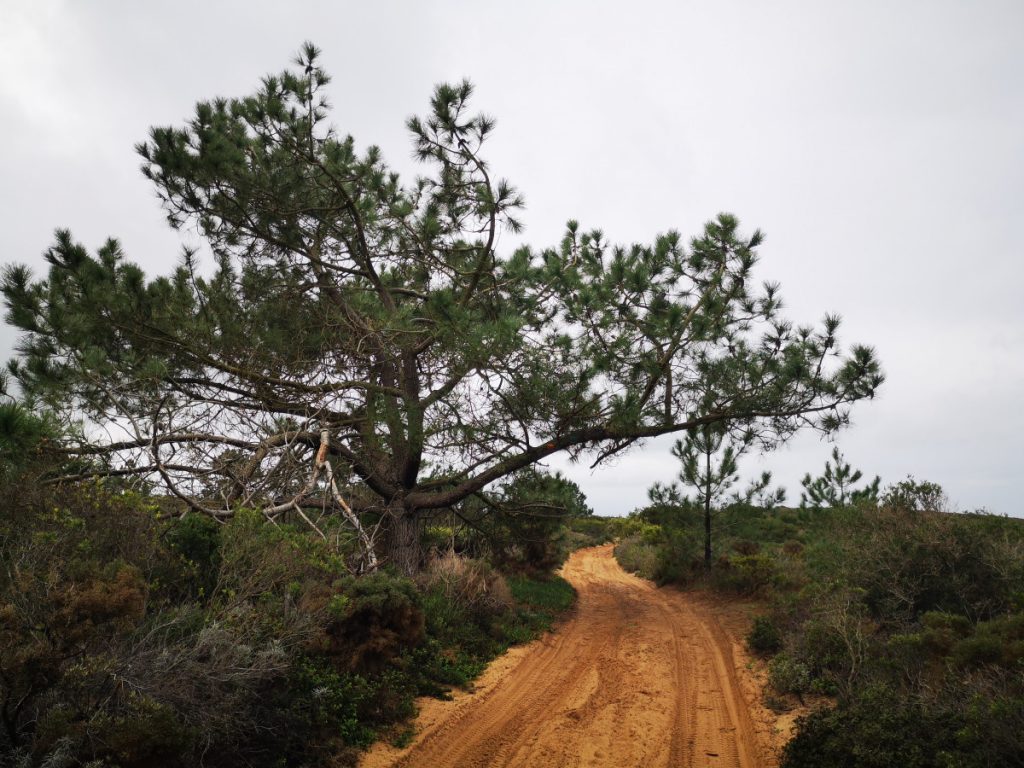 At the first left turn towards the village of Carrapateira, we turned off and had to walk quite a distance on a tarmac road. This is not the route but we were no longer paying attention, we were just walking straight towards our goal…. A dry house and a hot shower!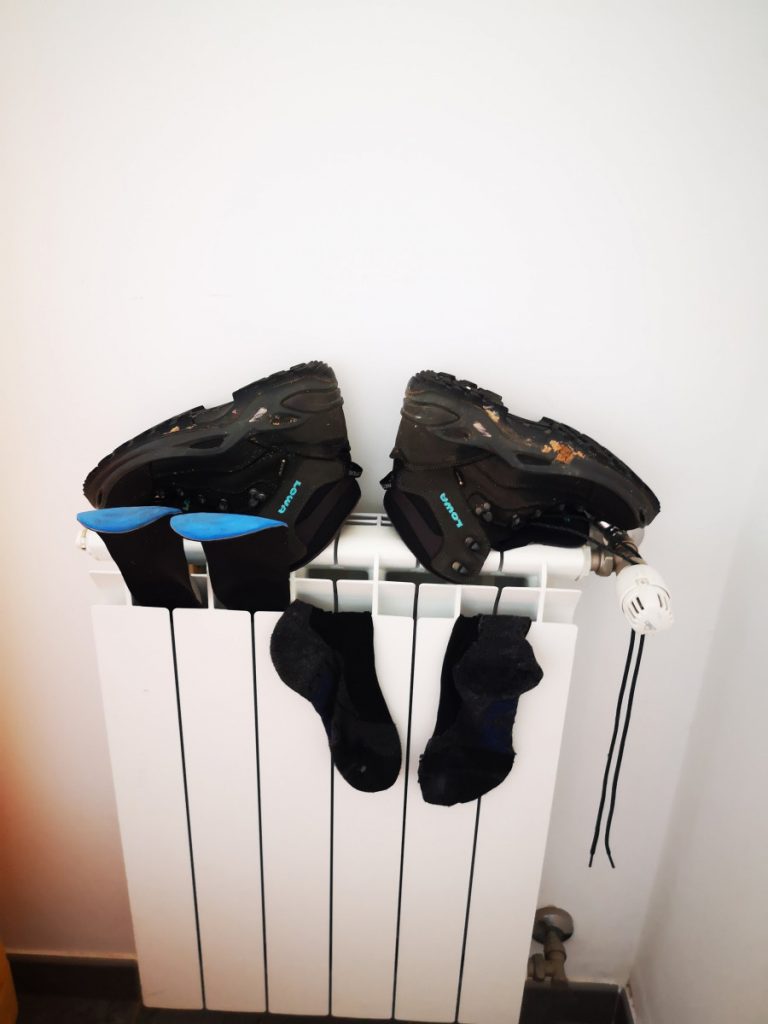 I really let the water flow out of my shoes when I was over, there was just really a layer in them, hahaa! I had never had that before. That afternoon and evening, I had a lovely dinner with Eva at the Micro Bistro Bar. What a great place! A hip place with delicious food!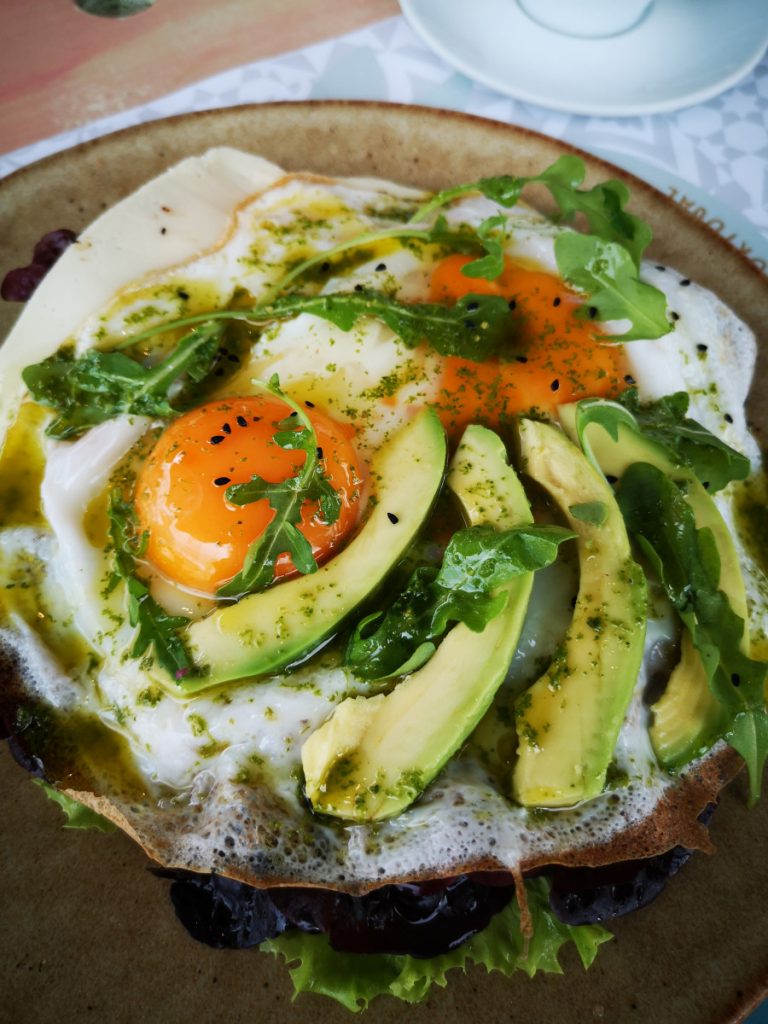 Hiking along the coast in Portugal
Stage 9 – Carrapateira to Vila do Bispo 16 km
Started this morning with Eva but I ran out after 2 km. I don't necessarily hike faster than her but make my pictures a bit faster, or take less time to do so. I can also grab my water without having to stop. So when we got to the coast roughly I was hiking alone again.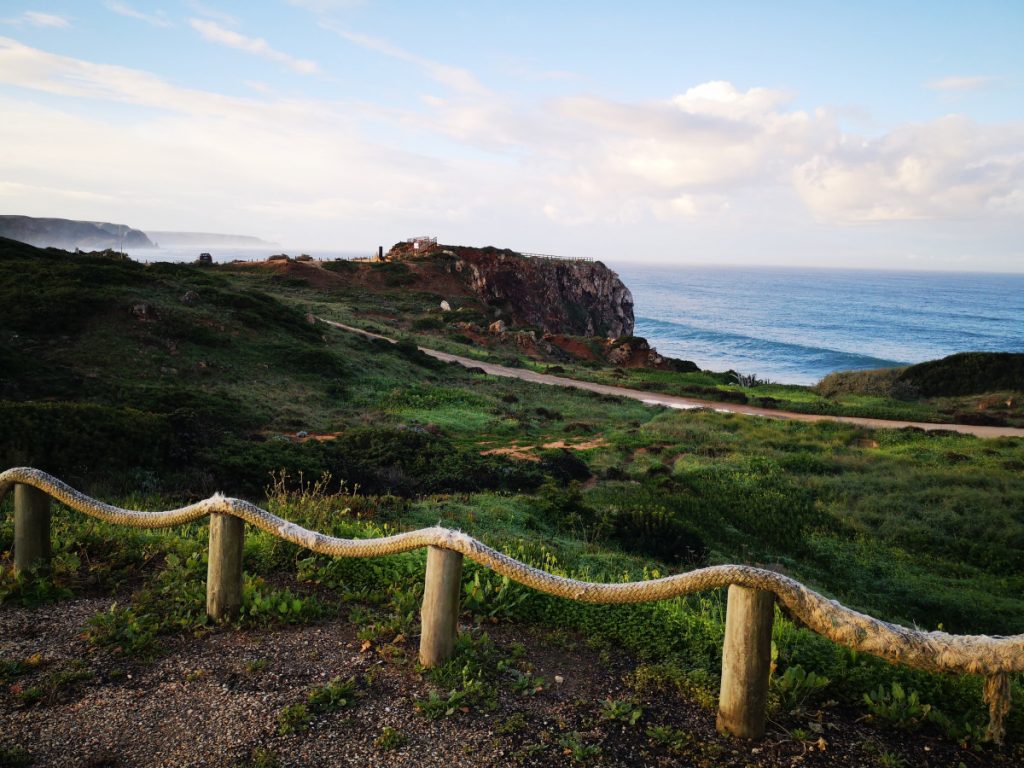 It was a really cool route and super challenging too. There were really parts where you had to climb and scramble and really try hard. So this stage is not for everyone I think. I loved it! It stayed dry all day and I saw the most beautiful spots again. A number of camper spots where people now stand who are definitely going surfing but also the winter visitors who no longer have to work for their money.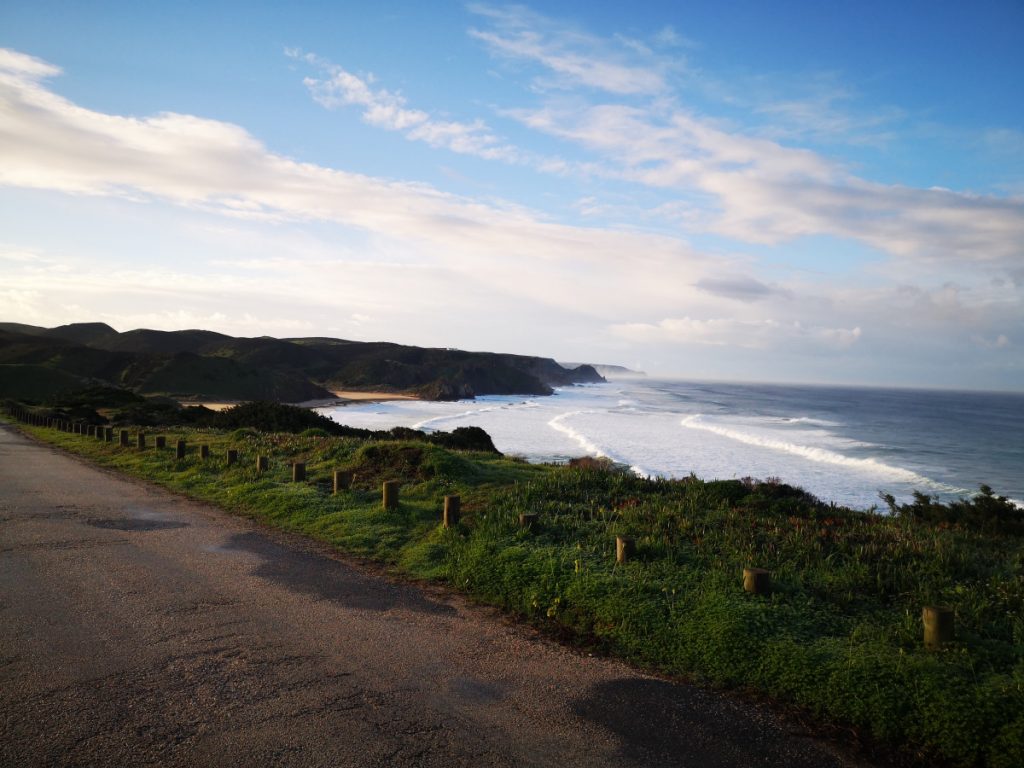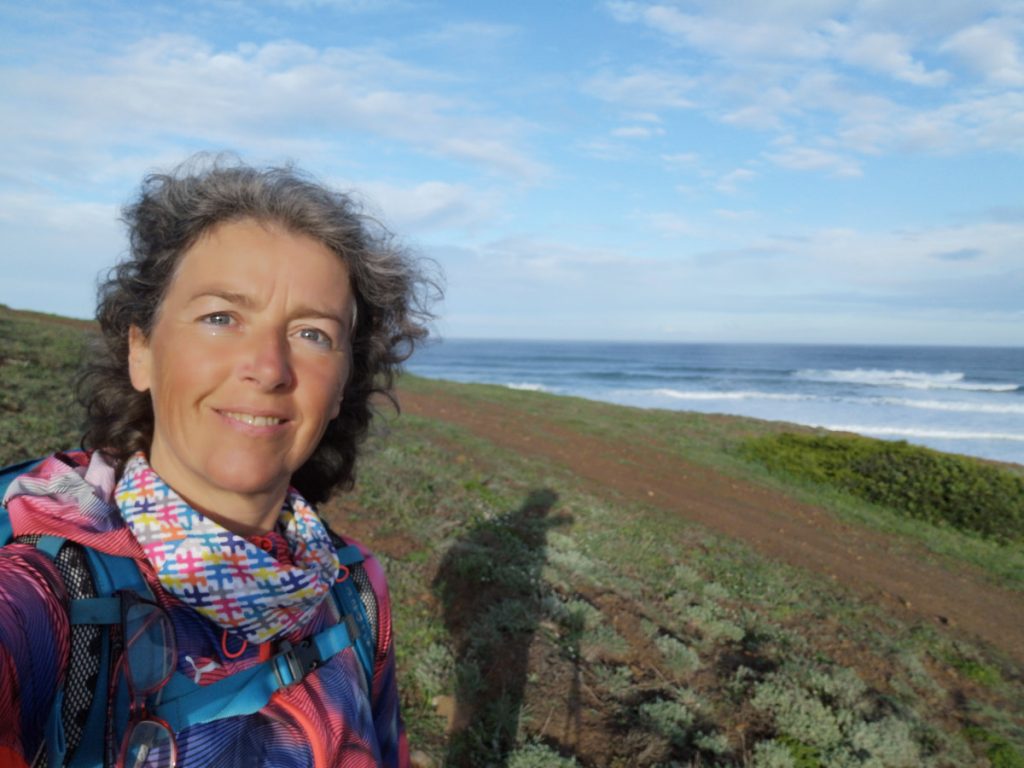 Enjoying my time hiking along the coast in Portugal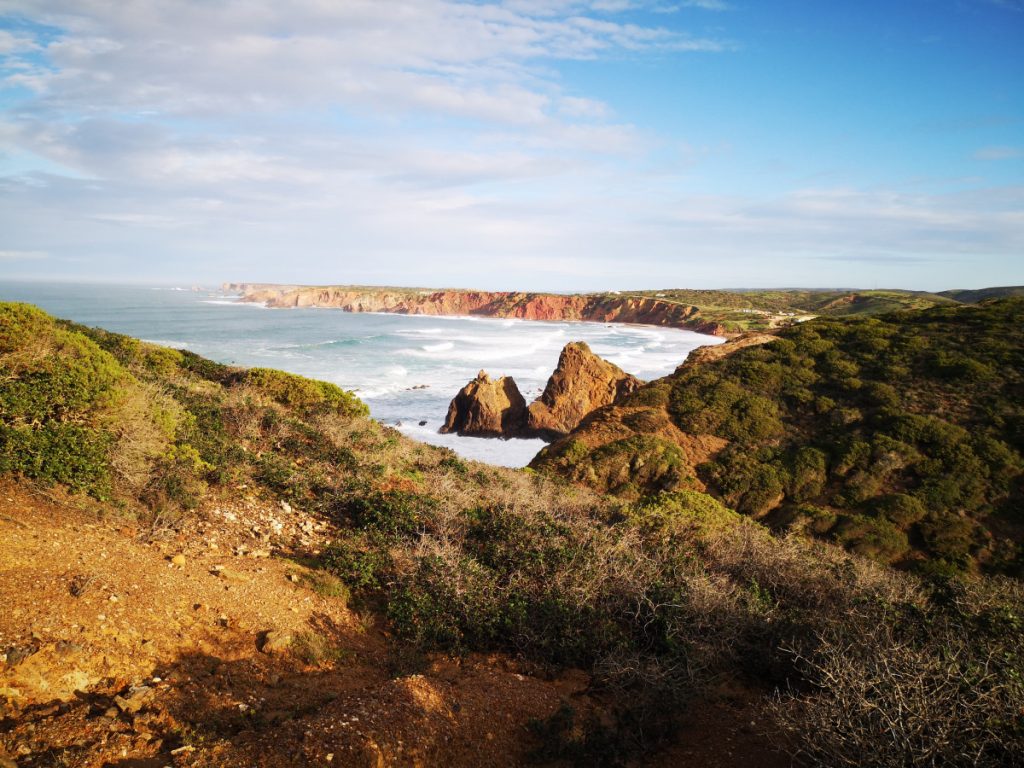 At one point, there was a sign saying that if the ocean did not allow us to pass, we had to go back. Hmm…interesting! After quite a bit the path went down, also quite steep again….. small stretch on the beach, nowhere near the water. Then up again, between two bays. What a super place this was! This climb was also quite a challenge, and then continued on a road for a bit.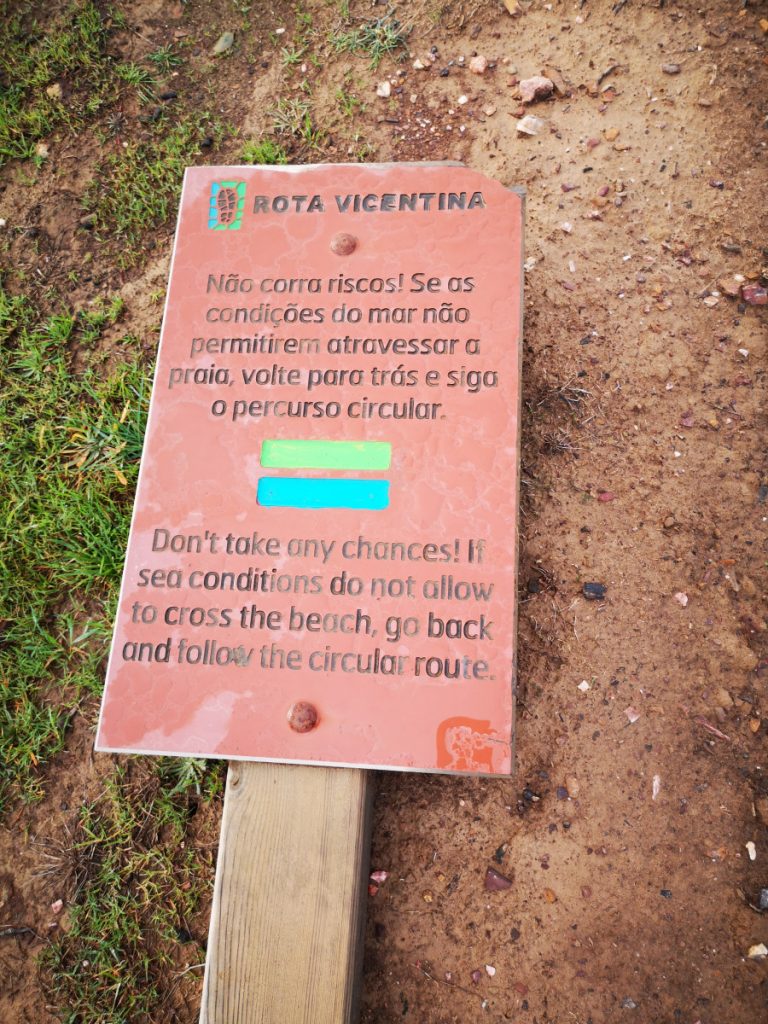 Warning signs hiking along the coast in Portugal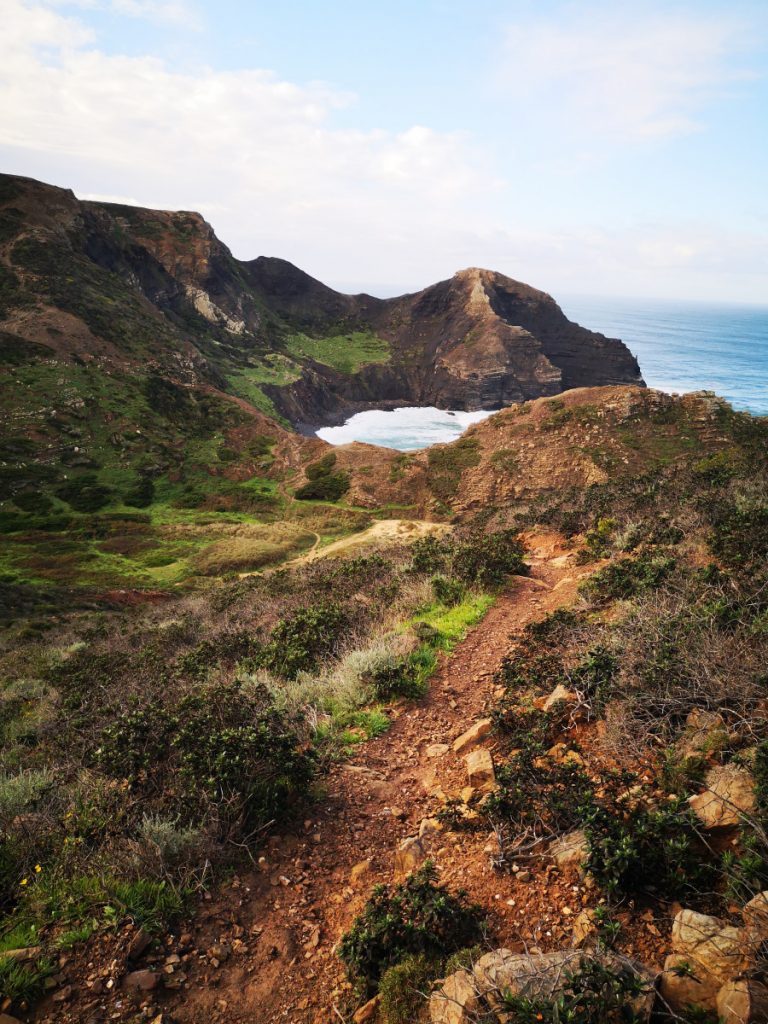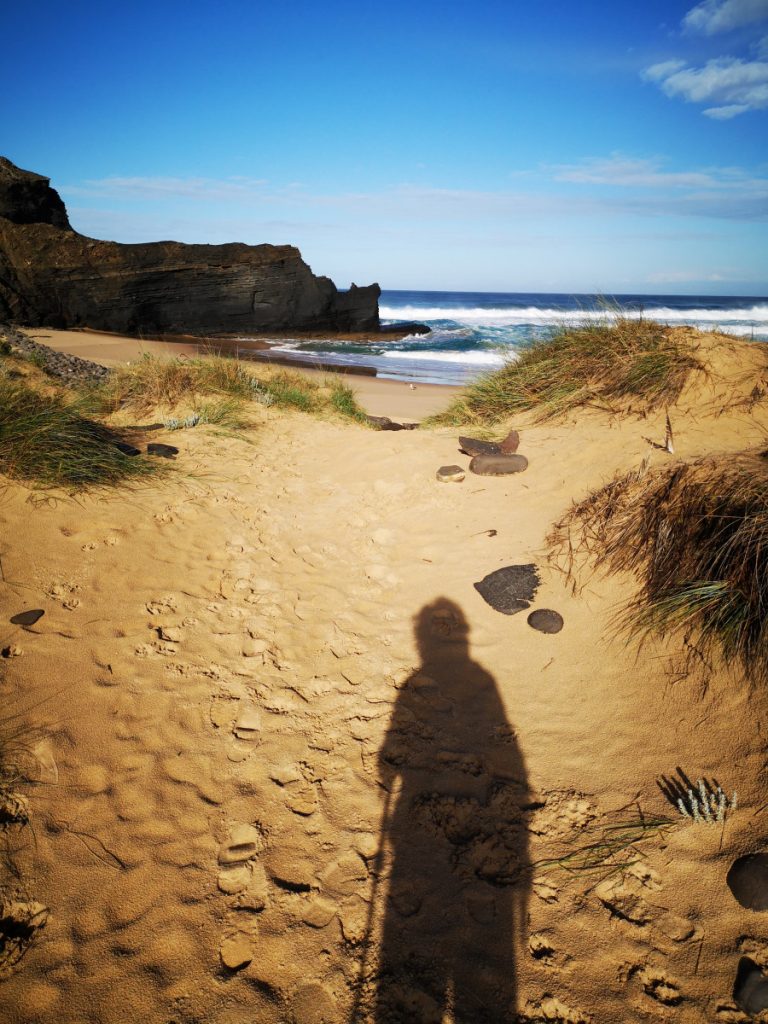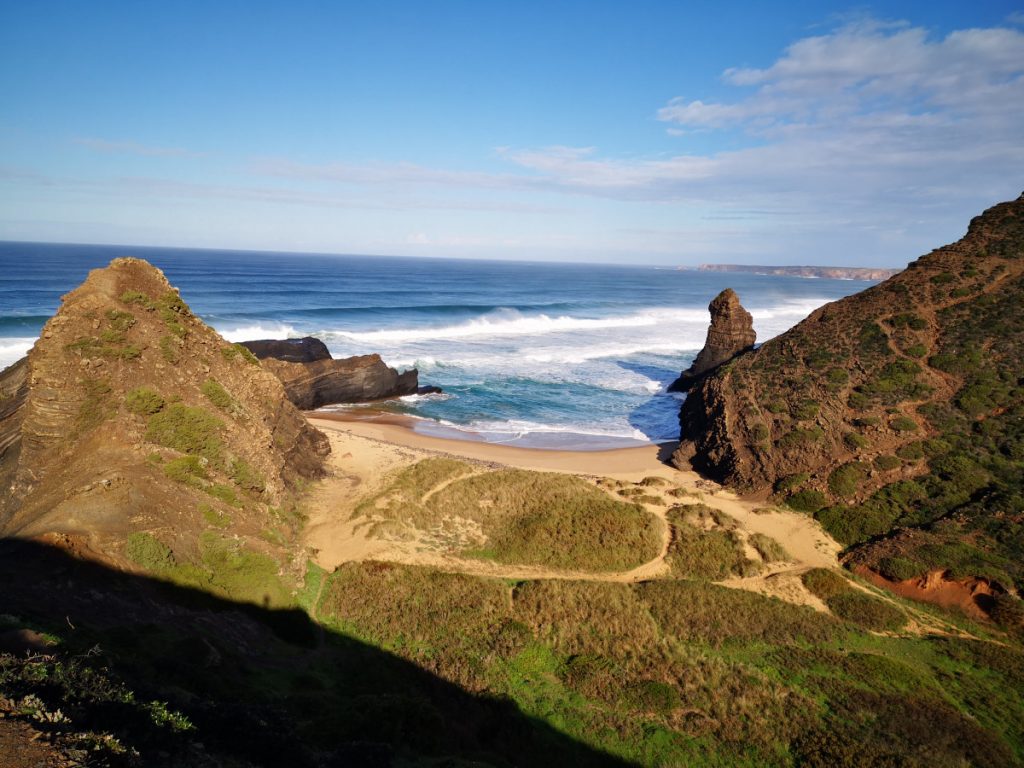 Then I found myself walking in a nature reserve, hearing hunters around me again. After a long way, the Fishermen's Trail signs suddenly ceased to exist….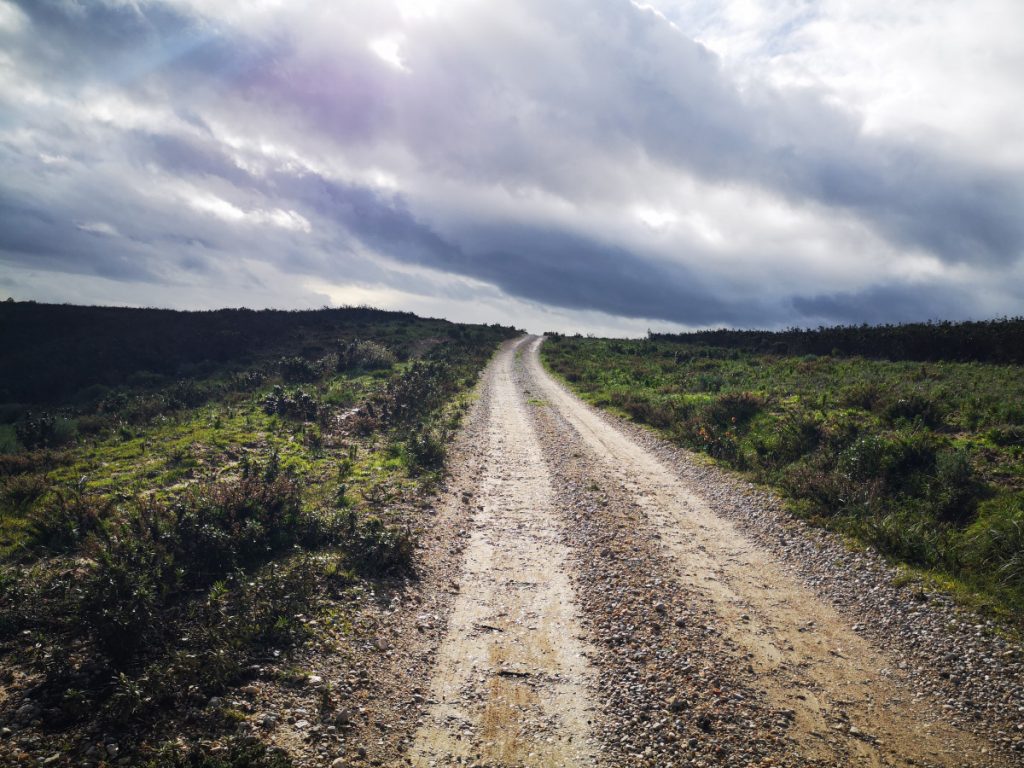 The Historical Way was indicated and since it also goes to Vila do Bispo, we followed it. Turns out this is also the case for part of tomorrow… Pretty strange, isn't it? All the time it is indicated twice and now they suddenly think it is normal to leave out the Fishermen's Trail.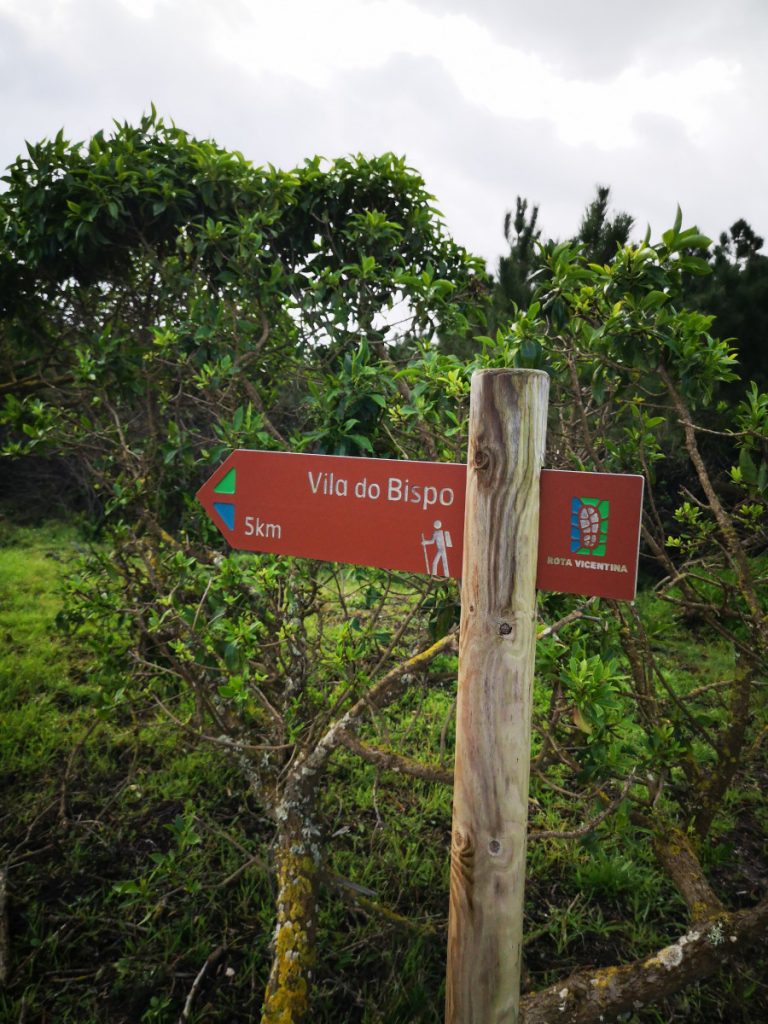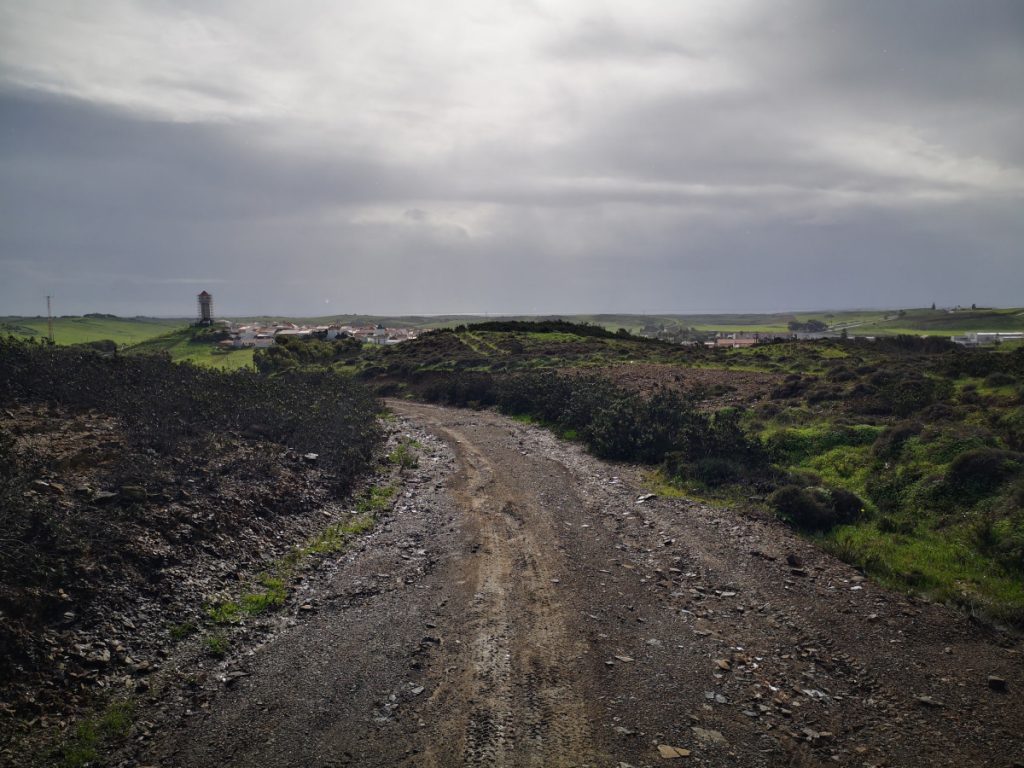 Hiking along the coast in Portugal – Atlantic Ocean – Fishermen's Trail
After a few kilometres along that big road, I arrived in Vila do Bispo and it was only 12 o'clock… I was already allowed to check in and immediately took a nice hot shower. Less than an hour later I was sitting on the terrace next to Eva who had also just arrived and we ate our lunch. Later that afternoon I went swimming in the indoor pool.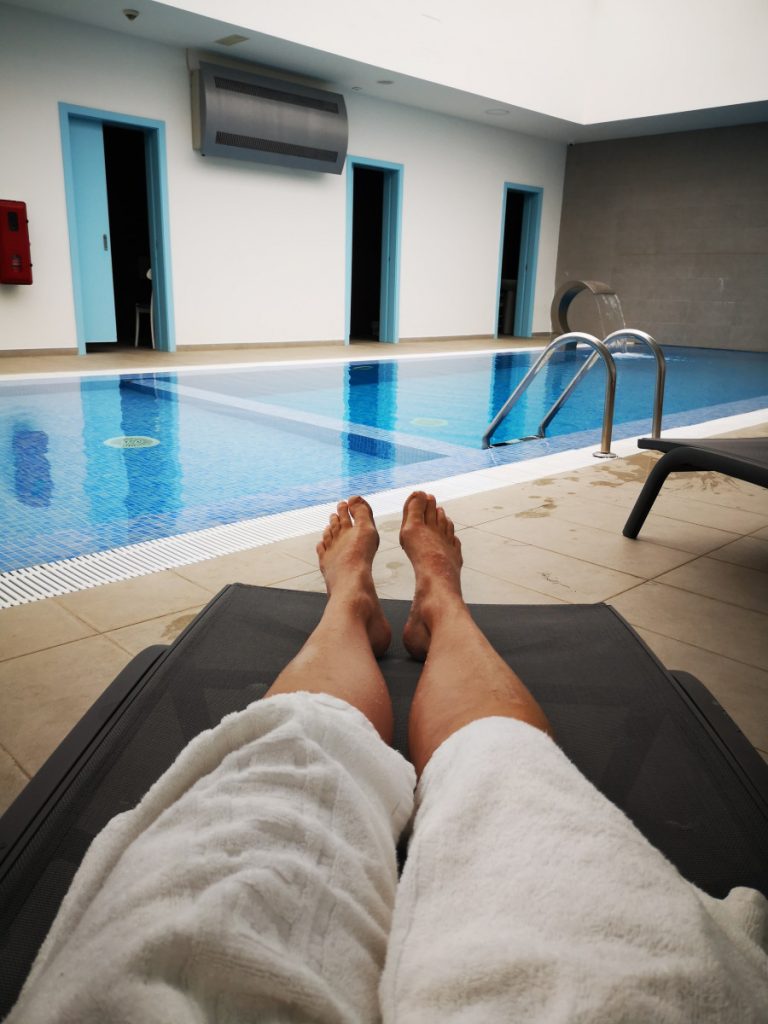 Stage 10 – Vila do Bispo to Sagres 20.5 km
Very unsure whether to go or not. Rain was forecast all day, maybe a little less in the afternoon…. But okay, over breakfast I was still thinking, I'll book an extra night at this hotel. Go for a nice swim and just finish reading my book. When I walked to my room, it turned out it was hardly raining…. So I got dressed, well prepared for heavy rain….. Plastic around the gaiters so my shoes would stay partly dry, shorts with pocket where I can put the phone in and my backpack in the rain cover and poncho on. Let's go!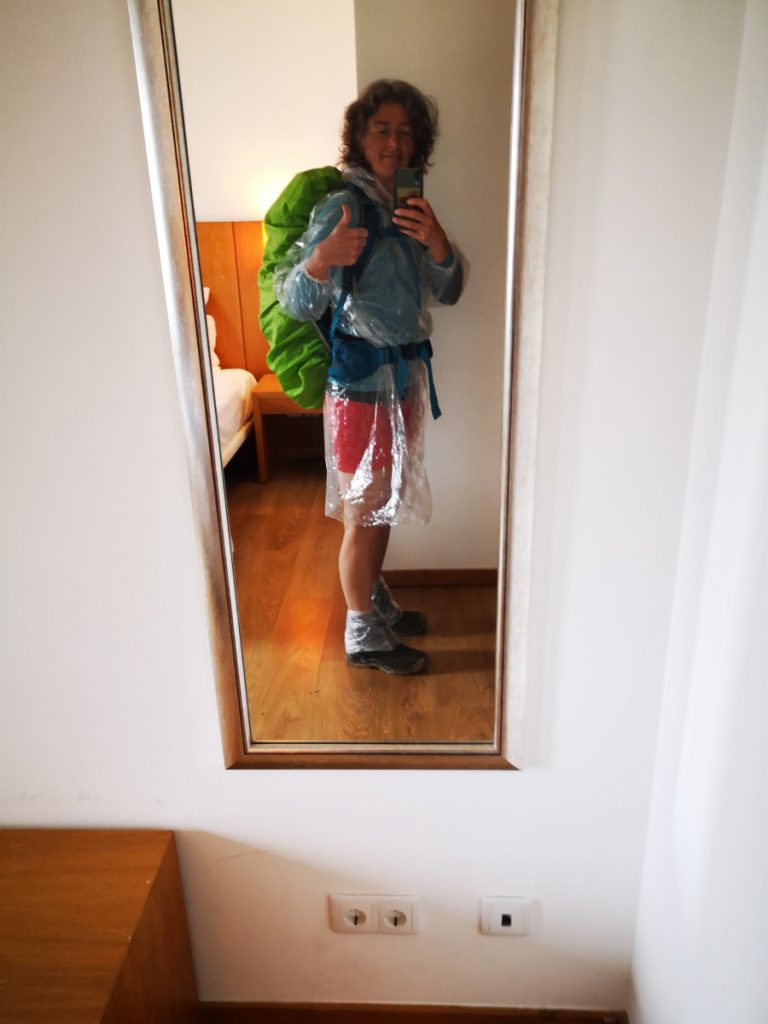 I had to follow red/white first so when I saw them I started following them…. Until about 40 minutes later I thought…I'm going inland?? Turned out I was on a completely different European route. I hadn't even looked to see what place name was given either…. I just started following…so I was able to get back. More than an hour after I started walking, I was finally on the right way. I was soaked by now. Not from the rain but from the condensation that builds up under the poncho from your body heat. Not bad because not cold but still…..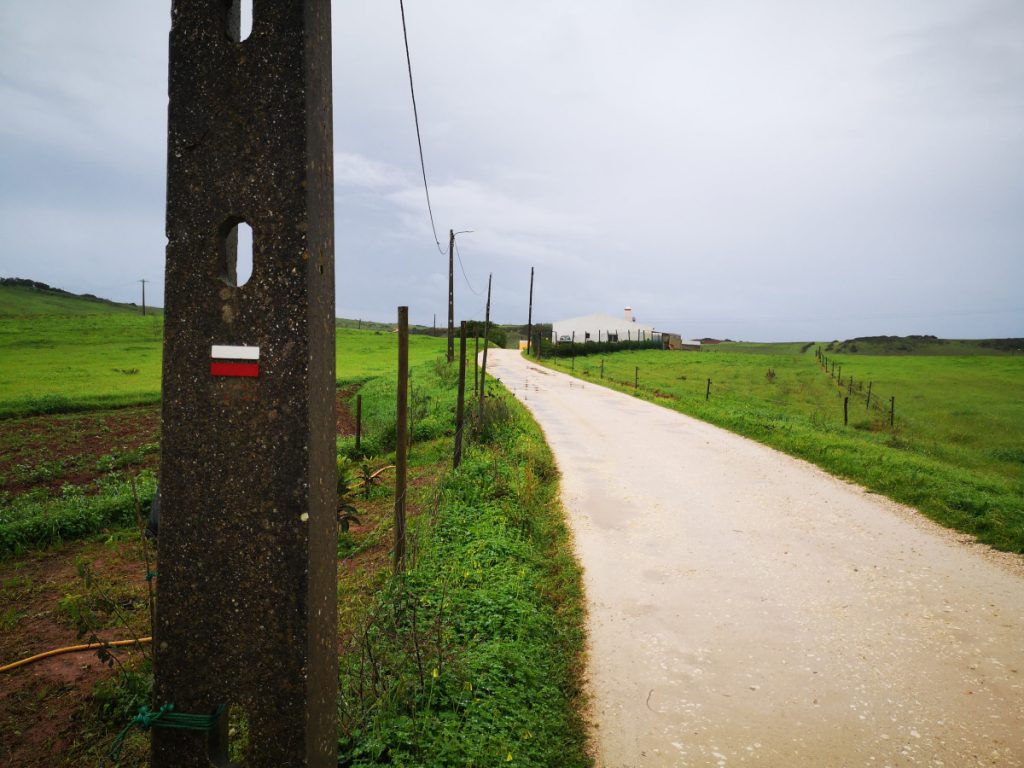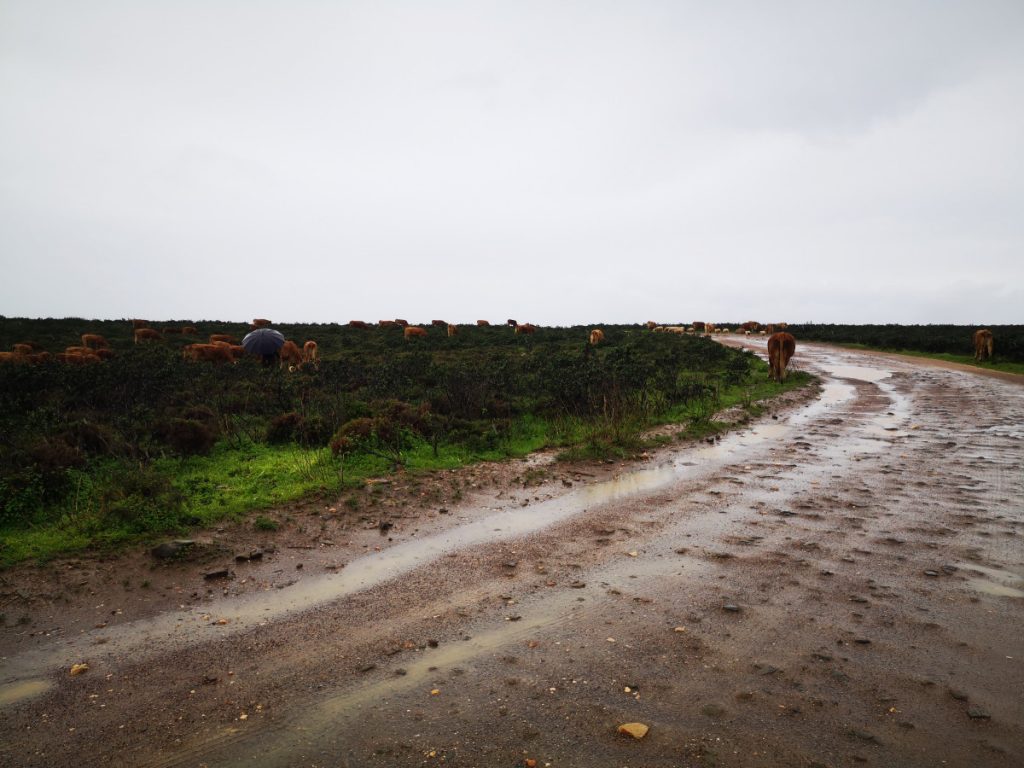 I walked out of the village and along long roads towards the coast. I passed a man with his herd of cows and sheep. And a bit later it cleared up slightly. Turned out I had the Atlantic Ocean back in sight next to me for some time. I made a nice video with the birds flying low to catch flies, I think.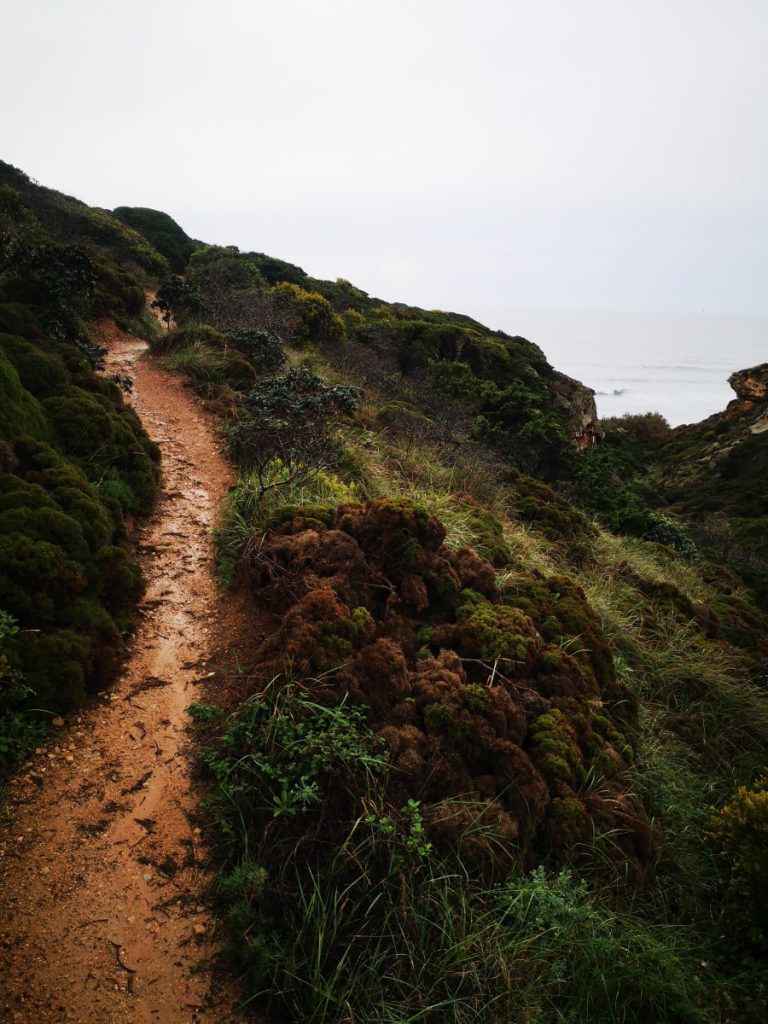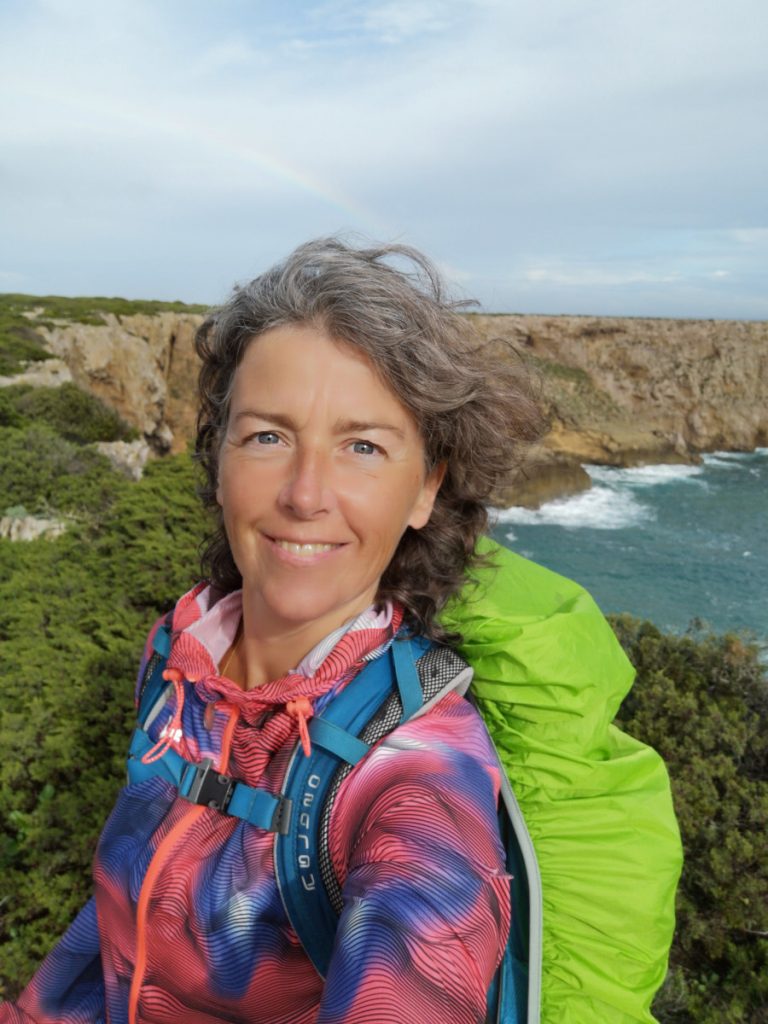 After this, I found myself really walking through the green of the coast again, undulating from high to low along the coast and bays. The sea coloured beautiful blue/green again as did the signposts that were also there again from the Fishermen's Trail.
The Fishermen's Trail – Hiking along the coast in Portugal
I really enjoyed another super route, walking along the coast in Portugal! I met several hikers and it wasn't long before the sun really broke through and I lost the fear that it might rain again. The poncho went off and so did the soggy jumper, my orange windbreaker on and full enjoyment again.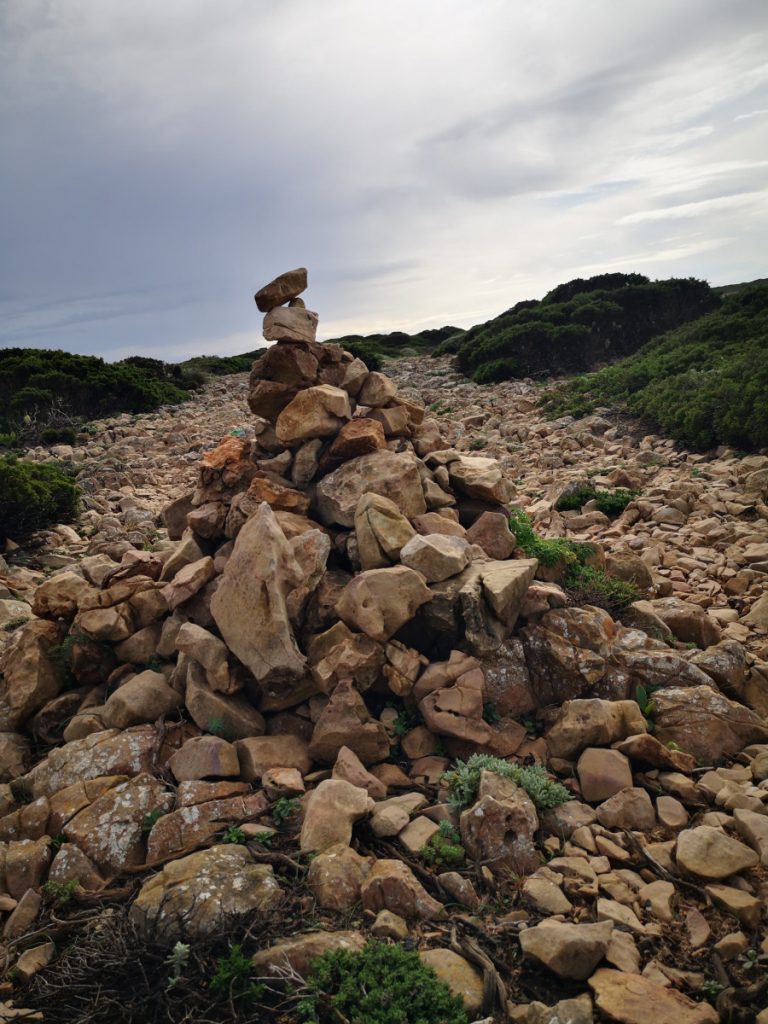 After a few nice paths along the coast, I went slightly inland again and found myself walking over stones. This continued until the main road to Cabo de Sao Vicente. Tricky walking though. First just trying to walk on the ground, then just stepping on the big stones anyway..and at one point both ways combined. It isn't comfortable I can tell you!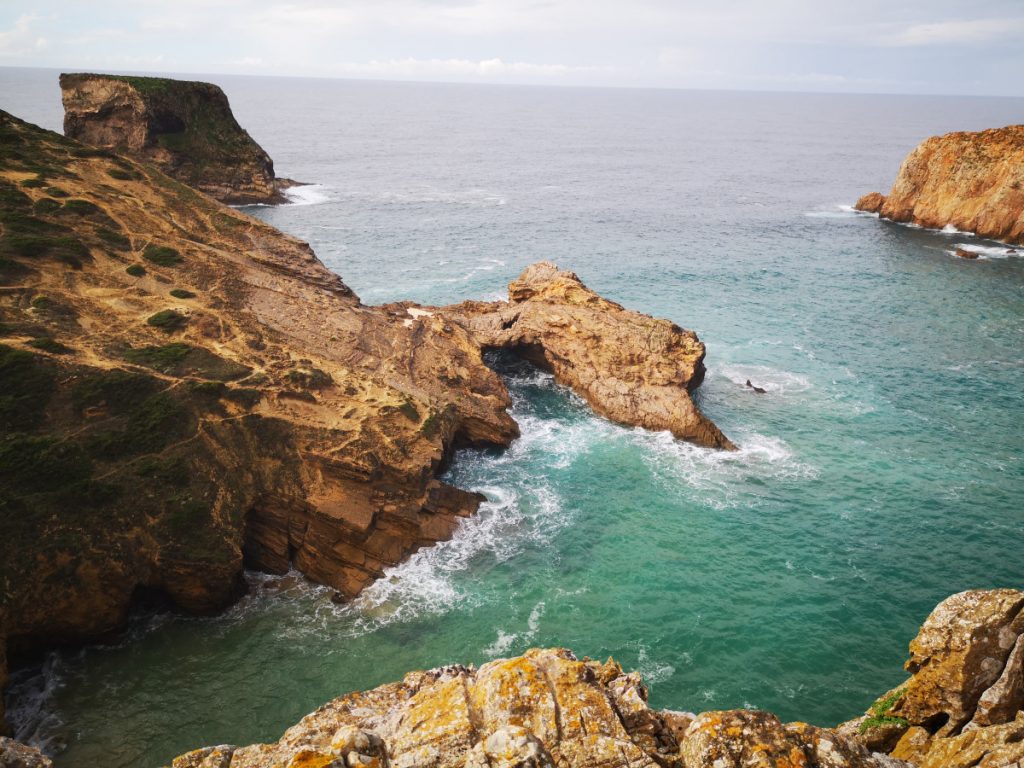 Cabo de Sao Vicente came into view and I saw that the lighthouse was in scaffolding. What a pity now. But yes, let's eat in the restaurant…aaah that turned out to be closed too. Now that's a shame! My little toe had developed the blister again and my socks were wet. I sat there on the wall barefoot for a while, let socks dry slightly, shoes too….. And punctured the blister. Then put the stuff back on and walked the last stretch.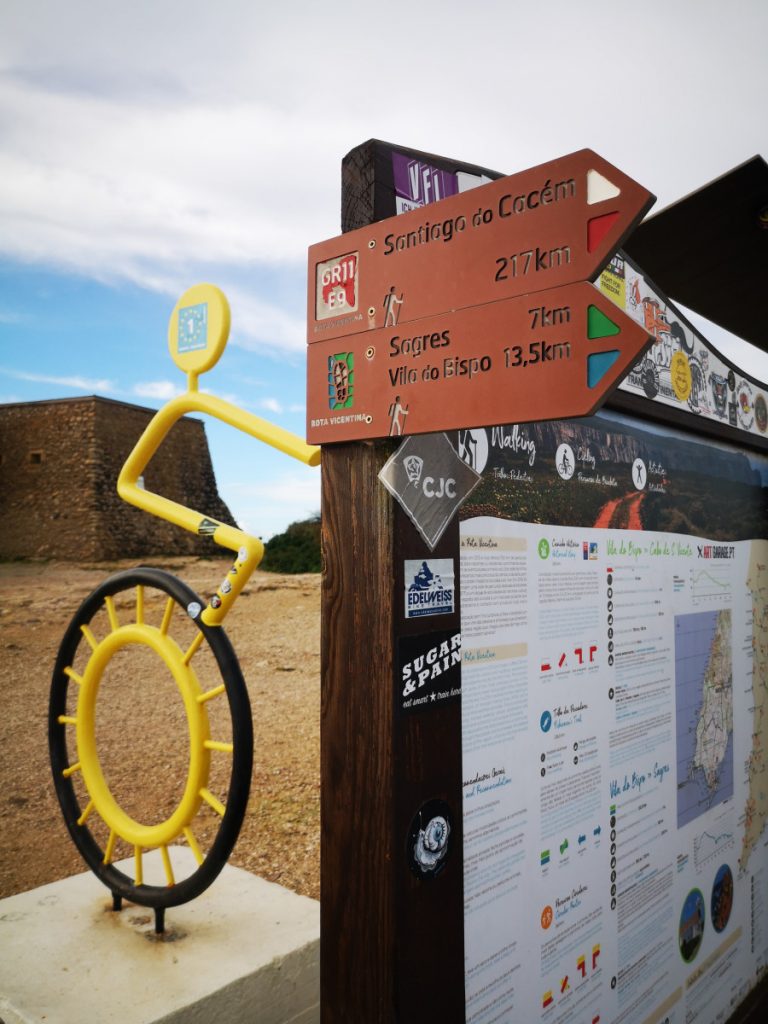 There, too, it was rock, rock and more rock. Not fun with a blister! But fortunately, after a kilometre of walking, the foot and the blister founds there way back in the shoe and you don't feel it anymore. We passed some more beautiful bays and beaches and finally arrived in Sagres.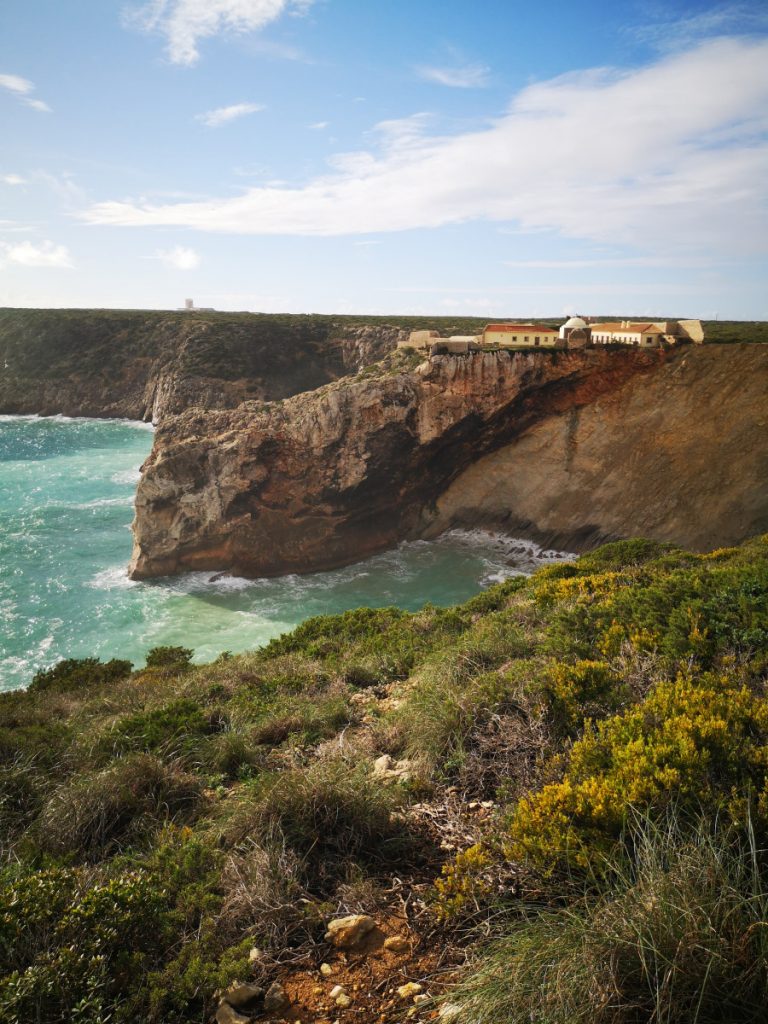 I had forgotten to book a hotel and I saw 1 just before the end point, a hotel with a pizzeria and coffee bar in it.
BINGO.

At sunset, we had a quick look at the surfers at the beach. At least 15 were in the water and doing their best! Super fun to watch, I tried it once one weekend, I know how tough it is!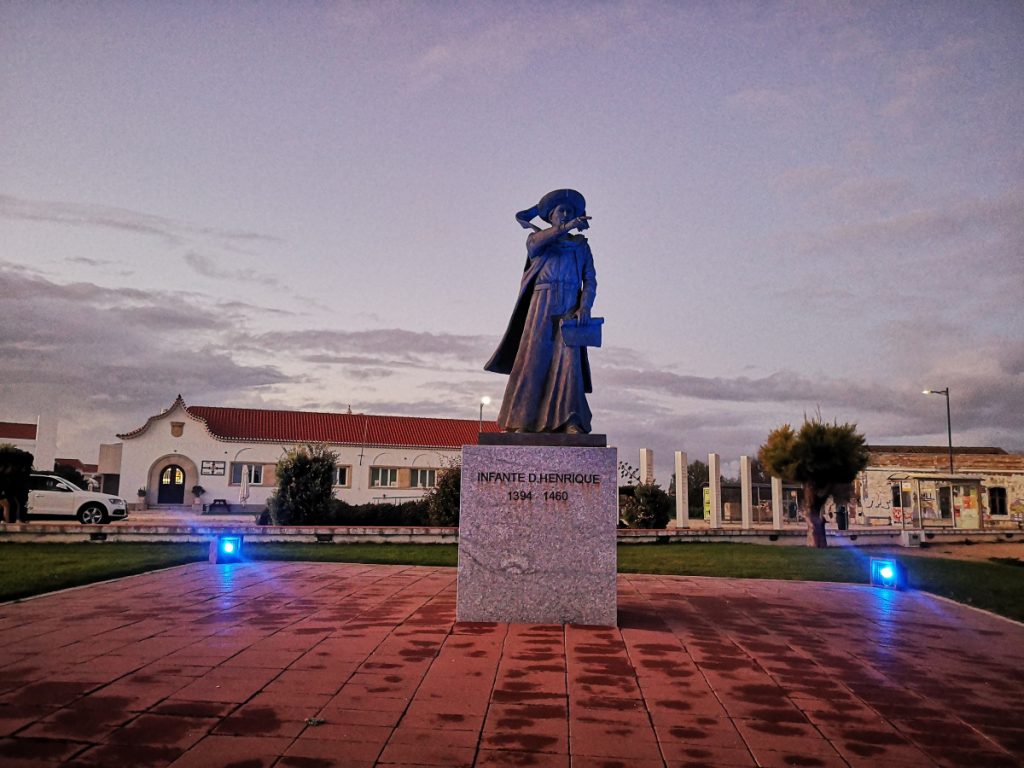 The Fishermen's Trail – Hiking along the coast in Portugal
Stage 11 – Sagres to Salema – 19.5 km
This route is listed as very difficult, I only see that now. A day after I walked it and have a rainy day. But I can assure you, it was the most difficult stage so far. The most challenging, the most altimeters but also visited the most beaches. Truly a wonderful day!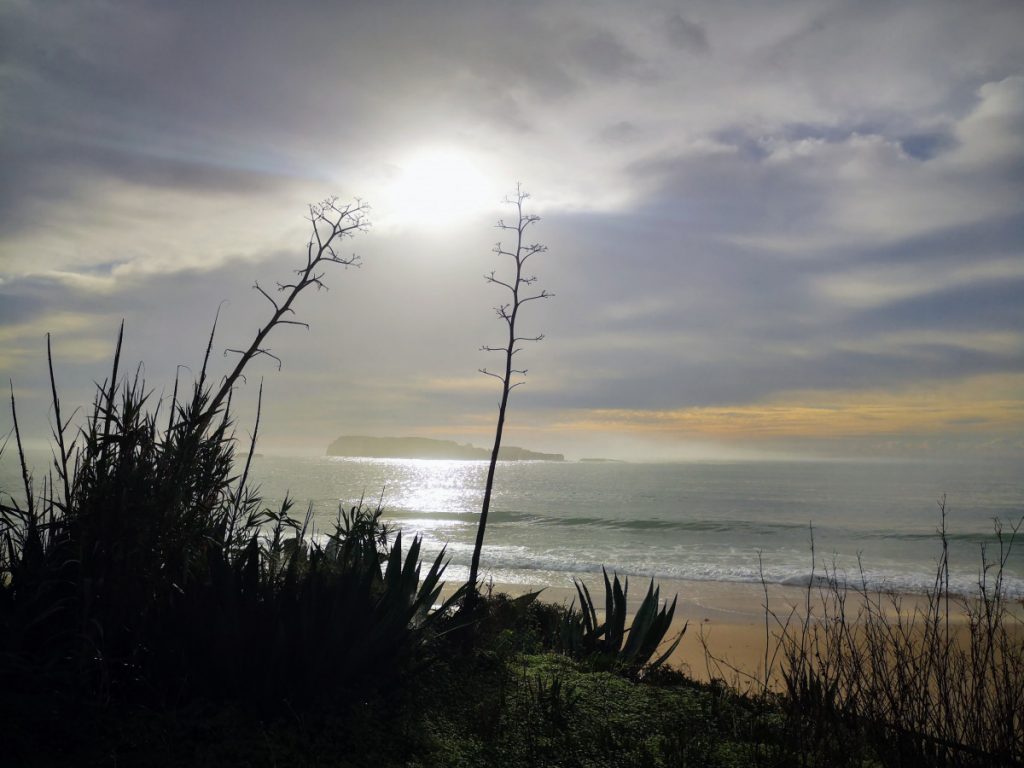 The weather was super and the whole day I did not see a single splash of rain, it was just nice summer weather.
So nice to have the sun on your face in December!
I had breakfast at the hotel where I was staying, which I can really recommend by the way. That breakfast was a little less but yes…. The hotel Mareta View – Bed and Breakfast is right along the route and has a coffee shop and a pizzeria underneath. I thought it was a super place! That morning I walked out of there and followed the main road and found a SPAR a km away. There I bought a banana and two tangerines for the road.
Shortly afterwards, the route turns left just before the harbour behind some houses towards the first little beach. It had been a long time since I walked on the beach. I think only really a whole stretch on the first day from Monte Covo…. After that, every time in the loose dune sand but not a whole stretch of beach. After the beach I went through a nature reserve where there was a lot of water… I really didn't see how I was going to get to the other side without getting my shoes wet. I really didn't feel like it this early. So then you stand there watching for a while and slowly I walk closer….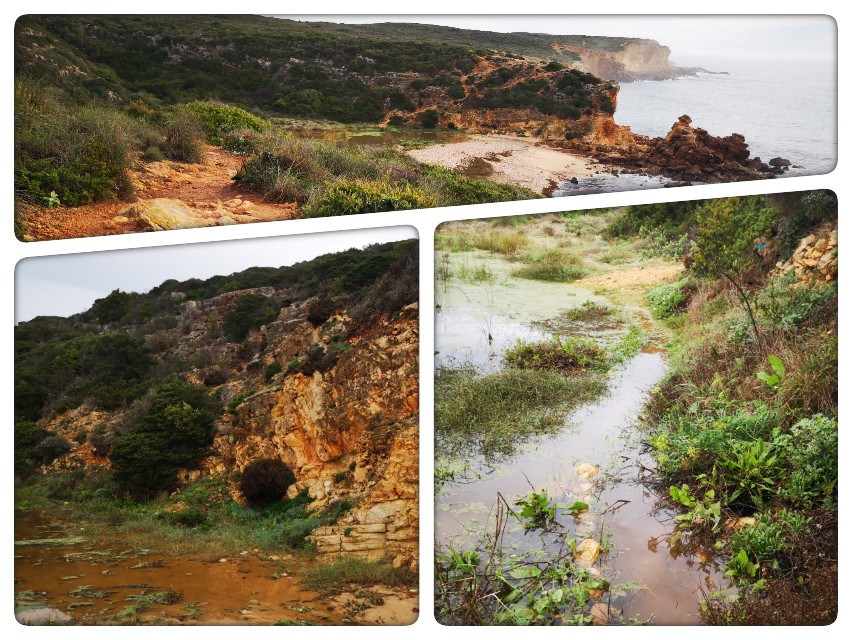 Challenges will come your way to face
Hiking along the coast in Portugal
How super cool I thought it was to watch this process in my mind. I could hardly believe that this was the trail. Yet a few metres further on, I saw the Fishermen's Trail flag on the wall. I really had to go through the water quite a bit to get there. The wall along which I would go was really too steep. As I approached, already hesitating and thinking I took a few steps in the right direction, I saw a row of stones in the water. They were lying there perfect for standing on and getting over the first 1.5 metres already. I did not yet see how I would then have to continue but yes, those first steps taken. With my walking sticks I made sure I kept my balance and that went fine. Until the last stone, the water was really at its deepest here too….
If I stepped in I would sink in above the edge of my shoe (I wear high shoes). It occurred to me that I should go back and look for big round stones so that I would complete the row but just as I wanted to turn, I saw to my right that the wall was no longer so steep and if I tried my best I could get a bit further up that wall. So that's what I did. I was standing on the wall hanging myself to the left so I had a good grip when suddenly I saw that I could just climb up about a metre and then come out on the path! Earlier I had not seen that the path was already there, I only noticed that when I was already this far. And so suddenly I was where I wanted to be.
Putting this piece into the metaphor of how life works.. Sometimes you have to take steps in a direction that you don't yet know but that appeals to you. No you don't know where you will end up yet, that can't be seen yet but if it feels right you have to go and then roads and paths open up that become available to you and which is ultimately your path to follow. I spent quite some time thinking about this, how wonderful life plays with you!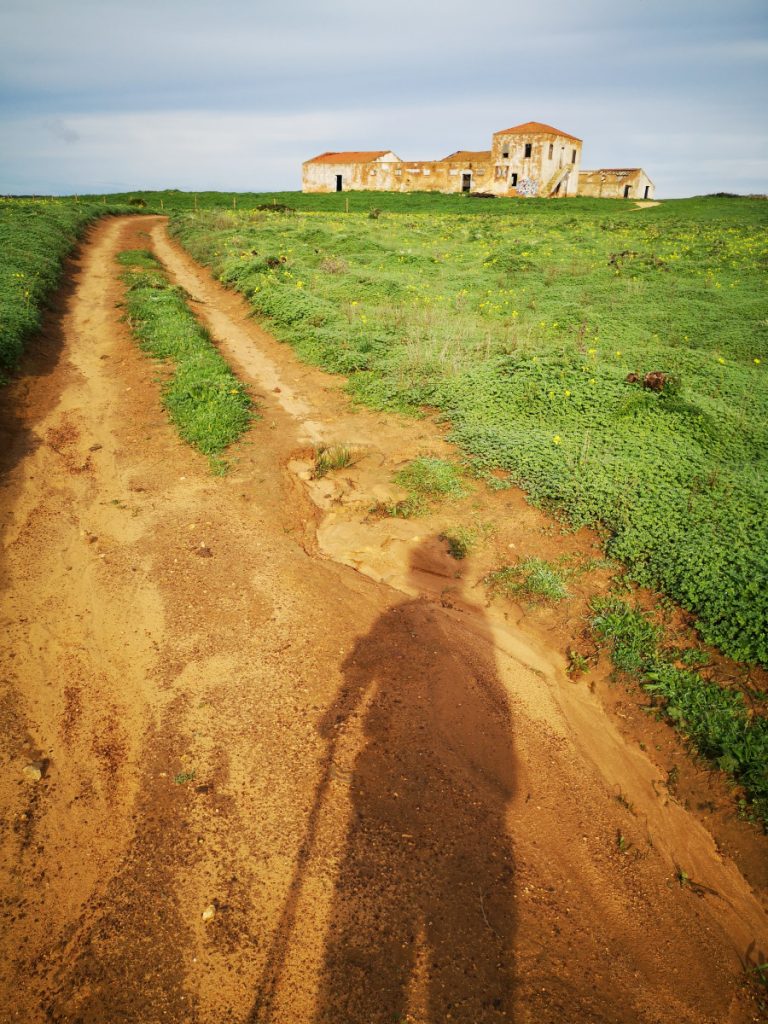 I was suddenly walking along long roads inland it seemed. The ocean was no longer in sight. Slowly some mountains came into sight again and so suddenly I was in front of a precipice it seemed and I could go down a long path to a nice little beach. I saw a car park with a whole bunch of motorhomes and the closer I got the better I could hear guitar strumming. I saw an older large camper with a wooden superstructure at the back. They had built a clown wagon like that behind it, how nice! There were all alternative relatively young people walking around and there was a real hippy atmosphere. I walked there for a while and decided to take a break. Just eat a banana, and enjoy the peace and quiet.
Hippies along the Fishermen's Trail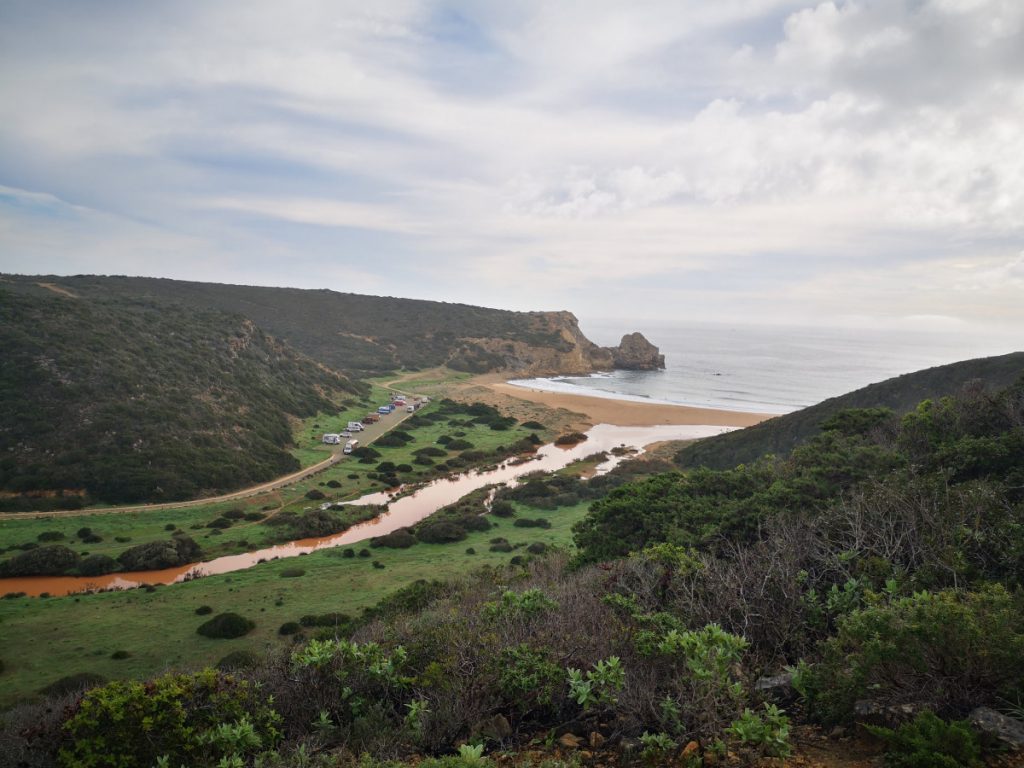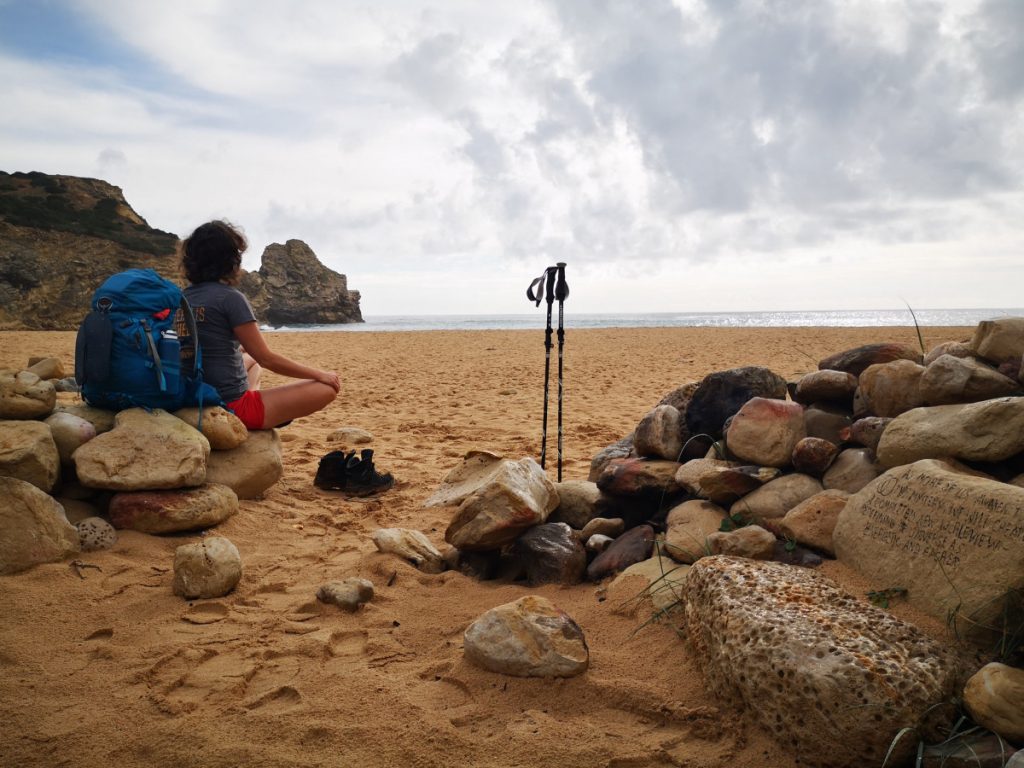 Open coves had been built with stones where you could sit out of the wind. In the one next to me, another person was playing guitar and softly singing along. A little further on, I saw people surfing in the water and to my left a couple undressing completely to take a skinny dip. To my right, a man was balancing on a slackline…. Lovely atmosphere hung there. I sat there for a while enjoying the atmosphere and the sun.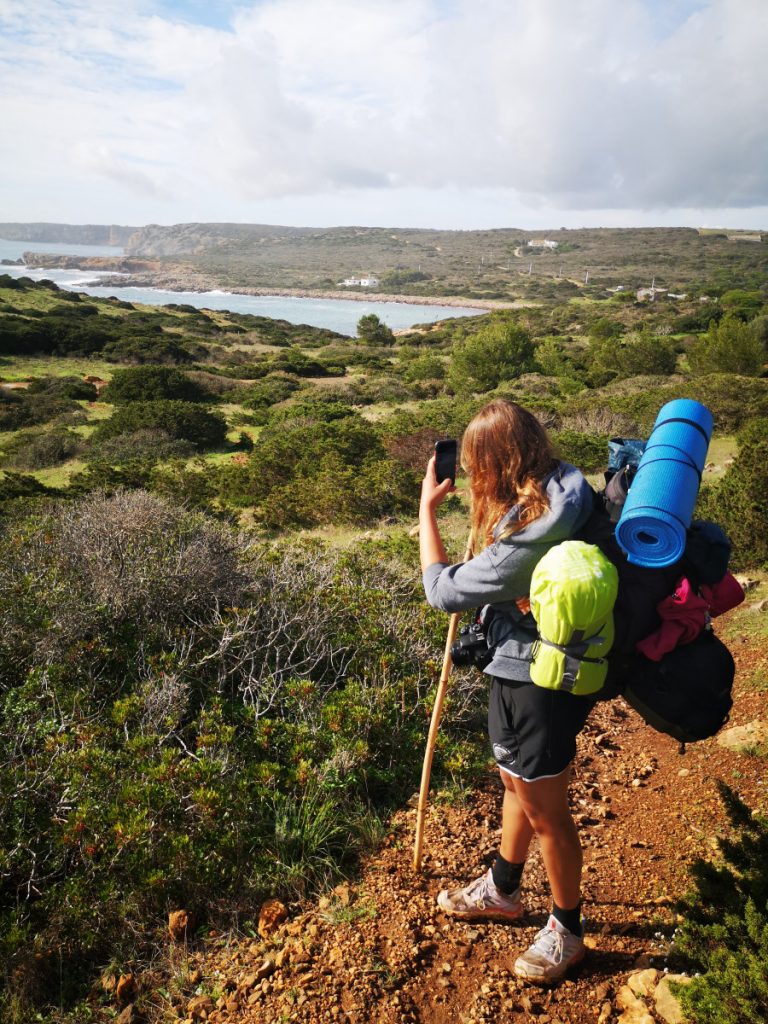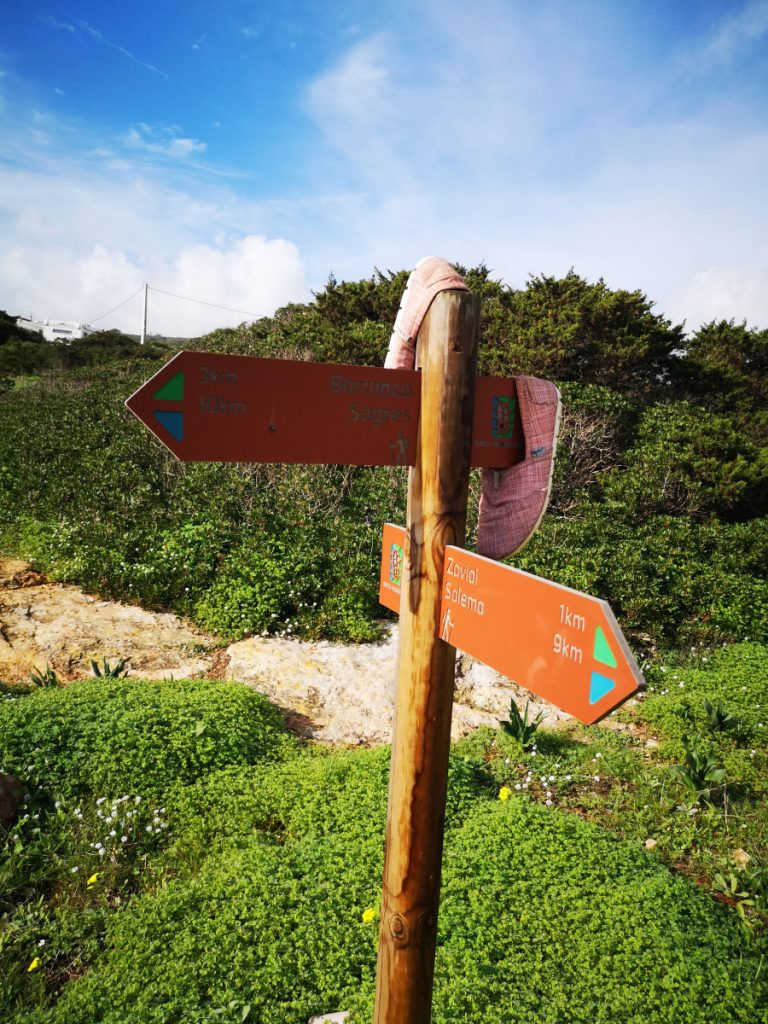 After this we moved on again and that started right away with another climb, up again where we had the most beautiful views again of the bay and the Atlantic Ocean. I had seen the Croatian Martina for a while and when I continued walking from the beach she chose a different route. At the top, it turned out that she had lost her way and only now found it again…. We walked pleasantly together until the next bay. She had been travelling for a year, working through workaway in quite a few places including Iceland and now Portugal. She was in her last week and next year she wanted to work. As an ambulance worker 🙂 How nice! I of course told her that in my work I often interact with the ambulance and their staff.
Hiking along the coast in Portugal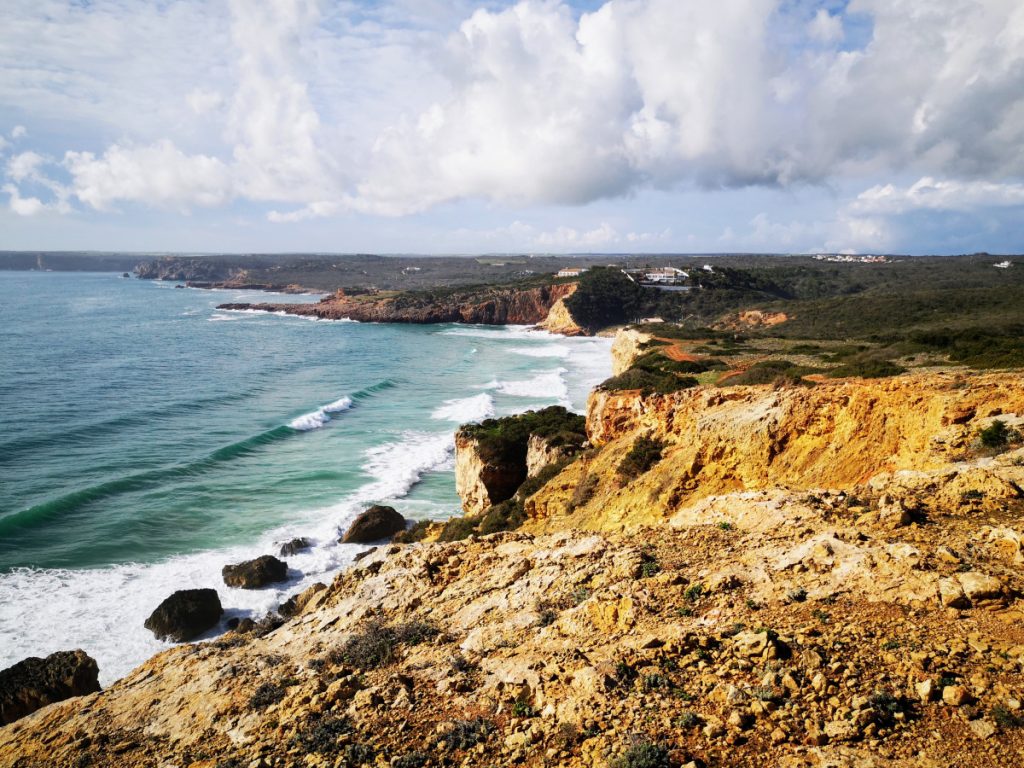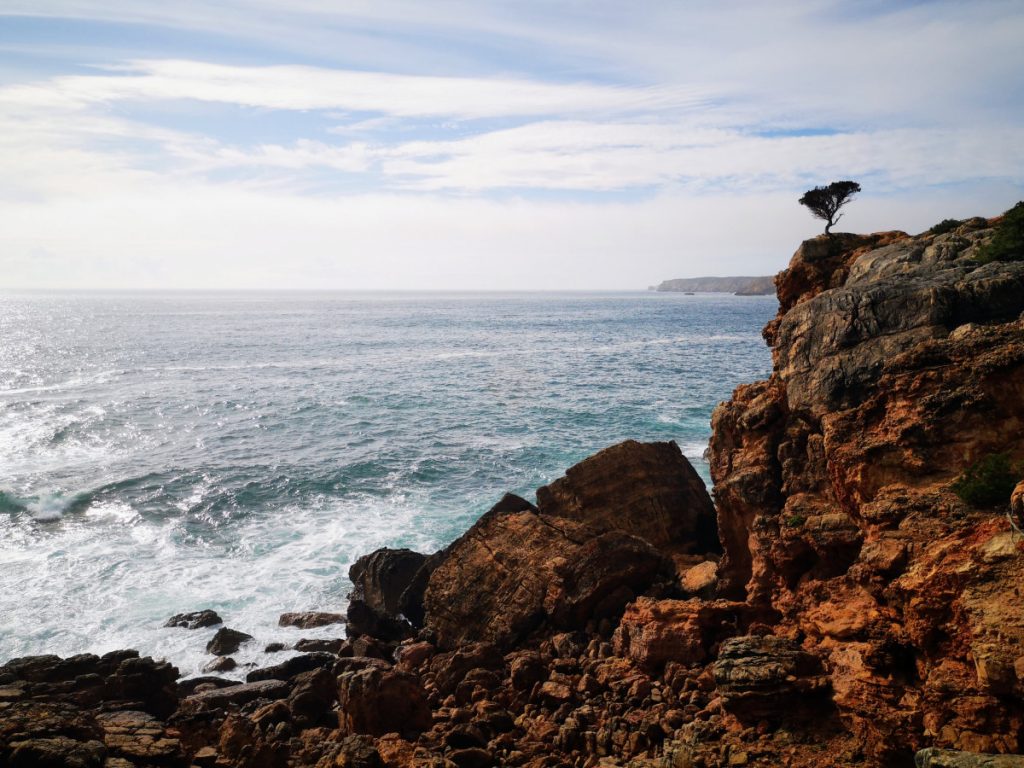 At the next bay, I took a break and she walked on for a while. After my break and after another steep climb and descent, I saw her at the next bay in her swimming costume, she had taken a nice swim. I actually wanted to do the same and resolved to do so at the next bay. But first I had to make another nice climb. It didn't stop this day! The paths were quite slippery in some places and still damp from all the rain.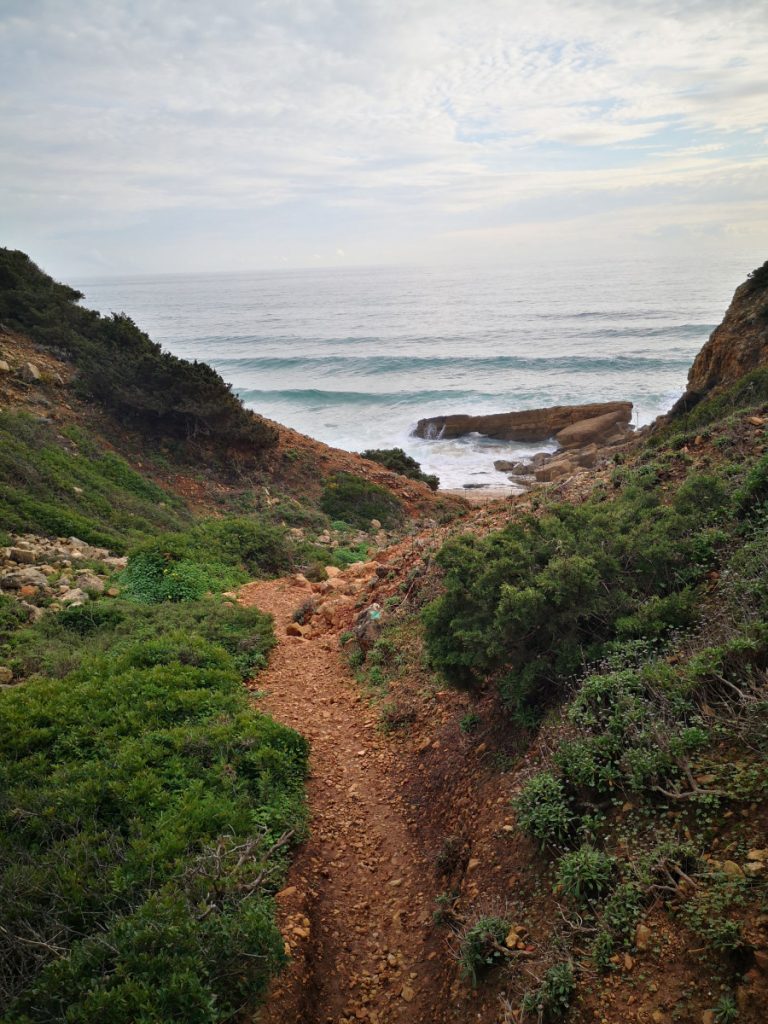 When I had made another descent and saw that I was just short of the beach after all, I decided to go there anyway. It was getting chilly but the sun was still shining nicely. Just before the beach I had to make a big step down and I slipped. I scraped my calf, the backside of my upper arm and hit my buttock quite hard. Right on the bone, of course. I stood up and decided this beach was not for me and went back up.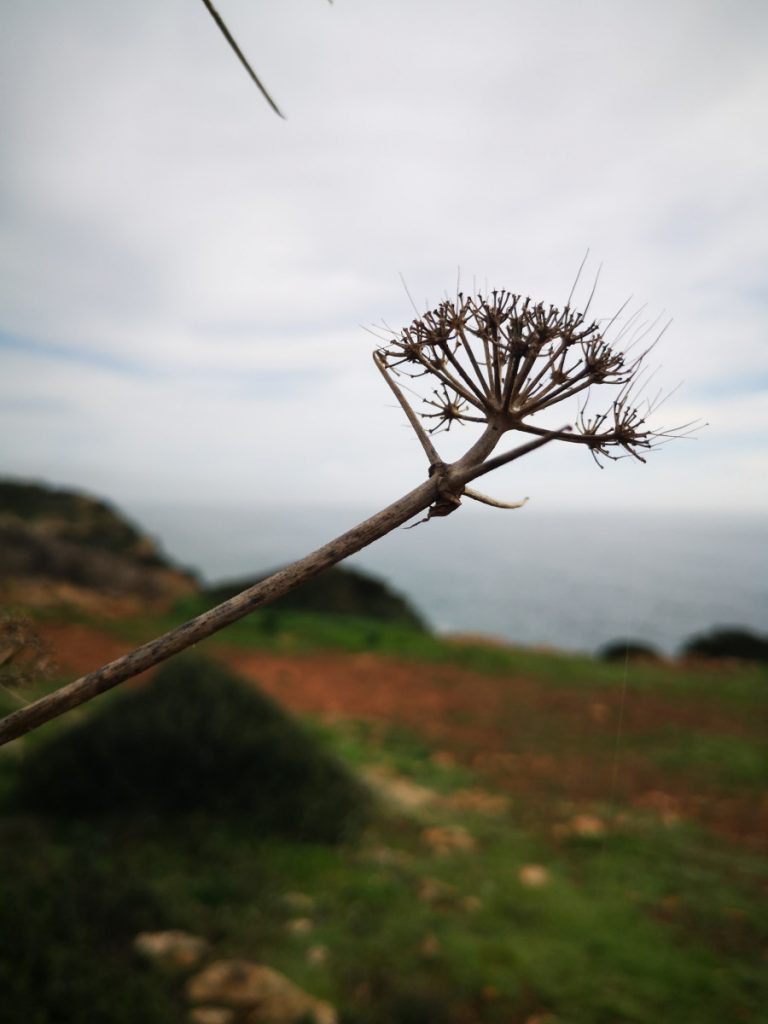 I briefly came to walk through a beautiful nature reserve overlooking the ocean. This was the first time I had seen many prints of deer. So far, I had only seen the signs warning about crossing deer. And of course heard the hunters several times. And then I reached another beach where we made another steep descent. Some parts were so steep and only sandy that I unfortunately slipped once more…. This time less painful but because I could hardly hold on to anything I slipped down a bit multiple times. This one I found more frightening then the first time. What if I slipped further and came to a stop against a tree or something? Oi!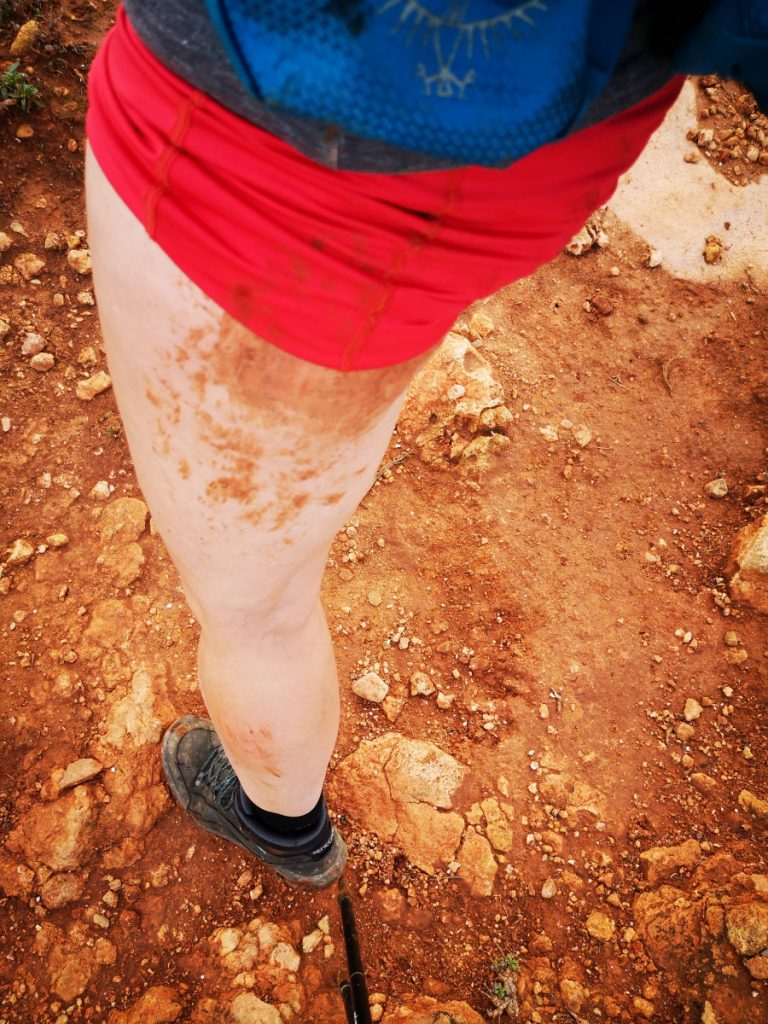 Well I can tell you that I now understand why people who already have a bit of a fear of something actually fall and slip. I became too cautious and slipped quite a lot. I didn't fall anymore but walking wasn't fine anymore. I was glad I was down,I sat there for a while by the beach at a picnic table and then moved on.
Hiking along the coast in Portugal
The climb to the next altitude was too steep and I was led around it for quite a bit. Through a beautiful landscape, I walked back to the coast. Once again I walked along beautiful winding paths in the Costa Vicentina nature reserve. And so suddenly I found myself behind some houses in a neighbourhood of Salema. I walked into a neighbourhood there that I feel only pensionadas live in, I heard a lot of English, I saw some German cars.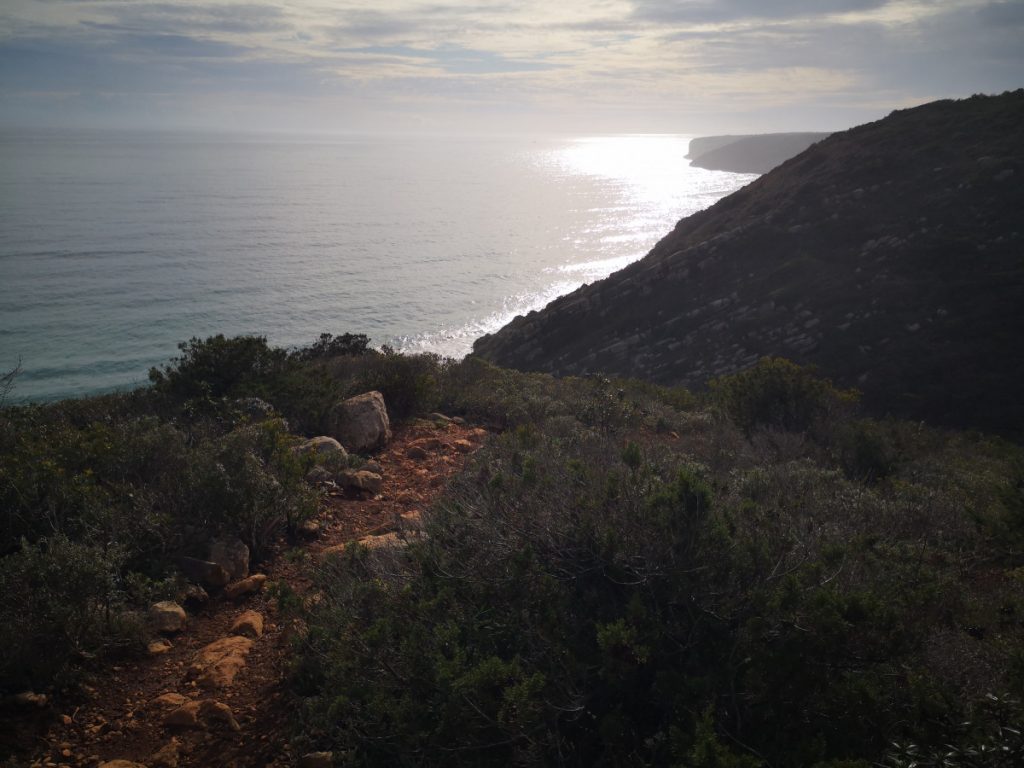 Nothing was open in the village so I walked the next 1.5 km up the main road to my studio that I had rented at Eco Camp – Sustainable Camping & Glamping. I thought it was a super nice place, I was able to eat a fine pizza there that night and they have a very nice little shop. But most of all… That stove! It was chilly and I was able to take a moment to wash and dry the shirt I totally sweated today and the trousers that had a lot of red sand from falling. Totally super!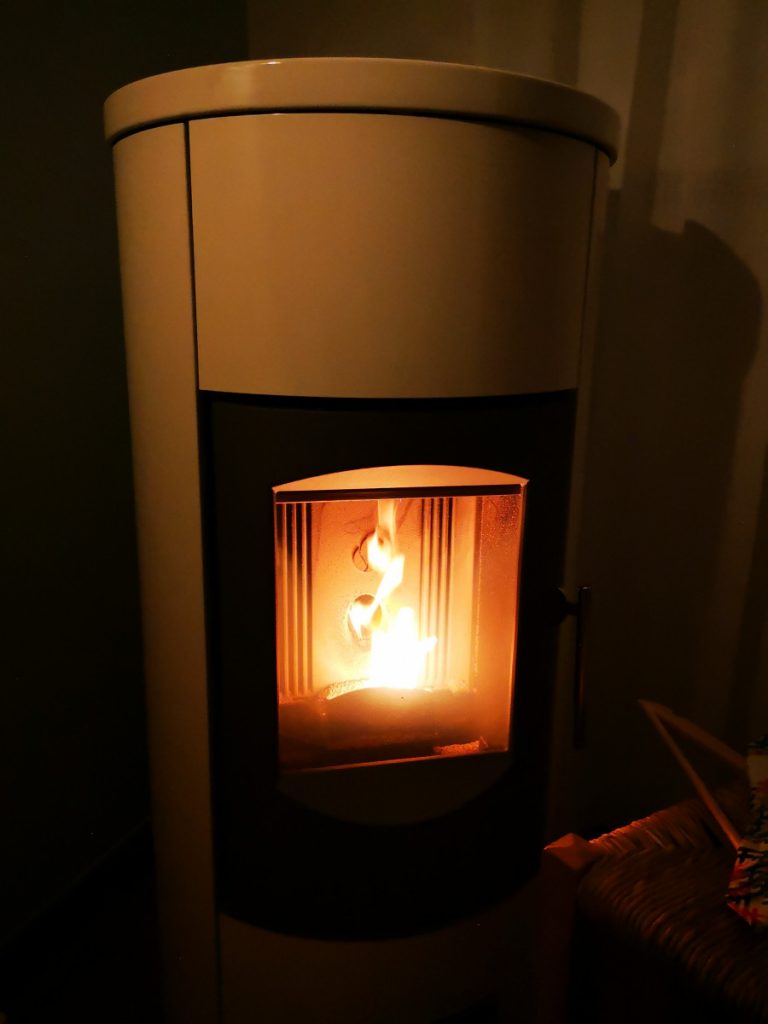 Restday in Burgau – Fishermen's Trail
The next day, unfortunately, it was already raining when I woke up. I bought a brioche croissant and a pastel de nata in the little shop and after finishing them I ordered an Uber to Burgau. There I am now in a flat and I cooked some delicious pasta, nice too sometimes, huh? After another 1.5 weeks of eating out… Hopefully I will be able to walk along the coast in Portugal again tomorrow as that would be my last day and stage.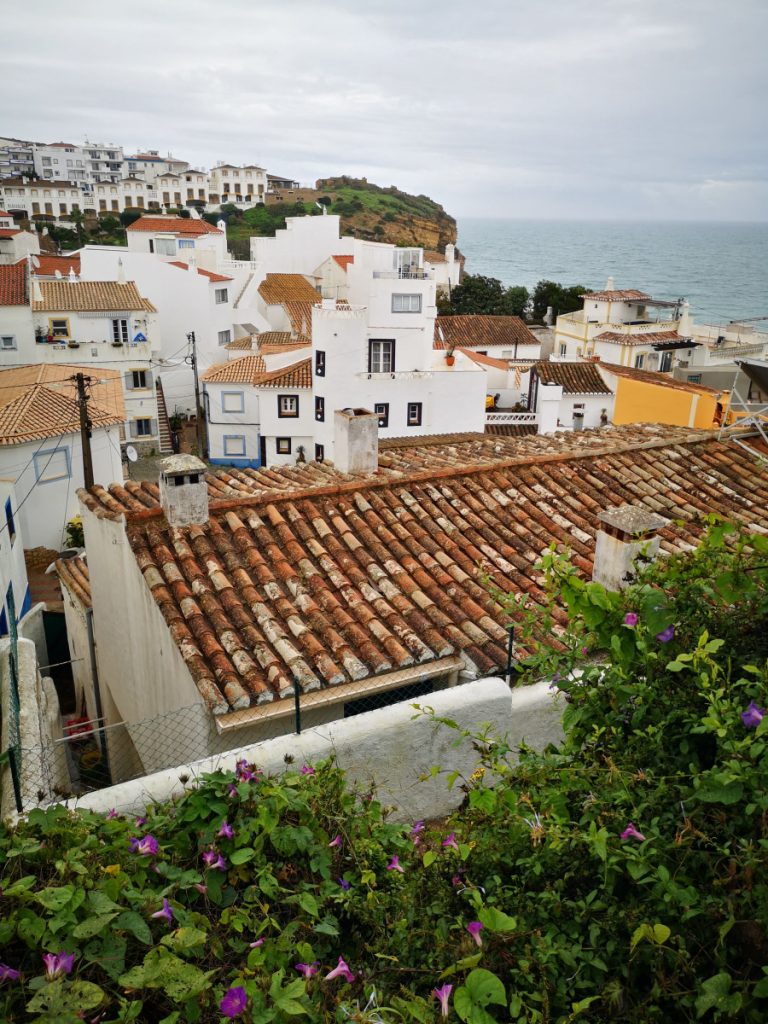 Tomorrow I will walk the last part…weather permitting. This stage actually went from Salema to Luz, which is 5 km further. In case of bad weather, I will walk that 5 and stay in Luz and hopefully walk the very last leg into Lagos the next day.

Stage 12 – Salema to Luz (last 5 km from Burgau to Luz)
So I started on time this morning. Rain was forecast from 10 o'clock and I knew that at 8 o'clock the shop and coffee shop was open. After a fine evening on the sofa and sleeping in a flat, that was a fine start. A good cup of coffee.
Coffee is part of the journey – Fishermen's Trail, Portugal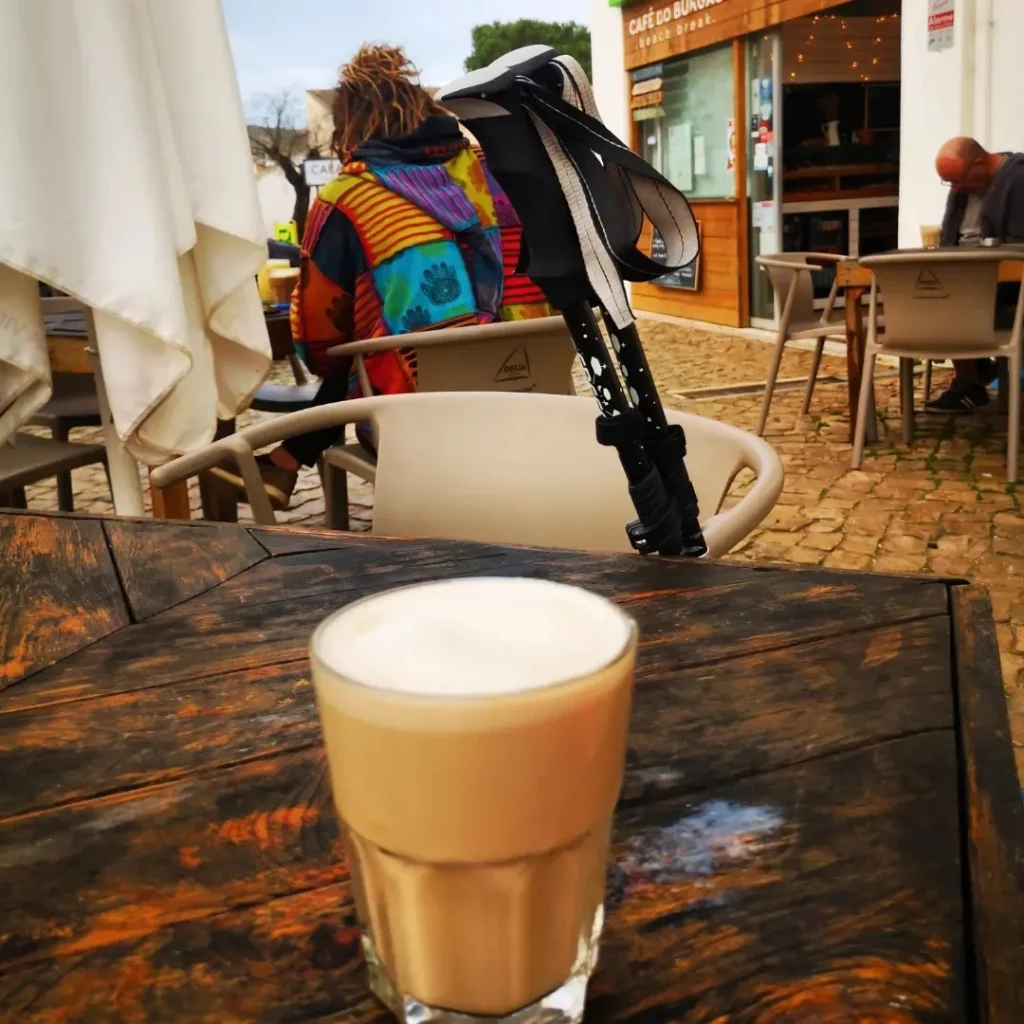 After this I walked to the route, which I had obviously looked up during my rest day so I knew the shortest way to it. Soon I was walking along the cliffs and the Atlantic Ocean with lovely views once again. I was on my way to Luz which was only 5 km and so I had all the time I needed. Takink that time too, taking photos of various snails,… which really do look different from the snails we know. I also took time to enjoy the sunshine! A little after 9.30am I was in Luz and, as I walked past a church, I heard people singing. It was a religious holiday, that too. I had been told that yesterday, briefly I stood inside to watch and listen. The door was open for a reason right?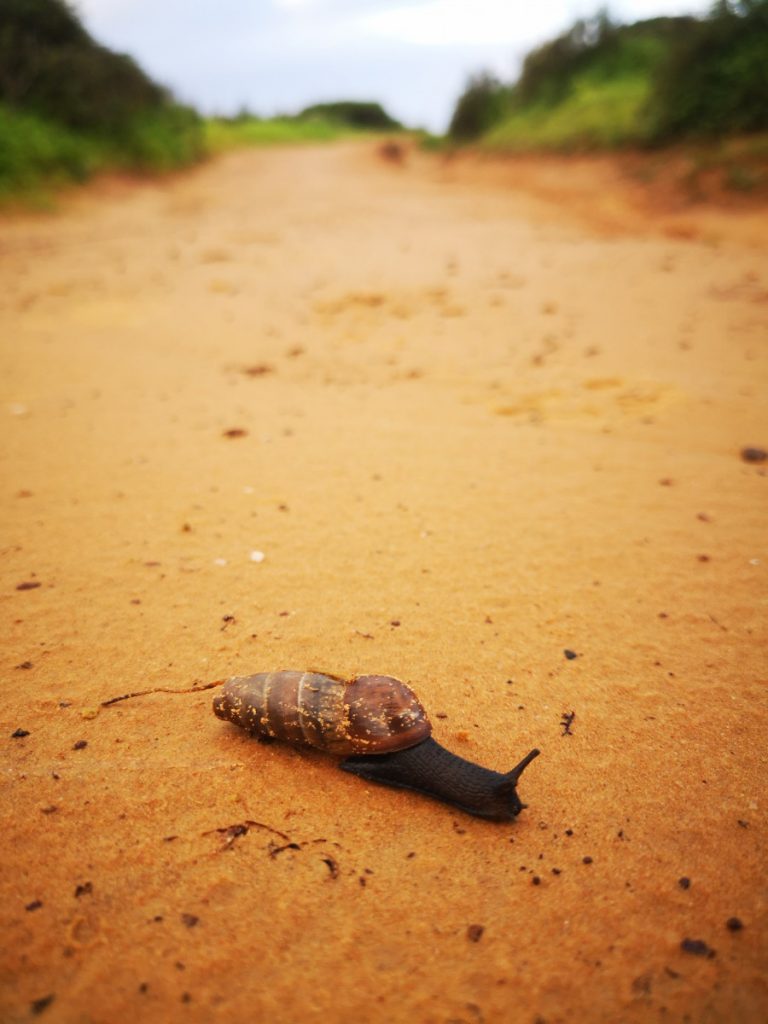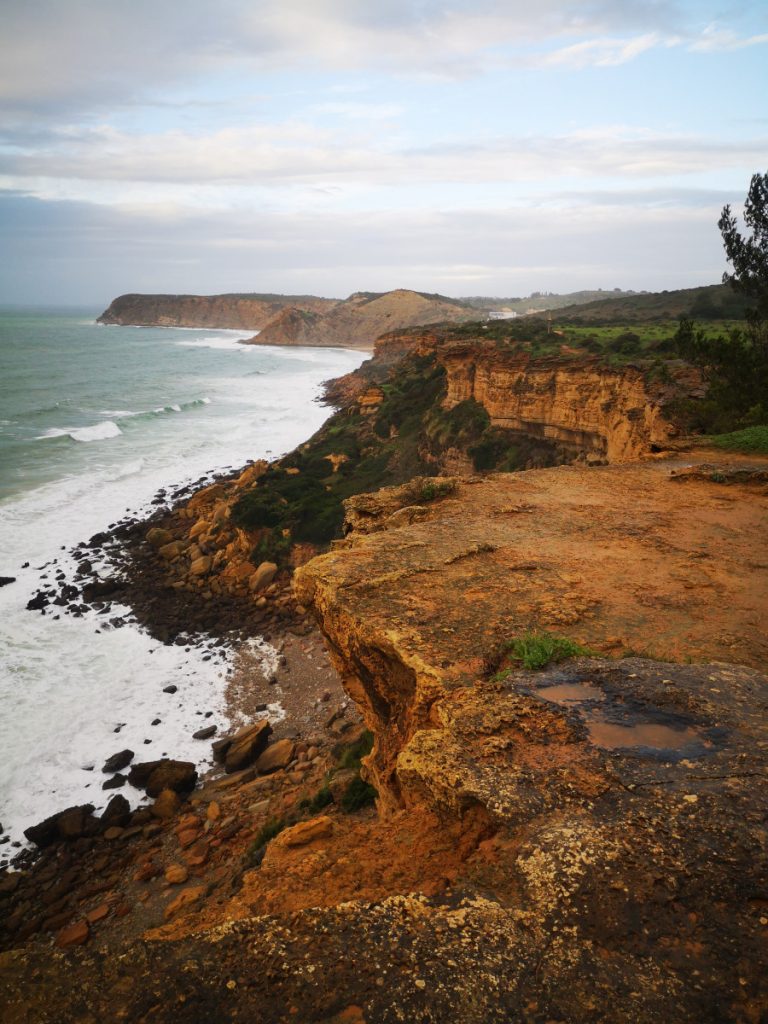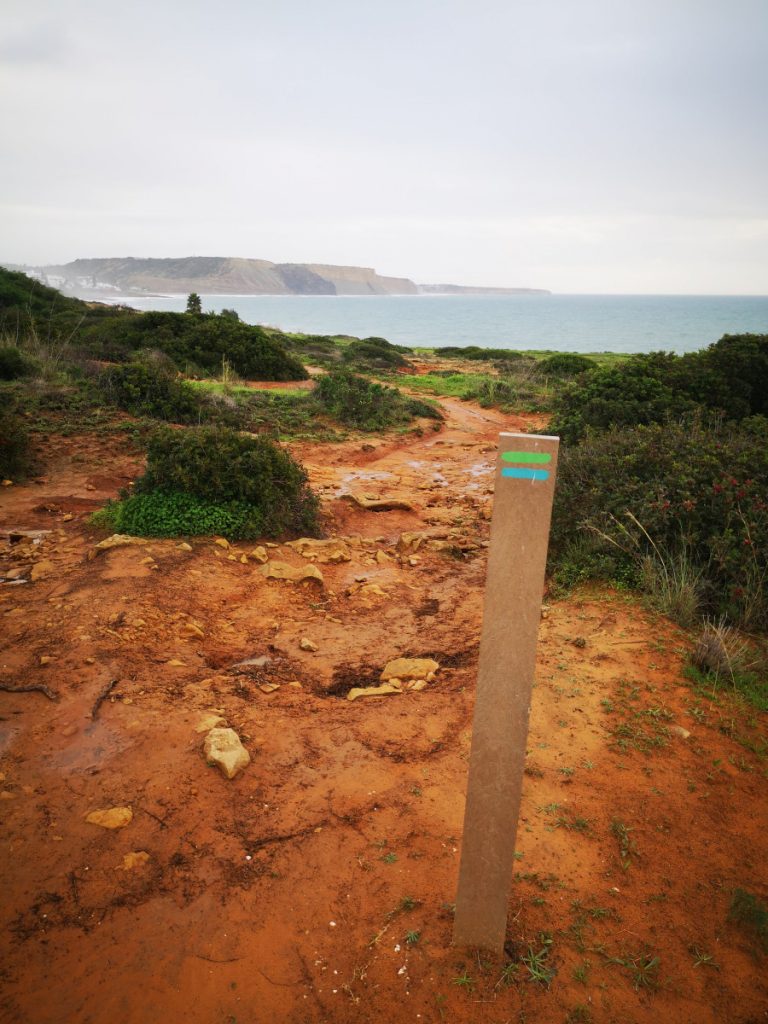 After this, I went in search of a coffeebar where I could sit comfortably. I soon found one after walking along the beautiful long boulevard of Luz. I could sit inside and after the first coffee it started to sputter a little and after the second it broke loose. Then I ordered another fine sandwich and after that I could move on.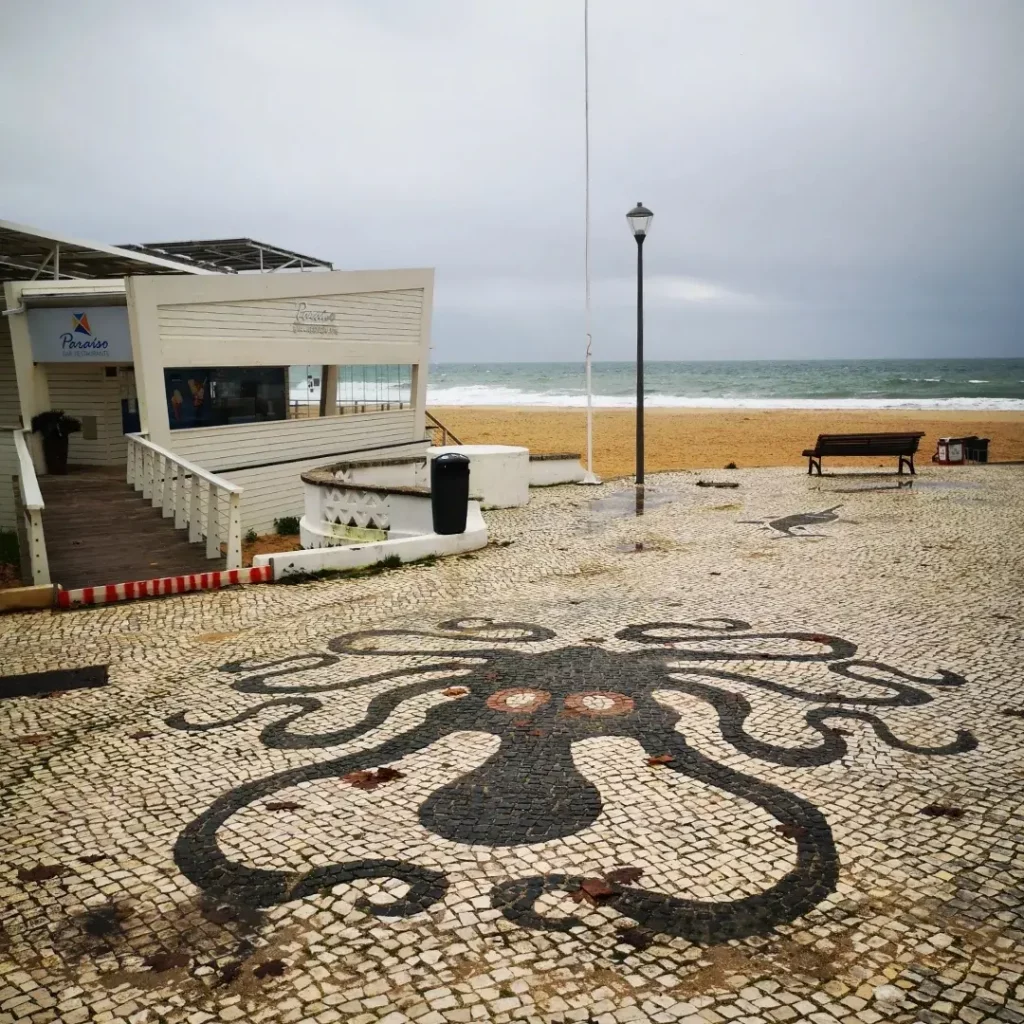 Stage 13 – Luz to Lagos – 11km
The sun came through again and after the village of Luz I had to make a steep climb up. It takes a while but then you have something afterwards. A great view over Luz and the Atlantic Ocean. Luz is not a village…as I just said, but it is quite a big place!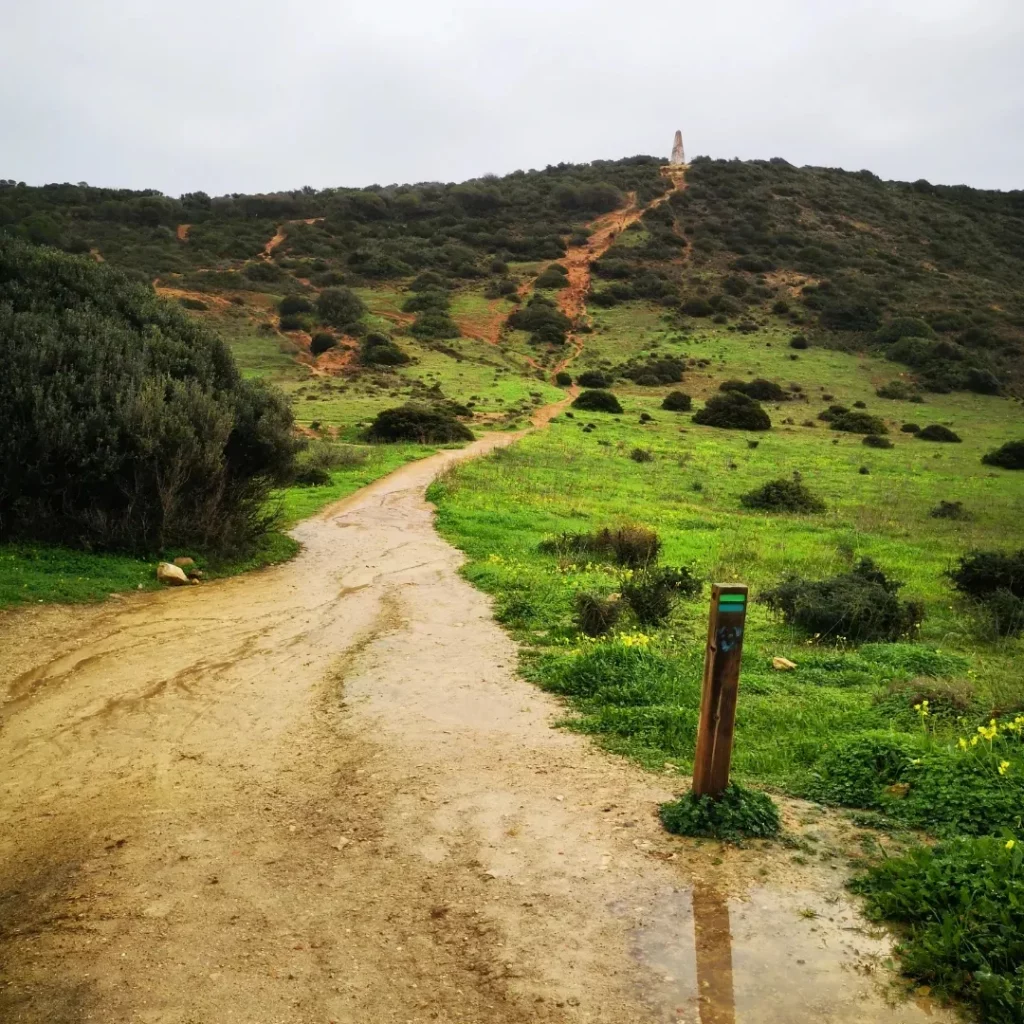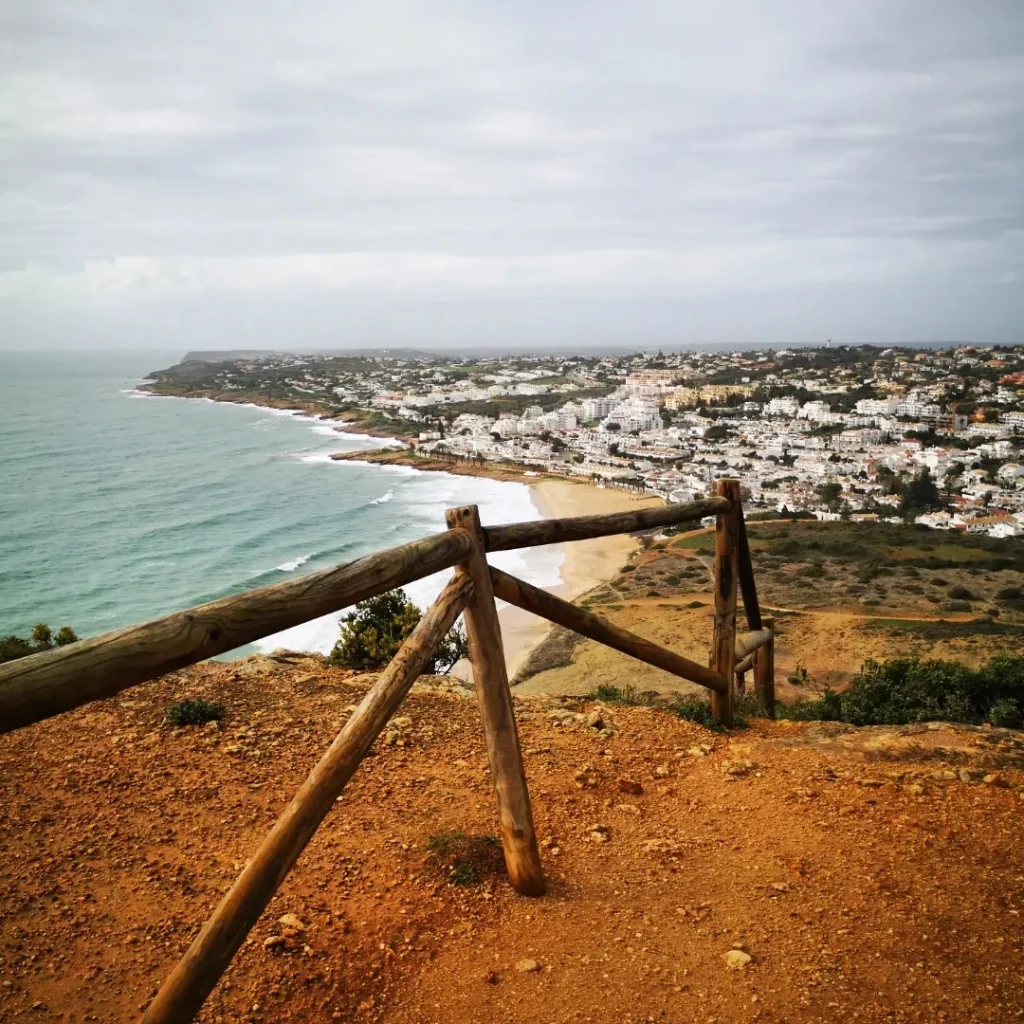 I was allowed to keep walking at the top for a while, in the sunshine and with fine views. After a while, the path went down again and I ended up in Porte do Mos. Again, there were two coffee shops but I didn't feel the need yet. I sheltered briefly with an elderly German couple in a bus stop and then walked on. A short distance through a neighbourhood and then along a great elevated wooden path. They have quite a lot of these along the coast. It's a lovely walk, of course, and accessible to many more people this way.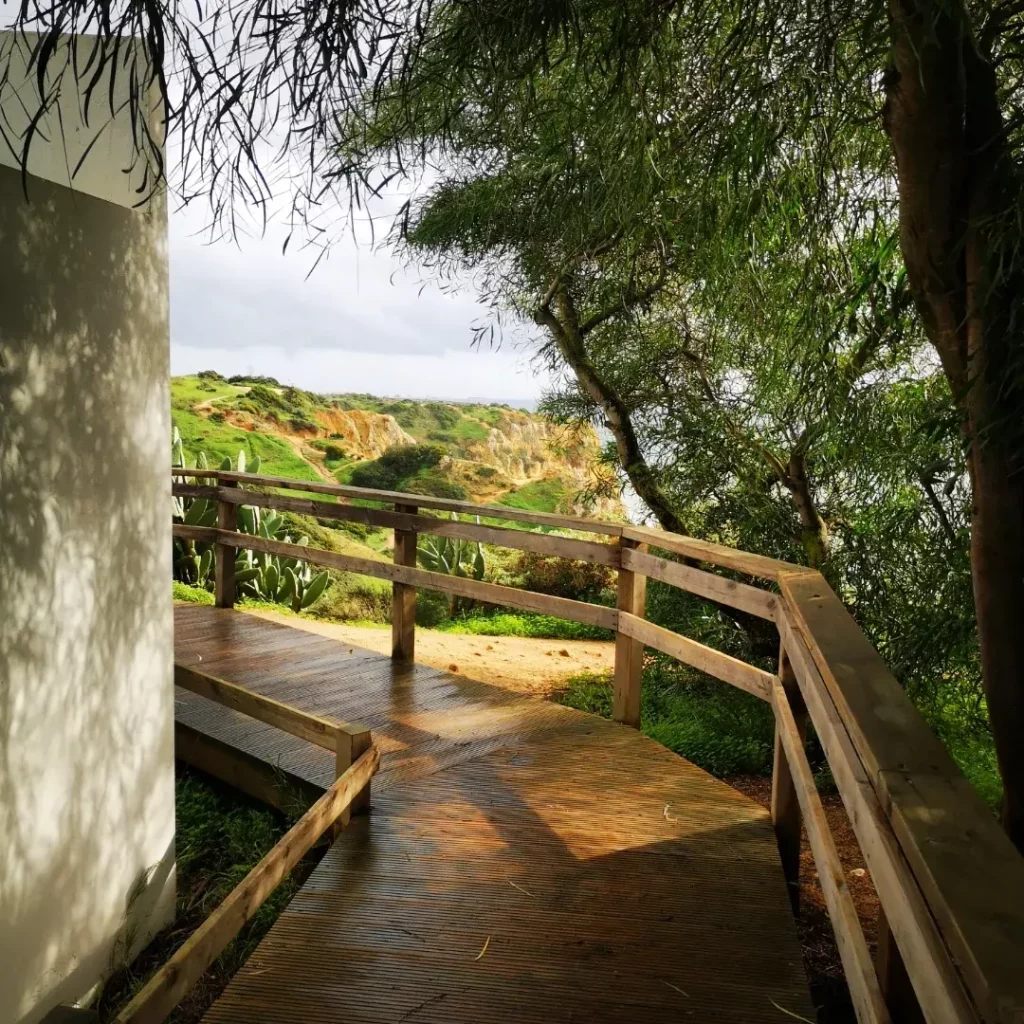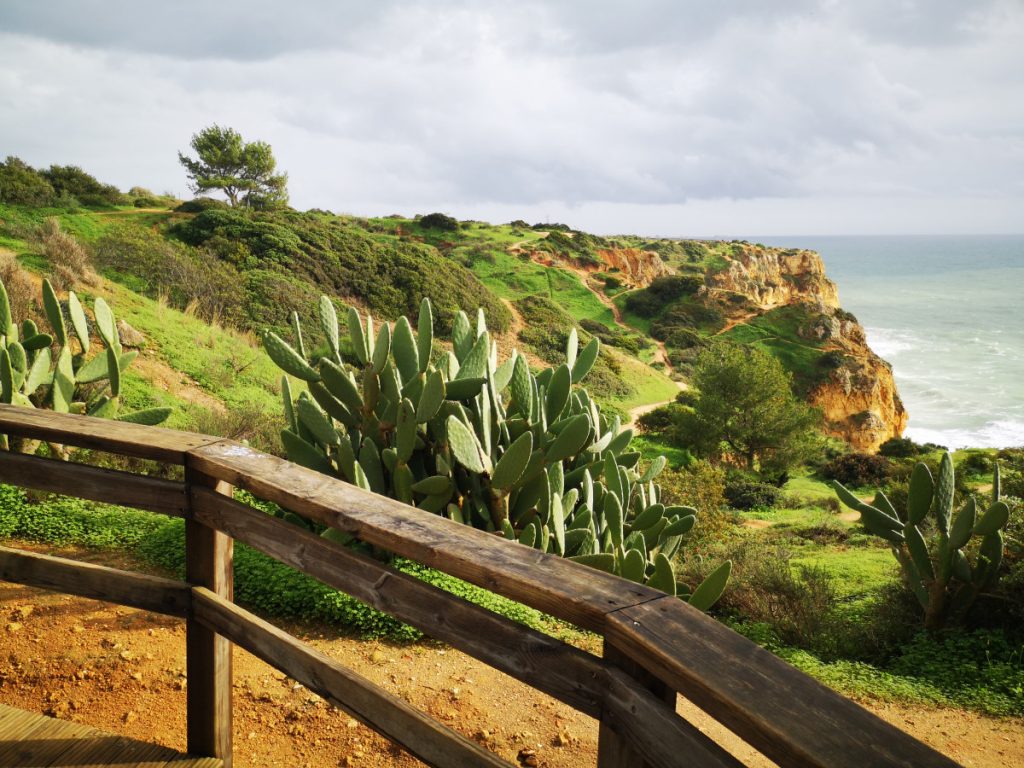 After passing by a golf course, I found myself walking in a nature reserve where I met many people. After quite a while I walked towards the tip of the country and ended up at a lighthouse. The route there was not entirely clear so I ended up in front of the lighthouse, when I looked more closely on the GPX I saw that I should actually have walked behind the lighthouse. Well, they must have done that for a reason so I walked back a bit. I'm so glad I did… Otherwise I would have missed Ponte da Piedade!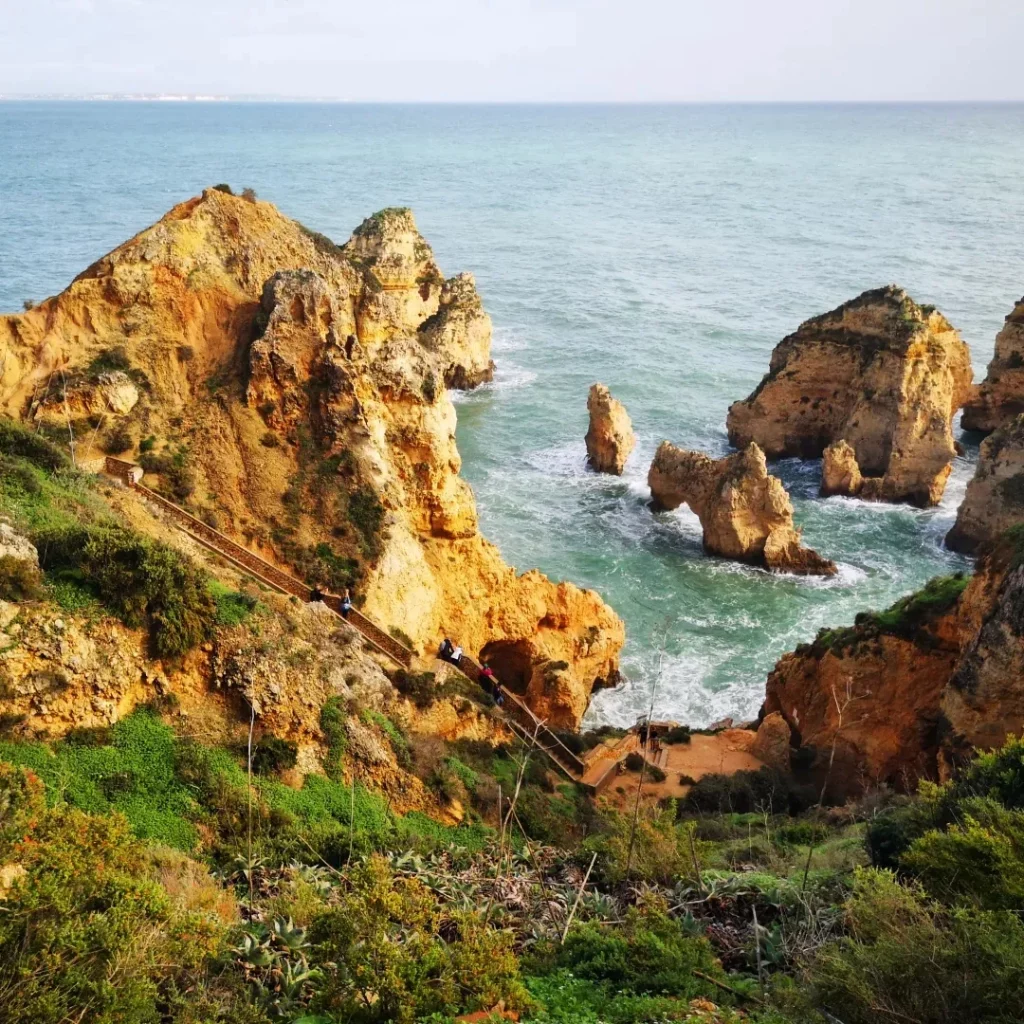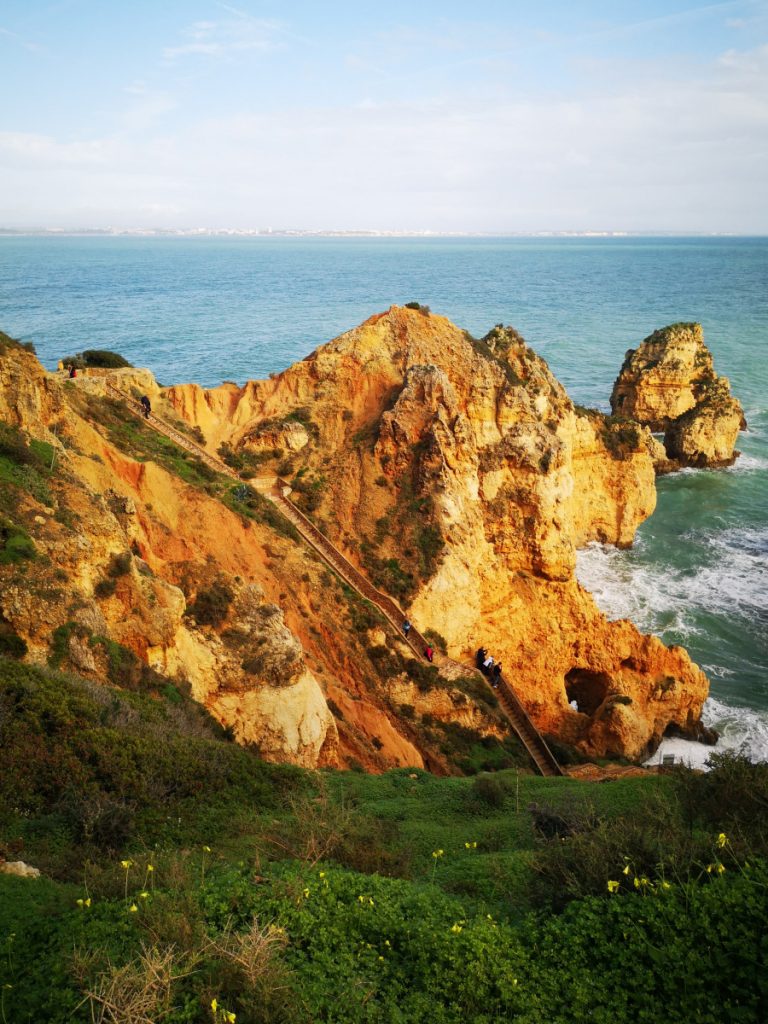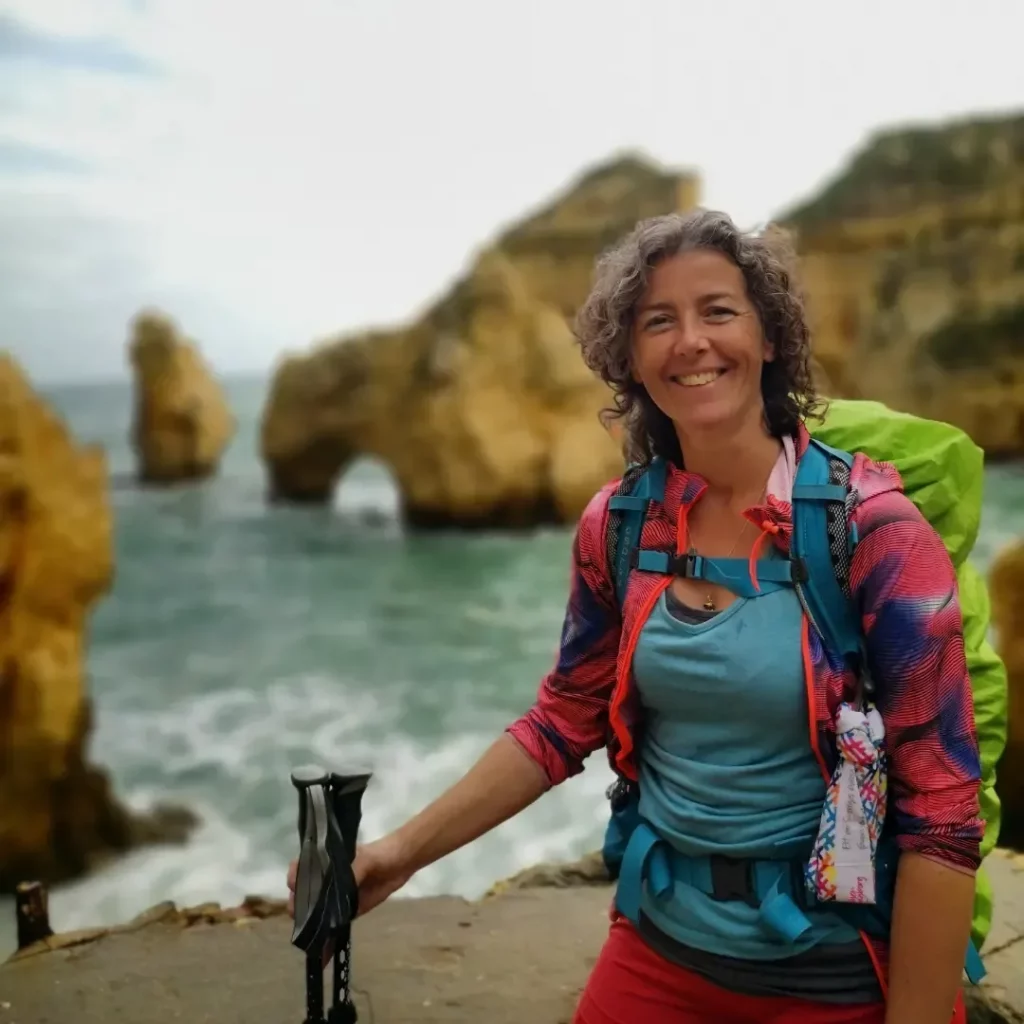 What a beautiful piece of nature! A nice staircase has been made so you can go down and get close to the raging waters of the Atlantic Ocean. I saw a man, in swimming trunks, standing there. Behind him on the wall, I also saw a sign that boats would moor there. I did not see those boats but that man did his best to jump in several times when the waves were not too violent and get out quickly.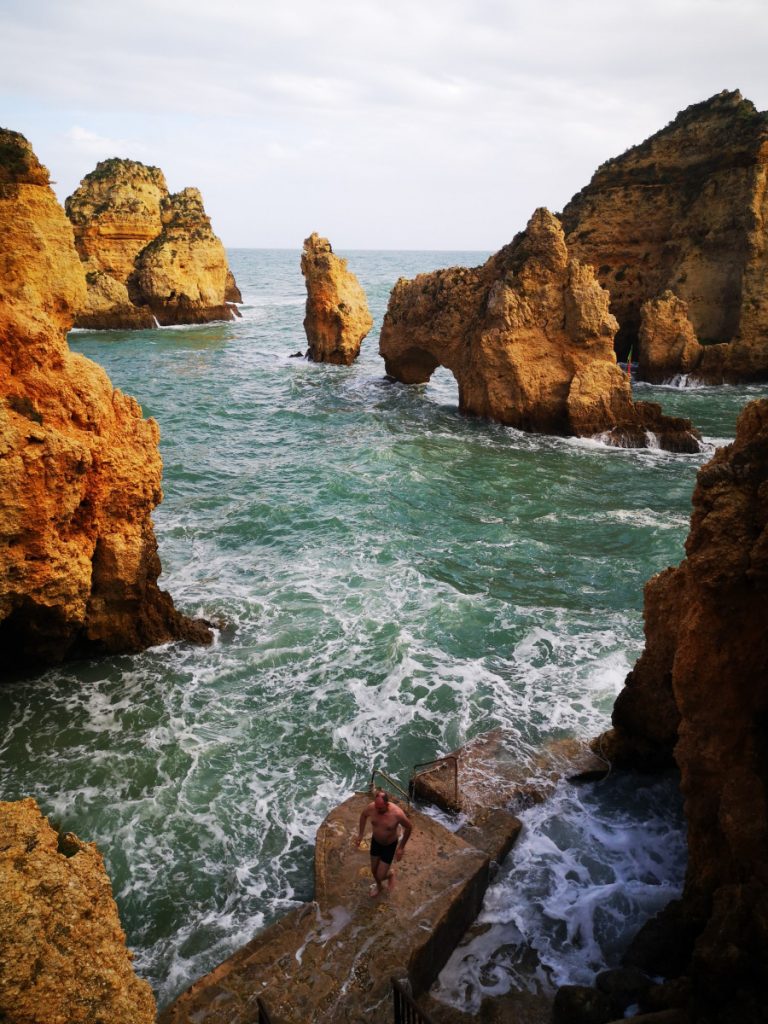 If that would not have gone well then all of us would have witnessed that … No one could have saved him…. Pretty strange for someone to do something like that… But yes, fortunately it went well and he got his kicks… that radiated off his face!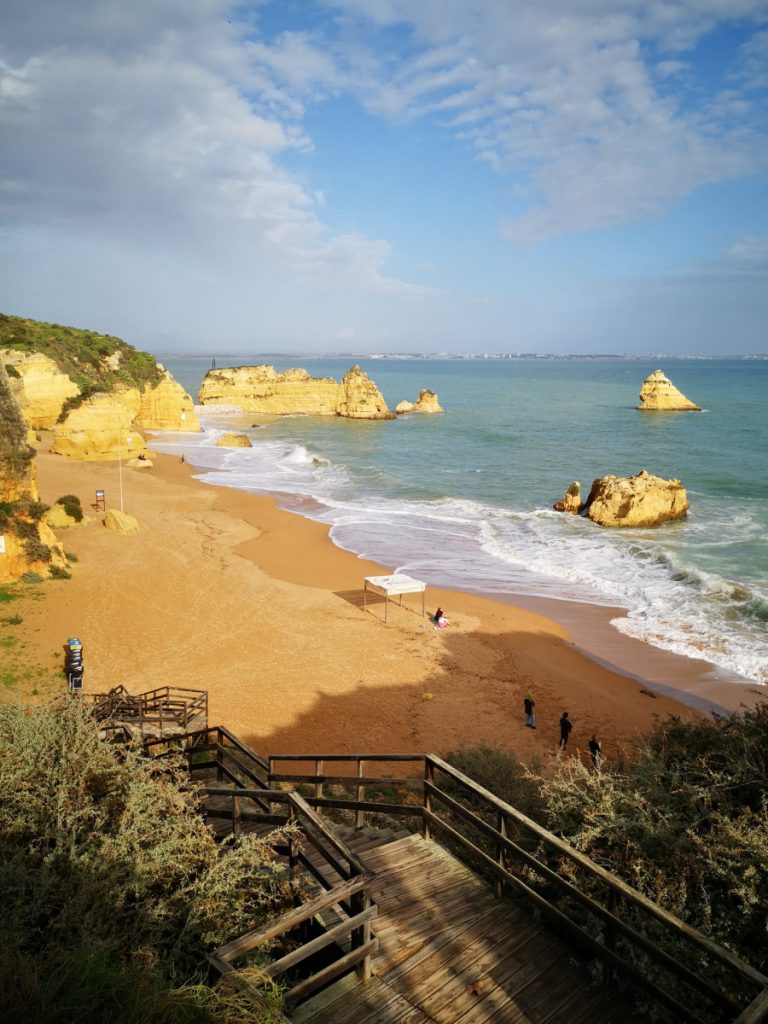 After this beautiful piece of nature, I walked along the main road for a bit before walking from beach to beach and finally onto the Lagos promenade. Past a fortress, past a church and finally at the port. Right behind it was the sign for the Rota Vicentina…. The 0 point for me. For others, the starting point perhaps!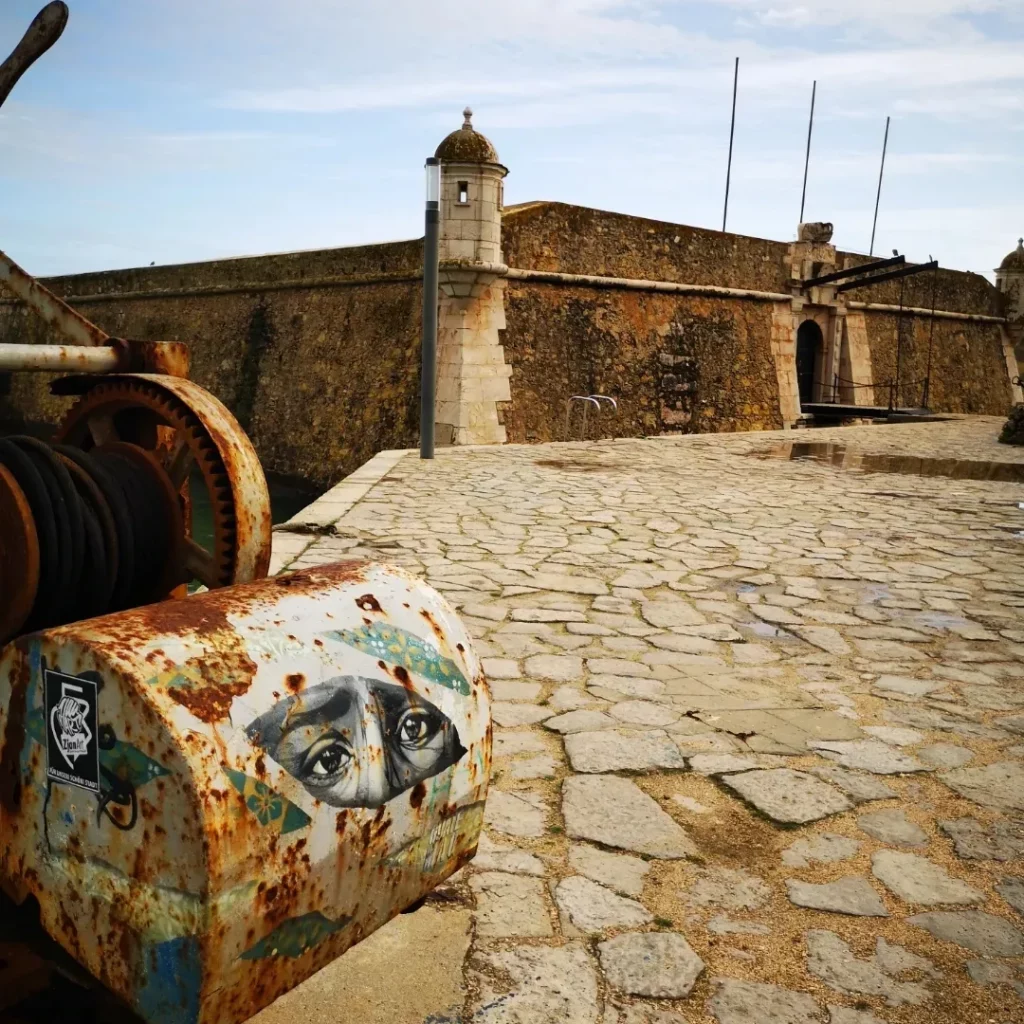 I had done it… At least, pretty much of it! 3 stages I skipped…. Someday I will do those because…. I'm also really keen to do some more of the Historical Way. I thought that one was super cool too! But for now I'm in Lagos and have some time to go and see that city tomorrow…and the day after tomorrow!
We'll see!!
Will you share this blog?
Or save it as inspiration for your next hiking trip!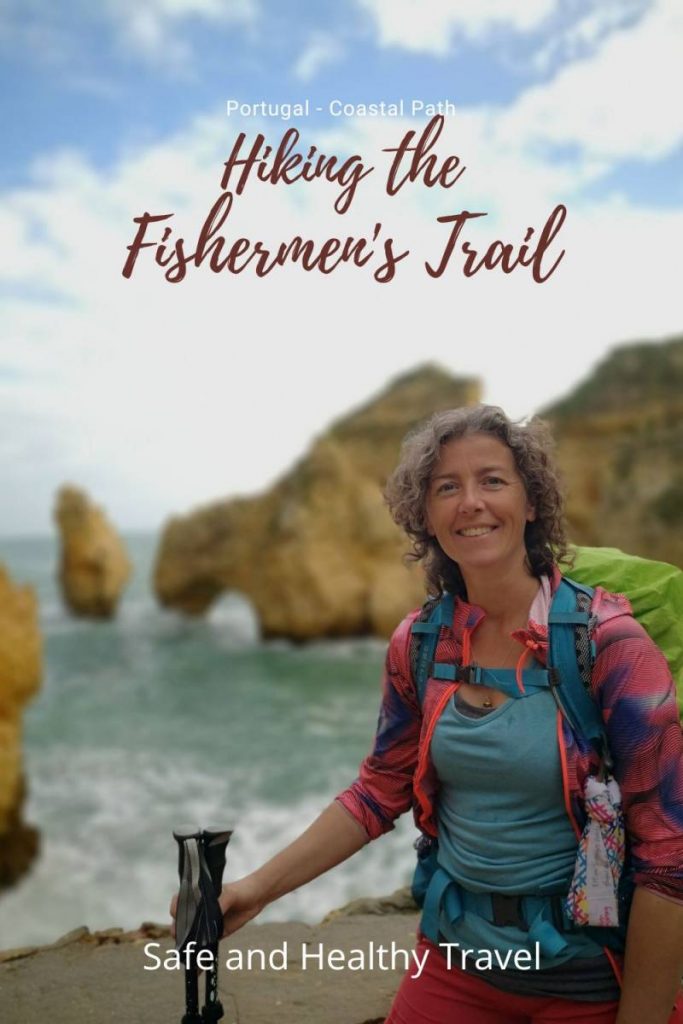 Looking for some more?
Hiking in a Wadi – Oman / Jordan
Doing a 8 days pilgramage in Spain – Camino Frances
8 days on the Alpe Adria Trail – Austria
Or check hiking in my part of The Netherlands
I hope you enjoy this beautiful world as much as I do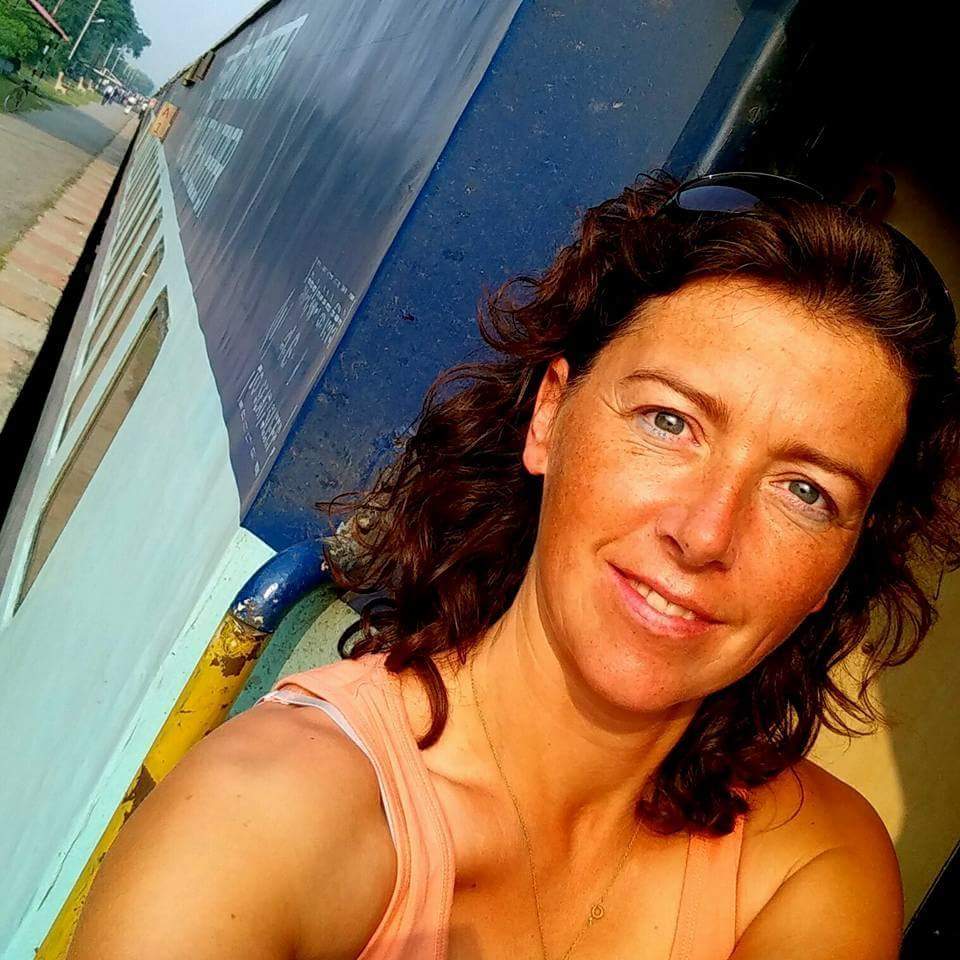 Jacomijn is een politieagent uit Nederland die jou graag laat zien hoe je veilig, actief en gezond de wereld kan over reizen. Safe and Healthy travel is a MUST