The Externsteine in Teutoburg Forest – Horn-Bad Meinberg
|
A few years ago, when I went on another bike ride with some of my colleagues… …Dutch, German and Polish… we passed this unique spot in the Teutoburg Forest, the Externsteine. I just found out that the path the Hermannshöhen passes here. So this hike was very much on my list of hikes to do in Germany.
First of all, it is good for a weekend away, it is not so far away for the Dutch! I can easily drive there to hike a few days in this great area! The Hermannshöhen is a 226 km long hike with several stages. I did a few days of the Rheinsteig last year and I really liked that as a long weekend away!
Even though I had no vacation days left for that year…
A short getaway will always work!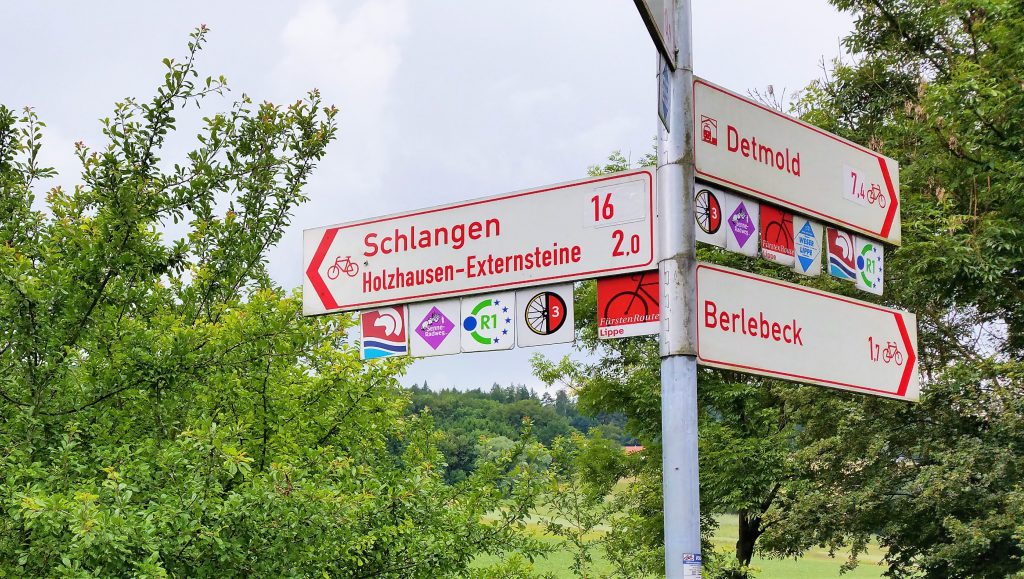 I was tipped off by a friend to look into this area and it appeared… I had already been there 🙂  Usually when people tip me off at beautiful destinations I often have to say that I haven't been there yet. Even though it seems I've been to so many places. Just the place mentioned by them I haven't been yet.
Still, I think I should go back there. We passed by on our bikes. It had rained and I didn't even climb the Externsteine in Teutoburg Forest. My colleagues / friends Chantal and Sandra did!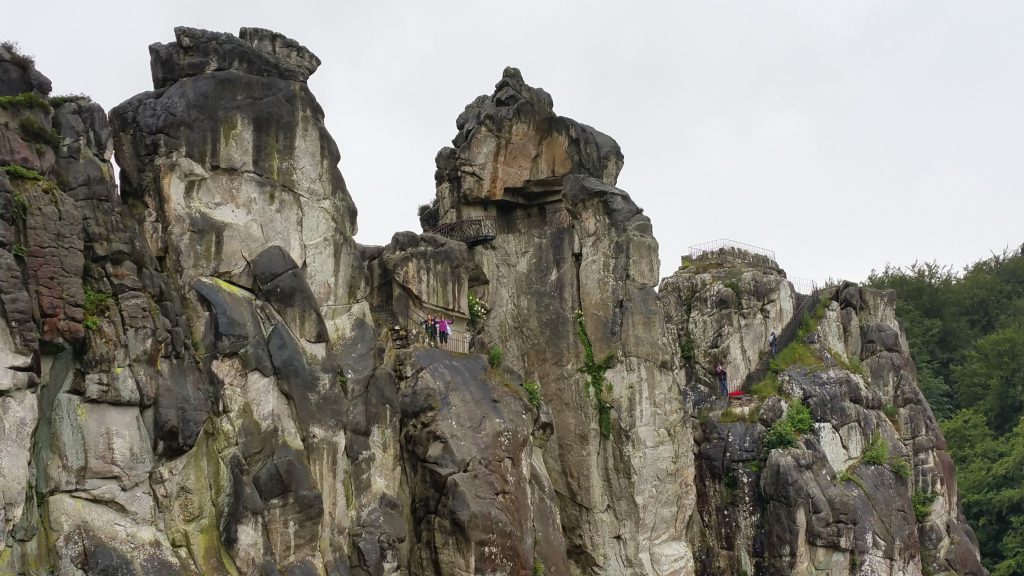 The Externsteine in Teutoburg Forest
Horn-Bad Meinberg
Did you know that we cycled a part of the R1 back then?

This is a bicycle highway in Europe that can lead you from Boulogne (France) to St. Petersburg (Russia)? This highway is 3250 km long and takes about 7 weeks to complete. Most of the route is signposted!

Maybe I really should put that on my list! I really think that would be cool!
We started cycling that day in 2016 and I didn't really know what I was going to see… I had heard Externsteine was on the program, but I had no idea! When I travel alone I prepare myself much better… On these trips I let myself be guided and that is sometimes very nice and gives me the best surprises!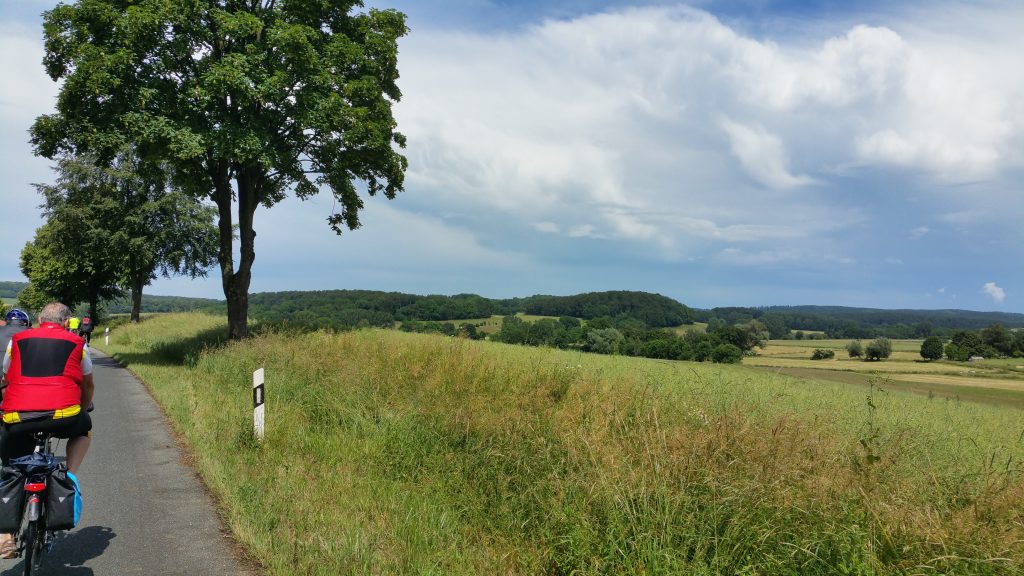 And do you think it's weird that I was very surprised when the view is mostly this?
A great rolling landscape with vast meadows and beautiful forests that we cycled through every now and then? The area of the Teutoburg Forest near Detmold.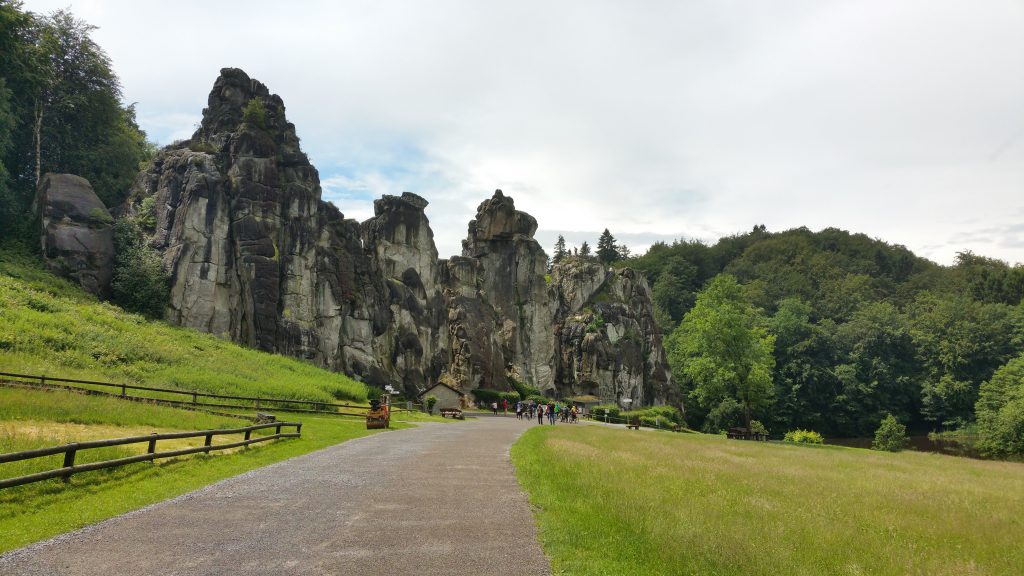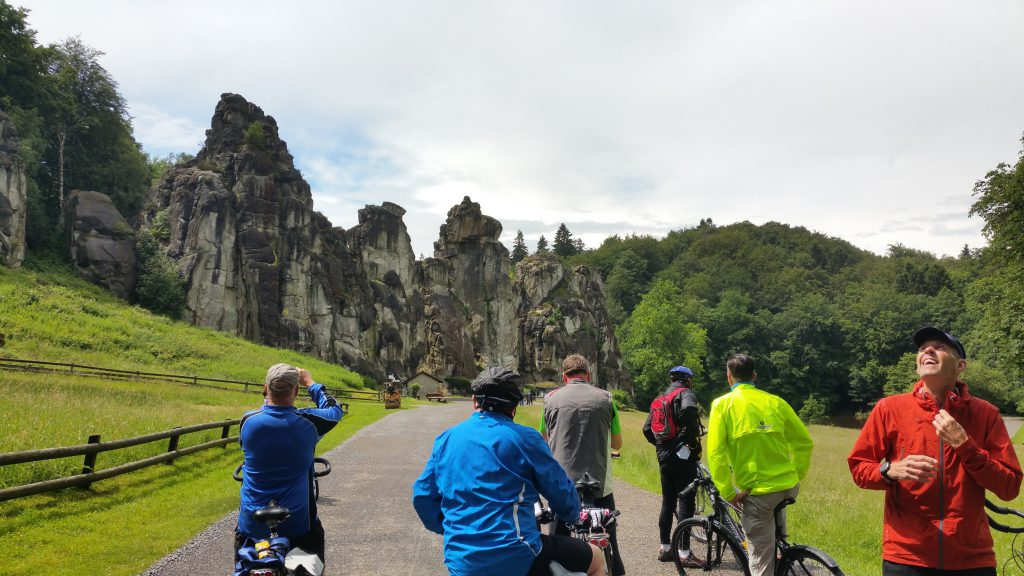 Can you imagine my surprise when we're suddenly standing in front of these huge rocks? All of a sudden, out of nowhere, they loomed up in front of me!
That's an amazing view!!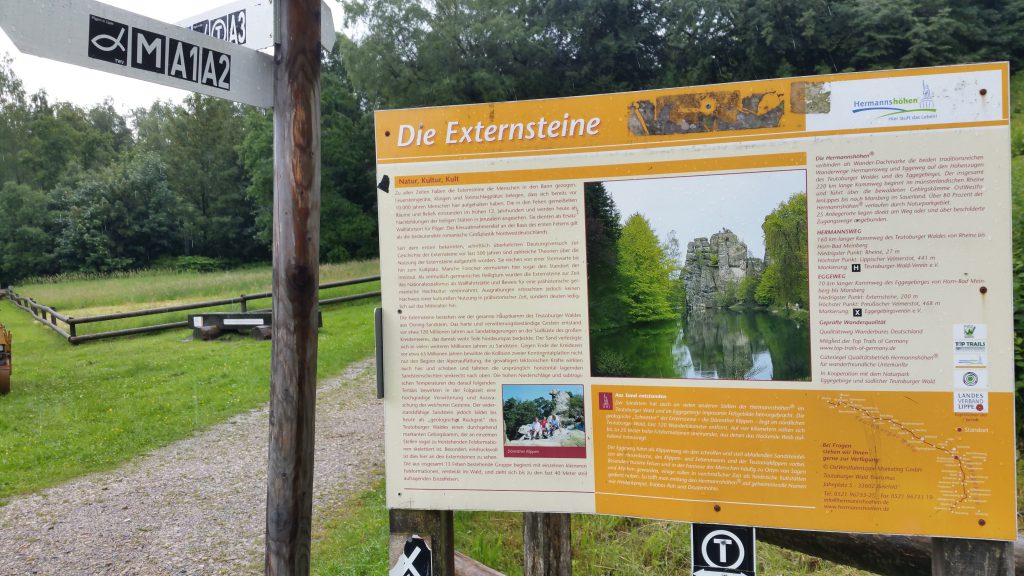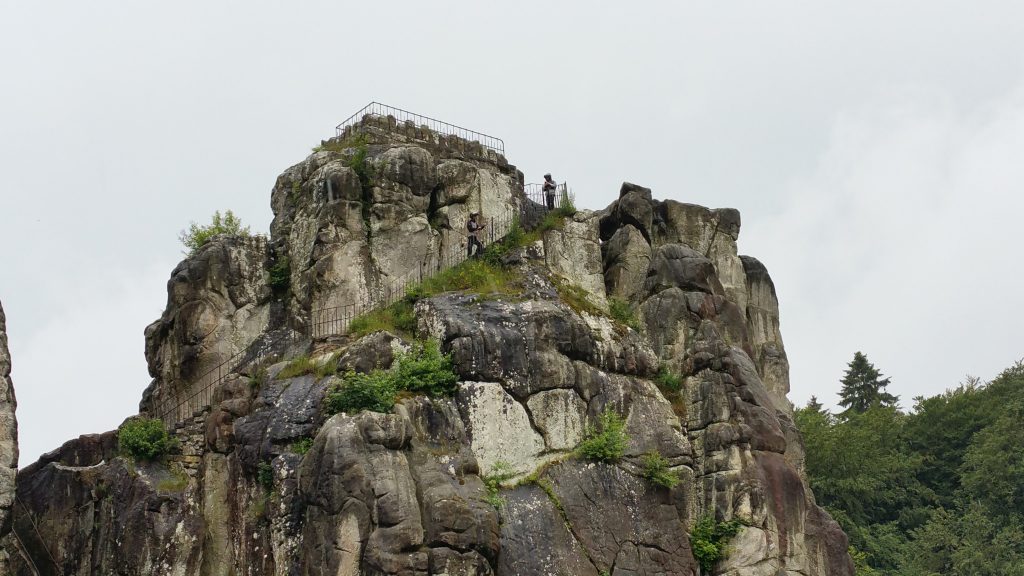 The Externsteine in Teutoburg Forest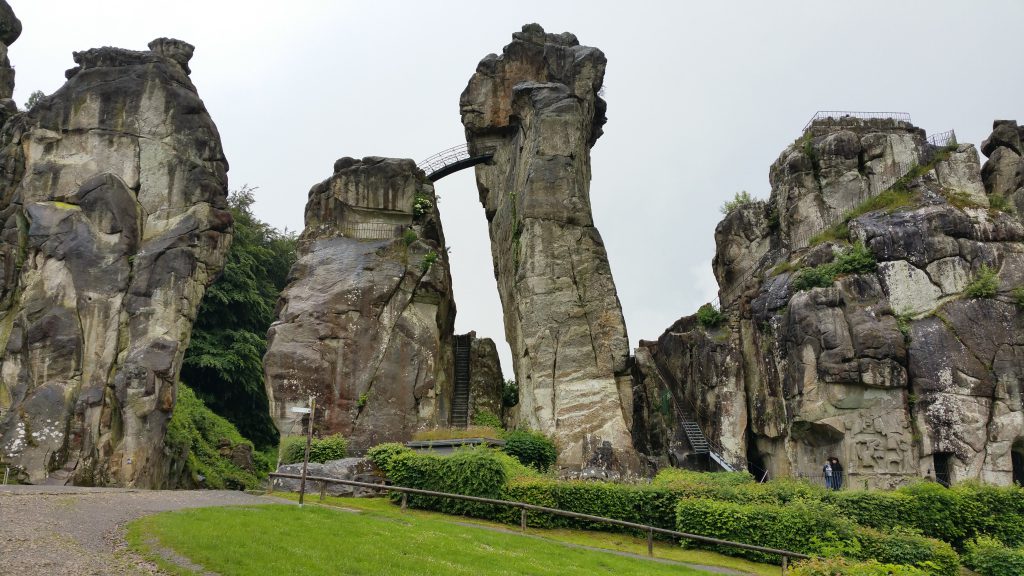 There are all kinds of stories about these stones and their function in myths. There have been all kinds of Germanic tribes in different periods in earlier times with their rituals or Celtic gods who were worshipped by their worshippers (druids/ witches). There are different spaces inside the rocks, different notches that indicate these kinds of visits and times.
Super interesting for a new visit where I spend more time on this place.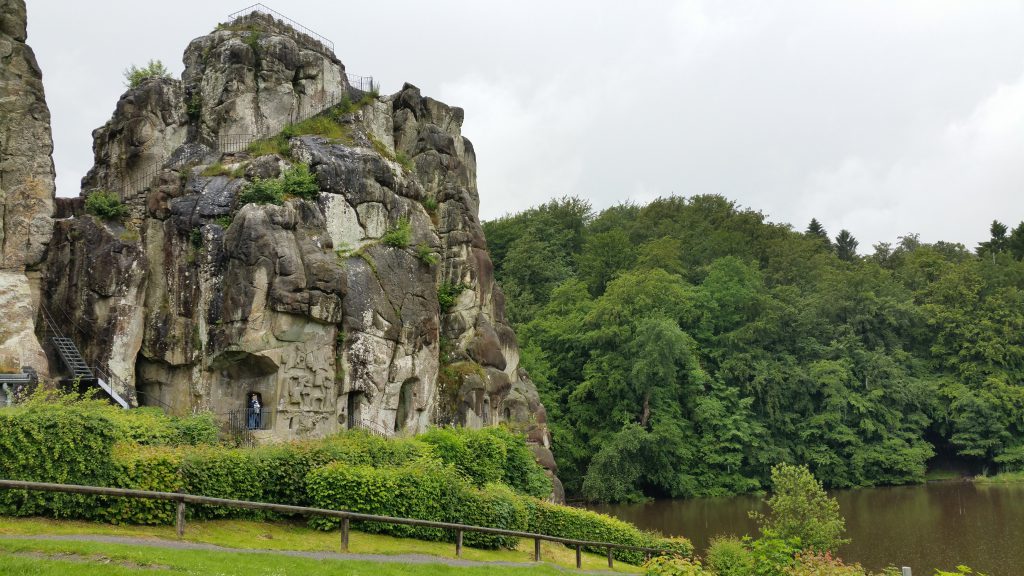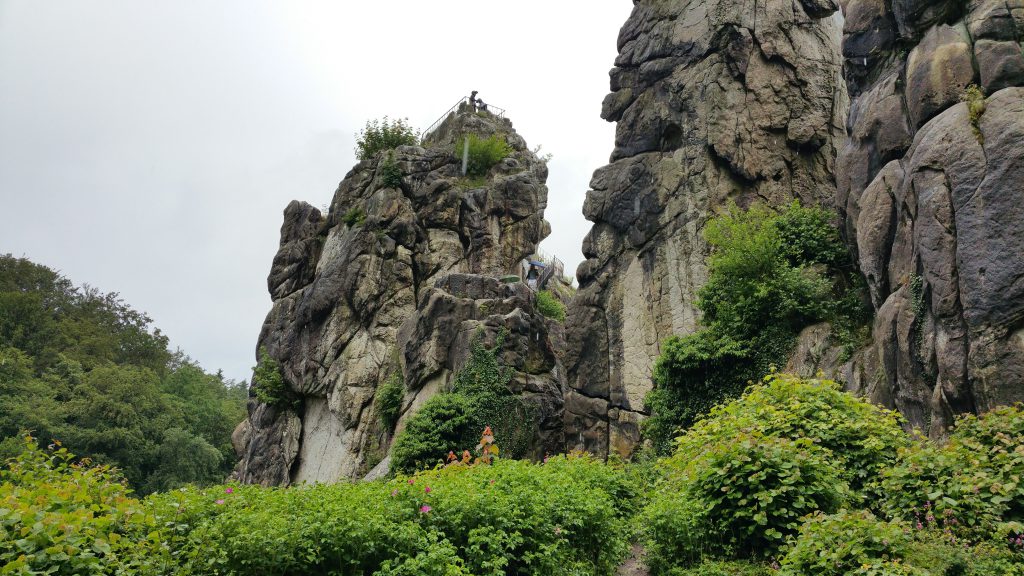 In 2016 I quickly cycled through the beautiful rolling landscape of the Teutoburg Forest again!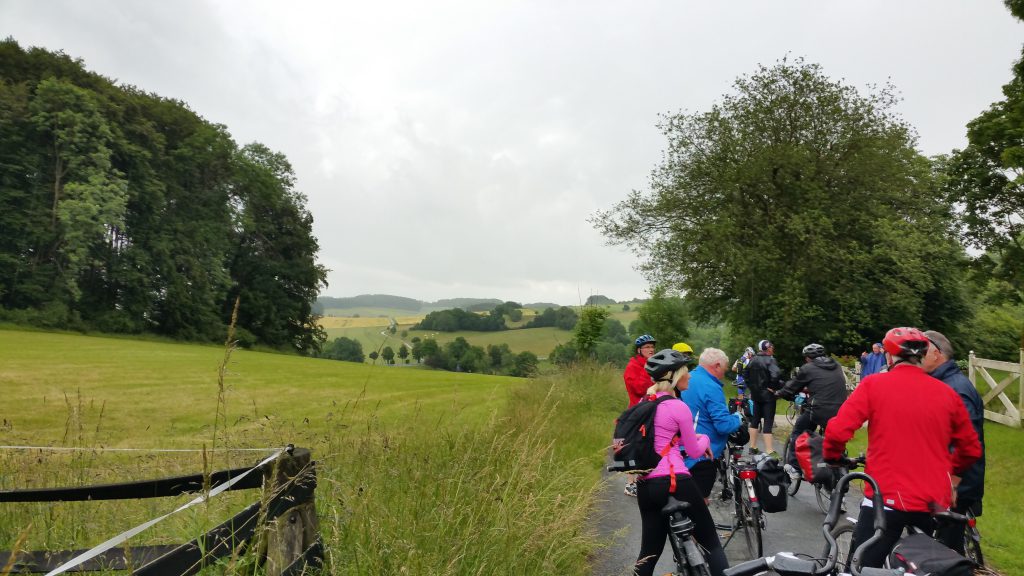 I want to be here a little longer… and what better way to do that than walking around here?
Soon after this blog I did got time to go and hike a part of this route! Read more about that weekend on the trail Hermannshoehen

Staying in the area?
If you would like to stay in the area, you have a choice of different cities.
Very nice city with a beautiful historic center.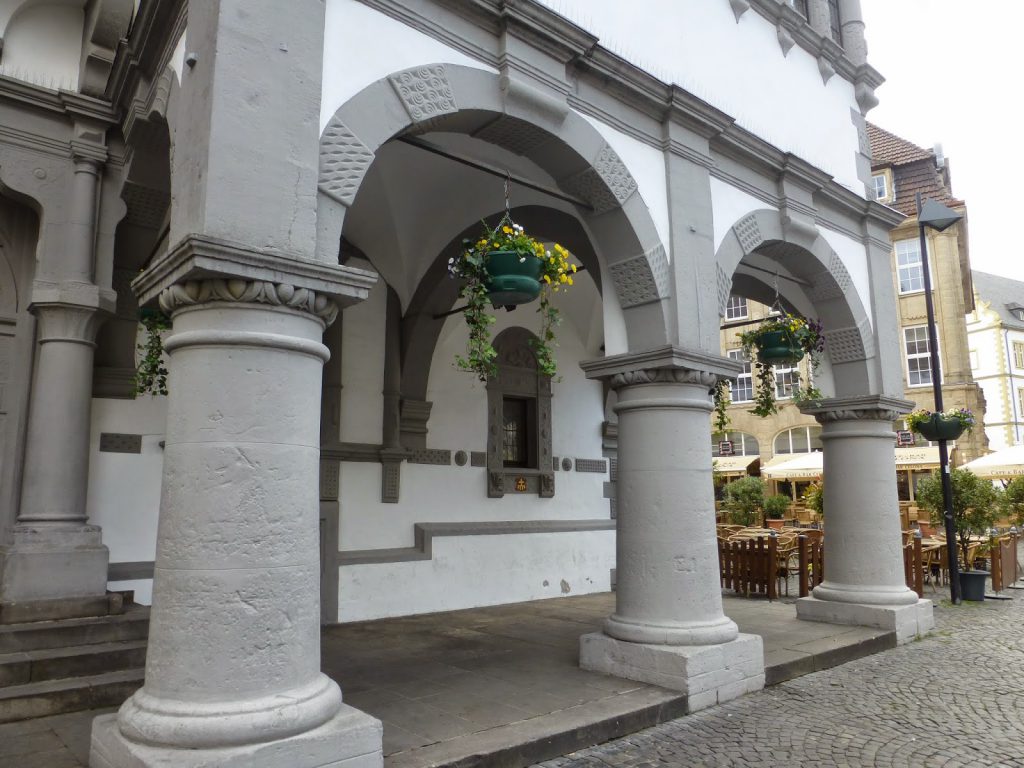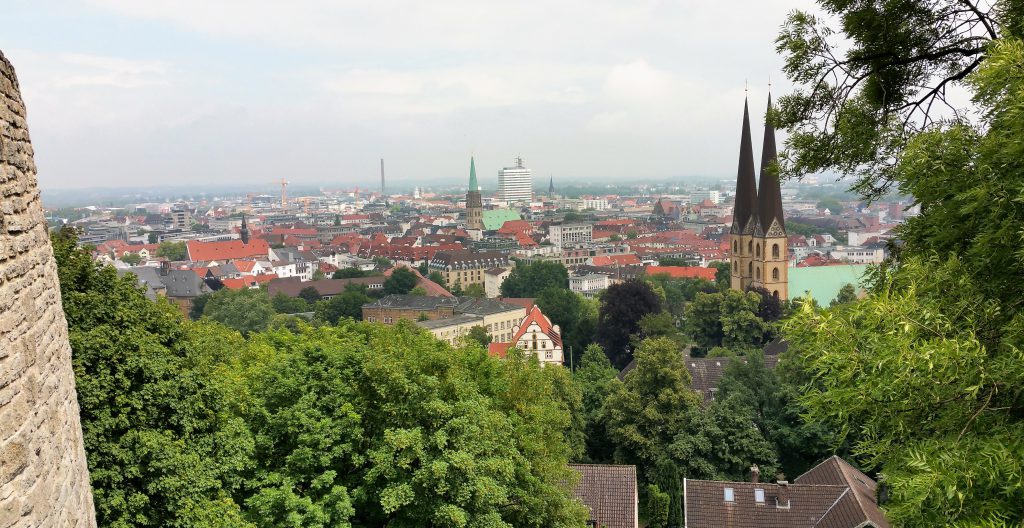 Known from the Pied Piper of Hamelin, of course. I have never been there but of course it is also a very nice option in the area!
—
Walking through Warburg – Germany
Yoga Pose  on the Desenberg – Warburg
Visit Medieval Monschau – Eifel – Germany
Discover Fortress Muiden – Netherlands
Sharing? #sweet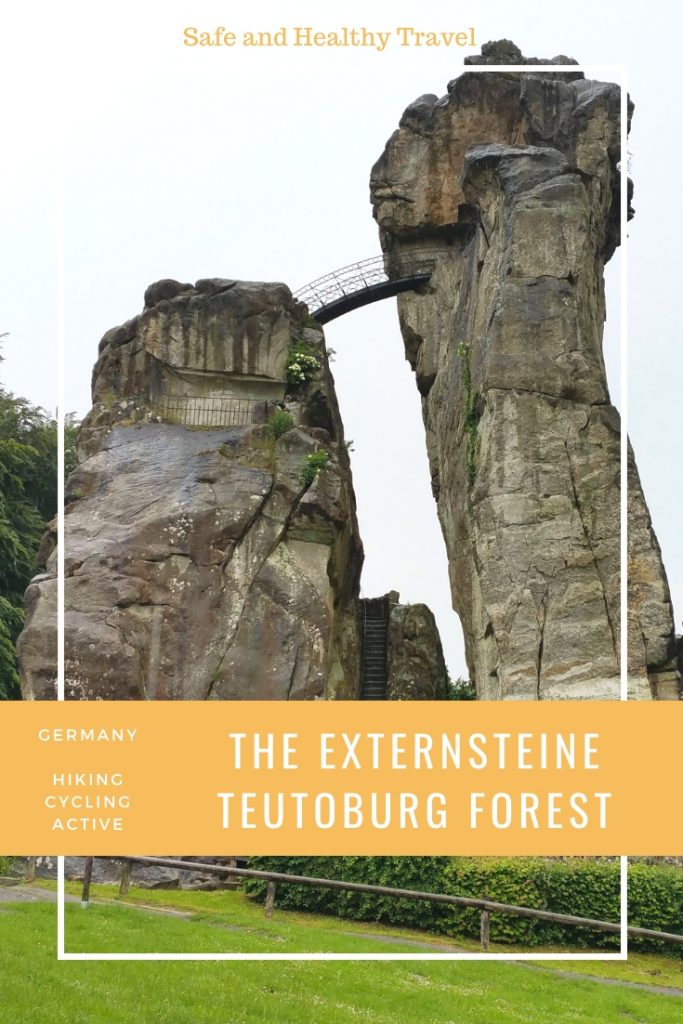 Or would you rather go on a road trip?
Then check out the Eifel:
I hope you enjoy this world as much as I do!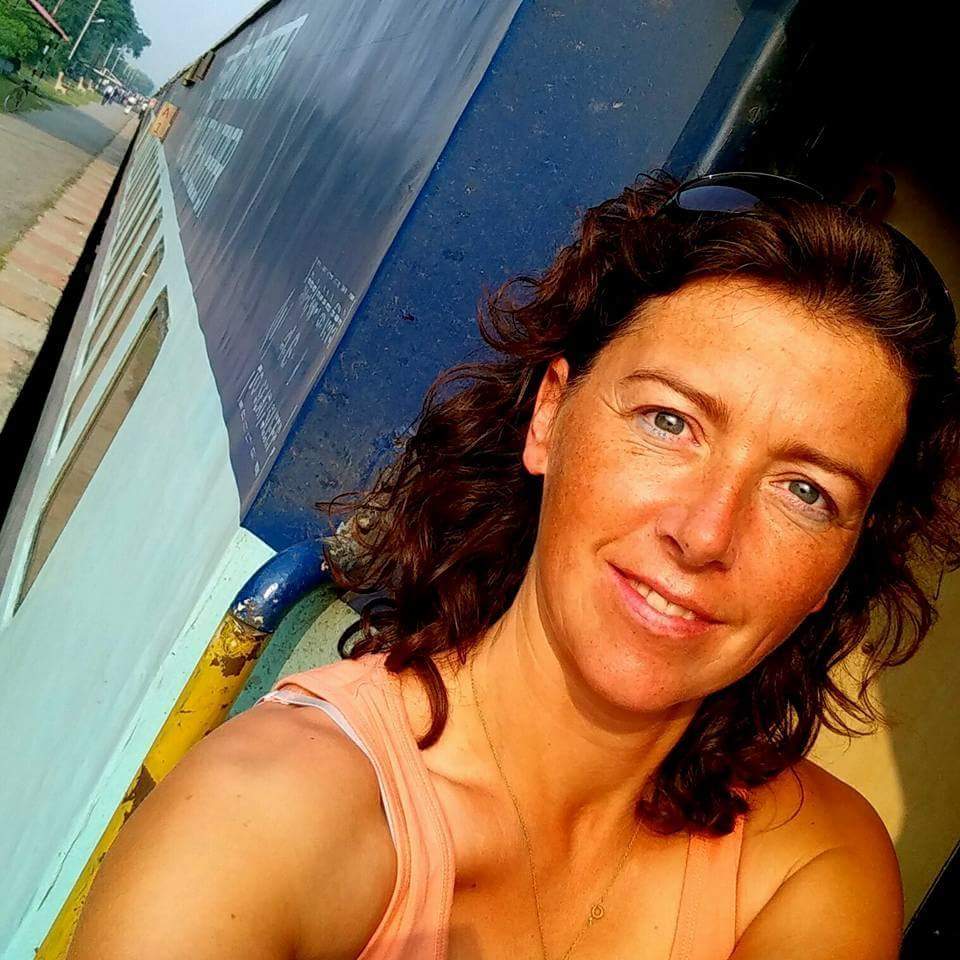 Jacomijn is een politieagent uit Nederland die jou graag laat zien hoe je veilig, actief en gezond de wereld kan over reizen. Safe and Healthy travel is a MUST