Dive into the StreetFood Culture, Mumbai – India
|
The tasting of Streetfood already started at the place where we met and the Tour started. It was at the metro station Churchgate that we got our first streetfood. It was a piece of bread with some kind of meatball in it…only it wasn't meat of course 🙂 It was vegetarian but tasted great and spicy!
Streetfood Culture in Mumbai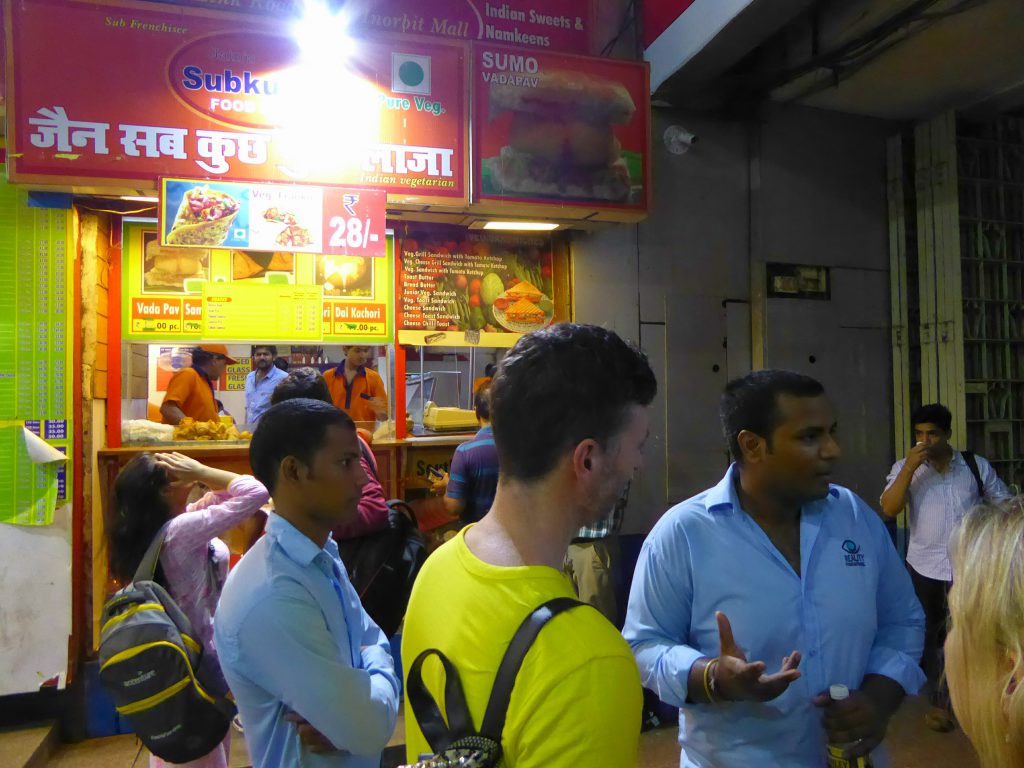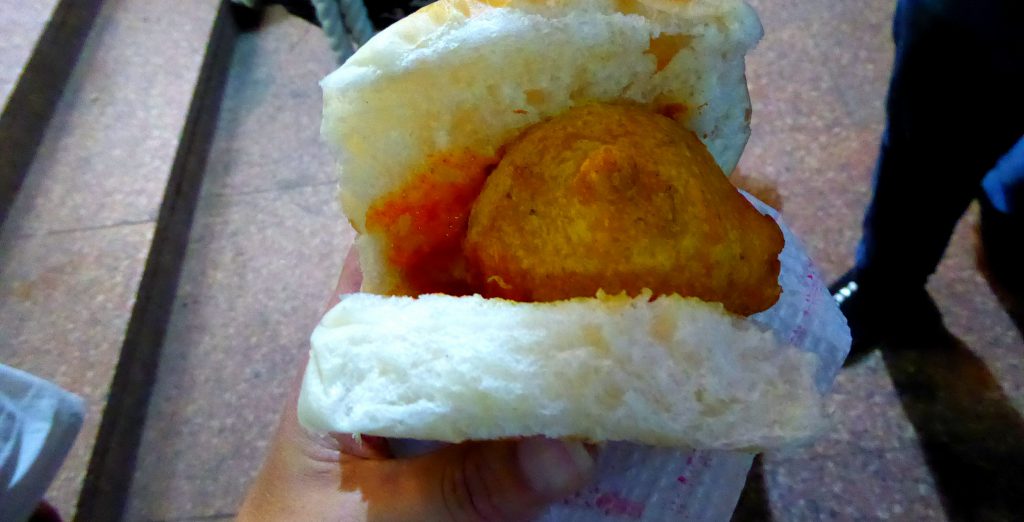 Eating this filled bread we walked towards the train, we went to the first spot to taste some great dishes. We went to the beach, great!! The sun was already setting when we came there so we could snap some nice pictures along the way.
Chowpatty beach is very busy at evening time. This beach was at Marine Drive, a famous and well known street where many people walk and drive their car. I did know already that the beach is more busy at night from my visit at Papanasam Beach in Kerala. It is such a different culture then we know in Holland or Europe. My dad and I were here earlier, our favorite coffee shop was across this beach 🙂 Simple but great when it is hot, it's not a local place but the Cafe Coffee Day and we could cool down at this place with a nice cup of cappuccino 🙂
Chowpatti Beach – Mumbai
We were told what we got to eat and where we would sit down but first we got  a pani puri. I had that before in Delhi, I loved it! My friend Smriti introduced me to that and it is delicious!! It is a hollow fried ball and they fill it with some veggies and spices and then they fill it up with mint water or hot water. Then they give it to you and you need to put the whole thing in your mouth before it gets too wet. It will fall apart in your hand and that should happen in your mouth.
All the different tasted will explode in your mouth when it falls apart…or when you bite in it. It is great!! I love it!! They will give you 4 or 5 of them for an certain amount of INR.

Pani Puri – Chowpatty Beach

After this streetfood treat we sat down at the beach. It didn't took long before more great food came our way. It was a mix of potato, herbs, spices made into balls and chutney and some fried chickpea along the side of it. The combination was delicious! They also had another combination of this kind and they were all great!!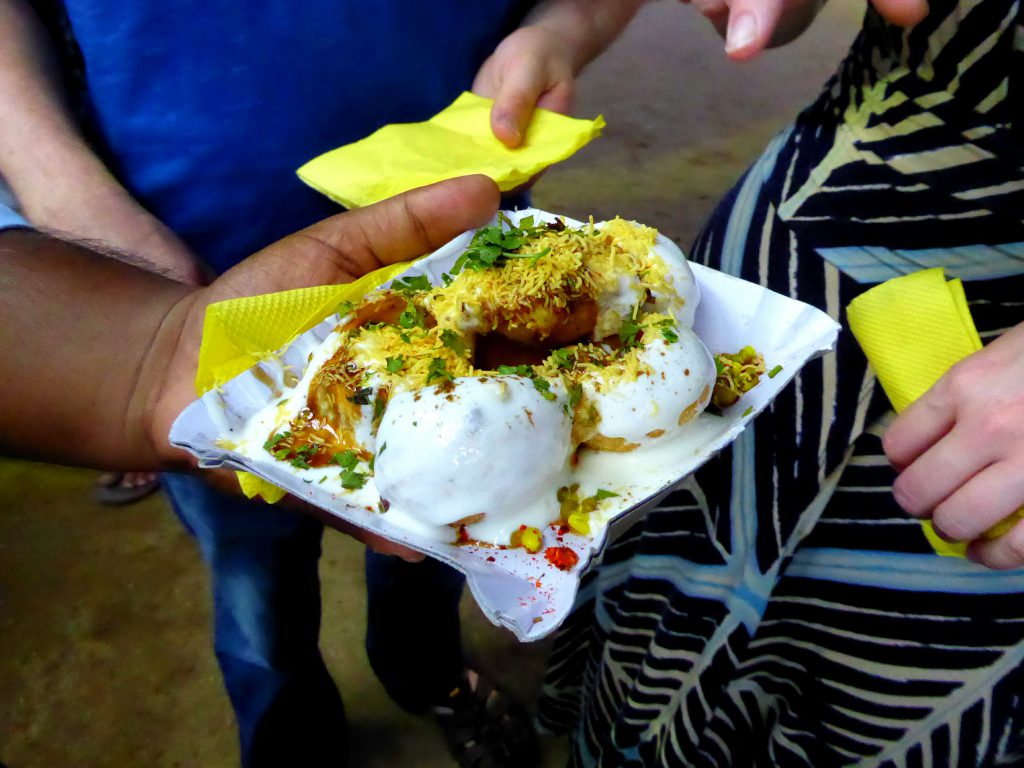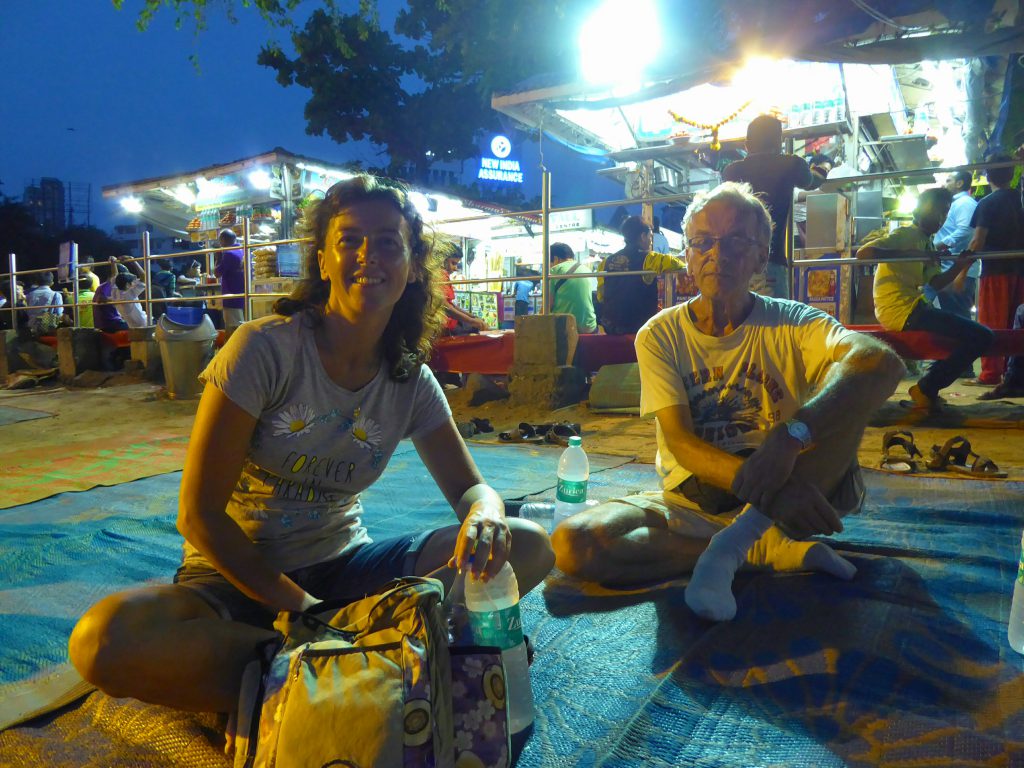 It was all great and we eat a lot already and started to get full of all this good streetfood.

But before going to the next location we got an ice cream, the local favorite Kulfi.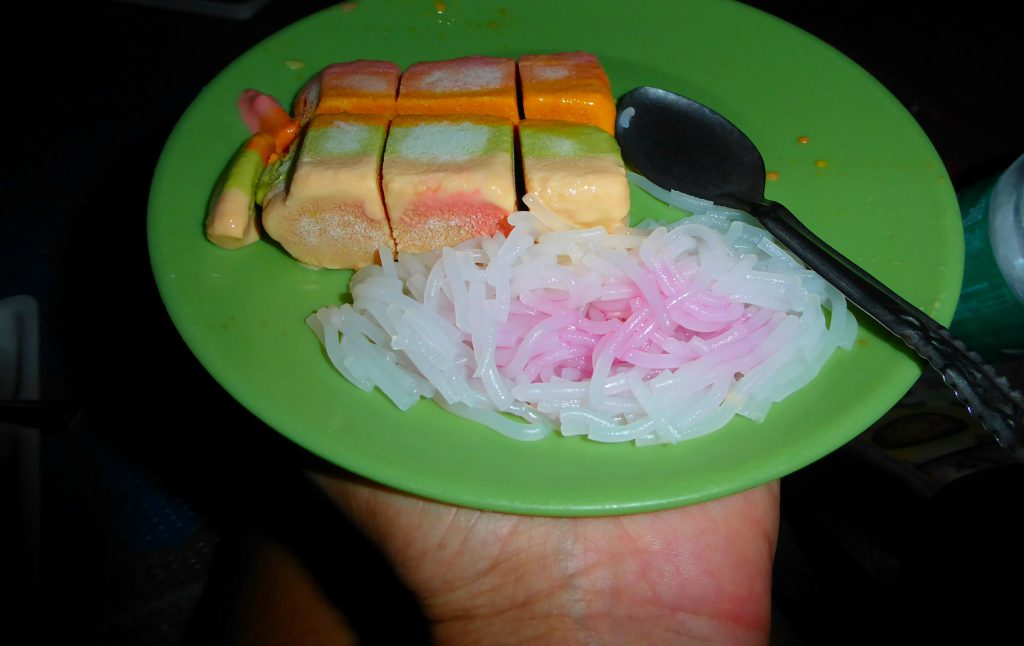 So we went to the next location, by taxi. We went to a part of Mumbai that is Muslim and so a total different feeling and culture of the streets.  The big difference is of course that you can get meat here. Here we did saw goats walking the market and we all know where they end up. We walked in a busy streetmarket and went pass a great Jain Temple to go to Muhamed Ali Road. There we got a table at one of the many restaurants and the whole streets smelled like a delicious mix of spices.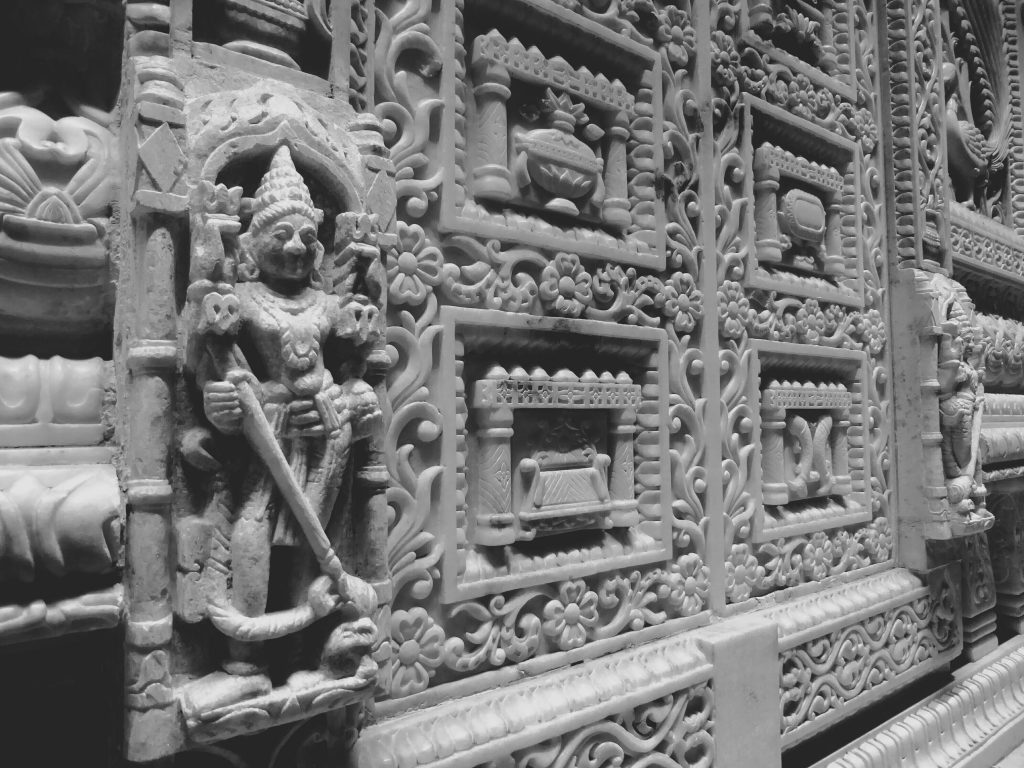 So much culture in a city.. Hindu – Muslim – Sikh
We sat down at one of the restaurants and got served from all parts of the street. We got the best of the best of this street in this one restaurant, what a service!! It were 7 dishes and we got to taste them first and what we liked we could get more.
We had sausages, meatballs, an omelet and some sort of meatloaf and all kinds of herbs and vegetables. It tasted great!! I love the way all the herbs and spices are in the food, typical on Asian food is the multiple spices and flavors combined in one dish. To make it complete you have to have sweet, sour, salt and bitter in it 🙂 I try to make it at home too….but I can't get that complete taste…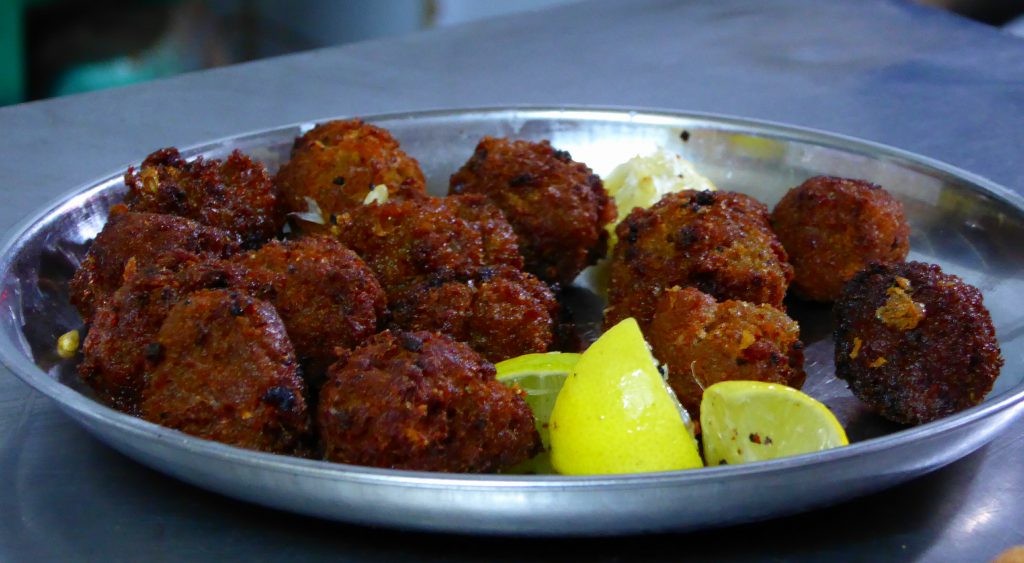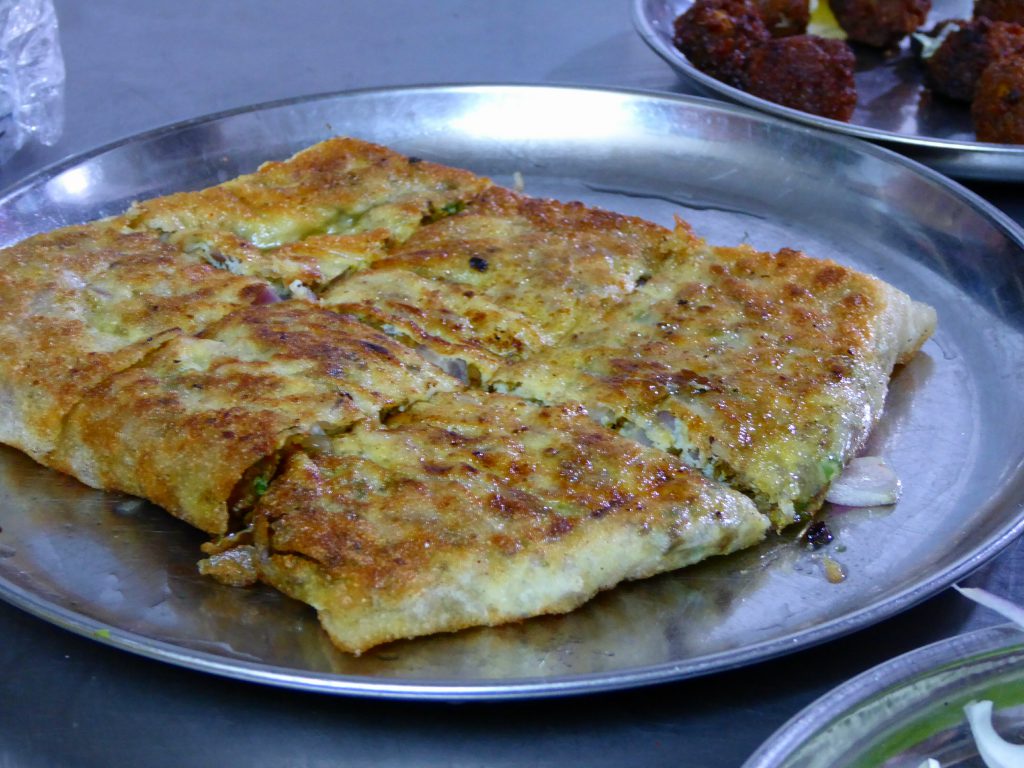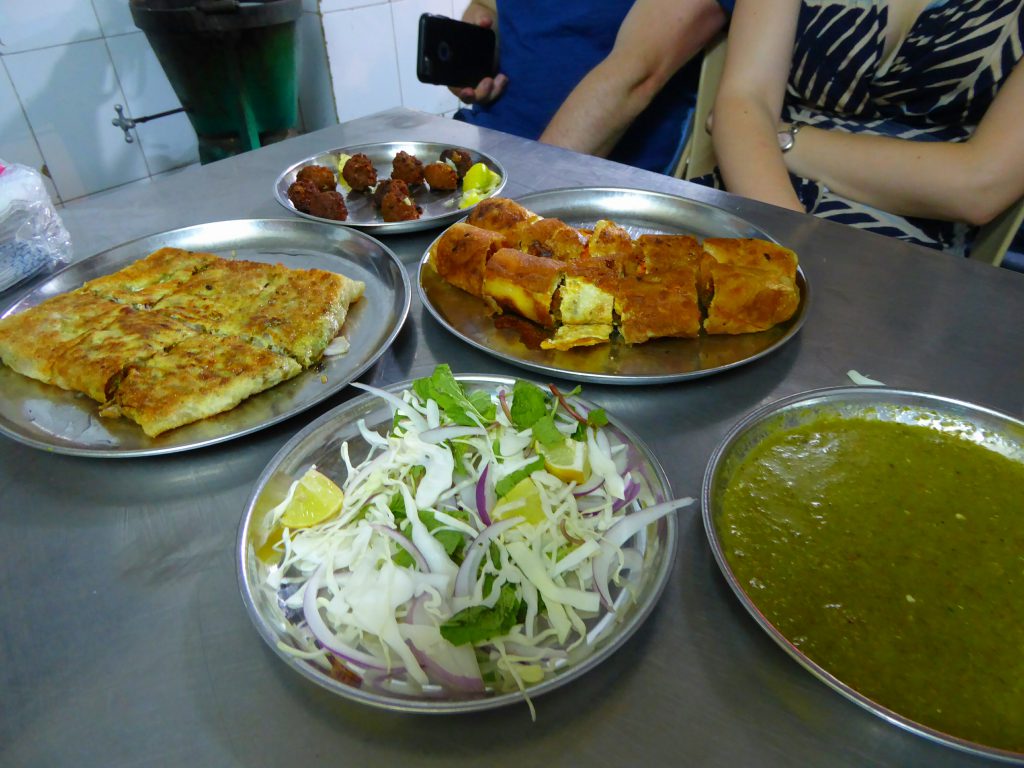 After this we took a small walk to our last stop. We would get a desert also! A good and sweet Indian Icecream. Just like the one before probably, sweet and brightly coloured. That's so Indian Culture!!
Stress situation.. Also culture 😉
I lost my dad….and another Dutch person of the group. Well…that was exciting!! My dad….alone in the big city of Mumbai…without a telephone…without knowing the name of the hotel….maybe? In the end he is more of a traveler then I am..but still… He is almost 75 and walking in a strange city.. I went searching with the guide who was worried as well.. we didn't find anybody…
I left the group without even thinking on taking a phone with me, it was still with the group. My dad did have his phone with me…he did call me…I didn't answer… They found the group by walking back the way they came… It seemed that they were talking so much that they didn't noticed the group stopping. So they just had to go back a couple of minutes. Pfieuw!!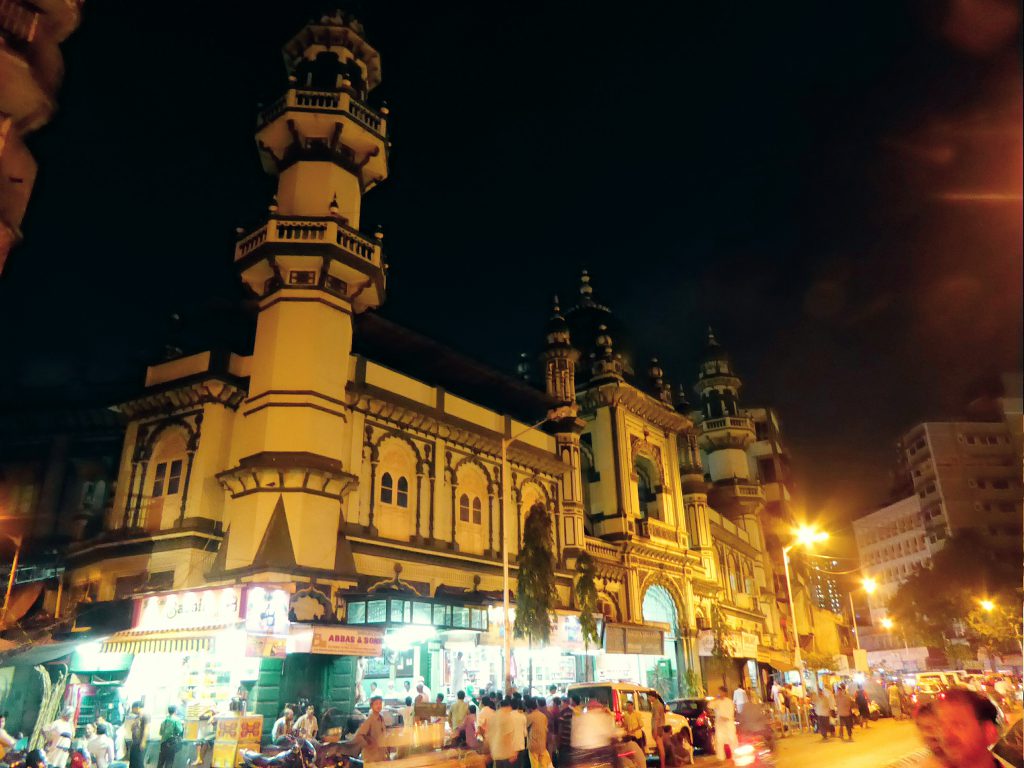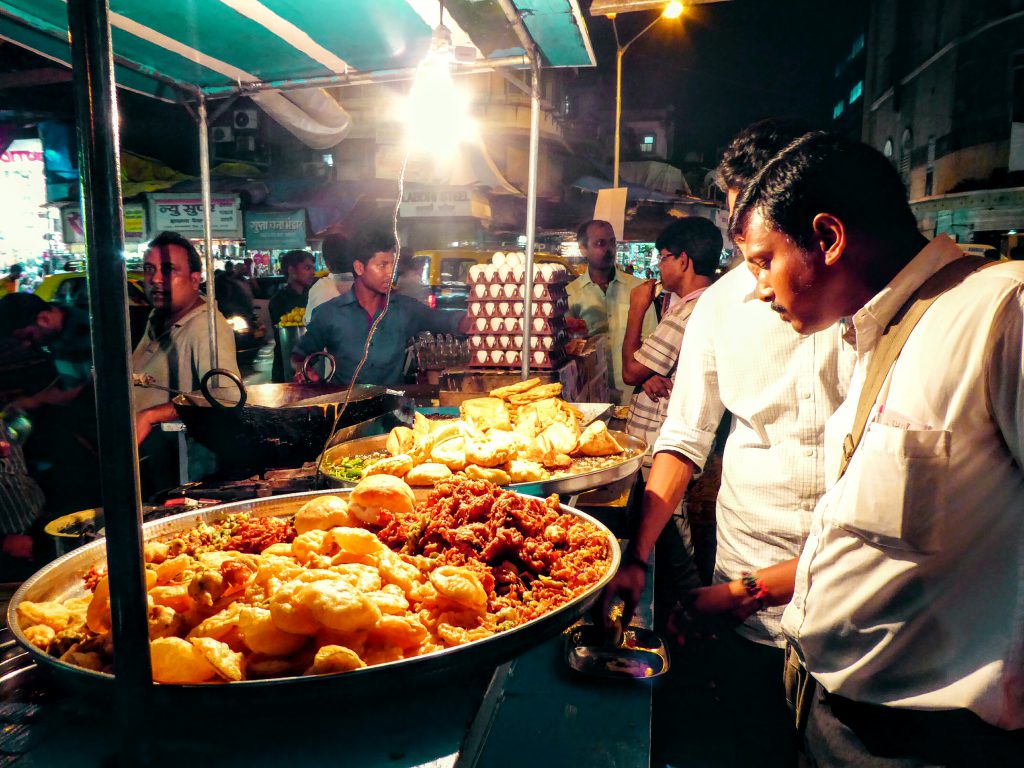 Information Reality Tours
I booked this streetfood tour at Reality Tours. Reality Tours is a organization that tries to make the slums a better place to life. They help the people from the slum by getting better education and helping them get jobs. They are mostly active in the Dharavi Slum in Mumbai.  They do have sections in other cities as well. 80% of the money they earn is put back in to Reality Gives, the organisation that gives courses and is active in other facilities in the slum too. I also did a Dharavi Slum Tour with Reality Tours, read more about that here
I  really liked this tour, we really got a lot of food to taste. The guide explained what we got and was willing to tell a lot. We were at different spots and had favorites from different backgrounds. I really think that if you want to do a food tour you should take one in the big city!!
I booked this tour online and paid with credit card. The instruction by email was clear and in time and once there the guide had his information about who had paid upfront and how many persons would be there. You could recognize them easily by their shirt of the company. We had two guides to keep the group together while moving around.
Costs and duration
I paid about $25 for this tour per person.
This tour took from late in the afternoon till late in the evening. We were busy for at least 5 hours. If you don't really like to choose food from which you don't know what to get this is the chance to try and taste anything you would. They will only take you to places that, we tourist, can eat. What is good for our belly, so to speak. And there is a guide to explain what you are getting and eating 🙂
—
If you liked this post share it with others!!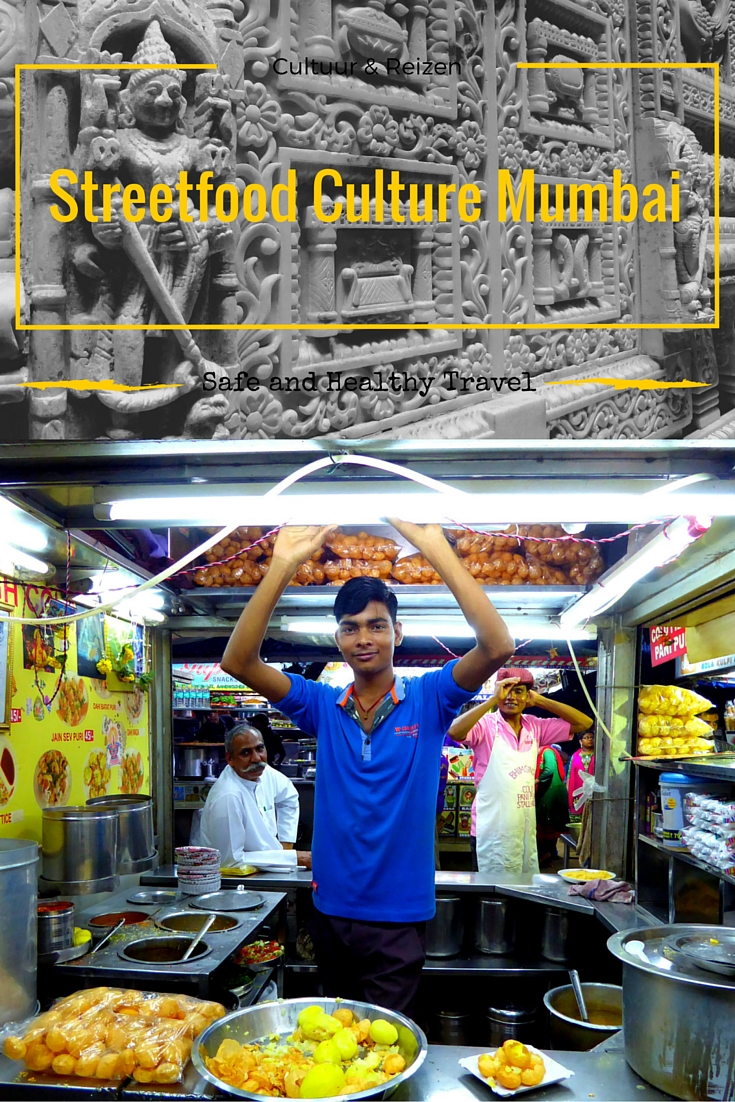 Want to read some more about my adventures in India?
Going too Local at a Local Cookingclass
5 Highllights of Jaipur – Rajasthan
Rituals, Roasted Rice and Holy Elephants
Puja on the Holy beach of Papanasam – Varkala
Can I inspire you to go walking?
I hope you love this world as much as I do!!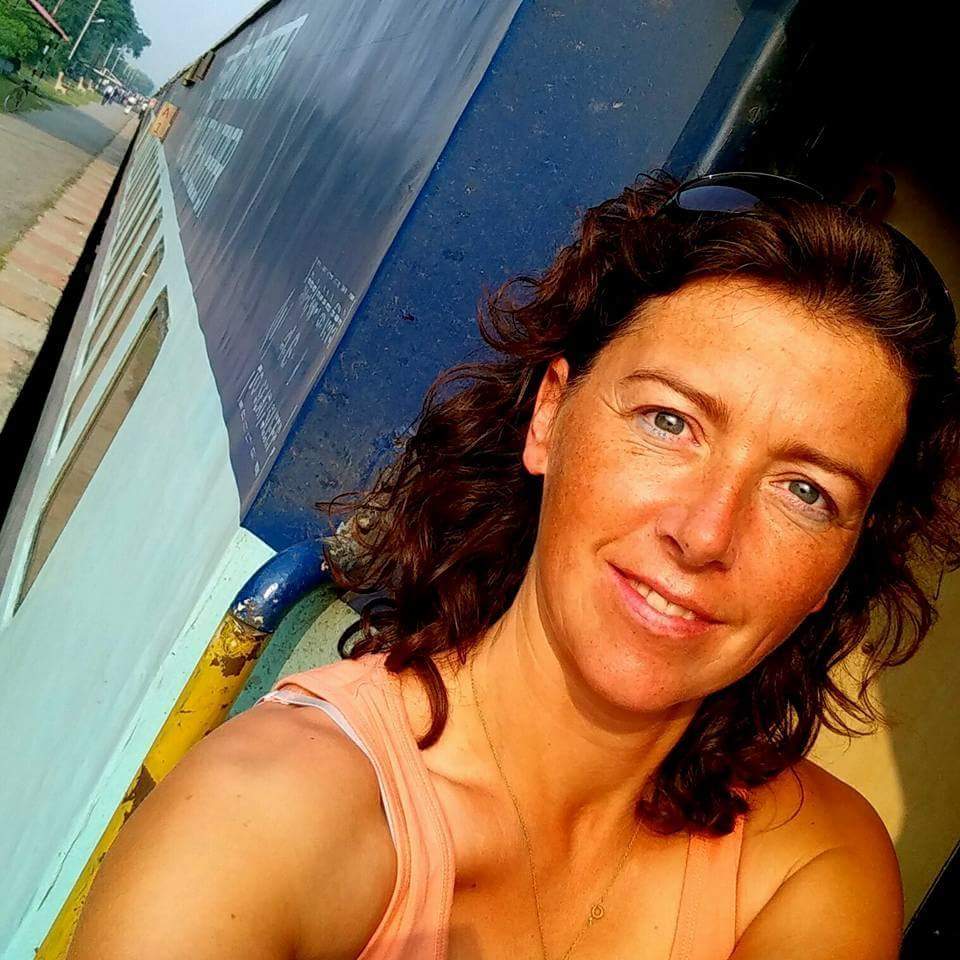 Jacomijn is een politieagent uit Nederland die jou graag laat zien hoe je veilig, actief en gezond de wereld kan over reizen. Safe and Healthy travel is a MUST