The Complete Travel Guide for Mumbai – India
|
Mumbai is a great city that has so much to offer! I was there for 5 days and only saw a glimpse of all what is listed in this complete travel guide for Mumbai. I'll try to share all the hightlights so you can make a good choice on what to do and where to go in Mumbai!
If you want to do it all you  need to dedicate your 2 weeks holiday to this city 🙂
Mumbai lies on the konkan coast, the west coast of India. I love the atmosphere of coastal cities! The city has a population of around 23 million… but it is an estimate based on the counting of 2011. The city has more citizins then my whole country, being from the small country of The Netherlands!! It is the biggest city of India and is named on numerous lists of biggest cities in the world.

There is a lot of British influences shown in the city. That Britisch/Indian architecture is just great and still showing a lot of that colonial history.
I have visited lots of spots that must be on your to-do list when visiting this metropole. But still I missed a lot of the highlights I know off and heard Abhinav (A Soul Window) about. He loves this city and could tell me so much about his favourite spots! I will share those too and so this becomes a real Travel Guide for Mumbai!
Check out the Complete Travel Guide for Mumbai – India
On my first day in Mumbai I was brought to Gateway of India. I think that everybody knows this name and spot if you are interested in India. In the 20th century this arch was build to commemorate the landing of King George and his wife on their visit to India in 1911.
If you look the other way.. slightly to the left you'll see the huge Taj Mahal Palace Hotel. It is a great building with a long history. Going in for a cup of coffee is an option… renting a room is not for me. It is a 5 star hotel and mu budget won't allow it 🙂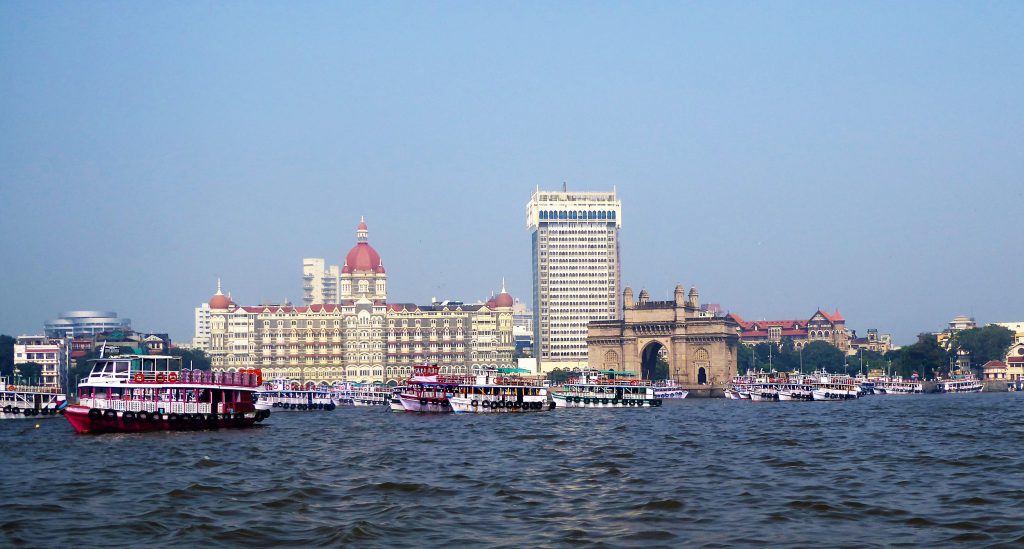 Did you know that the Taj Mahal Palace hotel opened for guests in 1903 and it offers 560 room and 44 suites?
Marine Drive / Queen's necklace
Walk along the boulevard and do some sightseeing and shopping on this 3.5K long drive of Mumbai. This boulevard is used a lot by the Indian citizins to drive along in the evening. Cruisin' the Queen's necklace…
I love this about Mumbai. It has a beach and in the evening, when the sun sets and the temperature gets a bit better it is great to walk here and enjoy a fresh seabreeze. During the day this beach looks deserted but in the evening it is busy with all kinds of foodstalls to get your great streetfood!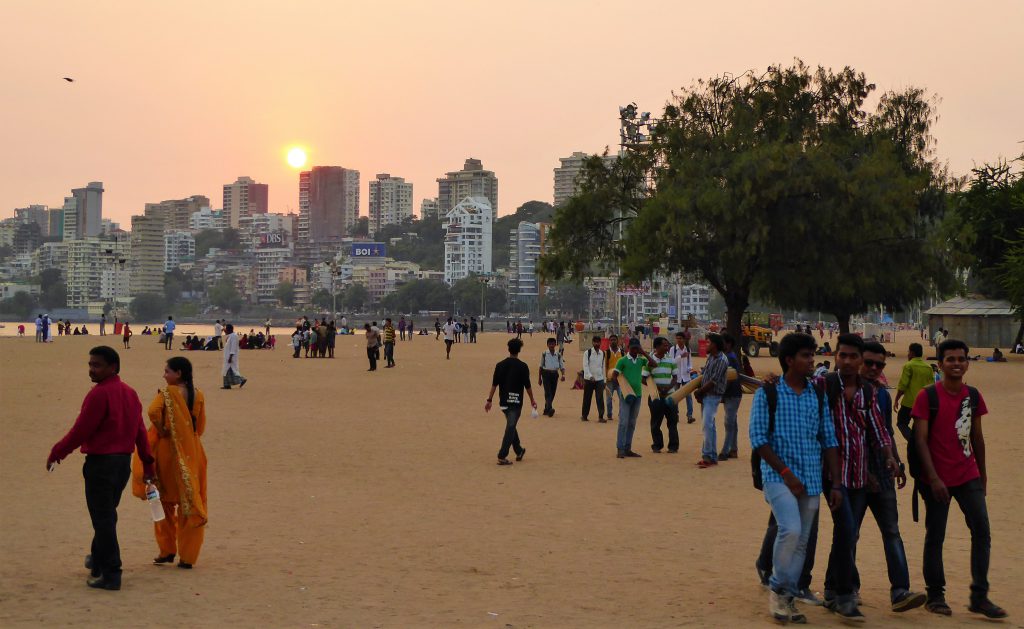 This island is located in front of Mumbai and for a morning or afternoon trip a great destination. Take a nice walk on the island and explore the caves. These caves has been turned into temples with great hindu statues. They date back to the 5th and 7th century.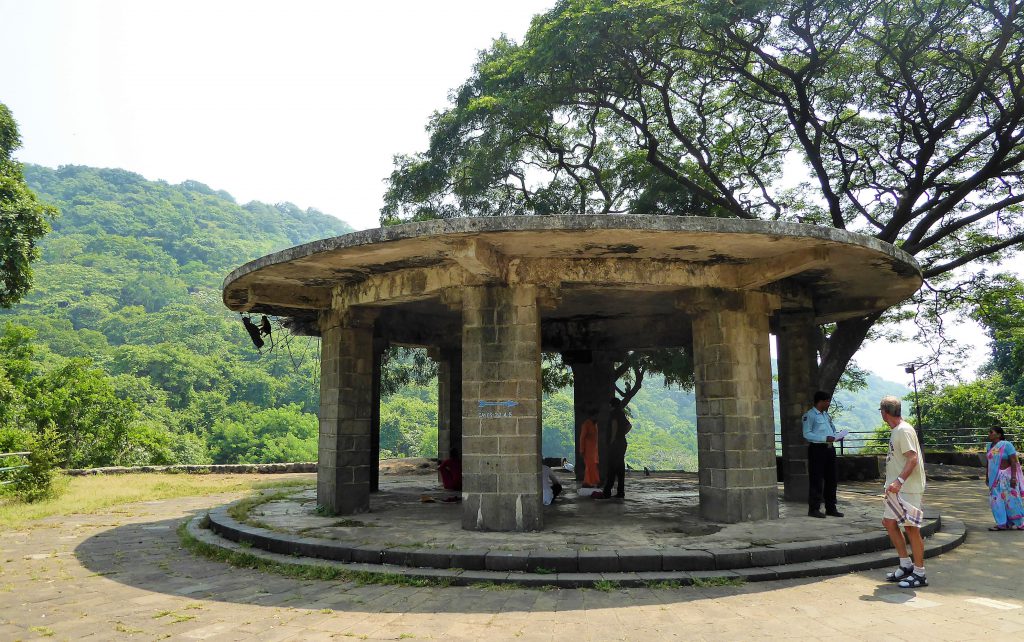 Ps. Look out for the cheecky monkey because they will grab anything that you show and sticks out of your purse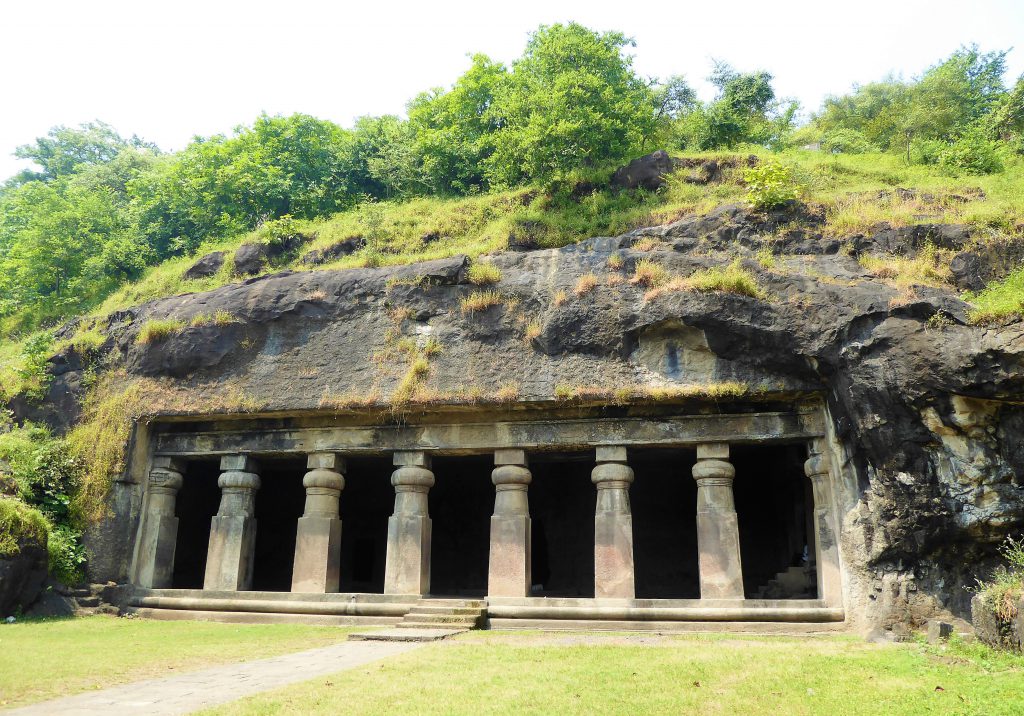 Travelling solo to India as a Woman? Read my Tips to Travel Safe in India!
When you visit India you can never skip eating streetfood and so I took my dad on a streetfood tour! If you don't know what you can or can not eat on the street because of hygienic issues this is a great way to explore the best of the best! This way you know that the foodstalls are tested by numerous tourists before you and they survived and liked it!!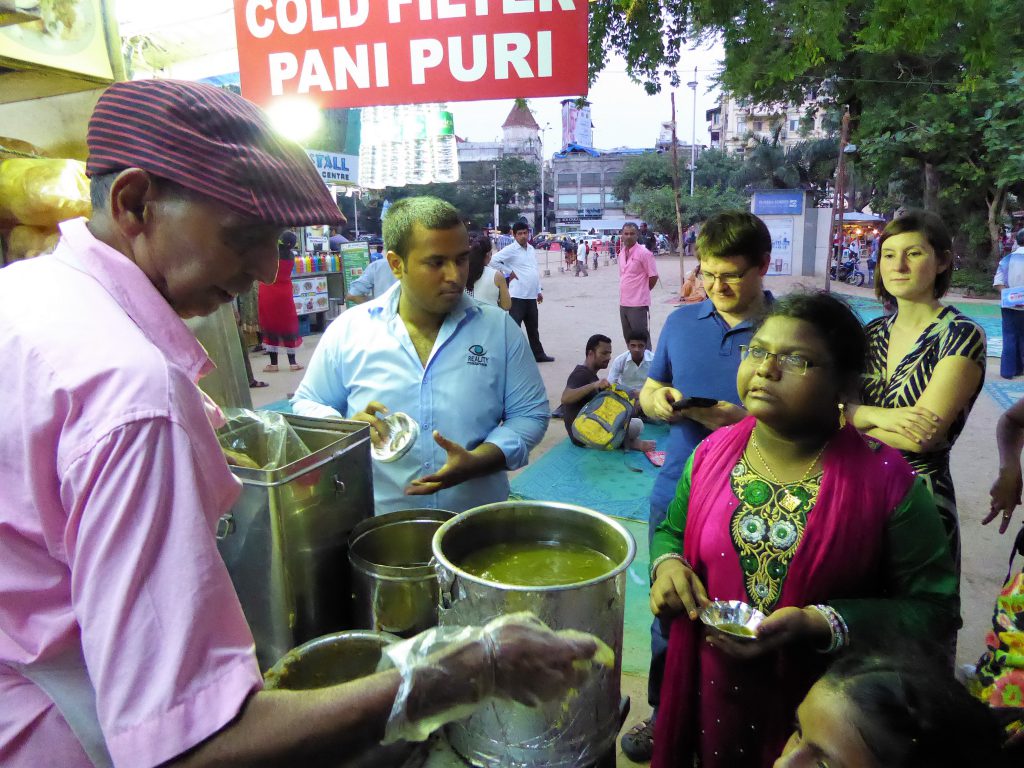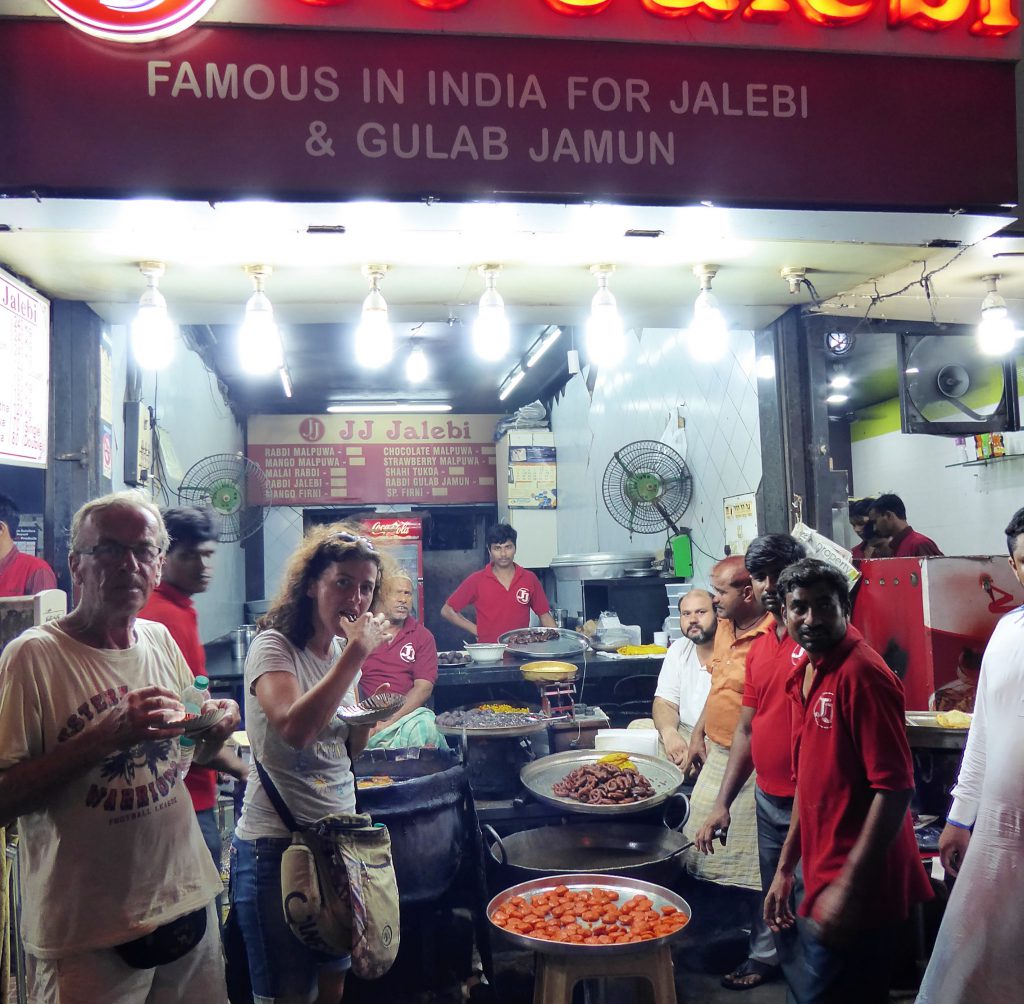 Do you want to read more about this streetfood tour?
 Complete Travel Guide for Mumbai – India
Gandhi's Mumbai Headquarters
This museum about the life of Gandhi is situated in the former headquarters of Mahatma Gandhi. Gandhi worked from this headquearter for 17 years (1917 – 1934) A mayor part of his work has its origin here. It is a good maintained house and deserves a visit on your citytrip to Mumbai.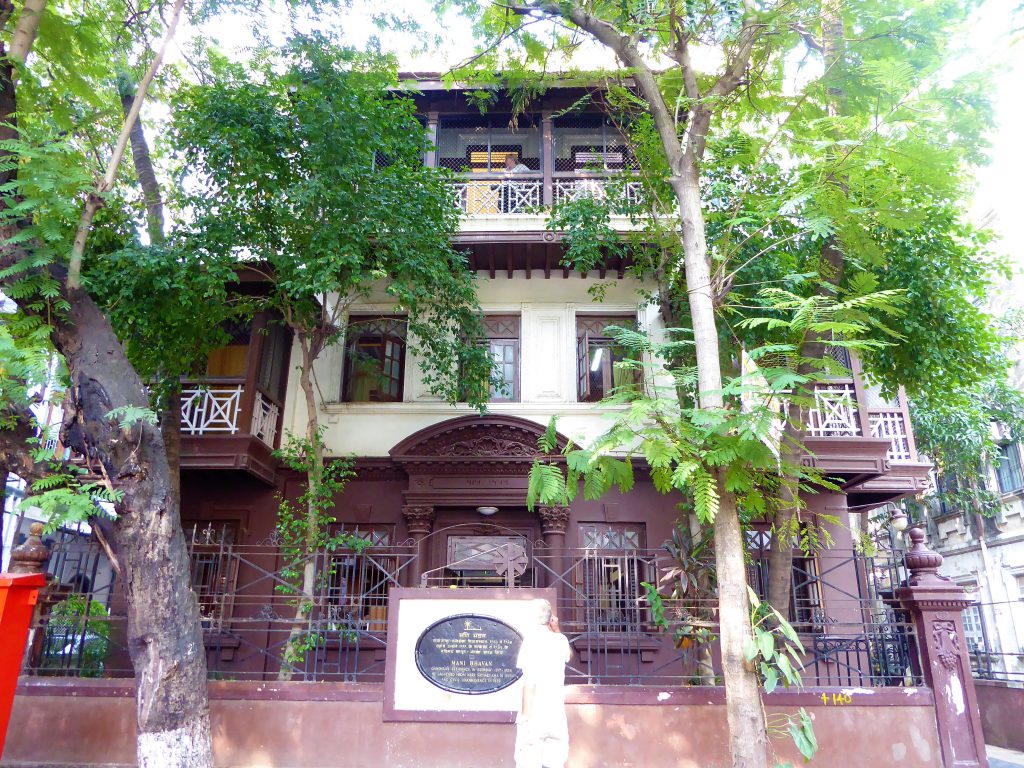 Haji Ali Dargah (Mosque / Tomb)
You'll find this mosque on a unique spot in front of the coast of Mumbai. It is not only a mosque but also a graftombe for the rich sufi saint, pilgrim and merchant called Pir Haji Ali Shah Bukhari.
I visited in the evening and really liked the views on the mosque! We walked the long path to the mosque and I was happy to see that people came out of the mosque with lots of food for the poor that was sitting on the pier.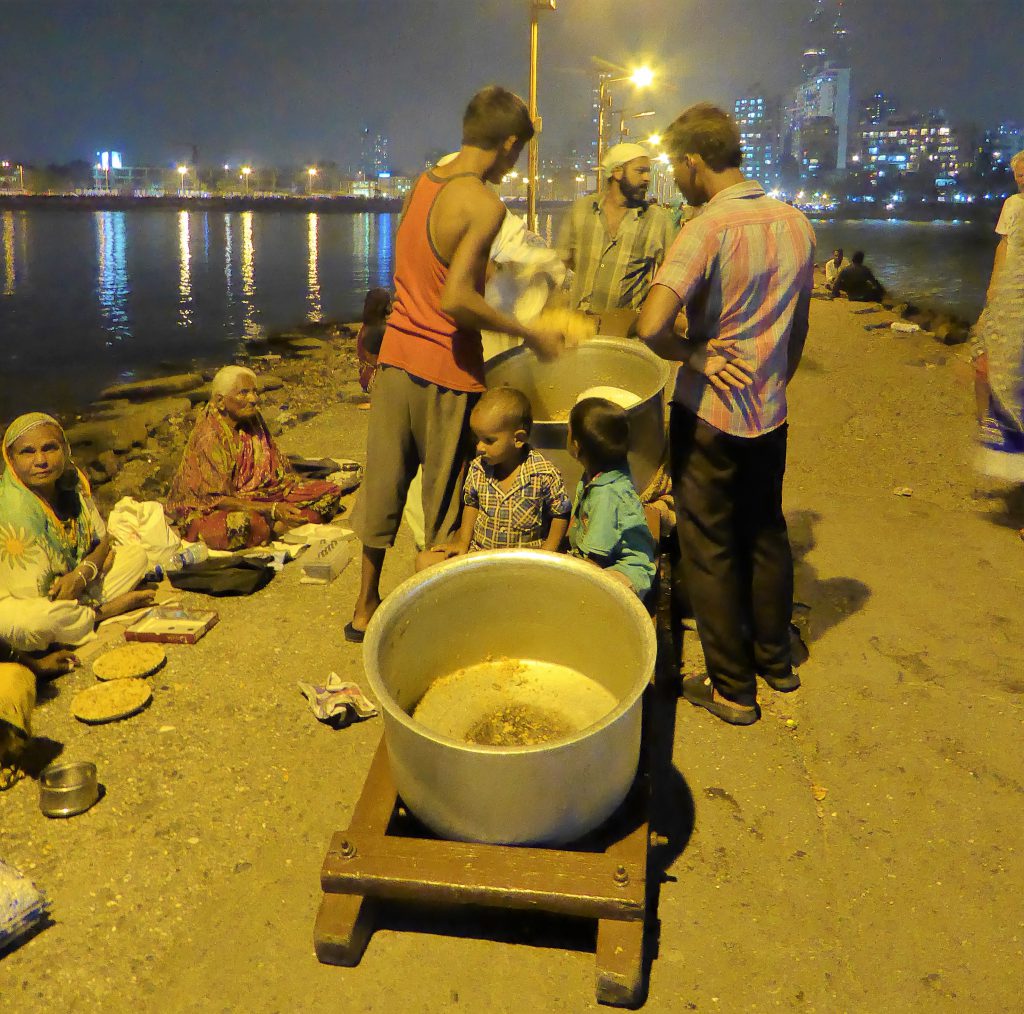 These temples are dedicated to the religion Parsi or Zoroastrianism called. It is the religion of the Parse and has its heritage in the former Sasanian Empire in Persia. Typical of this religion is the sky burials. The religion has 3 pillars: Good words, good deeds and good thoughts.
In India there are 27 fire temples and the biggest concentration is in Mumbai. You'll find on on Perin Nariman street and the oldest is at Banaji Street behind the Flora Fountain.
You'll also find the Jain Temples in the city as well as in the rest of India.
Religion has its bases in non-violence and reincarnation, dharma and karma and salvation through ascese. (living a sober and strict life)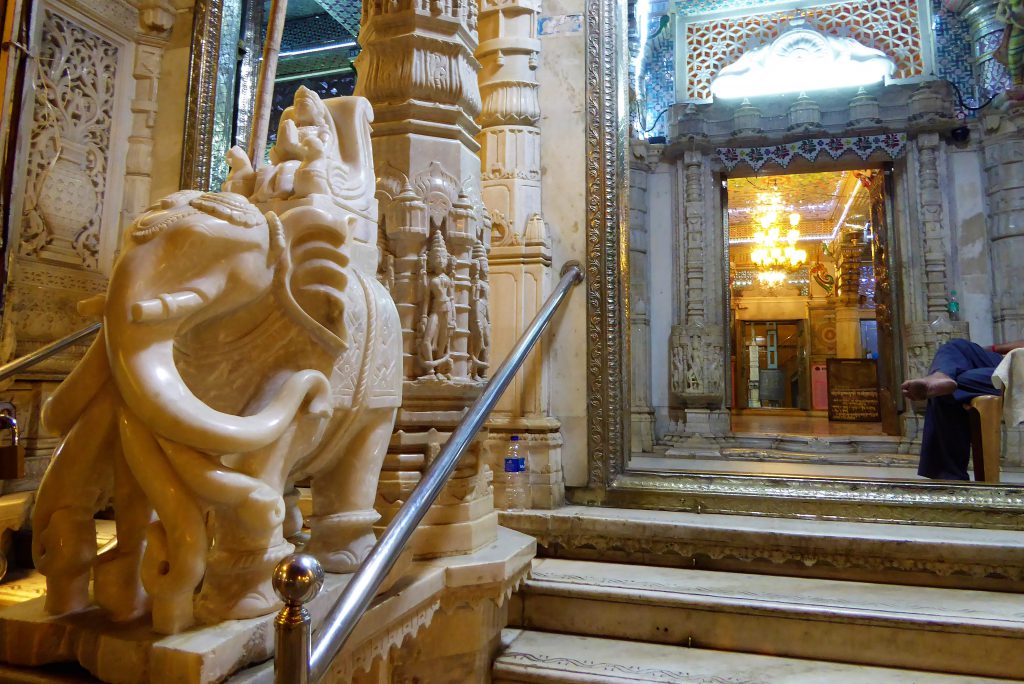 If you are near the Parsi Temple mentioned above do go to the Flora Fountain at Hutatma chowk. It is an important monument of Mumbai. The fountain is beautifully sculpted ornament and goes back to the British times in 1864. It is situated in a small park surrounded by a busy intersection so a great spot to relax and let the busy city pass by.
Chhatrapati Shivaji Maharaj Vastu Sangrahalaya
Former: The Prince Of Wales Museum
Many art and archeological exhibits are shown here. Check their website to know what they show of the time of your visit.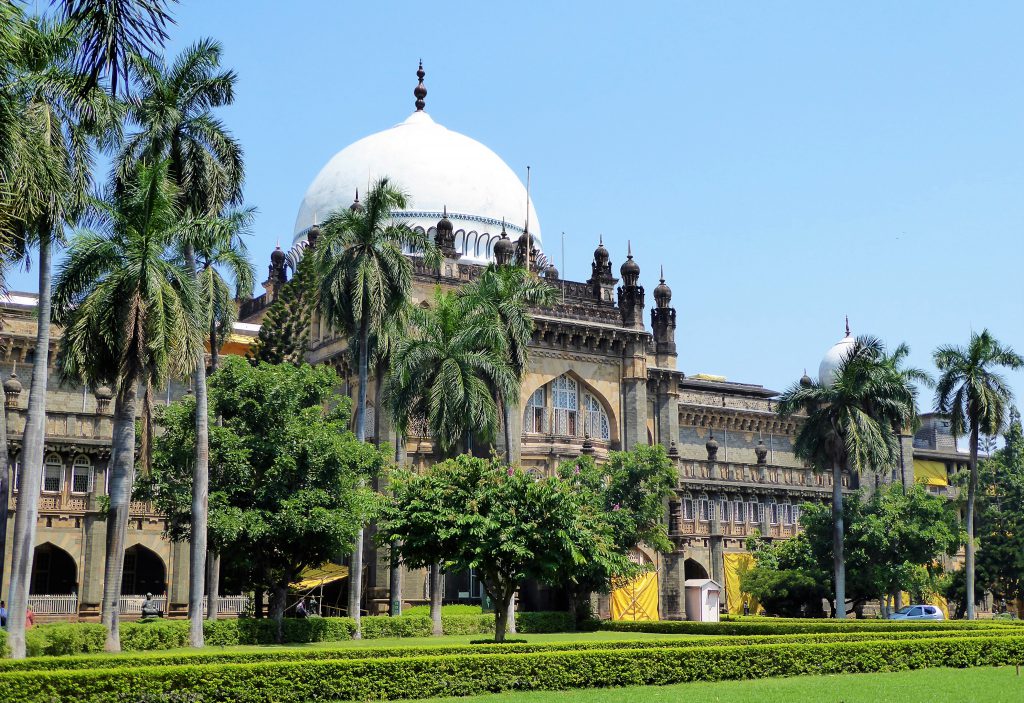 They also call it Lovers Point. It is a great spot for lovers to sit and enjoy the sunset with the sea in the background. Lots of people also come by to get a great view on the Bandra Worli Sea Link, the brigde that embeds Mahim bay. I bet you can get a great view on the skyline of Mumbai also from there!!
I'll be defenitely visiting this spot on my next visit to Mumbai!
This area in South Mumbai shows a different time and country! These Portuguese, wooden colourful houses goes back 175 years and makes you feel to be in a different timespan. Out of the busy Mumbai 🙂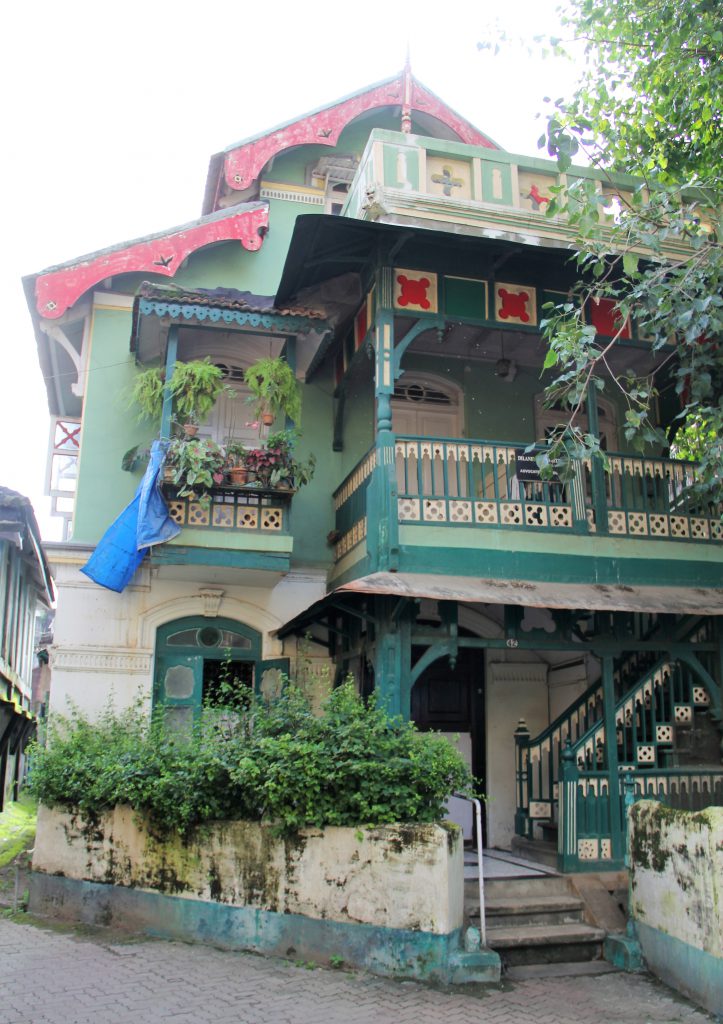 Biggest open air laundromat: Dobhi Ghat
If you book a tour the taxi will pass by this open air laundromat. You can get out of the car and from the flyover see this area. It is the biggest open air laundry area in the world and they are working hard!! I thought it was impressive to see!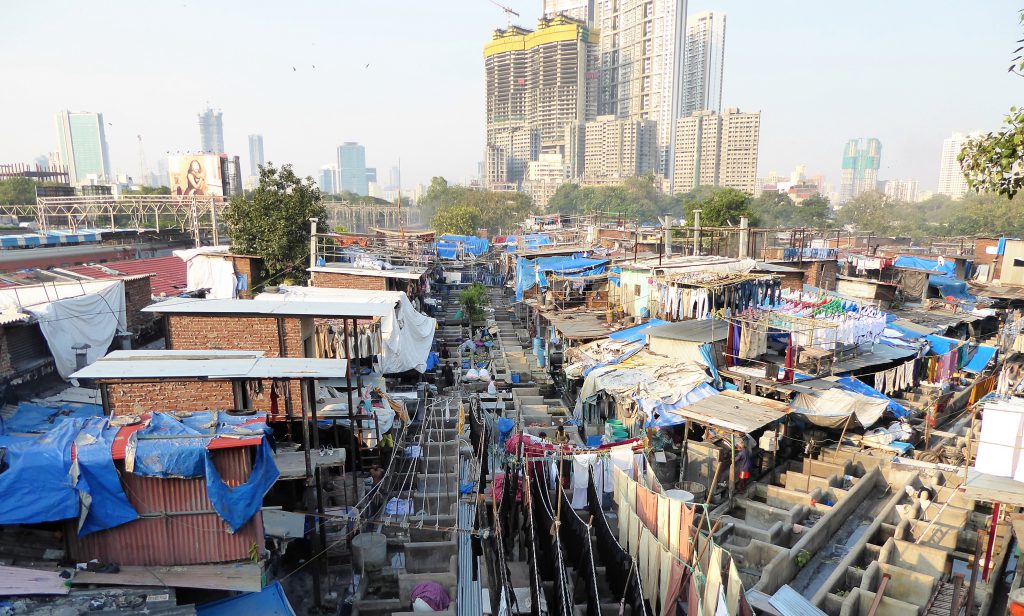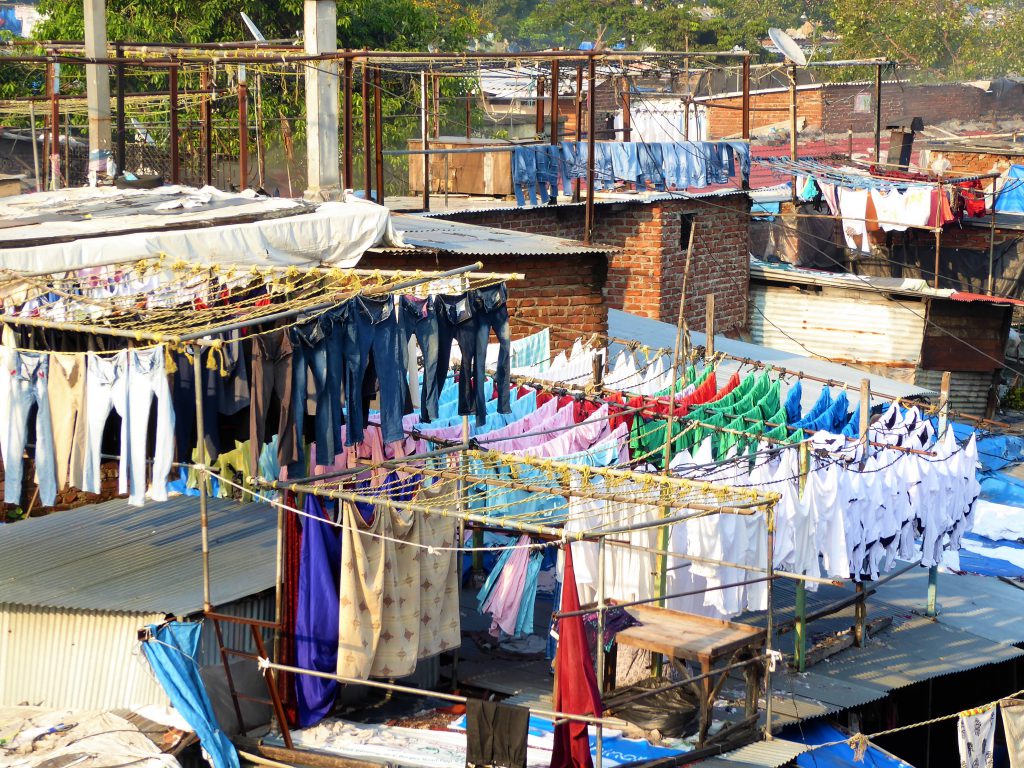 If you're going to India you probably need a visa too! Check how to apply for an Indian Visa
Kamla Nehru Park / Hanging Gardens
The park Kamla Nehru is part of the complex Hanging Gardens in the area Malabar Hill. A walk in the park is always a good idea on a citytrip in the car and in the busy city of Mumbai. Get out of the noise and be in nature for a while. If you walk down to the end you'll get a great view over the Marine Drive and Chowpatty.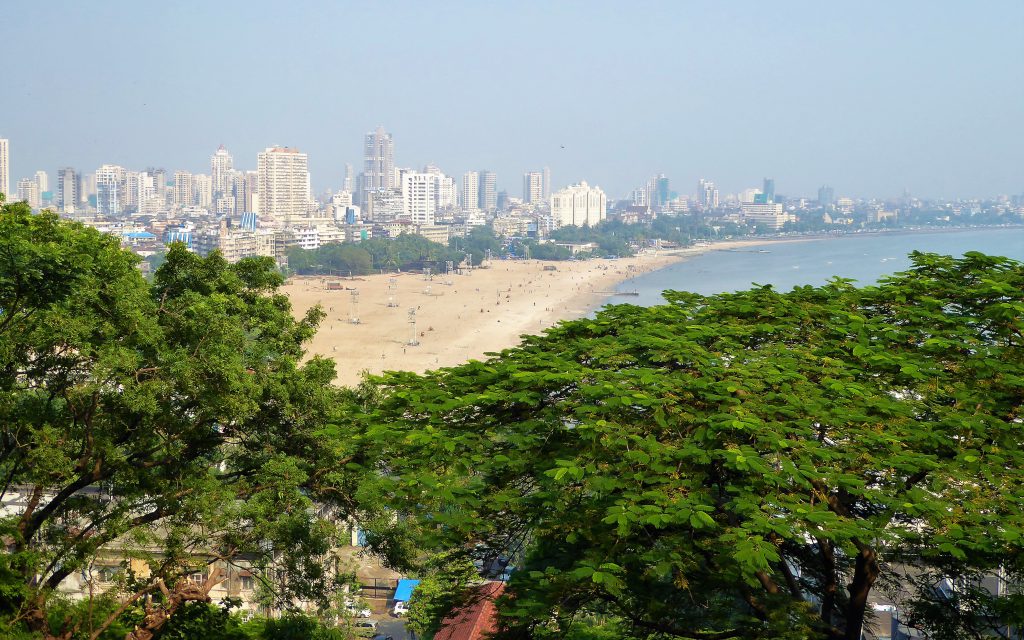 Juhu is een uptown buurt in Mumbai waar veel Bollywood sterren wonen. Geniet hier van de vele restaurantjes/hotels en het strand. Als je er met de trein naartoe gaat is de dichtst bijzijnde railway station: Santacruz, Vile Parle of Khar of met de metro, dan pak je station Versova.
Complete Travel Guide for Mumbai – India
Coming from this uptown neighbourhood going to the slum.. The biggest one in Asia. The area covers 2 square km and the estimated population is 700.000. The slum has an own economy that running good and it totally under the radar for the gouvernent. The gouverment is trying to change that but… for decades they were pushed off society so it will take a long time to get back in there too.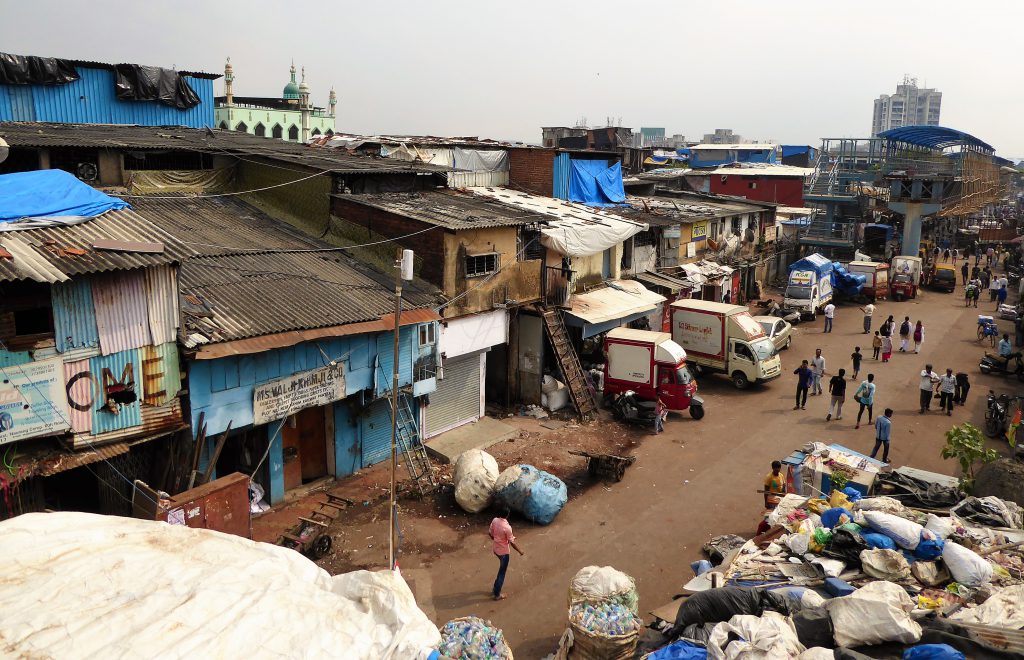 There is more inspection on all kinds of areas… It means that if you want to build a house you need to keep rules…want to open a business? You need to register… Pay tax… If taxes are paid that has to come back into the community and I don't think they have the confidence yet that such thing will happen. So it takes a long time.
Graffiti walls of Carter Road – Bandra
Streetart is hot lately and also Mumbai has this great area where lots of great graffiti walls are showning. In this whole suburb are great walls and painting so go and wander around to shoot some nice pics.
This church, also Basicilca of Our Layd of the Mount, is also found in Bandra. It is a great Roman Catholic church that dates back to the 16th century. The church was destroyed in 1738 by the Marathas but rebuild in 1760 and still here to visit.
The church is situated on top of a 80meter high mountain, just enough to get a nice view over the Arabian sea.
Using the train and metro
Using the local train or metro is the best way to experience local life and so to explore a city or country. In a big city such as Mumbai it is the best and easiest way to navigate yourself through the city and explore the highlights. I thought the system was easy and with a good map of the metro and the city you never walk too far to get to your destination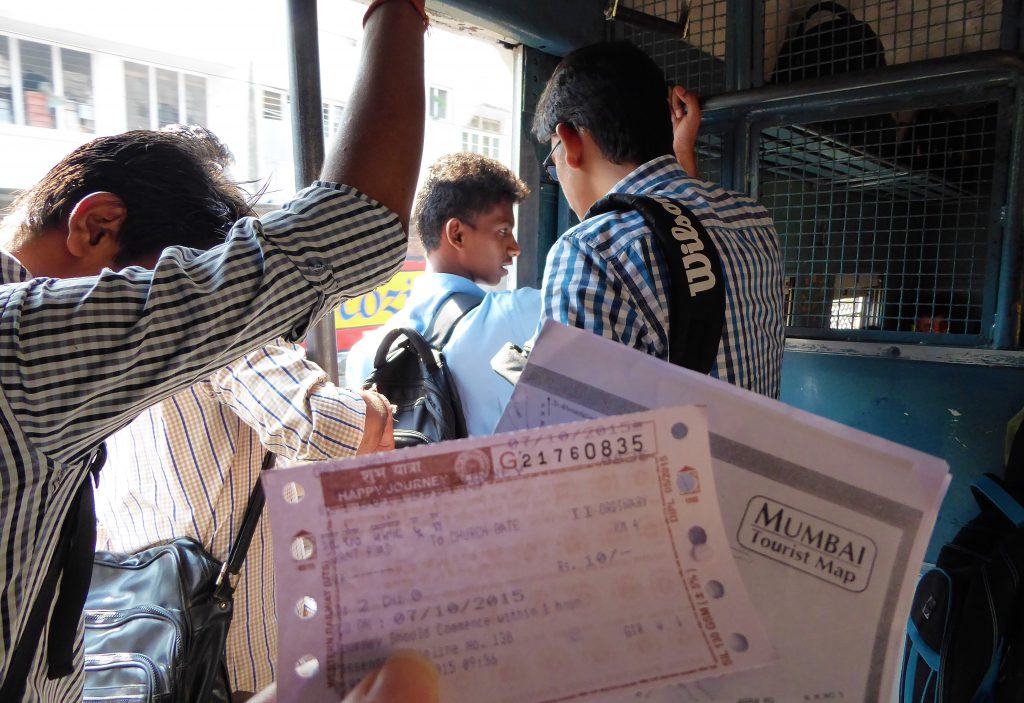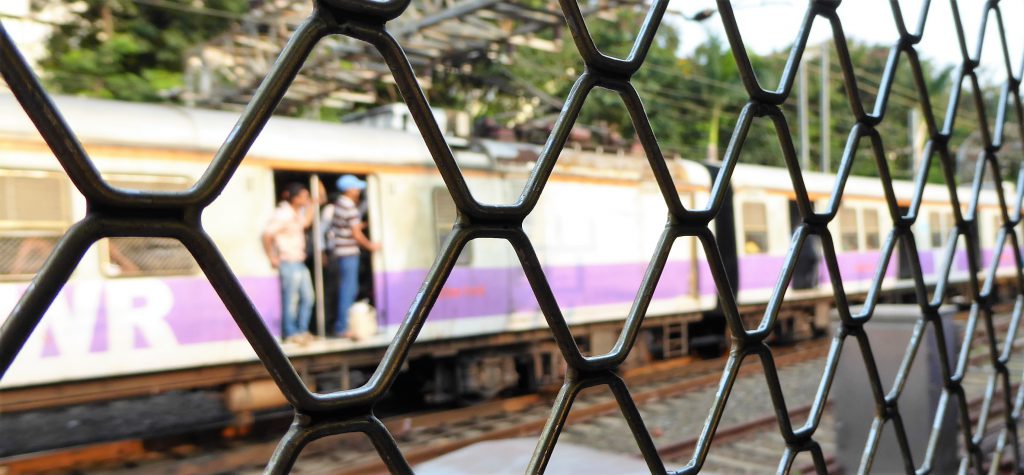 Chhatrapati Shivaji Terminus – Station
This mainstation is just the best!! The building is from Victorian times and with the Indian influences makes it a unique trainstation. UNESCO thought the same and put it on their list. It dates from 1878 and they needed to construct 10 years.My driver that day wasn't impressed by this building and drove by. I saw it out of the window and let him stop along the way. So I do have a pic…but regret not taking more time here to go inside.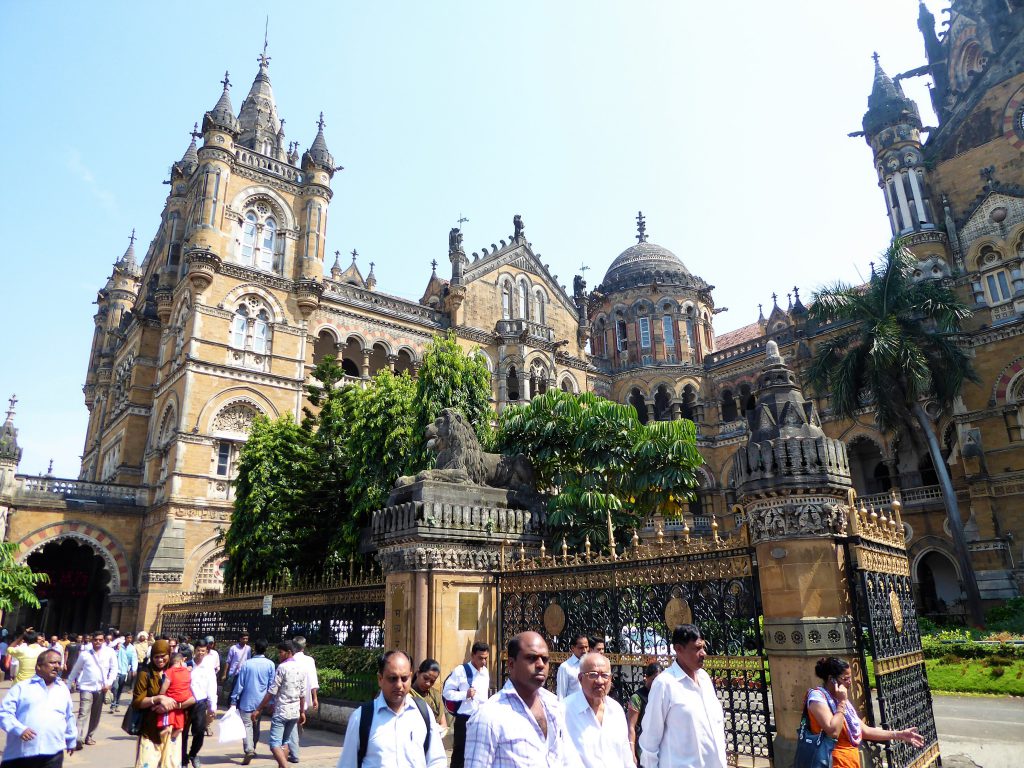 One of the biggest flea markets of India is this Chor Bazaar. This market is visited daily by lots of tourists and locals. The translation of the word Chor from Hindi is thief.  The story is that if you loose something or something is stolen from you, you can buy it back at the Chor Bazaar 🙂
Nowadays the market if known for its second hand and vitage style goods. Not because of the stolen goods anymore.
Officially this commercial shoppingstreet is called Shahid Bhagat Singh Road.  So… if you are looking for a sourvenirs for yourself or your family at home this is the place to be!
Maharashtrian Food Trails in Dadar
Well… if  you go to India you need to try lots of food!! In Dadar, an area in Mumbai close to Mahim Bay and Shivaji Park, you can eat the best food of Mumbai I heard!! I will definitely go and visit this area once or twice on my next visit to Mumbai!!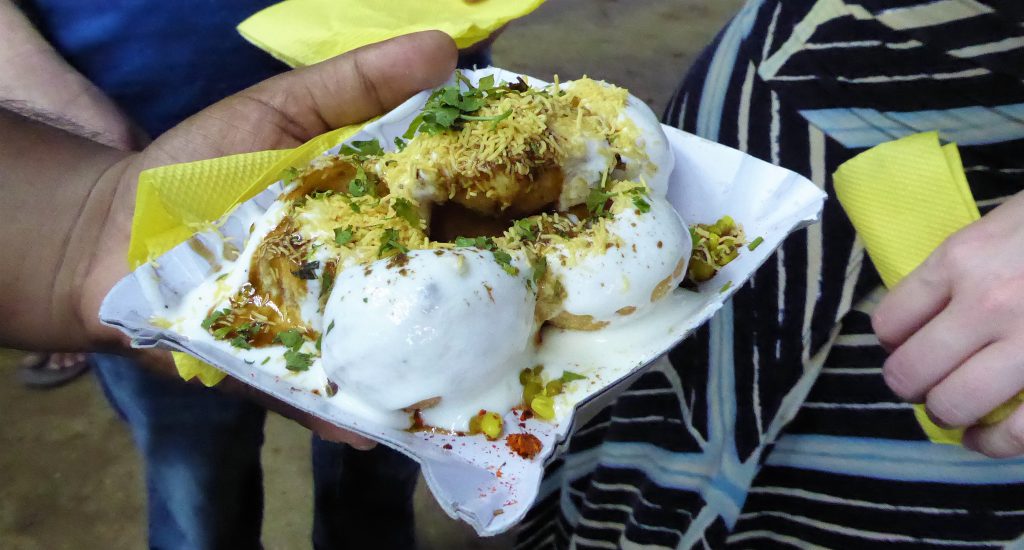 Do you have any great spots or building that needs to be listed on this list? Tell it to me and I will include it to make this list as complete as possible. With a city as Mumbai this will be an ever growing list…and that is good!!
My bubble on the net is not that big yet so I would love it if you help me spread the word by pinning, tweeting or sharing this Travel Guide for Mumbai!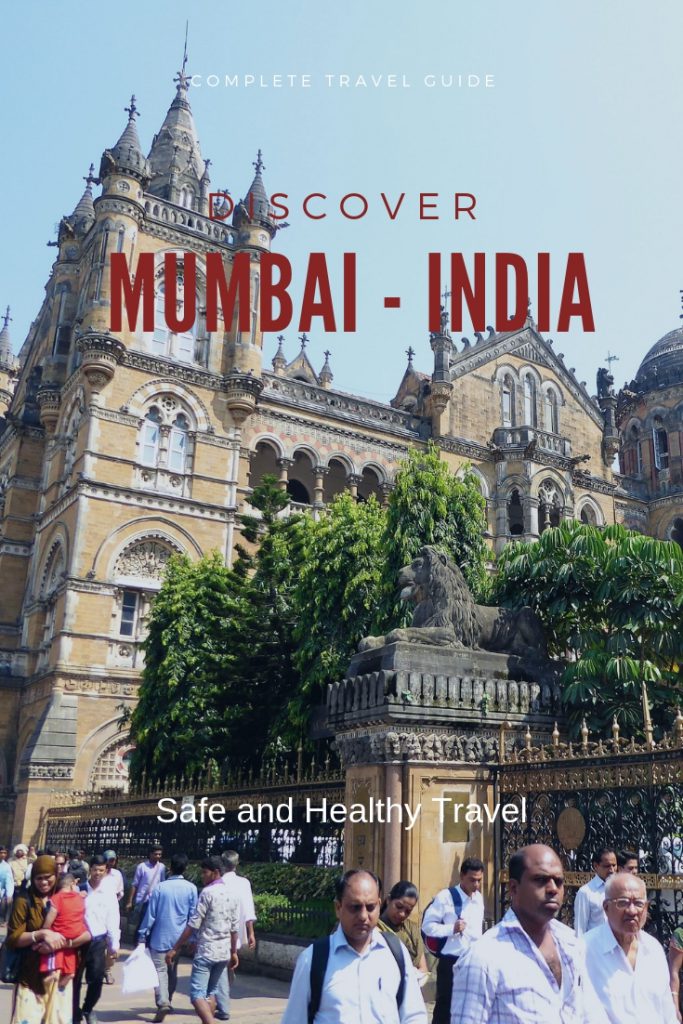 Extra tips Travel Guide for Mumbai
What to do if you leave Mumbai?
Sanjay Gandhi National Park
Get out of the city and go on a safari on a daytrip! Spot wildlife (monkeys, deers, birds and other small animals) in Sanjay Gandhi NP.
There are also the Kanheri caves that are really worth a visit! This is a 2000 year old Buddist settlement where you can still see the living areas, temples and ancient old stairs.
When I left this great city I went to Pune, formerly known as Poona, distance 150K. This city has a population of 3.13 million and has the ninth spot on the list of cities with the most population. I visited a couple of days and did love the vibe of this town.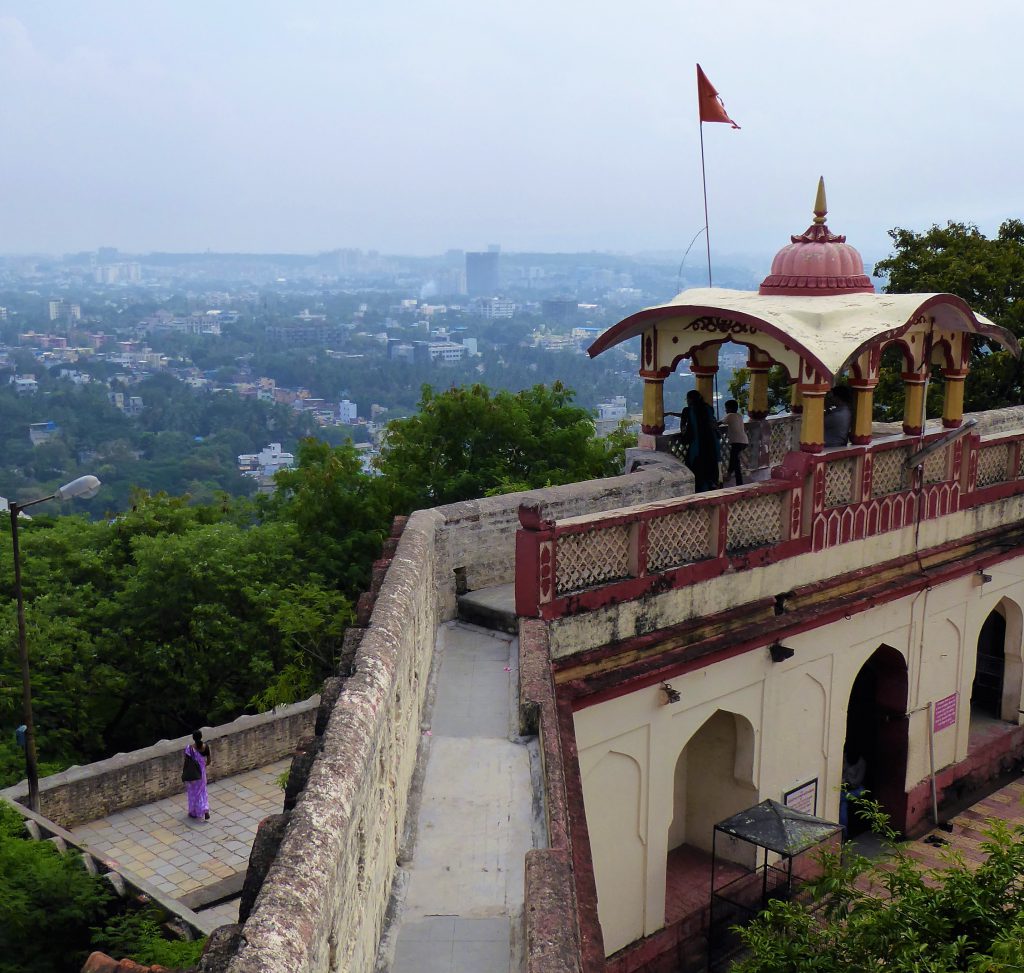 The most famous place will be the OSHO ashram. Everybody has heard off the controversial hagwan Shree Rajneesh, also called Osho. In 1990 he passed away in the ashram here in Pune.
I went by train and love travelling like that. You are in between the locals and get a good glimpse of local life and scenery!
This town, distance 190K, is an important place for the Hindus. It is one of the most holy places and because of that worth a visit. The river Godavari goes through this town, also called the Ganges of the South.
Close to this city you have the Pandavleni caves. These 24 caves dates from the first century BC until the third century AC. But also in the 6th century AC there are signs of life and statues were added.
But there is so much more to explore in India!
How about going to Sikkim?
See this Travelguide Namchi & Surroudings
Climbing Thajiwas Glacier – Kashmir
Donating to School in Khajuraho – MP – India
MUST DO : Rickshaw ride into Chandni Chowk – Delhi
I also went looking for tigers!!
I hope you enjoy this world as much as I do!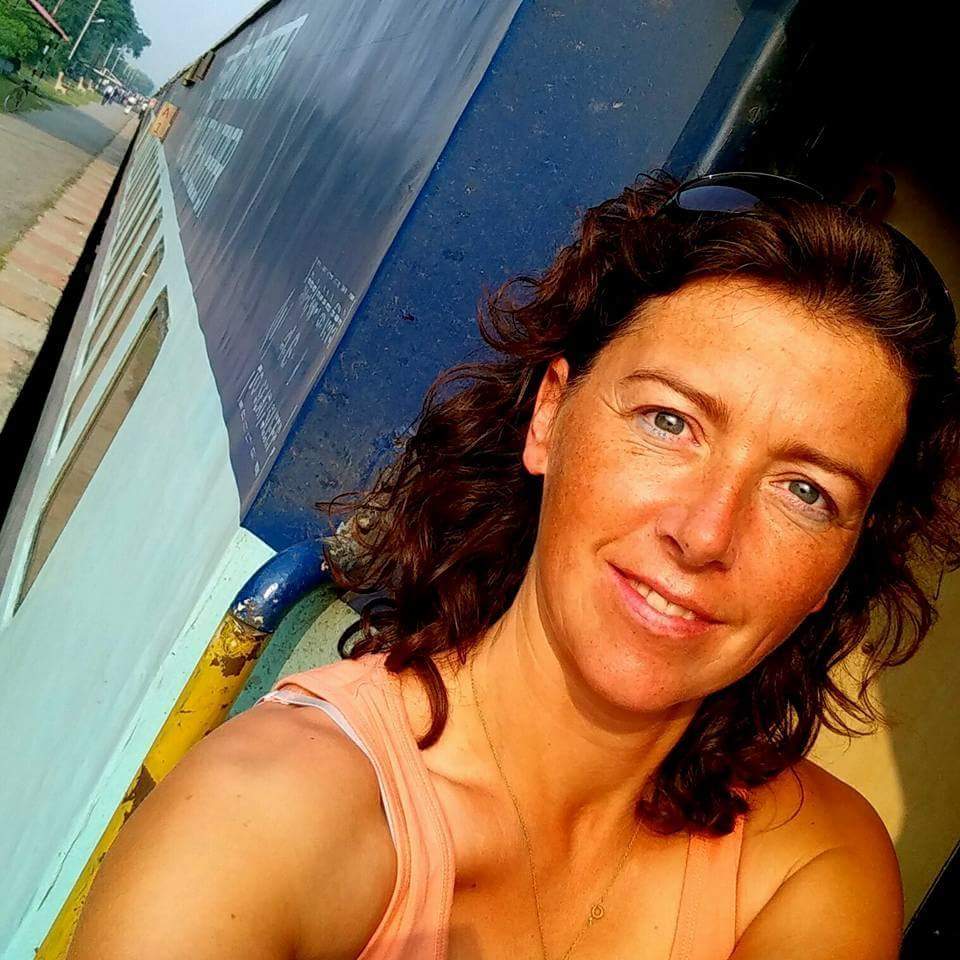 Jacomijn is een politieagent uit Nederland die jou graag laat zien hoe je veilig, actief en gezond de wereld kan over reizen. Safe and Healthy travel is a MUST