Volunteering in Tsavo National Park – Kenya
|
In 2018 I decided to take more challenges in my travels so I was looking for alternative ways to travel. I found a project in Africa and choosed one that involved working in nature, with wildlife and kind of similar with my day job in The Netherlands… Being a police officer.
There was a chance that I could save an animal from poachers or hunters. When I read that it was clear… I would join this project!!
This was the prescription of the project I found.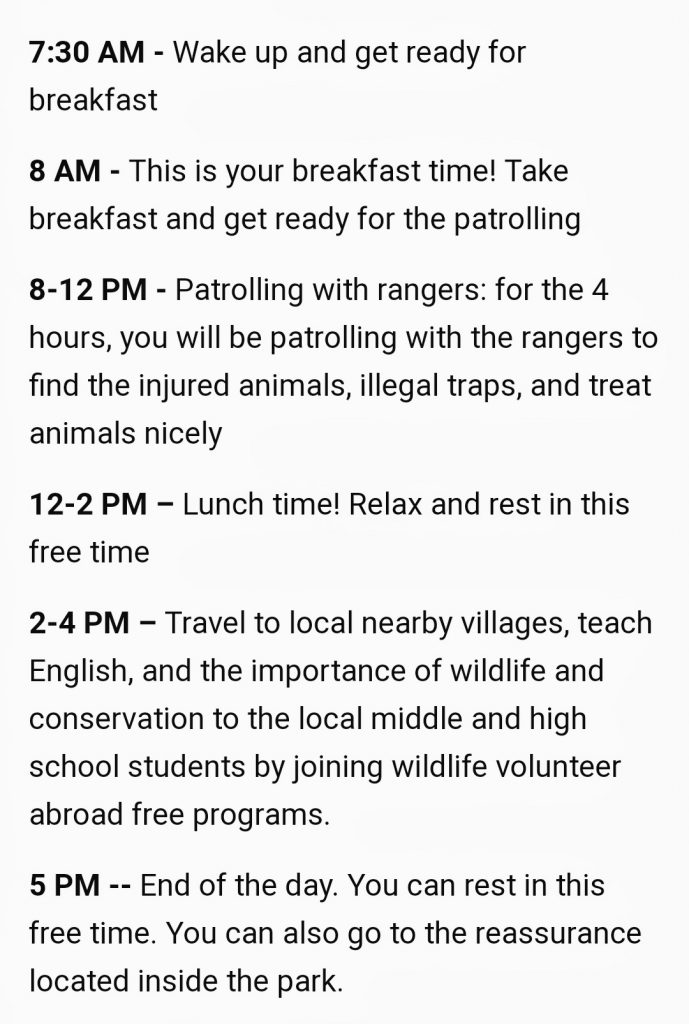 Would you go for such project too?
It seemed like the best adventure ever to me!!
This project is offline because it didn't work out as it supposed to be and that is why they also placed me elsewhere for the week. Patrick who worked on this project didn't got it all working unfortunately. He does give everything he has got to give to the wildlife in his surroundings and when he got me from Voi to bring me to Taita Hills he told me about his other project. He was very proud when he told me that he even was featured on National Geographic!
I couldn't find that but found this online about Patricks project on: The Dodo, check it!!
So I was placed at the Taita Hills Hotel, a former Hilton hotel in a private sanctuary lcoated in Tsavo NP. In this sanctuary is also Saltlick Logde and this is famous with a lot of people I soon found out. And I must admit, the location is just the best!! I can really understand you booking this location for the perfect honeymoon or dream holiday!!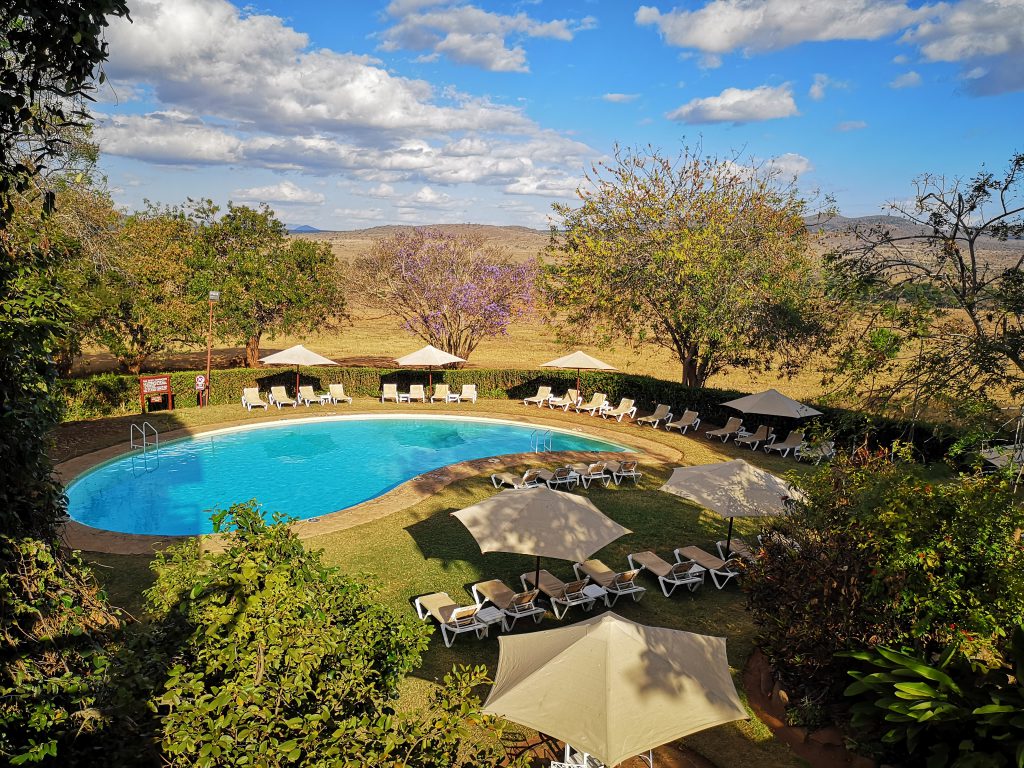 Swimmingpool at Taita Hills..
I didn't make time to use this…unfortunately 🙂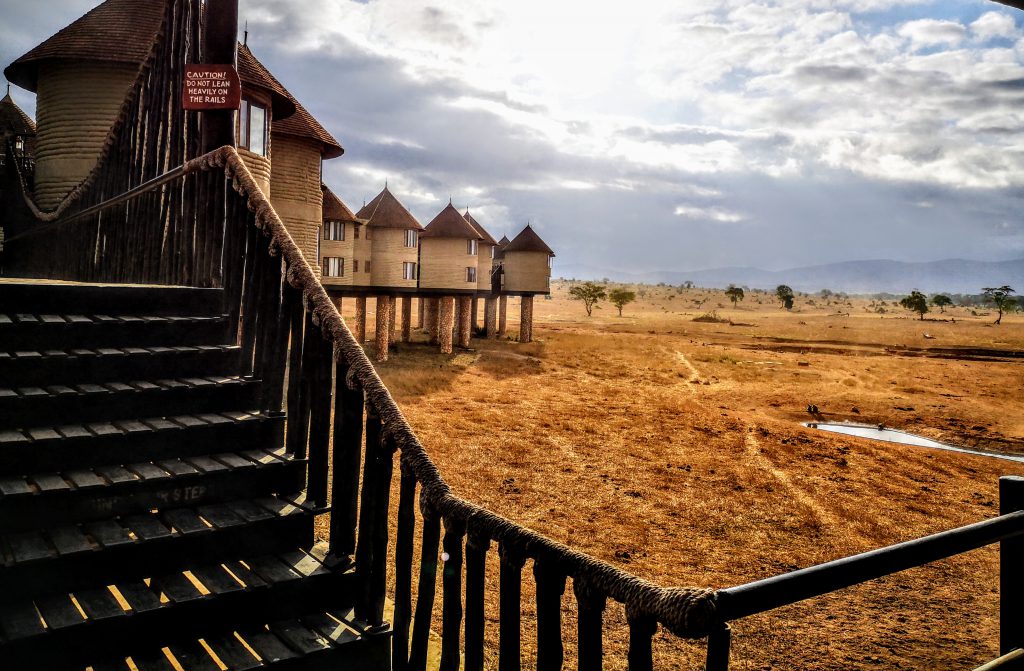 And the great Saltlick
where the elephants come really close!!
Patrick introduced me to Donart, the head ranger of the sanctuary. He would give me a tour and show me where to sleep and with who to work the following week. After a small introduction we drove into the park where the village for the employees were. Every employee will stay there while they were working.
I got a bed next to Levina, it was in one of the round houses. When we were walking towards it I saw that it was not one room… Even though the houses were small enough for that… they had two doors and so two rooms.. So just one half was ours. It hardly fitted two beds.. well, looking back, I didn't need anything more.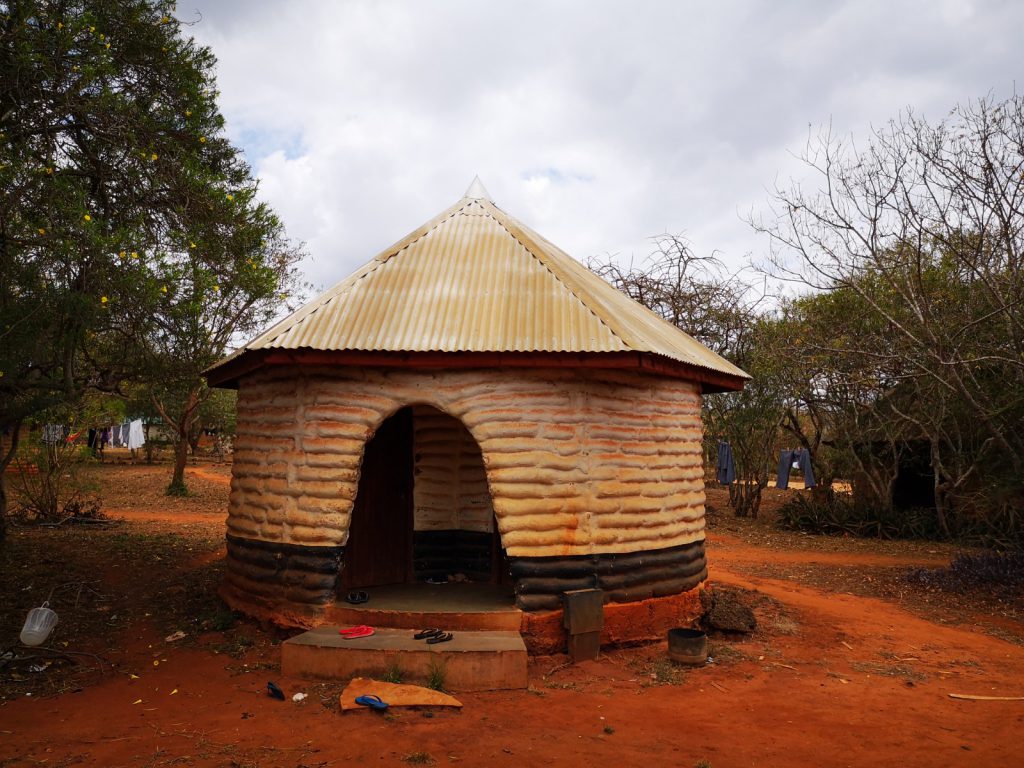 Volunteering at Tsavo East National Park in Kenia
That same night there was a bushdiner and the rangers are there to secure it, looking around for wildlife and keep them in the distance. They also make a bonfire for that purpose…and to stay warm ofcourse. They asked me if I wanted to come.
Ofcourse I wanted that!!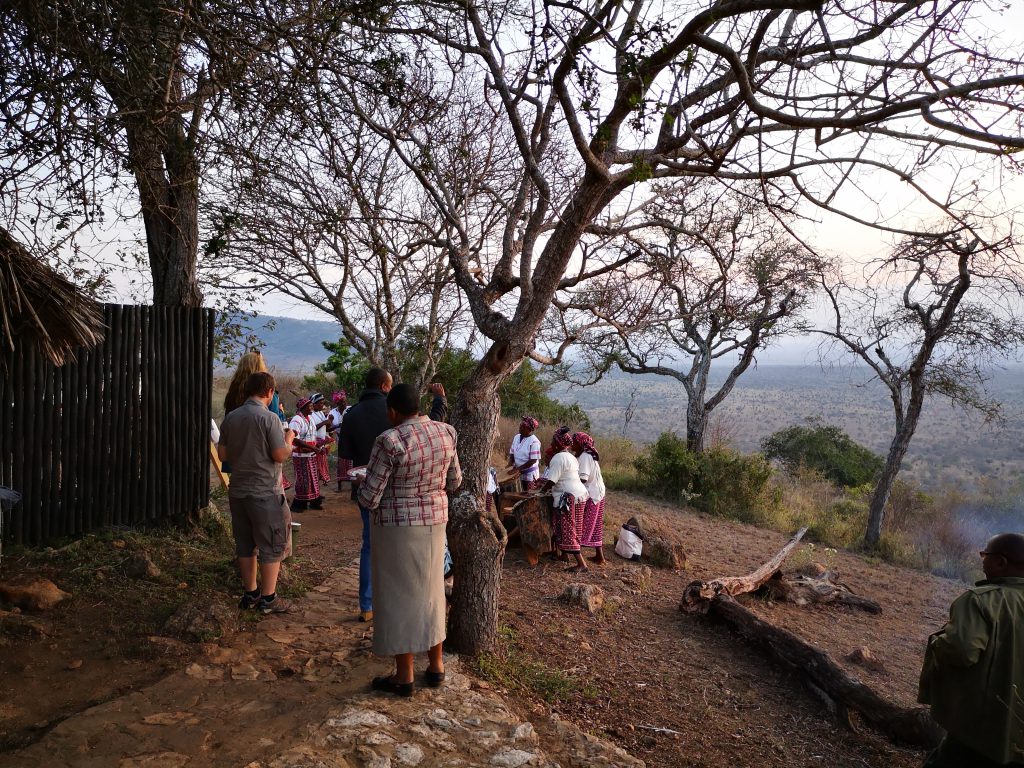 Welcoming the guests for the bushdiner.
Right side down you see Donart and a bit of the smoke of the fire we started already
The next days were as followed: from 6 to 8 in the morning we went out to spot wildlife
What is in the parc?
Are they all healthy and good?
How is the condition of the road?
Is there garbage lying around?
We noted down what animals we saw, how many and where. We put that on the board at the entrance of the hotel / lodge. They do this so the guests know that there were sightings in the park that morning so when they go out what to expect and what to look for.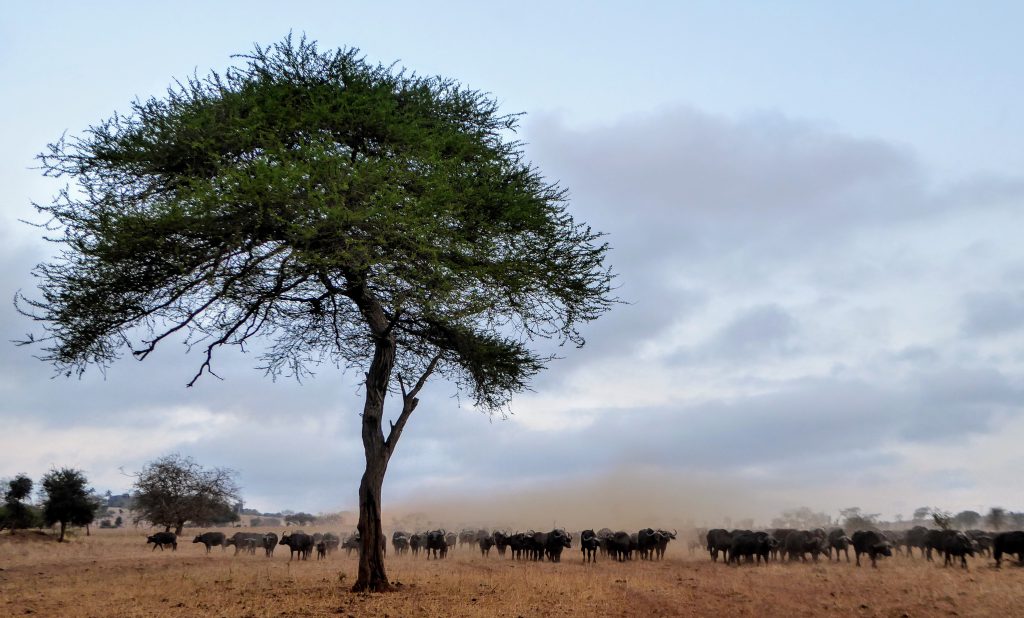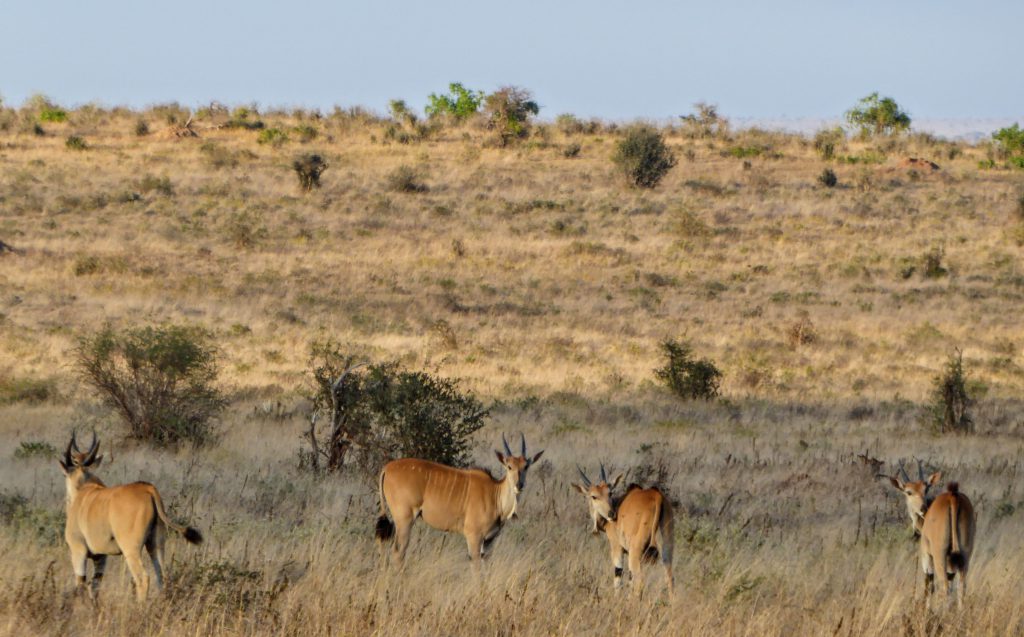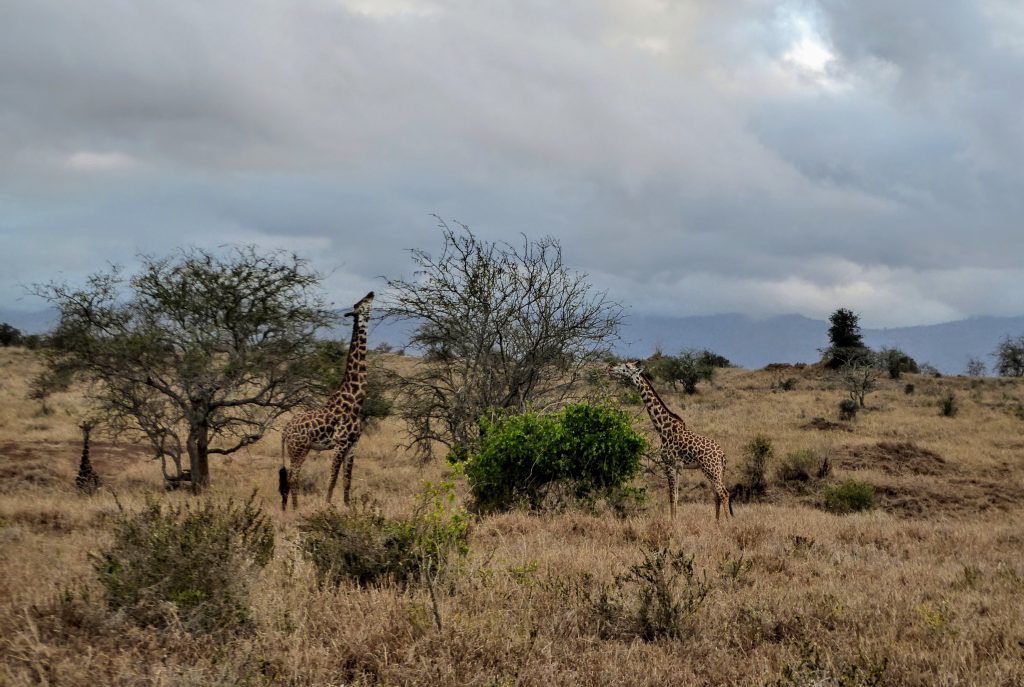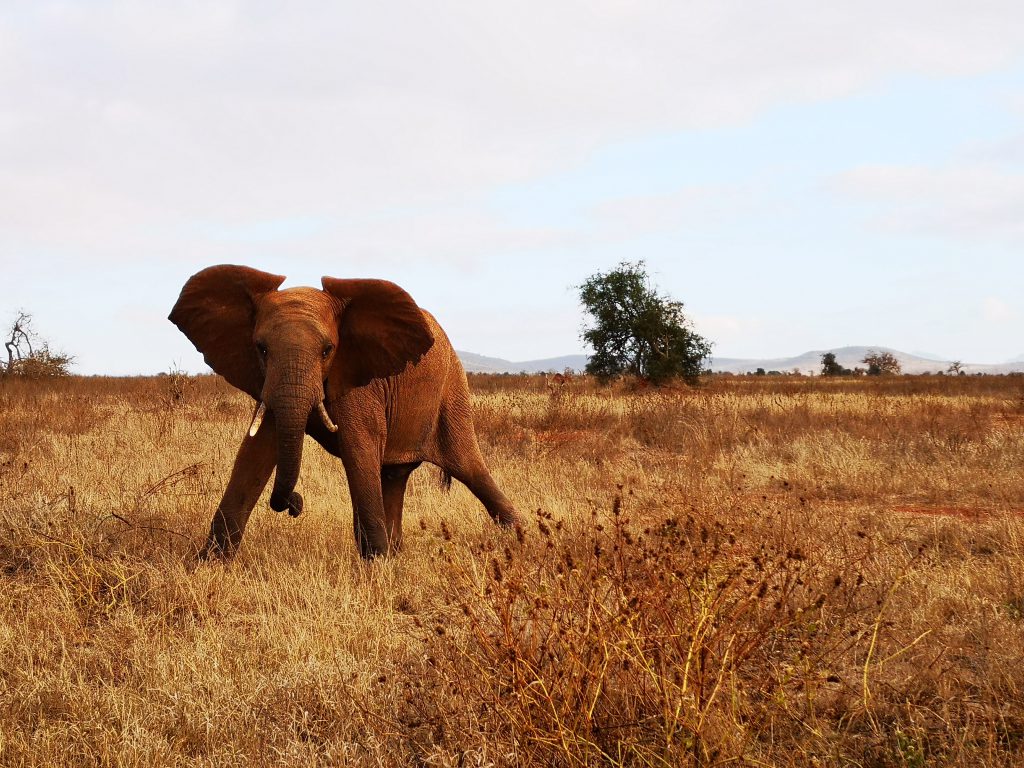 But ofcourse we did see multiple times the great lions!
And that made me really happy!!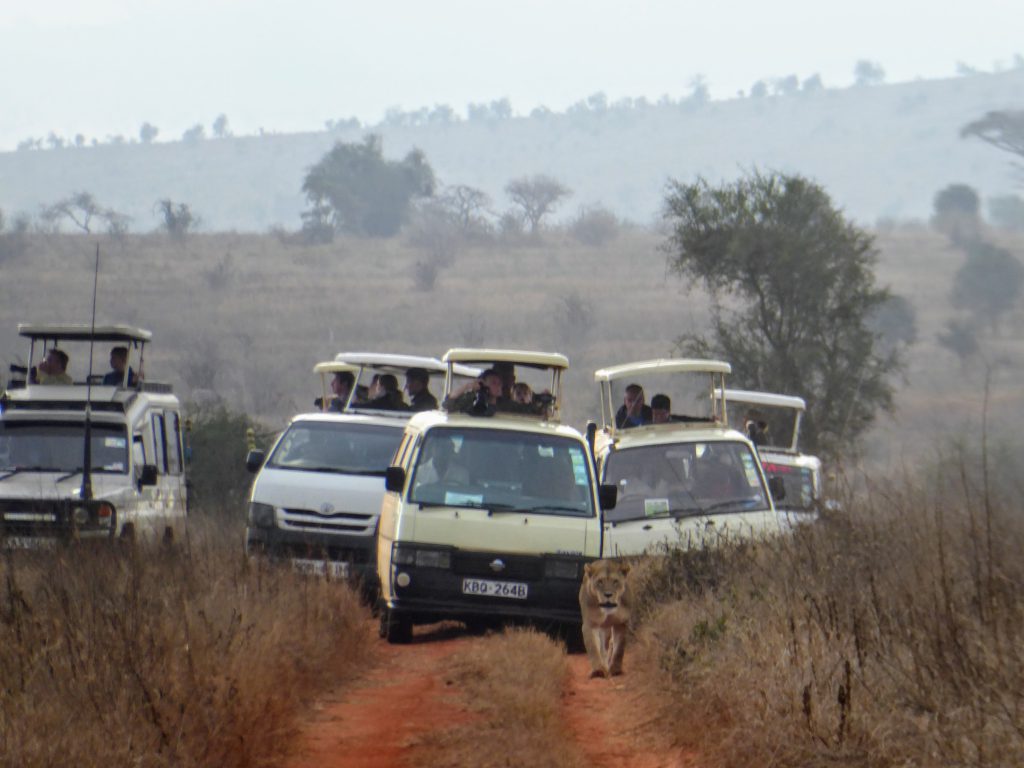 So…this is how it really looks like when you go on a safari 🙂
You probably knows those pictures… reality versus how you want it to be..
And if you are the only one on the other side and the lioness comes right at you… You make the following picture!! She came walking right at us…passed our car and went into the field, straight towards her man.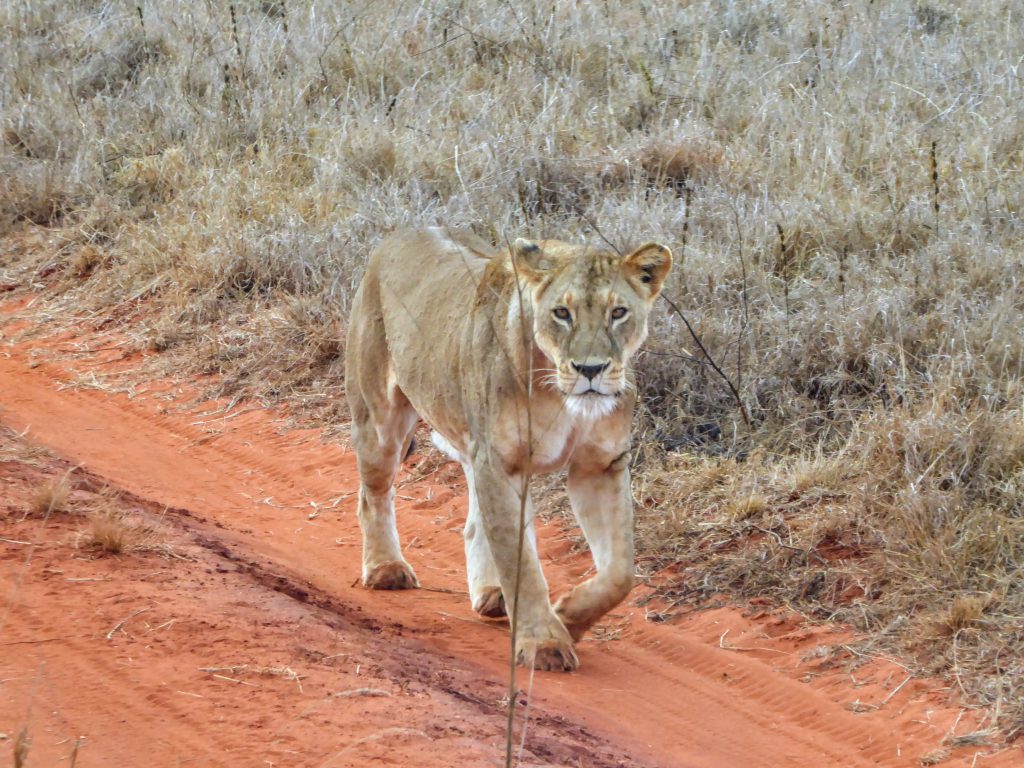 There he was: the king of the jungle..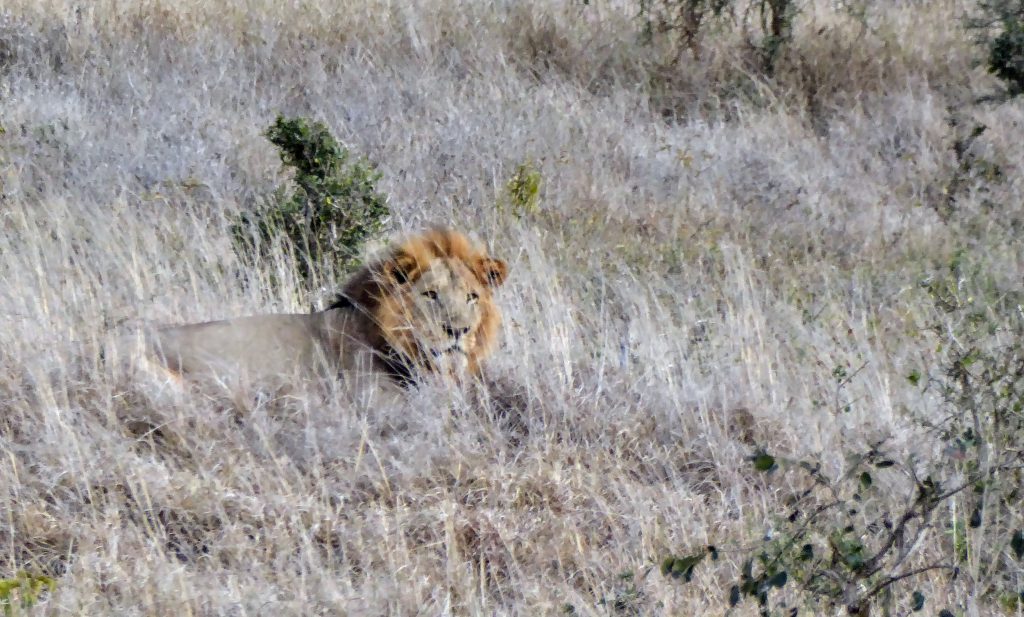 How was the rest of my day?
From 9 to 12 we would go into the park to repair the road, cleaning water supplies and other maintenance. It is a hotel/resort/logde so the park needs to be nice and good for the paying tourists.
Tsavo East National Park in Kenia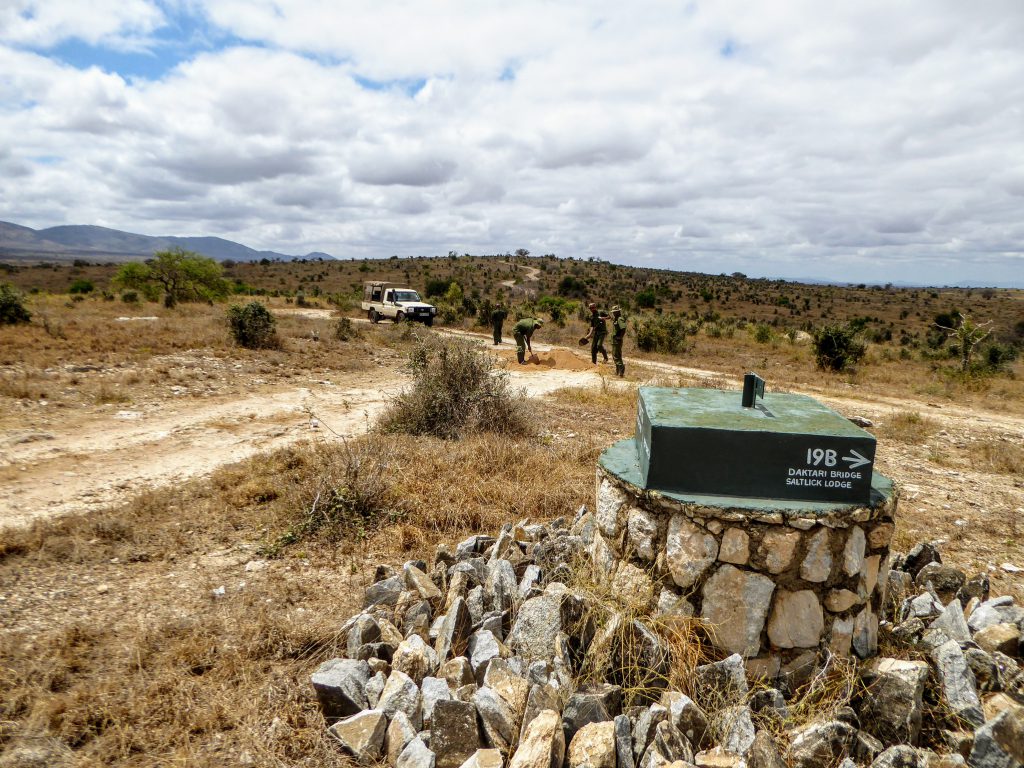 Maintenance on the roads, cutting through big stones and covering that with, what they called, maram. It is a differnt kind of sand which we got from just outside the park. This would keep better, less sandy then the red/brown coloured sand.
And so we were crossing through the park the whole day, walking around and looking around ofcourse. Looking if the area was safe, if there were some beautiful wildlife looking at us too and looking for other situations or irregularities.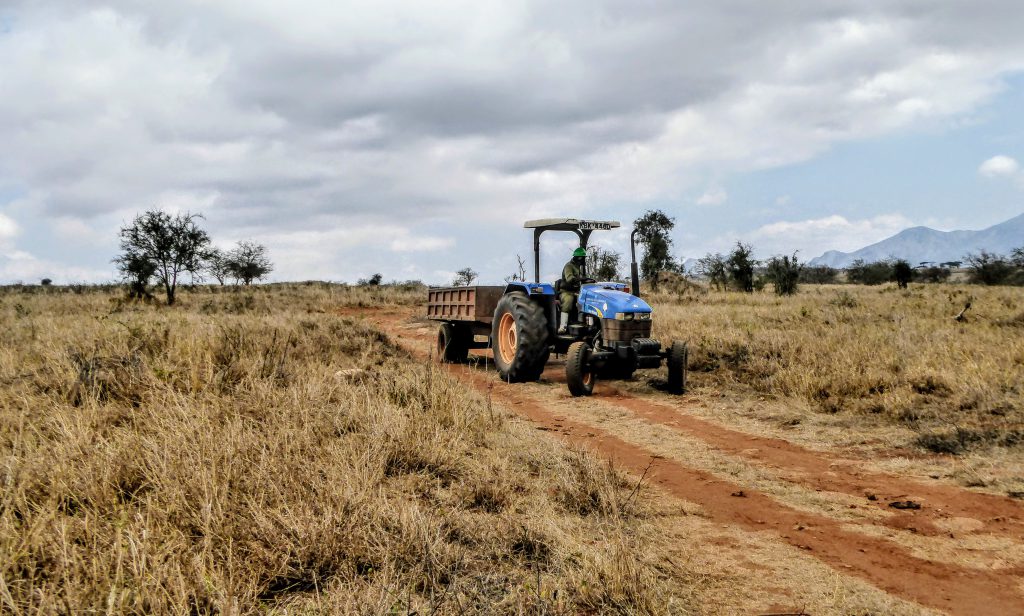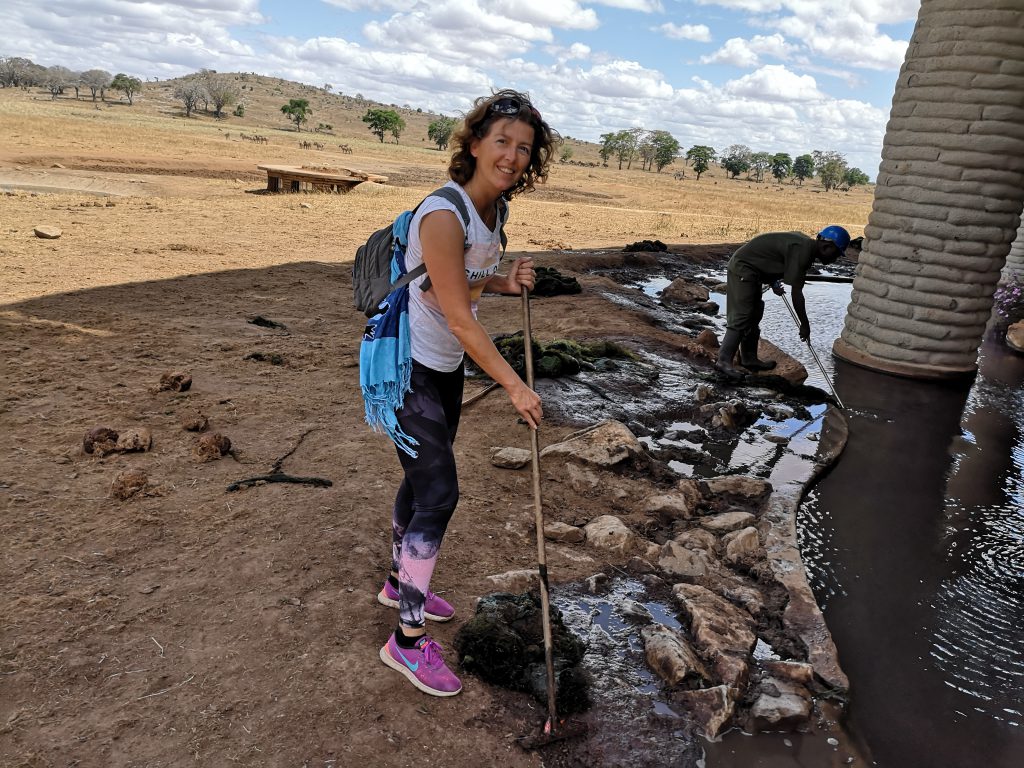 At Saltlick there are some waterbasins for wildlife so they come close to the lodge. One really close and one a bit further away and also much bigger. They one close to the lodge was really dirty. There was too much alga and plants in there and we needed to clean it.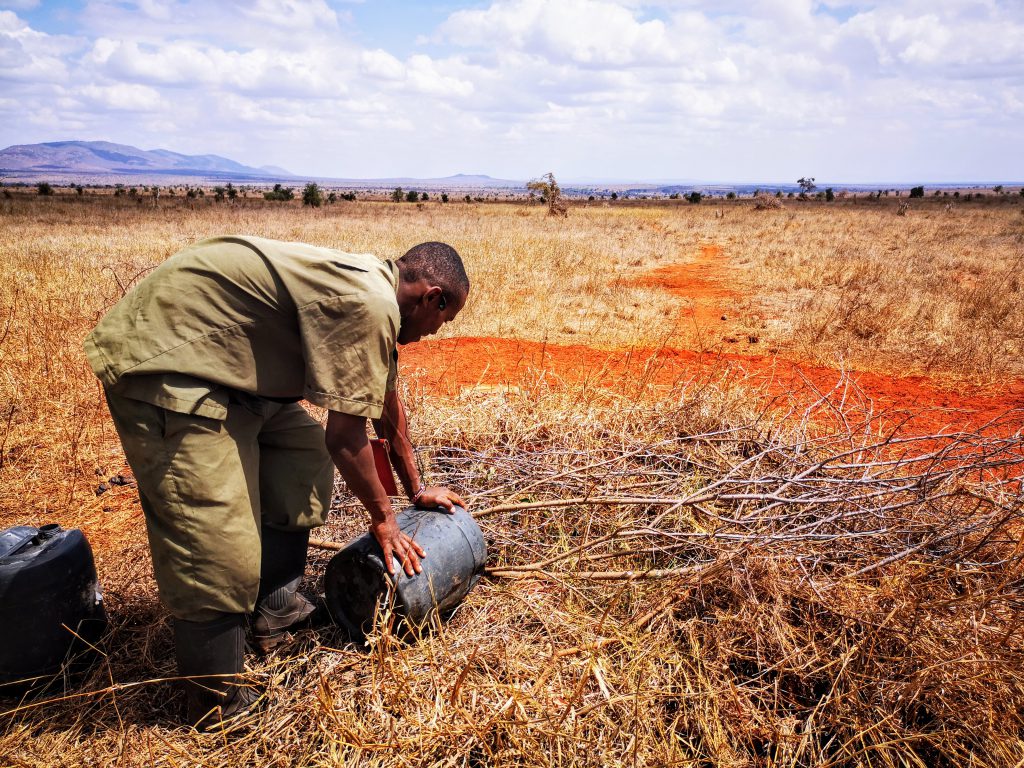 At several watering places they planted trees and we needed to water those. They planted the trees so the water in the hole would not dry that quick in the hot Kenian sun. We drove around for that purpose a whole afternoon too.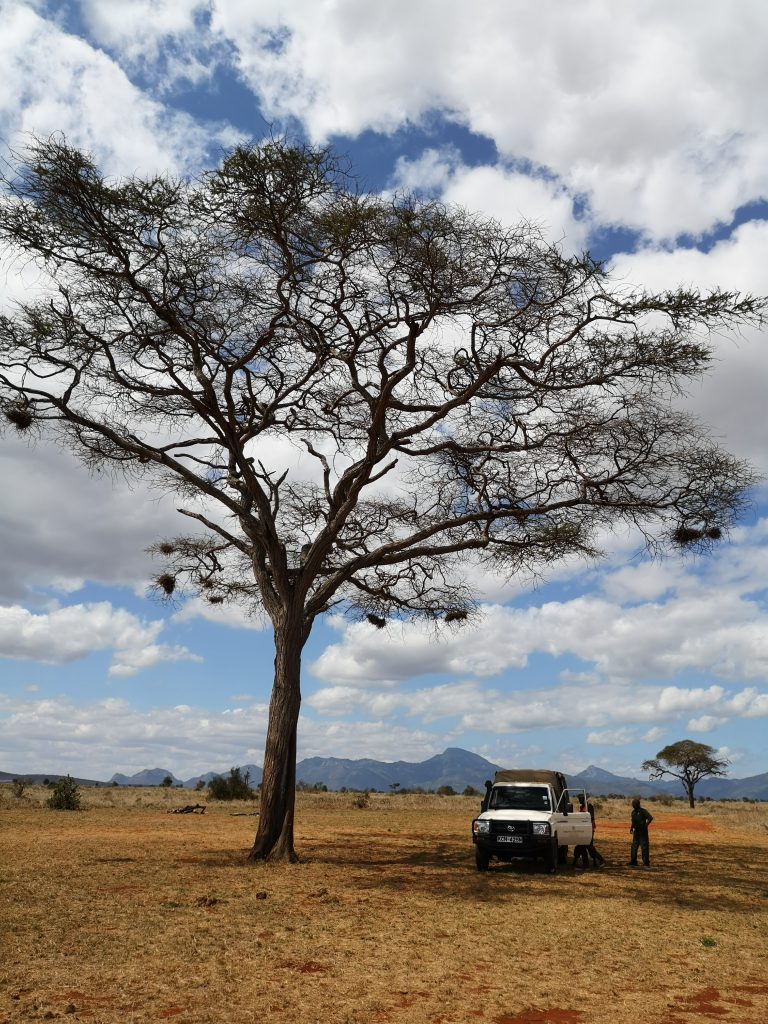 They had a bushdiner the night before at Acacia plain and we needed to check in daylight if everything was cleaned correctly.
I really liked the morning surveillance but the work afterwards was not really the work I came for. This was not listed on the schedule I found on the internet and where I applied for. I am not going to safe an animal… When I reported this to Donart and told him what my purpose was to come here Donart started to explain me what happened and that the project didn't work out as Patrick had planned it, with community and gouvernment. It was a last minute call to just place me at the resort. Now I was here with unarmed rangers which otherwise would have been armed rangers and a different kind of job.. not meaning, hunting for poachers.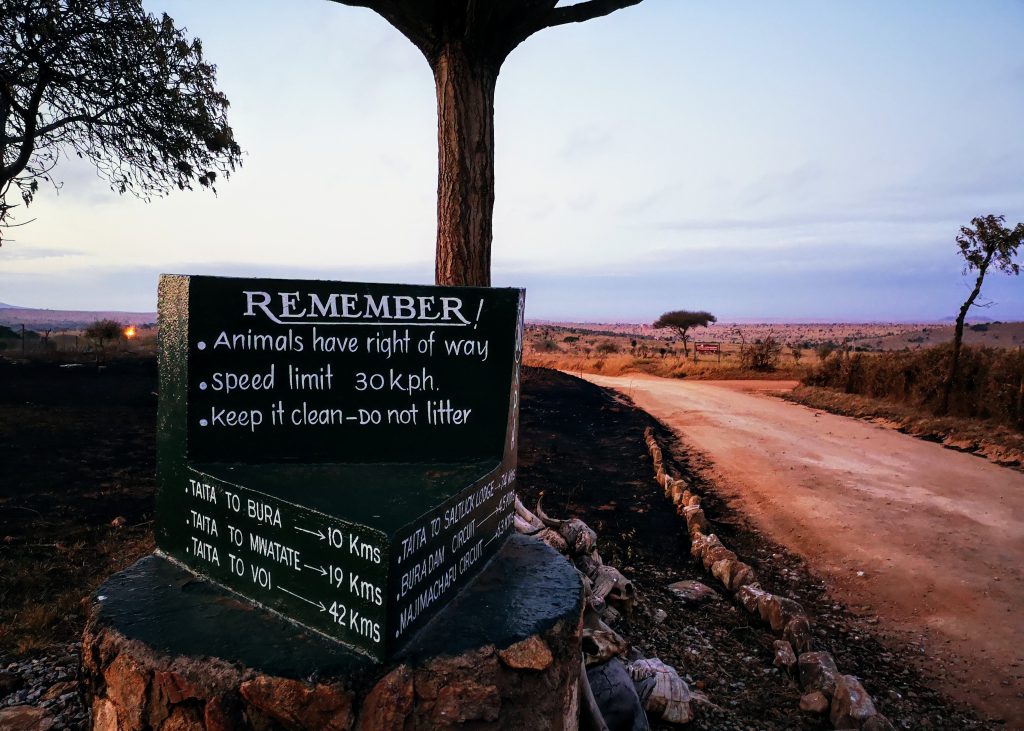 Well…that next day there was a call about a wounded zebra. They called the vetenarian for it and Donart asked if I wanted to join the vet later that day. The animal was seen with a snare around its neck. Later that morning they told us that they actually didn't know where the animal was .. they didn't followed it. It was just a call from Saltlick and nobody had seen the animal since.
Like 10 minutes later they told us that it was not even a zebra but a wildebeest??
Would I safe at least one animal in Kenia?
When we went out to search that afternoon and talked to the person that made the call it was a zebra…but the snare was around its hind leg.. It was leaping and so we would recognize it in the group. At that moment 6 hours had passed and the vetenarian was in the parc with its mobile vetinary unit. We search the parc for another hour or two but it was useless… we didn't find it anymore.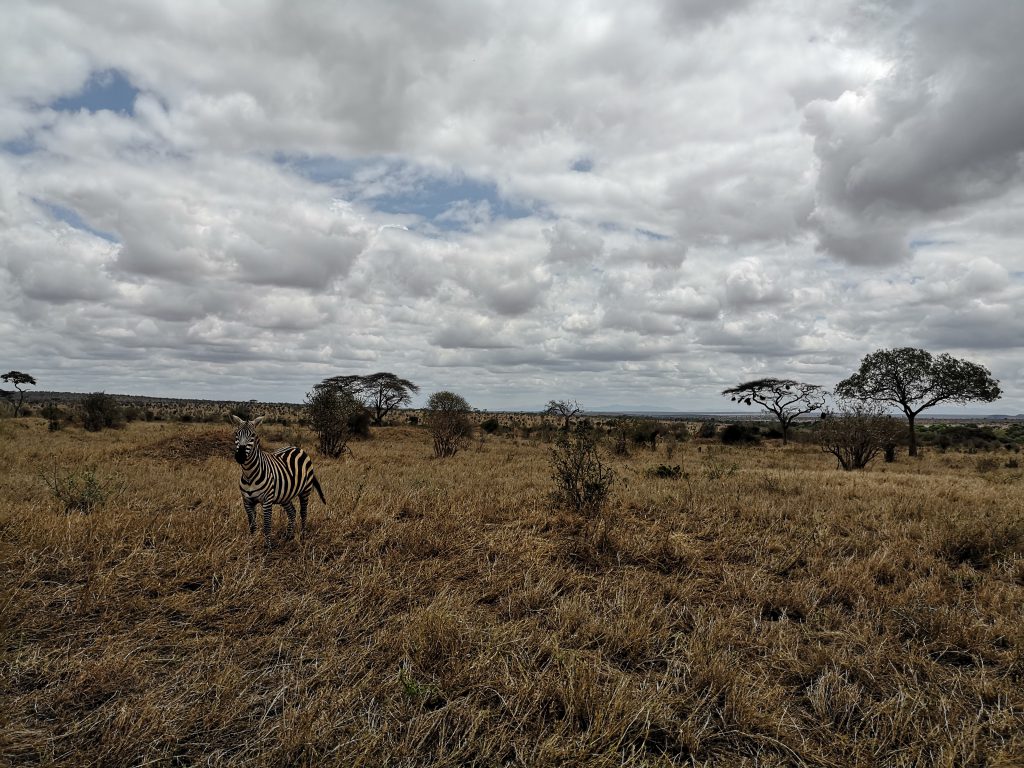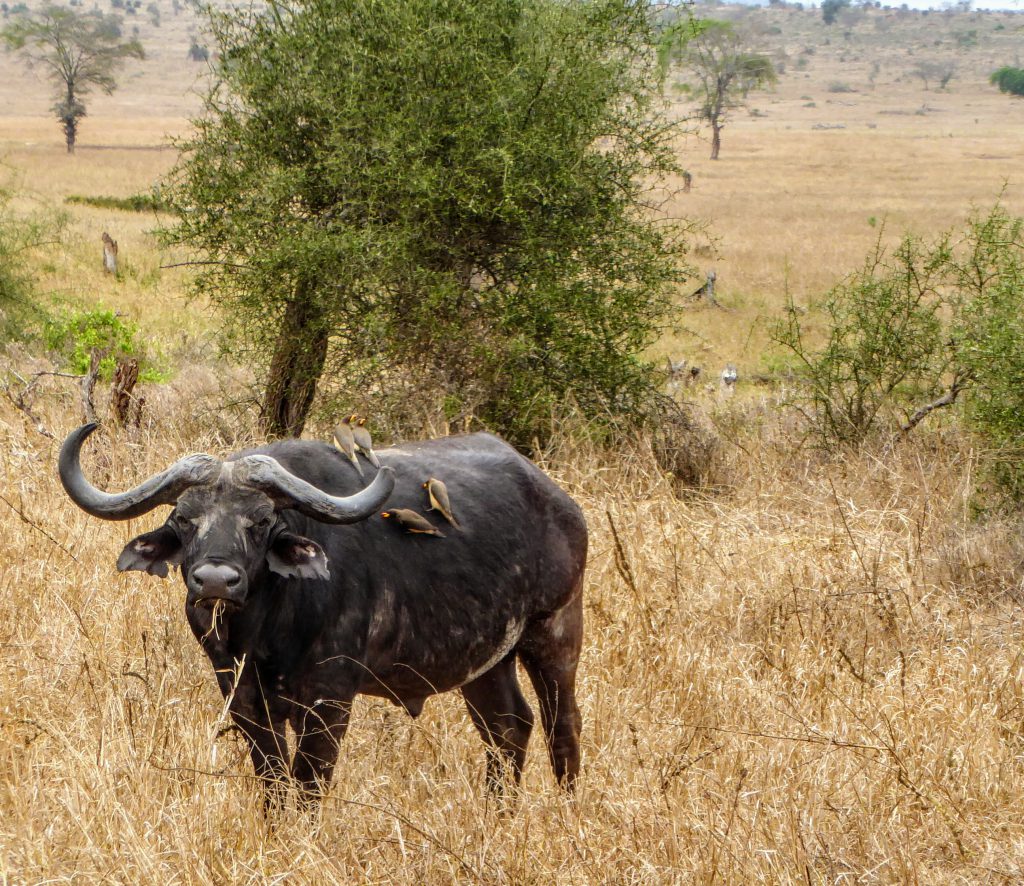 Living with the Kenian in the National Park
I did enjoy my time a lot in this park and with the rangers and all the other employees at Taita. It was an unique experience for me to live in between the Kenians and live exactly how they live too. Not many people can say the same right?
I lived the life of an employee of a resort in Africa in a secured camp inside the National Park.
If you wanted to go outside the park you needed to go by car or jeep. I also went on the back of a motorcycle of another employee to the entrance of Taita Hills. That was a walk of about 500 metres…but no… You can't take the risk of encountering some wildlife!!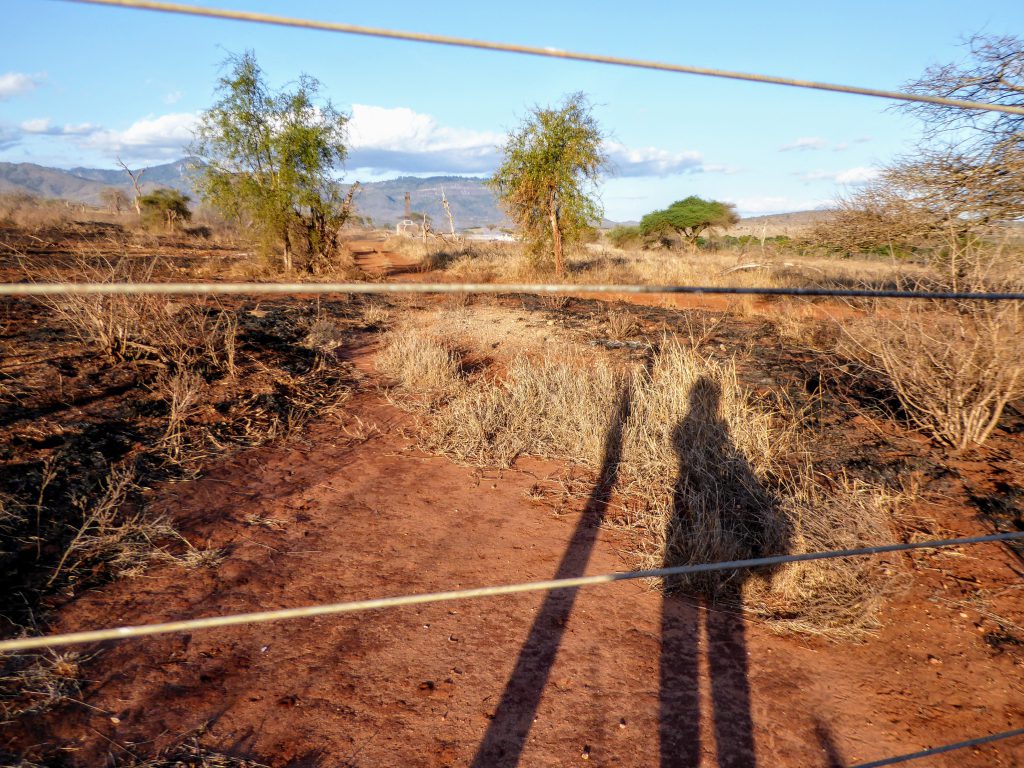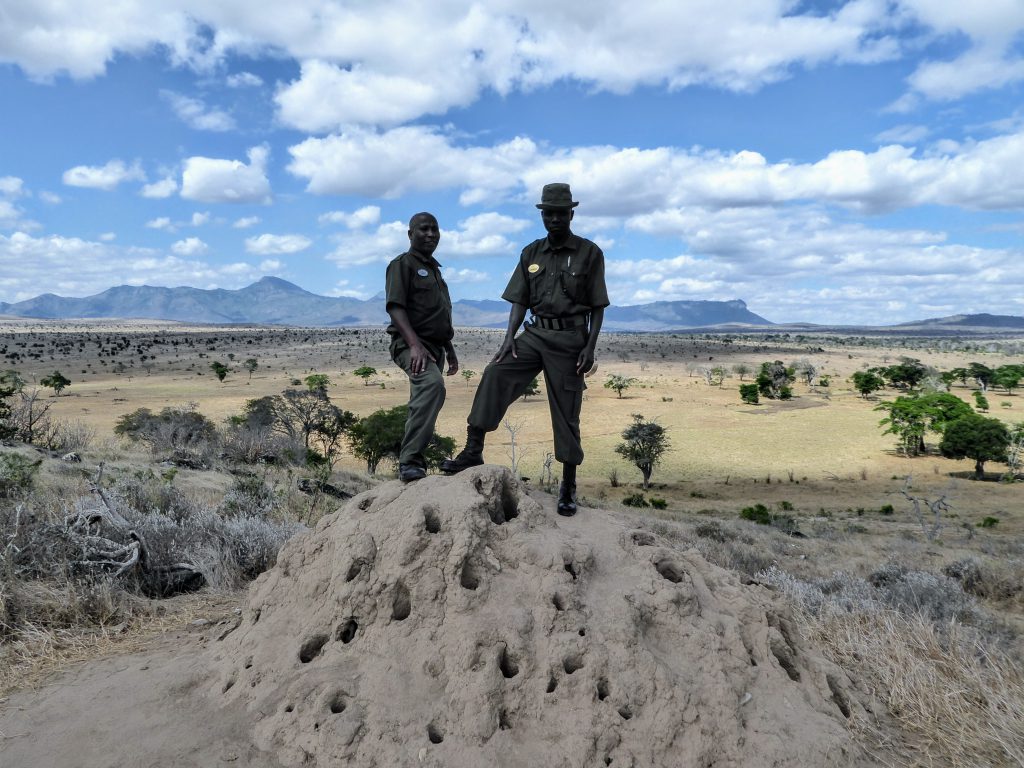 So my unit was inside the national park and in a secured area. There is also a big canteen where you get your food, breakfast, lunch and diner. This was used in company of many other employee and while looking at the local soap or sometimes an old movie 🙂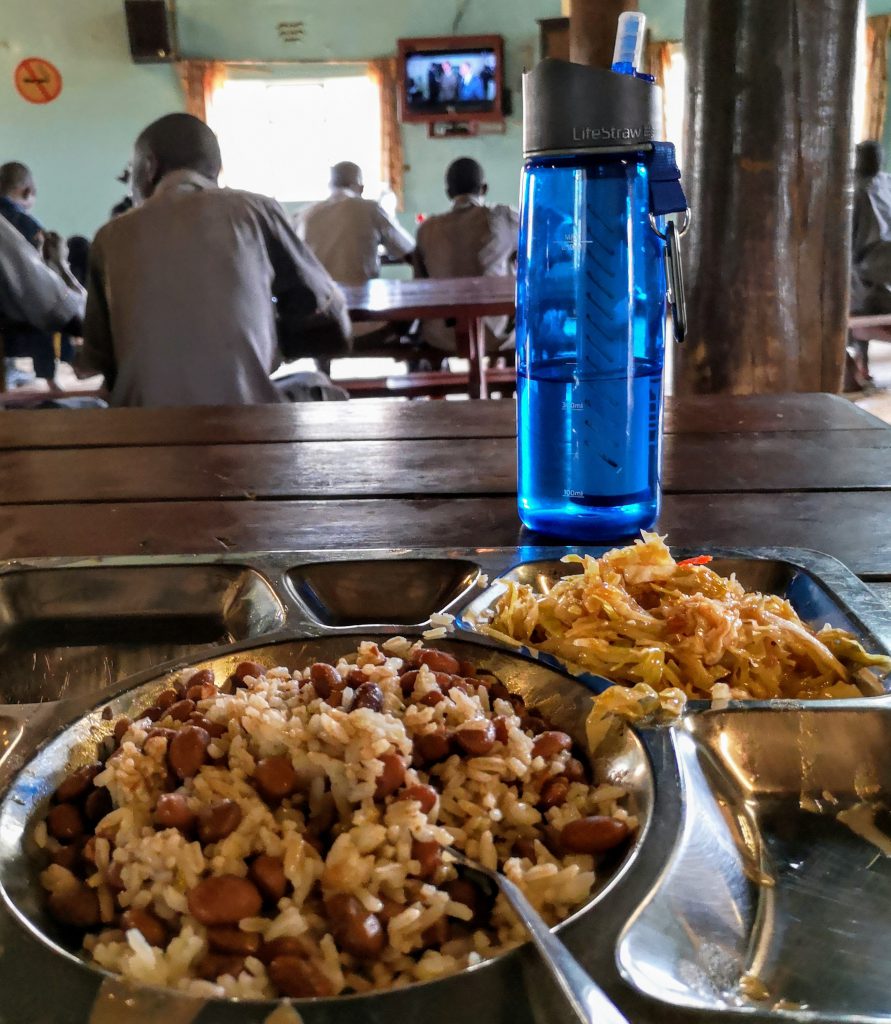 In a big soup kitchen they made huge quantities of food for us.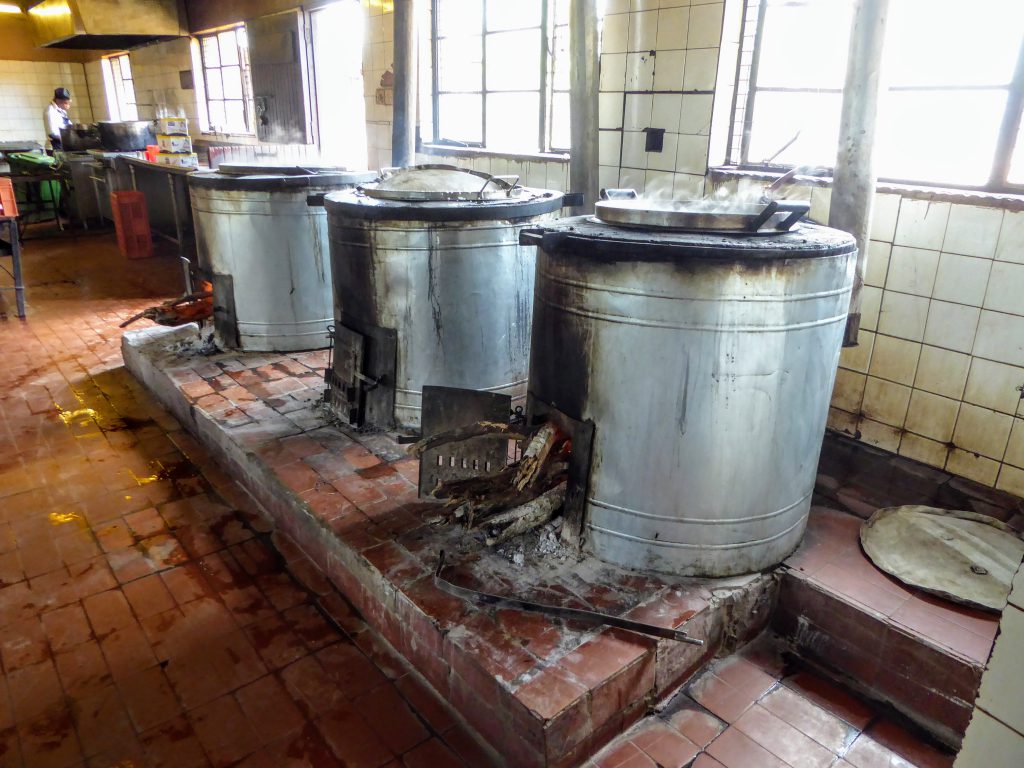 And… on Friday they had a football match. A team from a neigbhouring school came to play this time. It is a real competition and Taita has a good team and entered the competition. I really liked it!!
They were really fanatic and they won this game with 3 to 0.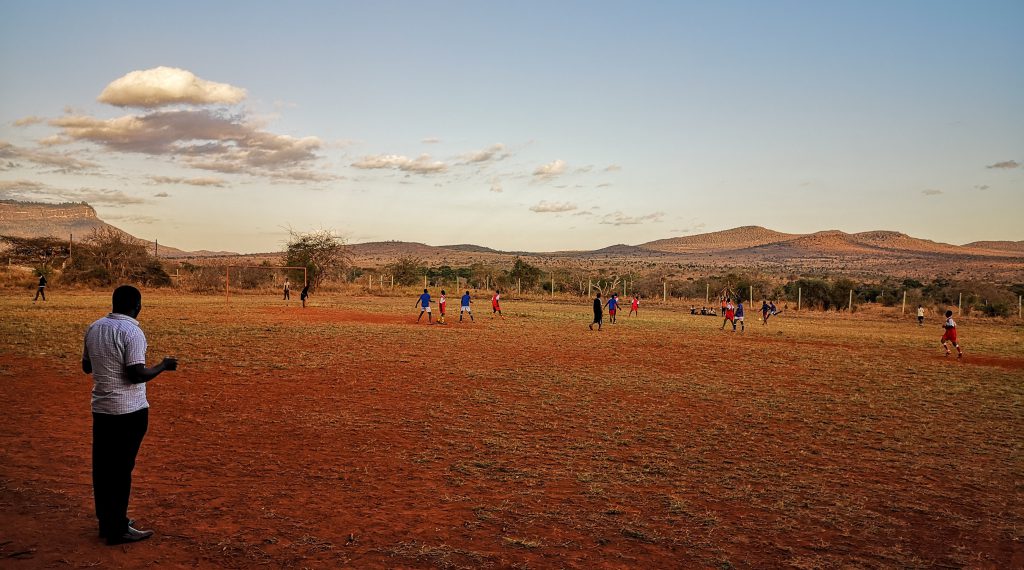 And… this was my house!!
Don't you think it looks great? From the inside maybe a bit less… There was only one outlet for electricity and the lightbutton was at the entrance. That was actually the only modern thing in the house. There were two beds and one table. It wouldn't fit to put in ore and for me it was enough.. I was there for a week and only slept there. But what if you live here for weeks…months…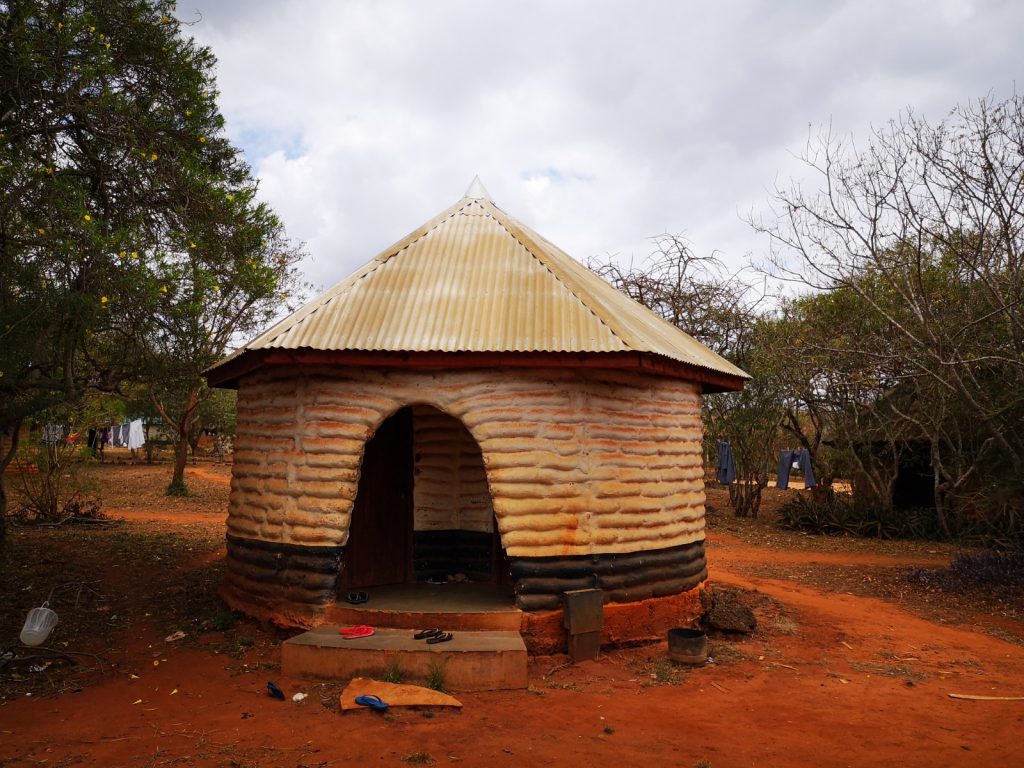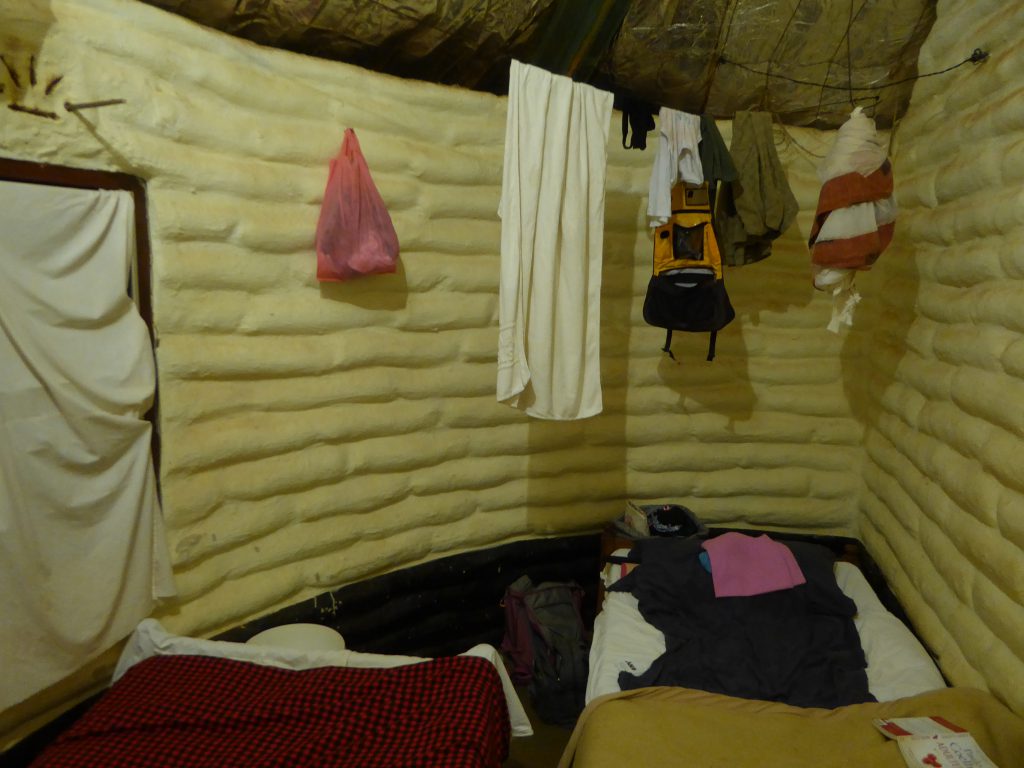 On the right side you see my bed. There was this iron wire above it which I used to hang my toiletbag and towel. Behind the bed is my backpack and the small pack is next to it. Then there is enough room to place my feet when entering the bed.. And in between the beds was just enough to pass to get to the door 🙂
The building for toilet and shower was for all ladies. There were 6 or 7 showercells and 4 toilets. In front of the showers there was a curtain but I was happy not to touch it. The other ladies didn't use it either so it wasn't awkward. The toilets were those holes in the ground and after years of travelling I do get used to using them.
Still… I didn't like to use them for number two. I fixed that by going to the toilet at Taita Hills in the morning and use a cup of coffee after the morning surveillance.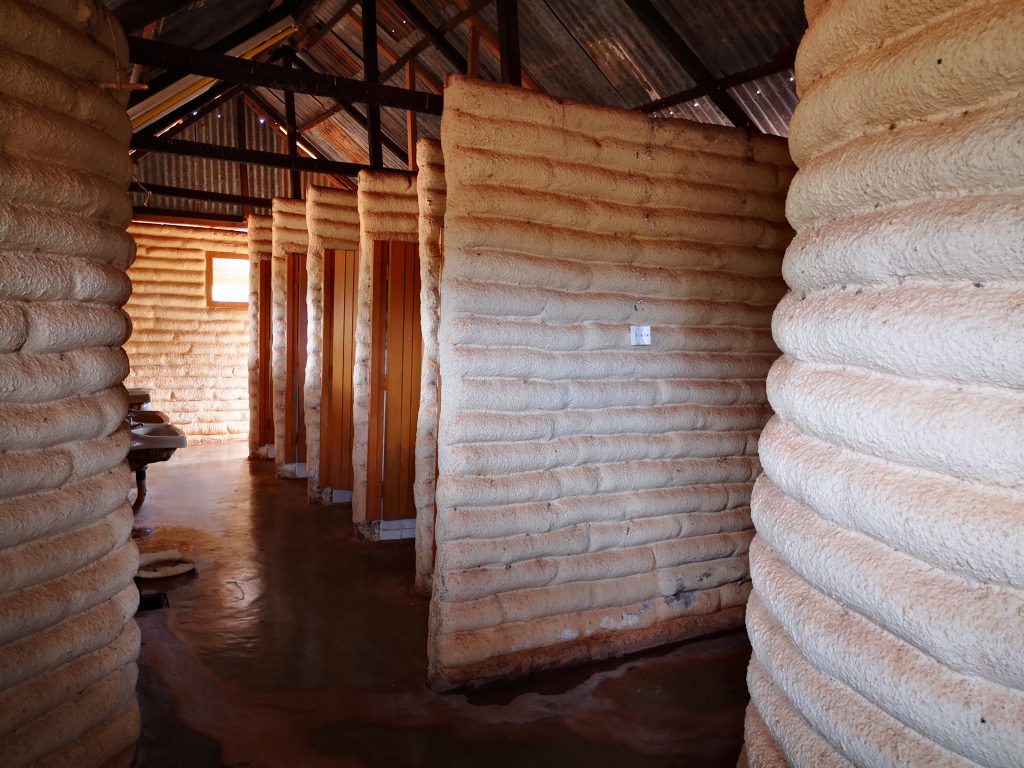 The employees all go home for a day or two a week, or every other week, if they live near. If it is a longer journey they sometimes go home once a month.. to their family.. It is such a different world to ours… Hard to imagine this for me.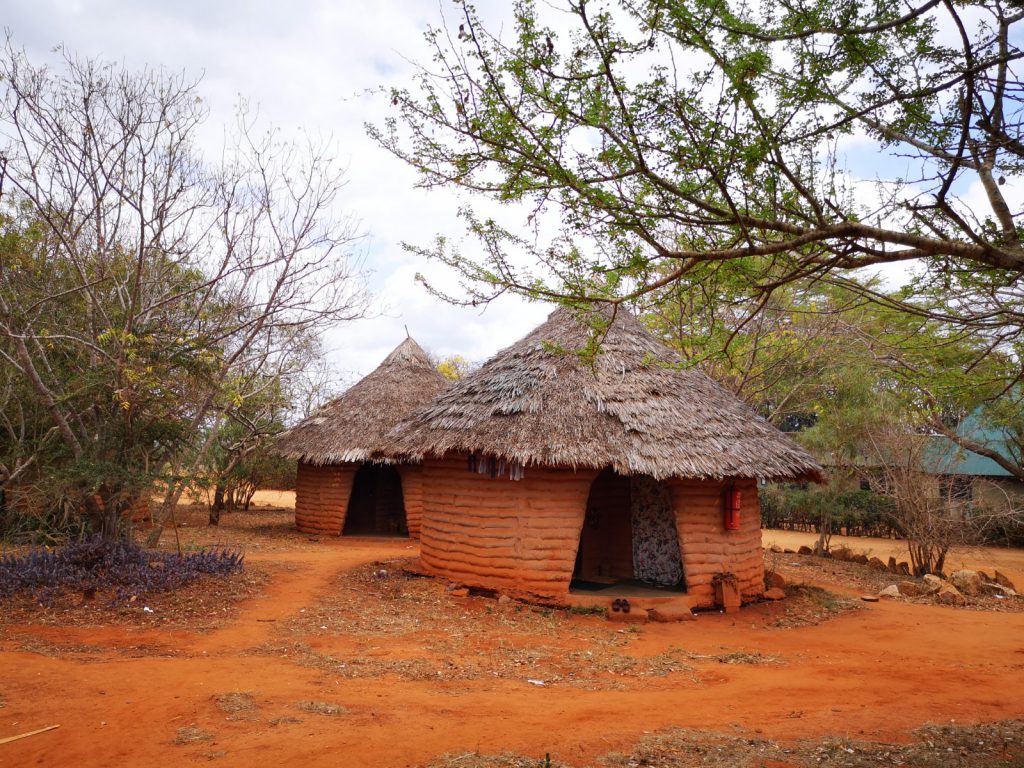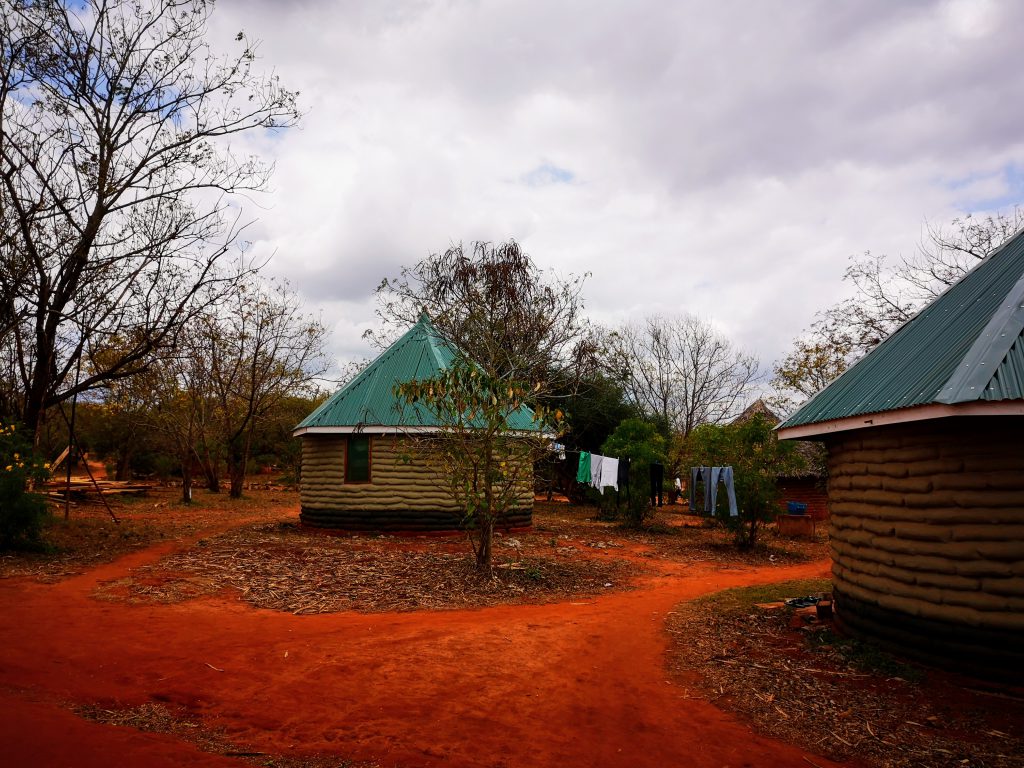 These are the new version of the houses. Plastic roof… no leaves anymore. I don't know if this is better when it is hot?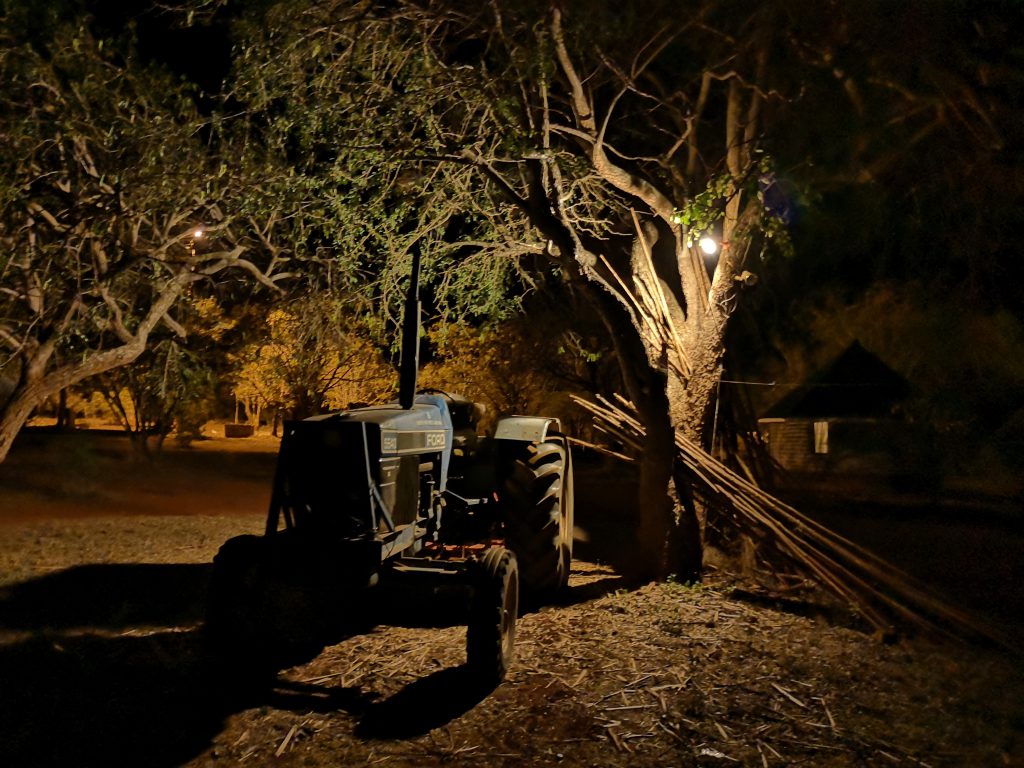 In the evening hours there is not much light in the village. There are some lamps on the are but only to light the 'intersections' of paths. At one of those spots there was this tractor.. I don't think it was working anymore .. it wasn't moved or used in the week I was there. They could've used some more vehicles while working because we had to wait a lot for vehicles.. But Sarova, the company of Taita Hills and Saltlick, is saving money on the work in the sanctuary. They think that the work inside the resort in more important appearently.
I hope they change this opinion as tourists will come for the wildlife…
Most guests stay for one night. The most visitors had booked a twoday trip from Mombasa and drove here, checked in and did a gamedrive in the afternoon. An evening gamedrive with or without bushdiner and an early gamedrive and they were gone. So hopefully they will give priority to the sanctuary in the near future. Working was difficult with at least 7 peopel but only 1 jeep, 1 tractor that worked and one trailer.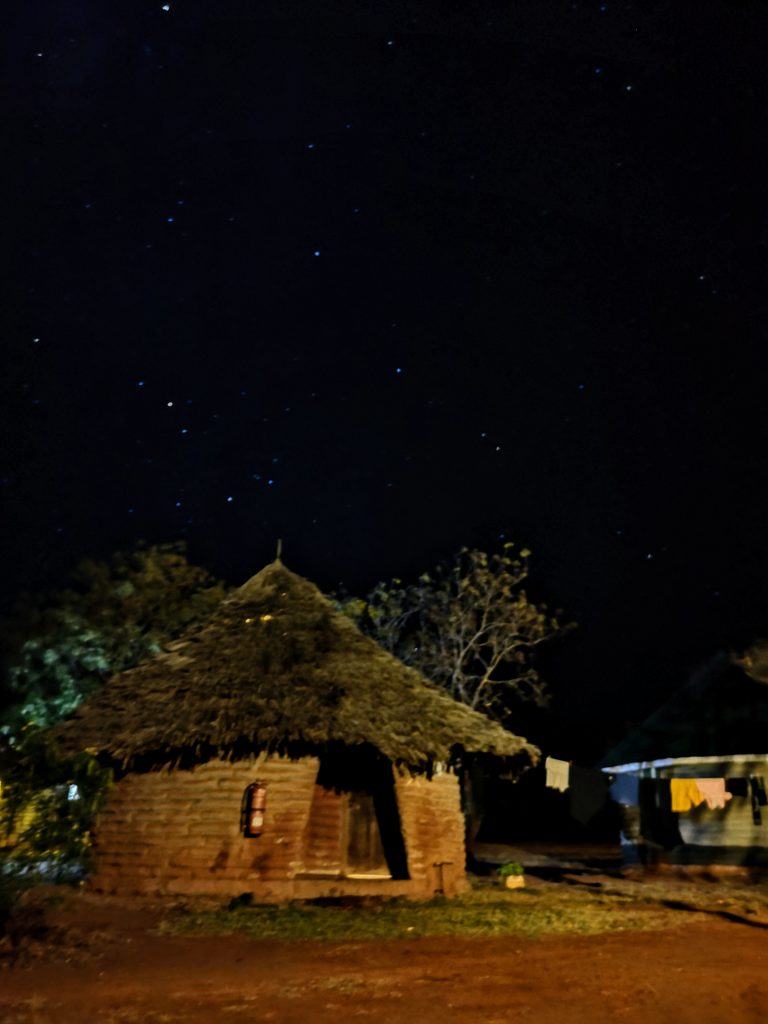 I tried to make some nightshots with my phone. I did got some stars on the pic, do you see? It defenitely is not a good pic but you'll get the picture right?
I loved to be able to experience this all.
Who else can say that they just went out of the car, where ever in the park, to make a great picture?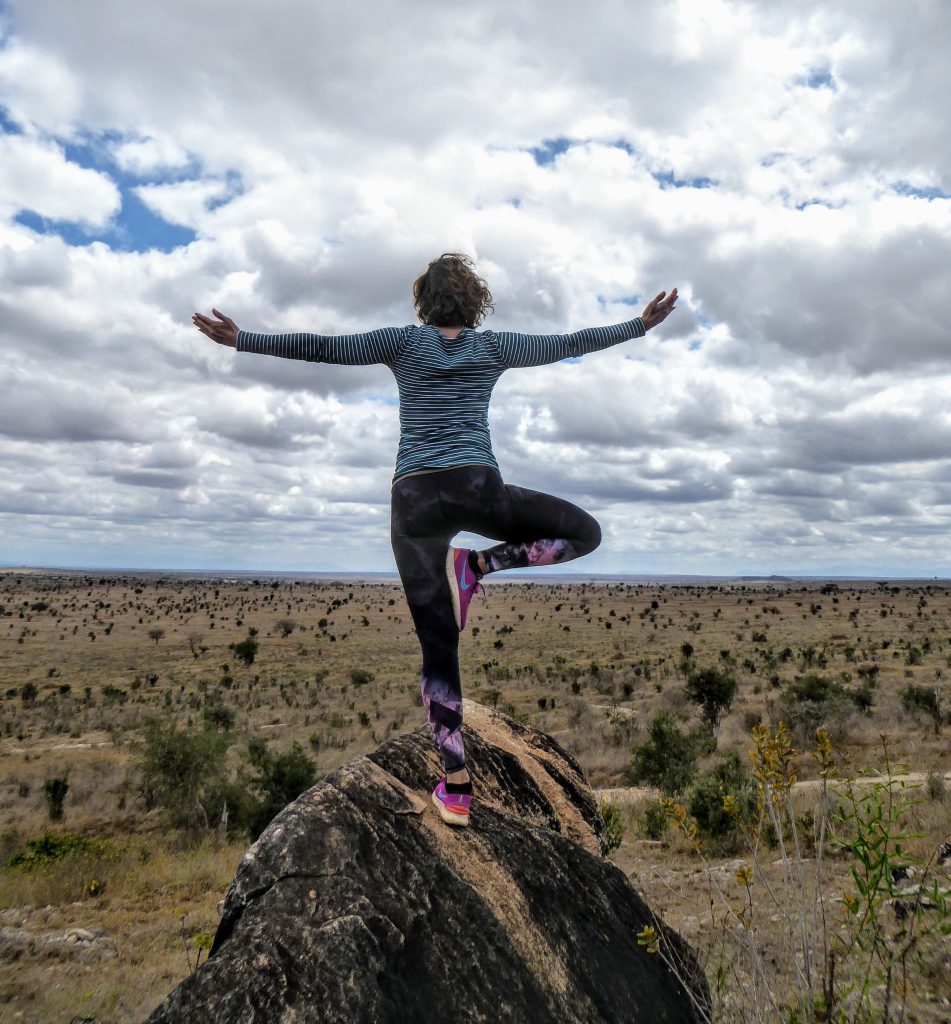 Would you love to do similar work also?
Where & How
At this moment this project is not available but maybe Patrick is able to work it out. I booked this with IFRE. I paid only to register $300. And next to that I paid $450 for the week working wildlife in Tsavo and $180 for the taxi to and from Nairobi.
That taxi, I would'n pay for that again. Next time I would just arrange that for myself. They didn't pay $50 for that. Because the way there was a busfare of 8 euro and the way back was the train that costed 10 euro. I was brought to and from the bus/train station by car. A drive of around 30 to 45 minutes. So I didn't thought that was worth the money.
For the experience of working in a NP I would defenitely go again. I loved living with the Kenians and working in the park. At most projects you will be in a mixed company of mostly volunteers… And that wasn't the case here… I was the only white person there 🙂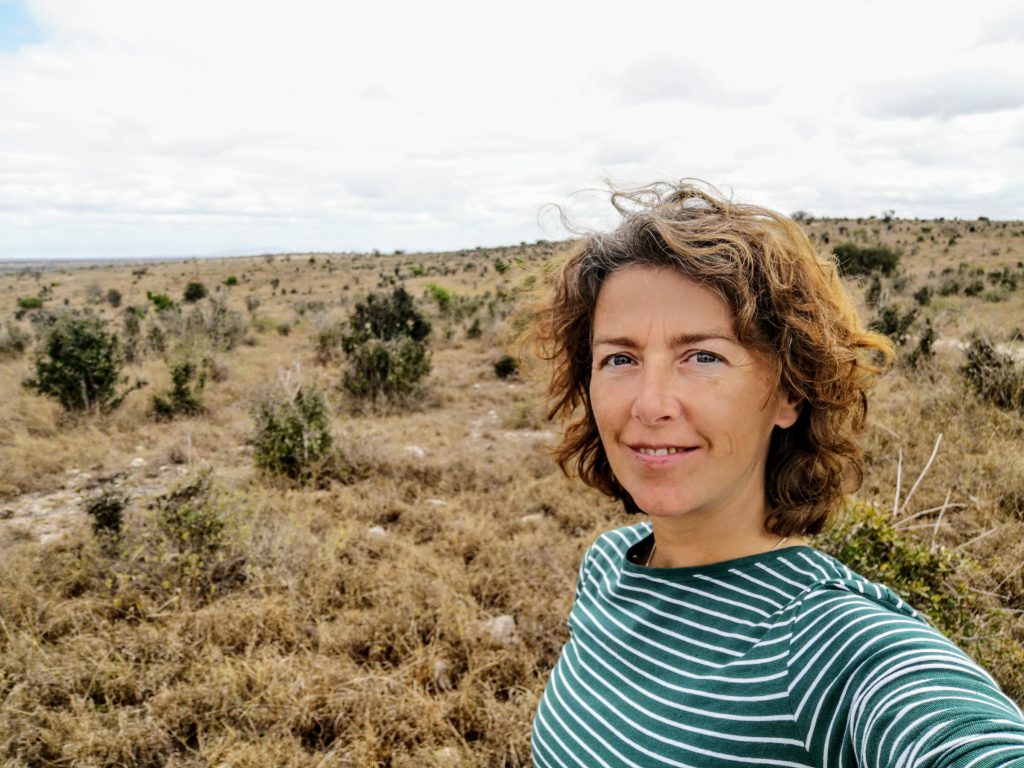 Do show others this experience and the project,
share this post 🙂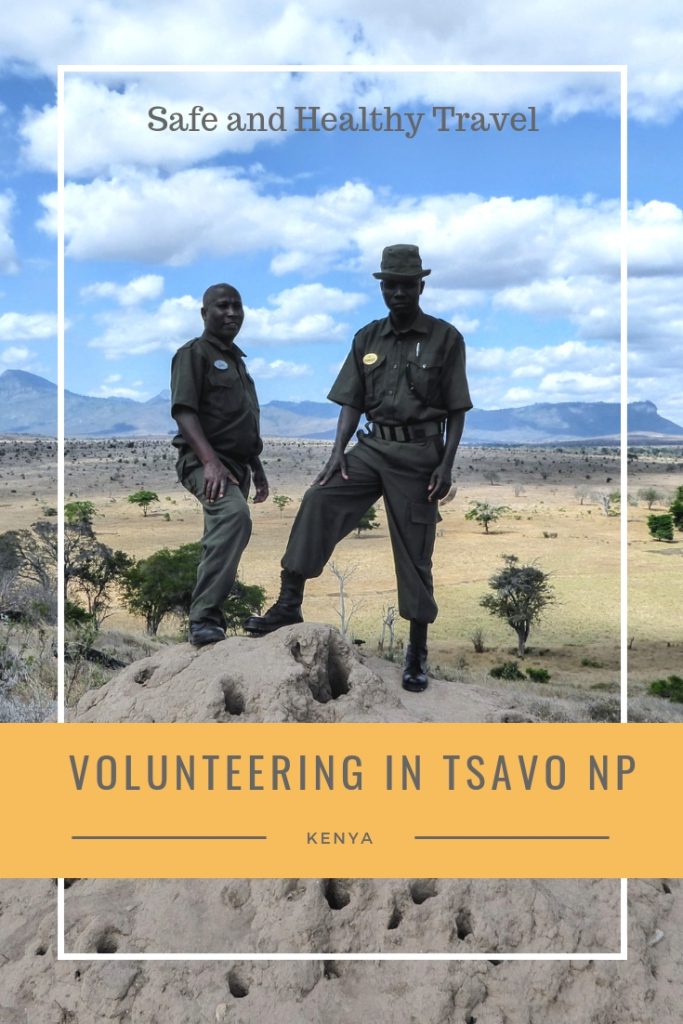 What I shared already about my trip in Kenya:
Visiting the Impressive Masai – Oloolaimutia
I also visited The Gambia
Surfing the waves of Kartong – The Gambia
Having diner with the locals – ResiRest – The Gambia
Do you also Hike? Do you use the trekkingpoles??
Read the pros on using those!!
I hope you love this world as much as I do!!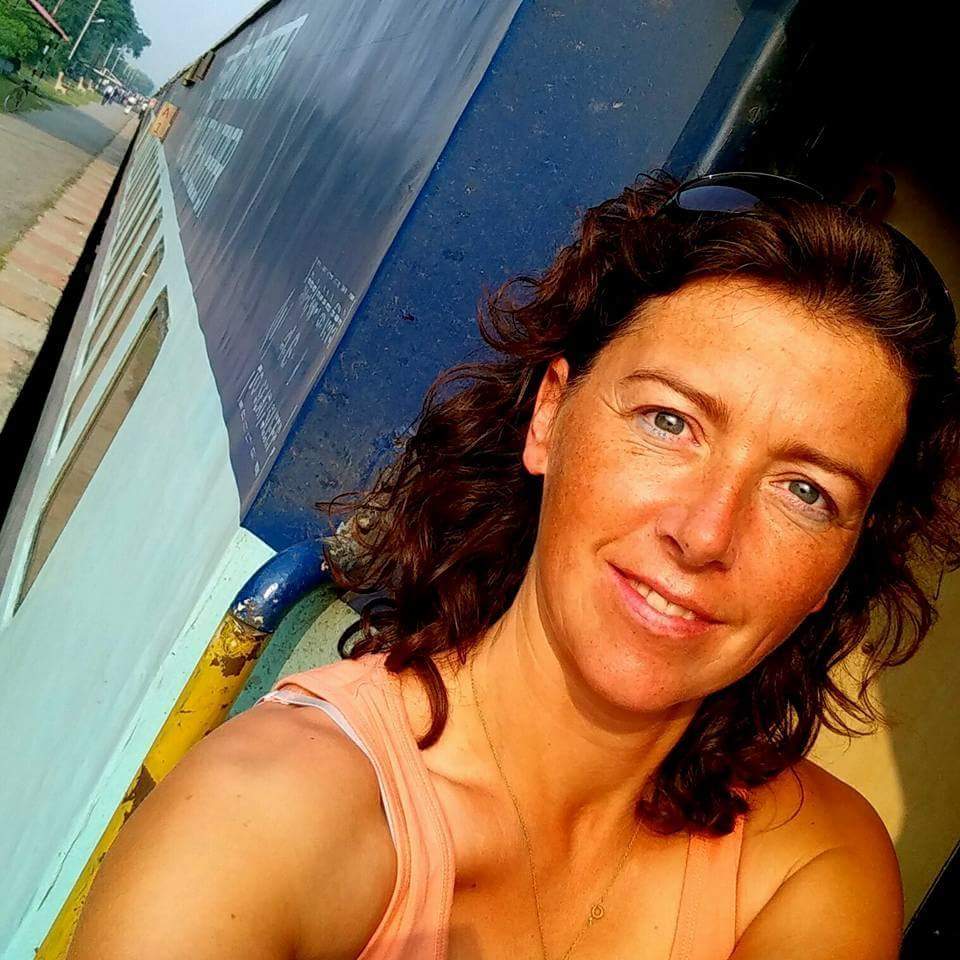 Jacomijn is een politieagent uit Nederland die jou graag laat zien hoe je veilig, actief en gezond de wereld kan over reizen. Safe and Healthy travel is a MUST