Pilgrim path St Olavsleden – Hiking in Norway
|
If you want to hike for a couple of days there is a whole network of long distance hiking trails in Norway to choose from. All these trails are parts of the pilgrim path St Olavsleden, they all lead to the Nidaros cathedral of Trondheim. I hiked a part of this long distance trail. It was the last piece of the original trail of St Olav, the part from Stiklestad to Trondheim. These days are the last part of the one that starts in Sweden, at the church ruin of Selanger.
The whole pilgrim path St Olavsleden is 580 kilometer and is a good competitor of the other most famous pilgrimage called the Camino de Santiago (The Camino Frances of 780 K that I hiked in 2016 in 35 days). The big difference here ofcourse is the temperature and the beautiful Scandinavian landscape and dito culture. If you want to do the whole st Olav Ways you need to take into account that you will be hiking for 28 to 31 days in Norway and with the bigger part in Sweden. The whole St Olav Ways is really good navigated and I only lost my way because I got absorbed by my own thoughts…
The Nordic Pilgrim path St Olav Ways goes from Sweden to Norway, starting in Selanger and ending in Trondheim and is still a relatively unknown pilgrimage. Because of that the trail is still quiet.

So if you love a quiet, long distance, hike in beautiful nature and with ancient old history you need to go on this hike!!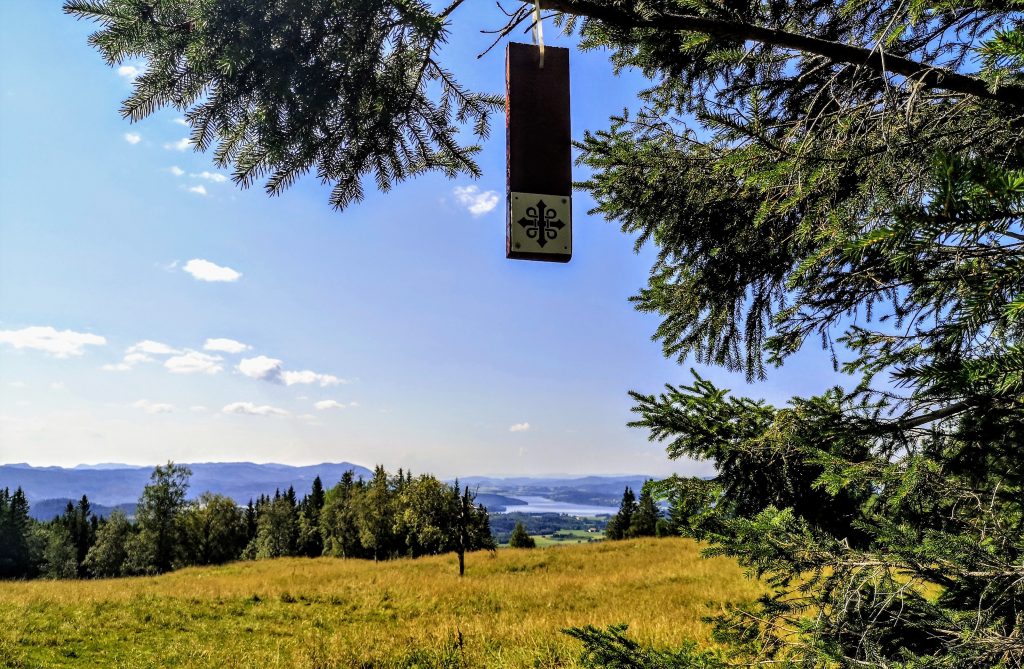 Sign to follow as a pilgrim on the path St Olavsleden
There are multiple pilgrim trails that each end in Trondheim, at the Nidaros Cathedral. The whole network of Nordic Pilgrimages is called St Olav Ways and has about 2000K hikingtrails spread over Norway and Sweden. So you can choose out of several different distances and landscapes.
In collaborating with the region Trondelag and Visit Norway I got to hike a couple of days on the great s:t Olavsleden. I started on the last part that lots of pilgrims take in Norway. The trail from Stiklestad to Trondheim (Nidaros Cathedral). This part of the st olav ways is still 7 days and gives you enough kilometers to get your diploma and the Olav's letter. I didn't got the 100K in my 4 days but I did got the Olav's letter, proof that I was a pilgrim on the st Olav Ways. In those 4 days I did got the feeling of being a pilgrim and I loved it!!
Being a pilgrim gives you such great feeling, a feeling of full freedom!

A feeling of peace, calmness and tranguillity of mind. It is the best way of Slow Travel if you ask me! A term you hear a lot lately and when I'm hiking I do know why!
In this post I will show the original stages so you can plan this 152 K trail too, unfortunately I couldn't do them all in the days I visited Norway.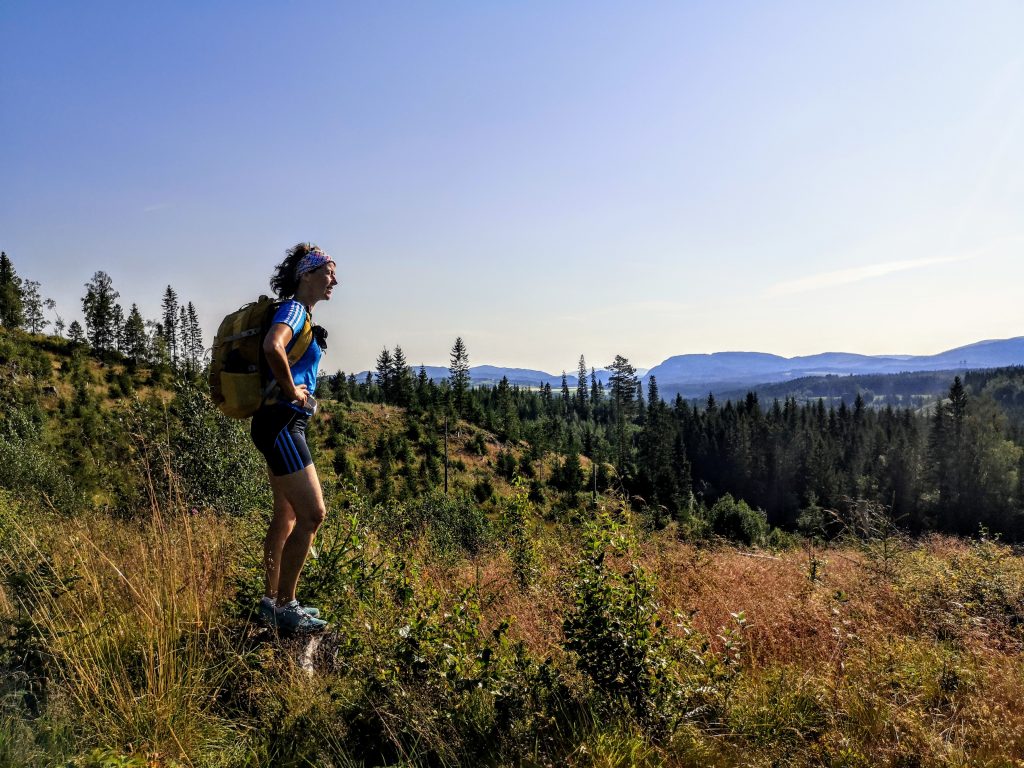 Pilgrim path St Olavsleden – Hiking in Norway
I flew from Amsterdam, The Netherlands to Trondheim, Norway to immediatly take a train to Verdal near Stiklestad. The trainticket was about 15 euro and the journey was about an hour. On the train I got the best views over the fjords!! It was my first visit in Norway and only knew this from pictures and a little bit of Sweden ofcourse. I fully enjoyed my trainjourney and before I knew it I hurried my way out of the train because the hour had passed already!
The hour had passed so quickly!! That happens when you enjoy the moment right?
On the trainstation I called a taxi to get me to Stiklestad, the last 5K. It took a while before it arrived and in the meantime I talked to 2 Dutch guys. The first Pilgrims I met on my pilgrimage tour st Olav. They told me that they started in Selanger, the startingpoint of the st olav ways in Sweden. They both were carrying a big backpack with each 20K in it and they had a great time! They camped out a lot and even had a close encounter with an elk. They heard stories about a couple that woke up and realised that a bear had slept next to them.. Next to the tent or such..
They didn't know the exact story but it had to be an adventure! When you travel there are always great stories you hear about and tell on, I love those!
Saint Olav
A week st Olav Festival Norway
I just had the perfect timing for my hike on the St Olav way because it was also the week of the St Olav festival. It was saturday when I arrived in Stiklestad and that monday it was Olsok, st olav day. How lucky am I? I immediatly went to the drama that was in the outdoor theatre that showed the last battle of Olav in Stiklestad. When Olav lost his power in Norway he was banned to Russia, years later when he came back with Swedish soldiers he wanted to become King again. He lost the battle when he almost reached Trondheim, at the place where I was at that moment: Stiklestad. He died here and his body was buried.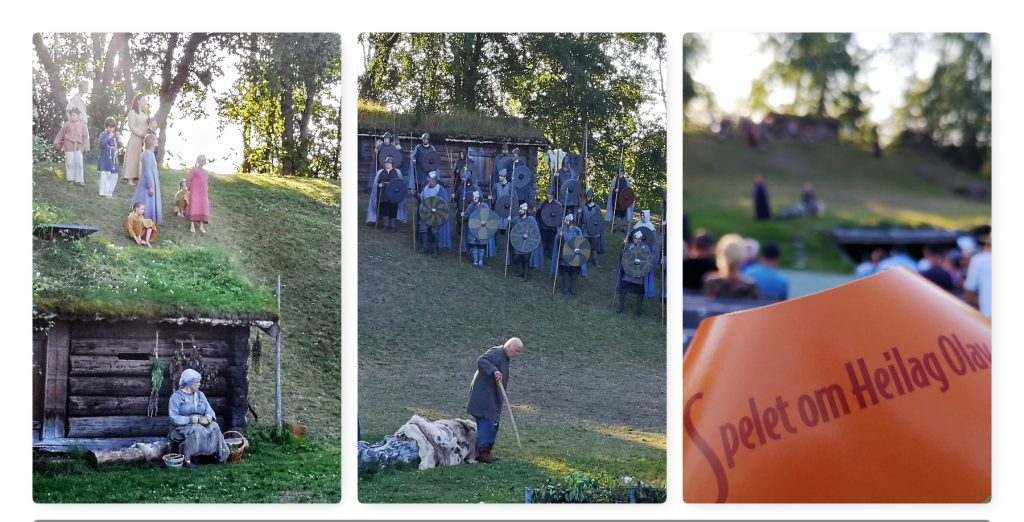 How Olav II haraldsson became sacred?
A year after he was burried they dugged him up and then they saw that his hair and nails had grown. He still looked good…and I even heard someone telling me that he even smelled like roses… anyhow: it was a miracle and Olav was declared sacred! His body was moved to Trondheim and they build a small wooden church in Olavs honour. In the years to come the place got more famous and the small church was replaced with the bigger Cathedral, Nidaros Cathedral. Olav nowadays is a symbol of Norwegian independence and pride.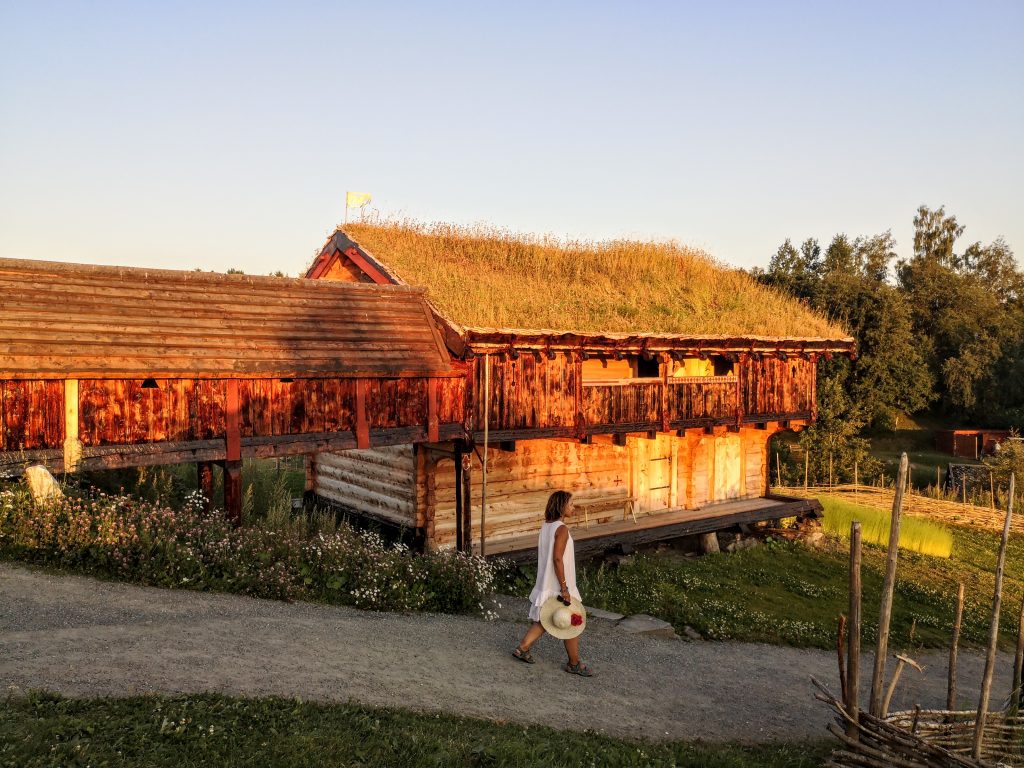 I slept in a traditional viking house near the Cultural Centre in Stiklestad. It was really warm that day and to get the heat out of that house I opened the doors but it got kind of busy as I was part of the museum all of a sudden 🙂 I closed the door to not say constantly that this was my room and not part of the museum for now..
Accommodation Stiklestad
This vikinghouse was part of the Scandic Stiklestad hotel that is situated inside the Cultural Centre. They have all kinds of different beds to offer. From private rooms, to dorms and ofcourse that viking house! They have a restaurant and a offer a good breakfast!
Pilgrim path St Olavsleden – Norway
Stiklestad – Munkeby = 22 K
The next morning I had my breakfast at the Scandic hotel. After checking out, getting my first stamp in my St Olav Passport, I headed out to find my first sign to follow as a pilgrim on the path St Olavsleden. I only wanted to know which side I needed to hike and a man at the church opposite the hotel showed me and I started hiking!
It felt great to hike onto unknown destinations.. I was hiking on tarmac and it would take a while before I got to hike along the river on a nicer hiking trial.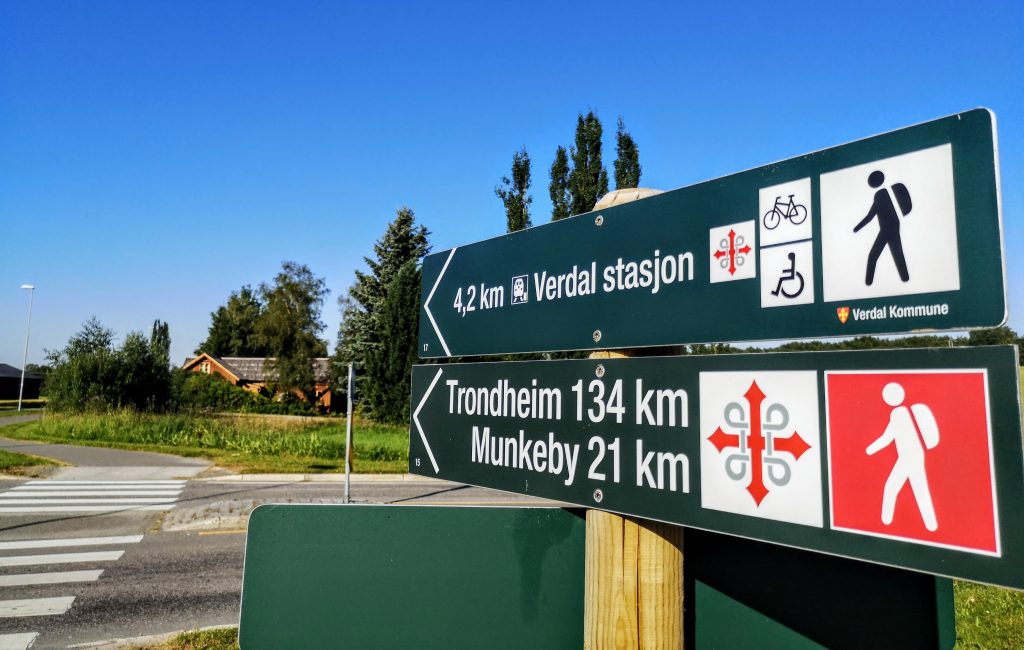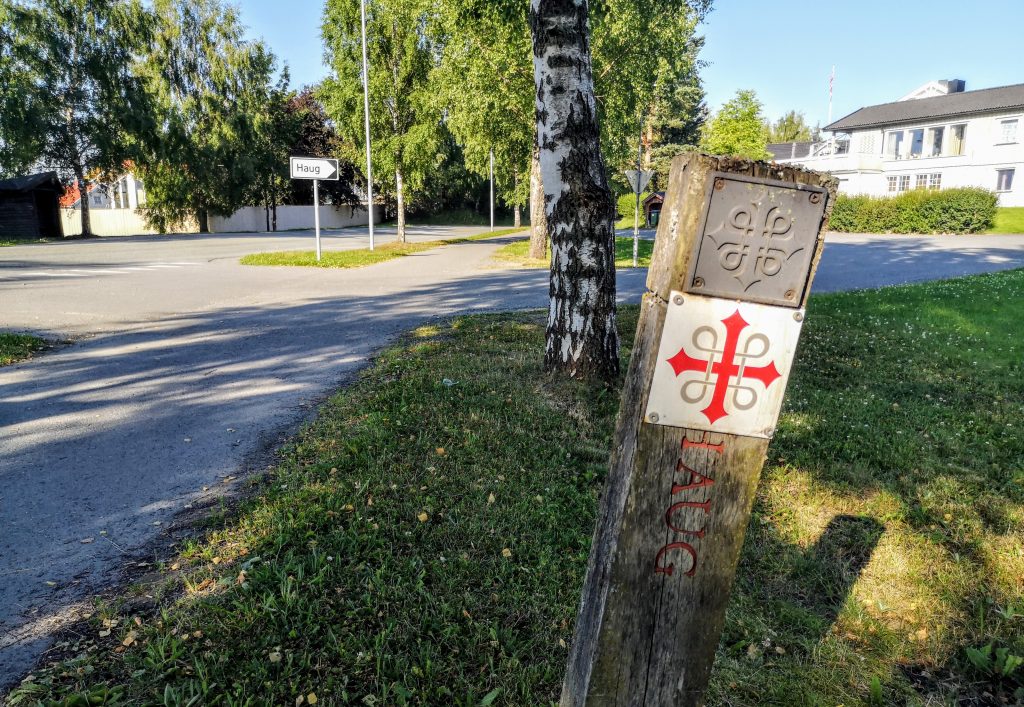 Shortly after this I did got some great views on the trail. The sloped landscape of Norway would give me beautiful views with in the background the fjords and the sea! It was the first time that I saw those famous fjords and I really loved it!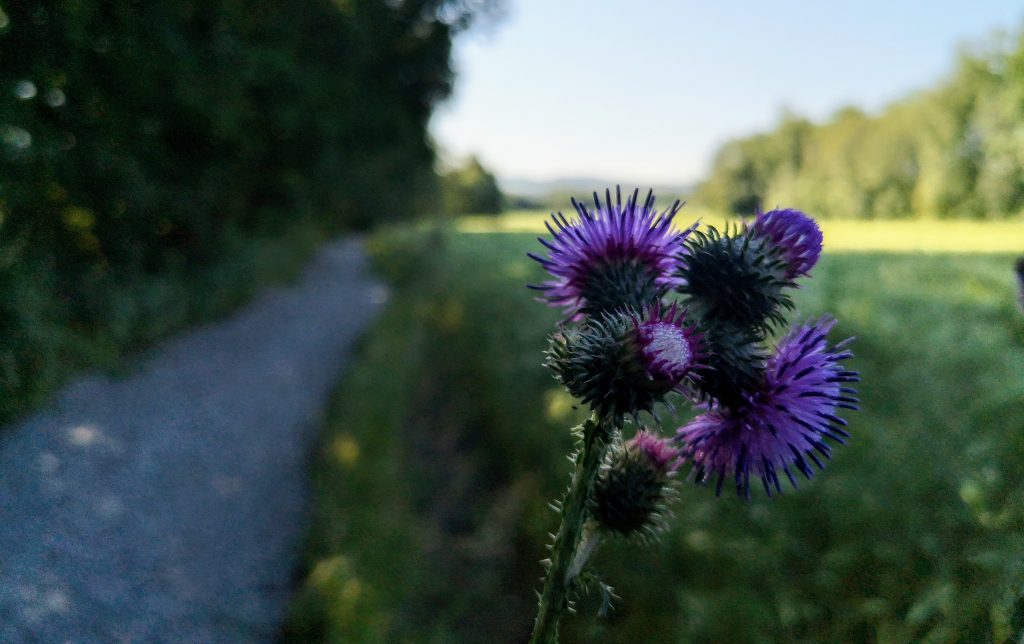 These are the moments I fully realise what I am doing, where I am and that I am so happy with my life at this moment in time!!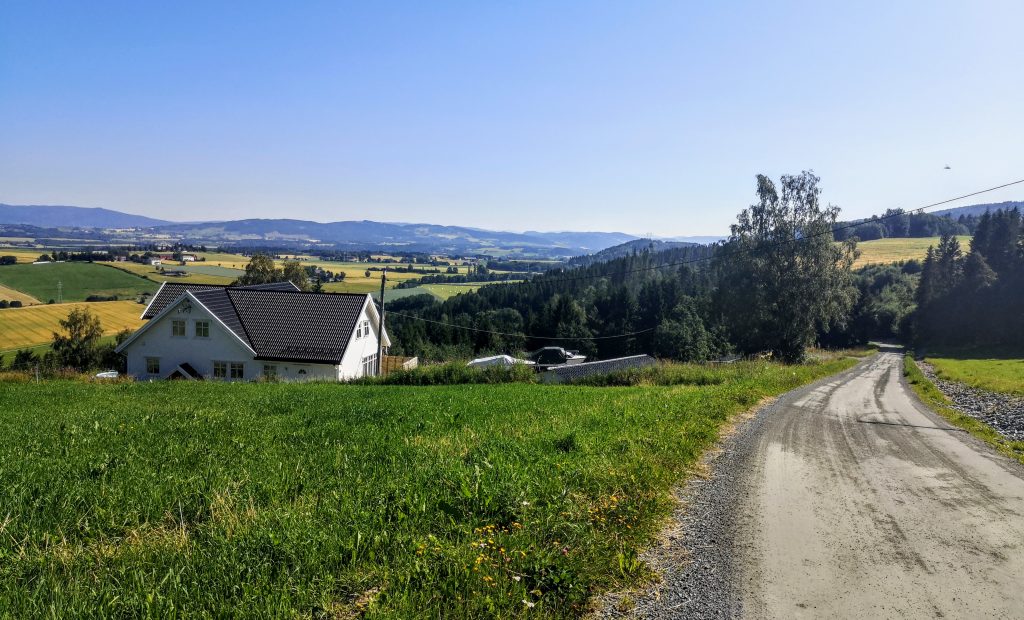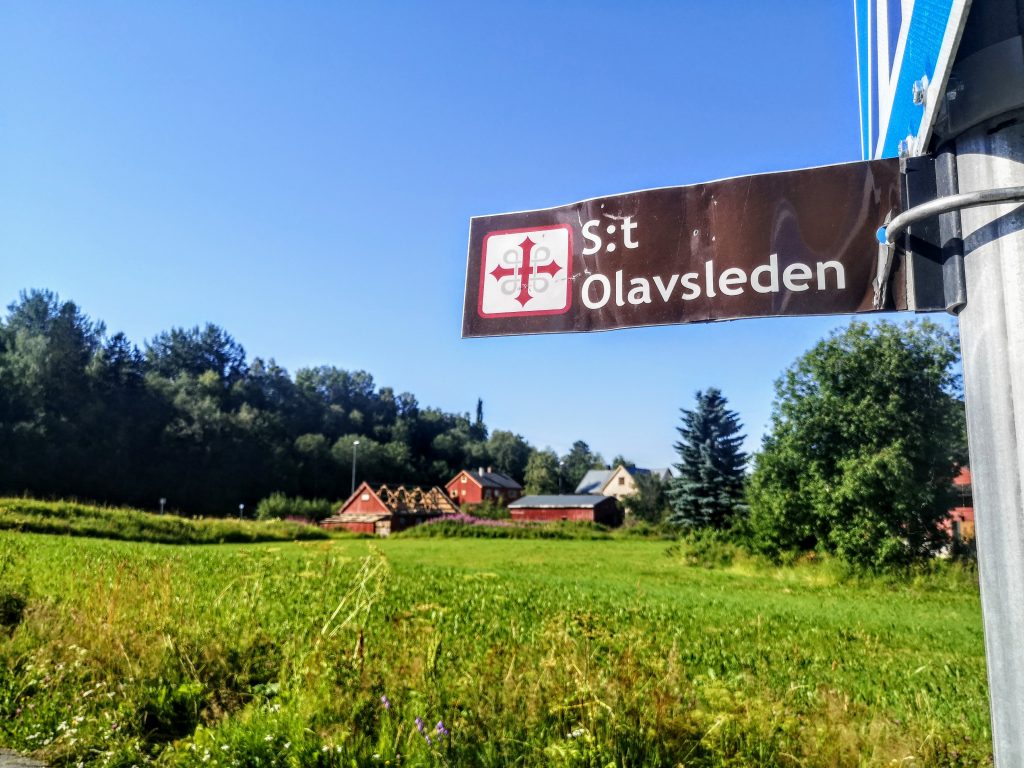 I had my lunch on a rock on the driveway of someone. There weren't much spots where you could sit down this day. When I hiked on I got to walk in a forest, plucked some berries and crossed a river. All of a sudden I was at the ruin of an ancient old monastery. It was the monastery of Munkeby.
At this point of the trail there is an intersection to go hike along the coast. But if you follow the signs from Munkeby Herberge you hike along the trail of the st olav ways that goes inlands.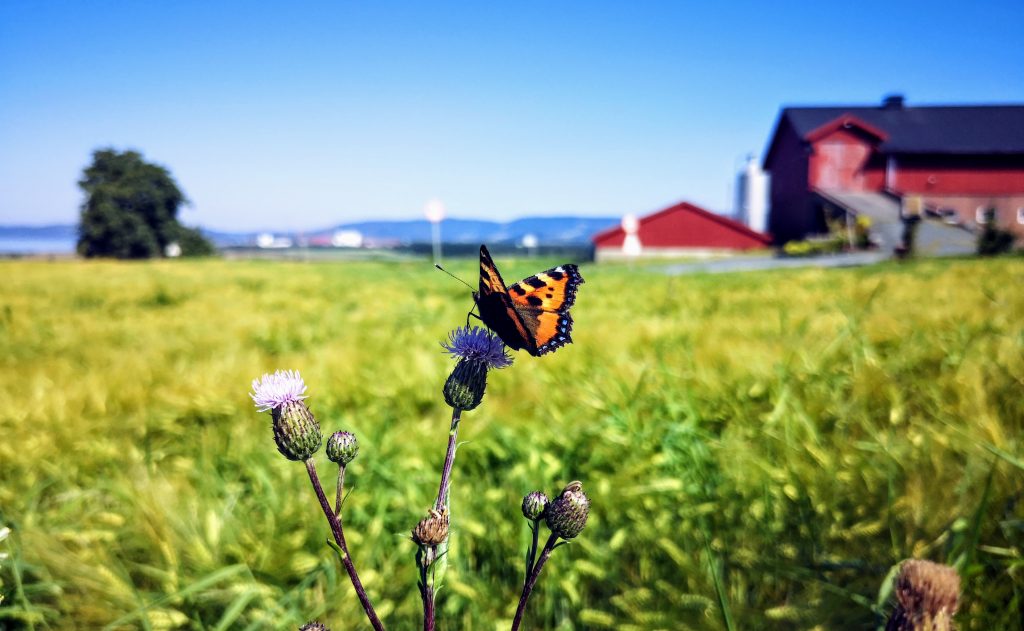 I love walking solo. Read my Hiking Tips for Women about Safe Solo Hiking!!
Pilgrim on the path of St Olavsleden
It was a great day hiking on the trail, I met Eva in the morning along the trail and later that day at Munkeby Herberge, I really felt the pilgrim within me coming up again!
I do miss that feeling in my normall daily life and loved feeling that immetiatly.. That ulimate feeling of freedom and simple happiness!
Accomodation Munkeby Herberge
The owner of Munkeby Herberge told me passionate about the farm. He is still a farmer and grows grain. His neighbour grows corn and each year they change their land and so another crob is grown on the land to keep the soil healthy. What a good deal!!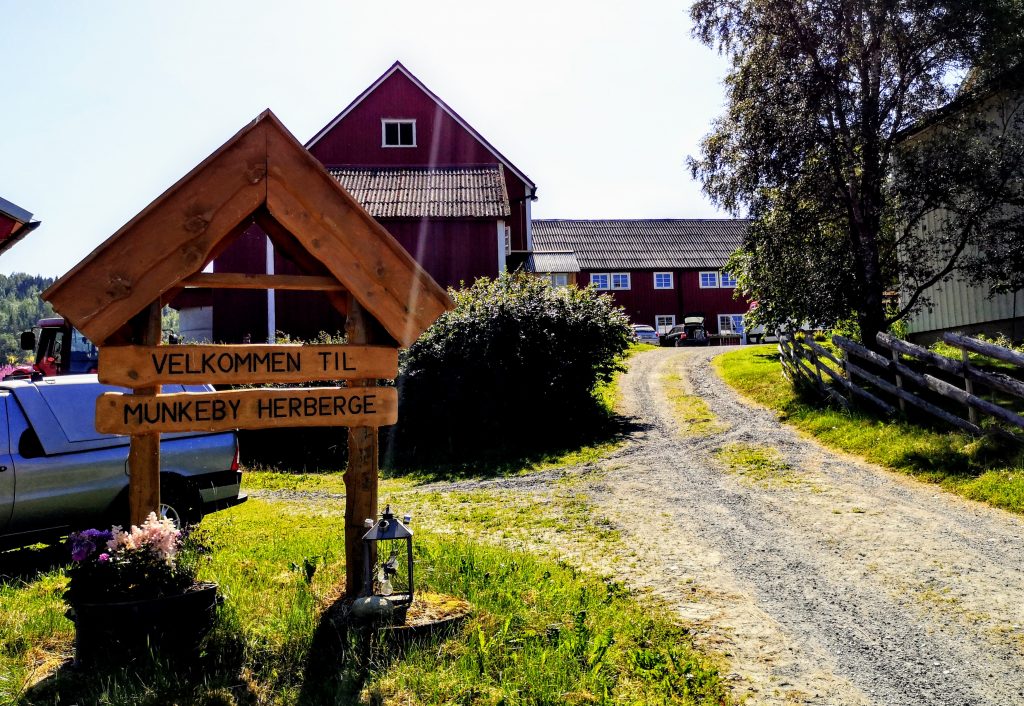 The farm is ancient old. He told me that they found remnants of the old farm where they have build the new main house. This house is also rent out since his father is in an home for the elderly. They have a house next to that and there is the old barn. Which is also build into a hotel or a kindergarten. Now they have a great courtyard and build a terrace for their customers to enjoy. They even have a small shop so you can buy something to eat and some souvenirs. Locally made ofcourse!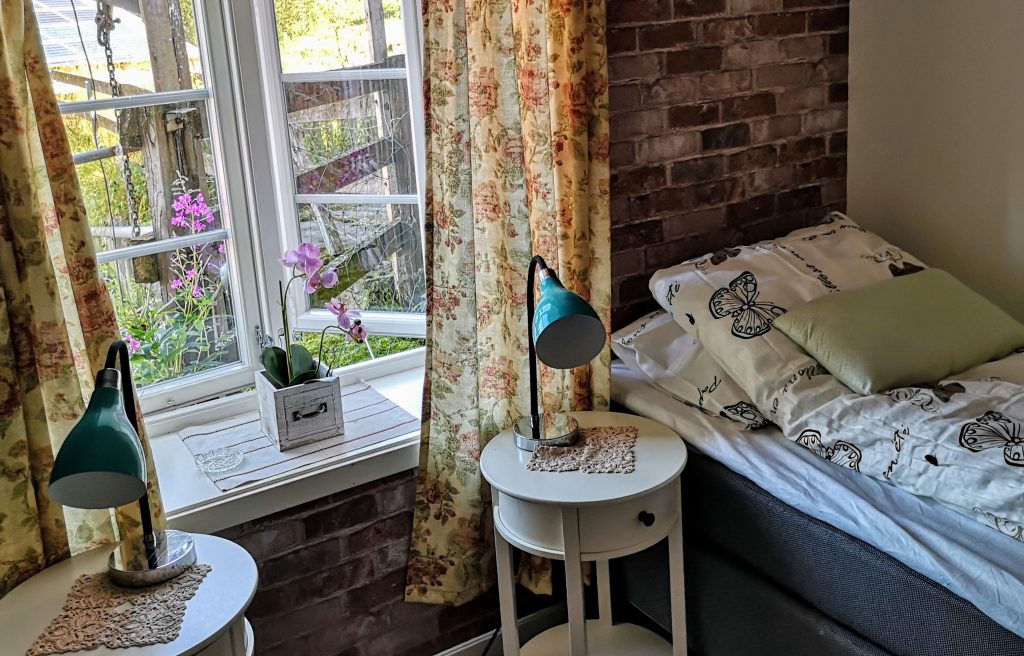 I had a room in a newer part of the farm.
I really liked this place!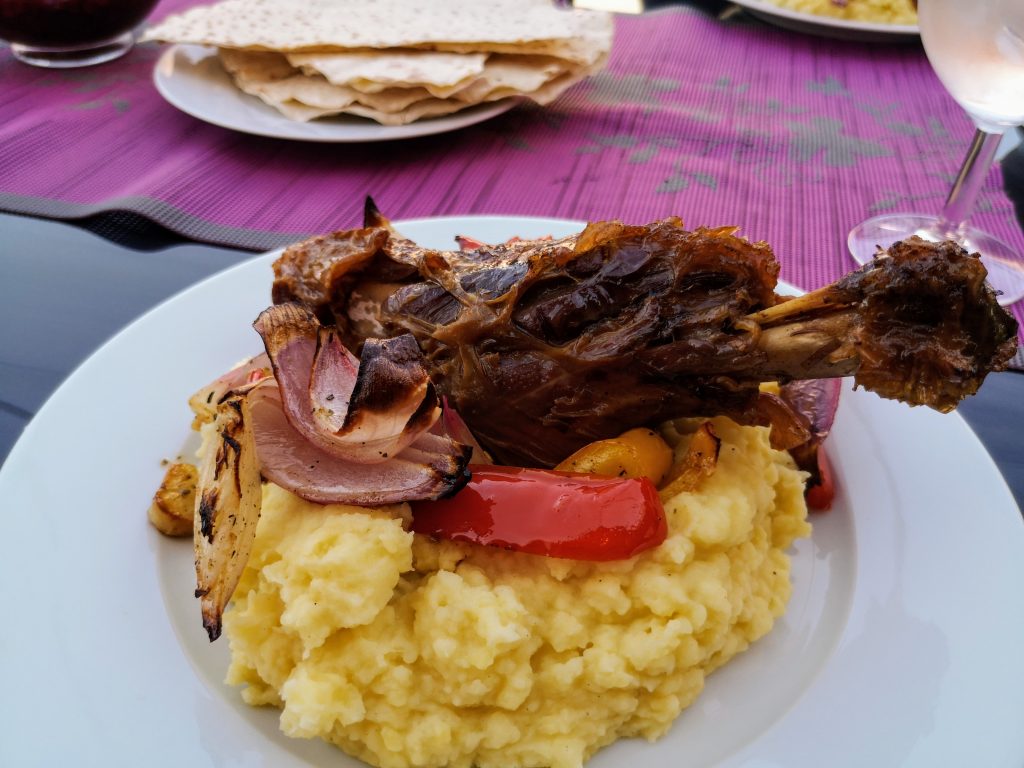 Because it was the day before Olsok (St Olavsday) there was a worship service in the old monastery ruin of Munkeby. How great is that? There was a real service for the local community and I think there were about 75 attendees at the service. Afterwards we got a cup of coffee and some sweet cake.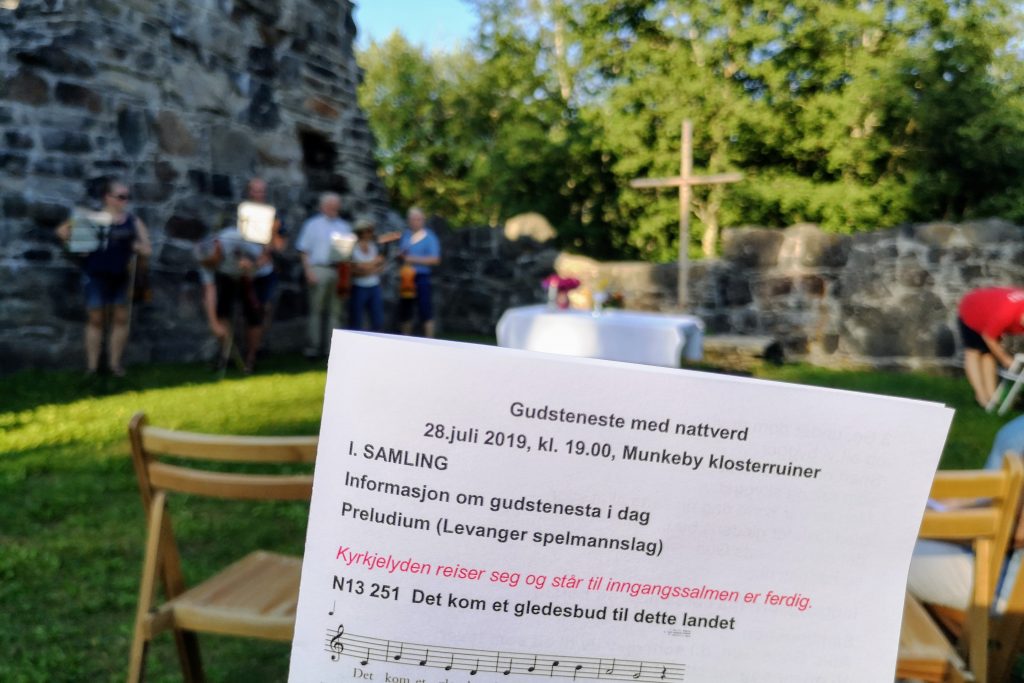 Munkeby – Markabygda = 22 K
The next morning I started early after breakfast and a great cup of coffee ofcourse. It would be a hot day again with temperatures about 32 degrees. In Norway this is really exceptional. The trail brought me soon into the forest and went up to a higher ground.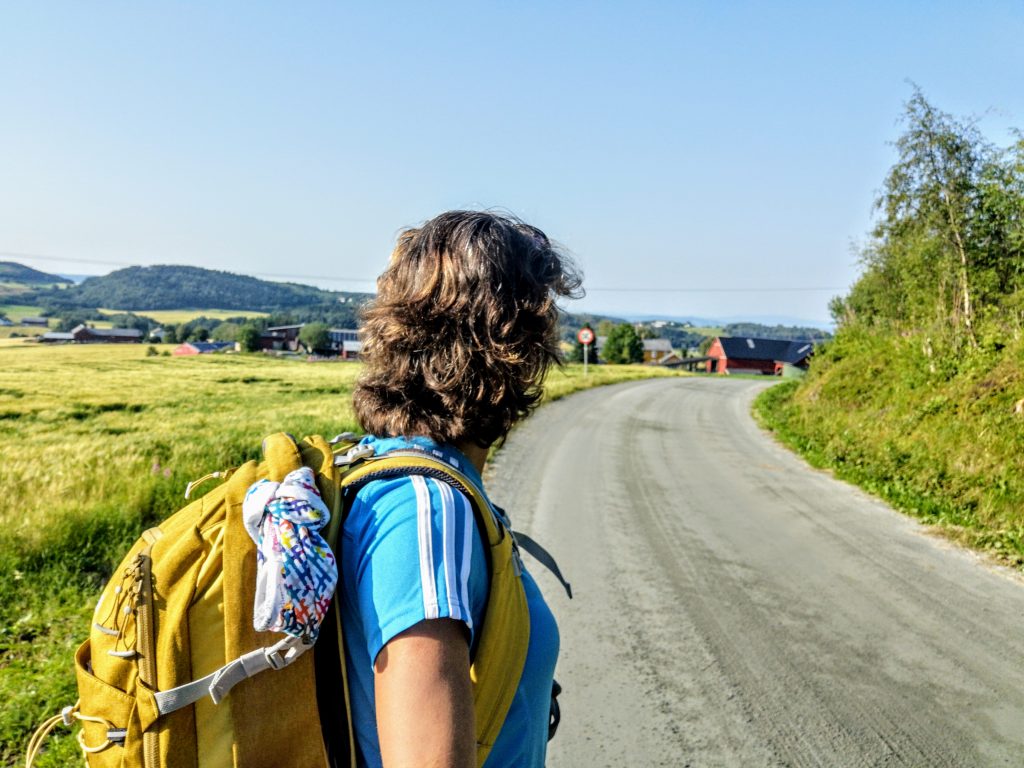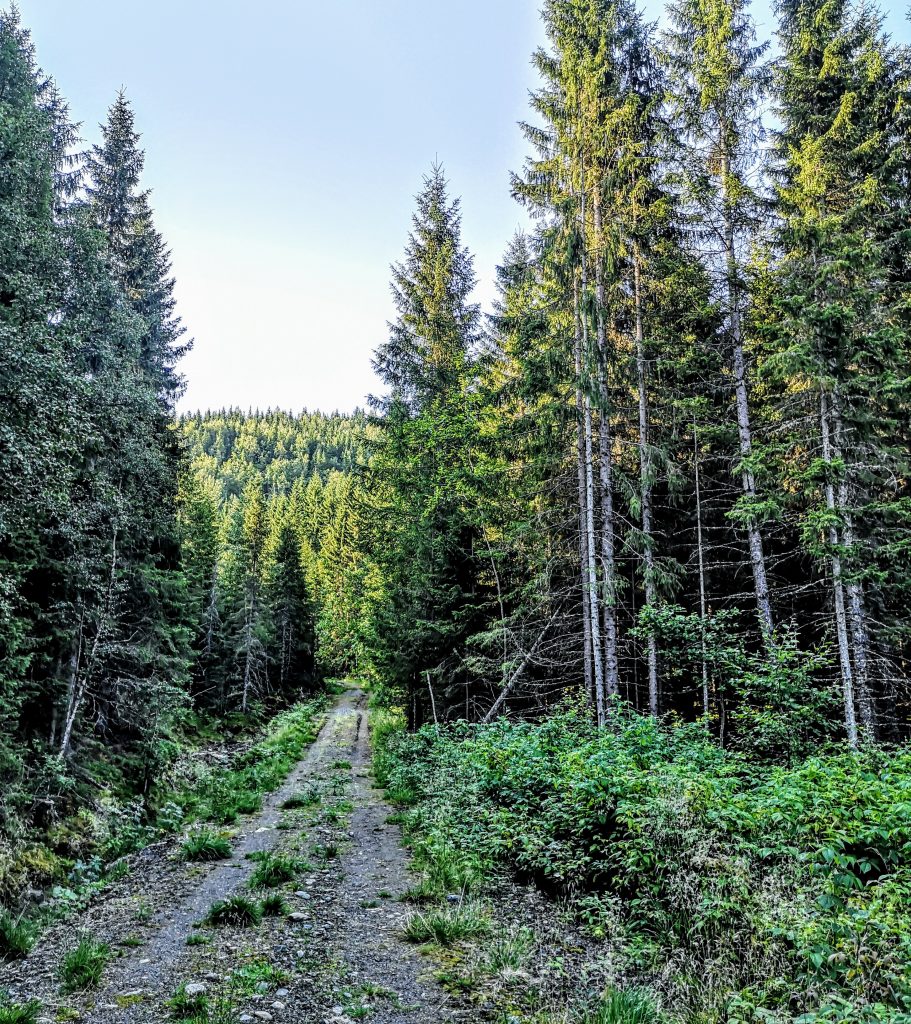 In The Netherlands I am used to the fact that how higher you go the drier it gets.. Here it was the other way around, the higher I got the more wet the ground was. I really had to watch my steps as I sometimes really sank into the ground. I had my waterproof shoes on but they were also brand new and I didn't want to make them dirty 🙂
But… They need to be used…and therefor get dirty right?
That's what they are meant for!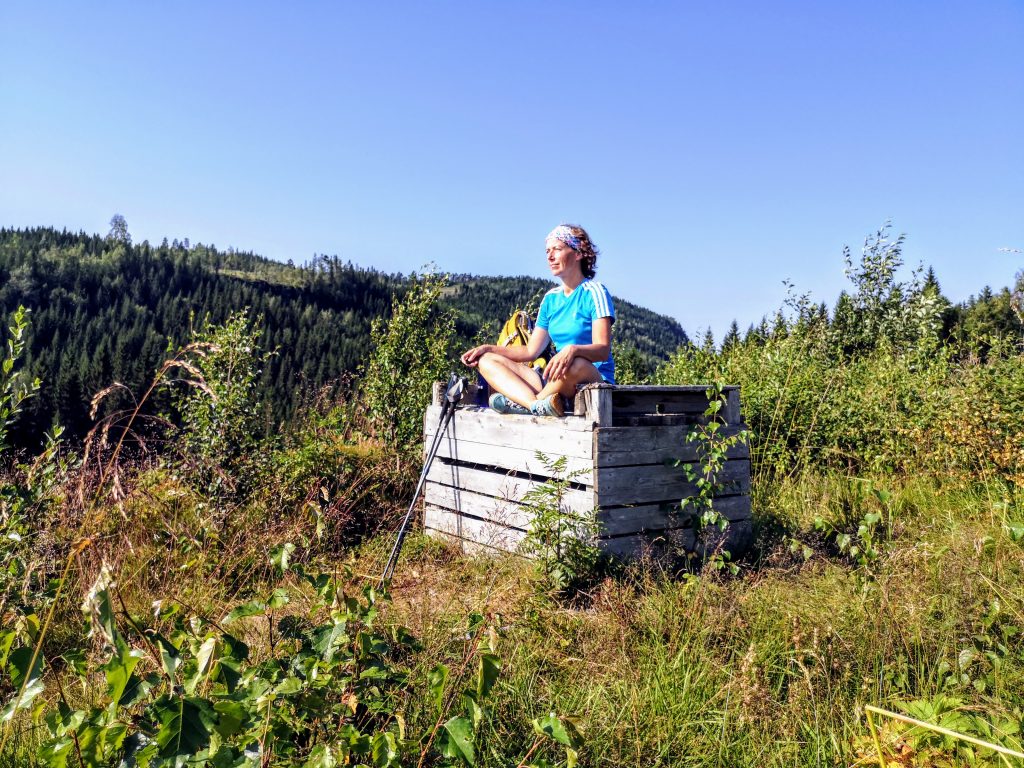 Hiking in the forest was great, the trail was good and the views got better and better! At the highest point there was a wooden box to sit on. I loved it! The breeze cooled me down while sun on my skin kept me warm enough. Great combination to eat my sandwich I got from Munkeby.
After this trail there was a couple K's gravel road, it was good for hiking actually. I didn't have to look where I placed my feet and how far I would sink in the groud 🙂 For a while this was nice too, there was hardly any traffic. I think I only saw 2 cars in about an hour hiking.
Safety Tip

I alway hike against traffic when hiking on a road, how do you situate yourself on a road?

That way I see traffic coming towards me and I see if they move away from me and so see me. If you walk in the same direction you need to check behind you, look back all the time and hoping that they see you and make way for you. Would you blindly trust that? I don't and so it is easier to walk against traffic.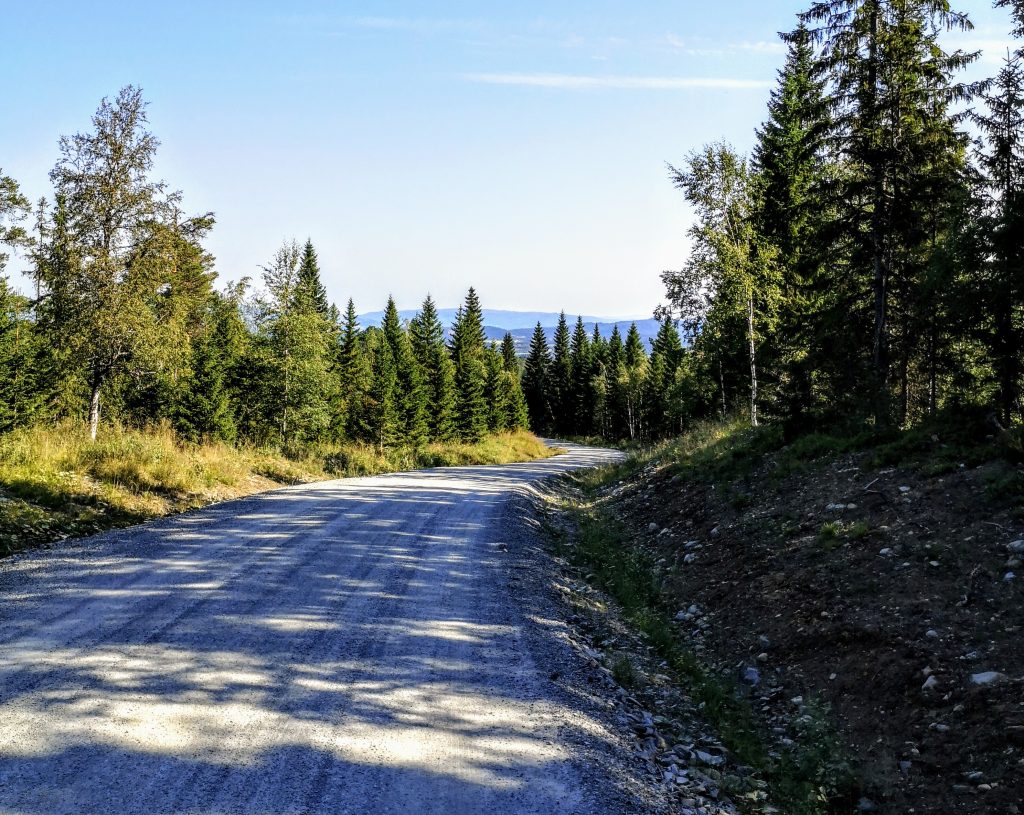 Halfway this long trail I went into the bushes… It was still hot with temperatures over 30 degrees and I had enough water with me. And yes… then you need to go to the toilet too sometimes along the way 🙂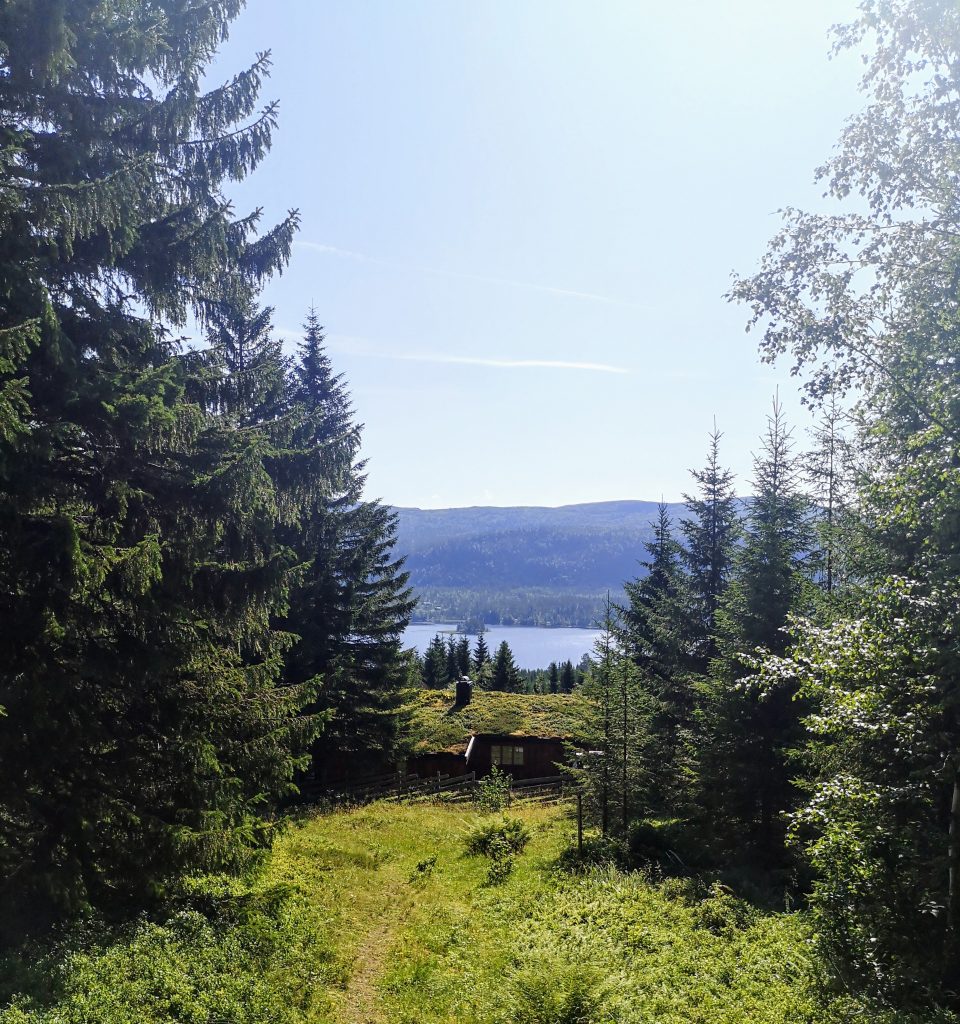 After this great view on the lake where the trail walked pass I went up. Because I was in thought and just hiking I went too far up here on a local path. It brought me to a house with a great terrace…Nobody was at home so I sat down for a short while to enjoy the view!
Hiking back I immediatly saw where I lost it.. Sometimes hiking can be so meditating you don't look around to realise what you see but just repetitive place your feet.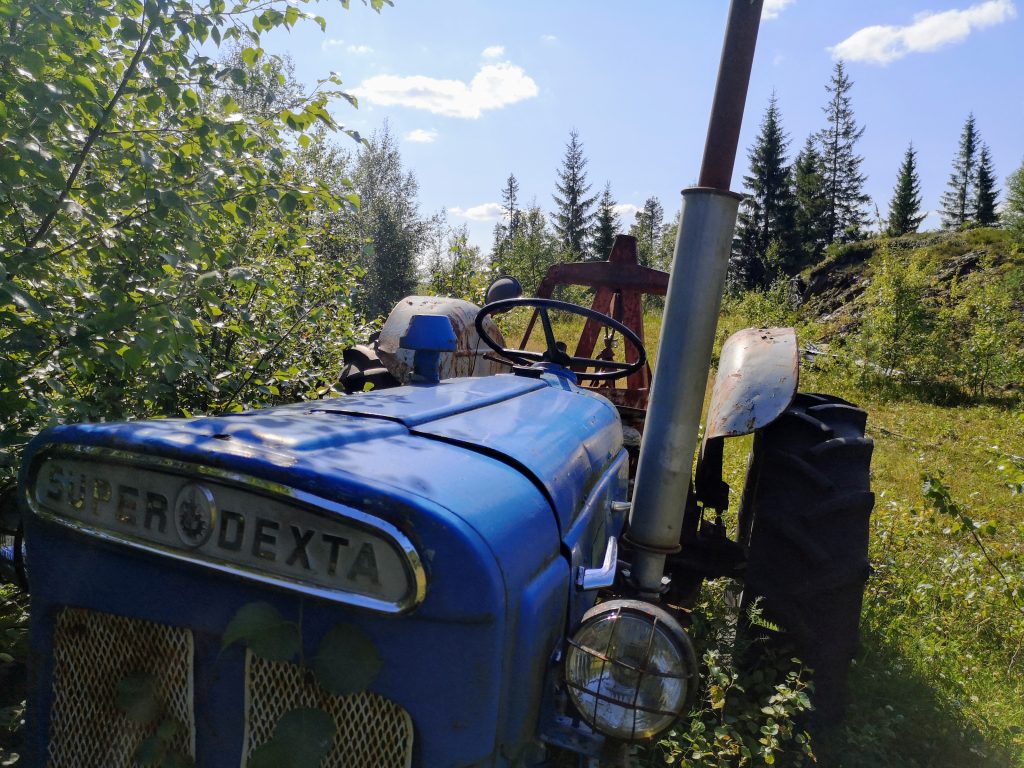 Just after this I bumped into the Swiss Eva again. She left earlier because she didn't like the hot weather that much and took lots of long breaks. We hiked a bit together and and had a break on top of a hill to enjoy the great view!!
Just before reaching Markabygda I reached my spot for the night!!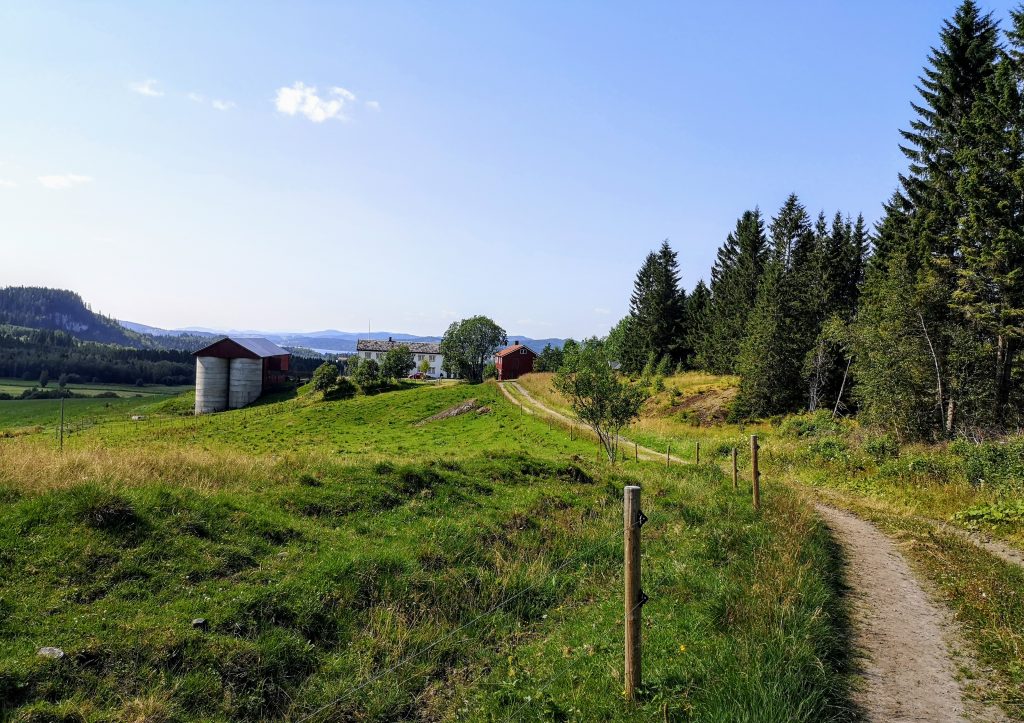 Accommodation Troset Gard – Markabygda

My night is at Heide of Troset Gard.  What a nice and positive lady she is!! We soon had a connection when she told me that she recognized me of her preperation of her Camino and found my blog and I told her that I am very interested in her mindful classes and Qi Gong lessons. Soon after the three of us, Eva stayed for the occasion, did a half an hour Qi Gong with that great scenery in the background you see below!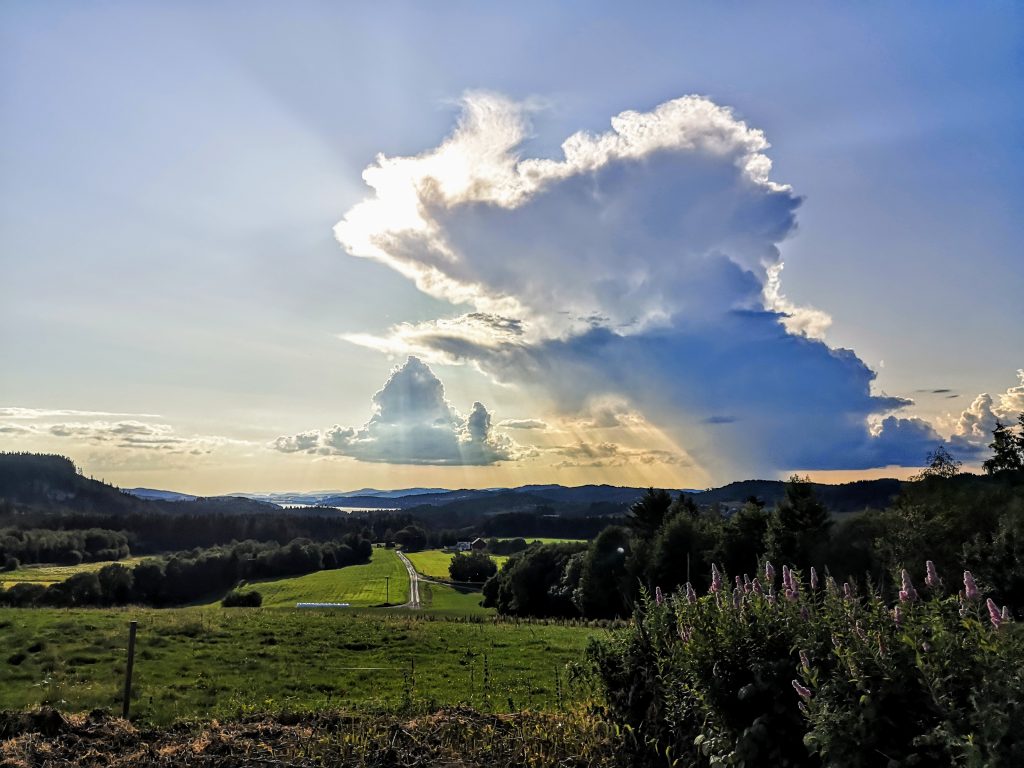 What a great end of my second day on the st olav way in Norway!!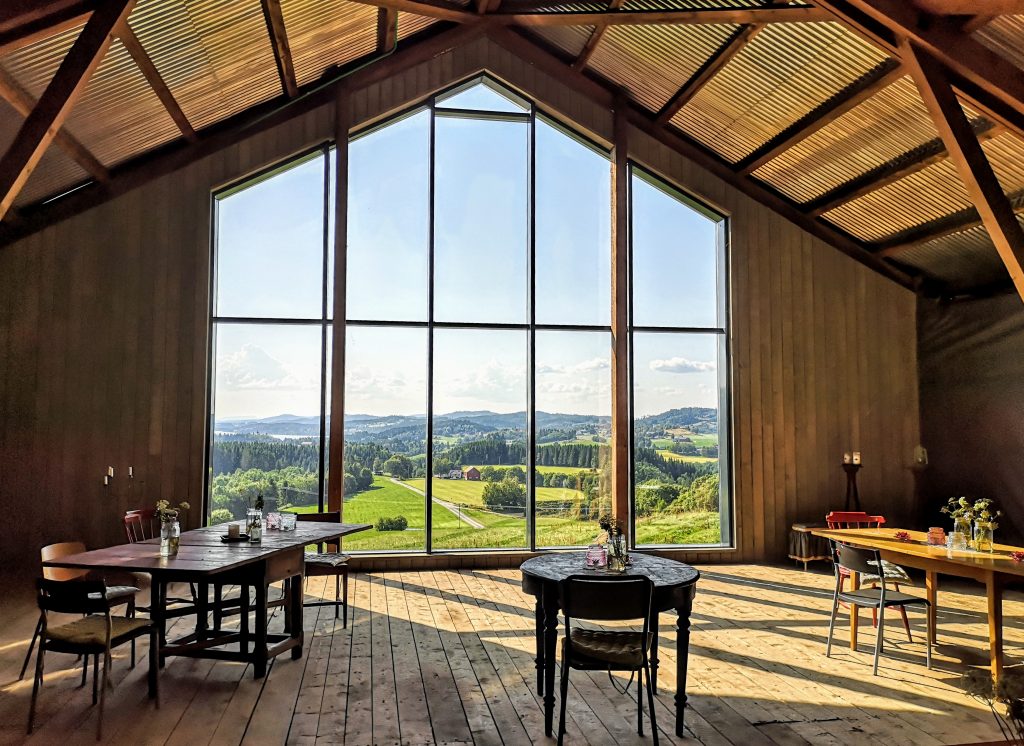 In the pilgrimhouse of Heidi I could make my own dinner. I got some extra fresh vegetables, onion and carrot to make a good pasta, I found some spaghetti and pesto. I liked having the time for myself too!
And do you know what makes this place extra special? Since the drought of the last year a couple of wells stopped giving fresh water but now… just before reaching her farm there is a new well! It just started to flow fresh water! Heidi made a great spot out of it so you can sit down and put your feet in the ice cold fresh water!!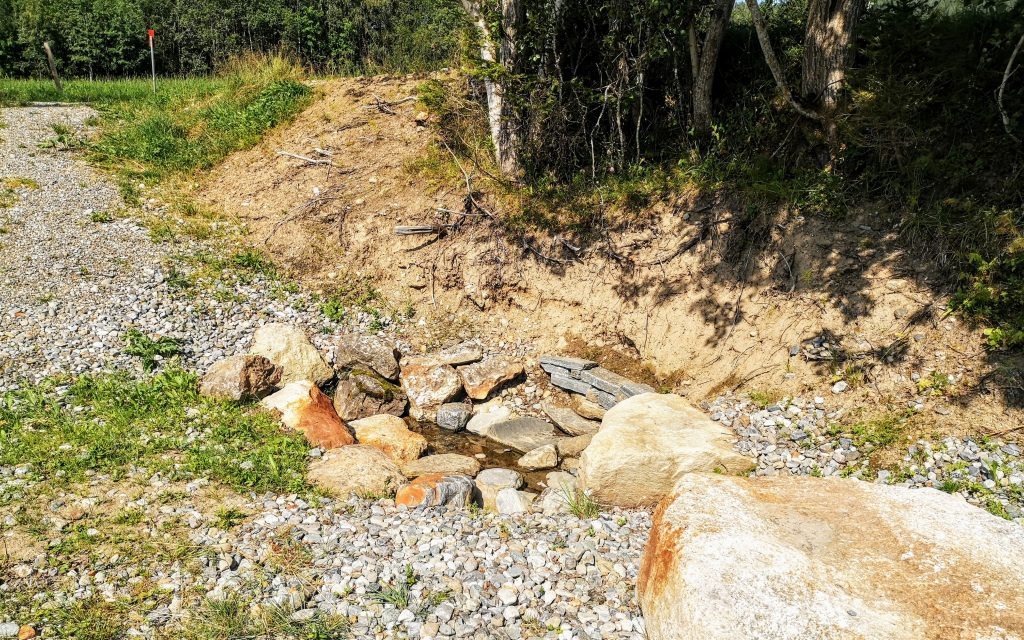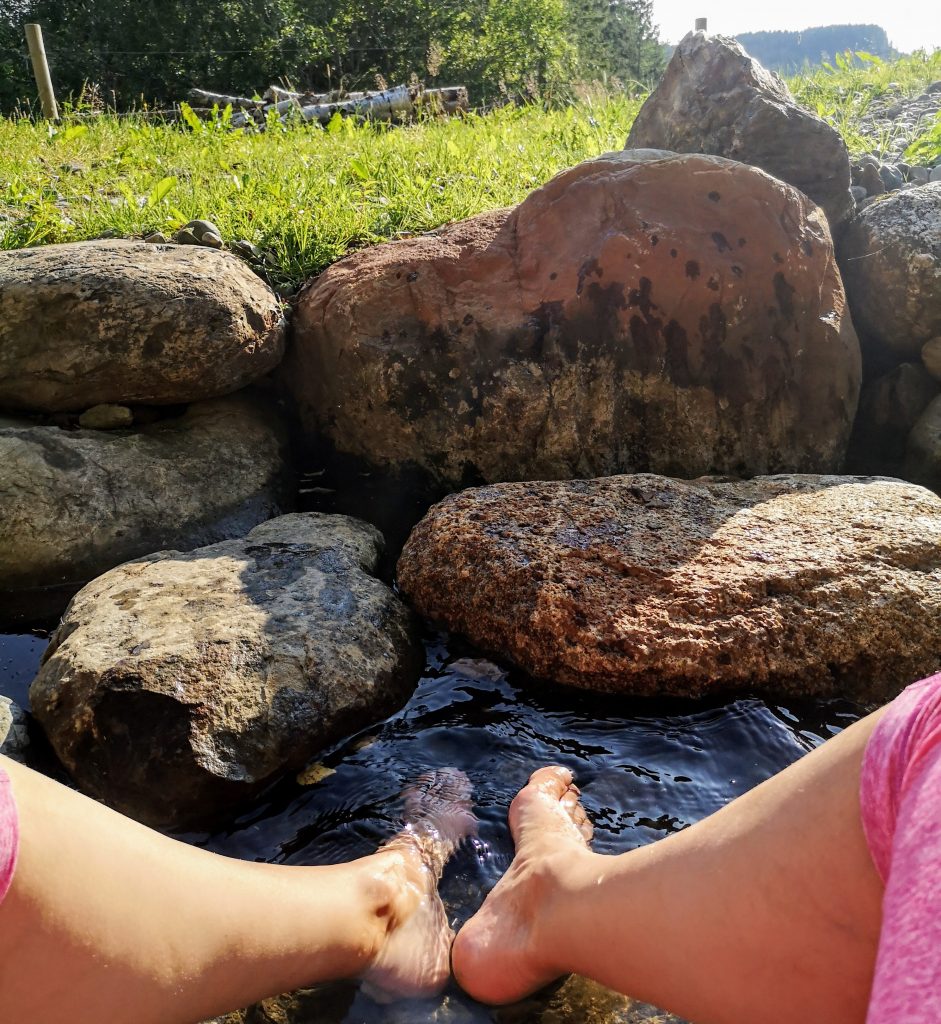 Markabygda – Boras = 25 K
Because my days were limited on the trail we decided to do this stage by car. Heidi brought me by car (bil in norwegian) to Boras where I hike along on the st olav way. So today we are bilgrims Heidi explains me!!
I love that new word!
Pilgrimage in Norway turns into Bilgrimage in Norway
But first we visited the wooden old church in Markabygda togehter with Eva. Eva had spend the night in the house opposite the church. These are the two ways to sleep indoor along the St Olavsleden at Markabygda. You can ofcourse always spend the night in a tent.
The church is a big old wooden church, it goes back to 1887. I loved walking around here and we decided to go all the way up the tower.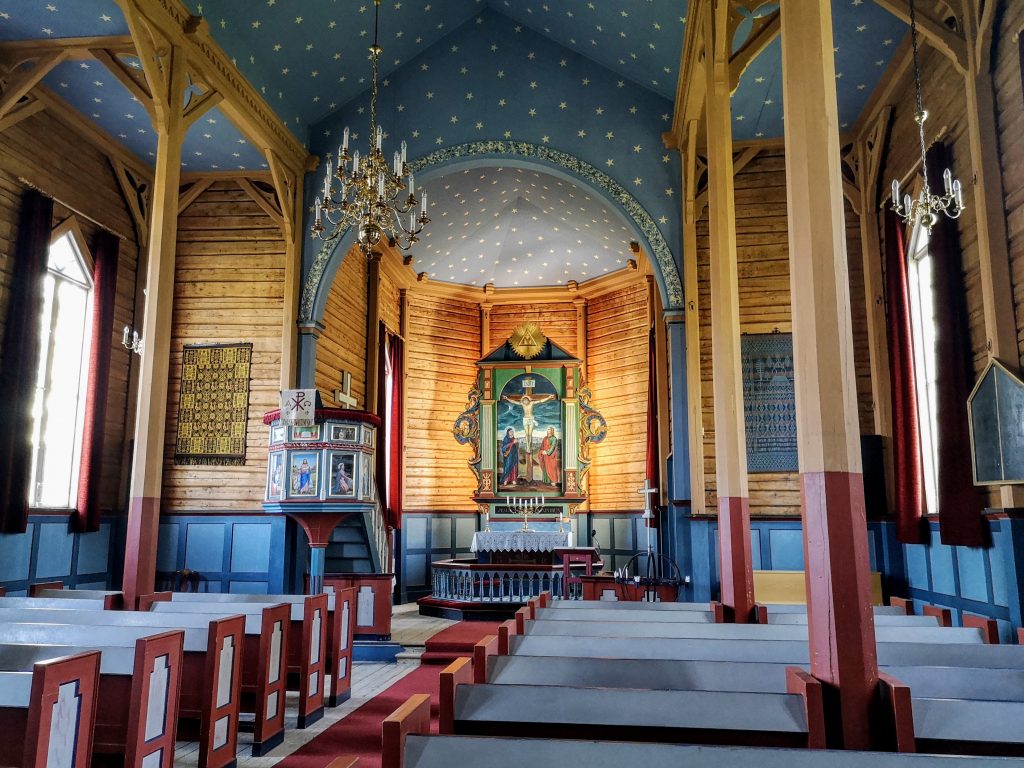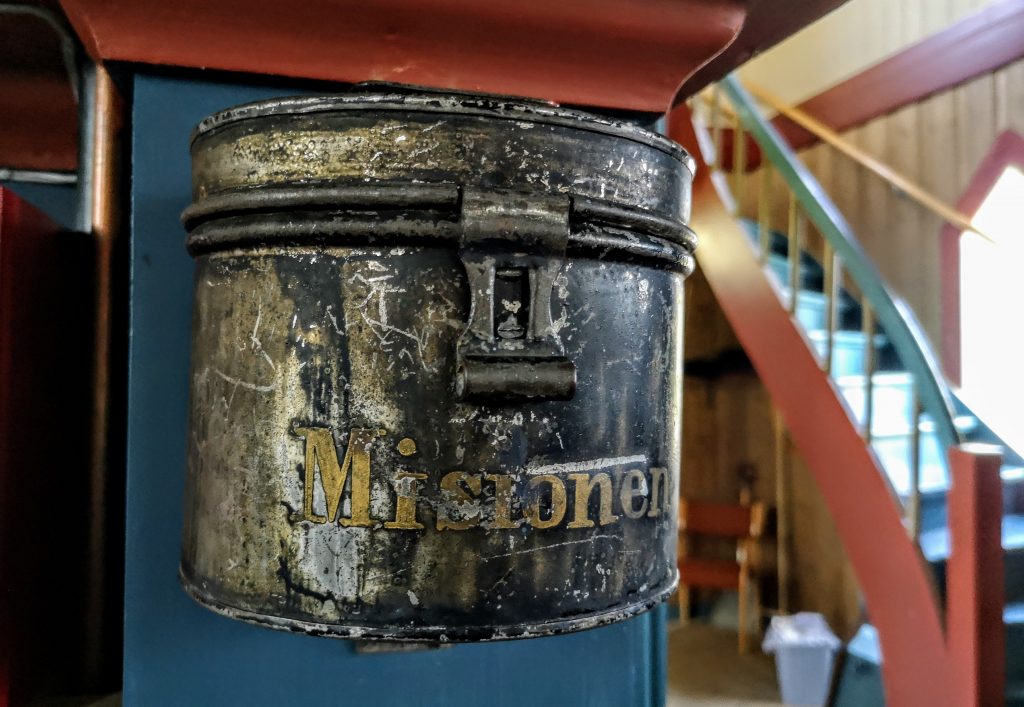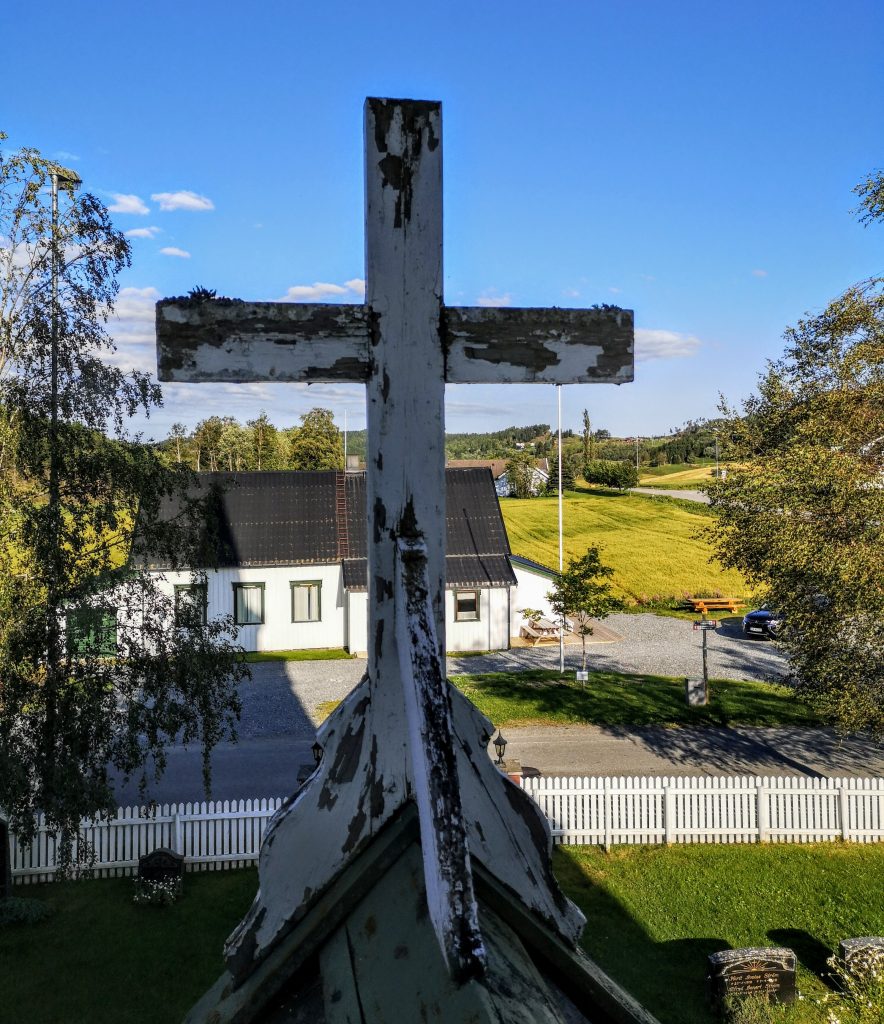 After taking a selfie from us, the three pilgrims, Heidi drives me to Boras where I start my third day on the St Olavsleden!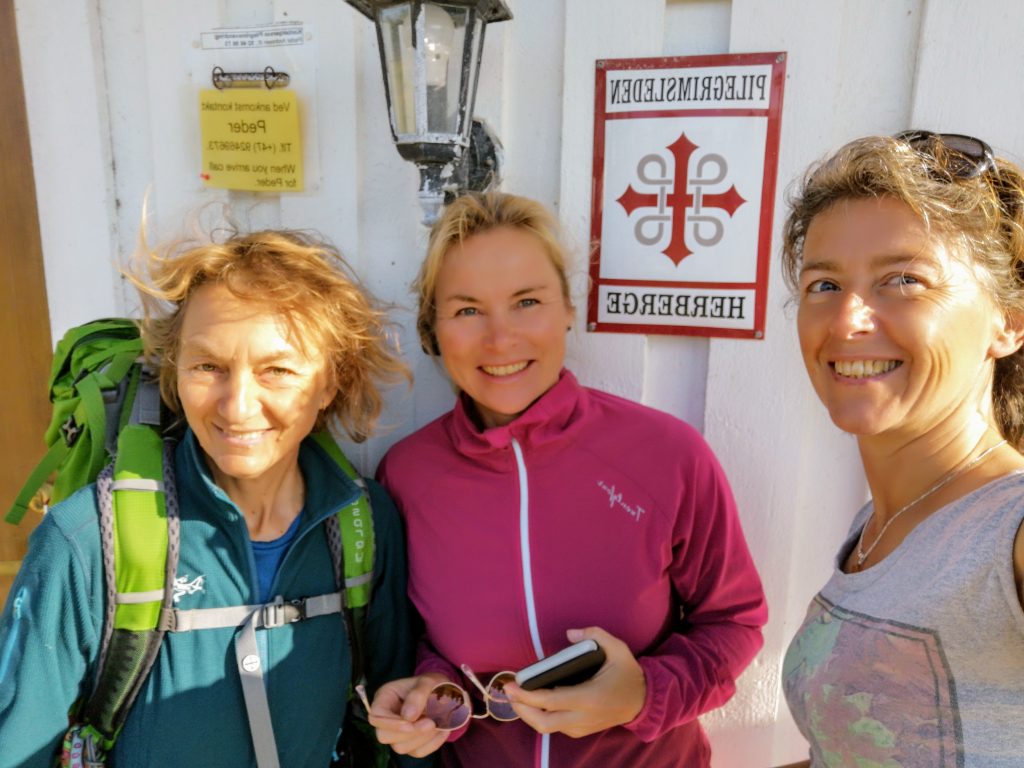 Pilgrims on the Path of St Olavsleden
From Boras I started to hike the trail again, after getting a stamp in my passport ofcourse. The lady at Boras has an extra house in front of her own for the pilgrims. You can also cook your own dinner there.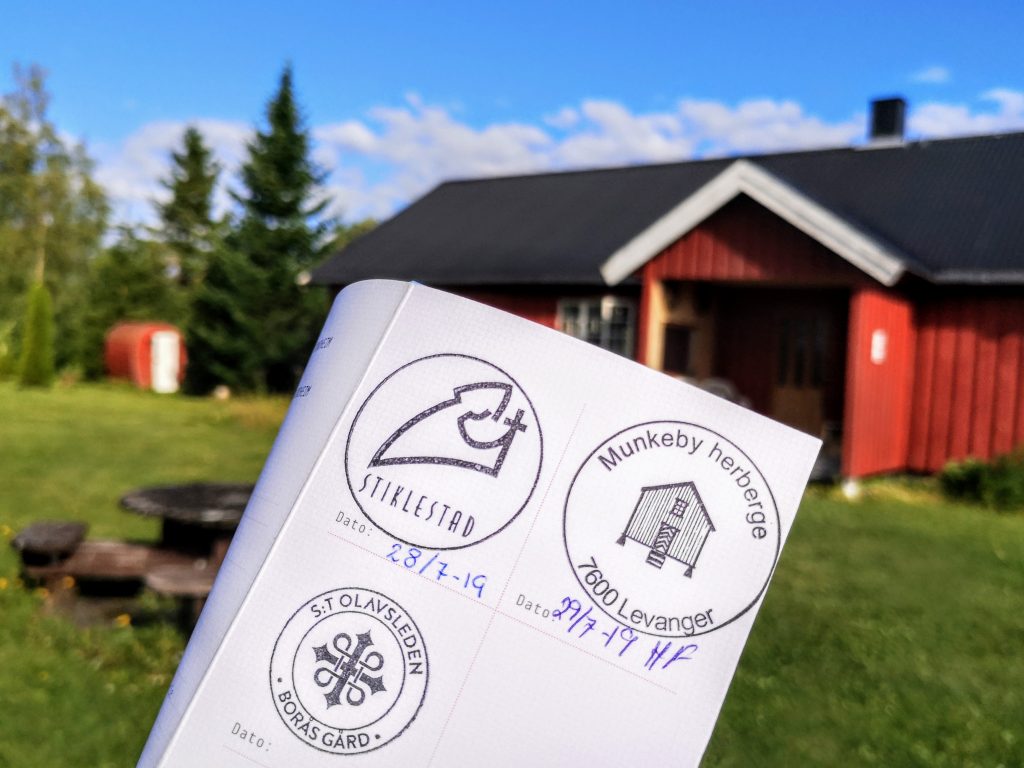 The first part goes along a sloping tarmac road through the beautiful landscape of Norway. There is nog much traffic so it is good hiking but I do know that not everybody likes to walk on such roads. I walk against traffic and can let my mind go where it wants to go. Because of that I don't mind walking on tarmac for a while.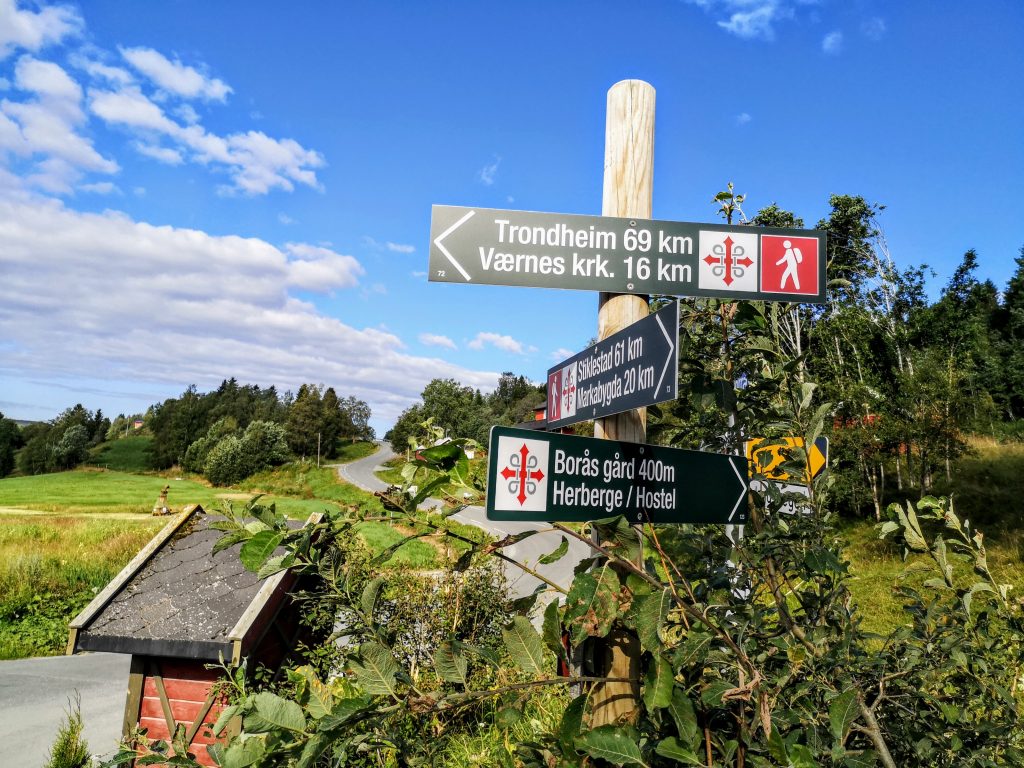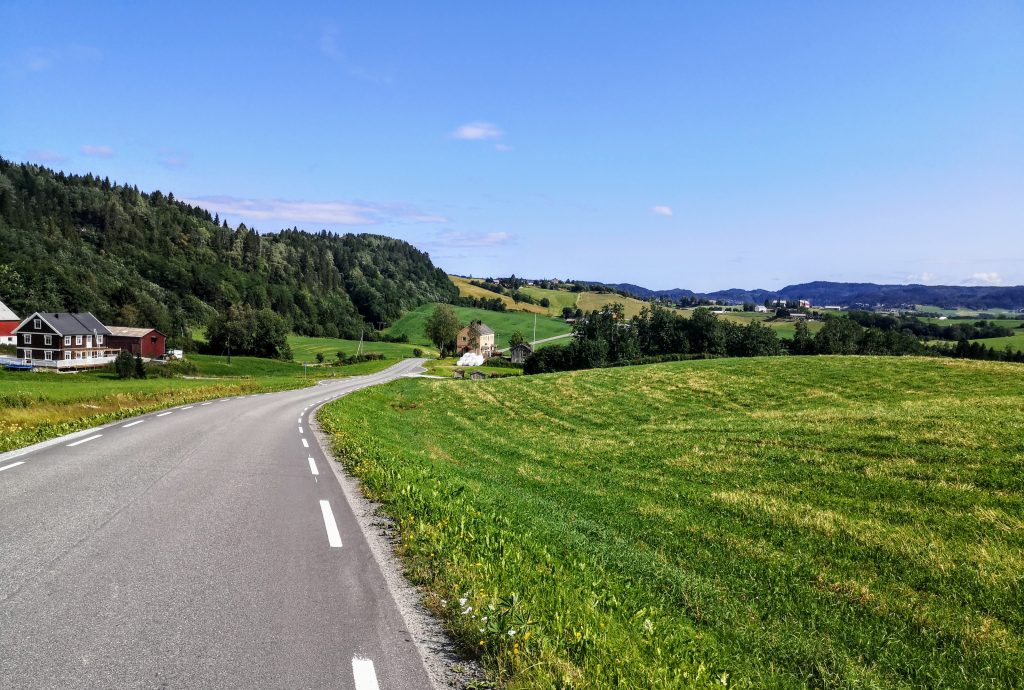 Eventually the trail will change into a forestpath again and I get the best views again! I decide that it is time to do some yoga. I hadn't taken time for that these days. The whole day I hadn't seen a single hiker… but while taking the picture, standing on my head this trailrunner ran into my picture, haha!! A short conversation later I started hiking again and he ran the other way.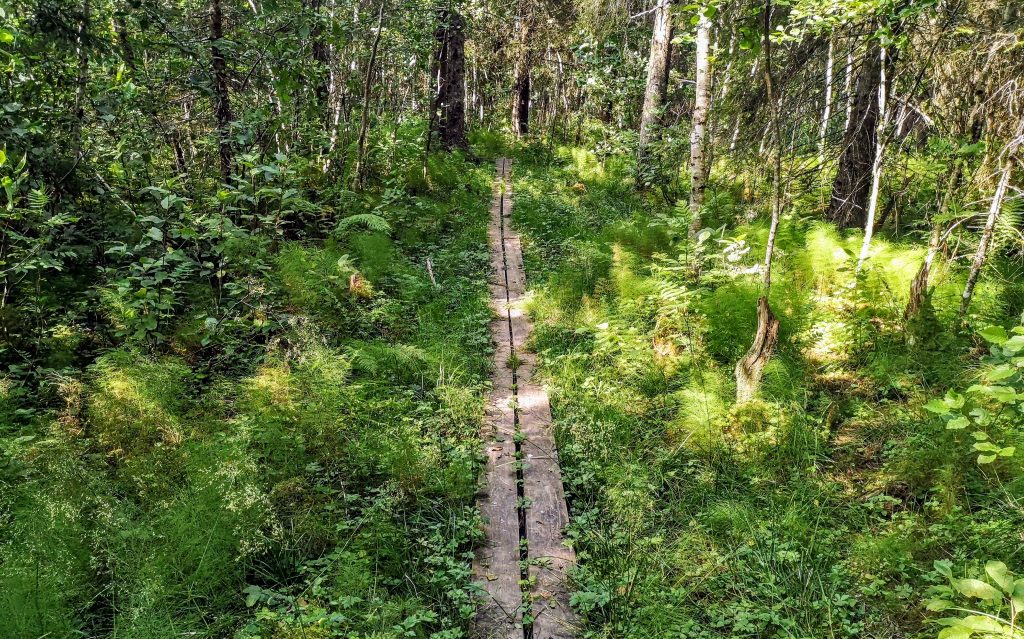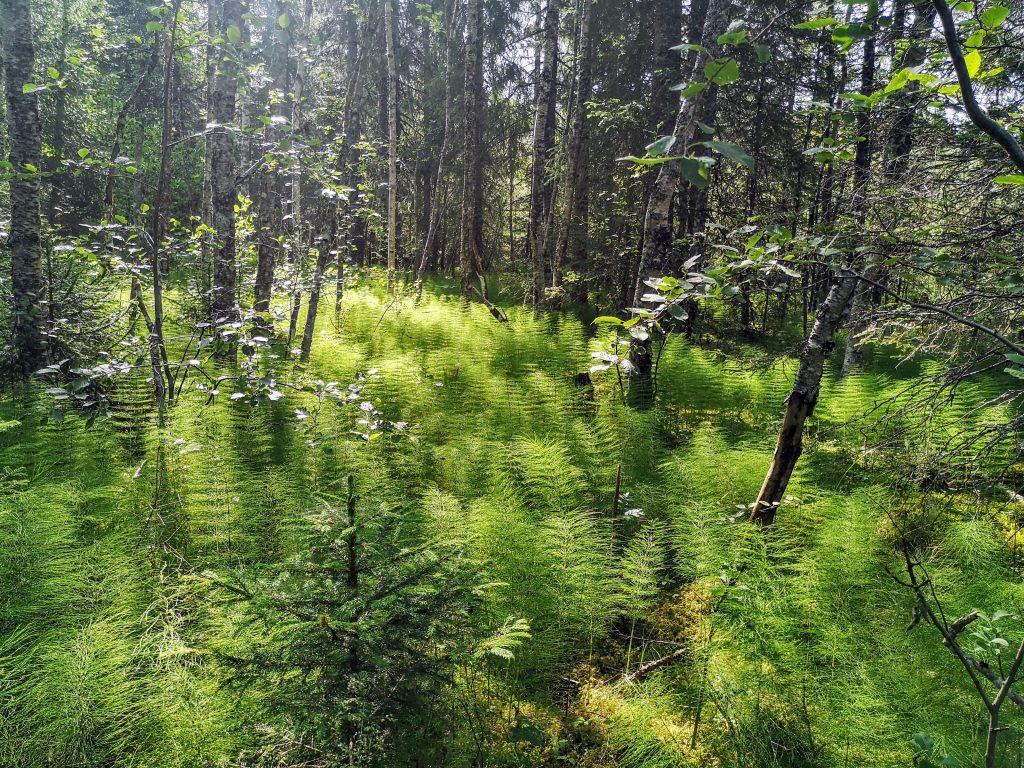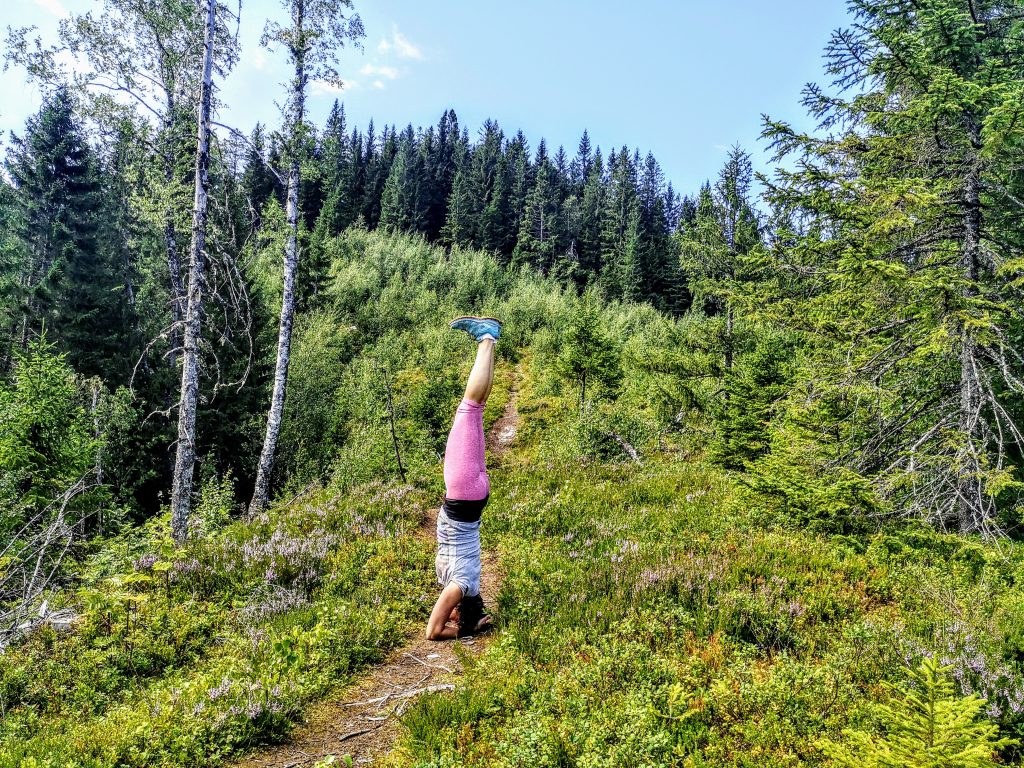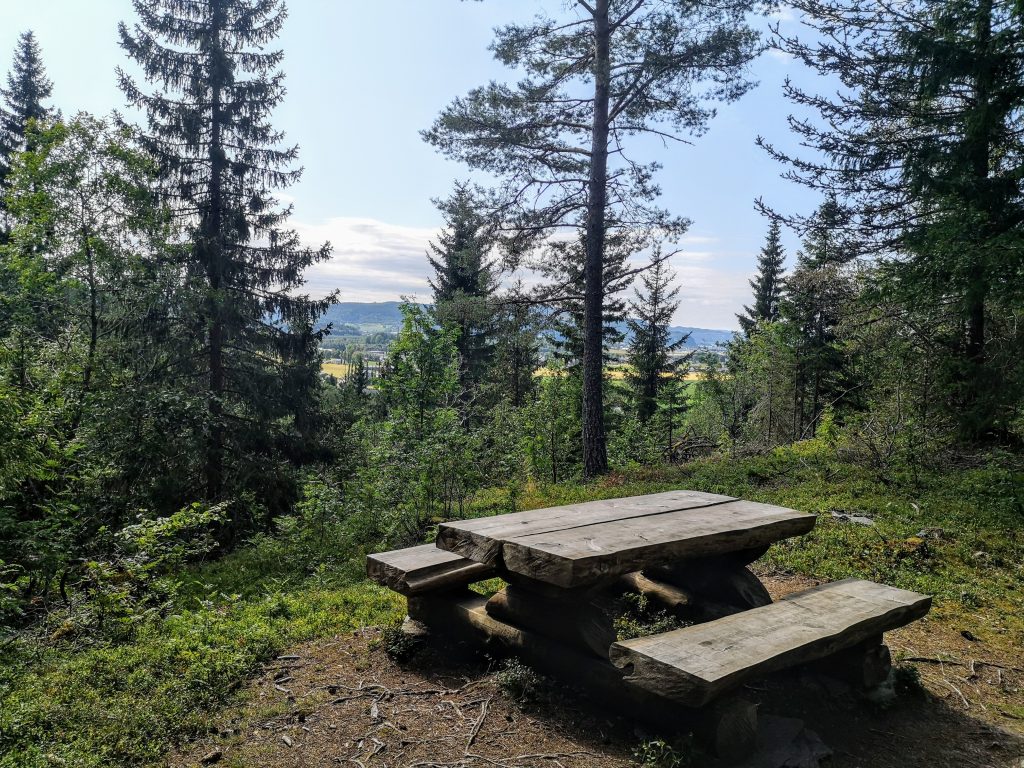 Just before my hiking day ends I visit the village Vaernes. There is a church that defenitely is worth the short visit. In front of the church I see the sign that it is still 47 K to the Nidaros cathedral in Trondheim.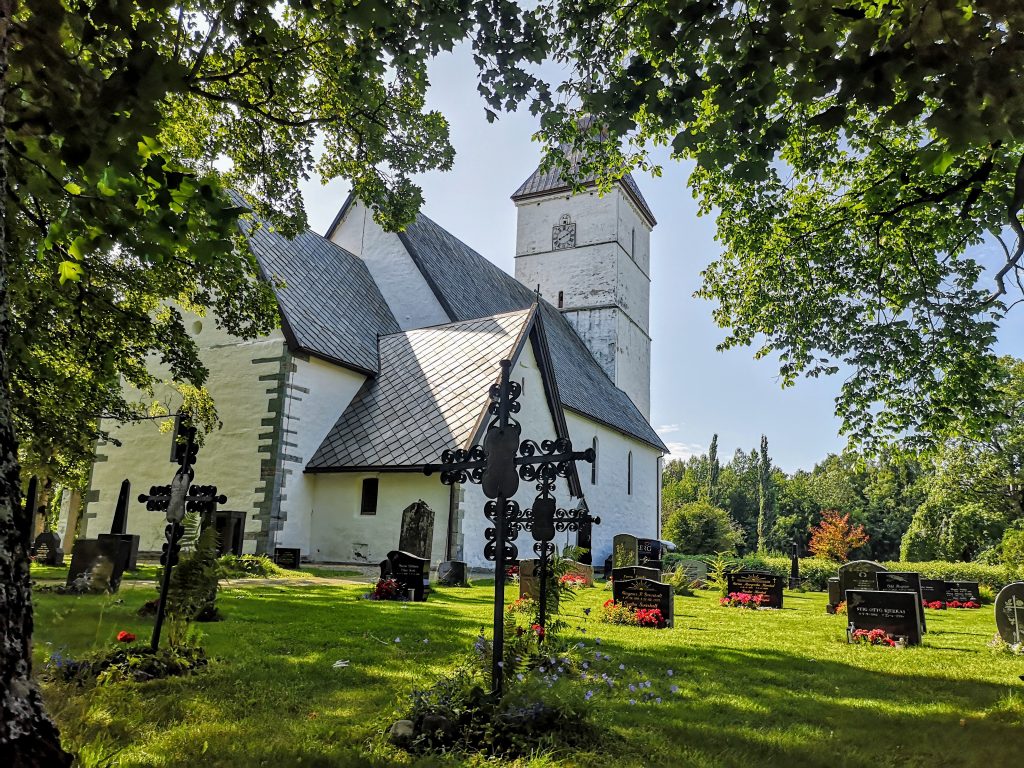 When I hike on I need to go for some 4 or 5K before arriving at Ersgard. But before I left the village of Vaernes I saw the museum and coffeeplace along the route. I used the bathroom and enjoyed their terrace with a cappuccino and a waffle with strawberry jam and cream.
That just tasted like heaven!!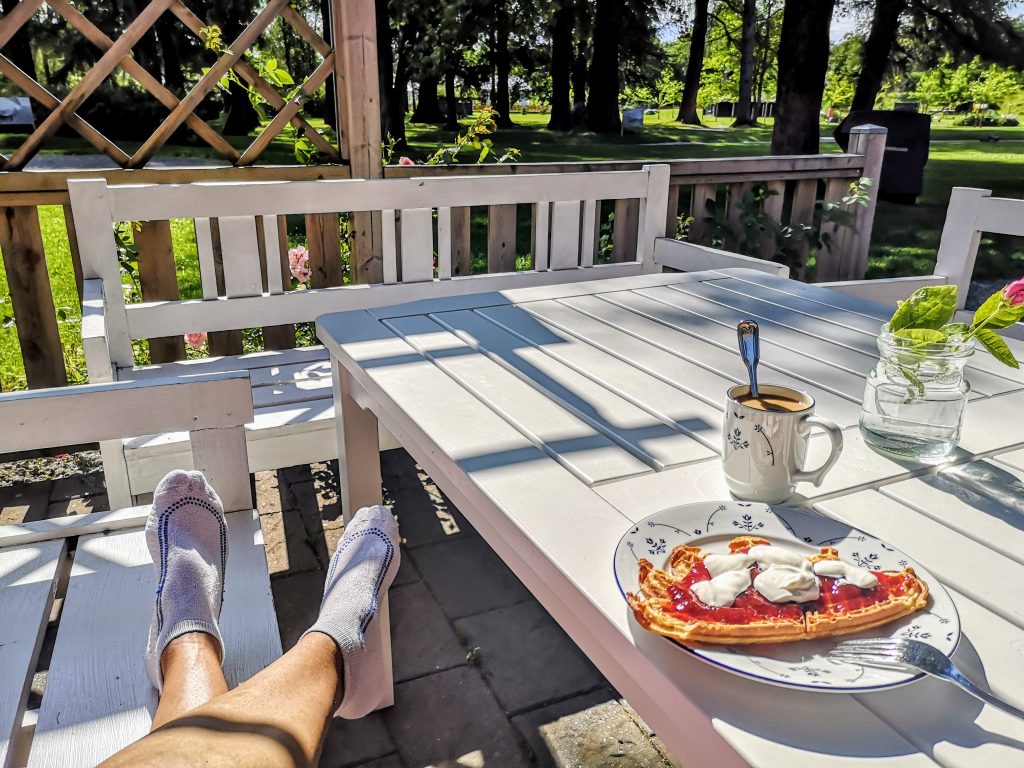 Accommodation just after Vaernes: Ersgard

I got to Ersgard halfway during the afternoon. They are all very busy preparing the foodfestival in Trondheim that starts the next day! They have an oven and their specialty will go there to be tasted by everyone! They are busy cutting the vegetables and grilling the meat. But still they were eager to tell me a bit about the history of their farm. It was housed by the same family for ages and looking around you see lots of signs of that!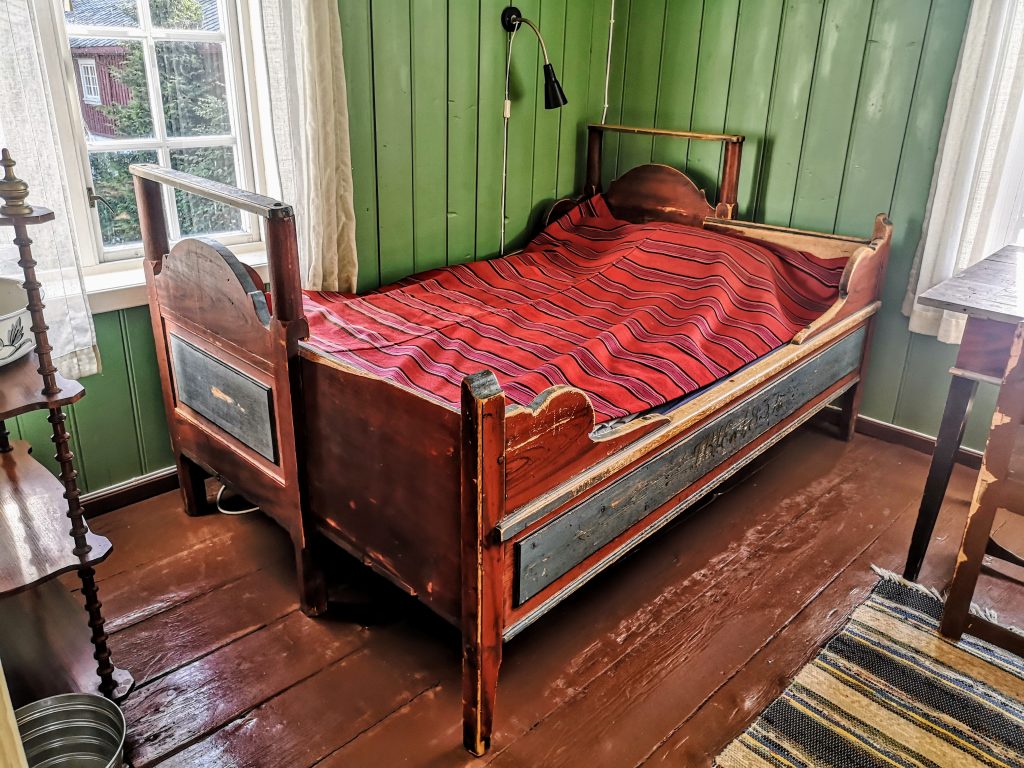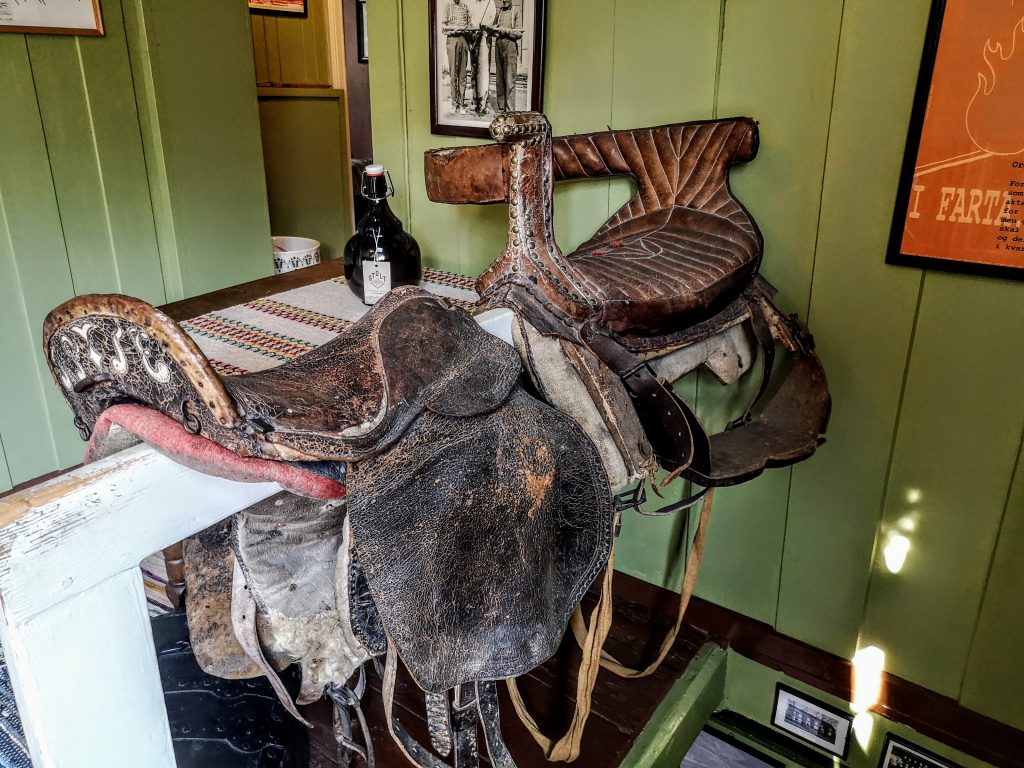 As if I stepped into a museum!
Just wonderful!
While they were busy I got to the other side of the street. From there I could walk to the river and enjoy some rest and maybe even swim a bit. It was less warm then the last days but with a temperature around 23 degrees it was great to enjoy the sun for a while.
And they told me… If I was lucky I would see a salmon swimming by!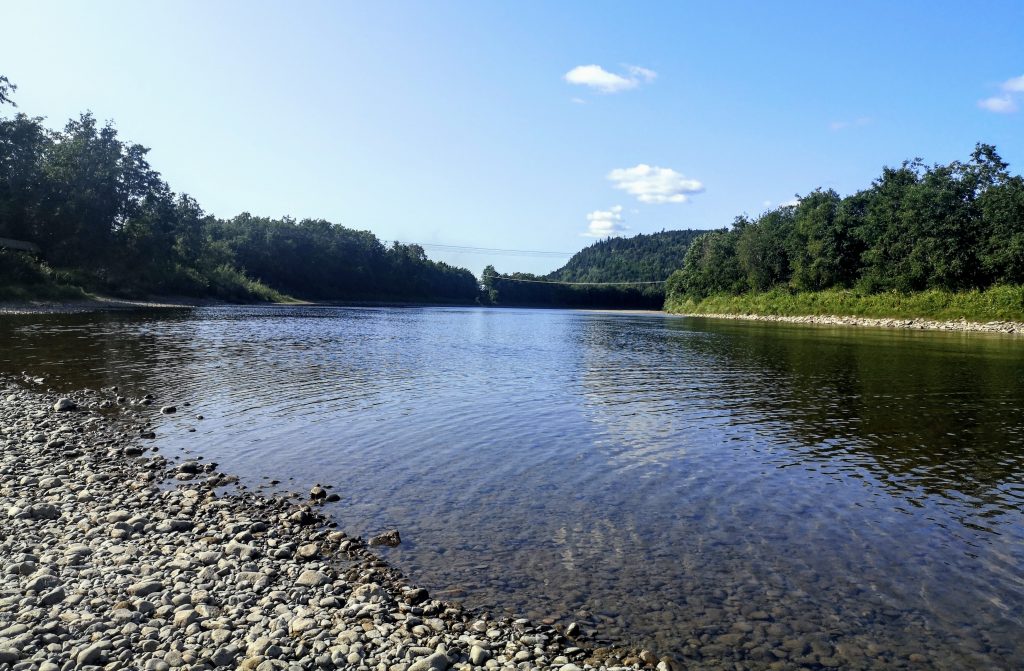 I didn't see that salmon…..
but spend my time relaxing and enjoying the moment to the max!
That evening I got their famous pilgrimagesoup and went to bed early.
I started early because the route I was about to hike was a bit different. They would bring me to Hell but I decided to hike the 5 K and from there I would take the train to Vikhammer to hike the last stage of the st Olavsleden into Trondheim.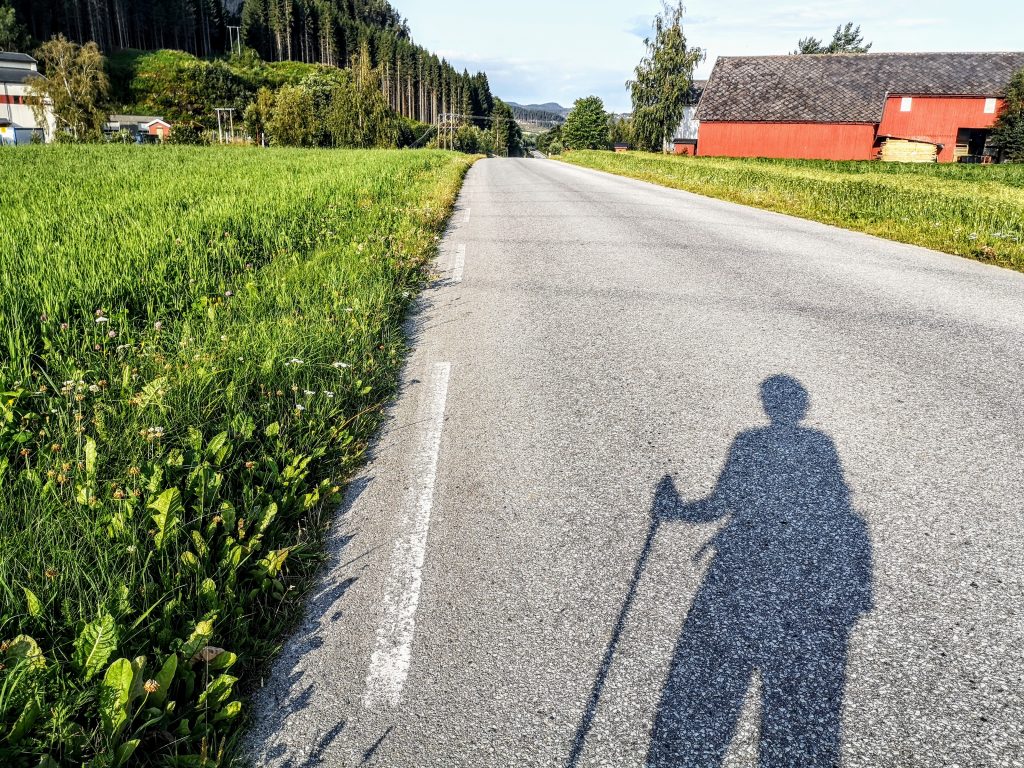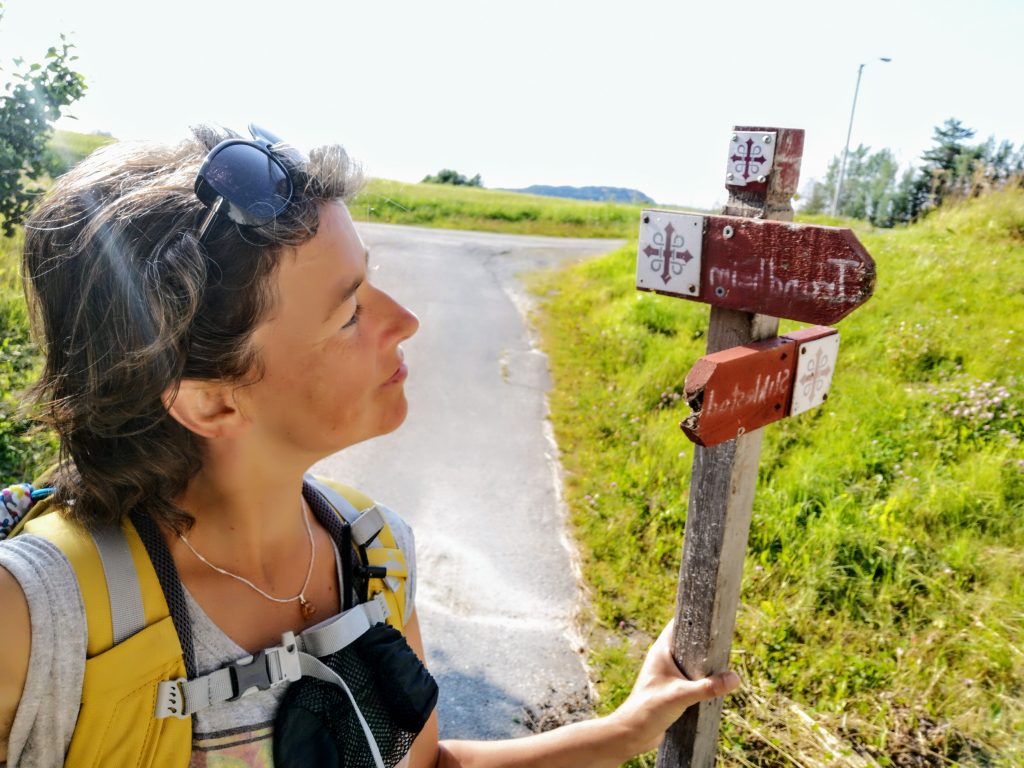 I just thought that the route went along the trainstation of Hell. Lots of the books and people that walked it mentioned the 'worldfamous' sign of the trainstation. Well… I hiked on when I saw the sign for Hell… and after some time I checked my GPS and saw I passed Hell by at least 5K.. I decided to go trailrunning the way back just as the man I spoke to yesterday… It was 9.30 and I didn't wanted to be hiking into Trondheim that late.
It went great, I was just carrying a bag of 5K on my back.
It went quit good, if I say so myself..
Within a half an hour I did the 4K to get back into the village and getting at the trainstation of Hell. There was a bit of a disappointment in me when I saw that the famous sign was in scaffolding. ..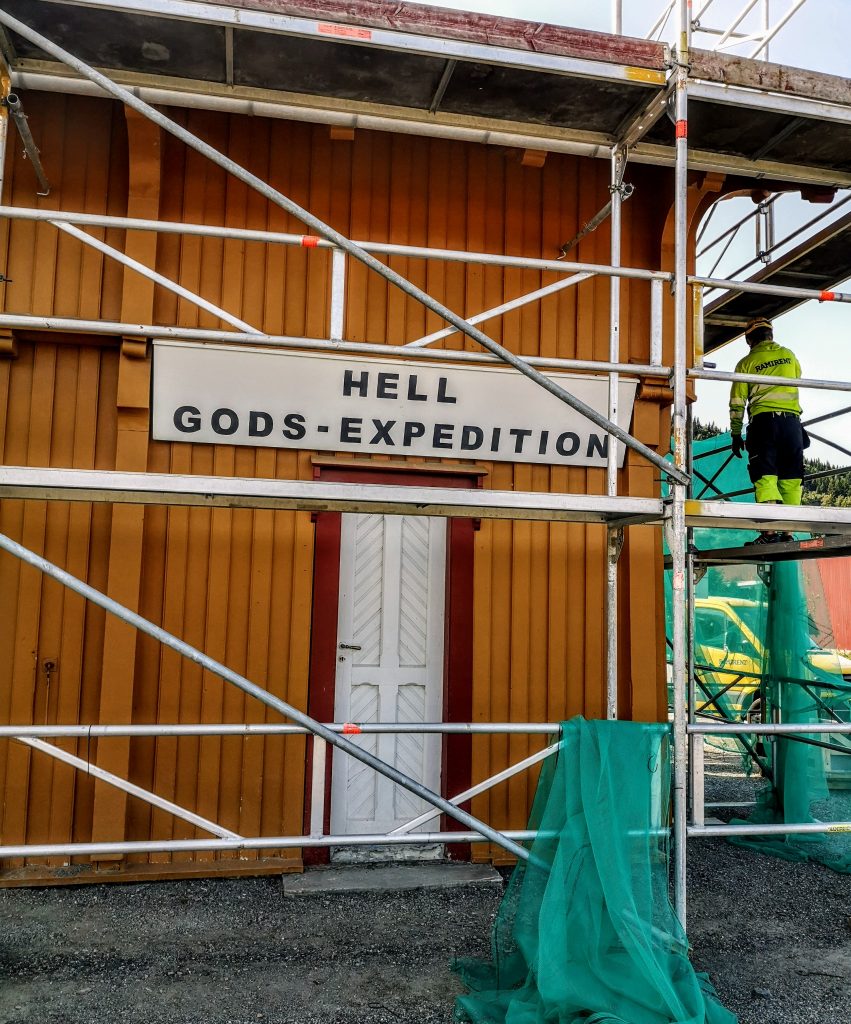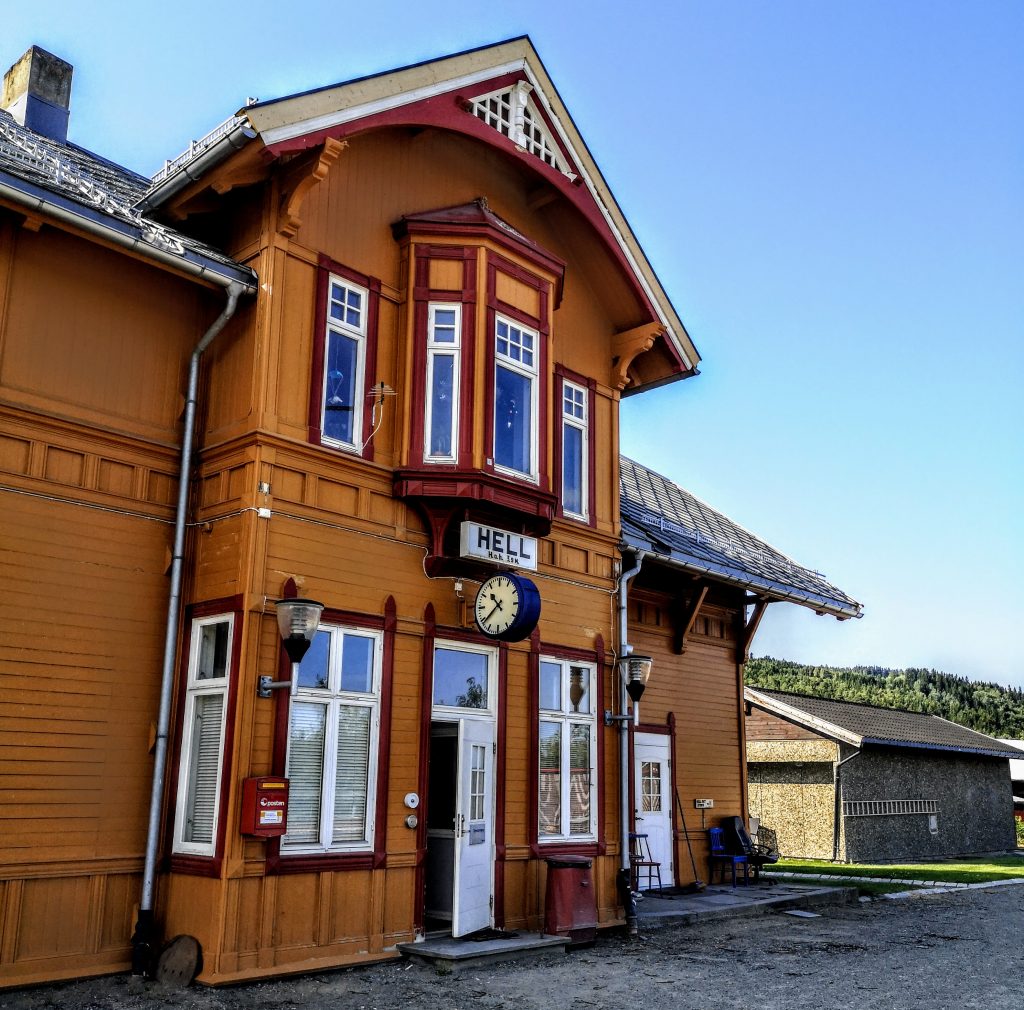 Folden – Vikhammer = 17 K
So this route I didn't hiked at all but did by train along the coast. Again I had the best views over the fjords. This time my pilgrimage took me along so many different manners of traveling 🙂
On the Spanish camino we said that these peregrinos or peregrinas did the Camino Light .. Now I was one of them..
Vikhammer – Trondheim = 18 K
Entering Vikhammer by train I had to look for the signs of the St Olavsleden. I hiked up into town to get to a shoppingmall. After visiting the toilet, buying a cup of coffee without milk…because the milk was delivired tomorrow… I asked several people if they knew where the st olavsleden passed this town. Nobody knew…but the workers at the supermarket were really happy to help me!
In the end I found an adress online of pilgrimage hostel so I just hiked there. I hiked up Vikhammer, which is on the coast, and went looking for the signs.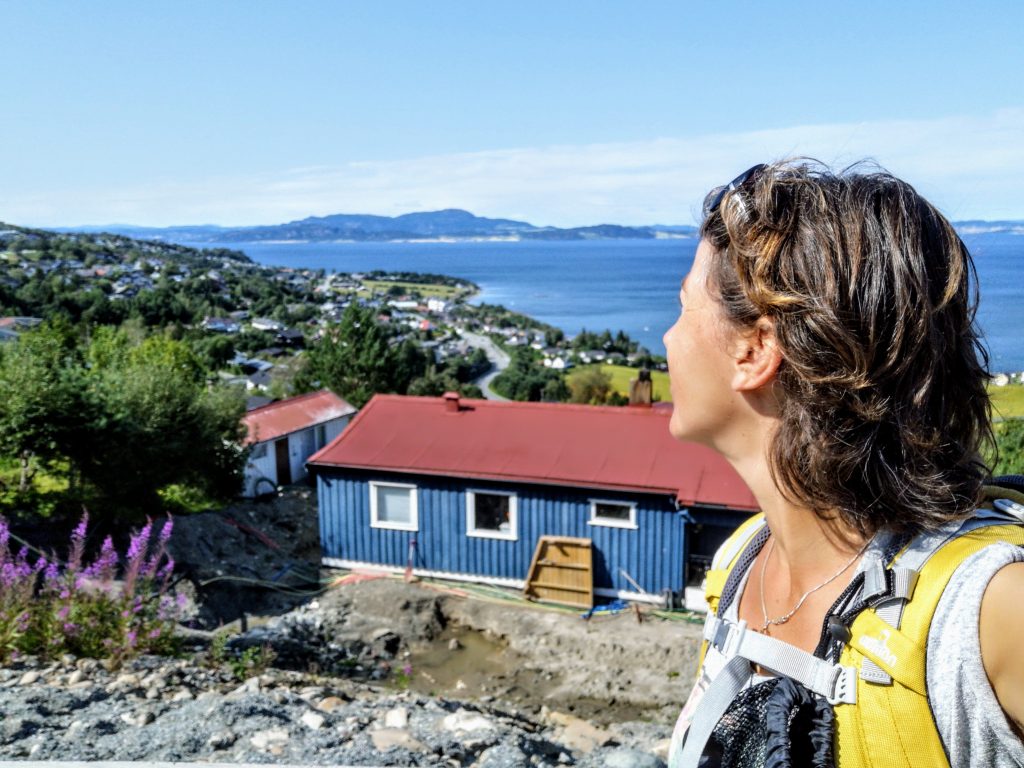 Just when I thought I would never find them anymore I saw a sign in the distance on a traffic sign!! I never found that pilgrimage hostel by the way…
It felt so good to see the signs again.. Going further on the St Olav Way! Just following the signals along the way and not thinking to much!
You learn to recognize the signs, the shape and colour from a distance.  I also learned that on different trails. Within an hour hiking a trail you scan your surroundings on that sign and you recognize it quit quickly from afar. Navigating your way around an unknown area without GPS or a book feels great!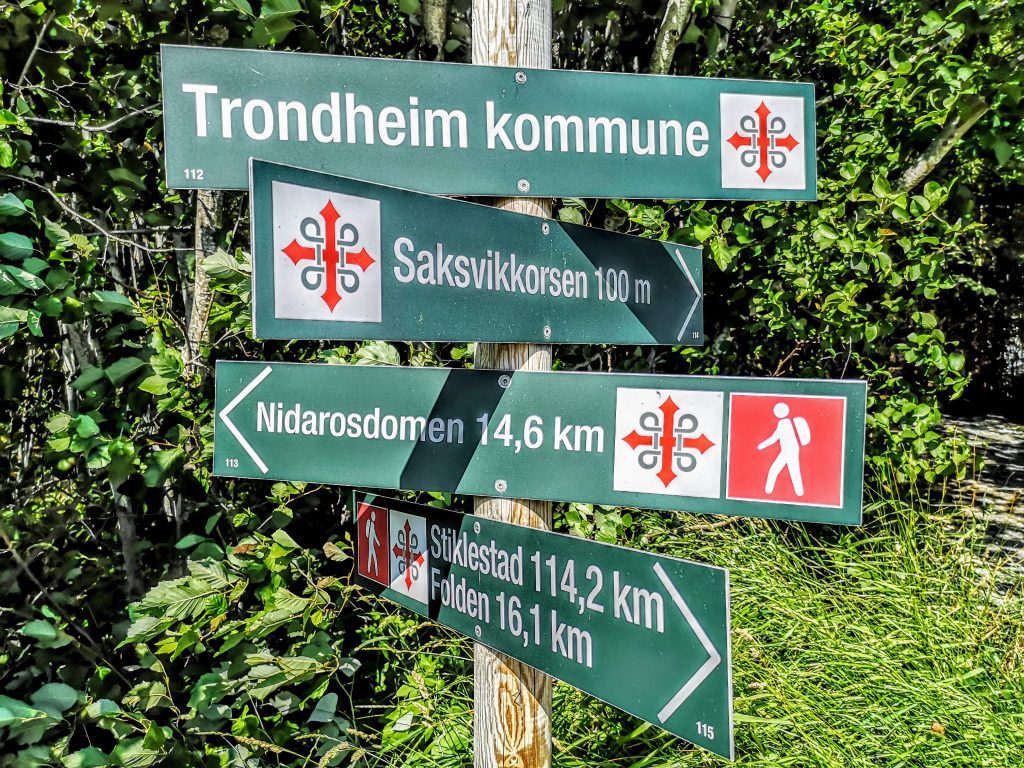 The trail brought me down to the sea again, hiking along the coastal line. It was just the best! I found several places to sit down and enjoy this last day as a pilgrim to the fullest. The weather was perfect, not too warm and so sitting down and enjoying the sun and the view was great!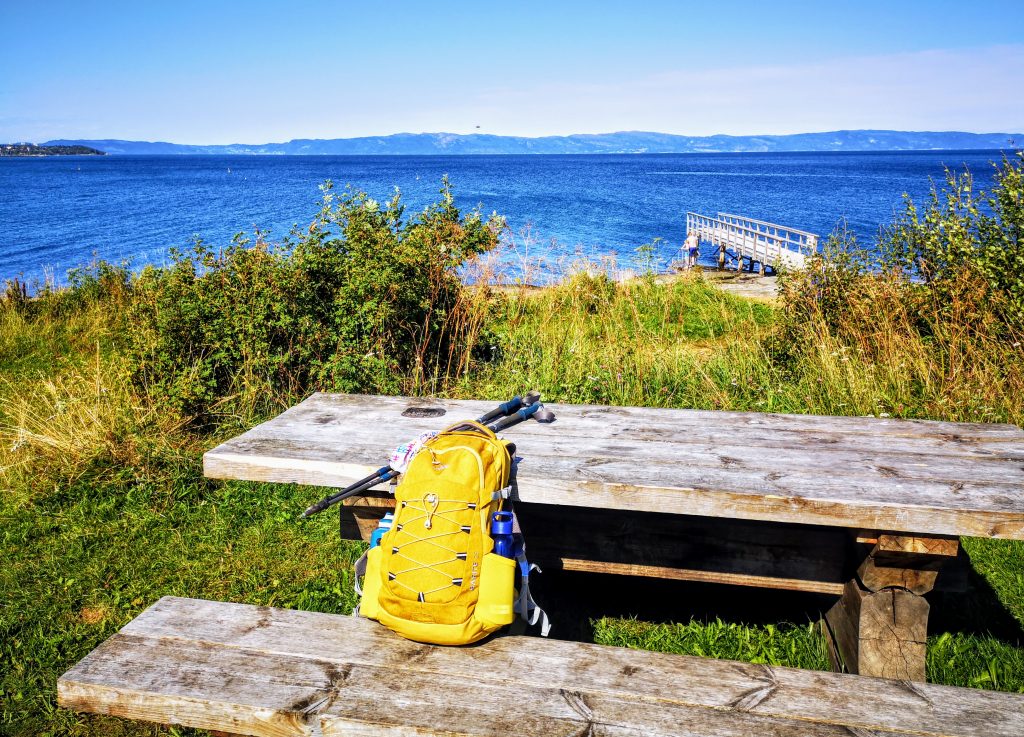 Slowly I entered the city… it was busier and because of that it destracted me so I got lost a couple of times. I easily went back to the last sign and picked up the trail again. In the end I got into Trondheim and hiked down the last road to enter the old brigde called Gamle Bybro.
I think it is the most iconic spot in Trondheim!!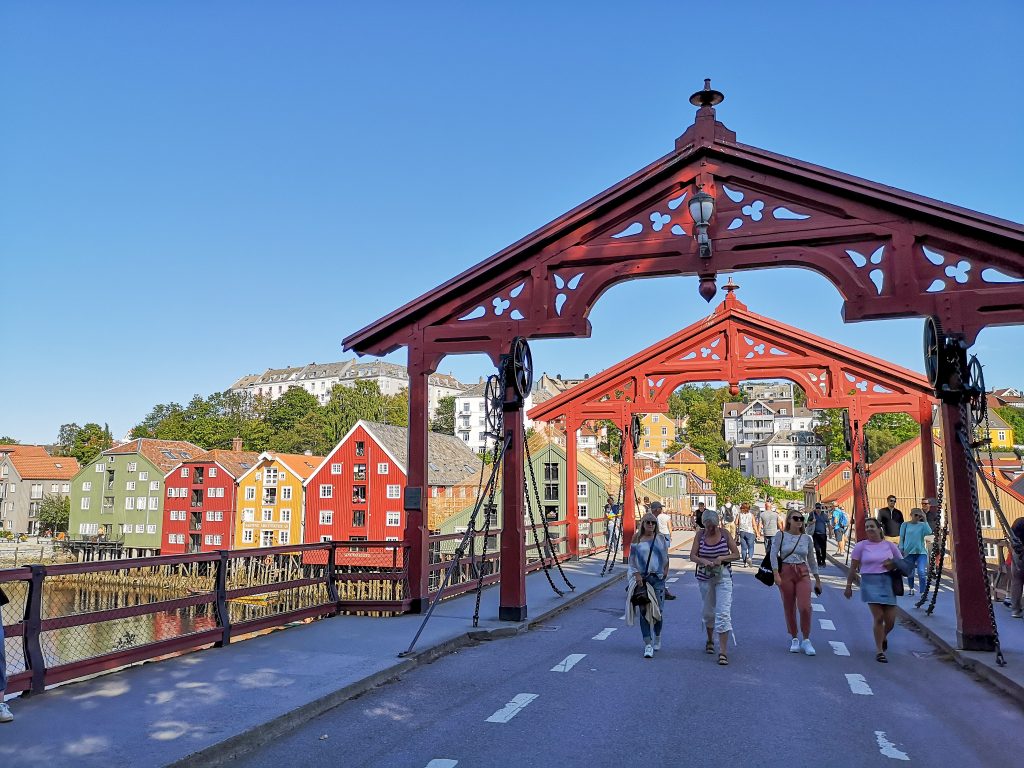 The route turned left after this brigde and went along the hostel where I would stay for some time.. I immediatly went in because I needed to use the bathroom ..
Later that day I went on to the well, 400 metres further, and from there up to the Nidaros Cathedral. The huge cathedral and ending point of all the St Olavsleden in Norway.
Accommodation Trondheim : Pilegrimsgarden
In Trondheim I stayed for a couple of days at the pilegrimsgarden which also is the information centre for the pilgrims. You can sleep in a dorm but also rent a private room.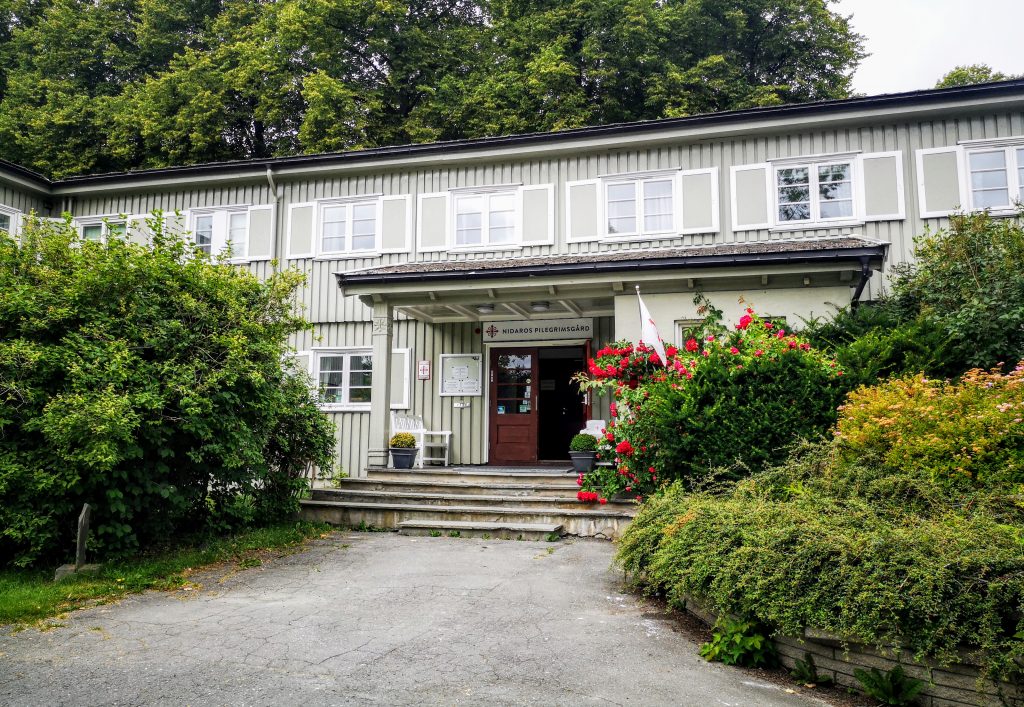 Pilgrimage on de s:t Olavsleden
S:t Olav Pelgrimspassport
The proof that you were a pilgrim on the St Olavsleden
As proof that you were a pilgrim in Norway, that you walked the whole or a part of the St Olavsleden you can get a diploma. You need to hike at least the last 100 K or more parts along the trial and a bigger part of the last part. If you would hike the part of the St Olavsleden trail mentioned above in totall you would have enough K's to get it. Those 7 days would give you 152 K and that is more then enough! This diploma is to be bought for a small amount at the pilegrimsgaarde, the hostel for pilgrims in Trondheim, at the end of the St Olavsleden.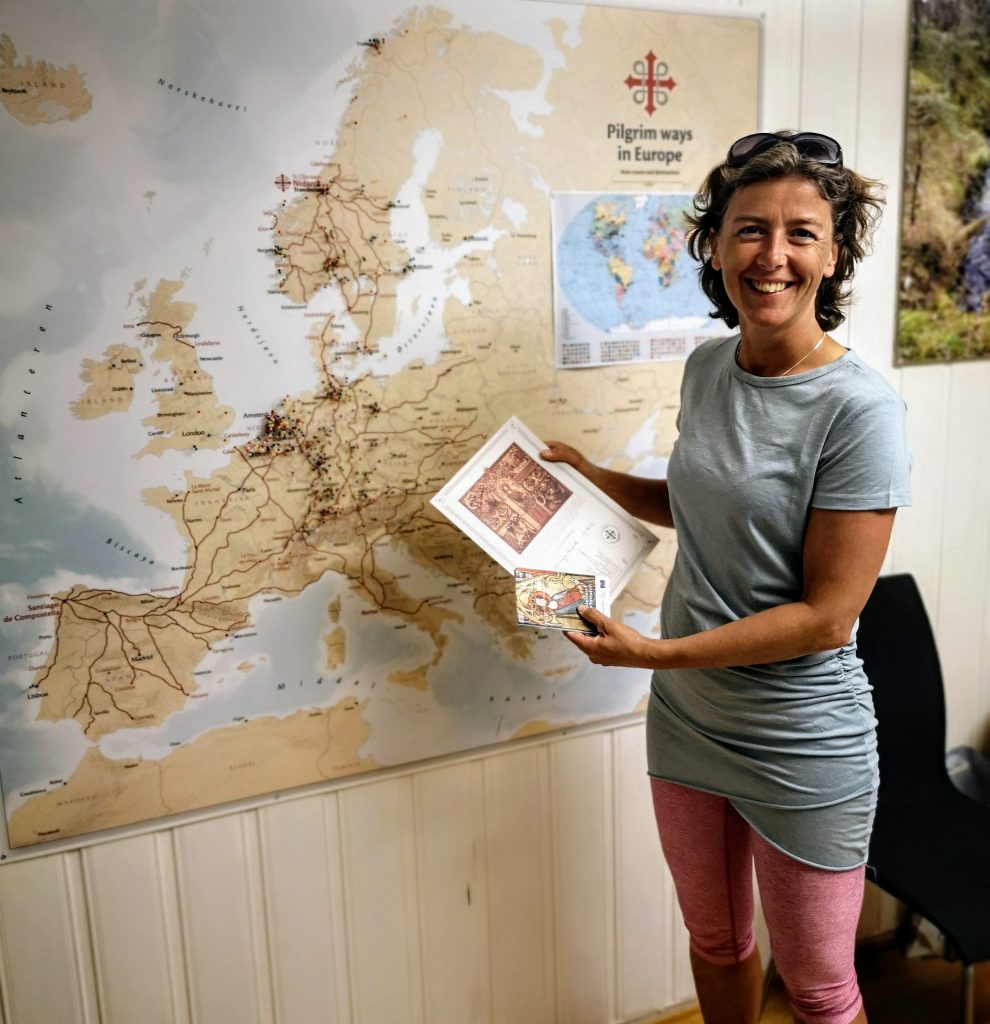 I did got the letter of Olav as proof that I hiked some days on the trail.
Each trail of this network of long distance trails that carries the name of St Olavsleden will end here. The well of Saint Olav, I did take a small sip of the water. You need to do that, I think! Even though it is pro forma. It didn't had a special taste.. It was just cool fresh water.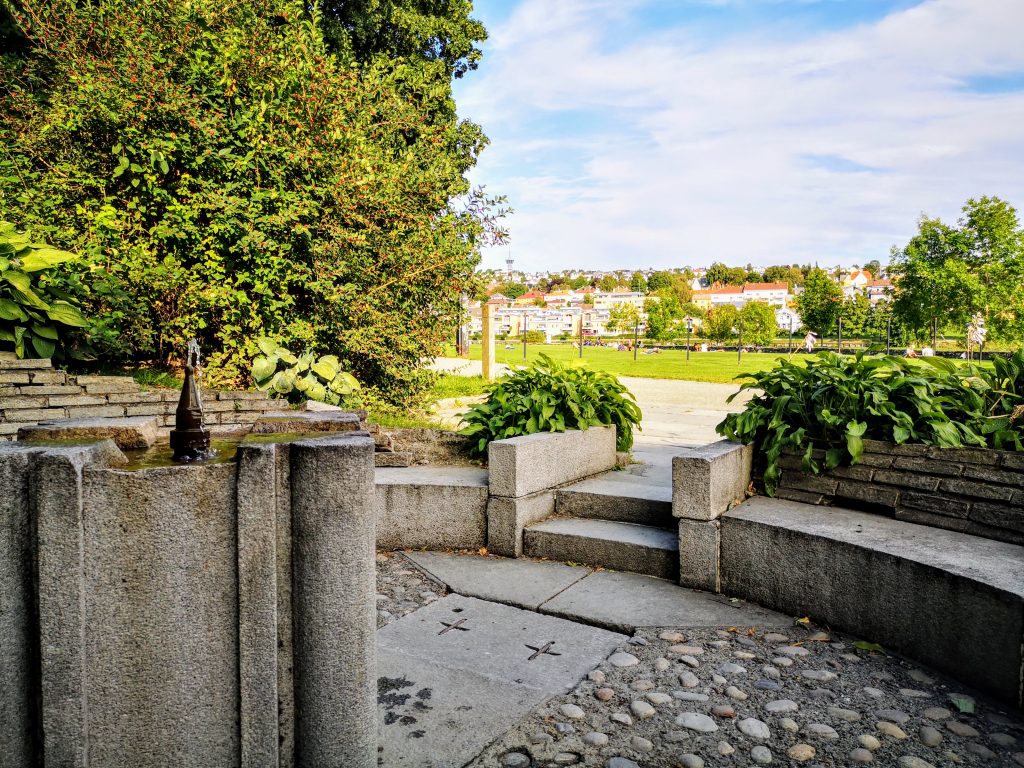 Next to the well there is the stairs to go up to Nidaros Cathedral. There you will also see the milestone for 0 K, the end of your pilgrimage on the st Olavsleden!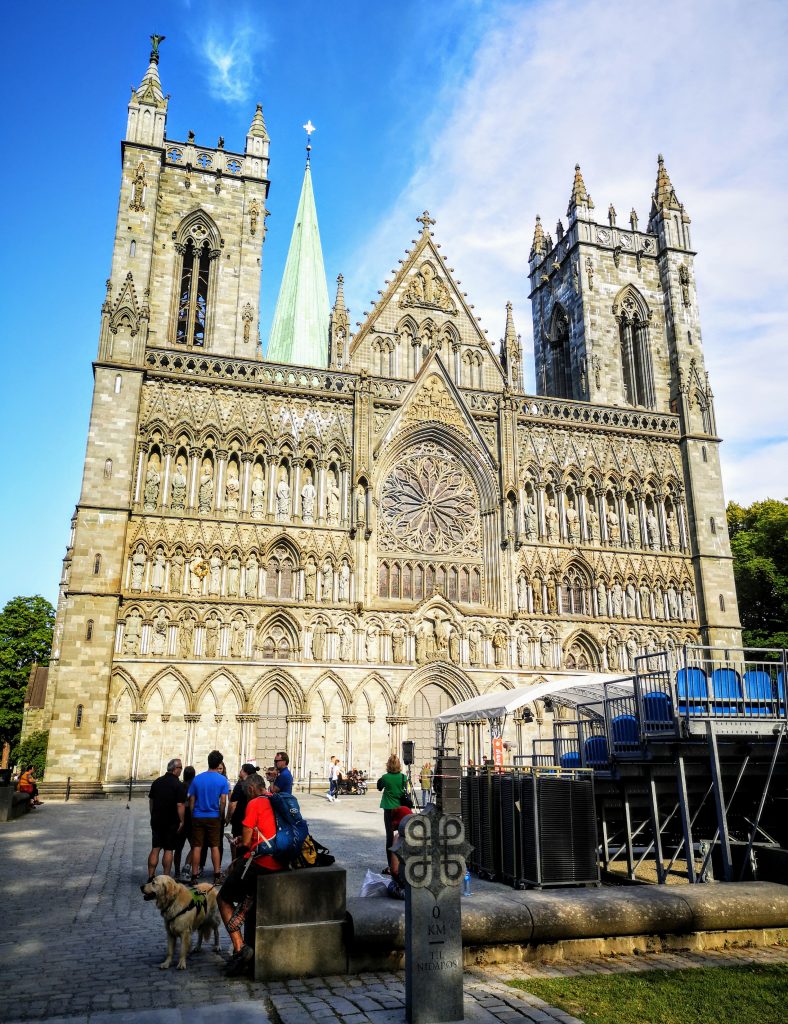 Pilgrimservice in the Nidaros Cathedral
When you end your pilgrimage in the city of Trondheim and registre yourself as a pilgrim, getting that last stamp in your passport you also go to the pilgrimsservice right? The service is held every day at 6pm. But in the week of St Olavfestival it is held on 10 am and 3pm. This service is held in the small church on the left side of the cathedral. I did felt special again to hear all the nationalities of the pilgrims that entered the city the day before. The Netherlands was mentioned too 🙂
With that my pilgrimage on the St Olavsleden came to an end!!
Paying on the st olavsleden Norway
I actually hadn't taken any money out of an ATM and so had to Pay by Card all the time. I didn't miss that anywhere. It was really easy without the Norwegian Krone in my pocket. I could pay everywhere with my card and even with the new way of paying without inserting the card there was no problem.
Isn't that ideal?
Next to this easy paying system I learned about VIPPS in Norway. You can download an app and lots of shops and restaurants use it. So it is even easier to pay without cash in Norway! VIPPS first started in 2015 and is the biggest paying application in Norway. You do need a Norwegion phone number to use this app.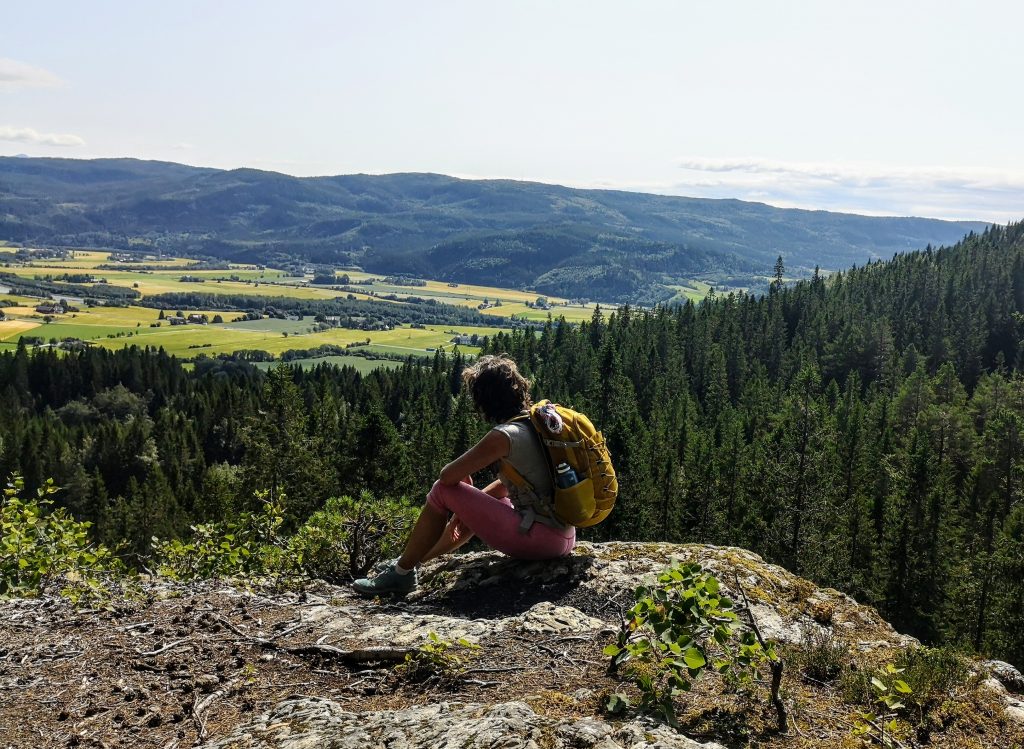 Packinglist pilgrim path St Olav, without outdoor camping
I packed as light as I could for this pilgrimage on the St Olav Way and travelled with 5 to 6 kilo on my back to Norway. This was the first time that I travelled that light and I must admit that I still had things in there I didn't use.. I did wash some underwear and a shirt because of the warmth. I also had a shirt in there I didn't use at all. It was perfect summer weather and the sweater and long legging I took I only used on my way back home. The last day in Trondheim, Norway the temperature dropped
I was carrying the following:
Short legging, half legging and long legging
2 tank tops, 2 shirts, 1 sweater and a windjacket
3 pairs of socks, 5x underwear, 3x bra
Buffy / flipflops
Toiletry (in a laundrybag): toothbrush and small tube toothpaste, small shampoo, small bodylotion, small deo, small bottle laundry detergent, nailclipper and nail file, blister bandaid and tape,hairbrush, tigerbalsem, lipbalm, eyeliner and earplugs.
Wallet, passport, pilgrimspassport
2 waterbottles and my trekkingpoles
Smartphone and an extra battery
Small shoulder bag for the evenings / city
Tip: I use the small bottles for shampoo and such multiple times. I refill them at home out of my big shampoo or bodylotion.
The bag I carried during my Nordic Pilgrimage was the Nomad Barite 25 lt. Because all my clothes goes in a pressurebag it would fit perfectly. The bag has a special AVS back system and that way air goes through while hiking the pilgrimage. With the heat of the first couple of days this was great. I could also fit in my flipflops in that part of the bag 🙂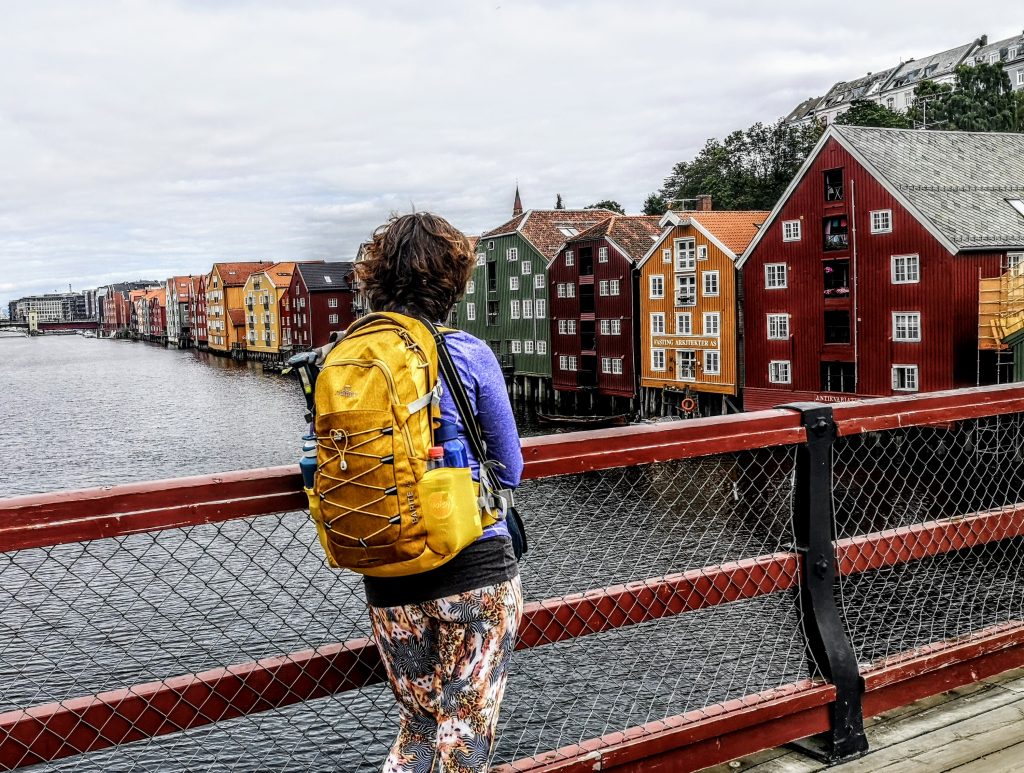 This pilgrimage I used my new Lowa's Aerox GTX for the first time. Normally I always take of my shoes every stop but now that was not neseccary because of the special ventilation channels in the sole of the shoe. I really love my new shoes and they are super comfortable.
Also the first time for me to hike on low hikingboots and in summer that is really nice! I am very happy with these shoes!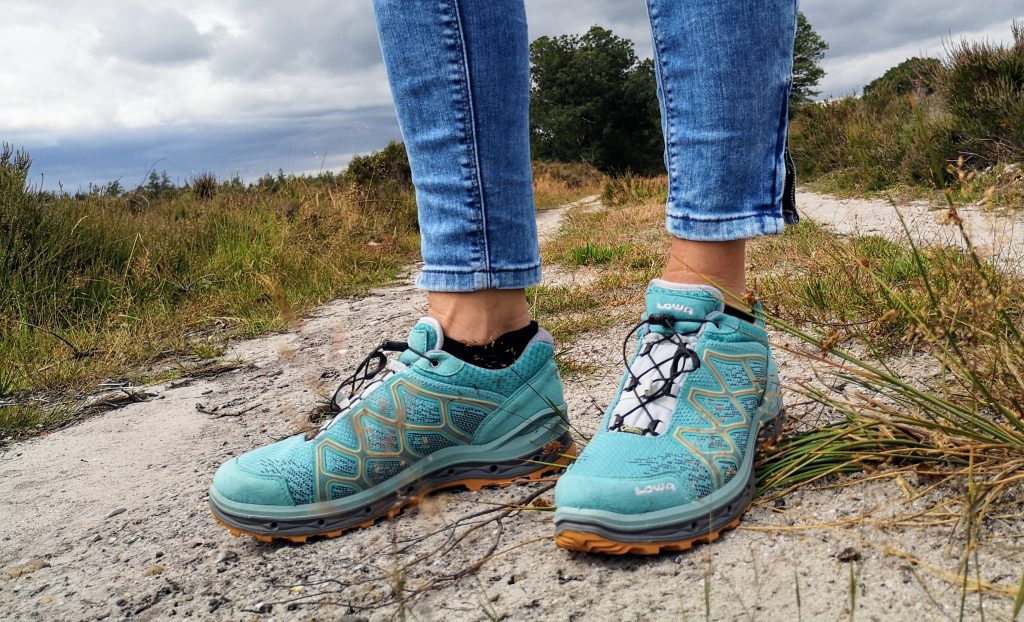 Did you know that you can fly from The Netherlands, Schiphol easily to Trondheim. Multiple times a day even!

I flew at 2.30 pm to Trondheim, Norway. The flight will take 2 hours and so you can take your dinner in a nice restaurant in town!
I really hope to come back in the future to do another part of this great trail. There are a lot more other options too in Norway for a great hiking adventure!
How about the trail from Oslo to Trondheim of 643 K?
And do look at all suggestion on the site of Pilegrimsleden. They have package options from a couple of days to over a week hiking in Norway.
Tip:
In preperation to your journey or to share your experience while hiking this great trail you can join the Hiking along St Olavsleden Facebook group too!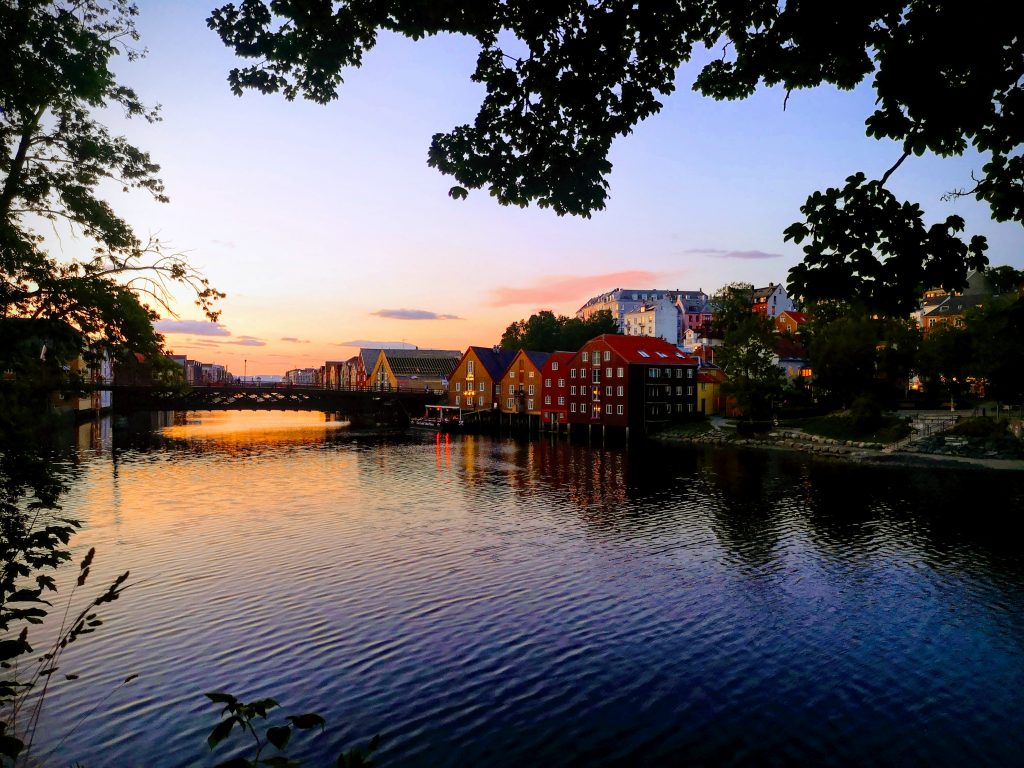 Did you like this long distance hiking trail?
Share it to inspire others!!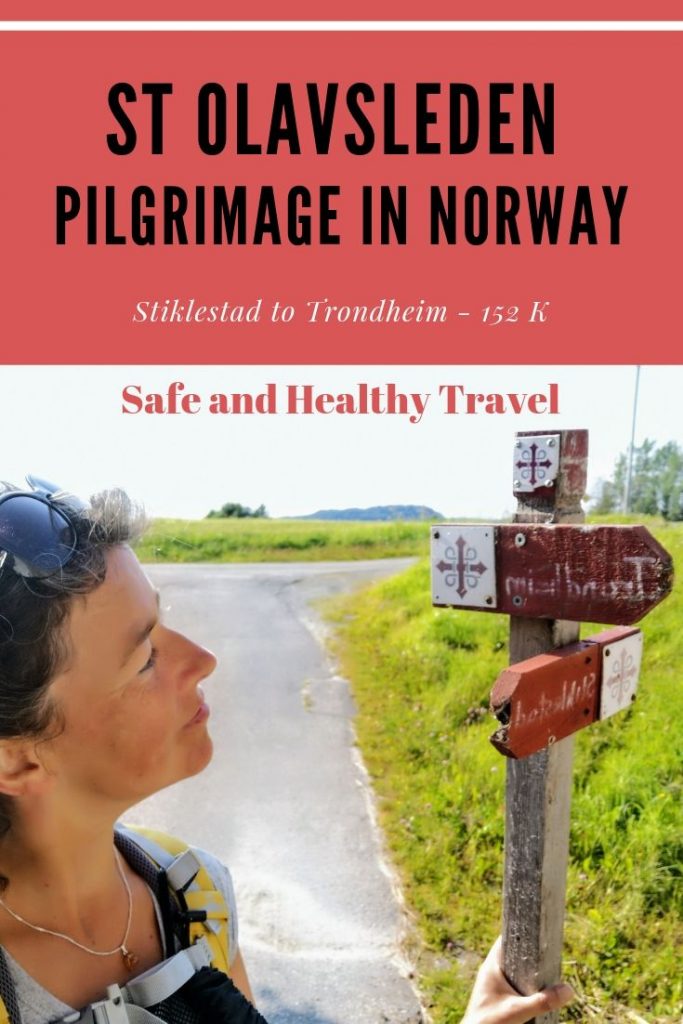 Looking for more hiking inspiration?
Hiking Luxembourg Lee Trail – 3 days
Hiking the Hermannshohen – Teutoburgerwald, Germany
2 days – 1 night hiking near Hsipaw – Myanmar
Or what about going on a horsetrek?
I hope you enjoy this world as much as I do!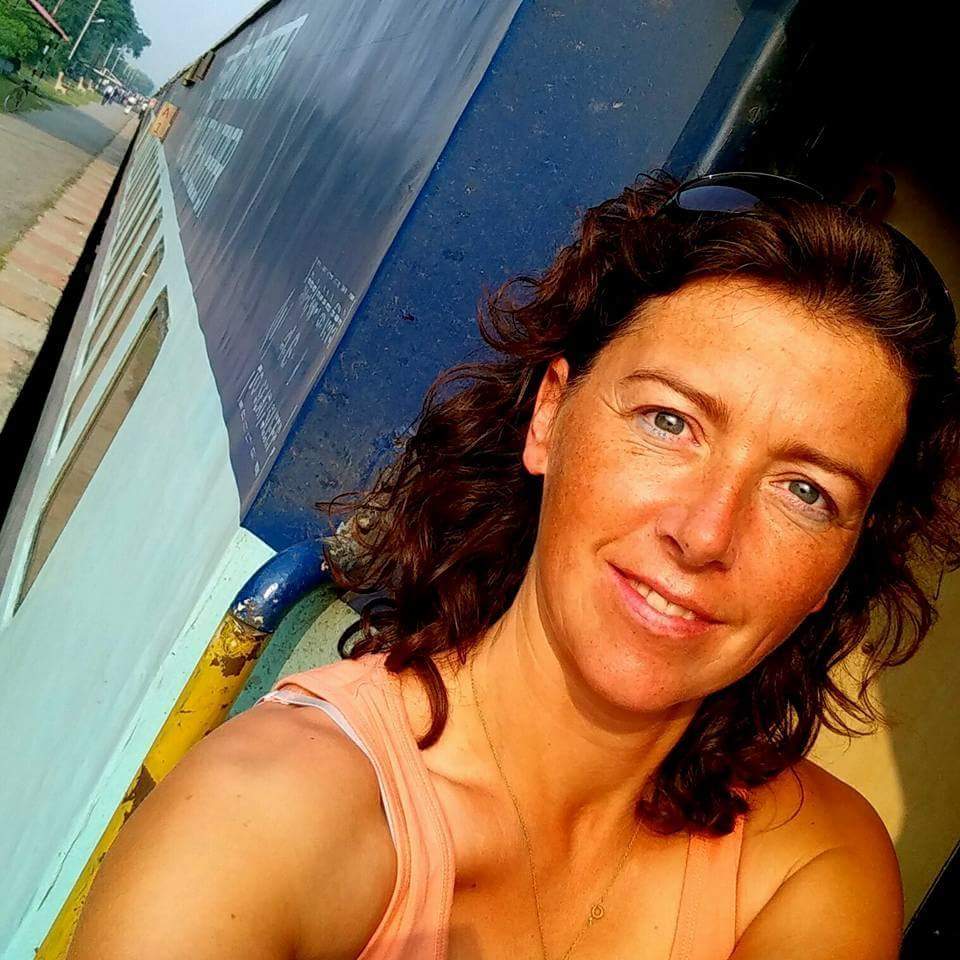 Jacomijn is een politieagent uit Nederland die jou graag laat zien hoe je veilig, actief en gezond de wereld kan over reizen. Safe and Healthy travel is a MUST