Adventurous Travel – Sossusvlei and Deadvlei – Namibia's Most Iconic Spot
|
If you go on a tour in Namibia, you cannot miss the Namibia's most iconic spot. It is on most postcards and you will always see the iconic trees of the Deadvlei in a commercial film of Namibia. I drove my own 4 WD so this visit has to be part of an adventurous travel to say the least. Read more about my entire trip which lasted 10 weeks.
Do you also want to travel adventurously?
Then be sure to read about my visit to the impressive and iconic Sossusvlei.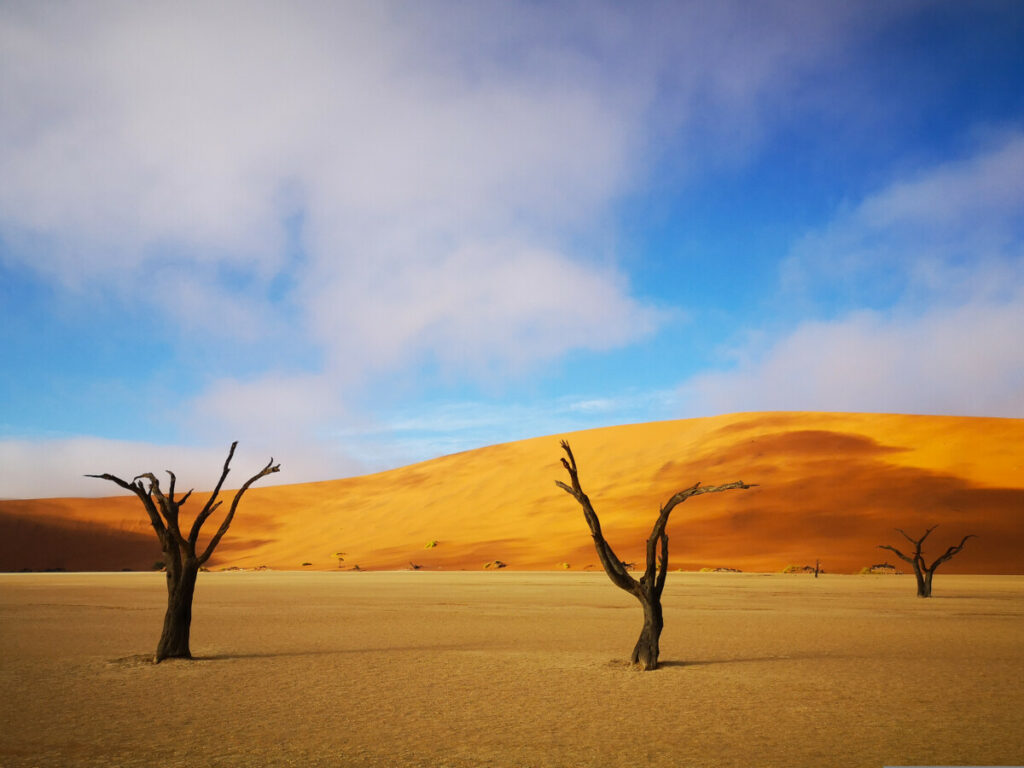 When I arrived in Sesriem, the first thing I did was buy a permit for myself and the car to enter the National Park that surrounds Namibia's most iconic spot. There is no way around it as there was an entrance control pointing me to the central building that houses the office for the permits. The office also houses the local supermarket and the bar and restaurant.
How convenient? You know immediately where you can do your shopping.
Campsite of Sesriem
I stayed at the Sesriem campsite just behind this building and was assigned a campsite. It was nice and close to the swimming pool and near the central toilet and shower block. It is very touristy here and therefore massive. I decided to go into the area before sunset.
At sunset the chain goes over the road and you are not allowed to go through anymore. In the morning, at sunrise, the chain goes away again and you are allowed back into the park.
Adventurous Travel Sossusvlei
Namibia's Most Iconic spot – Sesriem
I did not drive very far but at a side road I turned off and at the end I walked a bit and made a nice yoga pose photo. Happy with this nice photo and with a good feeling for the next day's trip, I drove back and put up my tent. It was very hot and I cooked my food and sat outside for a while.
My neighbours were having a party, they had 3 vehicles on a big campsite and I heard them long after I was in my tent. The next morning I wanted to be out before sunrise. So I had to pack up my tent and be at the gate to be the first to drive into the area.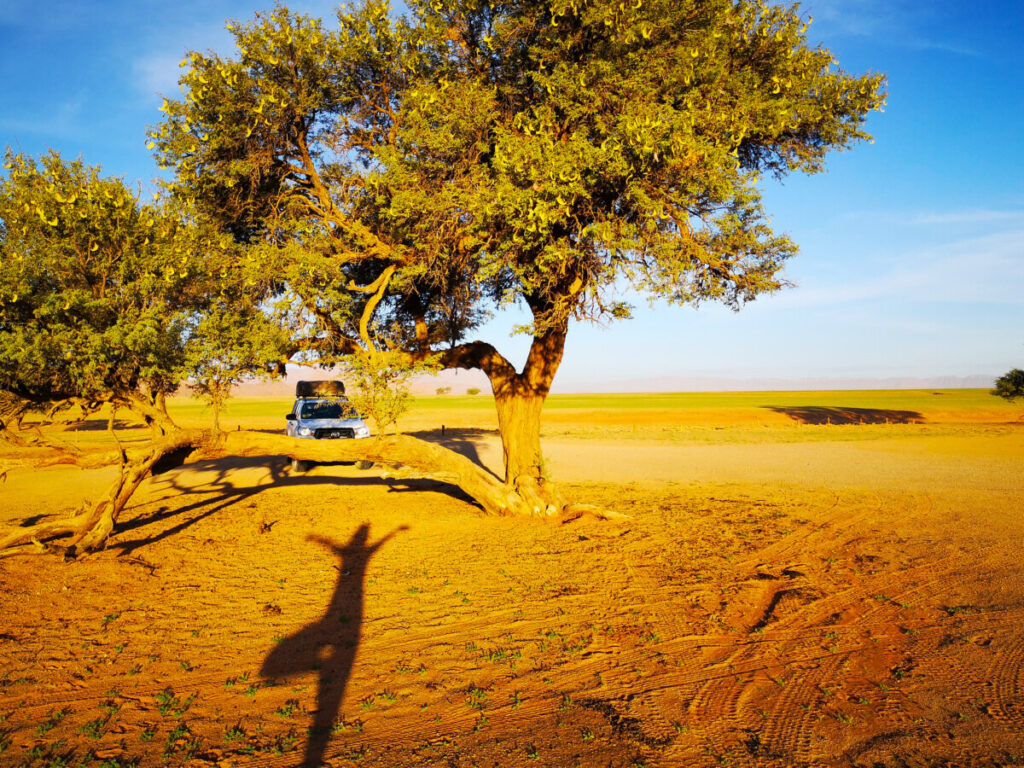 After a short night's sleep, I packed up my tent in the dark. Happy that I had been on the road for more than a week and had already dismantled the tent several times and knew how to do it. Being on time at the gate and could soon drive through. I started to drive, soon I had a car behind me driving along. You are allowed to drive 60 km per hour there and I had to drive 60 km as well. I didn't understand how I could manage to get to Sossusvlei by then….
At a certain point I saw that the car behind me stopped, I drove on for a bit. I saw another car at the side and slowly it started to get lighter. I decided to stop a little further on. The sky was already turning red and the sun was rising. I could not make it to Sossusvlei before sunrise.
Later I realised that I should have stopped earlier at the Dune 45, I guess the people behind me enjoyed the sunrise there. Oh well, you can't have everything, can you?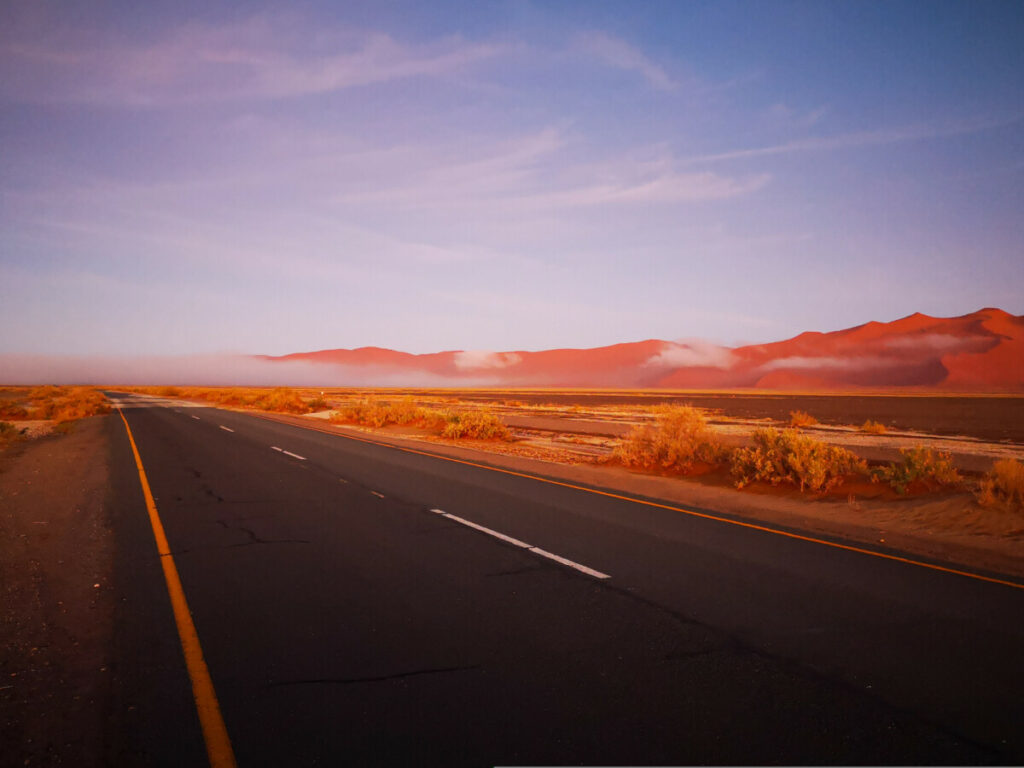 I stood alone, in a barren world with huge dunes around me… It was cold and I put on my training jacket. I stood there on my flipflops and put on my shoes. That is the advantage of having everything with you in your 4WD. After looking around a bit more I decided to drive on to Sossusvlei and Deadvlei.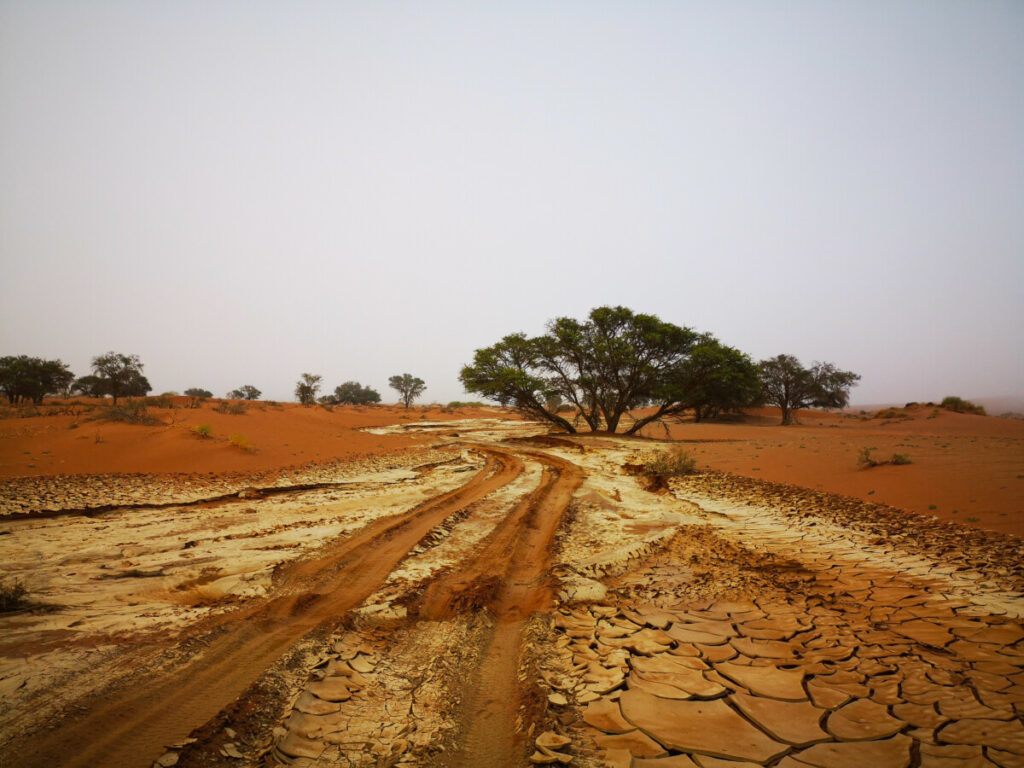 When I came to a sort of car park, it turned out that this was the start of my adventure. The tarmac road stopped here and I continued on a brown dirt road. It had been raining for the last few days/weeks and this was still very visible. I rode in the tracks of my predecessors, those of this morning but also those of the days before. I still wonder what the road was… There were several tyre tracks and I chose haphazardly, by chance and feeling…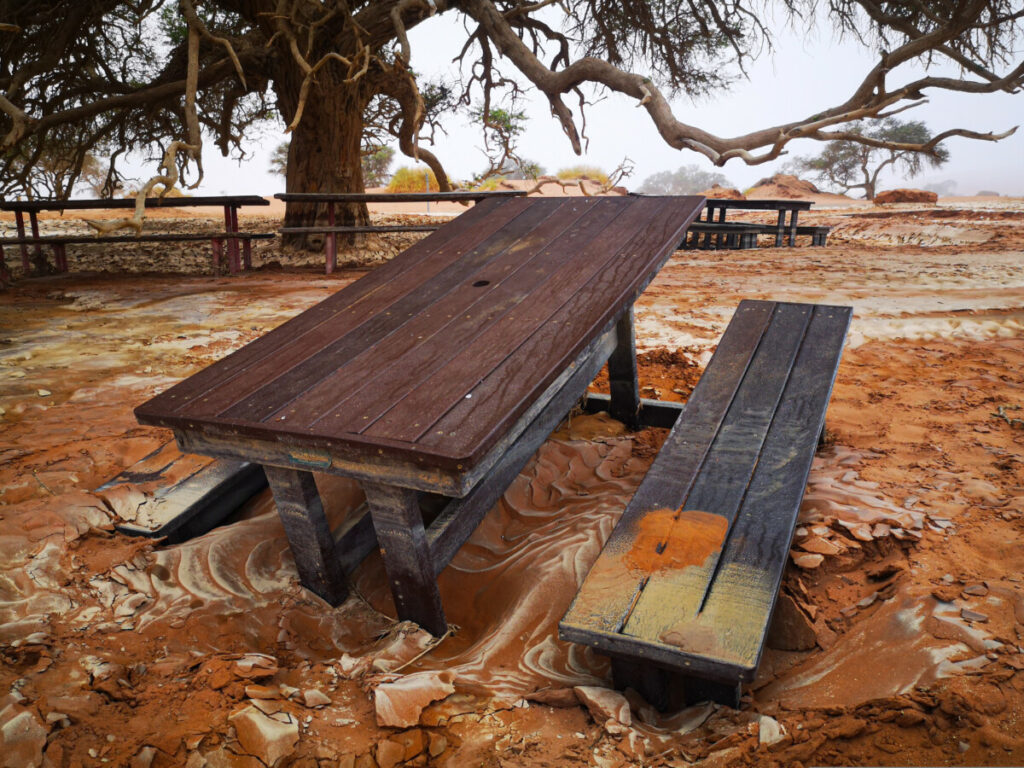 At one point, I saw a number of cars. People had started walking and I did not see anyone near those cars. Here and there in the early, misty morning I saw people walking on the cracked desert ground.
It was mystical, it was super strange and actually I didn't know where I was.
But I also started walking, without water (I found out later) and only with my camera and small bag. I walked further and further and I saw more people walking, I saw them walking high on a dune and I thought to myself that I wanted to do this too.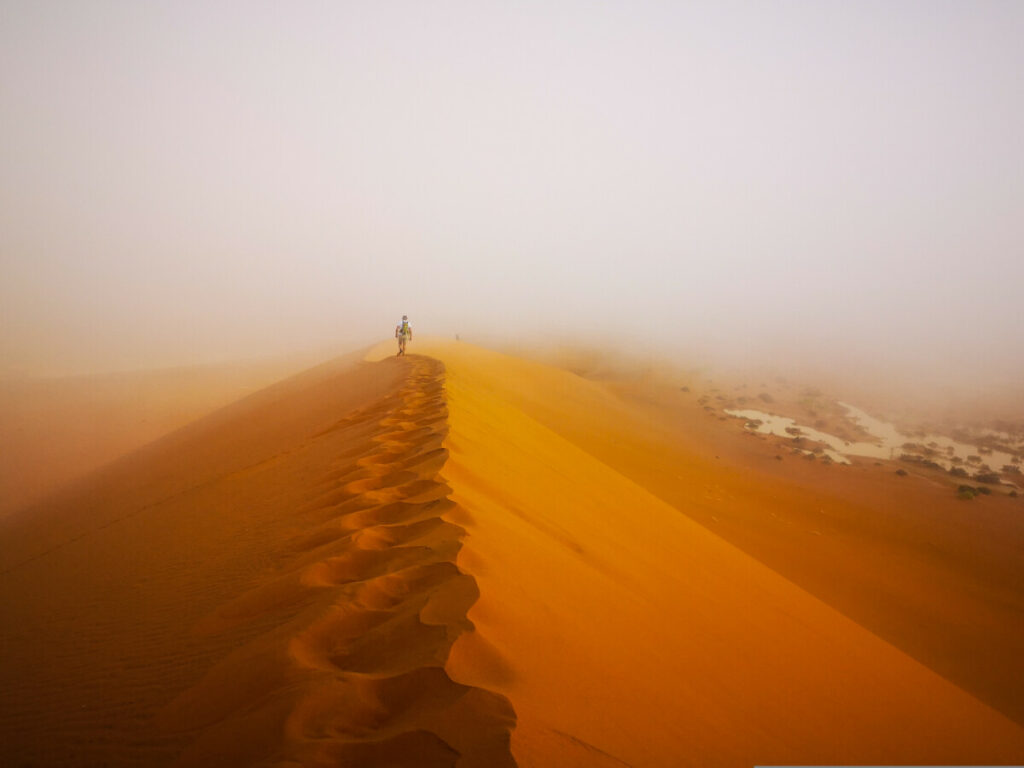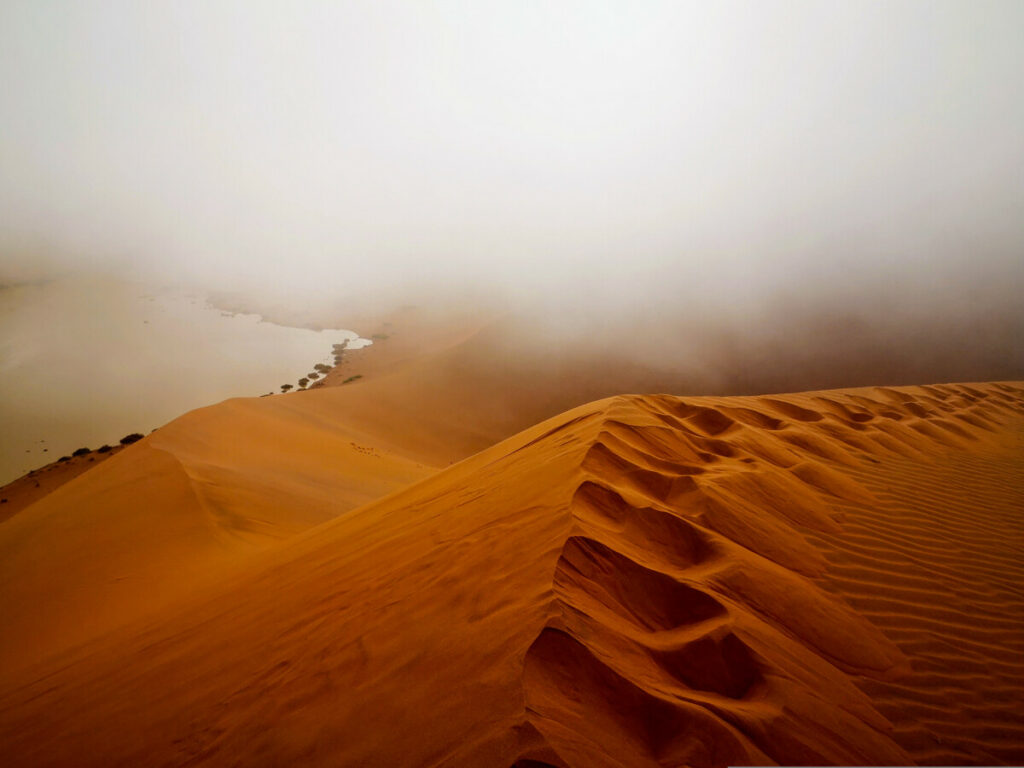 I walked further and further and finally higher and higher. It was getting warmer too, the sun was breaking through the misty clouds of the morning. When I was already quite high up on the dune and had actually been looking to my left all the time, I suddenly saw a valley on my right. As it got lighter, I could clearly see that I was looking down into the Deadvlei!
I had not expected that! I could not remember seeing a sign that said 'Deadvlei exit right here' or 'from here 1km walk to Deadvlei'…
Suddenly I was looking at the most iconic spot of Namibia – The Deadvlei…
Deadvlei – Most iconic spot of Namiba
After walking on this high dune for a while, I went down. Later I understood that for many people the challenge was to walk all the way up and then run down the back of the Deadvlei… It is one of the highest dunes in the area and of course it gives you a great view of the Deadvlei. This dune is also called Big Daddy.
I came down halfway through the Deadvlei and as the sun was just coming through I ran between the iconic dead trees of the deadvlei. There were 4 other men and later the young man who walked just behind me on the dune also came down.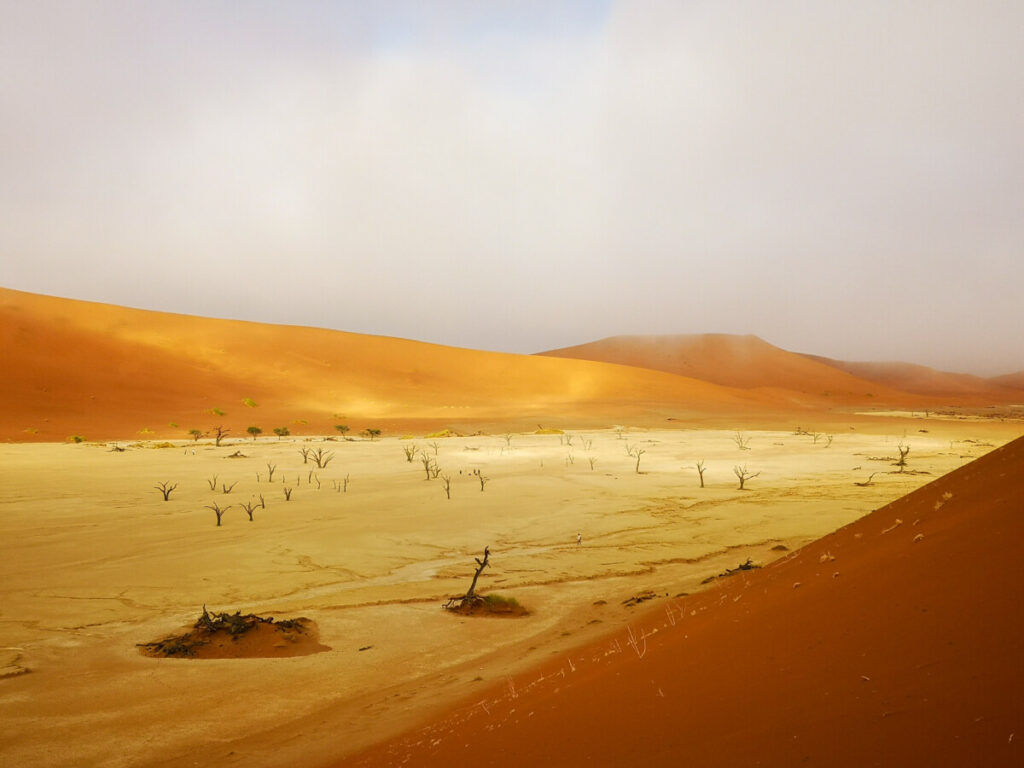 The six of us walked there taking pictures, grabbing every corner and looking where the picture would be the most beautiful. I sat down against a tree for a while, looking at the surroundings, taking in the place and feeling the serenity of the early morning in Deadvlei.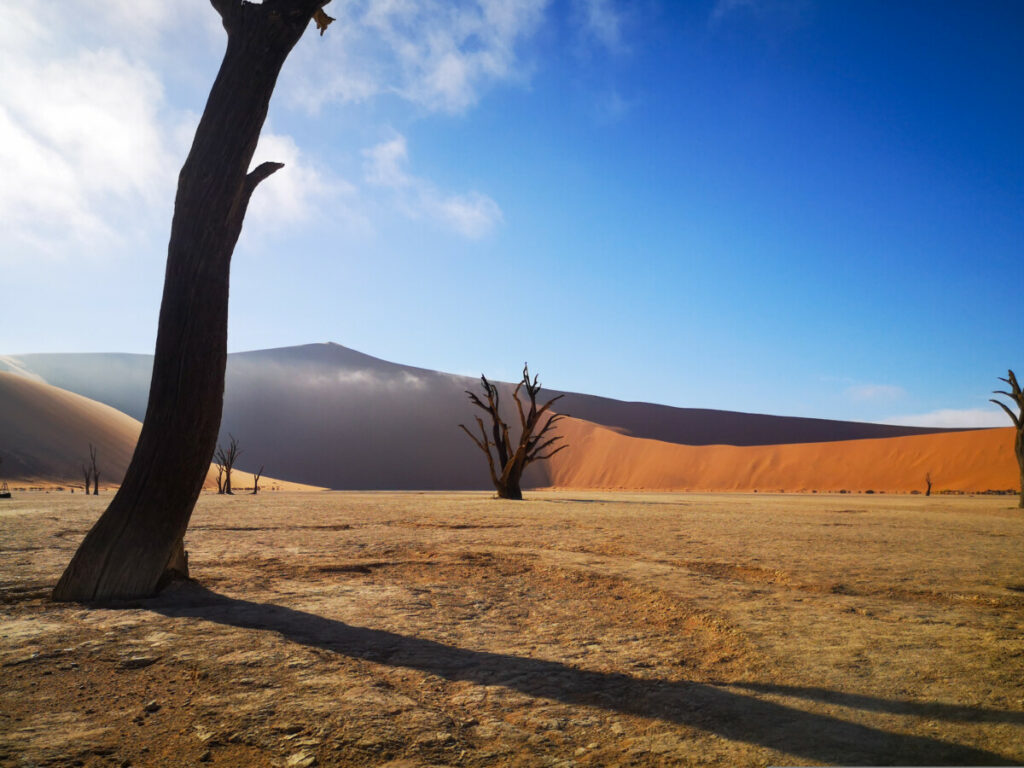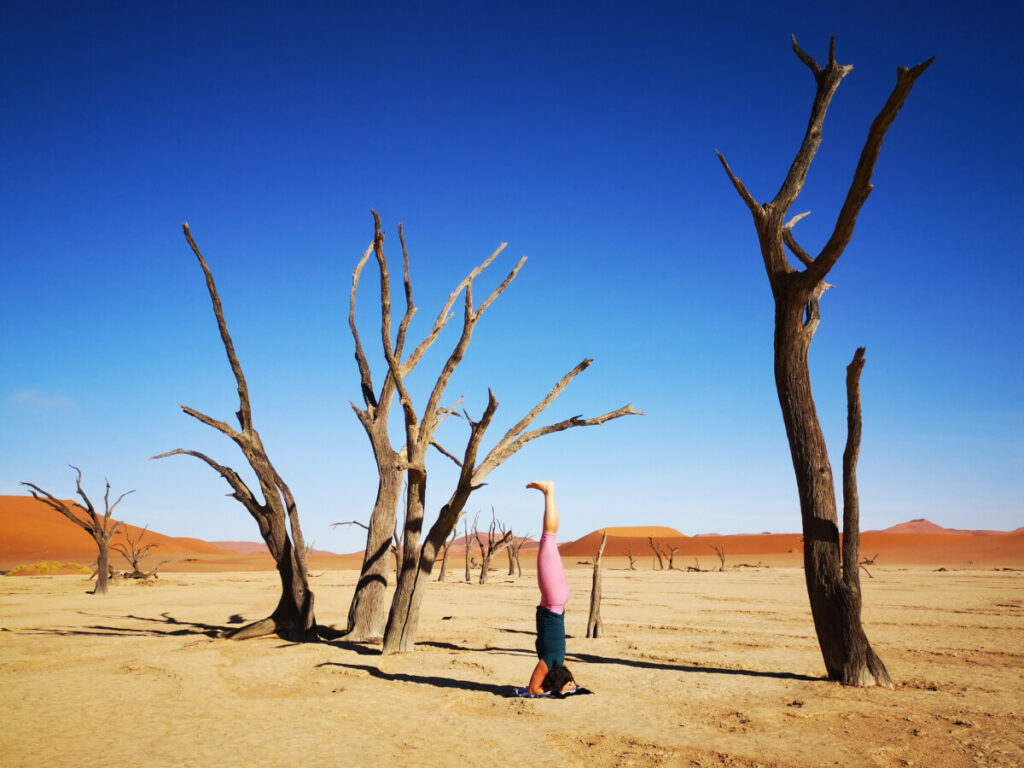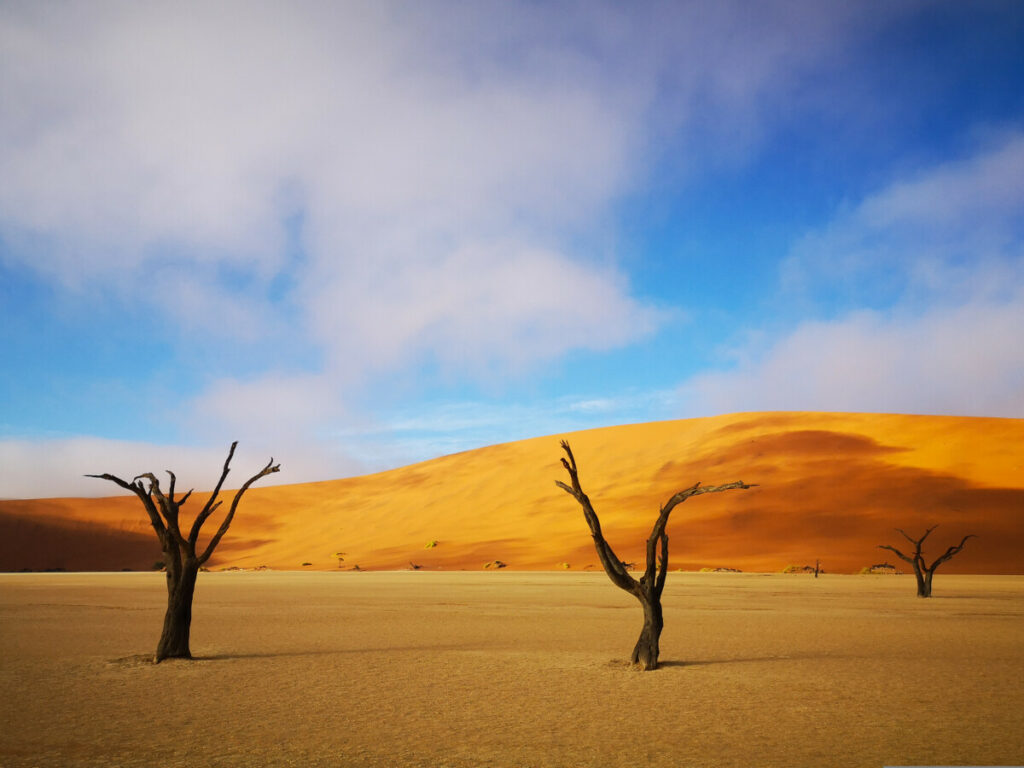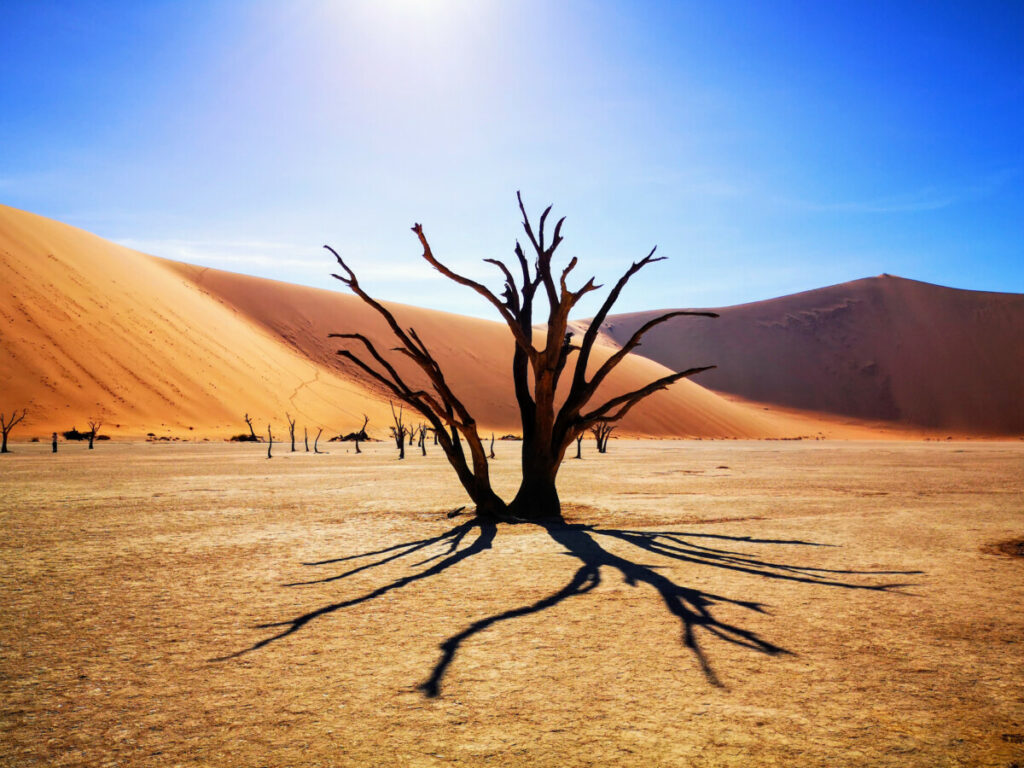 I had been walking here for over an hour and it was getting hot. Without taking water with me, I had walked away from my car in the early, cold morning.
It's a pity, in retrospect, that I didn't see the image like the people in the photo below. Looking out over Deadvlei from that highest dune, Big Daddy. What an imposing sight that must be. And do you see the people halfway down? Running down those few hundred metres?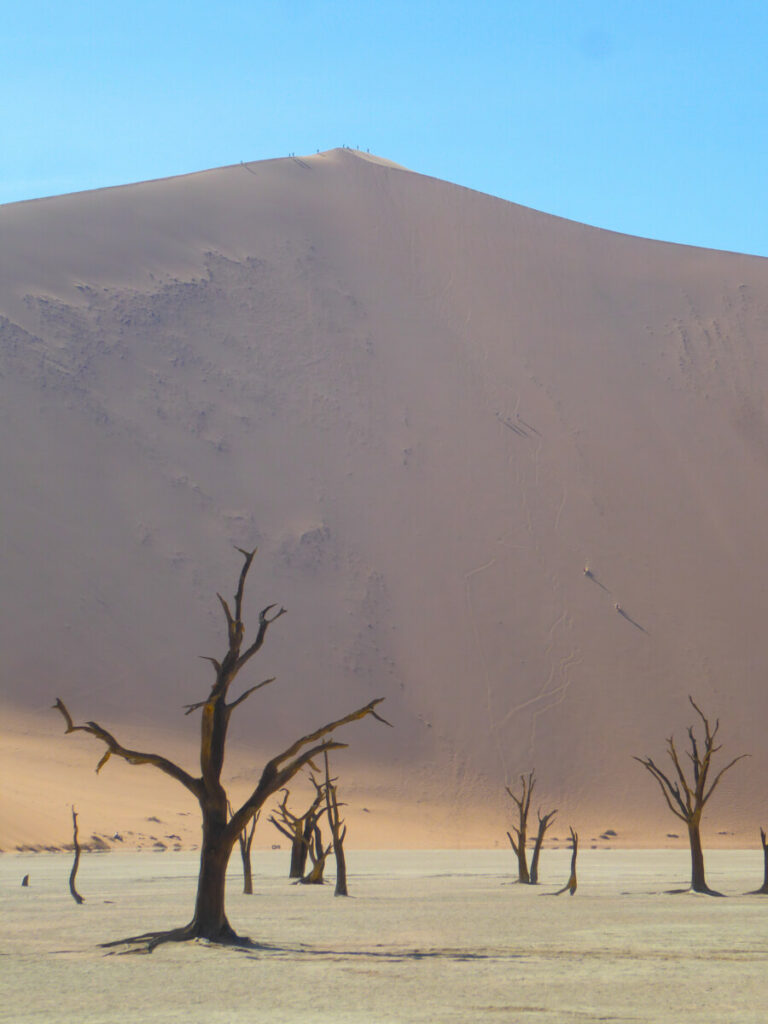 After an hour I walked back to my car, I hadn't seen any signs and my preparation wasn't perfect either so I didn't really know where to go. I had a drink and some food and then I started walking in the other direction, towards a high dune, that looked like a nice photograph!
Once you walk you go quite far, up and down dunes…. At one point I ended up at another lake, I made a nice walk partly along it and when I saw a jackal walking I realised that I was quite far from the other people and that I should walk back.
I went back at an accelerated pace, constantly looking back to see where the jackal was…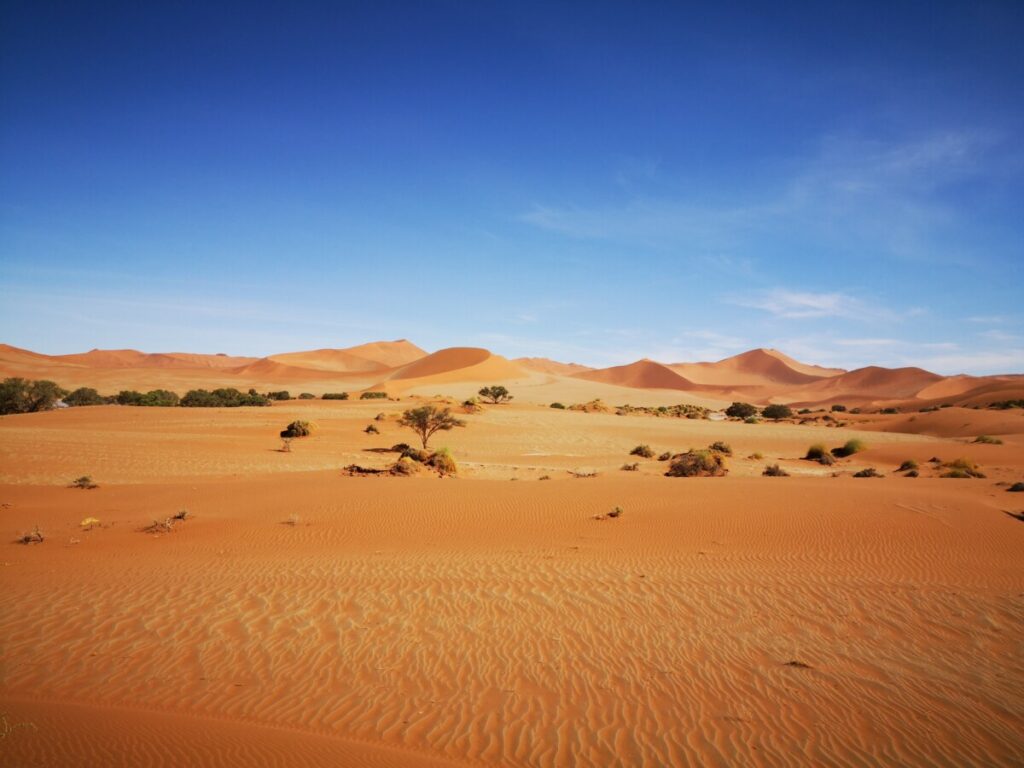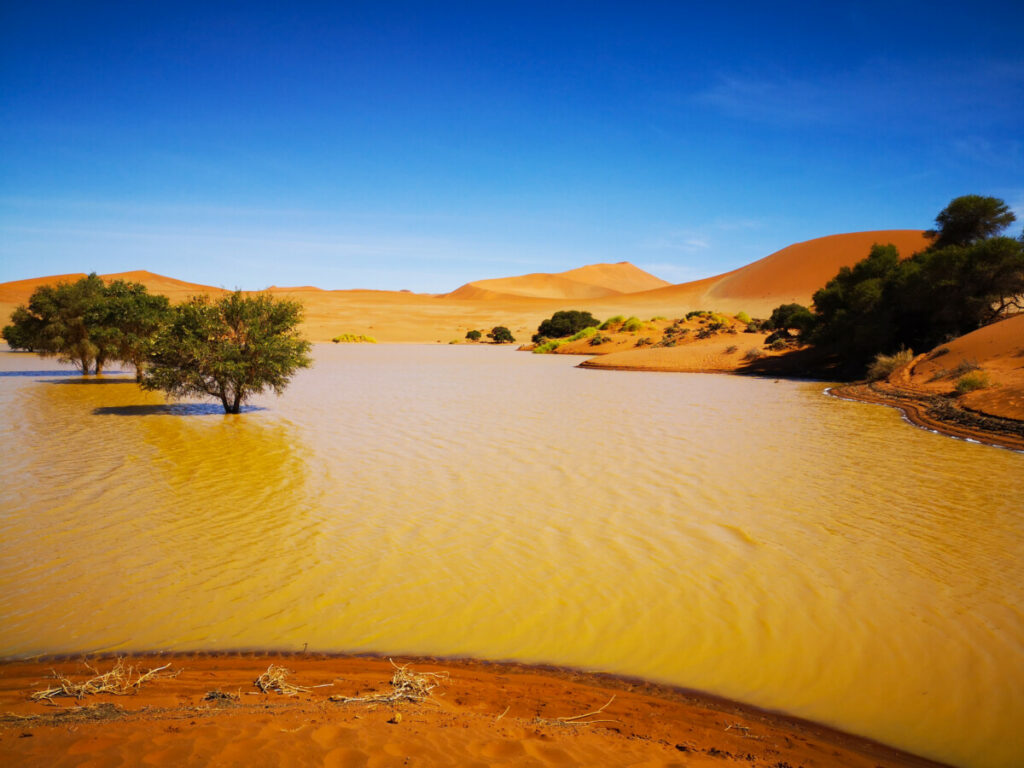 When I got back to the car, it occurred to me that I had seen some people driving away from the back of the car park. So further into the area and towards that other lake. That's what I was going to do. Crossed a low dune and there seemed to be a path. I followed this path and ended up at the other lake which had formed as a result of the recent rainfall. Because I had already walked around this lake, I continued on my path which led me around a high dune. Then I came into a valley and went over a slightly higher dune.
And then things went wrong – I got stuck in Sossusvlei
Up to now I had the experience with my 4WD that if I kept on steadily accelerating it would also keep on going…Now I felt myself sinking in and the car was coming to a standstill. Then I remembered that I had an extra setting where I could put the car on so that it would have a bit more power to get out, so I did.
I felt the car roar under me and to my horror, after a few seconds, I saw the red sand coming up along both sides of the bonnet. My foot came off the accelerator and I was quiet for a moment… And then I thought: come on… one more time.
I gave it some more gas and all I saw was more red sand going up and being carried away by the wind…

And then it became dead silent around me…
I was standing alone in Sossusvlei – Namibia's most iconic spot – and I was completely stuck in a red sand dune.

I remembered that I had had a car behind me when I was at the lake. They must have gone for a walk there too. I thought of nothing and immediately got out and walked back. Back to the lake, back to the place where I was most likely to meet more people.
What must they have thought?  When I arrived, they were sitting on a bench in the shade. They were just about to have breakfast and then a woman comes walking from the dunes – out of nowhere …
Of course they wanted to help me, they were a Belgian couple with a Namibian woman and a guide. The man of the couple and the guide went with me. They had a good car, slightly higher on the wheels than mine, and a tow rope. I have a small film of how it went, what fun!
Finally, after the guide also got stuck for a while, we both got free again and I could ride with them back to the lake. There, I enjoyed a cup of coffee from them and talking about this adventure! They were very surprised that I travelled alone, that I arrived alone and that I dared to drive around alone, as a woman of course. If I had been a man, they would have been less surprised 🙂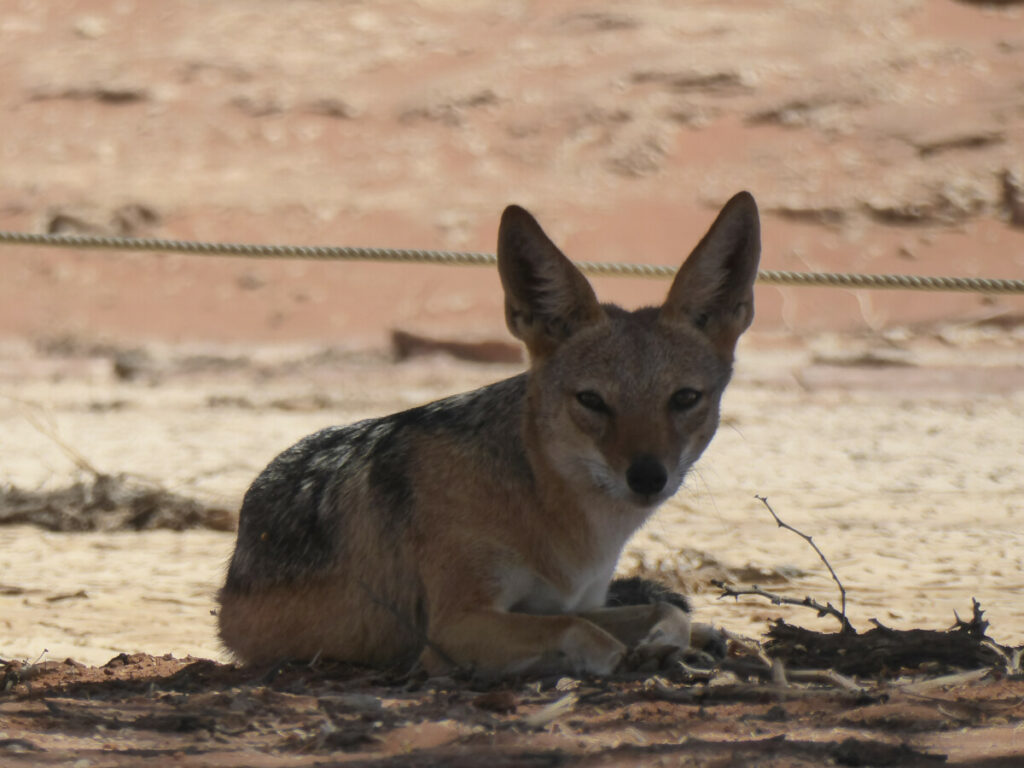 And the jackal I met earlier this morning? I saw it again now, it used to sit here near this spot, the guide told me. He is fed by tourists and is waiting for a nice bite. From a distance I saw him lying in the shadow… Waiting patiently for a possible treat from a tourist as a decoy for a photo of the animal.
Had this been unsafe and irresponsible of me?

I must say that at no time did I have the feeling that this was not going to be all right. Even though you are standing there with no reception on your phone and in a seemingly deserted part of this beautiful world. It was still early in the morning and there would still be tourists passing by all day…I don't think it was unsafe, but I could have prepared myself better for the drive through the dunes and accelerated more.
But then again, if you don't have that experience?

It is nice to experience that your fellow man is happy to help you and offers you a cup of coffee afterwards to talk about it and enjoy the beautiful place we were in.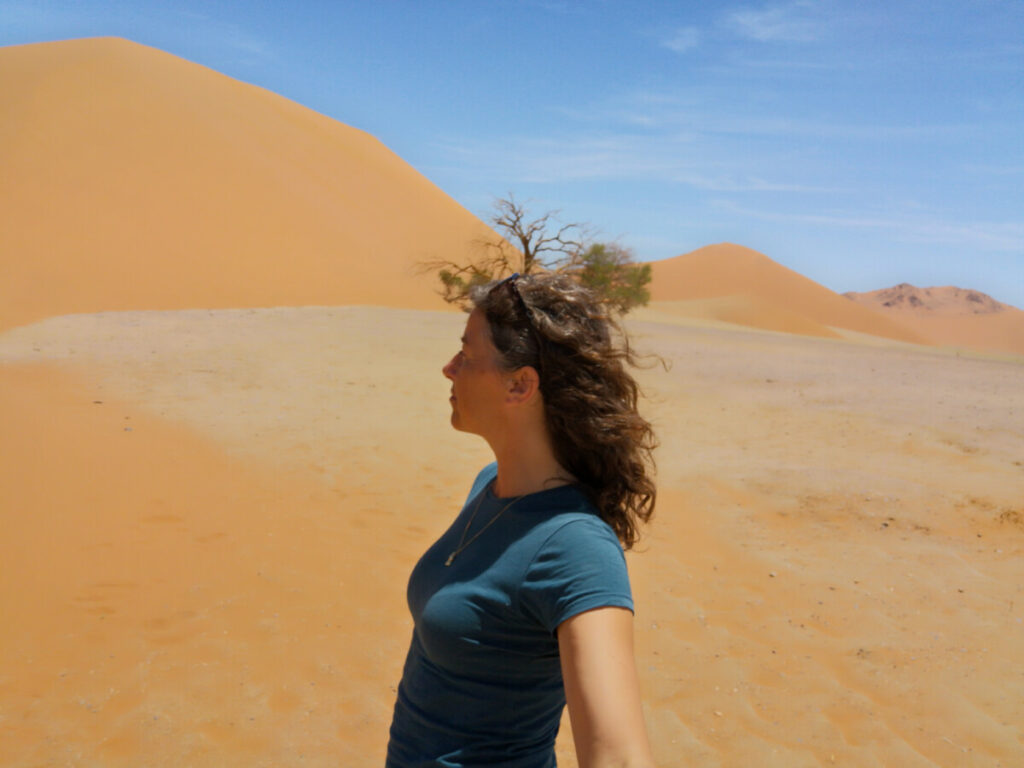 Dune 45 – Namibia's Most Iconic Spot
When I drove back that morning, I of course stopped at Dune 45. I now saw very clearly the sign for the exit. There was nobody there, so I had the place all to myself. I could take in the atmosphere of this dune, let the surroundings sink in. The desert, you are alone and it feels so grand…
There is nothing to prevent you from looking out freely, from feeling free…from doing what you want to do where no one is looking and where there is all the space.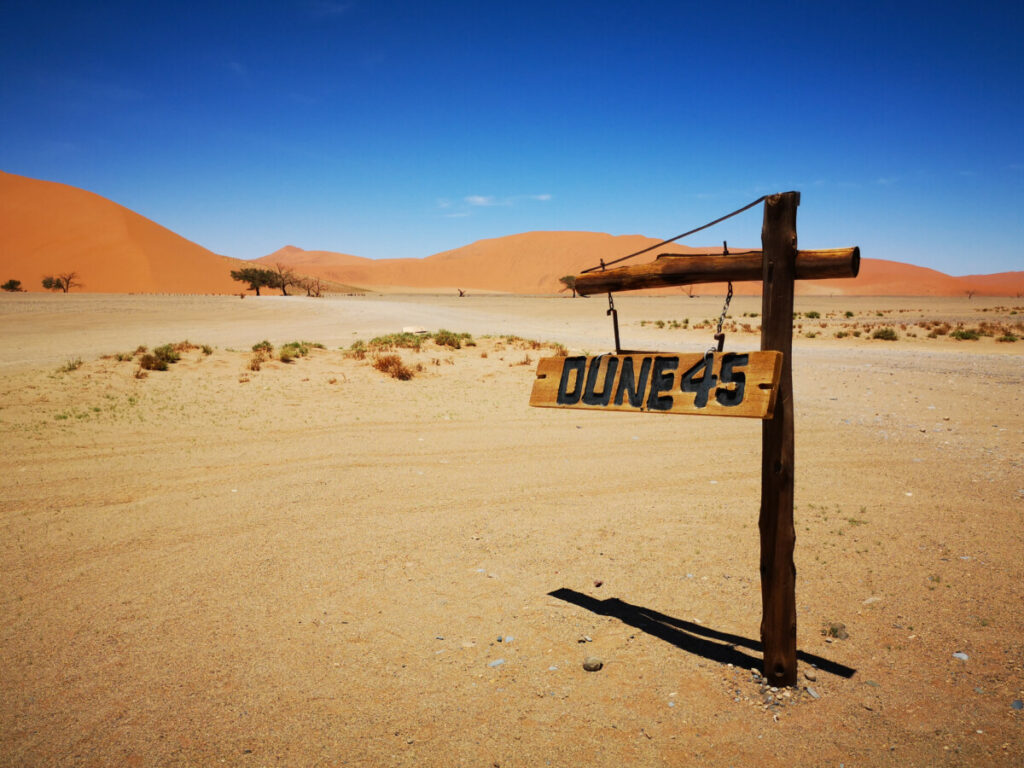 It is still impressive and I find it hard to put into words. You have to experience it, you just have to take the time for it. The desert, anywhere! Spend a day or two in it. Or more if you have the time…
Wildlife at Deadvlei – Sossusvlei
On the way in this desert, you can still come across some wildlife. Of course I saw the jackal I shared before but I also spotted this oryx. This one ran away shortly after I took the picture and crossed the road in front of me and then disappeared into the desert out of sight. So how quiet and deserted such a place sometimes seems, you always have to watch out when you drive here. An Oryx can run across the long stretched out highway just like that. I also saw large ant-like insects. And lots of tiny insect tracks in the sand… There's more to life than meets the eye.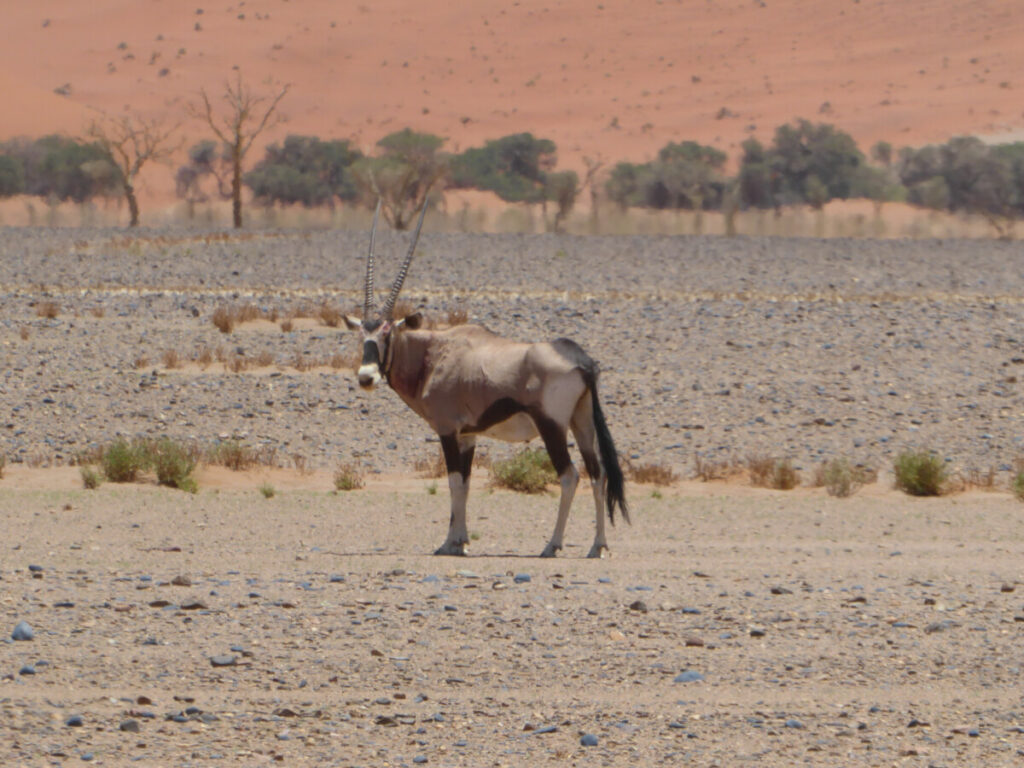 Sesriem Canyon – Near Namibia's Most Iconic Spot
When I left the next day, I decided to visit the Sesriem canyon. I reached the canyon via the service road of the motorway I drove on the way there. You could not drive faster than 30 to 40 km/h there. Sometimes you have those roads that consist of wrinkles…this was one. How irritating? Every now and then I drove against the traffic, eh…traffic? No there wasn't and so I could drive on the right to be just a little less shaken up.
Eventually I ended up at a sign that pointed me tight to Sesriem Canyon. It is quite impressive that you are standing above an abyss like that. This canyon is small compared to the Fish River Canyon but still impressive when you see what is still alive and the water that flows through it. A unique nature reserve too! An incredible number of birds flew in and out of Sesriem Canyon.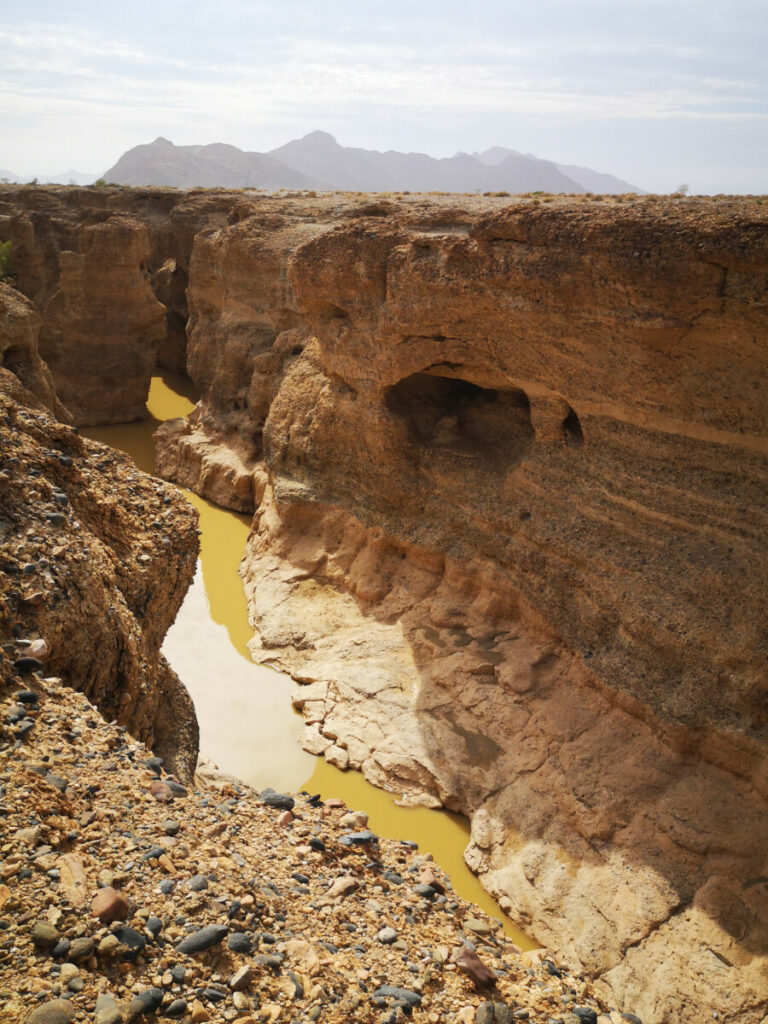 What you need to know before you visit Namibia's most iconic spot
Starting point of your visit to Sossusvlei is Sesriem
In the area to Sossusvlei is 60 km from Sesriem
Main entrance is open from sunrise to sunset
Along the main road on the way to Sossusvlei, on your left is the famous Dune 45
The dunes in this area are the highest in the world, some reach 400 metres, like Big Daddy and Big Mama.
The last part from where the tarmac road stops you cannot go without 4WD. Needless to say why… So if you don't have a 4WD you can book a trip from there at one of the many agencies in Sesriem.
You have to buy a permit to enter the area. This permit you can buy one at the main building in Sesriem. You pay 80 NAD for an adult and 10 NAD for your car.
Did you know that Sossusvlei means 'dead swamp'?

When I was there, it turned out to be quite wet. In Deadvlei, the dunes come together and thus prevent the Tsauchab River from flowing further to the Atlantic Ocean. Because of the dryness of the Namib, the river rarely flows that far. The pan is therefore largely dry. When I was there, there were nevertheless 2 lakes, an extra unique moment in this already most iconic spot of Namibia.
Stay Sesriem Campsite
This campsite is managed by Namibia Wildlife Resorts. I have stayed at several of their campsites and they are all clean and tidy with the basics. Sesriem Campsite also has a nice little swimming pool where you can relax.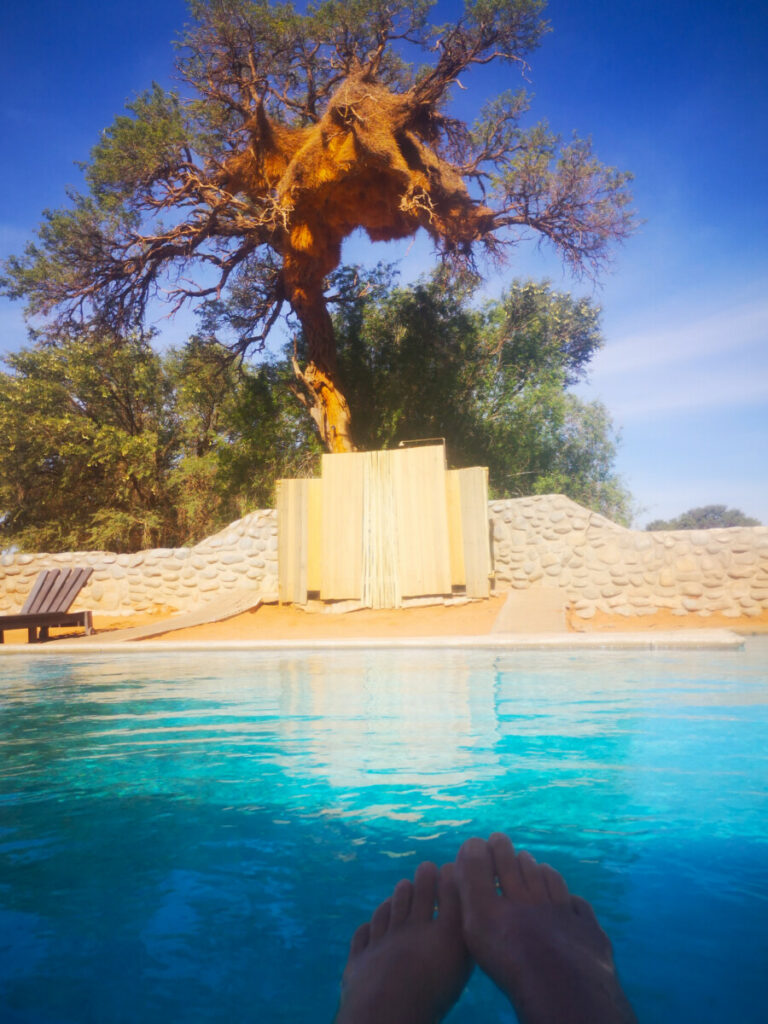 The campsites themselves are shielded from each other, but also from the blowing in of the desert sand, by semicircular walls.  I think these walls give the whole thing a nice appearance. It is nice to have your own little area where you can park your car and where you can make a seat for your evening meal. On every campsite there is of course a place where you can safely braai. The water tap is on the public area and often not far away from your campsite.
How to get to Namibia's Most Iconic Spot?
Coming & Going
I came from Aus to this great place. That is about a 350 km drive and it will take you about 4.40 hours. What I really liked, and what I made grateful use of, was that the small town of Betta was on the road. I had lunch there, looked around and walked. There I had a nice conversation with a German who drove around on a motorbike. Also had an informative conversation with a German family from Windhoek that had lived here for a few generations.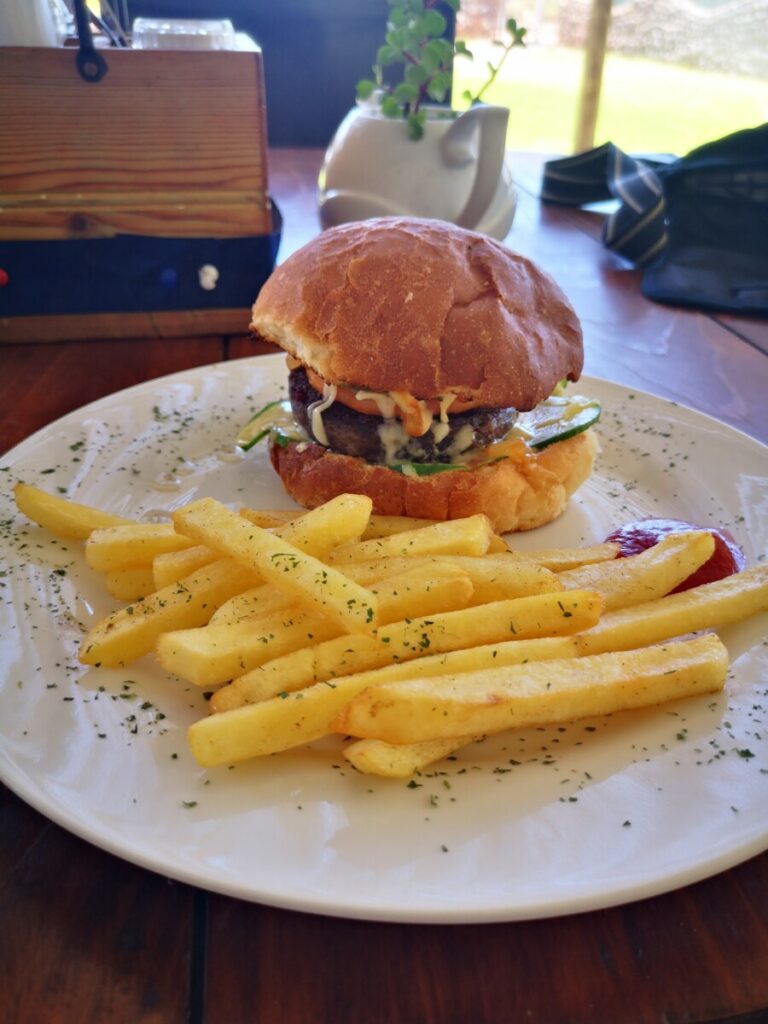 I decided to have a hamburger there that had an Oryx burger in it. While in Africa I thought I should try it. I must confess that I had planned to try some other 'game' but I could not bring myself to do so. Not liking the dry meat that much I did not try again. Game has a special flavour, a bit woody and tough.
Sesriem – Weltevrede / Solitaire
When I travelled further, I went to a great place in the Naukluft Mountains. I stayed one night at Weltevrede. The drive was lovely and short. It was only 49 km and it would have taken me less than an hour. I had the whole day left to lie by the lovely pool, wifi to share my visit to Namibia's most iconic spot with the world. When I went on the next day, it took me an hour to get to Solitaire, which was 37 km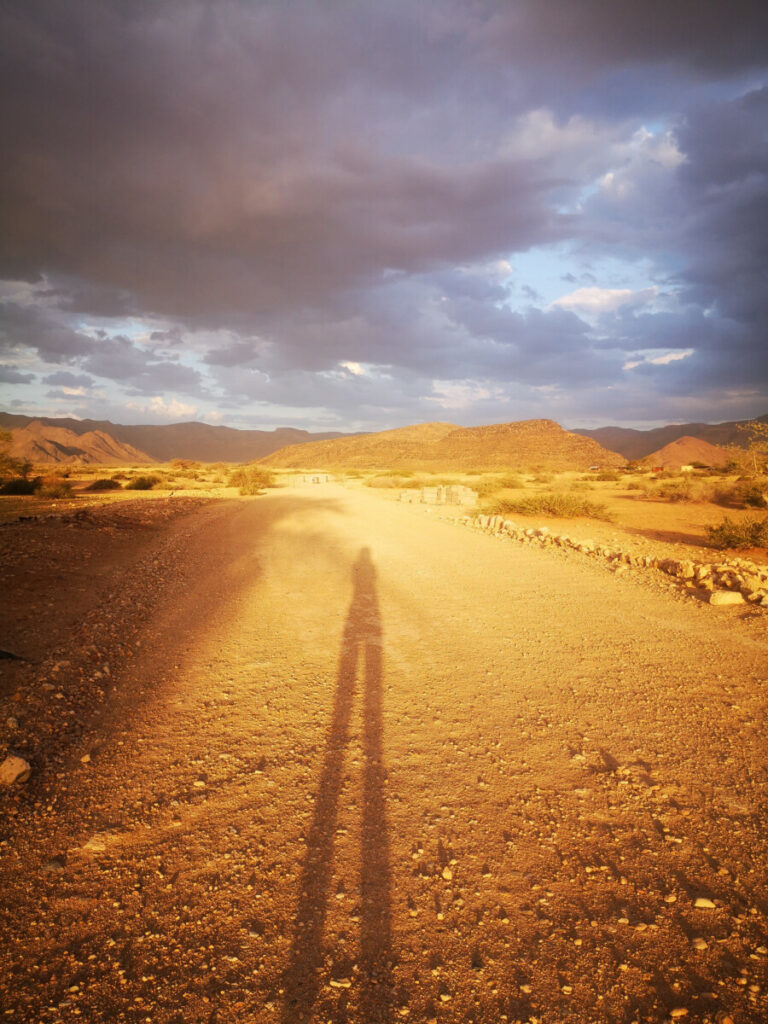 You may know Solitaire because the Dutchman Ton van der Lee lived there for a few years and wrote the book Solitaire about it. I had not yet read the book but it was there on the counter and so I bought a copy.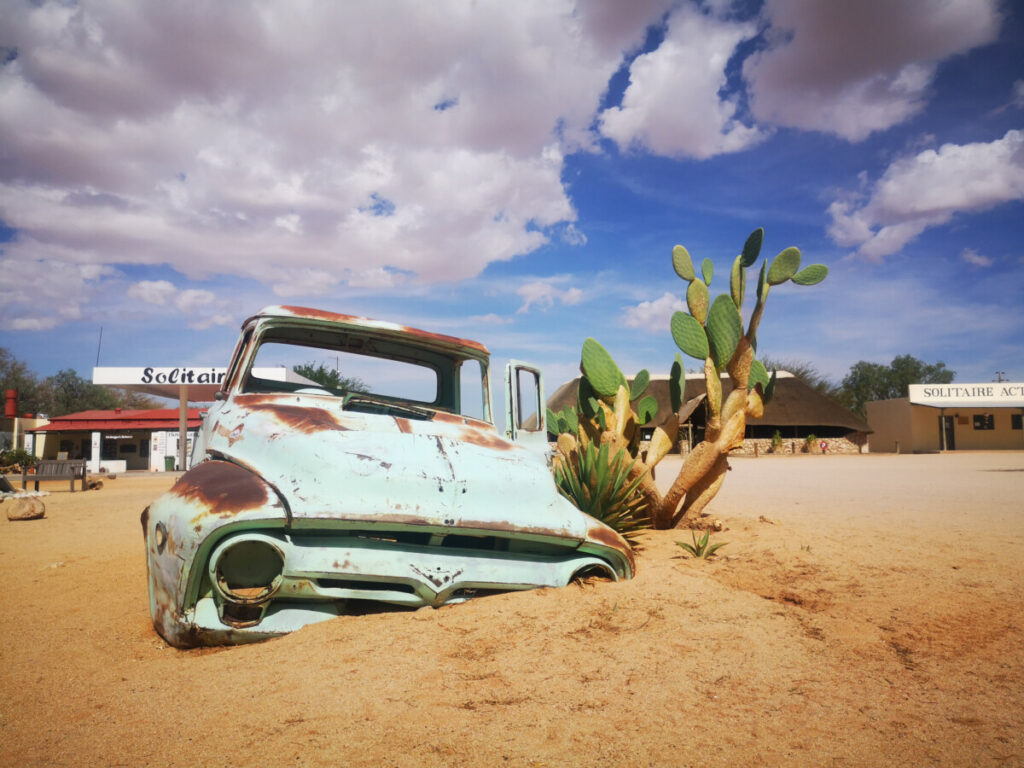 This drive would give you about 400 km. Then count on 'having' to make a fine stop at Solitaire that day and driving through some amazing territory. It will take you all day if you ask me, at least 5 hours of driving. I loved driving there and stopped several times and still I think I did that too little.
Will you share this blog about Namibia's most iconic spot?
Or will you save it for later?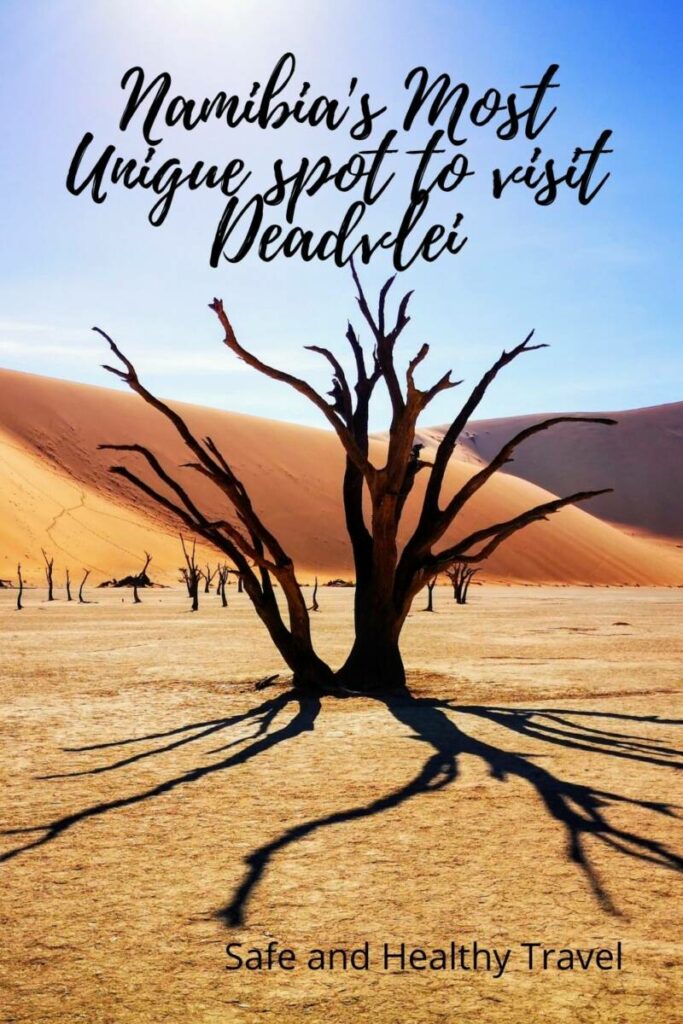 Want to read more about Namibia?
Visit Fish River Canyon – From Canyon Roadhouse
Everything you need to know for your visit to Spitzkoppe
Highlights of Damaraland – Twyfelfontein, Palmwag etc
What to do at Waterberg Plateau National Park
Visit the Unique Quivertree Forest and the Giants Playground
Also read about the whole trip I had in Namibia
Solo Travel Namibia by 4WD – 10.000 km Travelling Solo in Namibia
I hope you enjoy this beautiful world as much as I do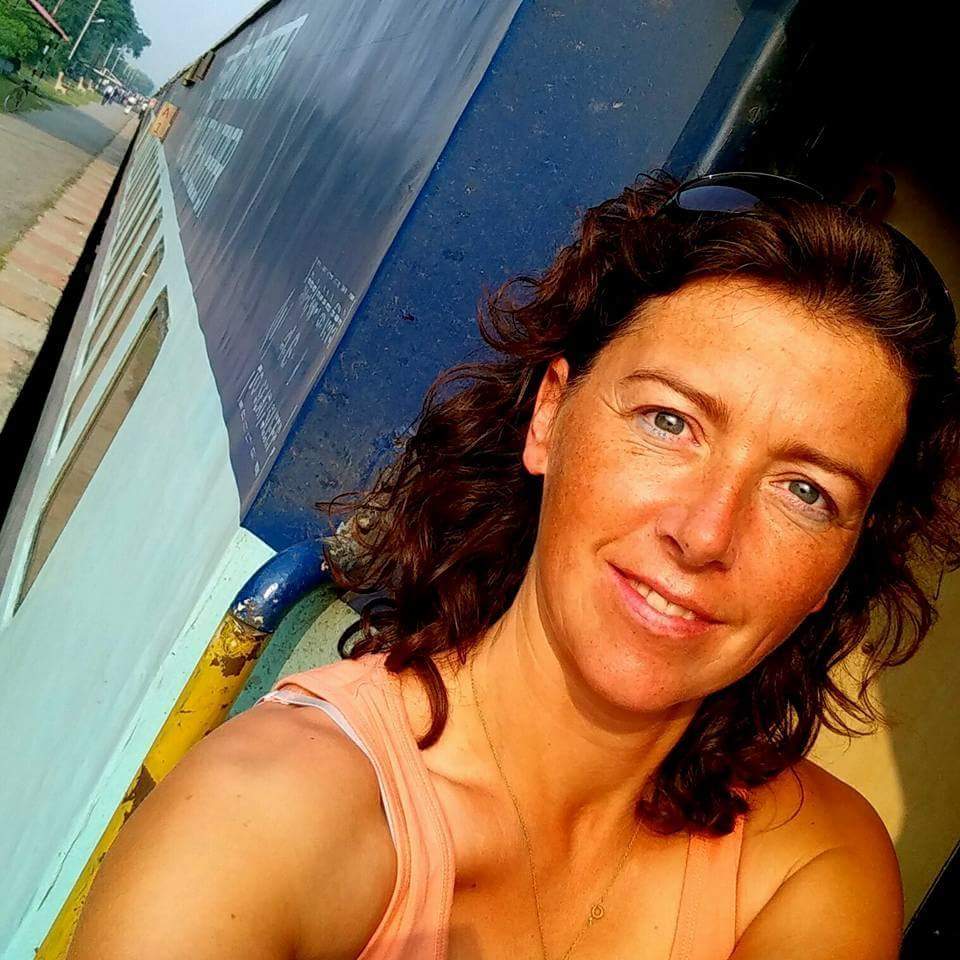 Jacomijn is een politieagent uit Nederland die jou graag laat zien hoe je veilig, actief en gezond de wereld kan over reizen. Safe and Healthy travel is a MUST