Walking from 400K to 600K on the Camino Frances
|
My last post ended on day 19… I still had problems with my feet but had started to walk alone again. This post will lead you from 400K to 600K.. From Sahagun untill the small village of La Faba, just before one of the highest part of the Camino and the village O Cebreiro.
The Third Part of my Camino Frances
At this point I was already walking for almost 3 weeks. Can you imagine that? Time flies….when you're on the road.. It didn't felt that long. I could imagine myself walking in that first albergue in SJPdP as the day before… What a great adventure!
Read how it got along after that first 3 weeks….. after 400 K
Day 20: Sahagun to El Burgo Ranero 19K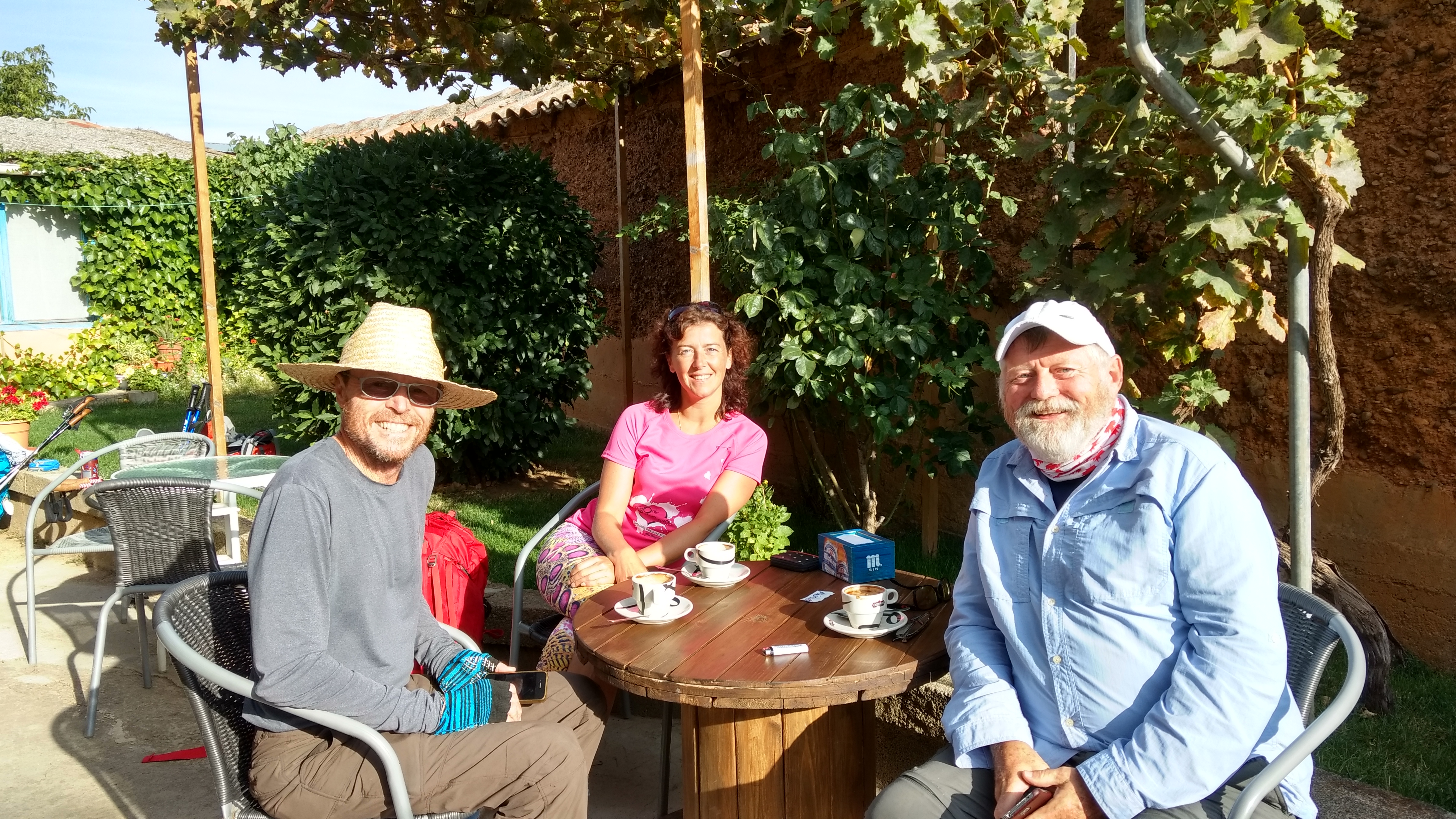 Drinking coffee with Terry (left) and Jerry (right)
I started to walk with Jerry from Canada and Terry from Australia today. Two really fun guys and they had my pace of walking. It was good!! We had some coffee here and there…I do like some coffee along the way ofcourse as they soon found out 🙂 They didn't mind. We didn't walk that far and would be in time in the next village so we wouldn't have problems finding a bed.  We stopped at the small village of El Burgo Ranero, I do love those small villages.  My book says it has 250 citizins and a couple albergues. We tried the first one that seemed nice, with garden… But the owner was a bit of a strange guy. We went on to Domenico Laffi, it is the municipal one. We paid 5 euro donativo, as you would like to pay.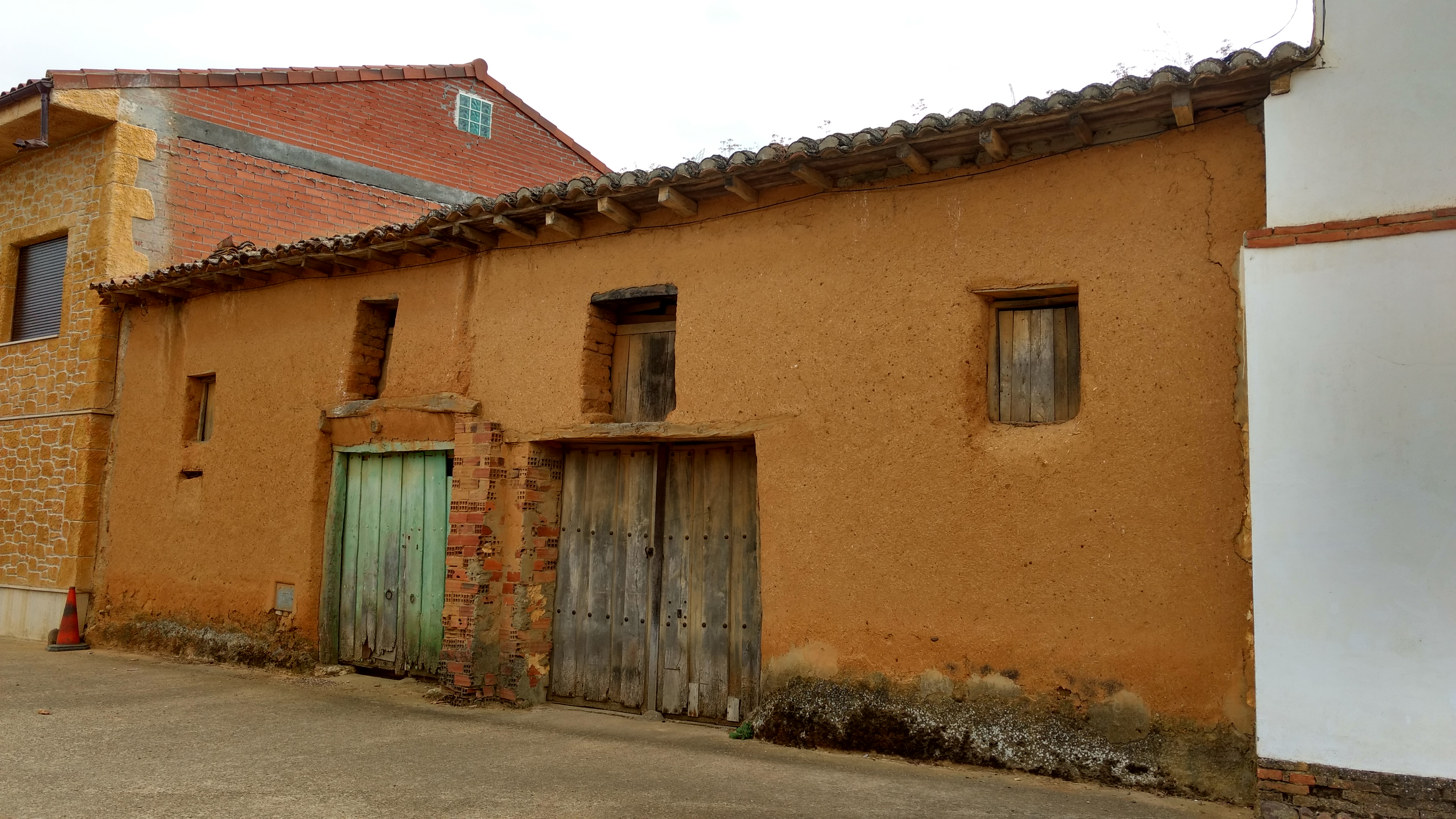 There were a couple of restaurants across the street and that is where I had my dinner with Jerry. Terry had some bread and wine he bought at the local tienda (shop). I loved walking across this small village. Streets were deserted and lots of houses were abandoned.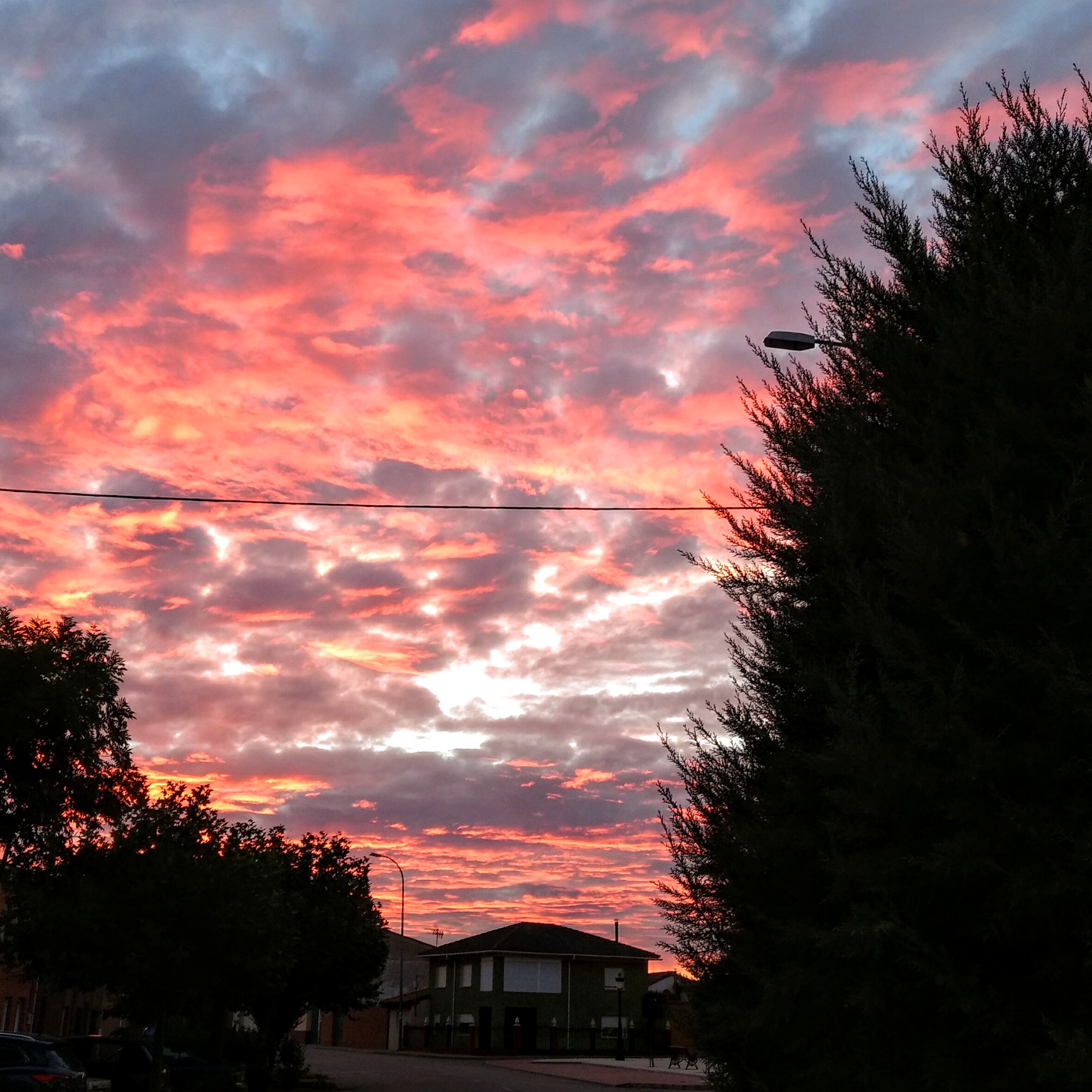 The Great Sunset at El Burgo Ranero
Day 21 El Burgo Ranero to Mansilla de las Mulos 19K
Also a smaller but such nice place to stay. My book didn't said to go sleep here but a village down the road. Just as the last one. But I do like the smaller ones.. It has a great and authentic feeling about it. Not much pilgrims….enough to talk with but also enough to mingle with the locals. Great!
Terry went to the municipal and Jerry and I to a private albergue. These private ones are double the price…that looks much but… then it's going from 5 to 10 euro…or in this case it was 7 euro. It is really good for a bed. And the showers were great here, I had a balcony and enjoyed that a lot. Even though you are sleeping in a dorm with 20 people or more…it's not bad. Were all pilgrims…we all want the same. Shower….wash clothes….rest, eat and sleep 🙂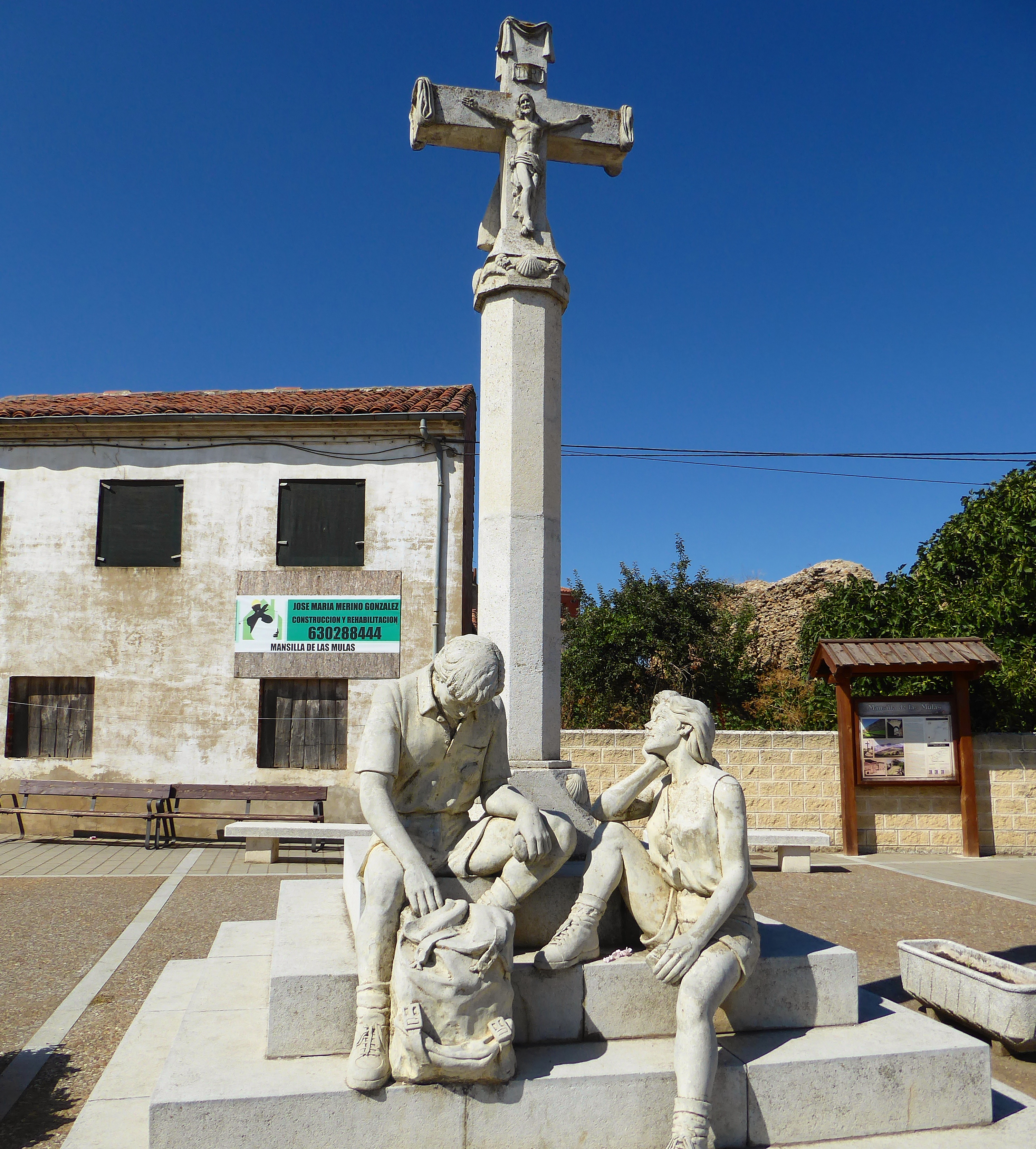 Statue of the modern pilgrims in Mansilla de las Mulos
Day 22: Mansilla de las Mulos to Leon 18K
We didn't saw Terry again and thought he went on by his own. We walked on and the sunrise was wonderful. When I made a picture at this great point down the street…it said STOP and there was a busstop in the great view…. Suddenly Terry stepped out of the busstop… He was tying up his laces and was kind of waiting for us to show up!! Great!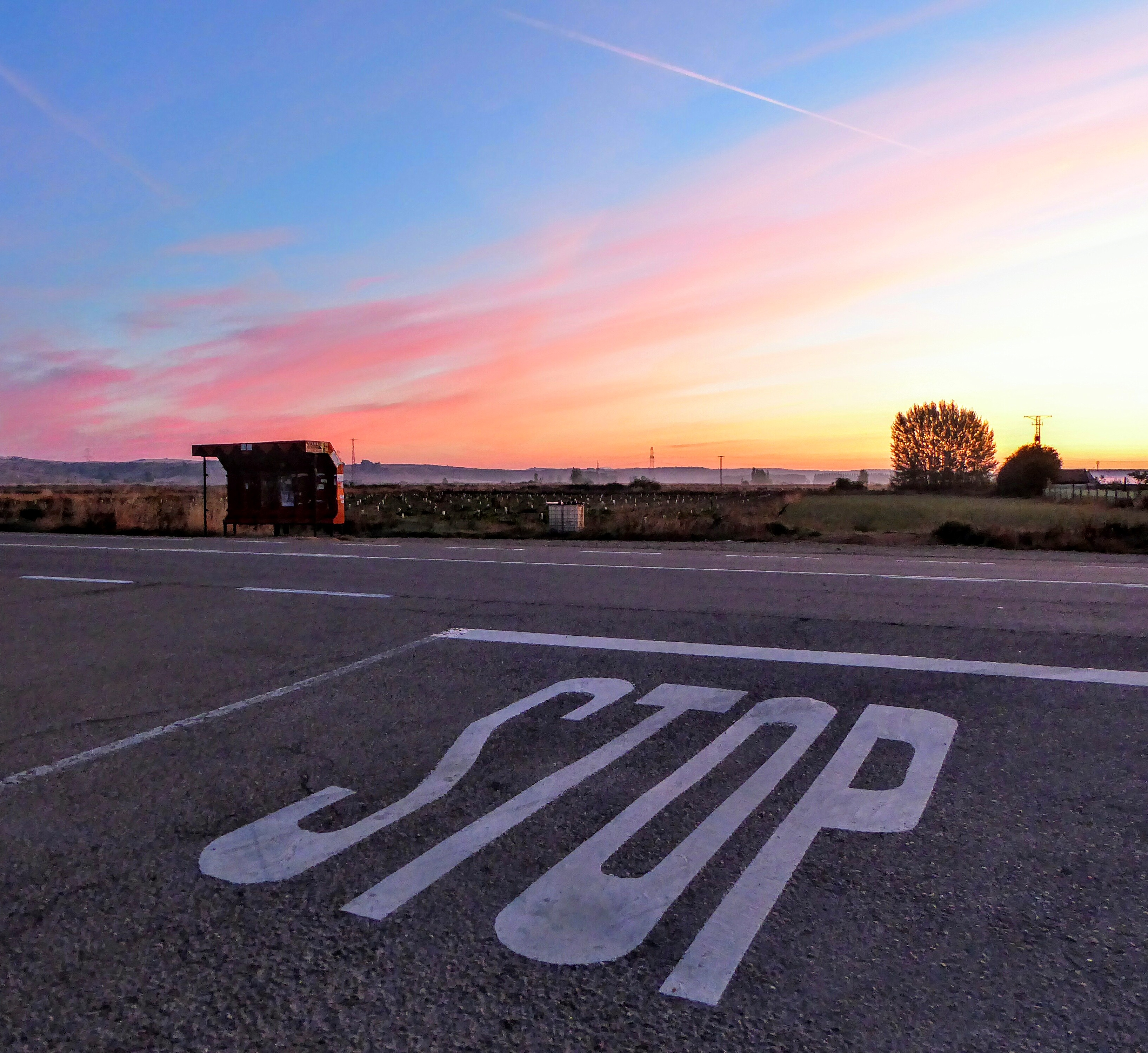 Together we walked on. It was a good walk with a great climb and some nice views. The way into town is good too. It is part of this world…and so part of the camino. A lot of people don't want to walk this…it is not nice…it is hard to find….I don't want to walk in industrial area…Those are things we hear a lot. I don't really get it. It is part of the camino….it is part of what you should walk… But hey….everybody his / her own camino… But if you skip parts so easily…just because you don't like the scenery… Well….that says something… Don't you think?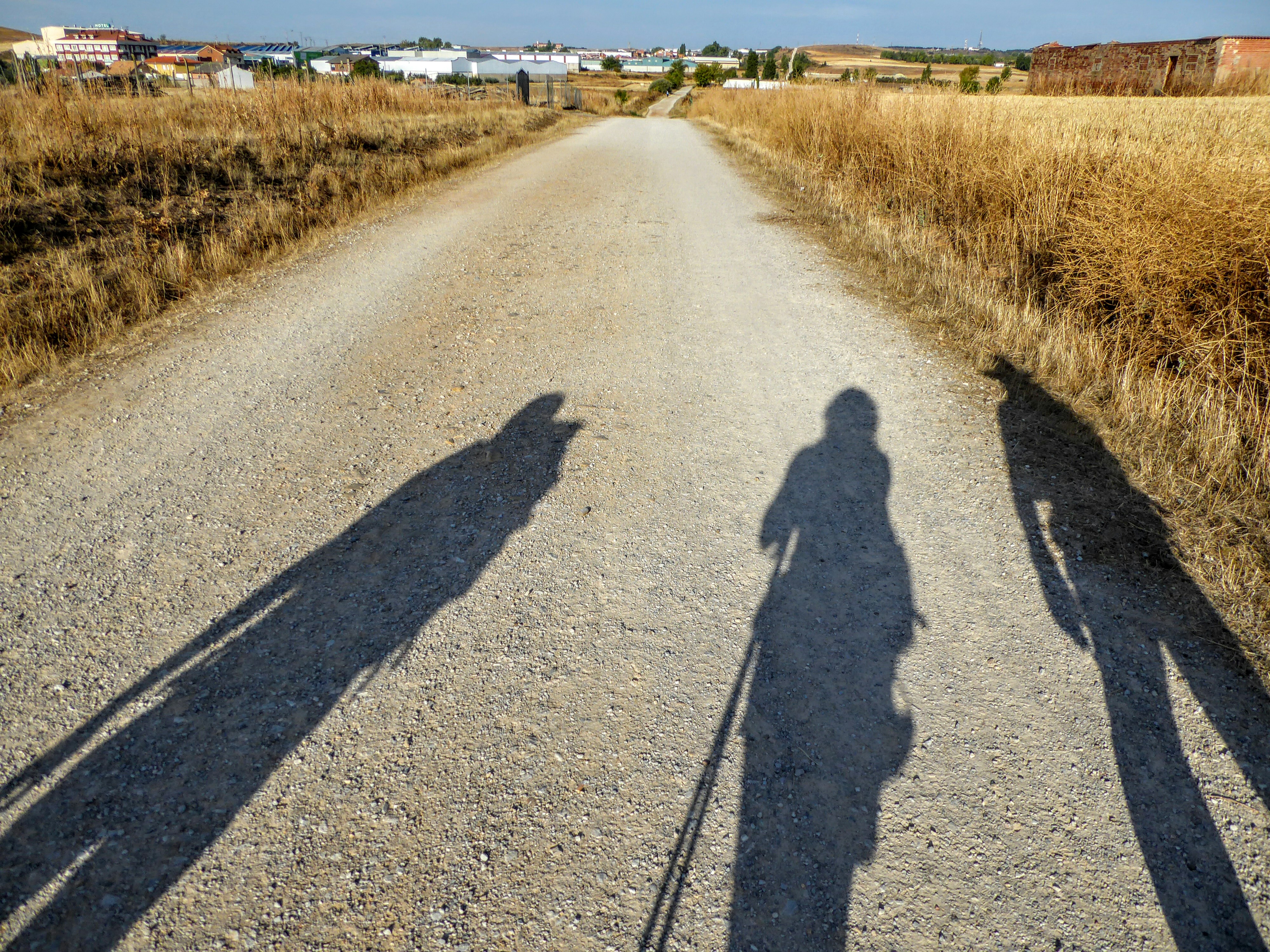 From left to right: Jerry, me and Terry
Day 23 : Visiting Leon
I had a rest day in Leon. Jerry took one with me and Terry walked on. I haven't seen him since…unfortunately, he was a nice guy!!the city of Leon was great. The food was good, the streets were great for wandering and everywhere you sat down for a drink or a coffee you got some tapas!! How great is that?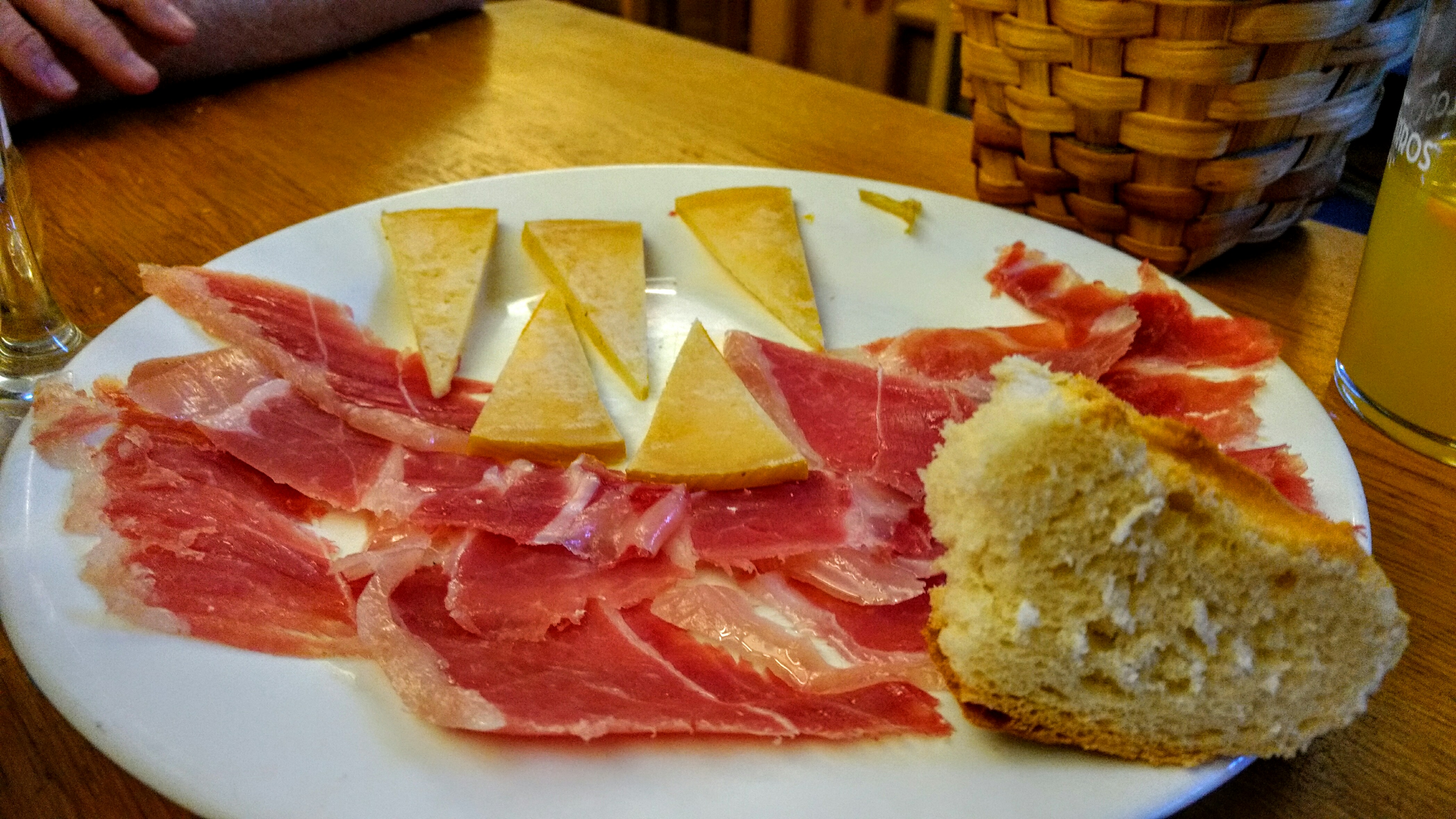 And I ordered some ofcourse!!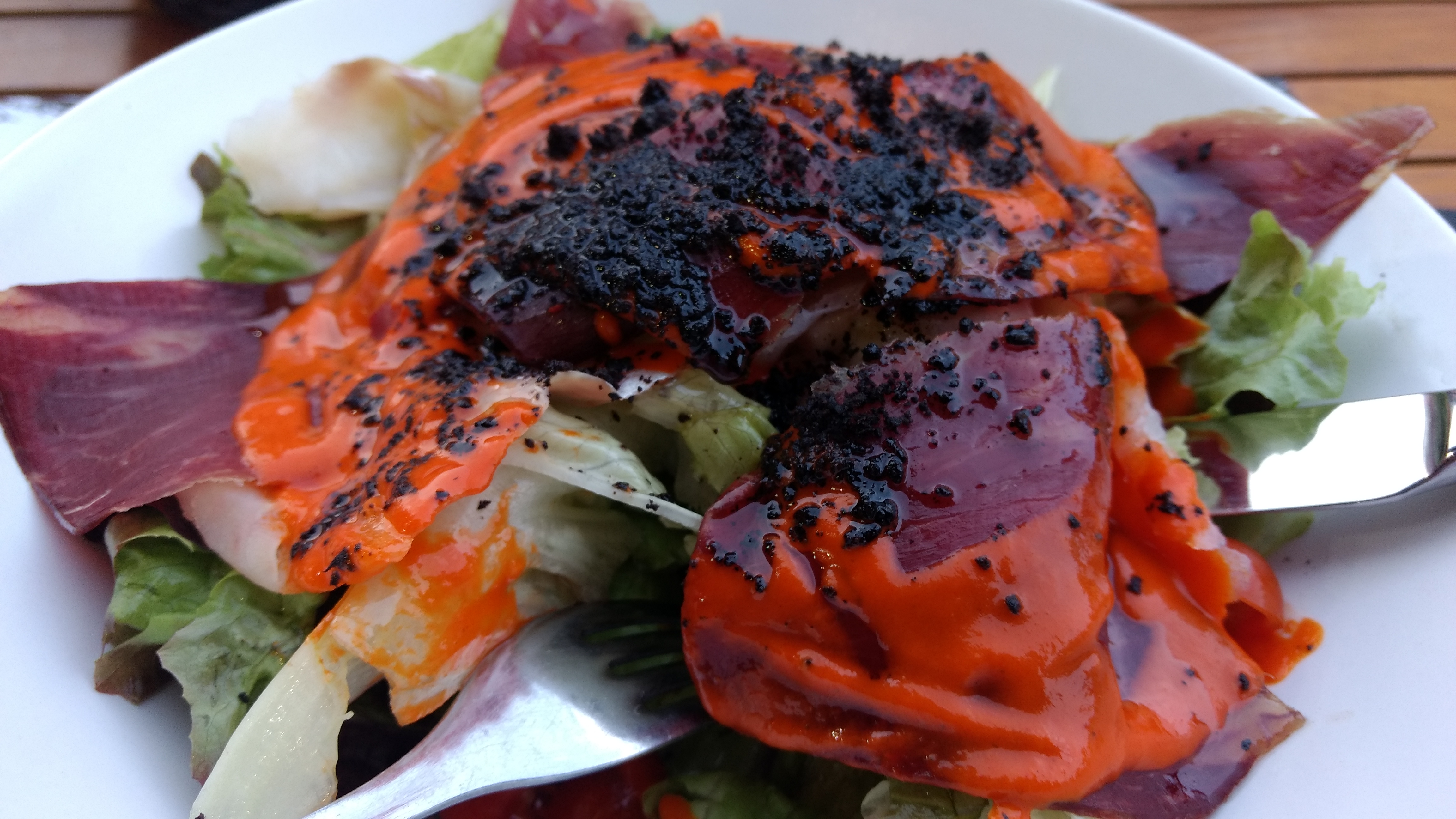 I visited the cathedral also!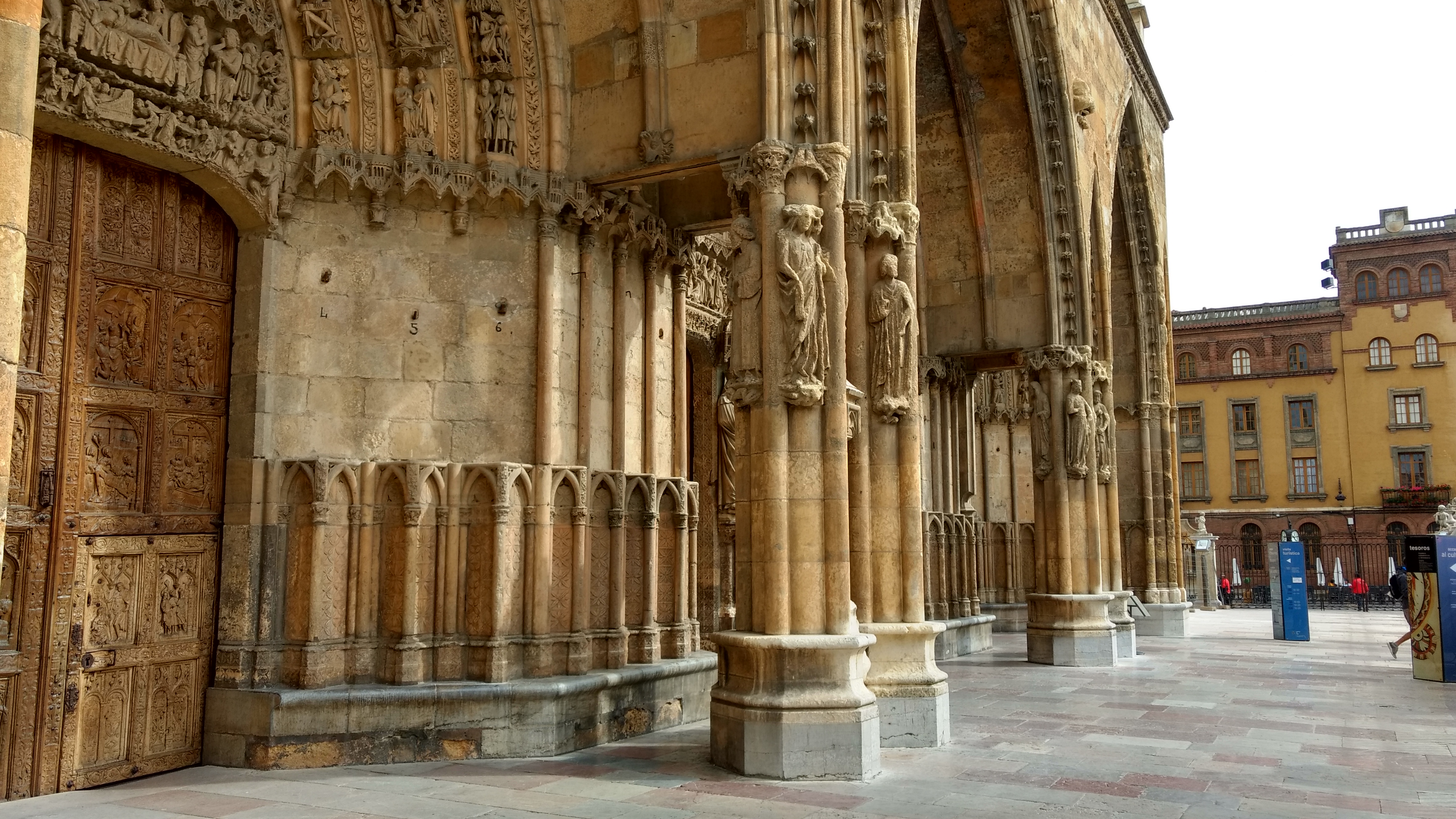 And walked around in dark and took this wonderful shot of a wonderful building on one of the many squares!!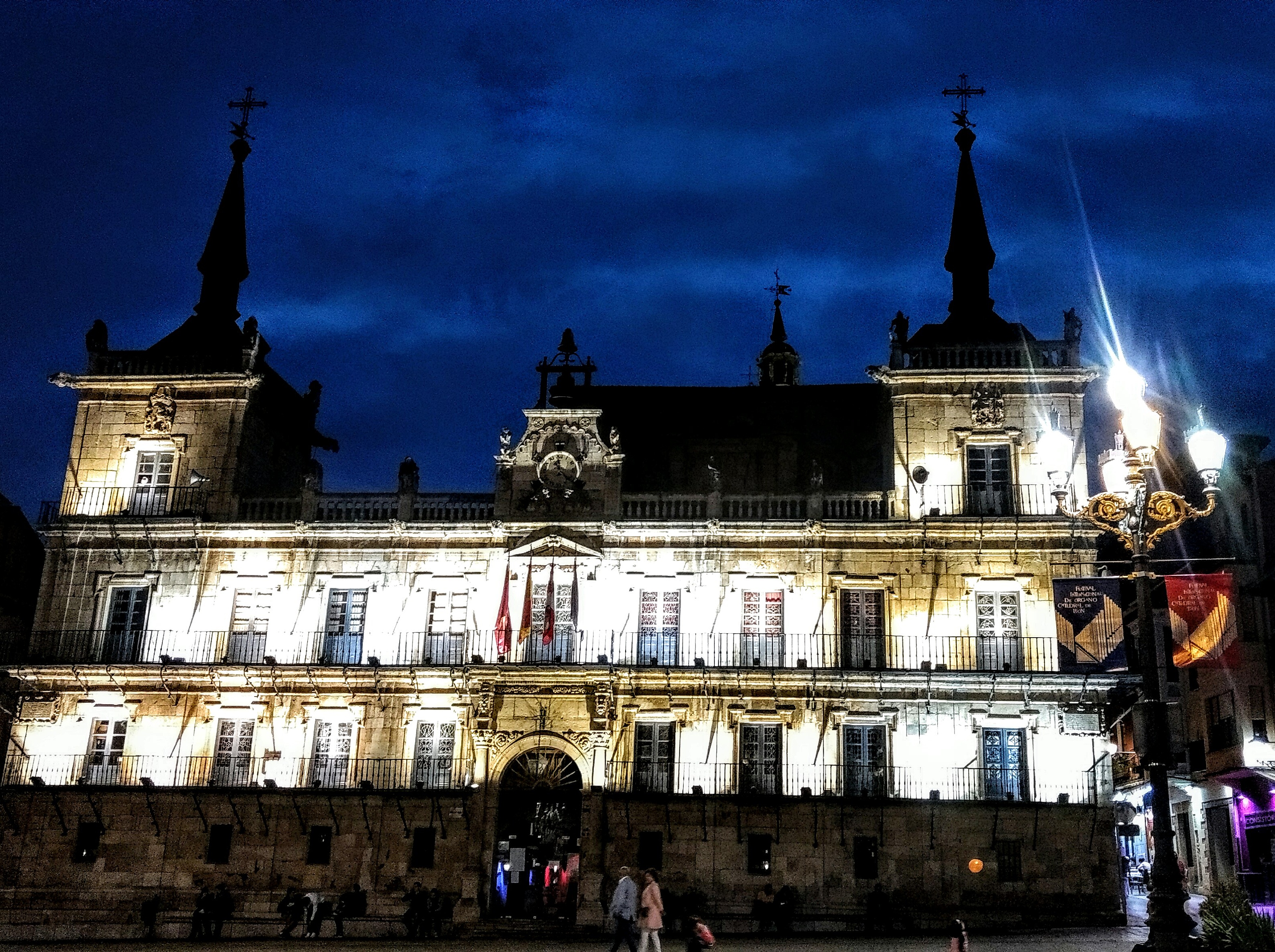 Day 24: Leon to Villar de Mazarife 21.7K
Jerry and I lef Leon around 7.30 and headed out to Villar de Mazarife. It is great to walk again. While on a rest day I was ancious to go walking again. After more then 3 weeks of walking….this is what you do. This is what your dayrythm is….It's like going to your job…you go… You don't think about it….it's what you do!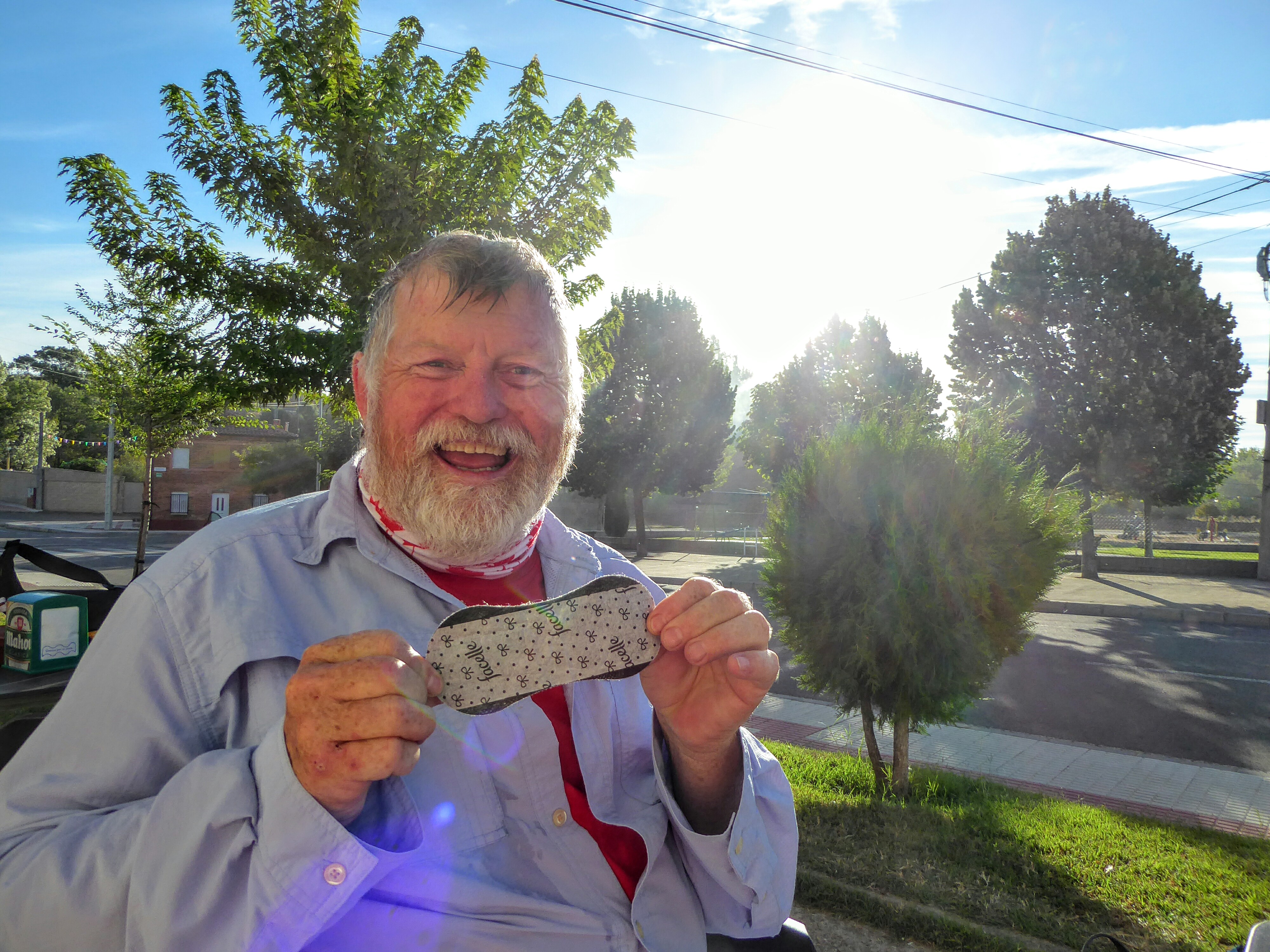 This must really seem strange for you… In the camino it is not. Men…or people use them to hydrate the foot… They use them as insoles 🙂 Jerry had some of those in his pocket….always!! Haha!!
We saw Lola and her friend again, I forgot here name. They are so nice and funny!! We keep seeing them everywhere! It is nice how people show up along the road….at coffeestops….and just near your albergue 🙂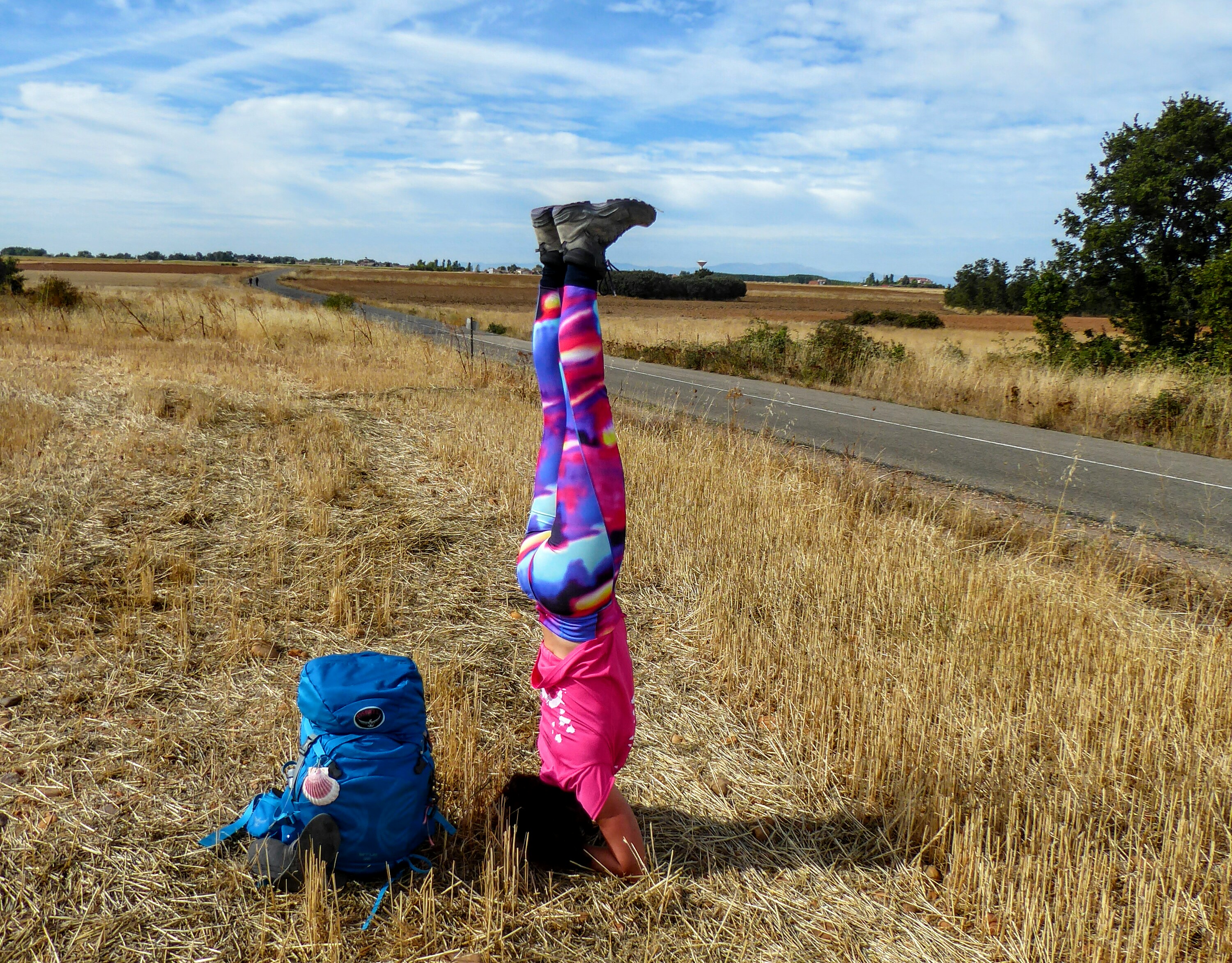 And it was time to do a headstand again. That was a long time ago….and Jerry was here to take the picture so that was great!! I fell over the bag also….but Jerry was so kind to not make a picture of that incident 😉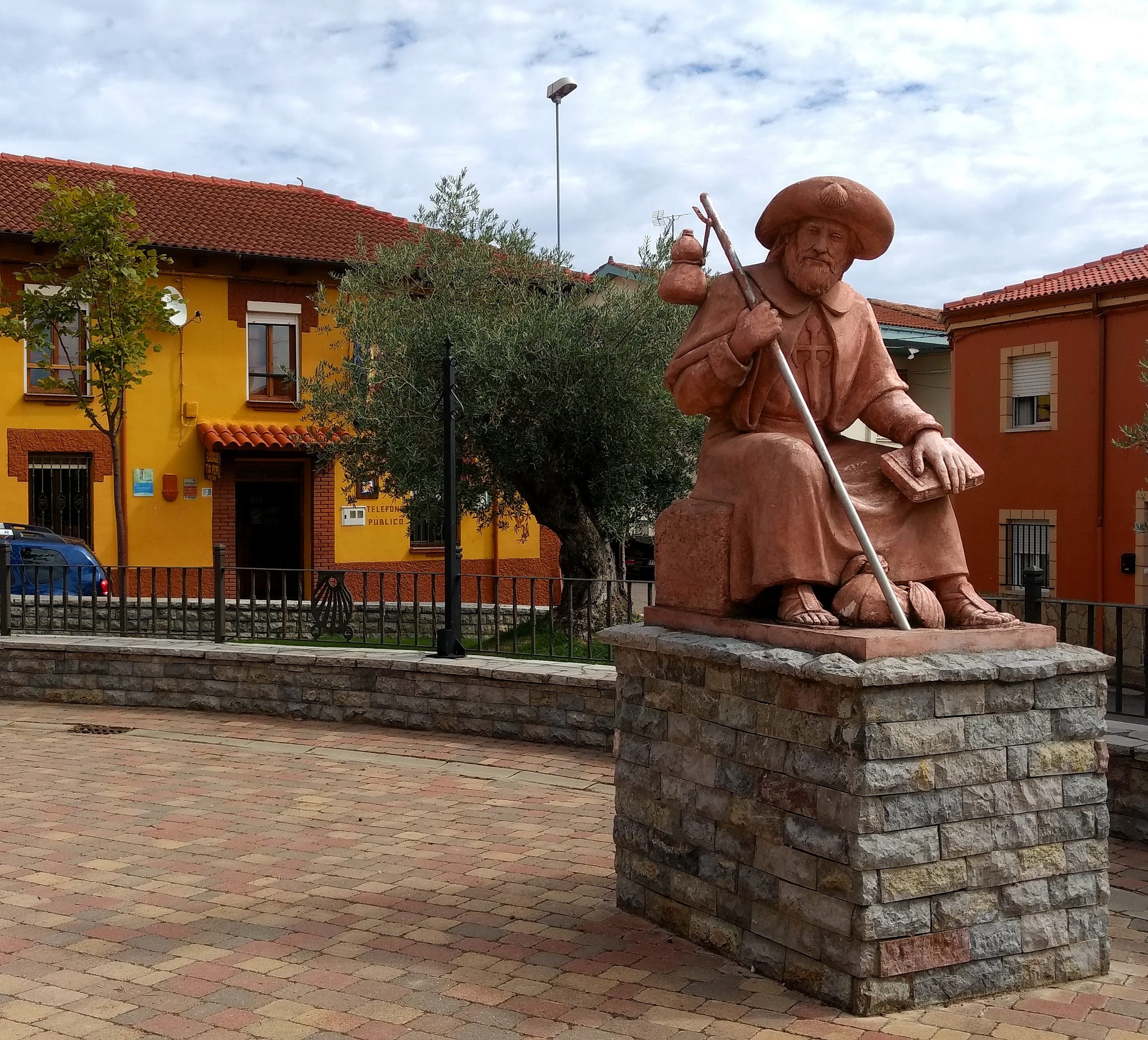 In the background you see Tio Pepe, the Albergue we were at. This statue was near the church. It was again a small village, two tiendas…a couple of bars…and more albergues… 🙂 I think that when every albergue is full….we outnumber the citizins!!
Day 25: Villar de Mazarife to Astorge 32K
My feet were really good and this was a long day for us. That was a long time ago but I felt good for it and Jerry too so we went for it!
It was a great walk, we passed many villages and they were all pretty, mideavel and wonderful!! I love that about this Camino. You enter villages, sit down and have a cup of coffee….for a small time your part of the scene. Pilgrims pass you….some familiar and some not. Some say something…some are in thoughts.. It's wonderful!!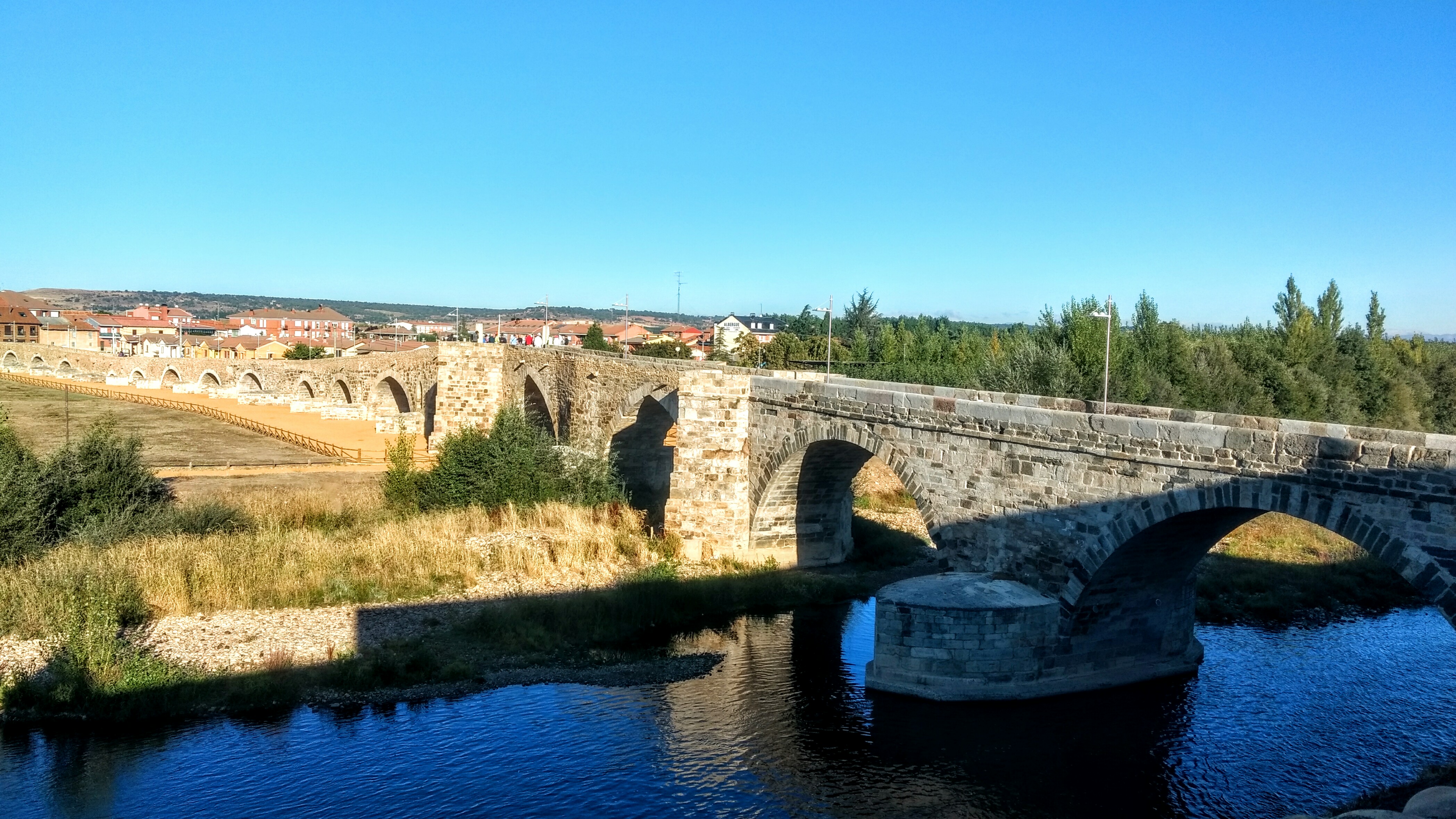 The best kept oldest bridge in Spain, Hospital de Orbigo
Passing this brigde….tourist were standing on it and we went through that group. They saw us…recognized that we were pilgrims and started to clap and yell!! that was a great moment! Jerry and I raised our hands and walked on with a big smile on our face!!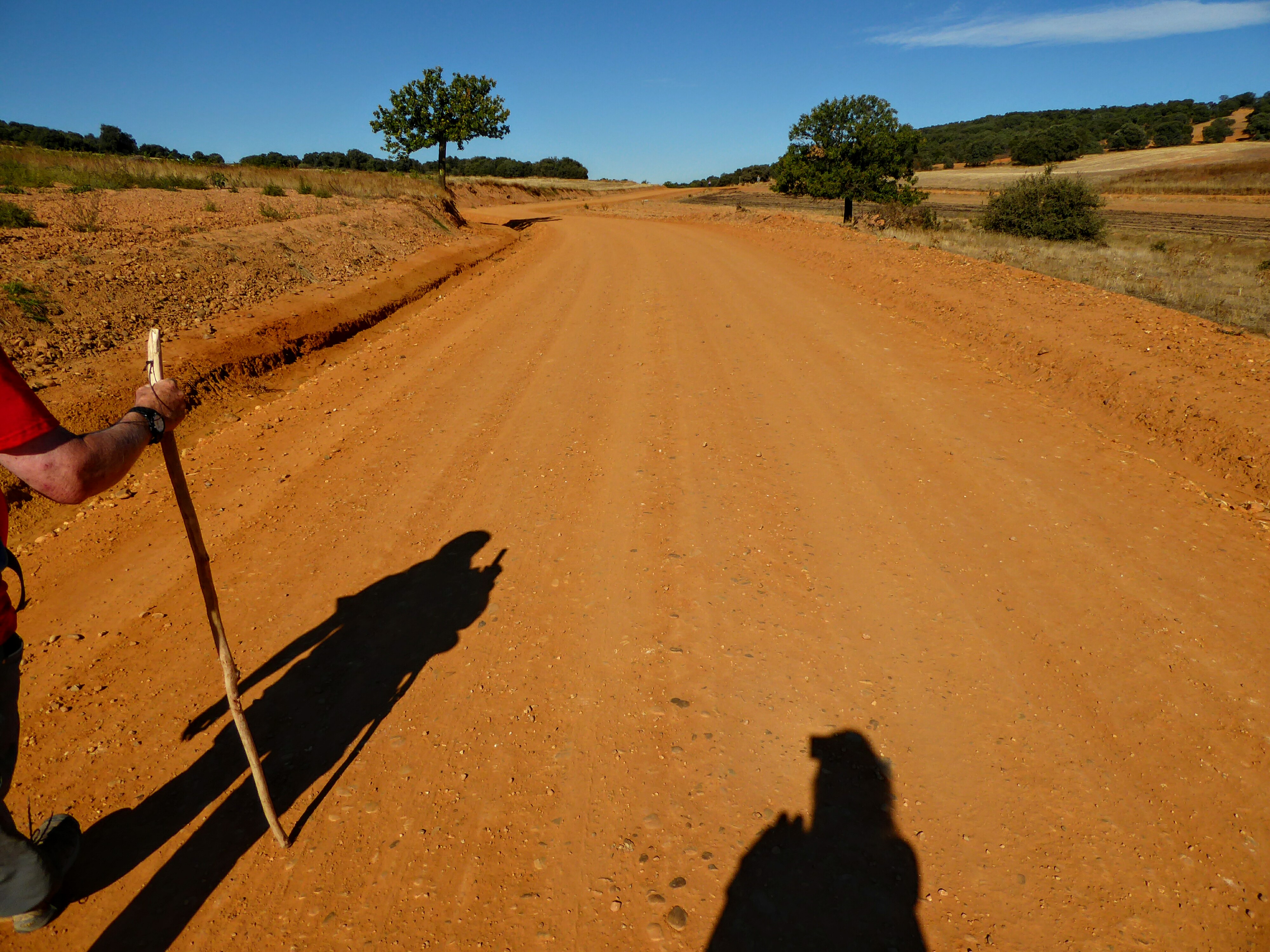 This was a hard part… It was getting warm…it was a bit longer then expected….some how… But still…we had a small lunch on top of this hill and walked down… We  made it!! I felt better and better….My feet were healing and my pace got better again.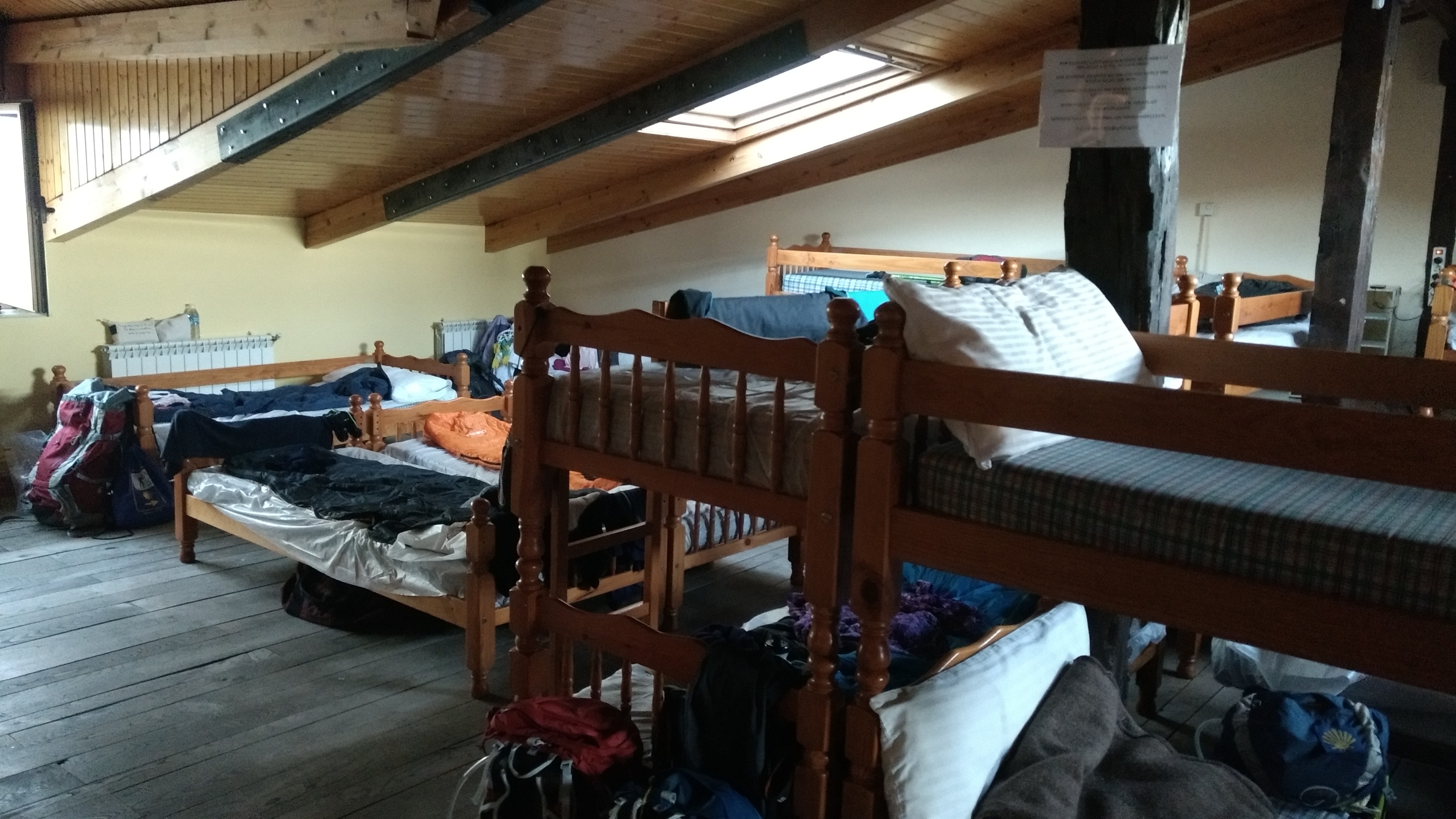 Just in case you don't know how a dorm looks like 🙂
That evening I cooked a pasta for us. I cooked that much that several other could join us. One of them was James. We started seeing him in Villar de Mazarife and he also made the 32 K today! An Italian and German guy had some pasta too, great!
Day 26: Astorga to Rabanal del Camino 20K
They day started great!!
I walked like I was a young girl again. I didn't feel any pain anymore and could have go on for a couple of K's extra but for Jerry it was enough in Rabanal del Camino…and it was a great spot! In the beginning of the village were two places, a hostel and a albergue. we stayed at the albergue and it was a good one. I had a great massage on the opposite side of the street on the grass…It was part of the albergue and there were also chairs to lay down… hanging place for the laundry outside.. perfect! At some point James came walking by and he also stopped here. How nice!!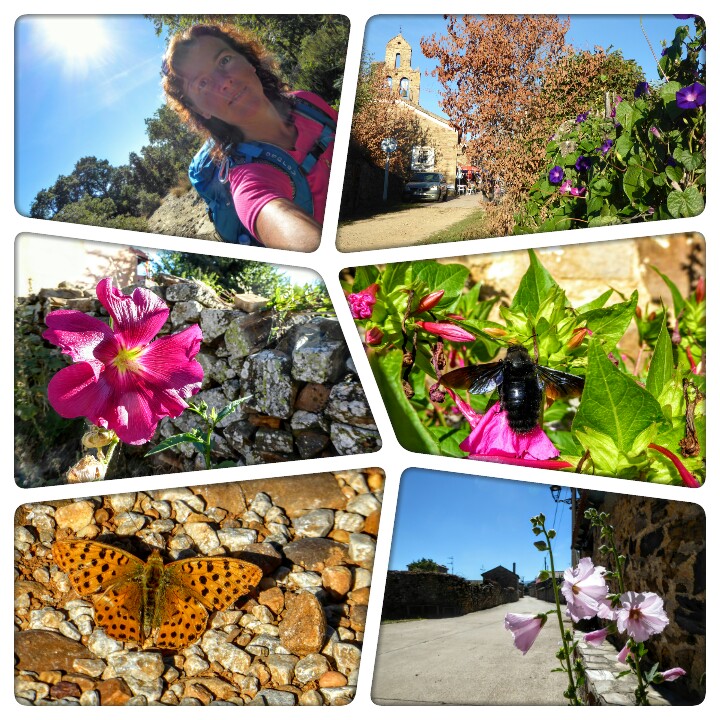 This was the first day I really started to see the flowers and small insects again!! I like that!!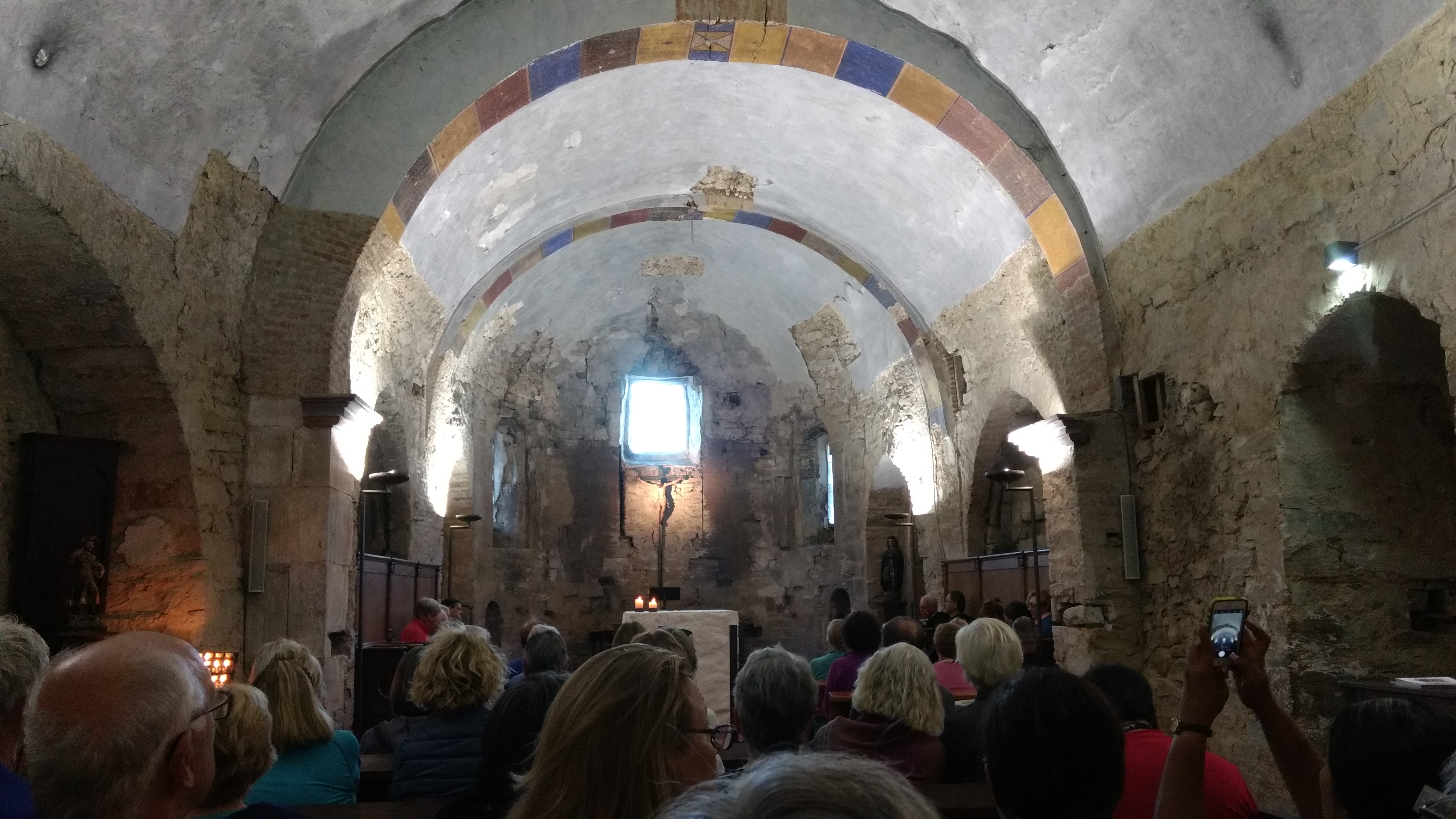 I even took time to go to church. There would be chanting and that would be great. Unfortunately there were only 4-5 priests chanting so it wasn't that impressive…but still. The old church was wonderful!!
Day 27 Rabanal del Camino to Ponferrado 35K

Leaving Rabanal we were treated with this view looking back…
How wonderful!!
This was the day we got to Cruz de Ferro. It is an important part of the camino for a lot of people. It is a cross that is situated on a large pole and on a high altitude.. 1531 metres.. We had to climb 400 metres to get there from Rabanal. It was a great climb!! We had some wonderful views!!
Lola and her friend joined us in the climb…and when we saw animals Lola went out of her mind. She really loved animals…what kind…doesn't matter. Me too ofcourse and I let Jerry take a picture of me with some animals 🙂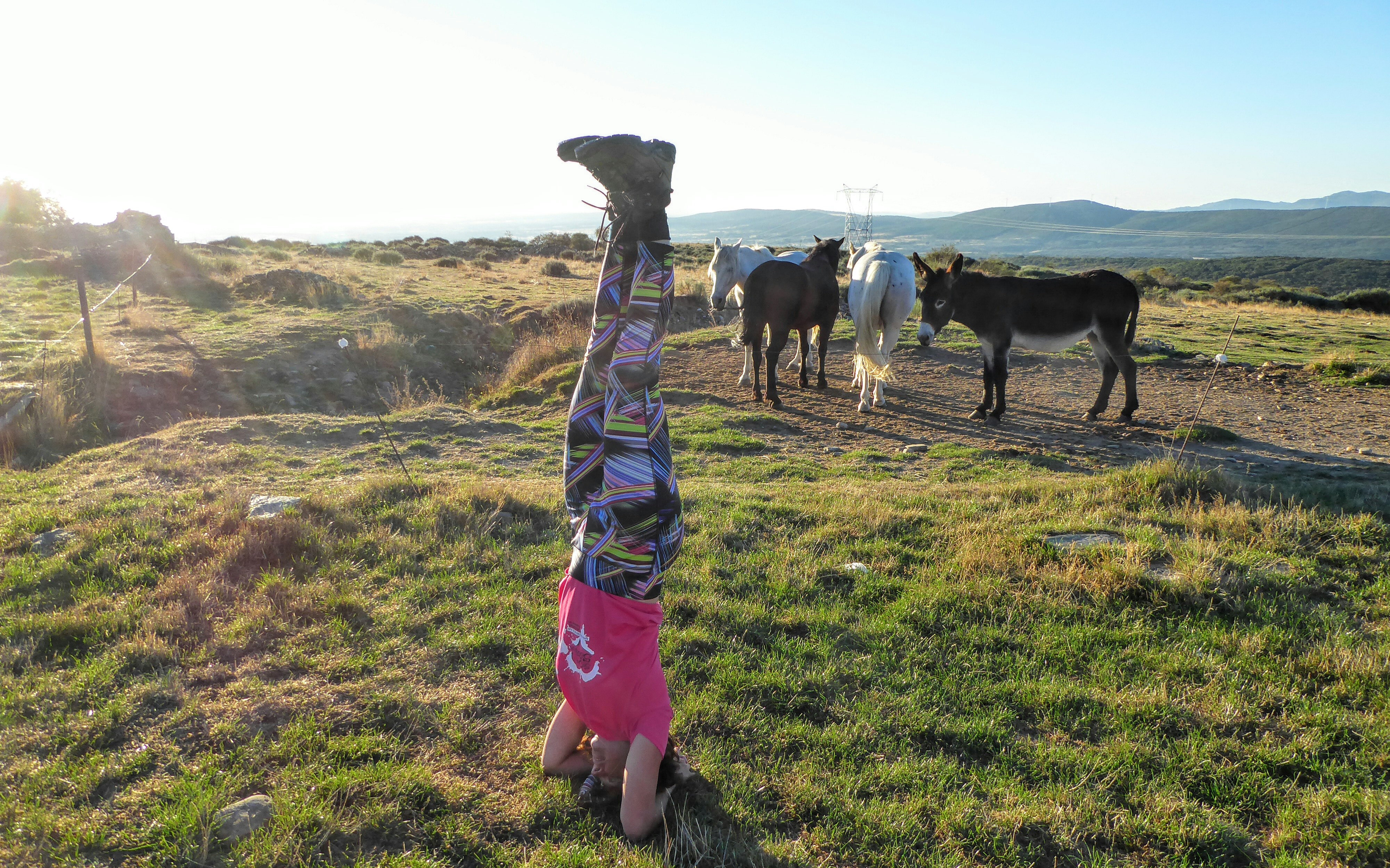 And then we got at Cruz de Ferro.. you should put a stone there. Just for the form I had taken a stone the other day but I didn't had a feeling to it. Really….I am not here to leave something….or to renew myself or to end a part of my life… I am here to enjoy the way… enjoy everything that comes with that…
But I did put the stone there…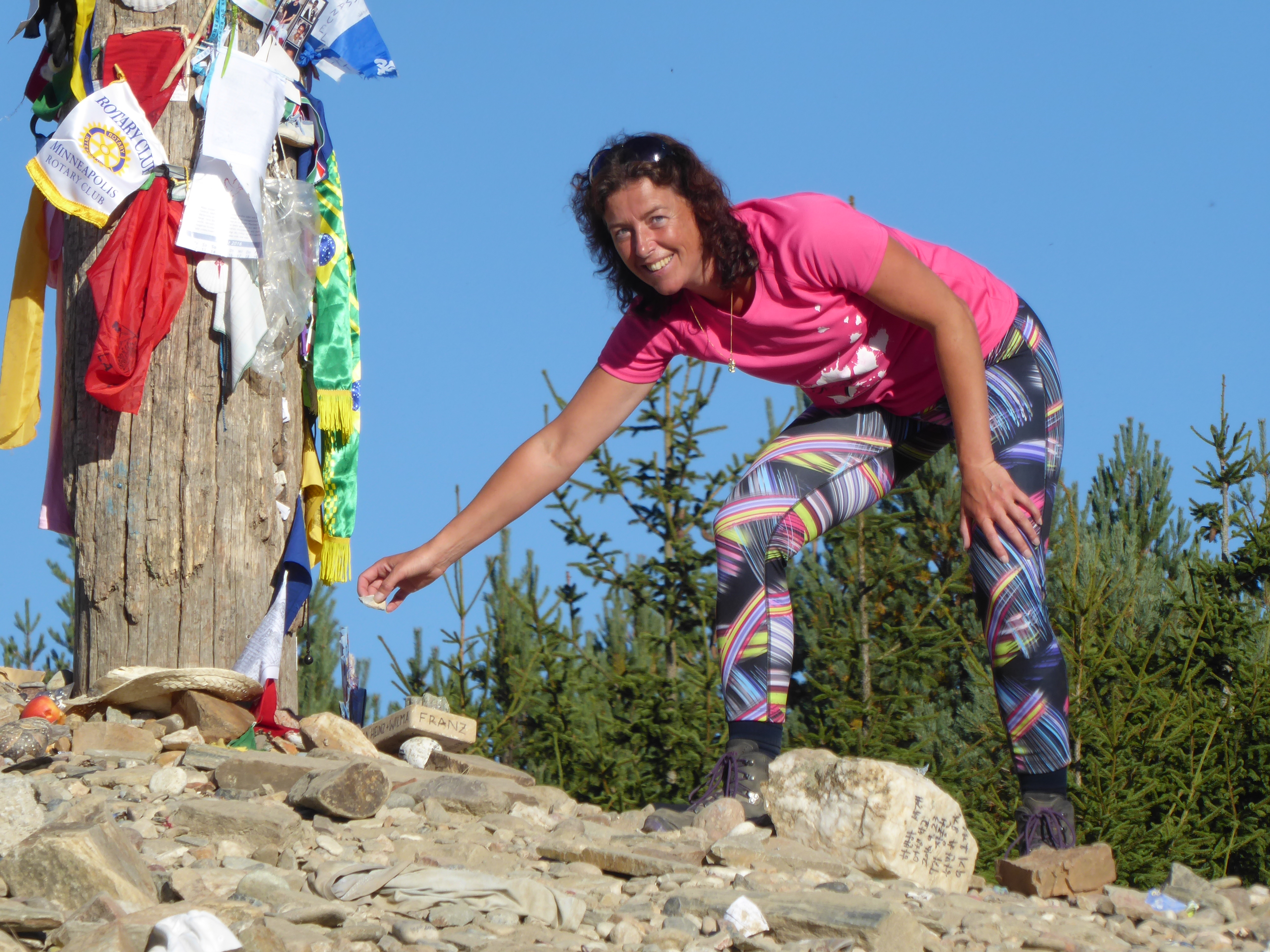 When I came back to my backpack and my sticks….well… the sticks were gone!! A couple of metres further I saw a couple that looked like mine.. After a while looking around me and scanning the place I took those and started to walk with them. Jerry thought it was very funny….a police officer that took sticks….stole… what? No! they were replaced… And yes…after a half an hour I saw three ladies standing in the middle of the path. Discussing and pointing to ones sticks… Those were mine!! We traded with a smile 🙂I was walking as I had just started the Camino. I almost flew of the mountain and after another coffeebreak I left Jerry. He started to get blisters and wasn't able to walk quick down. Those are the hardest!! I know!!I wanted to go to Ponferrado and that was a long way. In the end I made it….it was a long day but I was glad I did. Walking alone again after so many days was good too! I had a great time with Jerry, great man! But you need to walk your own Camino… It was good!!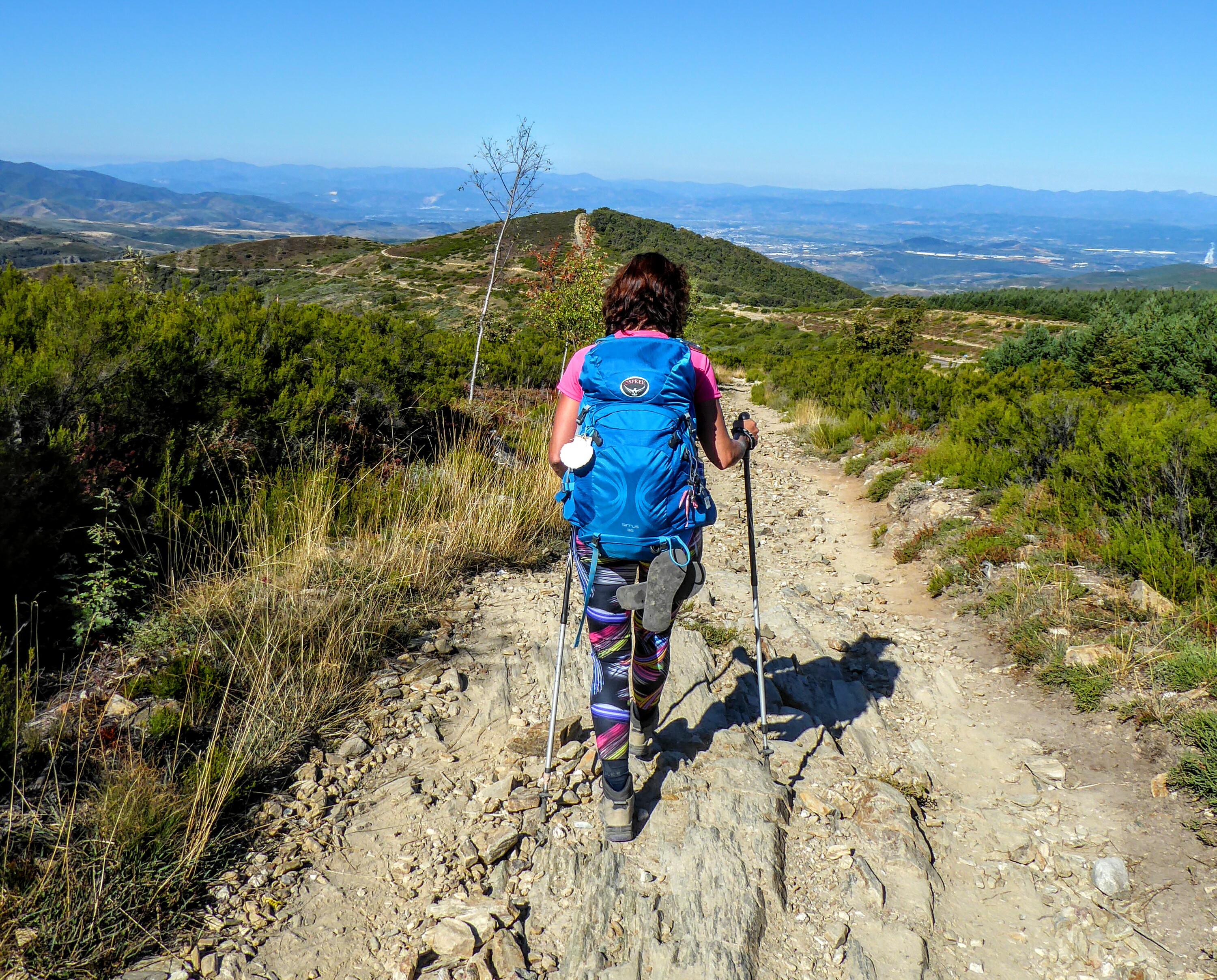 Day 28: Ponferrado to Villafranca del Bierzo 24.7K
I started early morning, 7 o'clock… I was awake because of a Brasilian family in my room. When I walked in the dark suburbs of the city I saw Graham walking behind me. He is a nice, funny guy from England originally but lived in Shanghai and worked abroad his whole life. I started to walk with him but after a coffee lost him….but after a couple of K's he was in front of me again 🙂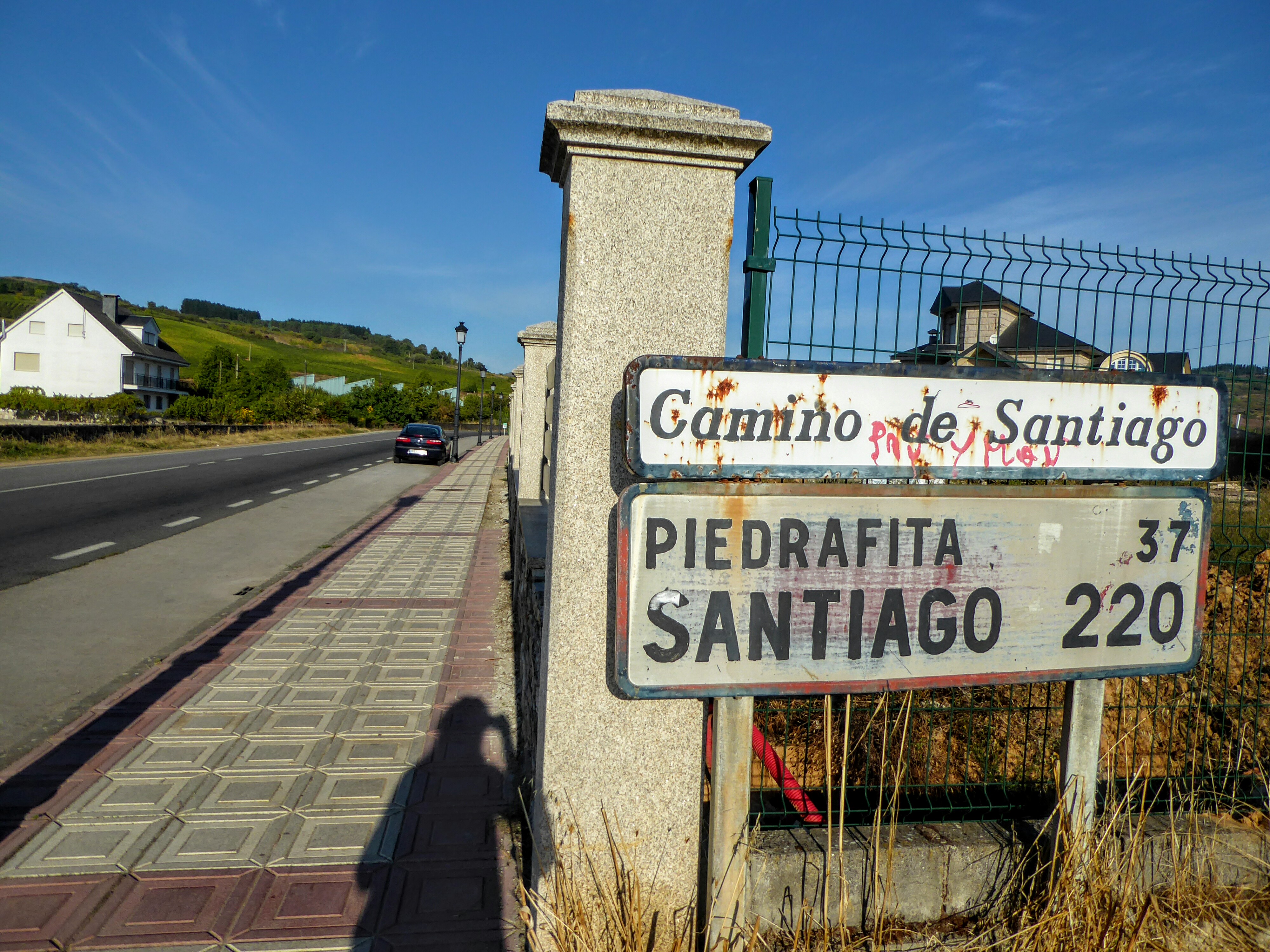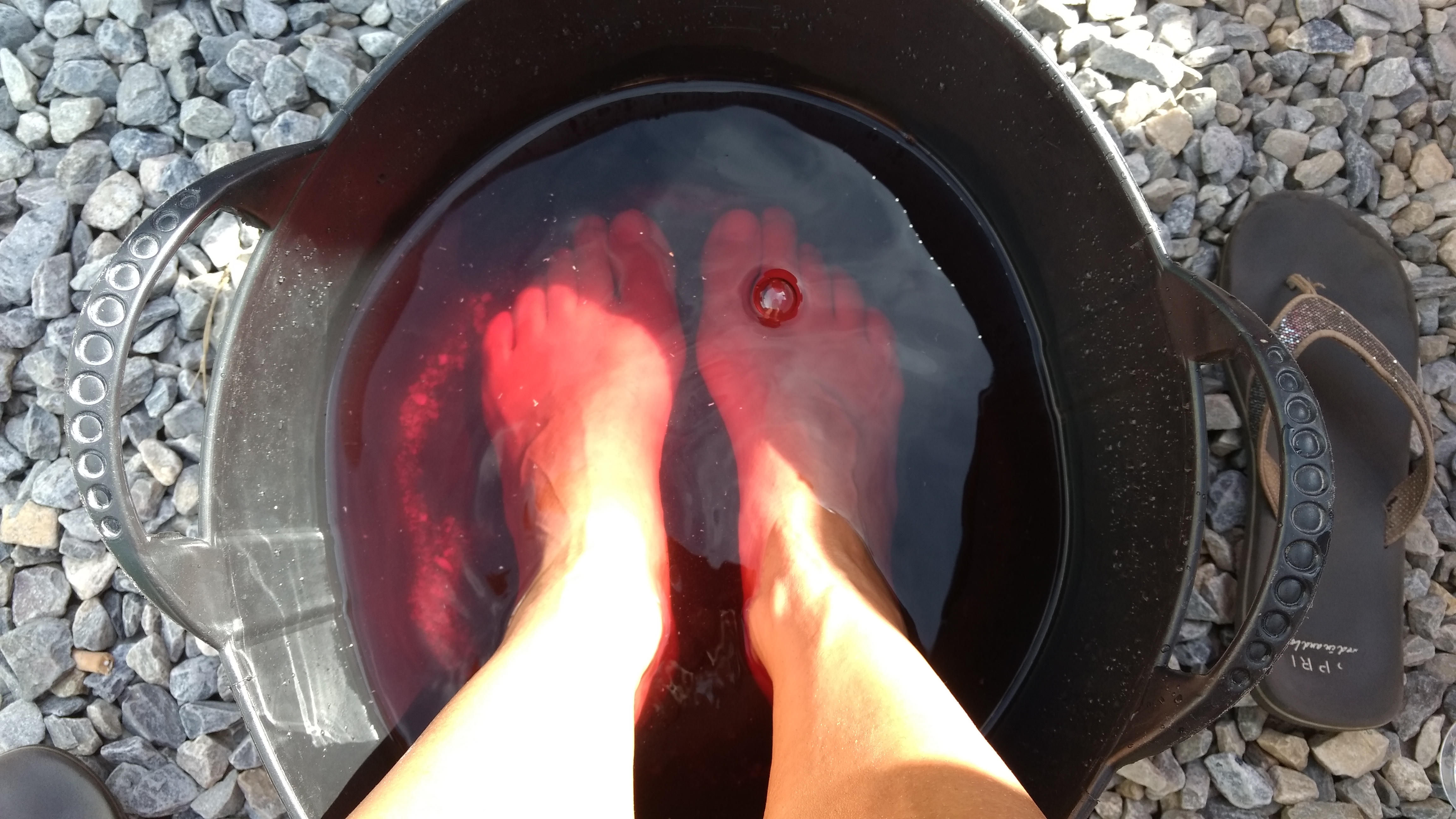 I walked fast again, it felt good. I walked with Graham into the town of Villafranca and he had read something about a hippie place and he wanted to stay. It was the first we came by and we checked in. I cooled my feet and one came immediatly with salt and vinigar. That's great! Good for the feet, good for the callus!!A bit of exploring of the city and a nice dinner with all of the pilgrims and another day had passed on the Camino.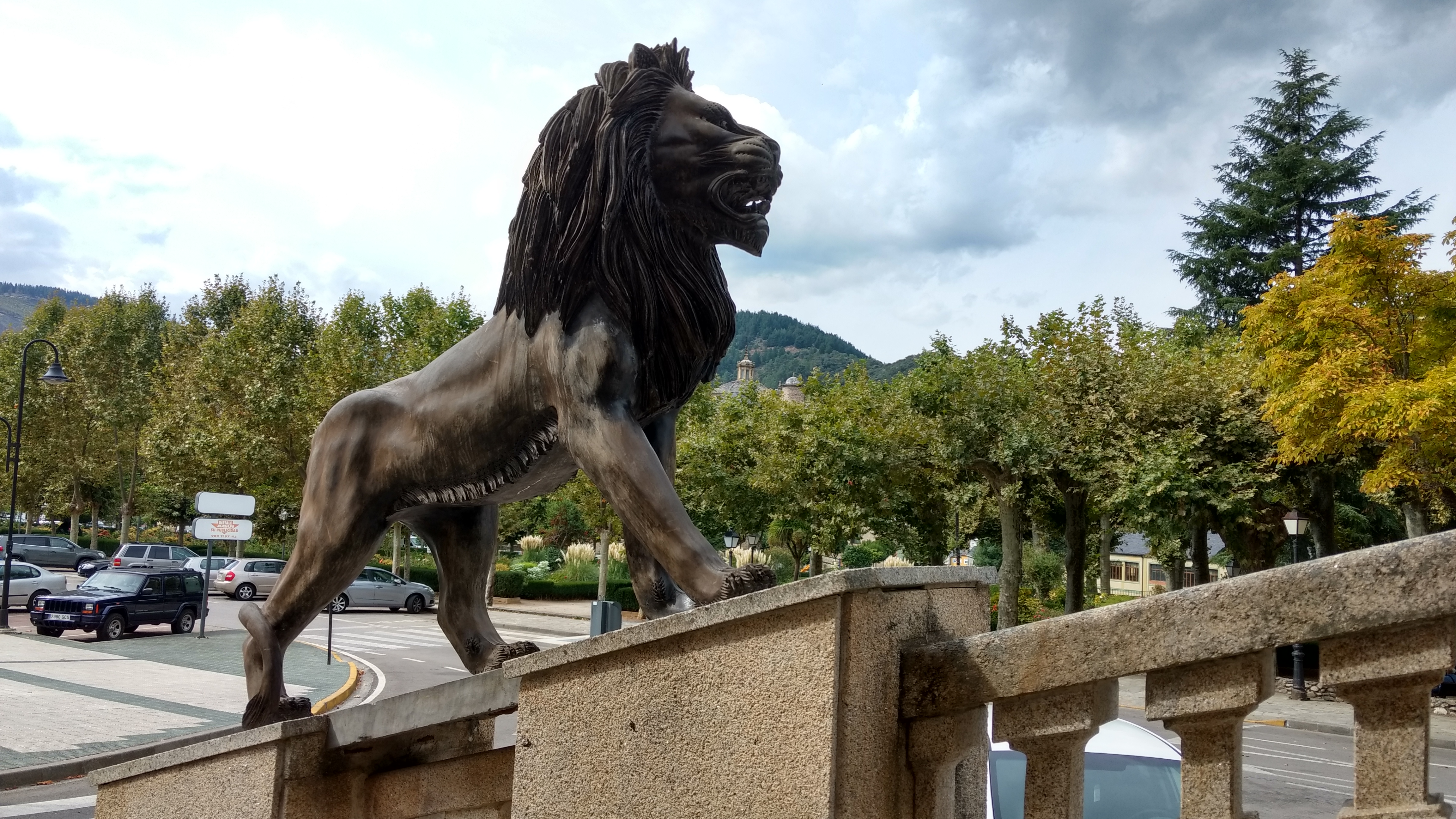 Day 29 Villafranca del Bierzo to La Faba 25K
Walking out of Villafranca you've got two options…walking along the highway for a while or going over this great hill/mountain. I ofcourse went for the mountain, getting a great view is not a thing I will say no to 🙂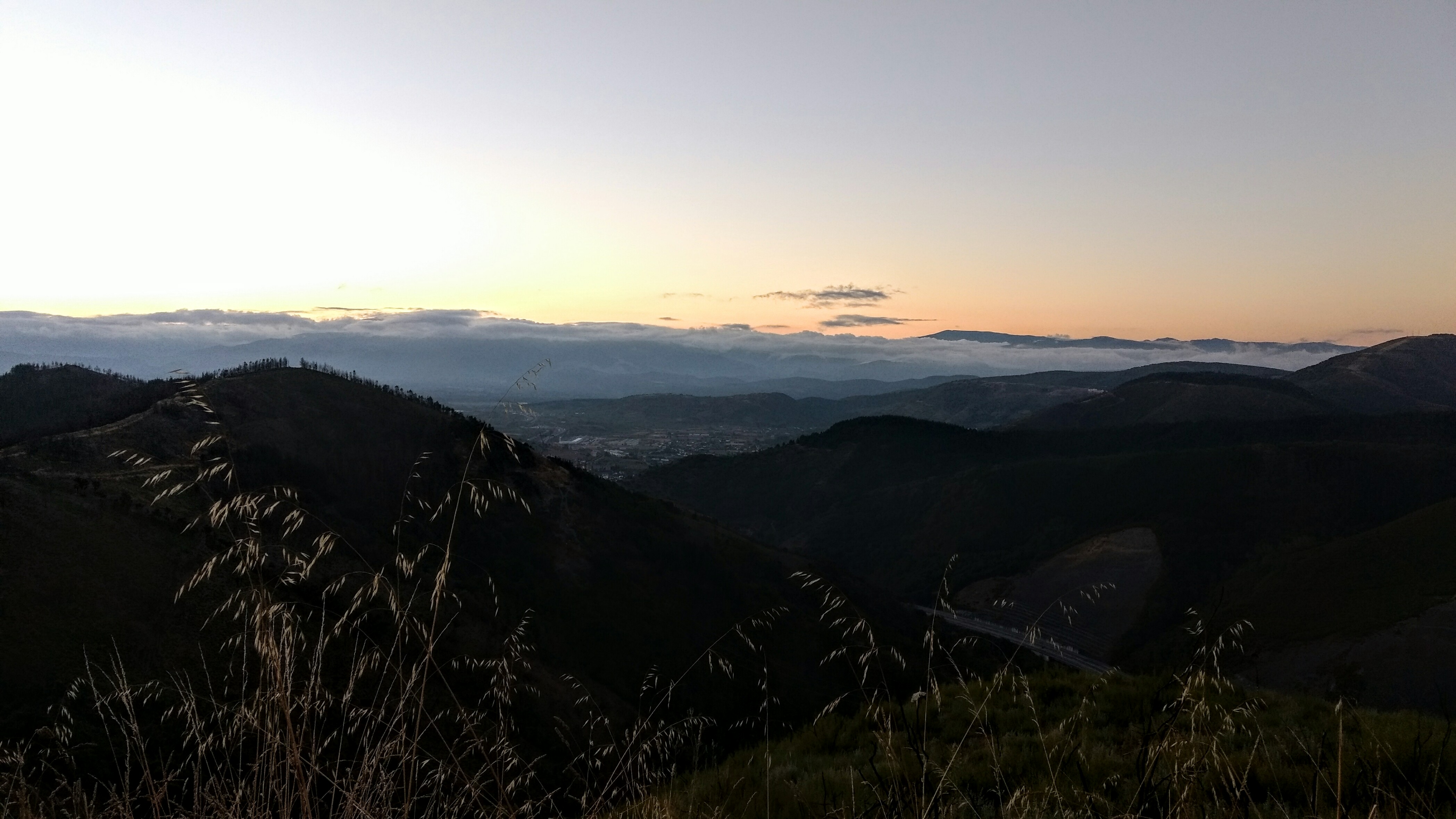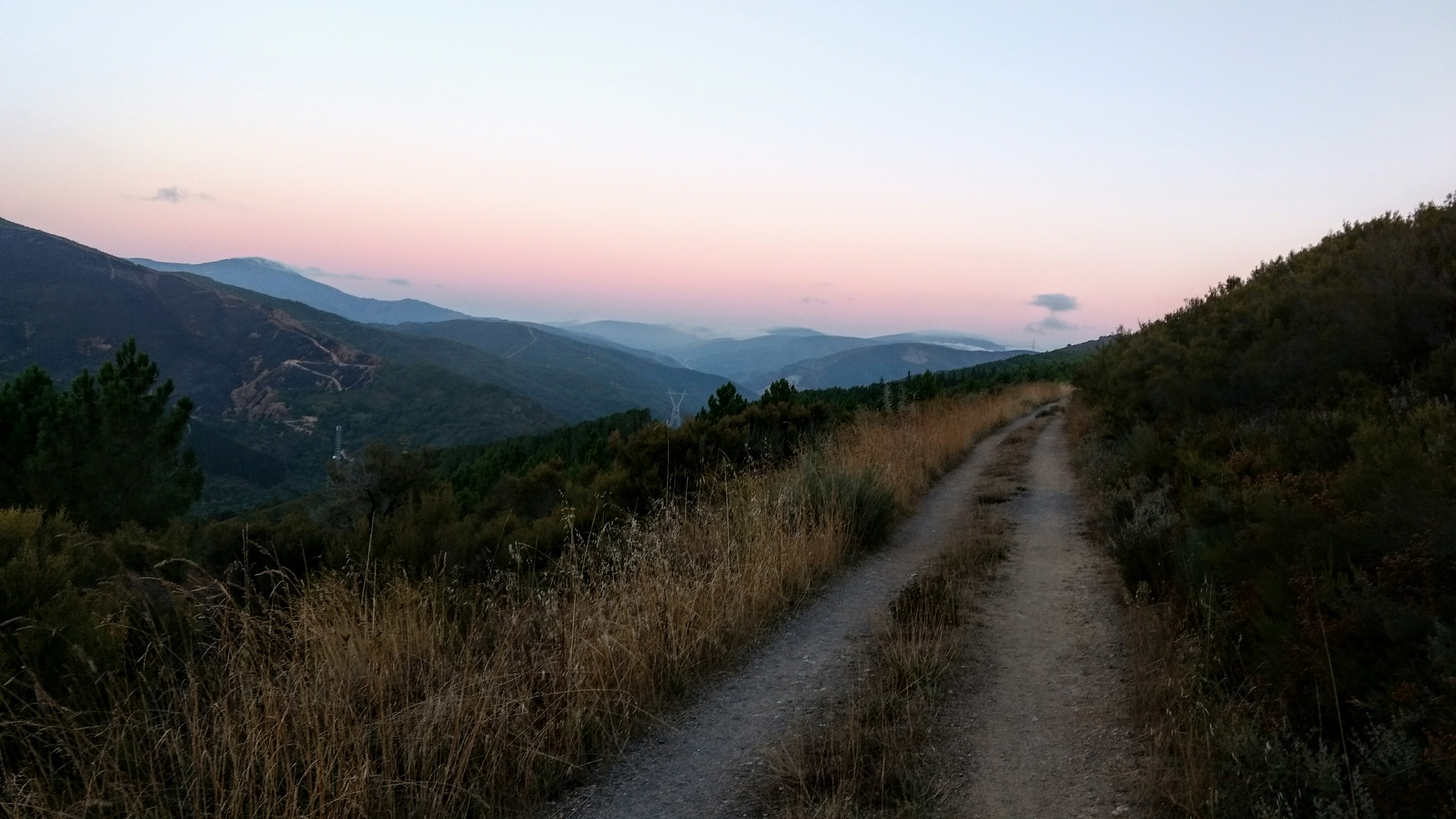 Graham did said no… So I went alone up that hill. It was cold and it was a bit of a climb….for more then an hour I think… But the sights were so worth it!! The sun was rising when I was on top so I had seen the city in dark and now the views over the landscapes while light. Loved it!!
Walking on I met Maureen coming of that hill, she walked it too!! #Respect I talked with her for a while and went on. A couple of K's down the road I saw here again when I had my coffee. From here on I think I saw Maureen every day!! She walked with 2 other ladies but they were faster. They leave early morning and when I see Maureen they are way further down the road 🙂In the end I came at the small village of La Faba, it was just before going all the way up the hill. It was good for the day. I got a nice hippie place again and started to enjoy the rest of the day. Walking in the village Dino invited me to his house…he was just getting his cows back from the meadow 🙂 He showed me where their place was…under the house.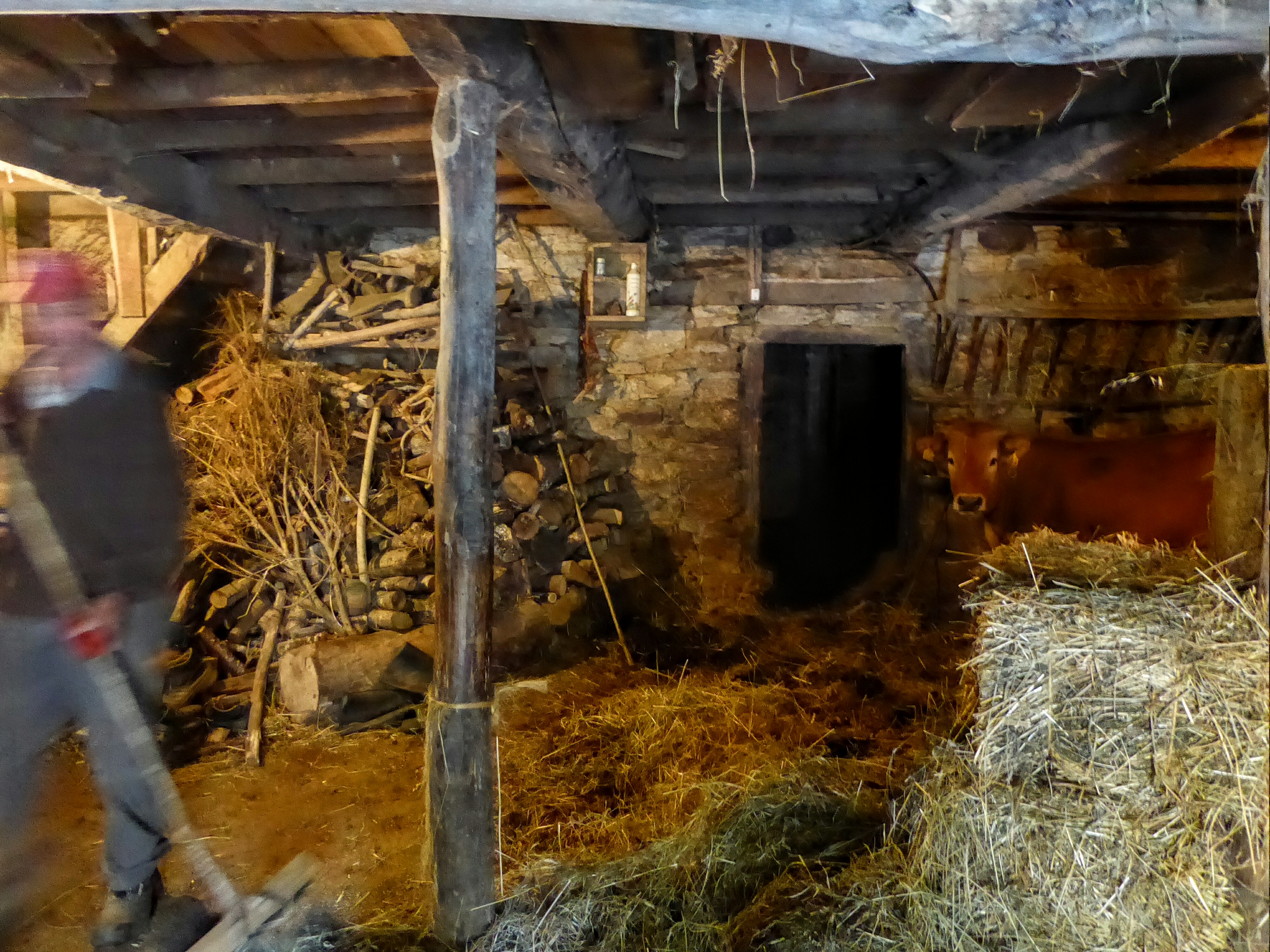 It was a bit too dark to get a good picture and Dino was working hard to sweep everything to one side 🙂
We entered Galicia and it is all a bit older here. Sometimes it seems like time stood still… It is great! It will be more of these kind of villages along the way!
Can you imagine walking for 600K??
It took me 29 days.. it was the best experience ever!! It would take me another 6 to finish in Santiago…. Those were great days too…I love every minute of it!! And if I could I would do it over again…and again…Have you ever walked a Camino?
Are you as enthousiast as me?
What are your best memories?
Please share your stories!!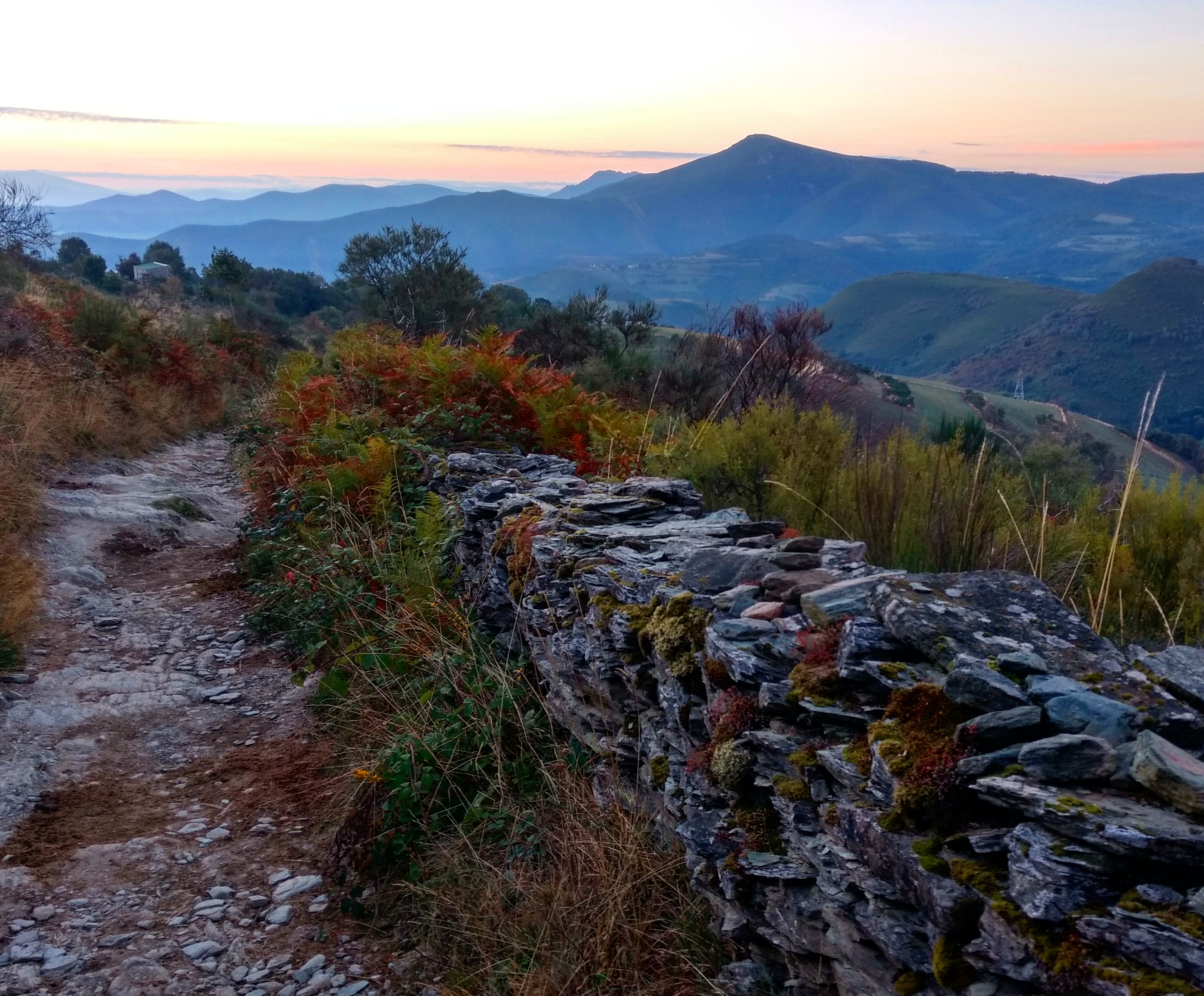 Preview for the next blog: Walking up to O Cebreiro on day 30!!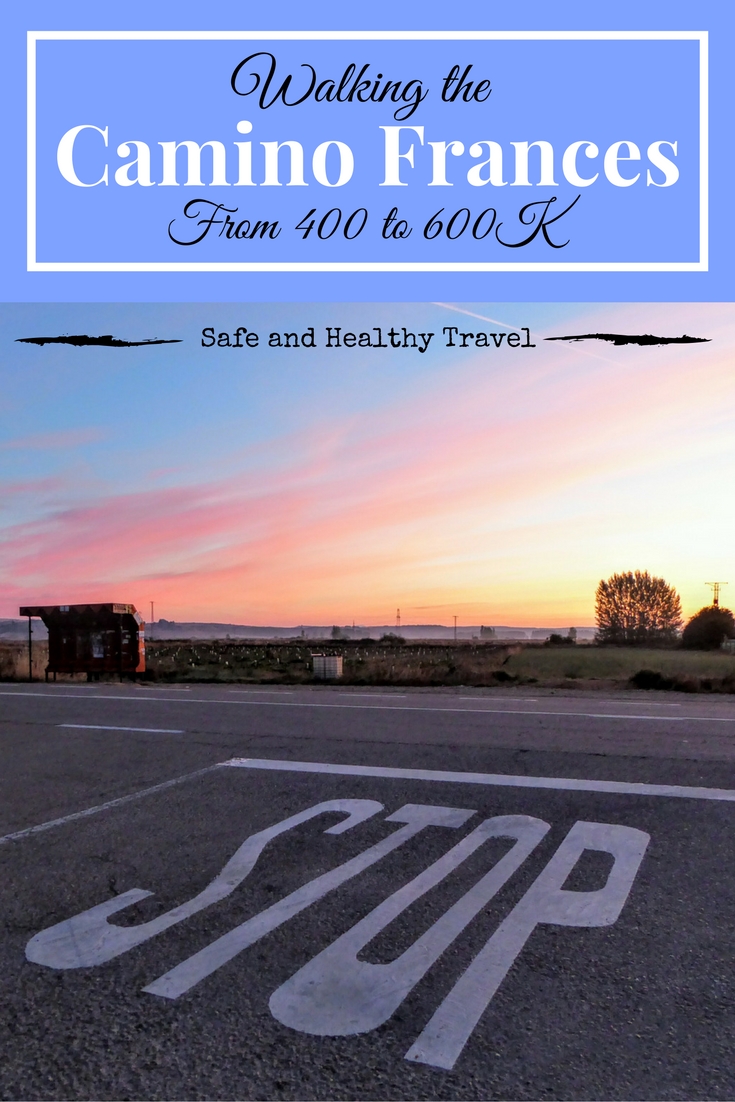 If you liked this post please share it with others too 🙂
Read more about this great adventure!!
Walking the First 200K of the Camino
Walking from 200K to 400K on the Camino Frances
Reaching  my Goal!! Santiago de Compostella – Spain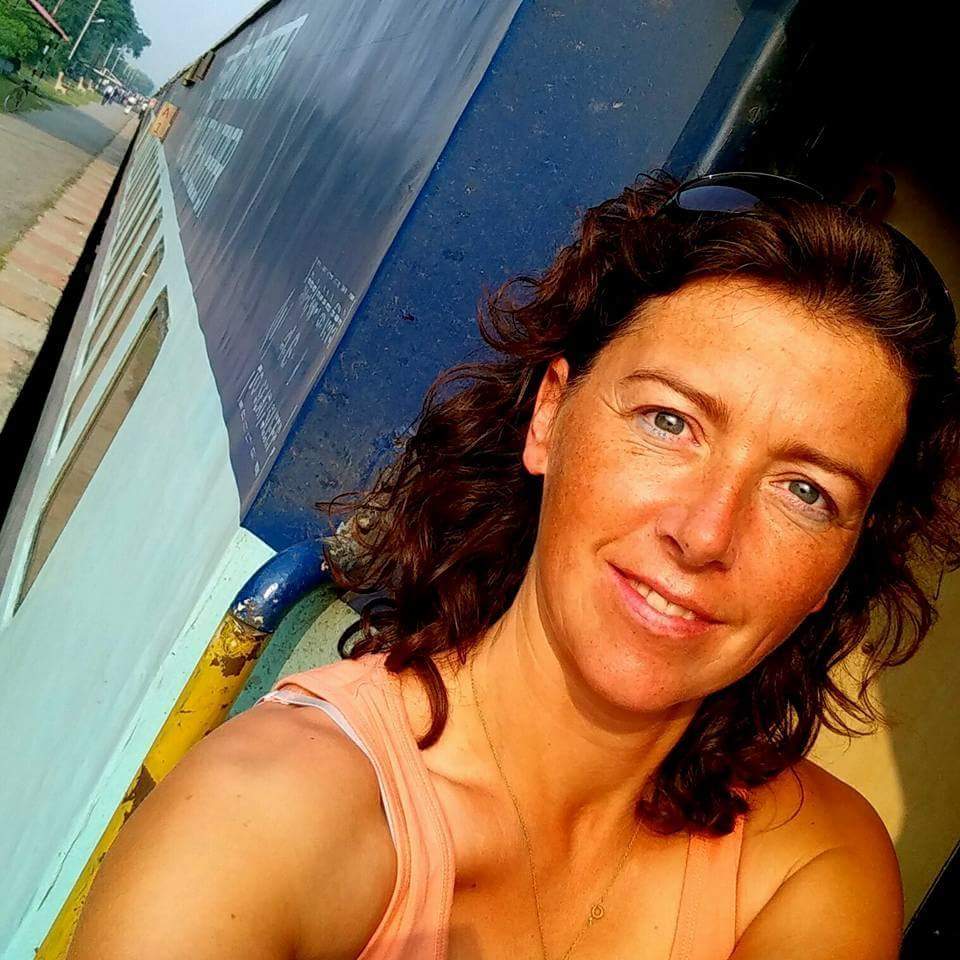 Jacomijn is een politieagent uit Nederland die jou graag laat zien hoe je veilig, actief en gezond de wereld kan over reizen. Safe and Healthy travel is a MUST