Visit Beautiful Medieval Monschau – Eifel, Germany
|
The Beautiful Medieval Monschau should appeal to your imagination as well. I had seen beautiful pictures of it before and of course I wanted to see it for myself. When I thought of doing a little roadtrip with my father's camper in the Eifel and so the beautiful medieval Monschau was high on the list!
See more about that roadtrip Eifel
Visit Beautiful Medieval Monschau
North Rhine-Westphalia – Eifel, Germany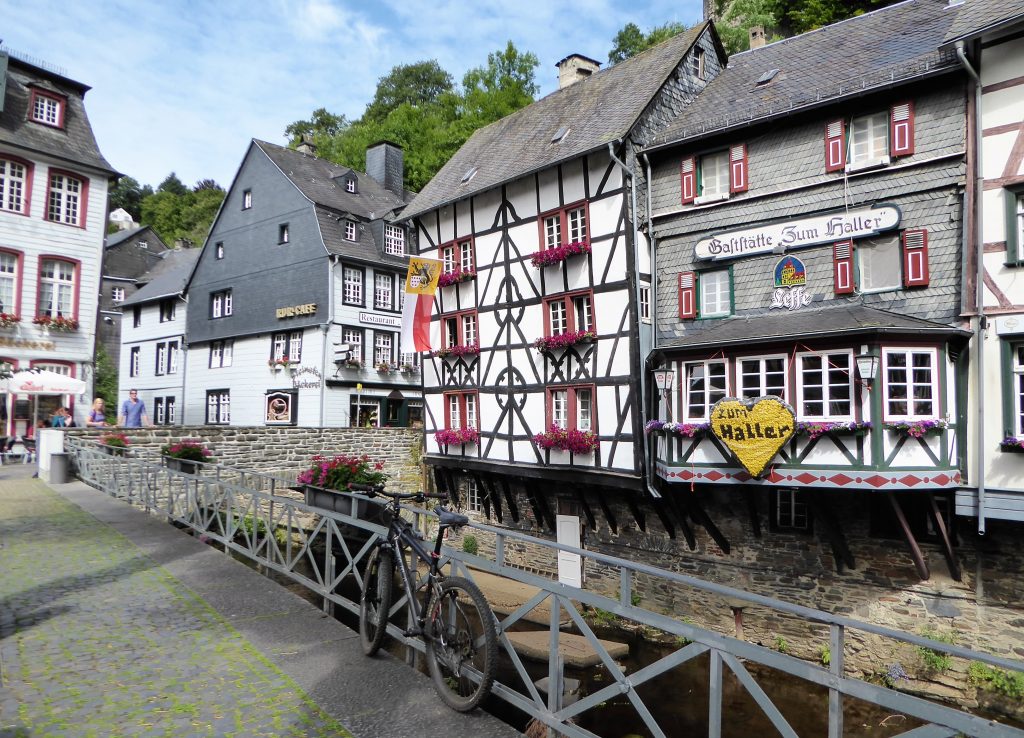 I drove (about 300km) that first day straight to the beautiful medieval Monschau and looked for a campsite just outside the town. I hadn't even installed the camper properly yet or I had already grabbed my bike and was on my way to the beautiful streets of Monschau.
Did you know that?

The city was founded in 1195 and has its origins in the Crusades. Walram van Limburg-Monschau, the first lord of the castle and later Duke of Limburg, was a crusader in the Holy Land in 1197.

The town is also known as the City of Cloth Makers.  Already in the early 18th century Spanish Merino wool was processed in Monschau. Heinrich Scheibler (1705-65) succeeded in making the canvases from Monschau into a brand article at the major trade fair locations.
I was so curious about the historic town centre, the altstadt (Old Town) that I cycled straight there. I'm always a bit afraid that it will be disappointing and the pictures are put away nicer than it actually is…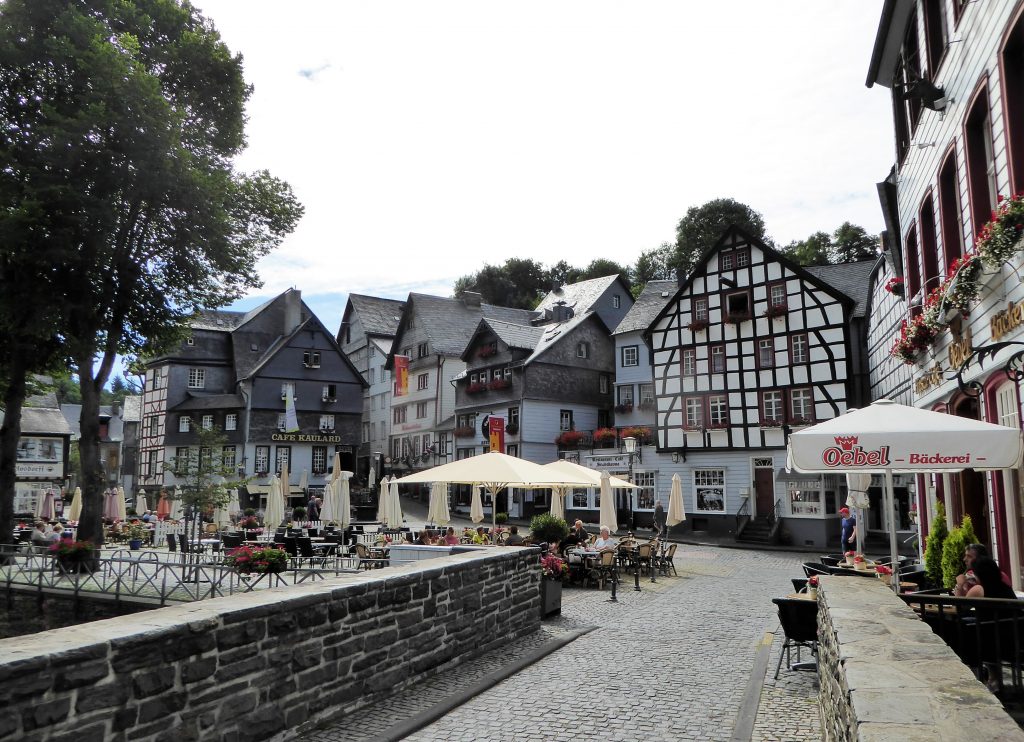 But I found exactly what I was looking for!!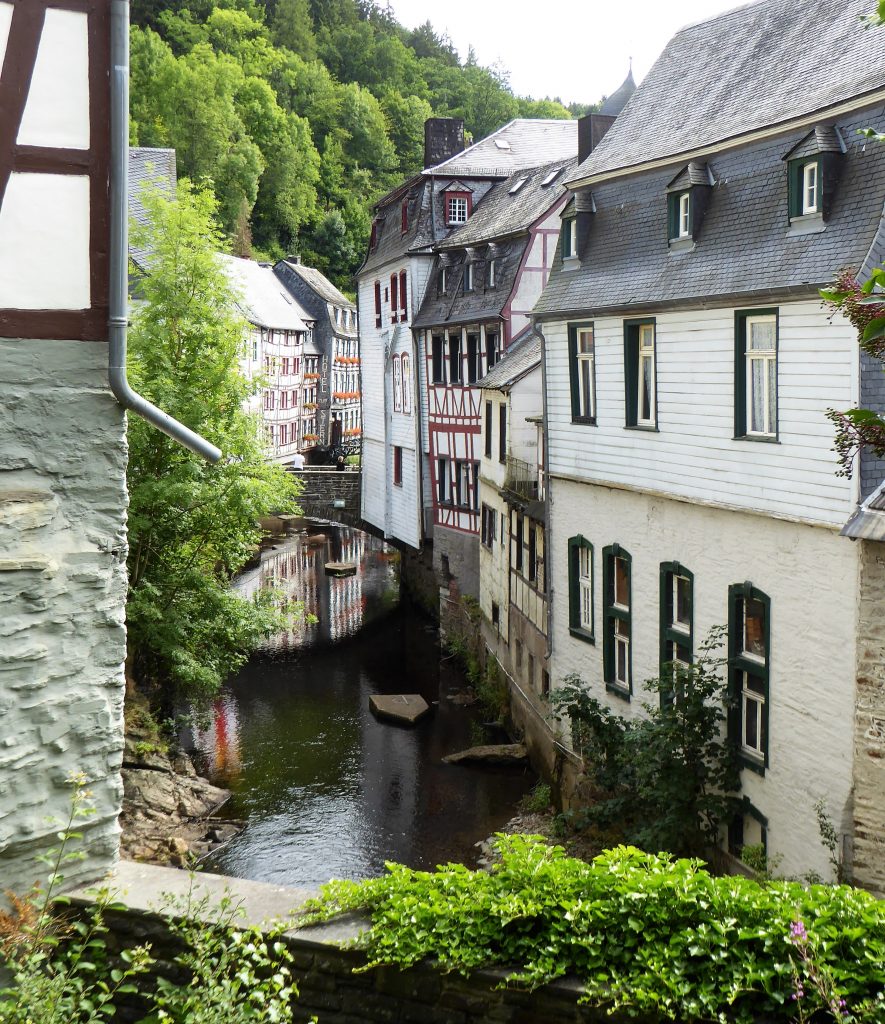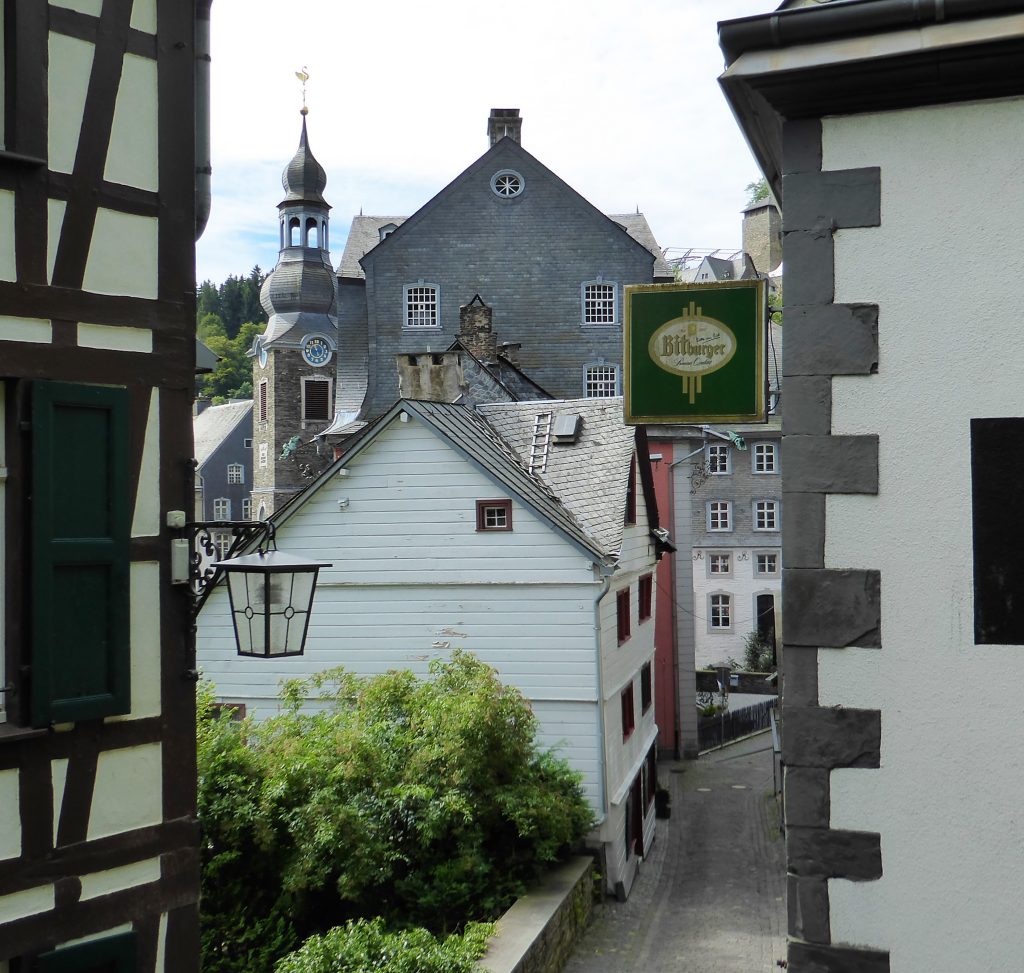 But what a great place this is! That's why the headline is: Beautiful Medieval Monschau! I can't make anything else out of it! I cycled around that day and the evening of course not in the camper eaten but a nice restaurant on one of the squares visited and enjoyed the great atmosphere.
Visit the Beautiful Medieval Monschau
The next day I also stayed in Monschau. That morning I did a hike which is signposted from the center. This gives you a beautiful view over the surroundings but also over the Medieval Monschau.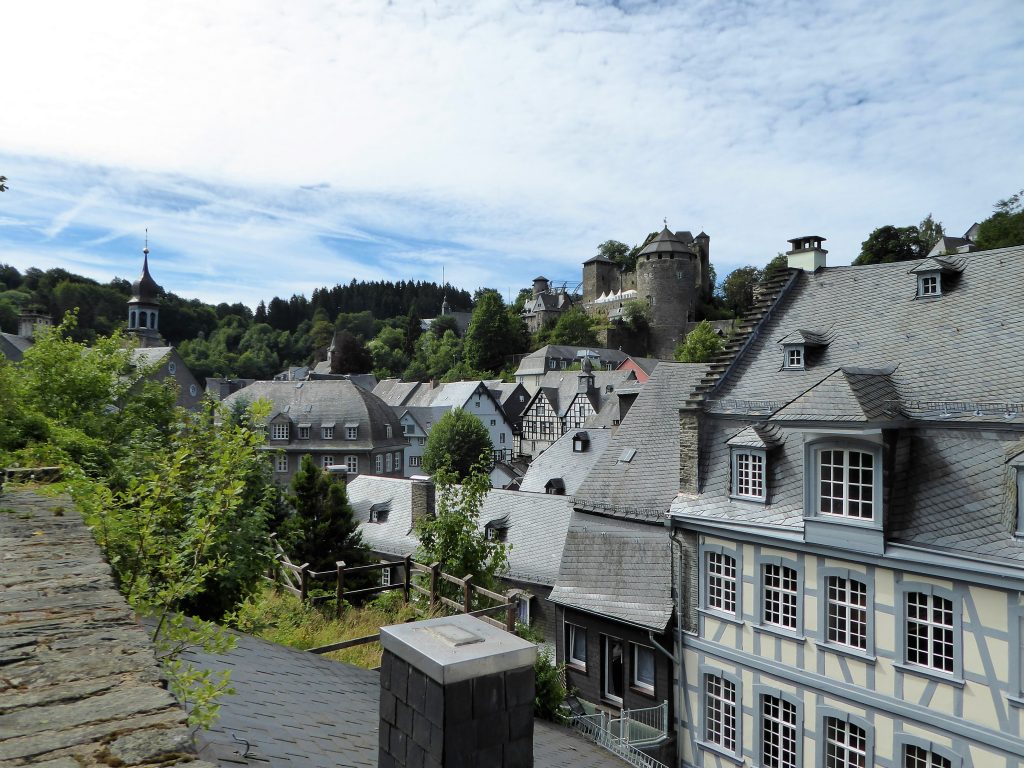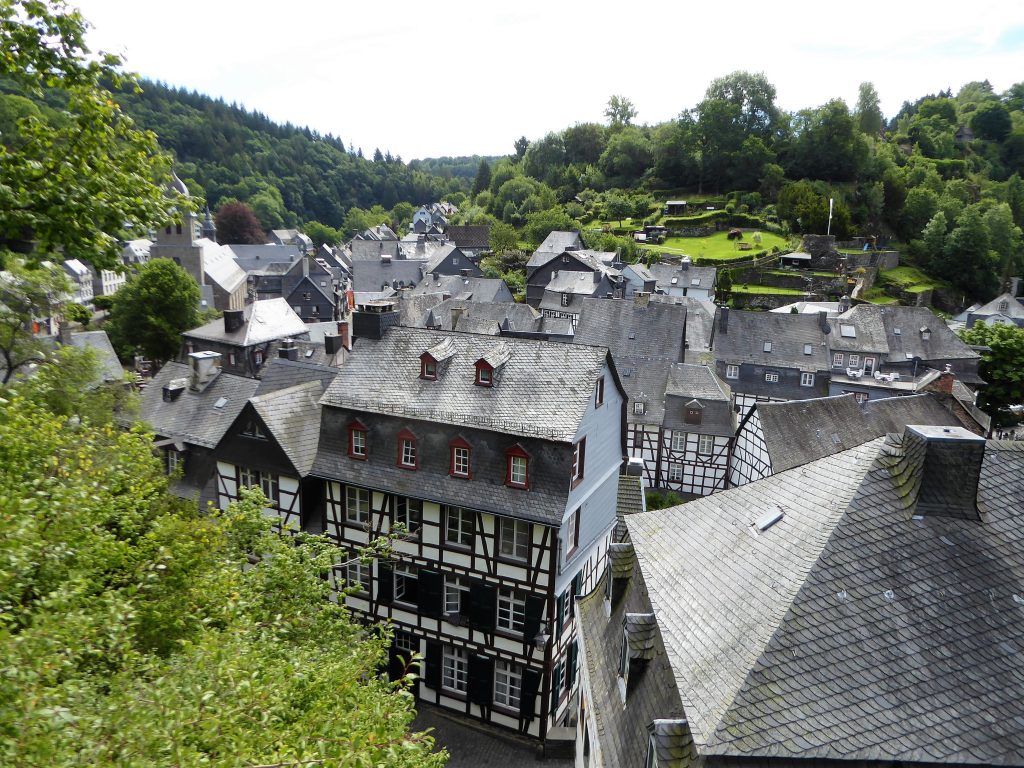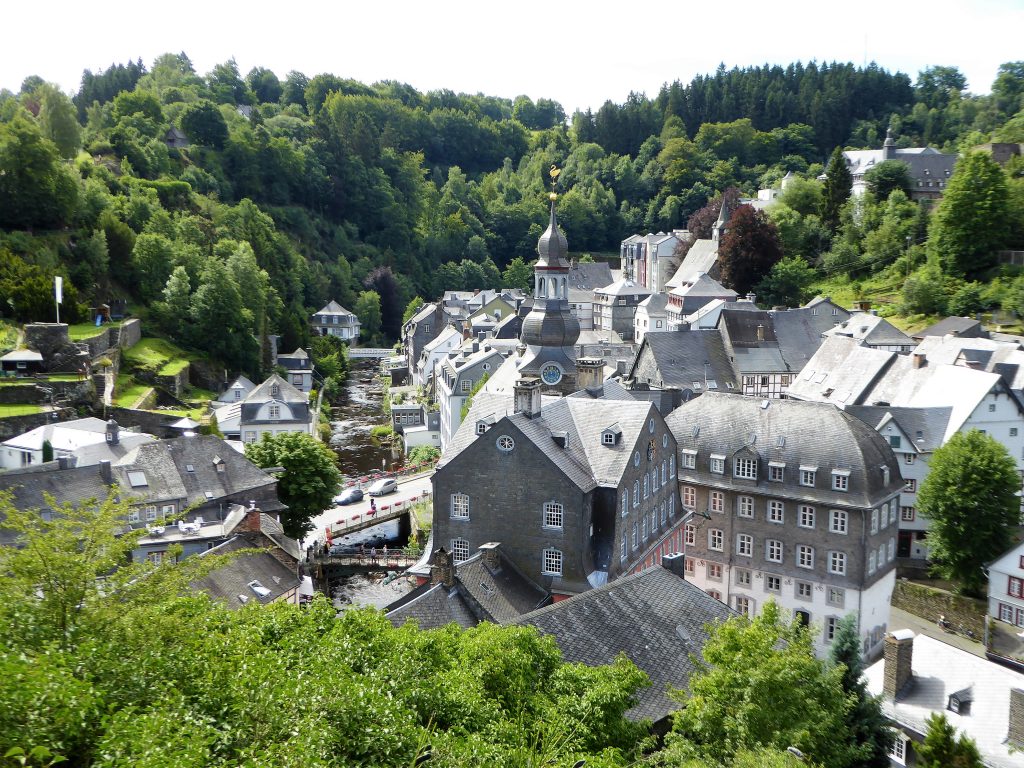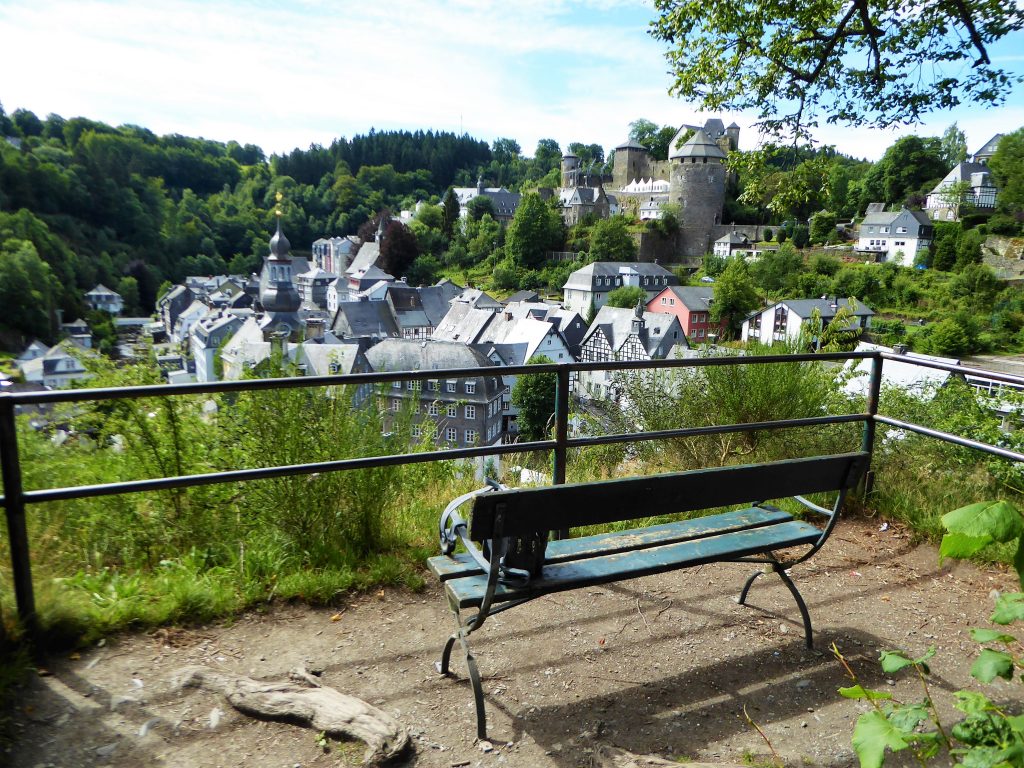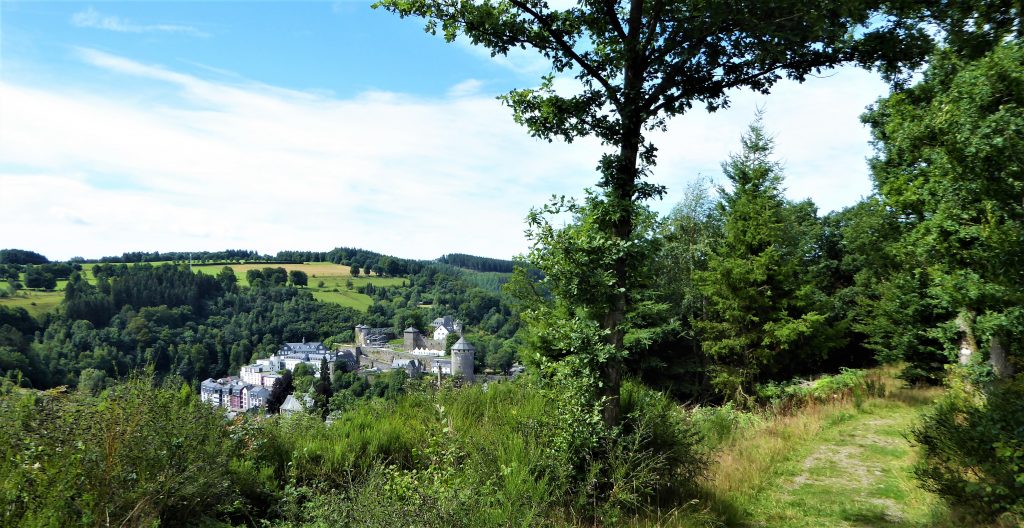 The afternoon I was able to control myself and I started cycling over a piece of the Vennbahn. A cyclepath of 125 K what in the old days a railtrack was… Very interesting! And in the evening I went back to Monschau to enjoy this unique place again! It was a bit fresher and so I sat inside in restaurant Alte Herrlichkeit.
I can only say that you must have visited this place once in a lifetime!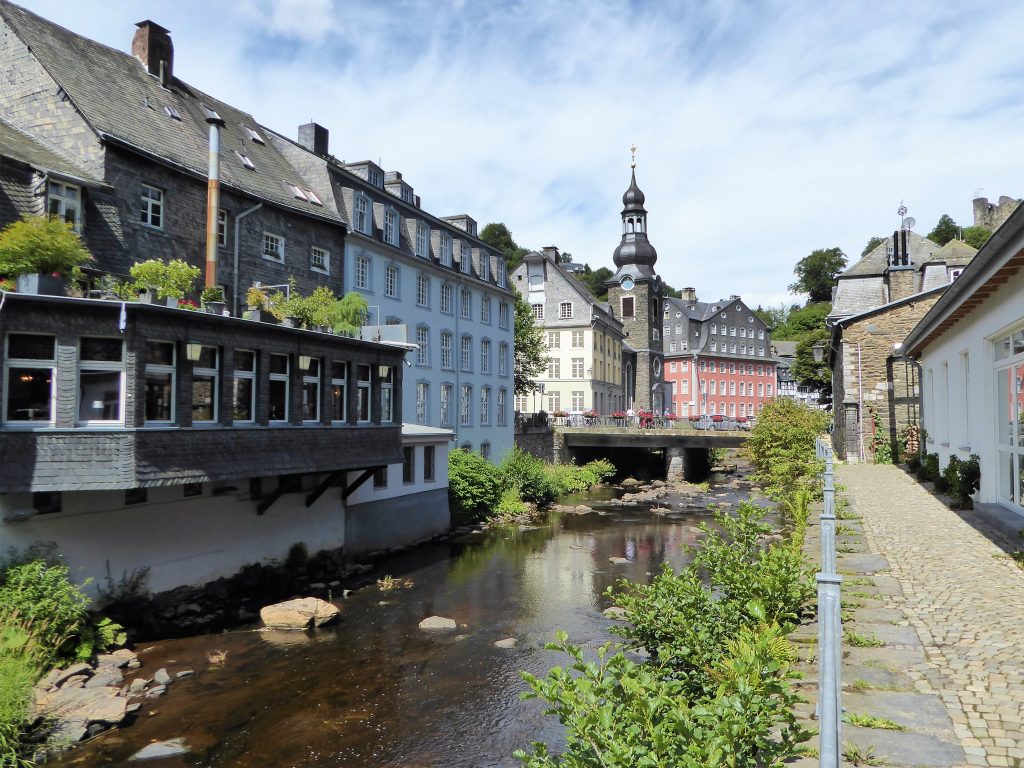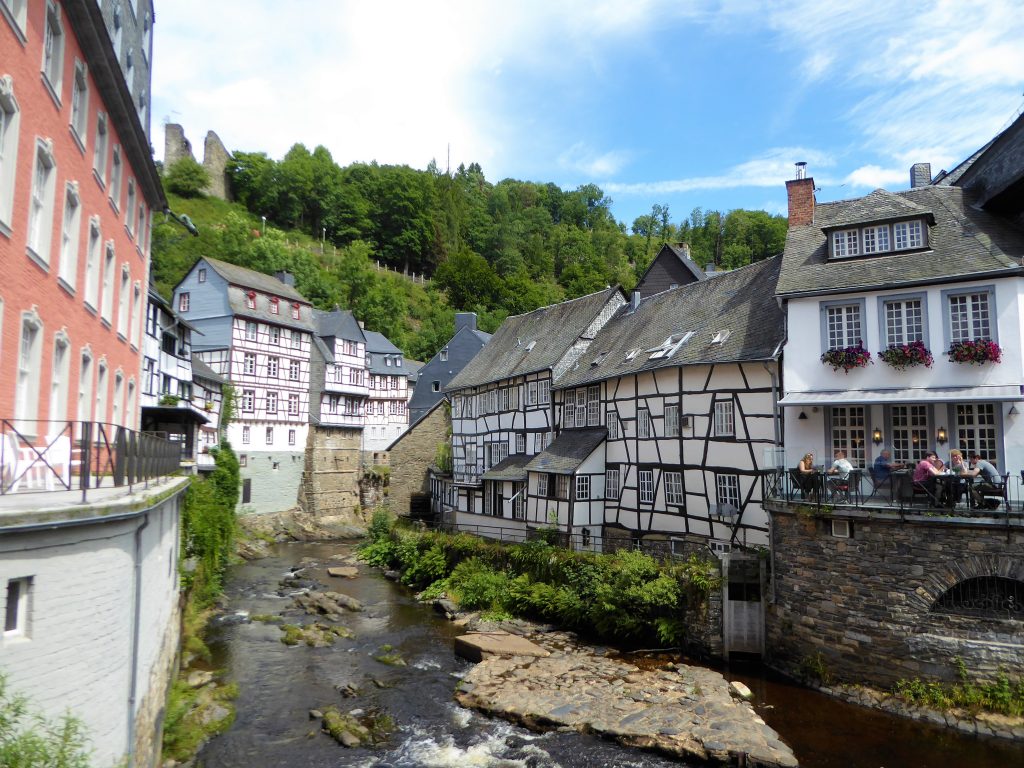 River Rur has a beautiful course through the medieval Monschau.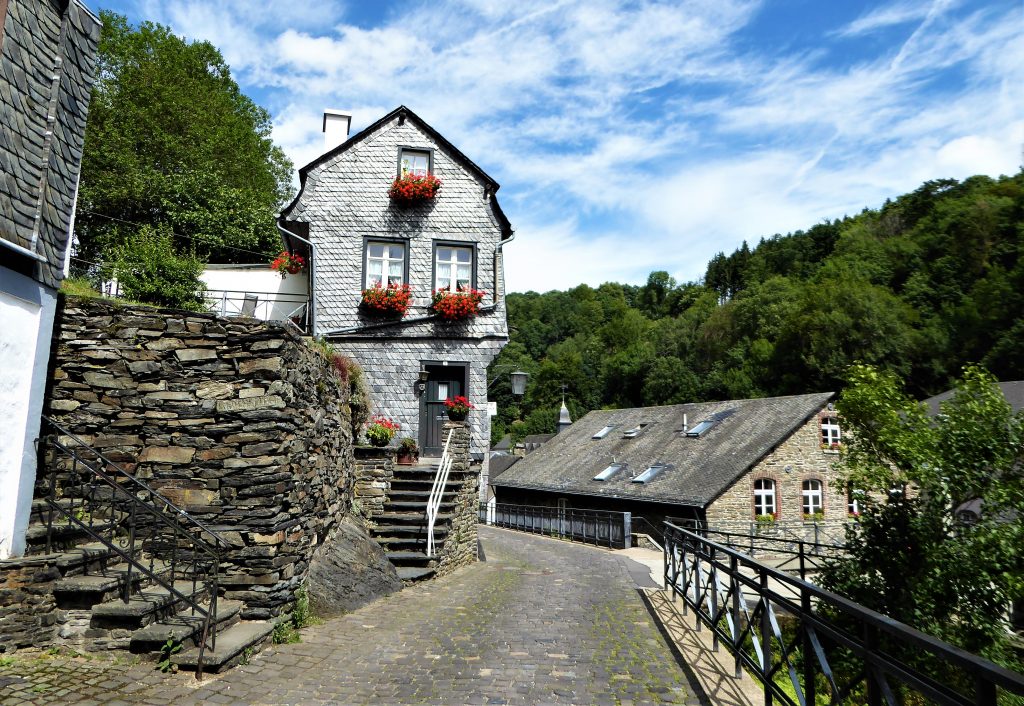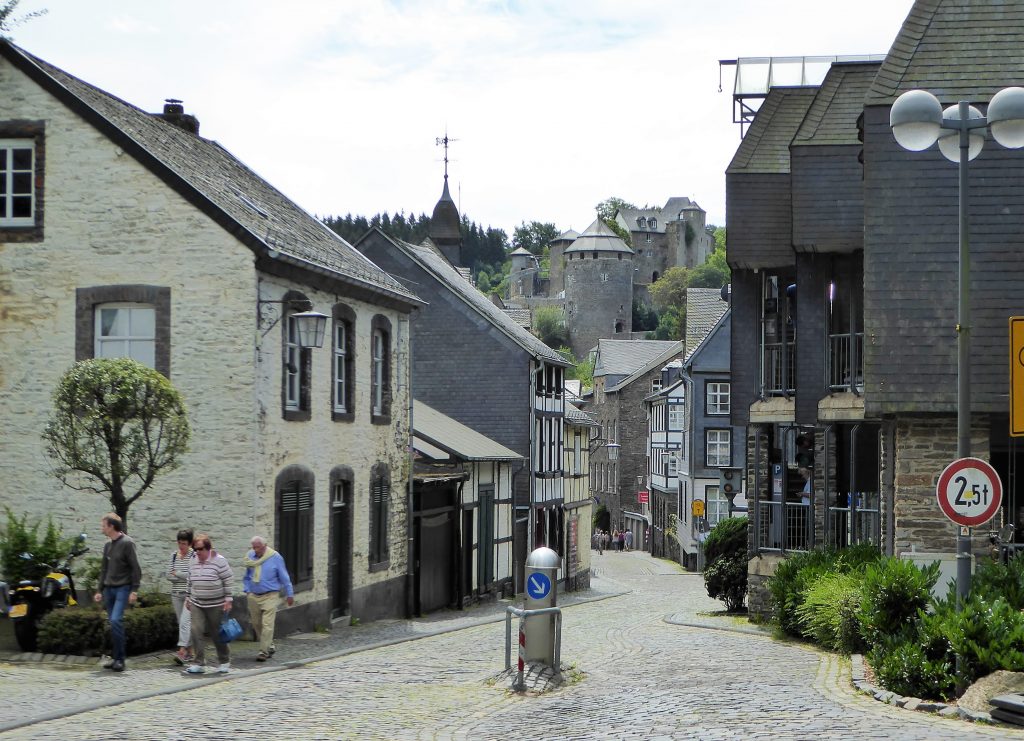 What you must have visited of course is the castle which is located above Monschau. The place where it all started… It is now in use as a youth hostel and there are concerts and operas in the summer evenings. Great place and I can imagine that the ambiance at those moments is really great!
Low Mountain Range Eifel – Germany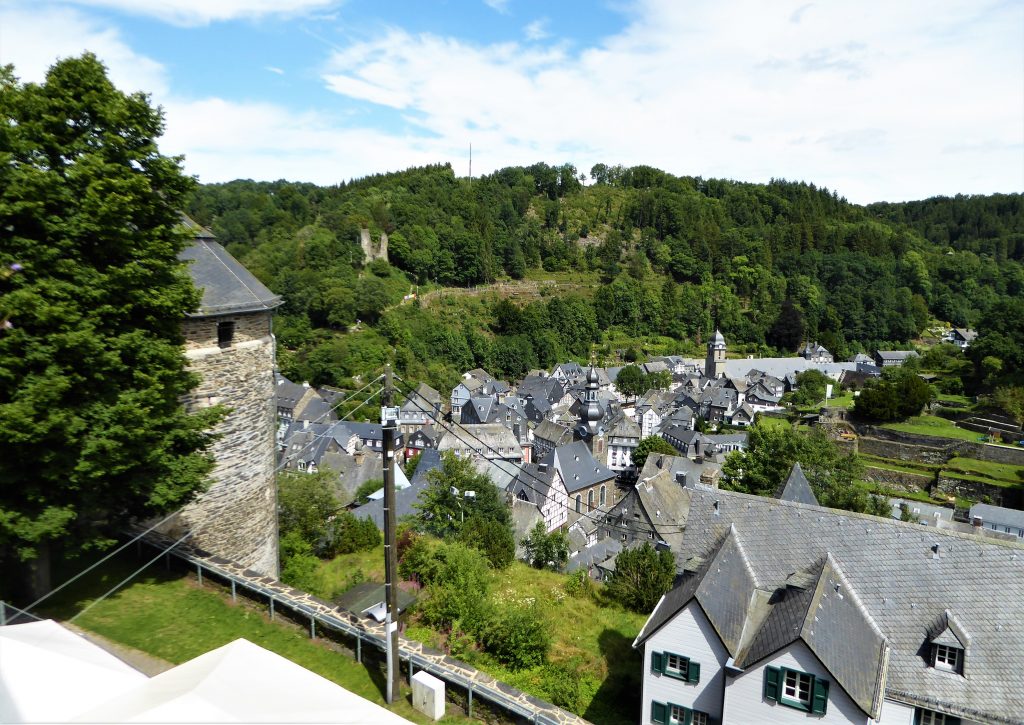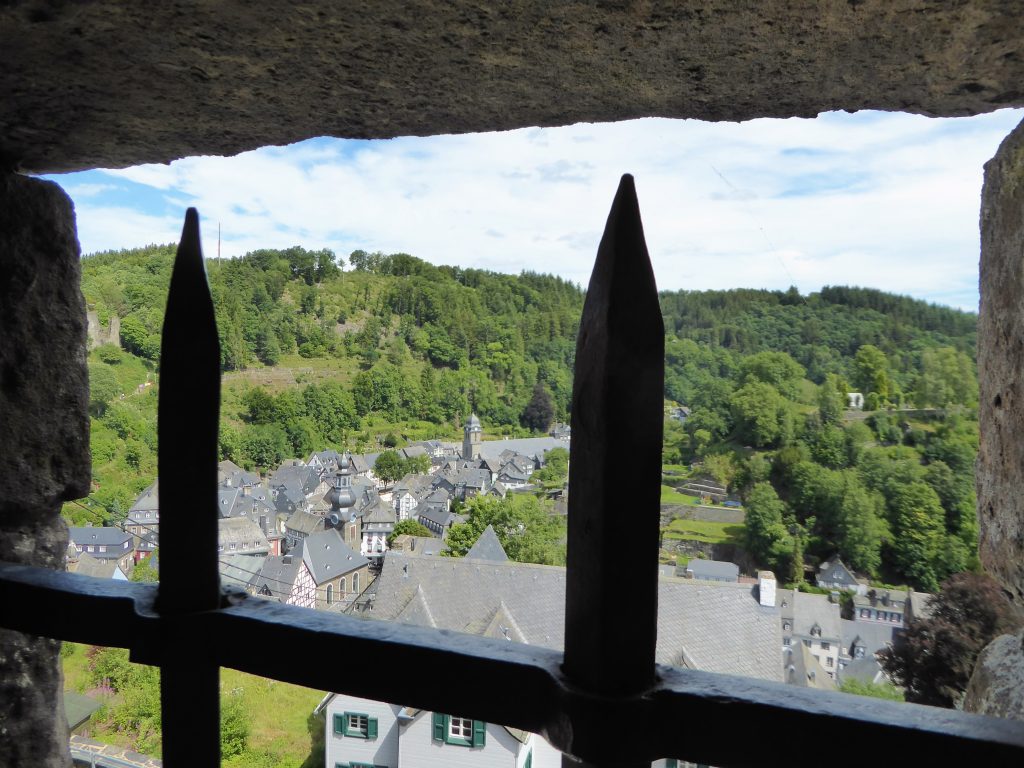 After a full day in this area it was time for my roadtrip to continue and I left this wonderful place! I can definitely recommend you to be here for a day or 2. Take a good look around you and be amazed by the good condition of most of the ancient houses.
After this visit I continued to Stolberg where I walked around for an afternoon. Read more about that in the Roadtrip Blog
Hiking or Cycling near Medieval Monschau?
Would you like to hike in Monschau or the surrounding area? I did a panorama route which lead me to a top where I could take pictures of Monshau itself. Take a look here for more walks!
Or how about cycling on shunted railroad tracks?
The Vennbahn runs directly along Monschau and I cycled a small part of it. In total it is over 128 km long and leads you along beautiful panoramas. In the meantime you learn about the background of this railway by reading the information signs along the route!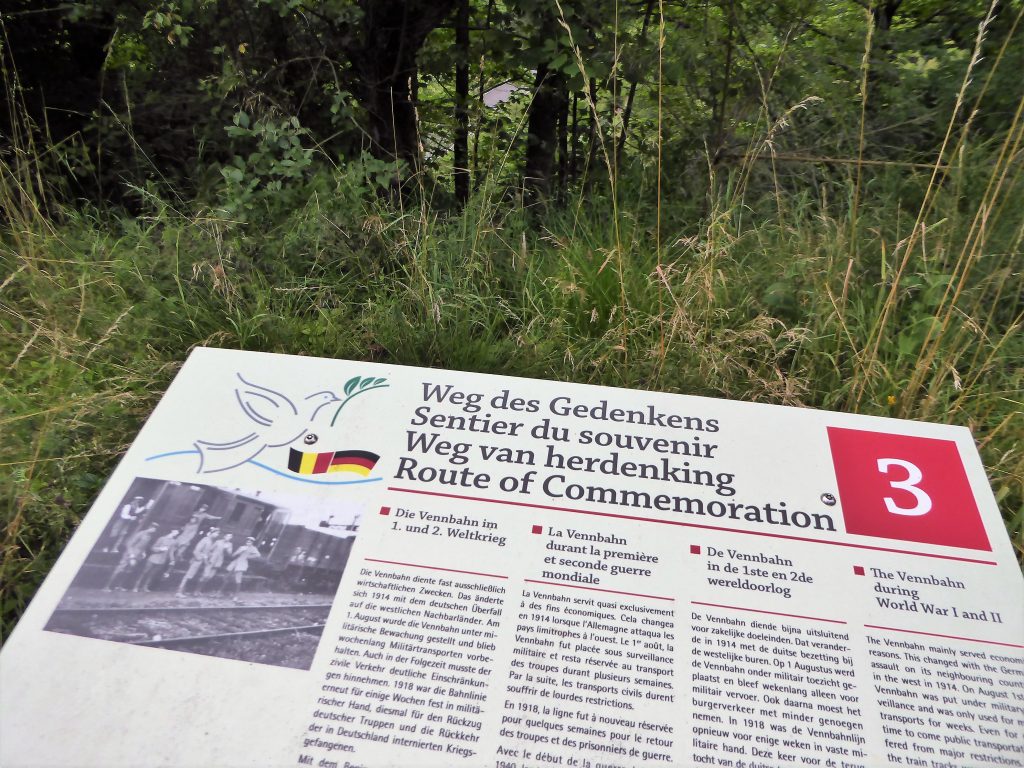 Did you like this tip on Monschau?
Then share it with others!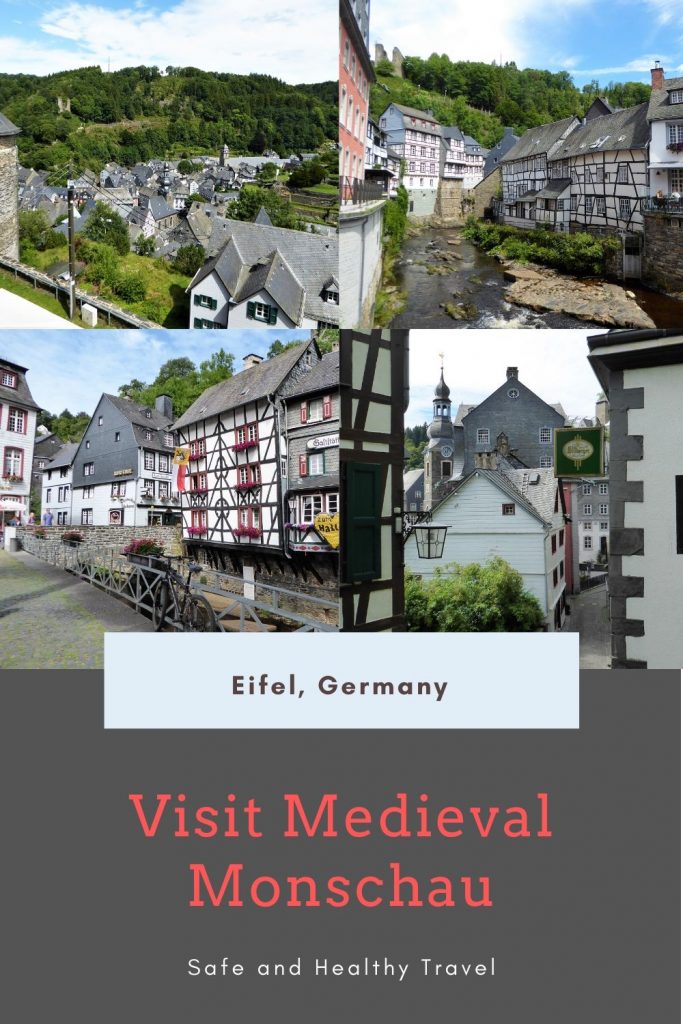 Read more about Germany:
Hiking in Germany – The Hermannshoehen Hiking Trail
The Externsteine in Teutoburg Forest – Bad Meinberg
Hiking the Rheinsteig – Koblenz
And also read some tips on how to use the trekking poles when you go hiking in Germany!
I hope you enjoy this beautiful world as much as I do!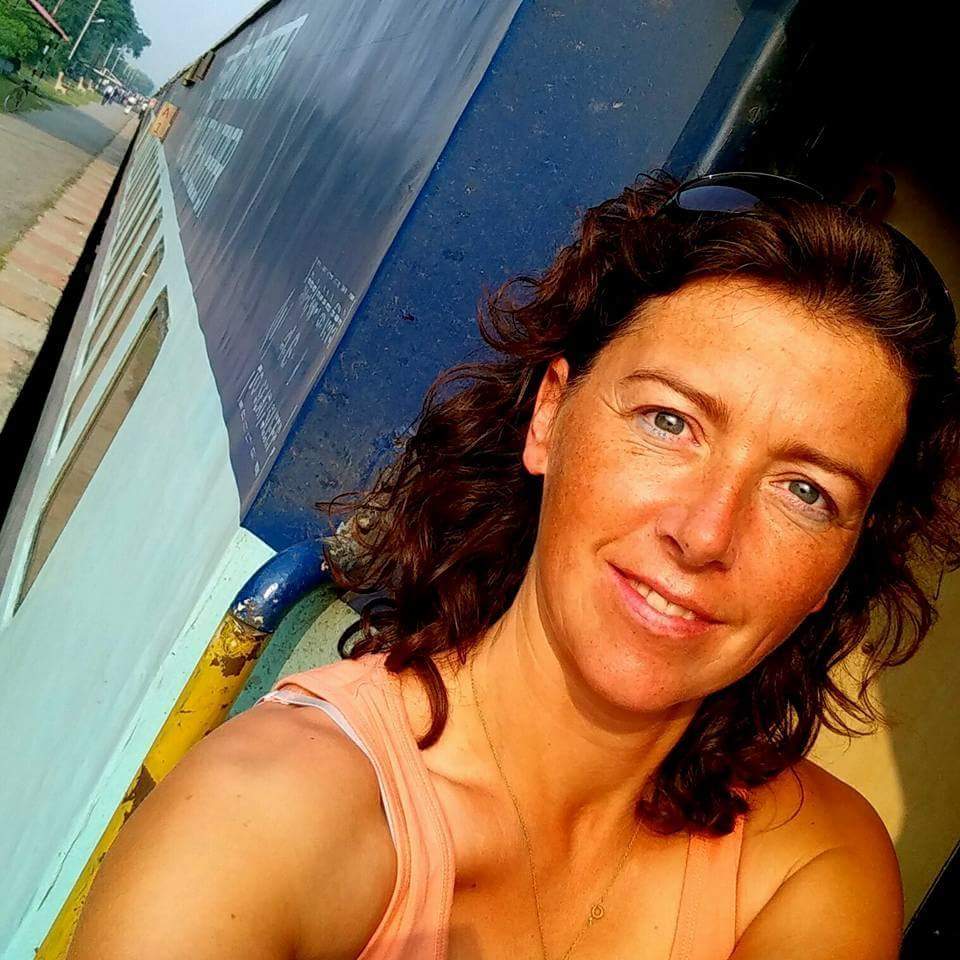 Jacomijn is een politieagent uit Nederland die jou graag laat zien hoe je veilig, actief en gezond de wereld kan over reizen. Safe and Healthy travel is a MUST