Visiting historical Çavuşin and see the Fairy Chimneys, Zelve Open Air museum – Göreme, Cappadocia
|
When you go to Cappadocia, you don't immediately think of visiting historical Çavuşin. You naturally envision the beautiful images of hot air balloons taking to the skies every day at sunrise and of the most beautiful rock formations in the area. This, of course, was also the reason for my visit to Cappadocia. I did several hikes to explore the area on foot. Read more about the Love Valley, Pigeon & Zemi Valley and how you could divide your time during your visit to Cappadocia.
Wil je graag in het Nederlands lezen? Wandelen in Cappadocië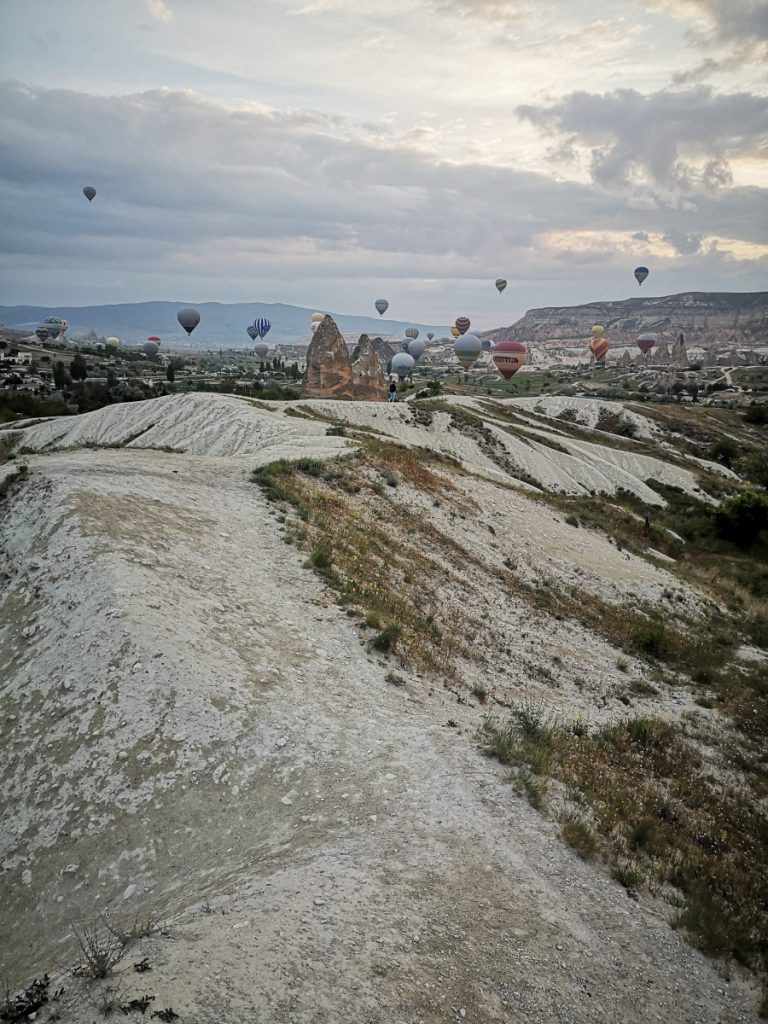 But in this update, I want to introduce you to the Fairy chimneys and the cute little village of Çavuşin. I visited both on foot, of course. Visiting Çavuşin is a must in my opinion and you can also get there in no time on foot from Göreme. The Fariy Chimneys in Zelve Open Air museum are a bit further away and I would plan a tour or taxi.
Visiting Historical Çavuşin
The biggest reasons to visit historic Çavuşin are its two old churches. St John the Baptist chapel is there in the middle of the village on a dominantly present mountain. It is worth it just to stand on the mountain and see the different rooms there. And, of course, enjoy the view. There is also Çavuşin Church, just outside the village in a cave.
I have visited some more sites of St John recently, namely the place where he was beheaded in Madaba, Jordan.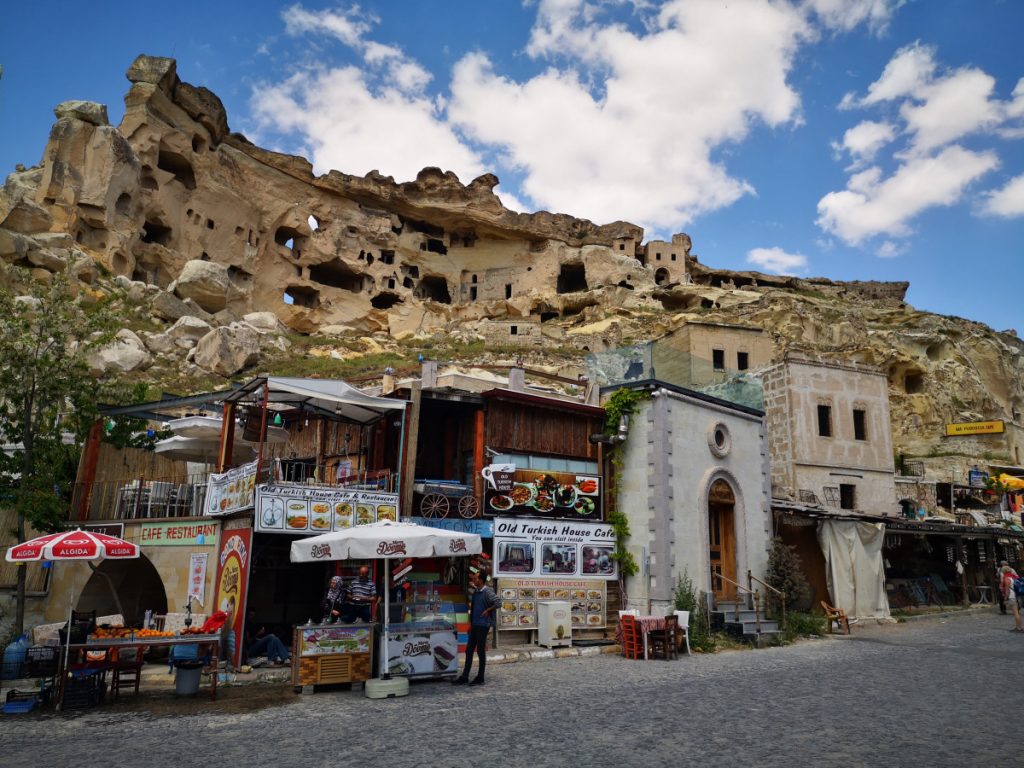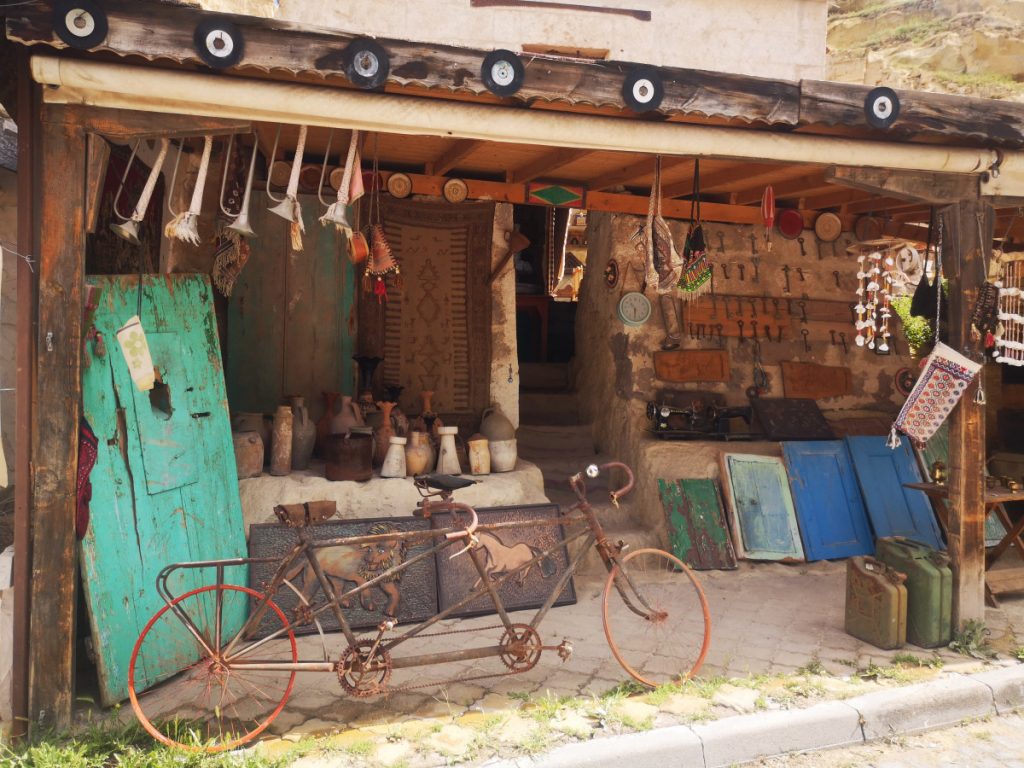 The first time I walked into Çavuşin, I came right into the junction where you have a full view of the mountain on which the chapel of St John is. Unfortunately, half the mountain is closed due to danger of collapse. The second time I walked into the village, I did look for a path to go up and came to a nice staircase on the right where more tourists went up.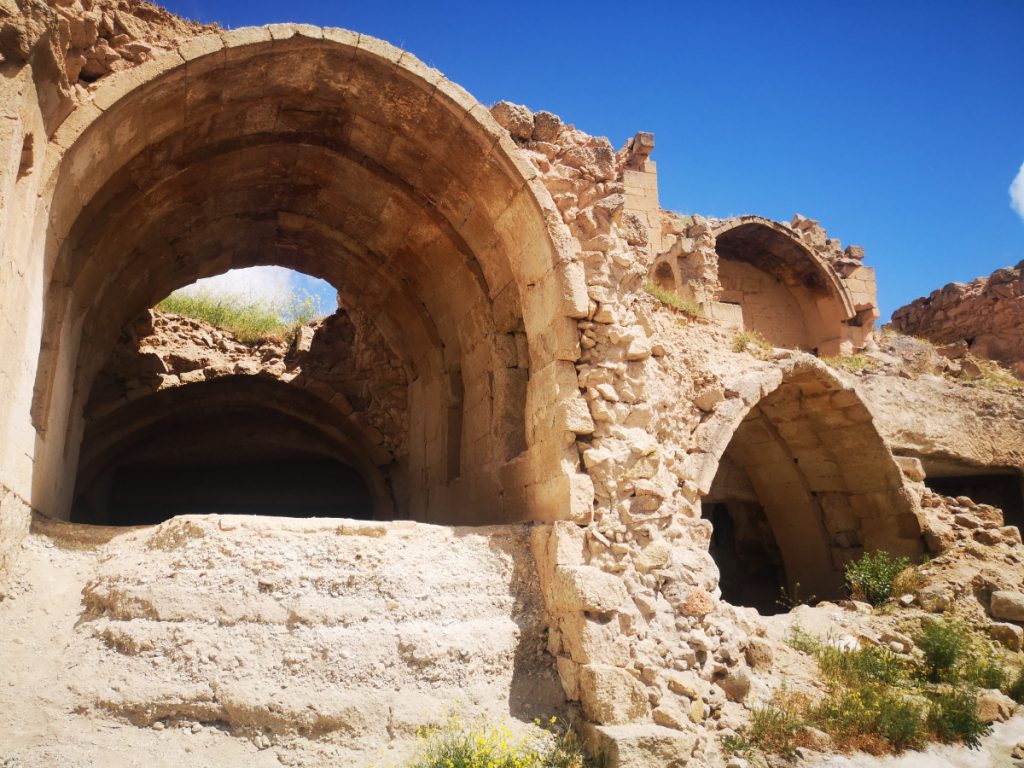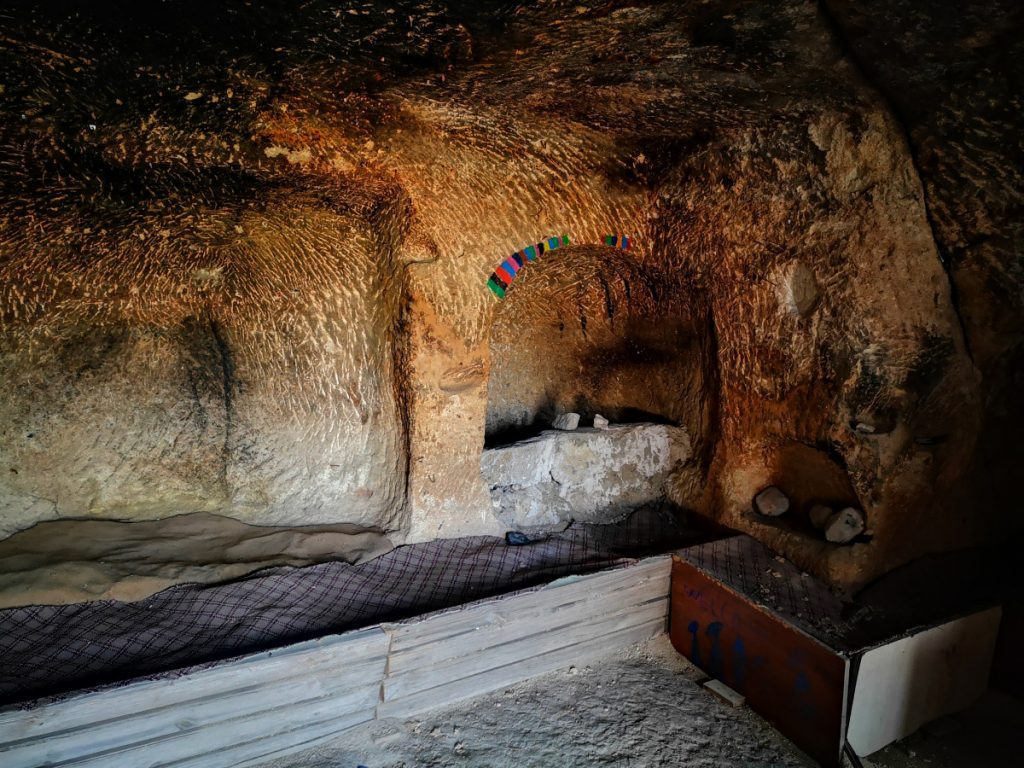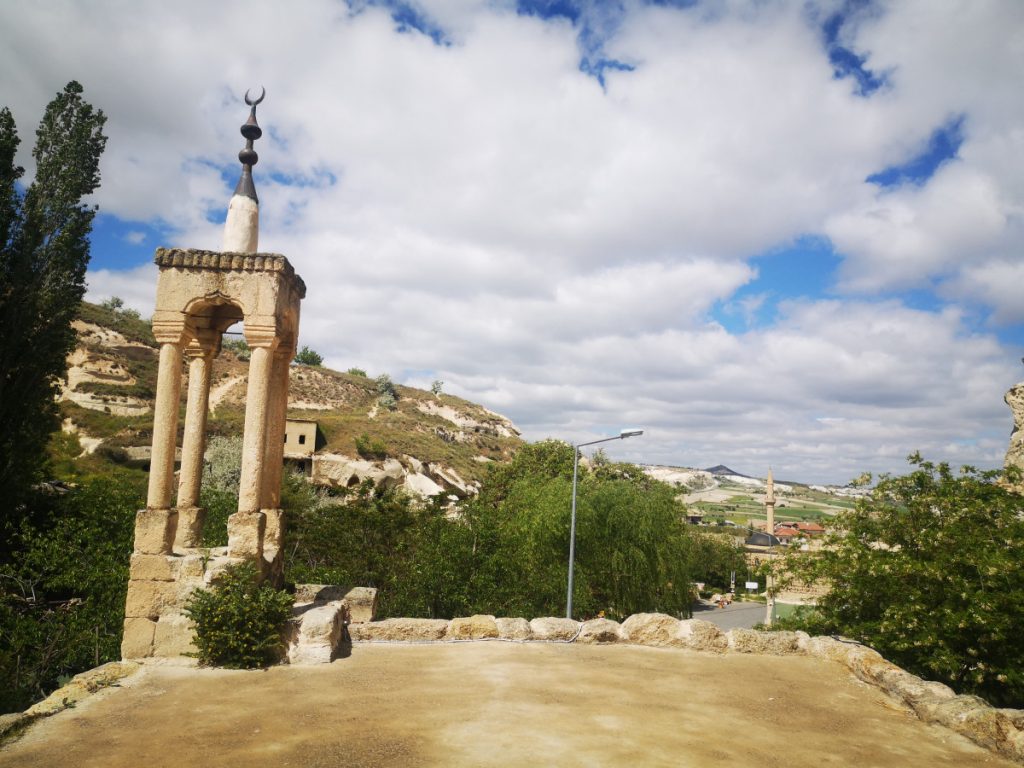 Visiting Historical Çavuşin
Çavuşin Church was also unfortunately closed at the time of my visit. After a brief chat with the guard, I was nevertheless allowed to go up into the leftmost side of the rock. There was apparently less chance of collapse there than in the actual church, the entrance on the middle front. It seems to be a super beautiful and large church with beautifully painted walls.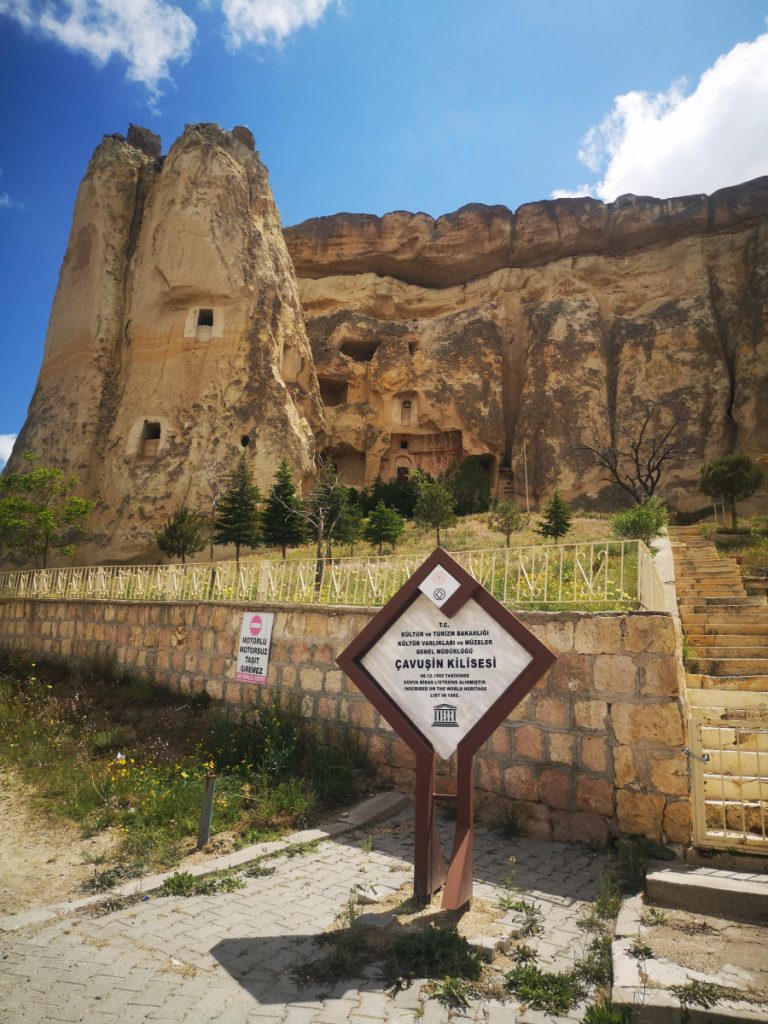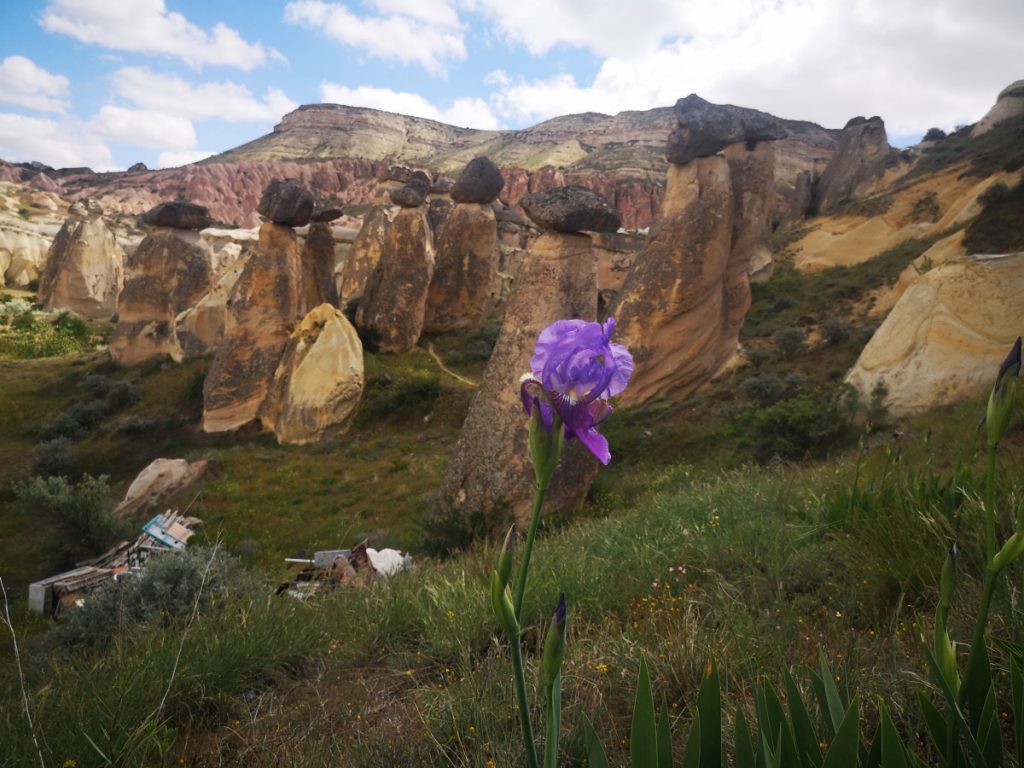 So even though the churches were closed during my visit to historical Çavuşin…. Still, I found it a very atmospheric and nice place. There is an ancient atmosphere in the main street at the bottom of the mountain. The many shops and terraces are also very nice to visit.
Fairy Chimneys
Just past Çavuşin church, you will see the first Fairy Chimneys on the right. On my last day in Cappadocia, I hiked further into the area from here. Was a nice challenge and one with some detours as many roads here are dead ends. It is not a hiking area but vineyard area. Still, at one point I came to a place where I could climb up and suddenly find myself among the many tourists. Through a small (illegal) path I had entered the Museum Zelve Open Air Museum.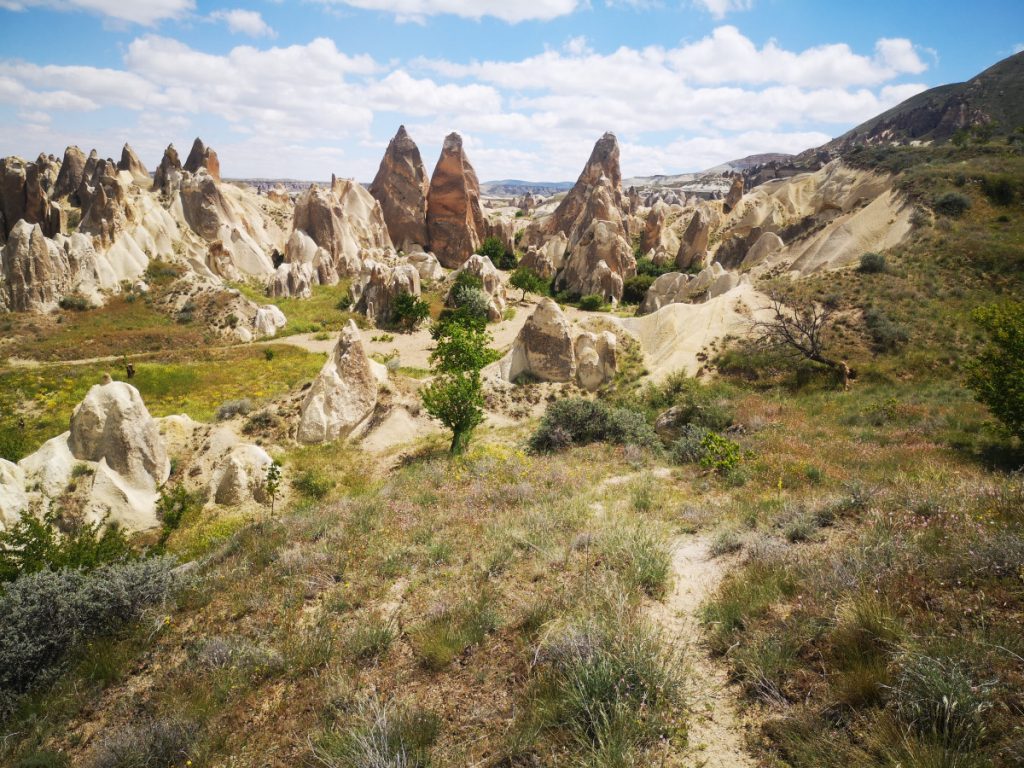 I found it super to walk here. I did walk into a dead end several times and felt like I was wandering a bit in the area until I suddenly found myself in front of a climb that took me into the museum. Of course, this is not the way they intented it as I did not pay the entrance fee…..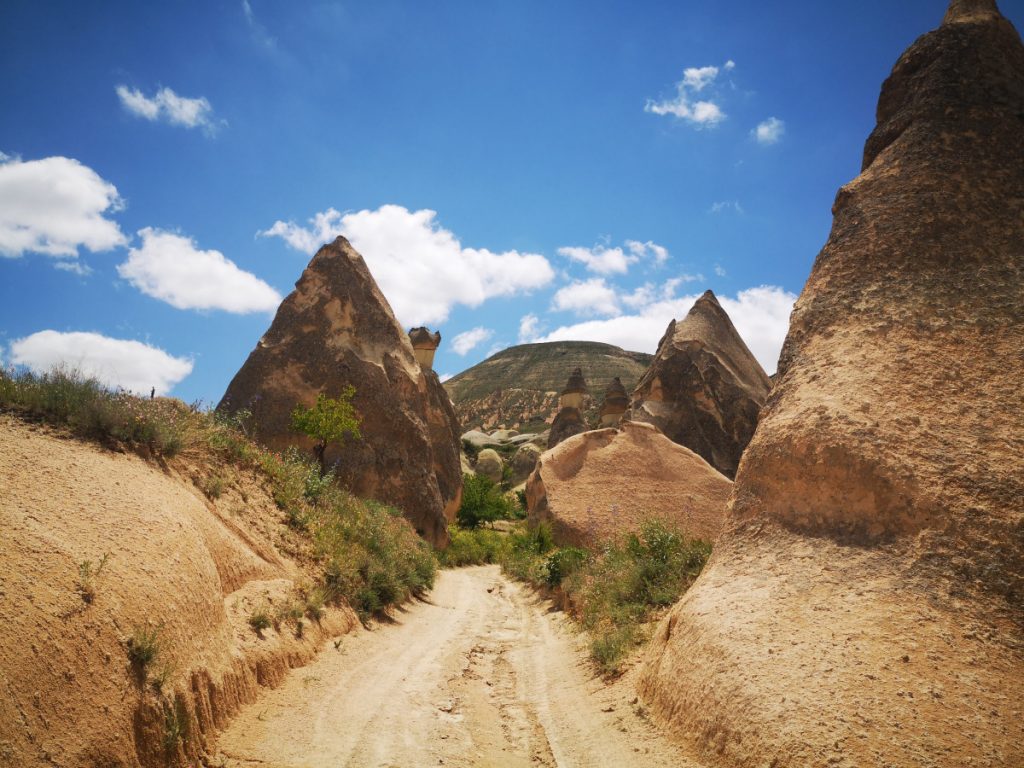 Of course, I cannot recommend this but I must confess that I did not realise where exactly I was. Only when I had walked through the area and towards the main road did I see that I had to go through a number of gates to get out again. I had apparently entered the Zelve Open Air Museum. I then sat there for a while on the terrace with a cup of cappuccino and enjoyed the wide view.
Visiting Historical Çavuşin
& Fairy Chimneys – Zelve Open Air museum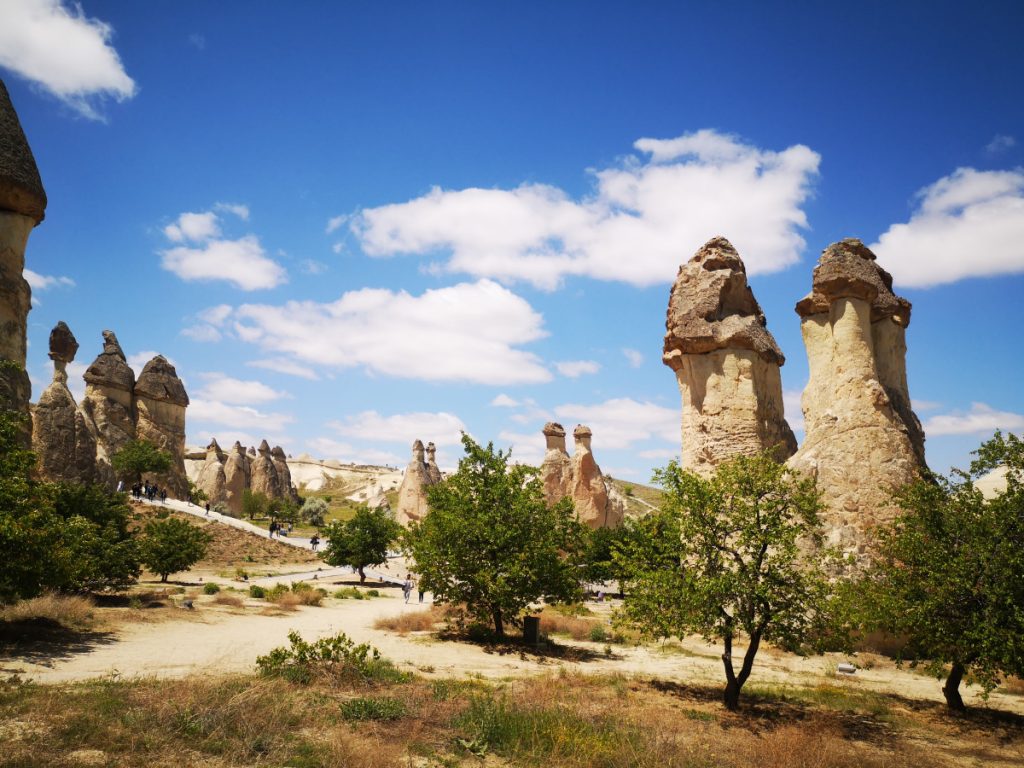 This is another really cool area with lots of beautiful fairy chimneys. Just past the church in Çavuşin, there are also a few and you can get to know them. I really liked this museum for a while but you do walk right between dozens of tourists.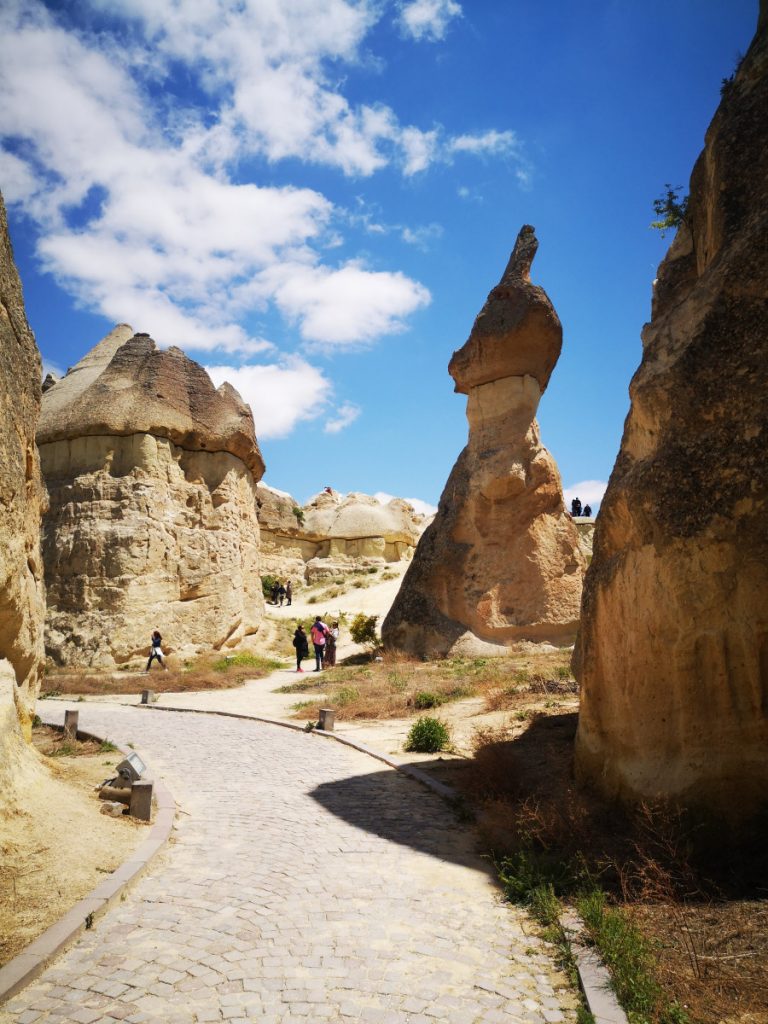 Coming and going
Çavuşin is about a spacious 4 km from Goreme.
So it's a fine walk if you have the time. Then if you dip slightly into the Red & Rose Valley area, you'll grab some nicer trails than just walking along the main road.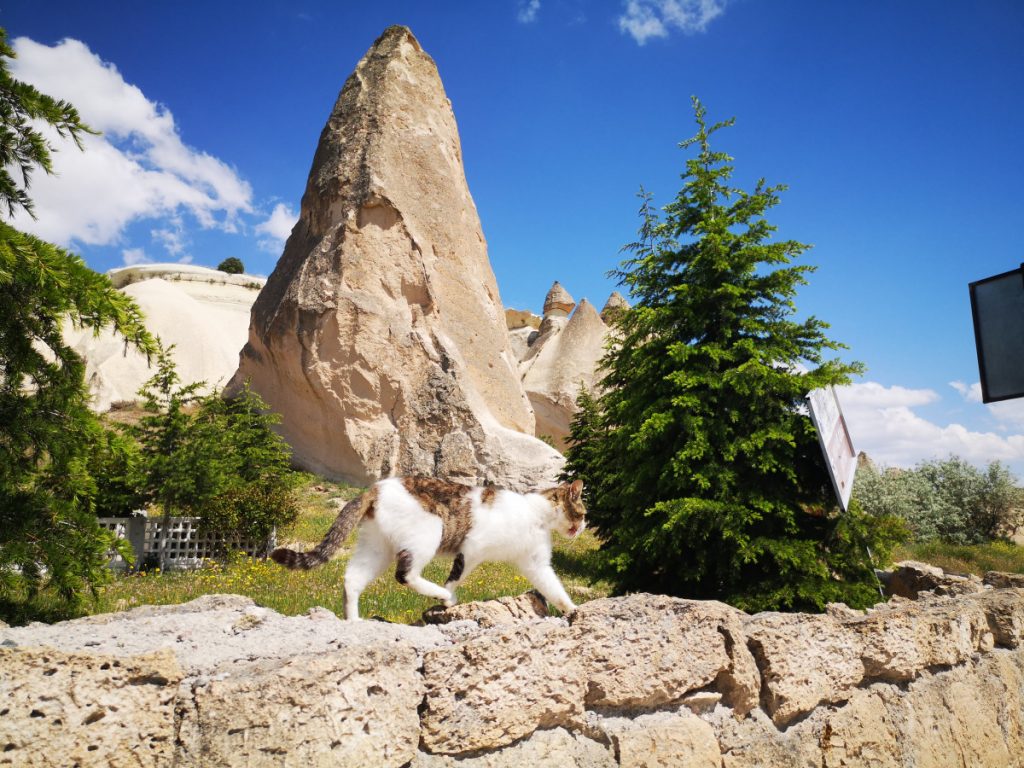 Zelve Open Air Museum is about 8 km from Goreme
So this is actually better reached by taking the main road. The paths are partly dead ends and you have to walk by feel and keep right direction. So I can't recommend this. Also because you won't get to the entrance 🙂 If you take a dolmus or taxi, you'll be at the museum entrance in no time.
There are also quite a few day tours offered by the various hotels that also include Zelve museum in their programme. I did the green tour and it took me to Ihlara Valley and the underground city.
Devrent Valley is a bit further away from Göreme.
A number of tours you can book also pass this viewpoint. I walked there but definitely cannot recommend it. It's on the way to Ürgüp and nice paths through the area I couldn't find there so I walked on the paved road and cars drove fast past me. Oh well, a bit of adventure is part of it right? I walked over 25 km that last day and these were definitely not the nicest km I made in the amazing Cappadocia.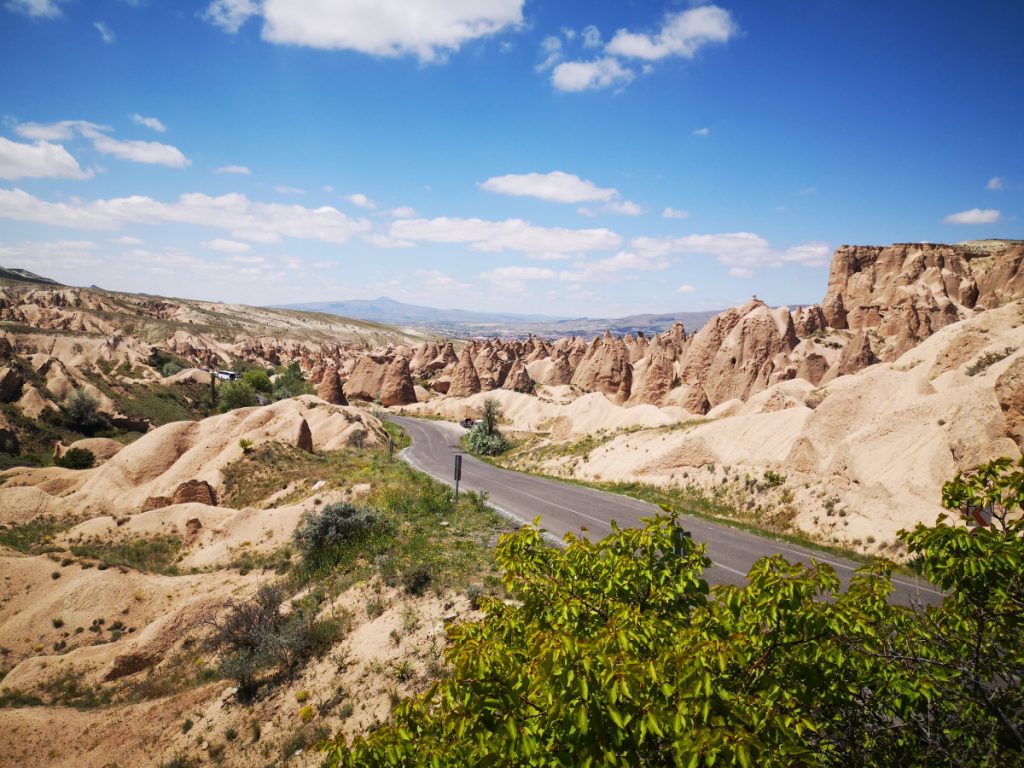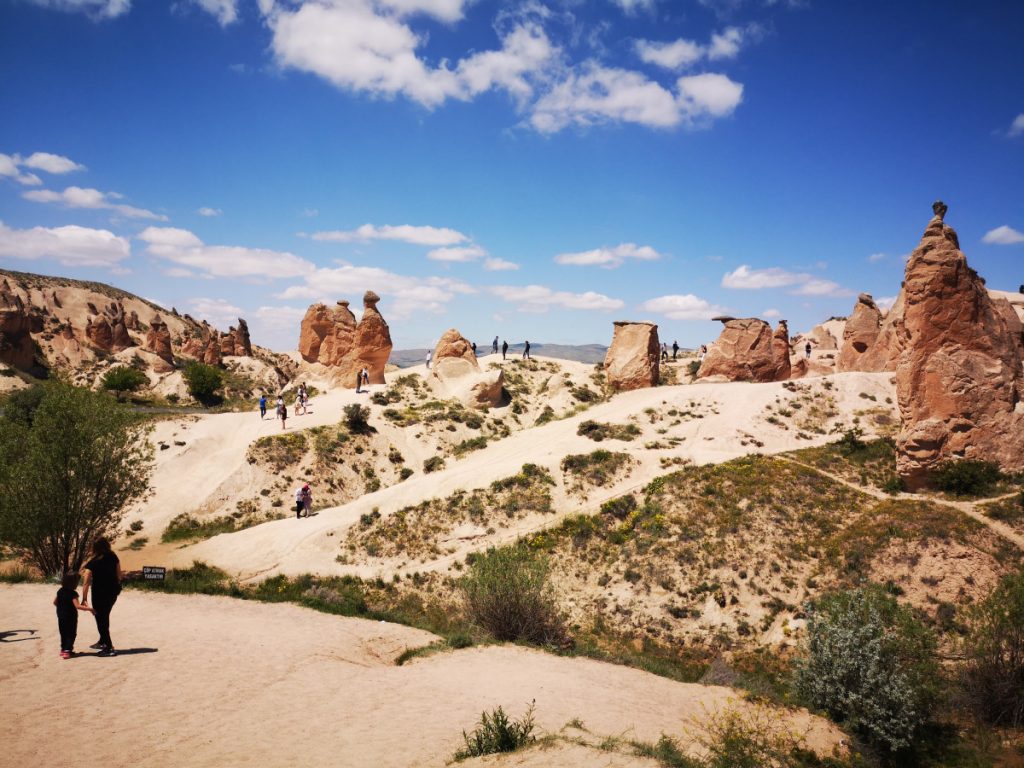 Want to read more?
Hiking in Cappadocia – All about How & Where – Turkey
Hiking a Pilgrimage in Summer or Winter – Camino Frances
Adventurous Hiking in a Wadi – Jordan & Oman
Hiking in Dana Biosphere Reserve – Jordan
Hiking in the Wadi Shab – Oman
Or how about hiking in the Alps?
Hiking the Alpe Adria Trail – Mallnitz E7 to Seeboden am Millstättersee E11 – Austria
I hope you enjoy this beautiful world as much as I do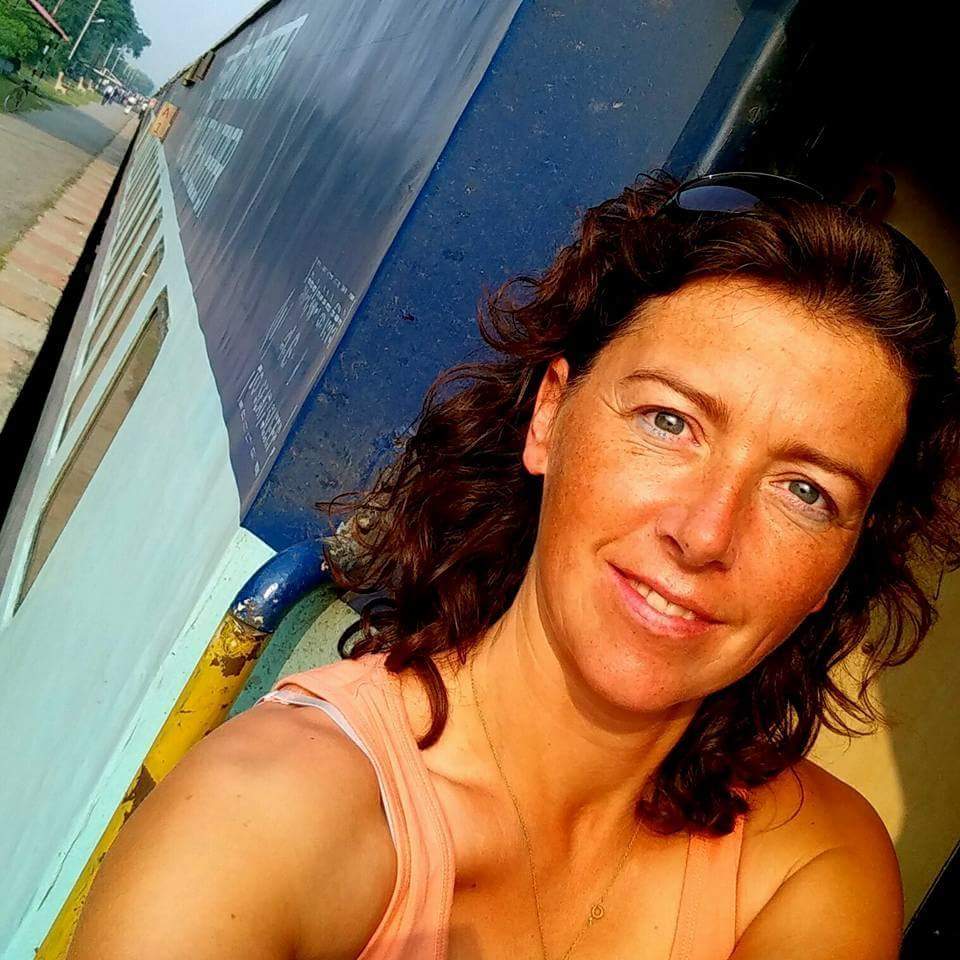 Jacomijn is een politieagent uit Nederland die jou graag laat zien hoe je veilig, actief en gezond de wereld kan over reizen. Safe and Healthy travel is a MUST