Tubing in Vang Vieng – Laos
|
I went to Laos  and did some research so I knew ofcourse about the famous Tubing in Vang Vieng. At the time of my travel to Vang Vieng it was not all that popular anymore. But still I wasn't sure what to do. I am not an alcohol drinker and was thinking about maybe trying, just to see.
Tubing in Vang Vieng – Laos
When I came to Laos I came by nightbus from Hue to Vientane. It was to busy in the capitol, there was some kind of important meeting going on. In the streets where lots of policemen and I couldn't find a hotelroom, which I could afford. So after a couple of hours seeking and wandering the streets with my backpack I went to a touristagency and  booked a trip to Vang Vieng.
Seeing those pictures of the nature and the Nam Song river and I immediatly wanted to swim and relax!!!
Vang Vieng is a village about 160K north of the capital Vientane. The village counts 25.000 citizins and is situated along the Nam Song river. Untill it was discoverd by the tourists it was like it would've been a 100 years ago. Now there is a hippie atmostphere and a relaxt vibe goes through the whole village.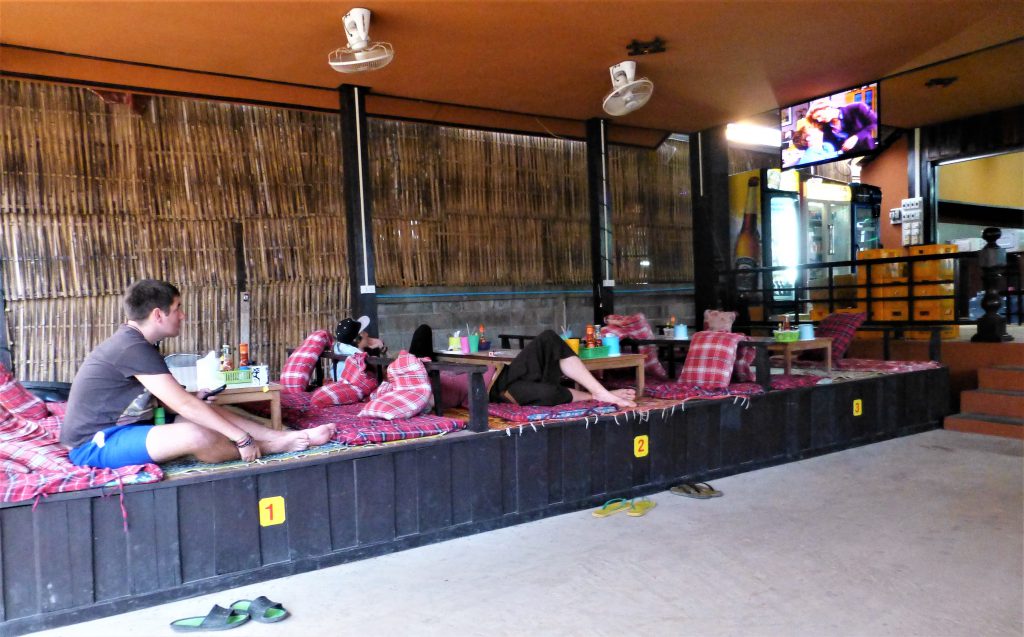 Most restaurants in Vang Vieng are like these, just lie down and eat 🙂
In Vang Vieng I booked an active tour for the next day.
Tubing in Vang Vieng AND safety
I heard all kinds of stories about all the accidents/deaths that happened every year. Most of them because of the abuse of alcohol and drugs…along the riverside are accomidations to get booze.. Having fun is one thing but when safety is not garanteed anymore you need to think about not going. There were so many young travelers/backpackers that won´t think of that themselfes.. I do think it´s a good thing that they will just banned it. So sad for the families of backpackers that did drown here in the Nam Ou River.
At the agency where I booked my tour the told me to take the tour which includes a bit of tubing. Not down the Nam Song river but into a cave. After the cave visit we would go down the Nam Song river with a kayak. They changed the originally tour into this one.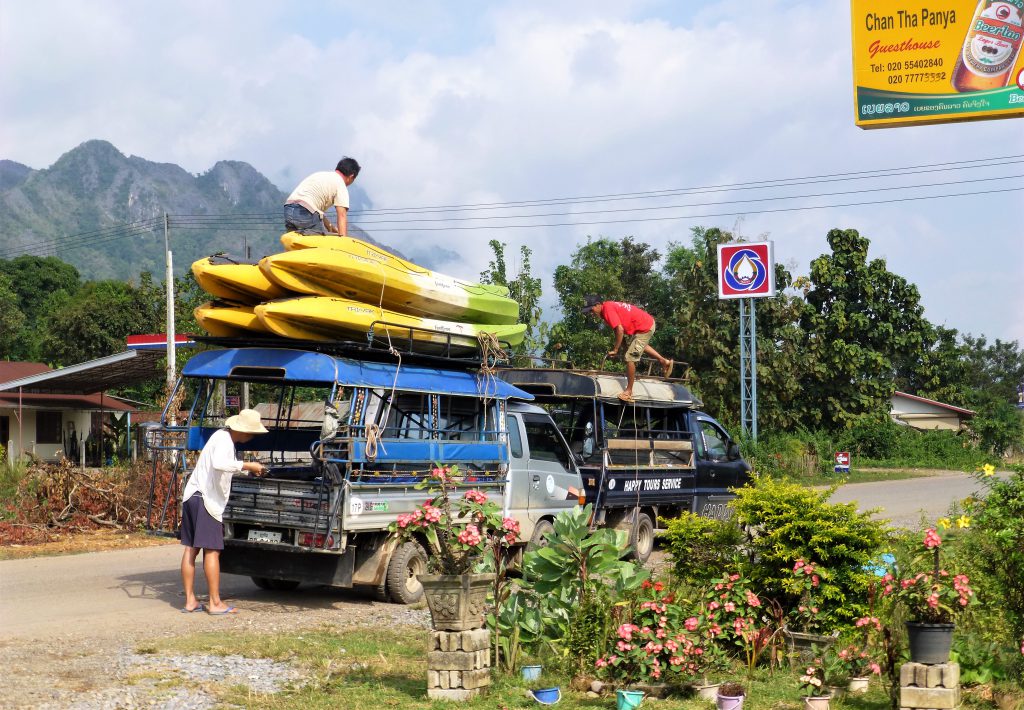 And yes, that's Asia. Having a flat tire and changing buses 😉
That first day I booked the new, safer and also more active tour. And I can tell you already that I loved that day. The weather was great and we had a nice group. Two girls from Holland, a girl from the USA and a man from Israel.
Tubing in Vang Vieng – Laos
And Kayaking!!
First we went to a cave, it was called the elephant cave. They all name caves after something they see in it 🙂 When you look at the picture you see an elephant standing on the rock!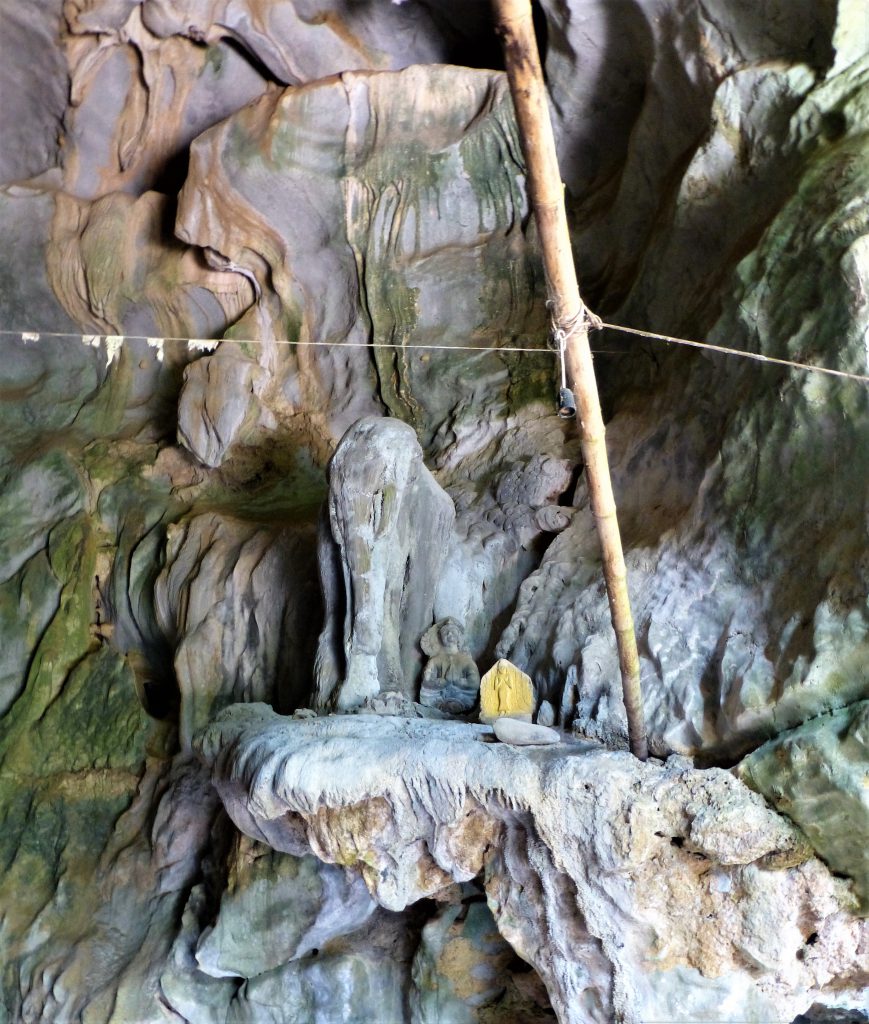 You see the elephant standing up there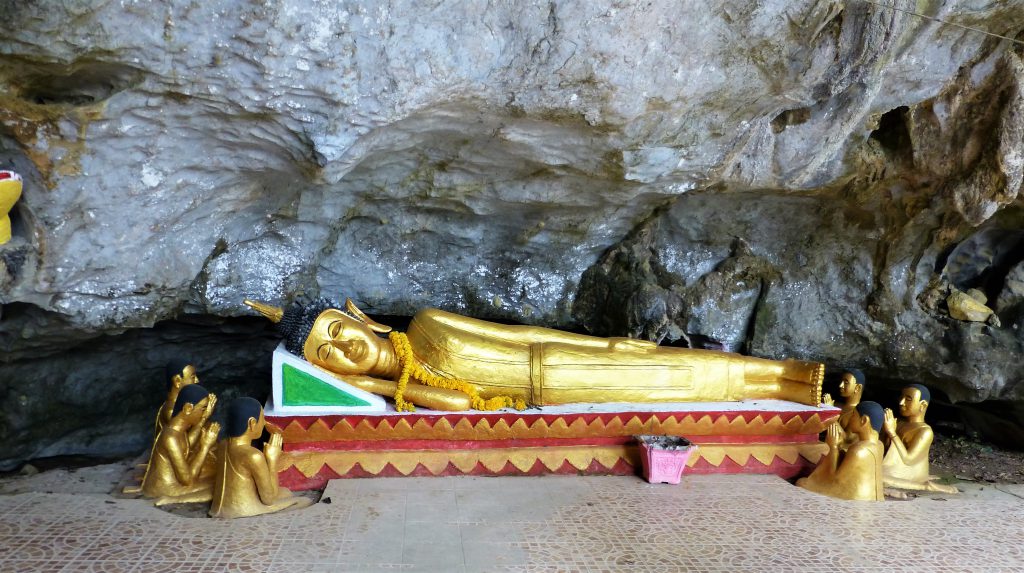 Reclining Buddha in the back of the caveTo go to the place we would go tubing we had to walk through a village and we saw how the laotian people lived there. Very primitive.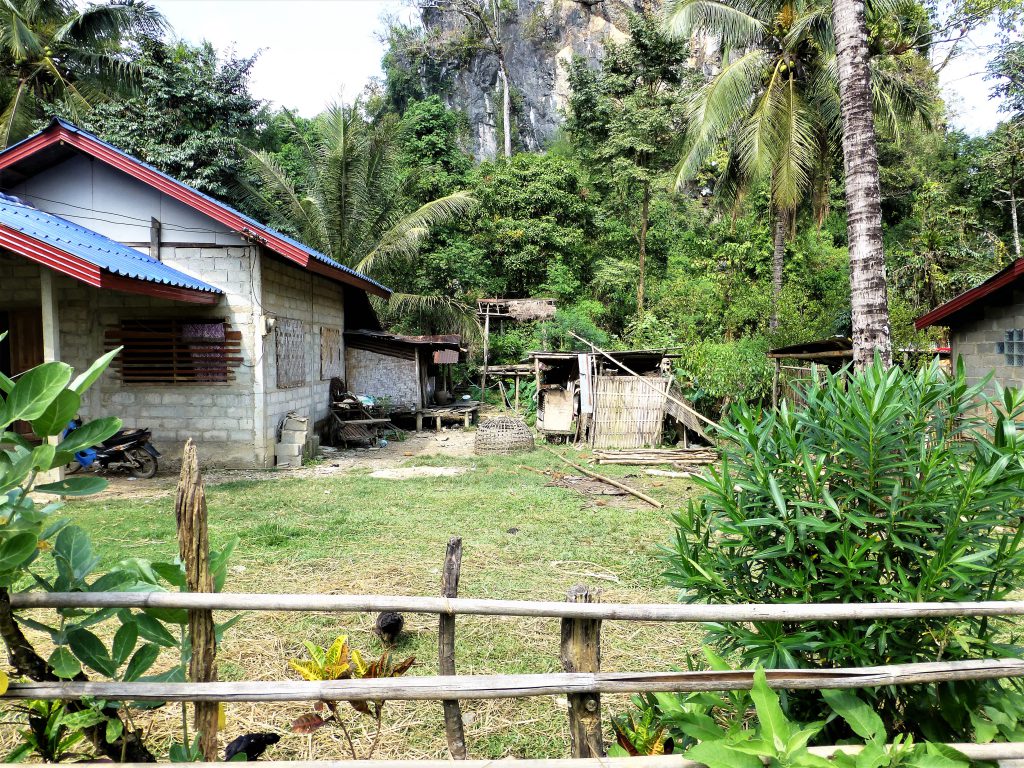 How do you like this house in the local village near Vang Vieng?

 I loved walking the landscape with the great mountains in the background!!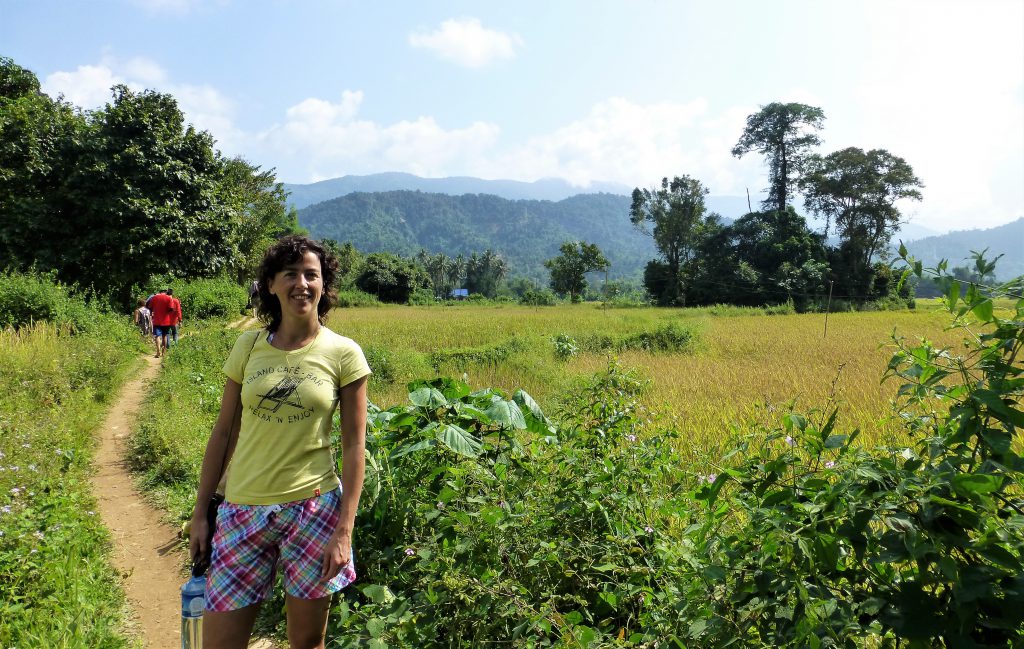 Short hike and cave tubing in Vang Vieng
It was  really great walking through the area surrounding Vang Vieng. We did see how the local people lived. After this hike we went into the cave with our tube. We got a lamp on our head so we could see in the darkness. At the ceiling of the cave they attached a cord which you could hold on to. And you could grab it to pull yourself through the cave. We were in there for about 45 minutes. Some parts were shallow and we had to walk to the next part of the cave to tube again. At first is was a bit chilly but after a while you got used to it. And being active helps also 😉
Tubing in Vang Vieng, not on the Nam Song River
But in a Cave!!
It was a great experience! I didn't took my camera into the cave so unfortunately I haven't got any pictures from within the cave. But imagine going in there and it starts to get dark. After some time holding on to a rope attached to the ceiling we had to walk a bit. The water was not deep enough, taking our tube with us and tubing again on the other side. It was a great and cool experience!!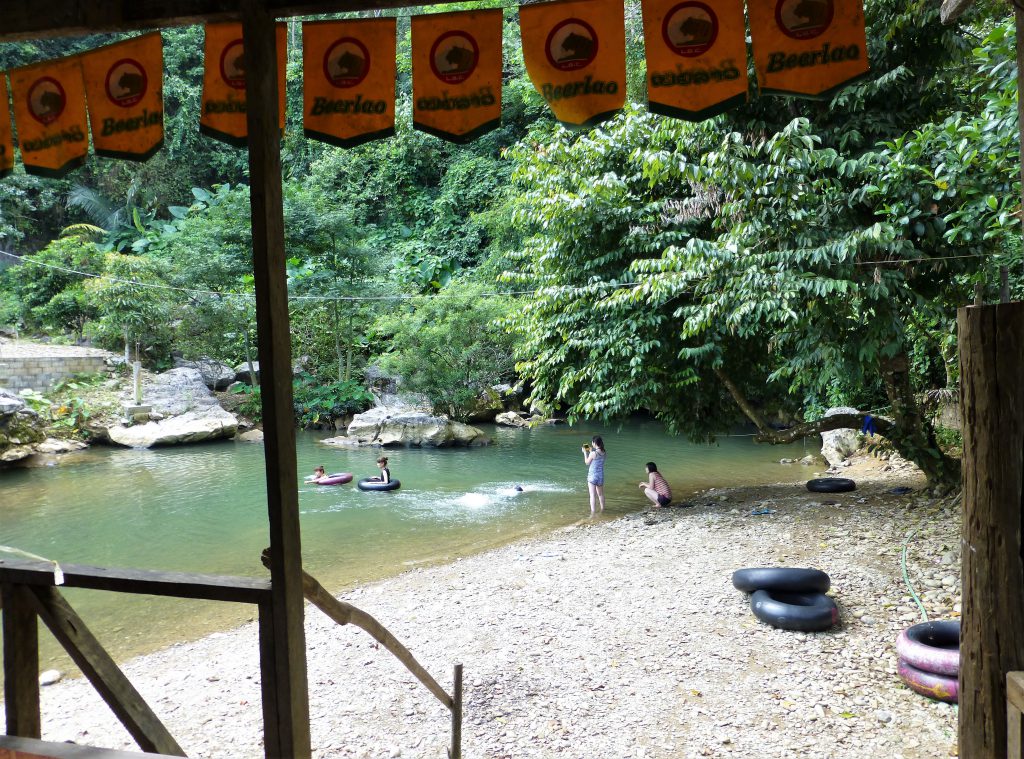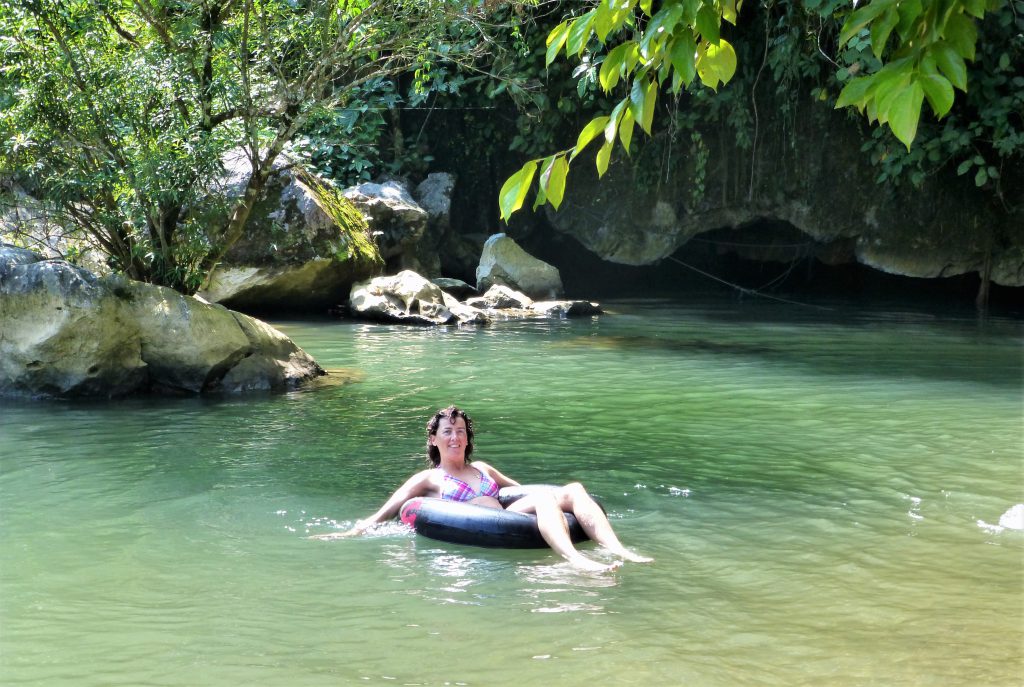 In the background you see the cave with the cord hanging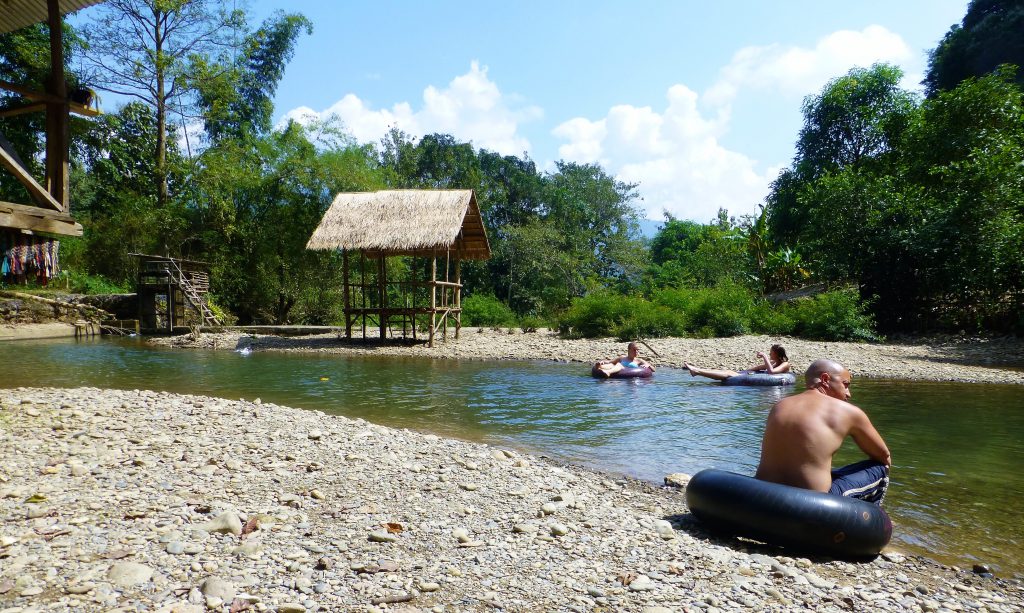 Can you imagine sitting there…tubing around the area and enjoying the sun? It was a great relaxing afternoon! We had a nice BBQ dinner and enjoyed the peaceful scenery.
After we walked back to the car, through that local village again.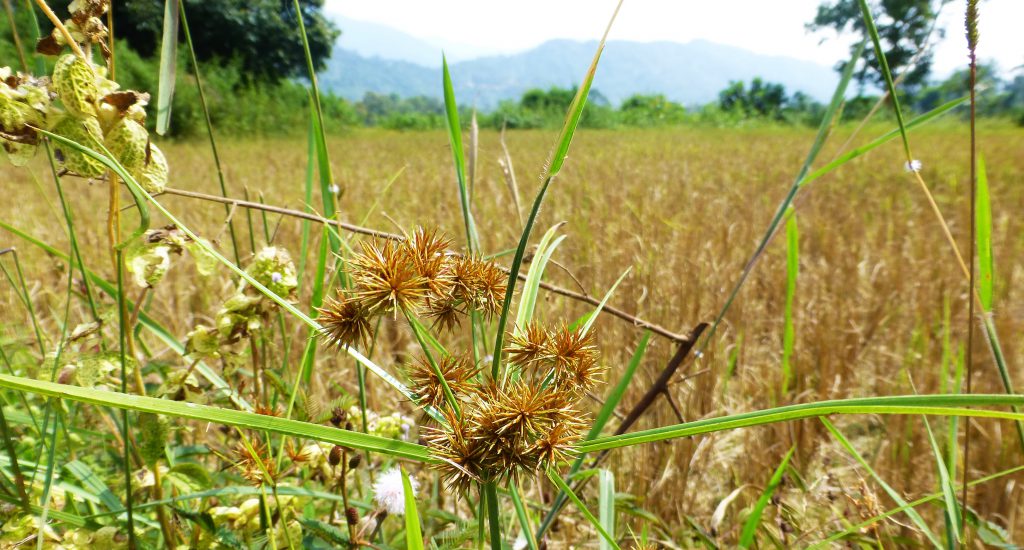 Tubing in Vang Vieng – Laos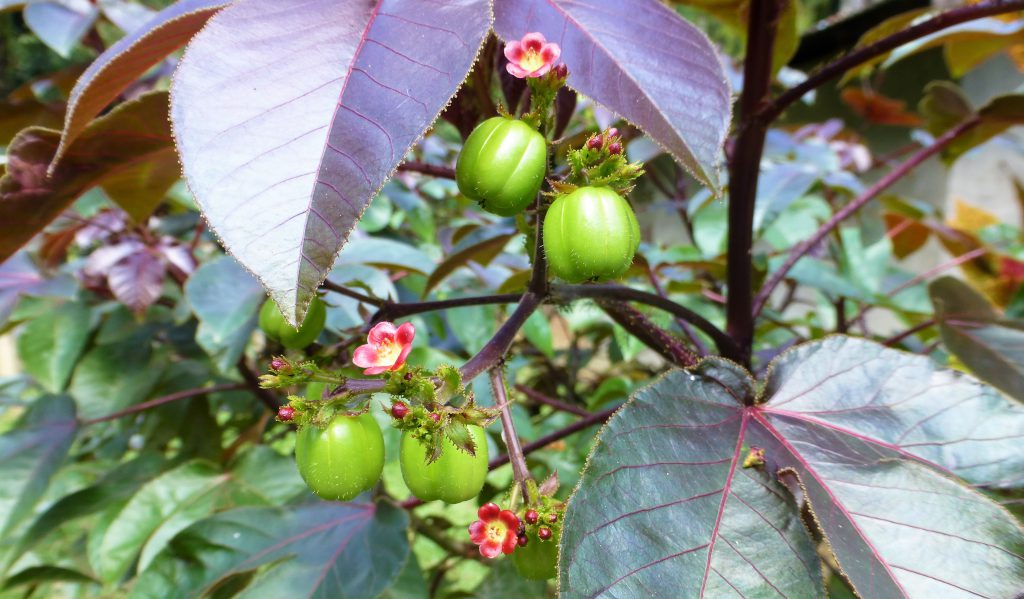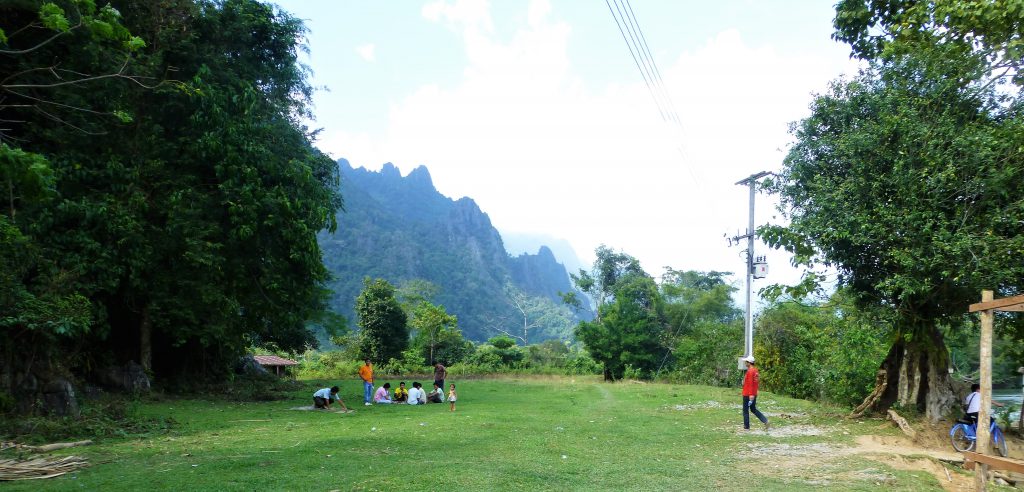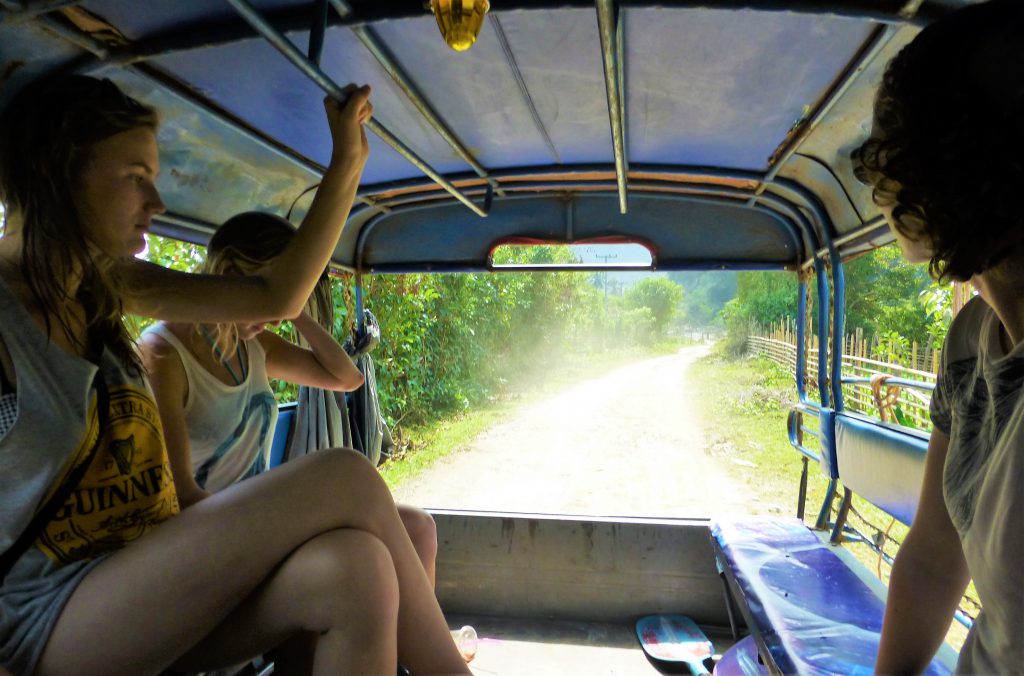 Just get in the back of an open car and drive to the location to go kayaking
Kayakking down the Nam Song River
We went kayakking for 18 kilometres. Well, that is what they told me….I do think it was less. But still we were kayakking for a while .. back to Vang Vieng.
But it was nice! Doing something after a while not sporting felt good!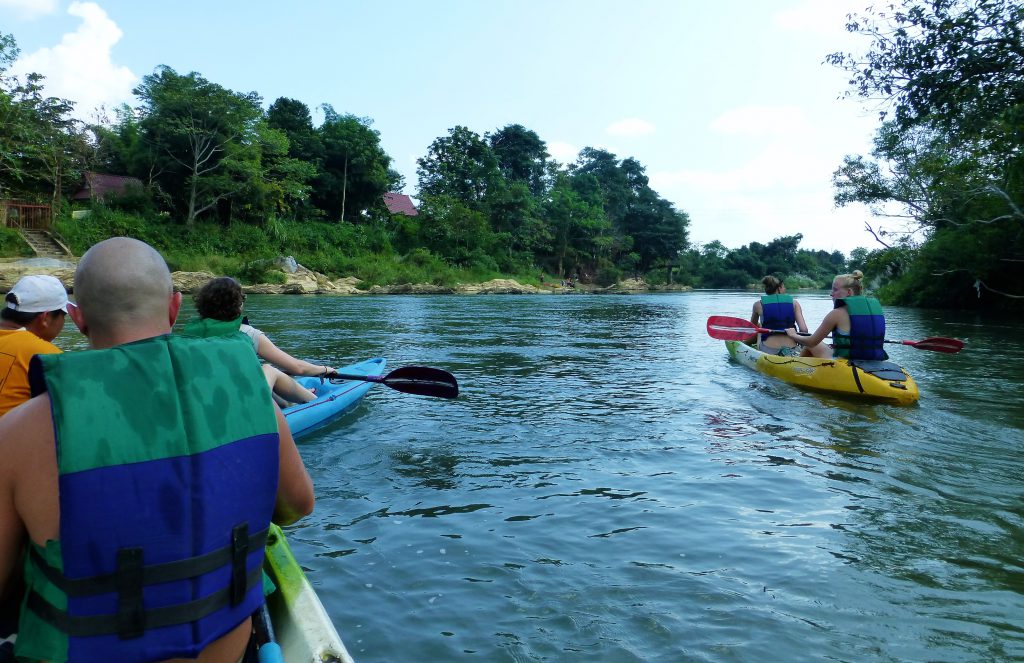 Halfway down the river we went ashore to drink something. There I did saw many tourist drinking beer and other alcohols. Most of them were on a tube.  When we went on with our kayak we saw many people on a tube. Many of them asked if we would give them a ride. For most of the people it was too far. They are hours on the tube….just floating. You can only peddle with your arms to speeden up but that is not much.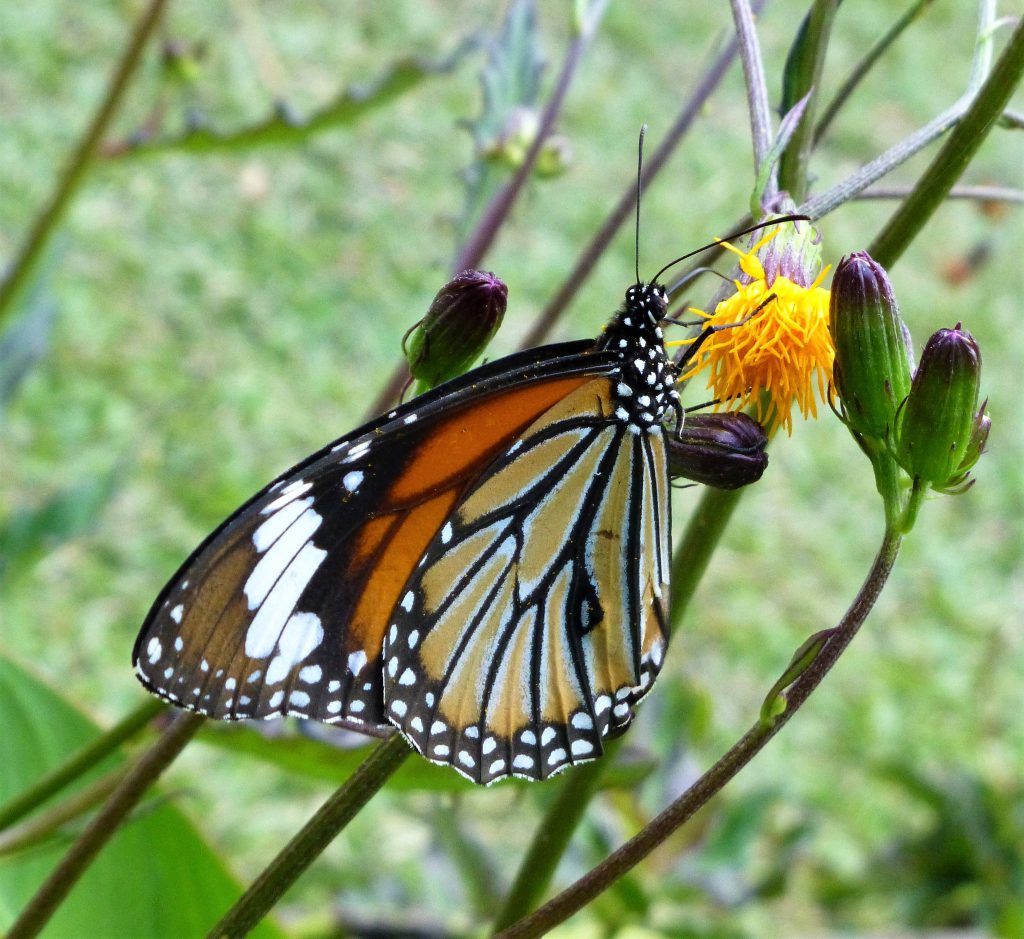 I saw these on our stop along the Nam Song River. Aren't they beautiful?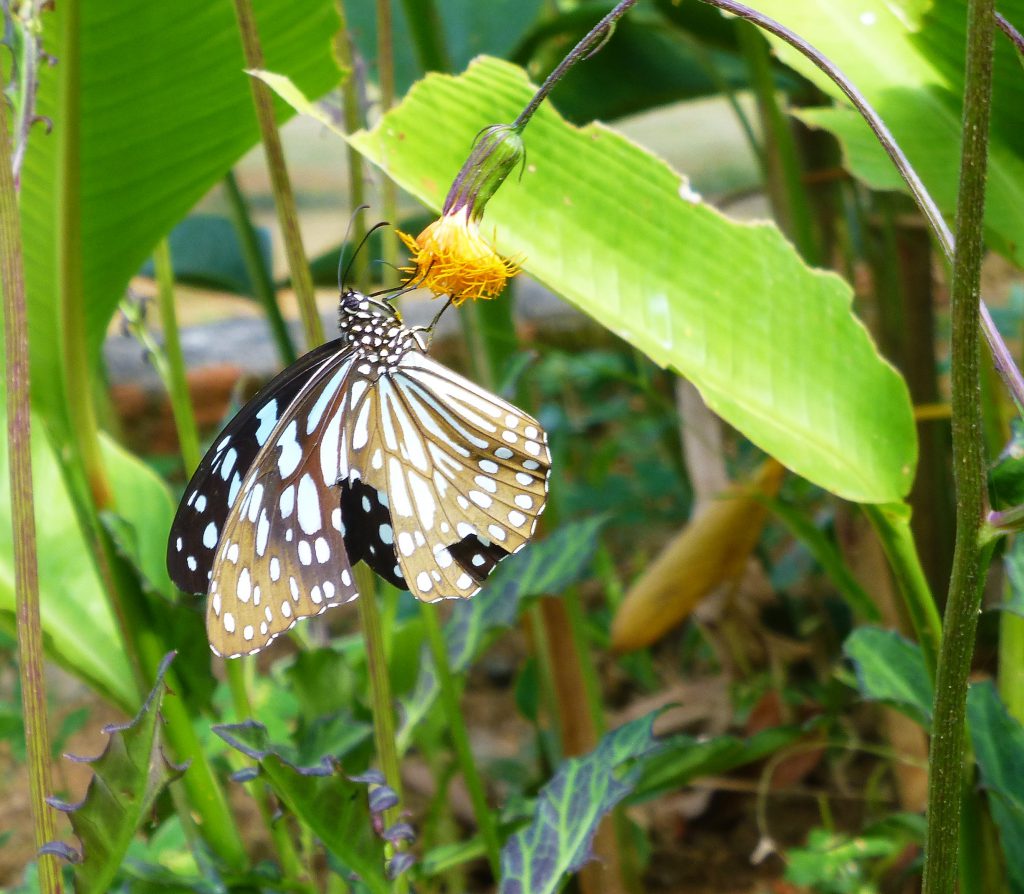 The agency where I booked my trip did told me that it was hard to peddle the whole way back. Now I saw these people I was so glad that I listened to her!!! Still I saw people drinking alcohol on their tubes, you can't ban it totally but it´s not how it was years ago.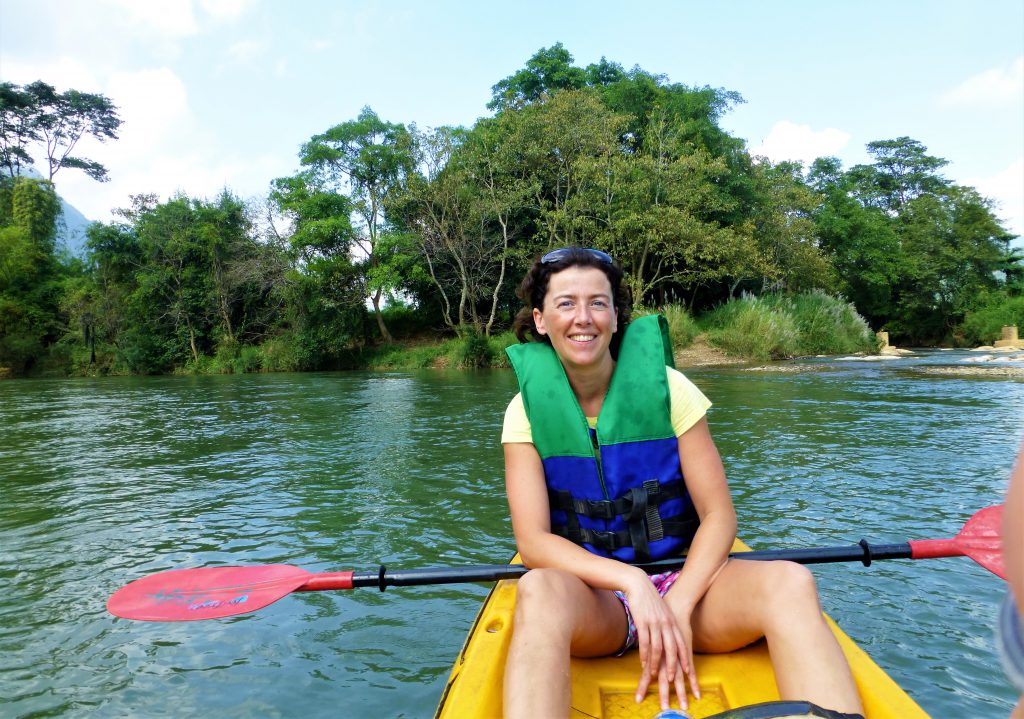 I had a great time there!! Next day I went on to Luang Prabang. Later I heard about the Blue Lagoon that would really be worth a visit. Well, that visit, I will keep in mind for a next visit to Vang Vieng!!
What you also should do next to the tubing in Vang Vieng
I just had the best day!
The next day I travelled on to Luang Prabang but I heard that I missed out on the Blue Lagoon… It is a must visit too when you are in Vang Vieng.
Well…that is a reason for me to go back ofcourse!
And there are more reasons!!
When I searched better and took my time to look into it I saw that I missed out on a lot of great things to do. I do love to cycle around and area and Vang Vieng has a route of 26K that they call the West Vang Vieng Loop. I should have done that one!!
And what about the following trips?
Exploring the Karst mountains

If you rent a bicycle you can go to the observationplatform called Pha Ngeun. You add a nice climb to your day and get to see the view over the village of Vang Vieng!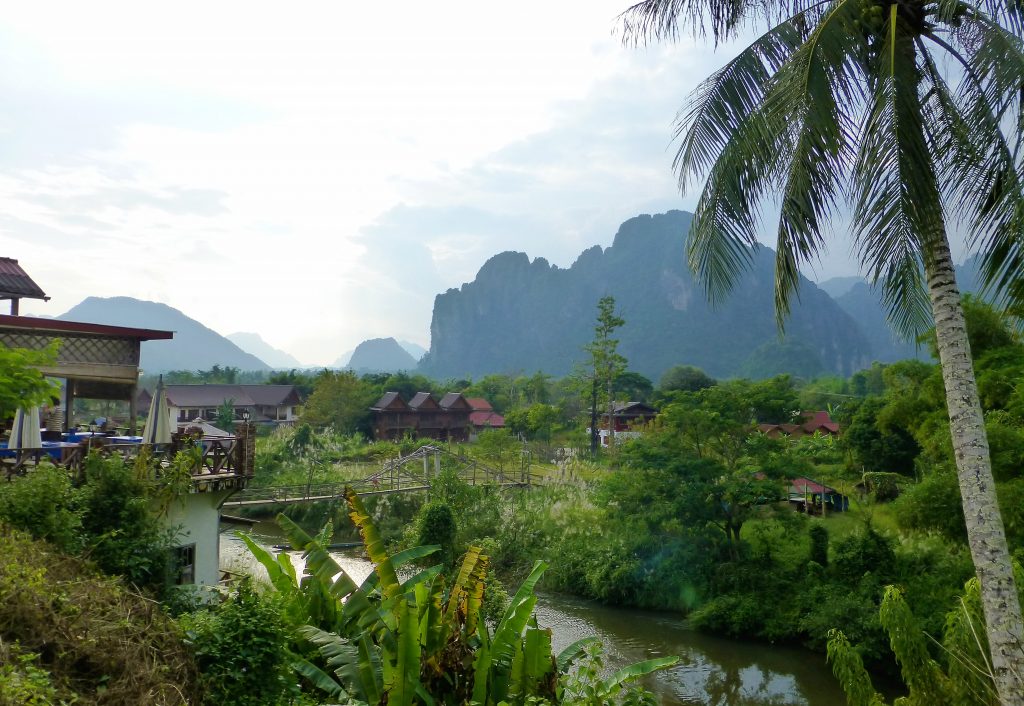 Tham Phu Kam Cave / Blue Lagoon

The Tham Phu Kam Cave is a holy cave for the Lao people. If you visit this cave you can go to the Blue Lagoon afterwards to cool down and enjoy the rest of your afternoon.
One of the many caves surrounding Vang Vieng. This one was used in the war with China as a bunker. It is a big one and so good to walk around for a while. Because the cave is a bit higher you also get a great view on the surrouding landscape of Vang Vieng.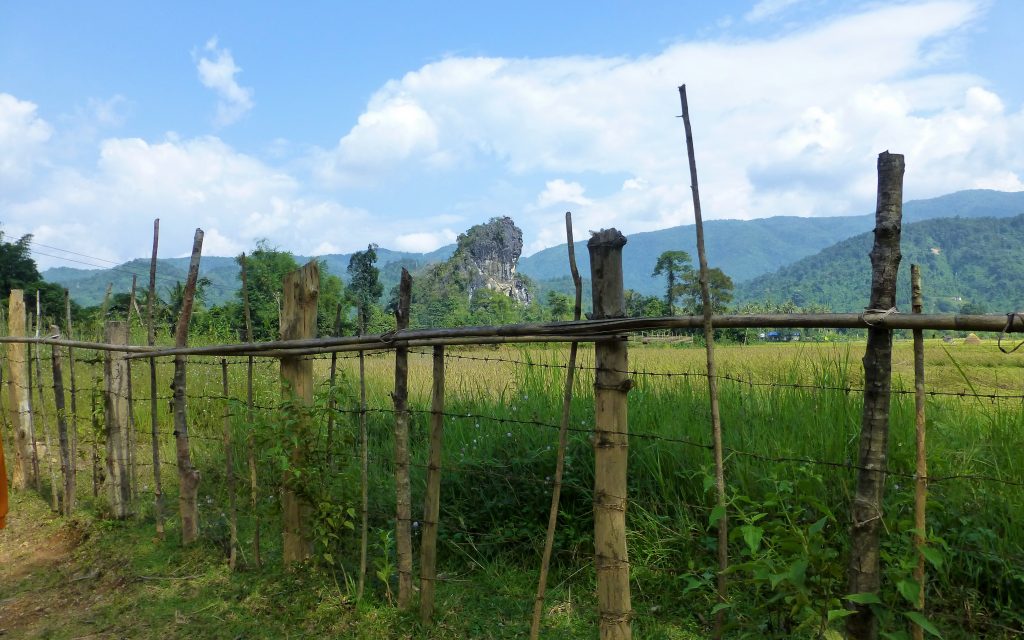 You still haven't seen enough of the area surrounding Vang Vieng you need to go for a balloon flight. Every day there are multiple balloons flying over the village and its surroundings. I have taken on in Cappadocia once and it is a great experience to do!!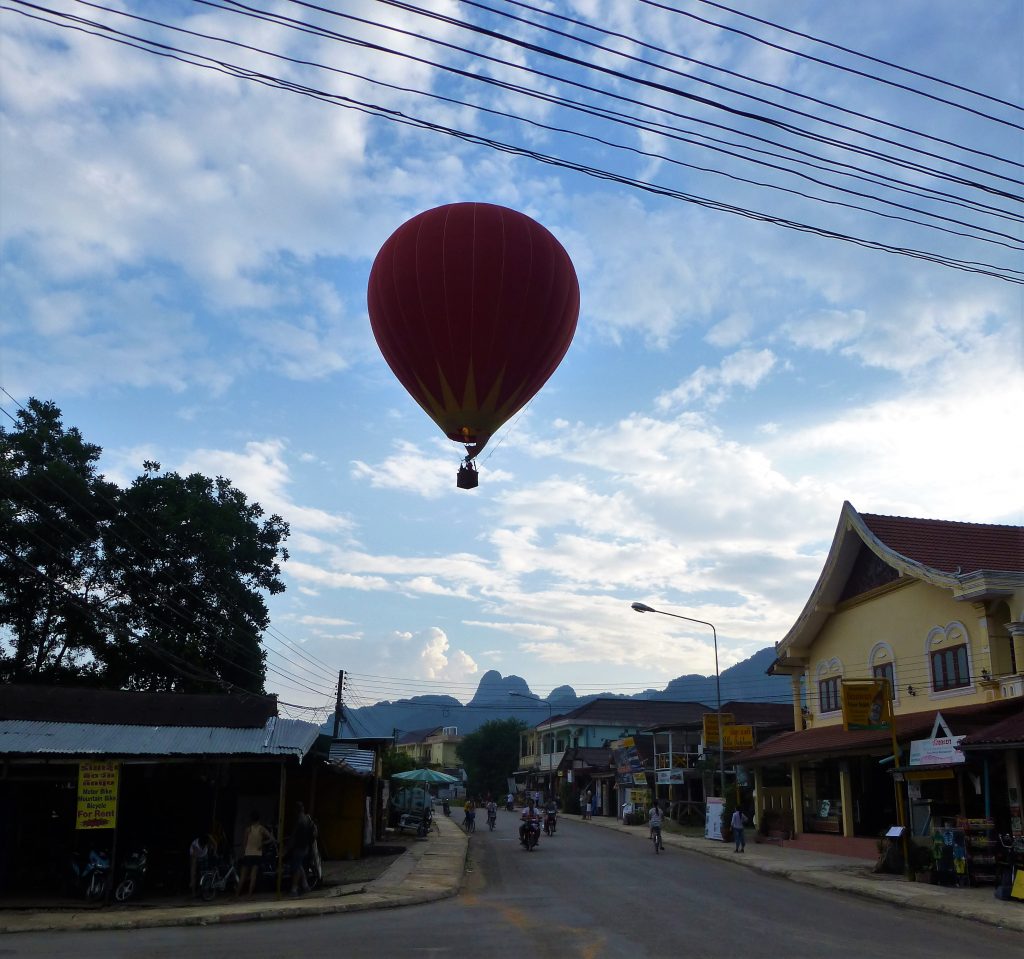 Are you that active travellers and do you like a bit of climbing? There are lots of ways to go climbing those great rocks in the area surrouding Vang Vieng. If I would've visited this place a couple of years later in my travels I would have defenitely booked a trip like this!
This was my first solo trip and I was lead by everything that came to me. I didn't took the time to stay any longer in a place then one or two days… I am different now 🙂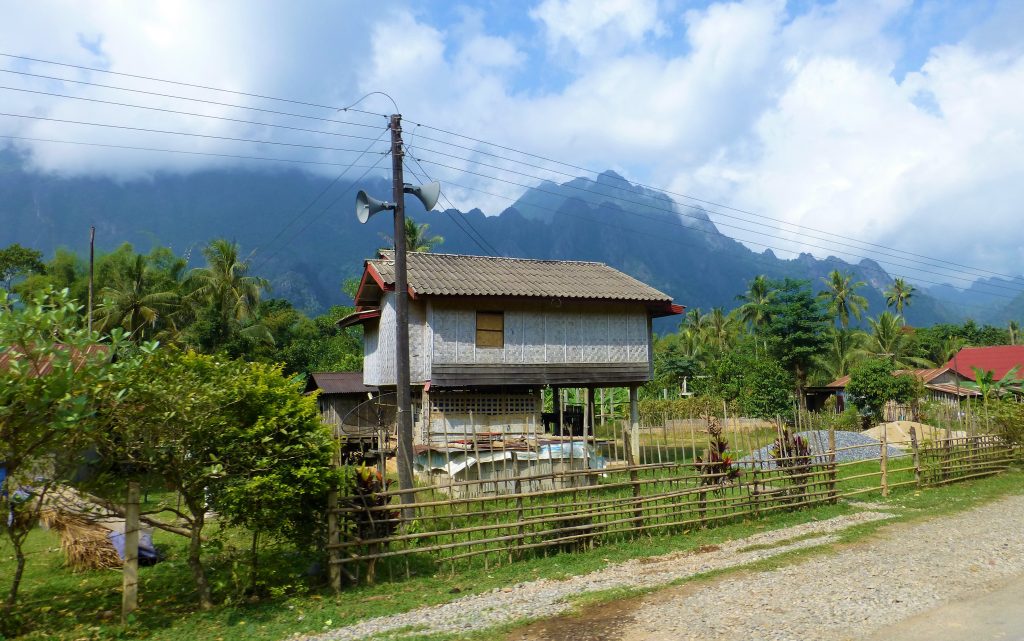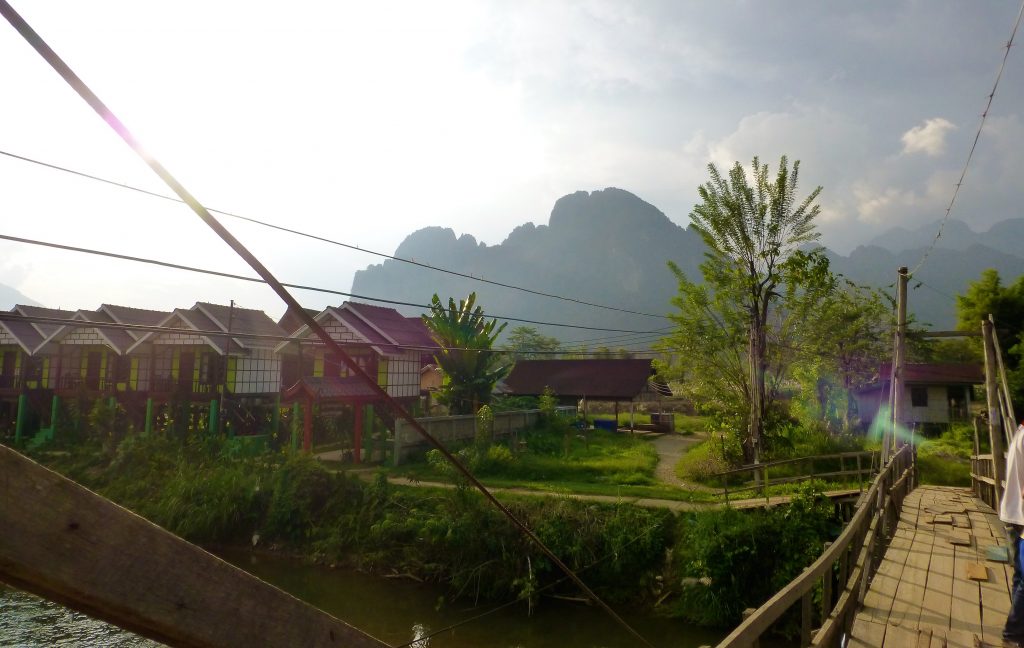 Do you want to safe this trip? Pin it!!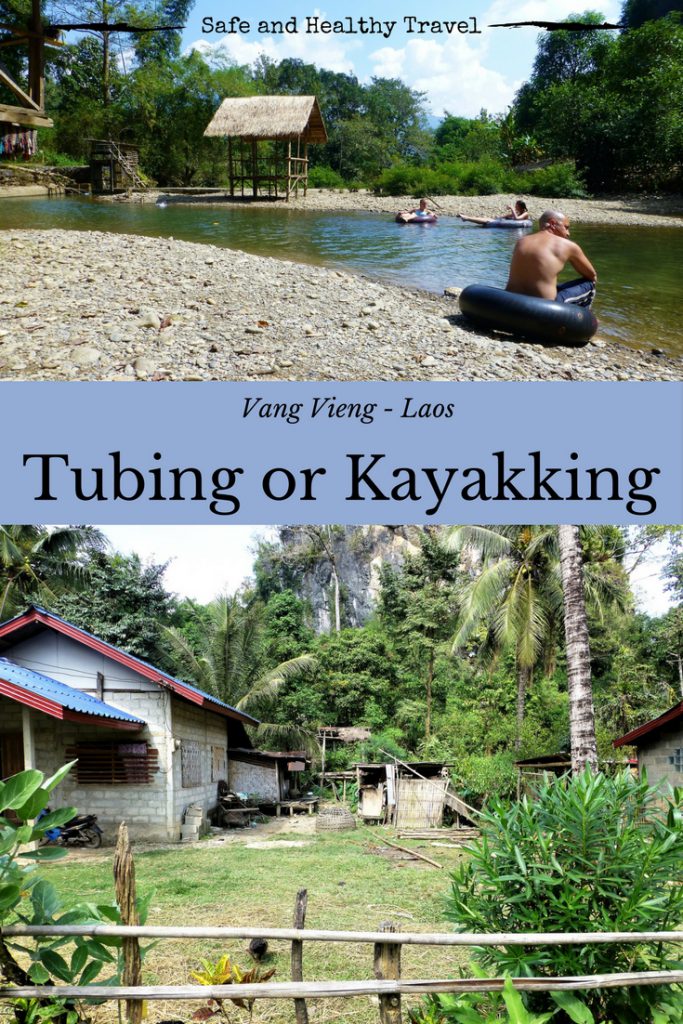 Want to read more about Laos?
The Beautiful sunset on Mount Phu Si – Luang Prabang
The Mysterious Plain of Jars – Phonsavan
And tell me… Do you still listen?

I hope you love this world as much as I do!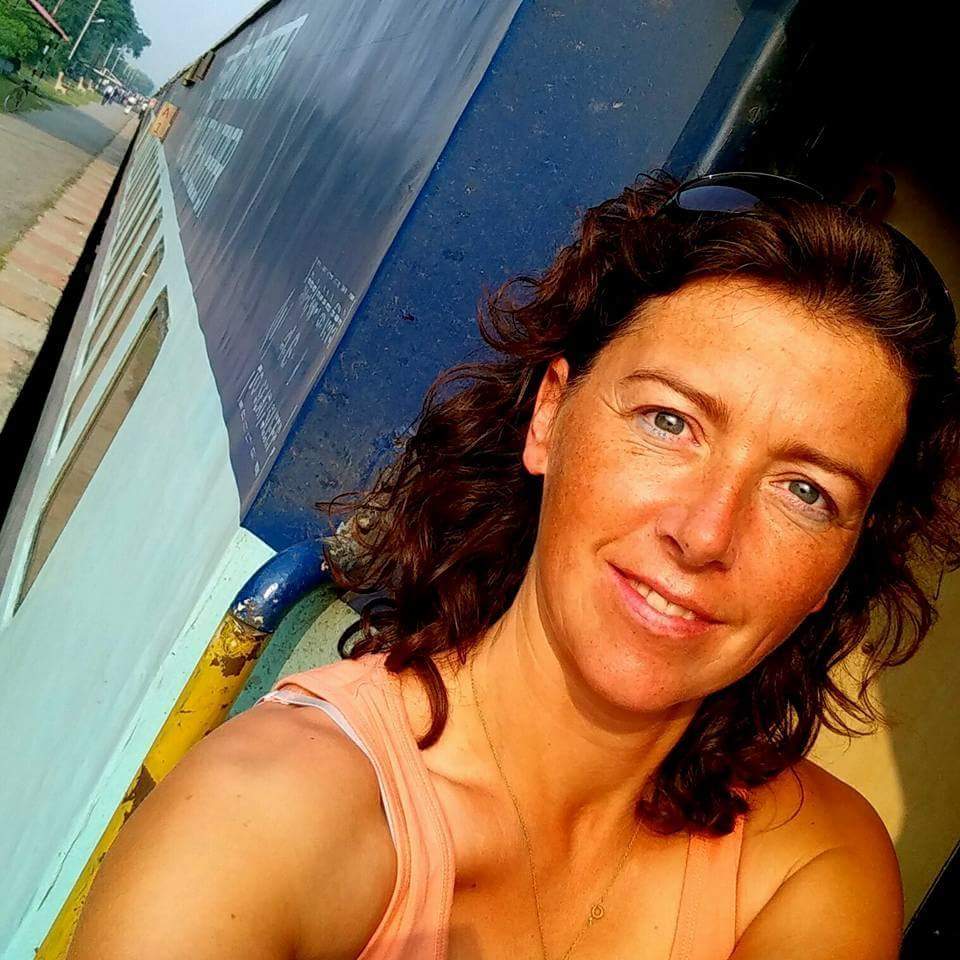 Jacomijn is een politieagent uit Nederland die jou graag laat zien hoe je veilig, actief en gezond de wereld kan over reizen. Safe and Healthy travel is a MUST