Cooking Class at Spice Paradise – Jodhpur, India
|
In every country, on every travel, I try to attend a cooking class. Often these classes are given by local people at their house or in a small bussines with enthousiastic owner or cook. You will get the class from firsthand experience, they will have many tips and tricks especially for the tourists. They have got the experience that most tourists wont have all those ingredients at home and will have an idea how to make it with own local or western ingredients.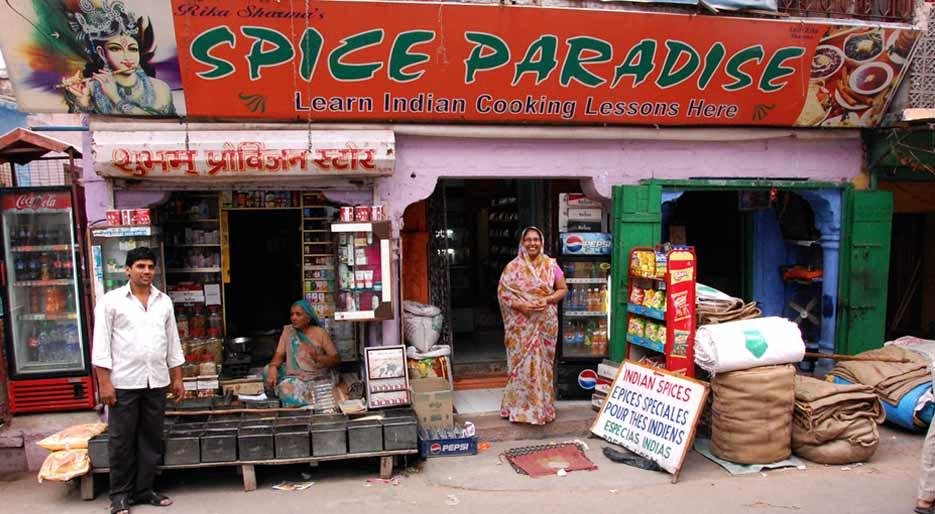 Photocredit: Finedininglovers.com
When I visitied Jodhpur, a city in Rajasthan, India, I took a cooking class. I visited Jodhpur for 3 days and really loved this so called blue city!! When you walk the city you will see the great fort of Merangargh that is build on top of a hill in the middle of the city!
The city itself is a labyrinth of smaal and busy streets filled with coloured and deliciously smelling shops. You can buy everything we as a tourist like but also the Indian shopper can buy its daily groceries. The mixture of local and tourist makes it such a great place to wander around!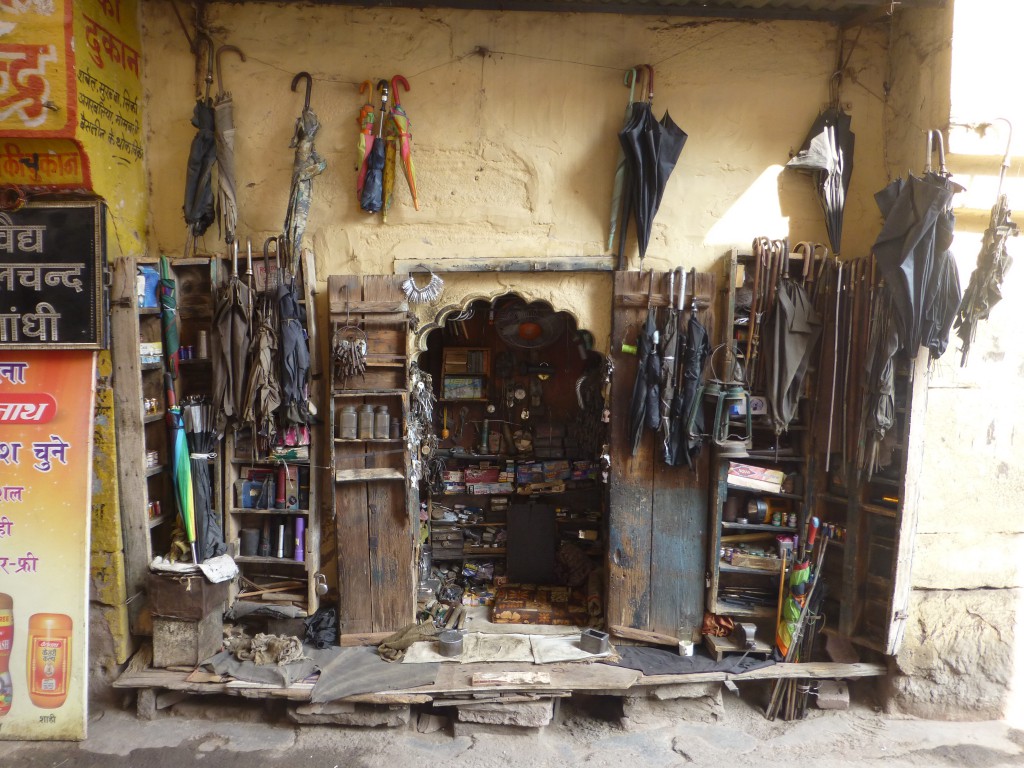 A local repare shop…of all kind 🙂
One of the busy streets of Jodhpur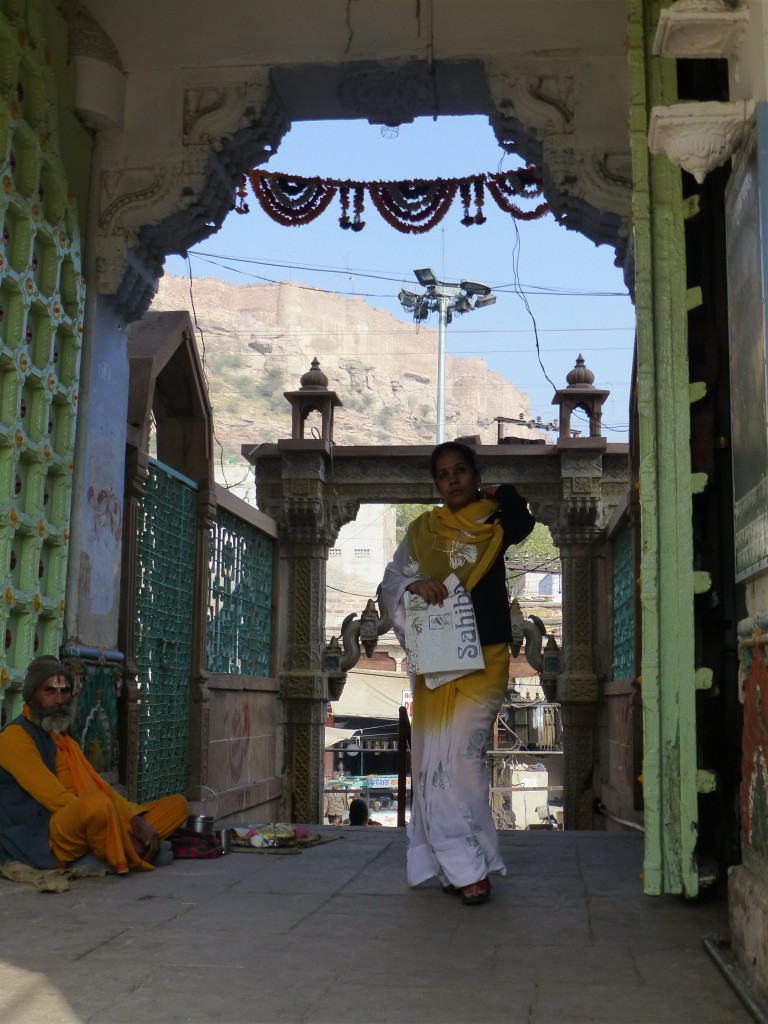 From a temple with the fort in sight
Cooking Class at Spice Paradise
In one of those streets I bumped onto the small shop of Spice Paradise. When you look at the shop you will see an old Indian lady in between hundreds of herbs and spices! That was the left side of the shop and on the right side I saw an opening and I walked in, it seemed like a private home. I knew they gave cookingclasses and I wanted to attend one! As soon as I walked in I was welcomed by the big and friendly smile of Rekha. She offered me immediatly a nice cup of Chai Massala. This one was ofcourse made by her personally and she told that she boiled the chai 6 times. After 6 times the chai is good and the best to drink.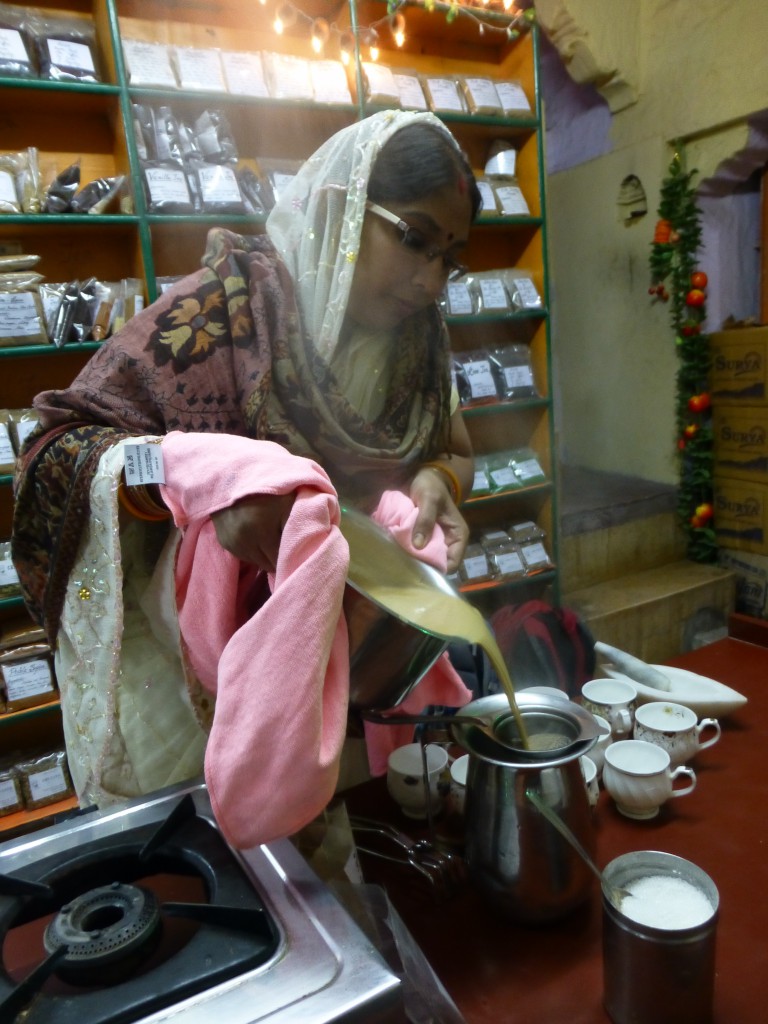 I reserved a spot on the class of the next day, this day she was fully booked. She sometimes will have two classes a day, one in the afternoon and one in the evening.
Next day the cookingclass of Spice Paradise starts with cooking chai. This is such a big part of Indian life, it's a social thing, a friendship gesture, everywhesre you come they will offer you a cup of chai. On the street, in the train, at the shop…everywhere you can get or buy a cup of chai.
Meanwhile we, I have the class with an American family, get information about the many herbs and spices and their ayurvedic healing powers. Rekha's husband, Anil, is telling about all the therapeutic and healing powers of herbs and spices. He tells about his early years when he walked with his dad around the city and his father saw herbs in between the paving stones and gathered them for use. what he is trying to tell us is that we in the Western world probably can find enough herbs if you would know where to look and recognize the herbs and spices in the city. Also knowing how to prepare is often a unknown.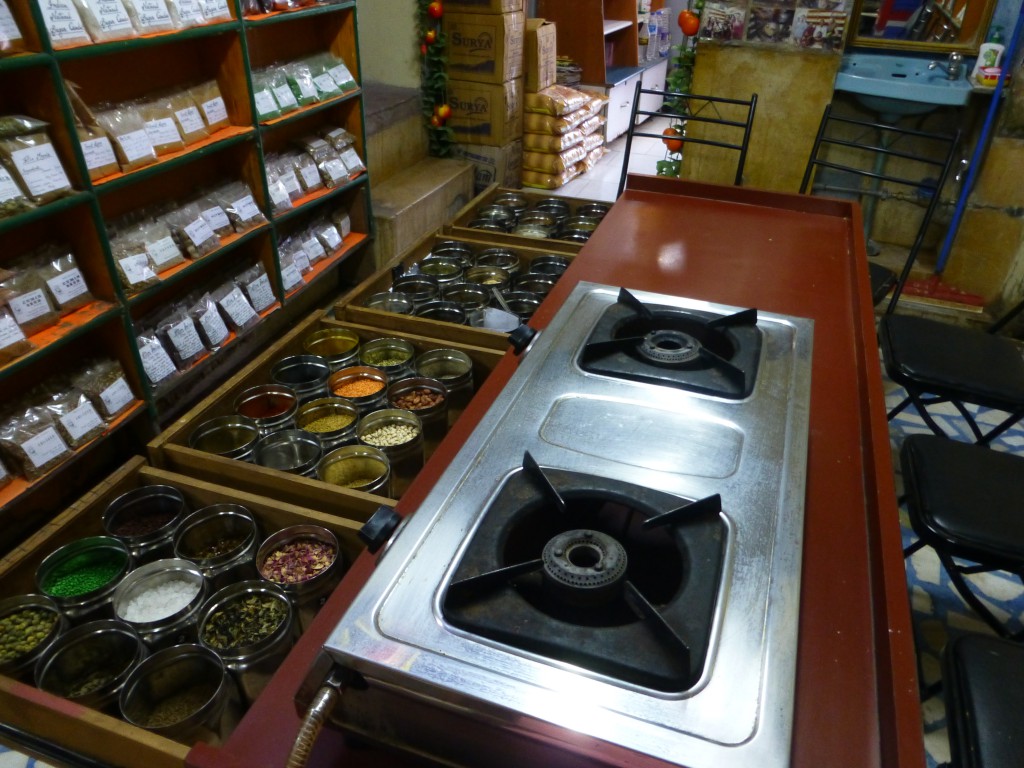 All the herbs and spices – Spice Paradise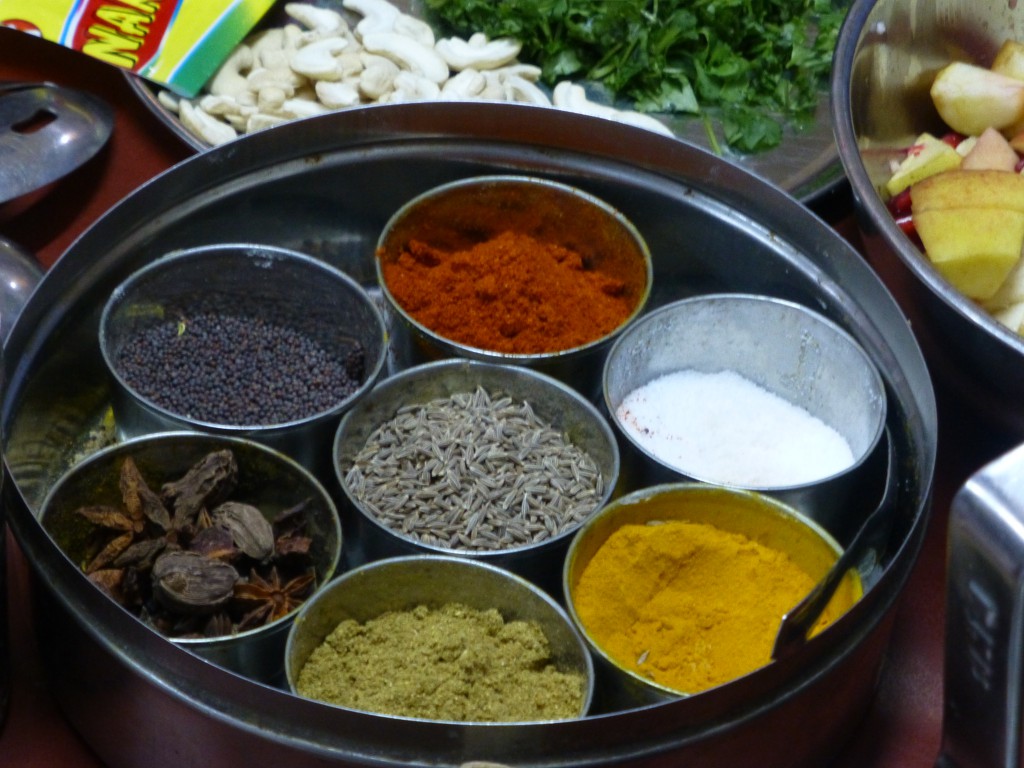 Rekha tells how they won't use any machines to grind herbs and spices. It takes out all the healing powers of the herbs. All the herbs and spices they use and sell are grinded by hand, they use to do it themself but now they have more tourist coming to their shop for the classes they hire local people to do it. Mostly women/mothers that can earn a extra on the time they have. They will come when they can and work for maybe one or two hours and get paid for what they do.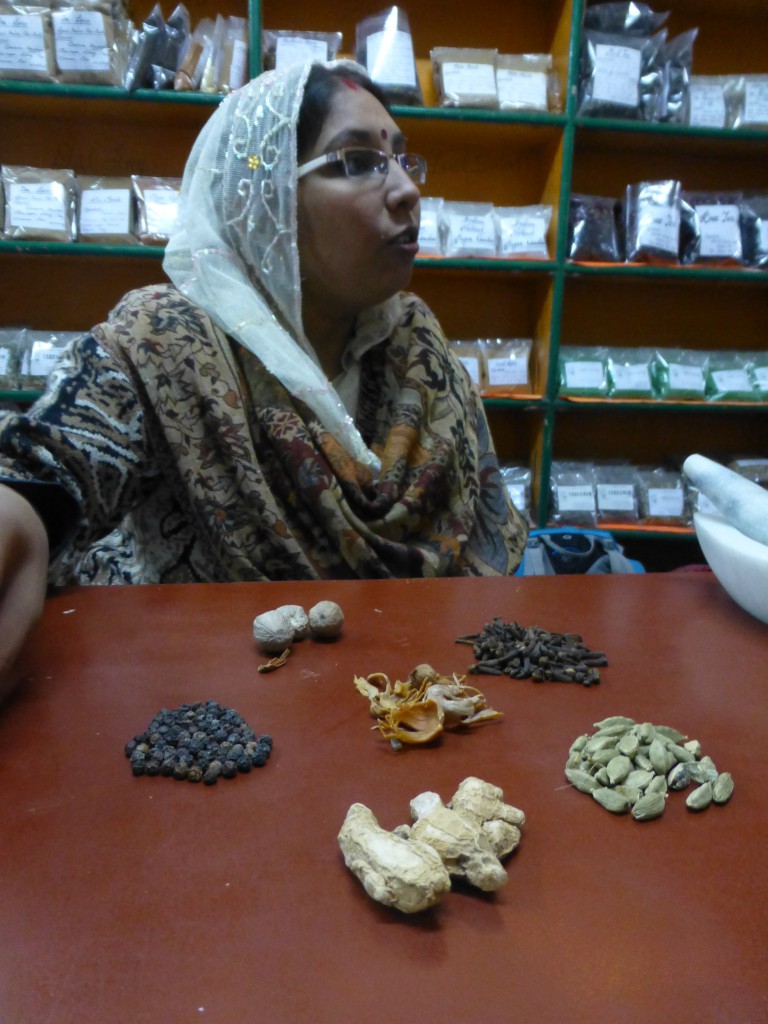 We start to work on our first recipe, the Rice Biryani. It is a famous rice dish, on every menu where ever you go you will see this nicely filled rice dish.  We all got our own tasks on preparing ingredients. Rehka placed it all in the middle of the table that was placed in a room that was filled with herbs. When you look around you willl see all kinds of herbs and spices ready to be used or sold with recipes to go with it. I started to cut the ginger in small pieces. The American family also started to cut all the ingredients like apple, pomegrate, carrot potato etc, they were fastly working and in no time we were done. Together we started to bake it on high fire and in the right order, the last thing to put in was the rice with twice as much water. After that Rekha put on the lid and told us it would be ready when the rice was cooked and the water was gone. It started to smell deliciously in the small room!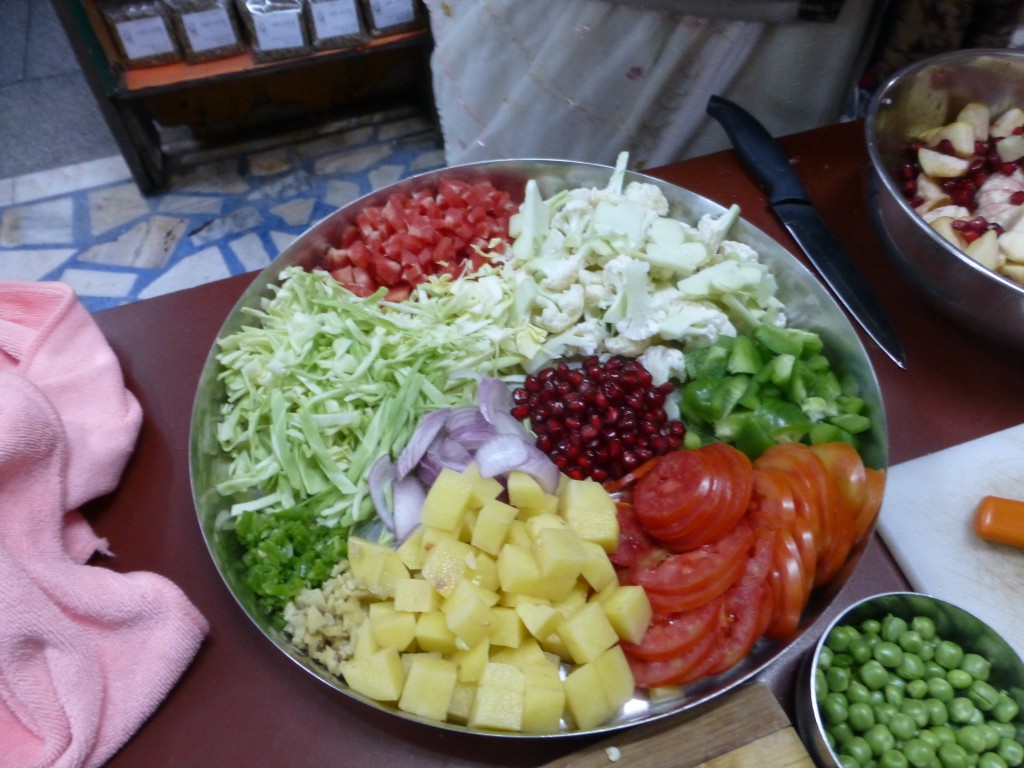 The ingredients..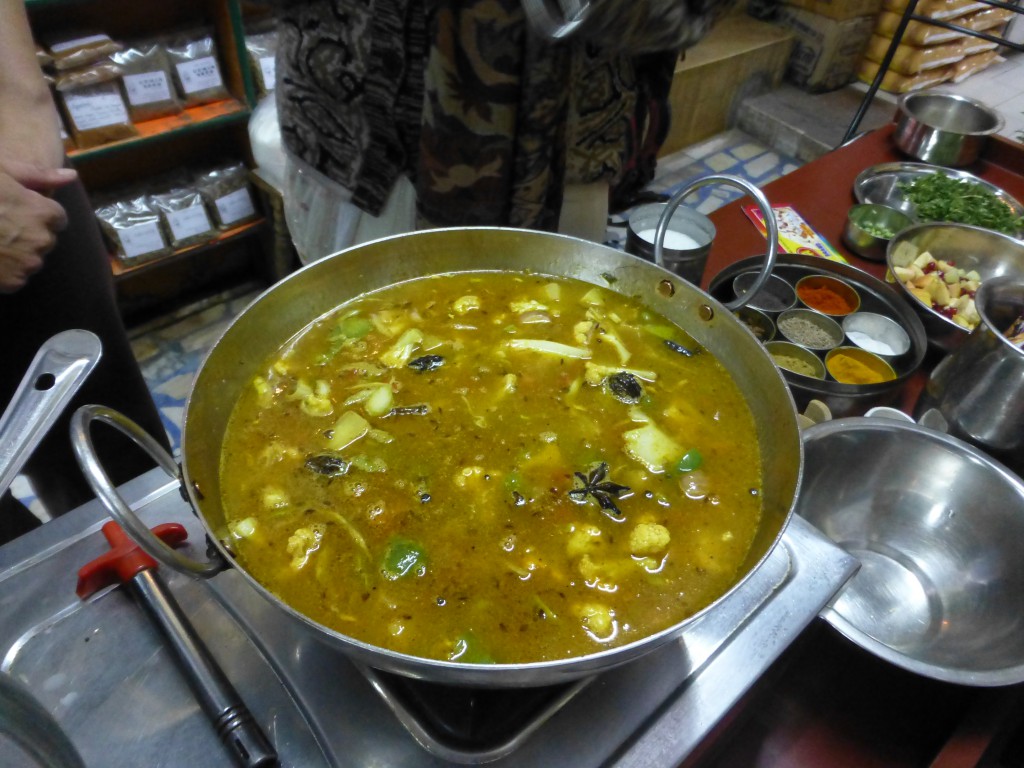 Just before cooking
For a counterpart to the warm dish we made a Raita. This is a dish mad of fresh yoghurt. In the raita are pomegrate, apple, banana, cucumber, cuminseeds (grilled and chopped), lots of sugar and some chilipowder. At the beginning of the class Rekha had put some saffran in yoghurt and it has turned all bright/dark yellow now. She mixed that in with the rest of the yoghurt and the ingredients. It all turned a light yellow and with the pomegrate in there it had all kinds of colours.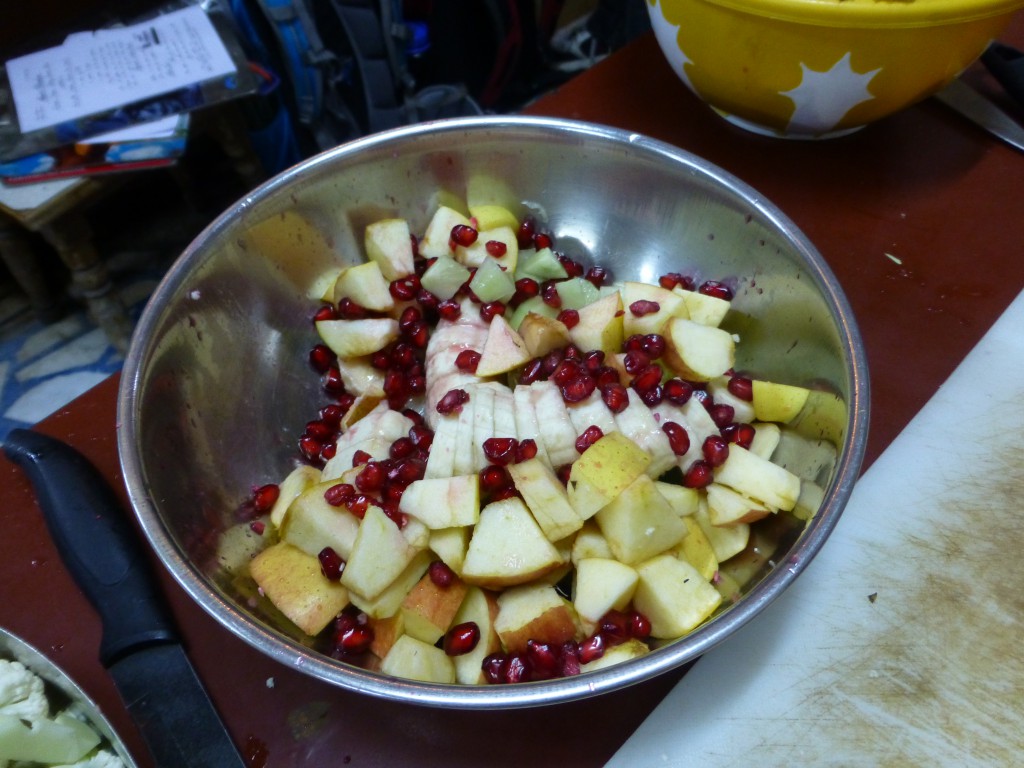 When the Biryani was done cooking we all eat the rice with the fresh raita. What a great combination, hot and cool together. We all eat out of the big pan and Rekha got some for her daughters and mother and after it was empty. It was delicious.
Biryani – Spice Paradise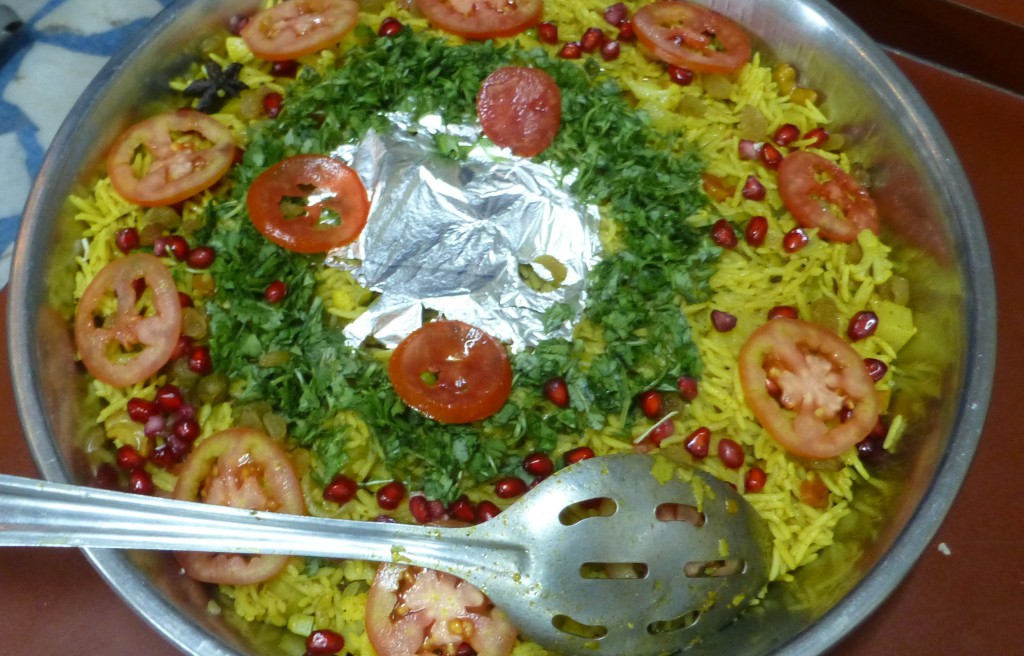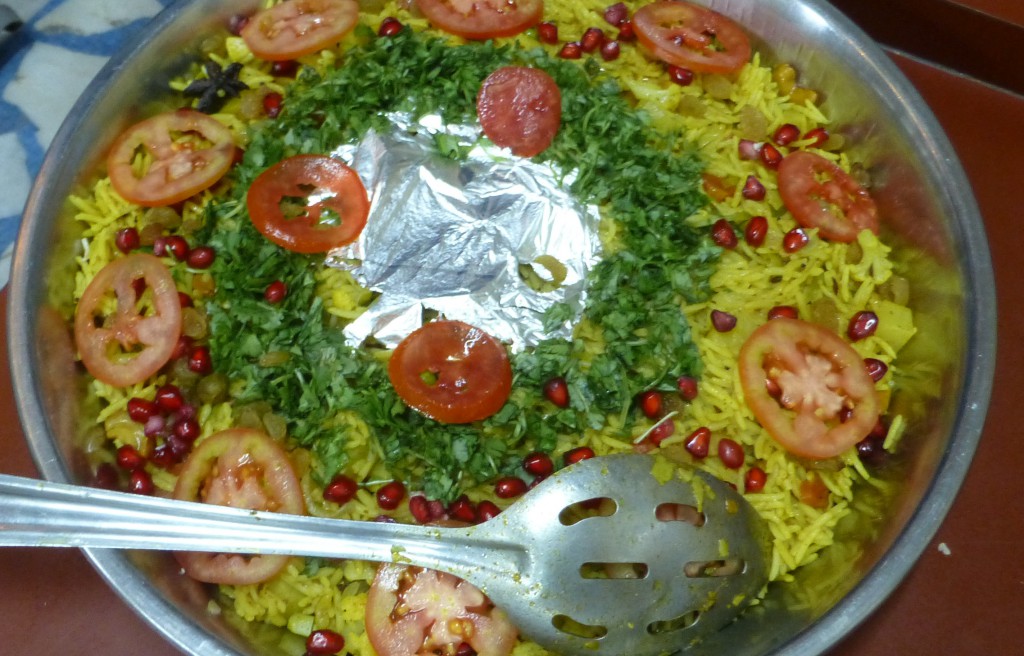 Nicely served with some gold on it 🙂
After we started to make dough for making Chapati. This is a round kind of flatbread you get to eat with curries. This one also get stuffed with all kinds of herbs and spices, I liked them a lot! Still, my all time favorit of Indian bread stays the Nan!!
After making the dough we had to roll it into round flat pancakes. Yes…we did that with the old wooden rolling pin you probably know from your grandma 🙂 While you roll you need to put some flower on the dough so it will not stick to the pin and when it was really flat Rekha said it was time to bake the Chapati. Shortly bake it on both sides and then she got the pan of the fire and put the Chapati on the fire! It blowed up immediatly and Rekha baked both sides and once fully blown she put the Chapati on the plate and there it plummet right away back to a normal Chapati again 🙂 Well that was a challenge. It was really hard, when you do the work good with the rolling pin it will blow.. After a couple of failures Rekha started to help uw and then it worked! I had a blown Chapati!!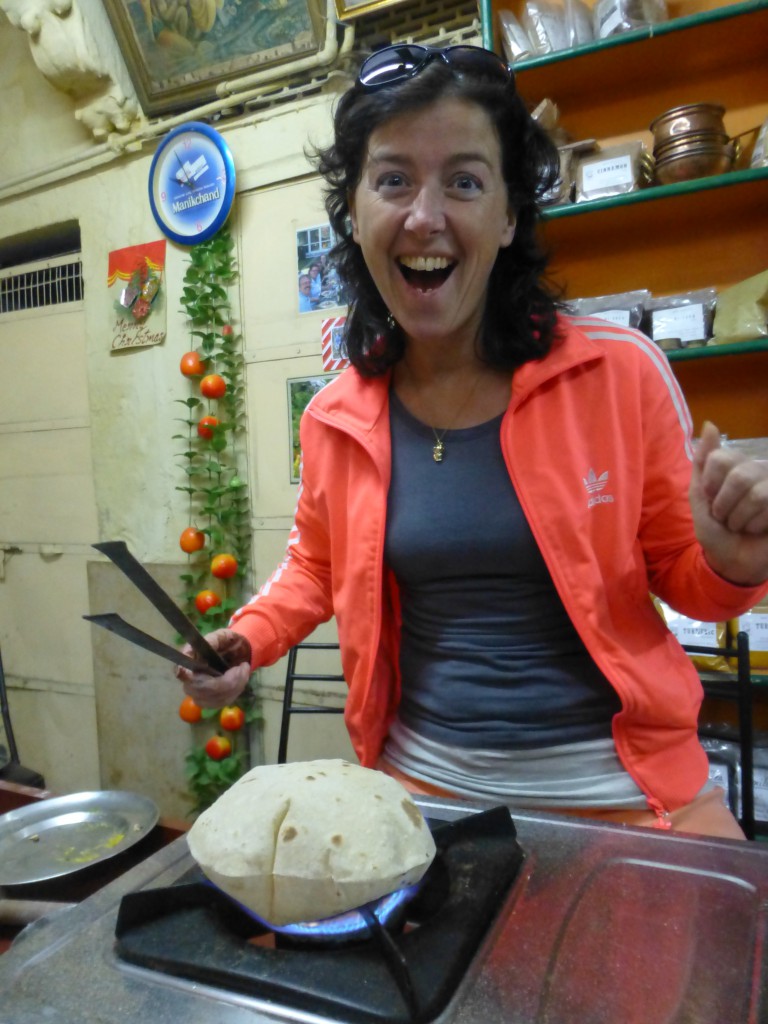 Chapati Happiness 🙂
We ate this Chapati with the cottage cheese curry that was simply made in meantime. It was made with oil and some of the ready to use herbs, they also sell, and ofcourse the cottage cheese.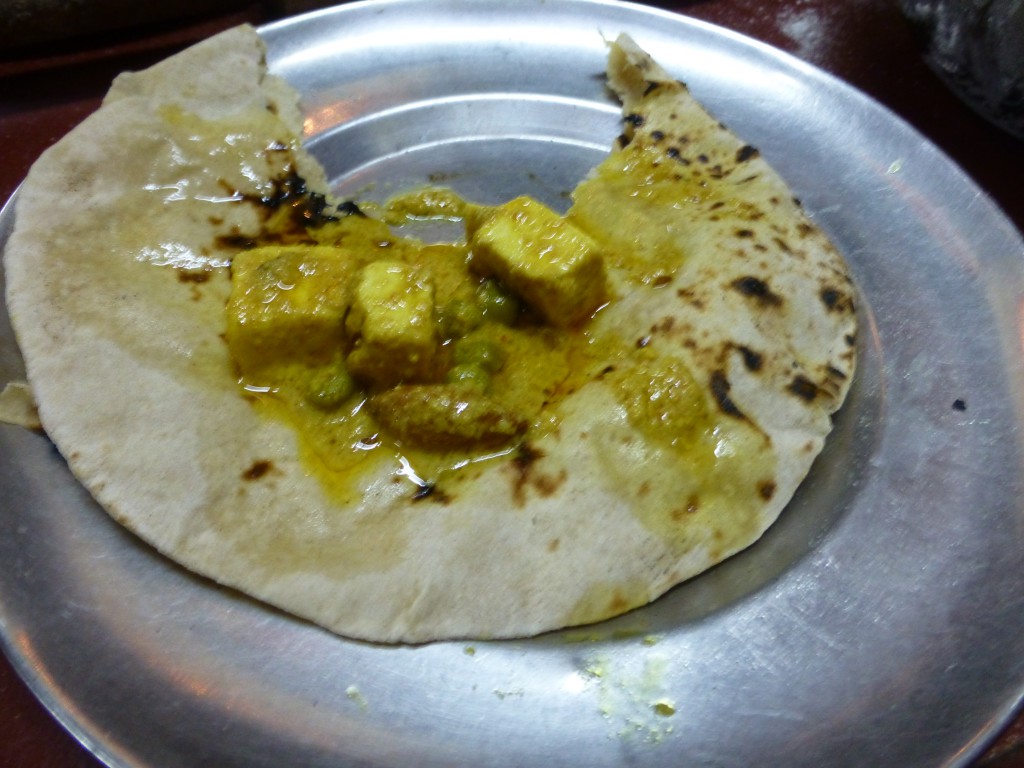 I love these kind of food!!
Before I knew it was 10 o'clock and time to go to my hotel. I always tend to say home 🙂 well…temporarily home!! So a whole evening filled with joy of cooking and eating! I almost had a overload when I walk back. From all the cooking tips but also all the healing powers of all the herbs and spices!!
This is what I wrote down:
– Cardemom: Against bed breath, just chew on it, eat it
– Nutmeg: scrape on a stone, that with a bit of milk, facialcreme
– Safran: Against wrinkels
– Cucumber: cut in two, rub against eachother. Creme that forms good for skin
– Oil: put some oil in your belly button, leave it there for a night.. You will never have dry lips anymore
– Amla/Indian Gooseberry: Every morning on the empty stomach an amla for 57 days. You will never have migrain anymore…
Cooking Class at Spice Paradise – Jodhpur, India
Did you like this post? Share it for other to enjoy too!!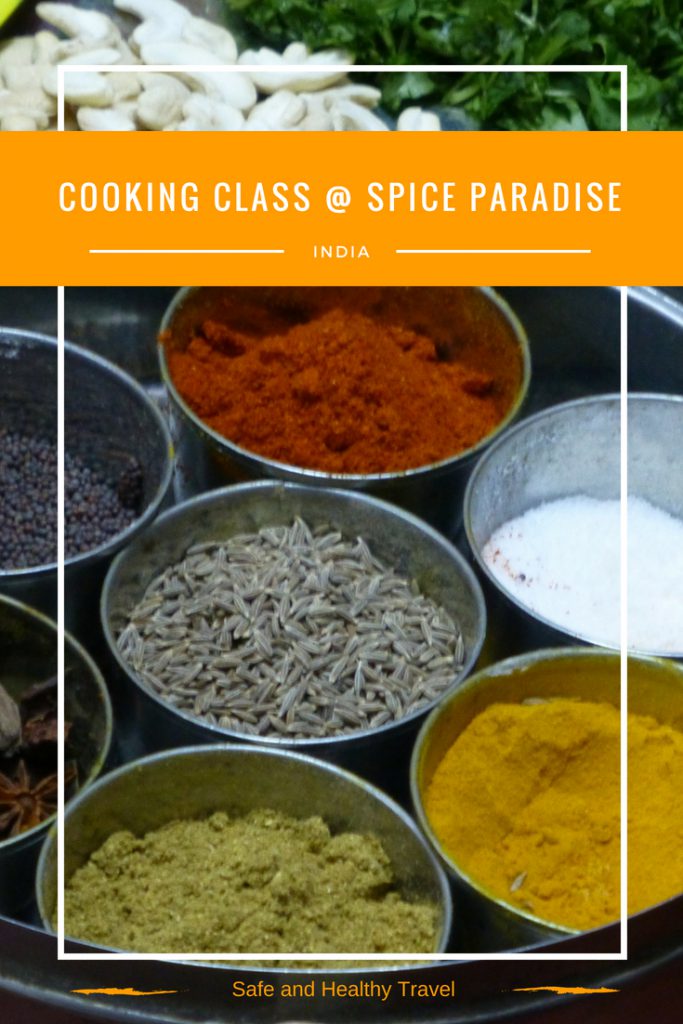 Want to read some more about my Indian travels?
Sunrise at the Taj Mahal – India
Climbing Thajiwas Glacier – Kashmir, India
I met Sunil – Trust you Feeling
The famous Dharavi Slum – Mumbai
Or can I inspire you to go to the Philippines?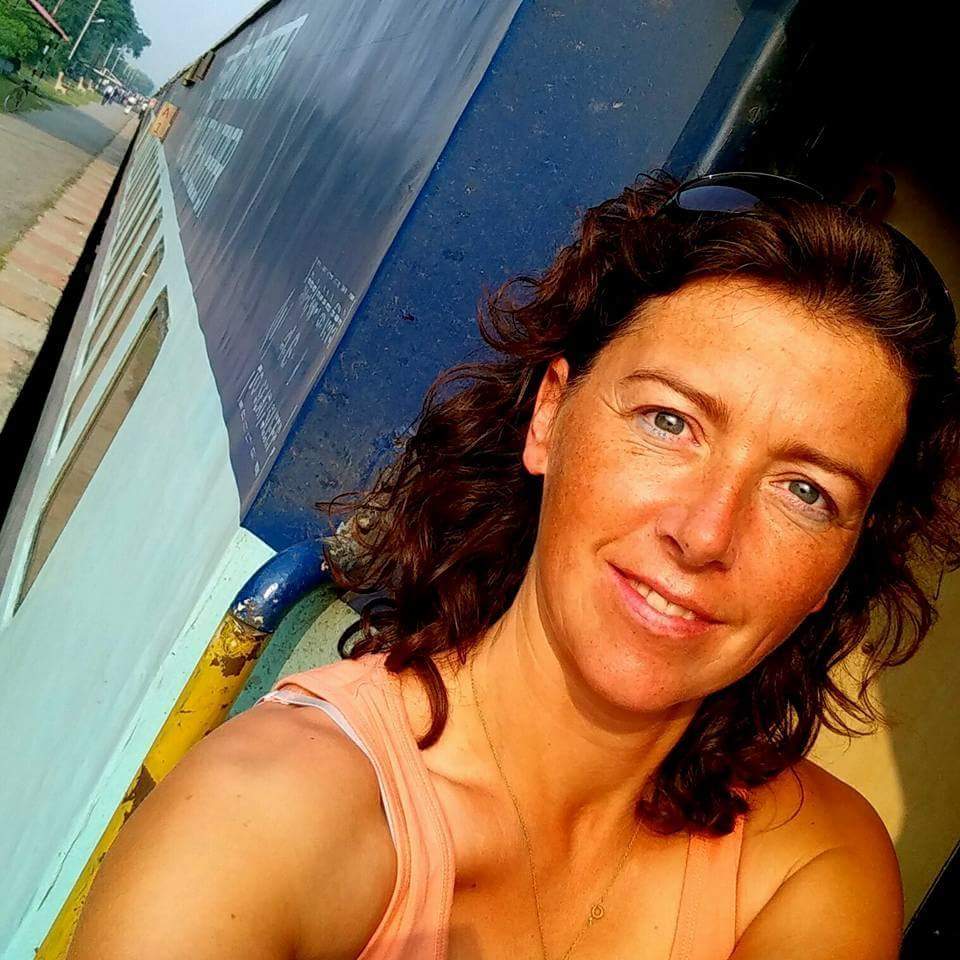 Jacomijn is een politieagent uit Nederland die jou graag laat zien hoe je veilig, actief en gezond de wereld kan over reizen. Safe and Healthy travel is a MUST