Hiking on Bukit China in Melaka – Mysterious walk across ancient Chinese cemetery – Melaka, Malaysia
|
Hiking on Bukit China? Sure! Bukit China is a hill in the city of Melaka where you can take a nice mysterious walk across the Chinese cemetery. During a city break, it's always nice to get away from the busy streets and experience something of nature. With this hike on Bukit China, you are really out of the city in no time the feeling of being in the middle of nature.
Although that nature on Bukit China may be riddled with Chinese graves… That is precisely what gives this hike that mysterious flair!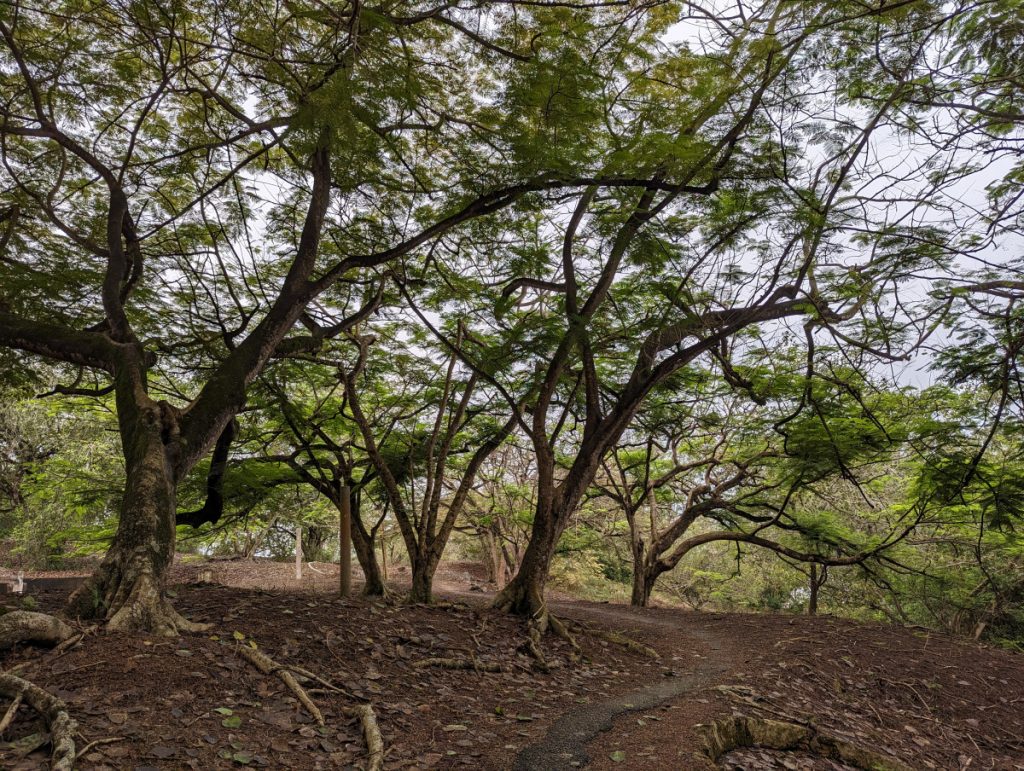 Hiking on Bukit China in Melaka
Bukit China is a green hill in the city of Melaka. The hill is a sought-after spot for walking and jogging. Bukit China actually consists of several hills, which of course makes it ideal for a walk or jog around. The size of the hill is a whopping 25 hectares. Against the hill stands the Chinese Poh San Teng temple and the hill itself is a Chinese cemetery.
What is Bukit China?
Did you know that Bukit China is the largest Chinese cemetery in the world outside China? As many as 12,500 graves have been found. The oldest grave found dates back to 1622. It is very possible that there are older graves. Unfortunately, many were lost when the Portuguese, Dutch and British ruled the place.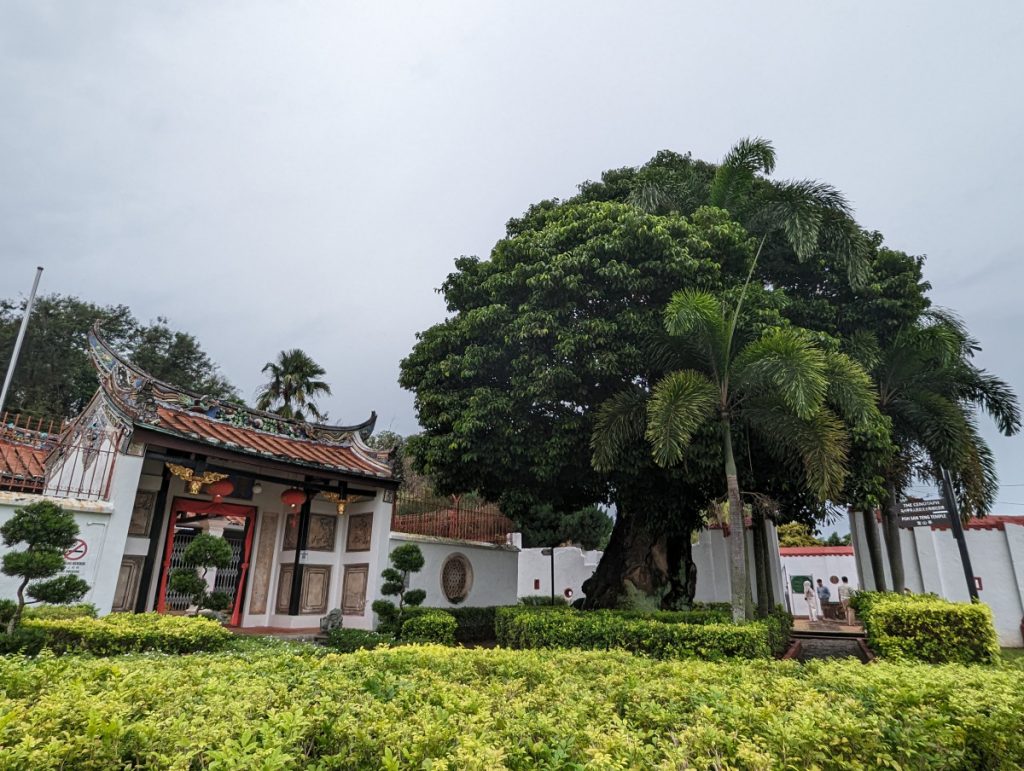 Where is Bukit China in Melaka?
To get to Bukit China, you can easily navigate to GPS Hang Li Po Well or GPS Poh San Teng Temple. You can then visit this temple, along with the WWII monument to the Japanese warriors, nicely before your walk. The well, temple and monument are on the city side against Bukit China hill. From the city centre, this is about a 10-minute walk.
Tip – Do you need to use the toilet? Inside the temple is a toilet which you can use.
You will also find lots of information about Bukit China and the tombs at the back of Poh San Teng Temple. Then, when you are ready to start your hike on Bukit China, walk to the left behind the temple. Here you can take a staircase up Mount Bukit China as the start of your hike. Immediately you walk into a forest and among ancient tombs. I found it felt mysterious right away and the atmosphere of the old big trees made it a great place to be.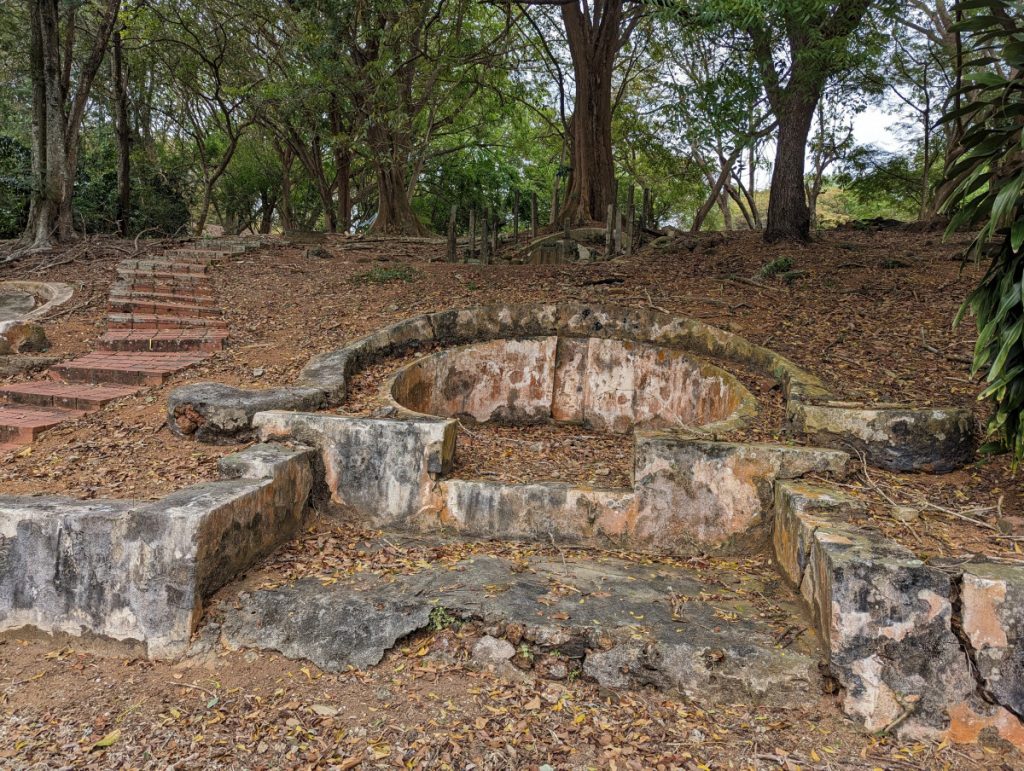 Mysterious walk across ancient Chinese cemetery
Melaka, Malaysia
Hiking on Bukit China – Short Hike ( 30 – 45 min)
Arriving at the top of Bukit China hill, you have to make a choice. For this first short hike, turn left and follow the narrow asphalt path. This short walk will take you to the top of the mountain. You walk along a fine narrow asphalt path which is laid out all over the mountain. Meanwhile, you pass several ancient Chinese tombs.

There are several old and large trees and this really gives the whole place a super atmosphere.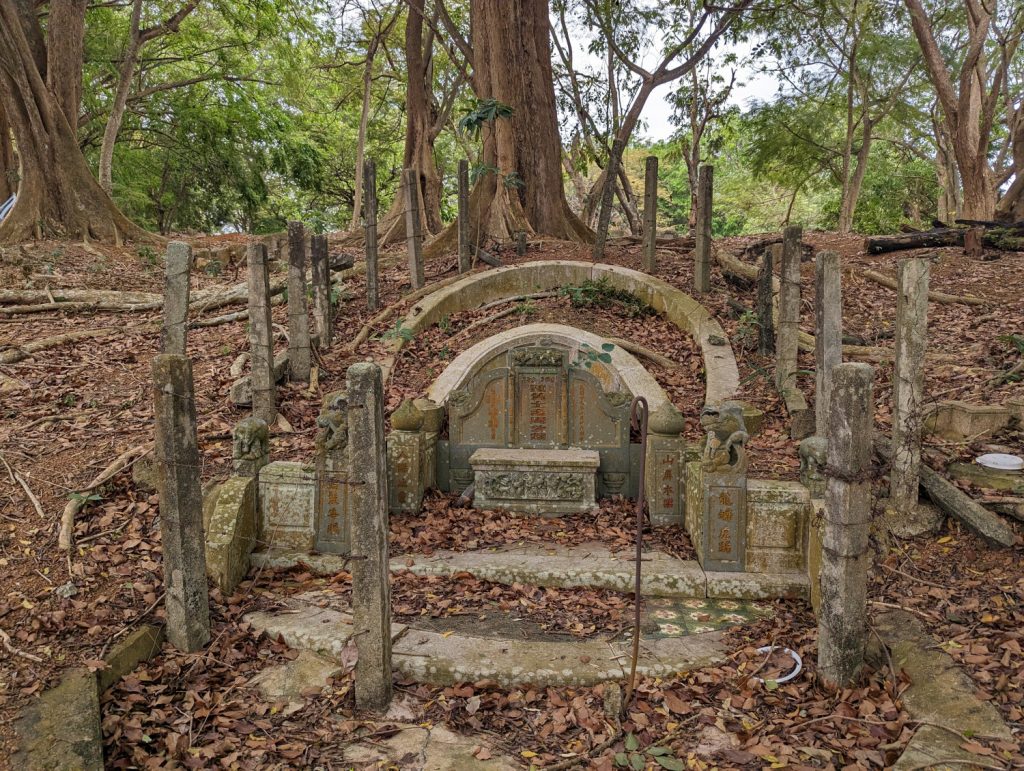 At the time I was there, there were a lot of fruits on the ground, which in turn were already growing. These trees are called Cerbera, an internet search tells me.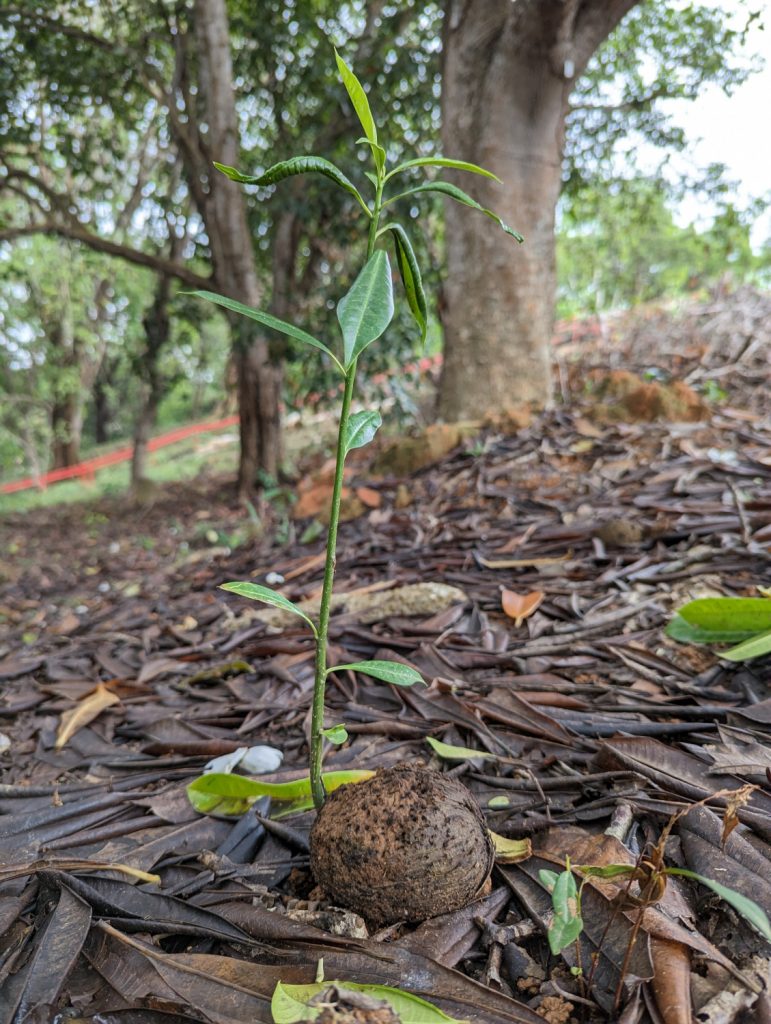 Local people were constantly walking past me, all doing fast walking. Sporting clothes on and walking around the cemetery. I can imagine it very well. You are actually walking in full nature but also full city.
Coming almost on top, I sat for a while on the edge of a grave. Sounds lugubrious to some but it really didn't feel like that at all. The graves are centuries old, or at least the one I sat on was new…. But they are very large so it's not like you're sitting above the coffin, so to speak.
It wasn't long before I saw some Chinese orioles flying. They are beautiful bright yellow and so they do stand out.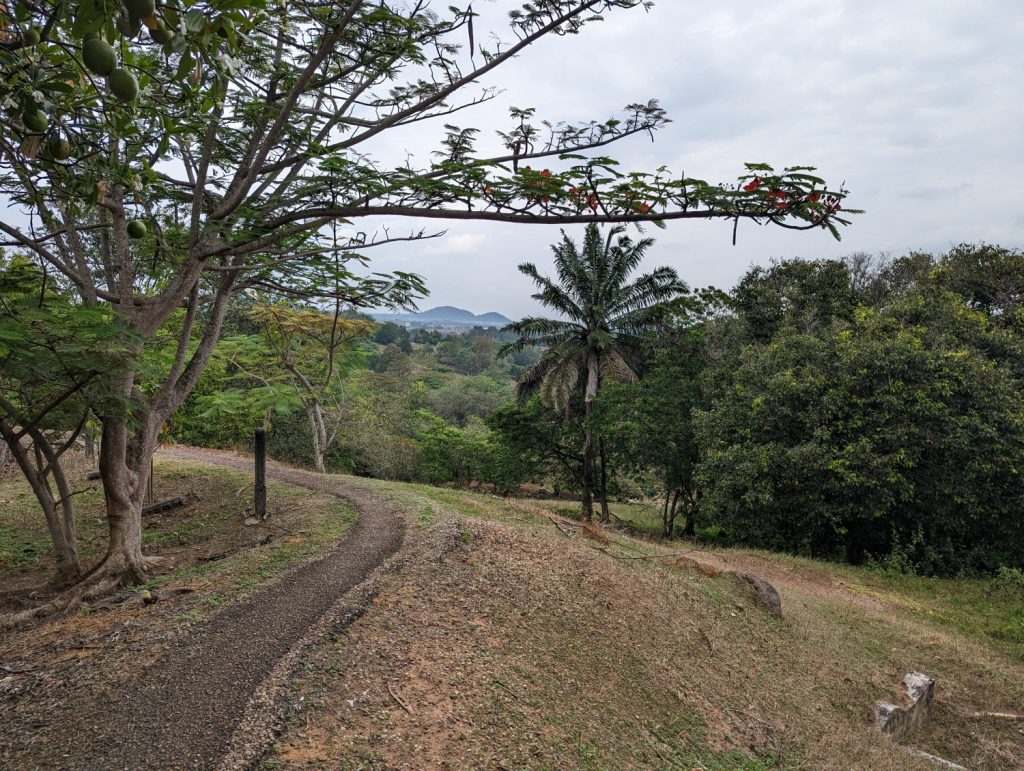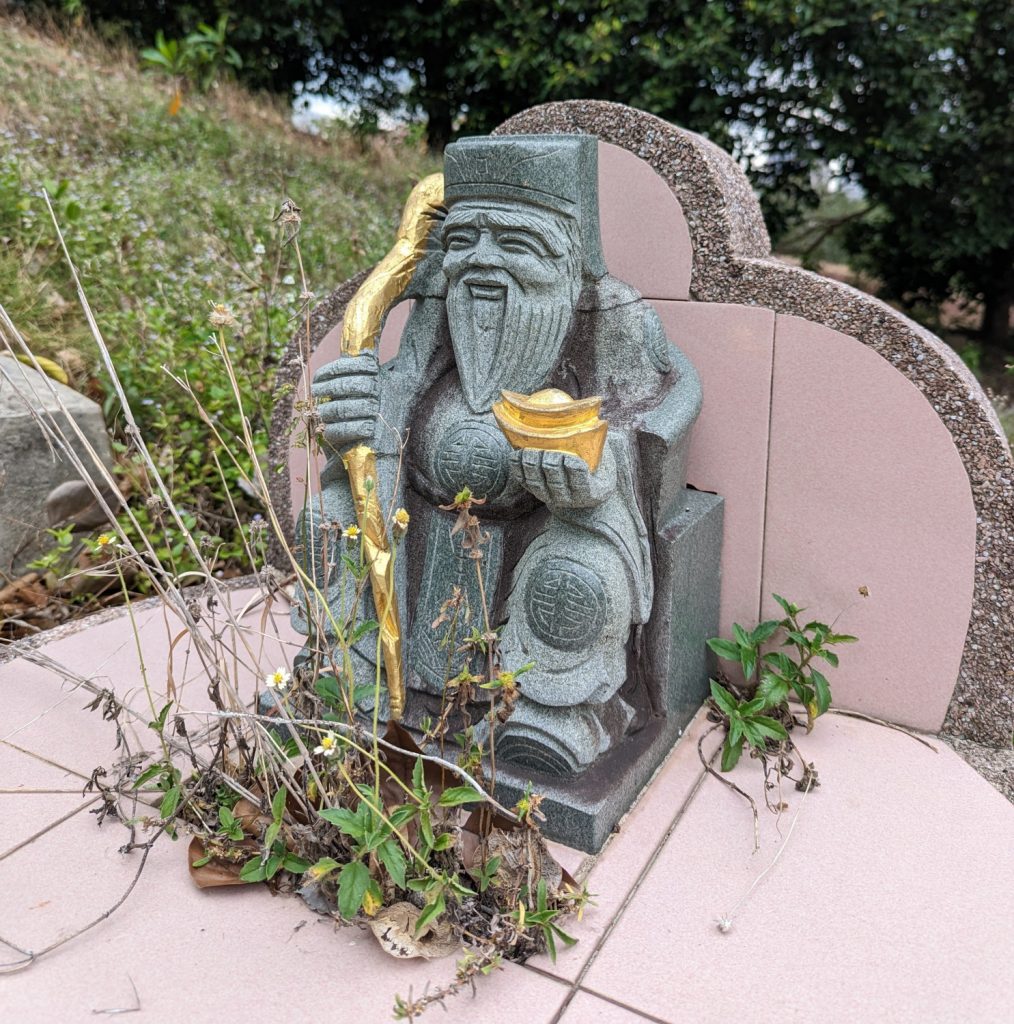 I sit on the edge of a grave for a while, enjoying the view and the birds flying by my view. During this first walk, I don't manage to take a picture of the birds, only a video. I shared these in a story on instagram.
When I then continue walking, I come across the highest part. Here there is a monument, on it I read that Bukit China is from the Eng Shoon Association. It also tells something about the background of the cemetery and temple.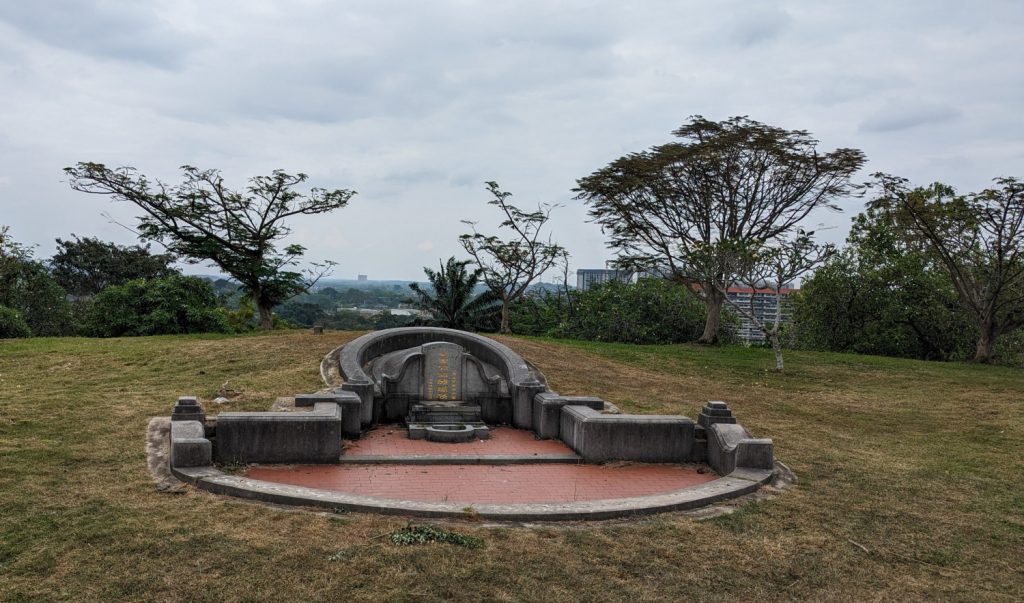 As I then continue walking, I soon come to a staircase that takes me down. I then pass a couple of miniatures of Christ Church Melaka and the Town Hall in the city centre. Surprising like this along the path.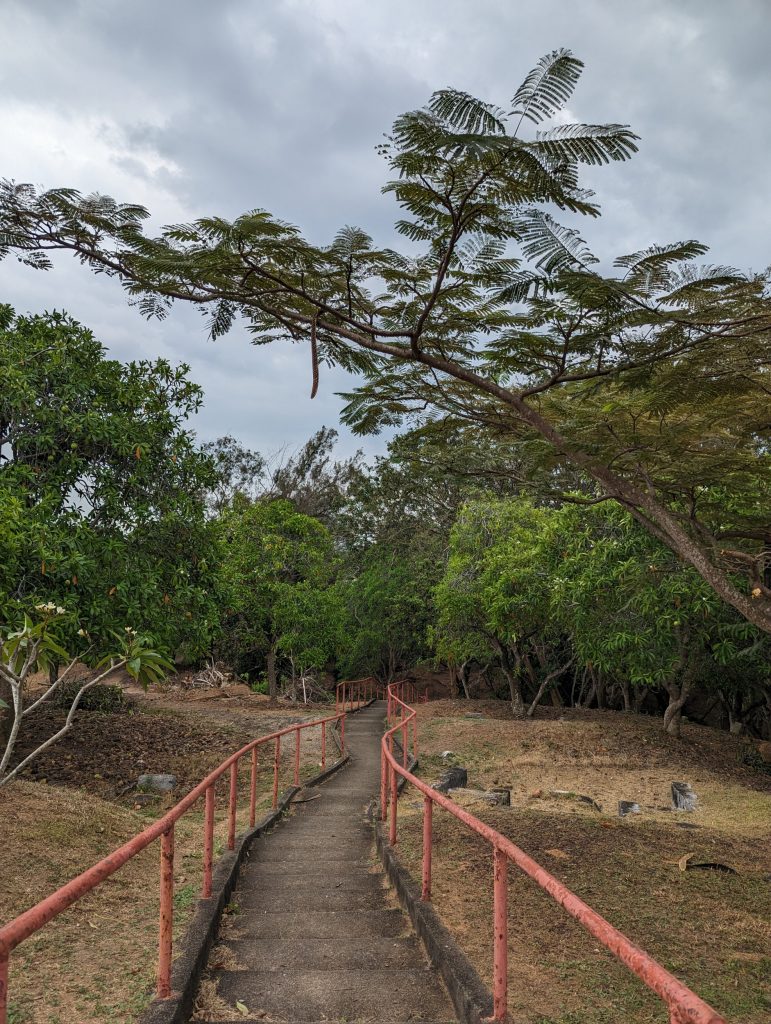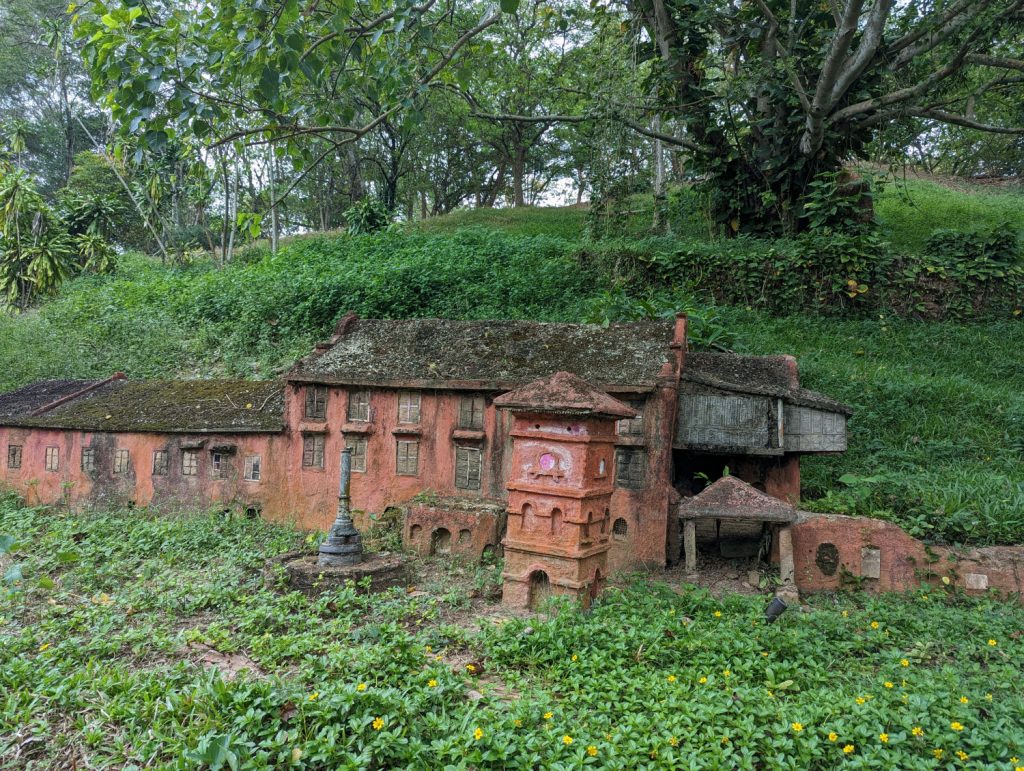 Shortly after this, I reach the main road again. I have then come down the mountain some distance and am walking on the grounds of a school. If I then walk up the through road to the left, I am soon back to my starting point, the temple and the spring.
Duration / Distance and GPS for hiking on Bukit China
Distance will be around 1 a 1.5 km
It will take you around 30 – 45 minutes
Gps location Bukit China
Hiking on Bukit China in Melaka, Malaysia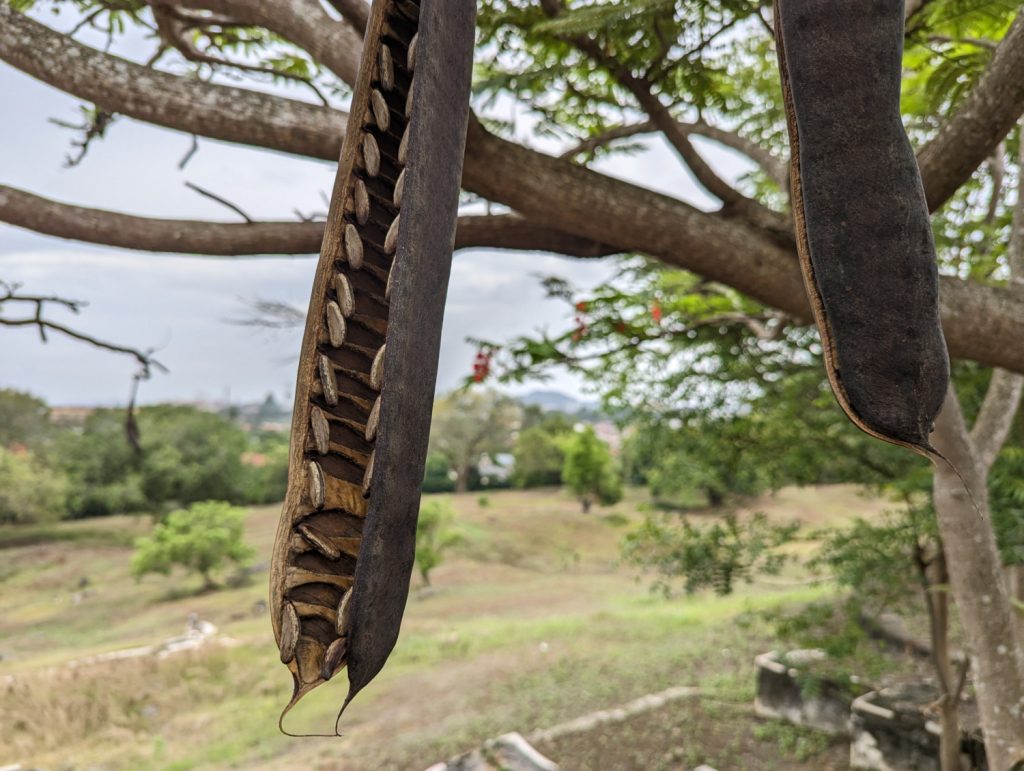 Hiking on Bukit China – Long Hike ( 60 – 75 min)
For this longer walk, turn right at the top of the hill. You follow the path back down slowly. You pass a lot of beautiful big graves. Ancient tombs but also newer ones. I loved following this path too. The big trees really give the whole thing a nice park feel but, with the graves added, a very mysterious atmosphere.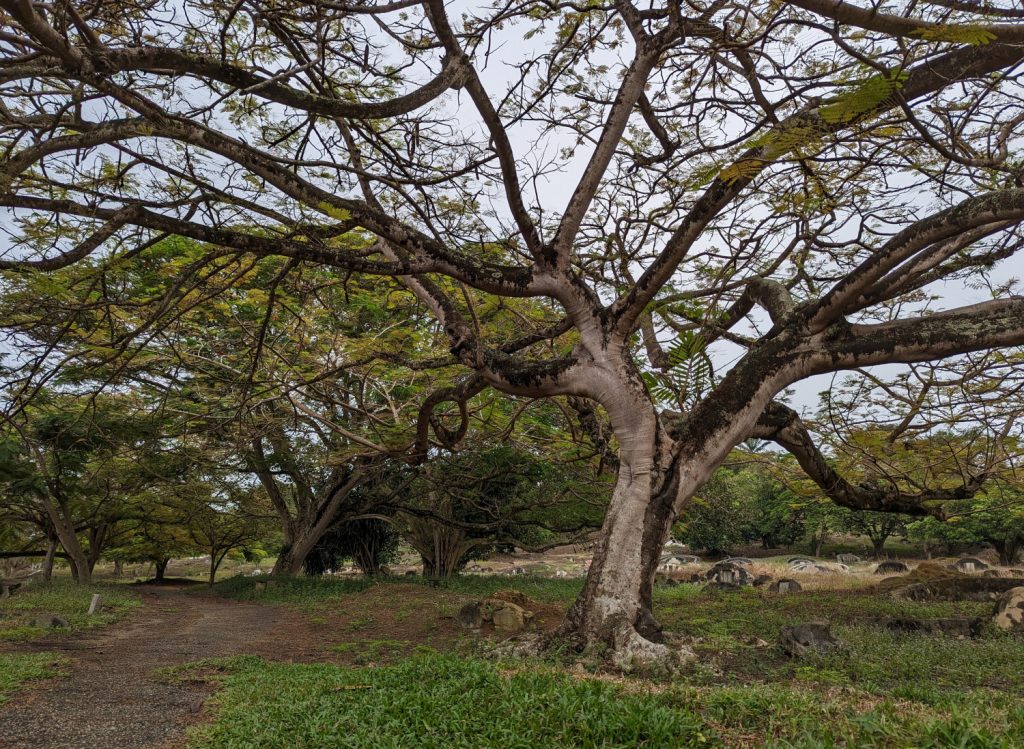 Here too, I come across many locals taking a walk or jogging around. Come to think of it, I met a fellow tourist on the short walk and this long lap I only saw local people. Apparently, there are few tourists willing to take an hour to walk this lap on Bukit China.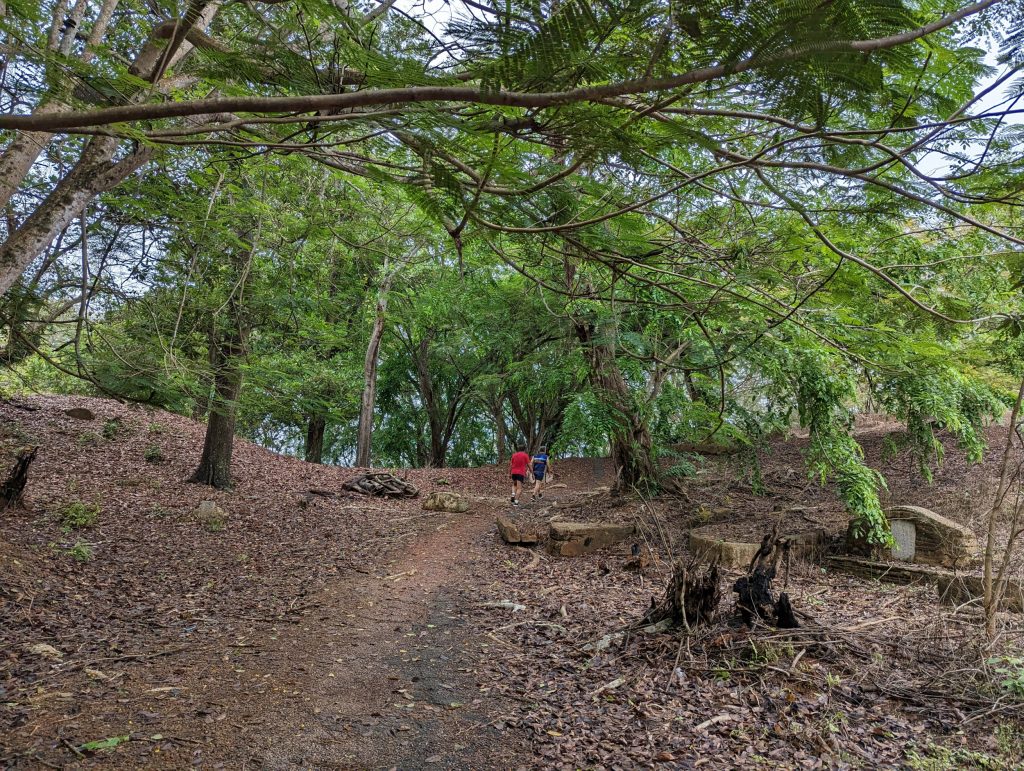 At one point, you walk along the back of the hill. In itself, you are quite close to the city again but because of the greenery it is not so noticeable in most places. Looking back, I see the Imperio Residence itself in the distance, really a few kilometres away. This is where I am currently staying.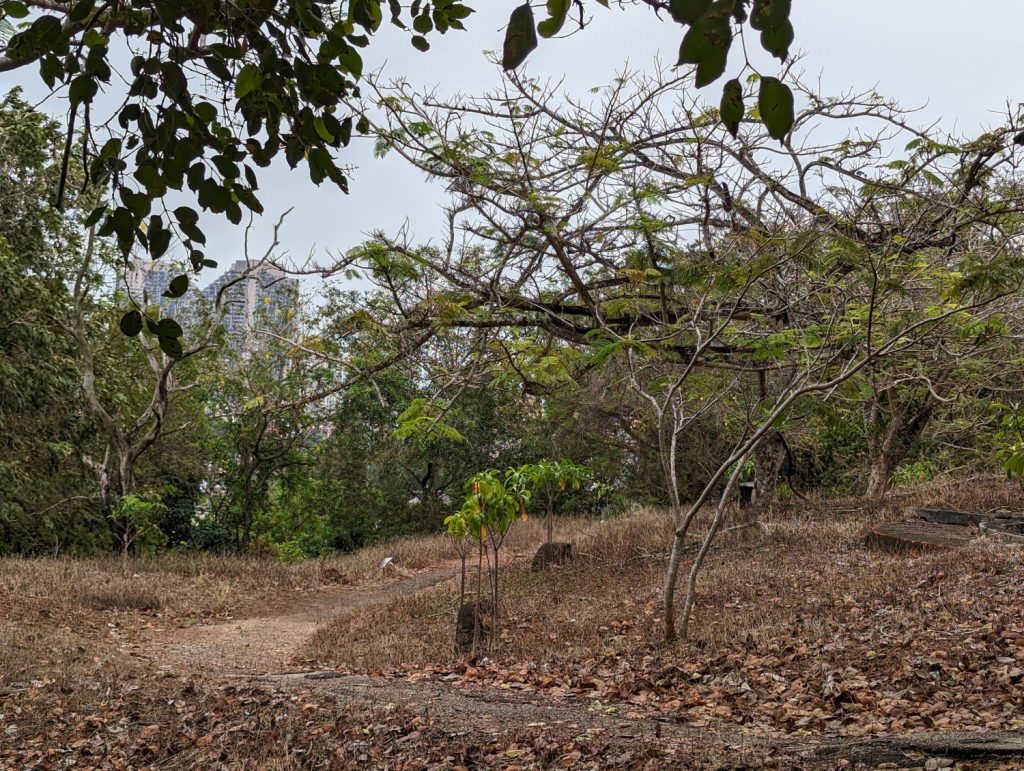 I like to realise that hiking on Bukit China is the order of the day for the residents around this hill. We in the Netherlands wouldn't go do a hike in a cemetery …. Also, these don't serve themselves as much for it I think, it's not a park but really a place where you mostly only come to visit a grave.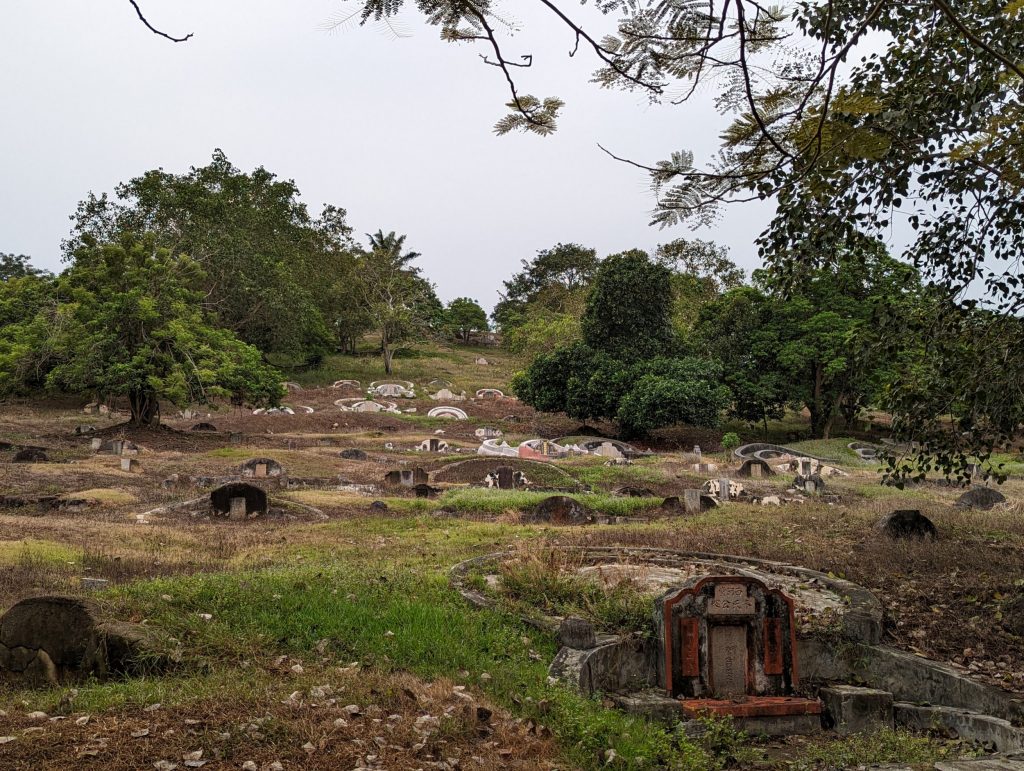 Several of these people spoke to me, curious about where I was coming from. And whether I knew I was walking all the way at the back and that it was quite a long way back. When I told them that I just wanted to have a nice walk, they gave me full credit. But two of them added that I shouldn't stay here too long because they thought it was dangerous in the evening. I walked here in the late afternoon.
When local people warn me, I always take it seriously. Another man was already warning me about rain and so I walked my round a bit faster. I had so wanted to take some time to photograph the Chinese golden oriole. After all, last time I saw it flying down here. Right at the back of the hill. But yes, there was nothing else to do. Then what was my surprise? One came and sat on a grave about 20 metres in front of me. Before I realised it, it was sitting on a branch a little further away with a second one!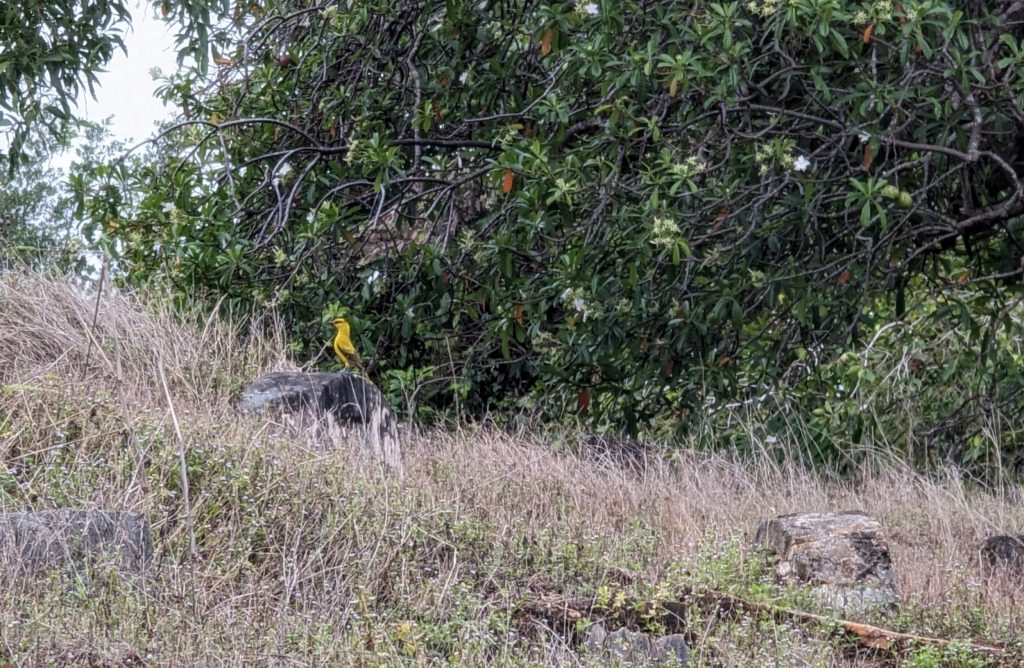 I wasn't fast enough to get them both on it. I had to zoom a lot and later saw that the second one was right on top 🙂 But that first one, that he was sitting on a grave turned out pretty well! How lucky! With a huge smile on my face, I walked up and ended up back at the highest point where the monument stands.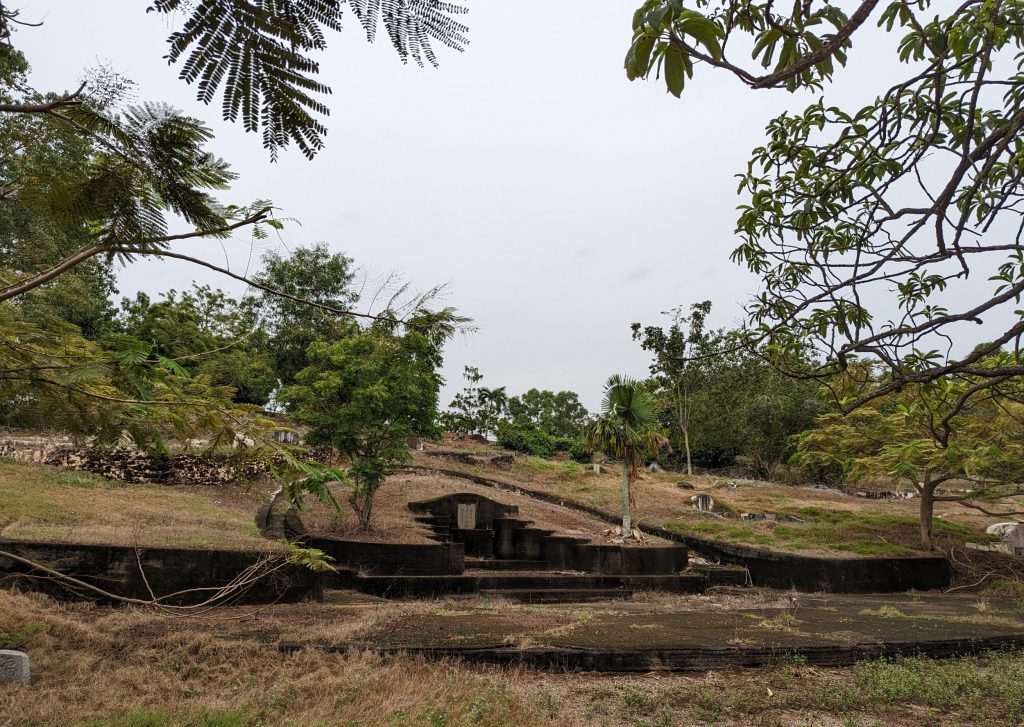 Just before walking up, I passed this huge grave. This was really the biggest one I came across. It was at least 10 metres wide, what a size huh? And that for 1 grave! I didn't take the time to see if any name was visible. Mostly also because I couldn't read most of them anyway because of the Chinese characters 🙂
At the stairs down, this time I choose to walk the first part of the short walk so I can take the stairs to the temple. When I then reach the temple, I want to use the toilet briefly but alas…. It has just reached 6pm by then and the temple has closed its doors.
Duration & Distance and GPS walk 2 hiking on Bukit China
Distance is about 2.5 a 3 km
It will take you around 60 – 75 minutes
GPS cemetery on Bukit China

Hiking on Bukit China in Melaka – Malaysia
Safety on Bukit China
Is it safe on Bukit China? During the day, it is safe at all times. I felt super safe and every time, people were walking or running by and recreating. I did not see any people walking around there who did not fit into this picture.
But in the evening, I also think you shouldn't be here anymore. You are obviously far away from civilisation, I don't know the way and the other one does so I definitely understand what they say. I can also definitely recommend not walking here in the evening. If you call for help, I don't think anyone will hear you.
So for a hike, Bukit China is a super option in Melaka and is best done in the morning or afternoon.
Tip – Do take plenty of water with you when you go hiking. It can get quite hot and there is nowhere to refill water or buy something to drink.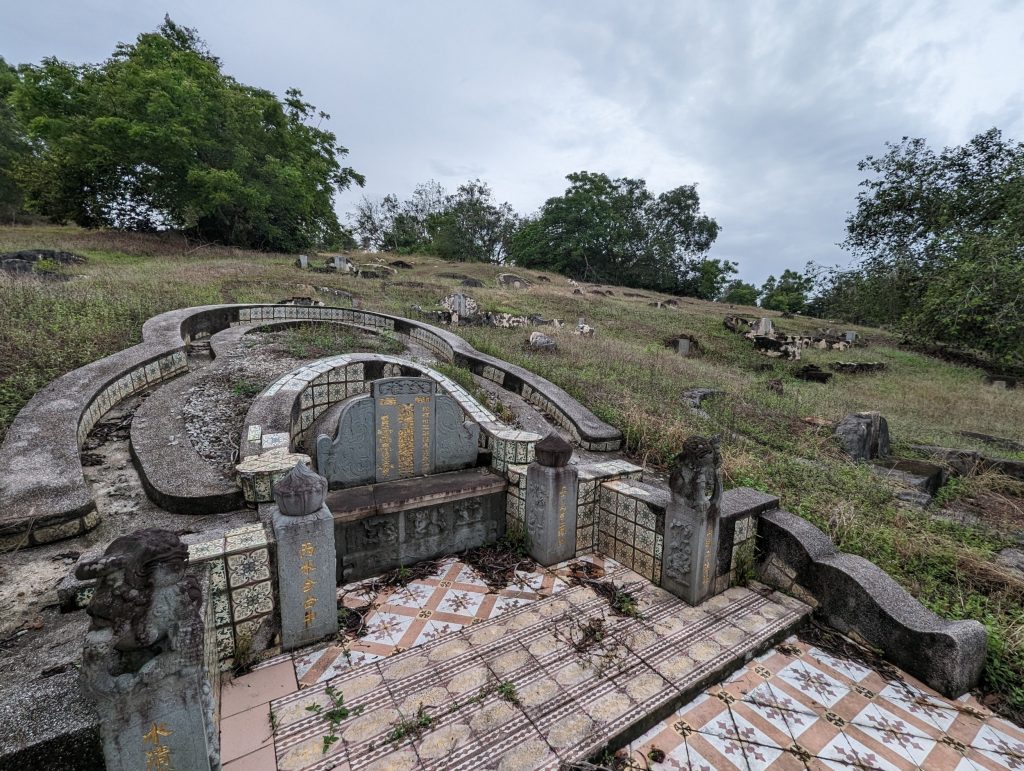 Would you do this walk too? Would you do the short one or the long one?
Or do you think Hiking on a cemetery!?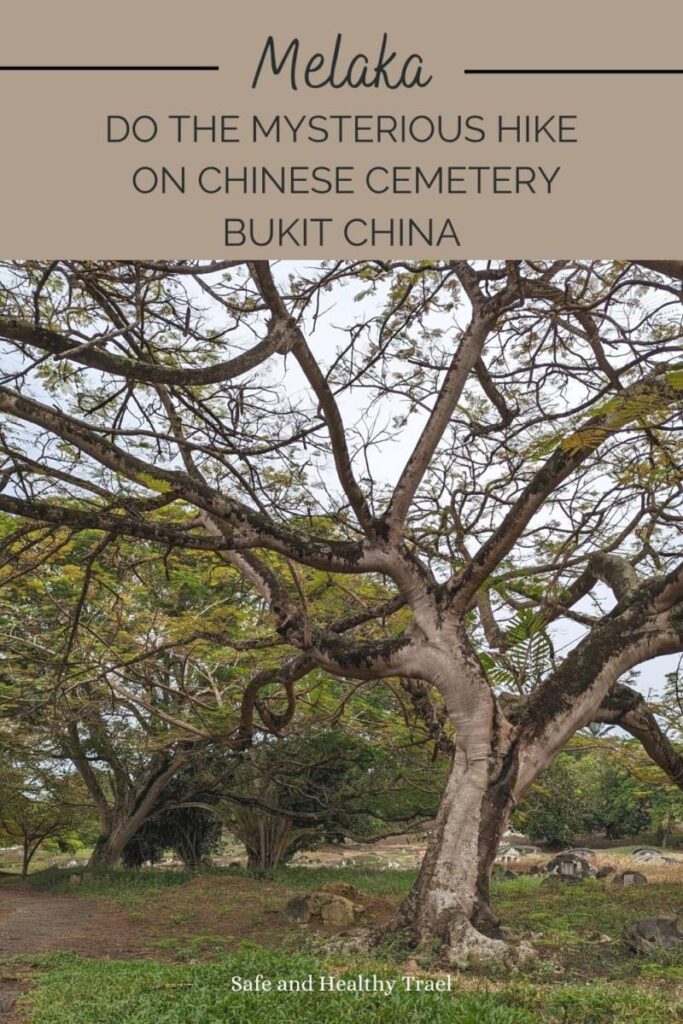 Want to read some more travel inspiration?
What to do at Cameron Highlabds – Hike at the Teaplantation
Cooking yourself in Melaka – Cooklingclass at Cookingschool Melaka
Backpacking on Borneo – Traveltips for Borneo
And check out the haunted Kellie's Castle – near Ipoh
Volunteering on Tioman Island – Juara Turtle Project
Or go see Indonesia and the impressive Shaman
I hope you enjoy this world as much as I do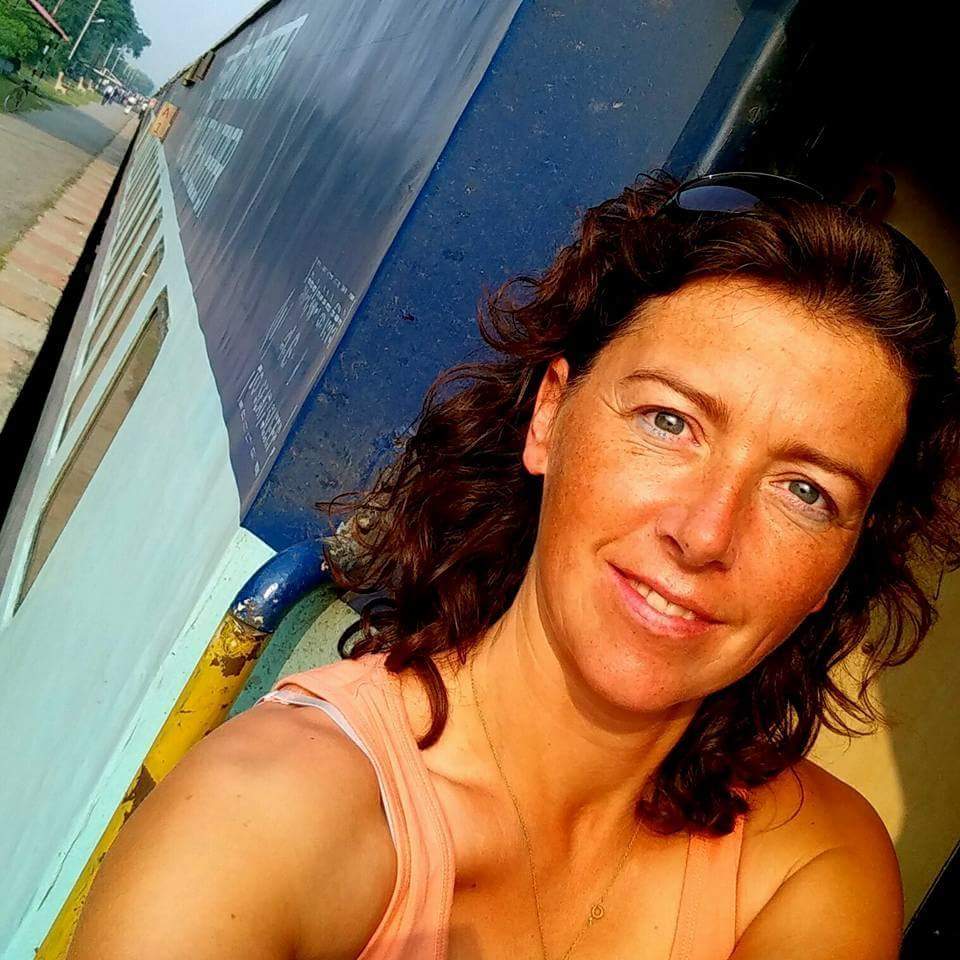 Jacomijn is een politieagent uit Nederland die jou graag laat zien hoe je veilig, actief en gezond de wereld kan over reizen. Safe and Healthy travel is a MUST