Explore Halong Bay & Cat Ba Island – 3 day trip Halong Bay, Vietnam
|
The very first trip on my first solo travel was the trip to explore
Halong Bay
and
Cat Ba Island
. I was very excited to be traveling alone and was still wandering if it would be something for me.
I went to Vietnam and flew to Hanoi. After a couple of days I wanted to explore Halong Bay but because of a thunderstorm I couldn't go. So when I finally did I was very happy to go traveling. I was on my way and my solo travel had really started. That is how it felt because I booked the hotel I stayed allready upfront and this was the first real big thing a had booked on my own. I was going to have a 3 day trip Halong Bay!!
I was on my way, traveling the world, SOLO!


The busride was good. It was a couple of hours in a tourist bus. Half way we stopped at a tourist shop where I bought a book, already finished it. This time I bought a copy of a book so it costs me only 5 dollar. They copy all books, even my Lonely Planet was also a copy.
Those are pretty good so I don't mind.
My first solo trip Exploring Halong Bay
& Cat Ba Island, Vietnam
In the harbour of Halong Bay we were divided in two groups. I had talked with two elder women and they were in another group. The group I was in were all younger people. I spoke to two chinese girls. They took my picture in the harbour. After a while I talked to a couple from Canada and there were two really nice Israeli girls. We went on the boat and there were also two brothers from America and 3 girls from Britain and a couple from Spain. It was a really nice group of divers people.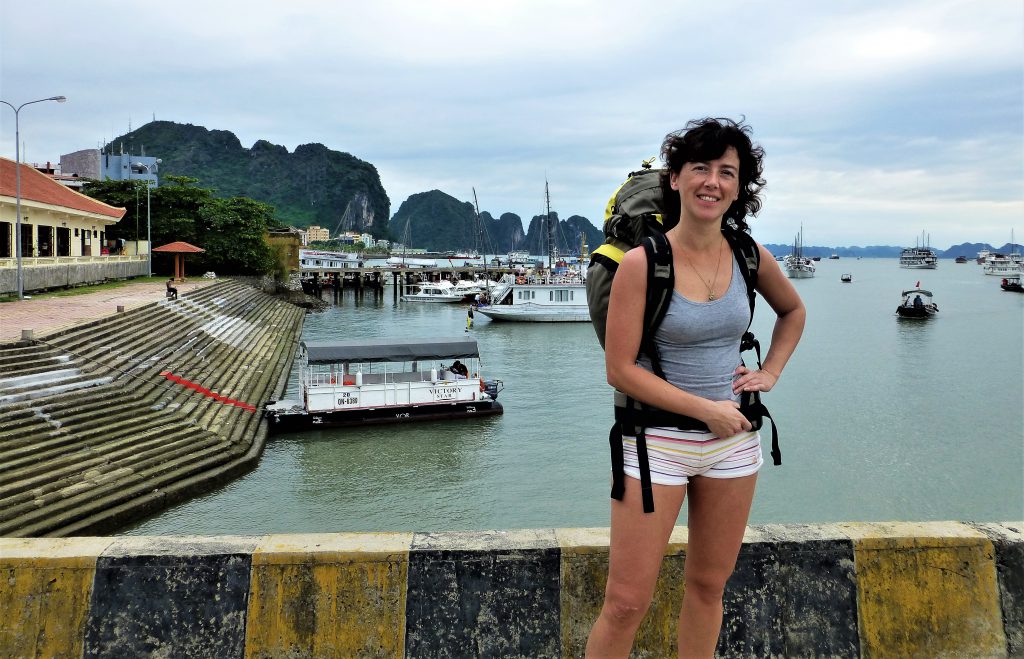 Explore Halong Bay and get this view!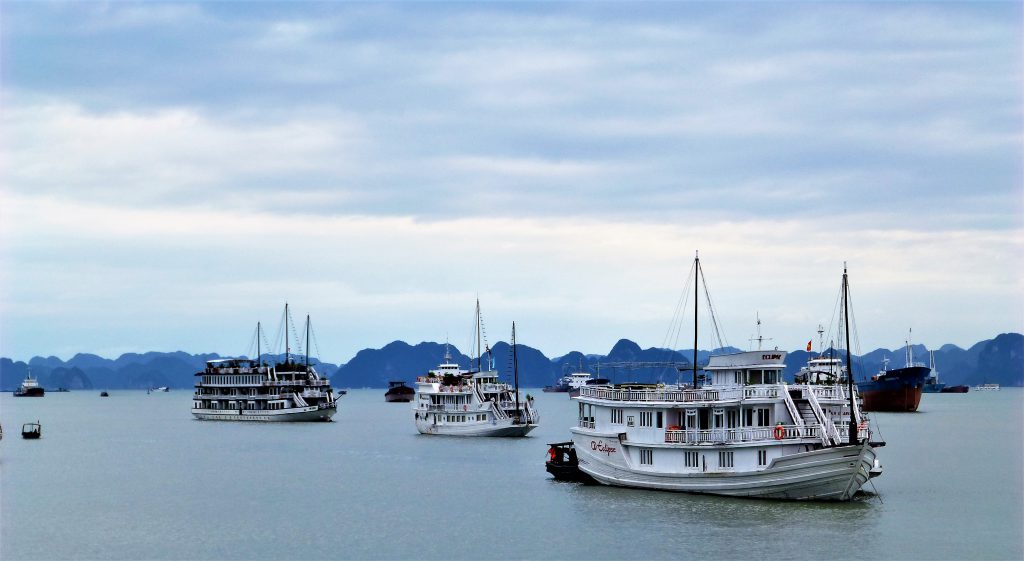 I got the key to my private room. I had booked a room to myself, I didn't want to share at that point. This was going to be my first trip at Halong Bay and more so…my first trip as a solo traveler. I wanted to fully enjoy it! The room was really nice and clean and a small bathroom.
And my view was the best!!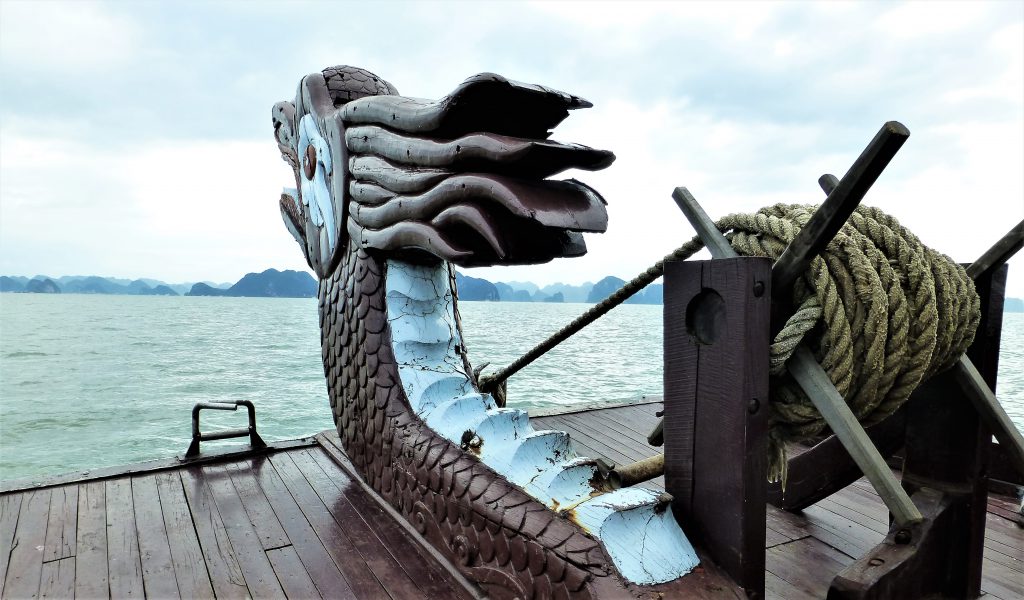 My Very First Solo Trip
Explore Halong Bay
After an hour enjoying the room and the view into Halong Bay it was dark and time to go eat. We had a diner with all of us on two big tables and the food was prepared at the ship. They served multiple plates with seafood and rice and vegetables. I did really loved it. Almost everything was really good!!
We sat for a while at the table talking with eachother. I learned a lot by listening to everybodies stories about where have been and how they have booked everything.
After a while a couple of us went to their room so I went too. I went to bed and opened the curtains. My view was so great!! It was almost a full moon so the karst rock formations in the bay were reflecting that light. It was magical!!
I saw boats floating next to us. It was so great. I felt so lucky to be there. Right then and there I was really the happiest person on earth!!! I never felt like that before. My decision to go traveling by myself was the best thing ever!! I layed there watching the stunning view for quit a while.
 I felt like the most happiest person in the world!!

My room
The next day I was up early.  I went to the top of the boat. The view, again, was stunning. The sun was allready set but with all the scenery it was so good. All the karst stone rocks and the boats, I was so lucky to be there.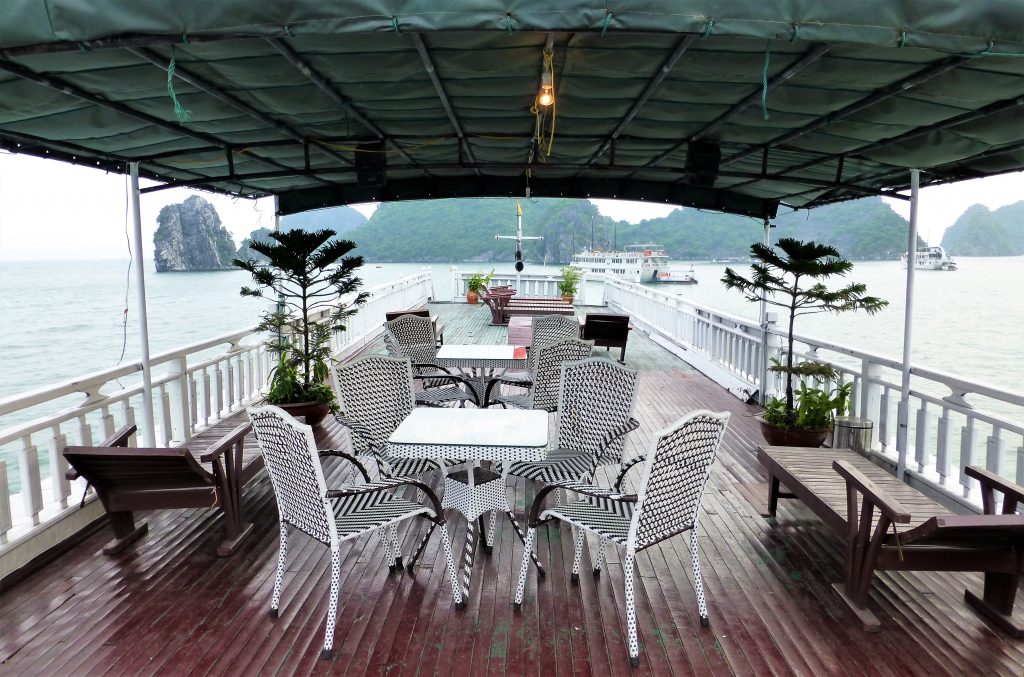 Upperdeck boat
After a while other people came too and breakfast was being served at the middle deck. After breakfast we went on another boat. We had to take or luggage because we went to Cat Ba Island.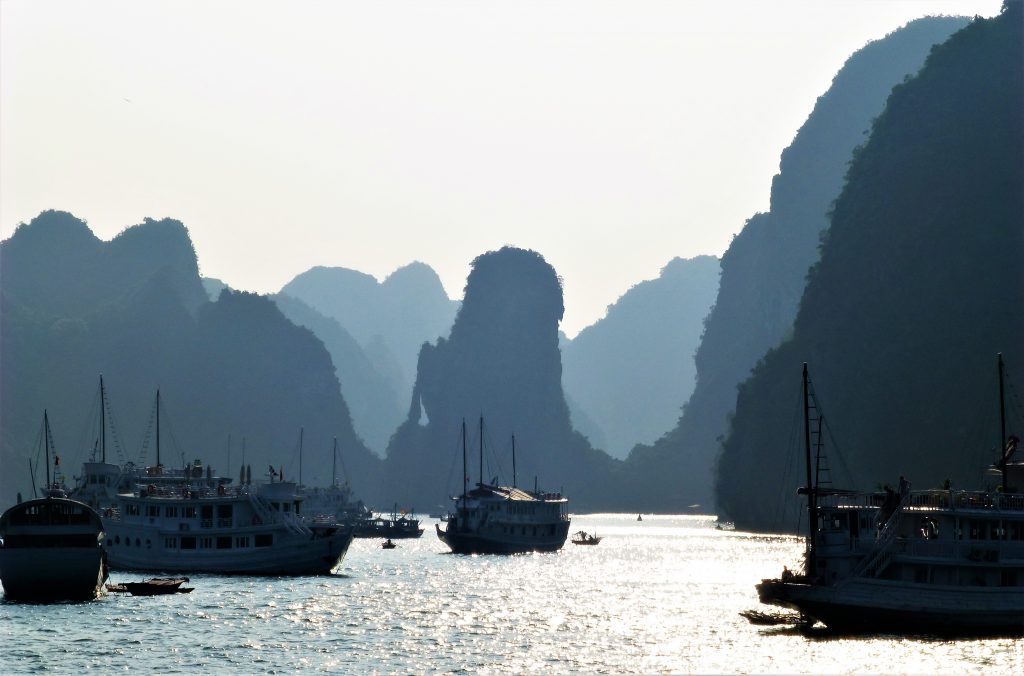 Morning in Halong Bay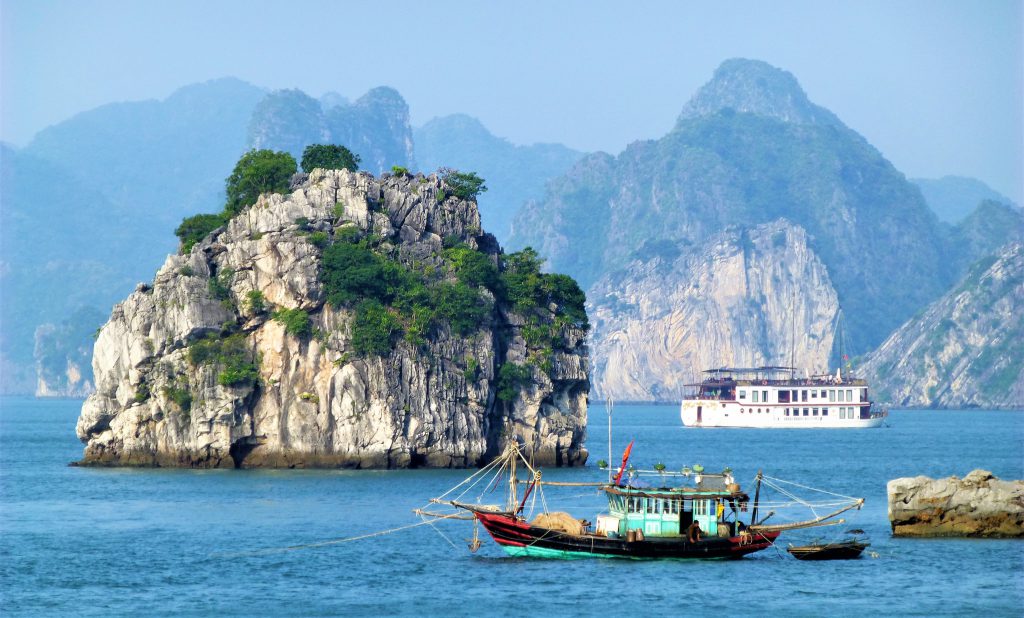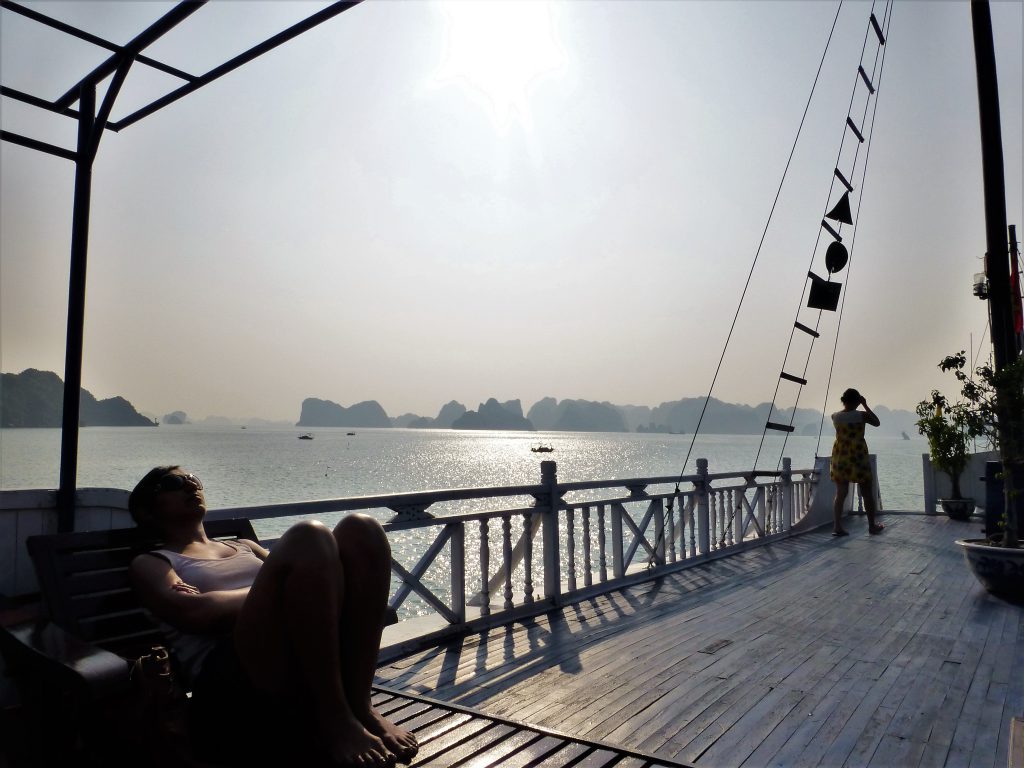 The boat we got on was more luxurious. It was a real nice boot, we went all sitting on the top deck. The sun came through and we were enjoying the sun and the view.
My first trip at Halong Bay and Cat Ba Island, Vietnam
After a while the group was parted again. Half of the group would go back because they had booked the two day/one night trip. We went on to go to Cat Ba Island but first where we were going to visit a cave and probably see some monkeys. After that we would go kayaking. Sounded great.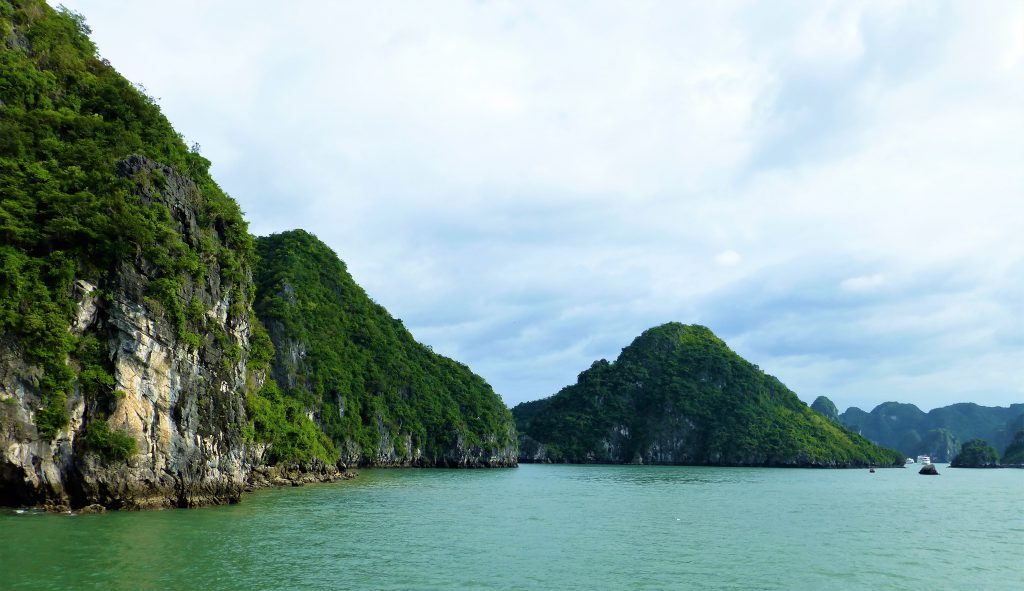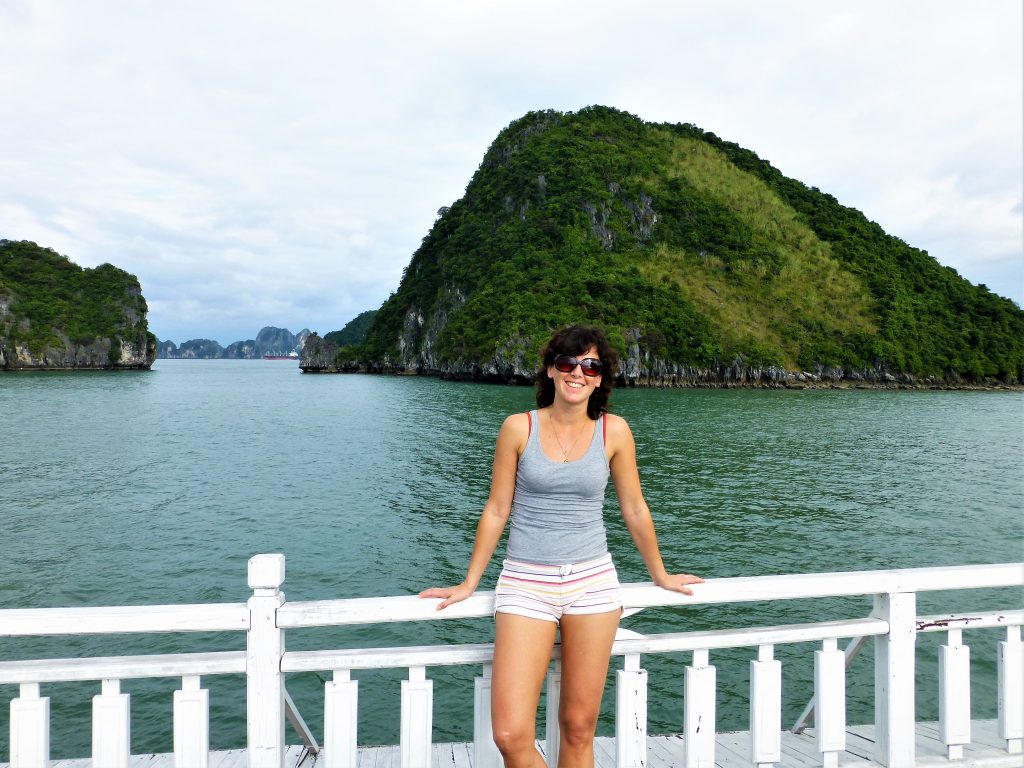 The
Sung Sot cave
was nice, we had a real nice view again over the bay. The Canadian couple made a nice picture from me.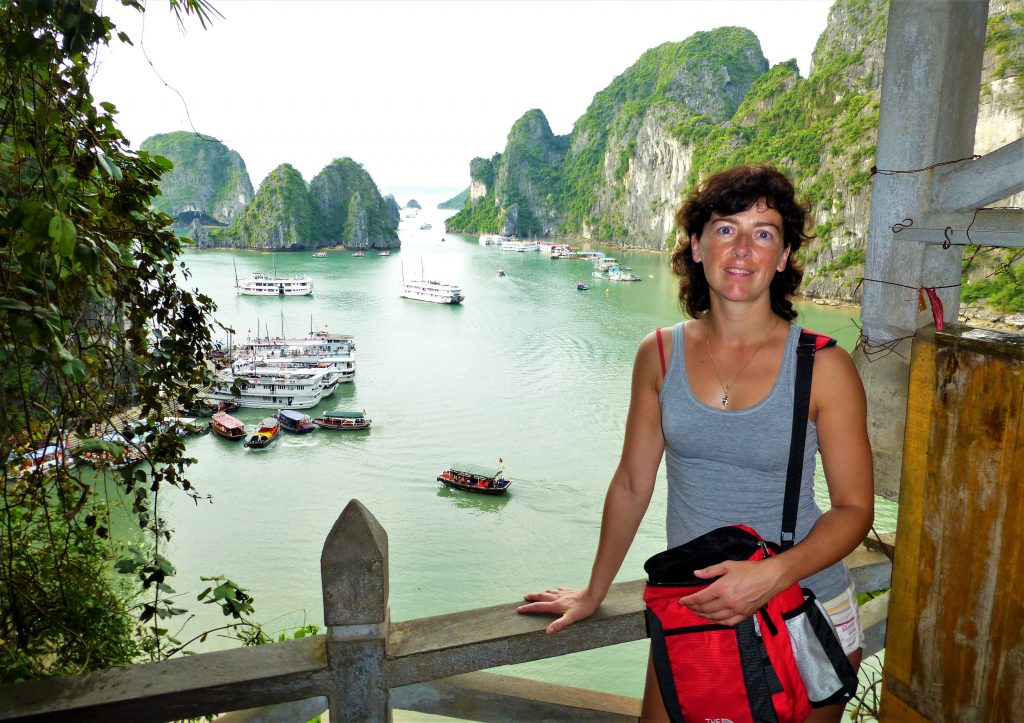 View at the Cave in Halong Bay
And kayaking was great too, I was in a kayak with a real nice Britain girl. She was traveling alone but she had met a couple she knew from back home. In a couple of days they would part again and she wanted to go down to Australia and work there.
Everybody had such a nice story.
The American couple was allready away from home for almost 2 years. They had worked in China, teaching English for a year and were now traveling allready for a year. They were not planning on heading back but were thinking about getting a job as a teacher again to save money for traveling even longer.
My First Trip to explore Halong Bay
also included visiting Cat Ba Island
Half way the day we were at
Cat Ba Island
, we were booked in the hotel and we were going to a forest for a hike. How great is that. We were going to hike to a high point so we could get some nice pictures. It was a real hike, it was warm and at some points we really had to climb. I loved it!!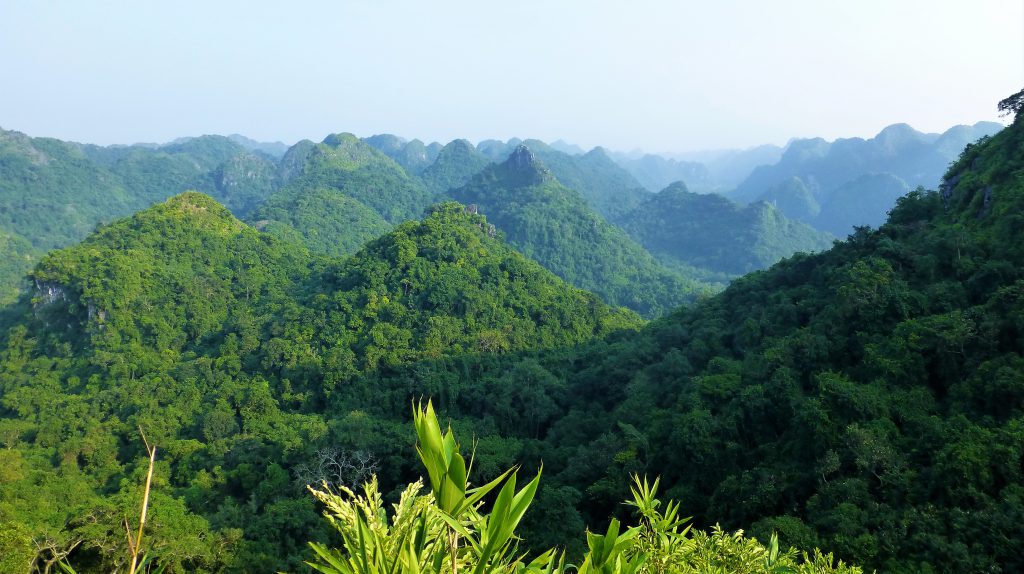 View after hike on Cat Ba Island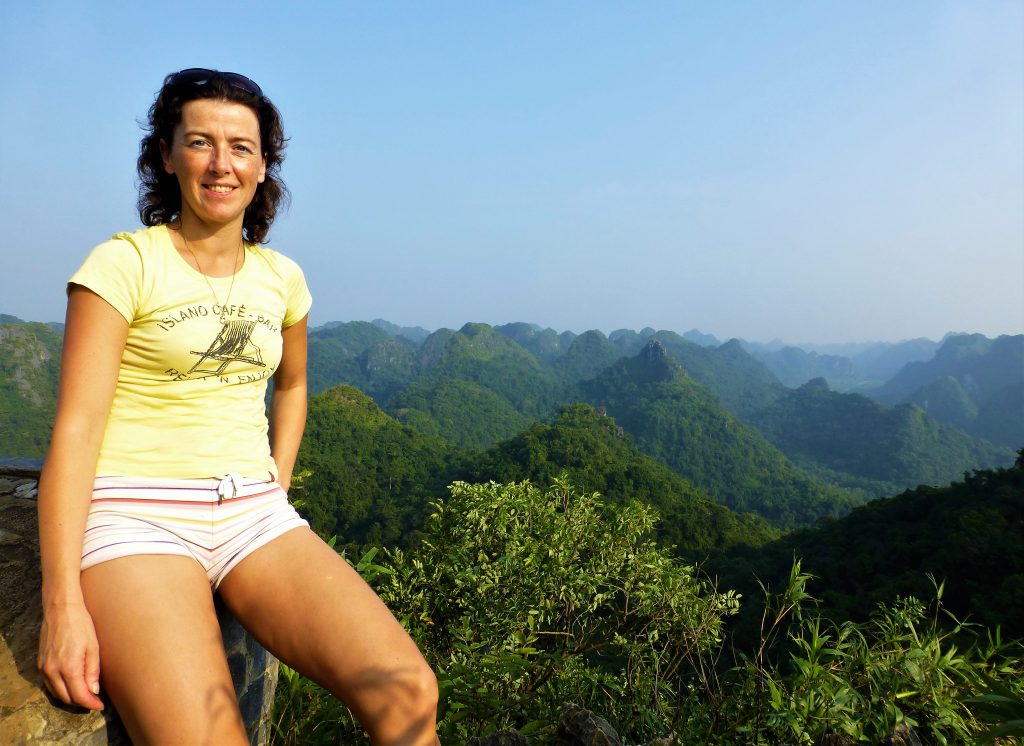 Three day trip Halong Bay brings you to Cat Ba Island too!!
I had heard that I should book a trip in a nightbus to Hue. That is were I wanted to go.
I could buy a ticket at any hotel they told me.
So I did at the hotel on Cat Ba Island, they had a ticket for me. They had to call to Hanoi and after while it was arranged. He explained to me where I should go and I would be picked up by a
sleeperbus
. How great and easy did that go? Great!!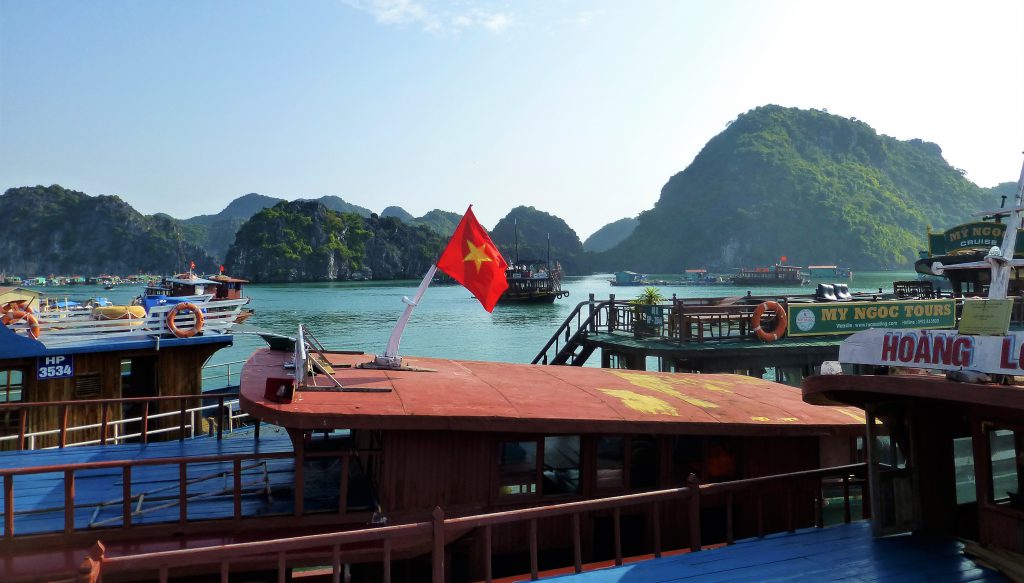 At my first trip at Halong Bay I learned how to be a traveler!!
The next day we went on a boat in the Bay again. We were going to an island where we could swim and take a hike if we wanted. Again it were people of two boats into one. I got in touch with a French woman, she told me that she was traveling for allready 2 years. She had made such a great trip allready! She had been sacked and got money from the employer. That money was good for traveling. She had nothing left and whenever she got back home she would start all over again.

Explore Halong Bay – Vietnam
The weather was great and at the island so I wanted to swim. The French woman asked me if I wanted to go up the mountain, would be a nice path they told us. So I went u climbing with her. At some point everybody went back because the path wasn't that great anymore. We went all the way. And what great view we had! Pictures were made from eachother from that point and went back down.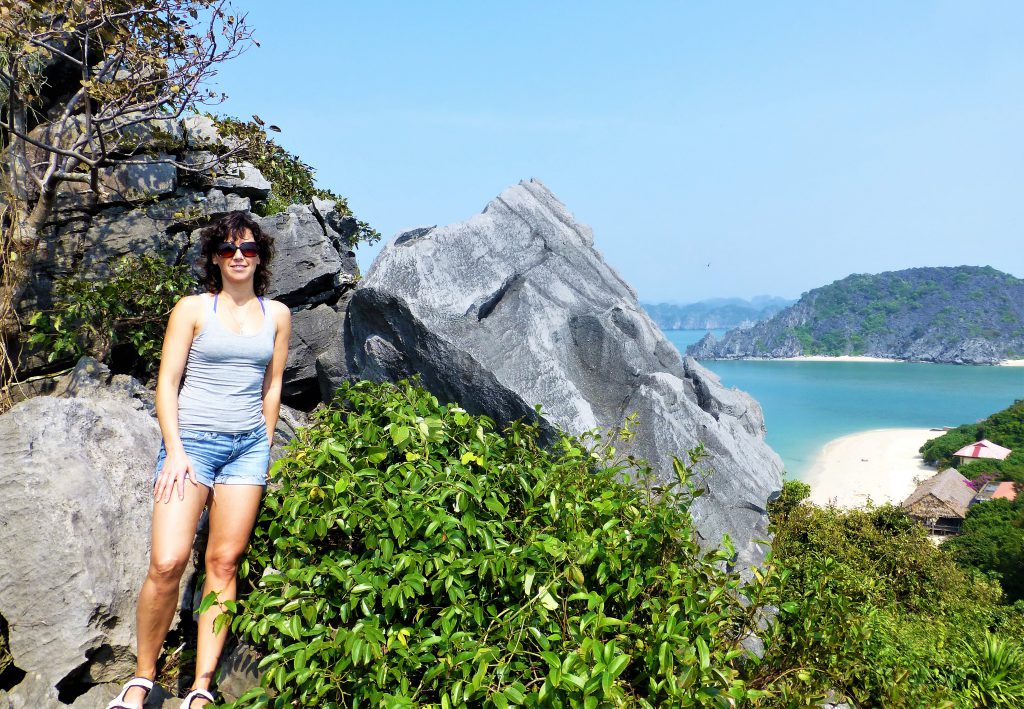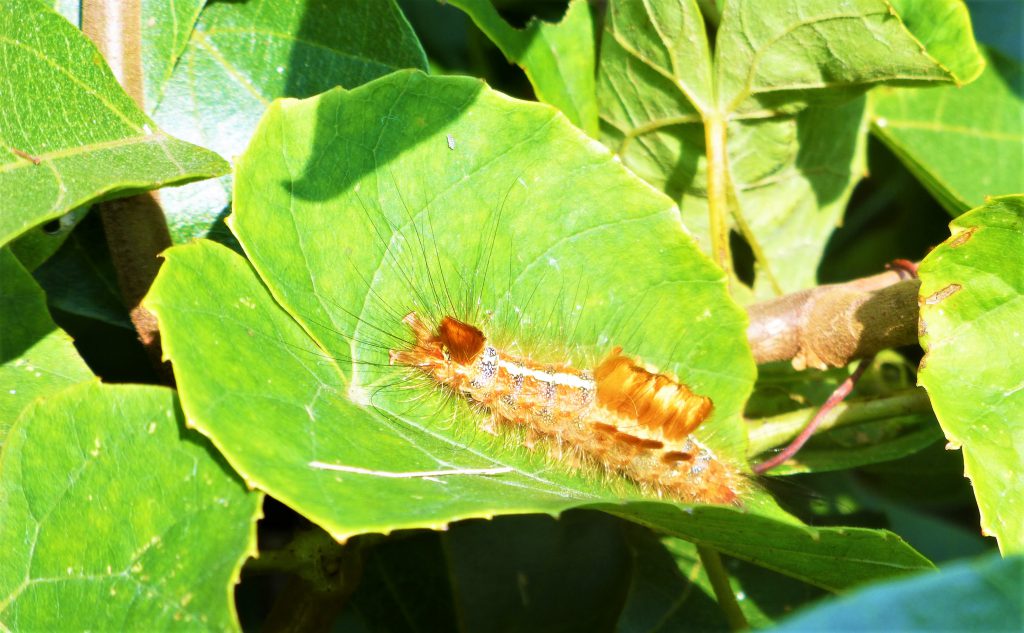 We went swimming and relaxing.
It was a real nice beach.
I lay down on my traveltowel, small but it was good. After that I went back in the sea to wash the sand of my body. The Israelian girls took pictures. I wanted one too, so she made one of me, I have a picture from me and Janine in the bay,in the
gulf of Tonkin
. Really liked the contact with all the different nationalities. So nice!!
The Israeli Janine and I during My First Trip in Halong Bay!!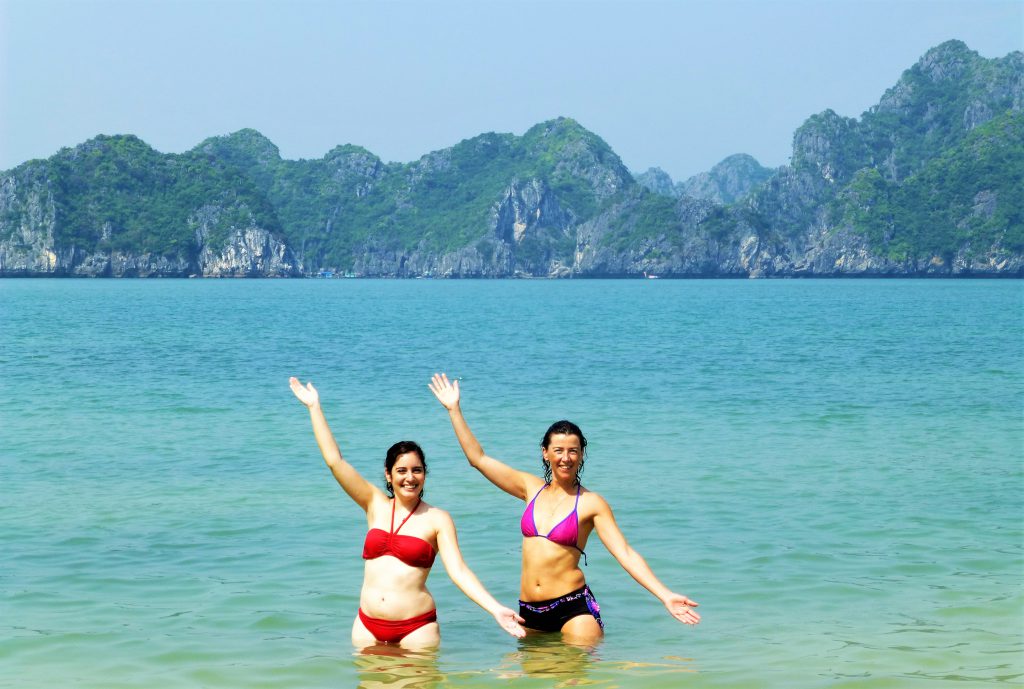 Janine and me in Halong Bay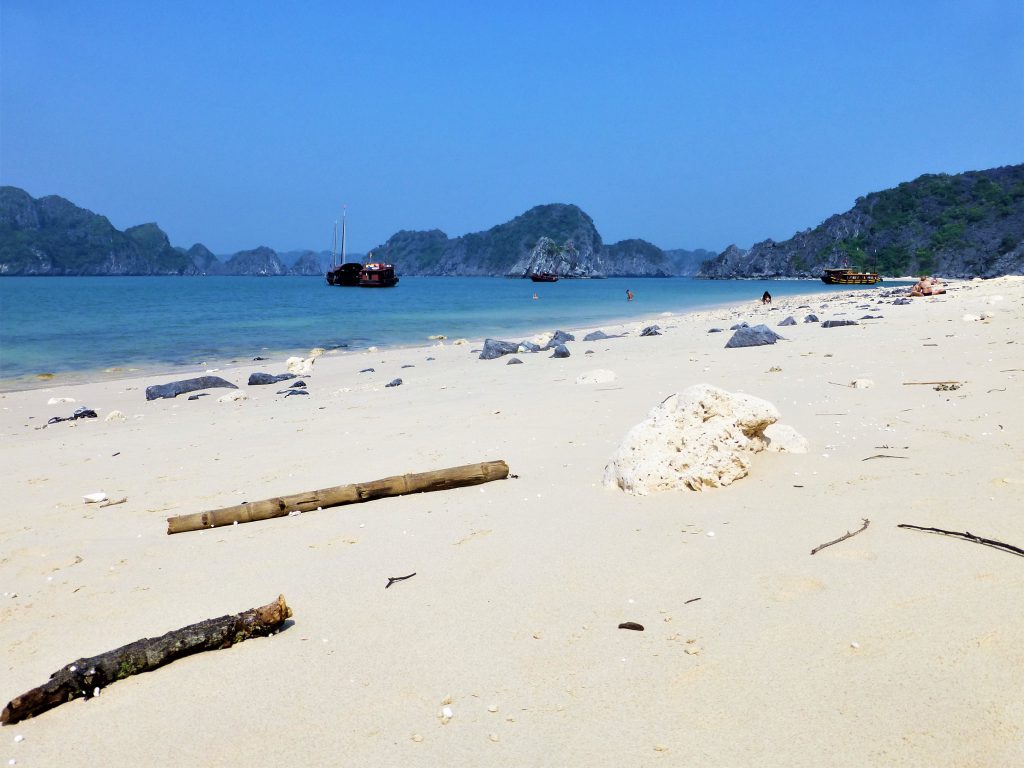 After the swim and hike we went back on the boat and were there for a couple of hours, back to the mainshore and back to the bus. It was a real nice day.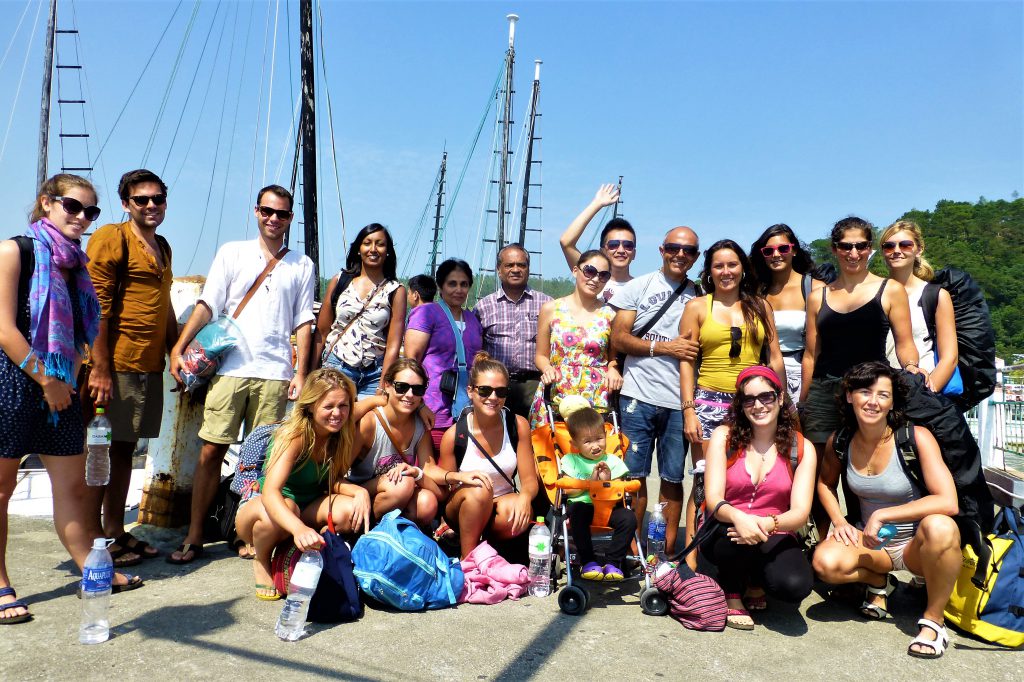 Group of the last day!
I was around 18.00 hours back in Hanoi and my
bus
went at 18.45 hours. I ate something at the street where my bus would leave and there I went.
Off to the rest of my solo travel adventure!!!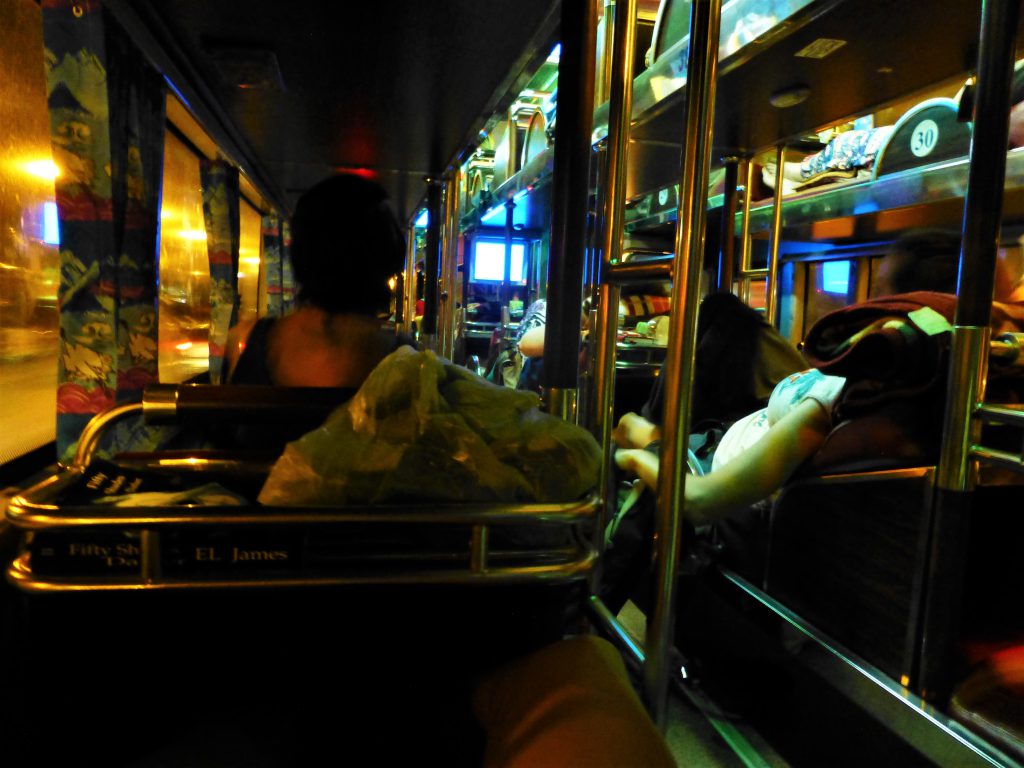 Sleeperbus Vietnam Hanoi – Hue
My first trip at Halong Bay & Cat Ba Island, Vietnam
If you liked this post I would love it if you'ld share it too!!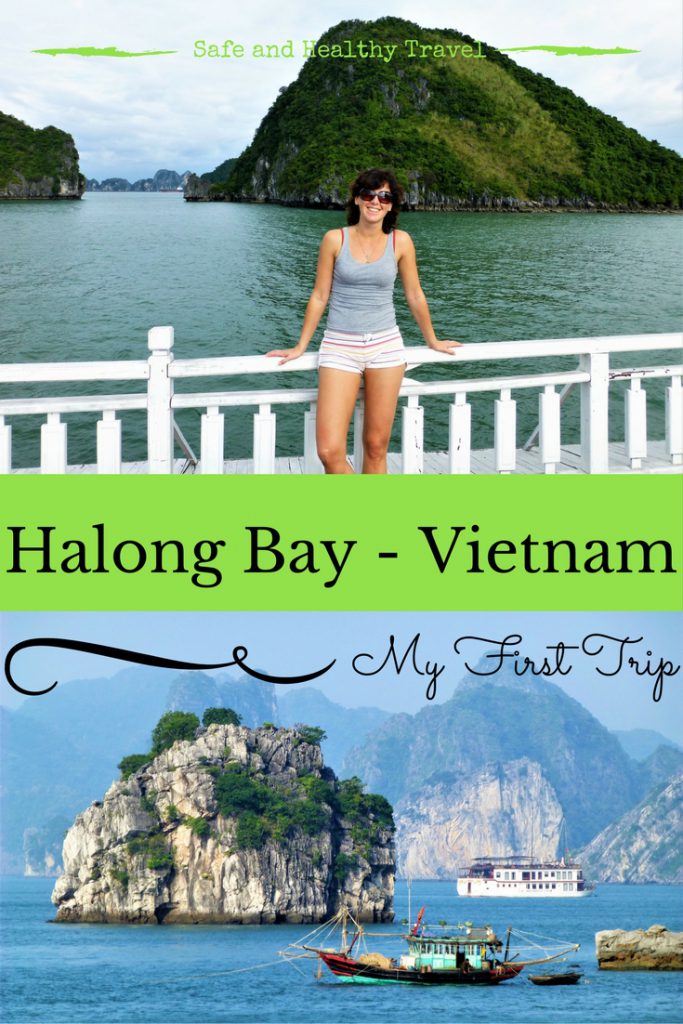 Do you want to read more about my Vietnam Travel?
Early Morning Activities at Hoan Kiem Lake – Hanoi
Cookingclass at the Red Bridge in Hoi An
Or can I inspire you with:
My Favorite Yoga Poses Around The World
Sunrise at the Taj Mahal – Agra, India
Floating in the Dead Sea – Israel
In 2016 I walked 800K!!
The famous Camino Frances in Spain
I hope you love this beautiful world as much as I do!!
#Enjoy and #Inspire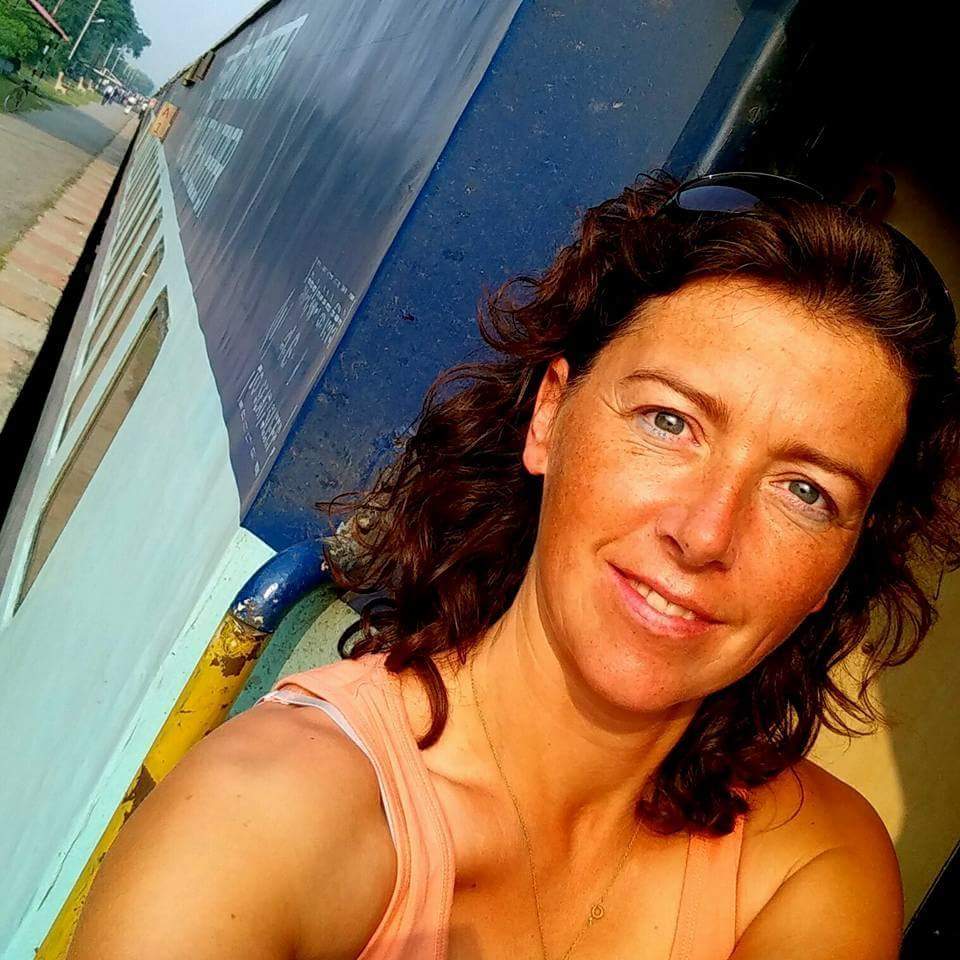 Jacomijn is een politieagent uit Nederland die jou graag laat zien hoe je veilig, actief en gezond de wereld kan over reizen. Safe and Healthy travel is a MUST