Cycling outside of Rome – Exploring Bracciano & Martignano Lake
Taking a citytrip to Rome is always a good idea! Doesn't matter which time of the year, there is always enough to see and to do. I went in october and because it was great weather still I wanted an outdoor activity. During the day we had temperatures of about 20 degrees and in the evening we could sit outside to eat on a heated terrace, it was just the best!
I went exploring Rome but after a couple of days  I also loved to go out of the city and cycle through the Italian countryside!!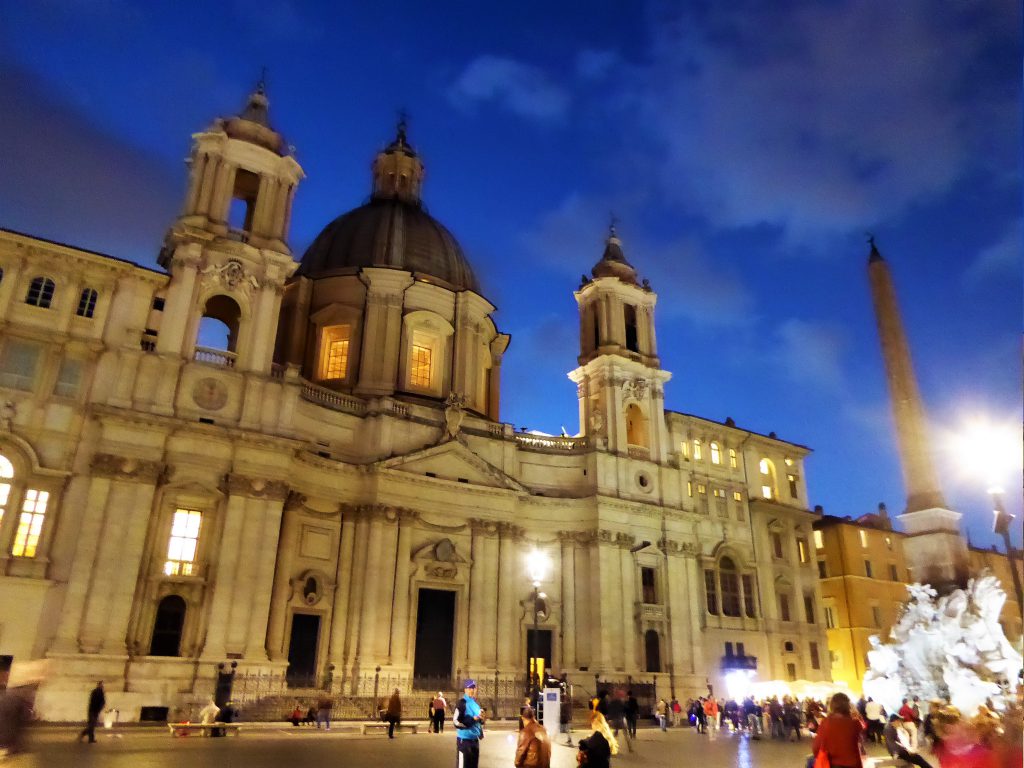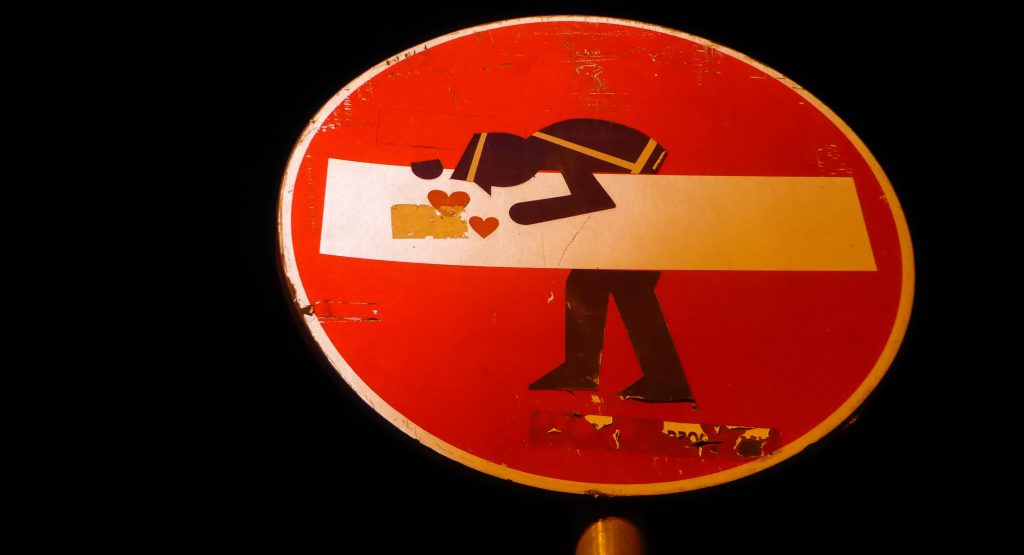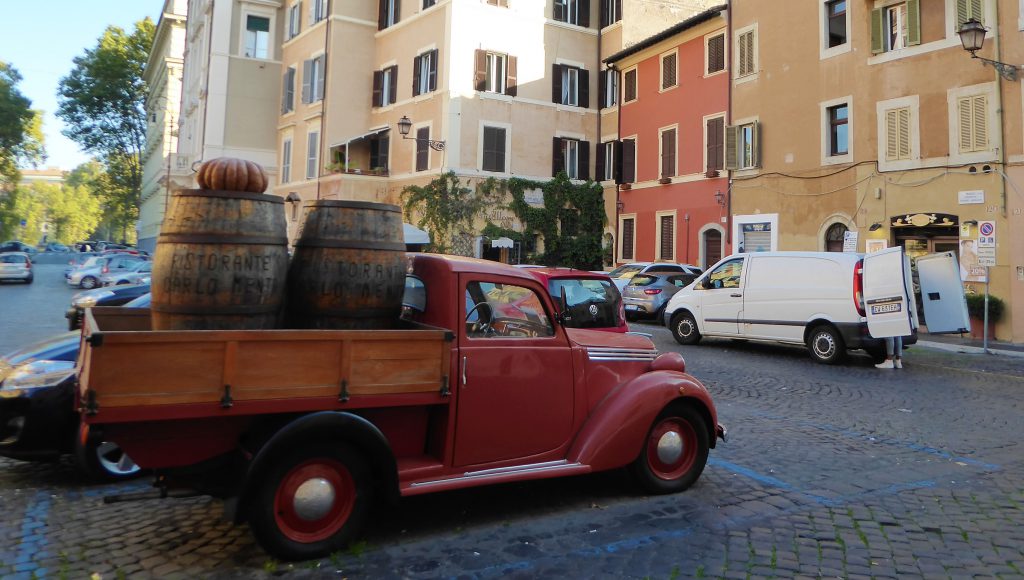 I just wanted to get out of the city for a day, even though I can't get enough of Rome.. Even after 3 visits already 🙂 I wanted to explore the area surrouding Rome also so I looked on the internet and found Pro4Tour on Facebook. I talked to them and told them what I wanted. Nicola, a great guy who works there, gave me all the help he could. Even though I wouldn't book with him he gave me all the details on where to rent a cycle and how to go to the lake by train. How great is that?
In the end I did book the trip with him and so he arranged the cycles and the train and he was the guide on our day cycling near Bracciano and Martignano Lake. We started to cycle in the area called Trastevere of Rome. We cycled along the riverside to the trainstation.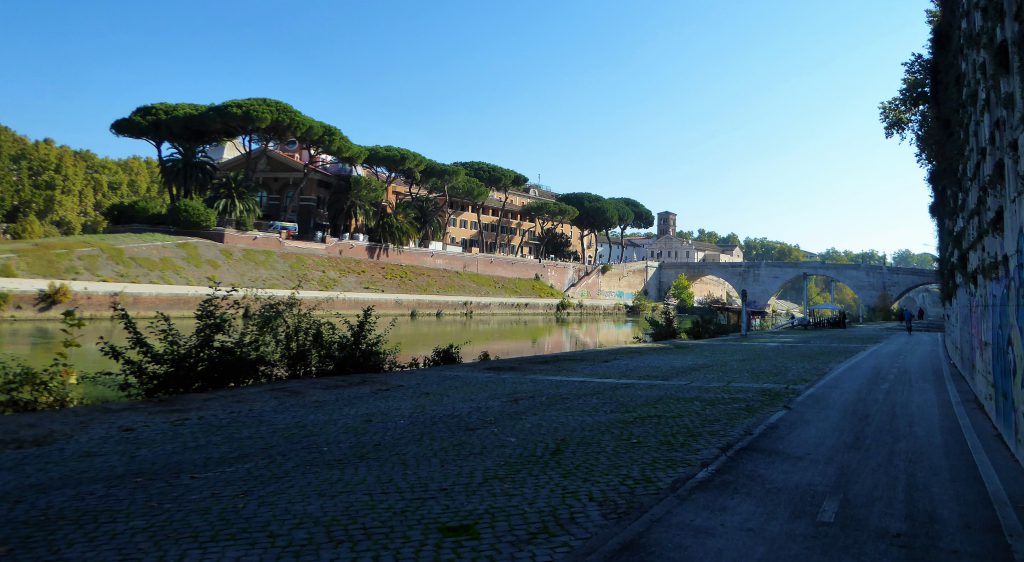 Cycling along the river Tiber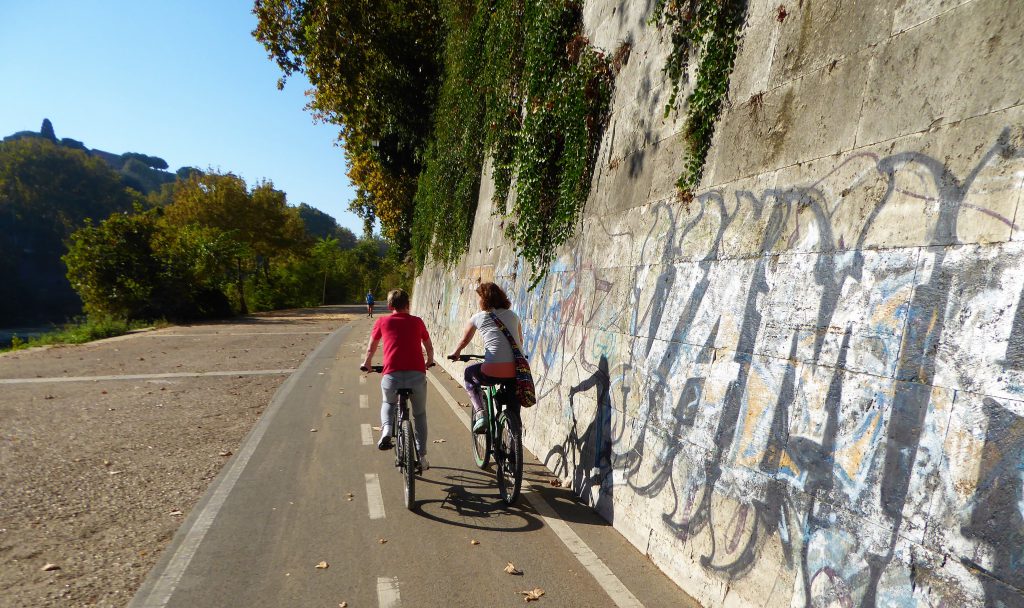 If you do stay in Rome read these great tips on 7 Ancient Rome Attractions You Must See!
So..in The Netherlands we have places for the bicycles in the trains… In Italy they don't… We could buy a ticket for the cycle but then to place the bicycle somewhere is a bit of a problem. We parked our cycle near the exit, so where everybody gets in and out. Everybody had to pass and they didn't like that…
It was a bit of a improvising start but it went well . We went to the little place of Anguillara by train and got on our bicycles over there. We got a small explanation about the surrounding area and where we would be cycling. And…how many times we would be cycling up a hill 🙂
Cycling outside of Rome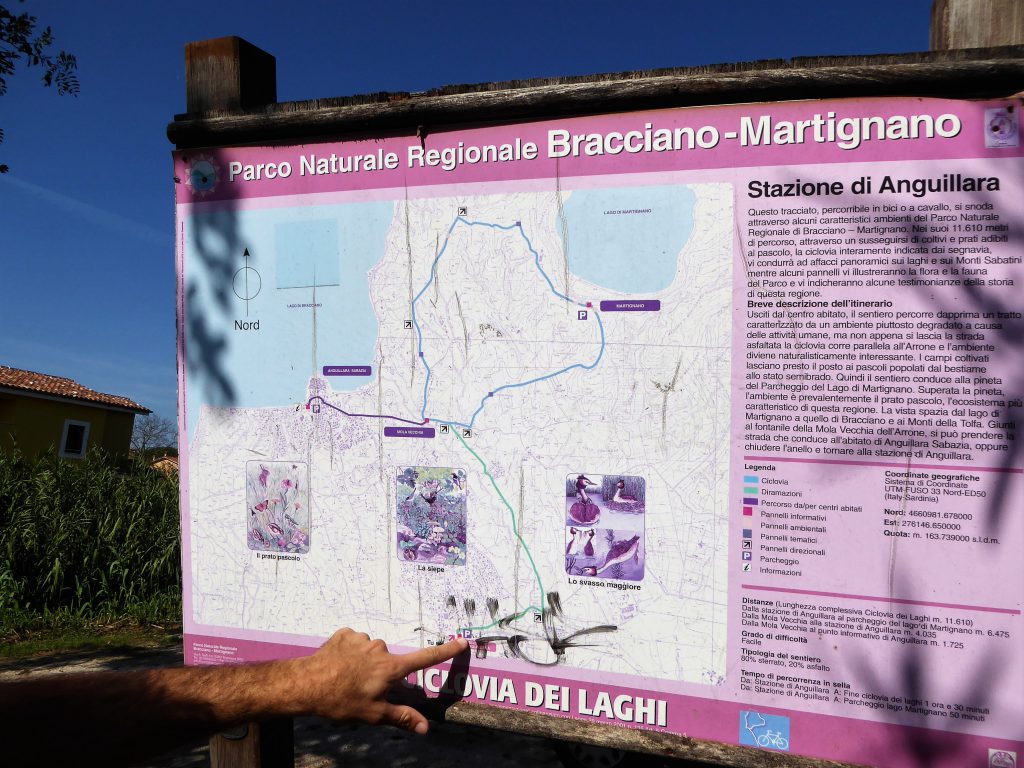 Exploring Bracciano & Martignano Lake
First we went to the first lake, Lake Martignano. The climb up was a big one!! But the surroundings were getting better and better! It was so worth it!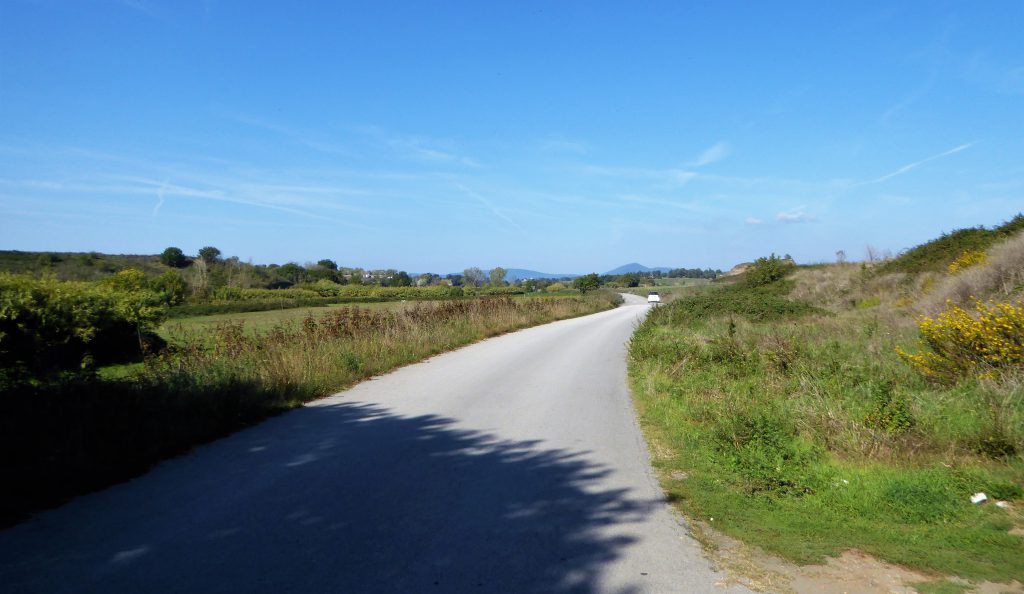 Cycling outside of Rome
Looking for Rome 2 days itinerary inspiration?
Exploring Bracciano & Martignano Lake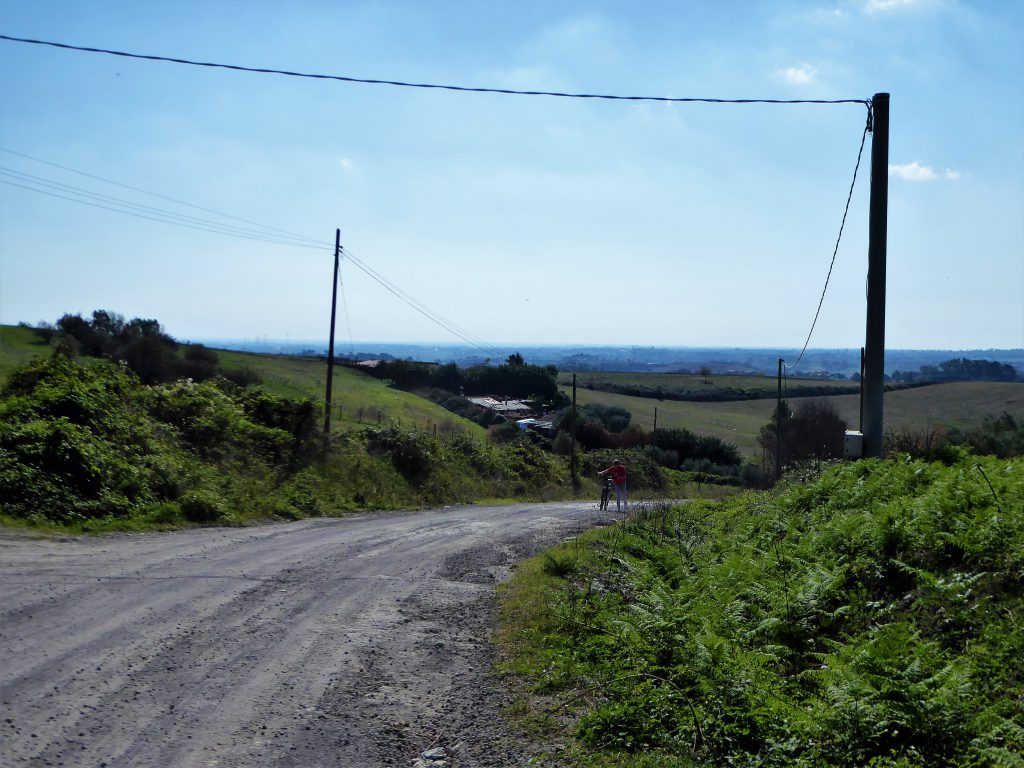 We had a good climb up and we needed a short break and we had it at a great viewingpoint! We got some explanation about the area, how the lakes had been formed all those years ago.. They were craters!! So they were formed by vulcanos, how interesting! The whole environment has been influenced by that ofcourse and the whole area was filled with small hills because of that!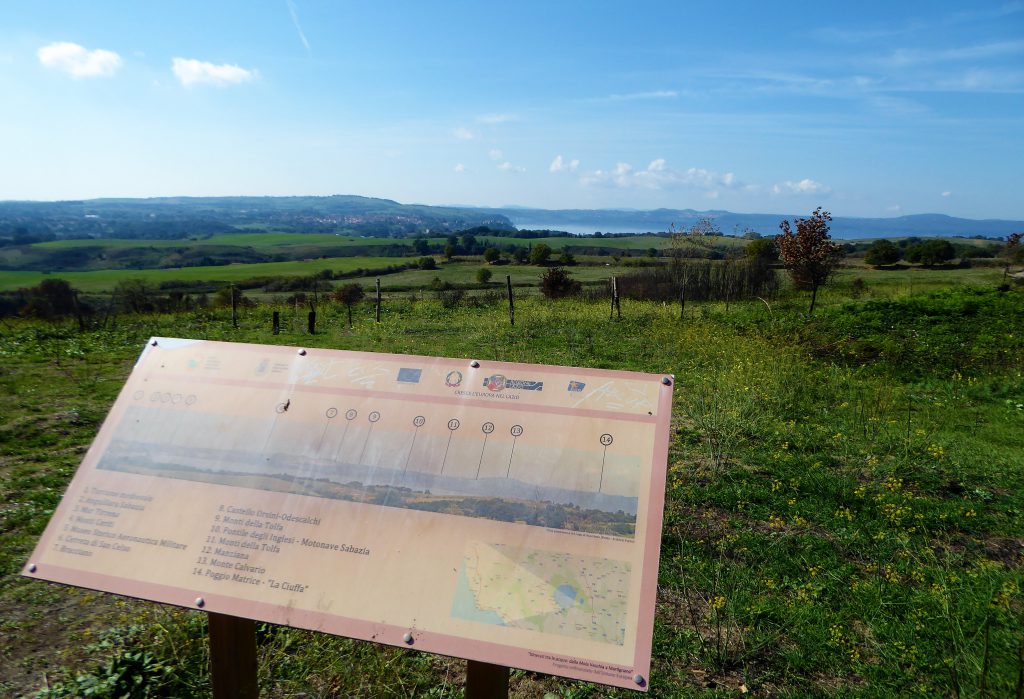 We went down to the lake of Martignano and had a small break, enjoying some lunch and had a relaxing time in the sun lying down in the grass. And then we had to go back up again to cycle on. I really think it was worth the climb again or at least to go down to the viewingpoint of the picture below!!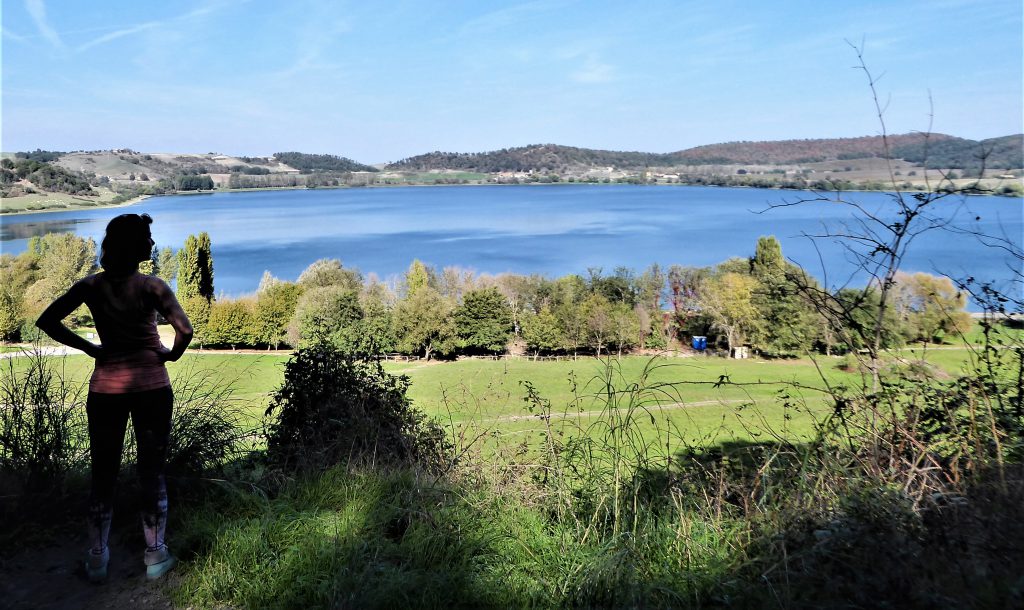 I enjoyed this view a lot!! On our way down but also on our way back up again.
Wouldn't you do the same?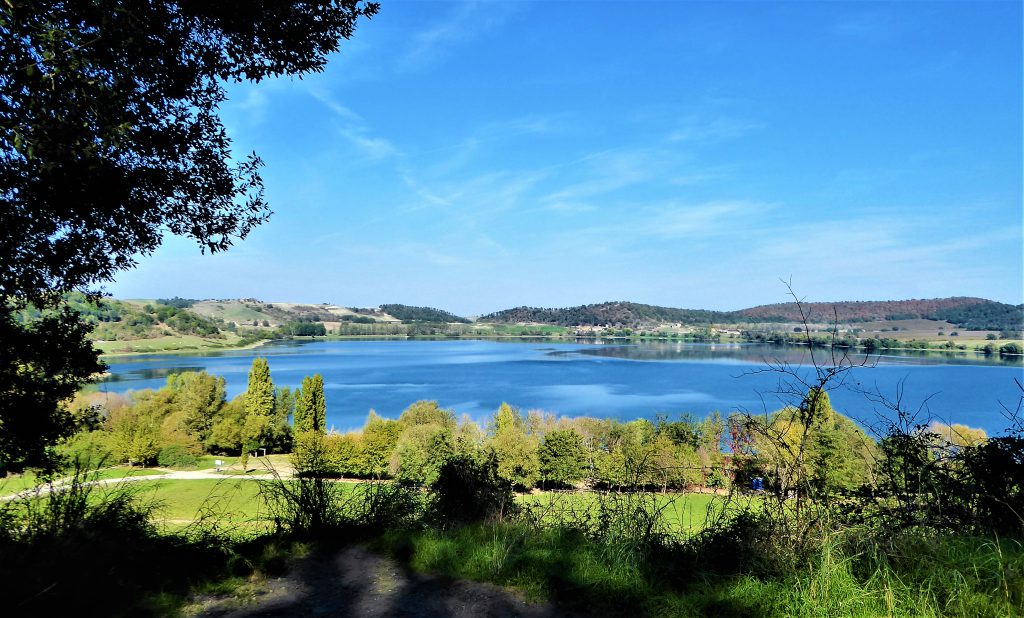 When we went on the landscape soon gave us a great view on Bracciano lake. Even a bigger lake then the first one but the view was not that clear as our first lake. We had to get nearer, and we cycled on. I love those dusty Italian countryroads!
It was a hot day and the descent that we got was a great way to cool down a bit 🙂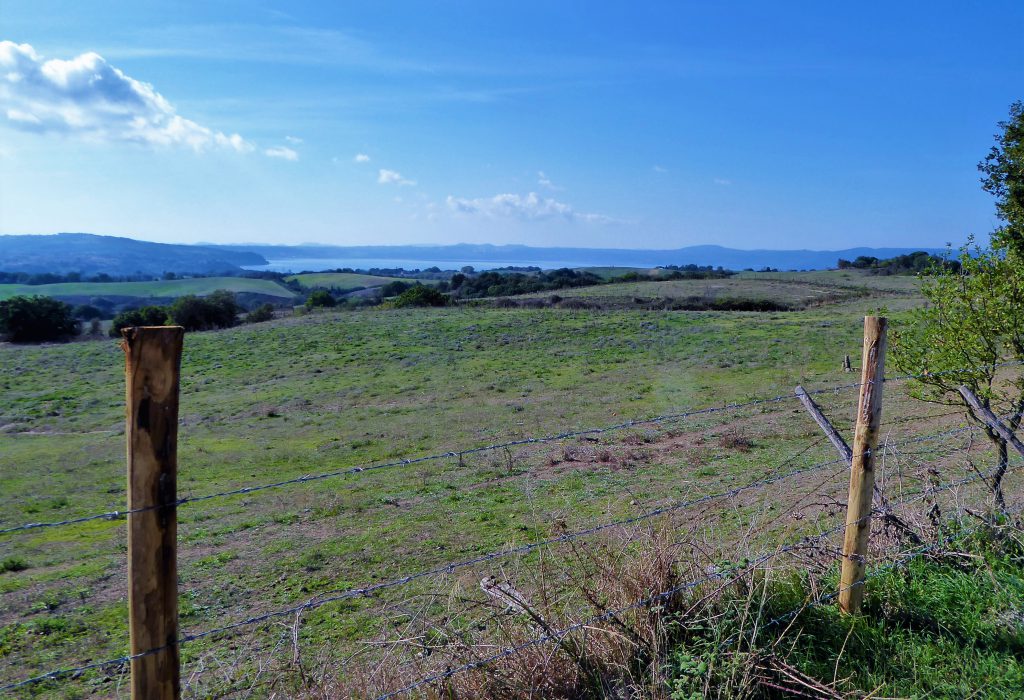 View on lake Bracciano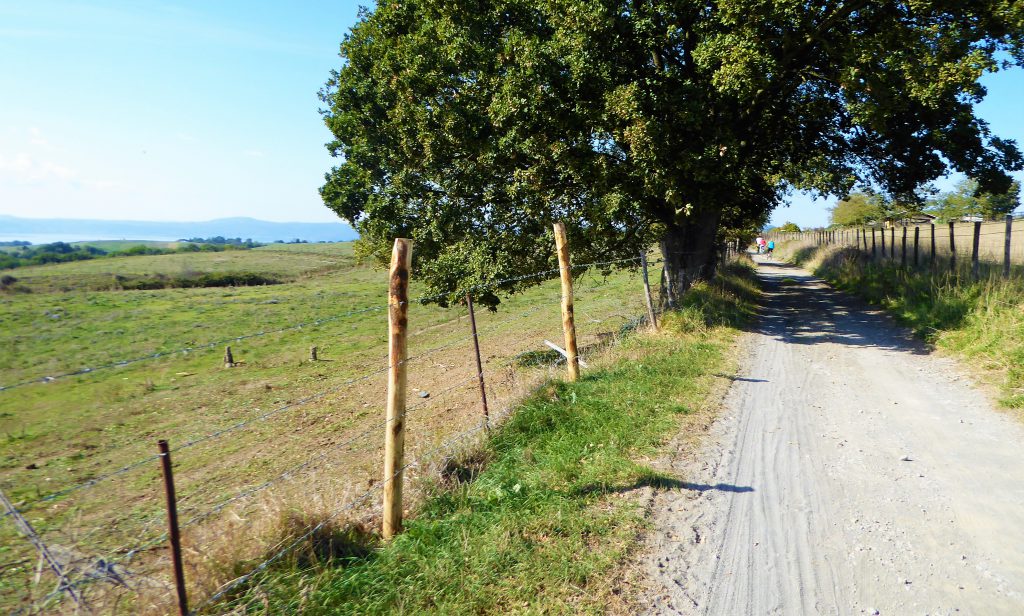 Cycling outside of Rome
Exploring Bracciano & Martignano Lake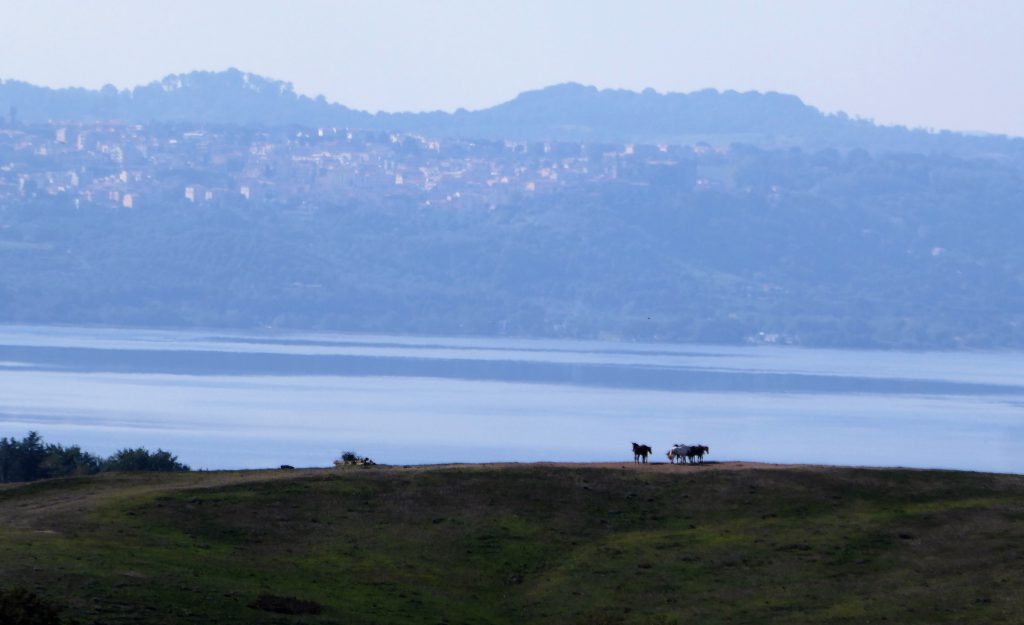 After another half an hour cycling we entered the lovely village of Anguillara Sabazia. We took another break here. After a while we went exploring this village because we saw a church and we wanted to get there. The village is build against a hill and on top of it was that church so we started to climb those small cute streets of Anguillara Sabazia.
They were really great for exploring. I can really recommend doing this!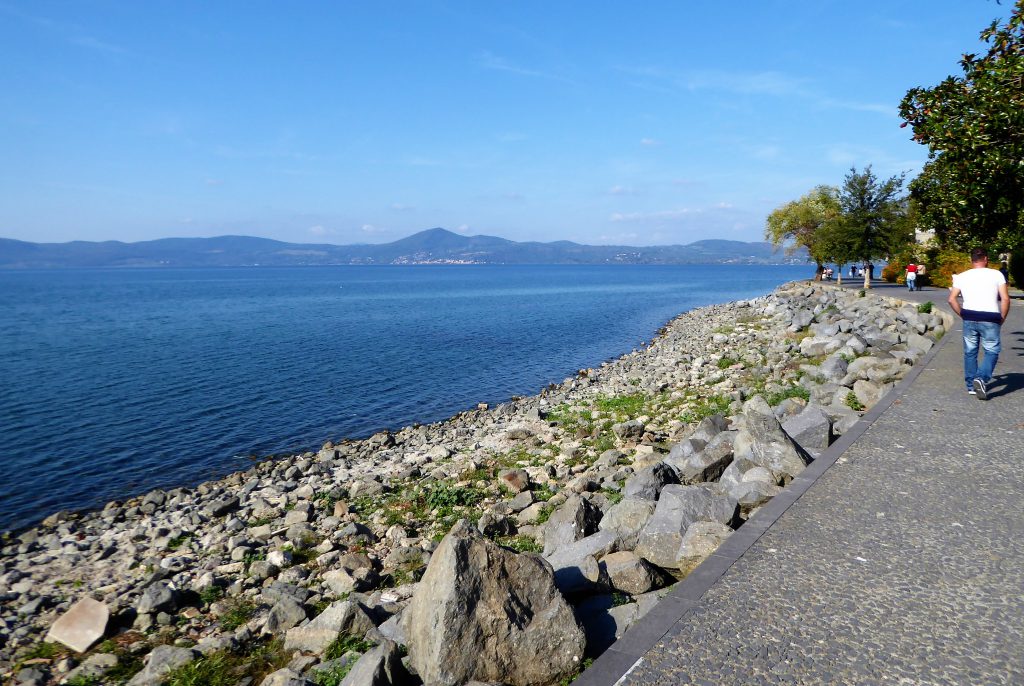 Experience the Italian life!!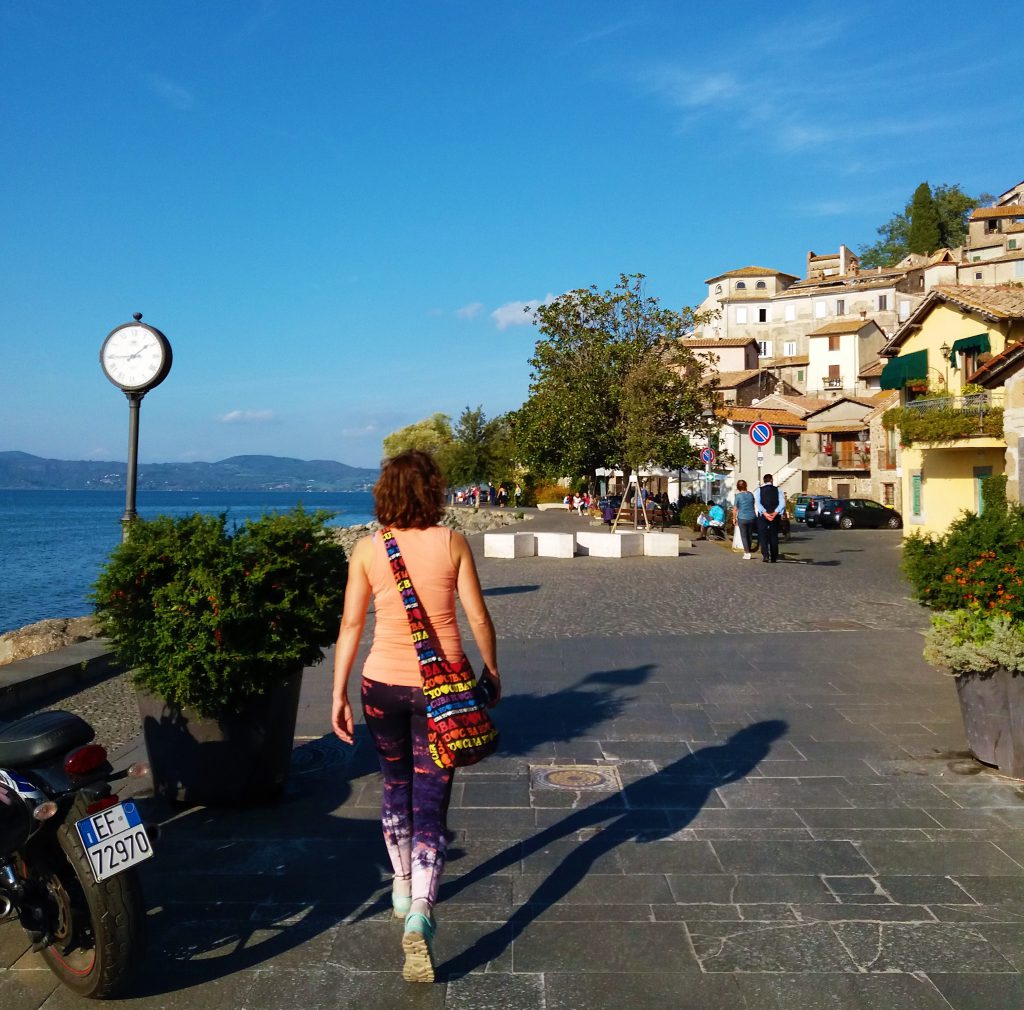 Walking that boulevard and sitting alongside the lake taking in the view and feeling that fresh breeze in your hair.. It was just great after cycling in the hot weather. After a while we started walking, our guide had told us that it didn't matter which street you take, they will all go up and we would reach the church.
We started walking and we were amazed about almost every street we entered.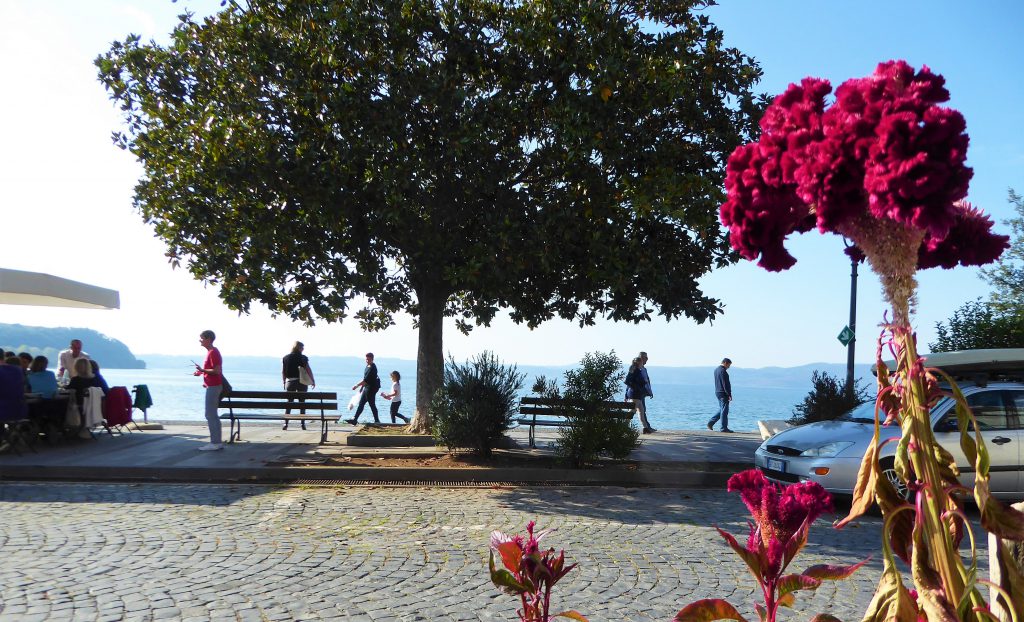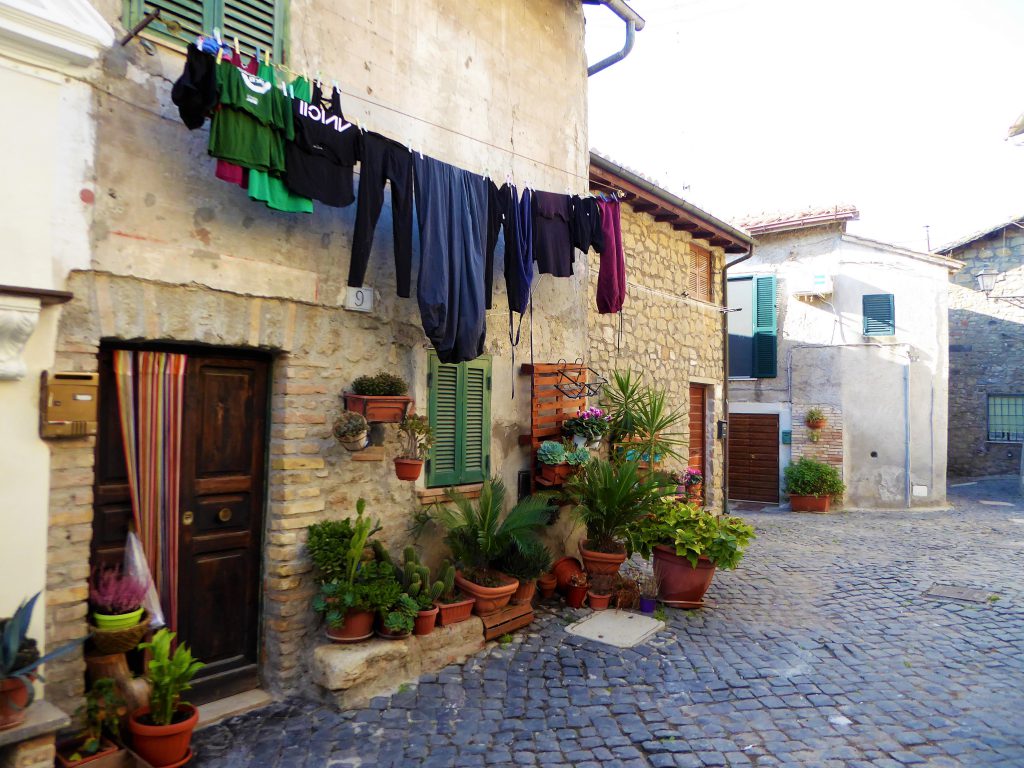 The real Italian streets you need to wander

Don't you think?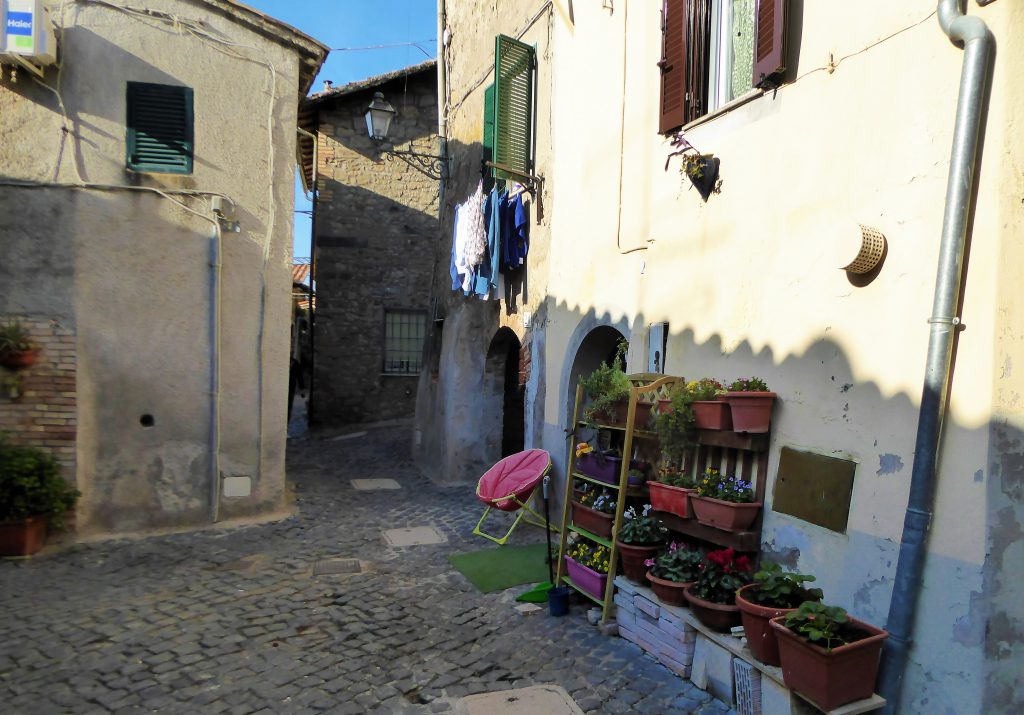 Exploring Bracciano & Martignano Lake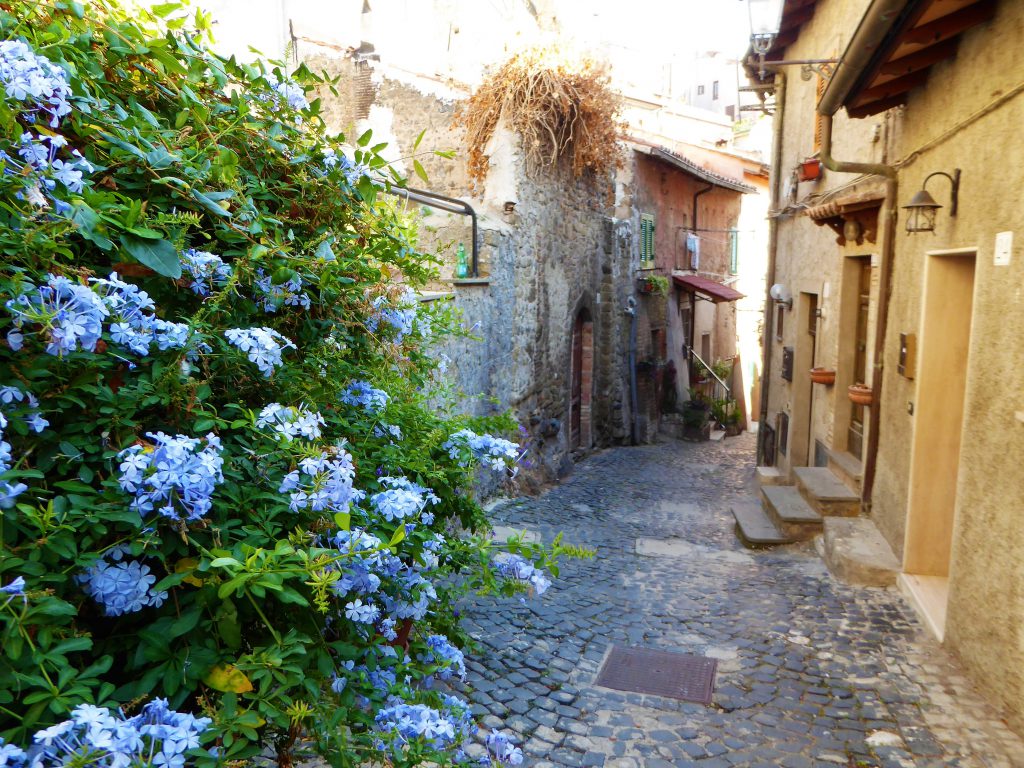 After every street we had a new suprise: a stairs, a small garden or
another great curvy street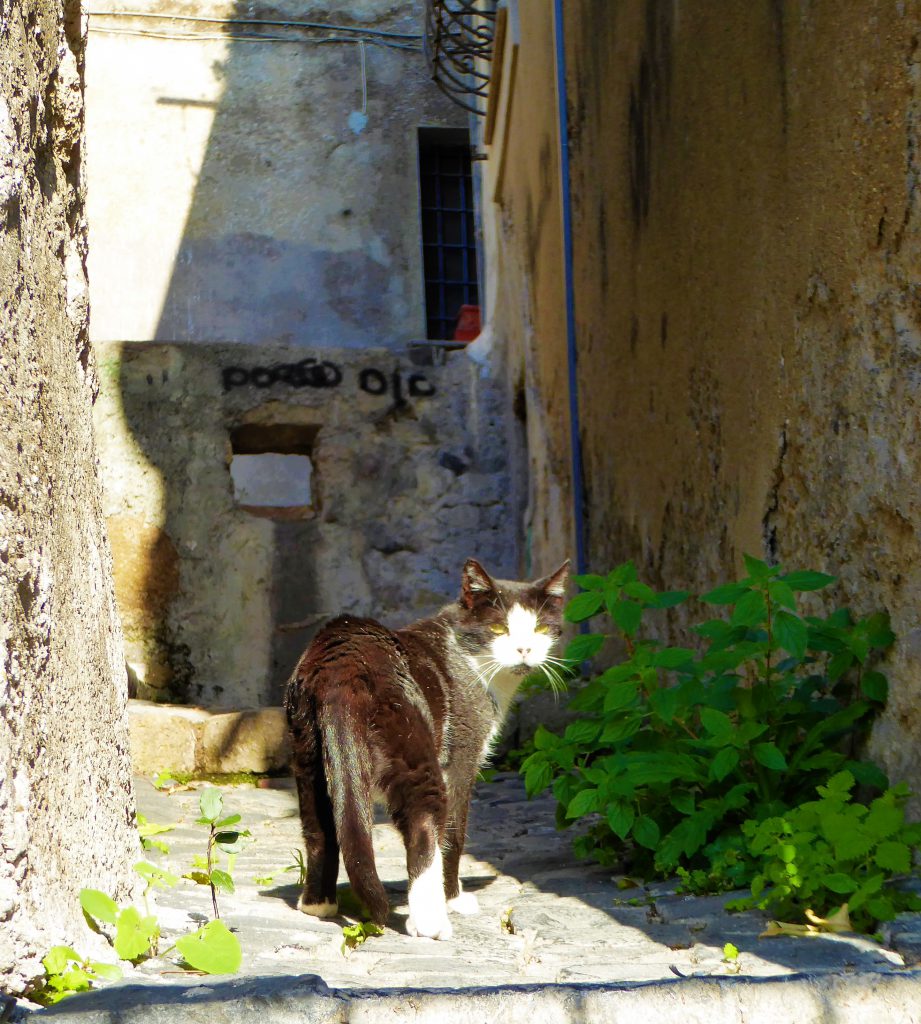 How do you like this cheeky cat? It was casually looking back at us and just wandered off like that!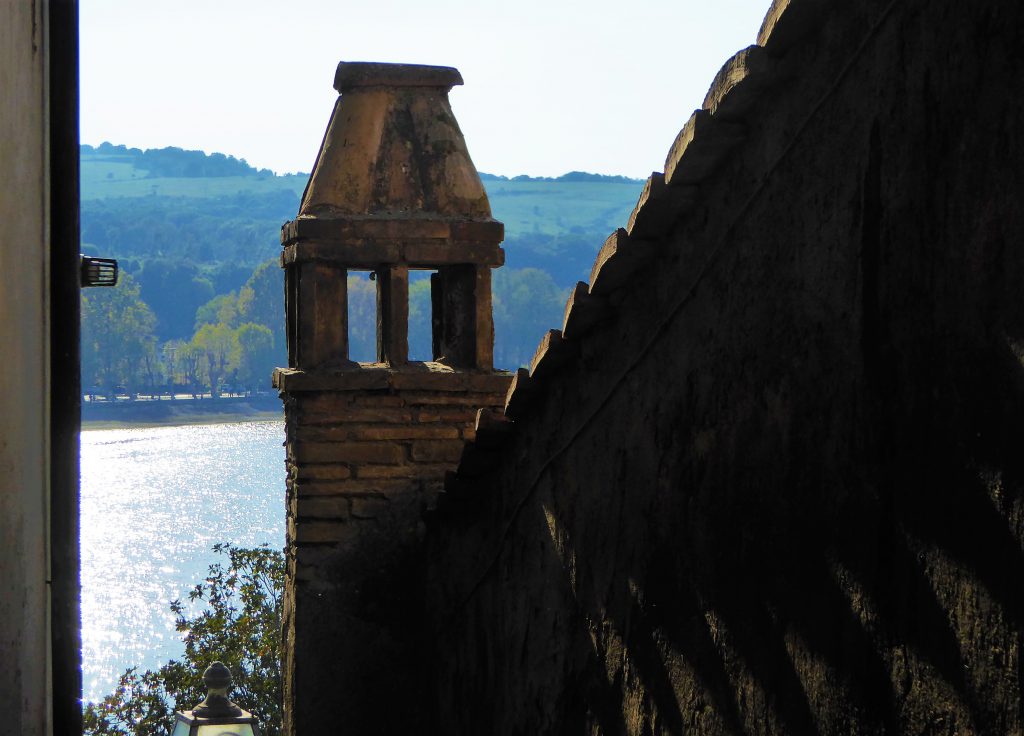 The higher we got the better the view was…
We had to get to that church soon..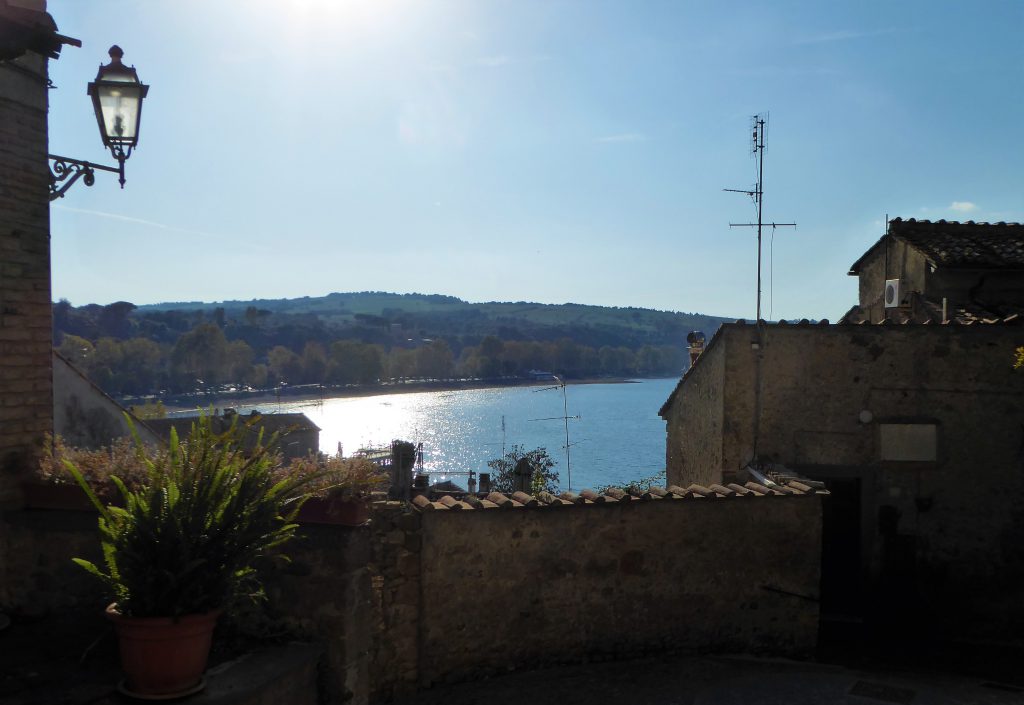 Cycling outside of Rome
Exploring Bracciano & Martignano Lake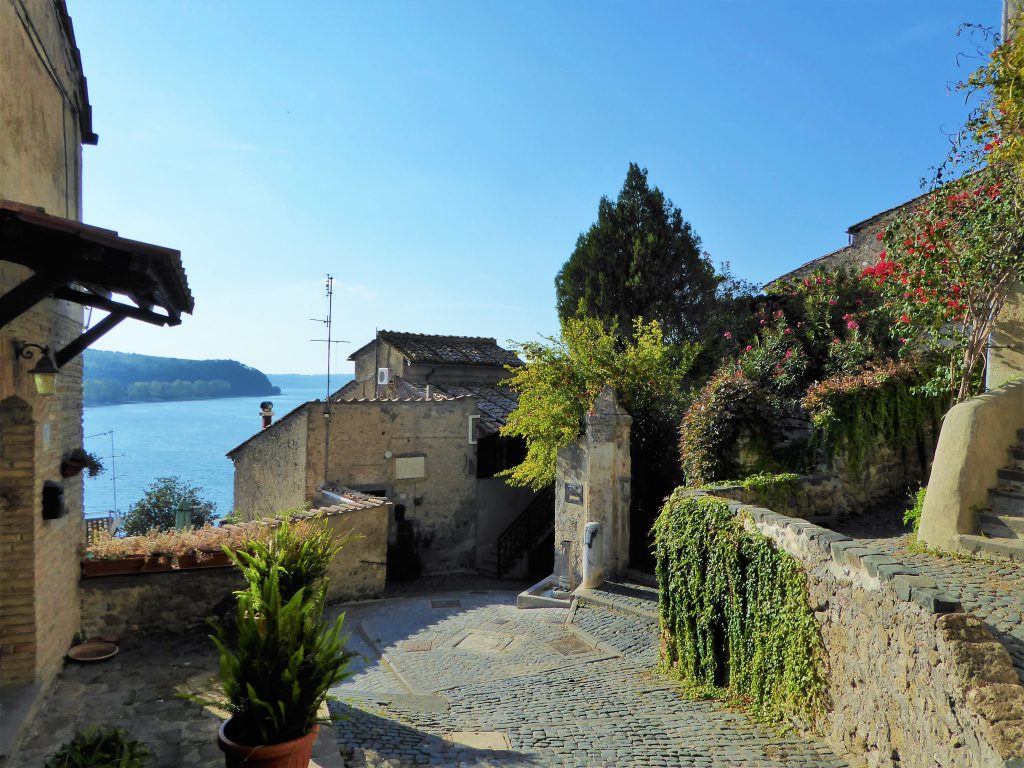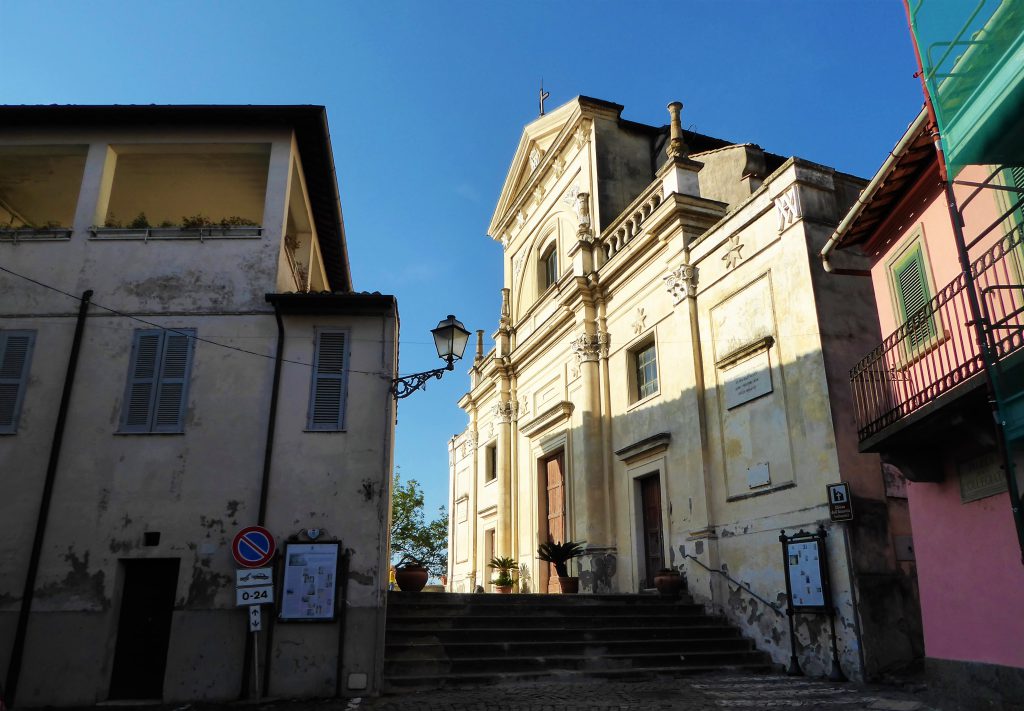 And all of a sudden we entered the last stairs.. There it was, the chuch we had seen from the boulevard. we tried to get into the church ofcourse but unfortunately the church wasn't open to light a candle. My friend Karin would have loved to have light one.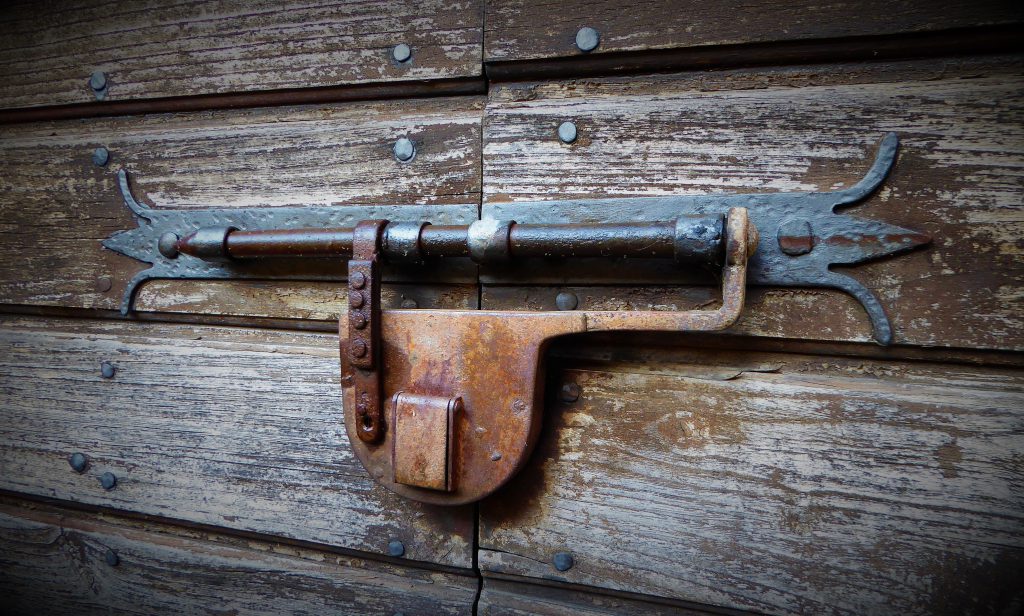 But the view was great!!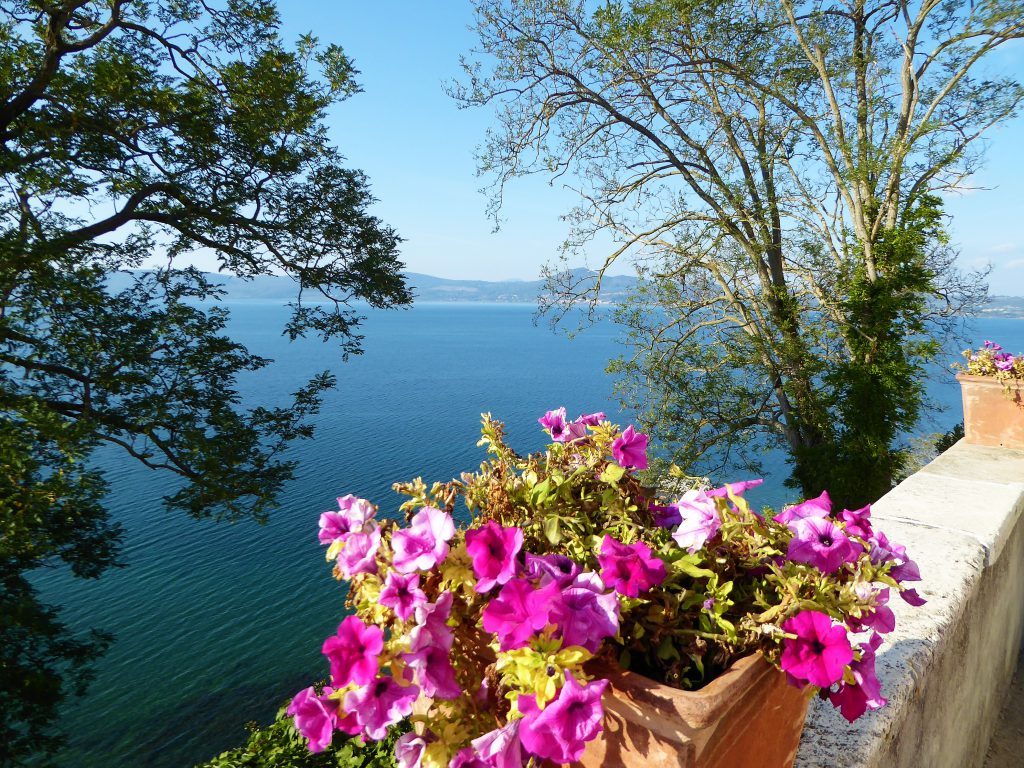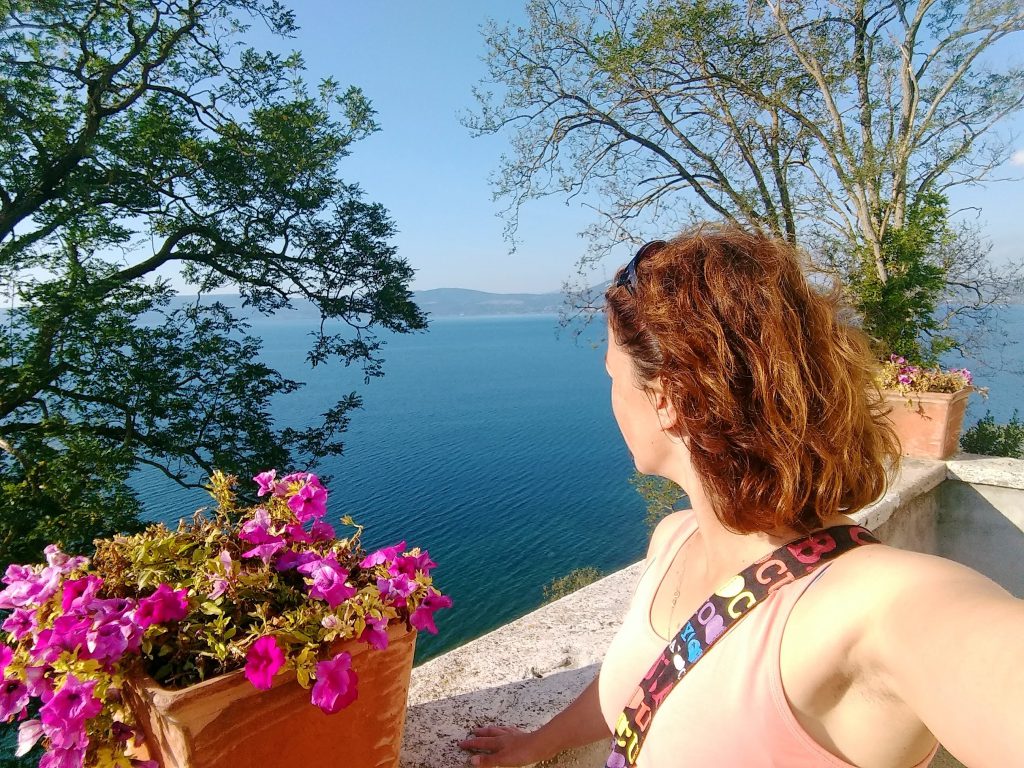 I loved walking up and would do it again and take some extra streets 🙂
Would you do the same or would you take an extra sip of your beverage with the view at the boulevard?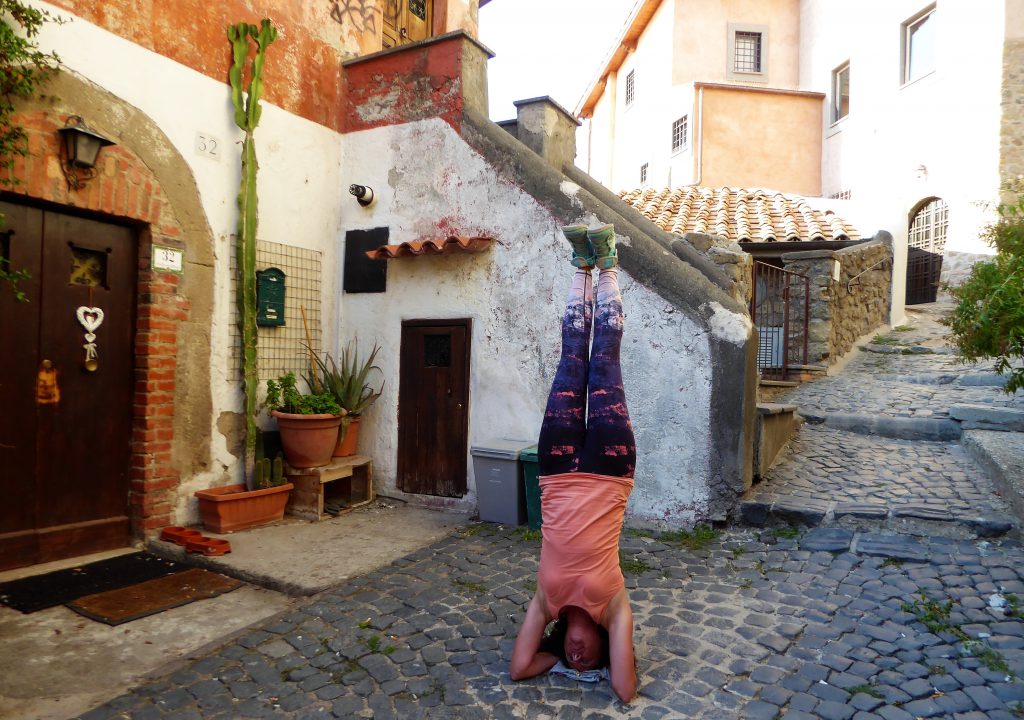 Yoga in Anguillara Sabazia – Italy
We went down again and I started to see all kinds of spots where I could take a great picture with a yoga pose 🙂 I really love doing that and on an active daytrip like this I needed to do one! Just when I was standing on my head here in this little corner the Italian neighbours got home and were looking at me as if I was crazy ..  but then just entered their home like nothing had happened!! You see that door left of me? They just entered and closed it, hahaa!!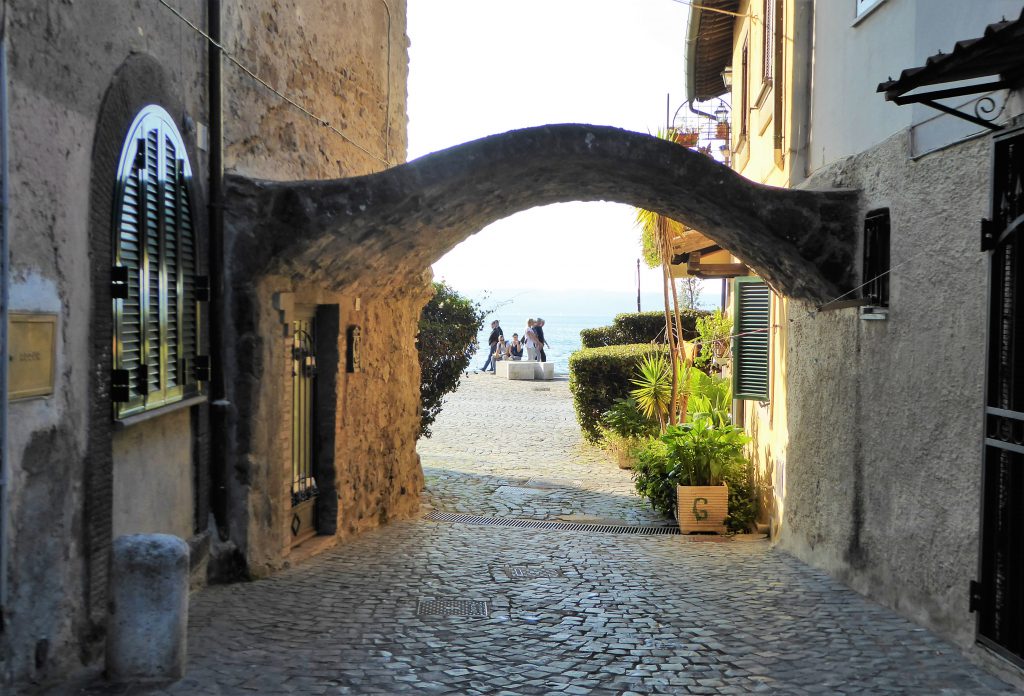 And we were back down. We got back on our bicycles and cycled another way back to Anguillara to get the train back to Rome. We had a great day outside, we saw some great lakes and landscape! Rome is a lovely city and I can go back again and enjoy my time there to the fullest but it was great being in nature and a small village. Especially by bicycle! I can really recommend this!!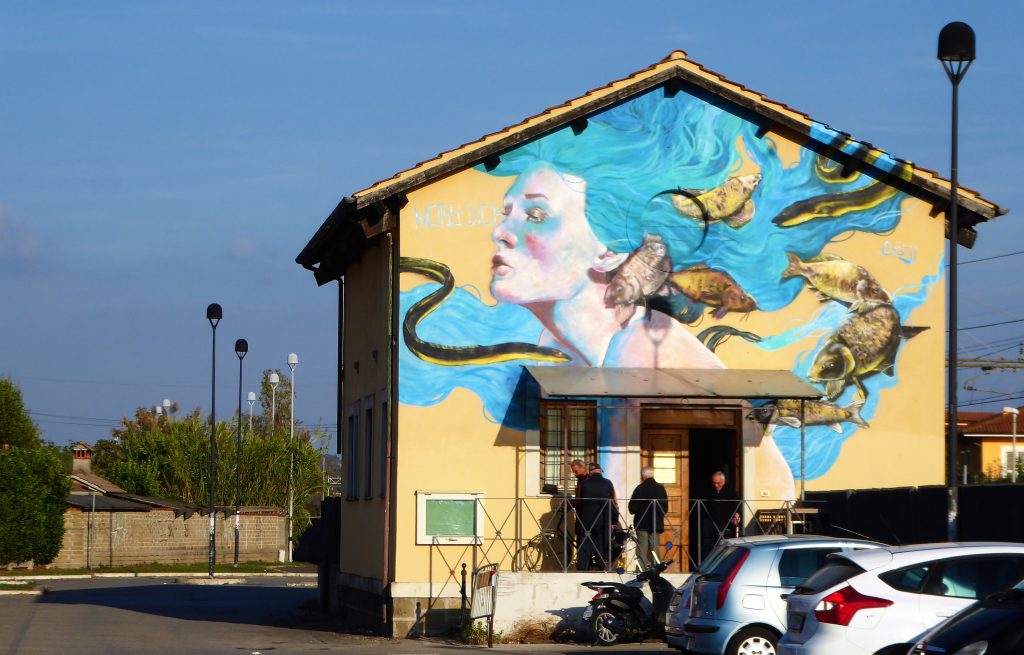 Do you take bicycle trip also abroad?
It is a great way to explore a place or city! Have you ever done that?
Did you like this trip? Do share it with others!!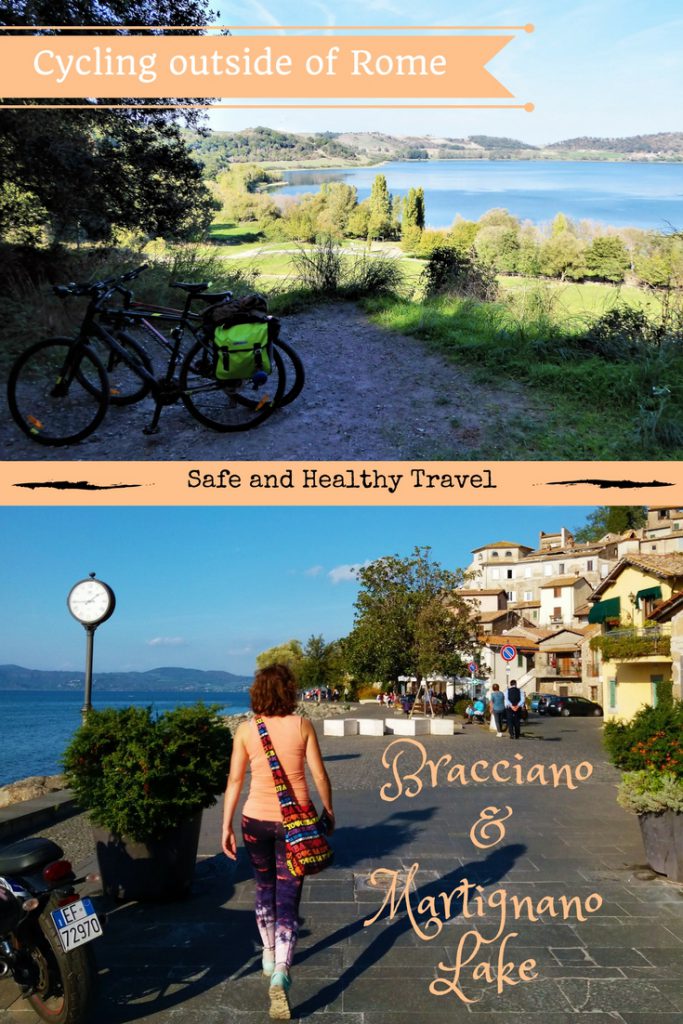 Read some more trips about cycling:
Biking in the Souks of Marrakech
Safe Cycling in Sweden #Kattegattleden
Cycling to the beach of Playa Ancon – Trinidad, Cuba
Cycling along the westcoast of Sweden
Or can I inspire you to climb a mountain?
I hope you enjoy this beautiful world as much as I do!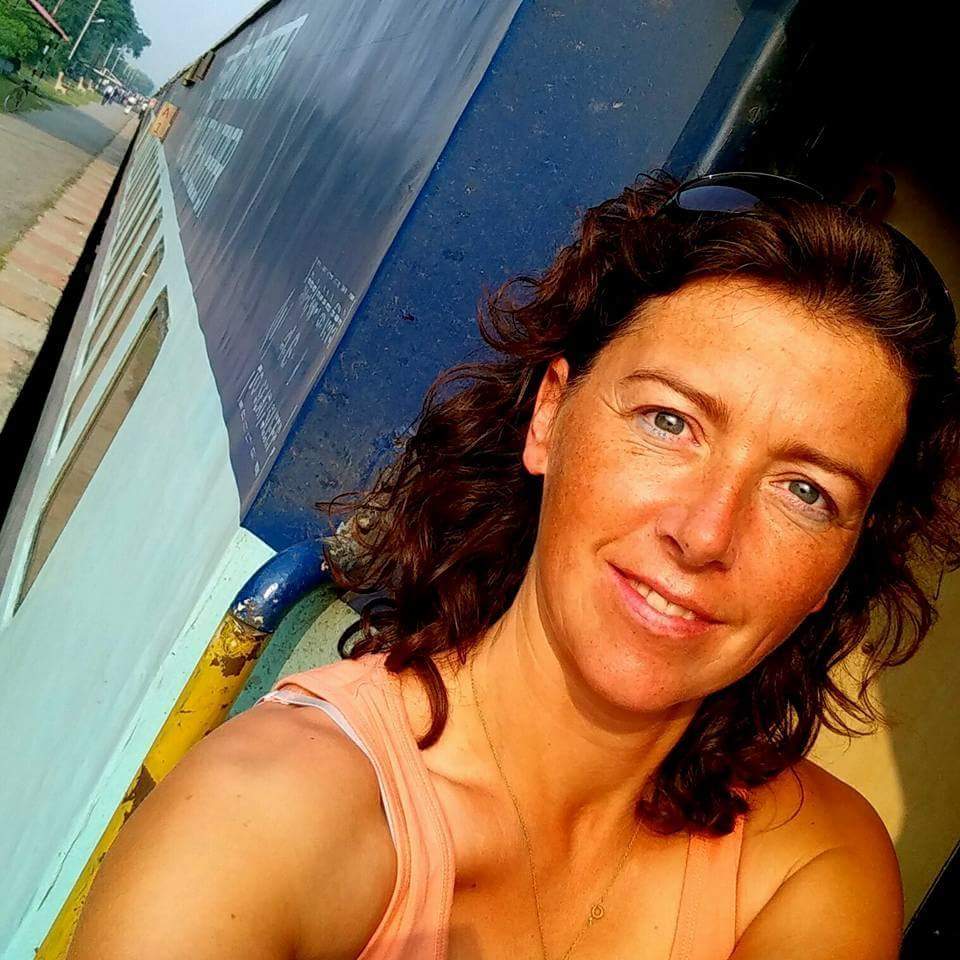 Jacomijn is een politieagent uit Nederland die jou graag laat zien hoe je veilig, actief en gezond de wereld kan over reizen. Safe and Healthy travel is a MUST