Sigiriya, climbing Lion Rock + Temples at Dambulla – Sri Lanka
|
While traveling through the great country of Sri Lanka you also need to go climbing Lion Rock of Sigiriya, go up that impressive rock! It is listed on the UNESCO world heritage list together with 6 other Sri Lankan sites. I went all the way up ofcourse to get that great view I heard all kinds of travelers talking about. I must admit that my day started a bit dissapointing…
It was raining and so my view was not that great…
In the area surrouding Lion Rock and on the rock are the ruines of the summer and winter palace of Sigiriya. There is a complex of gardens surrouding the Lion Rock and the outer wall of that garden reaches as far as 8K.

It is a huge construction from long past history. Do you know it was build in only 7 years and they have only lived in it for 18? All that is left for us to visit are the remainings of a great era!
If you are in the area you will see this huge rock from far away raising its head above the jungle… but for me it was different. Because of the clouds I didn't see it untill I was close already.. What struck me more was the beautiful bird that was sitting on a branch.. in the rain…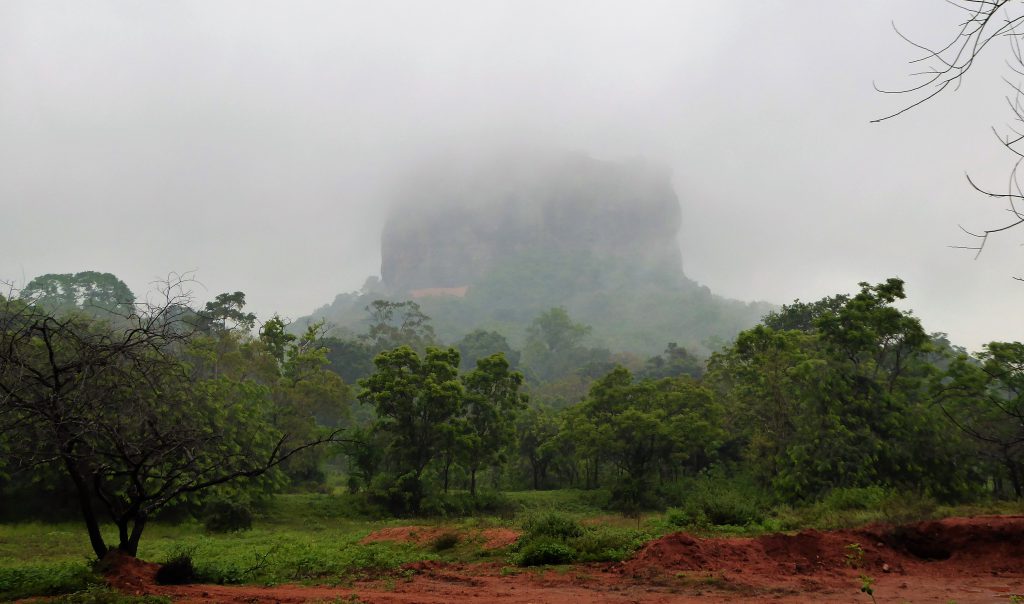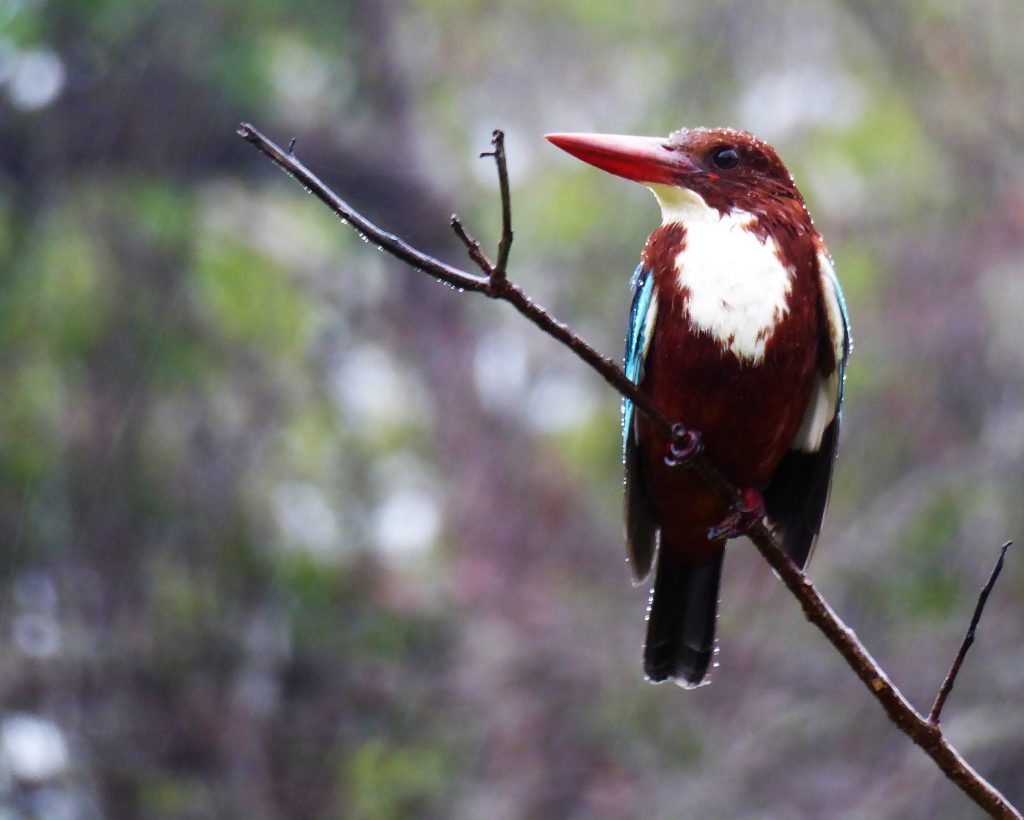 I did felt it as a challenge to go up. I heard some travelers that told me they didn't went up all the way. They stopped at the big lion gate just before the end. I must say that the view from there is already a great one. Would be better with a clear view ofcourse but still.
At first my guide and I went into the museum and through the great gardens. The guide stopped and went back, we would meet again on the other side. There is a different parking lot where you will be picked up afterwards. The gardens were beautiful once.. You can definitely see that! Many different facets and with different waterparts it must have been a great place to spend some time!!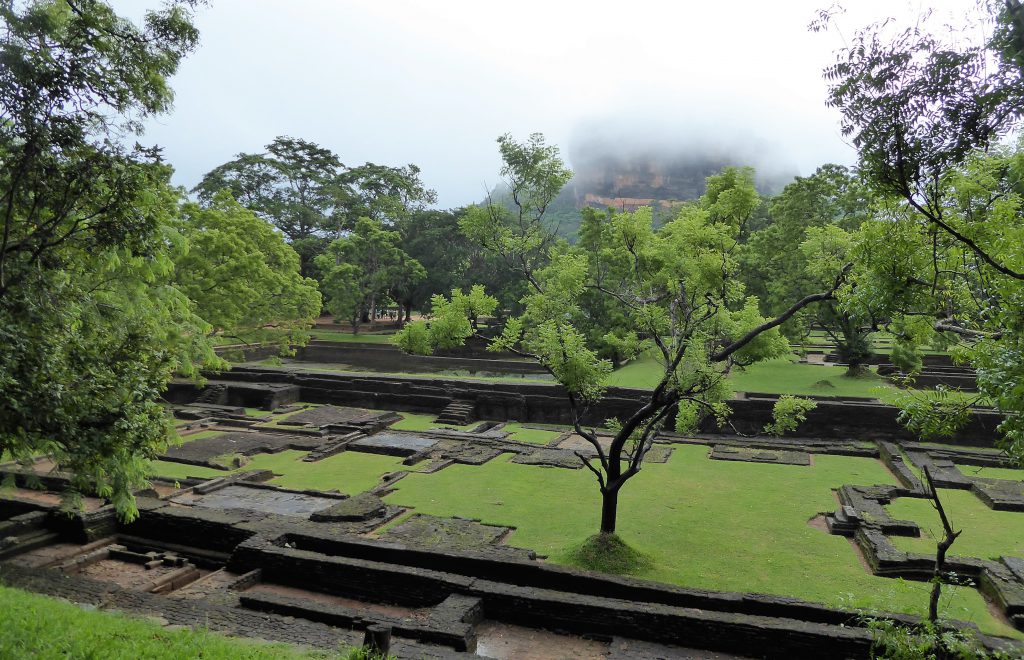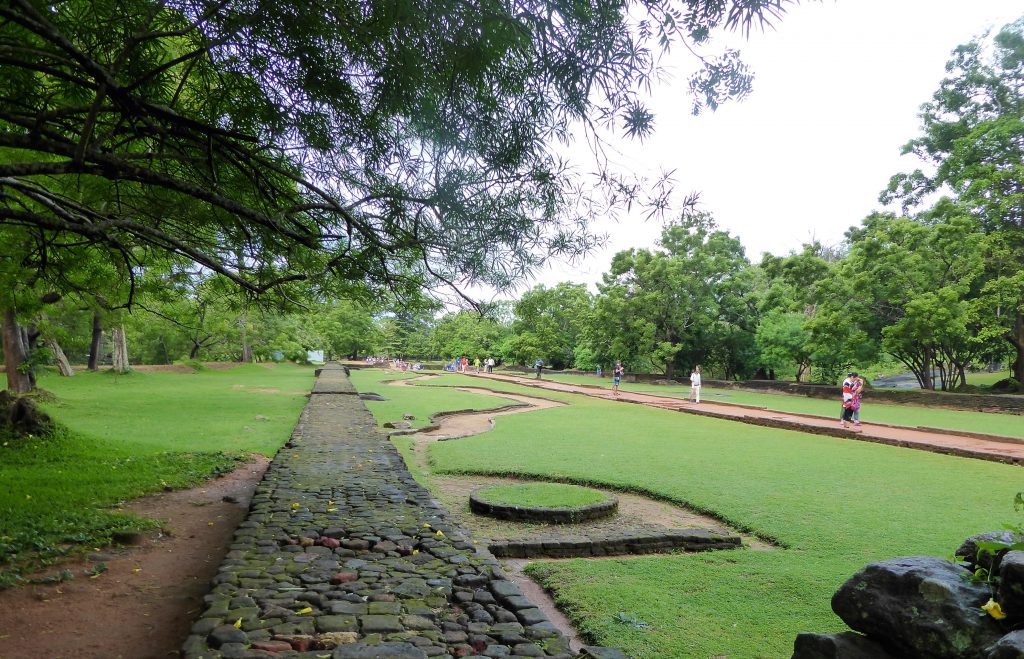 At the end of the walk through the gardens you'll get to the first stairs. The first of many 🙂 There are different plateaus where you can sit for a while, enjoy the view and get your breath before heading on.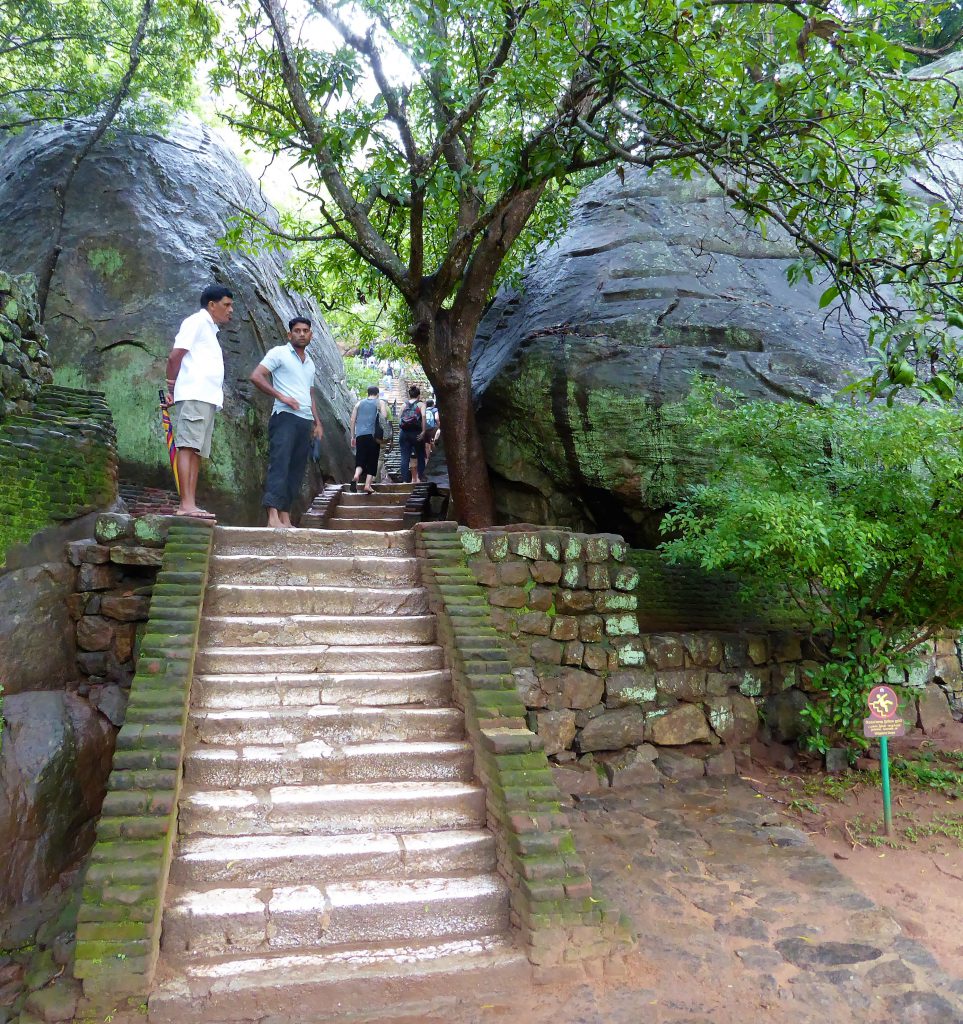 Sigiriya, climbing Lion Rock – Sri Lanka
When I started to climb it was dry.. I was early but still quite warm with around 30 degrees. I visited Sri Lanka in december and the average temperature is around 30 the whole year through. This afternoon it would get even warmer. So a bit of exercise will get you sweaty.
You won't keep it dry going up 🙂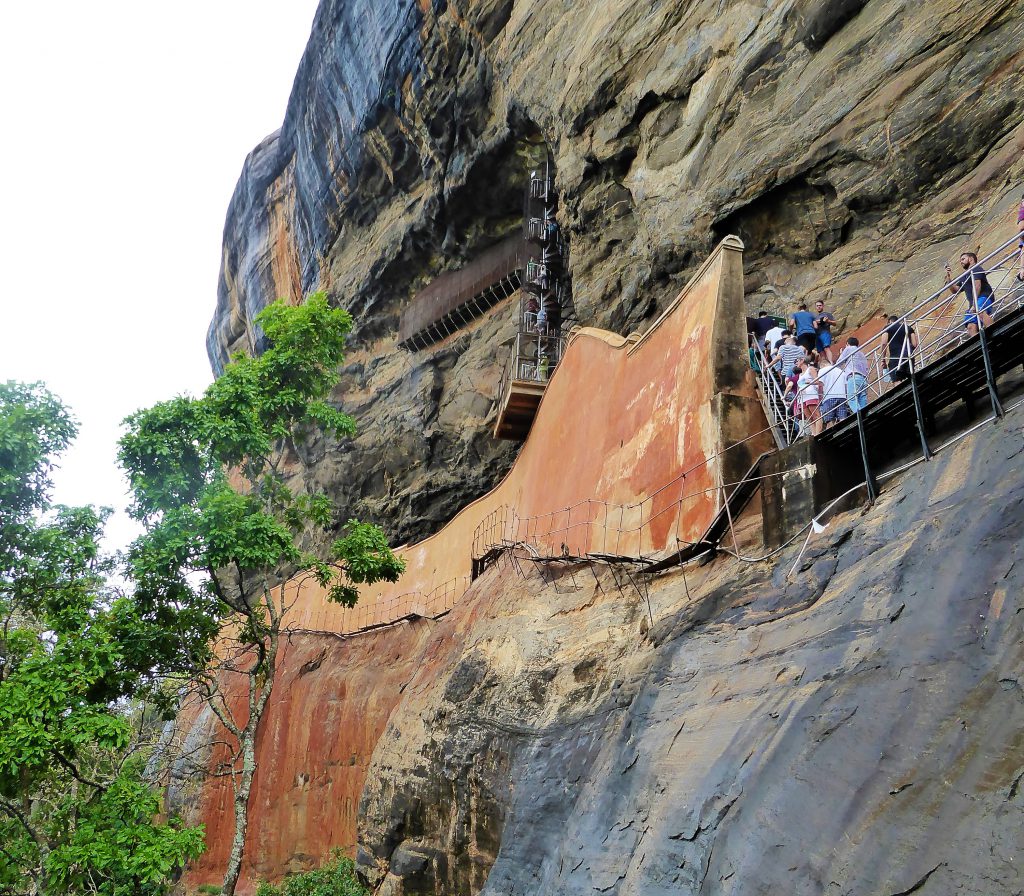 Behind the screens you see on the picture, the dark brown ones, were frescos. They didn't allow any  pictures there and there was security do I didn't dare to take one, without a flash… The flash ofcourse is bad for the paint.
As is the sun, that's why the screens are placed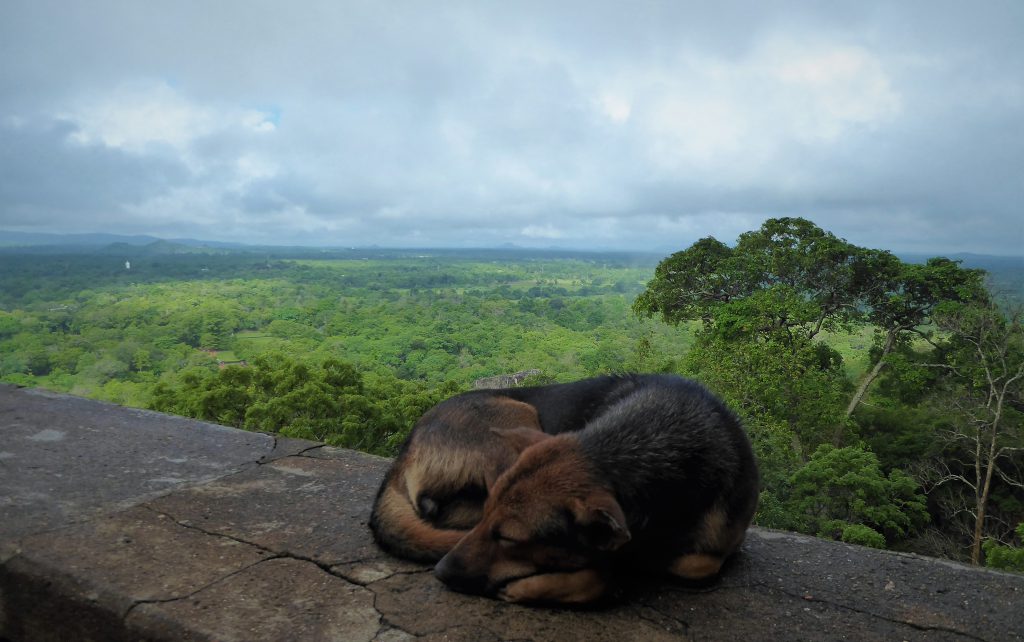 Isn't it great that the dog was posing so nicely for this pic?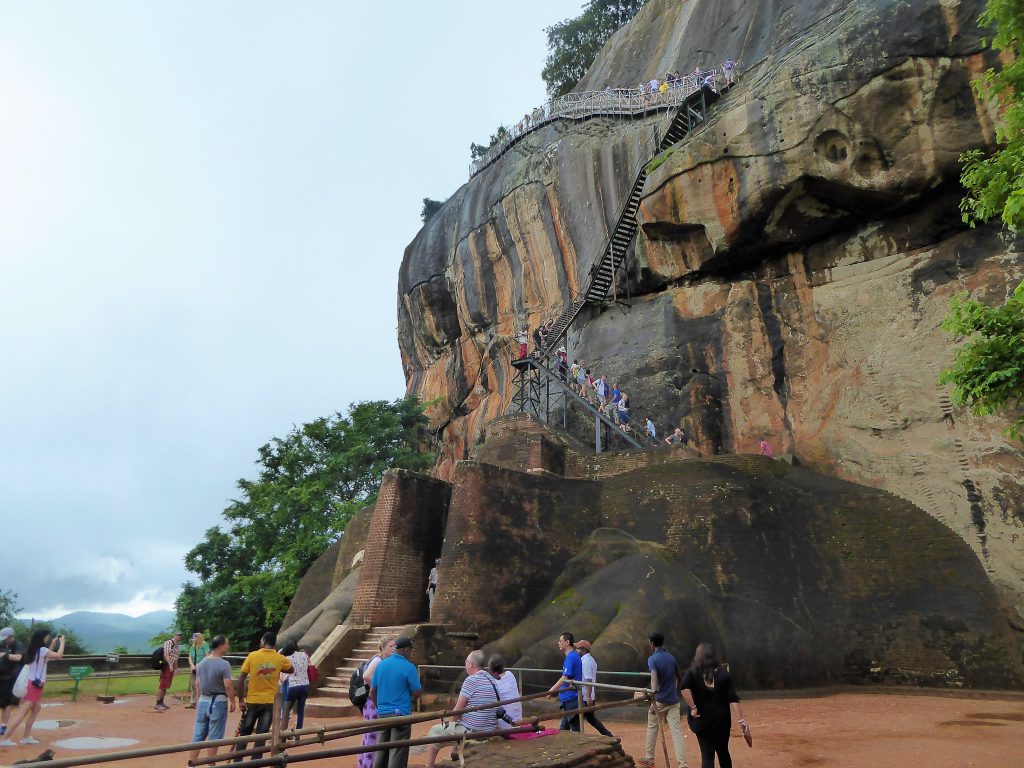 And then I entered the Lion's Gate. The last long stairs up and then I finally got to the palace of King Kasyapa!! I paused for a short while, drinking some water and cooling down a bit before heading up for the last part.
The palace was complete, almost for modern views!! Think about great gardens, pons and even a swimmingpool. And that even on that altitude… In the fifth era.. King Kasyapa had it all!! In my mind it is hard to imagine that. They almost had all the luxury we dream off…without the telly and microwave oven 🙂
King Kasyapa had it all!
For now there is hardly anything left. But walking there you can definitely see how great this place must have been, with those views from the garden on top of Lion Rock!! What a shame it was only inhabited for 18 years!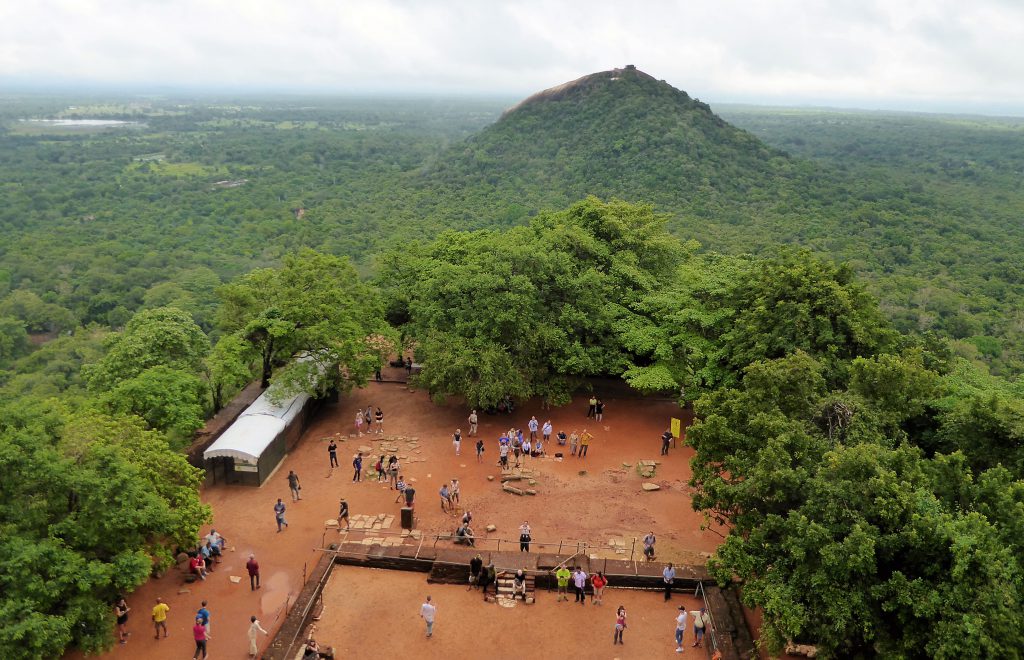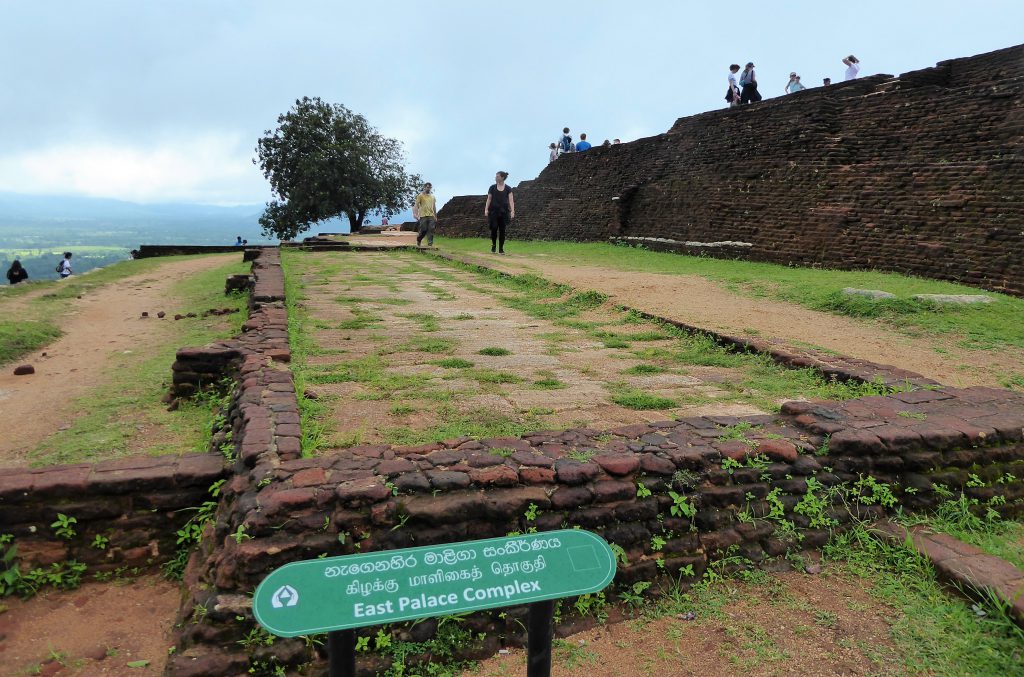 Palace on the Lion Rock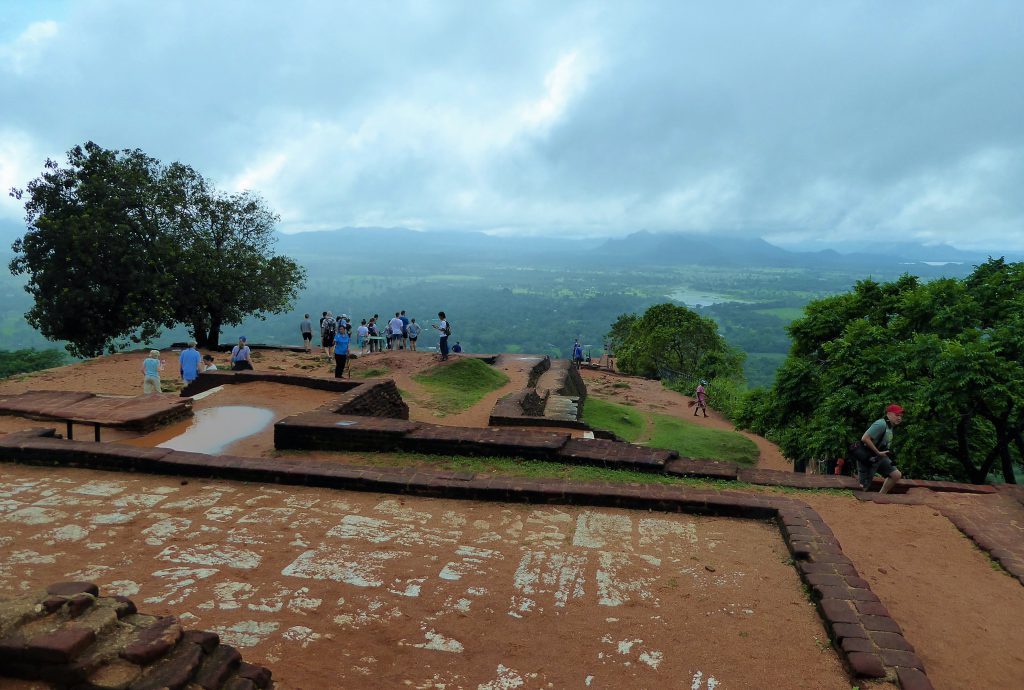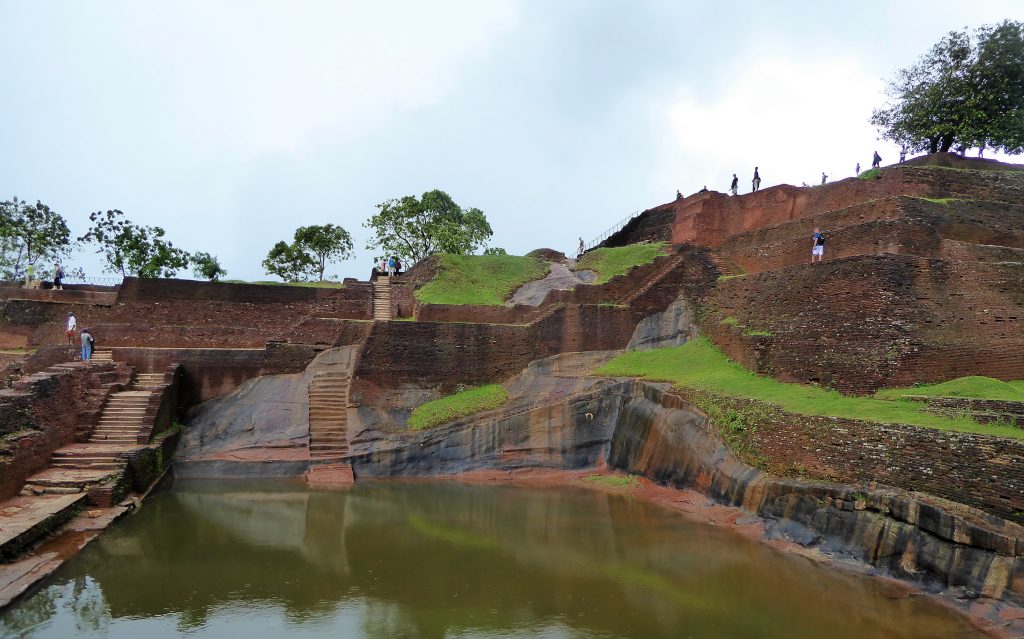 When I was on top of Lion Rock I couldn't see as much of the surroudings as I had hoped for but still…
It was great being up there and seeing all this
It is an unique spot in this world!!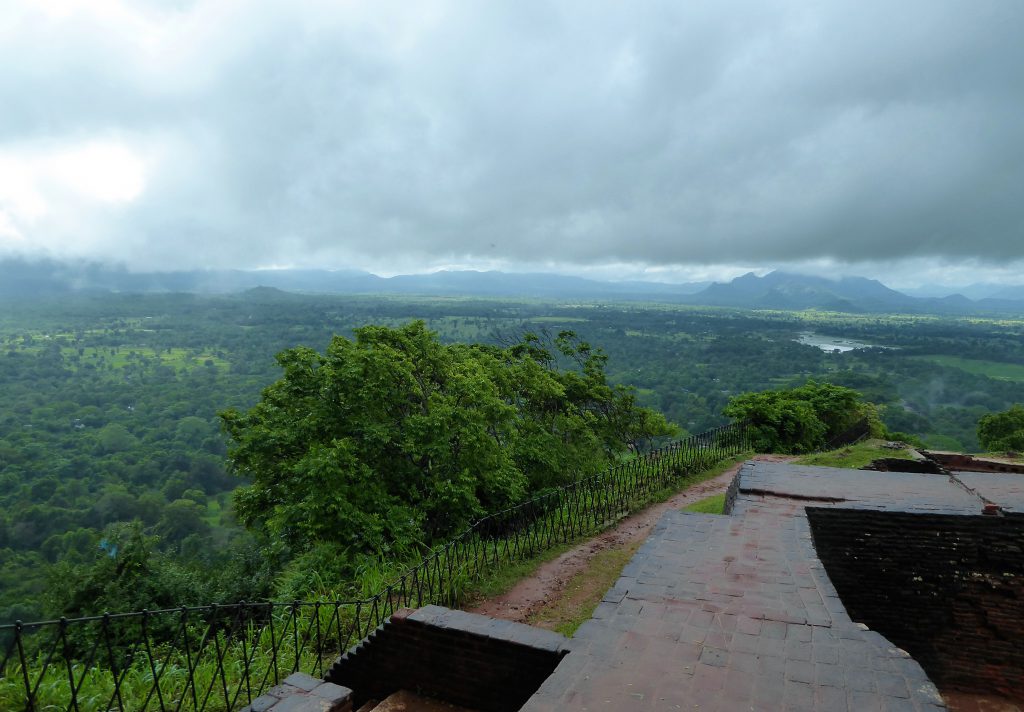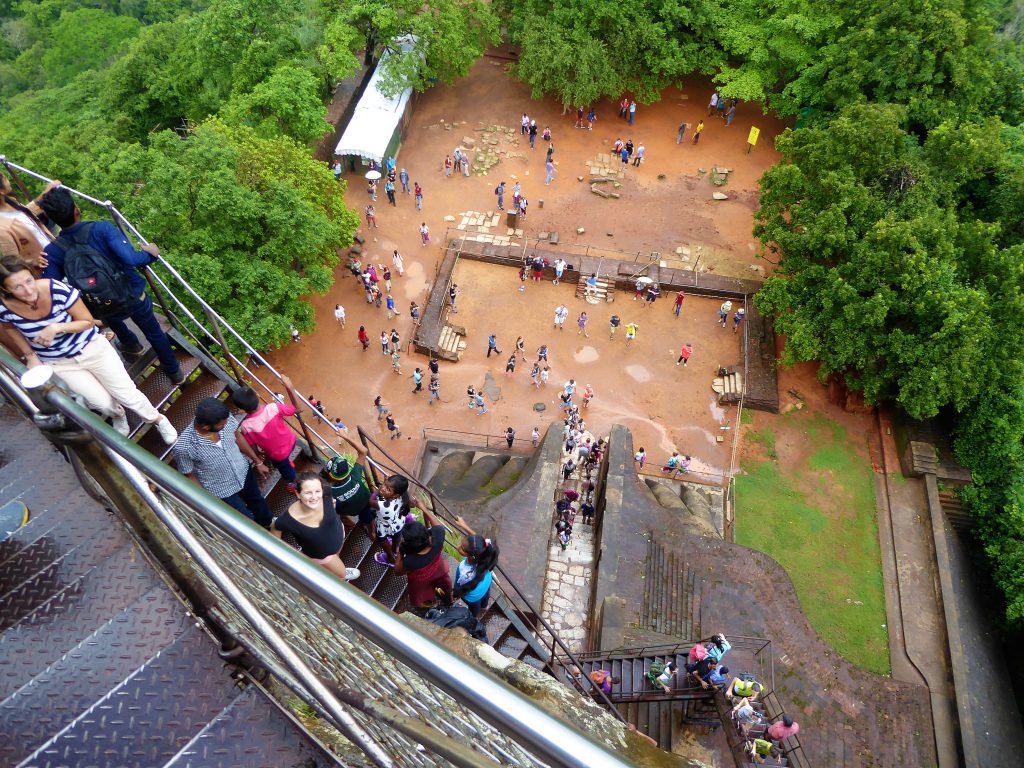 And then it is time to go down again 🙂
—
Tips for the surrounding area!
Pidurangala Rock
I haven't visited this rock but reading about it afterwards made me wished I did!! Go climb this Pidurangala Rock too! From here you get this great view on the Lion Rock! If you go here for a nice sunset after climbing the Lion Rock you will have a great closure of this day, right?
The entrance of this rock is hardly anything, I think you need to pay around 2.50 to get up!
Visit the temples at Dambulla too
Cave Temple – Dambulla
If you are not sure what to do after climbing the Lion Rock in the morning you can go and visit Dambulla. There is this great Golden Temple (UNESCO heritage) with behind it the Cave Temple. I really like going there!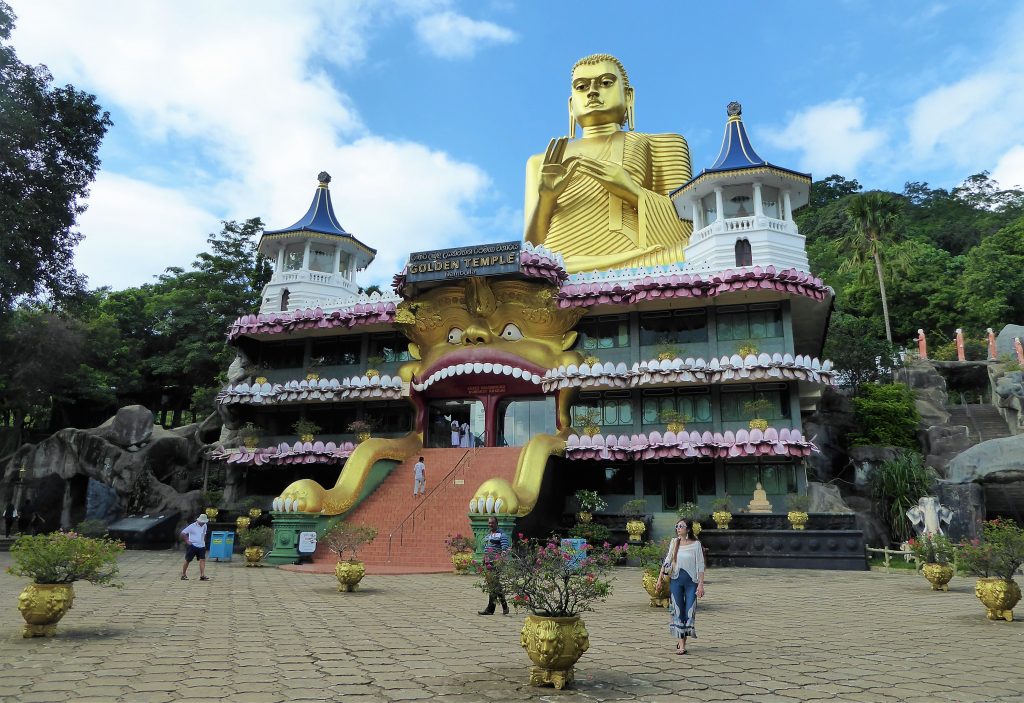 The hike up there is a nice one, not to high but you need to work for it! When I got up there it felt great, there was this peaceful quiteness.. being outside of all the noise of the traffic down there.  And the higher you go the better your view gets!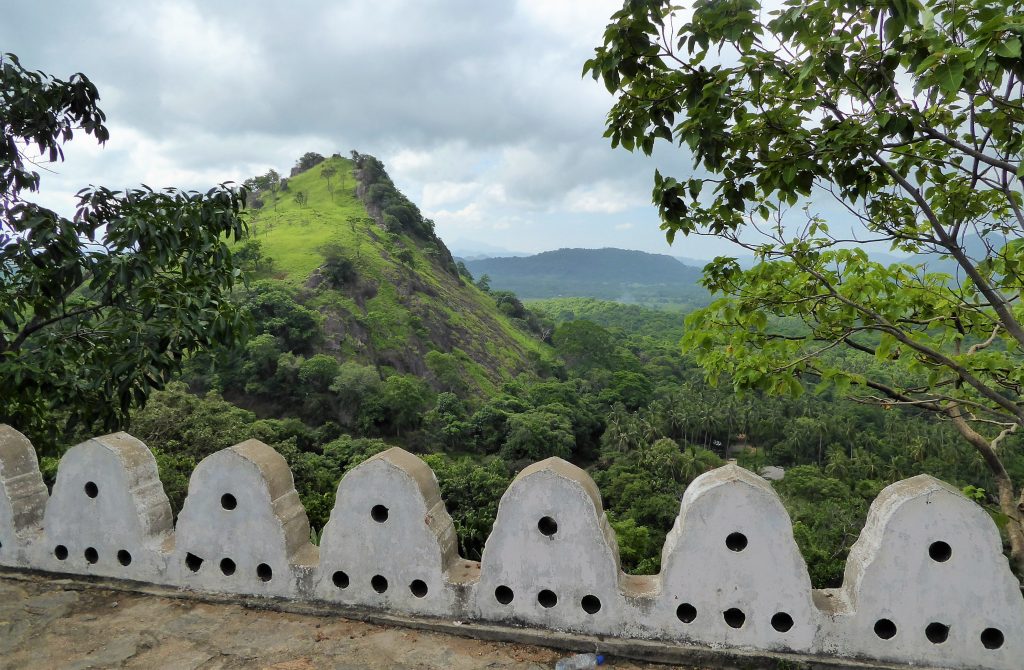 When I was there hardly any tourists where there. I had all the time and place to see all the statues and all the wall paintings in the different caves. There are multiple temples up there and some are closed. But every now and then it will open to perform a ritual.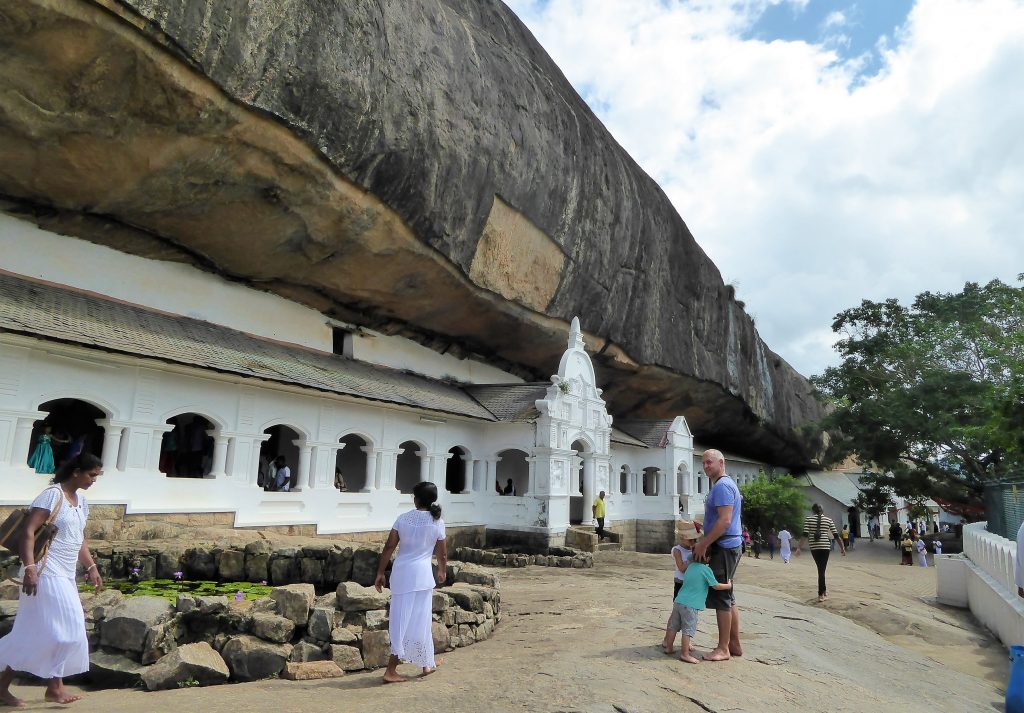 If you are up there you can wait for that!
There are many rituals and many times during the day!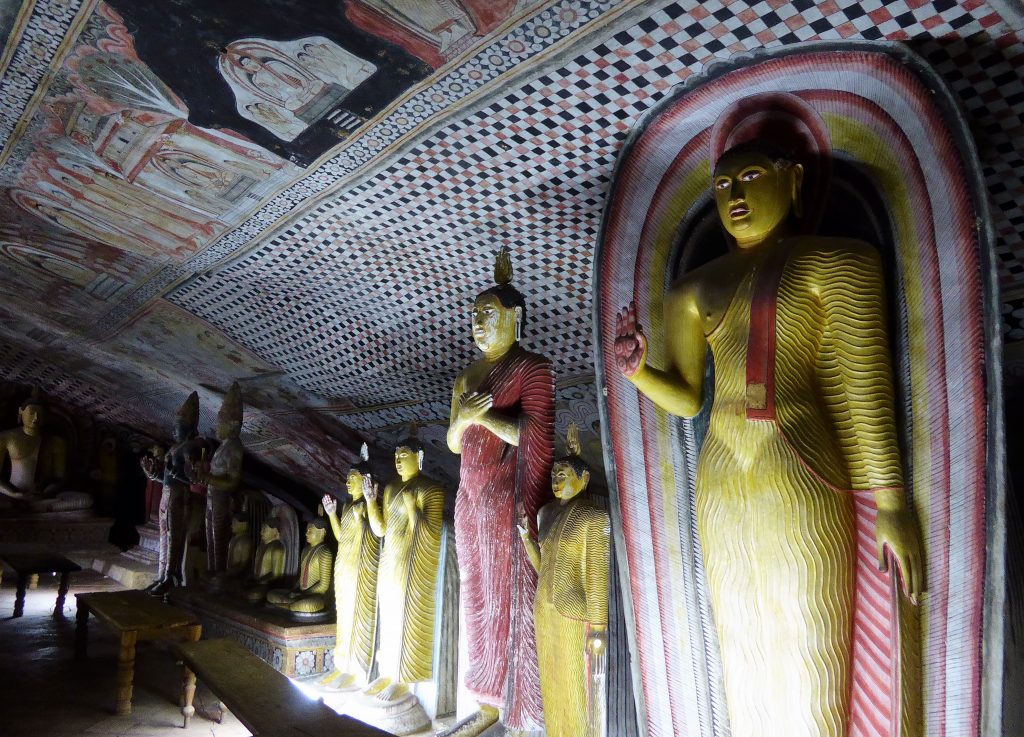 Have you been to Lion Rock?
Or have you visited Dambulla?
Or have you climbed another great and impressive rock?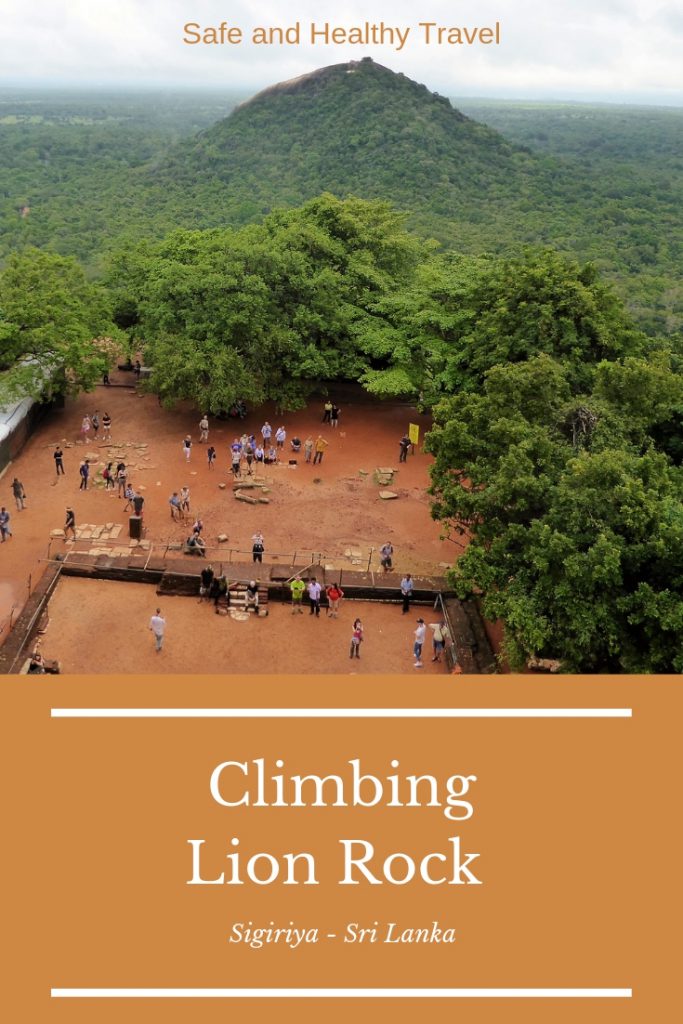 Would you like to see the rest of my journey? Check 10 days Sri Lanka?
I didn't share anything of this travel yet. I did share this impressive visit I had on Boxing Day, exactly 12 years after the Tsunami. I was exaclty at the spot where it happened and talked to a survivor, she told me her story of horror...
Can I inspire you to visit Asia?
Island Hopping at El Nido – Philippines
2 Days Hiken near Hsipaw – Myanmar
Cookingclass at Red Brigde – Hoi An, Vietnam
Diving at Sipadan #1 Spot in the World according to CNN Travel
Freedom Island – Koh Rong Samloem – Cambodja
Or how about a walk in the middle of the night?
I hope you like this world as much as I do!!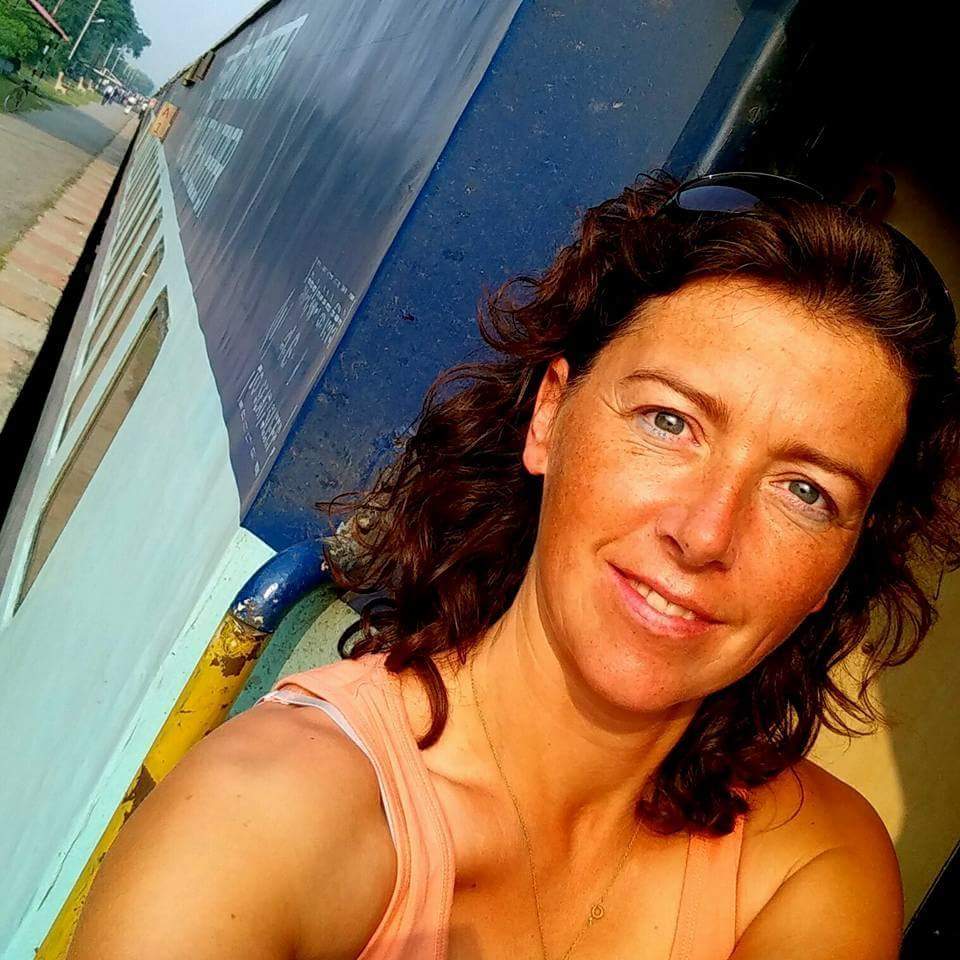 Jacomijn is een politieagent uit Nederland die jou graag laat zien hoe je veilig, actief en gezond de wereld kan over reizen. Safe and Healthy travel is a MUST