My Most Beautiful Hikes in Overijssel – The Netherlands
|
There are a lot of beautiful places in the province Overijssel on the east side of The Netherlands to go hiking. Overijssel is super versatile and offers many different types of hikes! To write a blog with a selection of beautiful hikes in Overijssel is therefore difficult. It remains of course a personal selection of the most beautiful hikes. So it is a list of my most beautiful walks in Overijssel. You get a very diverse picture of the province of Overijssel which is of course partly connected to Germany and more hilly.
And when you go inland and end up at the river De IJssel you come to walk in a very different area. And how about the top of Overijssel at the Zwarte Meer and the National Park the Weerribben? I also just entered into the province of Drenthe with 1 walk but I really wanted to share it in this blog with the most beautiful hikes in Overijssel….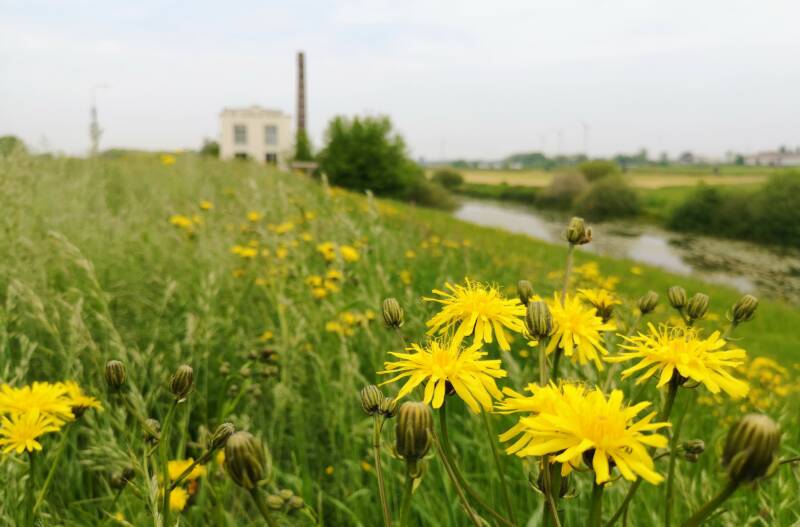 My Most Beautiful Hikes in Overijssel – Netherlands
Voor de NL versie van Mijn Mooiste Wandelingen in Overijssel
With these most beautiful hikes in Overijssel, all those different facets are covered! And that is exactly what makes Overijssel so beautiful!
Read on for the hikes I made in recent years and which are at the top of my list of most beautiful hikes in Overijssel!
The fun, colorful and artistic little town of Ootmarsum should be visited sometime when in Overijssel. I think it is a great place to look around. There are many boutiques that lure you in to do some shopping but also many galleries of artists who love to let you enjoy their art.
This hike starts just outside the city at the highest point De Kuiperberg. From there you first walk through the town and then into the countryside and finally into the forest of Springendal. I think it's a wonderfully varied walk and I've hiked it 2 times now.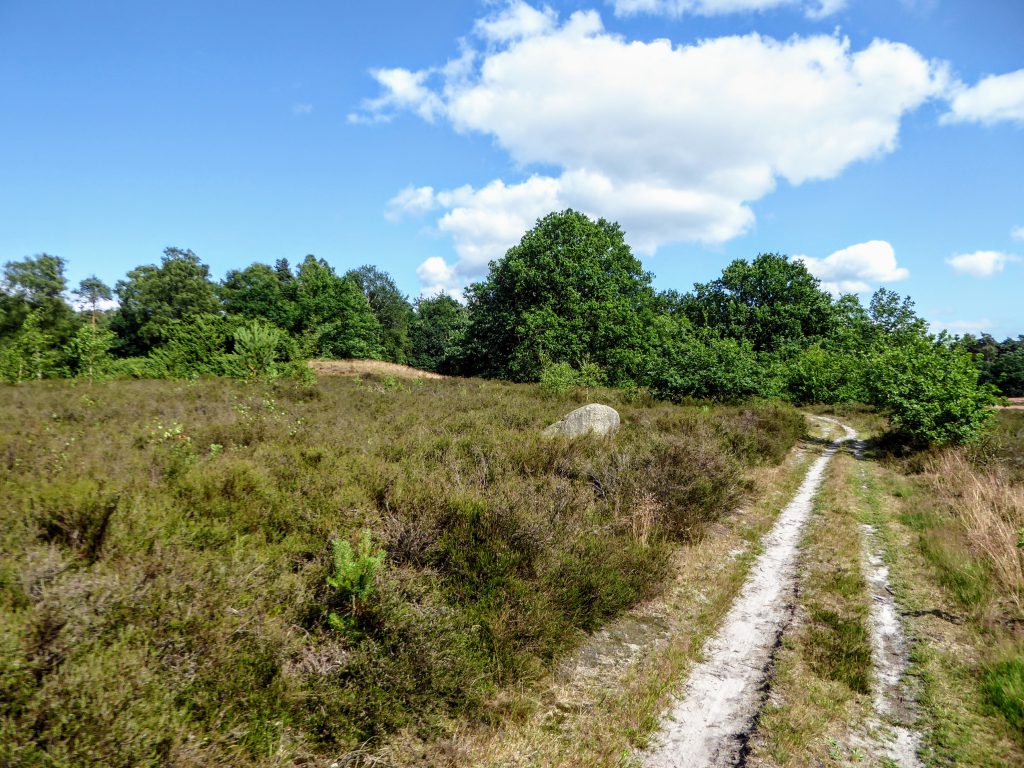 A lovely hike through and near the estate of Twickel. I parked my car at Twickel Castle and started my hike there. A castle with all the history around it always appeals to the imagination. During the walk you come through a piece of nature where it is often swampy so a wooden footpath was laid. For a moment I had the idea to be abroad… I really thought that was a great piece of nature! Of course there is a bench right there to enjoy it to the fullest!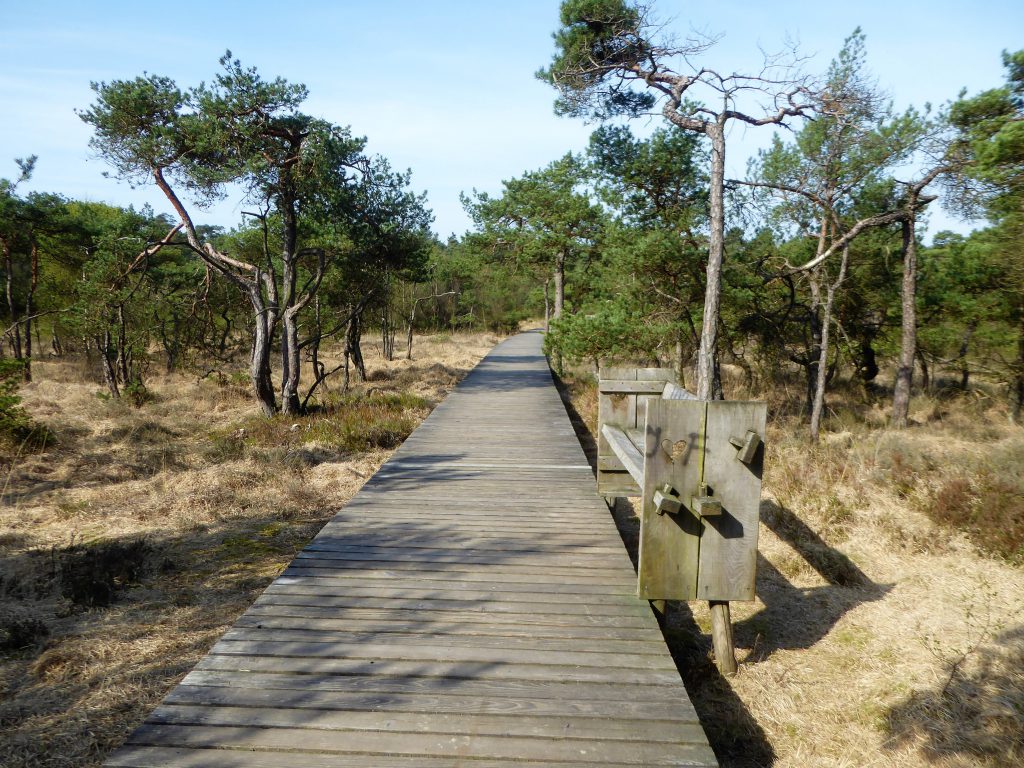 Route Noetselerberg and Sprengenberg – 19km haarle
I haven't written a blog about this route yet. I have hiked and cycled so many times in this area that I know most of the trails like the back of my hand. I live in Hellendoorn and so the Sallandse Heuvelrug is my so-called backyard.
This route, which is described in the booklet Twaalf Twentse Tochten, takes you through the woods, over the moors and along the beautiful Palthe Toren near Haarle. Lovely varied walk that in a number of places you will feel as if you're in The Middle Of Nowhere. Even on a Sunday afternoon!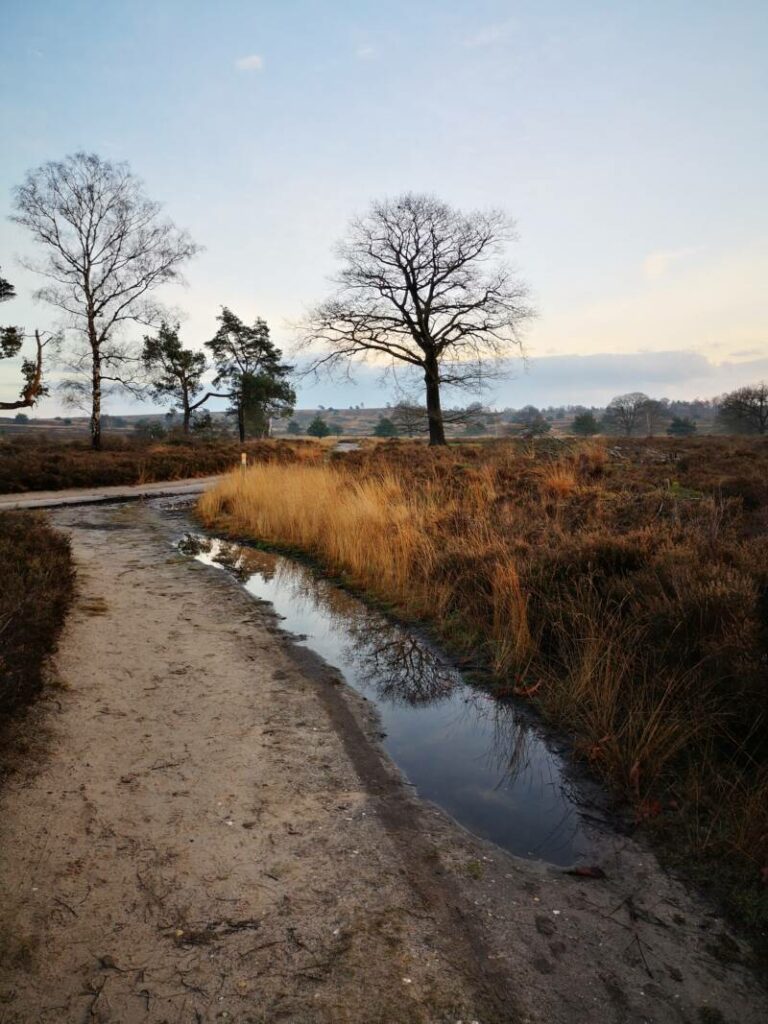 How surprising is the name Krishamurti in the Dutch province of Overijssel? I found it super interesting to learn more about this. Krishnamurti came to Europe in the early 1900's and eventually settled in Ommen for a couple of years. Here the starcamps were established to proclaim the doctrine in which he believed. Because it is not a belief but a way of life Krishnamurti left after a few years. Why did Krishnamurti leave? We, humans, are quickly inclined to worship in the hope of receiving enlightenment instead of working hard ourselves to get there.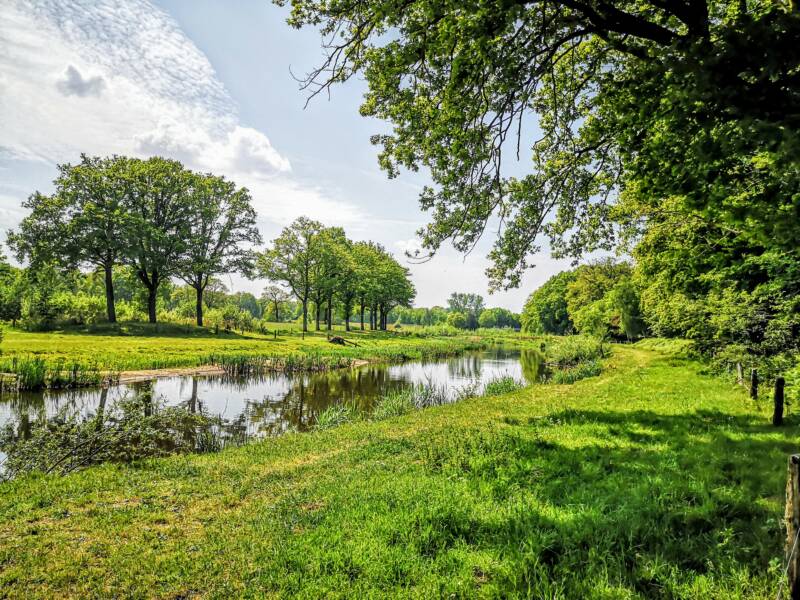 The hike takes you past the different places where Krishnamurti lived and spoke to the people in the outskirts of Ommen. A nice walk through the woods, along the river Regge and over the Besthemerberg.
National Park Weerribben-Wieden
I drove here one day to take a nice walk. I had a lovely day and picked up several loose paths in the great National Park Weerribben-Wieden. It is great to see and hear all the birds here on a summer day. I hiked for hours in this beautiful vast wetland.
Unfortunately I could not find a well established circular walk but I did not want to skip the area in this list of most beautiful places to walk in Overijssel.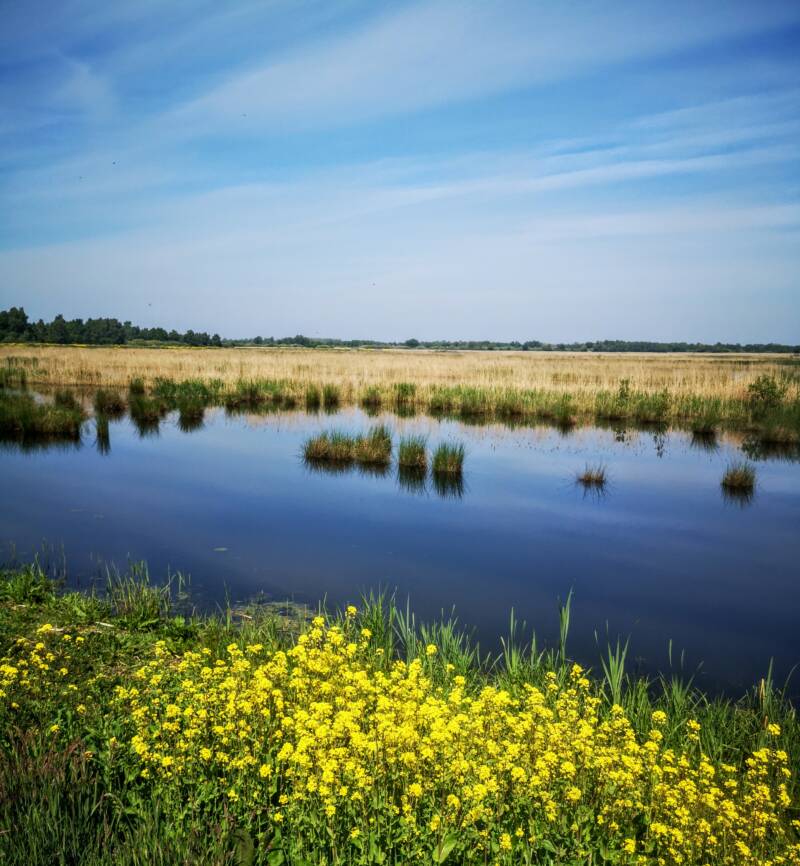 In the Vecht valley of Overijssel a lovely walk takes you past several estates such as estate Huis den Berg and estate Rechteren. You walk over the estate, through the woods and finally through Dalfsen and again over the river Vecht to your starting point.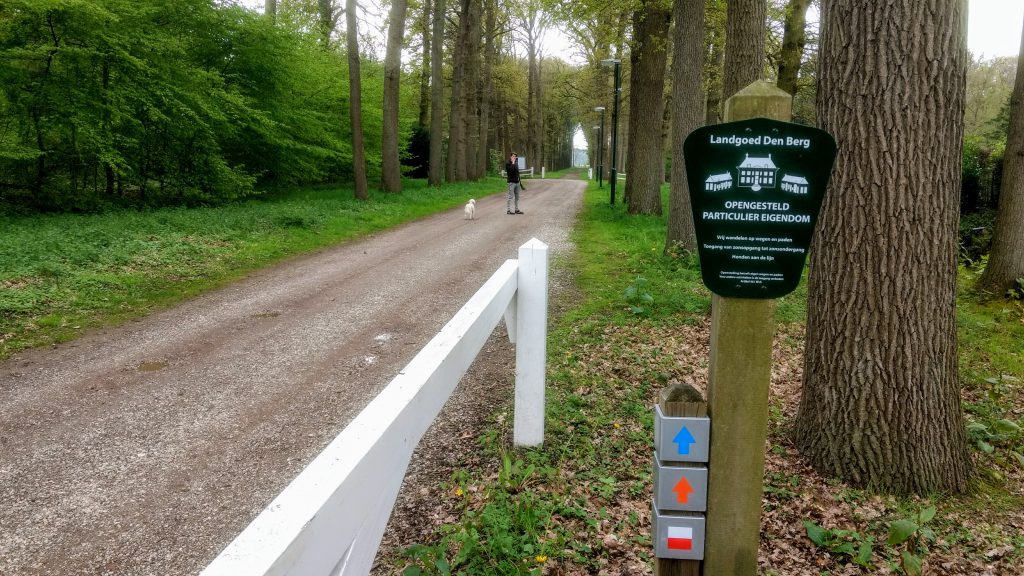 The background of the Society of Charity (Maatschappij van Weldadigheid) is impressive. It started as an aid to the poor. In the late 1800 and early 1900 lots of poor came from the western part of The Netherlands to work here and to have a better life. If that was always the case,…I don't know. It was expanded with a penal camp also and was eventually disbanded. I had heard of it but if you go for a walk and read a bit more about the background it is very interesting!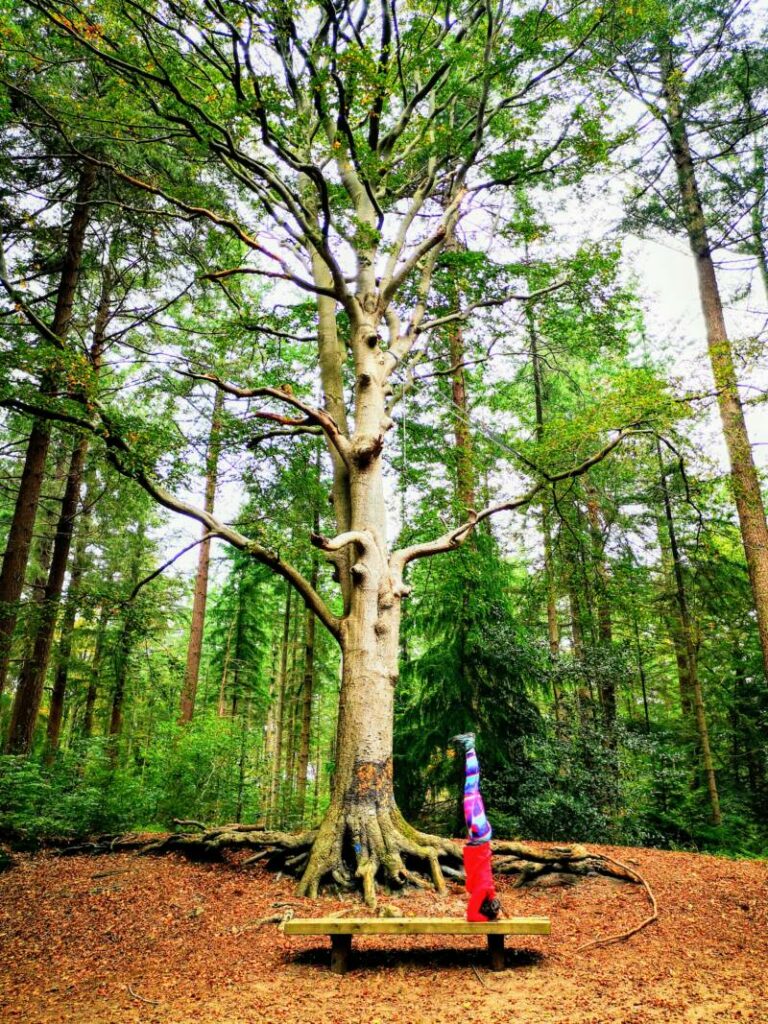 First I made the nice walk near the penal colony Ommerschans. Then I walked this walk in Wilhelminaoord and Frederiksoord. So this walk is just out of Overijssel and into Drenthe. Super interesting history to read about. How nice is it when you can do that during a nice walk? The walk also takes you through a super diverse landscape!
Long Distance Hikes in Overijssel
Want to hike for a couple of days in a row?
I totally get that! I think that's a must and brings you to the landscape of Overijssel in a completely different way. Besides that it slows you down, it makes you think deeper and make connections in your thinking and acting. Something we sometimes pass by too quickly in this busy society. And something that is just as important for the growth in your life.
I often notice that when I'm alone for a few hours or rather a few more days, I think much more and freer. I make a lot of connections between different events or I can deepen what I want. But also why I want something and how I could achieve something I would like. Unconsciously you then move in a certain direction in your life and things start to fall into place in the future. Unconsciously you start to act, react differently and thus let people or things come your way. The trick then, of course, is to recognize this meaningful coincidence and act accordingly!
I didn't walk this path in the right order and walked the different stages over 2 years. I loved to walk in the watery IJssel area. The Hanzestedenpad brings you along the Dutch Hanseatic cities. They are of course very interesting and that additional history makes it a beautiful hikingpath. Wonderful nature and surroundings with a deep history!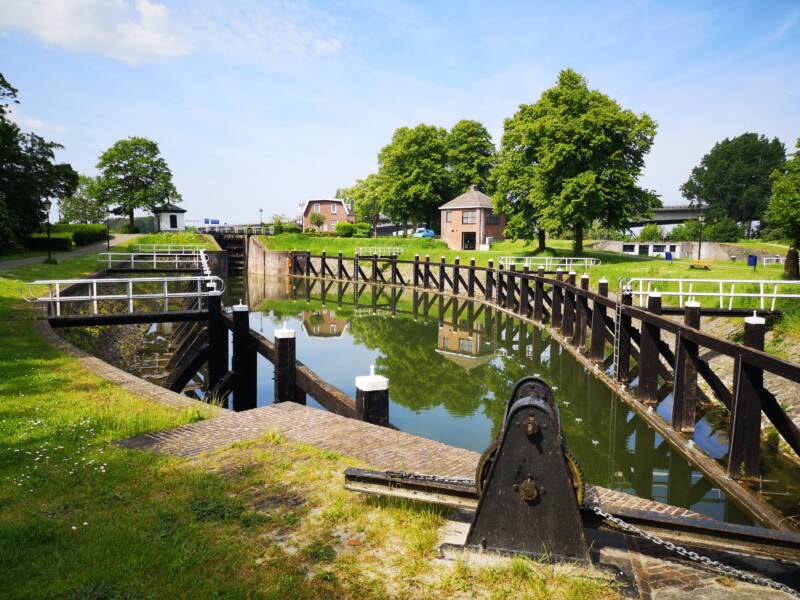 I did this hike in 2 days. It takes you from semi mountainous landscape into the delta of the IJssel. The hike is described in 4 stages but I wanted to train my stamina and hike some longer distances. I really liked the area! I started in the center of Nijverdal and walked the first day via Haarle to Heeten. You can also start the Salland Zandloper in Holten and then walk from there to Haarle. If you start in Nijverdal you also take a nice piece of heather. From Holten you walk of course also a very nice piece over the Sallandse Heuvelrug.
Day 2 I walked from Heeten to Soestwetering and went straight on to the end point at the IJssel: Fortmond. You can also choose for Wijhe. I chose Fortmond because I liked to walk into the Duursche Waarden at the old brickworks factory.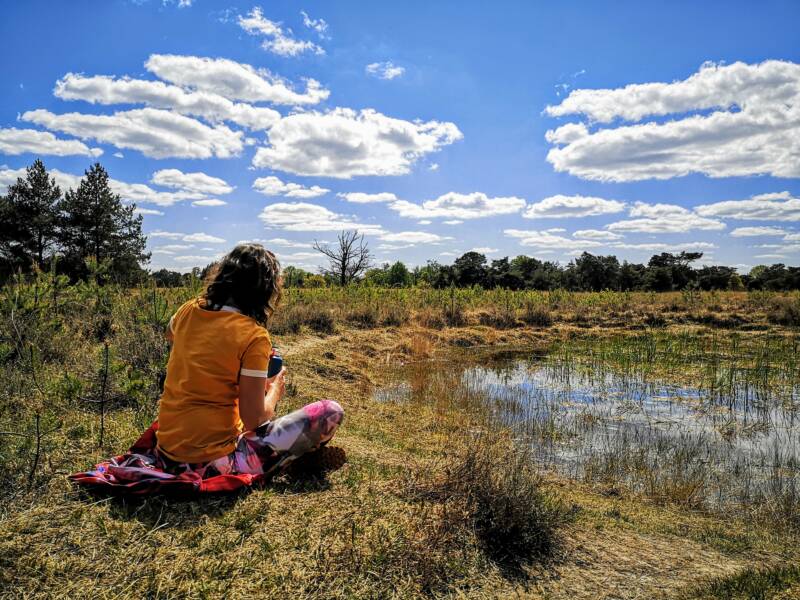 The Sallandse Zandloper is a wonderfully varied walk from the Sallandse Heuvelrug to the nature reserve the Duursche Waarden. You cross a very diverse area which shows many facets of the beautiful province of Overijssel. This is definitely one of my most beautiful walks in Overijssel!
The Stuwwalroute takes you to a completely different part of Overijssel. Overijssel is divided into Twente and Salland… These are really totally different parts, each with their own specific backgrounds. I've never seen and realized this so consciously as I did during these walks. What I said before, you slow down… You see your surroundings better but also yourself… You look better and think deeper… you make connections…
Also in this area 🙂 Twente is situated against Germany and is a bit more hilly. If you go past the Sallandse Heuvelrug you come in the area of the IJssel and the Hanseatic Cities. Is significantly different!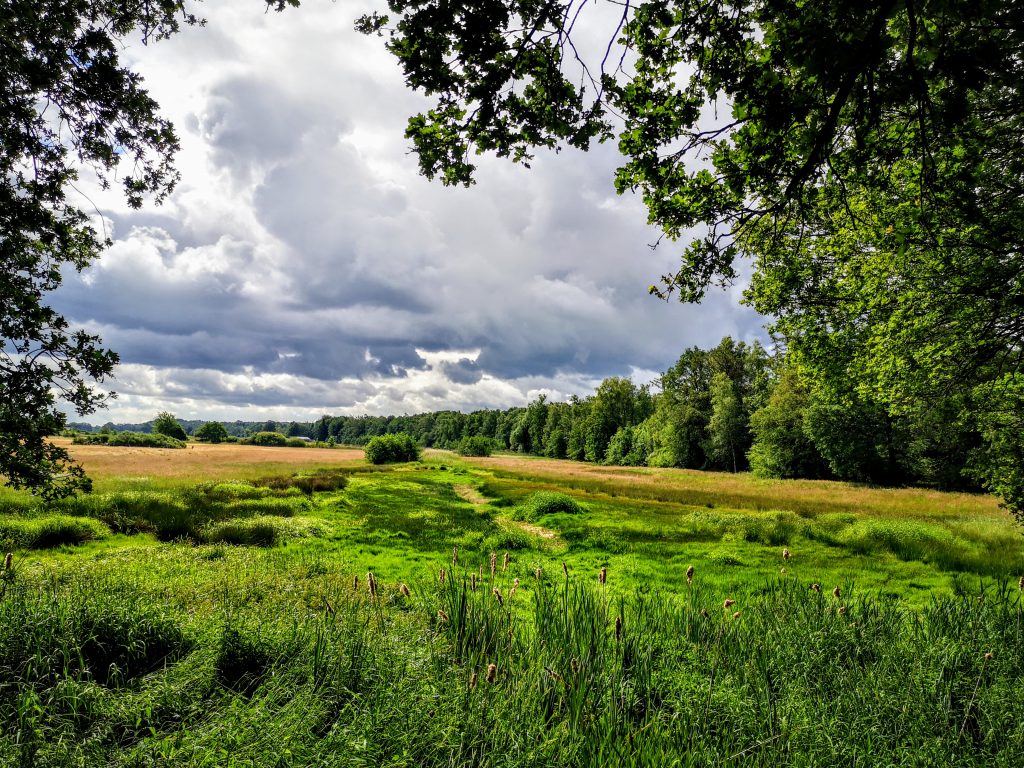 This route starts at the Molen (mill) van Bels in Mander, this is just near the German border 🙂  You walk a beautiful piece of nature where if you pay attention you can see the oldest burial grounds of Overijsselse Landschap. Via Ootmarsum you walk to Rossum. Here we stopped on day 1. We had walked about 28 km on this beautiful hike in Twente.
Day 2 started in Rossum and brought us along De Paasberg (a hill) and Galg and vreemdenkerhof (cemetary) to Oldenzaal. This day gave us a nice walk of 27 km. There are no fixed stages on this route so if you want to walk it in multiple stages you will have to study the route.
My Most Beautiful Hikes in Overijssel
I hope to be able to expand this blog with other beautiful walks in the future. So…do you have any tips for long distance walks within Overijssel? Or nice day walks? Then I would love to hear it from you!
Especially now in this time of corona we can walk well, especially walking alone is of course super good!
Did you like these tips for hiking?
Do share them on your social media!!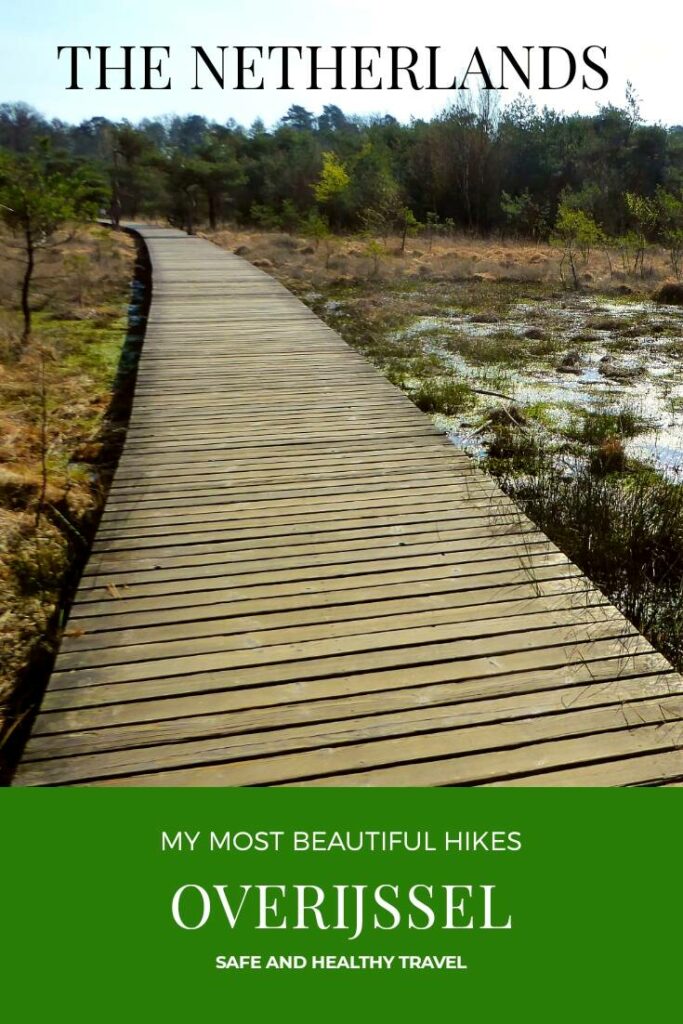 Walking abroad is of course also super. I've done some nice walks and I like to share them with you for inspiration!
Lee Trail in Luxembourg (3 days – 53km)
Hiking on the Alpe Adria Trail – Stage 12
Pilgrimroute St Olavsleden – Norway
Hiking in Germany – The Hermannshoehen
Poon Hill Trek – 8 days – Nepal
And do check these tips!!
I hope you enjoy this beautiful world as much as I do!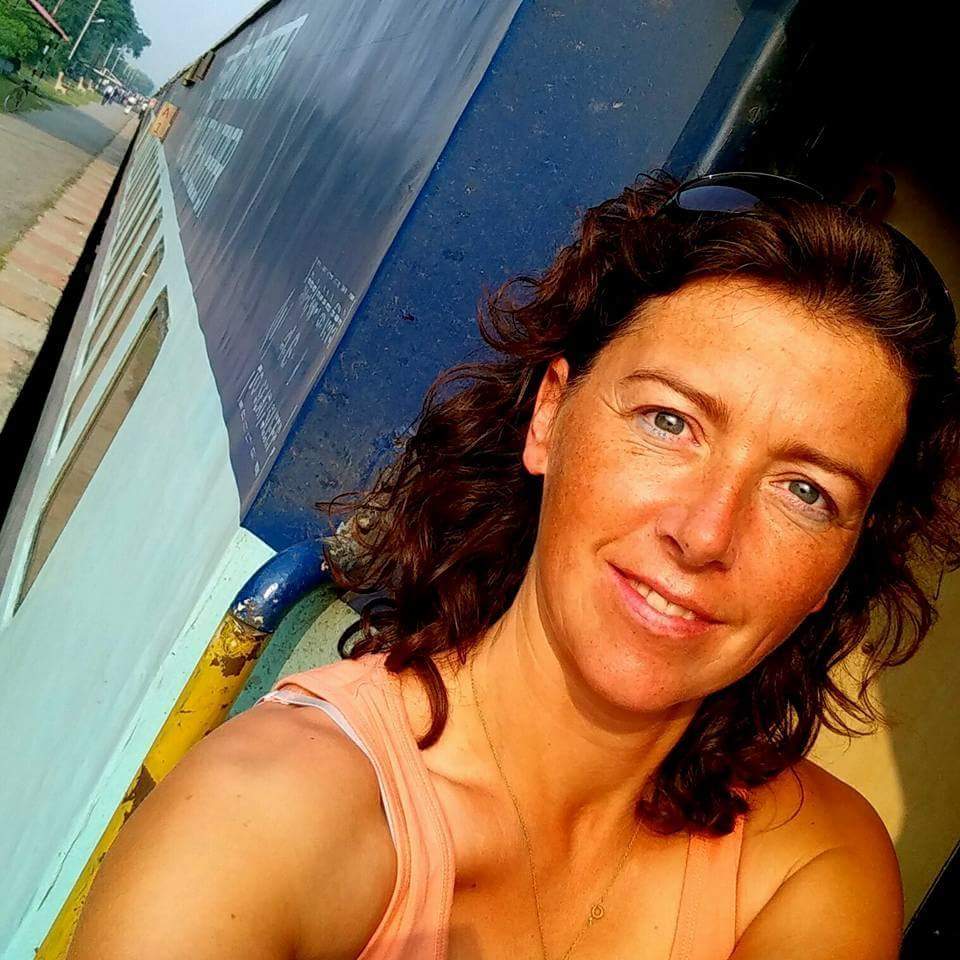 Jacomijn is een politieagent uit Nederland die jou graag laat zien hoe je veilig, actief en gezond de wereld kan over reizen. Safe and Healthy travel is a MUST