Exploring Bogota by foot, by bicycle & from high above!!
|
My trip through Colombia started, as most people, in Bogota. Bogota is the capital of Colombia and has a population of 8 million. For The Netherlands that is almost unbelievable. Bogota is the 4th highest capital in the world with its 2640 metres. Because of that the weather is really unpredictable and so carrying a poncho is a good idea!
I arrived late one afternoon and booked a hostel in the area called La Candelaria. Soon I found myself in the bus to the centre and another tourist was helping me out. I now knew where to go and how to read the streets. They have Calles and Carreras, the Calles were numbered and the carreras corresponded with those numbers. Easy peasy 🙂
Exploring Bogota By Foot
The first day I spend exploring Bogota by foot, I started with the area of La Candelaria. I love to see the local people and explore the colourful streets. I loved spending time in a totall different environment, most of my travels I have been in Asia.. And then you walk here.. You just got to love the life we have, the opportunities we have!!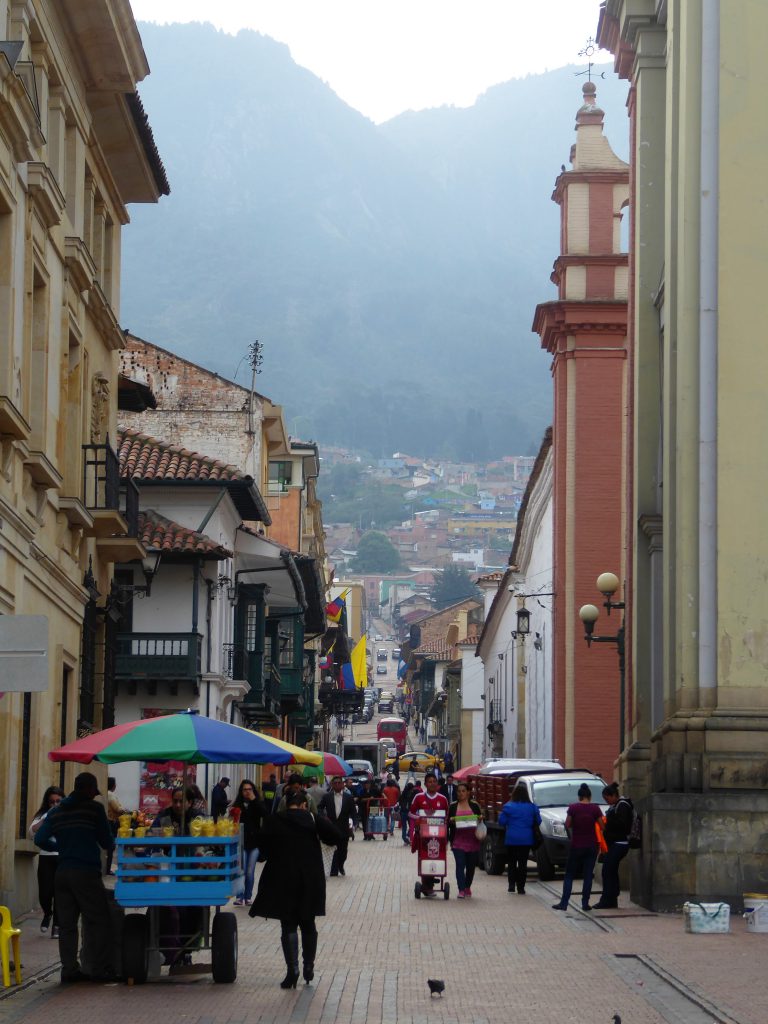 La Candelaria – Exploring Bogota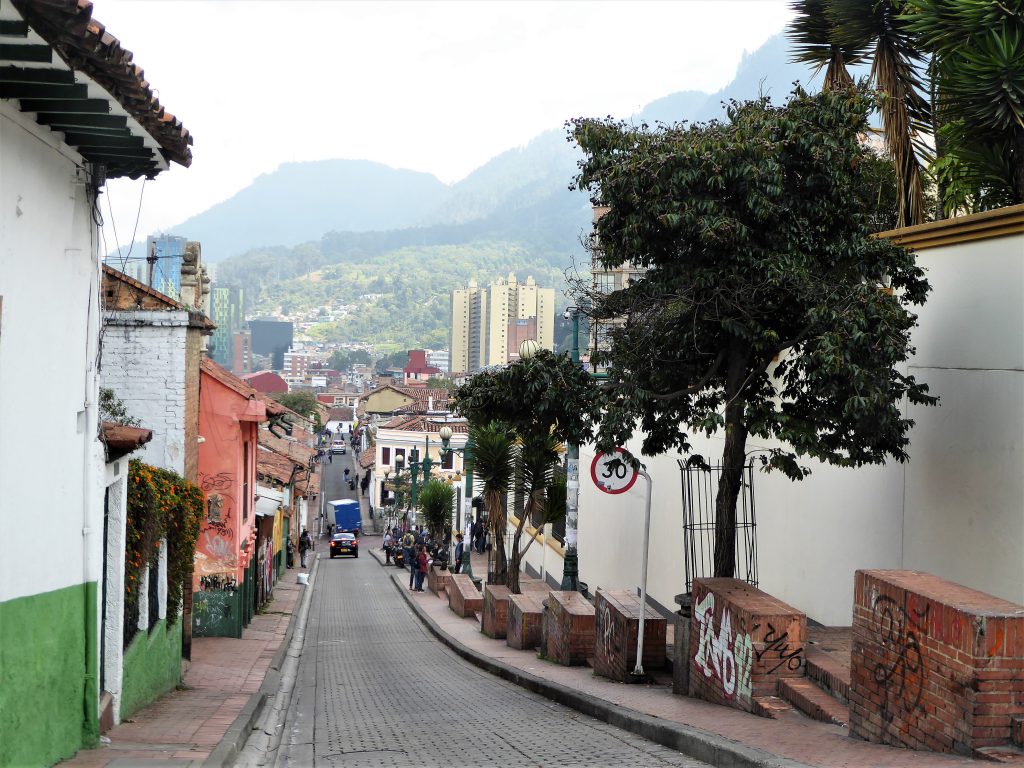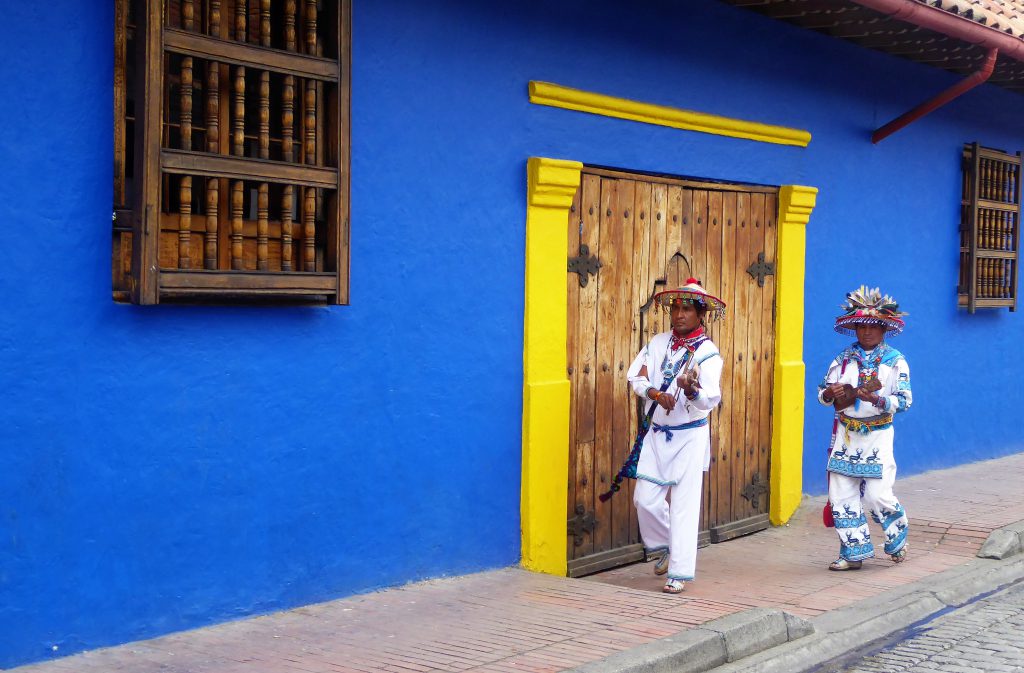 Book a Free Walking Tour Bogota
with Beyond Colombia
At some point in the afternoon I joined the Free Walking Tour. You can join these tours in all the mayor cities in the world. They are being given by young students, volunteers, and they are very enthousiastic most of the time.
They are free, as the name said, but you are expected to give a fee. They expect you to give as much as a normal trip would've costs but you can give what ever you want. There is no amount written. I do like these tours because of the young enthousiastic people that work hard for a good fee 🙂 They can tell you a lot about the local facts and habits.
Exploring Bogota by Foot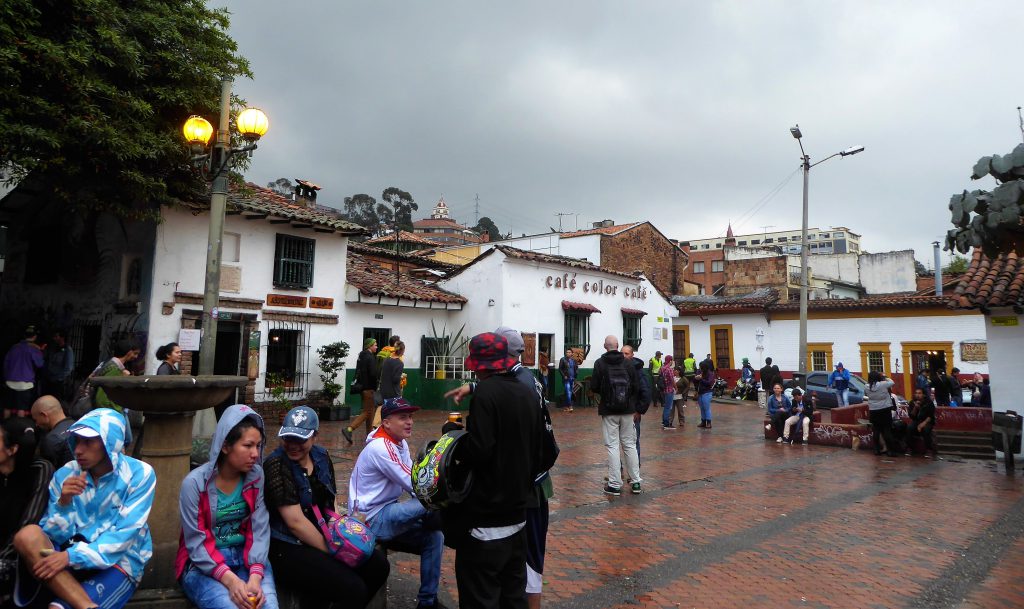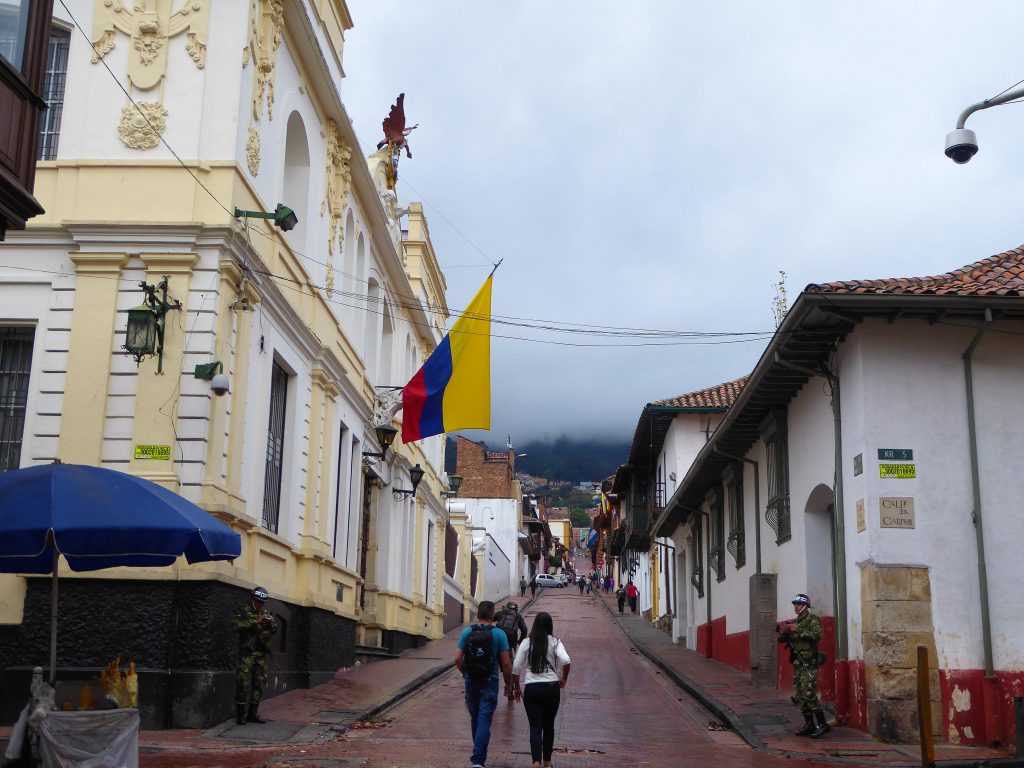 Exploring Bogota by foot, by bicycle & from high above!!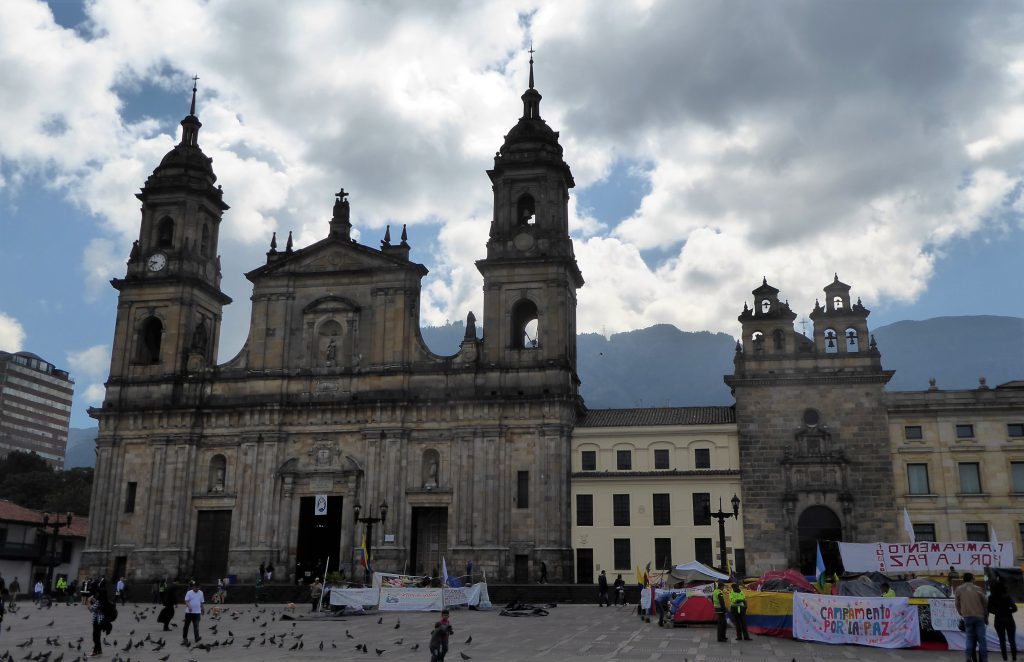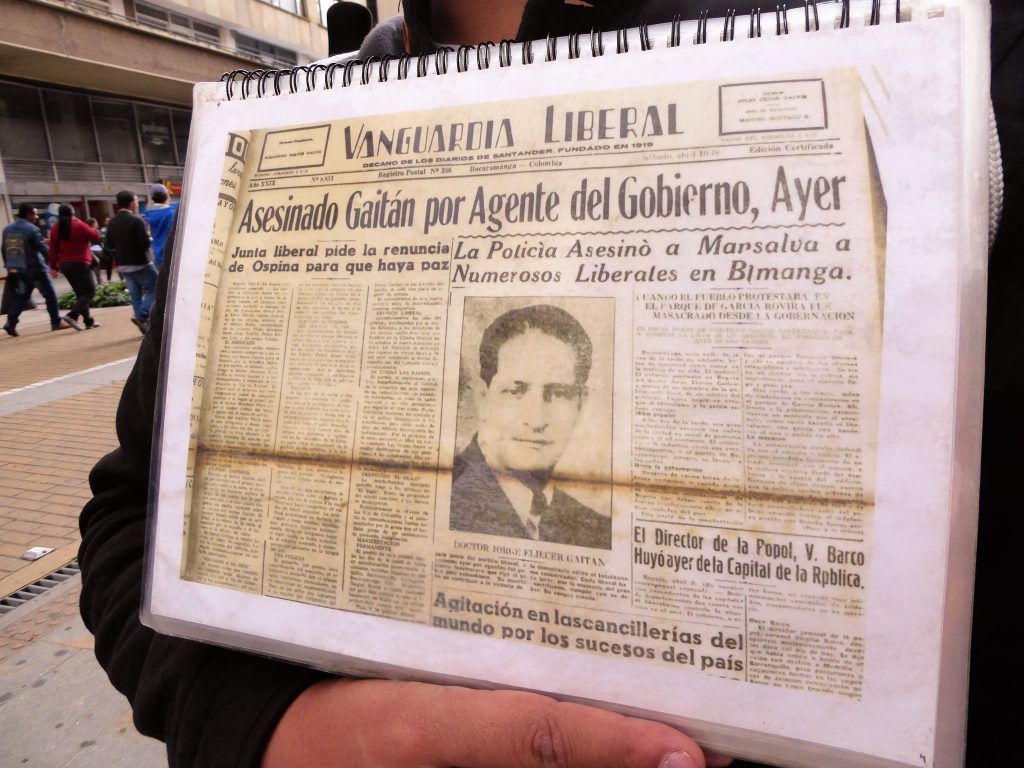 Assasin Jorge Eliécer Gaitán in 1948
During you walking tour the guide will tell you about the history of the country, the politics and also Escobar is an important part of it.
On Carrera 7, the shoppingstreet in the centre, the young politician Jorge Eliécer Gaitán was killed. It still shows pictures and remembrance plaques on the shop wall at the spot it happened. He was in a good place at that time to be the president and so this assasin has lead to many protests. In the last 20 years at least 20.000 persons were killed in those protests… After these events most of the querillas Colombia has were formed, the country still has lots of problems with those groups.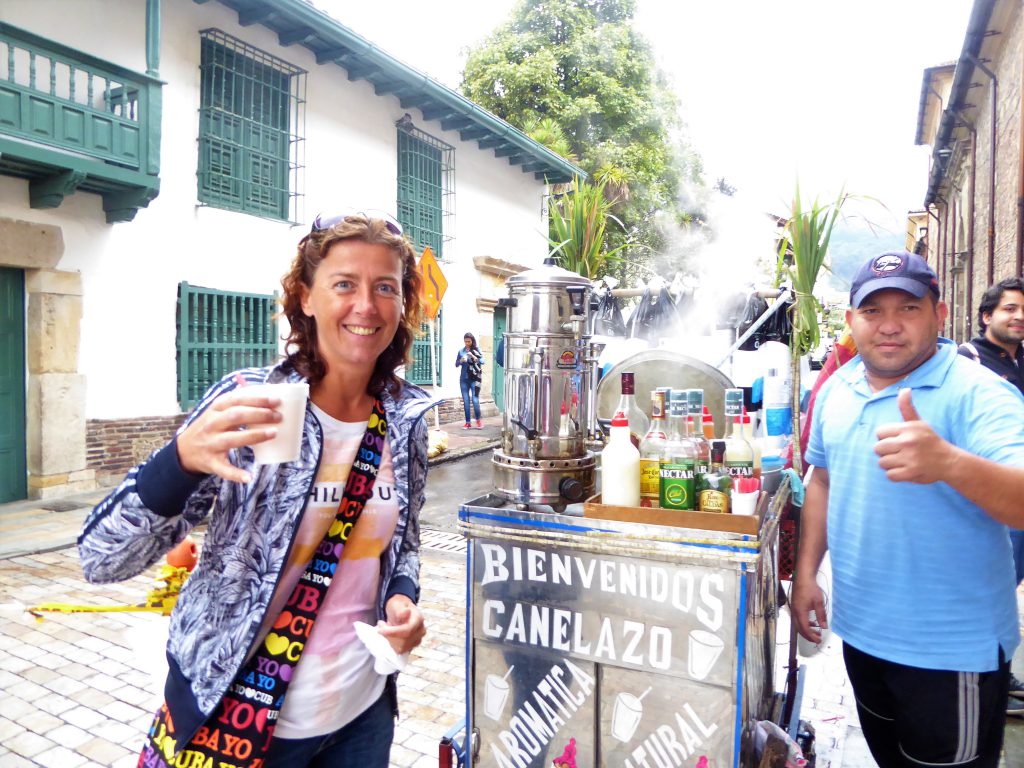 Exploring Bogota By Bicycle
The next day I wanted to go a bit further into this huge city and I booked a trip with Bogota Bike Tours. Cycling through a city is great!! And if you do it with a local guide you'll get to see things I wouldn't have seen otherwise. That was a great day spend in Bogota!!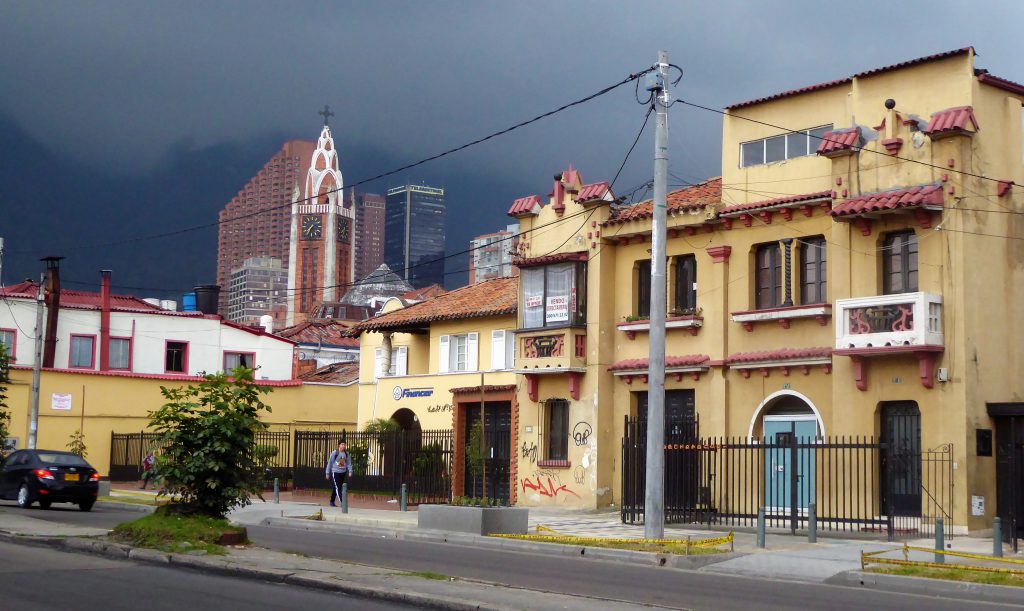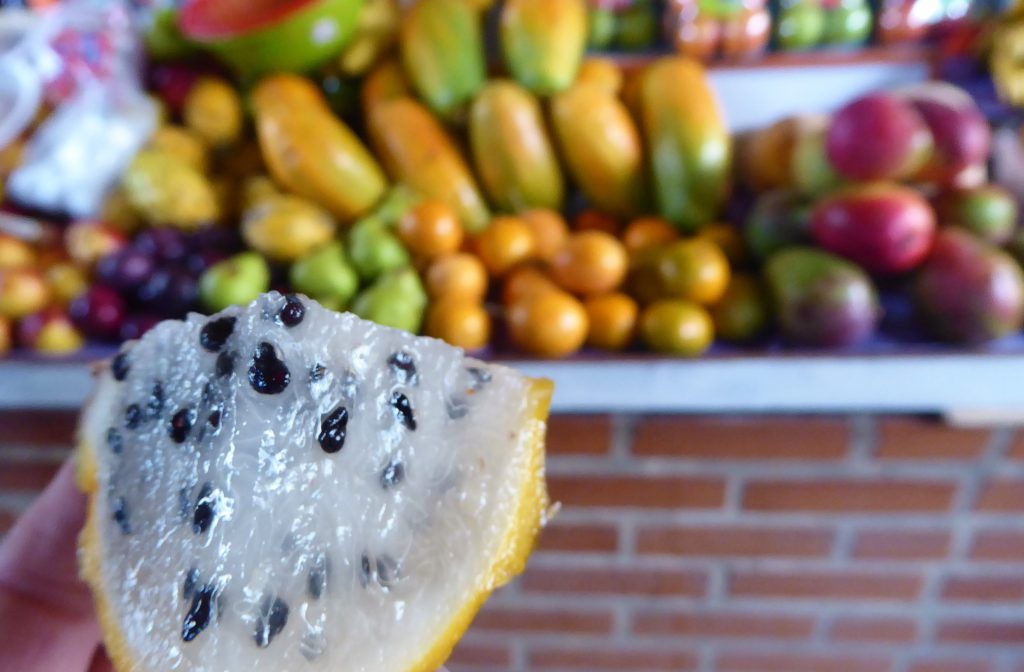 We went to a local market near La Candelaria and got to taste all kinds of fruits. Very healthy ofcourse but also I learned about some new fruits!!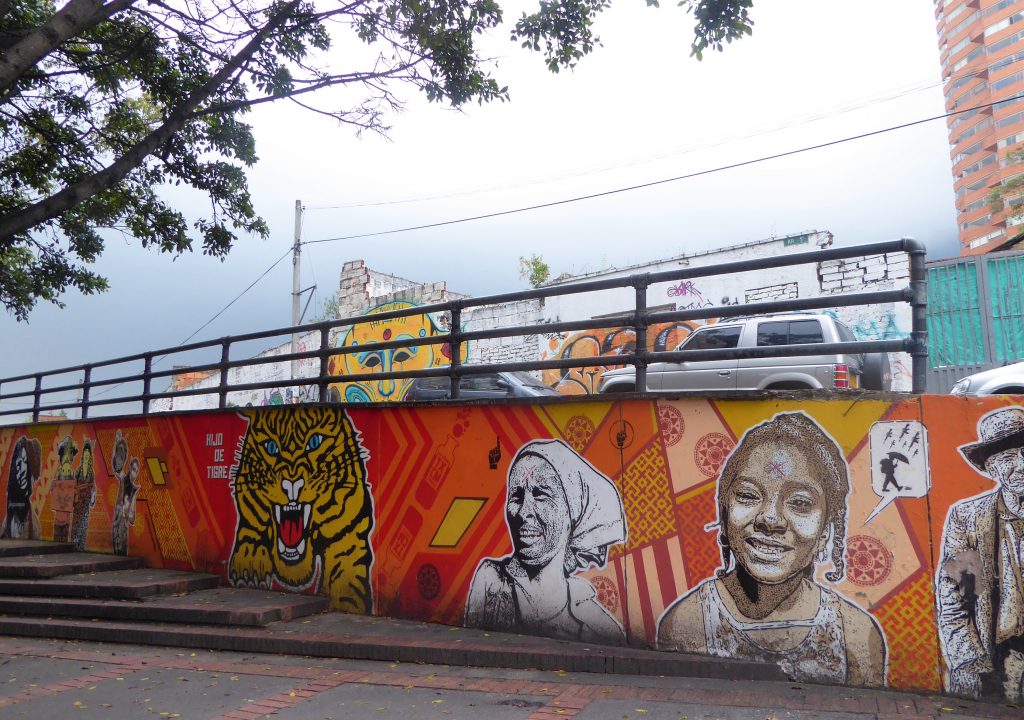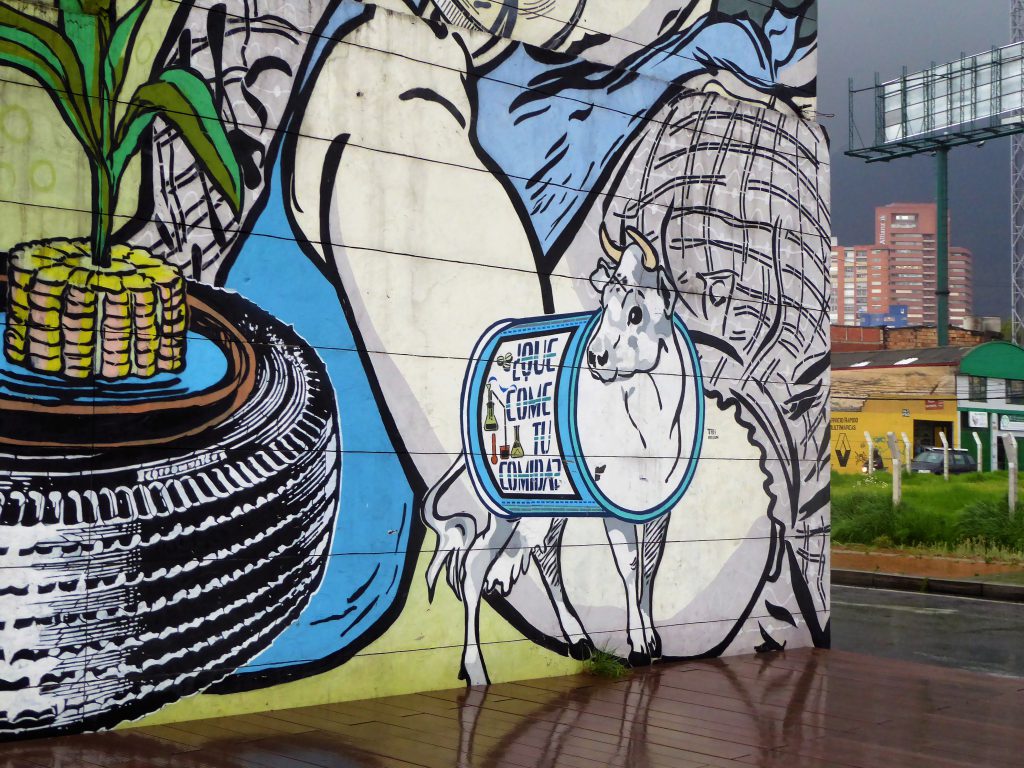 Exploring Bogota by foot, by bicycle & from high above!!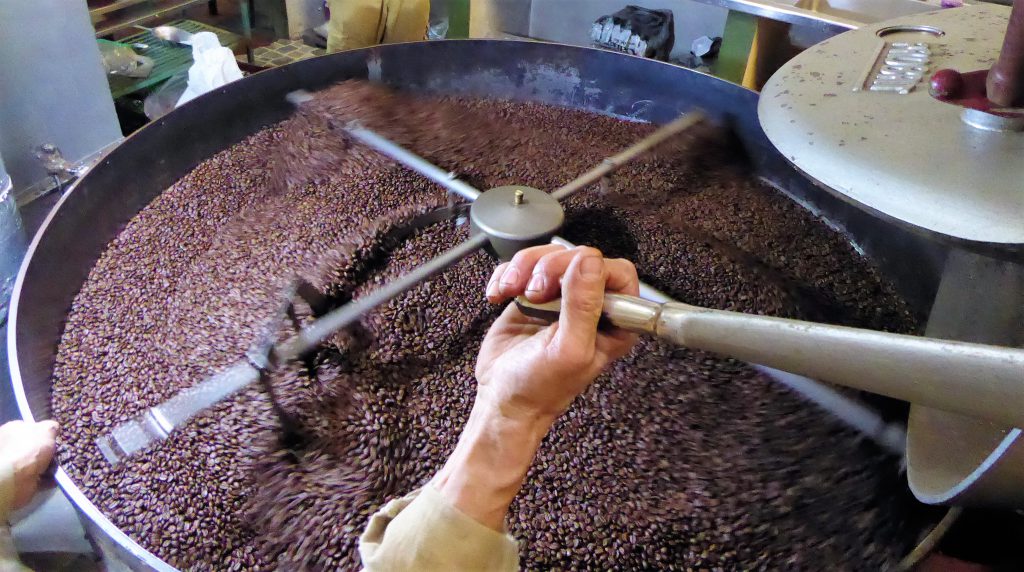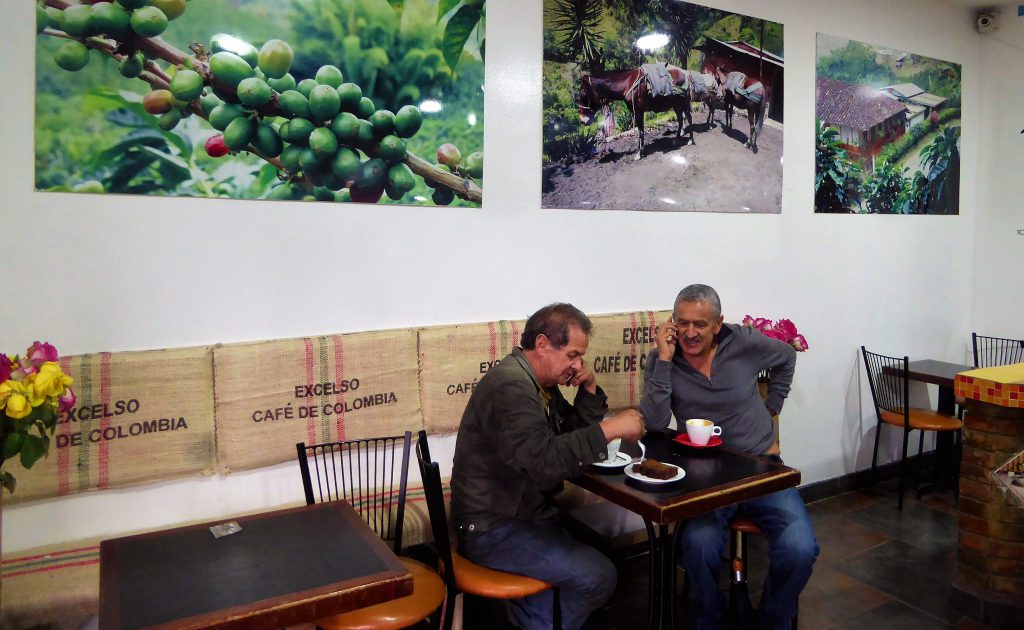 You can't miss this part of Bogota !!
Exploring Bogota from high above!!
Mount Monserrate
My hostel Explora was near the foot of the great mountain Monserrate.You  have to visit this mountain and so one morning I went walking. I walked a bit the wrong way and found myself in a suburb where no tourists come 🙂 But I found it in the end, with an extra K walking! I found the cabletrain to enter the mountain.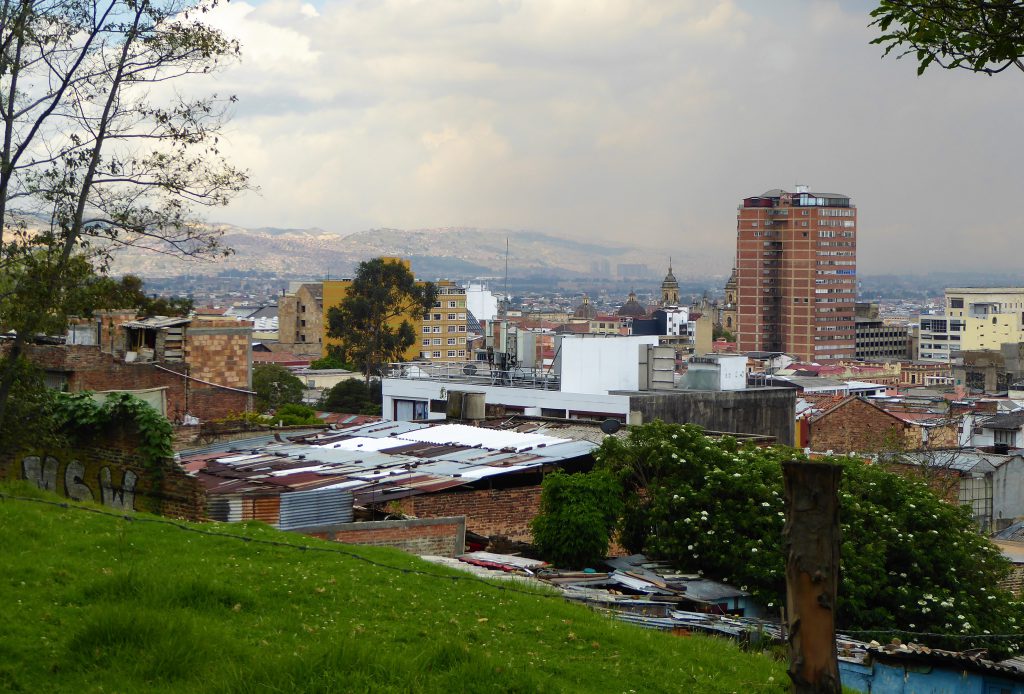 Keep in mind that there are two ways to go up or down
One way is used in the morning and they other option was my onely way to go down again. There is a train, on the picture left. And there is this hanging cabin going up and down. Two totally different experiences and I loved them! But if you don't want to hang metres above the mountain (Picture below right side) then you should get some information about how and when. So do check your options before entering the mountain. If you feel you have no other option you can always walk, btw 🙂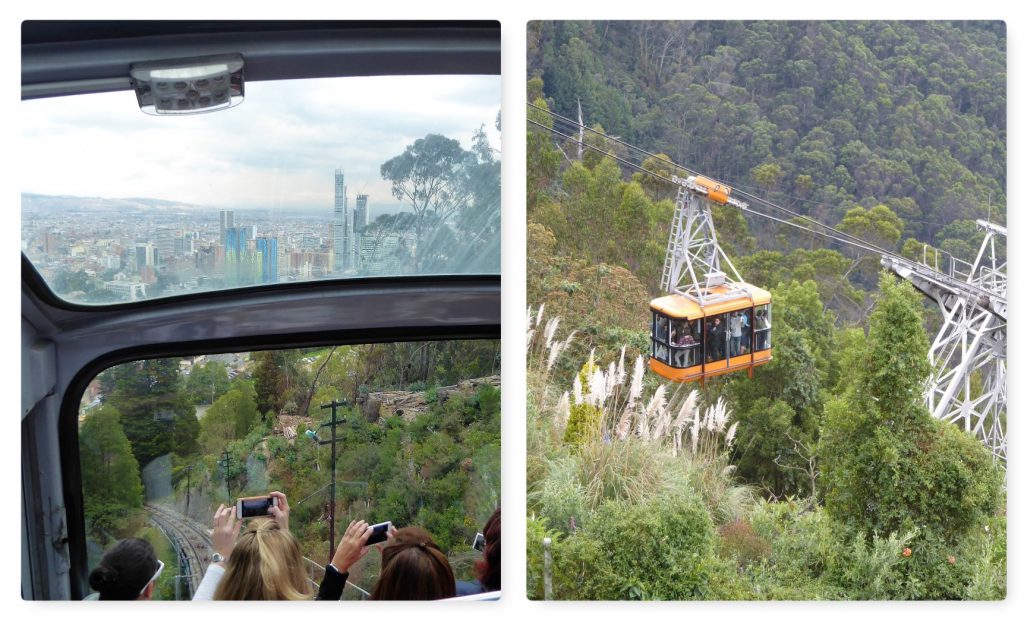 Exploring Bogota – Colombia
On mount Montserrate you'll see lots of different plantation and birds. I really loved my walk up there and it took me a couple of hours to see all of it. They situated a nice walking  path all around the top of the mountain and there is a lot of information about the plants and birds to be read meanwhile. I loved it!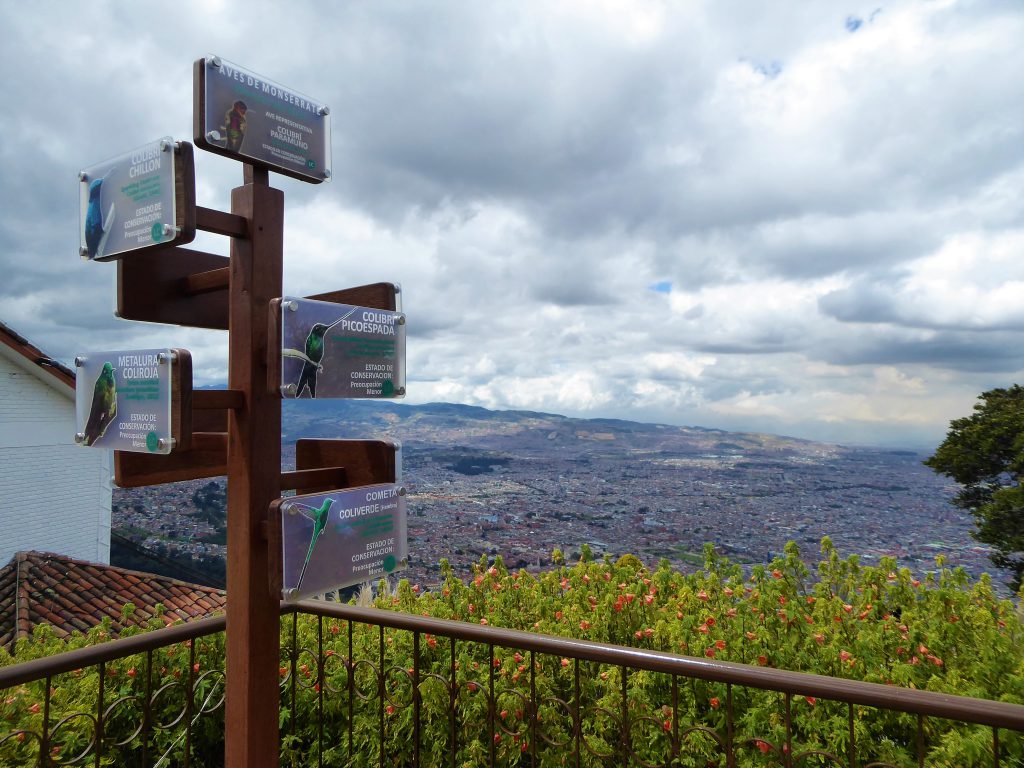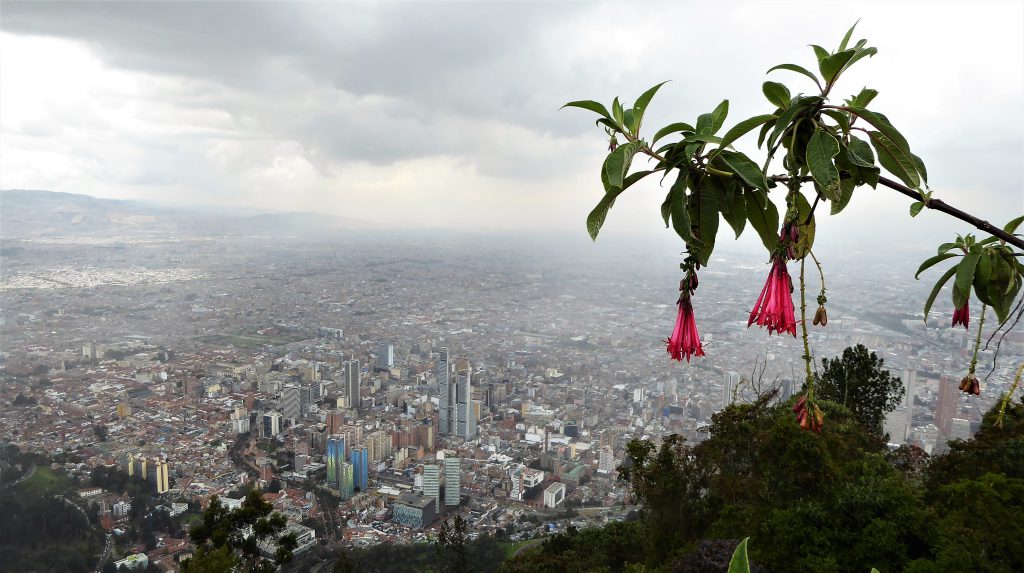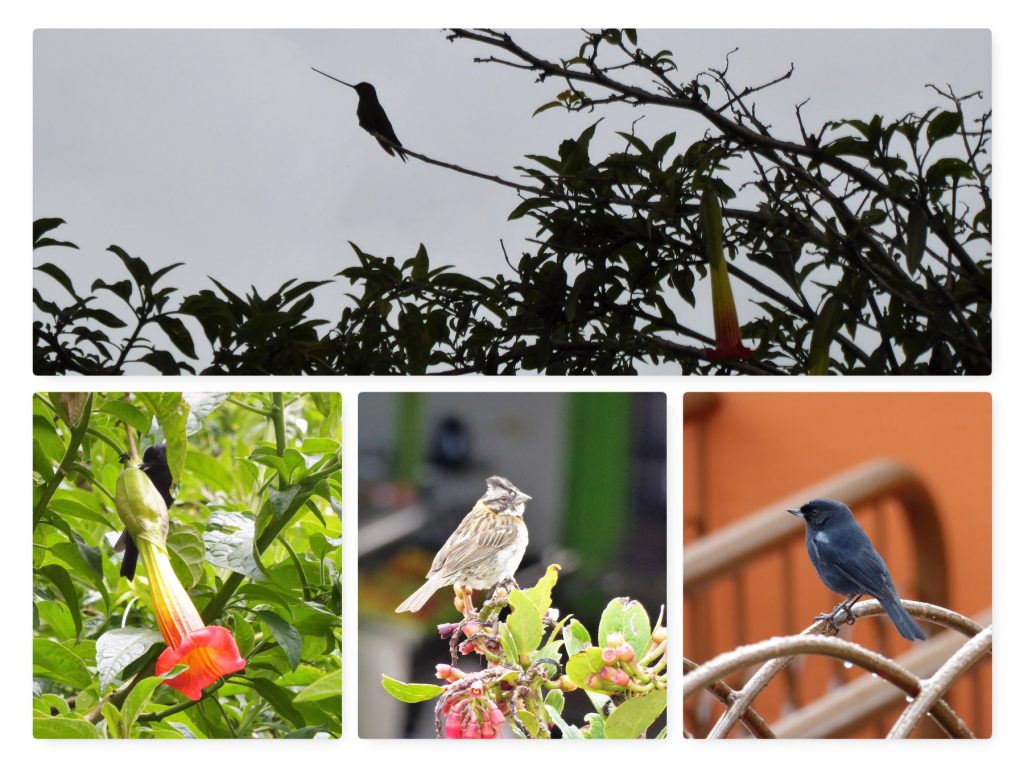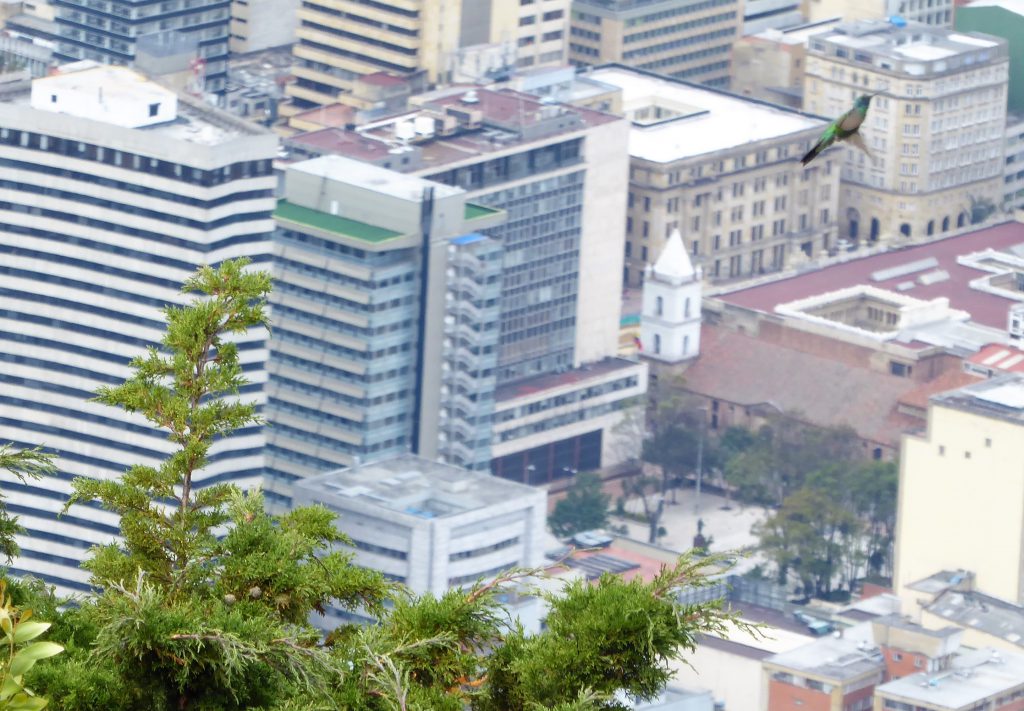 And do you see the bird in this pic? It is in the top right corner! They were so hard to get on camera so it took me a while and some effort 🙂 There were really beautiful and unique birds to see on Mount Monserrate. I can say that it made me very happy to see all of them flying around!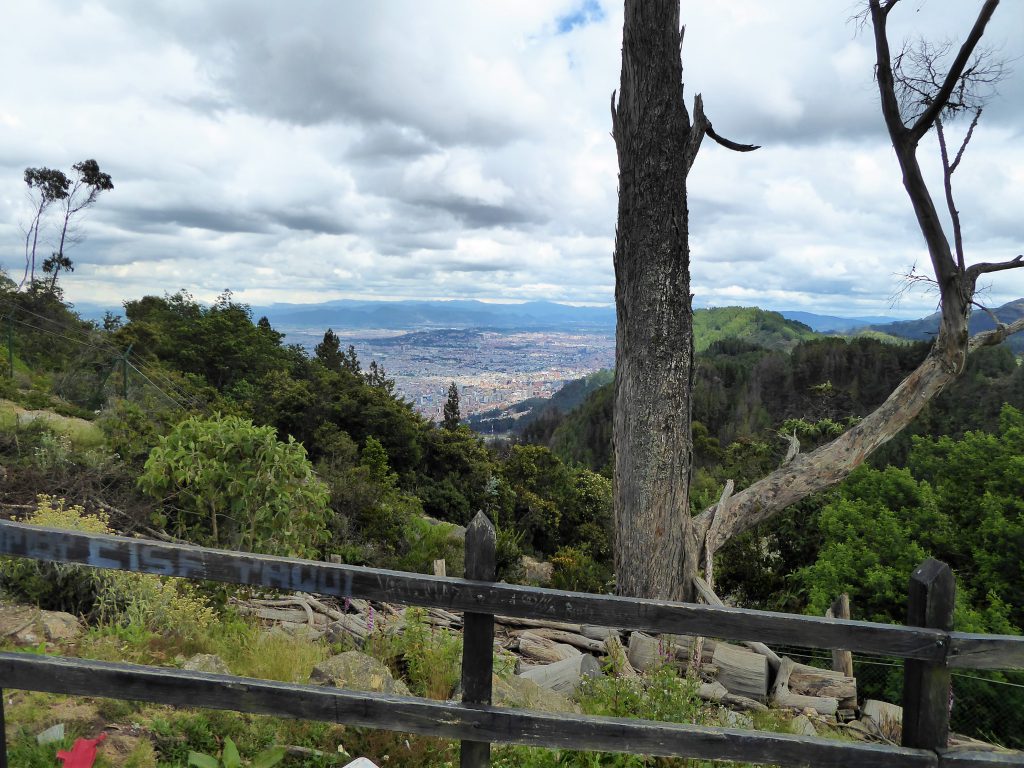 Mount Monserrate is a holy place from historical times and so there is a church. It used to be a Muisca pilgrim place but after the Spanish take-over this was turned into a catholic church. From the entrance of that church you have a great view over the city of Bogota!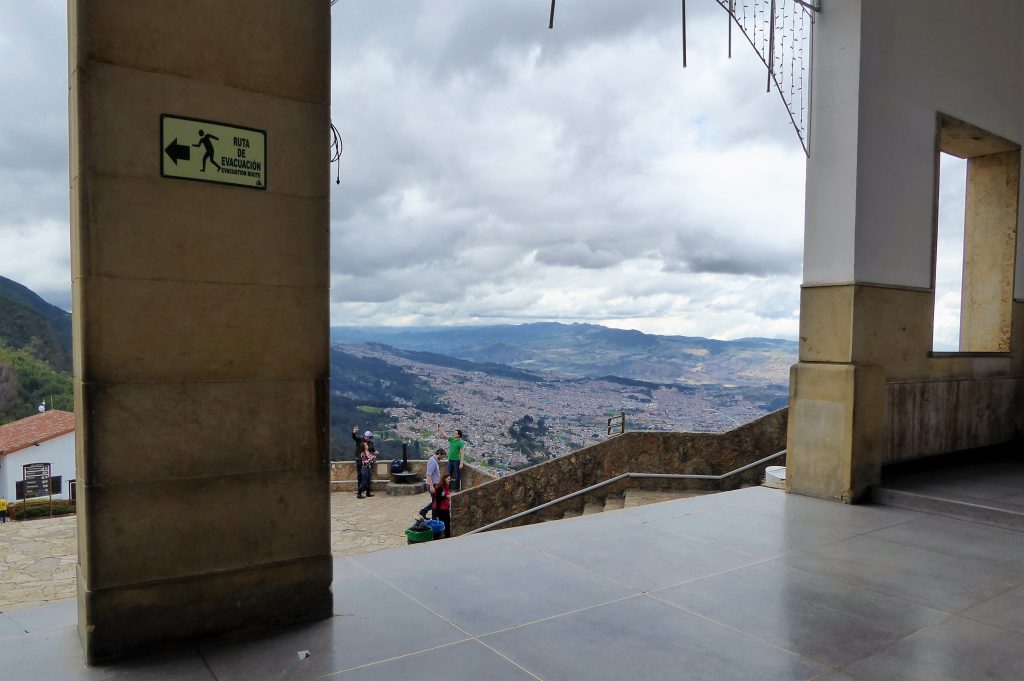 Exploring Bogota – Colombia
Lots of Street Art
I always say when exploring a city: Go walk and/or cycle.. Bogota has lots of streetart to offer and while exploring the city you'll see the most beautiful ones! It is really worth the effort of walking a afternoon or renting a cycle for it!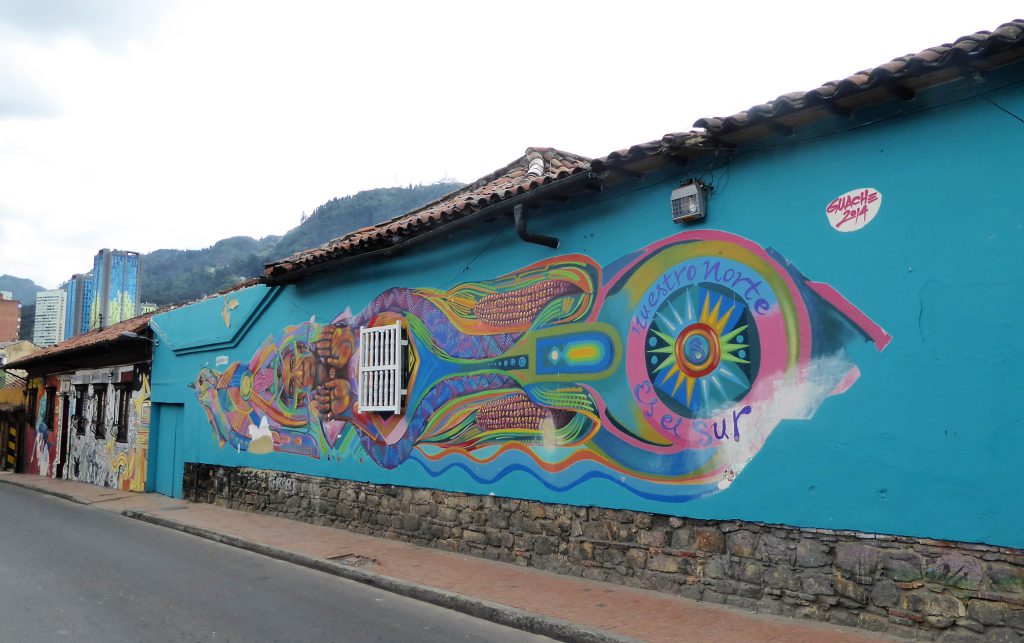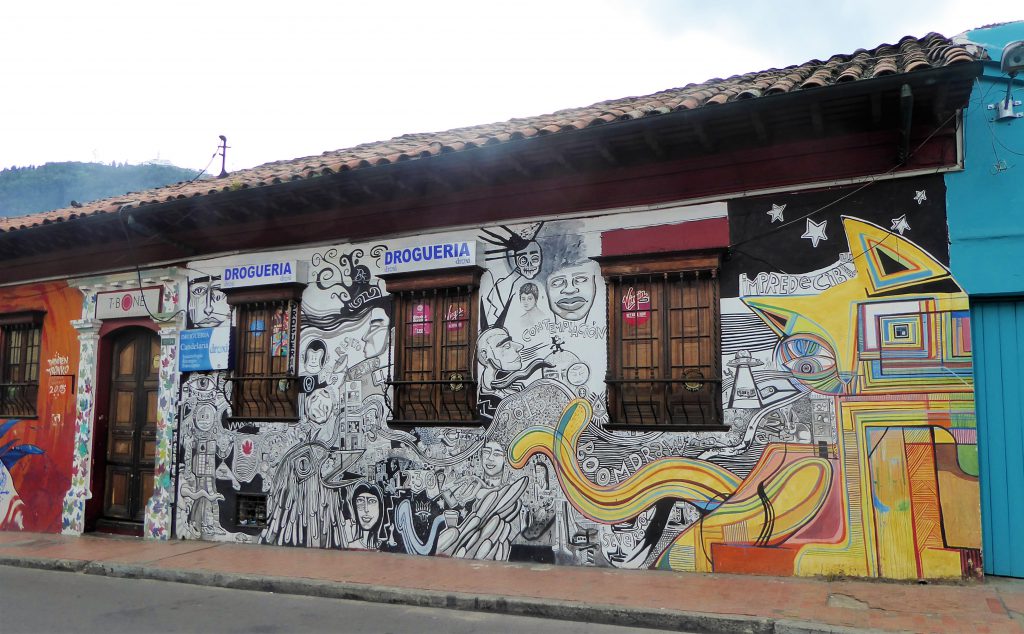 Exploring Bogota by foot, by bicycle & from high above!!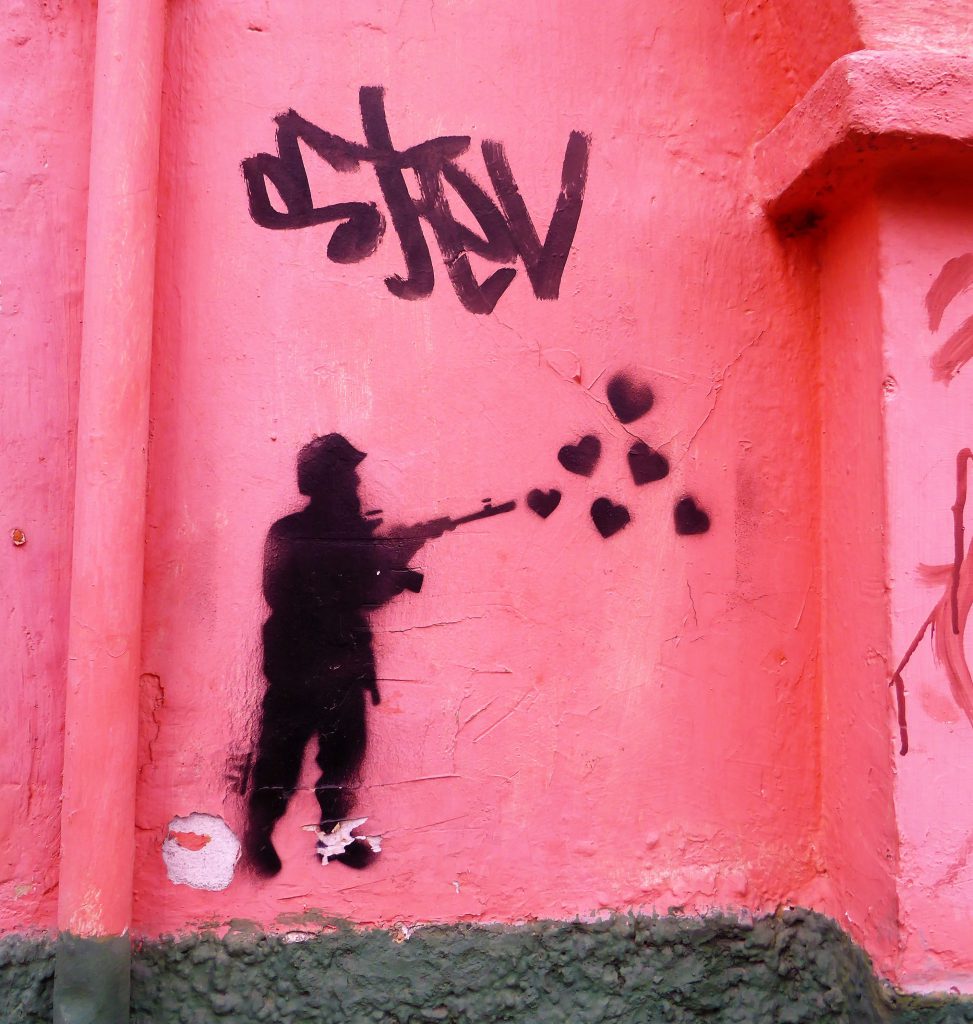 Exploring Bogota Colombia
And then you  have yet another way to explore the city! Look at the picture below and start to look for all these statues!! I have seen maybe 5-6 of these but I was told that they are all around the city. Maybe you can ask a guide about these a make it into a nice citywalk!!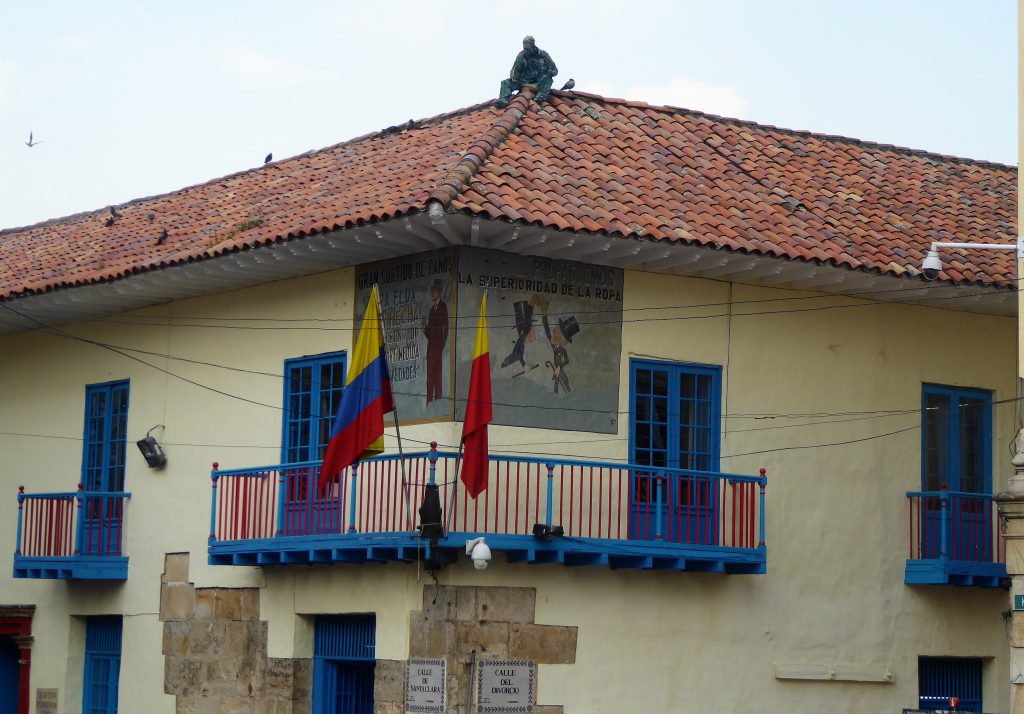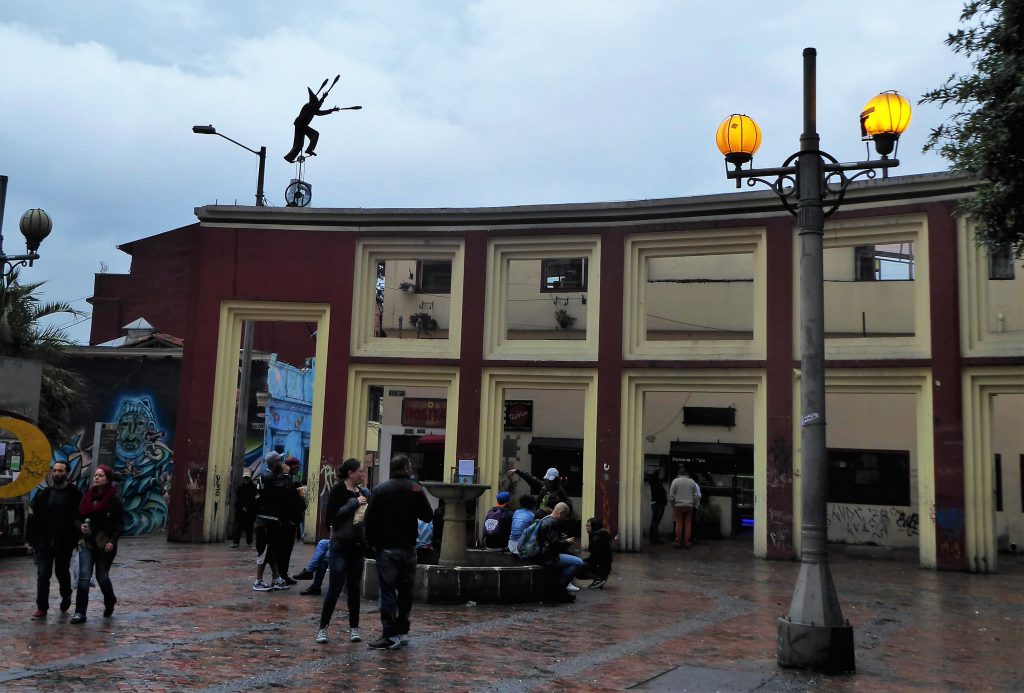 Practical tips:
—
Go visit several Musea in Bogota
Bogota has lots of musea, for instance the Museo del Oro (Gold museum), Museo Botero (famous Colombian artist), Museo del 20 julio (Independence museum) etc. There is a lot to learn about the history of Colombia and Bogota. Lots of these musea are even free to visit so when visiting low budget this is also a good way to spend a rainy/cloudy day!!
My stay was at Explora Hostels. I loved that place! I did have my private room but shared the bathroom. Everything was really clean and nice. The staff was helping me a lot with finding my way around for trips and with all kinds of tips. I stayed here for 3 nights and I can really recommend this hostel. It is situated in La Candelaria and about 10 minutes walking of the Bolivar square. So in the bustling heart of Bogota!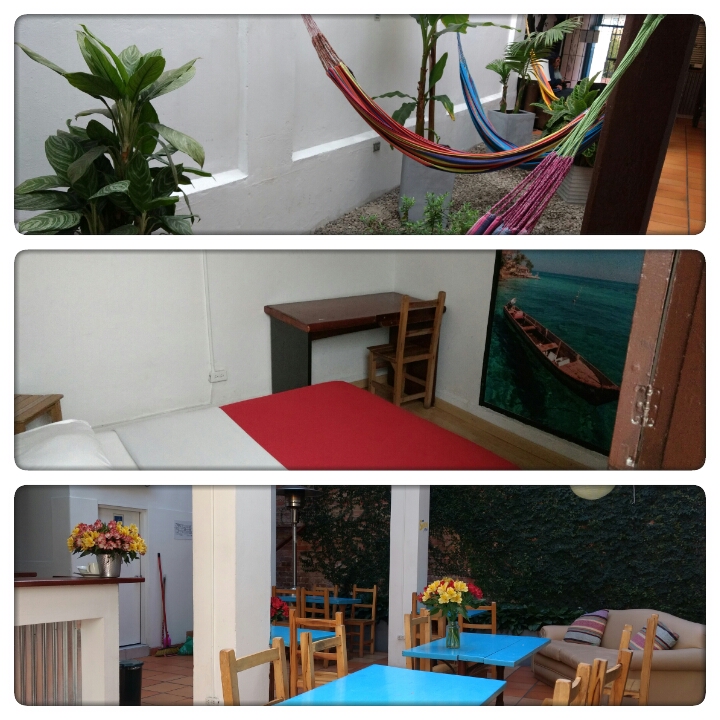 You do need a specific plug to charge your telephone, camera etc. I bought this small plug at Explora and it was great and didn't take much place in my backpack. Somewhere along the way I also bought this small USB plug and so I could charge multiple items at the same time. These are so much smaller then the onces you can buy at home…and most of the time you'll get for several countries at the same time. So buying these not upfront but in Colombia will save you money.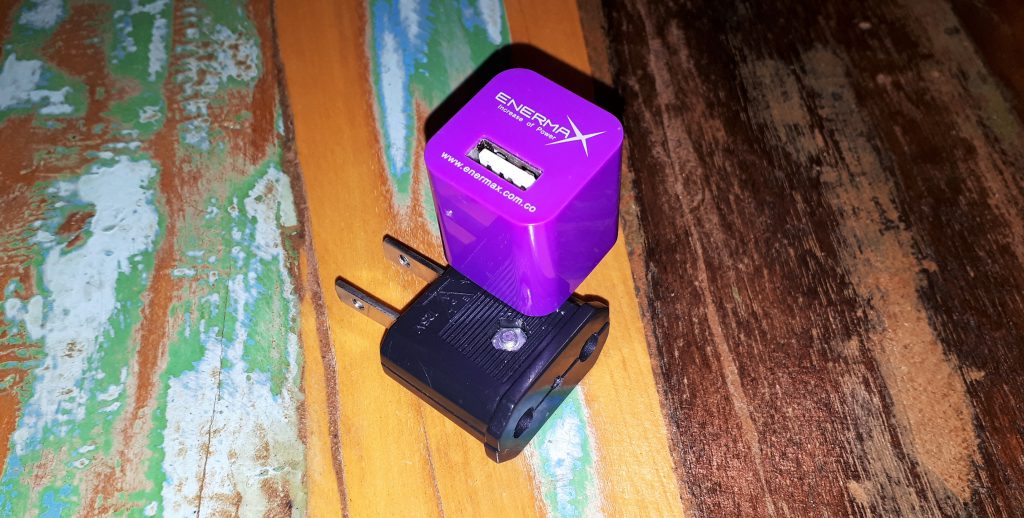 Exploring Bogota by foot, by bicycle & from high above!!
In Colombia they have the Colombian Peso. I could use my bankcard anywhere at ATM's. Lots of the hotels or hostels I paid online so I didn't need to carry lots of money either, always a better and saver idea! Also at lots of places I could pay with my bankcard instead of cash. You should take that into notice while cashing money at an ATM and having lots of money on you…
I say this because I still here people saying that once you get money, get lots of it becauyse it saves on paying a fee. I rather pay that fee then having lots of money on me. Preditors will see that in your wallet or have seen you taking it at the ATM. Don't take changes like that and minimize your wallet.
During the day I really felt safe everywhere in the city. I haven't been somewhere where I felt unsafe. You always need to be on guard but still I didn't felt looked at by those kind of predators…pickpockets or robbers. But alway be alert and look around you. Who is maybe around to long? I did wrote a blog about safe walking on the streets in Delhi, India at evening time. Read my tips and proces them into your own way of walking.
But in those dark evening hours it is dead quiet in the streets of Bogota. Nobody walks the streets, no tourists but also no Colombian people either. I hadn't expect that at all!! I walked with a Dutch guy near or hostel to a restaurant but we didn't feel good about it. It was dark and only a couple of men were walking the streets and we didn't feel comfortable at all. We just went in the first restaurant to get off the streets.
So be carefull with that, don't walk during the dark hours on the streets of Bogota. I haven't got a story about something that went wrong but my gutfeeling said enough!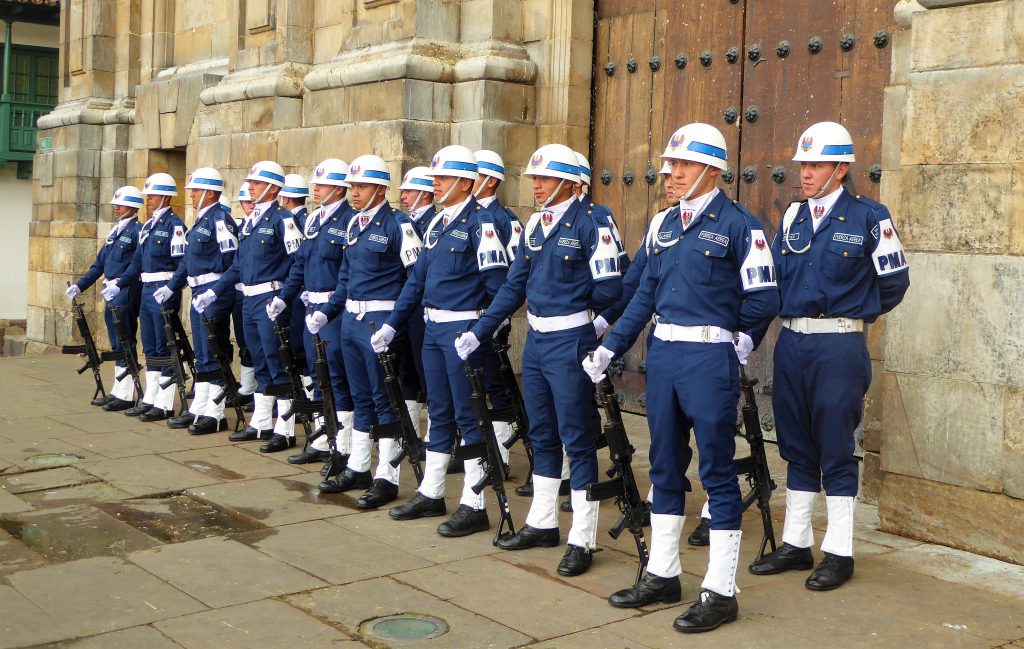 Exploring Bogota – Colombia
Did you like these tips? Do share them!
—
Do you want to read some more stories?
Visiting Roberto Escobar, Pablo's Brother.. – Medellin, Colombia
Island Hopping in El Nido – Palawan, The Philippines
7 Times Must See Stockholm – Sweden
Wandering around the Old City of Acre – Israel
10 things you need to know about The Netherlands
Or can I inspire you to go walking and running at the same time?
I hope you enjoy this beautiful world as much as I do!!
Exploring Bogota by foot, by bicycle & from high above!!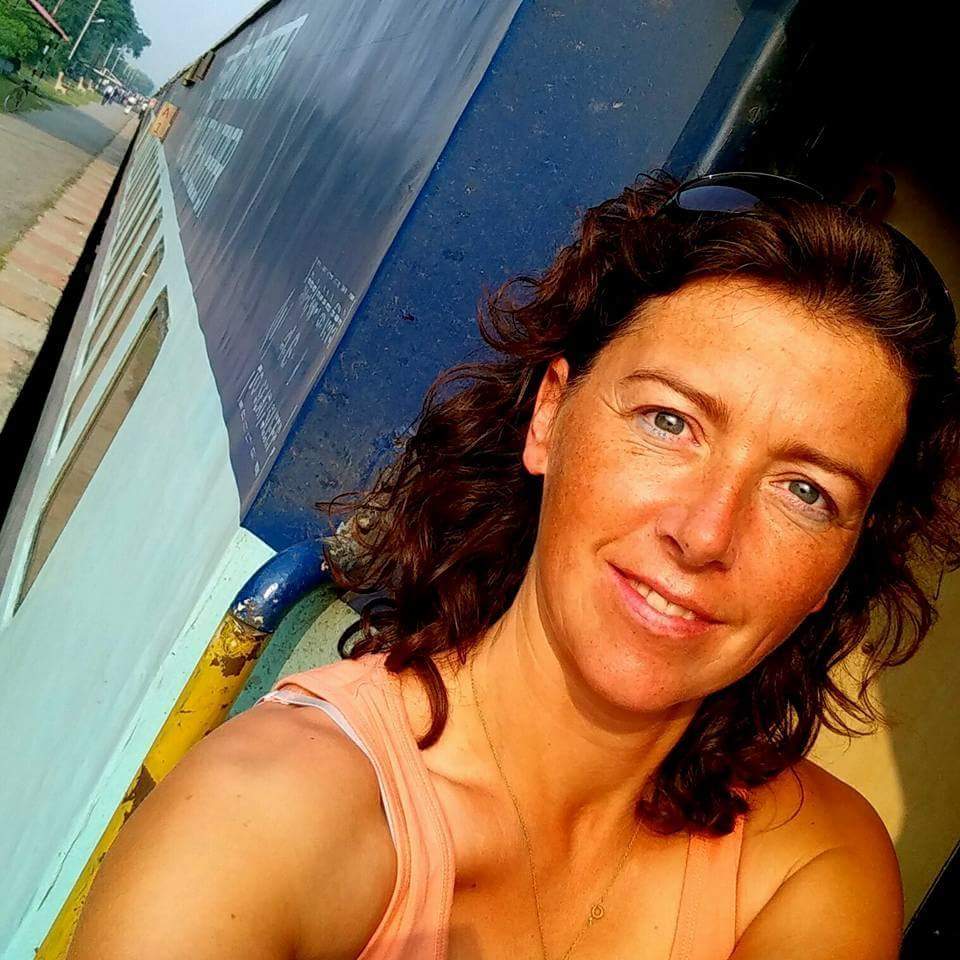 Jacomijn is een politieagent uit Nederland die jou graag laat zien hoe je veilig, actief en gezond de wereld kan over reizen. Safe and Healthy travel is a MUST