Cycling to the fish of Tanji – The Gambia
|
I have told you before….and I will tell you time and time again. Exploring a place by bicycle is healthy, easy and I really think it is the best way to see and feel a place! So when I first visited The Gambia I wanted to feel the surroundings and decided to go to the fishing village of Tanji by bicycle. I stayed in Bijilo and that is around 13K cycling along the coast, just great for a daytrip won't you think?
Have you ever heard of The Gambia?
Smiling Coast of West Africa
The Gambia is a small country on the west coast of Africa. It is called The Gambia and has a river running through the entire country which is called Gambia river. The country is surrounded by Senegal and you hear the world SeneGambia everywhere. It is really intertwined by the country and has some good but also hard strings with it.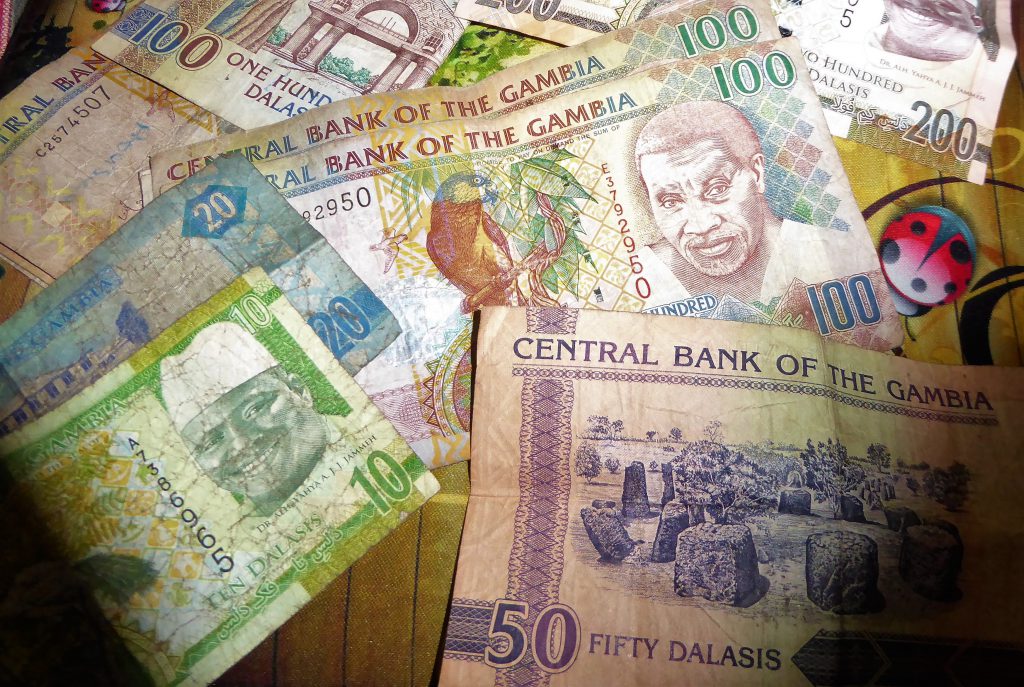 I hadn't visited this small country before but I heard lots of people talking positive about it. The Gambian people are so friendly and the weather is just the best in our winter time! I went late february till early march. Weather was great, evening and mornings cool and afternoon up to 30 degrees.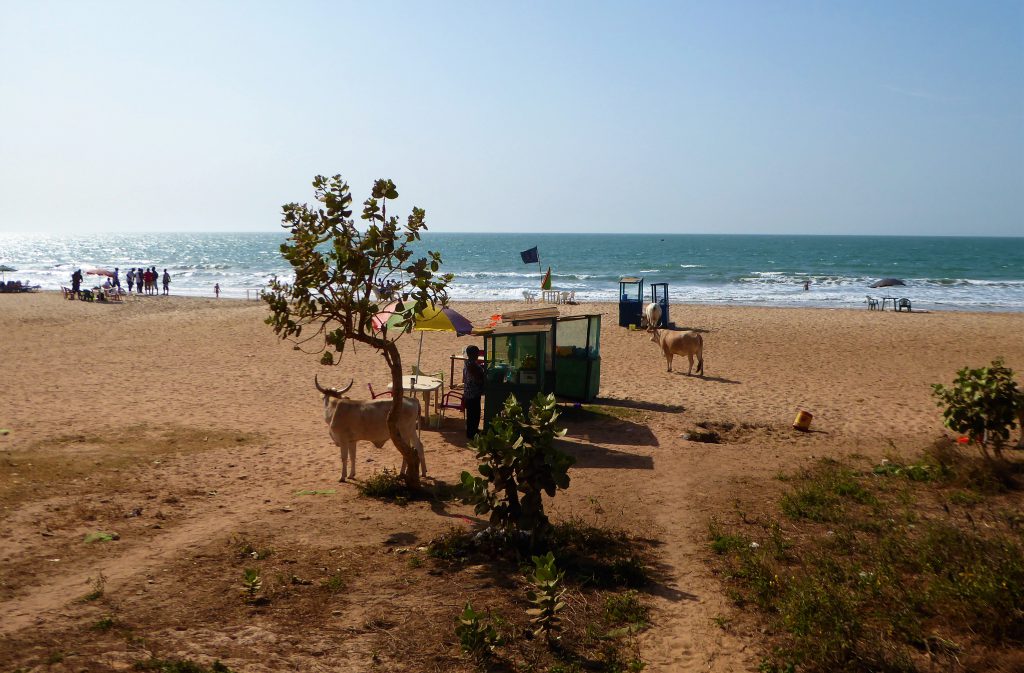 On my first day I strolled along the beach. The people are really nice and everybody wants to talk. Not all are trying to sell you trips or trying to get you into giving them money. After a couple of short conversations I started to talk to someone who called himself Captain Aka. He was a fisherman and lived in Bijilo, the place I stayed too. After a nice conversation we planned to go cycling together to Tanji so he could show me a local village along the way, isn't that great?
Cycling to the fish of Tanji – The Gambia
We started our trip near Lemon Creek, a hotel/resort in Bijilo where you can rent bicycles just outside. I rented the two cycles for the whole afternoon and we started cycling along the mainroad for a while.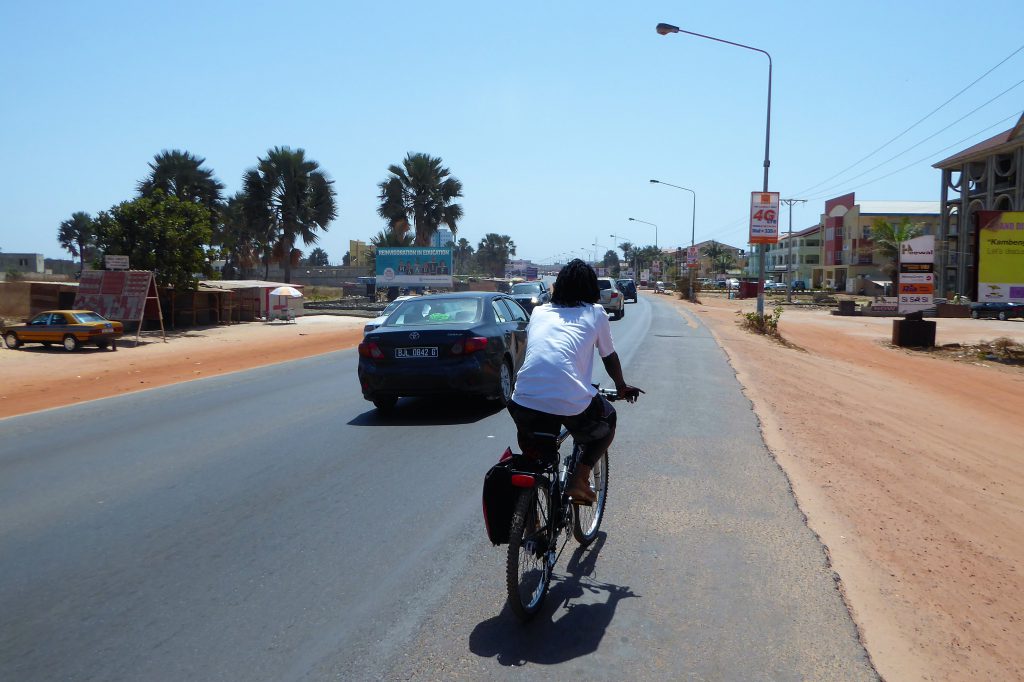 Cycling along the road isn't always safe so you wouldn't want to do that too much. As you can see on the clip they were driving good and went around me but still… There is no real cycle path along the way and it can be a busy road. The Gambia has one mainroad, the highway and it is used for everything though. You can not drive faster then 80 and on this part they are driving at highest 50.
Safe cycling to the fish of Tanji
It felt good for me!! I'm always checking things out in front of me and on the backside… but just don't stay too long on this mainroad …. As it has nothing much to offer in local sights too 🙂
Soon we were at Turntable, a roundabout on the highway and a famous recognition point for everybody. We went right and after a while went left to the other side and entered streets of Brufut. I loved cycling around that place. We met some people just sitting and selling things but also saw a local market.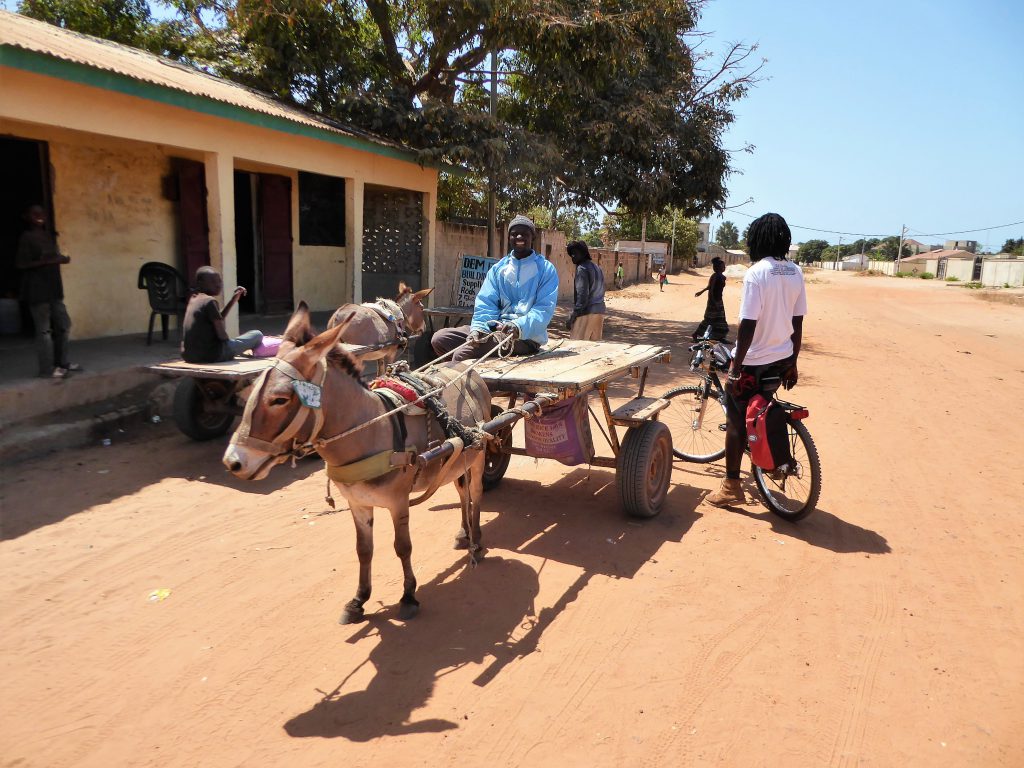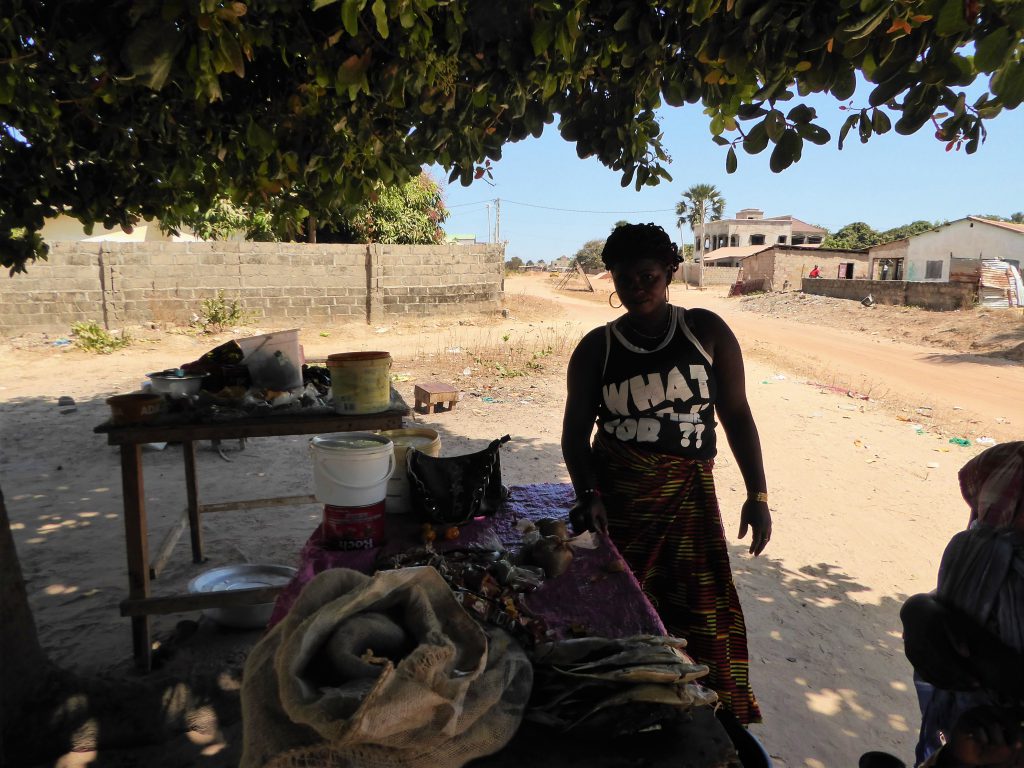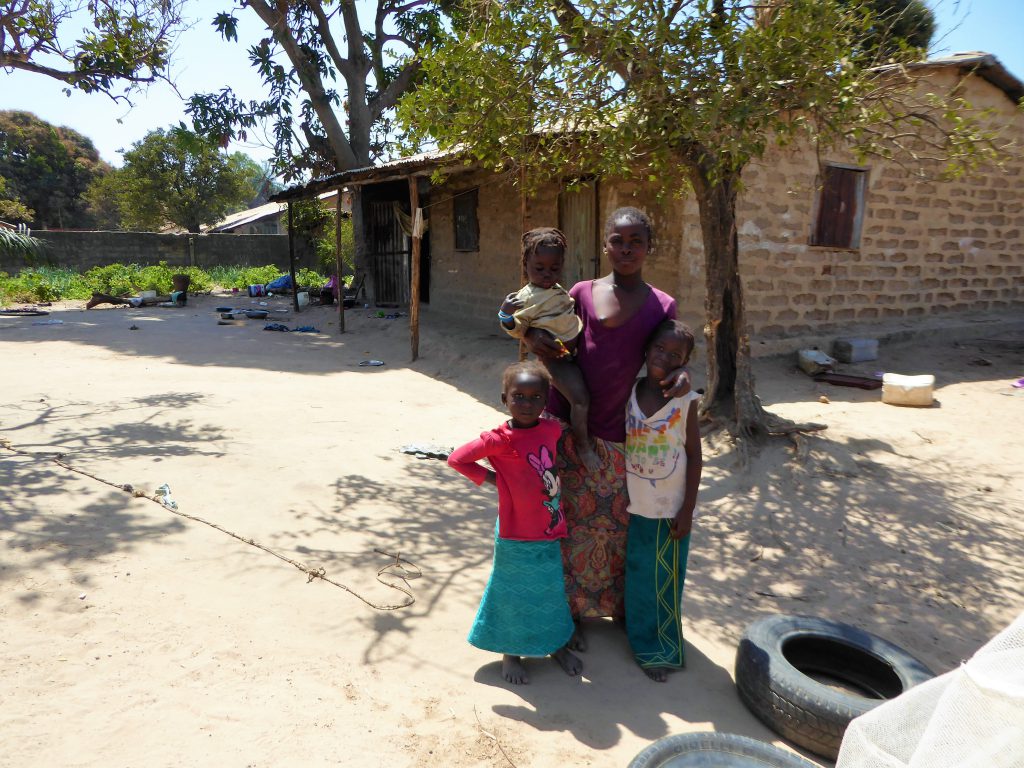 I love those streets, really shows you how the Gambian people live.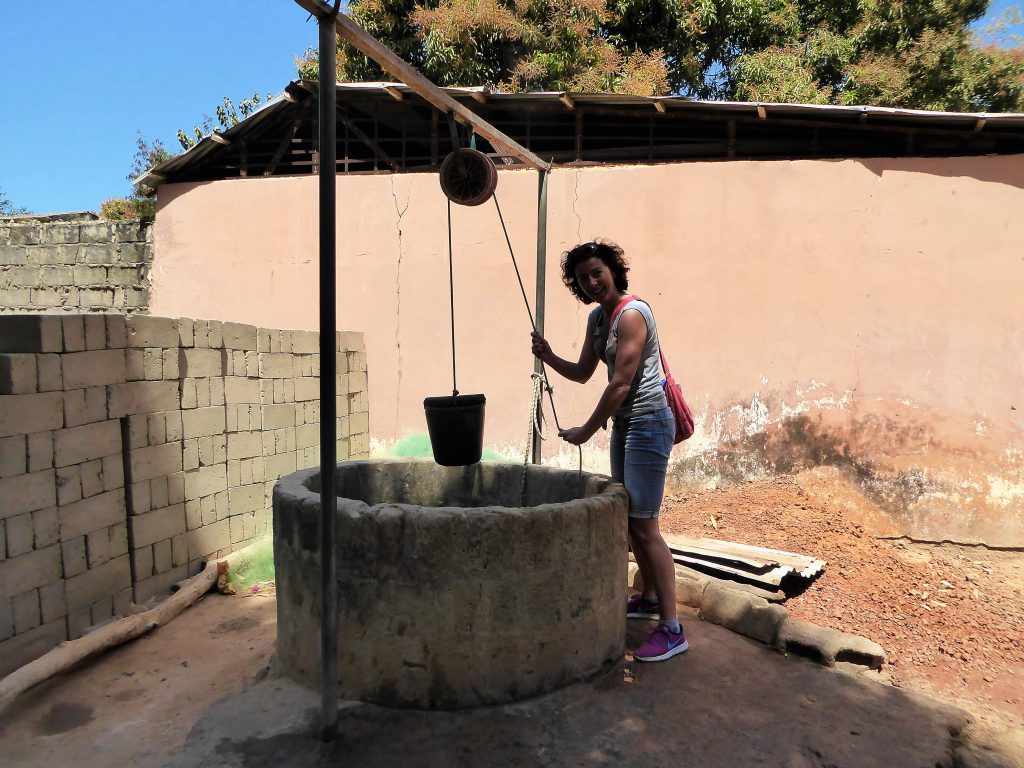 And how do you like this huge Baobab tree. They are everywhere and gives the place such a great feeling. Such an old feeling… this place has been like this for over 100's years!! I can't even imagine how long people have seen this street with the same tree… It is just wonderful!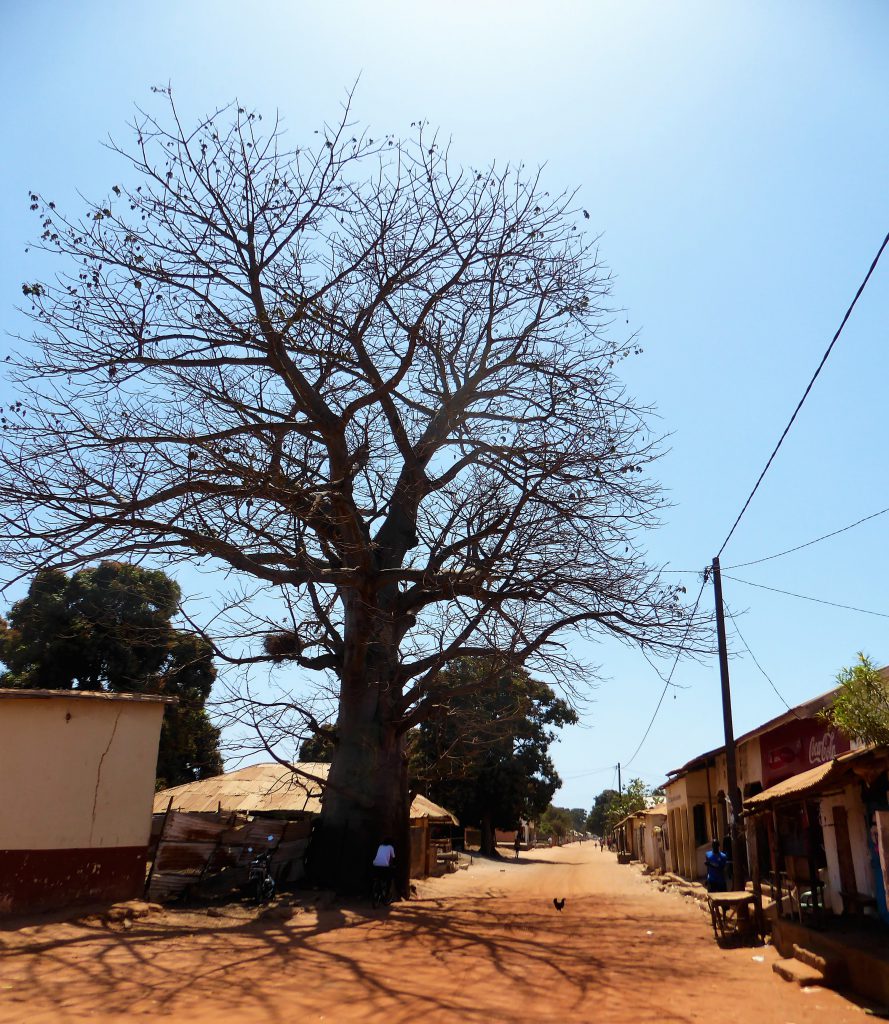 Cycling to the fish of Tanji
Brufut – The Gambia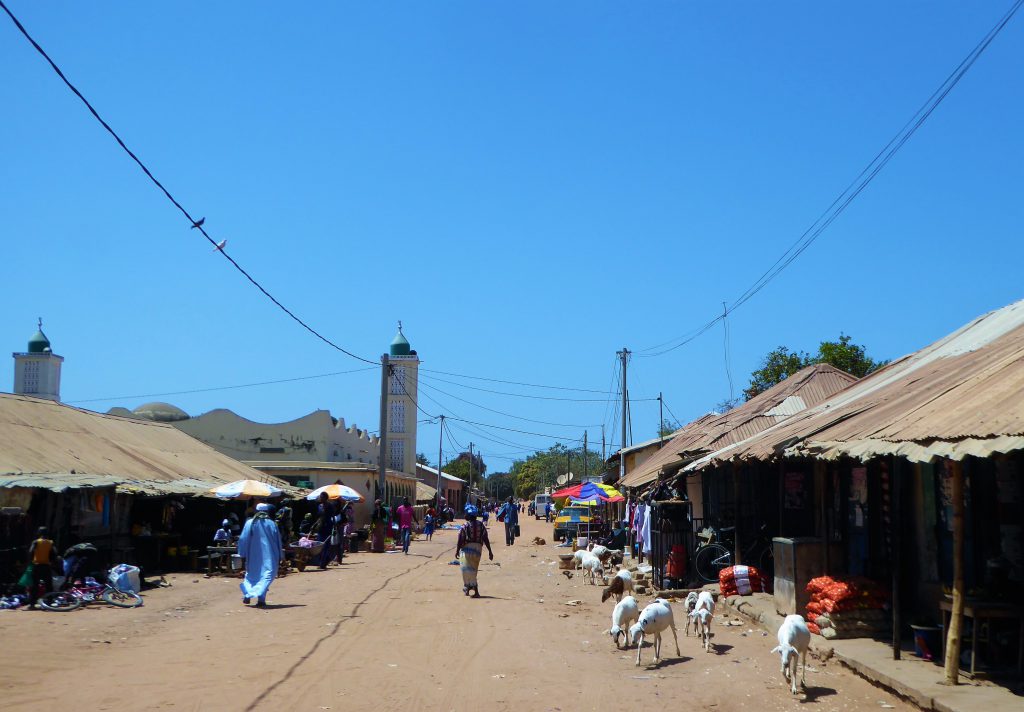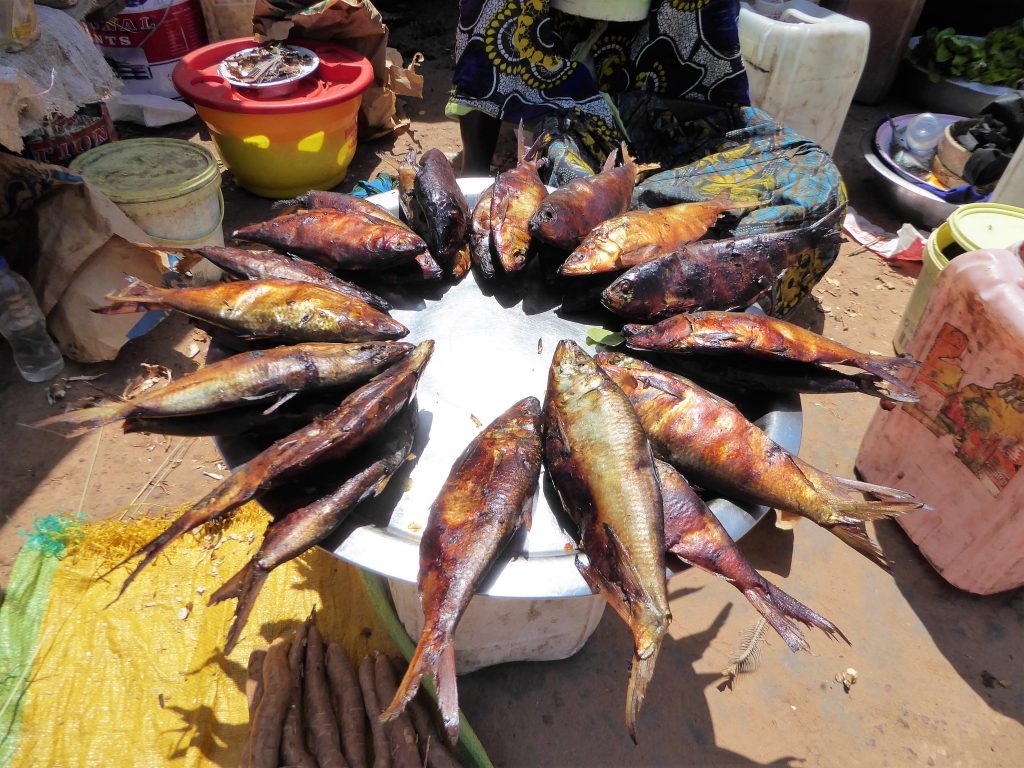 After visiting this great place we cycled along the highway again to Tanji. The road is more quiet and easier to cycle. But be mindful and look out for cars, make sure you are to be seen by them. In the surroundings you might spot a bird or a cow standing on the side. Also monkeys can be seen here.
The fish of Tanji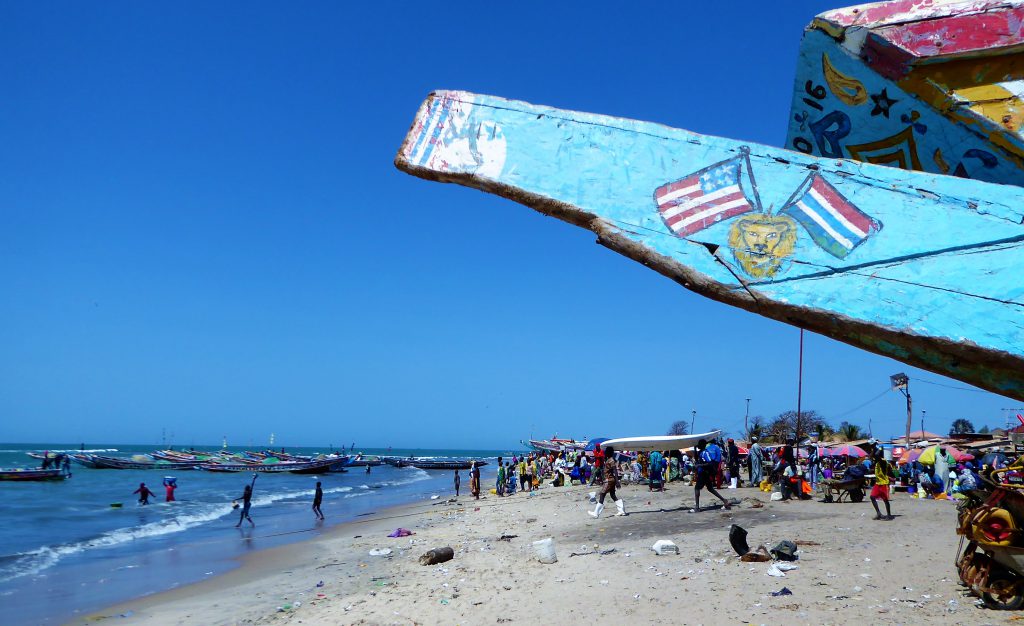 And then we got to the village of Tanji. I must say that before we even entered the village I could smell the fish already 🙂 My goodness… The smell is horrible!! But the place is great to explore! Every days tons of fish passing here to supply hotels, restaurants and going inland!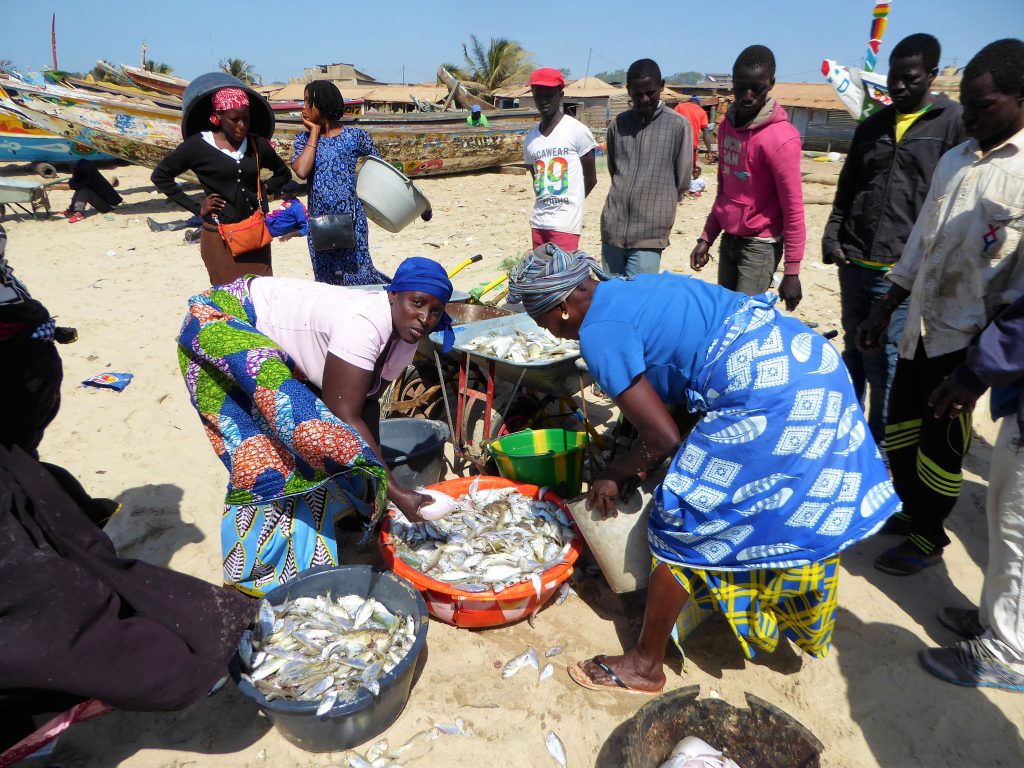 They clean the fish on the spot…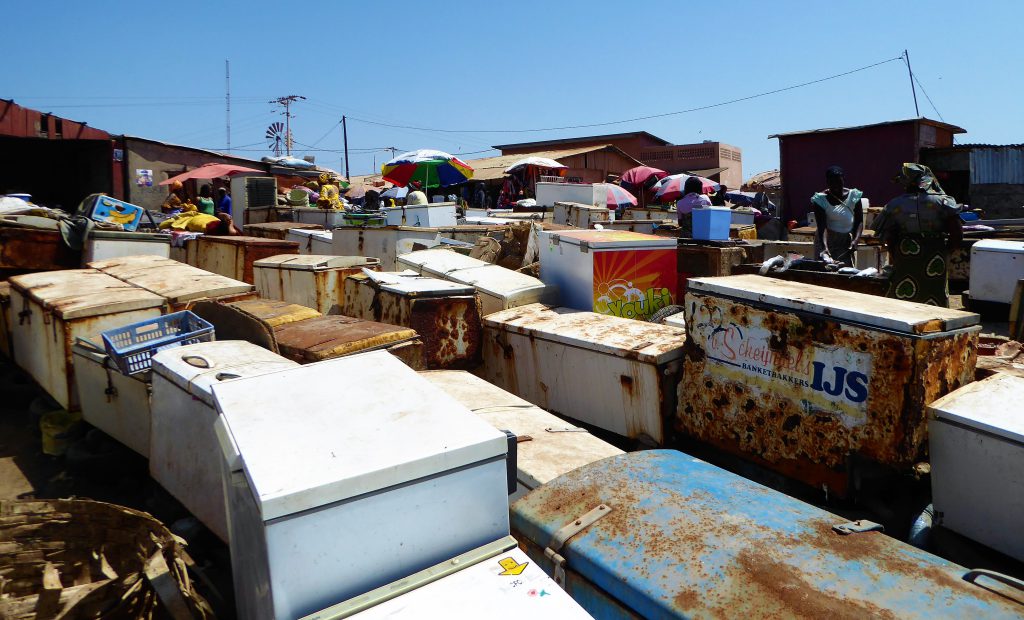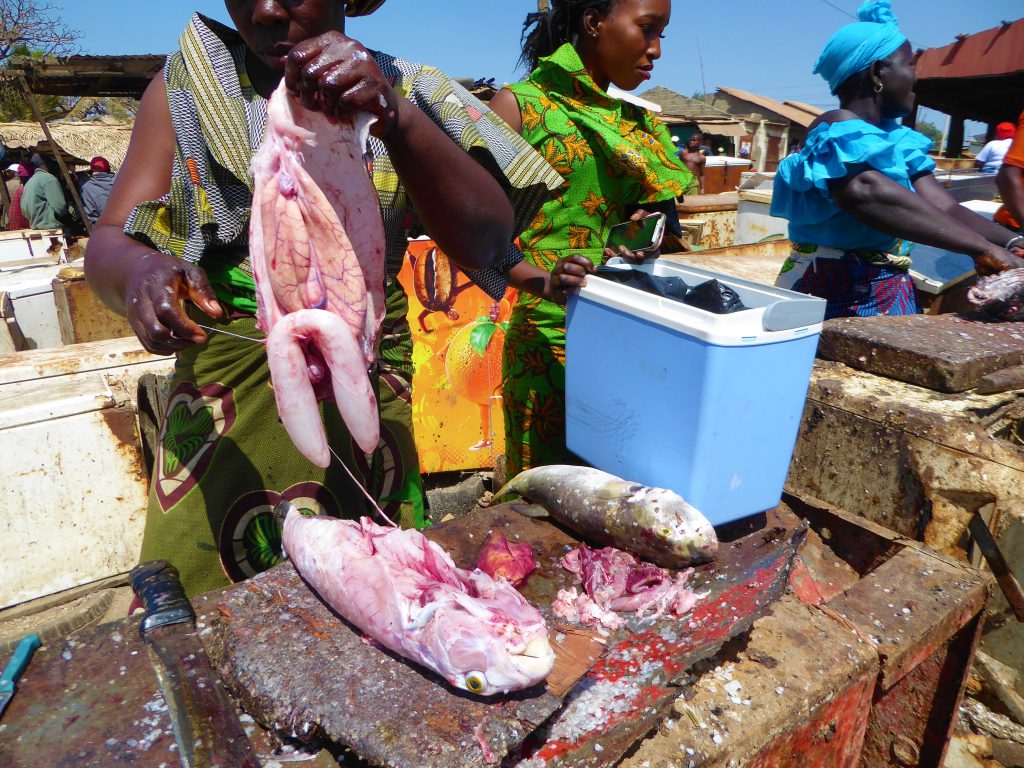 They smoke them too on the spot!!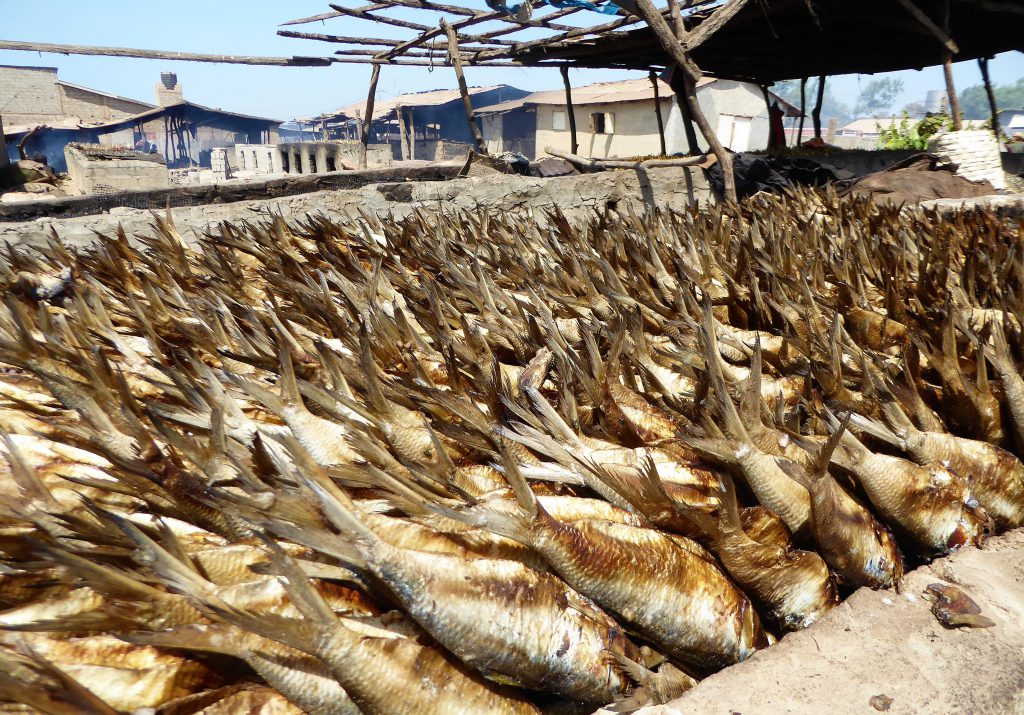 The Fish of Tanji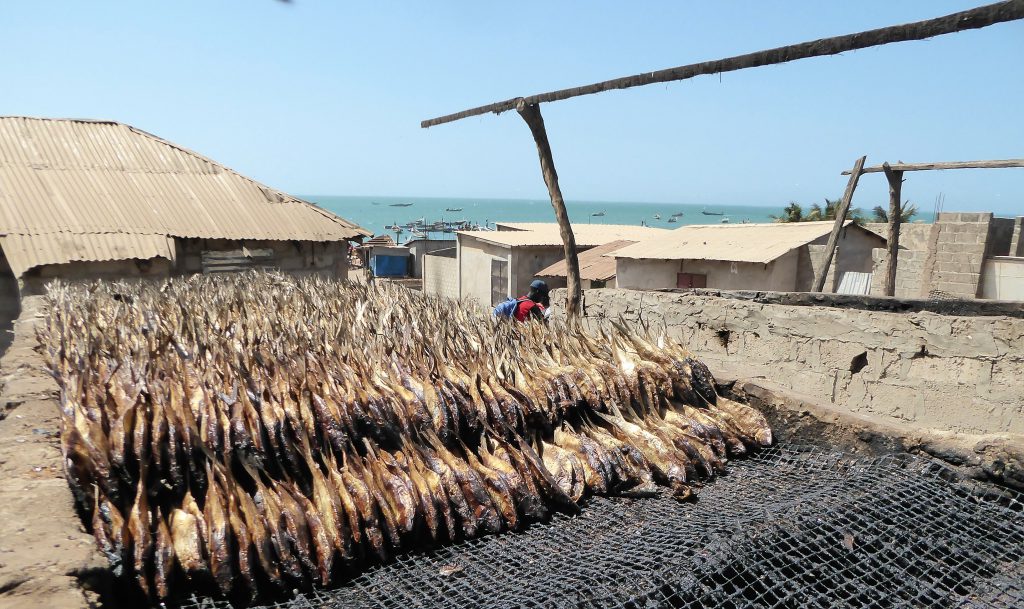 I loved seeing all this!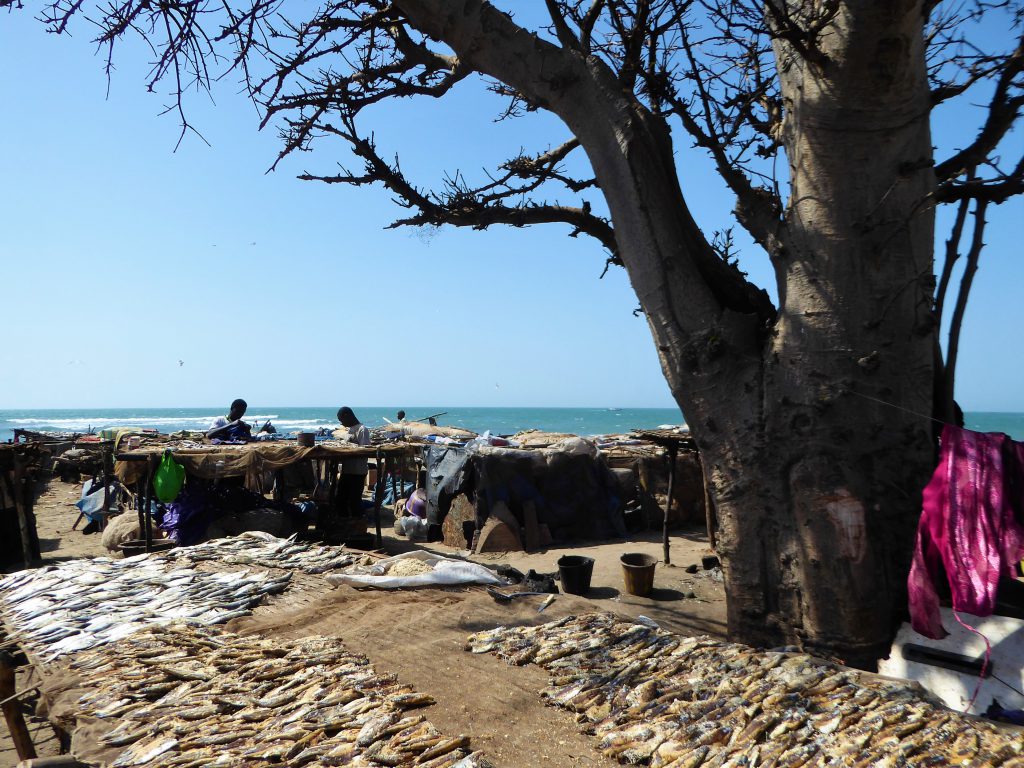 After spending some time here we went cycling back and to make that part a bit more relaxed we cycled along the beach!!
We had the beach almost to ourself and were nicely chatting away!!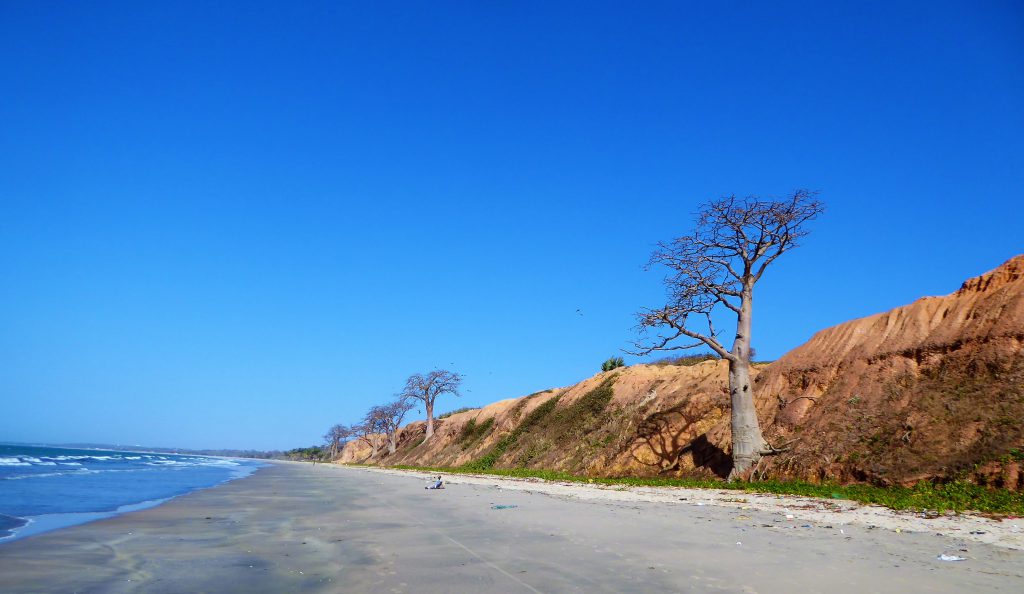 I loved my second day in The Gambia!!
Would you like to spend a day in The Gambia like this too?
The clip is in Dutch but you can look at the great surroundings too!!
Costs & Duration + Tips
I rented the two Cycles for the afternoon for 300 Dalasis, that's just over 5 Euro / just over 6 Dollar. Just outside of the hotel Lemon Creek, Bijilo is the place to rent these. There are lots of more places to rent bikes though.
My trip started around 12 am and I arrived around 3.30 pm in Tanji. It was still busy with all the fishermen and all the ladies cleaning the fish.
It is about 15K cycling from Bijilo to Tanji. So a round trip will take you up to 30K cycling. Great way to get some exercise and explore the area!!
Do take some water with you! It was warm on those red/brown dusty roads!!
And use some sunblock and take some with you to protect yourself after a couple of hours again. My arm was burned on one side 🙂
Did you like this trip?
Safe and share it for others!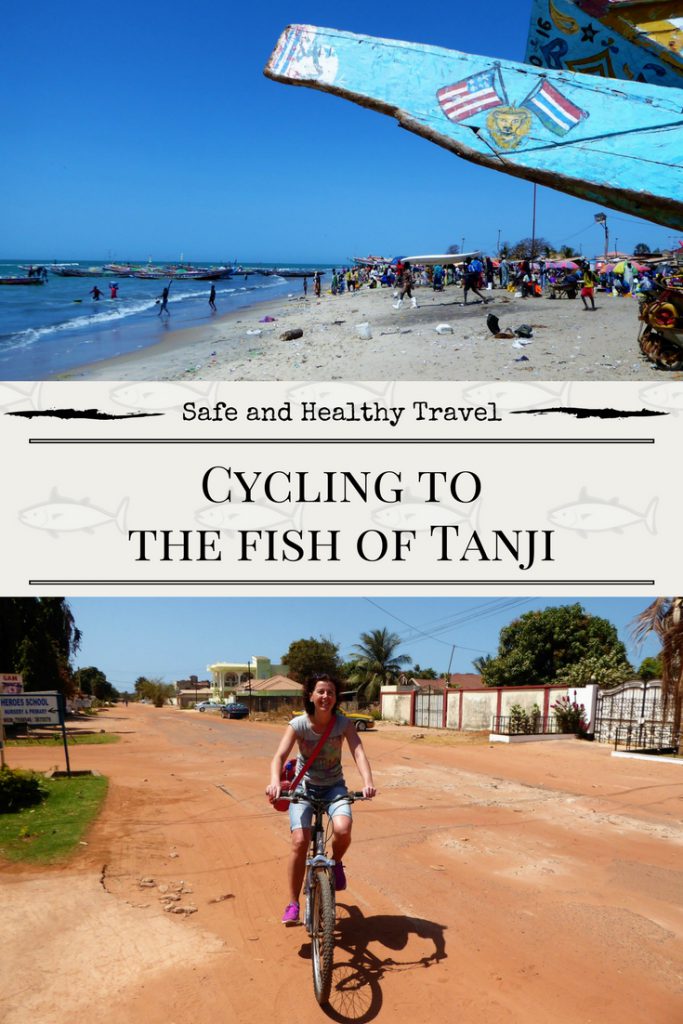 Like to read more?
Biking in and around the old medina of Marrakesh – Morocco
Cycling the Kattegattleden along the Westcoast of Sweden
Cycling to the beach – Trinidad, Cuba
Exploring Bogota by foot, bicycle and from high above
Or can I inspire you with some yoga?
I hope you can enjoy this world as much as I do!!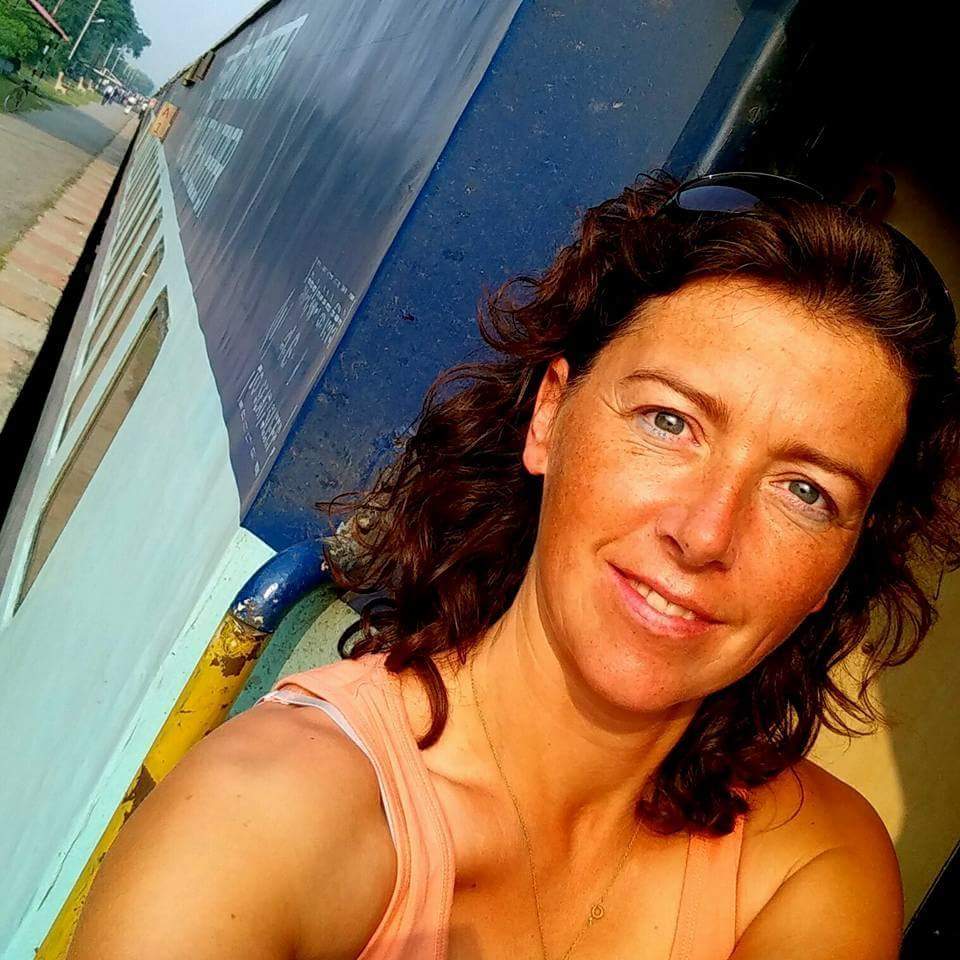 Jacomijn is een politieagent uit Nederland die jou graag laat zien hoe je veilig, actief en gezond de wereld kan over reizen. Safe and Healthy travel is a MUST