The 3rd day of my Wildlife Adventure – South Africa
|
The third day of the 4 days and 3 nights safari in and near Kruger.
That third day we finally went into Kruger park.
I woke up early because I heard something walking near my tent. I thought it would be a Nyala, I had seen them walking around the camp earlier in my stay. I was sleeping in a tented camp, it was about 5-10 minutes walking away from the lobby. So you really have got that feeling of staying in the wilderness. I thought it was great. The tent was great too, I never got the feeling of not being safe or insects inside of the tent. It was perfect!!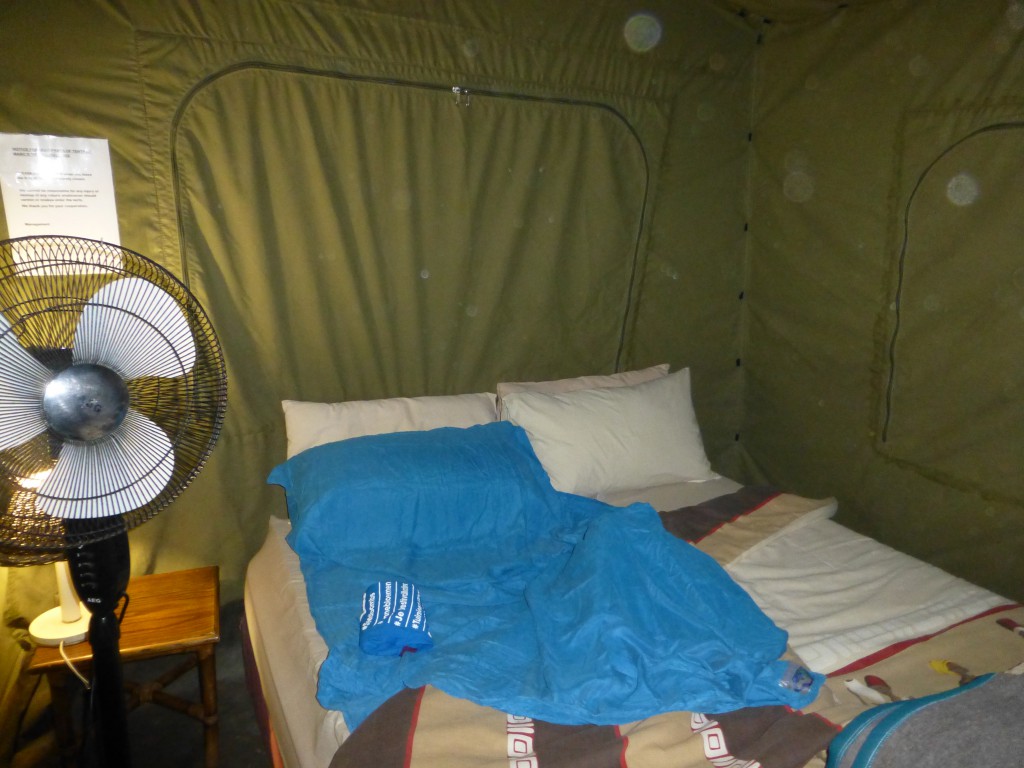 In my luxurious tent!!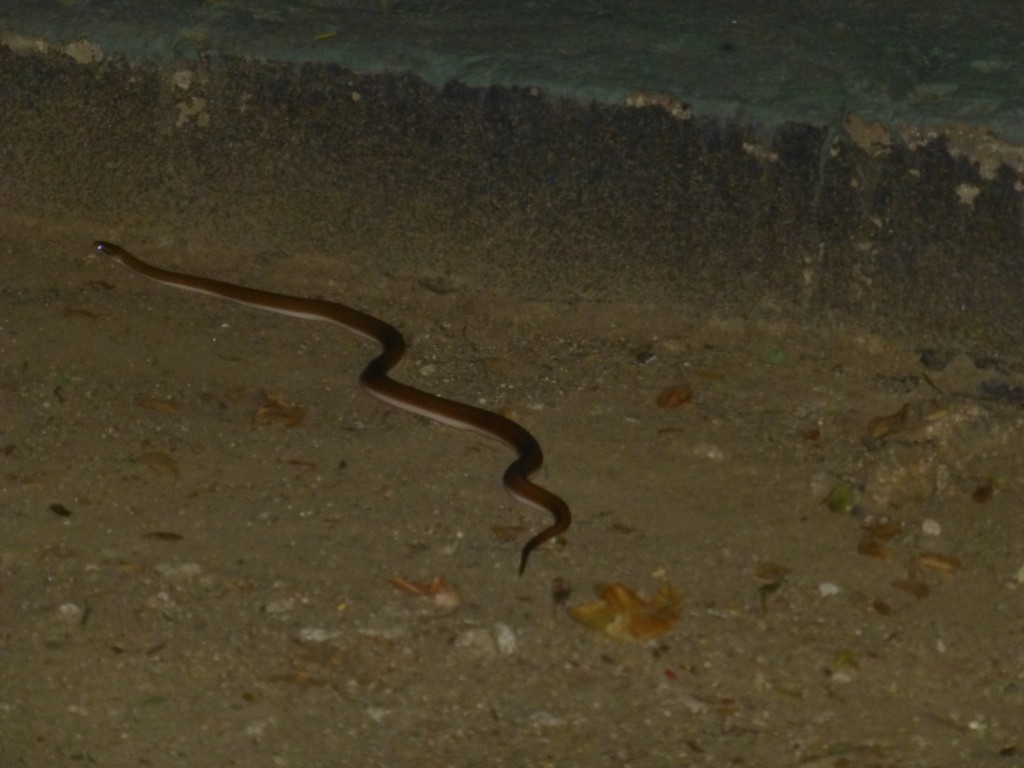 Meanwhile outside of the tent 😉
Wildlife Adventure – South Africa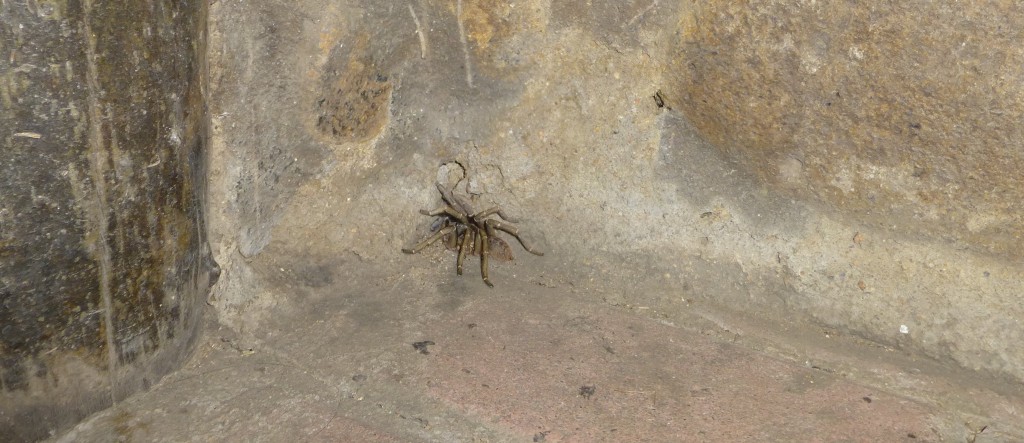 That third day, when I opened the tent, I did see that Nyala walking by. How wonderful is that? Waking up, seeing such a great animal wandering around the premises. First picture I took was blurry, second one is a bit better… What can I say…I just woke up 🙂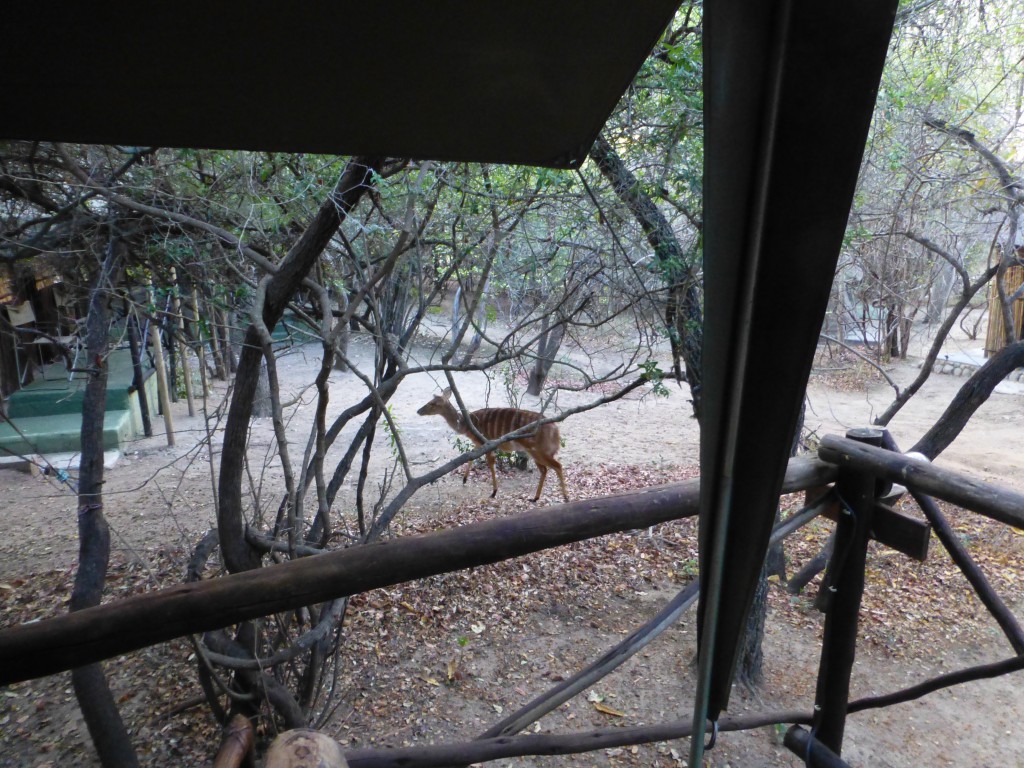 After breakfast we had little time to brush our teeth because the walk back and forward would take some time and we wanted to leave as soon as possible to head to Kruger.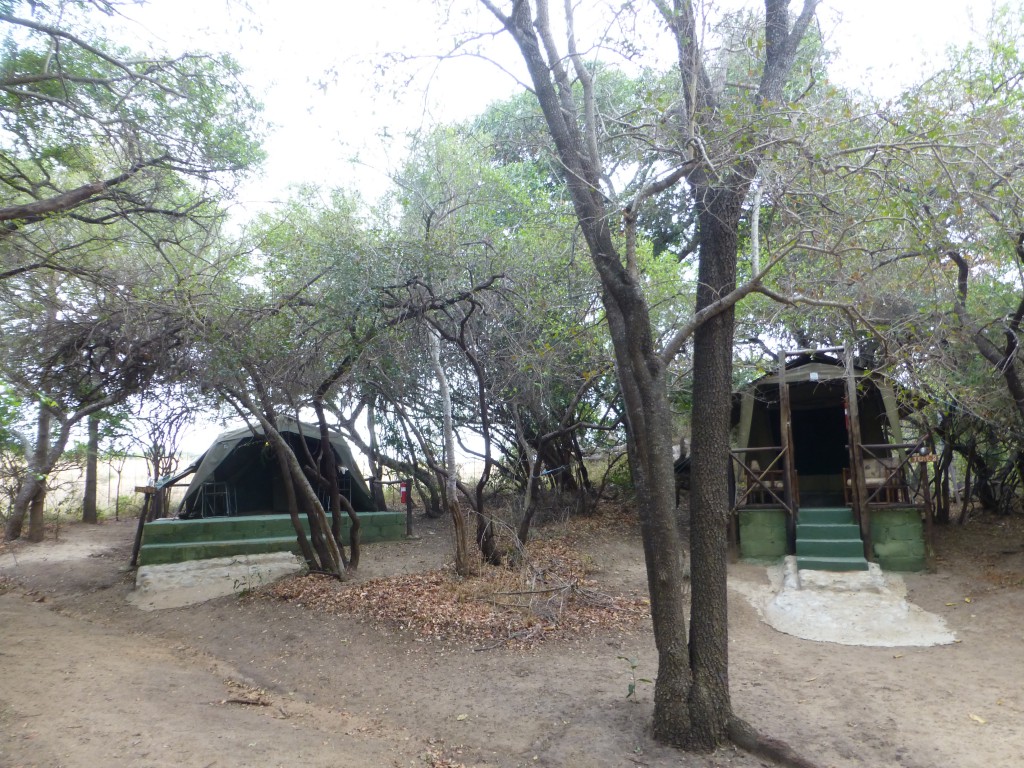 My neighbours tent and mine 🙂
It wasn't that warm and the staff of Marc's Tree Lodge warned us to dress up warm. Even when the sun is shining it is still quit fresh to sit up an open vehicle all day!! Luckily I had bought a good jacket on top of Table Mountain because it was cold up there too 🙂
Wildlife Adventure – South Africa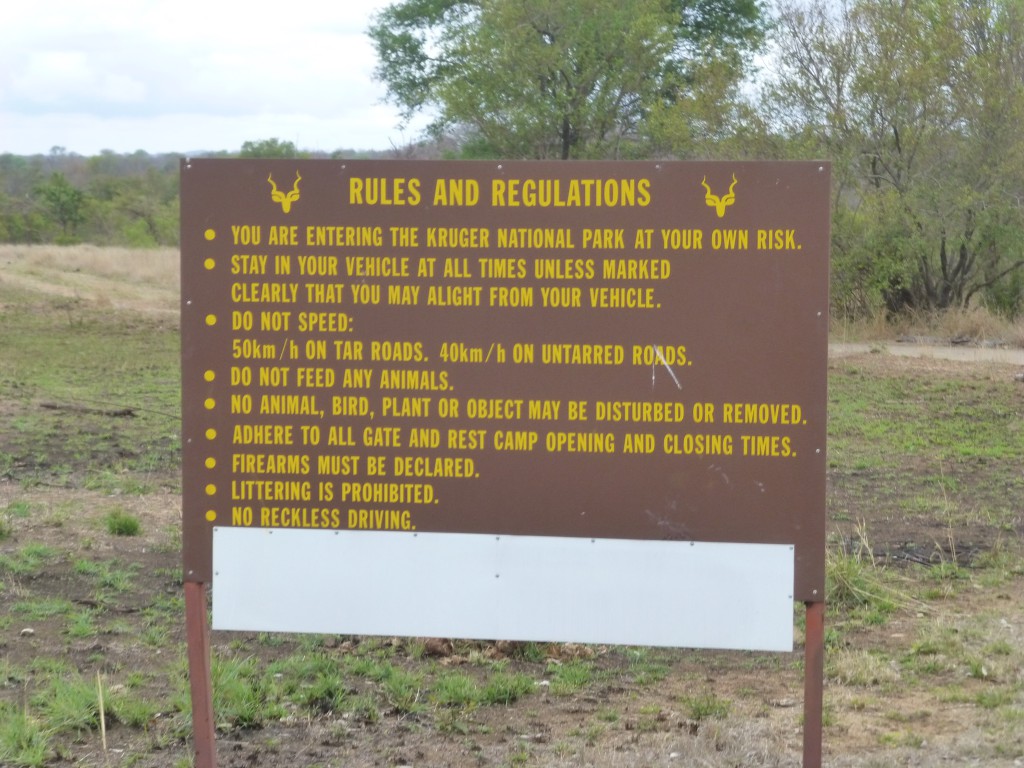 Entering Kruger Park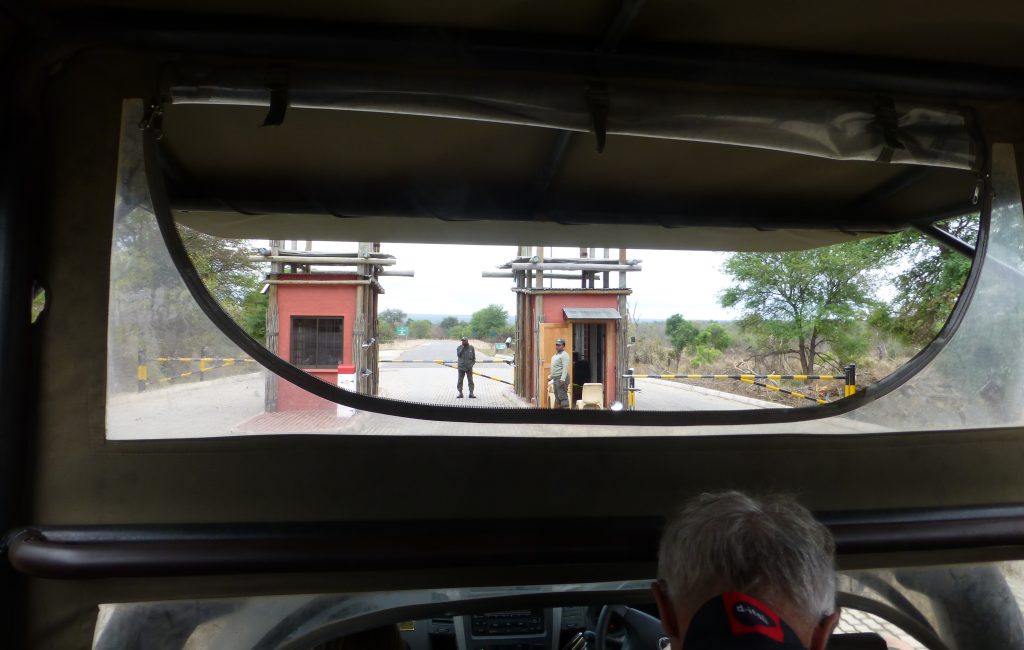 I enjoyed my day in Kruger Park a lot!!
We did see a lot of great animals and the scenery is wonderful!!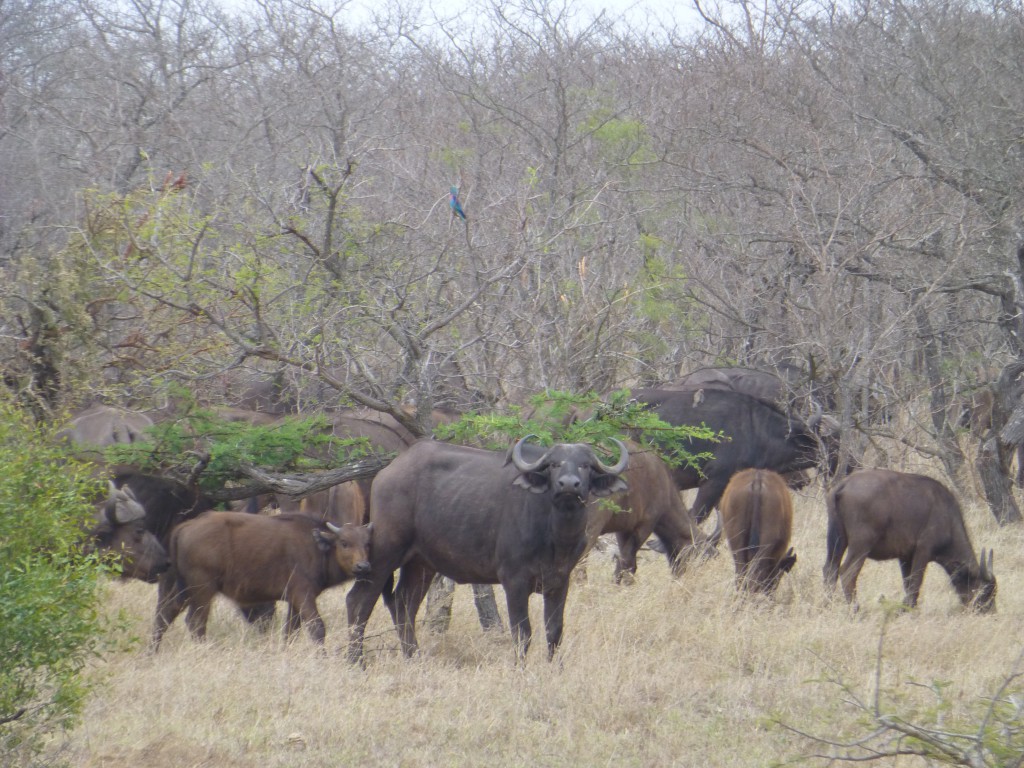 These were the first animals we spotted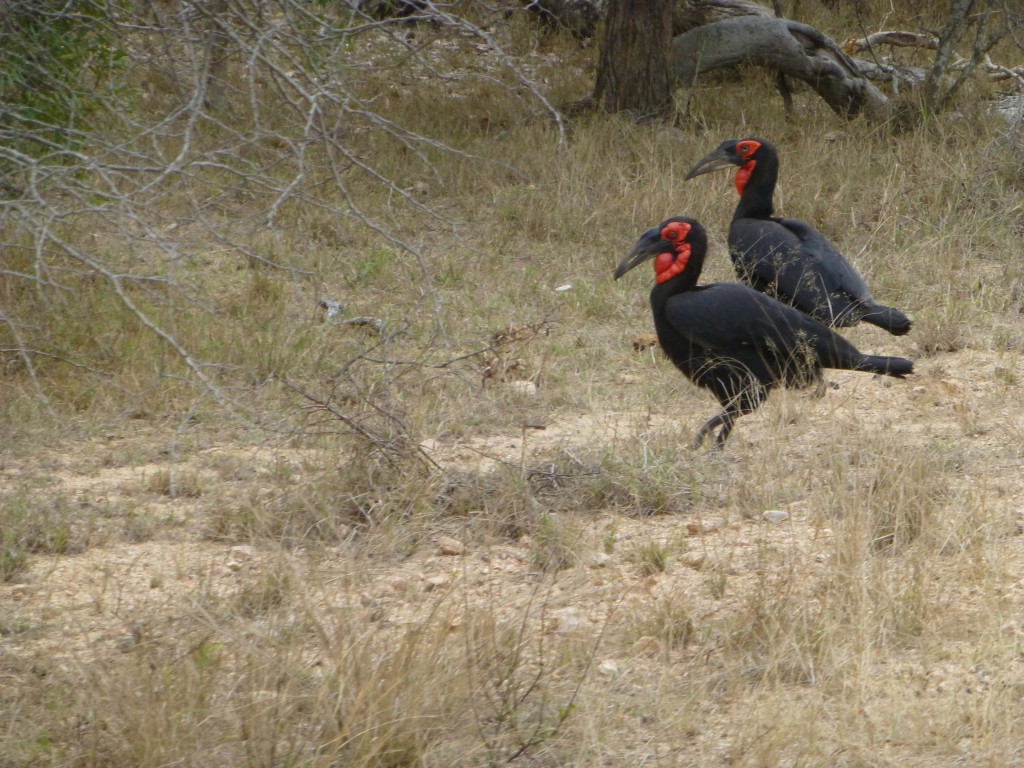 Southern Ground Hornbill
Wildlife Adventure – South Africa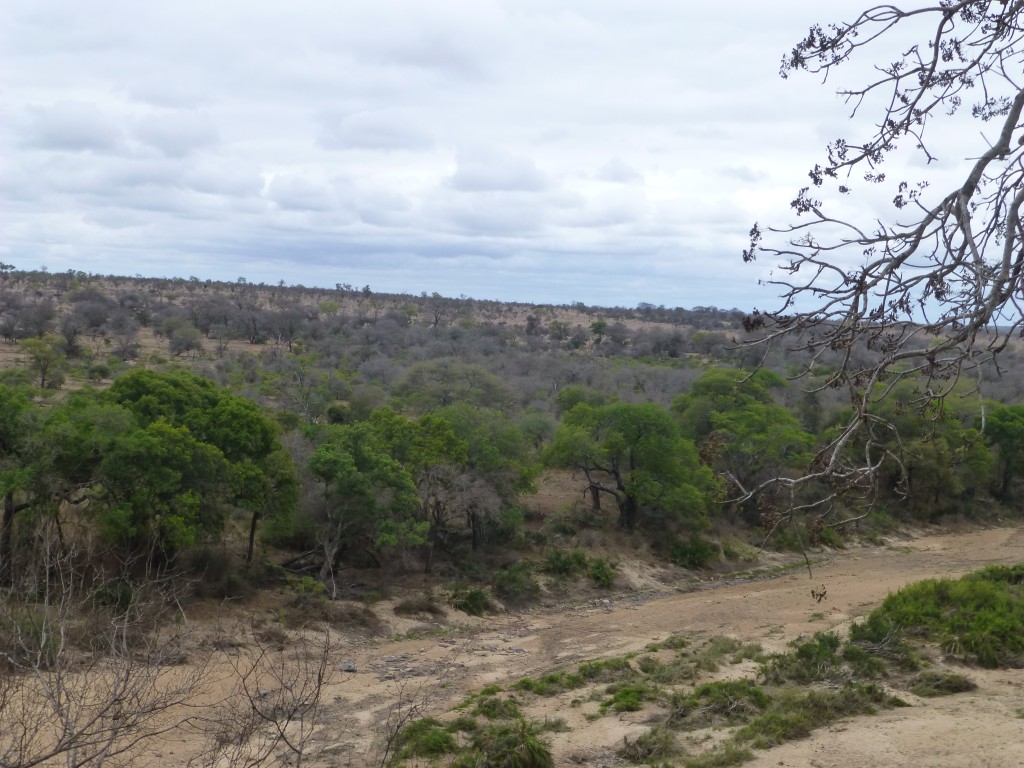 Great viewing Point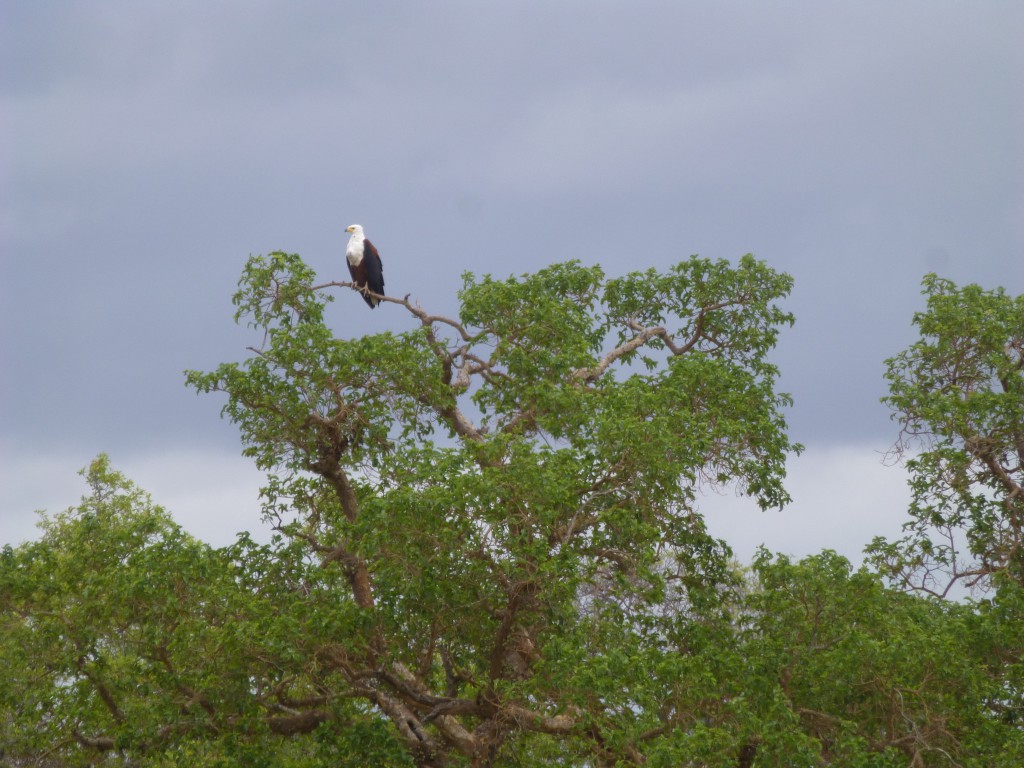 And again we spotted the great African Fish Eagle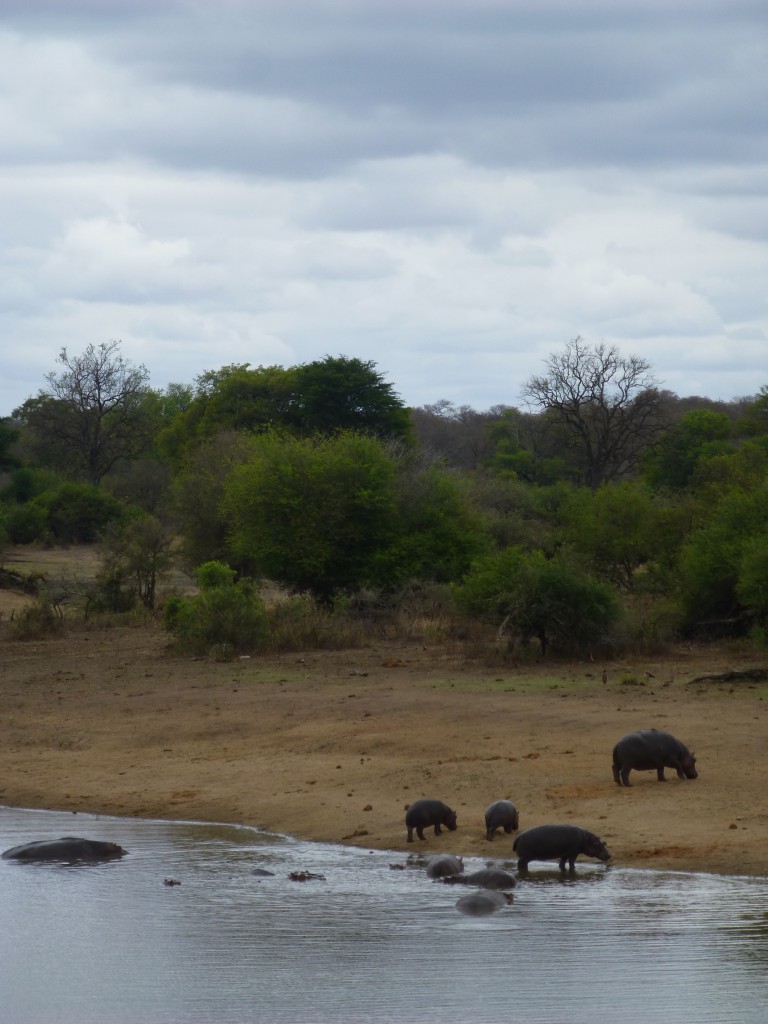 What a great scenery!
Hippos, big and small…in and out of the water!!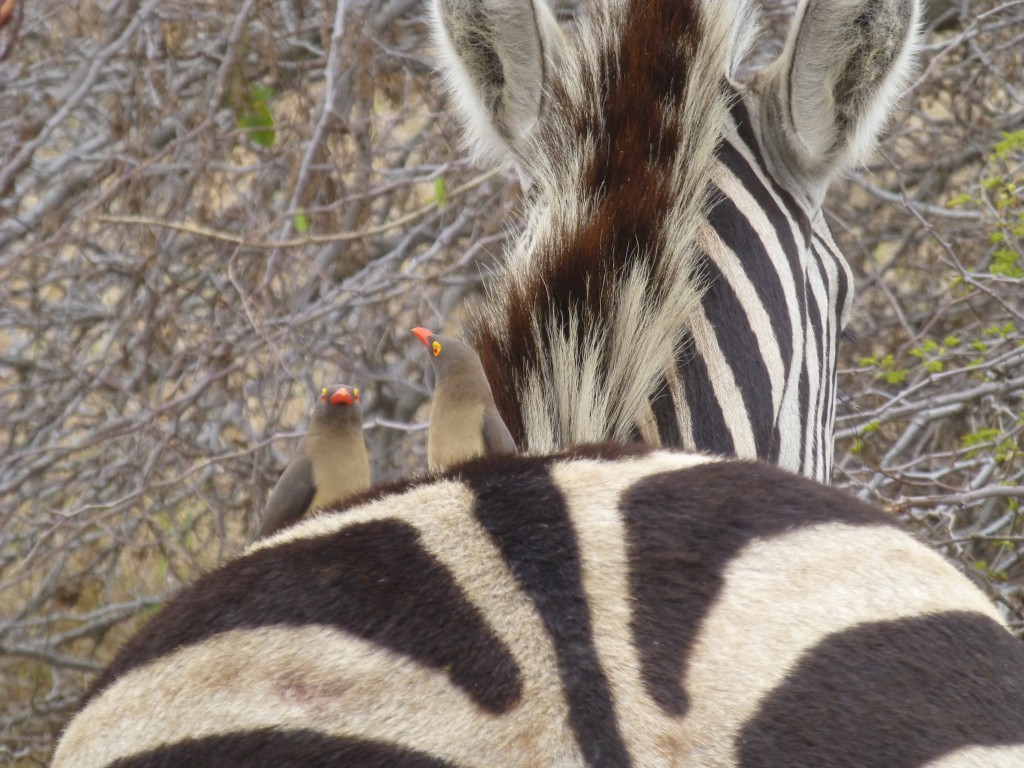 I love this picture!!
Those two little birds 🙂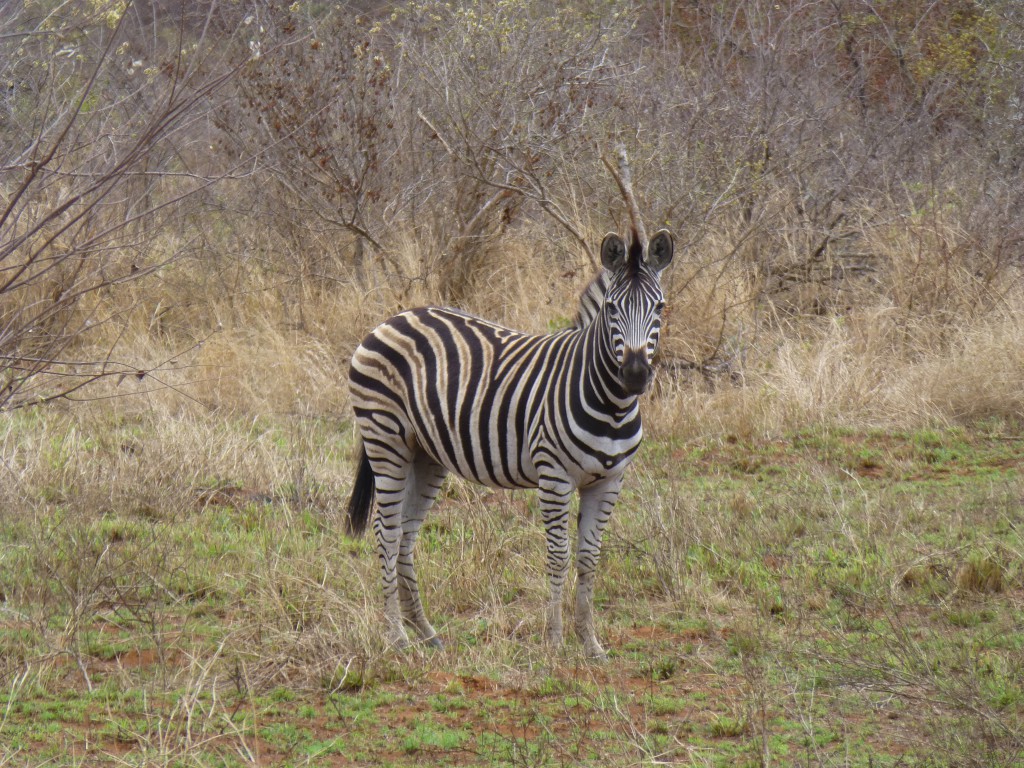 Wildlife Adventure – South Africa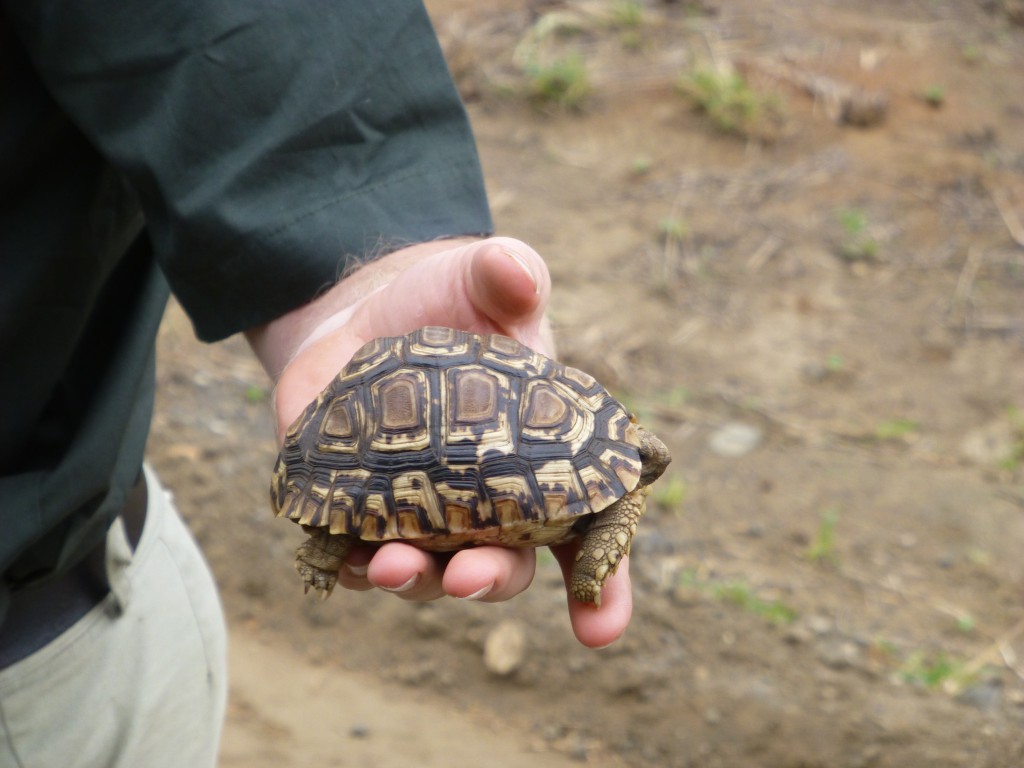 This one was running…walking around on the street…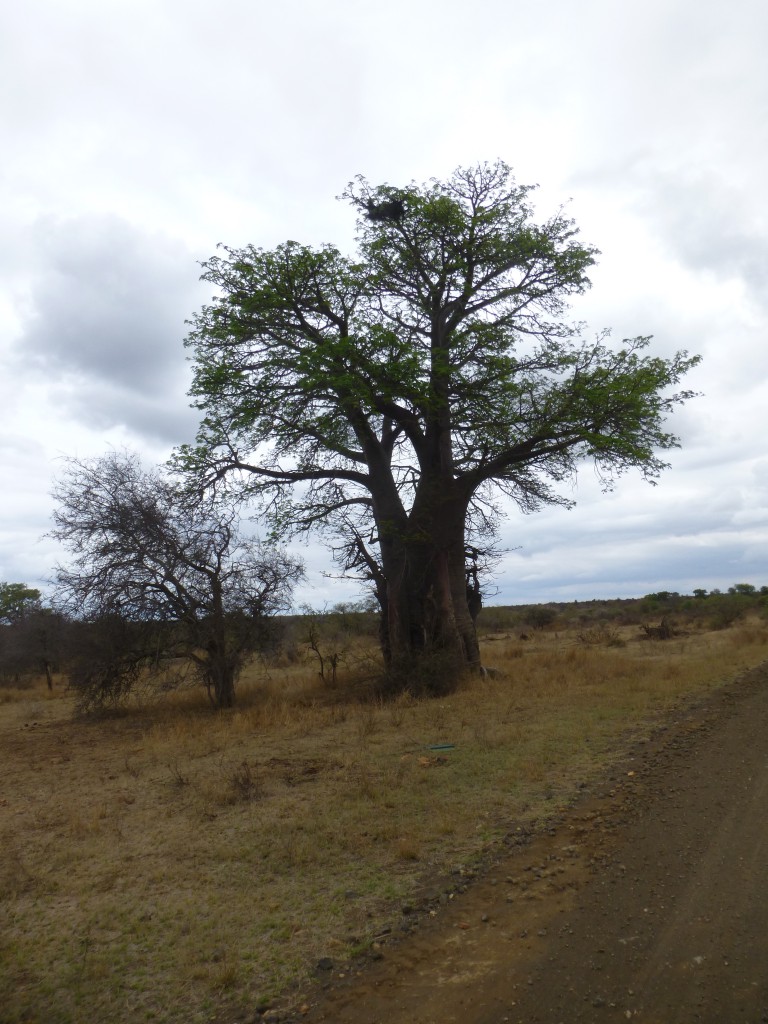 A big and very old Baobab tree!!
And yes, we were lucky enough to spot the big five!!
Everybody in our group had told the night before what they still hadn't seen and so what they were hoping on seeing this day! I mentioned the Leopard!! And yes!! We did see one, in a distance… But still, it felt very special to see such a great animal lying in that big tree. Can you spot him??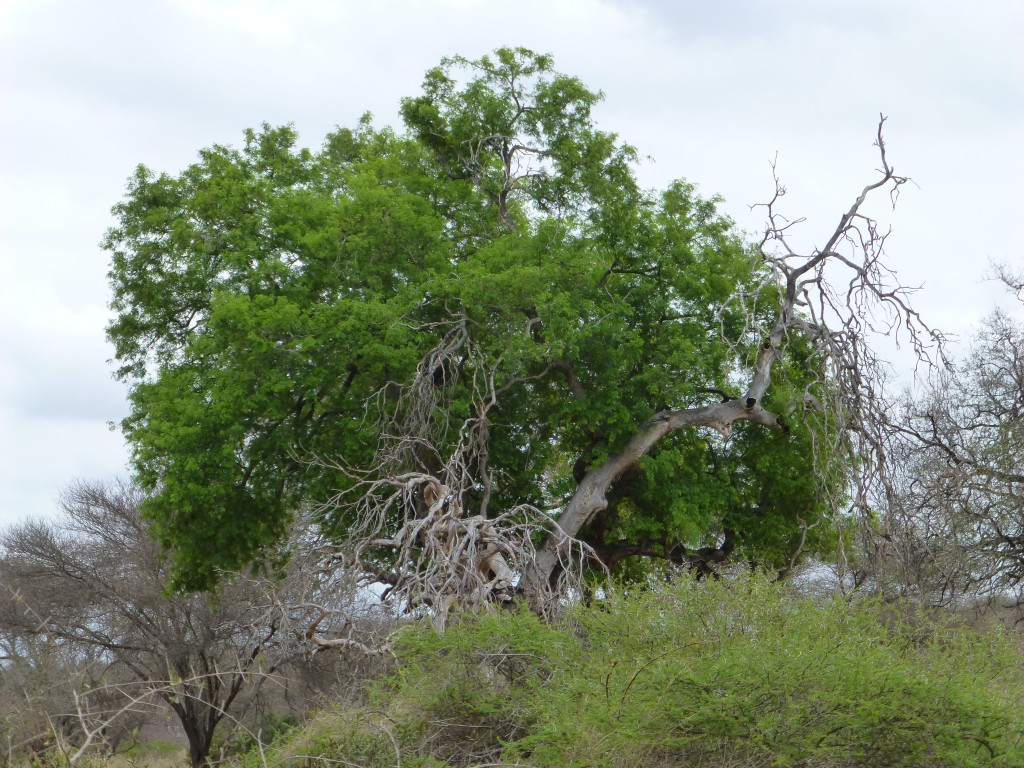 When you look really close maybe you can see the leopard in this tree…
Well I had to look twice…or even longer to find it and we were told where to look.
I had never found this one by myself!! So glad the driver/guide knew it…saw it…heard it.. 🙂
It is lying on the right lowest branch.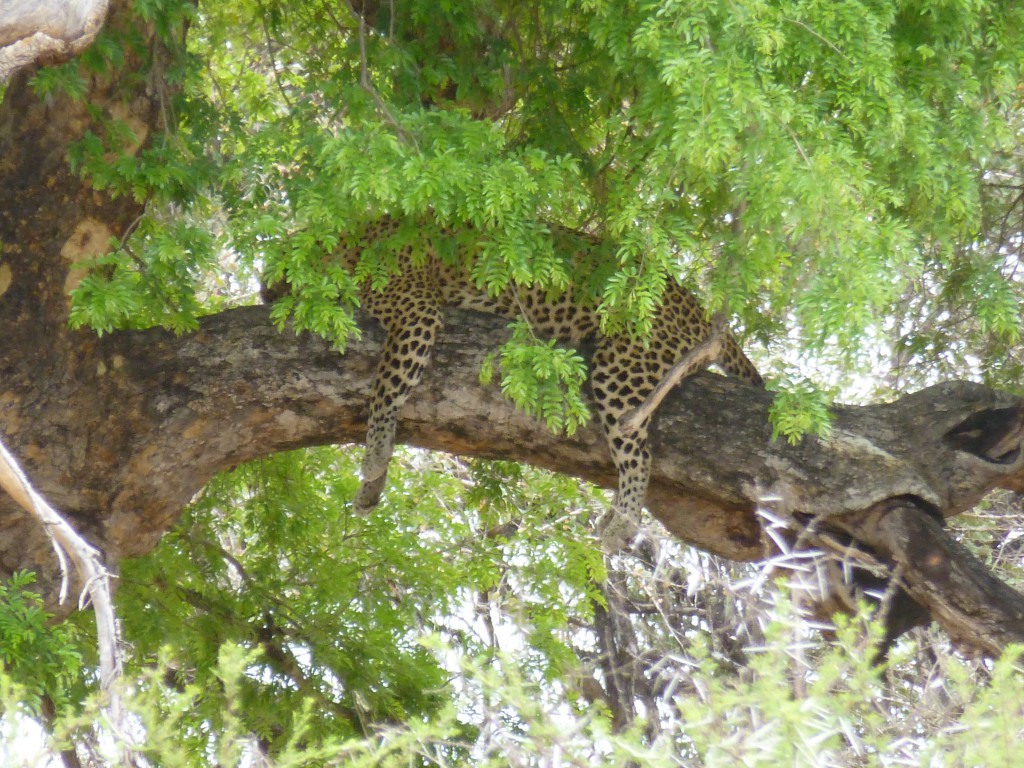 Wildlife Adventure – South Africa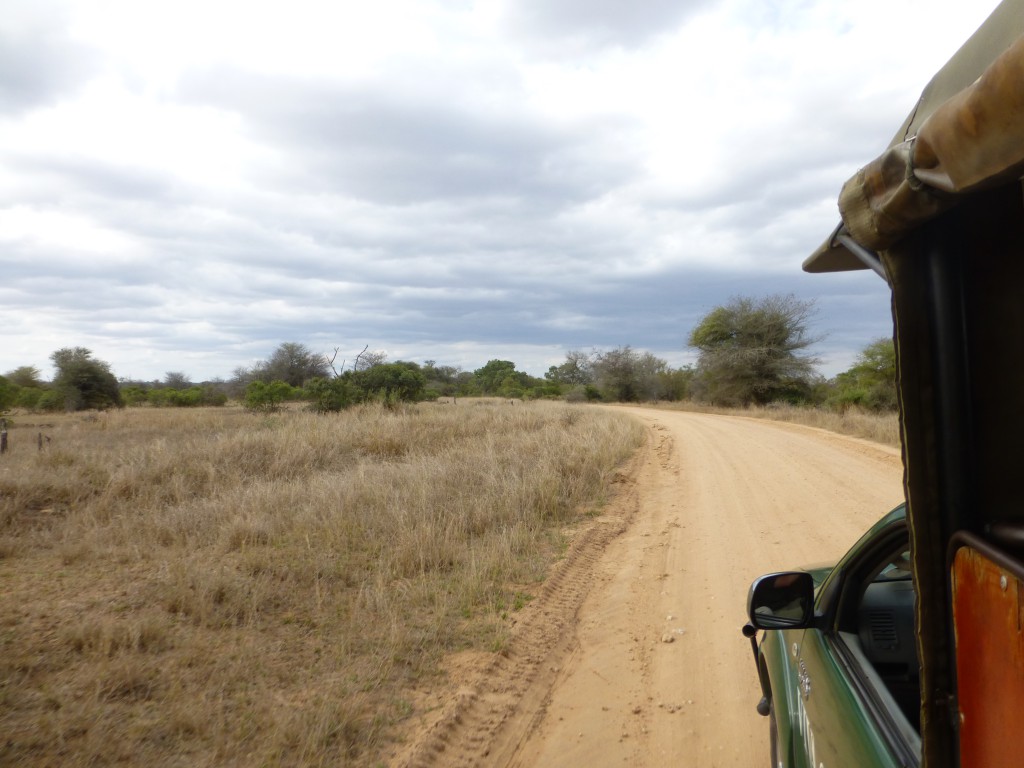 Driving around Kruger Park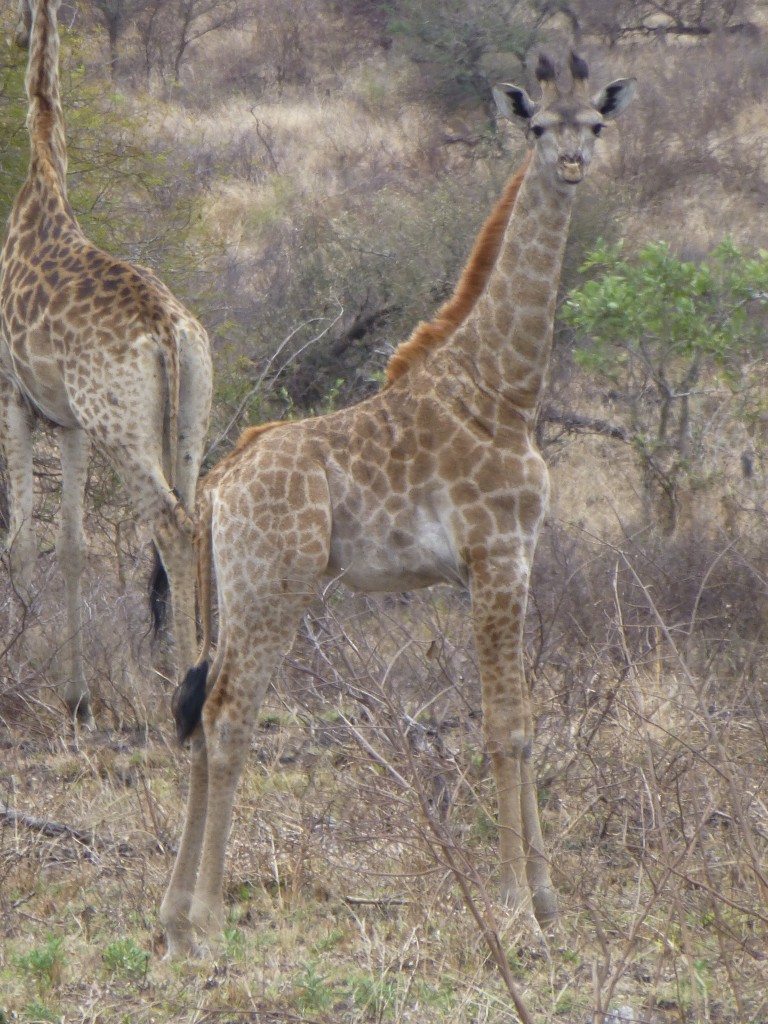 What a sweet baby Giraf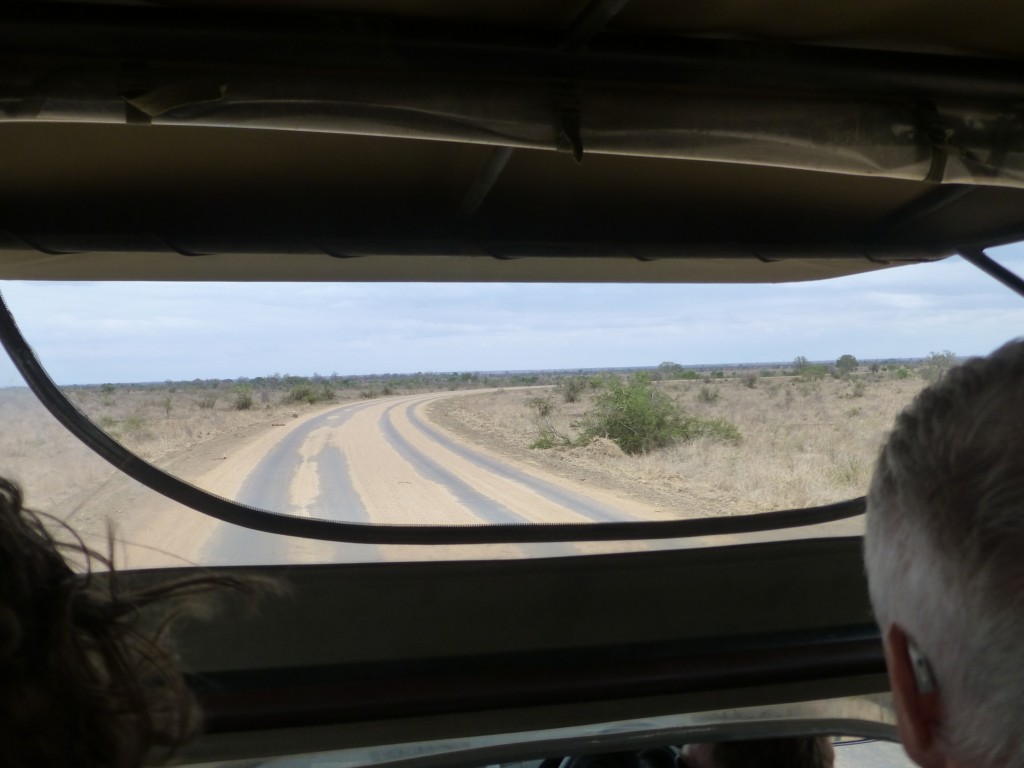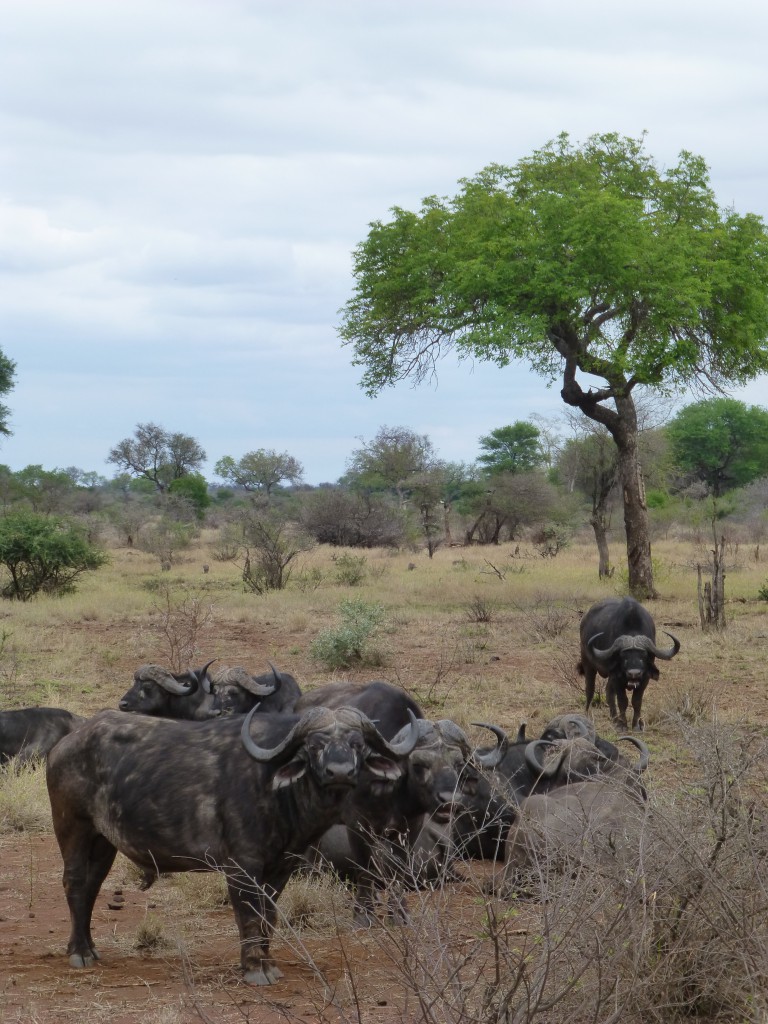 These old buffelos were standing near the entrance of the one place in Kruger were you can eat.
We had our lunch there. Many birds were joining us….they got some food of other people so they will keep coming for more 🙂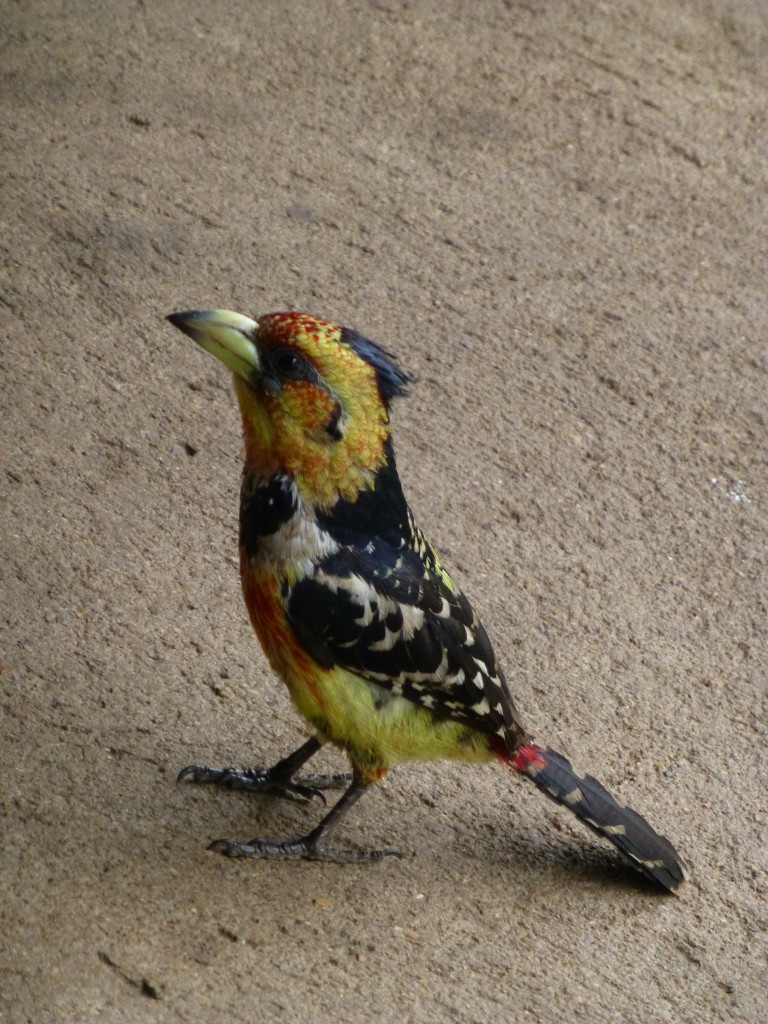 I really like this punker bird. Saw him also in Johannesburg in the garden of Brown Sugar!!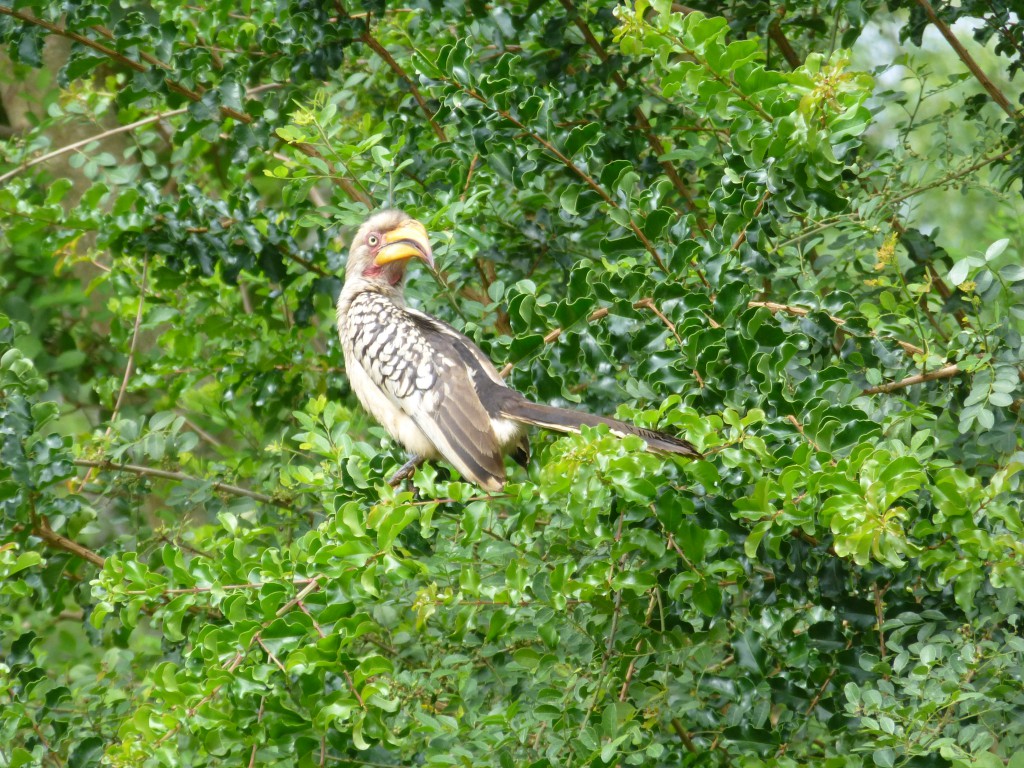 And a lot of other great animals!!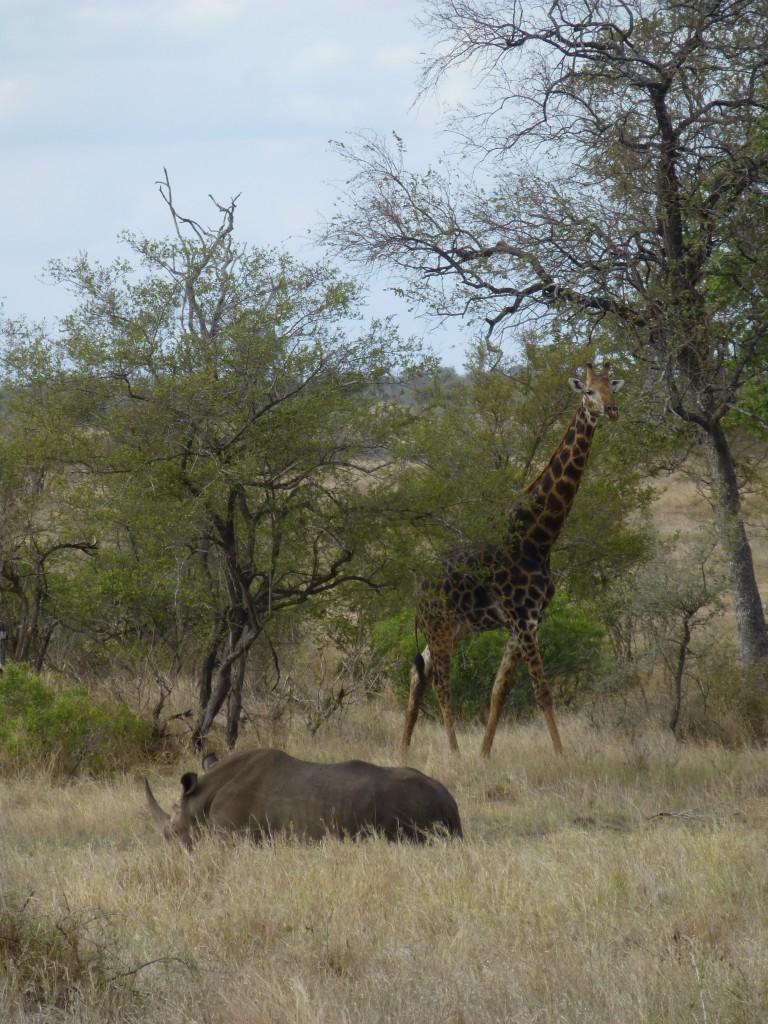 The Giraf passing by a sleeping Rhino 🙂
Wildlife Adventure – South Africa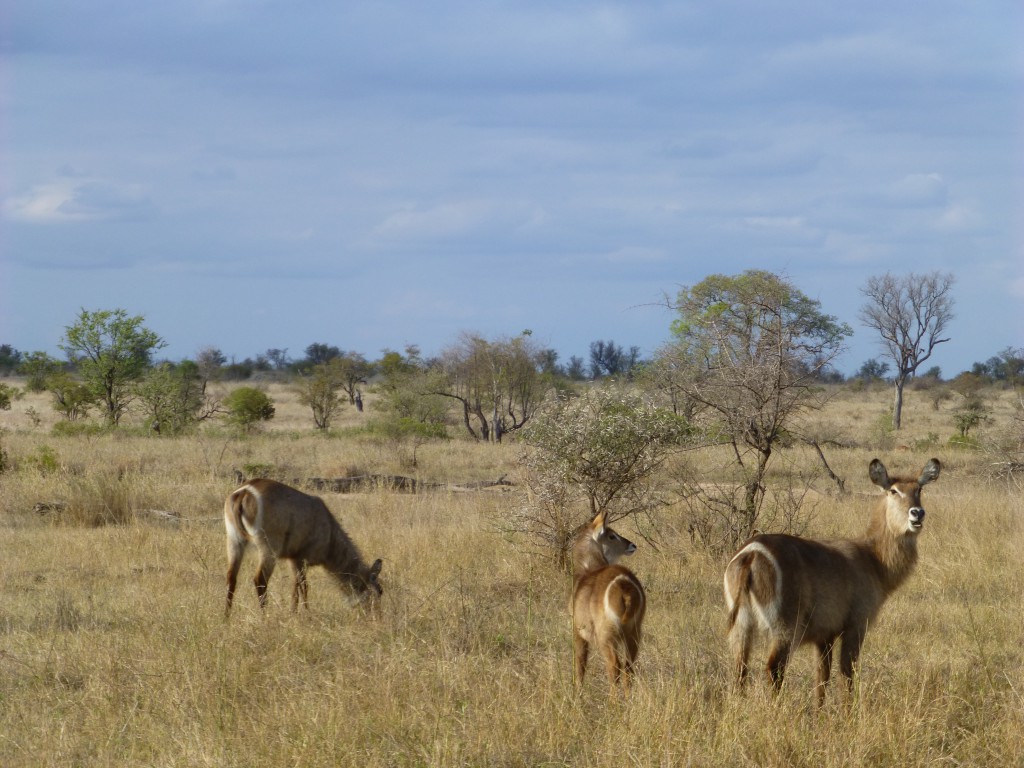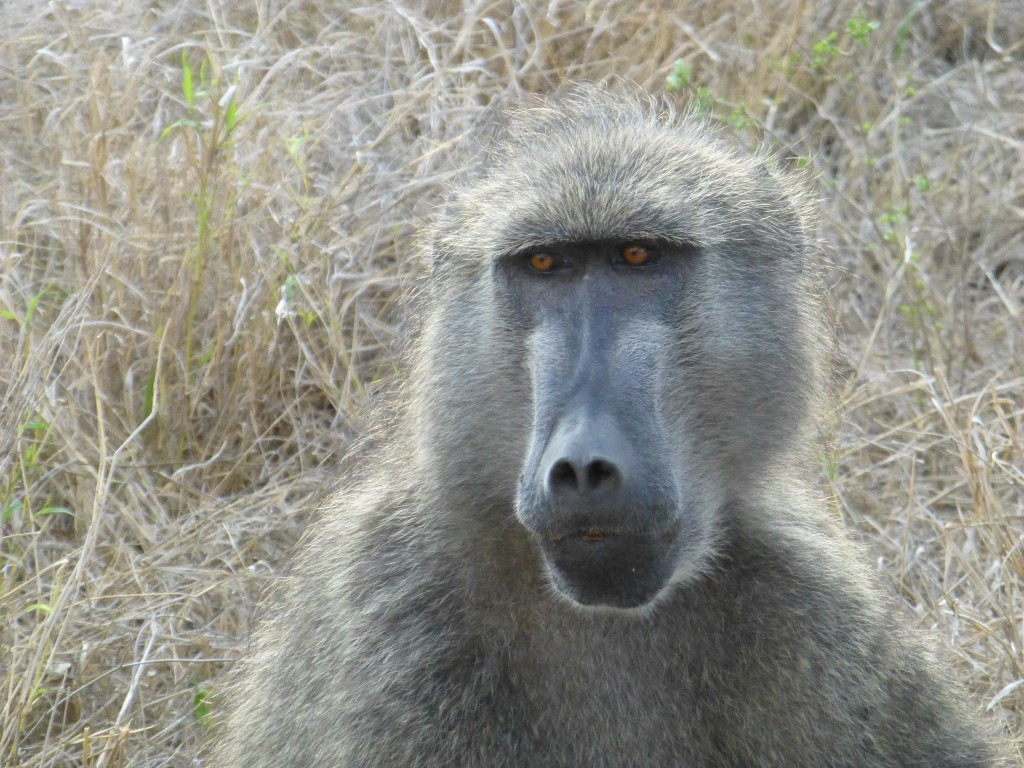 They were sitting and eating along side the road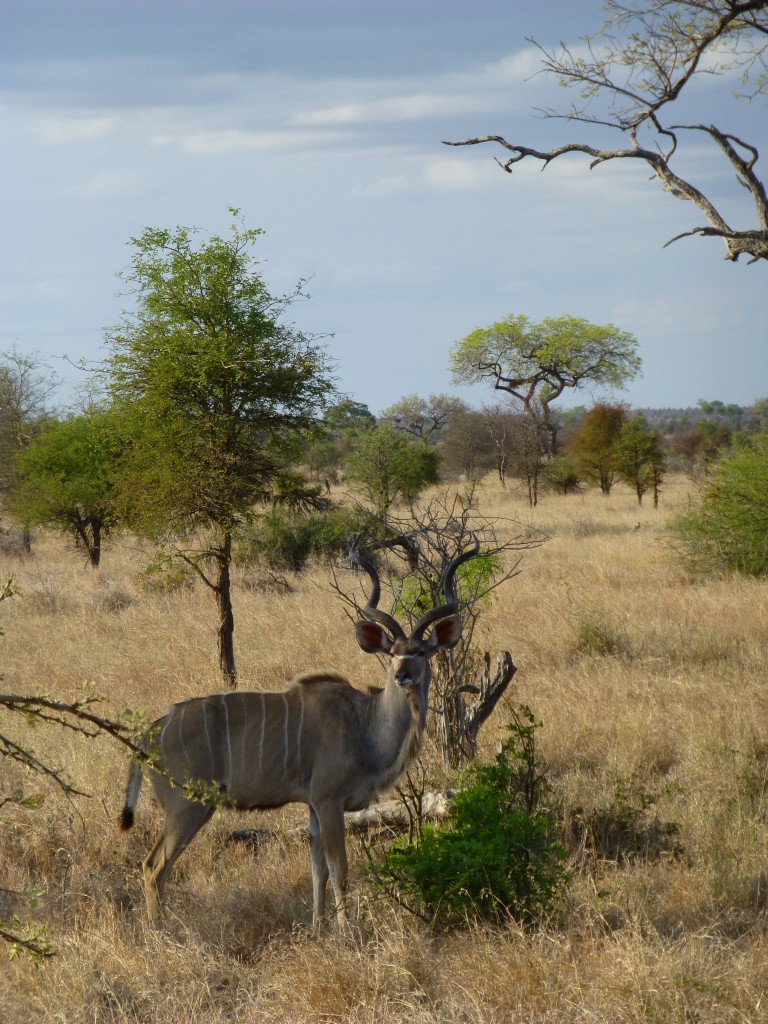 Nyala with a great antlers
Don't you think the scenery is great??
And when we were going to the exit we saw these elephants!
What a great sight!
When you look close you see also some small baby elephants in between them!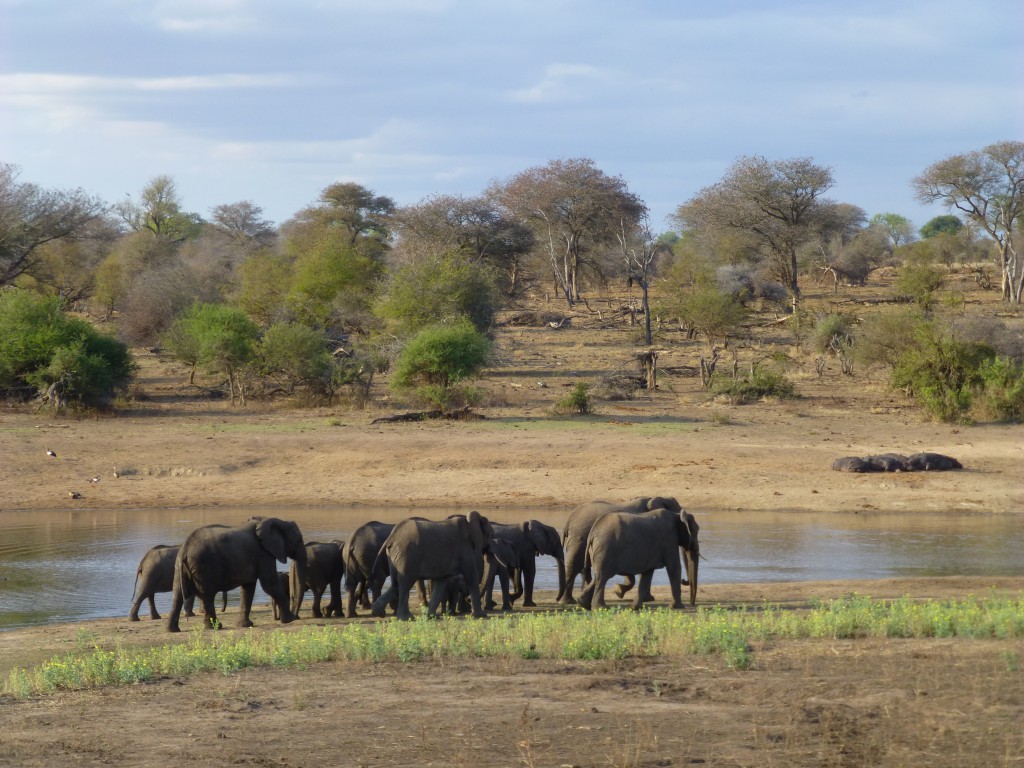 On the opposite side of the water you see some Hippos lying 🙂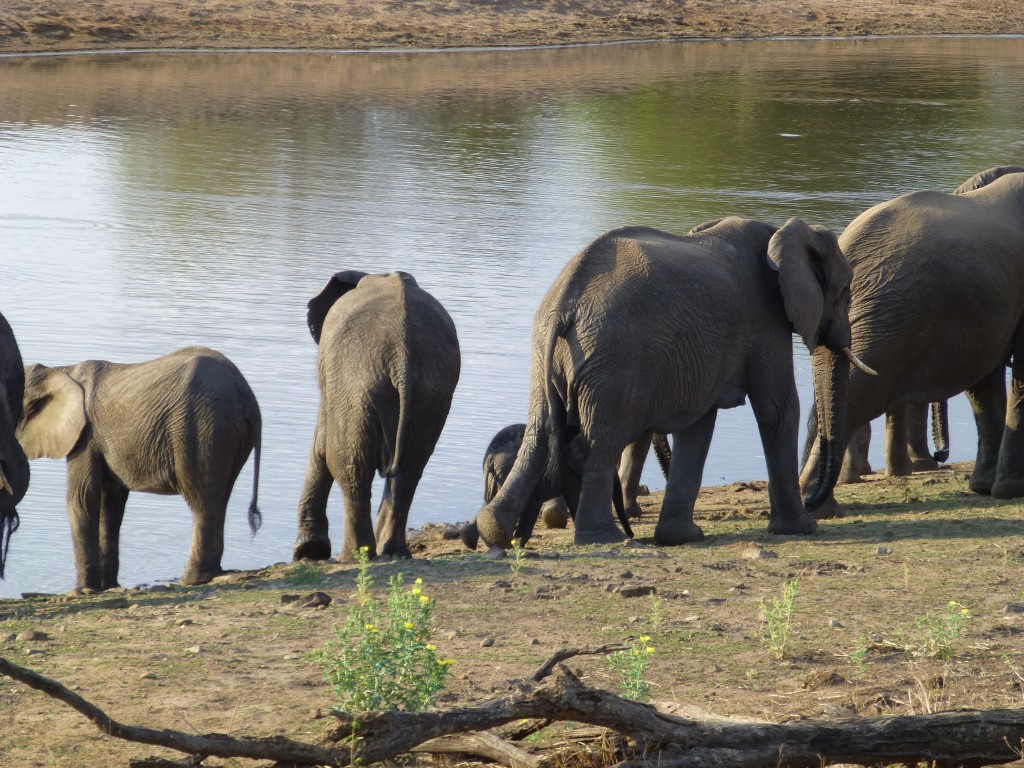 Wildlife Adventure – South Africa

Pro's and Cons of this trip
I did the whole tour, the 4 days, with a group and guided from the beginning till the end.
Pro's are that you will be guided to the exact spots where you can see the various animals. A lot of the animals, especially the leopard, I would've never spotted myself!!
I didn't mind getting up early. That's good because every day was an early start these 4 days.
Con's are maybe that when you're in the vehicle with less persons and ones you know you can change seats or ask more of the other to make pictures for you if you side of the vehicle isn't suitable for making the pictures at that sight. And…that's the only one I can think of.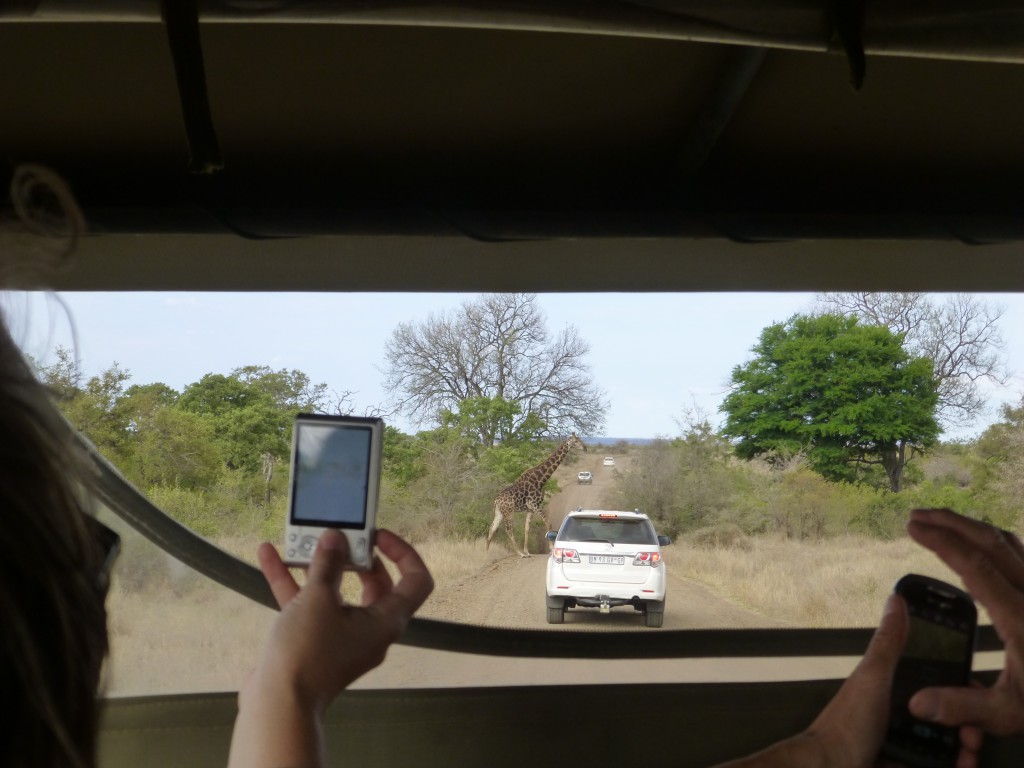 I booked the trip with the company Detour Africa on www.detourafrica.co.za
They were very flexible in offering all kinds of trips, leaving on almost all days of the week. They were very quick to respond online. The whole trip was really good arranged!  I booked the 4 day Tented Camp Safari and paid R5995. That's a bit over 500 euro! They only thing I had to buy while on the trip were 2 lunches (on the way there and back) and your own daily softdrinks.
Want to read more about my Adventures on my 4 day and 3 night trip?
See my first day at Tremisana Lodge – Safari
Or the second day: Early Morning Walk
Read also: Spotting Whales in Hermanus Bay
Visiting Robben Island – Cape Town
Hiking to the Famous Knysna Heads – Knysna
Read my tips for a Safe Safari!
I hope you enjoy this beautiful world as much as I do!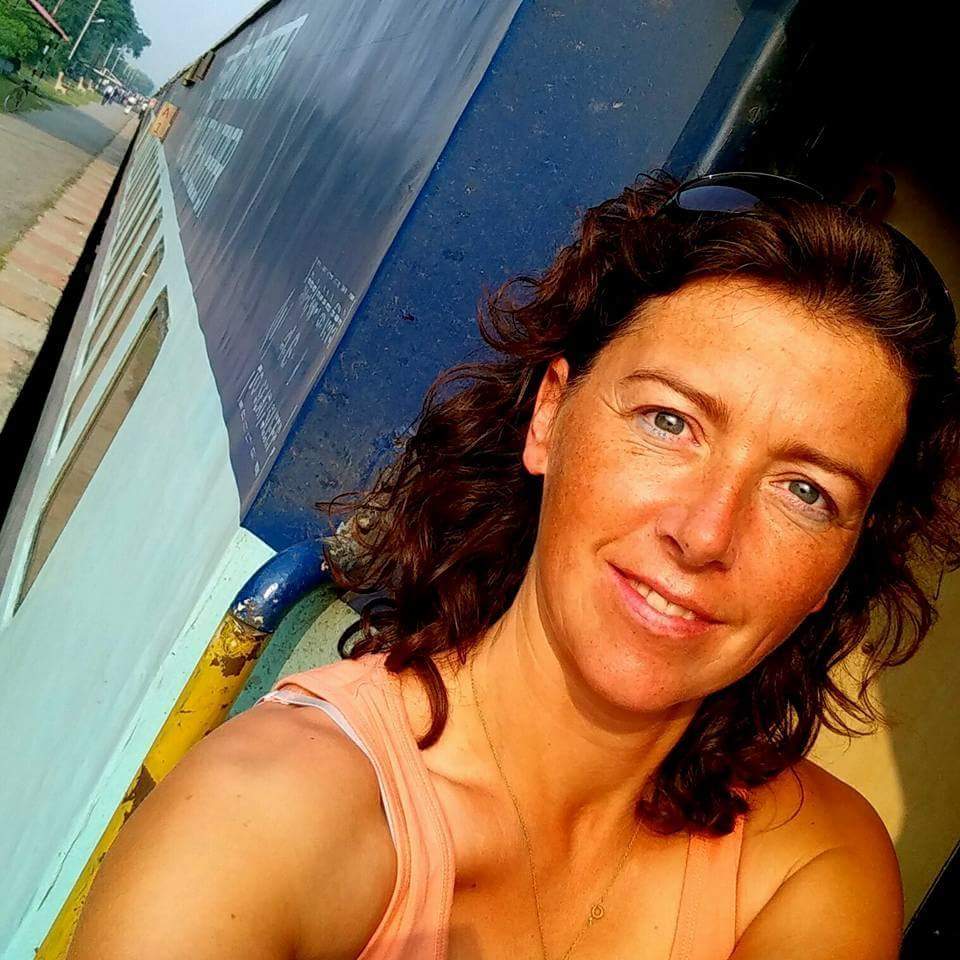 Jacomijn is een politieagent uit Nederland die jou graag laat zien hoe je veilig, actief en gezond de wereld kan over reizen. Safe and Healthy travel is a MUST