Yangon City tour by Be Aye, Myanmar
|
In 2014 I started my 3 months journey in Asia by going to Myanmar. In the former capital Yangon (Rangoon) I started with a nice Yangon city tour done by student Be Aye who I met the day before. That first day I went for a walk with the map of the city I got at my guesthouse (Agga Guesthouse) and soon found the Sule Pagode.
Yangon (Rangoon) is the largest city of Myanmar and until 2005 also the capital. Since then that year Naypyidaw is the capital and has the widest road (20 lanes) of the country which has been in the news several times. The road is hardly used…

In 2013, the number of inhabitants was estimated at more than 5 million. You can imagine that it is a big city where you can imagine yourself exploring for a few days.
My first impression of this country reminded me of India. More than the other countries in Asia that I had visited until then. The houses, the structure of the streets and the construction of everything but also the people. I walked for about 45 minutes and at the end of the road I saw the pagoda on the horizon. I walked along the many food tents and everything else that was selling on the streets, that will be everything you can think of…
Yangon city tour by student Be Aye
Everywhere they made food and everything looked so tasty. I didn't dare to taste it on this first day… It looks less hygienic than it probably is. Later on in my trip it became easier as it works for me in every trip.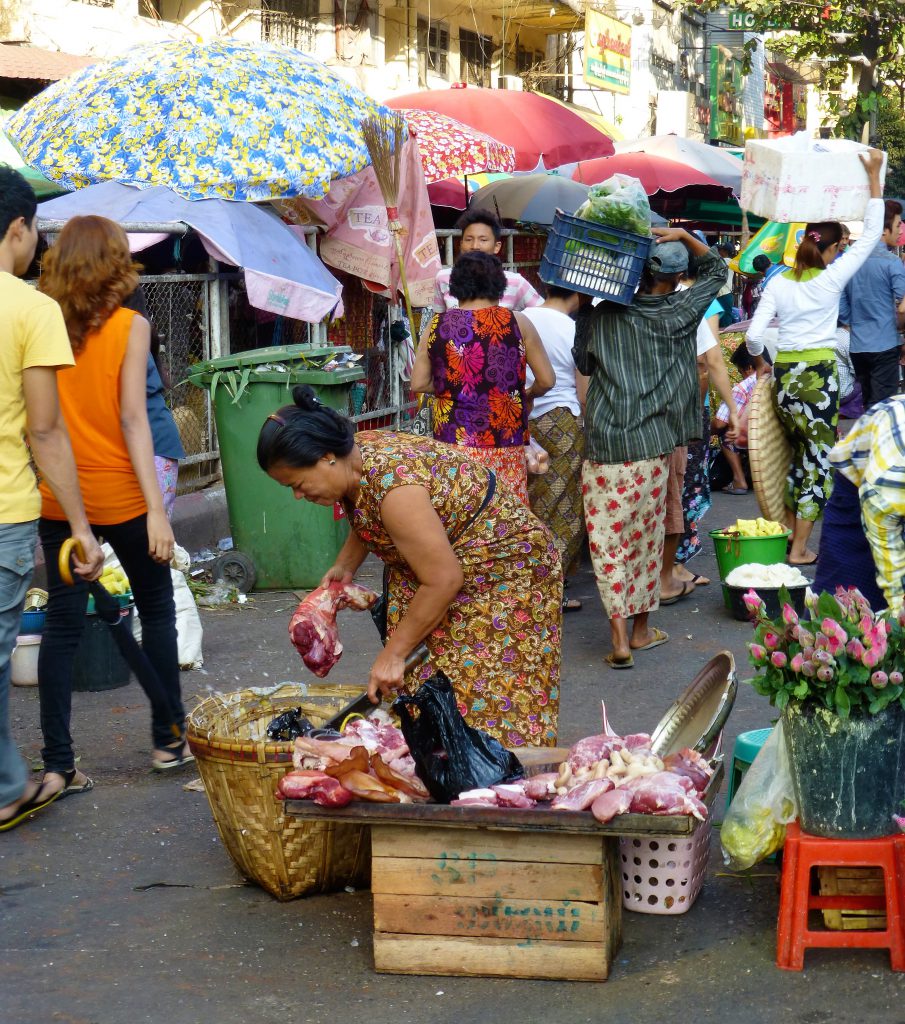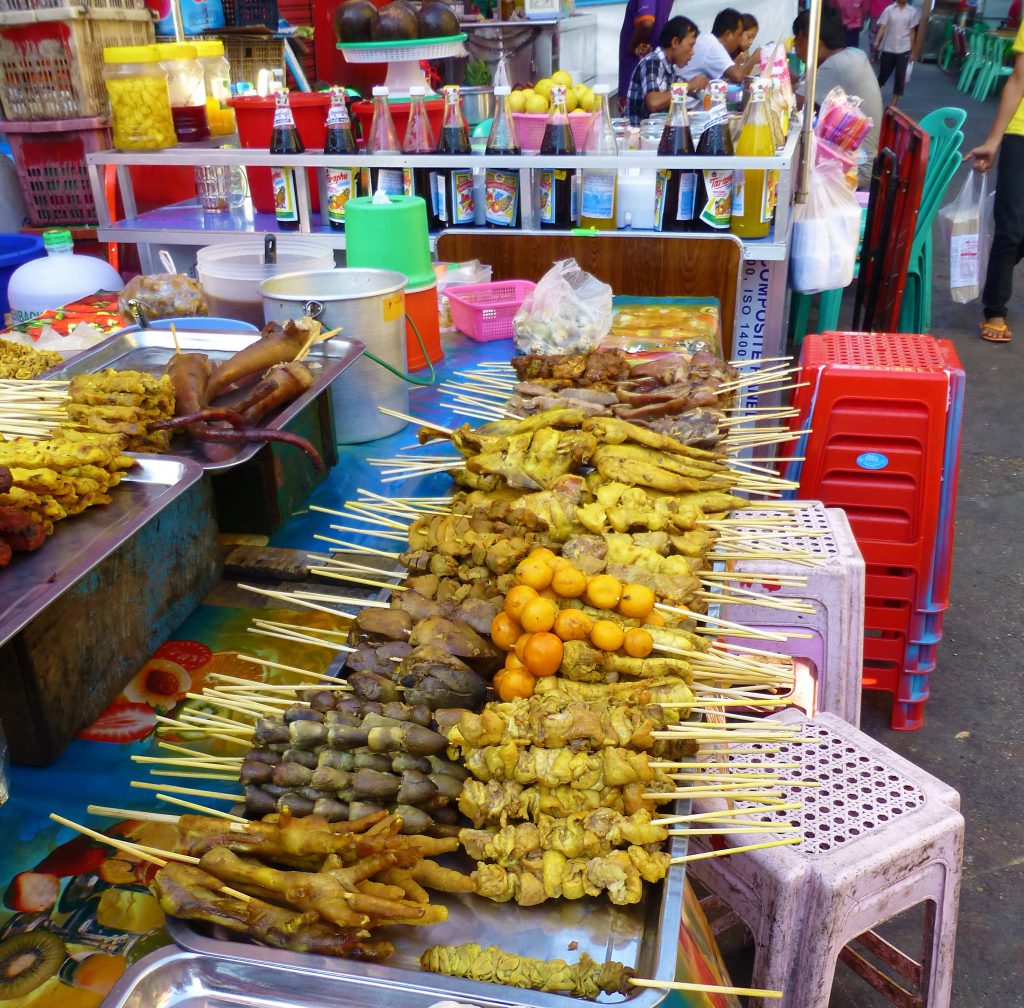 And then I came out of the Sule Pagoda, I walked in. The woman at the entrance showed me a cloth, I had to put on this Longyi if I wanted to go inside. She helped me to wrap the cloth, of course. In the middle of a square there is a large pagoda of gold with sacrificial places all around it. At each spot there was one or more Buddha statues. I started to walk and wanted to make a circle around it but I walked into traffic… You always have to go clockwise was told to me by a young man.
The young man asked me where I came from and started to tell me the history of this pagoda.
At each sacrificial place he told me what the background of the Buddha statues in question was and what people prayed for when they offered their sacrifice here. That's how I learned that if you were born on Saturday you had to be at that particular sacrificial place. I saw people offering flowers, murmuring prayers and at the same time water flowing over the statue. Everywhere I also saw small cups to put the water in so that you can pour it over the Buddha. A maner of respect for the Buddha I understood.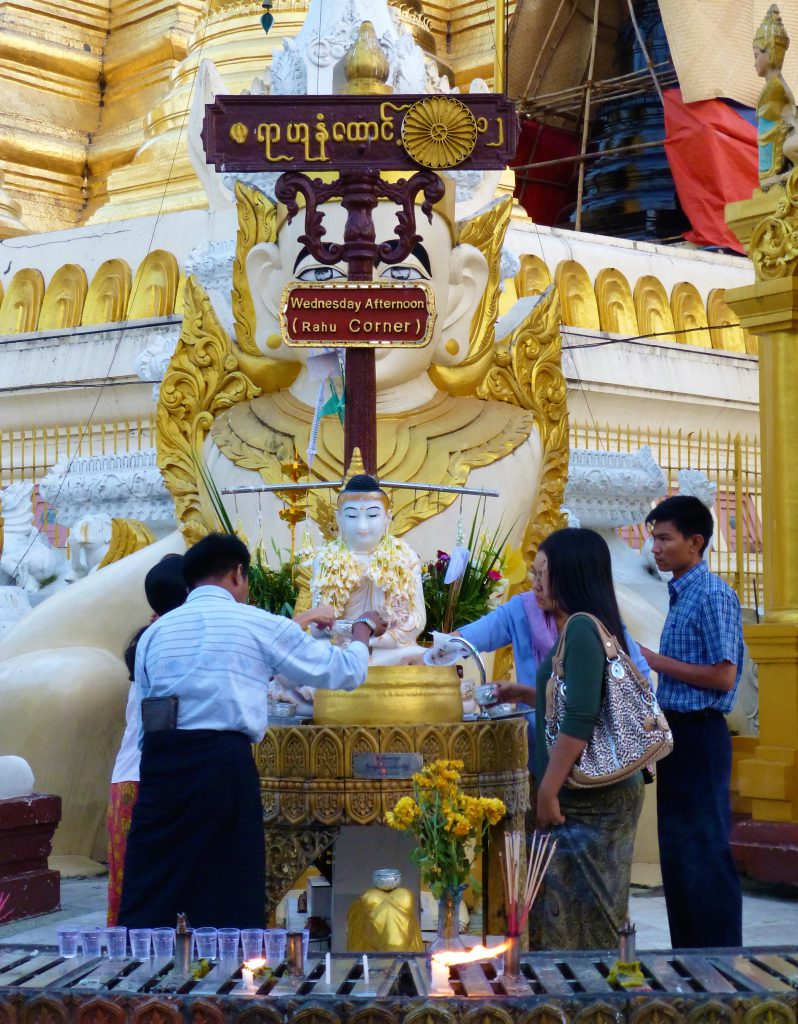 Wednesday afternoon Buddha
(Shwedagon Pagoda)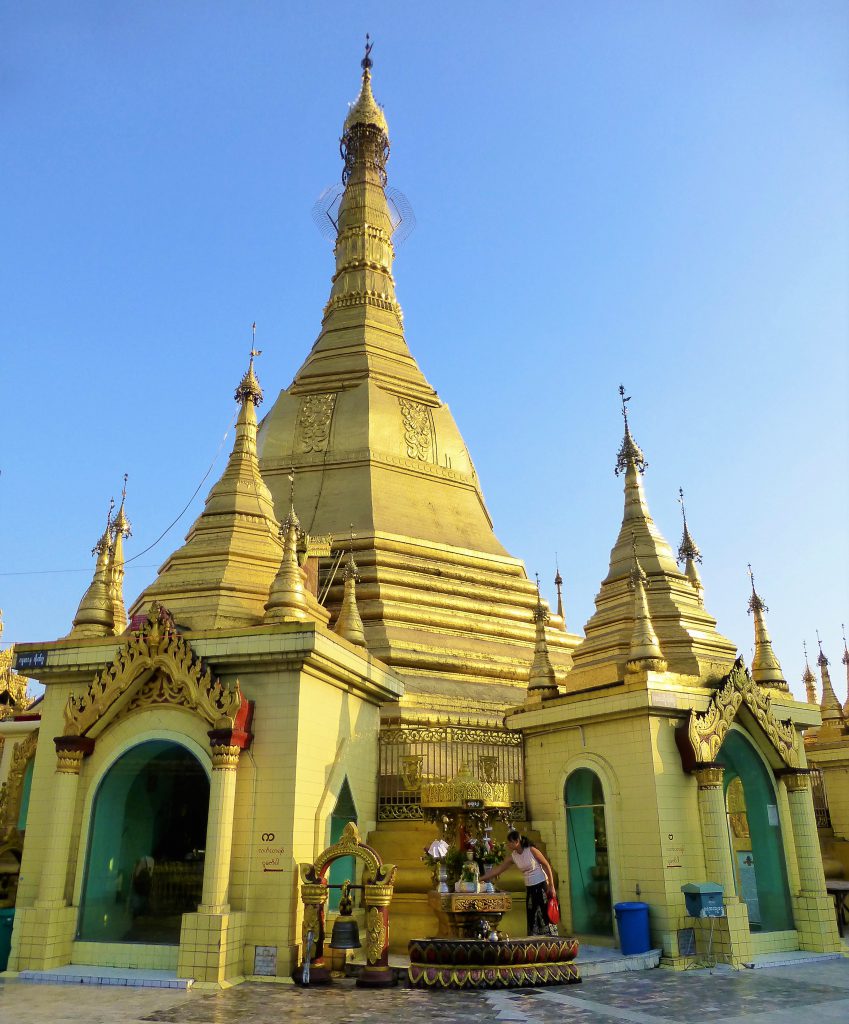 The young man who explained it to me introduced himself as Be Aye. He told me he was a student, he studied history and so he could tell me a lot. He came from a small town in the Shan State. On the weekends he made a little extra money by showing students around. Of course, they don't have a scholarship here. He did want to lead a Yangon city tour the next day and told me where we would go: Shwedagon Pagode and the biggest reclining Buddha in the world!
Of course I thought that was a great idea! A city tour Yangon by student Be Aye. I didn't have any plans yet and Be Aye seemed like a nice guy!
First he helped me find a shop where I could buy the Lonely Planet. I didn't have them yet because of course they are cheaper here. I bought one for 5 euro's and of course it was a copy but I didn't mind!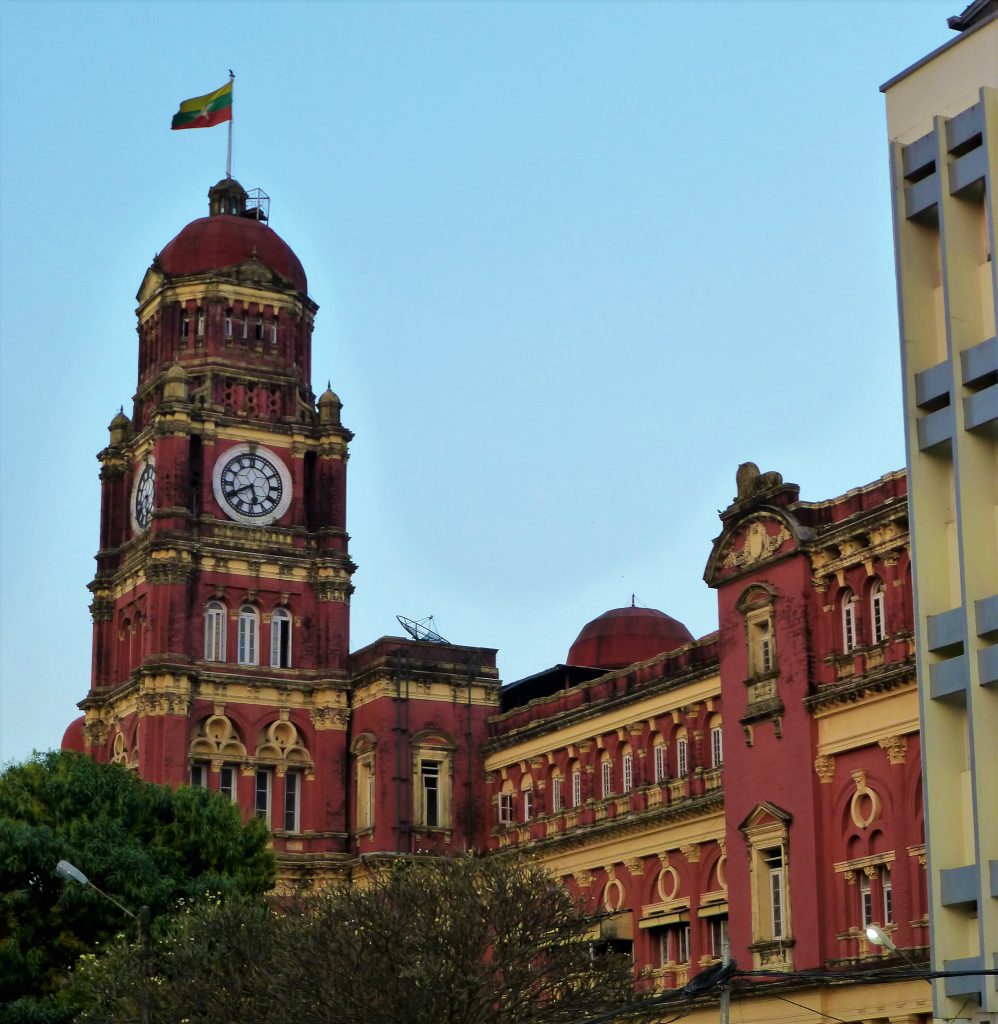 And then it was time for a bite to eat. Of course Be Aye knew a good spot where the food was good and many tourists came to eat as well. We went to eat together, I ordered rice with vegetables and catfish. With this dish I also got some soup and some other sauces and herbs. It was a delicious combination of flavors!
Later during my trip I would understand that this way of eating is the way in all of Myanmar. And I mean rice, vegetables, meat in different trays and then combine everything. You always get some soup but also some spices, sauces, pickled onion / gherkin etc, nuts and a bowl of dried fish. You can then mix this on your plate with the rest of the food. I love all the different flavours!
I enjoyed my first dinner in Myanmar!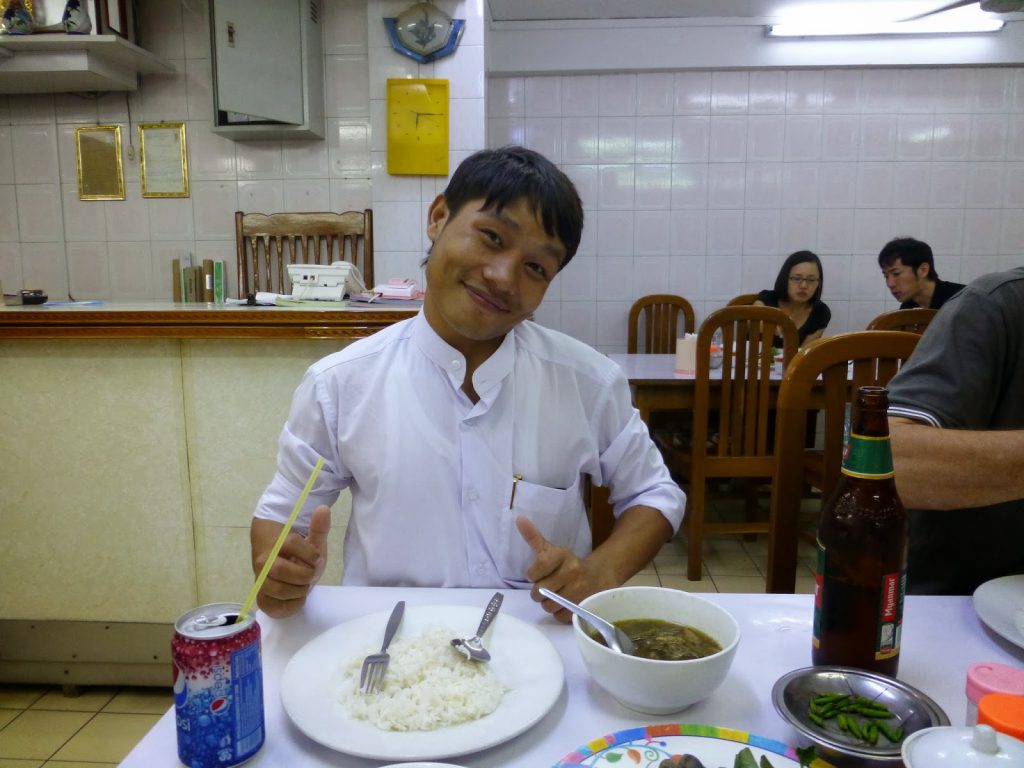 My guide, Be Aye
We agreed for the next day that I would come to his house and pick him up. He lived in a monastery and gave me the address in English and Myanmar so the taxi driver would understand.
The next day I booked a taxi through the hotel to the monastery where Be Aye lives. It was a kind of residential community where many monks lived and where there were also other houses. When the driver had made clear where I had to be I was allowed to walk with him but first I had to take off my shoes. We walked to a house and some people called inside and then I saw a young monk coming downstairs. He was already expecting me and took me inside. Be Aye was still busy getting ready for the day.
And there I was, in a monastery. I saw a woman with a child. I was just sitting in their house. A staircase led to an upper floor and the young monk I saw disappeared for a moment and came back and asked me to come upstairs with him.

There I saw Be Aye. He waved at me that I could come in. The room upstairs was a large room with a number of rooms on the sides. The room to which I was invited by Be Aye belonged to the young monk and Be Aye. In the large room I had seen dumbbells, made of a stick with weights tied to each end of it….

I also saw many books on a number of shelves on the wall. They had slept on the floor on a thin mattress. He had rolled it up and put it against the wall so there was enough room for us to sit on the floor.

I talked to the young monk for a moment and after a few minutes Be Aye came back. He now had a Longyi on and a neat blouse over it. He was ready and we went into town!
Unfortunately, I didn't take any pictures of this place….
Yangon seen through the eyes of student Be Aye
I read that you should definitely take the Circular Train to see the city. That was our first goal during the Yangon city tour. We walked to the station to get on the train. The train goes all over the city and makes a tour of most neighborhoods. It was Sunday and therefore not crowded in the train, a pity because I would have liked to see the hustle and bustle… But nice because we just had the place to sit and walk around.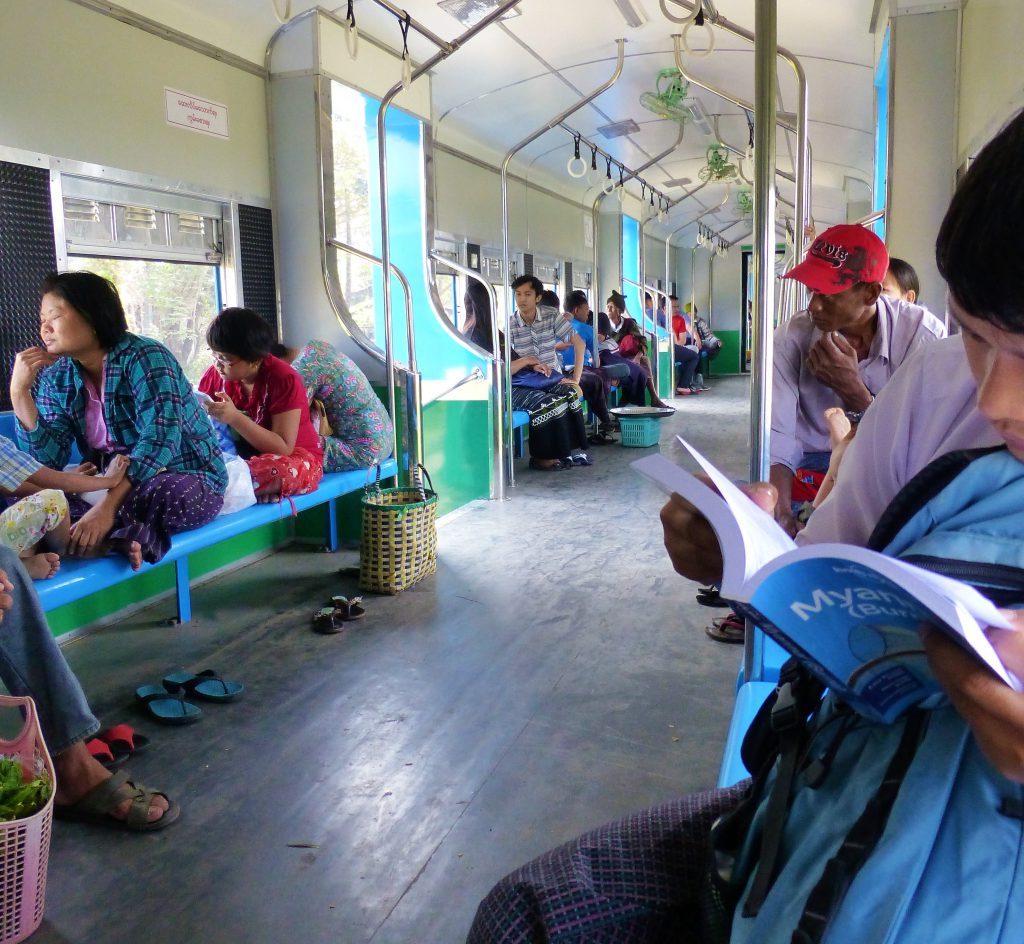 We saw the different neighborhoods pass by our window. From beautiful houses and neighborhoods to very poor neighborhoods. Sometimes you can't imagine someone living in a hut/tent you see. In this city every inch of land has been used, everywhere there is somebody standing or living. The train also takes you a little outside the city, so you get a nice view of the city and what the countryside is like.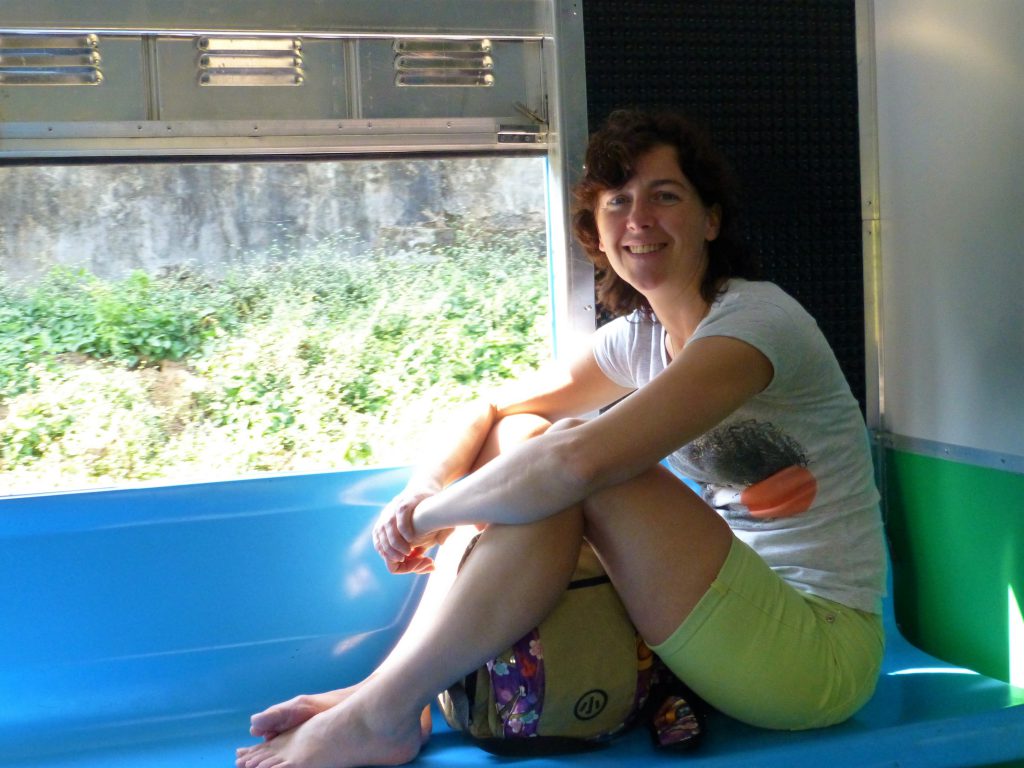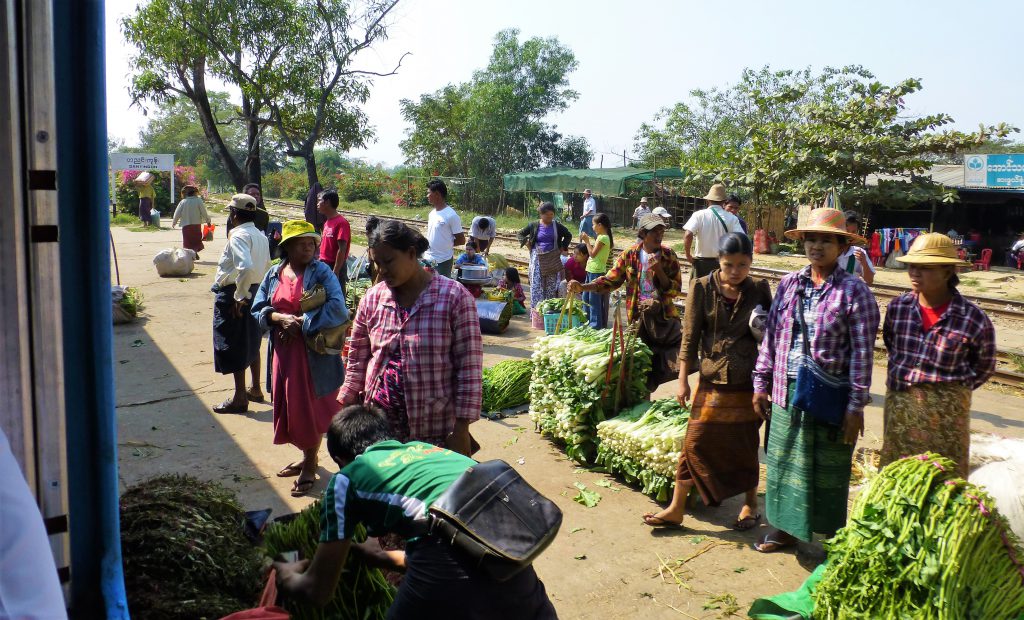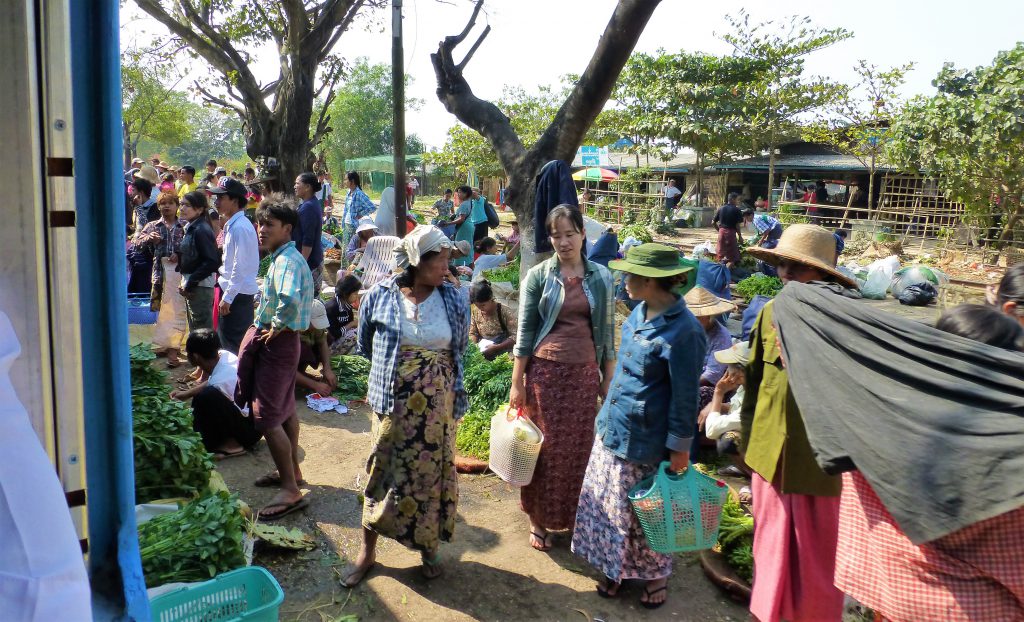 Markets we saw along the way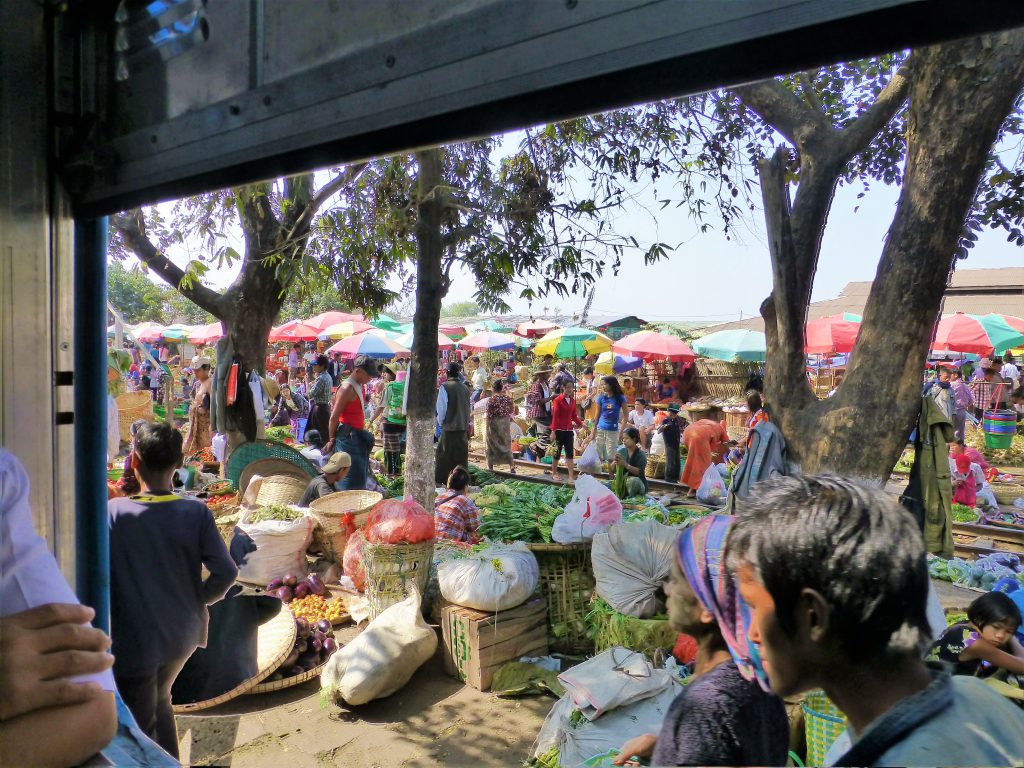 By the time we got around the city it was already 12 o'clock and it was time to eat something. Be Aye took me to a restaurant which looked nice and clean. I ordered a Shan Noodlesoup and enjoyed the full flavor of it.
When I had to go to the toilet after this they didn't have it but they showed me one outside. There was a public toilet in the area which I could use. It was the squat toilet that I was not so used to yet at that time… But I was going to because I really needed it. Luckily it was clean and tidy!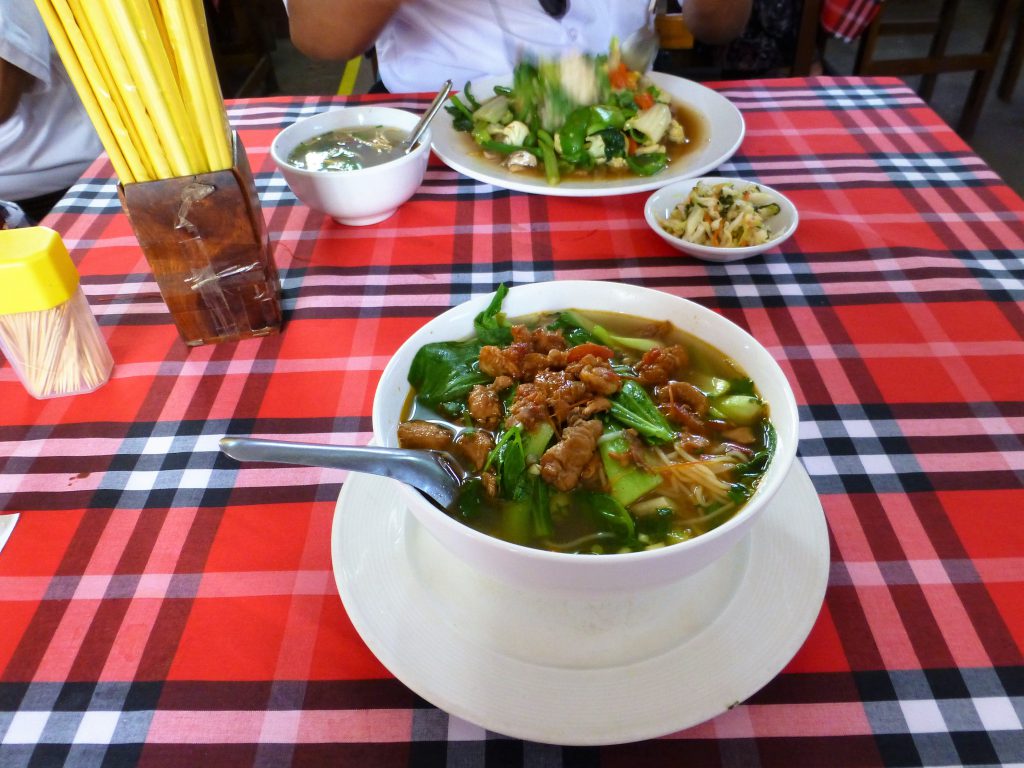 My Shan Noodlesoup
Visiting  Multiple Pagodas 
Chauk Htat Gyi Pagoda / Botataung Pagoda / Shwedagon Pagoda / Nga Htat Gyi Pagoda
After lunch we started our Pagoda tour. In one of these pagodas (Shwedagon) are 8 hairs of Buddha and so this one is very sacred! And we went to the 65 meter long declining Buddha.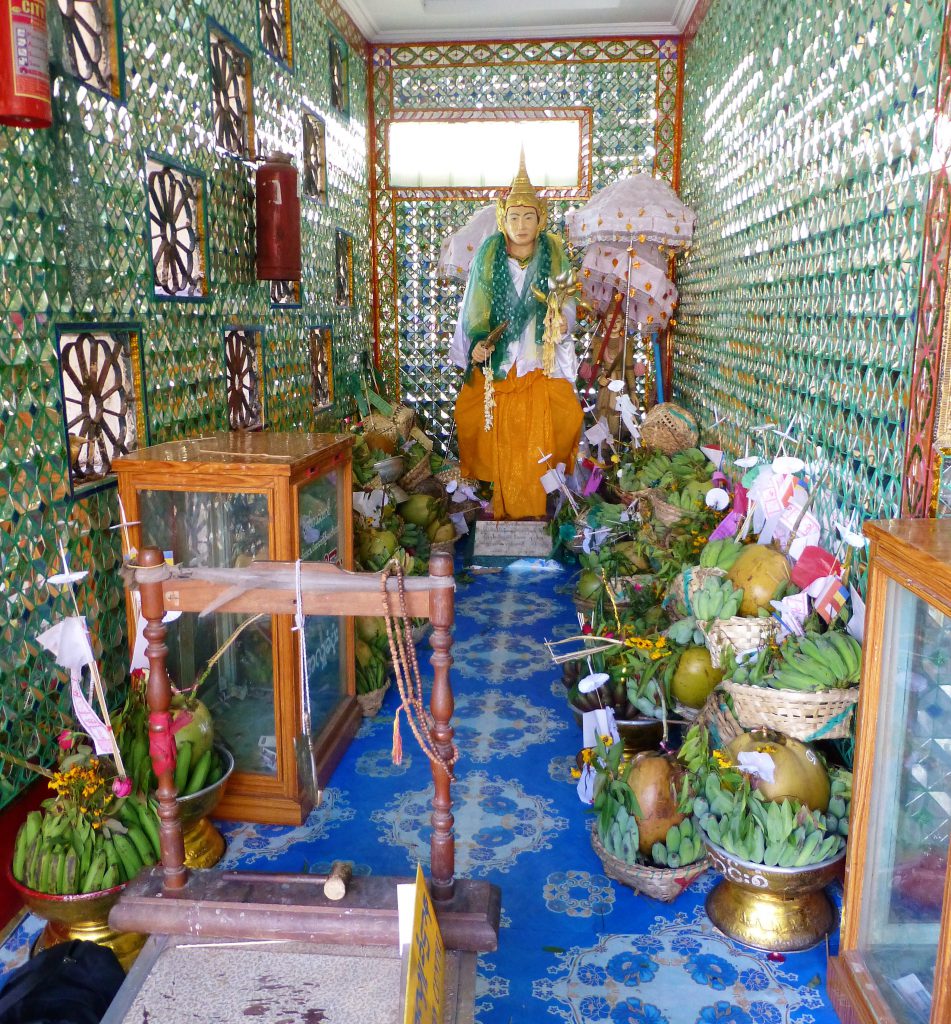 All the fruit that are sacrificed in Botataung Pagoda.
The fruit is collected after the blessing so that it can be eaten.
Also in this pagoda is a hair of Buddha. Of course the pagoda is important for that reason. When I was there the pagoda was in restoration so I could not take a nice picture of the pagoda itself. It's ;ovely to walk around and see the local people praying and making sacrifices. An part of the daily life of the Buddhist Burmese.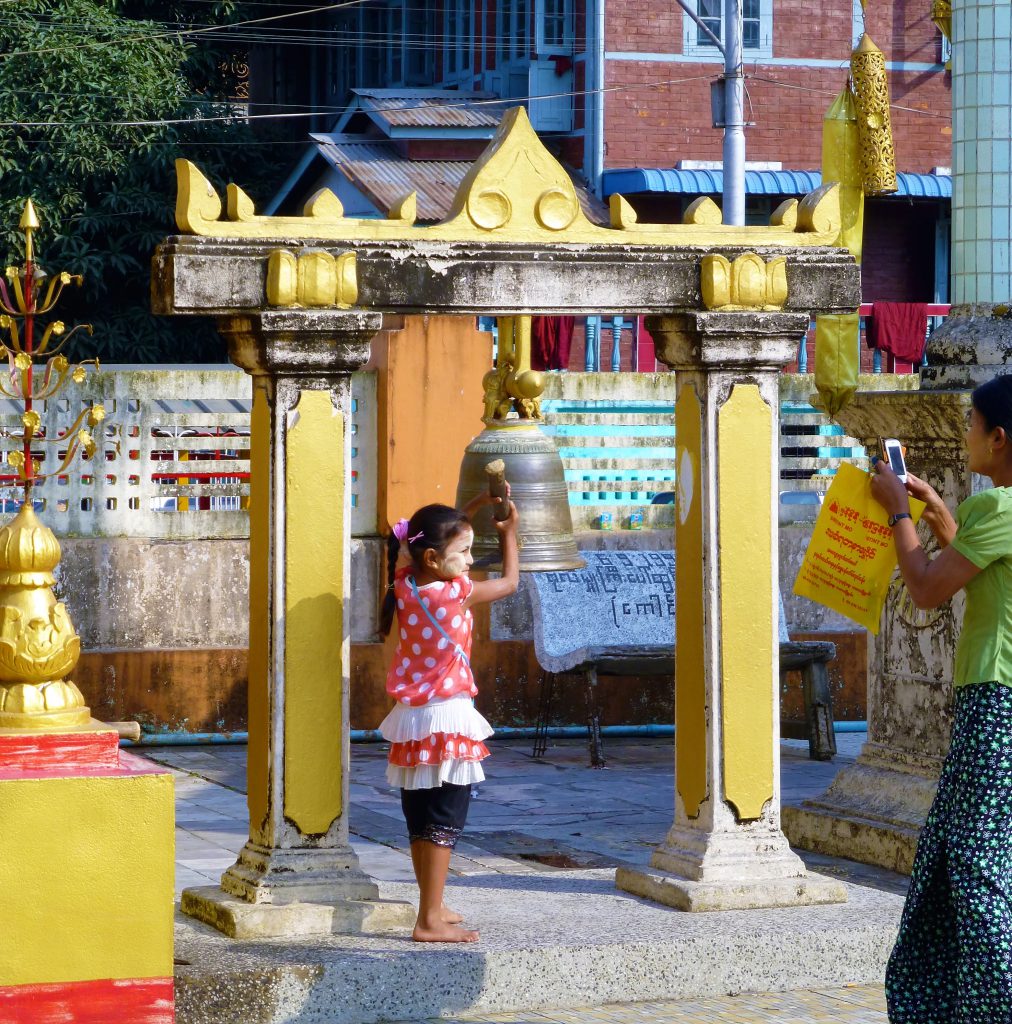 Little girl ringing the big bell
Yangon City Tour lets you see many Pagodas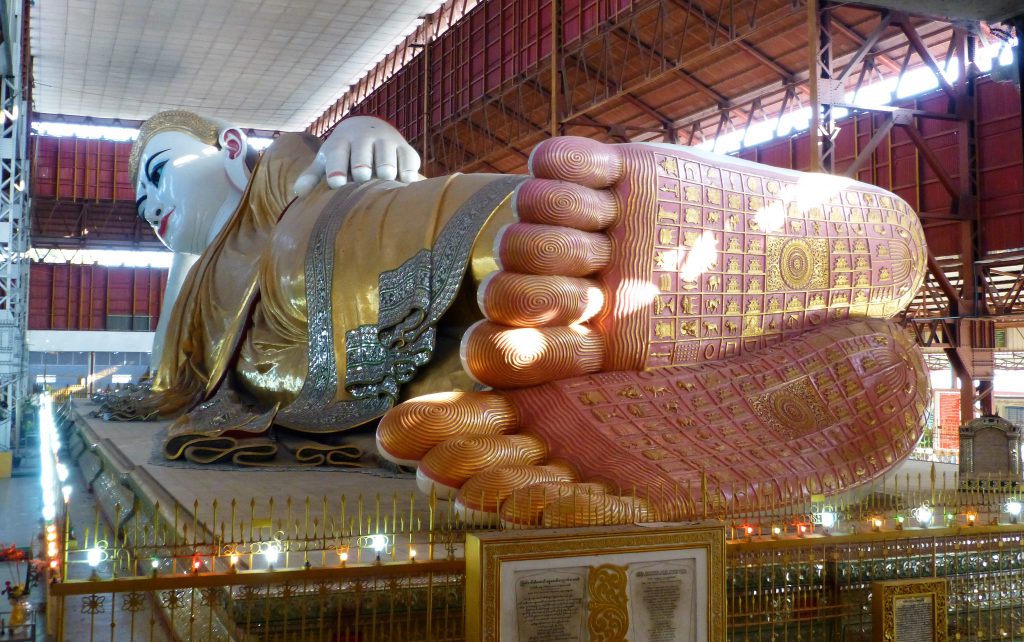 One of the biggest Reclining Buddha in the world (Chauk Htat Gyi Pagoda)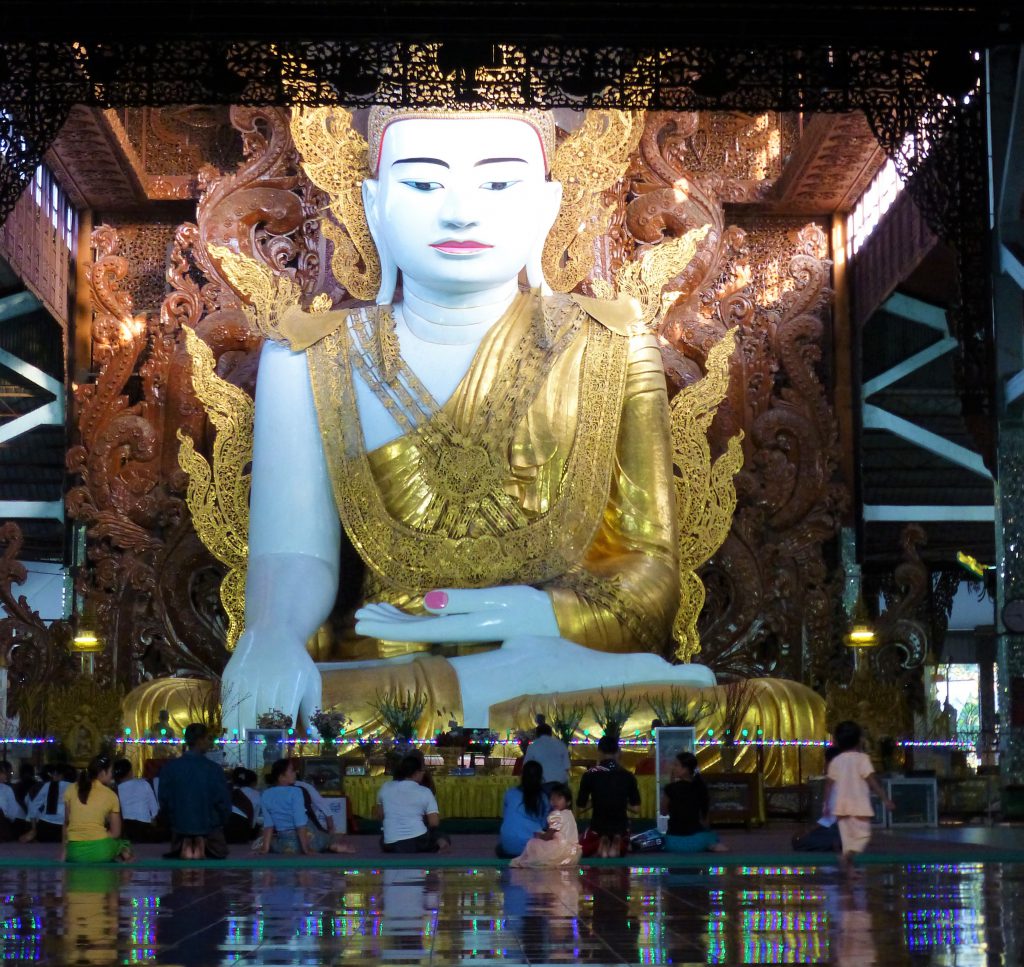 The 14 meter high buddha statue at Nga Htat Gyi Pagoda
To get to the Swhedagon Pagoda we took a local bus. The last part we walked up the mountain and in the meantime we passed another pagoda where many people were praying. We couldn't take much time for this because we wanted to get to the Swhedagon Pagoda before sunset.
We bought the tickets and quickly went inside after I put on a longyi. We walked around the huge golden pagoda and Be Aye told me again about the many Budhas and their meaning.
He told me that every pagoda was built the same way. They are built in 3 layers. Be Aye told me that he knew so much about Buddhism because he had been a monk for a year. You can be a monk for a year, shave your head and live in a monastery. Some stay longer but you can go whenever you want.
So you can be a monk for a week, a month or a year. So you can learn about the religion and experience the way of life. When you finally make the decision that you want to live your life in a monastery, you have to give up your family, don't take a wife and dedicate your life to Buddhism. But Be Aye told us that most people do it for a period of time in their lives and then go again.
We came to the Swhedagon Pagoda for the reflection of the sun on the golden pagoda. The moment we walked there slowly the sky started to color nicely and I saw the pagoda light up.
I did my best to take some nice pictures!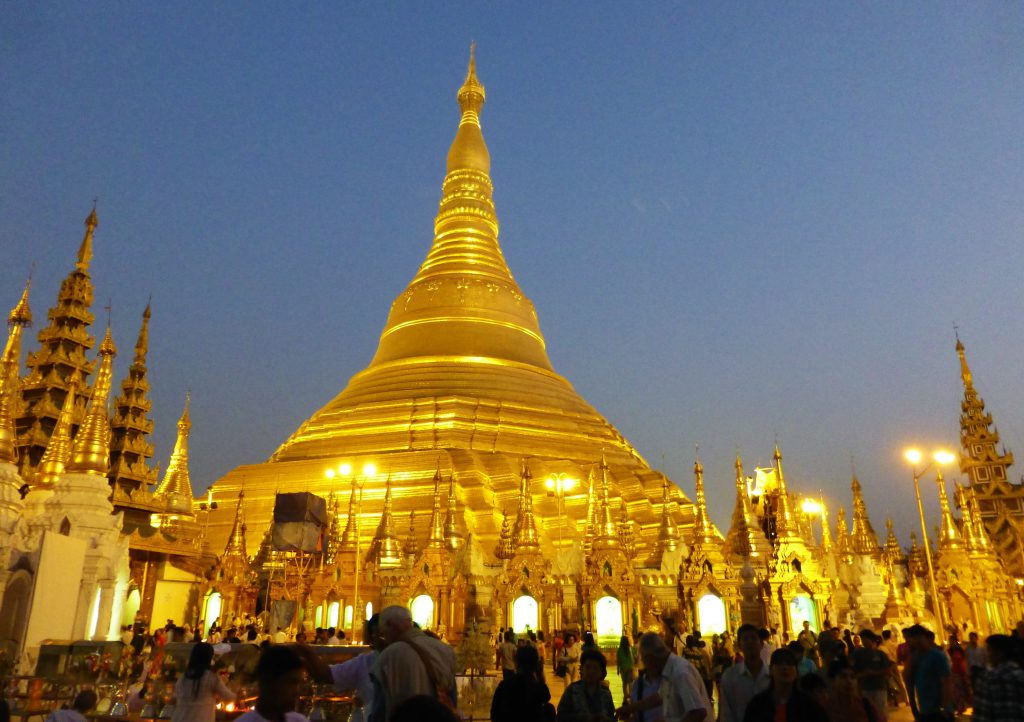 Sunset Swhedagon Pagoda
One of the Highlights of a Yangon City Tour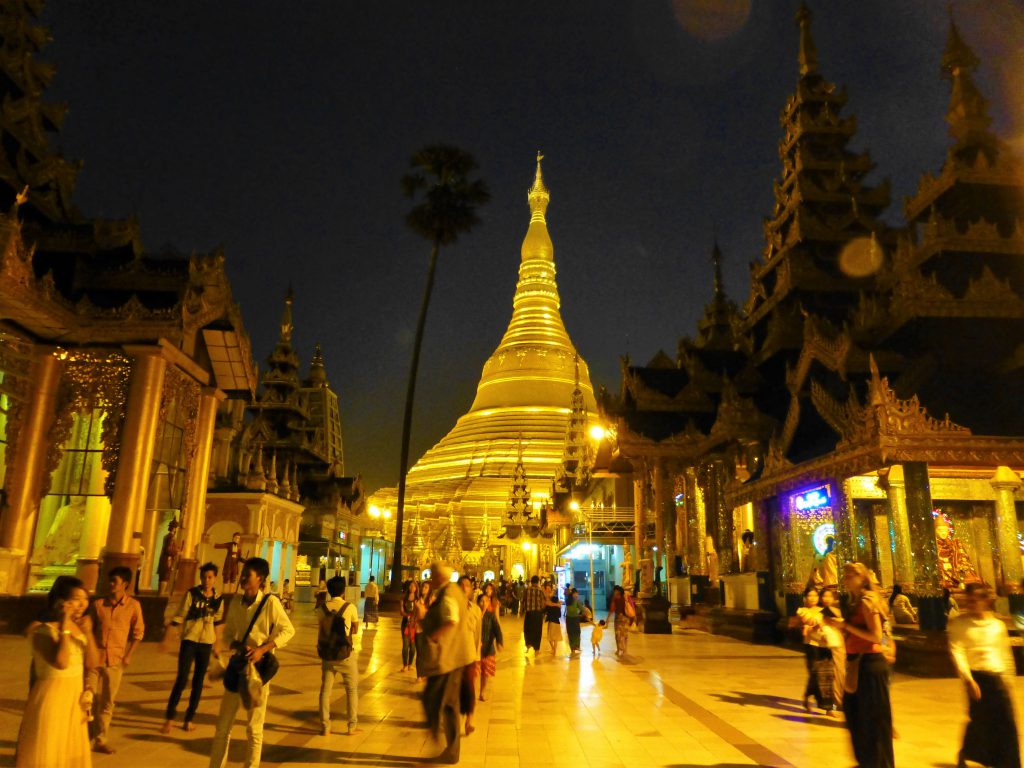 Be Aye told me that in this pagoda there is a gem/diamant in the top of the pagoda.
At the right time, when the sun is shining on top of the pagoda it lights up and you should be able to see the diamond sparkle. He really did his best so I would see it. Zoom in with the camera and find the right angle to the sun. And yes! I saw a glitter in the top of the Shwedagon Pagoda!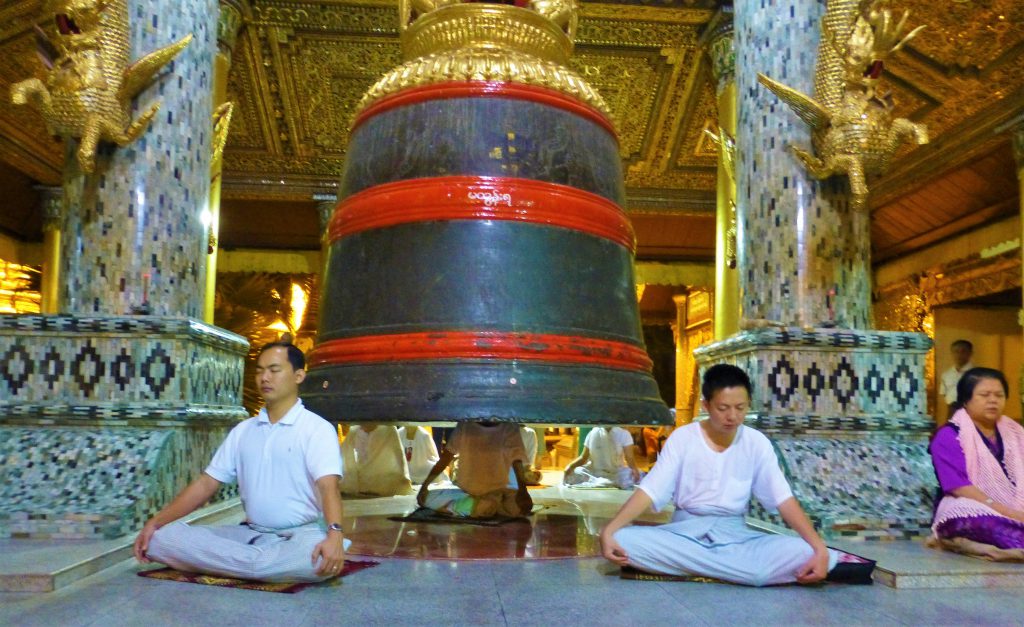 Meditating under the big bell 🙂
After this visit we took a taxi back into town. We said goodbye on the big road where I walked the day before and which was close to my hotel. I thanked him warmly for this city tour Yangon and was super happy with this first acquaintance with Yangon but even more with the warm and welcoming people of Myanmar!
The best way to start a visit to a country!
Want to see more about my Myanmar travel?
Climbing the 700 steps of Mt Popa – Bagan
The Famous U Bein bridge – Amapura
The Famous Legrowers of Inle Lake
Walking to my First Sunrise at Magical Bagan
2 Day & 1 Night Trekking near Hsipaw
Or what about India? Go to Sikkim and explore Namchi!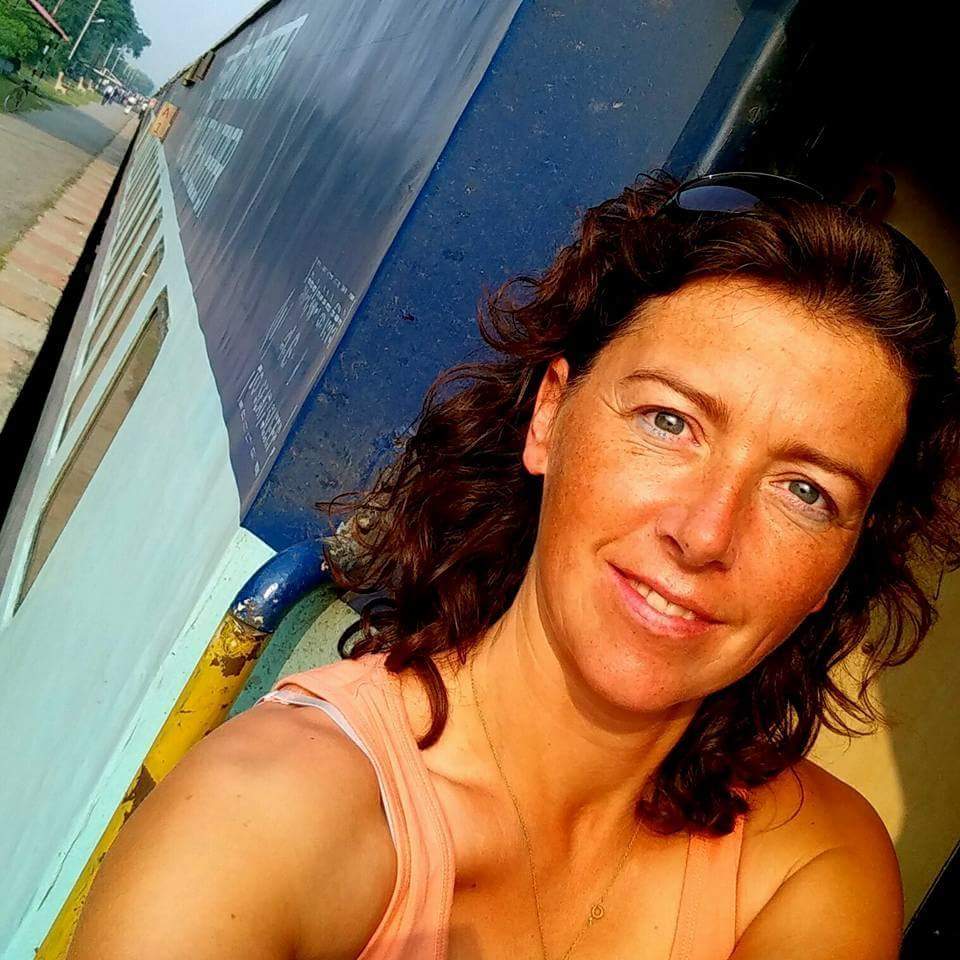 Jacomijn is een politieagent uit Nederland die jou graag laat zien hoe je veilig, actief en gezond de wereld kan over reizen. Safe and Healthy travel is a MUST