Getting a personal tour around Yangon, Myanmar
|
I started my three months trip around Asia in Myanmar, in the capital Yangon. The first day I got there I got a map of the city from the guesthouse I was staying, Agga guesthouse. They showed me which side I should walk to get on the big street to go to the Sule Pagoda. I started walking in that direction.
Immediatly the city reminded me of India. More then it did as other countries I visited in Asia. The building, way of structure, but also more or less the people. After a walk of some 45 minutes I saw the pagode in the centre of the street rising in my view. Meanwhile I was walking amongst the many foodstalls and venders that were selling there goods on the street and the sidewalk.
Everywhere they were making food that looked very tastefull. I, as a western girl, didn't dare to try it. It doesn't look that hygienic. I will try some food later on in the journey but first I have to adept to the food and the standards here 🙂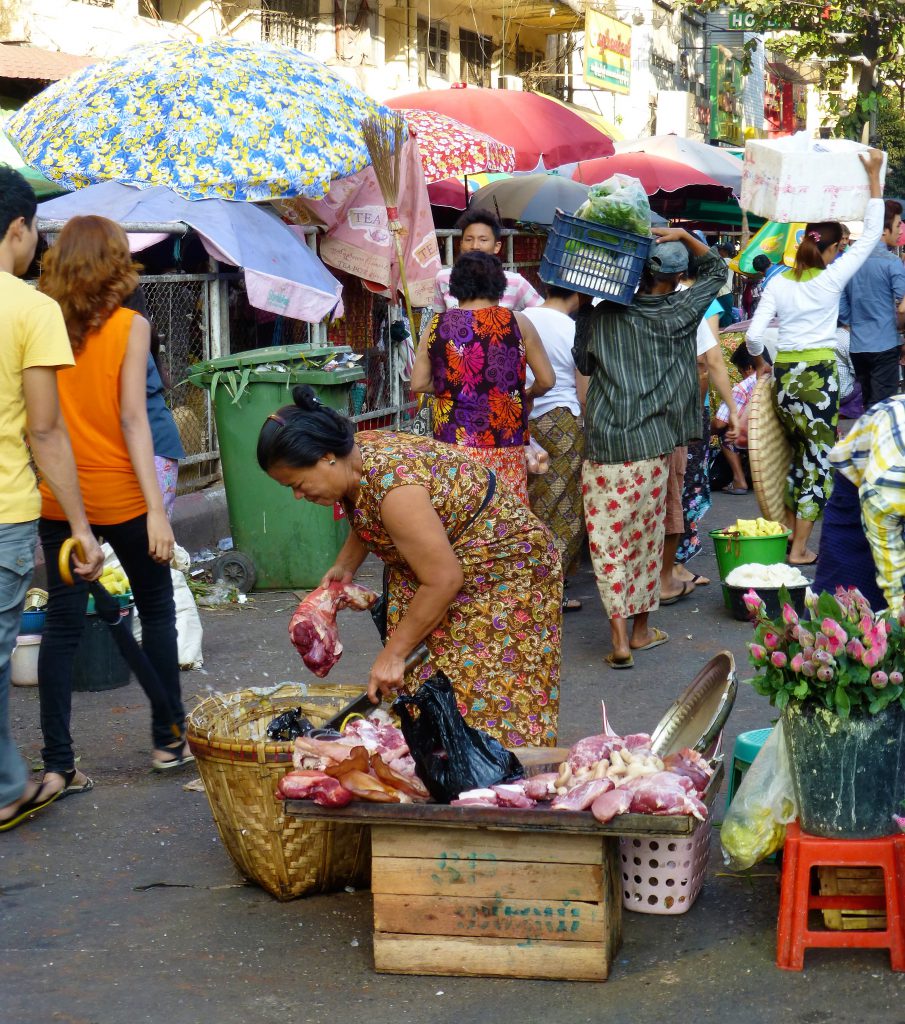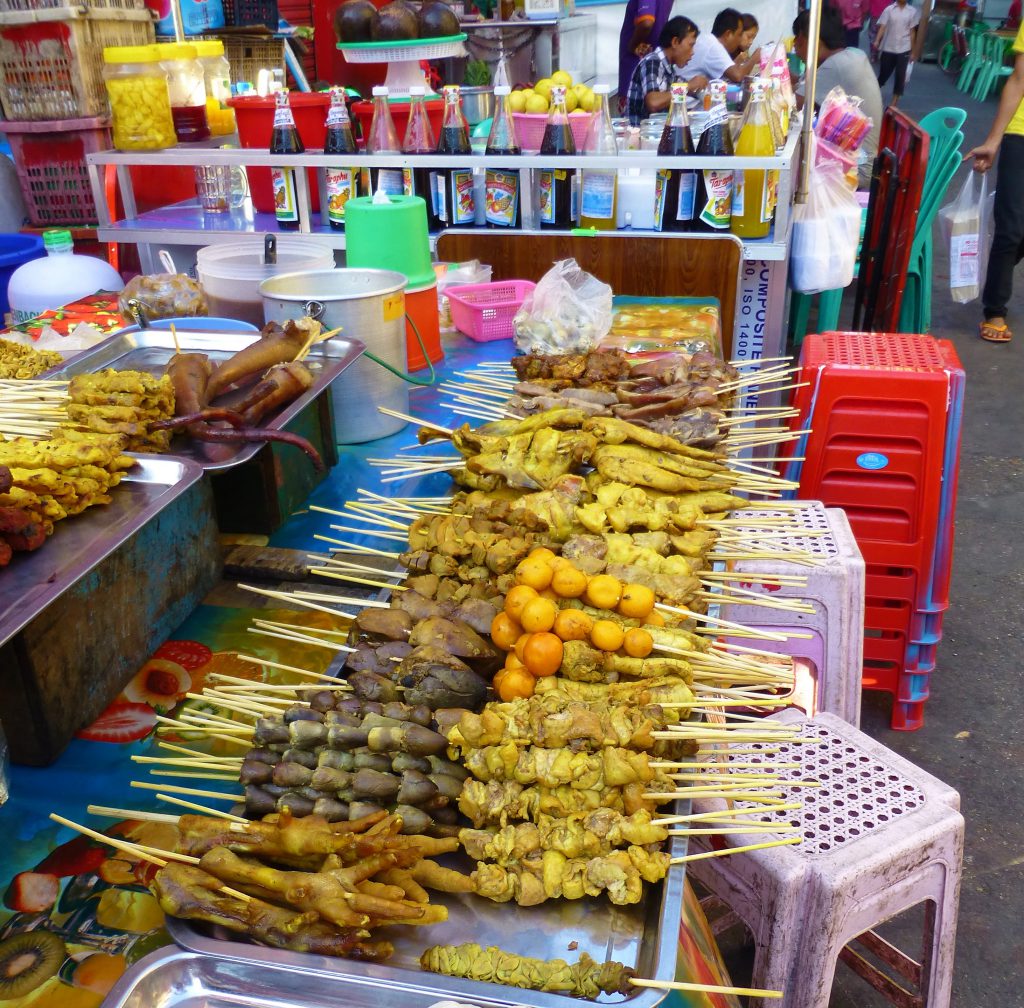 When I came to the Sule Pagoda, I entered. The woman at the entrance gave me a Longyi to put on. She helped me getting it on:) I put my flipflops at the entrance also. The building itself is, as all the pagodas I later saw, build around the pagoda. Therefor there is a space to walk and to pray around the pagoda. There are many Buddha statues situated at the foot of the pagoda. When I was walking, and clearly started  to walk into traffic…some man started to talk to me. At first, like all the people do, he asked me where I came from. And then he started to tell me about the history of this pagoda. And he told me that I always should walk clockwise around the pagoda.

When we started to walk he explained the meaning of the Buddha's statues that we saw. For every day there is a special Buddha. So when you are born on a saturday you have to pray at that particular Buddha. I did saw people  walking up to specific Buddha statues and offering flowers or pooring water over the statue. Everywhere you could get some small cups of water, those were to poor over the Buddha. It is a way of paying respect to Buddha.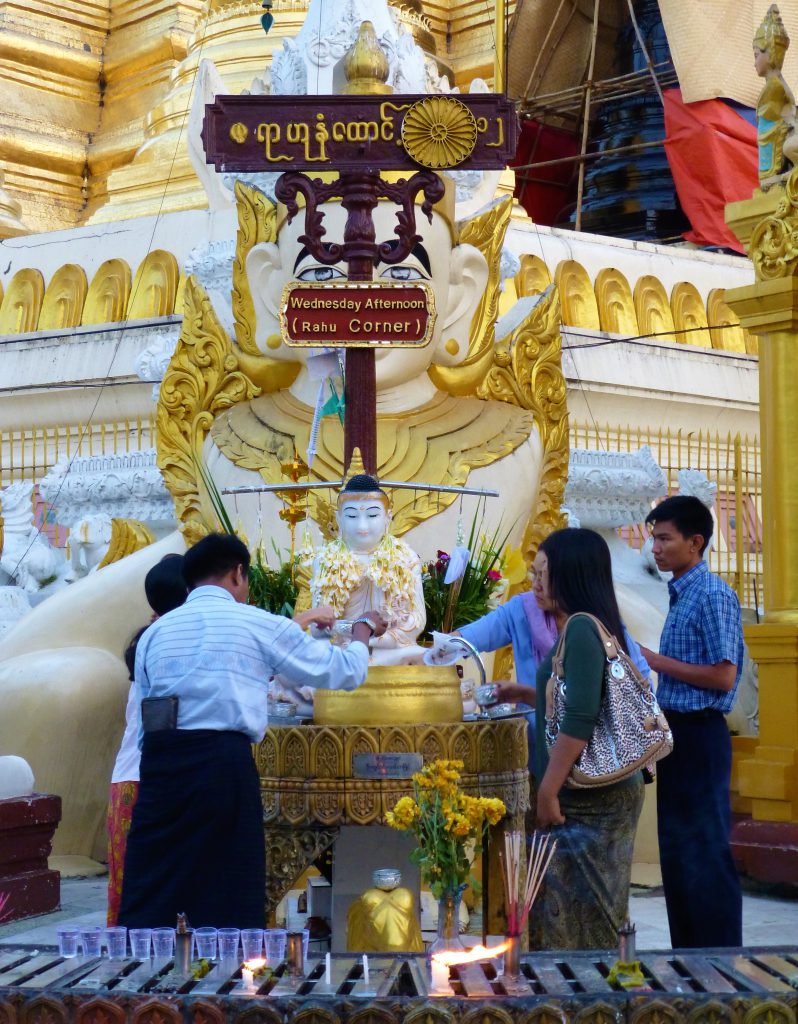 Wednesday afternoon Buddha
(Shwedagon Pagoda)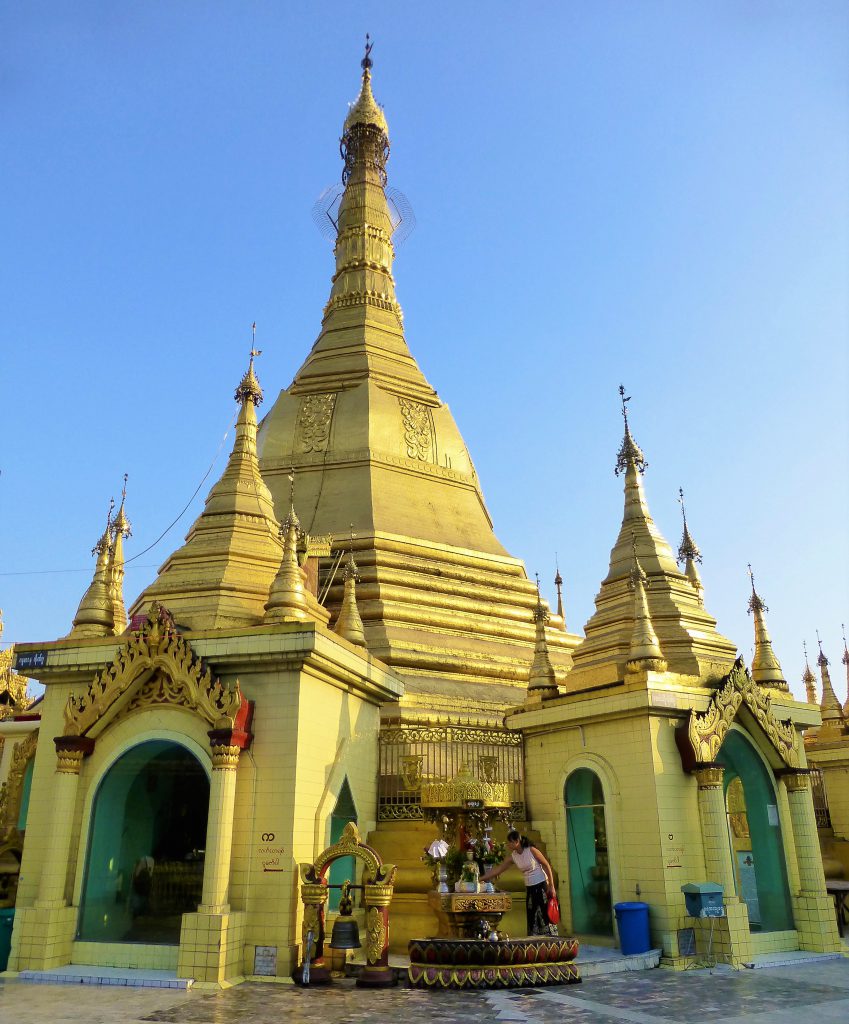 Sule Pagoda
The man who was walking with me introduced himself as Be Aye. He told me that he was a student, he was studying history. He came from a small town in the Shan state. In the weekends he earned some money as a guide to pay for his study or for food. They don't get a fund or any money from the state as students do in Holland. So he asked me what I was going to do the next day. He could show me around, visit the highlights of the city like the Shwedagon Pagode and the biggest Reclining Buddha of the world.
I thought of it as a great idea! A personal tour around Yangon.
First he was going to show me where I could buy a Lonely Planet because I wanted one and hadn't bought one at home. Saves me almost 15 euro. So he showed me first a street where they sold the books on the streets, they didn't had one. After we went to a bookshop and there I saw my copybook of the Lonely Planet. I bought it there for 5 euro!!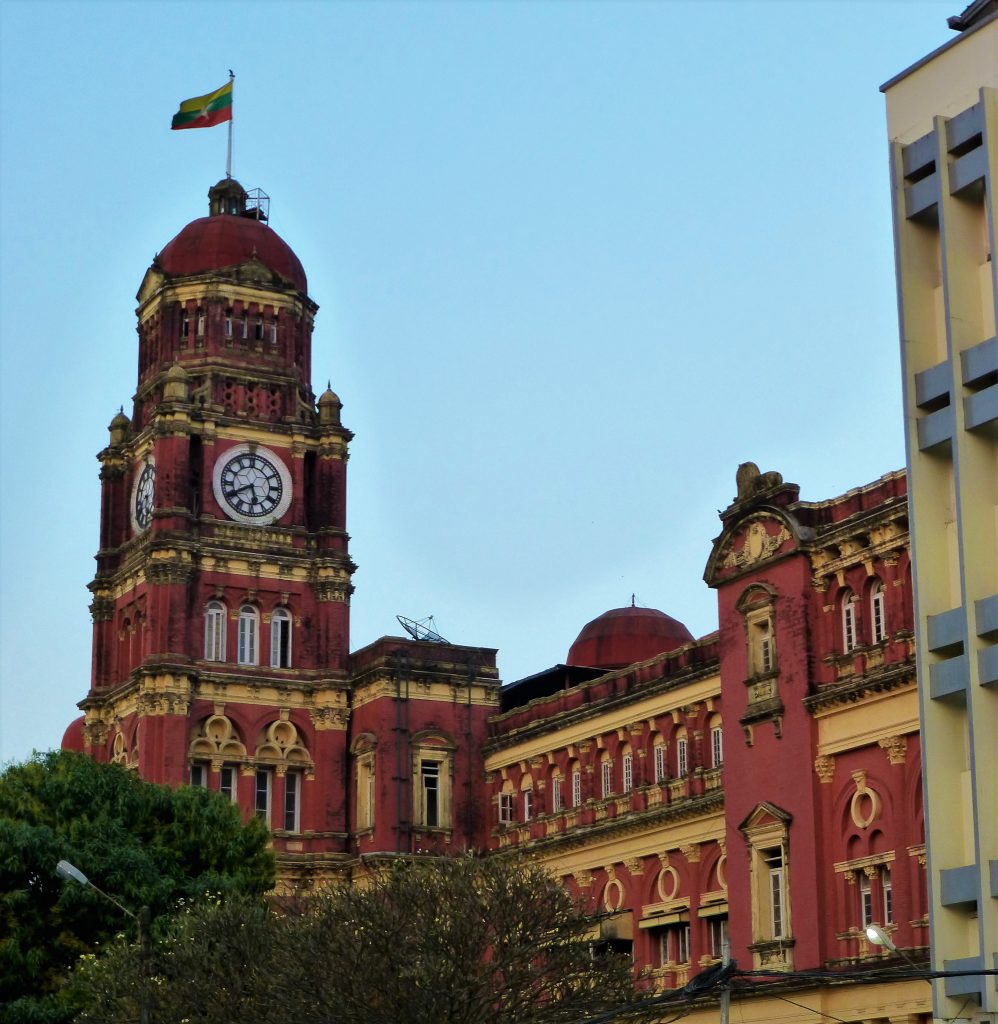 It was time to get something to eat,  we went to a restaurant which was good for the tourists he said and also had real good Myanmar food.  He was right about that. I ate rice with vegetable and catfish. With it came a cup of soup and some spices and sauces. Al together it tasted great. Later on in my journey I would see that is the typical way of breakfast, lunch and diner to have rice with vegetables and meat in different bowls on the table. You always get the daily soup with it and many spices like pepper, sauce, pickles, nuts and dried little fish. And you can mix it on your plate with the white rice.
I enjoyed that very much!!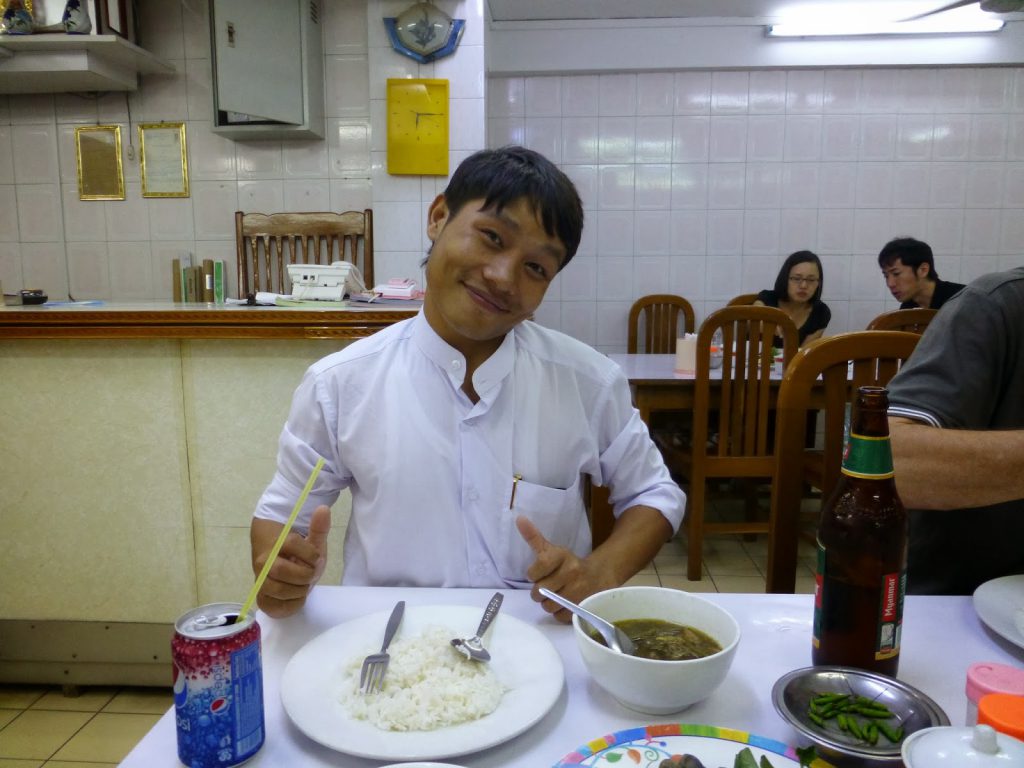 My guide, Be Aye
After dinner we arranged to meet the next morning at his house. He lived in a monastry and he wrote down the adress in English and Myanmar language so I could show that to the taxi driver.
The next day I took the taxi to the monastry where Be Aye lived. The taxi drove up to a monastry which had some houses on the premise also, like a small community. He then walked to a monk and showed him the adress and the name of Be Aye. He waved to me, I was still  standing at the taxi, that I should come. They were walking barefoot there so I took of my flipflops and walked to the driver. He walked further onto the premise? And after 50 metres  there was a building where I should be. He spoke to a young monk and he said to me to sit down for a  minute, Be Aye was getting dressed and would be down in a minute.
There I was, sitting next to a monastry. Waiting in front of a house, I looked inside and saw a woman holding a little kid. It looked like their house. I also saw a stairs going up, the young monk said to me to come with him.

He went upstairs and I saw Be Aye also standing there on the second floor. He waved me to come up. He wanted me to show me his room. When I came upstairs I saw a big empty room. In two corners there were small chambers made. Those were the chambers of the young monk and of Be Aye. I entered the room of Be Aye. He had many books on one side of his room and the other side of his room were all clothes and plastic bags with goods. He slept on the ground on a thin matras he had already rolled up.

On the wall I saw all posters of western sportsmen and women. I already saw in the big empty room a halter, made by themselfs. It was from iron and the weights were knotted on it on both sides with pieces of fabric. He liked to sport he told me.

I talked with the young monk for a few minutes while sitting on the ground in Be Aye's room. He was changing his clothes and when he got back he was wearing a Longyi and a clean and nice blouse and we went into town.
I didn't took any pictures in and around the monastry and house of Be Aye.
Something I regret very much 🙁
A personal Tour Around Yangon – Myanmar
We walked down the long road to the trainstation. There is a train that you can go on and it goes around the city in three hours.  I had asked him to do that first. It costs only a dollar and you do get a good view of the city. I had read about it on the internet and wanted to do that. It was not busy, it was sunday so not much marketvenders. Otherwise the train would also be used by them to get their goods from home to the market and the train would be loaded with all kinds of goods.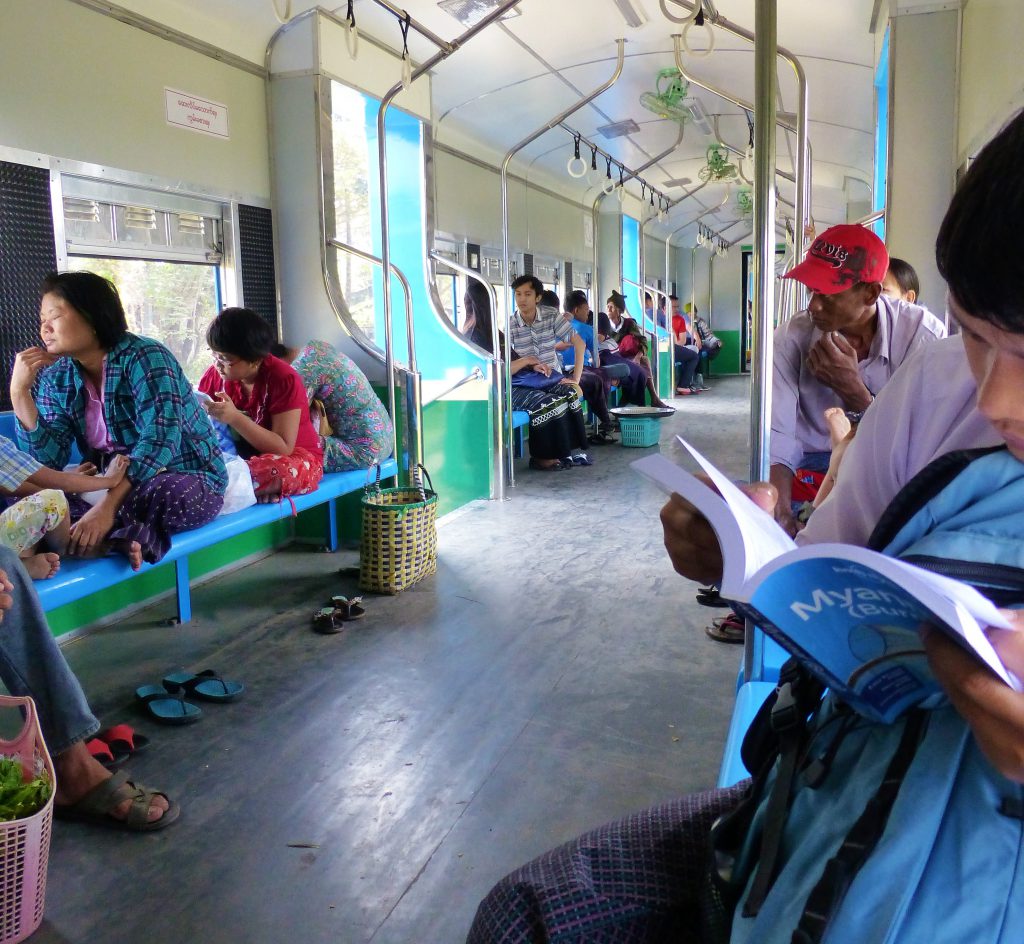 But we did see many different neighbourhoods. From pretty well and good to the really poor. The houses I saw looked like they could fall apart any minute. You can not imagine living in such a house. What I noticed also was that not a single metre of ground is not used, if it is not for living or storing something than there is a lot of rubbish. Not a single piece of ground is empty unless it is used as a road. The train also goes out of the city, so you do see some green landscape. It was a good way to get a feeling of how big the city is and also by seeing the suburbs of a city, you don't see that often.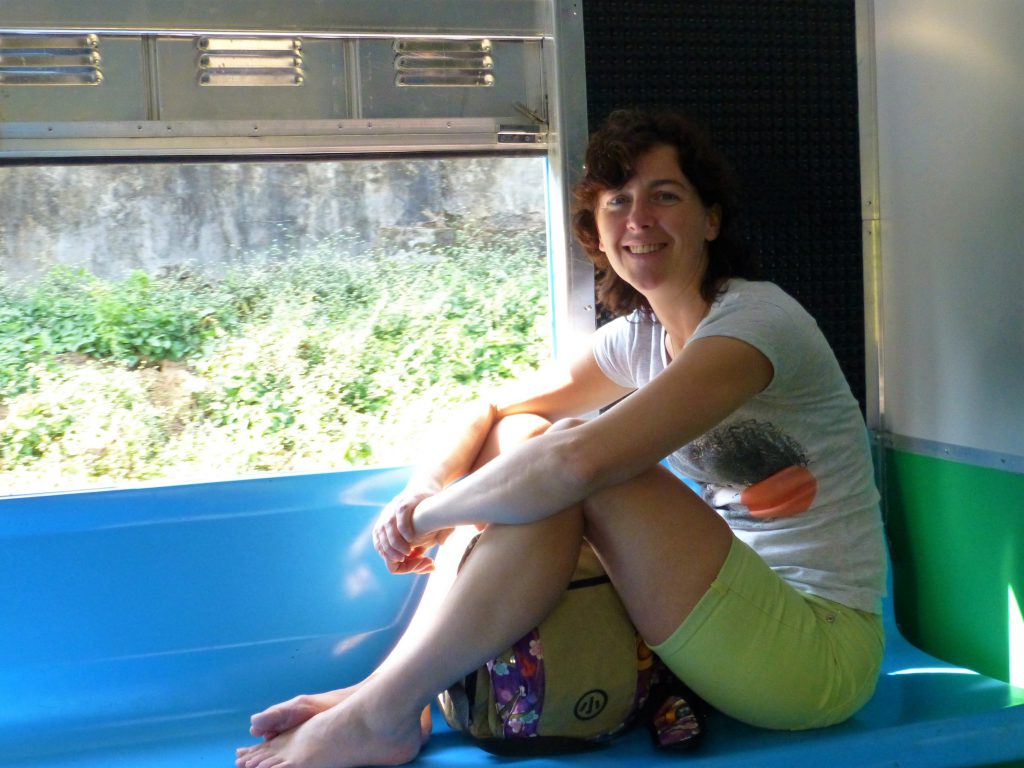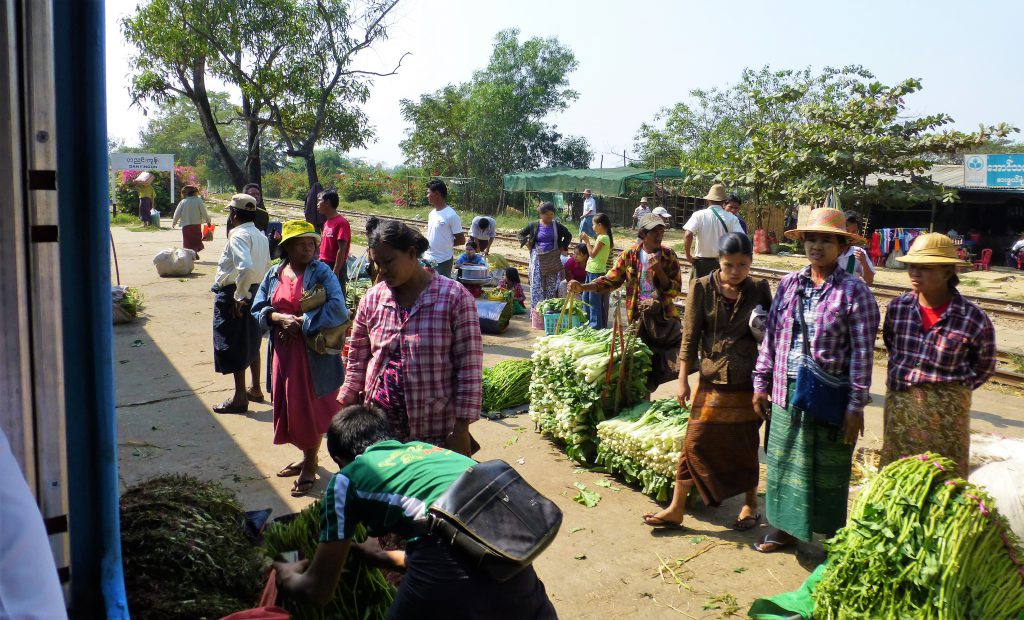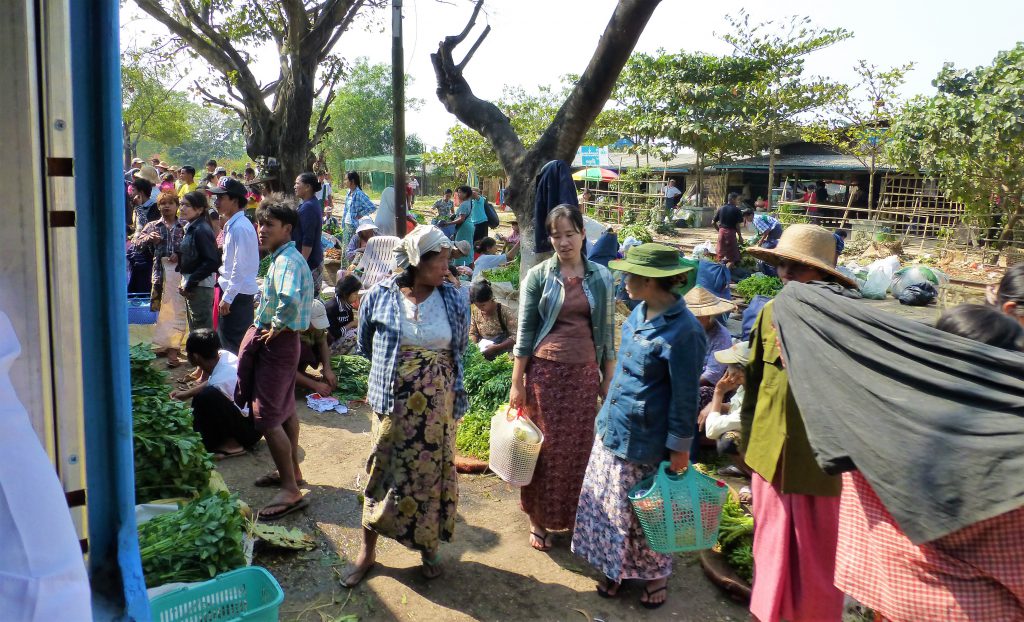 Markets we saw along the way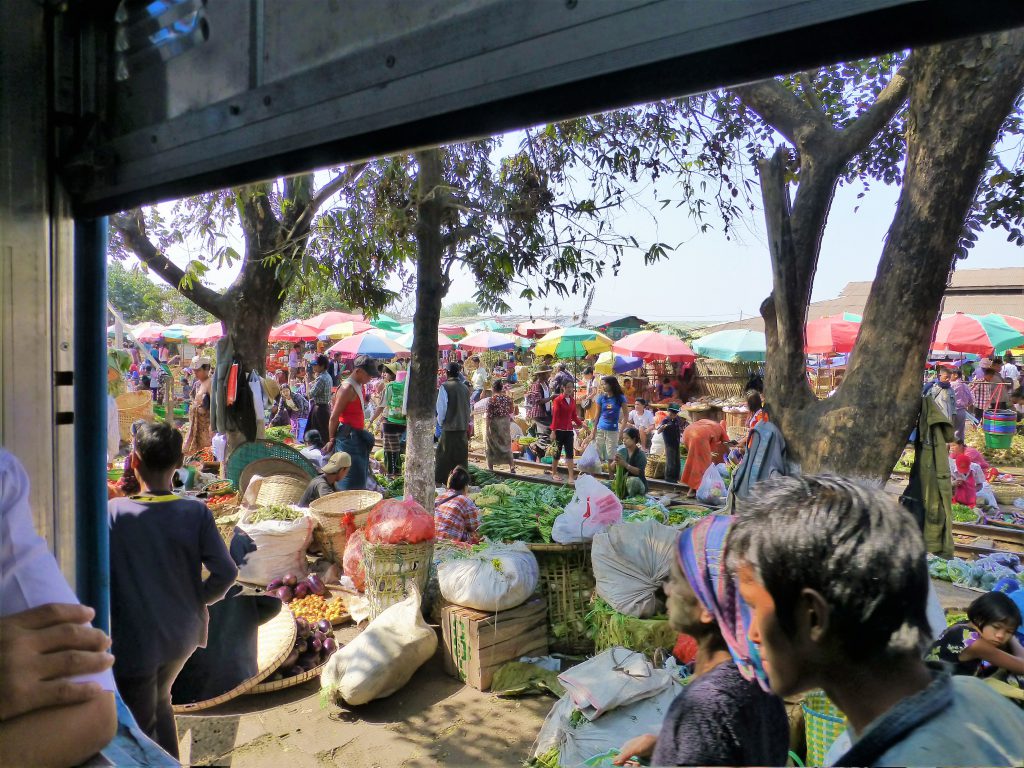 After this we went to eat something, it was already 12 o'clock. Be Aye brought me to a local restaurant which looked clean and was near a shoppingarea. I ordered a Shan Noodlesoup. I thought it tasted great! I really enjoyed that soup! Afterwards I needed to use the toilet there but they hadn't a toilet, I could use the public toilet they told me. I had to go so I did. It was clean, but I wasn't used to those holes in the ground yet….:)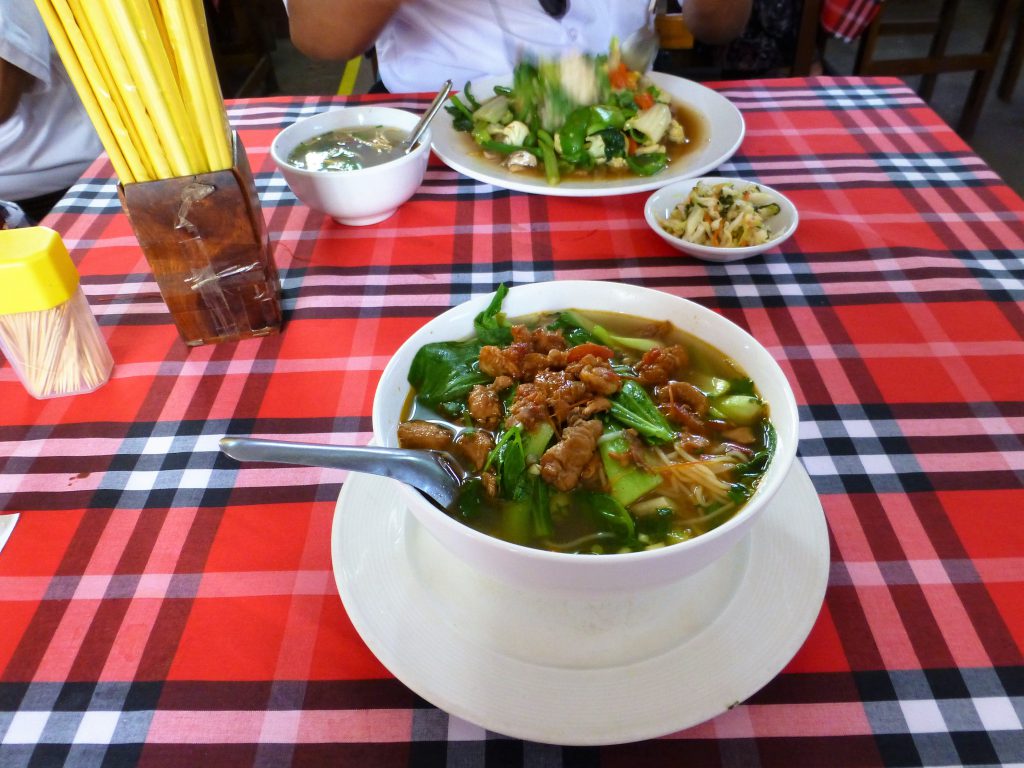 My Shan Noodlesoup
Visiting  Multiple Pagodas 
Chauk Htat Gyi Pagoda / Botataung Pagoda / Shwedagon Pagoda / Nga Htat Gyi Pagoda
After lunch we went to some temples ( one where hair of Buddha was) and a reclining Buddha, one of the biggest in the world, 65 metres long, and ofcourse at last the Shwedagon Pagoda.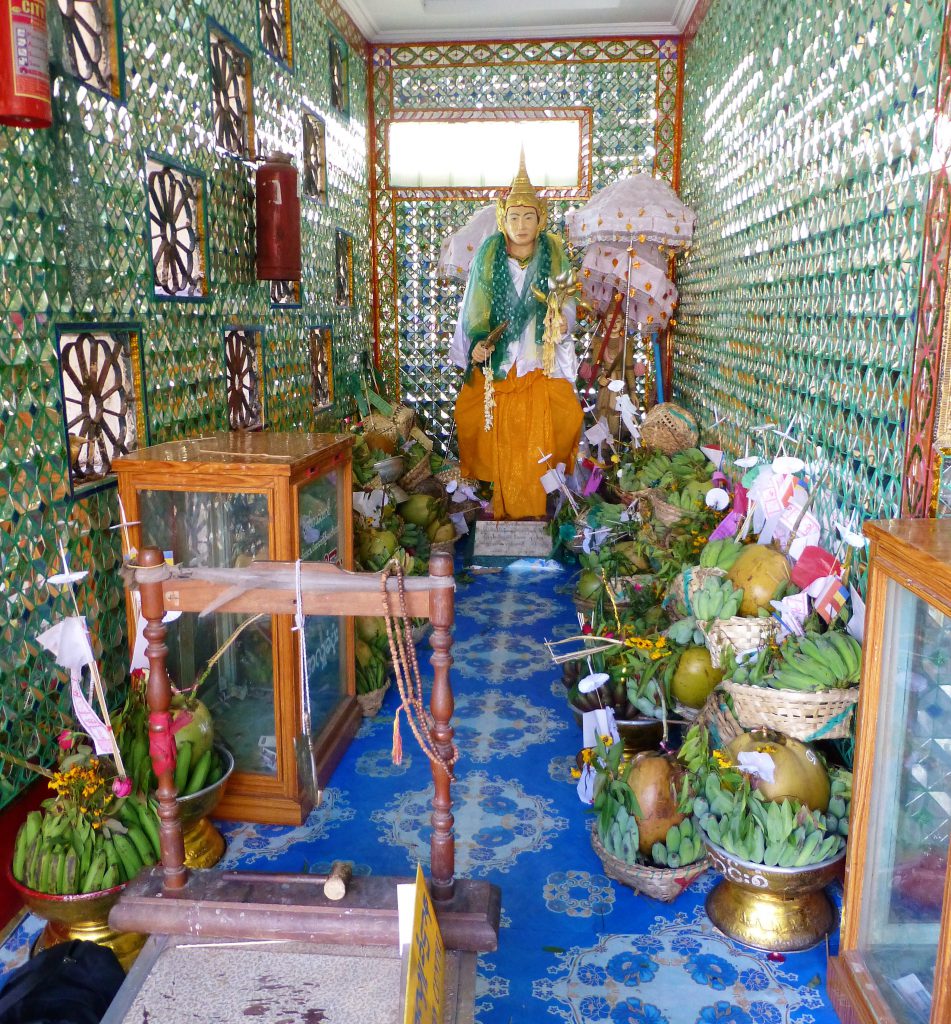 All the fruit are offered at Botataung Pagoda.
The fruits will be picked up later for consuming.
At this pagoda a hair of Buddha was kept.
It is a more sacred place because of that ofcourse.
The pagoda was in restoration so that is why I am not showing a picture of the pagoda itself.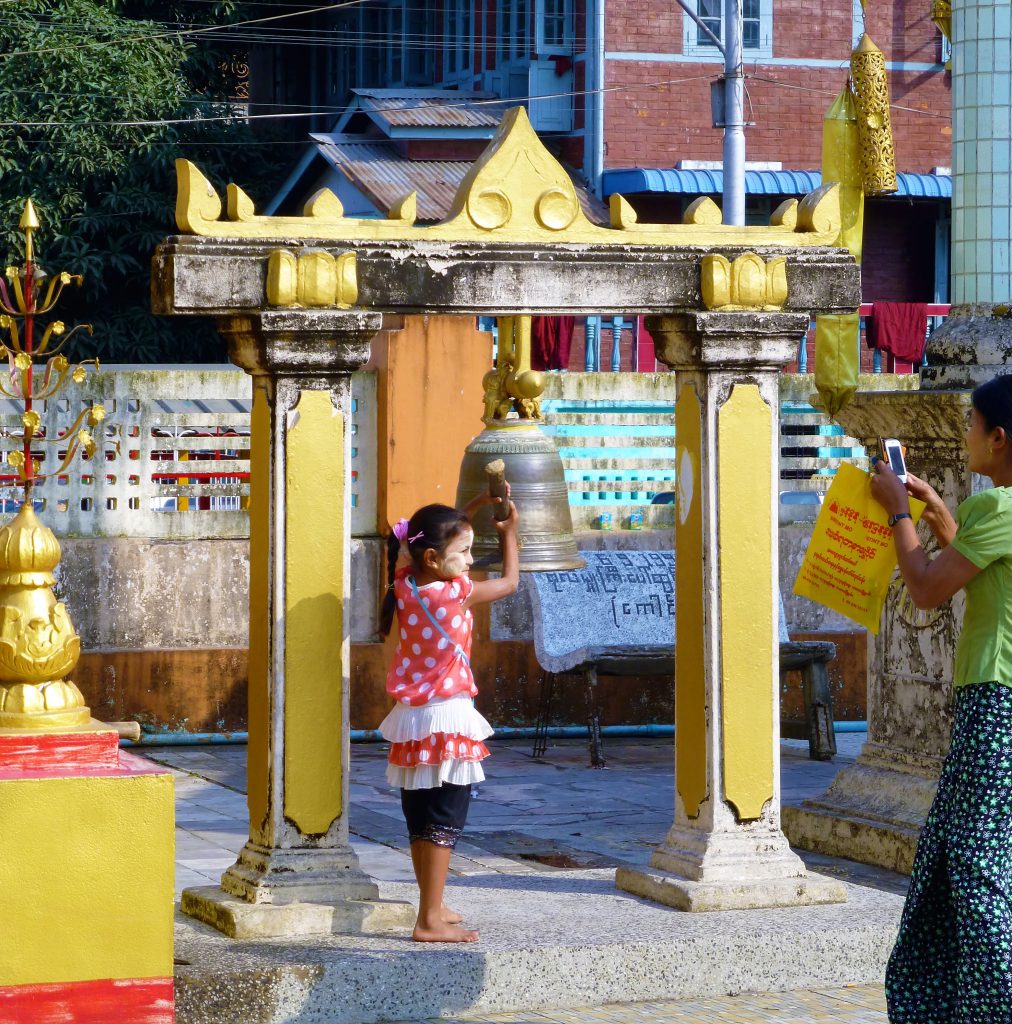 Little girl ringing the big bell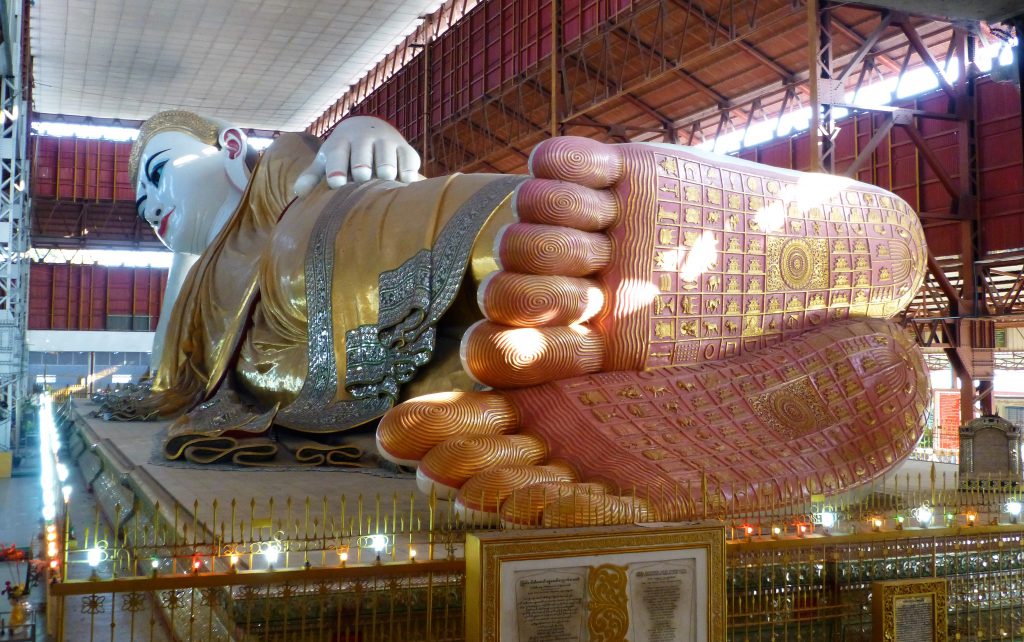 One of the biggest Reclining Buddha in the world (Chauk Htat Gyi Pagoda)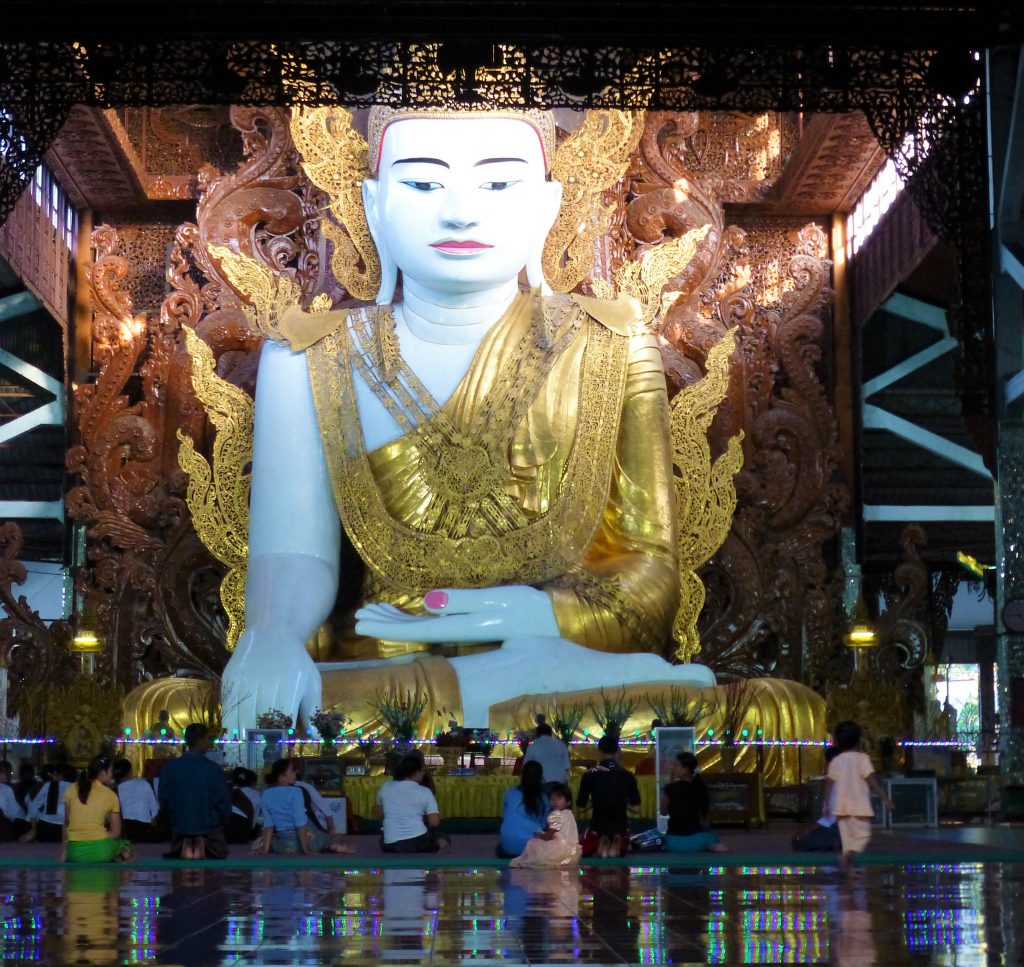 The 14 meter high buddha statue at Nga Htat Gyi Pagoda
To the Swhedagon Pagode we did the biggest part by bus and the last part we walked. So we walked up the hill, went besides another nice pagoda. In there was just a praying going on, we had to walk on because it could be busy at the Swhedagon at sunset. At the Shwedagon we bought tickets, I got a longyi at the entrance and we took the elevator up. We walked around the pagoda and Be Aye told me about the Buddha's, the days and the meaning of those days.
He also told me that every pagoda was build in the same way. First there are 3 layers, then there are…and then the…and…..and… Be Aye told me that he knew so much of the religion because he to was a monk for a year. You can go be a monk at any time, shave your head and dress in red and you can come to the monastry.
When you don't want it anymore that is ok. You can do it for a day or a week, month or a year. But if you say you want to do it for your live you must give up your family, can not get a wife and so on. But almost everybody does it for a short time he told me.
We came here to see the sunset reflecting on the wonderful golden pagoda. At the moment the sun was set there were also big light aimed at the pagoda and because of the cold it seemed to shine in the dark,
I've got some really nice pictures 🙂
My camera is not good for evening/night pics… but still…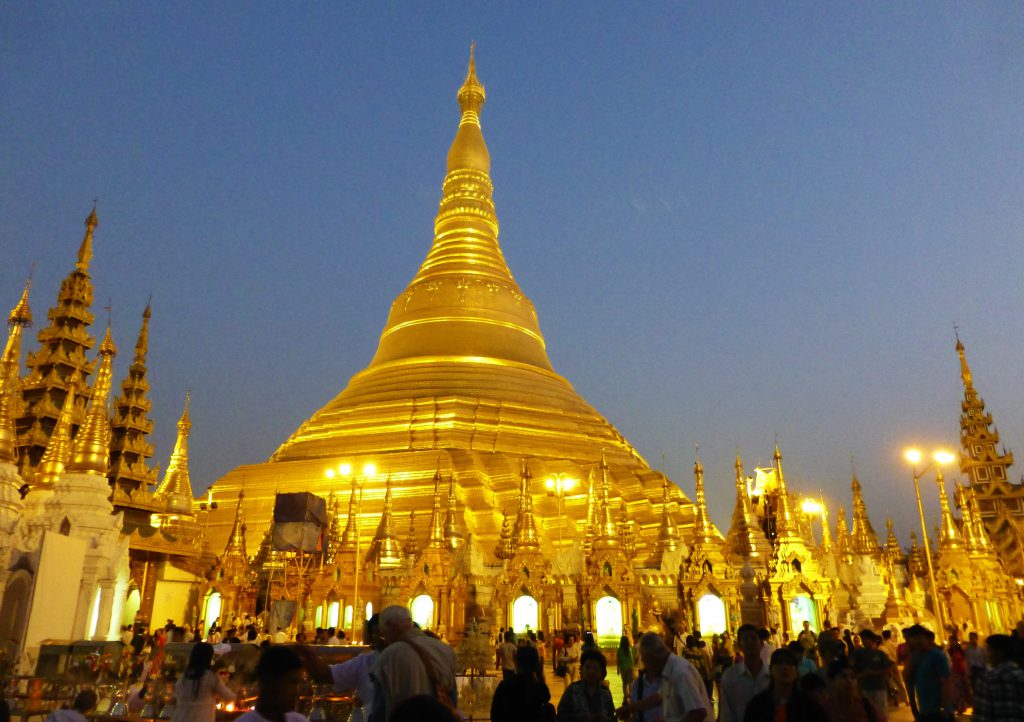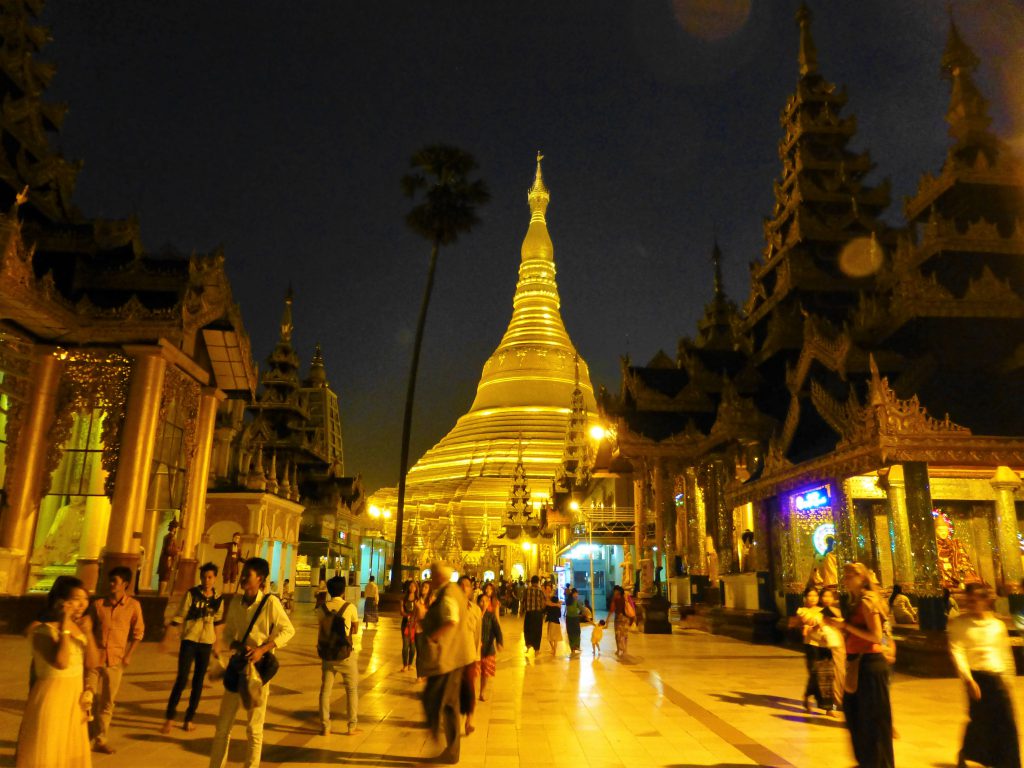 Be Aye told me that in this pagoda the biggest gem/diamant was in the top of the pagoda.
And when the sun would set you could see the gem, the sun would glitter in it. He really did his best to let me see it. And just before we got down again, from that last spot I saw it. I zoomed in with my camera and it got to see it right away. Great!!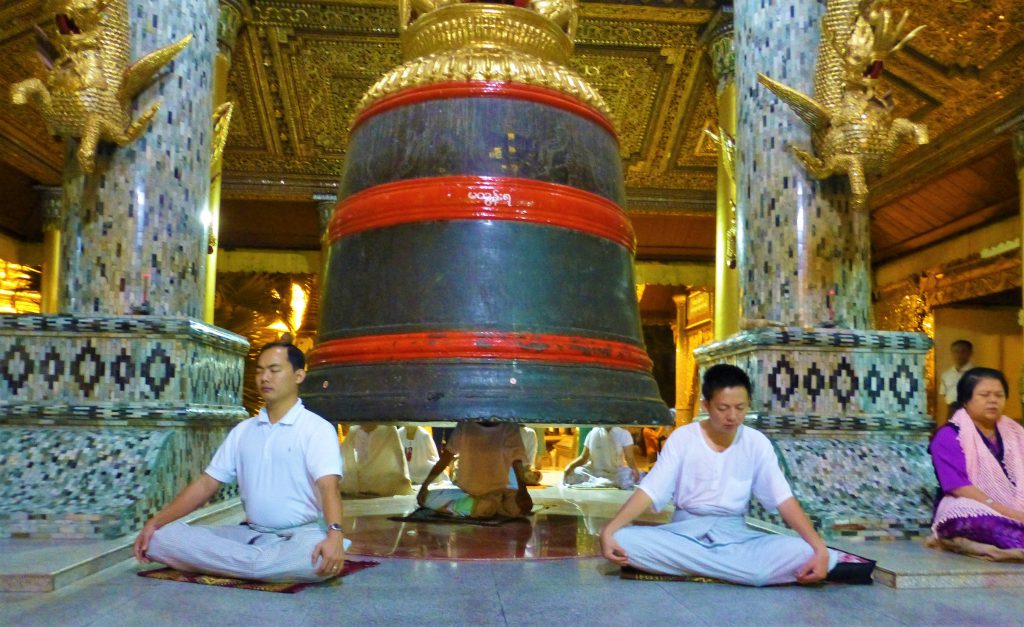 Meditating under the big bell 🙂
After this visit we took a taxi back to the city, the big street near my hotel and I said goodbye to Be Aye. I really had a good day with him. He told me very much about the culture and the history of Myanmar.
A great way to start my visit in a new country!!
When ever you are in Yangon and you would like such a personal tour, mail Be Aye on his email-adress: mr.beaye1988@gmail.com. He would be honoured to take you around the city and tell you about his country and the history of it.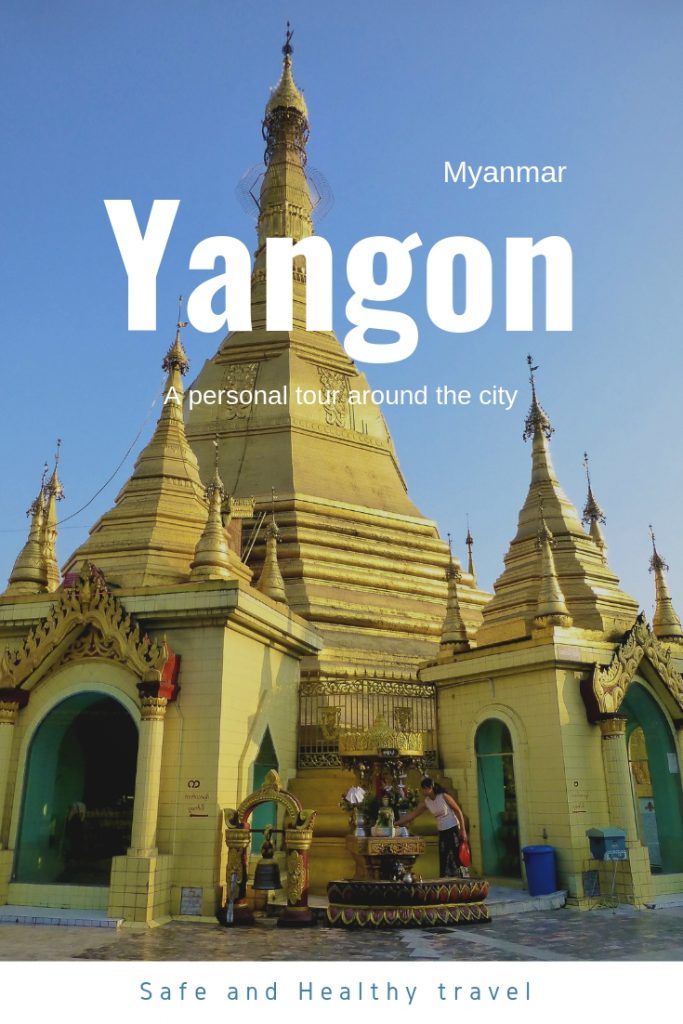 Want to see more about my Myanmar travel?
Climbing the 700 steps of Mt Popa – Bagan
The Famous U Bein bridge – Amapura
The Famous Legrowers of Inle Lake
Walking to my First Sunrise at Magical Bagan
2 Day & 1 Night Trekking near Hsipaw
Or what about India? Go to Sikkim and explore Namchi!